"Les Ballets Trockadero de Monte Carlo"
Theaterhaus Stuttgart
Stuttgart, Germany
August 09, 2016
by Ilona Landgraf
Copyright © 2016 by Ilona Landgraf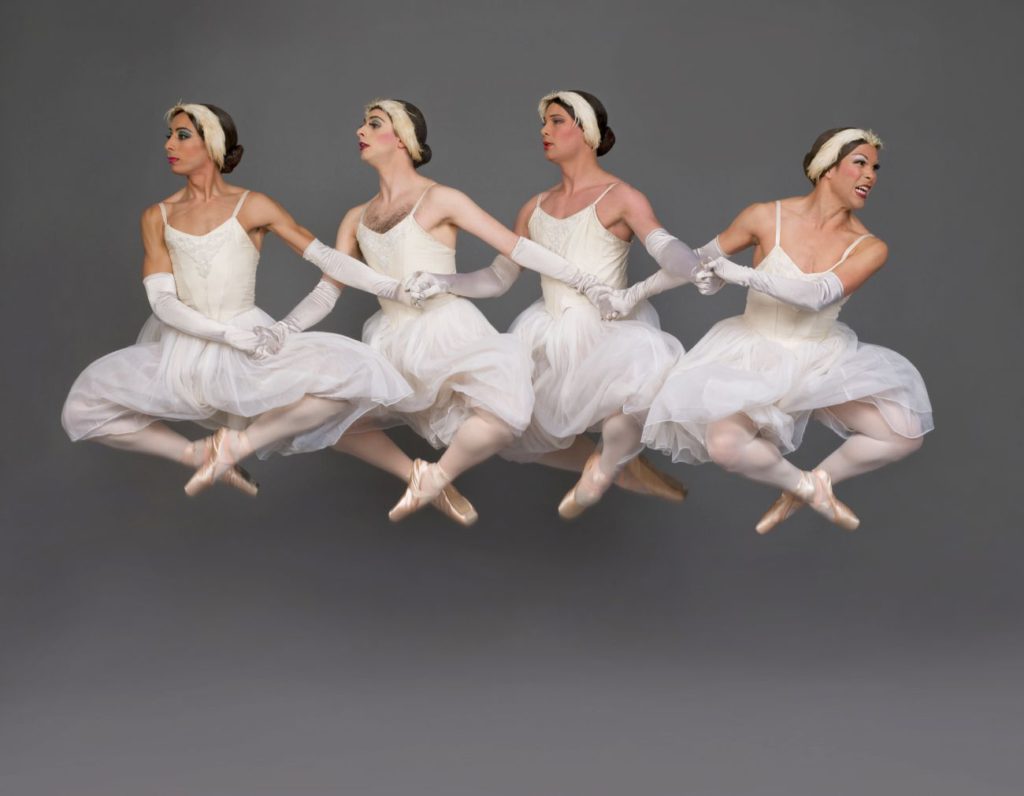 For almost a week the venerable "Trocks" have been doing themselves the honor of guesting at Stuttgart's Theaterhaus as part of an extended tour through Germany. A packed house duly welcomed them and was generously rewarded with a mixed bill of iconic classics. I saw the program on opening night which, "in accordance with the greatest tradition of Russian Ballet", slightly differed from what had been announced in advance. Instead of the "Pas de deux Mystérieux" we were presented with the threesome of the "Le Corsaire Pas de Deux", "Go for Barocco" and the "Dying Swan" which were framed by Act II of "Swan Lake" and the Grand Pas Classique of "Paquita".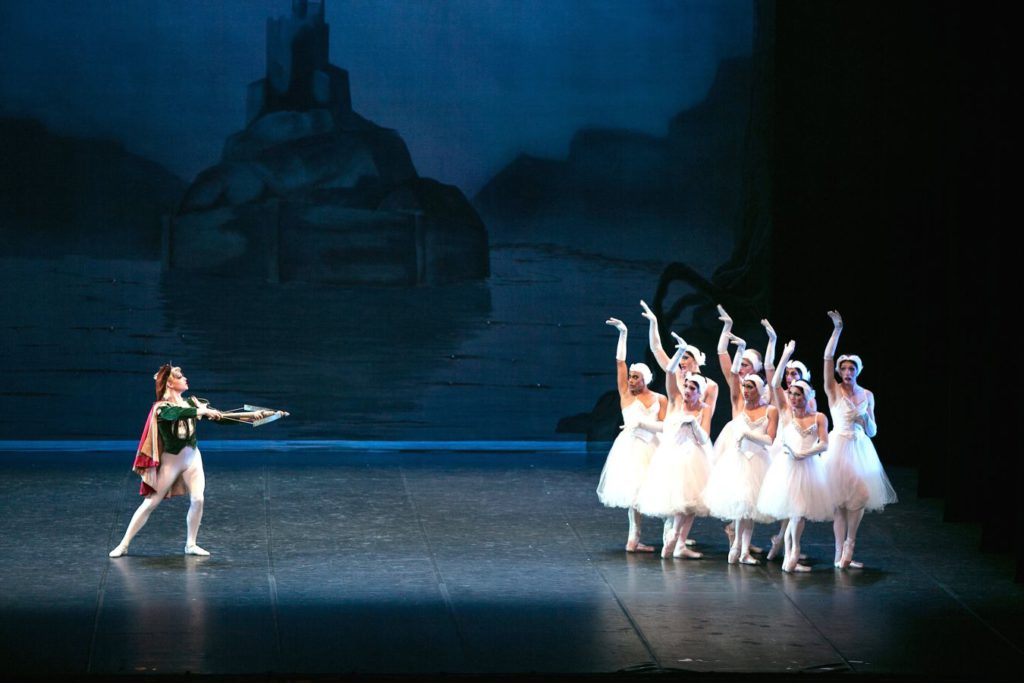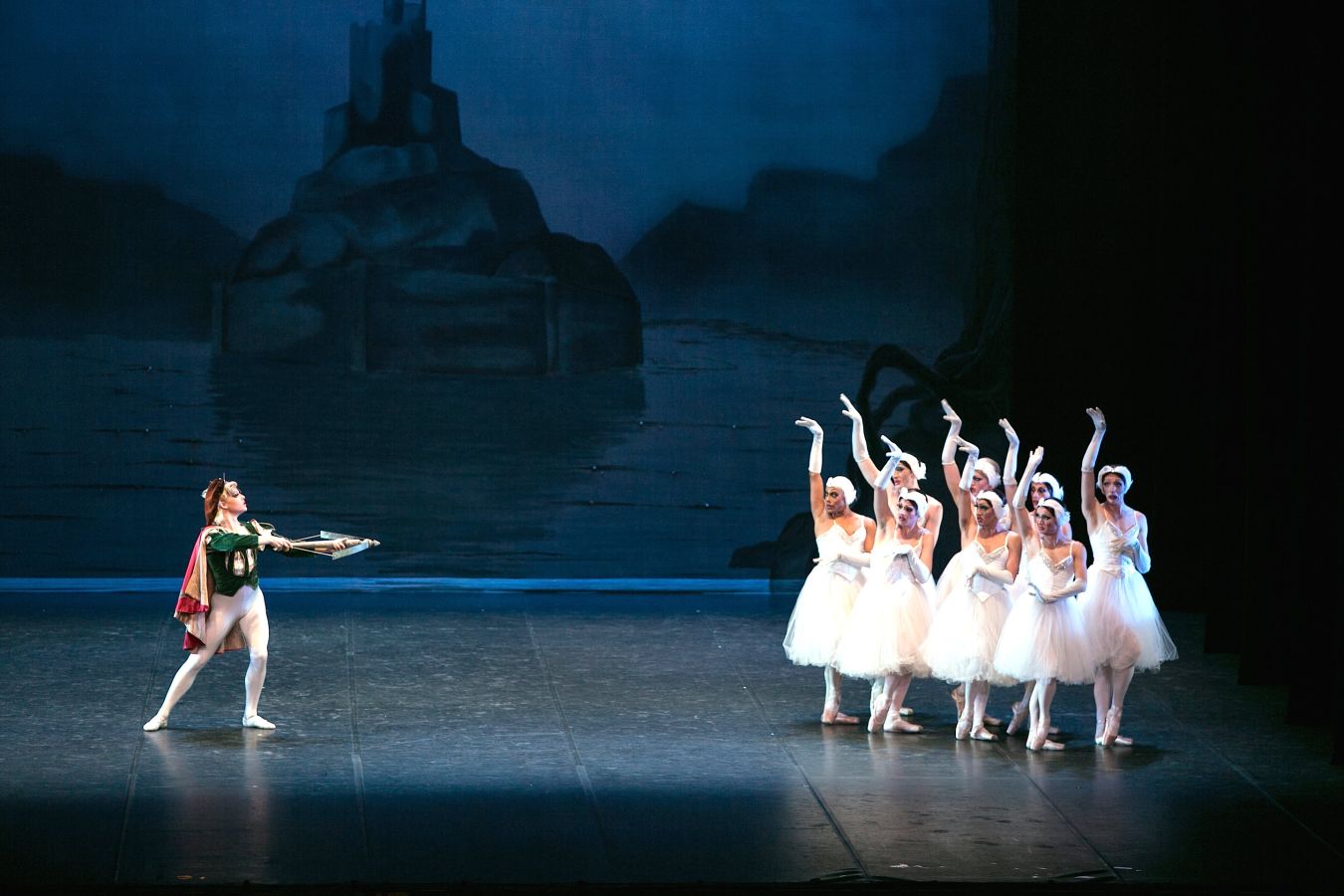 Lariska Dumbchenko (Raffaele Morra) was a decisive, mature Odette and it was understandable that she became upset being pulled back and forth between Prince Siegfried (Paolo Cervellera alias Vyacheslav Legupski) and the evil Rothbart (Joshua Thake alias Jacques D'Aniels). One can only admire her sublime comportment given that her platinum blonde, sturdy Siegfried missed his entry and his buddy Benno (Carlos Hopuy alias Innokenti Smoktumuchsky) was seldom reliable in partnering the weighty Queen. Later Siegfried strode with stoic poise through his variation, nobly leaving the virtuoso part to Odette. Her flawlessly tossed off series of fouettes made one wonder if a woman of such caliber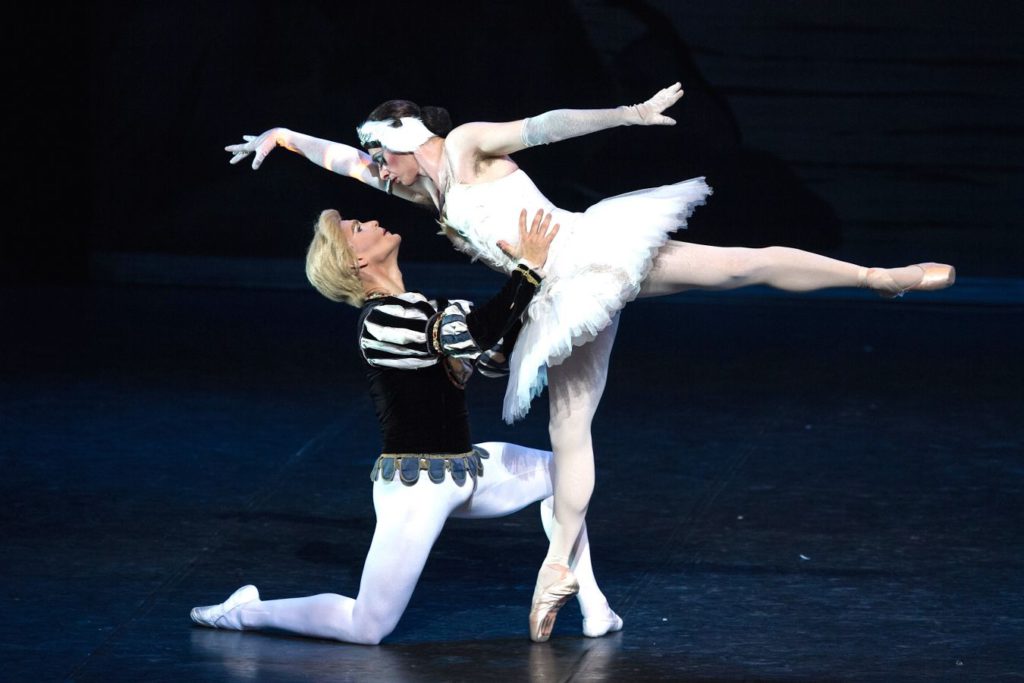 hadn't deserved a more alert Prince. The swan corps pattered diligently around the amorous couple, their paddling arms eagerly causing ripples. If only one or another hadn't stepped out of line! Stardom aside, taking one's position too late and then starting to groove won't work! No special treatments. After all we are not in a duck pond!
After the break Nina Enimenimynimova (Long Zou) was a cheeky Medora kicking her legs higher than a revue girl. Her impeccable balances made one hold one's breath. Araf Legupski (Laszlo Major) as her truly devoted Ali didn't miss out the chance of augmenting his already challenging solo with some acrobatic feats. What ravishing dedication!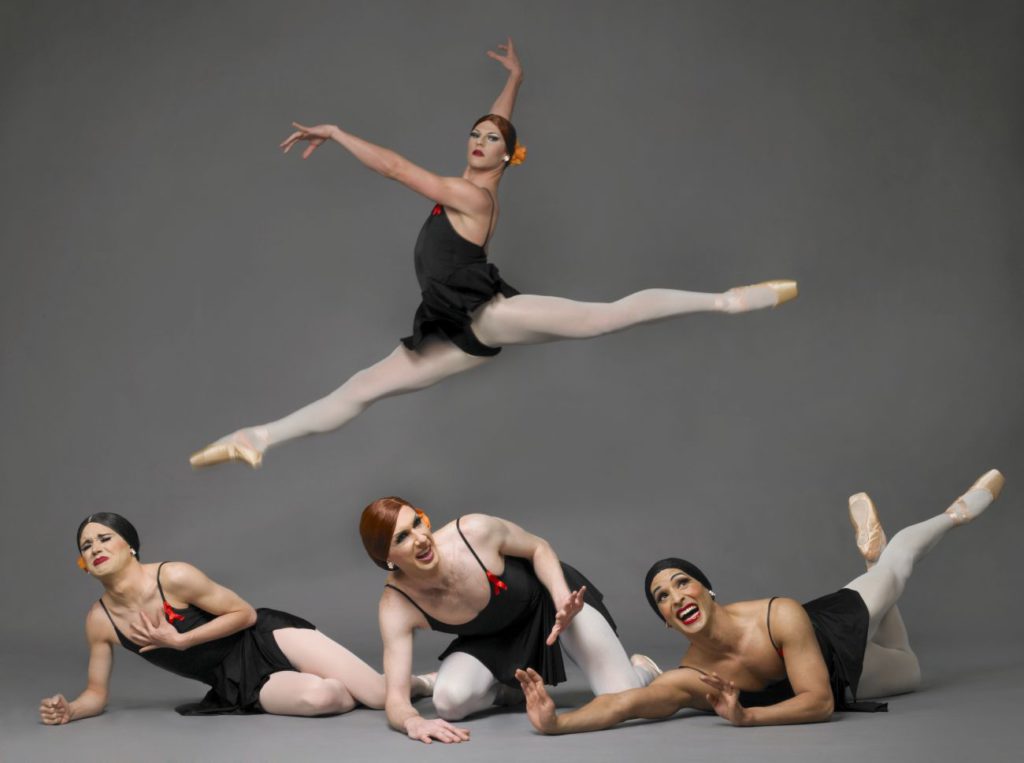 "Go for Barocco" fueled ones admiration for Balanchine. Such clarity of lines! Such structural finesse! Such unforced elegance! Each danseuse had a yellow flower tucked behind her ear and a small red ribbon attached to her top's strap. Both brightened the piece's overall sobriety to exactly the right degree. Positioning pointe shoes with a decisive loud 'tock' served as a subtle means to direct the audience's attention towards individuals. The zealous waddling gait spiced with sexy hip kicks, a fine invention to move the group effectively across the stage, rose to meet Johann Sebastian Bach's sonorous music with panache. Balanchine would have been delighted! The ornamental group arrangements were especially marvelous, demonstrating how knotted limbs could be detangled with ease.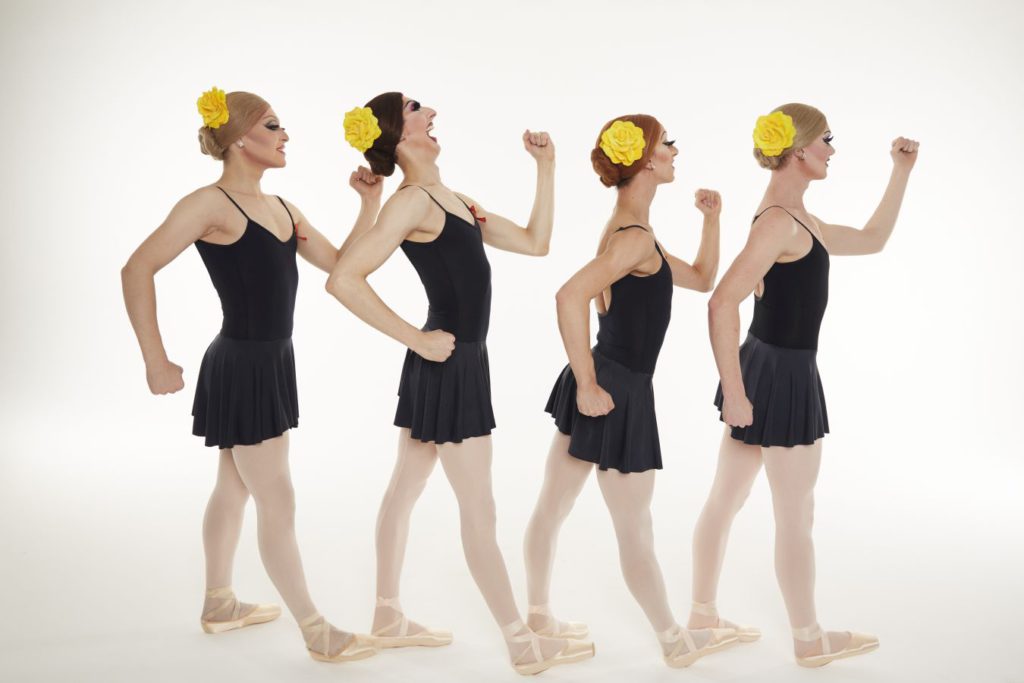 The evening reached its climax with Maria Paranova (Carlos Renedo) as the Dying Swan. Suffering from an ultra-rapid molt she tried snatching down feathers and stuffing them into her bustier – alas, to no avail. Yet a true diva, Paranova kept her grace and dignity until the bitter end, graciously smiling and fluttering her extra-long eyelashes. Truly, glamorous make up serves one in the worst situations of life.
The Grand Pas of "Paquita" requires sure-fire technique and precision, both of which were confidently displayed by the leading ballerina, Alla Smizova (Carlos Hopquy) and the impressive corps. Has one ever seen such firmly raised chins and hairy chests proudly arched towards heaven? I wondered, though, how Bruno Backpfeifengesicht (Giovanni Ravelo) as Smizova's cavalier, his blonde hairdo faintly reminiscent of the German crooner Heino, could have fancied he could impress the overwhelmingly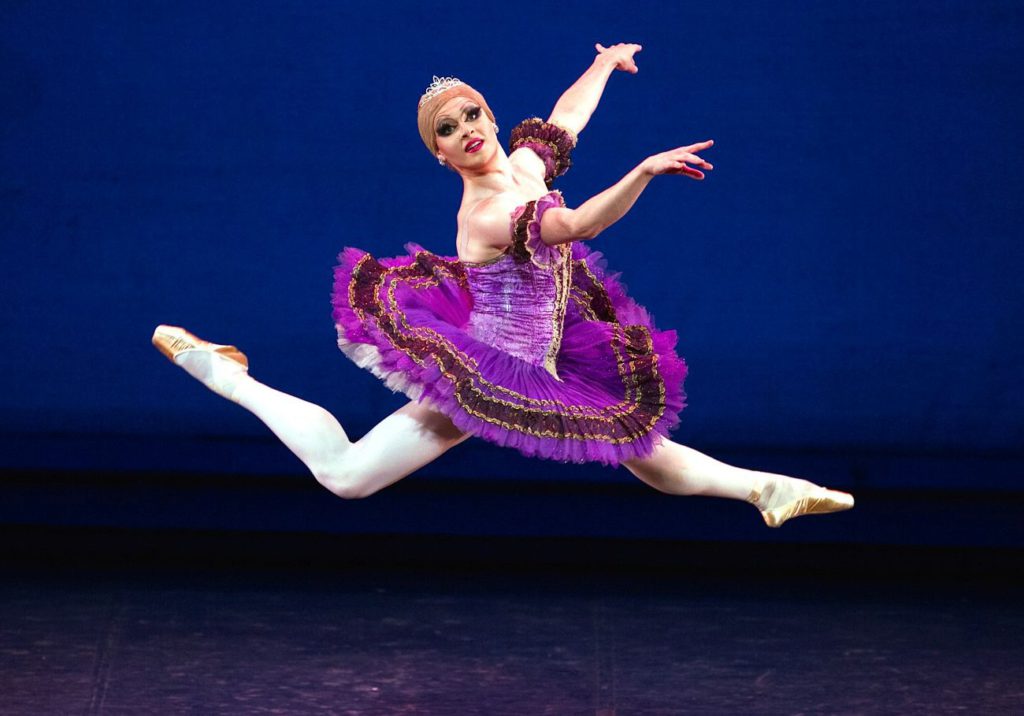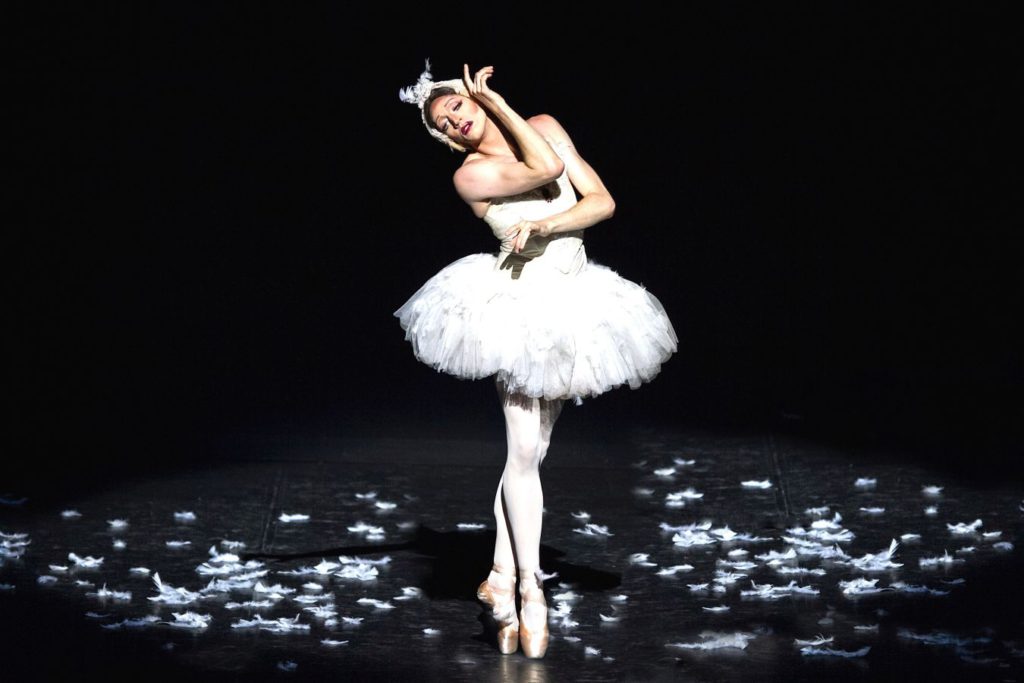 powerful females around him with some simple petite changements. Smizova outdid him by far, waving masculine jumps into her sublime performance while keeping utmost lyrical arms. She served up hops on pointe and fouettes as if they were nothing.
In Balanchine's ballets women were first, men were consorts. "God made men to sing the praises of women. They are not equal to men: They are better.", he said. Didn't the Trocks prove exactly this?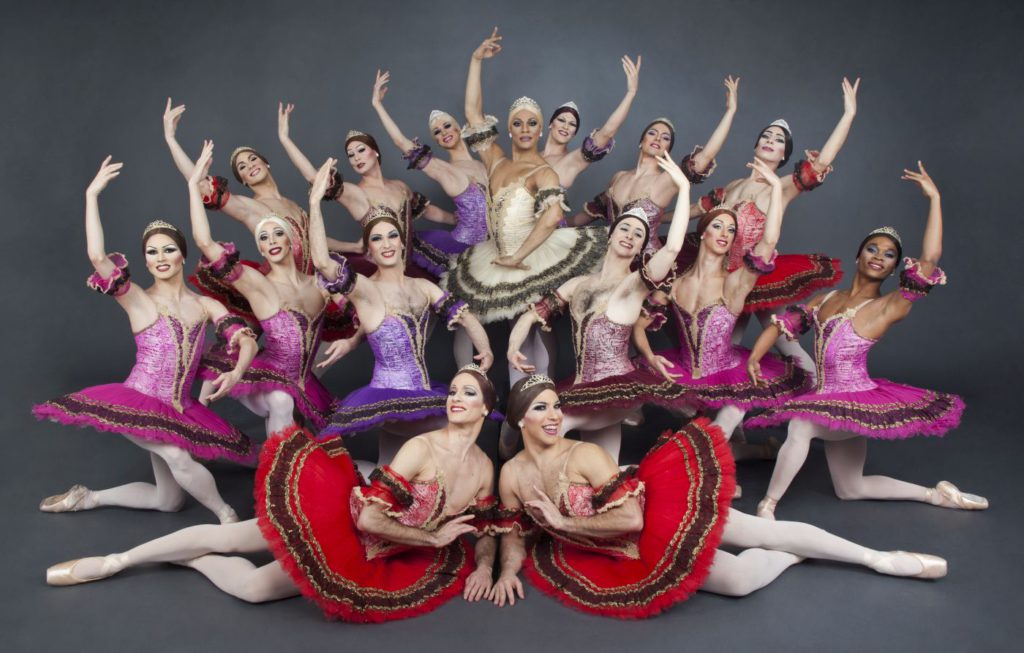 Links:
 Homepage of Les Ballets Trockadero de Monte Carlo
 Homepage of the Theaterhaus Stuttgart 
 Photos:
(The photos show a partially different cast from an earlier performance.)
 1.

Ensemble, "Swan Lake" after Lev Ivanov, Les Ballets Trockadero de Monte Carlo

© Sascha Vaughan

 2.

Ensemble, "Swan Lake" after Lev Ivanov, Les Ballets Trockadero de Monte Carlo

© Marcello Orcelli

 3.

Ensemble, "Swan Lake" after Lev Ivanov, Les Ballets Trockadero de Monte Carlo

© Marcello Orcelli

 4.

Ensemble, "Go for Barocco" by Peter Anastos, Les Ballets Trockadero de Monte Carlo

© Sascha Vaughan

 5.

Ensemble, "Go for Barocco" by Peter Anastos, Les Ballets Trockadero de Monte Carlo

© Zoran Jelenic

 6.
 

"Dying Swan",

Les Ballets Trockadero de Monte Carlo

© Marcello Orcelli

 7.

"Paquita" after Marius Petipa,

Les Ballets Trockadero de Monte Carlo

© Marcello Orcelli

 8.
Ensemble, "Paquita" after Marius Petipa,

Les Ballets Trockadero de Monte Carlo

© Sascha Vaughan



Editing:

Laurence Smelser