"Taming of the Shrew"
Bolshoi Ballet
Royal Opera House
London, Great Britain
August 03, 2016
by Ilona Landgraf
Copyright © 2016 by Ilona Landgraf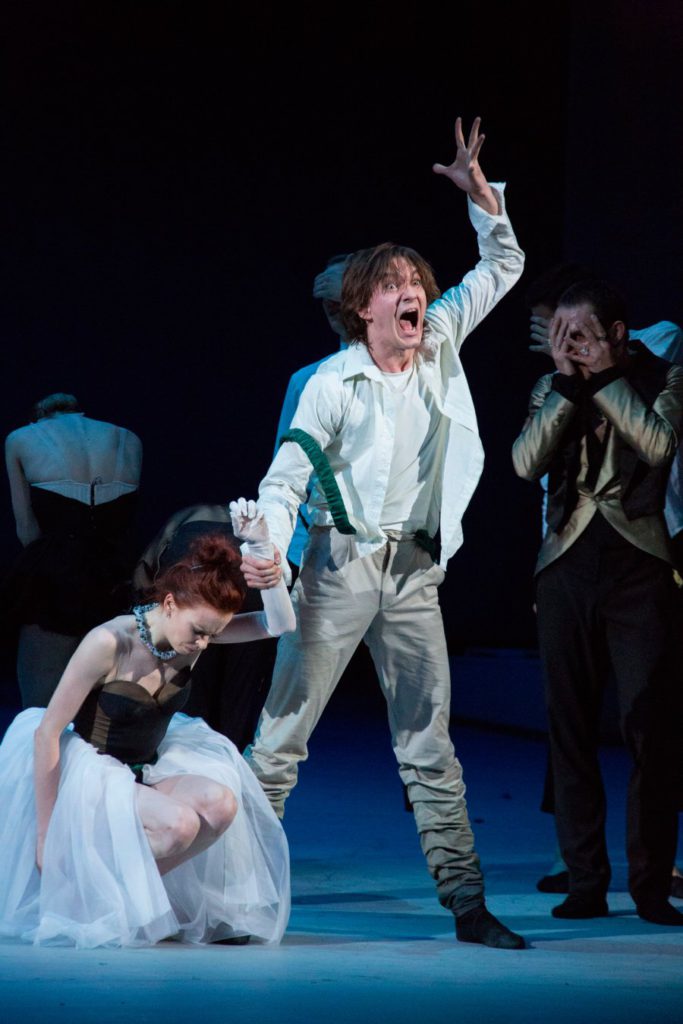 The Bolshoi Ballet's three-week tour to London draws crowds of ballet aficionados to the Royal Opera House. Every evening each of the five productions is sold out. Those include the much-loved classics, "Swan Lake", "Don Quixote" and "Le Corsaire", as well as "The Flames of Paris" by Alexei Ratmansky and Jean-Christophe Maillot's "The Taming of the Shrew" which premiered two years ago at the Bolshoi. "Shrew" was scheduled only twice. I saw the first performance.
Similar to Kurt-Heinz Stolze's Scarlatti-pastiche for John Cranko's "Shrew", Maillot also cobbled together the score. He assembled less well known film music and excerpts of symphonies by Dmitri Shostakovich which go along with the events on stage like lubricating oil. Whether swooshing or romantic, the Orchestra of the Bolshoi Theatre under Igor Dronov's baton played with verve.
The story sets off at the estate of Baptista, a wealthy lord in Padua. But the two broad, curved outdoor stairs arching over the house's entrance, designed by Ernest Pignon-Ernest, don't relate to any specific town. Baptista is beset with two daughters, the prickly Katharina and her younger sister, the much-adored Bianca. But the latter will not be allowed to marry until Katharina first wears her wedding ring. Bianca's three suitors, Lucentio, Hortensio and Gremio, see their chance in Petruchio, an old acquaintance of Hortensio eager to marry well. Petruchio starts his taming of Katharina, succeeds and paves the way for a happy ending for all parties involved.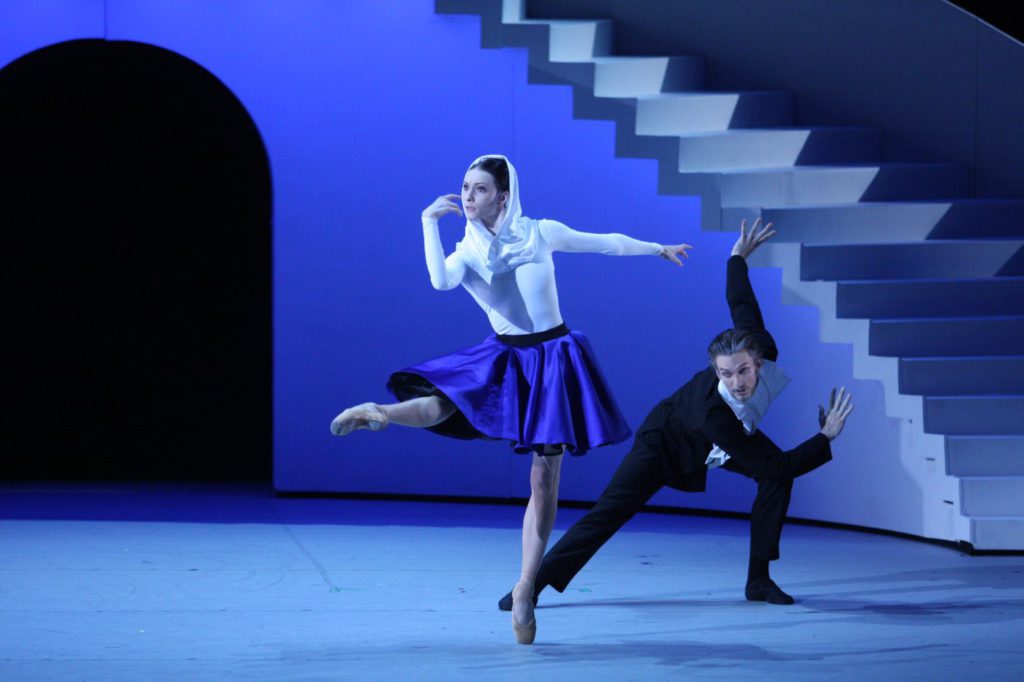 Shakespeare portrays gender relations that for today's audiences partly fall beyond the pale. Navigating the characters without setting them at risk to become hackneyed clichés requires sure instincts. Cranko was clever to set his "Shrew" loosely in the Renaissance period. Propelled by his warm-hearted humor, smashing slapsticks, ravishing dance and witty costumes, his version, despite being almost half a century old, remains a delight. Cranko drew on clichés as well, but the ones of good old times. This distance makes it easy to laugh heartily about Katharina's pacification.
In contrast to Cranko's narrative, Maillot chose a modern, more abstract approach. Plain gray-white columns, triangular seats and a slanted platform serving as marriage bed define timeless surroundings. But omitting the pastiche of the past bears the risk of ending up with antiquated, misogynic gender stereotypes. Sadly, Maillot wasn't thoroughly successful in avoiding bad taste. It was by far due to the Bolshoi's excellent dancers and their zest for acting that there was still plenty to relish.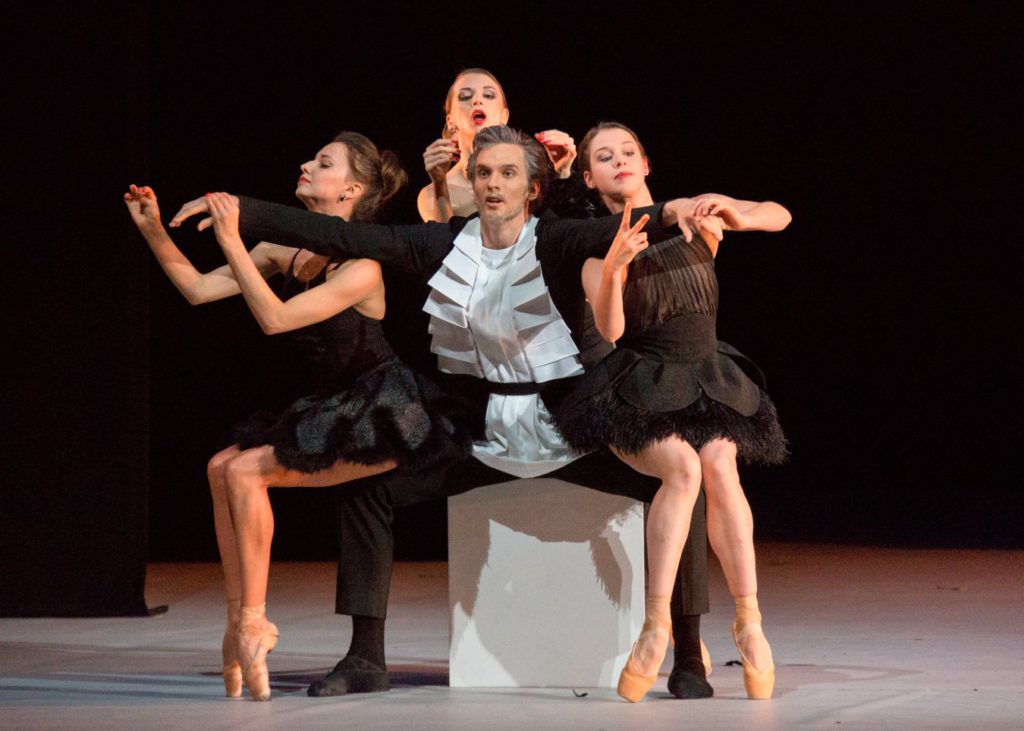 Red haired Ekaterina Krysanova was an all feisty and petulant harpy Katharina. She lashed out and kicked at Bianca's suitors. No chance to score off the others was missed. When she turned up in her green and black costume menace was at hand.
Olga Smirnova as Bianca, with her white hoodie-shirt and the blue skirt on first sight the personification of nun-like innocence, was in fact quite flirtatious and up to mischief. Her heart had already been won by Lucentio (Semyon Chudin), who combined all desirable character traits. He was kind, sensitive, attentive, sweetly enamored yet determined. At one point he stole away across the staircases for a tȇte-à-tȇte with Bianca, which earned him reproaches from his two rivals, Hortensio (Igor Tsvirko) and Gremio (Vyacheslav Lopatin). Yet from the beginning both had no chance to conquer Bianca. Nevertheless together with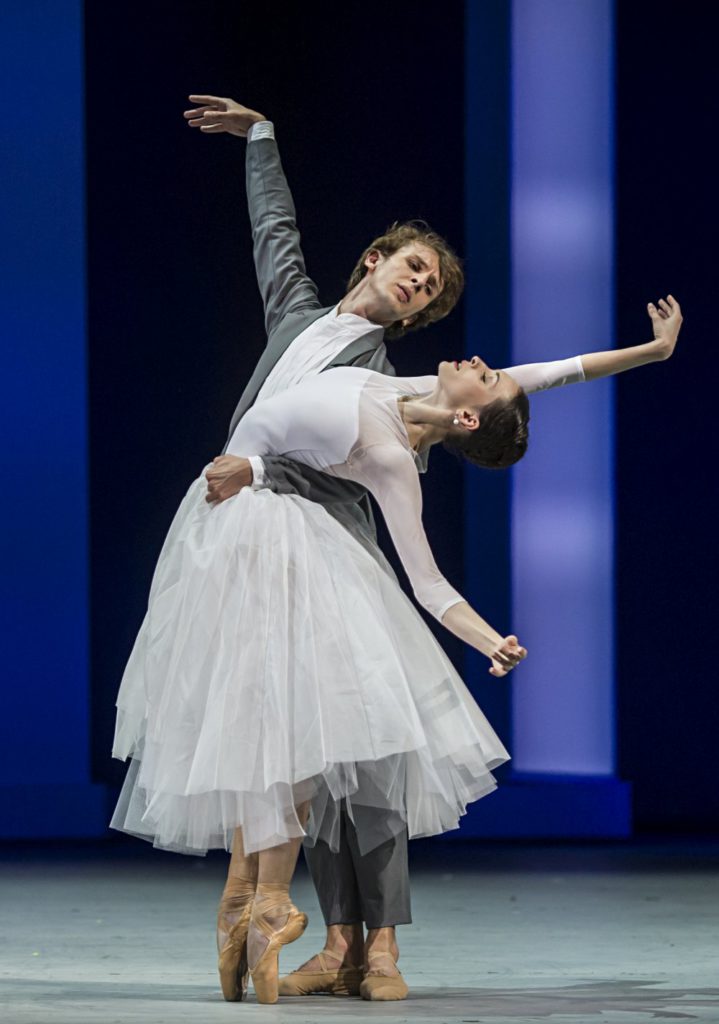 Lucentio they craned their necks like lemurs for her while Katharina made them run a mile (or more).
Tsvirko portrayed Hortensio as a brash Latin lover with macho behavior. Gremio, in Shakespeare's play an old, foolish gentleman, in Maillot's interpretation was a lecher, but neither his golden vest nor his necklace saved him from being unimpressive. Why Petruchio (Vladislav Lantratov) came into play was unclear. Or maybe I missed his conspiratorial meeting with Bianca's three admirers. In any case, Lantratov suddenly burst onto the scene like a coarse logger, his rumpled hair matching his fur coat. A real man his suspenders suggestively hung down from his naked torso. Pretending to be dead-drunk he crudely monopolized her, happily unimpressed by her resistance. For a sturdy log a sturdy axe! But a short moment in which time stood still revealed, that Katharina could in fact well warm towards the idea of a love affair with Petruchio. The emphasis is on "love"; that is what Krysanova expressed, but Maillot instead based the subsequent story on physical urge. Katharina's shrewish conduct resulted from her unsatisfied sexual lust. Petruchio was no less turned on. Hence both fingered each other with greedy hands.
The further "taming" went as follows: In the second act, after having been inevitably married, Katharina trudged next to Petruchio to his house. When for a moment she was deliberately left alone, seven masked men in black surrounded her threateningly,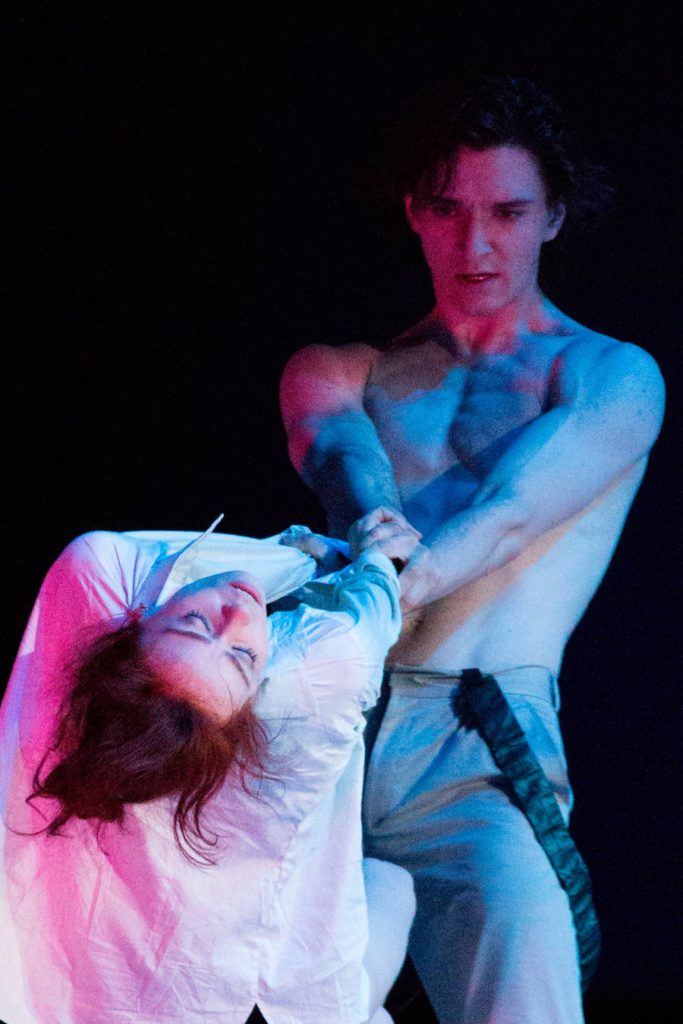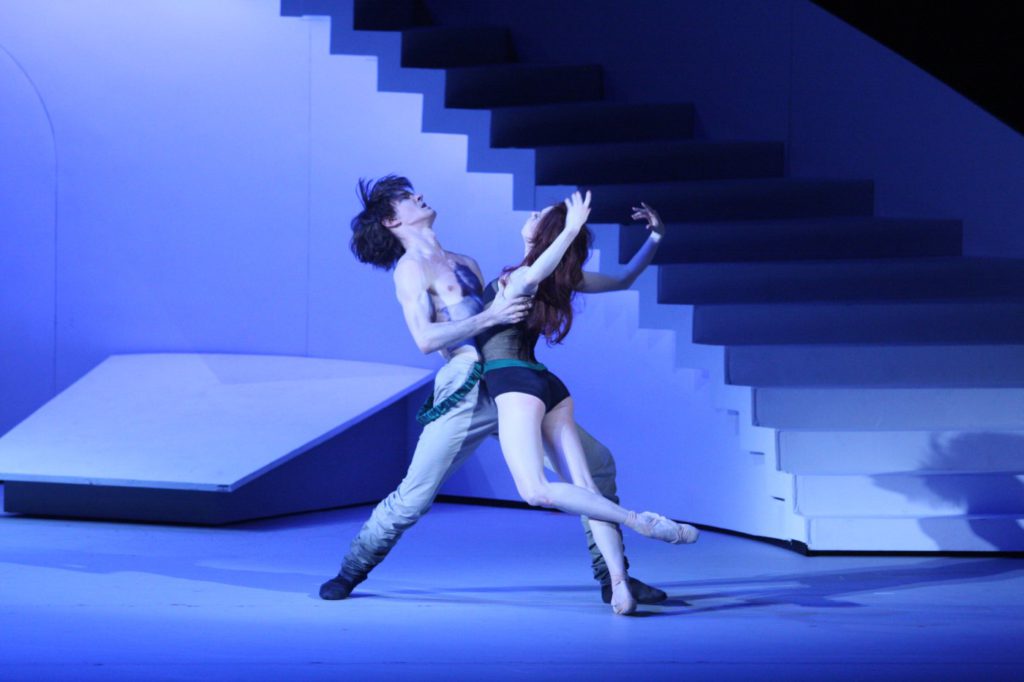 pulled off her skirt and robbed her of her necklace. Petruchio ended the fake attack by chasing the bad bunch generously away. The scene clearly hinted towards an attempted rape. A way to make a woman see reason? That Petruchio afterwards thrusted his lower arm between Katharina's legs to lift her took the same line. Katharina, deprived of her will and in a trance-like condition, was then carried to the conjugal bed where ultimate peace and harmony was established by passionate consummation. Could the message of how to cope with an unwilling woman be more lowbrow? Luckily, Petruchio's servant Grumio, danced by the charmingly comical Georgy Gusev, had thrown a blanket over the couple in time.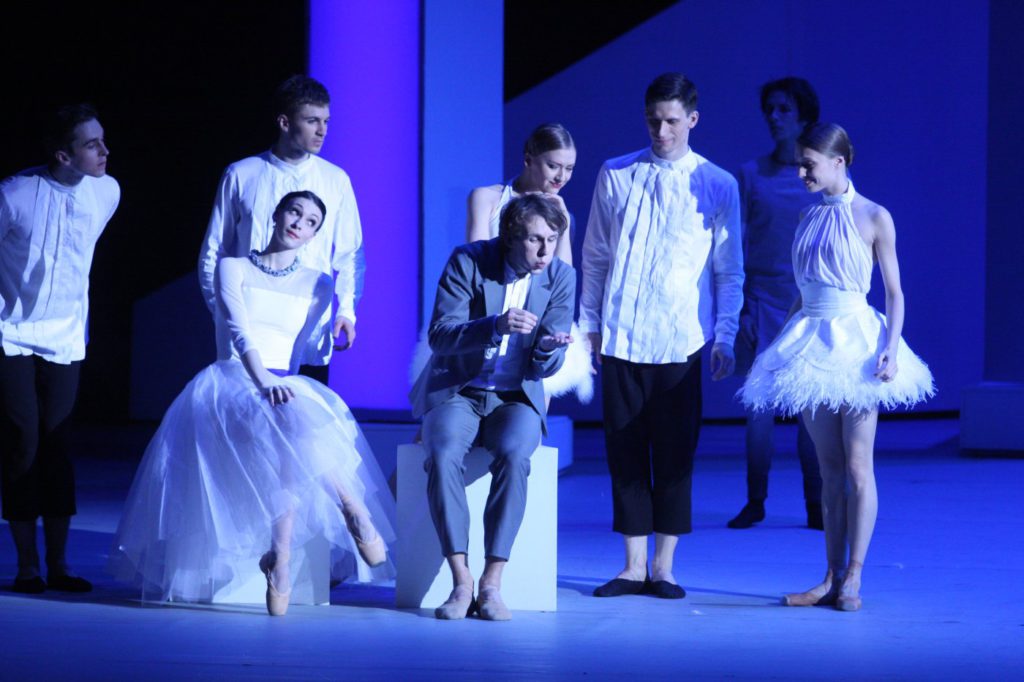 In the program book Maillot compares the relationship between Katharina and Petruchio with an "encounter between two forces of nature". They are "albatrosses among sparrows". What is he fantasizing about?
At the end all gathered at the home of Baptista (Artemy Belyakov) for Bianca's and Lucentio's wedding. A lovely pas de deux with a touch of Hollywood romance mirrored their relationship's nature. The others didn't stay lonely either. Hortensio had found a match in Yulia Grebenshchikova's young Widow. Gremio hooked Baptista's capricious housekeeper (Anna Tikhomirova), an additional figure invented by Maillot. Katharina and Petruchio appeared in sleek fabric, unashamedly flirtatious. Sex – the perfect glue?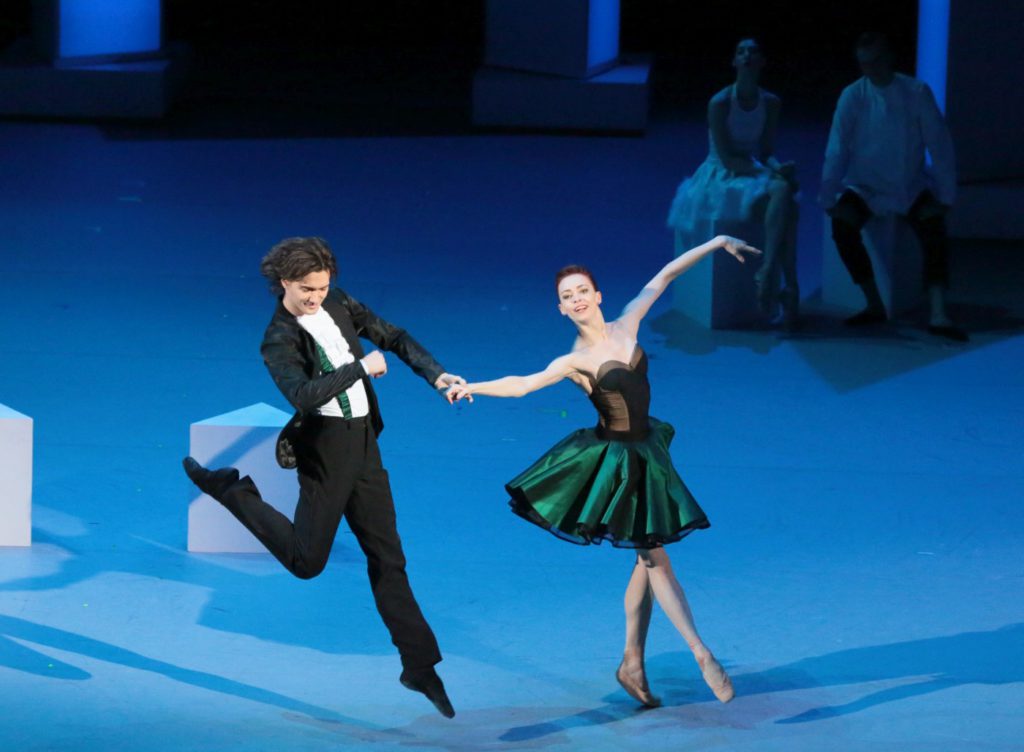 Links:
 Homepage of the Bolshoi Theatre
 Dance Tabs photo gallery of "The Taming of the Shrew" © Dave Morgan
 Homepage of Viktor Hochhauser
 Photos:
 1.

Ekaterina Krysanova (Katharina) and Vladislav Lantratov (Petruchio), "The Taming of the Shrew" by Jean-Christophe Maillot, Bolshoi Ballet

© Mikhail Logvinov/Bolshoi Theatre



 2.
Olga Smirnova (Bianca) and Artemy Belyakov (Baptista),

"The Taming of the Shrew" by Jean-Christophe Maillot, Bolshoi Ballet

© Elena Fetisova/Bolshoi Theatre

 3.

Artemy Belyakov (Baptista), Anna Tikhomirova (The Housekeeper), Daria Bochkova and Daria Khokhlova (Maidservants), "The Taming of the Shrew" by Jean-Christophe Maillot, Bolshoi Ballet

© Mikhail Logvinov/Bolshoi Theatre

 4.

Olga Smirnova (Bianca) and Semyon Chudin (Lucentio), "The Taming of the Shrew" by Jean-Christophe Maillot, Bolshoi Ballet © Alice Blangero

 5.

Ekaterina Krysanova (Katharina) and Vladislav Lantratov (Petruchio), "The Taming of the Shrew" by Jean-Christophe Maillot, Bolshoi Ballet © Mikhail Logvinov/Bolshoi Theatre

 6.

Vladislav Lantratov (Petruchio) and Ekaterina Krysanova (Katharina), "The Taming of the Shrew" by Jean-Christophe Maillot, Bolshoi Ballet © Elena Fetisova/Bolshoi Theatre

 7.

Olga Smirnova (Bianca), Semyon Chudin (Lucentio) and ensemble, "The Taming of the Shrew" by Jean-Christophe Maillot, Bolshoi Ballet © Elena Fetisova/Bolshoi Theatre

 8.

Vladislav Lantratov (Petruchio) and Ekaterina Krysanova (Katharina), "The Taming of the Shrew" by Jean-Christophe Maillot, Bolshoi Ballet © Damir Yusupov



Editing:
Agnes Farkas