State Ballet Berlin
Berlin, Germany
September 22, 2016
by Ilona Landgraf
Copyright © 2016 by Ilona Landgraf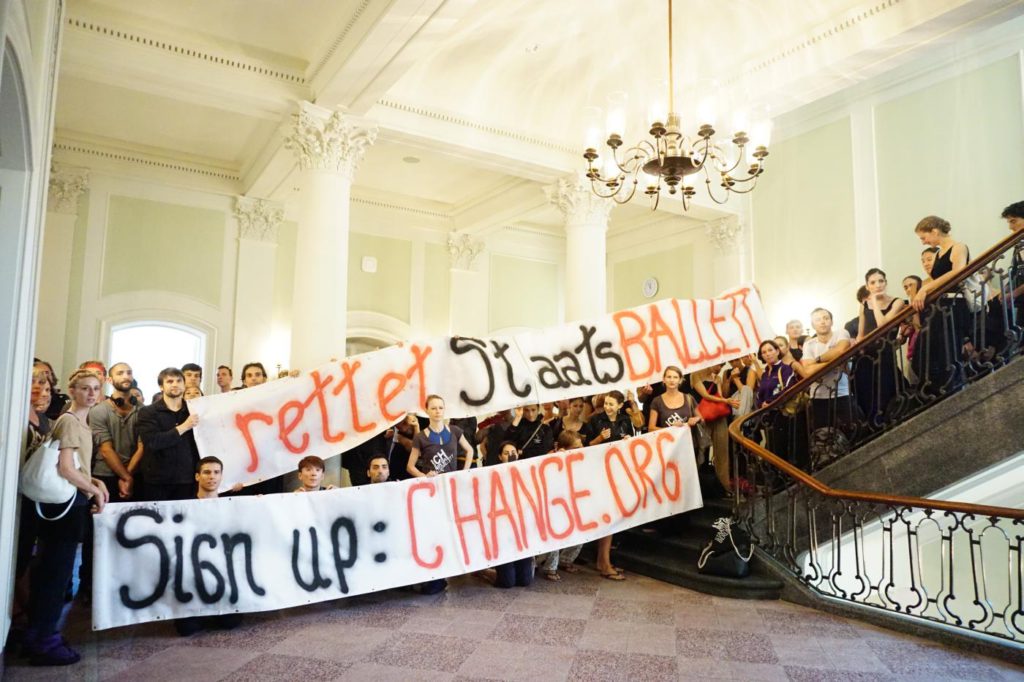 The announcement that Sasha Waltz and the Royal Swedish Ballet's artistic director Johannes Öhman will succeed Nacho Duato at the helm of the State Ballet Berlin in the 2019/20 season is still creating massive waves. Michael Müller, Berlin's governing mayor and cultural senator since 2014, and Tim Renner (both SPD), state secretary for cultural affairs, announced the news on September 7th, just before the elections in Berlin. Since then, the two men have been facing trouble. Recently, another decision of theirs, the appointment of the Belgian Chris Dercon, director of the Tate Modern in London, who will follow Frank Castorf at the Berlin Volksbühne, caused harsh criticism as well. Müller and Renner are accused of making these decisions alone, behind closed doors, resistant to the advice of others.
The State Ballet's entire company, which was already successful in last year's strikes for better salaries, voiced its displeasure with the intended dual leadership in a public petition. On Sunday evening, September 11th, shortly before the first ballet performance at the Komische Oper, they took their public disapproval a step further, raising a banner that read "Rettet Staatsballett" ("Save the State Ballet") in front of the opera's entrance. Meanwhile, more than 9,500 supporters were signing the online-petition, posted on the company's homepage and Facebook site: a clear signal of the current directorate in support of his dancers. Regardless of the complaints about Duato, his continual support of his dancers, both last year and now, conveys his strength in character.
The petition, available in German, English, French, Russian, Spanish, Italian and Japanese compares the appointment of Waltz and Öhman with "the appointment of a tennis trainer as a football coach or an art museum director as an orchestral director". It further states: "We respect the work of Sasha Waltz but find her completely unsuitable to lead our company. Sasha Waltz is a choreographer of dance theatre. This form of stage dance needs other artistic qualities than those which a classically-educated ballet dancer has developed and is dedicated to. The appointment of the artistic direction of the Staatsballett Berlin by Sasha Waltz even in part would seriously damage the image of the Staatsballett as a worldwide renowned classical ballet company, not only from the point of view of the public but also and especially from the view of classically trained professional dancers and choreographers." The company, with more than eighty dancers the largest in Germany, fears losing its reputation in the classical dance world resulting in choreographers' hesitant to staging classical works on the company in the future.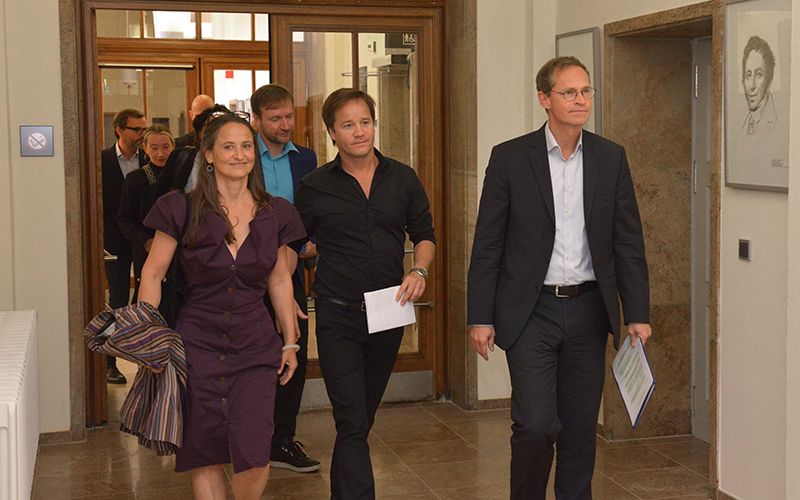 Waltz and Öhman have planned a balanced repertory with an equal share of classical and contemporary/neoclassical pieces. Classical ballets included are, "Sleeping Beauty", which in Waltz's and Öhman's German statement was at first wrongly translated as "Schneewittchen" ("Snow White"), "Swan Lake", "Giselle" and "Nutcracker". Within their five-year contract Waltz initially aimed to add one of her existing pieces to the repertory each season and to create three new pieces in total. Several critics agreed that after two seasons of Duato rehashing his mostly negligible pieces, there is no need to recycle Waltz's creations, especially as they aren't new to Berlin.
The idea of the dual leadership was Waltz's. She doesn't want the burden of administrative duties – which will be Öhman's undertaking – but rather, intends to work with the dancers and her own company Sasha Waltz & Guests. Directing the State Ballet – a part-time job?
The dancers were informed of Waltz's and Öhman's appointment solely by the media. Neither Müller, his secretary, nor the directors-to-be deemed it necessary to inform them in advance. In a report of Deutschlandradio Kultur, principal dancer Nadja Saidakova declared that if Waltz and Öhman take over, "the best dancers will leave the company immediately – and others won't join. That's how it is."*
Whether the dancers' demand to be involved in the finding of a new artistic director is valid or whether they have to accept that "a highly subsidized theater is no business including the workers' participation in decision making"* as Dorion Weickmann put it in the Süddeutsche Zeitung is open to discussion. Müller and Renner justified their decision by highlighting that they were advised in the process by the management of Sadler's Wells and the Paris Opera Ballet. Yet, Manuel Brug, dance and opera critic of the newspaper Die Welt, questioned the truth in this, pointing out that Waltz has only guested twice at Sadler's Wells and created a single piece for the Paris Opera nine years ago. Her encounters with classical companies include one assignment from the Maryinsky Ballet. Brug stated that none of these companies would ever entertain the idea of engaging someone like Waltz as an artistic director. Waltz's last premiere was Monteverdi's opera "Orfeo," which she mounted with her own troupe. It premiered in autumn 2014 in Amsterdam. Upcoming premieres have not been announced. Reportedly she suffered from burnout a few times. Is there reason to hope she will go through her second artistic adolescence in 2019, at the age of fifty-six?
Undoubtedly, she has supporters and admirers in Berlin, above all her husband Jochen Sander, known for being very well connected in Berlin. He persistently promotes his wife on Facebook and elsewhere. Waltz is a celebrity in the capital, and according to Brug, the director's post will give her the opportunity to retire early. In an article for Deutschlandradio Kultur, Wiebke Hüster, the former dance critic of the newspaper, Frankfurter Allgemeine Zeitung (FAZ), highlights financial advantages as one driving force behind Waltz's adamant aspirations towards the director's post: "One wonders why Sasha Waltz doesn't simply stick to her troupe Sasha Waltz & Guests, which is financed by the Berlin senate anyway. Why is she thought of being able of programming at all, something she has never been interested in? No, now she can continue as director of her own company, what she will do; she will get paid by the State Ballet for her old and new pieces, and she will get the director's salary. A super deal for her!"* Hüster's husband Jürgen Kaube, one of the four publishers of the FAZ and head of its arts section, wrote a damning comment, declaring that politicians in charge know absolutely nothing about ballet, contemporary dance and dance theater. Actually, so he says, they are totally indifferent towards it. Furthermore, he contested that Waltz does not have a sufficient knowledge of dance history. Peter Jungblut was likewise outspoken in his comment for the radio transmitter br Bayern 2.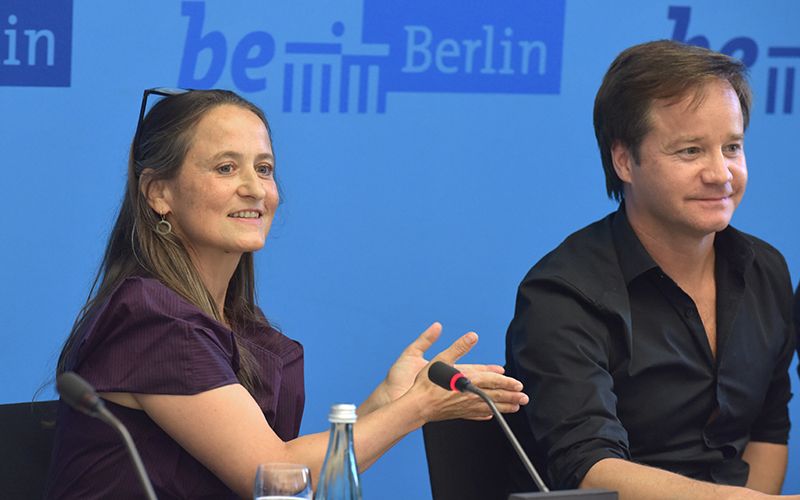 Waltz already caused midsize uproars in Hamburg and Stuttgart in earlier times, when her name was brought up as potential successor of John Neumeier and Reid Anderson. She was also considered to follow Vladimir Malakhov in 2013, but Duato finally won the race. Leading the State Ballet Berlin would polish Waltz's reputation and certainly massage her ego. It is her chance, and maybe her last.
A few days ago, cultural secretary Renner admitted to making mistakes in his communication with the dancers. This greatly worried the ensemble. On Monday, the German Kulturrat, the umbrella organization of the German culture organizations, argued that Müller should quit his job as cultural senator because he is busy enough as Berlin's mayor. Last weekend's result of the Berlin state election presumably increases the pressure on Müller.
A meeting between the company and Öhman last Wednesday did not soothe the waters. Öhman neither clarified the previous vague statement regarding the concept nor answered the dancers' questions satisfactorily. What is more, he admitted that he had never seen the troupe perform. Waltz didn't attend the meeting. She preferred to stay in Rome where her troupe was guesting with "Dido & Aeneas". She sent Öhman to pull the chestnuts out of the fire. The two parties agreed on a second meeting with both future directors on Tuesday, September 20th, for which the dancers would prepare their questions. When it was demanded afterwards that they hand in their questions in advance, the dancers canceled the meeting, declaring:
"We regret to inform you that we, the dancers of the Staatsballett Berlin, have canceled the Meeting with Sasha Waltz and Johannes Öhman scheduled for Tuesday, 20th September 2016.
In our Meeting with Tim Renner and Johannes Öhman last Wednesday, which Sasha Waltz regrettably did not attend, we agreed to collect the dancers' questions for Tuesday's meeting in order to give the conversation some structure. However, in a follow-up-email from the Kulturverwaltung it was also demanded from us to hand in these questions 24 hours in advance. This was never agreed to.
In our answer to the email from the Kulturverwaltung we asked them to send us the concept for the future co-directorship of Sasha Waltz and Johannes Öhman beforehand, so that we can prepare questions in correspondence with the concept. We were rather surprised to read in their response that no such concept exists yet.
Under these circumstances, we don't see the point of having a meeting. Additionally we find it worrying that there is no concept yet as it had been indicated in the meeting last week that this had been in discussion for over a year.
We are still happy to meet with Sasha Waltz and Johannes Öhman – when there is a concrete concept and when the new government is in place. Until then a meeting seems senseless to us."
Waltz and Öhman countered in a statement: "We find it very unfortunate that the representative's current tone, aggressive discourse and spread of disinformation harms the institution of the Staatsballett." Isn't it rather Waltz who is harming her reputation?
Allegedly, Waltz's and Öhman's contracts are yet to be signed.
(* translation from the German made by me)
Links:
Homepage of the State Ballet Berlin
Petition "Save Staatsballett"

Photos:

1.

Ensemble of the State Ballet Berlin

© State Ballet Berlin 2016

2.

Sasha Waltz, Johannes Öhman and Berlin's mayor Michael Müller

© Landesarchiv Berlin 2016



3.

Sasha Waltz and Johannes Öhman © Landesarchiv Berlin 2016

Editing:
Anna Antongiorgi