"Dutch Masters"
Dutch National Ballet
Dutch National Opera & Ballet
Amsterdam, Netherlands
September 25, 2016
by Ilona Landgraf
copyright © 2016 by Ilona Landgraf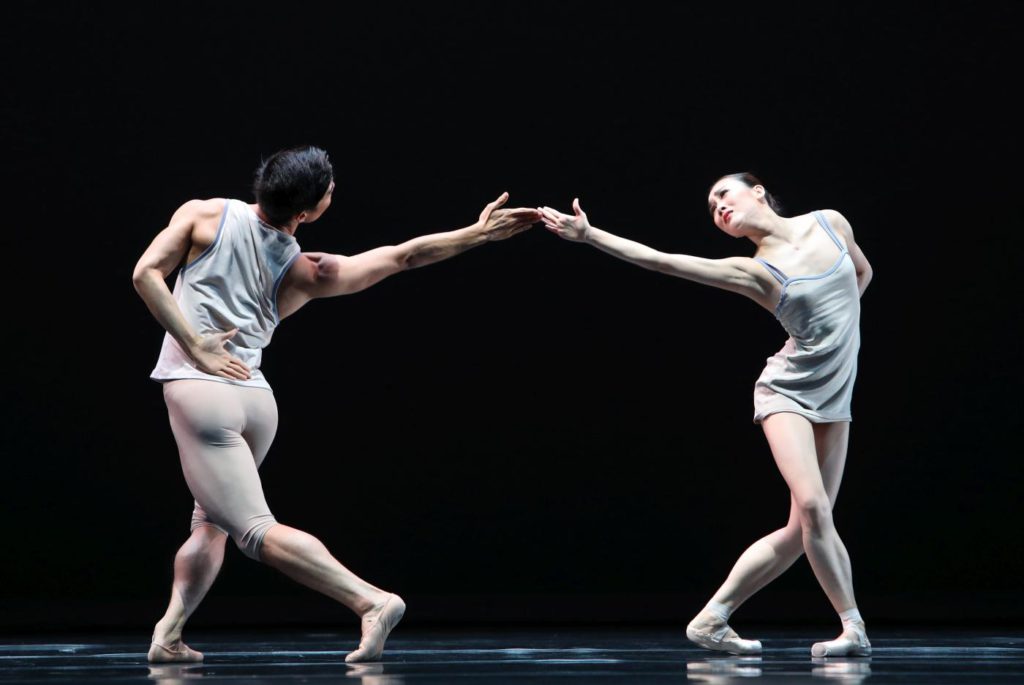 Dutch National Ballet's latest mixed bill was all-Dutch. It assembled four pieces by three pivotal choreographers of the Netherlands: "Vier letzte Lieder" ("Four Last Songs") by Rudi van Dantzig (1933 – 2012), the company's artistic director for twenty years; "Adagio Hammerklavier" by Hans van Manen (born: 1932) ; plus "Episodes van Fragmenten" and "Requiem", both by Toer van Schayk (born: 1936). This wasn't lightweight entertainment but a program upon which to ponder. I attended the last performance, the Sunday, September 25th matinée.
Van Schayk's history with Dutch National Ballet spans more than fifty years, during which he danced, choreographed and designed sets and costumes. For the occasion of his eightieth birthday later this month, dancers and artistic collaborators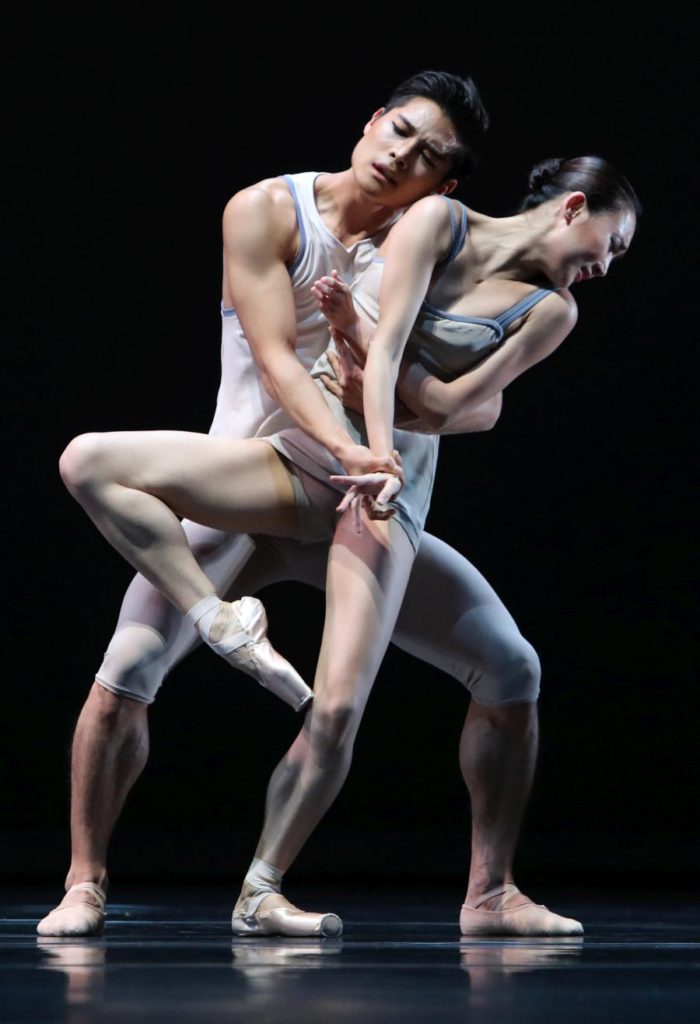 plus Ted Brandsen, the troupe's current artistic director, paid tribute to him in a video which opened the program. Van Schayk was shown in old b/w video footage and more recent takes of him rehearsing, painting, sculpting. In short, he was being creative throughout. Short scenes from ballets he choreographed or designed whetted our appetite to see complete revivals. His kindness and warmth radiated from the screen even for those who do not know him in person.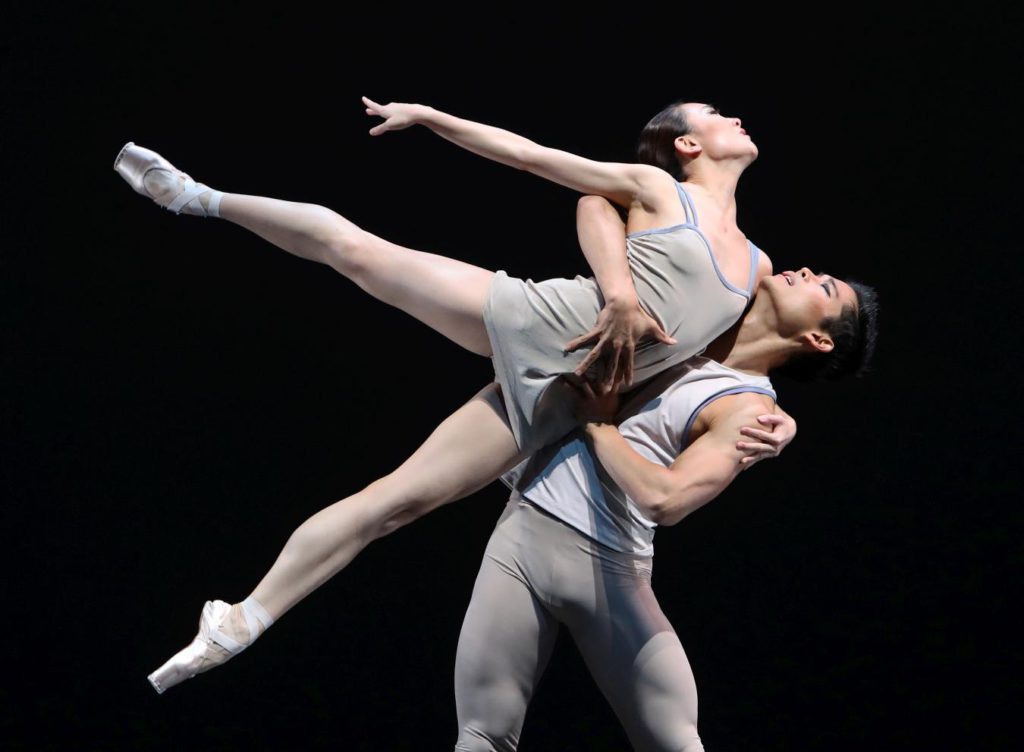 Although he is officially retired, Van Schayk's latest creation, "Episodes van Fragmenten", premiered at the season's opening gala earlier this month. The eleven-minute piece for two dancers (Qian Liu and Young Gyu Choi) and two musicians (pianist Michael Mouratch and violinist Jeroen van der Wel) highlights what Van Schayk is known for: his plastic approach to movement and his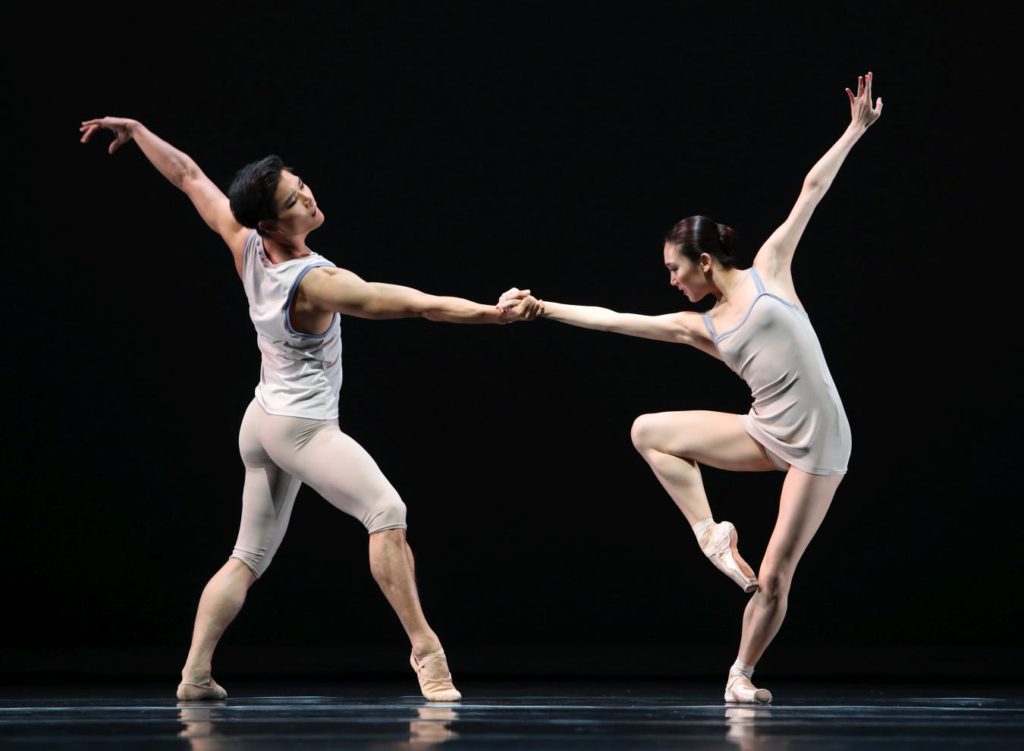 use of dancers as mobile sculpture. Clever accentuation and positions, held just long enough to be perceivable, together with an overall smooth, fluent style mesmerized the eyes. Liu and Gyo Choi sketched a relationship that included several mood swings but no explicit story – except for one scene in which Liu wants to leave and Gyu Choi prevents her by barring the way. Several times the focus of the action shifted to the musicians, who were giving a rendition of Eugène-Auguste Ysaÿe's "Extase, opus 21" on the left side of the stage. To a gently trippling piano melody and tender violin sounds, Liu and Gyo Choi finally knelt in front of the musicians in acknowledgement of their skill. Then the pair stood up, turned around and, with a last look back, departed hand in hand. Van der Wel followed them a few steps, eliciting a tone on his violin that sounded so tender that I imagined Van Schayk finishing one of his paintings with the softest of brushstrokes.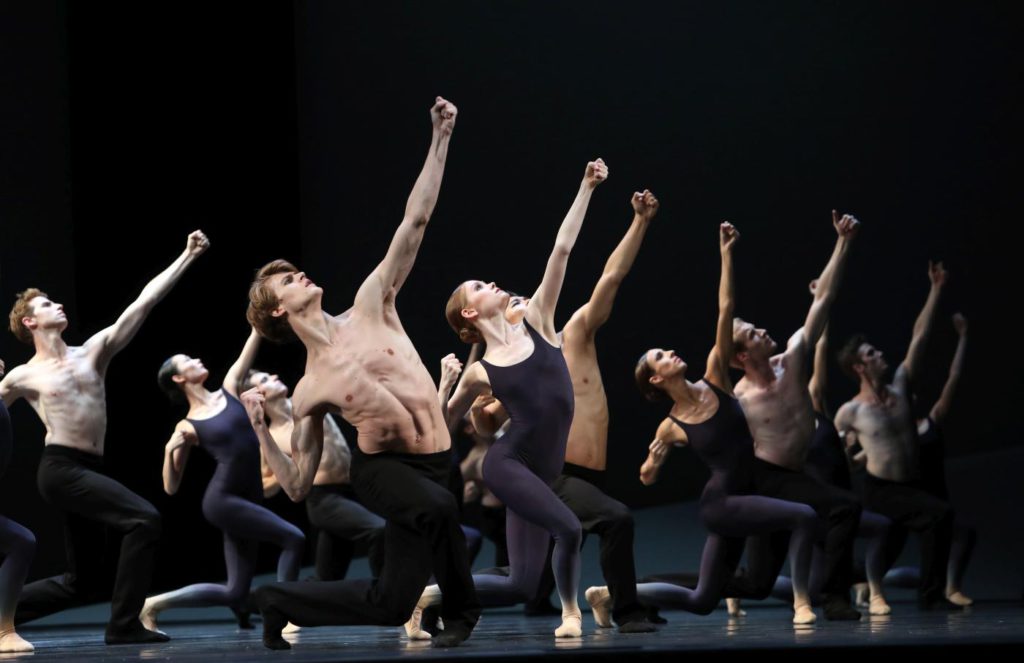 For "Requiem", choreographed in 1990, Van Schayk had turned to Wolfgang Amadeus Mozart's "Requiem". Actually, only fragments are by Mozart. He died while composing it and it was completed by two of his pupils. Van Schayk used his own new translation of the Latin verses, which mainly deal with mankind's fear of the Last Judgement. However, the sung text is of lesser importance since hardly anyone can decipher either the Latin original or the translation. The choreography conveys grief and consolation, loneliness and community, and the inevitability of having to pay the bill. Individuals and the community are both confronted with responsibility for their deeds, for having failed. The realization that we are all part of the community,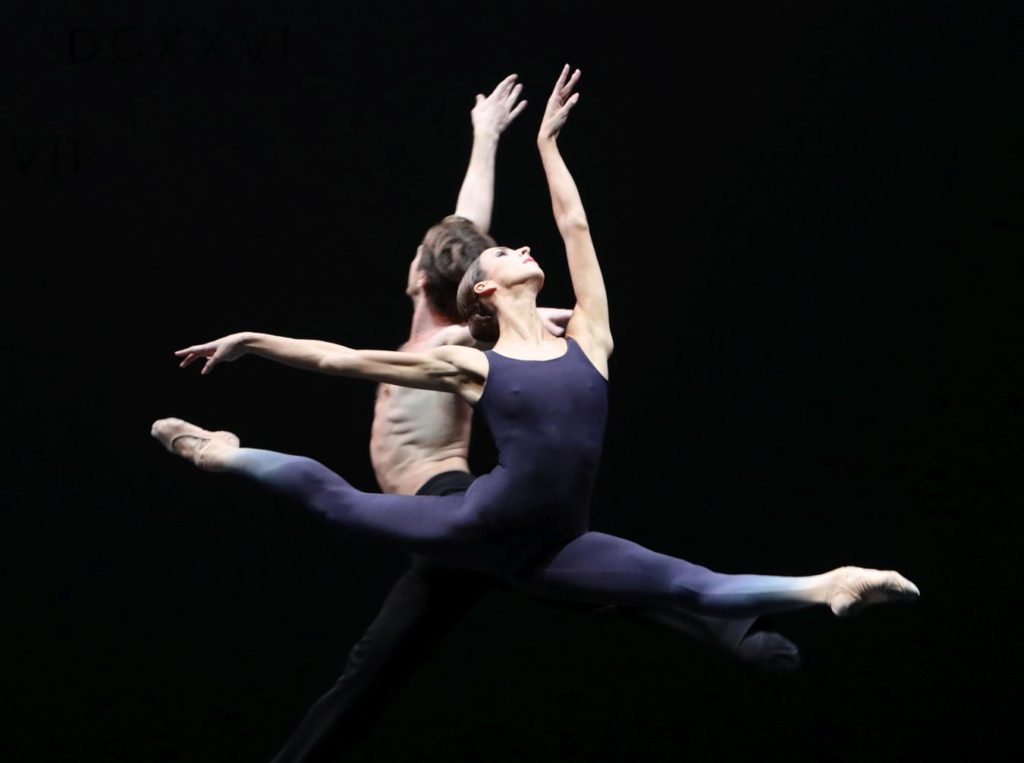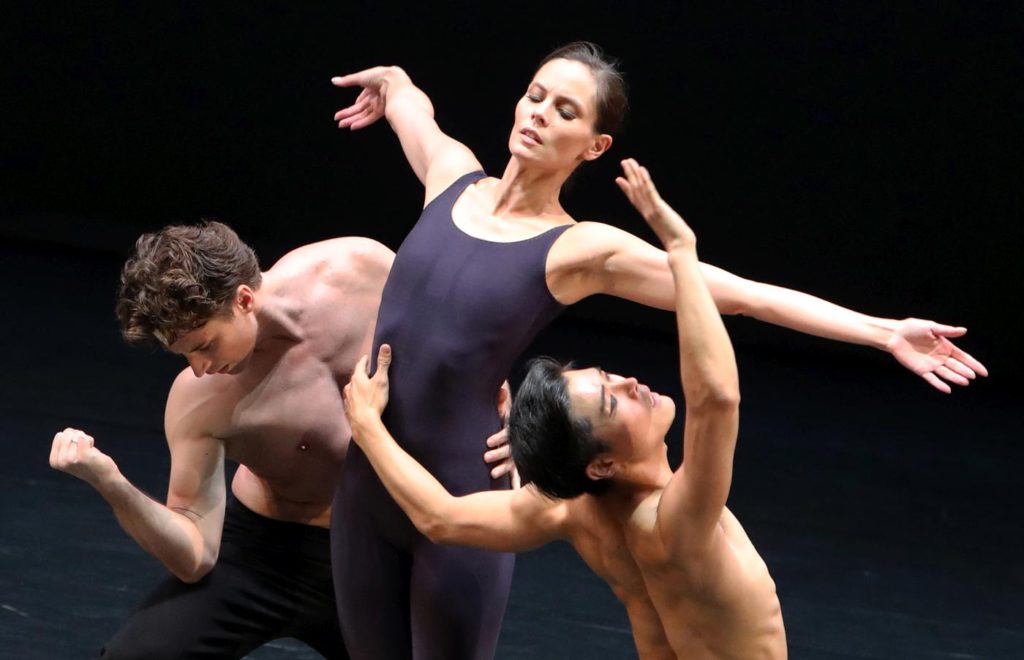 no matter how much we try to distance ourselves, leaves one with an oppressive feeling. But Van Schayk also shows the power inherent in the group, a power that helps sustain but also helps to change our behavior. What makes "Requiem" forceful is that Van Schayk abstained from pointing the accusing finger, that he depicts pity but not self-pity. Pathos is avoided.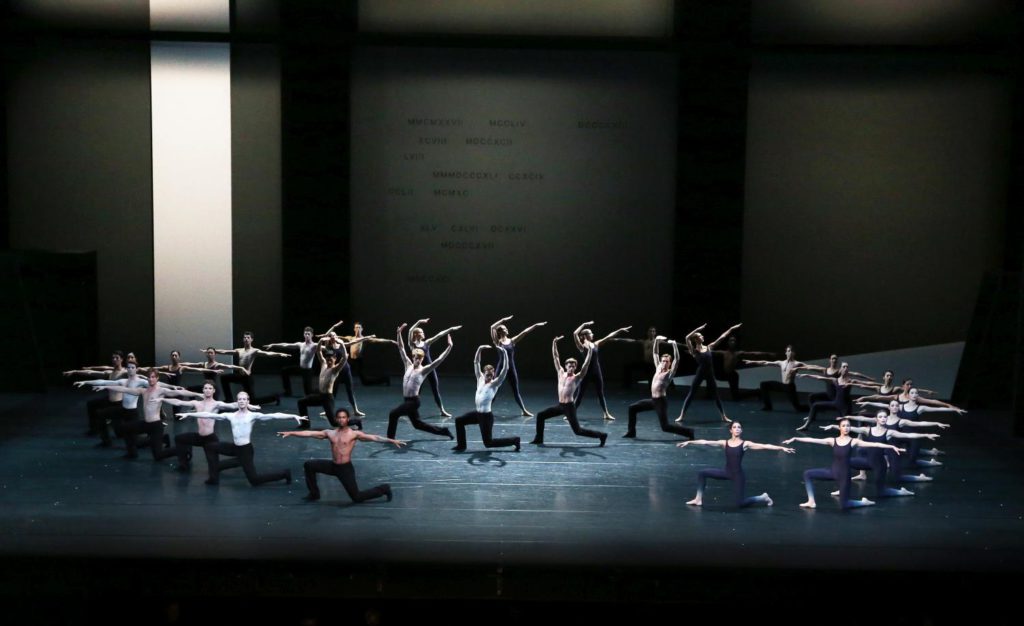 Once again, the choreography is imprinted by Van Schayk the visual artist. This time he carved crowds in motion interspersed with small clusters and solo dances. Several things contribute to the sum visual effect: the weight of the sheer number of dancers onstage; the group arrangements – in a long line, in blocks, in rows or in surprising huddles. The movement, either unison or split into subgroups, is attention getting. Contrast between the simple black and dark purple body suits and the dancers' light skin color intensified the visual impact. Van Schayk's set design uses a spare palette, one reduced to gray and b/w. At the beginning, a pale orange moon was shown shining on the backdrop. Later, shots from a wobbly hand-held camera projected unidentifiable images. Were these close-ups of corals or a brown ink blot in water?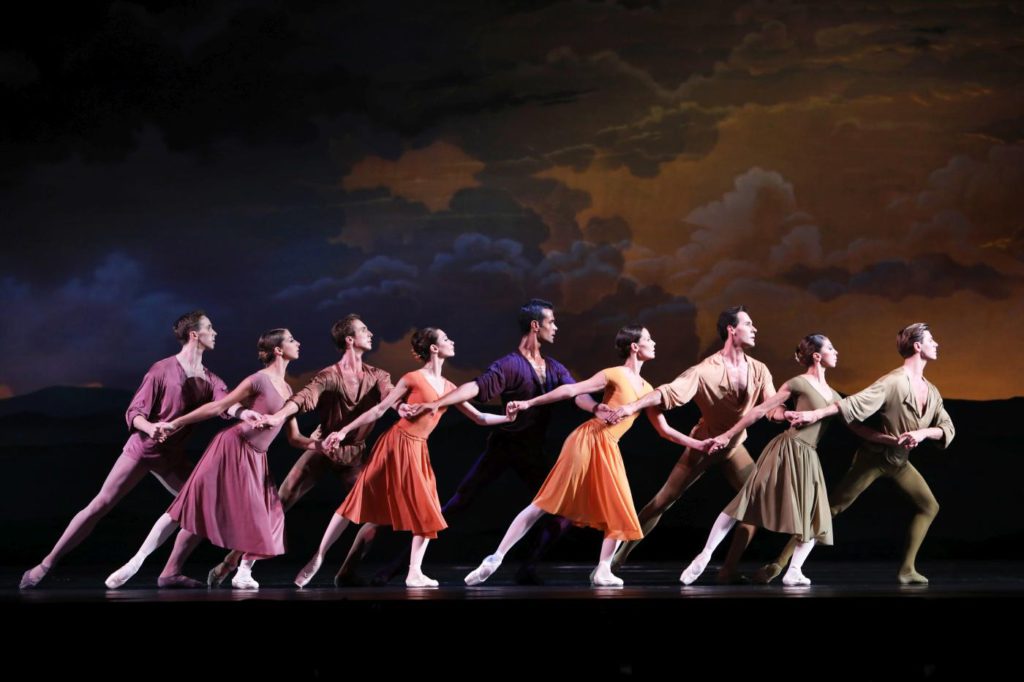 According to notes in the program booklet, what Van Schayk has addressed throughout his choreographic career was our collective guilt in destroying creation. How we deal with nature concerns him.
Following the first performance of "Dutch Masters" in mid-September, the Dutch minister of culture honored Van Schayk by appointing him an Officer of the Order of Orange-Nassau. The minister's words were, "Toer van Schaijk is multi-talented. … You cannot sum him up under one heading, and that makes him a wonderful, unique person."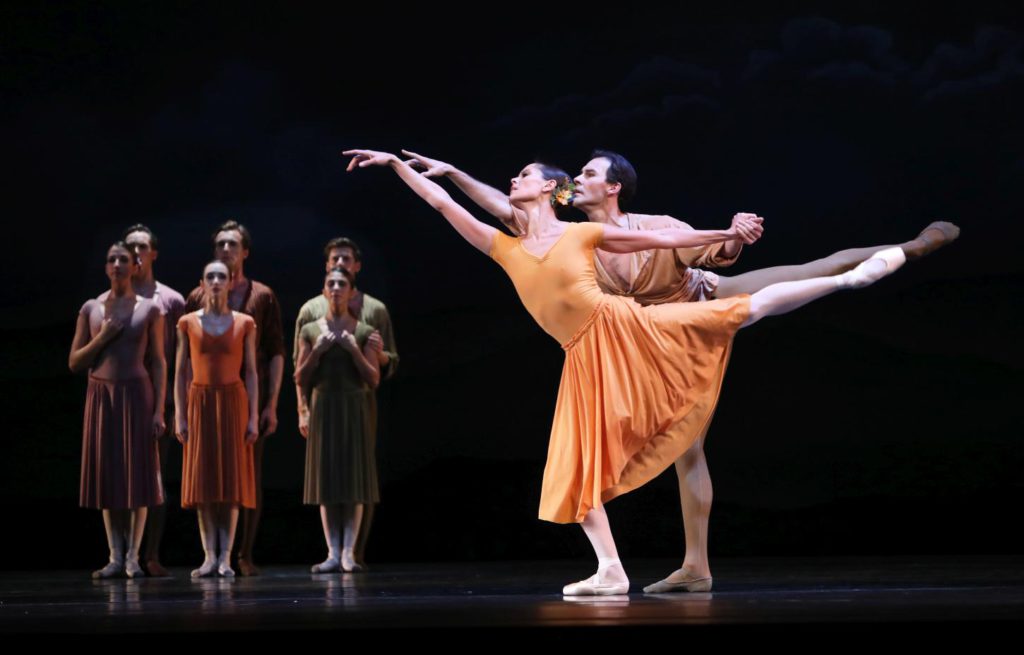 Also dealing with serious topics, with mortality, parting and the afterlife was Van Dantzig's "Four Last Songs". The music, by Richard Strauss, was composed in 1948 when he felt the end of his life approaching and, given his experience of World War II, he took inspiration from poems by Herman Hesse and Joseph von Eichendorff. The four songs were not intended to be a song cycle and were arranged so and named so only posthumously.
Van Dantzig created a pas de deux for each song, with the respective leading couple joined on occasion by the pairs from the other songs. "Frühling" ("Spring") was danced by Michaela DePrince and Remi Wörtmeyer, "September" by Sasha Mukhamedov and James Stout, "Beim Schlafengehen" ("When Falling Asleep") by Anna Ol and Artur Shesterikov, and "Im Abendrot" ("At Sunset") by Igone de Jongh and Jozef Varga. Vito Mazzeo as an angel, clad in a purple, served as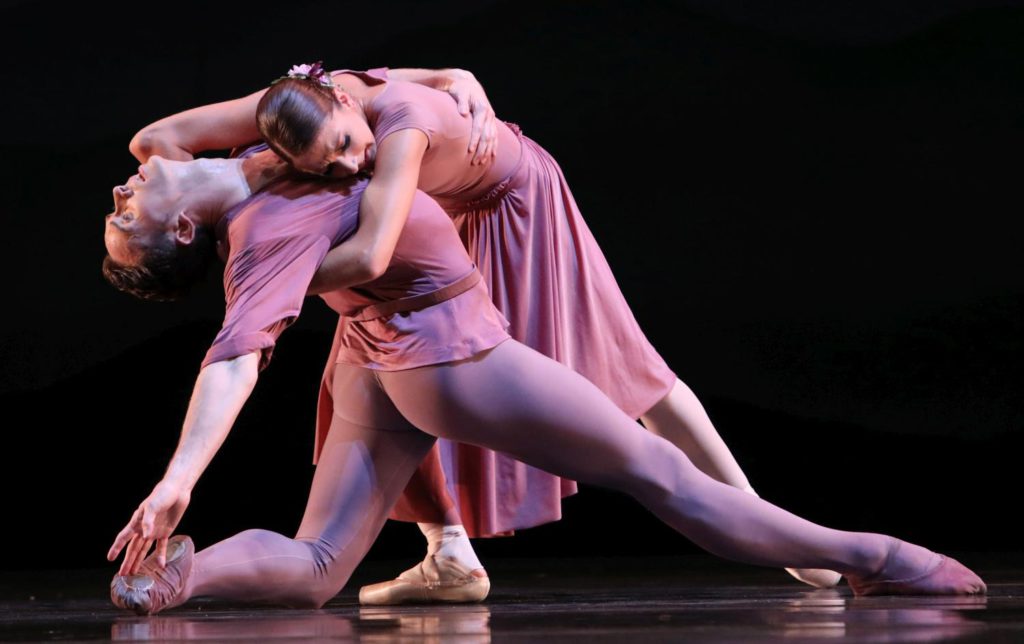 connecting figure from song to song. For each pair, he was in charge of one partner's transition from this life to the afterlife. Despite symbolizing death, he was the herald of a peaceful state. This ballet's sedate atmosphere was augmented by a backdrop showing a romantic, hilly landscape covered by immense clouds (set design by Van Schayk). During the course of the piece, the sun sets over the hills and there is a red evening sky. The costumes, also by Van Schayk, had the painted scene's warm hues.
Compared to Van Schayk, Van Dantzig uses a more predictable movement language. The strength of his work lies in the great sensitivity with which mortality and the loss of a beloved are addressed. Van Dantzig kept gloom and heaviness at bay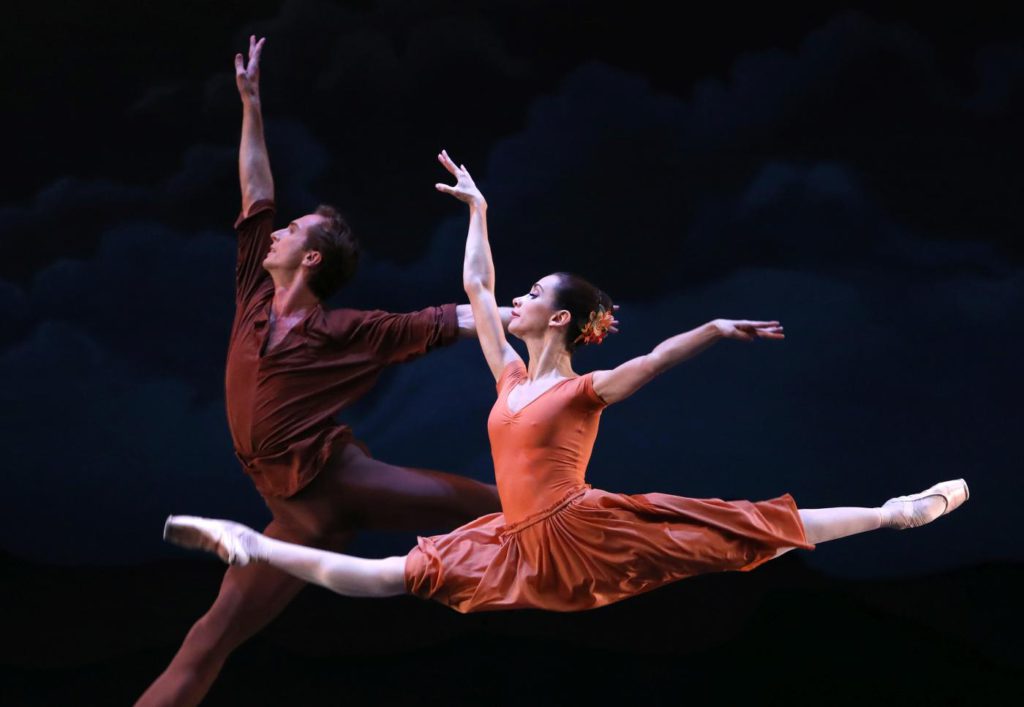 by making his dancers look almost ethereal. Longing and sadness are transformed into calm acceptance. The feeling of consolation in "Four Last Songs" is strong.
Van Manen told the late critic Horst Koegler that he came across Ludwig van Beethoven's "Hammerklavier Sonata" by accident. A young German friend of his, a "music freak", often came around with a huge pile of records and it always contained that piece of music. Van Manen hadn't heard anything like it before, nor did he know of pianist Christopher Eschenbach. However, his respect grew and he became convinced that his fanatical German friend knew what he was doing. Having already choreographed Beethoven's "Große Fuge", Van Manen felt encouraged to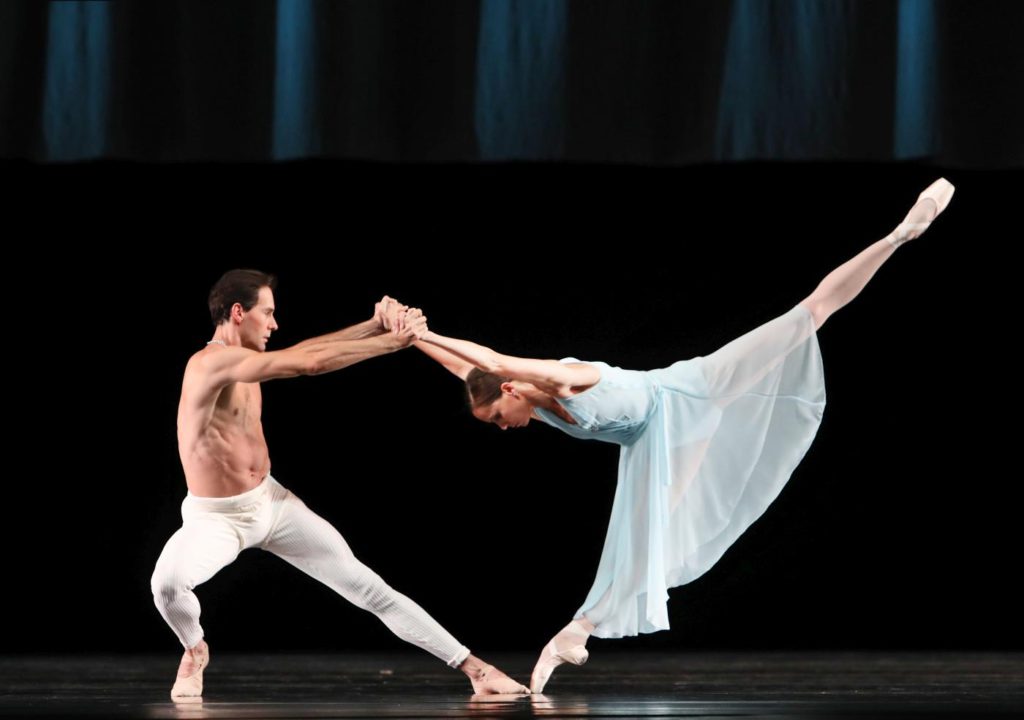 tackle the "Hammerklavier Sonata". He even opted for the recording with Eschenbach when starting to work. At the Sunday ballet matinée, we heard the sonata live with Olga Khoziainova at the piano.
The ballet, made for three male/female couples, premiered with Dutch National Ballet in 1973. Like all of Van Manen's works it has no expiration date. Notes in the program booklet say that "Adagio Hammerklavier" was considered exceptionally lyrical for Van Manen back in 1973 and that it is one of his most romantic works. In fact, the choreography gives subtle proof of this. Van Manen created this adagio of adagios as an "ode to deceleration". He slows down movement to a minimal pace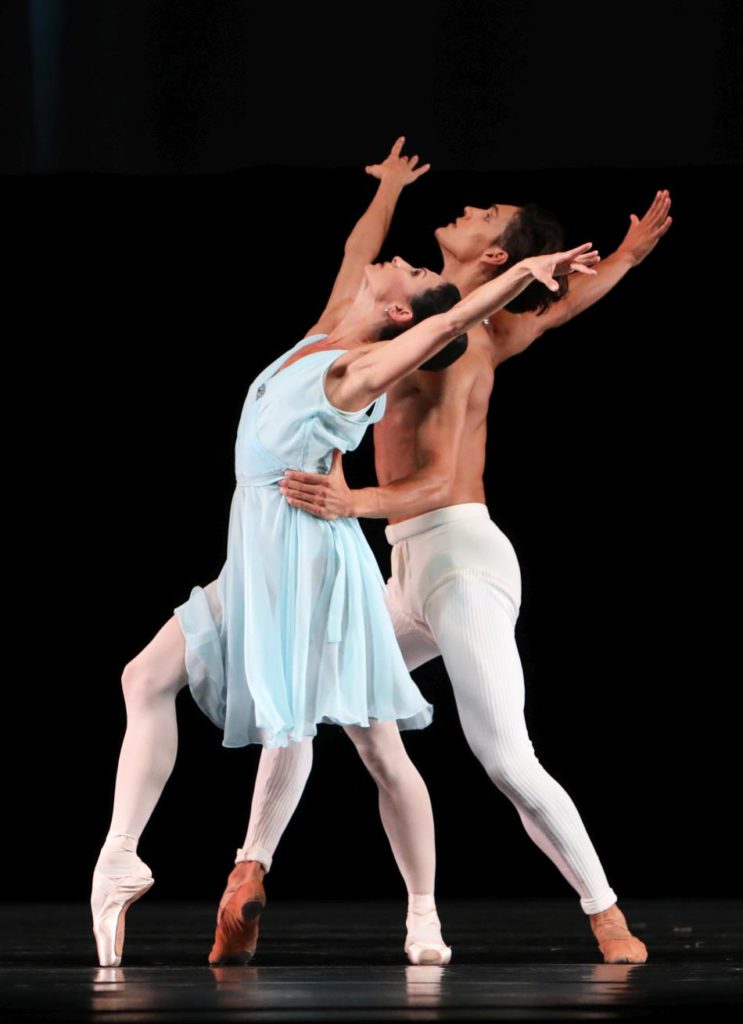 while charging it with retained energy. Only a very few times does the dancers' curbed power burst forth and send out sparks.
The choreographic language is minimalistic and crystal clear. Mostly the dancers look down. Their few instances of eye-contact were straightforward and without emotion but all the more trenchant for it. Prominent yet simple necklaces for the men, and earrings and brooches for the women, added some glitter to the otherwise unadorned costumes (light blue dresses for the women and white pants for the men). The most tender element on stage was in Jean-Paul Vroom's video on the backdrop, showing the drapes of a delicate, gray-blue curtain gently billowed by wafts of air. The three couples were Anna Ol / Artur Shesterikov, Anna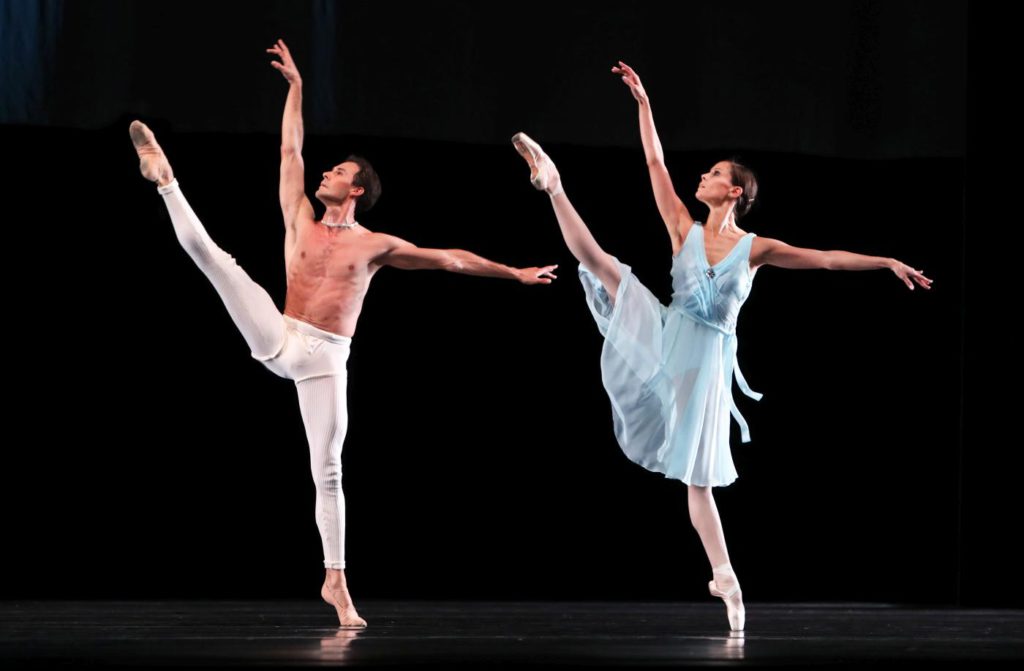 Tsygankova / Daniel Camargo and Igone de Jongh / Jozef Varga. All brought expressive strength to every inch of their performance. Camargo is blessed with the strongest stage presence.
"Dutch Masters" provided a good opportunity to compare the work of the three most prominent Dutch choreographers. I'm not that often in Amsterdam and was delighted to see singer soloists involved for the first time. Barbara Haveman sang the "Four Last Songs"; Machteld Baumans, Helena Rasker. Marcel Reijans and Frans Fiselier interpreted Mozart's "Requiem". At the conductor's podium of the Het Balletorkest was Matthew Rowe.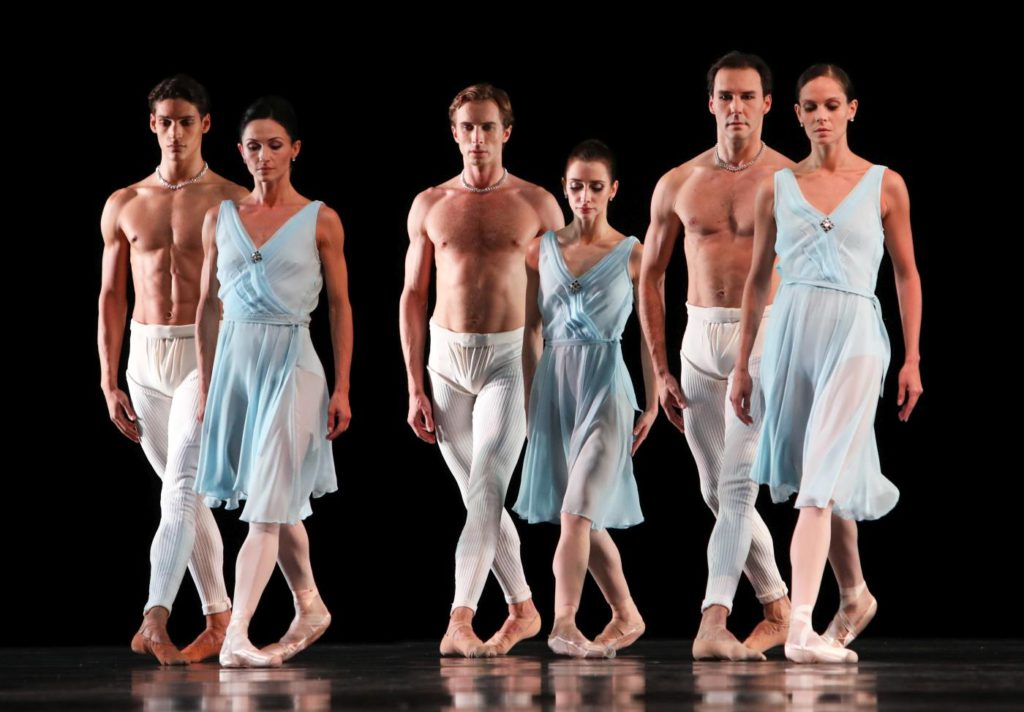 | | | |
| --- | --- | --- |
| Link: | | Homepage of Dutch National Ballet |
| | |  Video Toer van Schayk |
| Photos: | | "Episodes van Fragmenten" (Toer van Schayk) |
| |  1. | Young Gyo Choi and Qian Liu, "Episodes van Fragmenten" by Toer van Schayk, Dutch National Ballet |
| |  2. | Young Gyo Choi and Qian Liu, "Episodes van Fragmenten" by Toer van Schayk, Dutch National Ballet |
| |  3. | Qian Liu and Young Gyo Choi, "Episodes van Fragmenten" by Toer van Schayk, Dutch National Ballet |
| |  4. | Young Gyo Choi and Qian Liu, "Episodes van Fragmenten" by Toer van Schayk, Dutch National Ballet |
| | | "Requiem" (Toer van Schayk) |
| |  5. | Ensemble, "Requiem" by Toer van Schayk, Dutch National Ballet |
| |  6. | Artur Shesterikov and Floor Eimers, "Requiem" by Toer van Schayk, Dutch National Ballet |
| |  7. | Anatole Babenko, Igone de Jongh and Young Gyo Choi, "Requiem" by Toer van Schayk, Dutch National Ballet |
| |  8. | Ensemble, "Requiem" by Toer van Schayk, Dutch National Ballet |
| | | "Four Last Songs" (Rudi van Dantzig) |
| |  9. | Ensemble, "Four Last Songs" by Rudi van Dantzig, Dutch National Ballet |
| | 10. | Igone de Jongh, Jozef Varga and ensemble, "Four Last Songs" by Rudi van Dantzig, Dutch National Ballet |
| | 11. | James Stout and Sasha Mukhamedov, "Four Last Songs" by Rudi van Dantzig, Dutch National Ballet |
| | 12. | Artur Shesterikov and Anna Ol, "Four Last Songs" by Rudi van Dantzig, Dutch National Ballet |
| | | "Adagio Hammerklavier" (Hans van Manen) |
| | 13. | Jozef Varga and Igone de Jongh, "Adagio Hammerklavier" by Hans van Manen, Dutch National Ballet |
| | 14. | Anna Tsygankova and Daniel Camargo, "Adagio Hammerklavier" by Hans van Manen, Dutch National Ballet |
| | 15. | Jozef Varga and Igone de Jongh, "Adagio Hammerklavier" by Hans van Manen, Dutch National Ballet |
| | 16. | Daniel Camargo, Anna Tsygankova, Artur Shesterikov, Anna Ol, Jozef Varga and Igone de Jongh, "Adagio Hammerklavier" by Hans van Manen, Dutch National Ballet |
| | | all photos © Hans Gerritsen 2016 |
| Editing: | | George Jackson |