"Giselle"
Bavarian State Ballet
National Theater
Munich, Germany
October 02, 2016
by Ilona Landgraf
Copyright © 2016 by Ilona Landgraf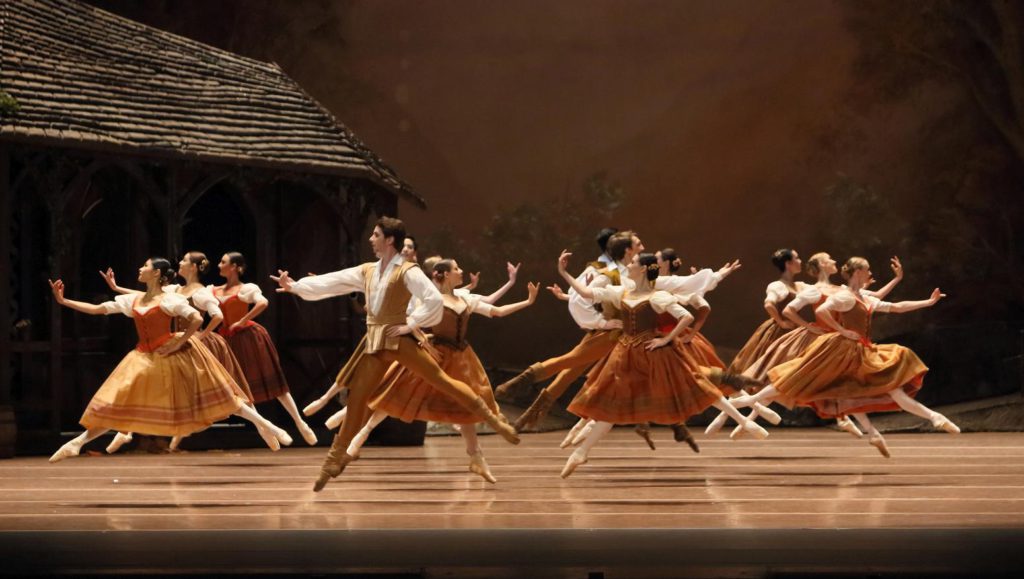 The Bavarian State Ballet opened its first season under Igor Zelensky with the revival of Peter Wright's "Giselle". Each of the six performances was led by a different couple. Of the guest dancers Natalia Osipova and Sergei Polunin created major excitement on opening night. Further guests included the Bolshoi's Svetlana Zakharova and Vadim Muntagirov from the Royal Ballet London. Both were paired with Munich principals. Of the four ballerinas cast as Giselle, Osipova and Maria Shirinkina danced twice, Zakharova and Ksenia Ryzkhova once. Albrechts coming from within the ranks of the Bavarian State Ballet were Osiel Gouneo and Vladimir Shklyarov.
I saw the matinée on October 2nd led by Shirinkina / Gouneo of which unfortunately no photos were taken. The press office suggested using pictures of Zakharova instead, which I declined. The new ensemble brochure though, coming along with each program, boasts photos of each and everyone, administrative staff included. Under Ivan Liška's rein it used to be a proper white folder card with black and white portraits. Now it has grown into a booklet with a swanky golden cover filled with overexposed passport photos surrounded by blue backgrounds. What kind of image does it create? The booklet also lists the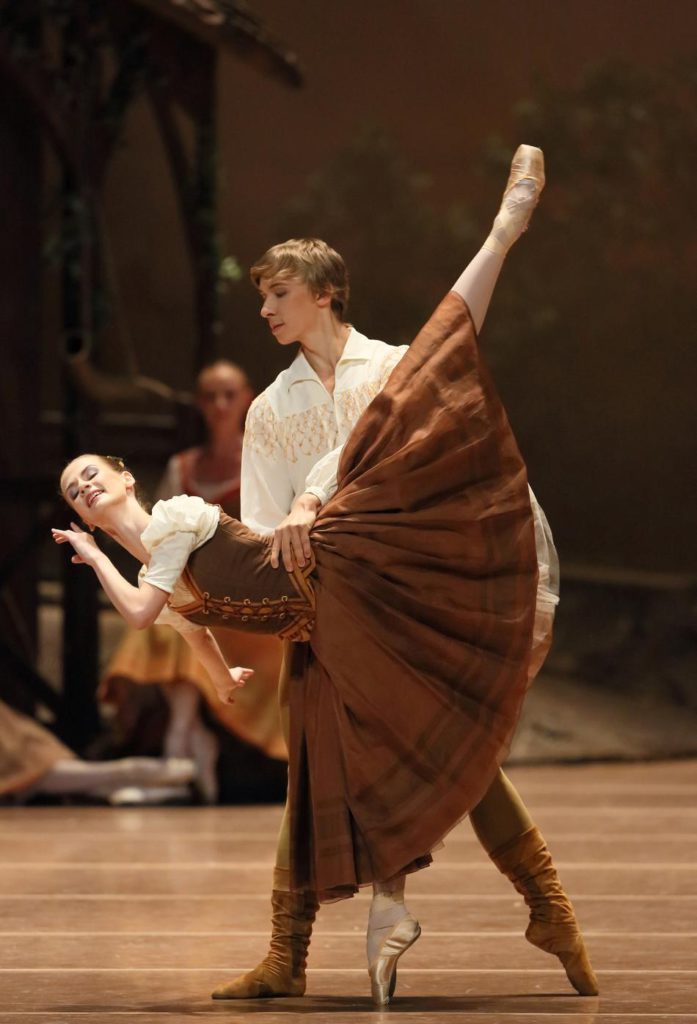 choreographers involved in this season and even the repetiteurs of their pieces, but omits the creators of "La Fille mal gardée" and "Romeo and Juliet", Frederick Ashton and John Cranko.
Announced as a family performance for children of eight years and older, many parents considered "Giselle" a good opportunity to introduce ballet to their offspring. I welcome every attempt to reach out to the young audience. But is the mad Giselle wielding the sword and the second act's Gothic ambiance with ghosts rising from their graves the ideal entertainment for toddlers of which I saw quite a few?
Peter Farmer's set and costumes, though, suit young and old alike. The ladies behind me, having complained about misguided decors of operas beforehand, even uttered sighs of relief when the opening curtain revealed the first act's lovely farm yard with the peasants' crooked cottage opposite the shed. My praise also to the Bavarian State Orchestra under Aivo Välja who provided a spirited, nuanced rendition of Adolphe Adam's score. Alas, this spirit wasn't taken up onstage. From the first moment she stepped out of the cottage, Shirinkina was all-delicate and frail. Indeed the role emphasizes her fragile health, but still she has to be a lively peasant-girl in love with life. Overly sensitive, almost an ethereal creature, one fears the slightest puff of wind would knock her over. Shirinkina's Giselle was so shy that one was puzzled over the determination she put into defending her affection for Albrecht. He treated her with such tenderness and care that one wondered if he really dared to touch her body.
Shirinkina was good in the mad scene when she stared with wide, forsaken eyes towards the audience and also as a spiritual being in the second act. There, she melded love, suffering and resignation to her fate into a convincing character.
Gouneo, who had given his debut as Duke Albrecht next to Osipova some days before, danced well. With time and experience his interpretation will deepen. The special chemistry necessary to make the love affair's sweet tragedy radiate towards the audience only grows from a well-attuned stage partnership. Gouneo, a Cuban, is a bit of a showman, but except for two Basilio-like back-bends in his second act solo he abstained from exaggeration.
Javier Amo was a likeable, down-to-earth Hilarion. Séverine Ferrolier as Berthe, Giselle's lovingly caring mother, couldn't prevent her daughter from stabbing herself to death.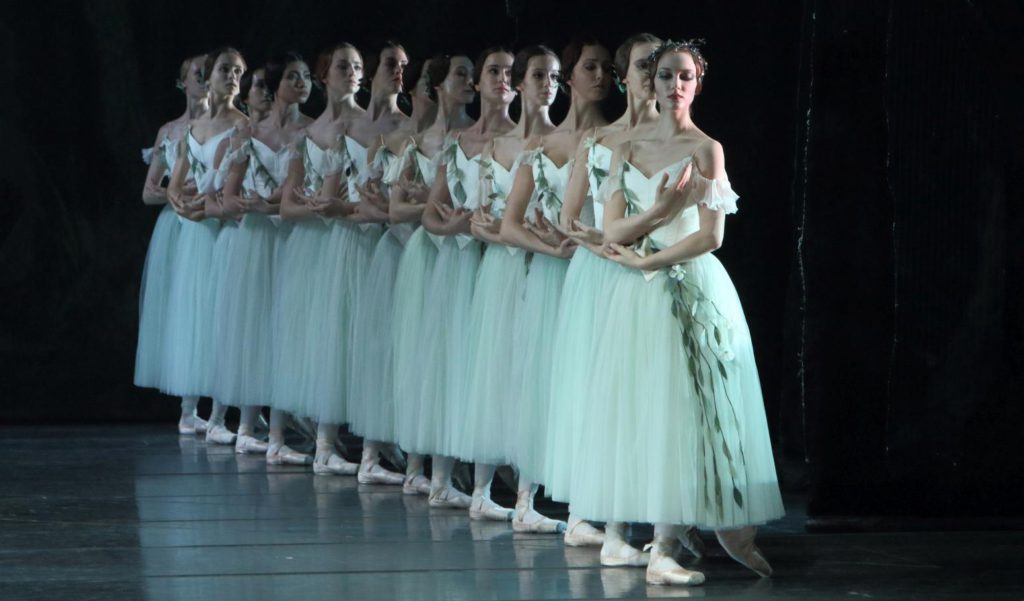 The villagers' harvest feast started in a restrained and uninspired manner. Everyone seemed to place their feet too carefully; no feisty steps, no brio arose, no truly festive mood. The Wilis in the second act brought more verve to chasing Hilarion than the peasants did to celebrating their harvest.
Only with the peasant pas de six, mainly with Mai Kono and Jonah Cook, did the atmosphere enliven. Cook, a redhead, danced with dash and subtlety. Charming Kono responded to his understated flirtatious glances with a sunny smile.
Ivy Amista was the second act's commanding Myrtha, Queen of the Wilis; her chin determined, lips sharp, her look authoritarian. Her Wilis danced (and obeyed) impeccably. Witnessing the impressively long line of Wilis I thought about how to explain to the younger audience why there are so many jilted, vengeful brides. Had the group of male choreographers – Marius Petipa, Jean Coralli, Jules Perrot and, later, Peter Wright – foreseen or planned what kind of light they would cast on the male gender? Is there any reason to trust men?
One of those ill-fated Wilis is Moyna, neatly portrayed by Prisca Zeisel. Allegedly, Moyna had drowned herself in a river current. Tatiana Tiliguzova was Zulme, who is said to have committed suicide by throwing herself from a cliff. Tiliguzova has a long neck and a small face with sharp features, for which her corsage dress was not very flattering.
Other roles were taken by Ilya Shcherbakov (Duke of Kurland), Giorgia Sacher (Bathilde), Adam Zvonař (Wilfried, Albrecht's confidant) and Zoltan Manó Beke (Leader of the Hunters). The hunting party also encompassed several children.
Two further performances of "Giselle" are scheduled for November 24th and 25th. The casts are yet to be announced.

| | | |
| --- | --- | --- |
| Links: | | Homepage of the Bavarian State Ballet |
| Photos: |  1. | Ensemble, "Giselle" by Peter Wright after Marius Petipa, Jean Coralli and Jules Perrot, Bavarian State Ballet |
| |  2. | Tatiana Tiliguzova and Alexey Popov, "Giselle" by Peter Wright after Marius Petipa, Jean Coralli and Jules Perrot, Bavarian State Ballet |
| |  3. | Ensemble, "Giselle" by Peter Wright after Marius Petipa, Jean Coralli and Jules Perrot, Bavarian State Ballet |
| |  4. | Ensemble, "Giselle" by Peter Wright after Marius Petipa, Jean Coralli and Jules Perrot, Bavarian State Ballet |
| | | all photos © Wilfried Hösl 2016 |
| Editing: | | Laurence Smelser |