"Spartacus"
Bavarian State Ballet
National Theater
Munich, Germany
December 23, 2016
by Ilona Landgraf
Copyright © 2016 by Ilona Landgraf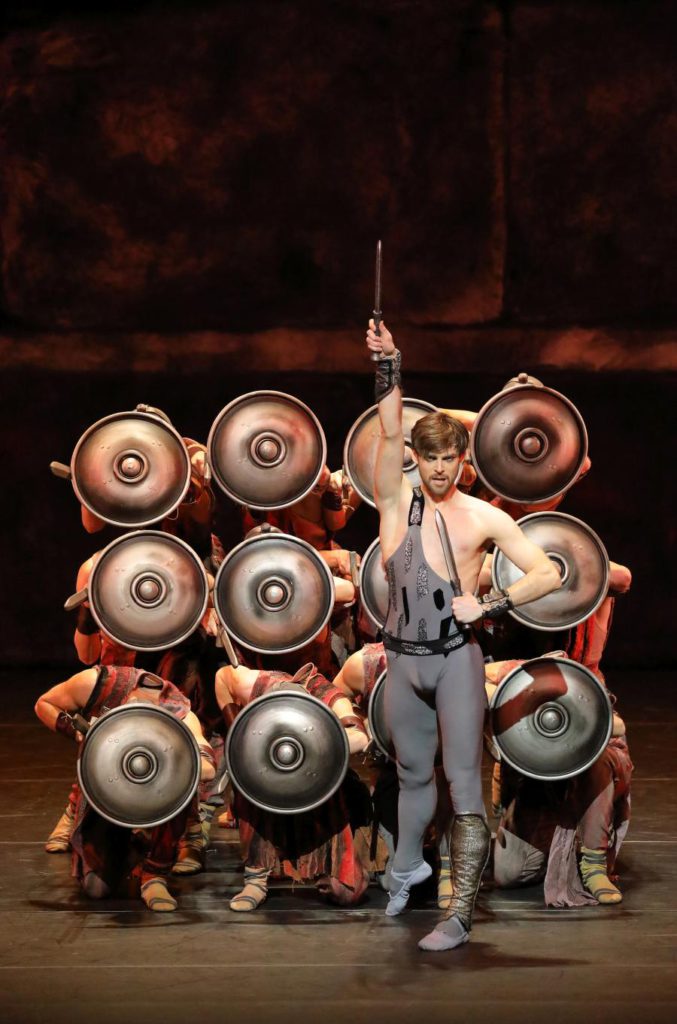 Since last Thursday, shortly before Christmas Eve, heroic fighters have commanded the stage of Munich's National Theater. Hordes of men together with a few women all of them representing characters of either Thracian or Roman lineage, dance "Spartacus", the epic about a Thracian man who, after having been enslaved by the Roman consul Crassus, engineers a revolt. What will happen, happens: Spartacus dies a hero's death.
Big doses of fierce fighting and repeated displays of valor need a strong portion of the erotic in order to make them palatable to the audience. That is supplied by two women – Phrygia, Spartacus's faithful mistress, and Aegina, Crassus's conniving courtesan. The ballet's action is based on the novella "Spartaco", penned in 1874 by Raffaello Giovagnoli, who likely took liberties with historical material from before the Christian era.
There are plenty of "Spartacus" ballets in existence. Budapest, Vienna, Hong Kong and Cape Town have their own productions. Russia has seen four versions: the most recent is Georgy Kovtun's for the Mikhailovsky Theatre. Aram Khachaturian had composed the music in 1954, and the first staging, by Igor Moiseyev for the Bolshoi in 1956 was short-lived. It was given only two performances, perhaps because it contained much pantomime but too little dancing. In 1958, Leonid Yacobson took up the challenge for the Kirov (today's Maryinsky Ballet). His version also made it onto the Bolshoi's stage in 1962, but failed on the troupe's tour to New York a few months later and then was scrapped right away. In 2010 the Maryinsky revived Yacobson's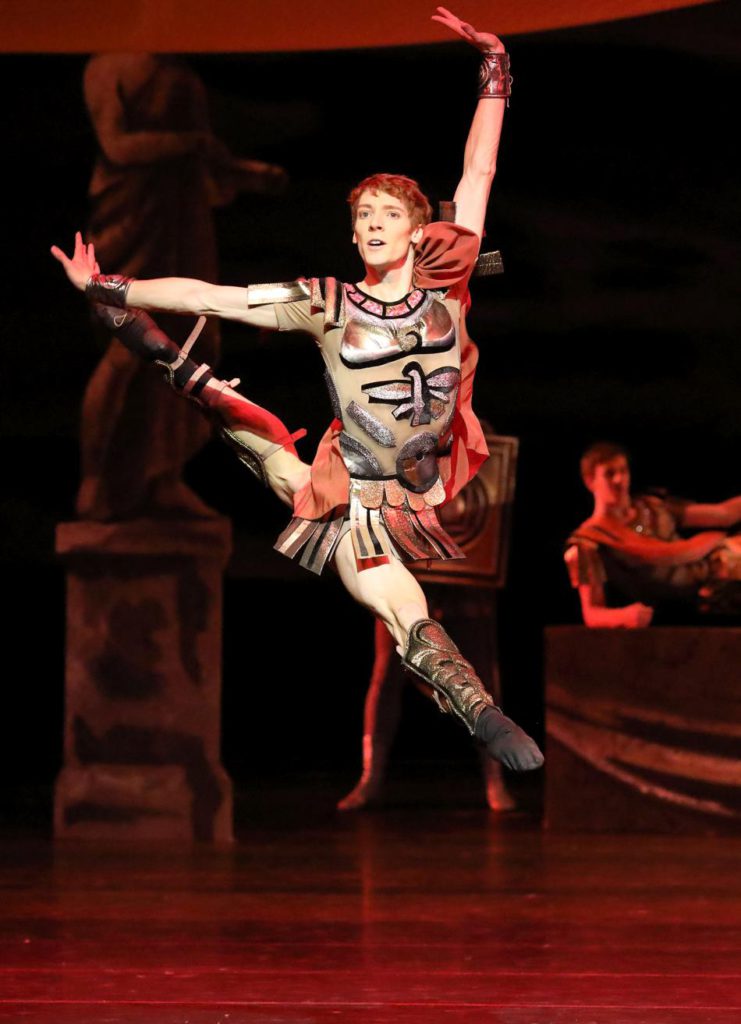 version full-scale with Igor Zelensky in the title role. However, the most enduring "Spartacus" is No. 3 by Yuri Grigorovich. It premiered in 1968 and has become a signature piece for the Bolshoi. This is the one that Zelensky, now artistic director of the Bavarian State Ballet, has brought to Munich.
No matter which choreographer worked on "Spartacus", all productions have used Kahchaturian's composition, which was awarded the Soviet Union's Lenin Prize in 1959. Even so, that honor stopped neither Yacobson nor Grigorovich from asking the composer for changes, both minor and major. Apparently, Khachtarurian became apoplectic but eventually gave in. The final score contains a curious mix of Orientalist and Romantic allusions with melodramatic swells reminiscent of Hollywood. Emotional, passionate and ceremonious, it fits the libretto perfectly. In one of Aegina's solos, I wondered whether she was flirting with the music or vice versa. The conductor Karen Durgaryan, an Armenian who has become very seasoned leading performances of this Khachtarurian score, was engaged to conduct the Bavarian State Orchestra for all iterations. He and his musicians did well.
As in the original, set designs and costumes are by Simon Virsaladze, also an Armenian. Massive arches of stone, a few columns and some sculptures evoke ancient Rome, where the events take us to the slave market, Crassus's palace and his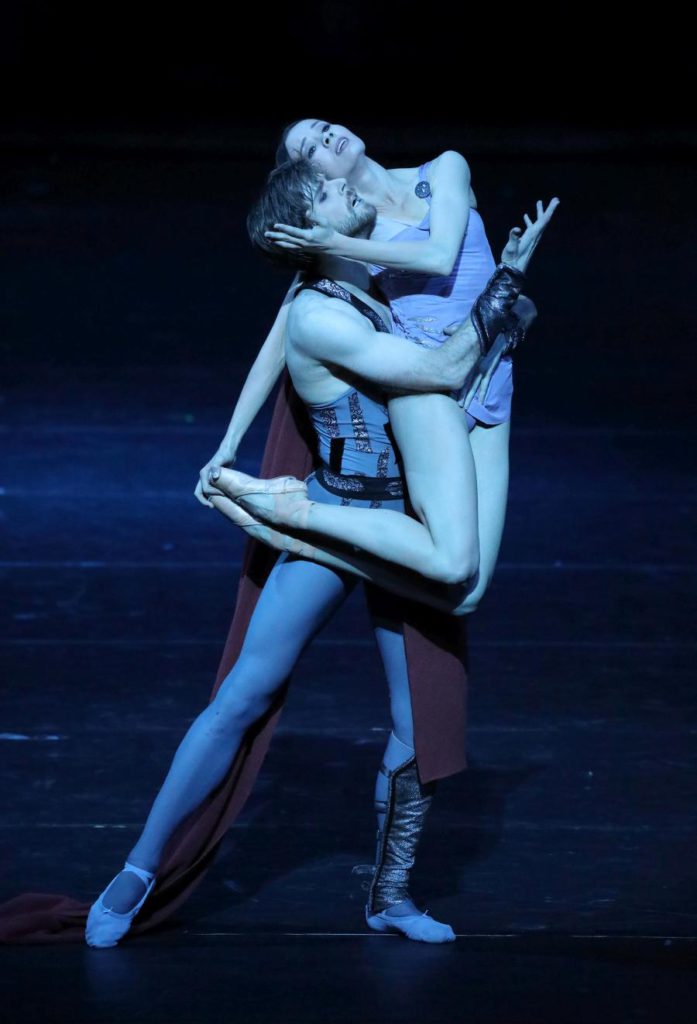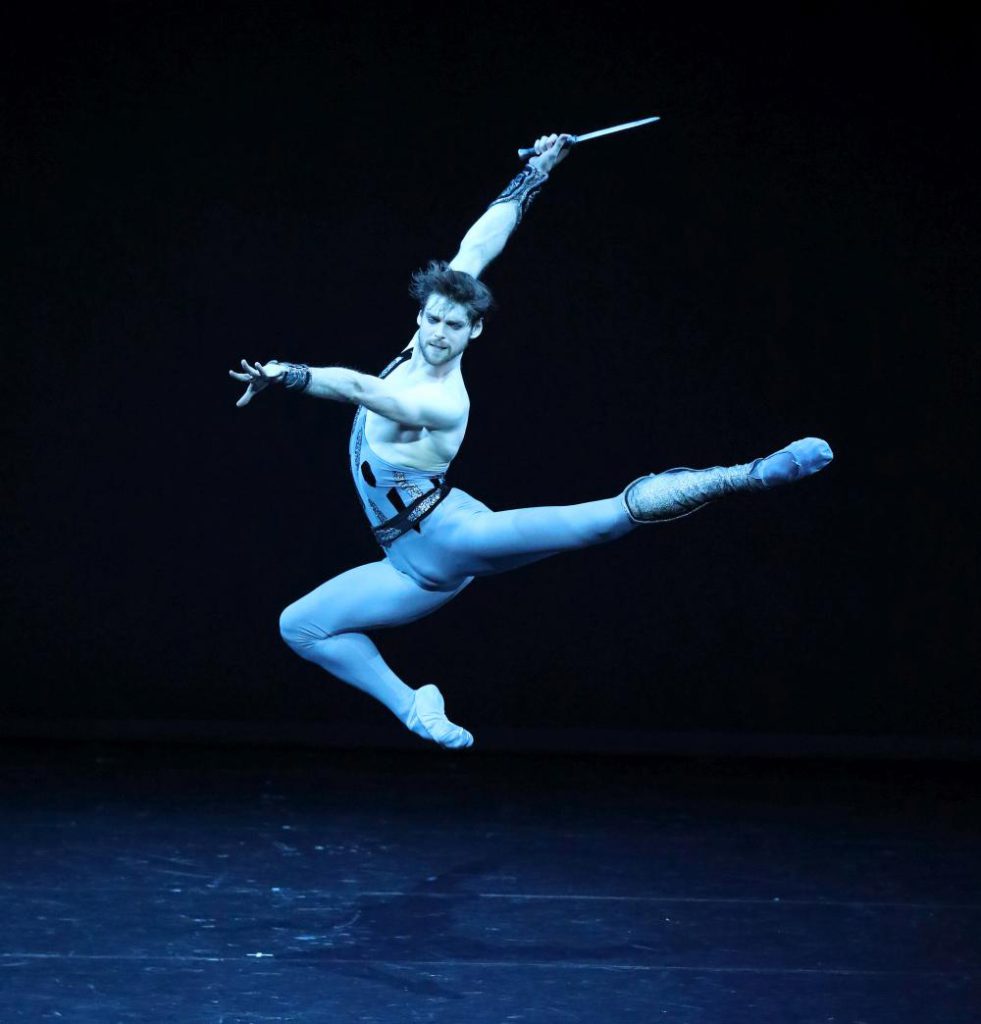 country villa. Of Spartacus's camp we only see the entrance to a rocky cave. Most scene changes take place with the help of a huge, semi-transparent canvas, revealing the next scene's protagonists fully when lifted. The costumes are apt for the time and place. Courtesans and shepherdesses are skimpily dressed, either as an expression of erotic desire or due to the heat of the Roman summer. Or, perhaps, both.
Lighting was close to perfect, though I wished the rock crevice at Spartacus's camp, out of which Phrygia steps after a night of love, wouldn't have been quite as suggestively red.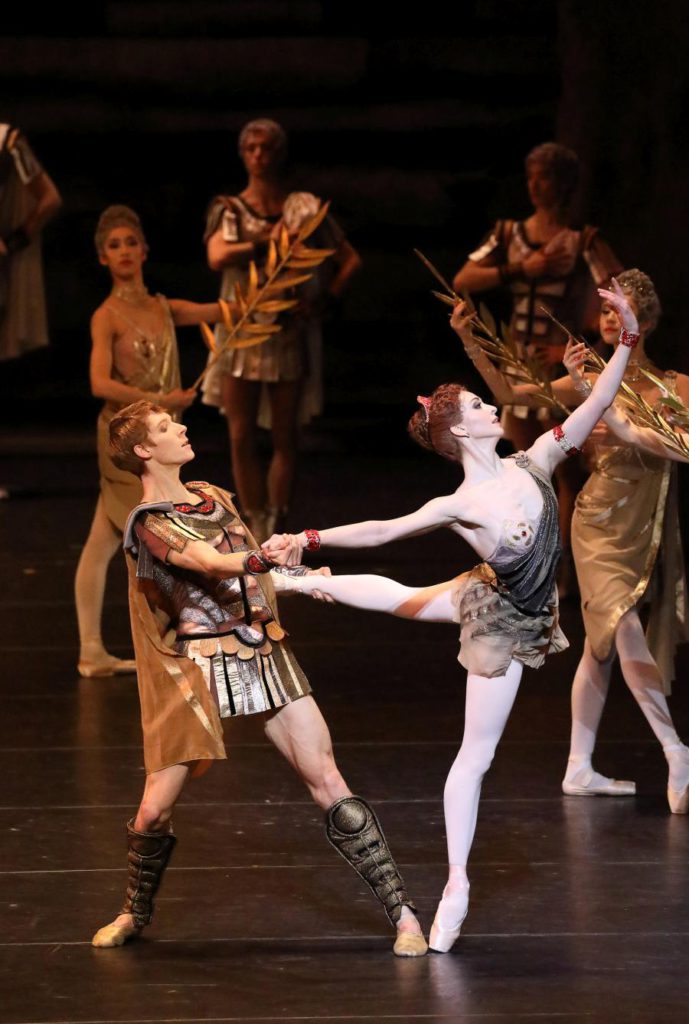 "Spartacus" is in three acts, each of which has four parts. Each act contains three solos, so-called "monologues" that reveal the four leading characters' inner thoughts. Most of them are Spartacus's; Aegina has two, both Crassus and Phrygia have one each. The monologues alternate with group scenes or pas de deux. The ballet's opening scene and the final one relate to each other. The first one shows Crassus on a chariot-like platform surrounded by symbols of worldly power: the glory of military standards around his head, an imposing legionary eagle on the backdrop above him and a wall of his warriors' shields at his feet. The last scene resembles a pieta with the dead Spartacus held high by his followers and commended to the grace of God by Phrygia.
Another similarity in structure concerns the two male leads who both express their status by standing in elevated positions center stage in the background, from where they oversee the scene. Again and again both display their muscles, gesture pointedly and crisscross the stage in imposing leaps.
Compared with the men, the women's characters differ more. Phrygia is the truly loving and suffering one whereas Aegina is a viper, using her allure to manipulate Crassus and to fuel the decisive battle. Many group scenes have slaves, soldiers, gladiators or patricians in rank and file moving in sync. Of course, the orgy in Crassus's palace which involves courtesans and entertainers is more casual, as is Aegina's seductive dance for Spartacus's former followers.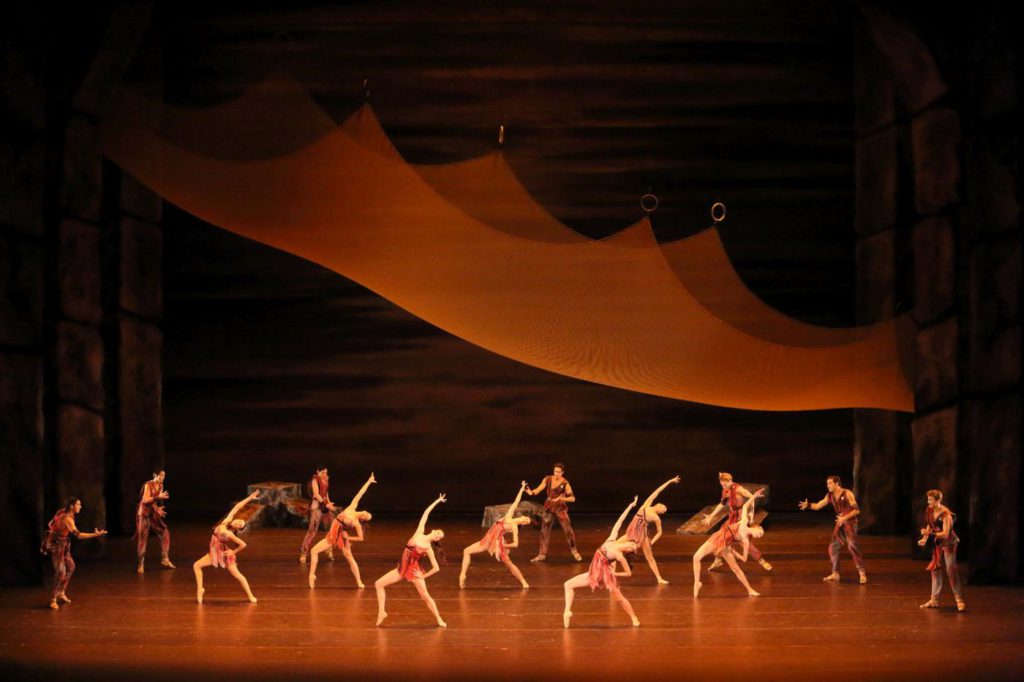 The set structure, repetitive architecture and movement language of "Spartacus" make whatever happens next predictable. Though fights, blunt erotics and noble ideals usually attract audiences, neither marching masses nor sequences of boastful jumps are exciting in themselves. Such things need dancers able to strike sparks with the movement material. How did the Munich dancers succeed? Did they have what John Cranko called "it", the special something, a dancer has or hasn't, but never can get?
At the premiere Osiel Gouneo (Spartacus), Sergei Polunin (Crassus), Ivy Amista (Phrygia) and Natalia Osipova (Aegina) danced the main roles. I saw the second cast led by Vladimir Shklyarov (Spartacus), Jonah Cook (Crassus), Maria Shirinkina (Phrygia) and Ksenia Ryzhkova (Aegina). In both performances Erik Murzagaliyev was the gladiator killed in a forced duel by the unwilling Spartacus.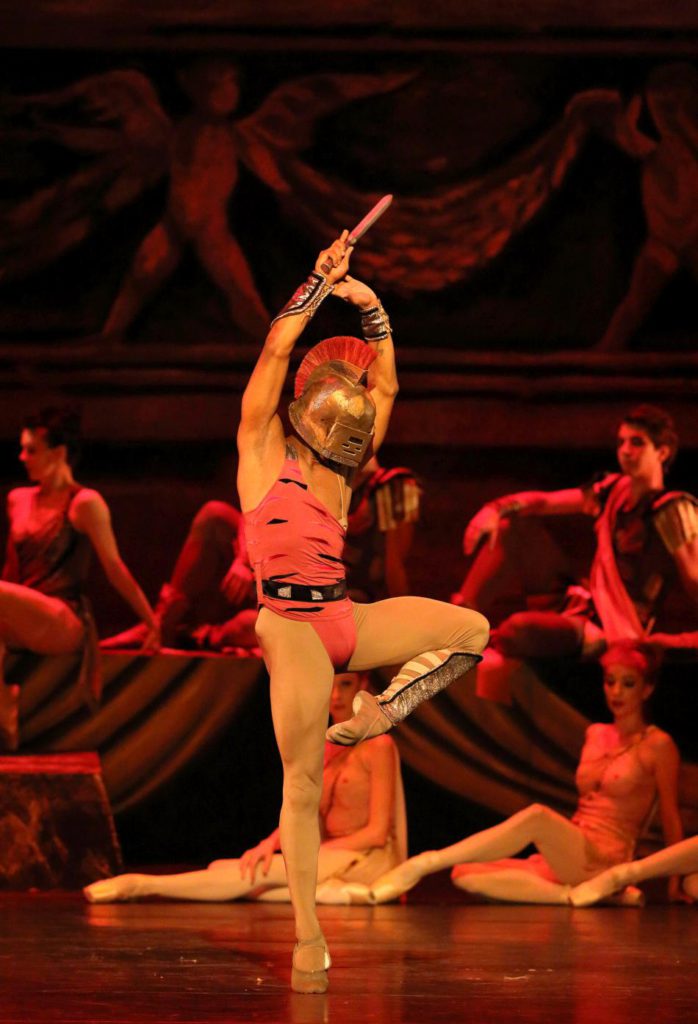 Shklyarov was greeted with applause on first entering the stage, but I wished his fans (who all sat together on the right balcony like football freaks) had waited for him to prove his celebrity status. Bravely he thrusted his way through energy-sapping leaps and soared fiercely through diagonals as if the air had to be split, his foot shivering in fury as he faced the fight with Crassus. Being in chains enraged him, his teeth were clenched, his eyes gaped wildly. Shklyarov threw himself totally into the role, but, alas, didn't attain the intensity Cook brought to the role of Crassus. Even in the minutest details Cook had more focus and a stronger stage presence. Whether sent into a rush of testosterone by Phrygia's lewdness or determinedly commanding his troupes, Cook convinced one throughout. In psychological terms his Crassus in fact won the duel with Spartacus because Spartacus wasn't filled with contempt when sparing him. It seemed he had lost the courage to kill the superior being.
Shirinkina was best in her solo and the pas de deux with Shklyarov in the camp scene. Seeing her surrender as a woman in love, I thought of Juliet following her first night with Romeo. However, the first pas de deux Shirinkina's Phrygia danced with Spartacus, after just having been enslaved, was a mere succession of empty phrases. This duet did not characterize their relationship. Maybe the fault is that of the stereotypic choreography, yet Shirinkina wasn't any more expressive in her following solo either. She stuck to being a technician, rarely fueling her dancing with emotions from within and relying on the movement to tell its own story. Shirinkina was better in her final mourning, but still not overwhelming.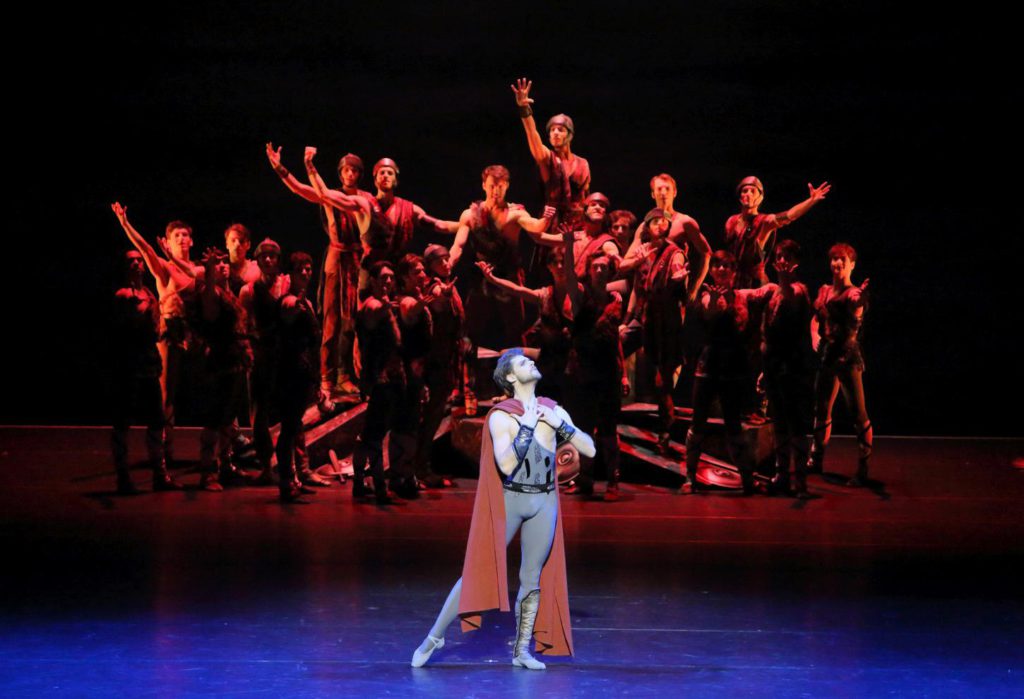 Ryzhkova was a fine seductress. She unabashedly flung her legs around Crassus's hips or around a wooden staff as if attacking a pole in a strip club. Poor Spartans! Blinded by her sexiness, they walked right into the trap, that is into the arms of Crassus's troupes. What a triumph for the perfidious Aegina! Spartacus's fighters were drained. Crassus's victory, or, more precisely, her victory was within reach. The rest of Ryzhkova's performance as Aegina was neither fish nor fowl.
Overall the dancing of the corps was fine except for the parade at Crassus's villa, which dragged on and on. I'm sure the Bolshoi has the knack for making groups moving in sync look exciting. It would be good if the Munich's corps learned that secret.
With ten performances of "Spartacus" ahead, this season's various casts have plenty of opportunities to put their heroic courage to the test. Oxana Tsvetnitskaya and Ruslan Pronin, who had rehearsed the company and were still in Munich, came on stage at the curtain calls along with Grigorovich and the dancers. This threesome won't have much time to rest. On January 27th, 2017, "Spartacus" premieres at the Opera Ballet Vlaanderen in Antwerp.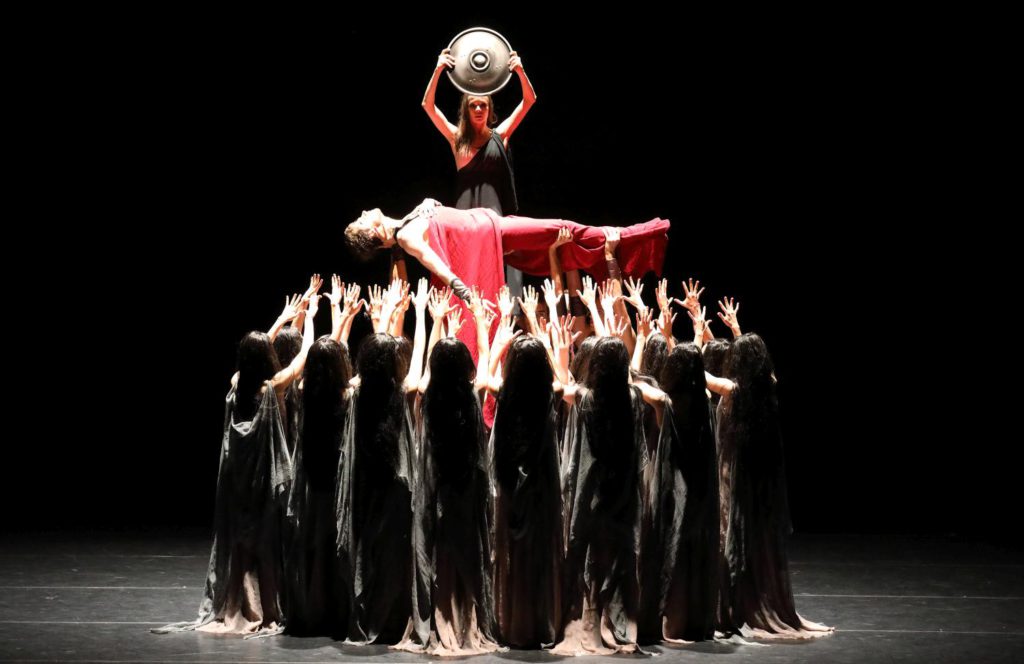 | | | |
| --- | --- | --- |
| Links: | | Website of the Bavarian State Ballet |
| Photos: | 1. | Vladimir Shklyarov (Spartacus) and ensemble, "Spartacus" by Yuri Grigorovich, Bavarian State Ballet 2016 |
| | 2. | Jonah Cook (Crassus), "Spartacus" by Yuri Grigorovich, Bavarian State Ballet 2016 |
| | 3. | Vladimir Shklyarov (Spartacus) and Maria Shirinkina (Phrygia), "Spartacus" by Yuri Grigorovich, Bavarian State Ballet 2016 |
| | 4. | Vladimir Shklyarov (Spartacus), "Spartacus" by Yuri Grigorovich, Bavarian State Ballet 2016 |
| | 5. | Jonah Cook (Crassus), Ksenia Ryzhkova (Aegina) and ensemble, "Spartacus" by Yuri Grigorovich, Bavarian State Ballet 2016 |
| | 6. | Ensemble, "Spartacus" by Yuri Grigorovich, Bavarian State Ballet 2016 |
| | 7. | Erik Murzagaliyev (Gladiator) and ensemble, "Spartacus" by Yuri Grigorovich, Bavarian State Ballet 2016 |
| | 8. | Vladimir Shklyarov (Spartacus) and ensemble, "Spartacus" by Yuri Grigorovich, Bavarian State Ballet 2016 |
| | 9. | Vladimir Shklyarov (Spartacus), Maria Shirinkina (Phrygia) and ensemble, "Spartacus" by Yuri Grigorovich, Bavarian State Ballet 2016 |
| | | all photos © Wilfried Hösl 2016 |
|  Editing: | | Laurence Smelser, George Jackson |