"La Fille mal gardée"
Bavarian State Ballet
National Theater
Munich, Germany
January 24, 2017
by Ilona Landgraf
Copyright © 2017 by Ilona Landgraf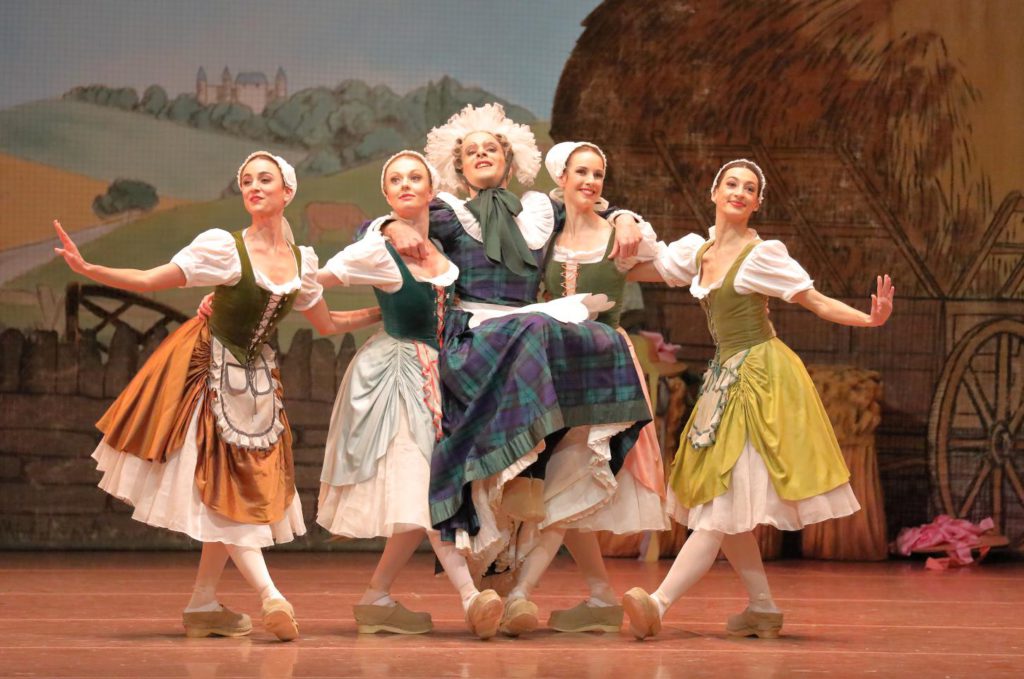 Given the uncomfortable winter cold in Munich and the even more uncomfortable general political climate, being carried off by "La Fille mal gardée", a rural late-summer idyll, in the National Theater was a welcome time-out. Frederick Ashton's work, revived by the Bavarian State Ballet this week, brought us a harvest of good feelings.
The ballet, which premiered with the Royal Ballet London in 1960, is set in a time in which crops were harvested manually and women turned their spinning wheels at home. The tranquil, peaceful farming life "La Fille" depicts and its well-functioning village society with a sweet romance blossoming in secret, remind one of a time gone by. Who cares whether they really existed or are merely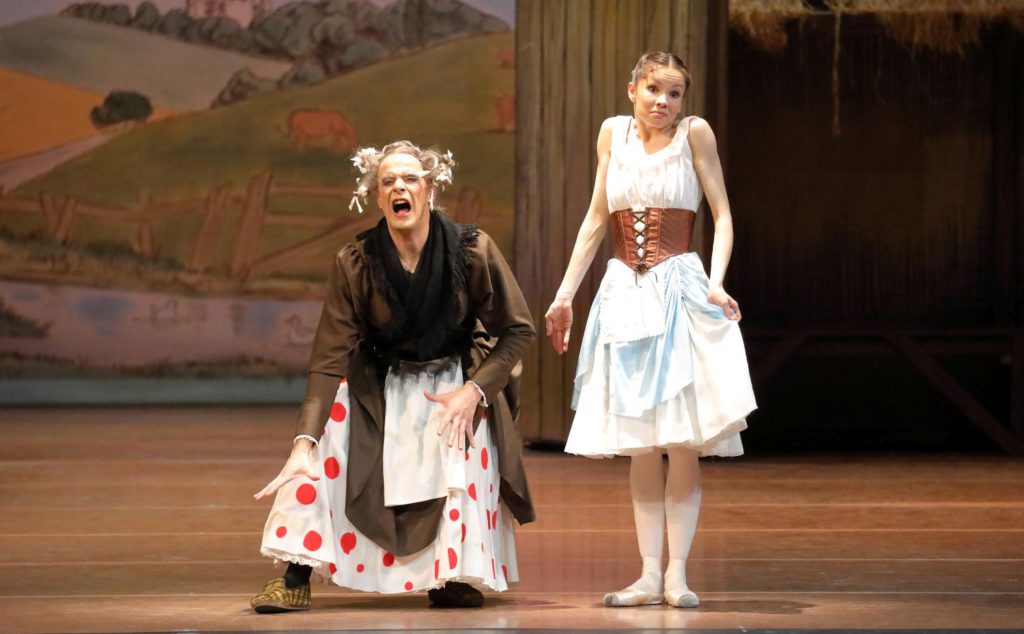 whitewashed memories? Everyday life was much slower back then, the sense of community was deeper, the connection to nature stronger. Comparing it to what counts in today's society, one might become filled with melancholy.
Set designs and costumes by Osbert Lancaster are unchanged, the same as they were more than fifty years ago. The first act's rustic farmyard and the second act's parlor seem to pop out of a picture-book for children. We are presented with a charming cardboard world. Charming also is Ashton's way of storytelling. His wit, humor and warmth, together with the light touch of his choreographic handwriting, draw everyone into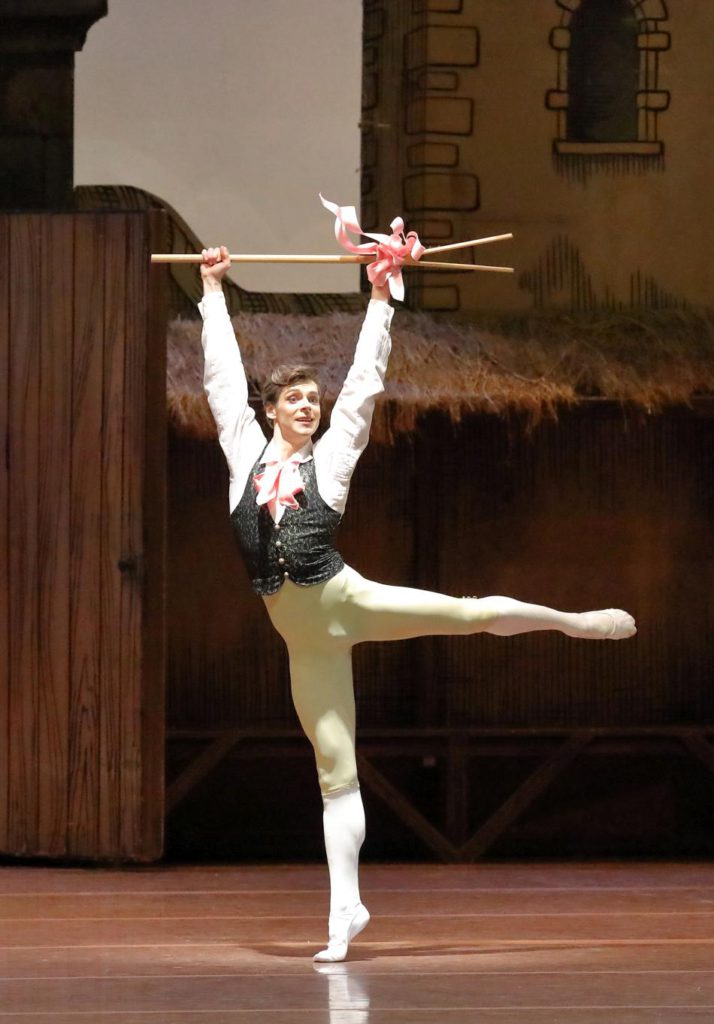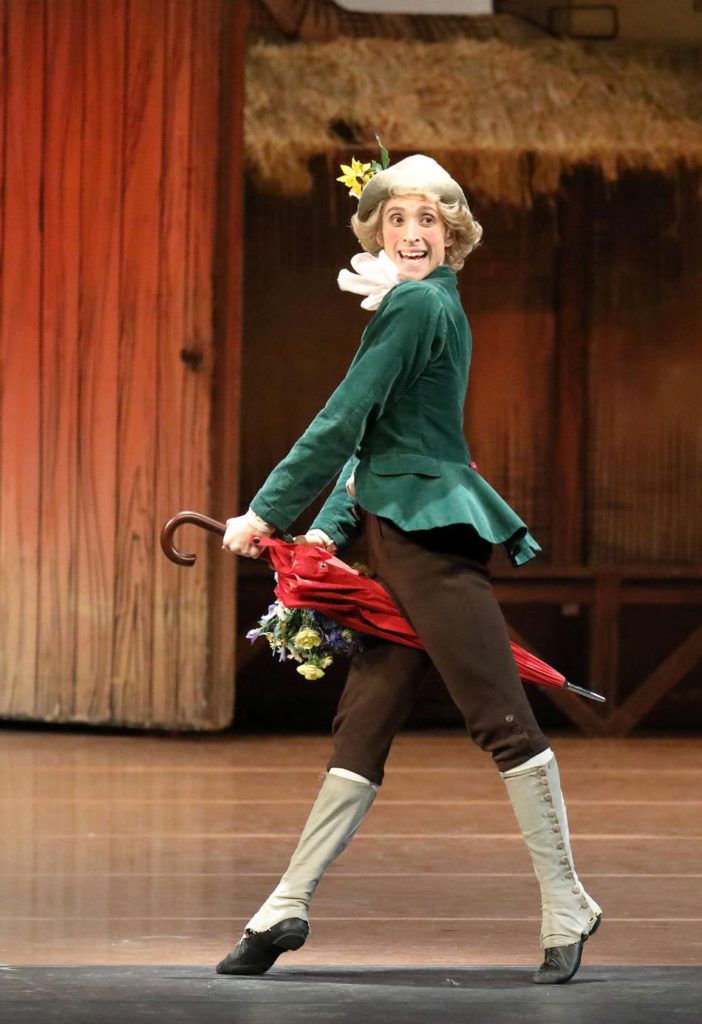 the merry country idyll. He makes every figure win the audience's heart including the widow Simone, a prosperous and (as will be famously seen) well-heeled farmer with ambitious plans for the marriage of her only daughter Lise to the village simpleton Alain, who is the son of a wealthy owner of a vineyard and Simone's hoped for future son-in-law. Alain constantly makes a fool of himself, nevertheless he is accepted by the village folk and loved by his father. Simone keeps a watchful eye on Lise, or so she thinks, but the jaunty young woman has other plans. Her true but secret lover is the young, handsome farmer Colas.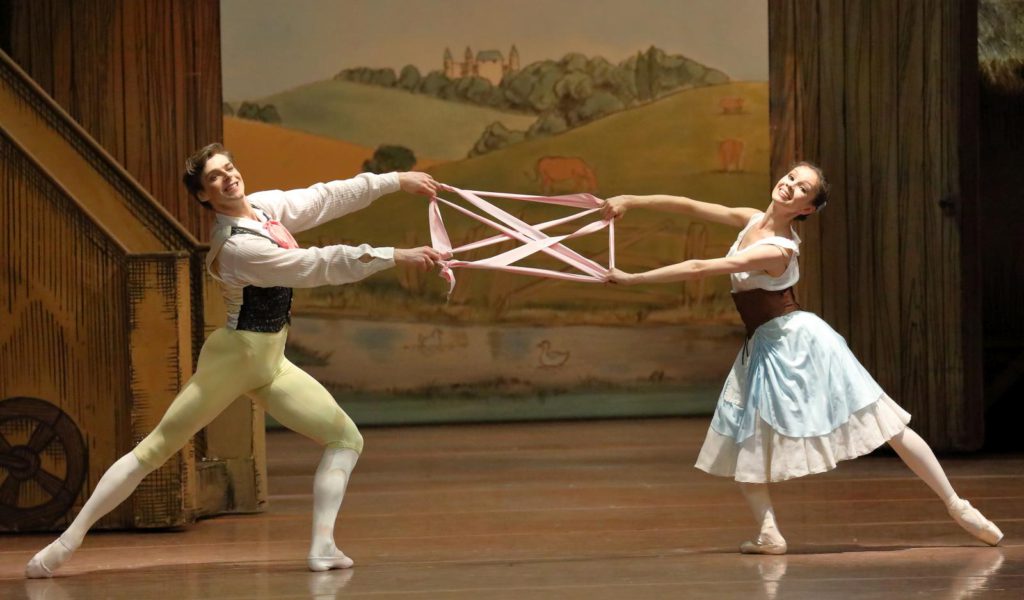 At the premiere Maria Shirinkina and Vladimir Shklyarov had their debut as the enamored couple. Bantering and flirting, ensnaring each other with pink ribbons, they made one smile. I especially liked Shirinkina's sweet naturalness when pantomiming Lise's idea of becoming a wife and a mother, her sulkiness when kept under Simone's guard and her clever feints to escape her. Shirinkina looked confident in pas de deux, when, for example, pretending to dance to Simone's tune or when flying high in Colas's arms in the final duet, but she scarcely developed her solos. They need to be more expressive and fill the space on stage. Shklyarov, by comparison,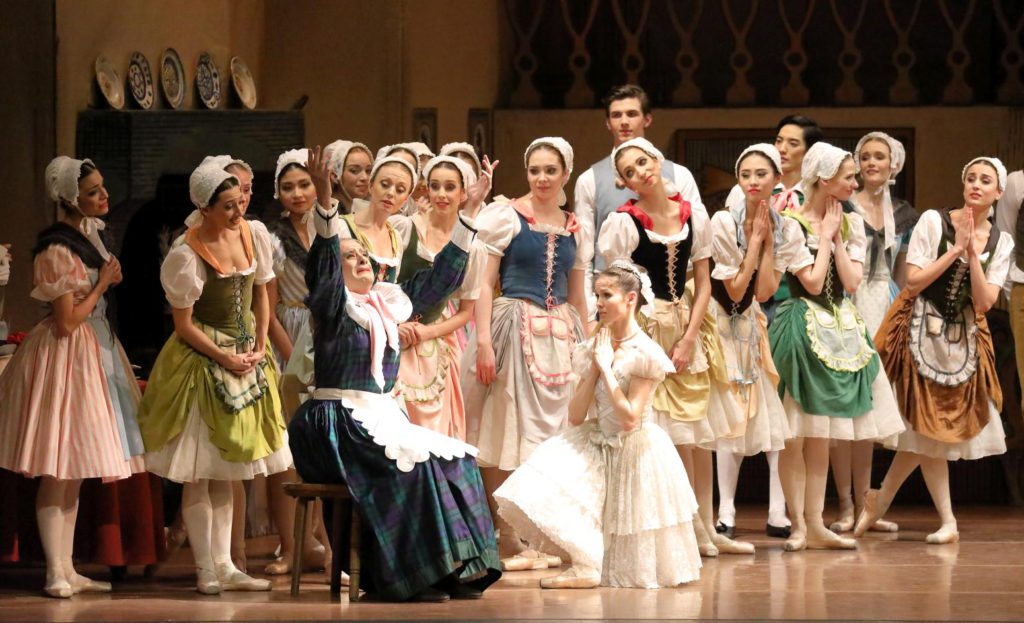 visibly relished being the center of attention. His Colas's was the smart golden boy among the young men, dashingly so when jumping, attentive and cheerful as suitor and altogether likeable.
Vittorio Alberton, a former dancer of the company under Ivan Liška's reign, returned to the Munich stage in the role of the widow Simone. Cheers to him for his unabashed sense of the comic crowned by a pert Clog Dance. At the beginning of Act II, when closing the commode drawer with a saucy bottom kick, his quirky old crone really moved into gear.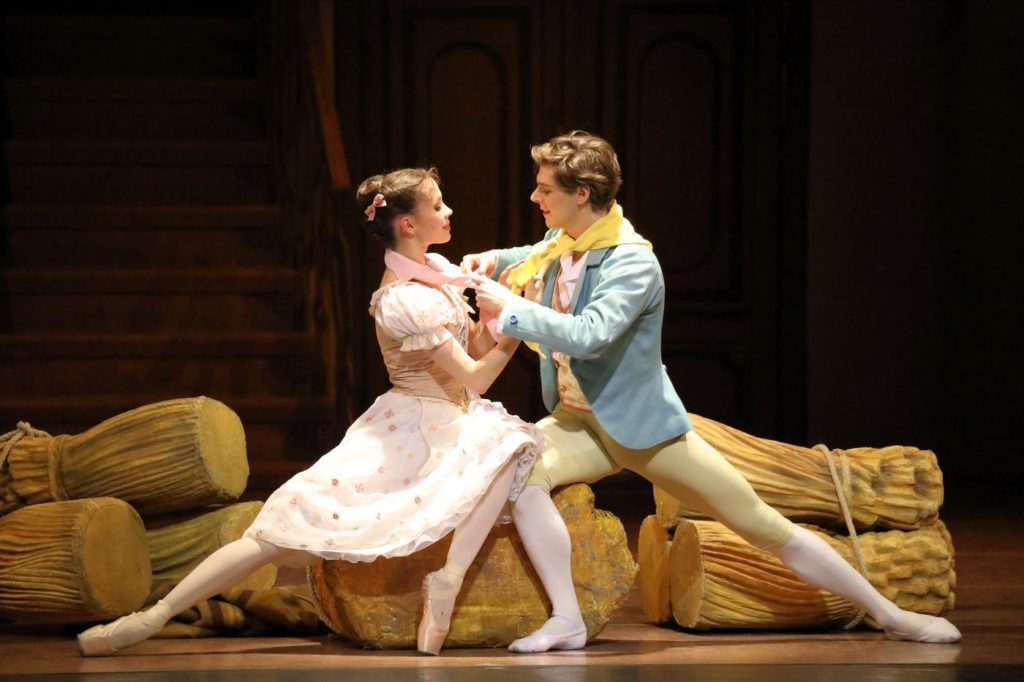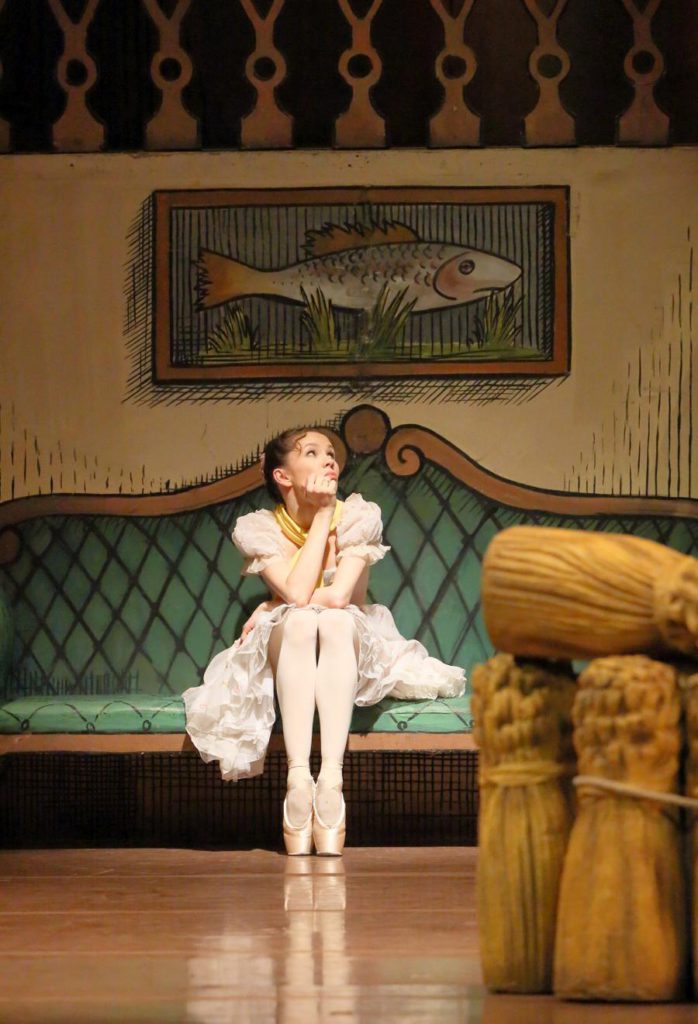 The most touching figure was Gianmarco Romano's Alain who vacillated with alacrity between the tragic and the comic. His silliness made one's eyes roll, but his grief about not having a bride to put the weeding ring on pulled at my heartstrings. One wished him well, though it was clear, he would never find a match. His father (Peter Jolesch) endured his son's whims calmly. Proper food and drinks and profitable business dealings seemed the foundation of his unwavering good-nature, but, on the other hand, he was compassionate about his son's sorrows.
Zoltan Mano Beke was the village's smart notary. As the fleet-footed flute player, Luca Giaccio led the village youth's dances. The corps performed energetically, but could risk daring. That some ribbons slipped down during the Maypole dance was not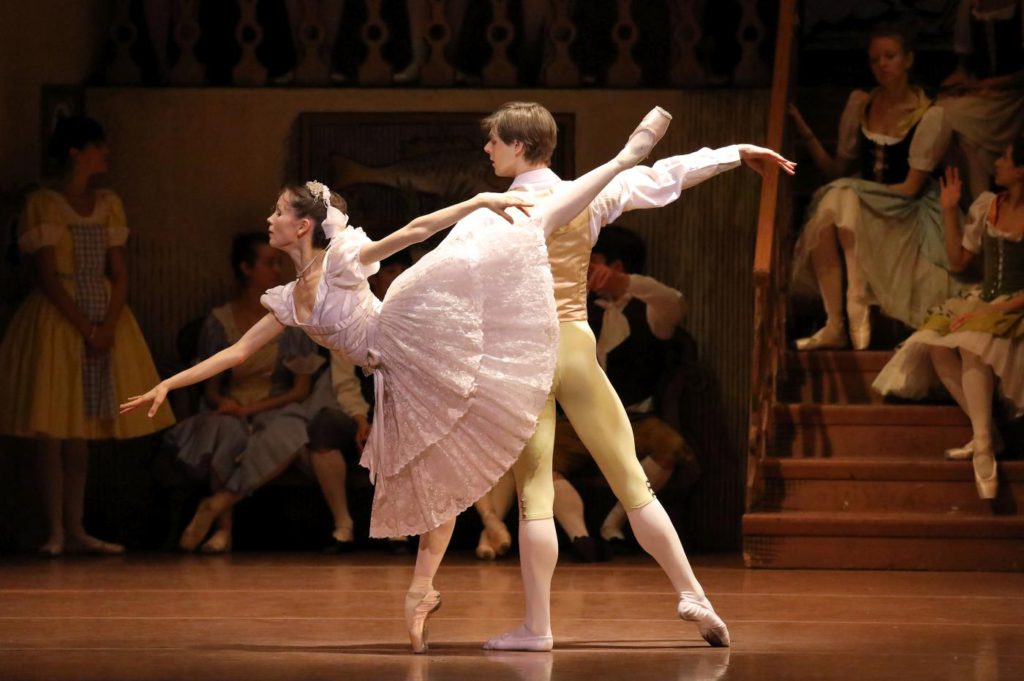 a bother. But I wish the rooster character had puffed himself up more. He is, after all, the cock of the walk! The real pony, which at the ballet's last revival in 2012 had lost its nerves during the dress rehearsal and had caused the staging team some desperate moments, was replaced by a more cooperative Shetland, which behaved well.
The Bavarian State Orchestra under the baton of Myron Romanul played Ferdinand Hérold's potpourri score decently, but some fine-tuning of the pacing would be beneficial. Also Alain shouldn't have to walk upstairs to Lise's chamber without proper musical accompaniment.
"La Fille mal gardée" runs until February 07, 2017. A single performance is scheduled for April 11, 2017.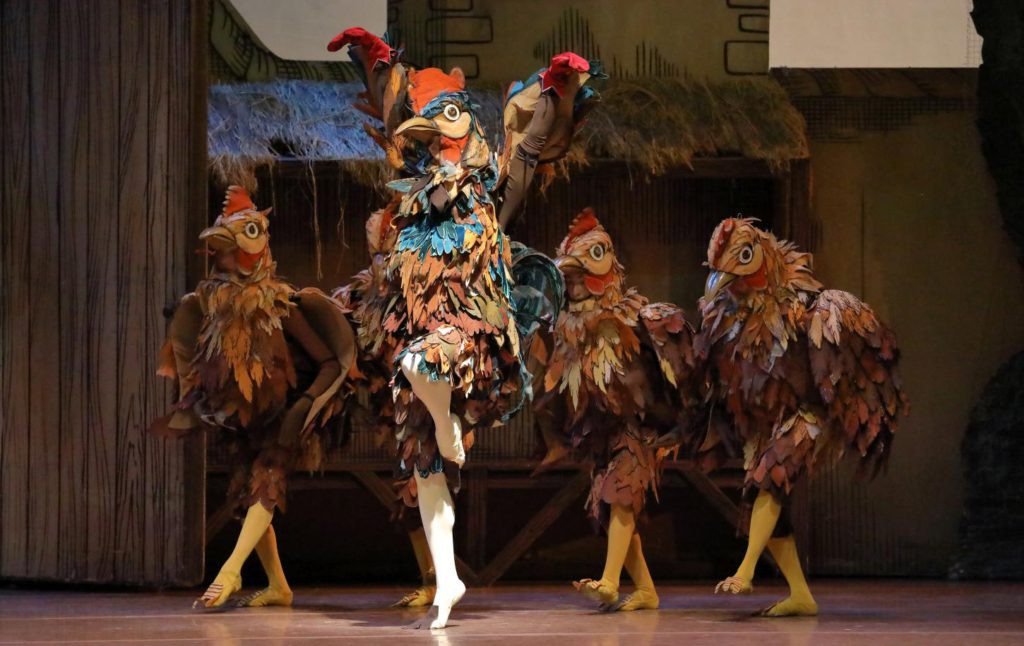 Links:
 

Website of the Bavarian State Ballet

Photos:
 1.
Vittorio Alberton (Widow Simone) and ensemble, "La Fille mal gardée" by Frederick Ashton, Bavarian State Ballet 2017
 2.
Vittorio Alberton (Widow Simone) and Maria Shirinkina (Lise), "La Fille mal gardée" by Frederick Ashton, Bavarian State Ballet 2017
 3.
Vladimir Shklyarov (Colas), "La Fille mal gardée" by Frederick Ashton, Bavarian State Ballet 2017
 4.
Gianmarco Romano (Alain), "La Fille mal gardée" by Frederick Ashton, Bavarian State Ballet 2017
 5.
Vladimir Shklyarov (Colas) and Maria Shirinkina (Lise), "La Fille mal gardée" by Frederick Ashton, Bavarian State Ballet 2017
 6.
Vittorio Alberton (Widow Simone), Maria Shirinkina (Lise) and ensemble, "La Fille mal gardée" by Frederick Ashton, Bavarian State Ballet 2017
 7.
Maria Shirinkina (Lise), "La Fille mal gardée" by Frederick Ashton, Bavarian State Ballet 2017
 8.
Maria Shirinkina (Lise) and Vladimir Shklyarov (Colas), "La Fille mal gardée" by Frederick Ashton, Bavarian State Ballet 2017
 9.
Maria Shirinkina (Lise), Vladimir Shklyarov (Colas) and ensemble, "La Fille mal gardée" by Frederick Ashton, Bavarian State Ballet 2017
10.
Ensemble, "La Fille mal gardée" by Frederick Ashton, Bavarian State Ballet 2017
all photos © Wilfried Hösl 2017
 Editing:
 Laurence Smelser