"Gala With Stars of the Bavarian State Ballet"
Bavarian State Ballet
Prinzregententheater / Prince Regent Theatre
Munich, Germany
January 15, 2017
by Ilona Landgraf
Copyright © 2017 by Ilona Landgraf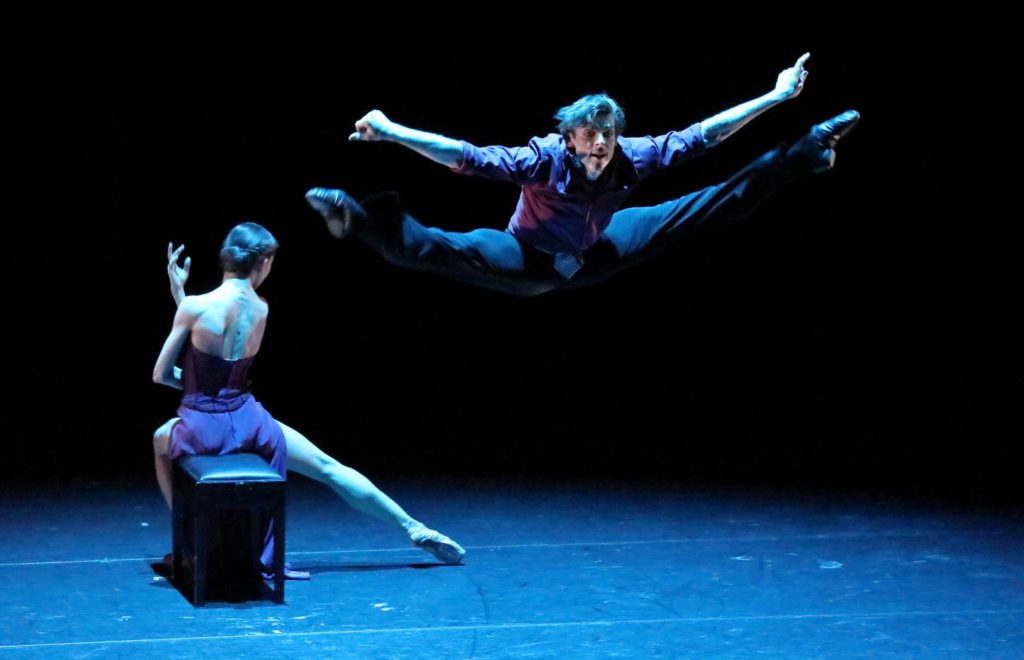 Half a year after Igor Zelensky assembled his new company in Munich, a gala seemed like the ideal opportunity to showcase his dancers' individual talents. The gala was scheduled for three evenings in the city's Prince Regent Theatre; the third evening, the one I saw, was even streamed live on the internet. Sadly, the Bavarian State Ballet didn't take advantage of this opportunity. That wasn't due to the dancers but mainly because of organizational failures. From the outside, it appeared the gala was a necessary ingredient to promote the repertory for this season, but when the time came, resources were inadequate to make the event special.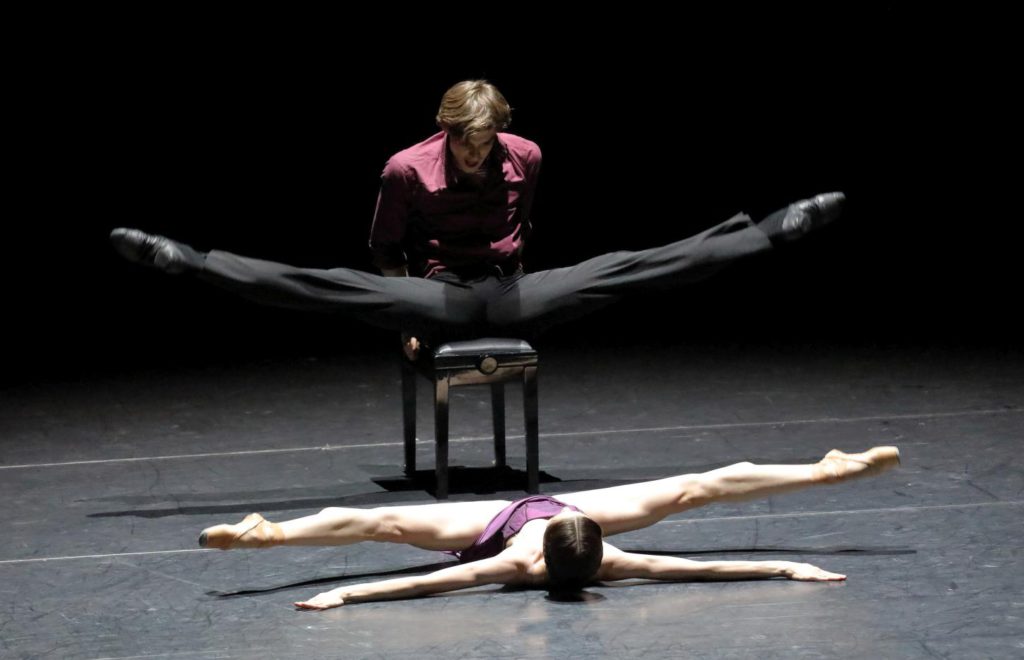 First, the Prince Regent Theatre isn't the right location for a gala. Although its interior combines art nouveau and classicism, it lacks the sparkling ambience galas benefit from. The theater's sound system leaves much to be desired, whereas the stage boards made every jump, every tok of a pointe shoe clearly audible. I was told that the company brought over its dance floor from the National Theater, but it failed as an acoustic damper.
Next to the venue, the program made me wonder. According to the press office, the dancers chose their parts largely by themselves; Zelensky interfered only marginally. Sadly, one modern pas de deux by Maria Daniela González Muñoz, which should have received its world premiere at the gala, was withdrawn because of a lack of rehearsal time. It was replaced by a pas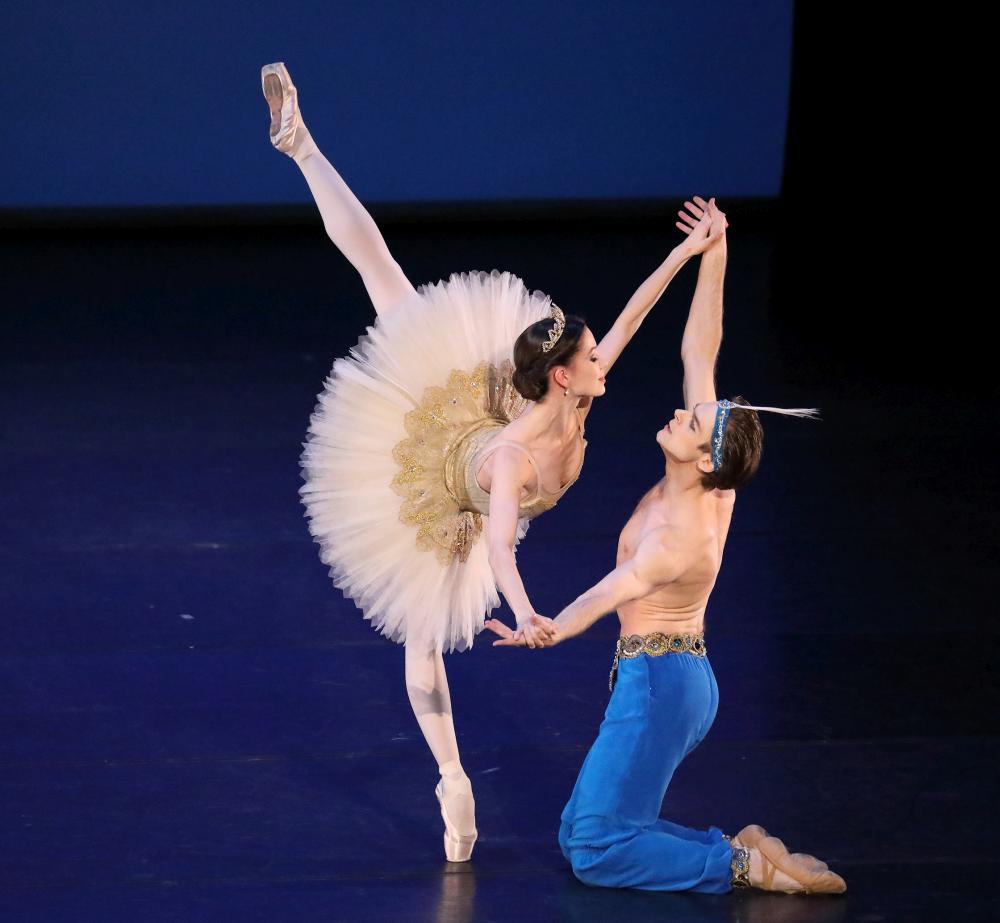 de deux from Yuri Grigorovich's "Spartacus". The full-length "Spartacus" premiered in Munich just a few weeks ago. Also, the balcony pas de deux from John Cranko's "Romeo and Juliet" was familiar fare from the current repertory. Of the ten pieces total, nine were classical pas de deux. I didn't count the number of fouettes and manèges, but there were definitely too many. Shouldn't a gala show the company's versatility?
Unfortunately, the opera's in-house photographer didn't have the best of days when shooting the gala and produced few flattering photos. Also the evening's title was inappropriate. For sure, some of the Munich dancers have a name in the ballet world but are they really "stars"? Do they even want to be called so?
Moreover not every performance had star-quality. The highlights were the two pas de deux of Maria Shirinkina and Vladimir Shklyarov. The first, Yuri Smekalov's tango-driven choreographic miniature "Parting", traces the showdown of a couple. It ends with the woman running off stage and the man left behind devastated. Emotions were seething, dense aggression filled the air – a thrillingly dramatic confrontation! The second piece, the pas de deux of "Le Corsaire", restored emotional balance. It is based on the 1915 pas d'action for Conrad, his slave Ali and Medora by Samuil Andrianov, which the Kirov Ballet's Vakhtang Chabukiani developed into the familiar showpiece pas de deux for Medora and Ali in the 1930s. Both Shrinikina and Shklyarov seemed to fully relish their performance.
I saw Shirinkina as Giselle and as Phrygia in "Spartacus" this season, but she never looked as completely in her element as in the two gala pieces. Also Shklyarov was in his sunniest form. Watching his stunningly soaring leaps, his joy and exuberance, and the extra little jump when leaving stage, was a pleasure.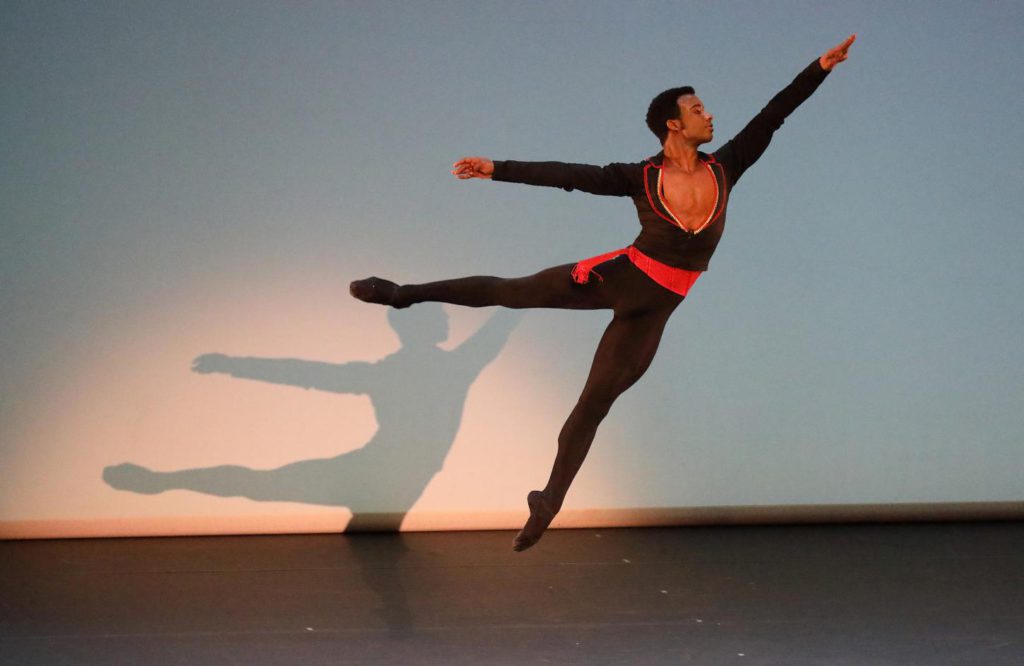 Equally superb were Ivy Amista and Osiel Gouneo in the Grand pas de Deux of "Don Quixote". Amista's clear line and pin-sharp attack was met by Gouneo's ostensibly relaxed aplomb. He teasingly played with his turns, leaped with nonchalant grace and threw Amista as easily in the air as if she were a ball.
Tigran Mikayelyan, after taking a long leave of absence from the stage due to injury for quite some time, should have danced the pas de deux of Vasily Vainonen's "The Flames of Paris" alongside Elizaveta Kruteleva. Ill-fated, injury struck him again at the last moment. He was replaced by Adam Zvonař. Kruteleva, fleet-footed and feisty, sent out sparks; Zvonař, quickly becoming more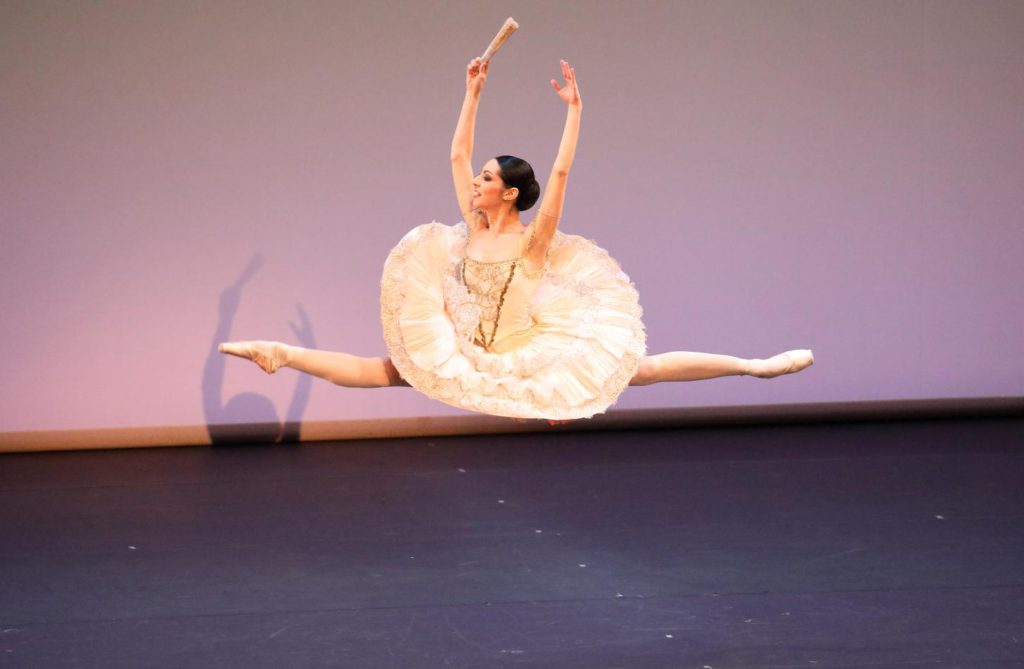 and more confident and even daring, smiled cheerfully at the end. Both had a warm rapport with the audience.
Frederick Ashton's "Voices of Spring" was a well chosen vehicle for petite Mai Kono and Javier Amo. A lovely stage couple they could have sailed through their pas de deux with youthful bubbling ease, but both looked tense at times.
Jonah Cook, promoted to soloist this season, has been entrusted with several leading roles since then. Among them was Romeo, which he danced in November for the first time. Like then, Ksenia Ryzhkova was his Juliet. When having to dance the balcony pas de deux without any set except for a full moon on the backcloth, stirring romantic emotions can be difficult. But both managed. Even though Cook does not yet have a brilliant technique, his honesty was convincing. Wide-eyed, his Romeo marveled at Juliet with such innocent wonder that one instantly knew this was his first real love. I wasn't as sure if the same applied to Ryzhkova's Juliet. She seemed to be more of an experienced young woman than a girl falling in love for the first time.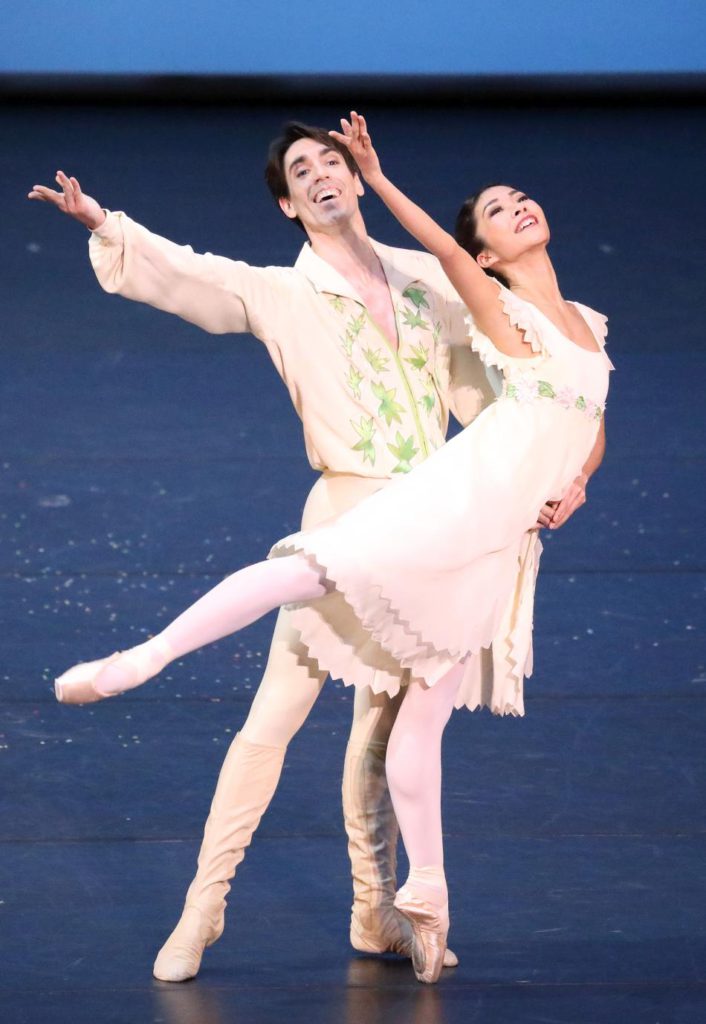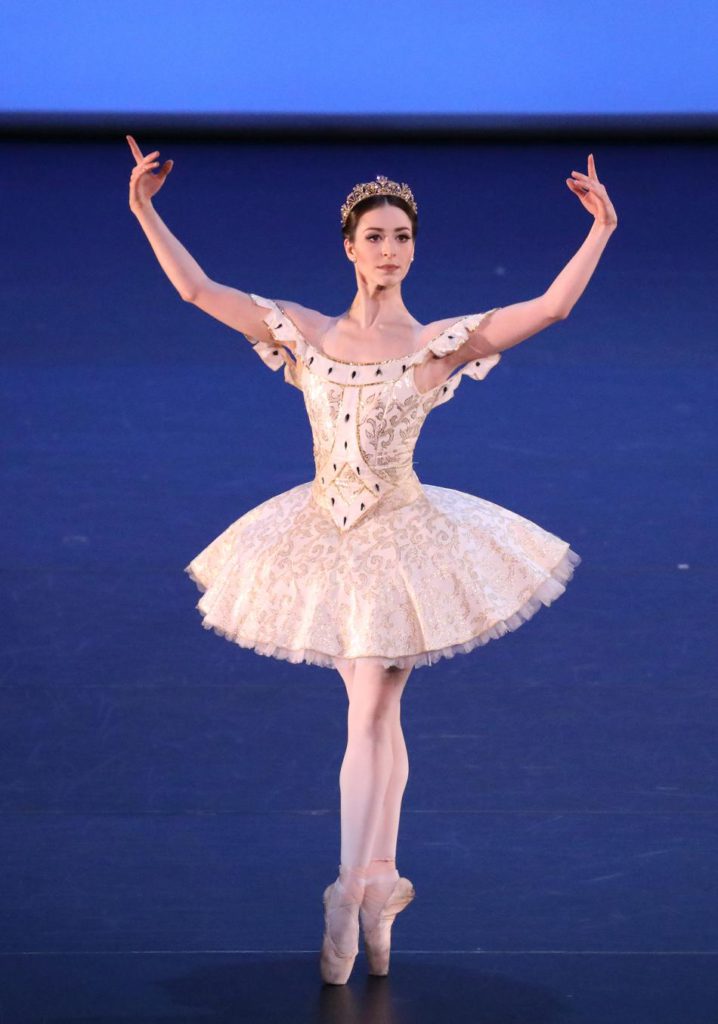 I found Ryzhkova much better as Raymonda in the Grand Pas Hongrois, where she merged a commanding, coolly flirtatious but not totally aloof demeanor with an assured technique. Alexander Omelchenko, a dancer of Moscow's Stanislavsky and Nemirovich-Danchenko Theatre, who is currently guesting with the Munich company, left little impression.
Dmitrii Vyskubenko from the corps de ballet, was assigned to partner Tatiana Tiliguzova in the opening piece, the Grand Pa de Deux of Vainonen's "Nutcracker". He danced with surprising dash, whereas Tiliguzova looked stiff, teetering, and slightly twisted in some of her pirouettes. Also the small male corps of three danced in a tense manner, rather than elegantly.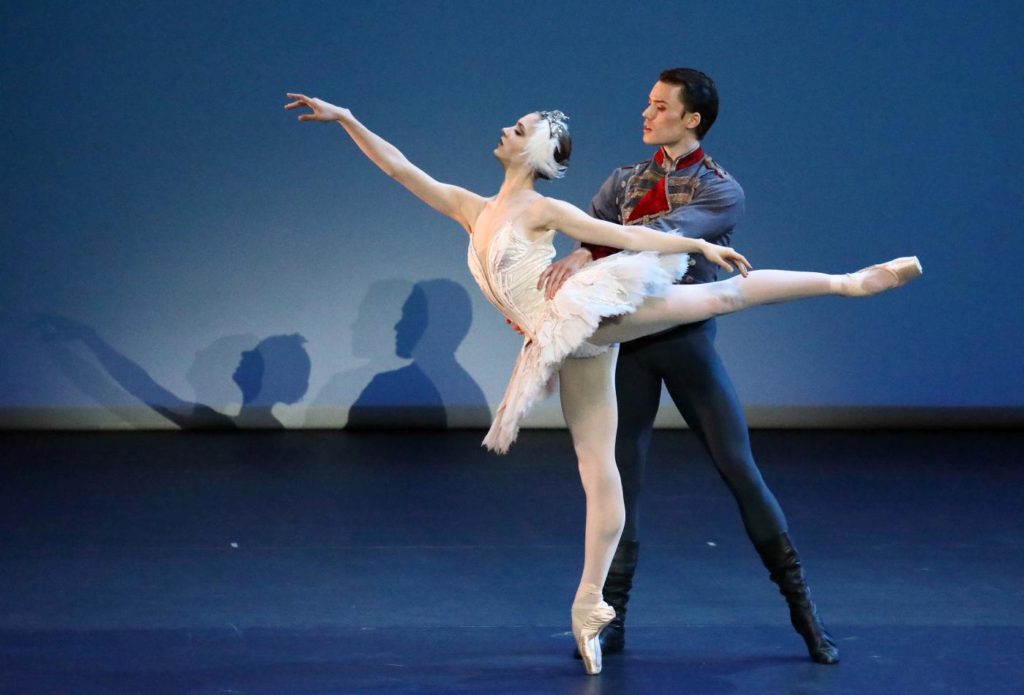 Prisca Zeisel and Erik Murzagaliyev, also a guest ballerino of the company, performed twice. They repeated the pas de deux of Aegina and Crassus from "Spartacus" and compared to the first time I saw Murzagaliyev in the role – he had been a replacement on short notice back then – his characterization of the Roman consul had more shape. Zeisel's Aegina was again a formidable high-class courtesan, only that she smiles too persistently.
The second piece, danced by the two, was the White Swan-Pas de Deux, accompanied by an unnervingly slow rendition of Tchaikovsky's music. Alas, this was no gala treat. We were presented with the choreography in costume including some rather ponderous lifts, but depth, poignant emotions and inborn grace were missing. However, there is time to grow. Petipa's "Swan Lake" isn't in the company's repertory.
The next piece the company is to tackle is Ashton's "La Fille mal gardée".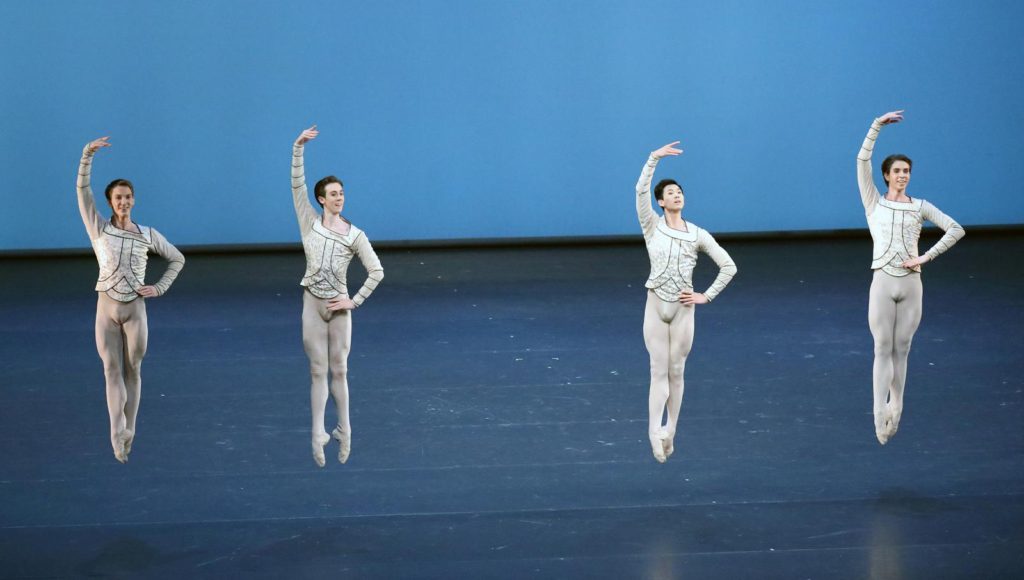 Links:
 

Website of the Bavarian State Ballet

Photos:
1.
Maria Shirinkina and Vladimir Shklyarov, "Parting" by Yuri Smekalov, Bavarian State Ballet 2017
2.
Maria Shirinkina and Vladimir Shklyarov, "Parting" by Yuri Smekalov, Bavarian State Ballet 2017
3.
Maria Shirinkina (Medora) and Vladimir Shklyarov (Ali), "Le Corsaire", Pas de Deux by Samuil Andrianov and Vakhtang Chabukiani, Bavarian State Ballet 2017
4.
Vladimir Shklyarov (Ali), "Le Corsaire", Pas de Deux by Samuil Andrianov and Vakhtang Chabukiani, Bavarian State Ballet 2017
5.
Osiel Gouneo (Basilio), "Don Quixote" by Marius Petipa, Bavarian State Ballet 2017
6.
Ivy Amista (Kitri), "Don Quixote" by Marius Petipa, Bavarian State Ballet 2017
7.
Javier Amo and Mai Kono, "Voices of Spring" by Frederick Ashton, Bavarian State Ballet 2017
8.
Ksenia Ryzhkova, "Raymonda" by Ray Barra after Marius Petipa, Bavarian State Ballet 2017
9.
Prisca Zeisel (Odette) and Erik Murzagaliyev (Prince Siegfried), "Swan Lake" by Marius Petipa and Lev Ivanov, Bavarian State Ballet 2017
10.
Konstantin Ivkin, Dmitrii Vyskubenko, Wentao Li and Vladislav Dolgikh, "Raymonda" by Ray Barra after Marius Petipa, Bavarian State Ballet 2017
all photos © Wilfried Hösl 2017
Editing:
Anna Antongiorgi