"Theme and Variations" (Triple bill: "Theme and Variations", New Suite", "She Was Black")
Semperoper Ballet
Semperoper
Dresden, Germany
March 30, 2017
by Ilona Landgraf
Copyright © 2017 by Ilona Landgraf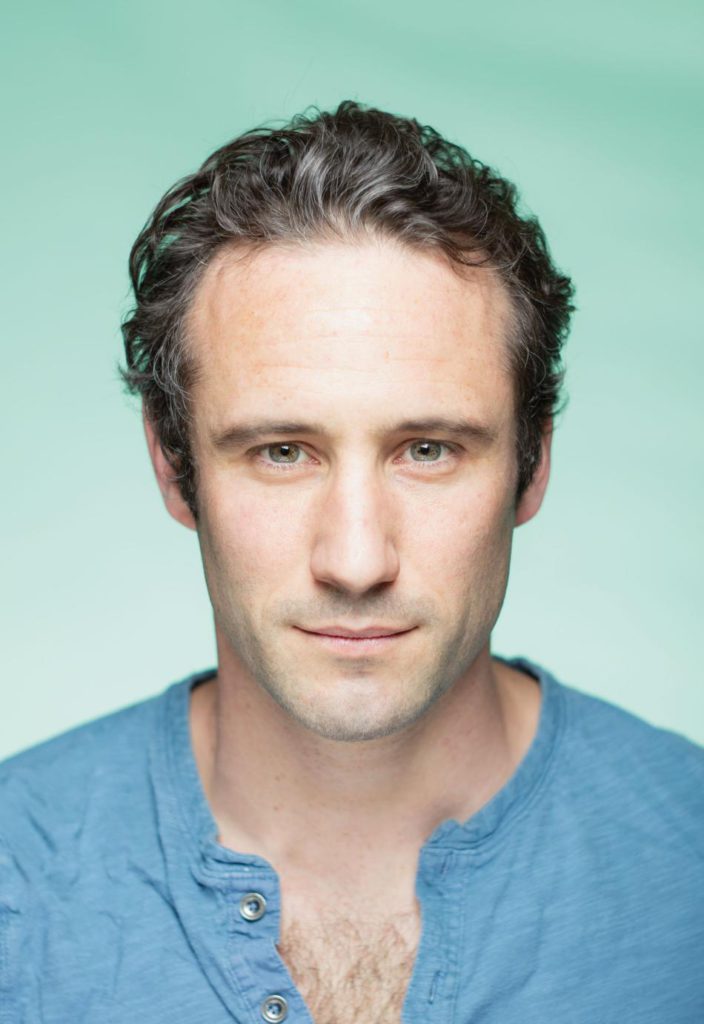 Semperoper Ballet bid a double farewell on April 1st. True to his announcement last year, Mats Ek withdrew his works from the stage forever as he heads into retirement. "She Was Black", originally choreographed in 1995, is among those that will retire with him. It has been part of the repertoire of the Dresden company for six years. When I learned about the 2nd goodbye, I thought it might be a premature April Fools' joke – but it wasn't. Fabien Voranger, the 36-year old principal of the company, ended his active dancing career with a final pas de deux in "She Was Black" in the middle of the season.
Born in Aix-en-Provence in Southern France, Voranger was trained at the Opéra National de Paris and the Studio Ballet Colette Armand in Marseille. A Prix de Lausanne scholarship led him to The Royal Ballet School before signing his first contract with Roland Petit's troupe in Marseille. Engagements at the Deutsche Oper Berlin and the Vienna State Ballet soon followed. As Voranger stated in an interview in 2015, he tended to move on to another company whenever he felt stuck in his artistic growth: "There will be always someone who can do more pirouettes than you, who is technically superior. So the most important thing in a career is to find someone who makes something of you."
That, too, was the reason why Voranger joined Aaron S.Watkin's newly assembled company in Dresden eleven years ago. Back then, the ensemble bubbled with innovative drive. In Dresden, Voranger danced a broad spectrum of roles but was never the prince. He was often cast in darker roles – Tybalt and Rothbart – but also Romeo, Petruchio, Albrecht in "Giselle" and Potiphar in "The Legend of Joseph". David Dawson created Tristan in "Tristan & Isolde" for him, a role that meant a lot to Voranger.
As he wanted to avoid any fuss about his departure, the farewell was officially announced on the company website at the eleventh hour. There would be "no flowers and not too much emotion". Though I wasn't able to attend his farewell, I saw him in his second to last performance on March 30th. But I know that his colleagues and family happily ignored Voranger's request.
On his last day, before heading to class, Voranger revealed the reasons for his decision and his future plans in a telephone conversation: "Actually, I wanted to quit already last year but Aaron asked me to stay a bit longer. Yet in the course of this season I realized that it was pointless to continue because I started to lose confidence about myself as a dancer. There's a time when you built up confidence and a time when you have to hold yourself together. It's not a matter of the roles I danced but a personal feeling, a question of age and how long I'd been staying. So it was time for a new chapter."
"I'm interested in directing a company where I can implement my artistic vision. I also started to develop together with choreographer Craig Davidson 'Creative Arts || Davidson', to promote not only ballet or dance but art in general. Like Diaghilev. We're already collaborating with designers, composers, photographers, and dancers from the Semperoper Ballet, The Royal Ballet and Zurich Ballet as 'Associated Artists', trying to keep the value and independence of each art form. In two weeks we'll film a pas de deux with Melissa Hamilton and myself to promote the concept. The goal is to organize benefit galas and other events and also to foster Craig as choreographer."
"I won't dance anymore but, well, who knows? Maybe I will return to stage someday? Recently I saw the grand-grand-grandson of Charlie Chaplin. He's a very interesting theater man, doing something like theatre burlesque. I toyed with the idea of trying it as well. But, actually, I don't think so. Another project I'm already busy with is building a house in Dresden after my own plans. It'll have a light architecture like houses in Southern France with a lot of glass and metal and stone works typical for the Dresden region. At the moment I'm waiting for building permission. Basically, I'm very excited and looking forward to what the future will bring."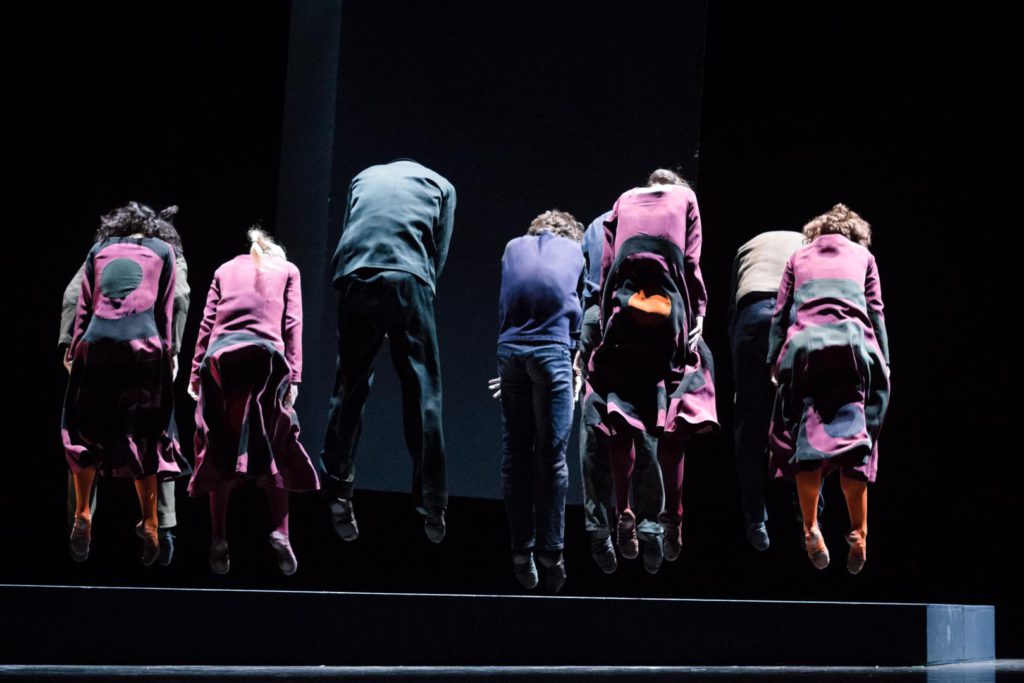 "She Was Black" is as weird as any other pieces by Ek. The title traces back to a humorous remark by Swedish actor Beppe Wolgers: "I dreamed of God last night." – "How did he look?" – "She was black." The black goddess (Stella Verdouw) was disguised in a dark bag-like camouflage suit. At first, she stole across the stage like an amoeba. Breathing fiercely, she later climbed the steps of a staircase and threw herself down to the ground as if trying to commit suicide. But goddesses are immortal, and after a bit more of her slithering, the black lady peeled herself out of the bag. Still, she wasn't recognizable – because a skin-tight, transparent, black stretch cloth covered her entire body, head included. Freed from the bag, she was able to rise to her feet and stretch her limbs into a solo.
Next to the staircase were a table and a black platform about sidewalk hight, all credited to Peder Freiij. Visually more prominent than the goddess's role was the remaining cast of ten. We witnessed them display individual tics and quirks and other strange behavior. The dancers hopped, ran and rolled across stage. They moved like slow-motion speed skaters and, at one point, one even stumbled over the goddess. Men carried women from one side to the other as if transporting wooden boards. Jón Vallejo sniffed intensely at Alice Mariani's body, who had coiled herself up on the tabletop. Later, both characters' feet and hands fluttered as if shaken by a drastic tremor. Casey Ouzounis, in garish pink, criss-crossed the stage on pointe. He also dared a pirouette. Courtney Richardson and Voranger leaned plank-like towards the table as if books on display and subsequently lay stiffly on the floor. Were they struck by rigor mortis?
At one point, Richardson stood as if hypnotized at the table and stirred the air in Voranger's bowler hat as if mixing muesli in a jar. Nothing could dissuade her, not even Voranger vigorously blowing his nose into her dress. Another hat on the floor served as a chamber pot, luckily only symbolically. The all-too suggestive pelvic thrusts and especially the naked man whose genitals prominently dangled in the air in one scene were not ideal entertainment for younger audience members – one of whom was sitting next to me – poor girl! The music – "Quasi Una Fantasia" by Henryk M. Górecki, plus traditional Mongolian songs which were faintly reminiscent of retching – both pre-recorded – seemed to bother her. (From time to time, when the noise reached deafening volumes, she covered her ears.) Only heaven and Ek know what sense to make of such nonsense.
"She Was Black" concluded the triple bill, which had opened with George Balanchine's "Theme and Variations", followed by William Forsythe's "New Suite". The performance quality of each piece differed considerably. "Theme and Variations" was, except for the sparkle of the chandeliers and the costumes, lackluster. Insecurity and tension hung in the air. But in its second part, the corps gained pluck and paraded proudly through the polonaise. Alice Mariani and István Simon danced the leading couple. Simon is not a danseur noble with inborn elegance. His solos were decent but forced. Keeping his eyes firmly on Mariani's waist, his partnering looked insecure and taut at moments. Mariani was more confident, but she too lacked the aura and technique of a prima ballerina. "Phew! That's done!" she seemed to be thinking as she stretched out her arms triumphantly just before the curtain came down.
Compared with Balanchine's style, Forsythe's style flows through the veins of the Dresden dancers. "New Suite", a succession of eight pas de deux to music by Johann Sebastian Bach, George Frederick Handel and Luciano Berio, had eight different couples, each in simple costumes of different colors. Their duets visualized the textures of their relationships. One pair vented aggression; another had a romantic but belabored attachment; and a third one was caught in quarrels. Excitement spread from Jenny Laudadio and Francesco Pio Ricci, who impressed each other with their skills. "Wait, wait…- Look! I made it!" seemed to be the message behind their boasting smiles. Kanako Fujimoto swept through the modules of her short solo like a buzzing dynamo before being joined by Joseph Hernandez. Sangeun Lee's long limbs cut snappily through the air yet also caressed it softly. She drew clear lines alongside Casey Ouzounis. The final duet was by Chiara Scarrone and Houston Thomas. Fresh and jaunty, both dallied with the playful ease of courting birds in spring.
Benjamin Pope and the Sächsische Staatskapelle Dresden aptly accompanied "Theme and Variations" and "New Suite".
Unfortunately the Semperoper Ballet's press office didn't find it necessary to take photos of the farewell. The only press photos of the program are old and include dancers who have already left the company.
| | | |
| --- | --- | --- |
| Links: | | Website of Semperoper Ballet |
| Photos: | 1. | Fabien Voranger, Semperoper Ballet |
| | 2. | Ensemble, "She Was Black" by Mats Ek, Semperoper Ballet |
| | | all photos © Ian Whalen |
| Editing: | | Therese Condit |