"Swan Lake"
Vienna State Ballet
Moscow / Vienna
April 28, 2017
by Ilona Landgraf
Copyright © 2017 by Ilona Landgraf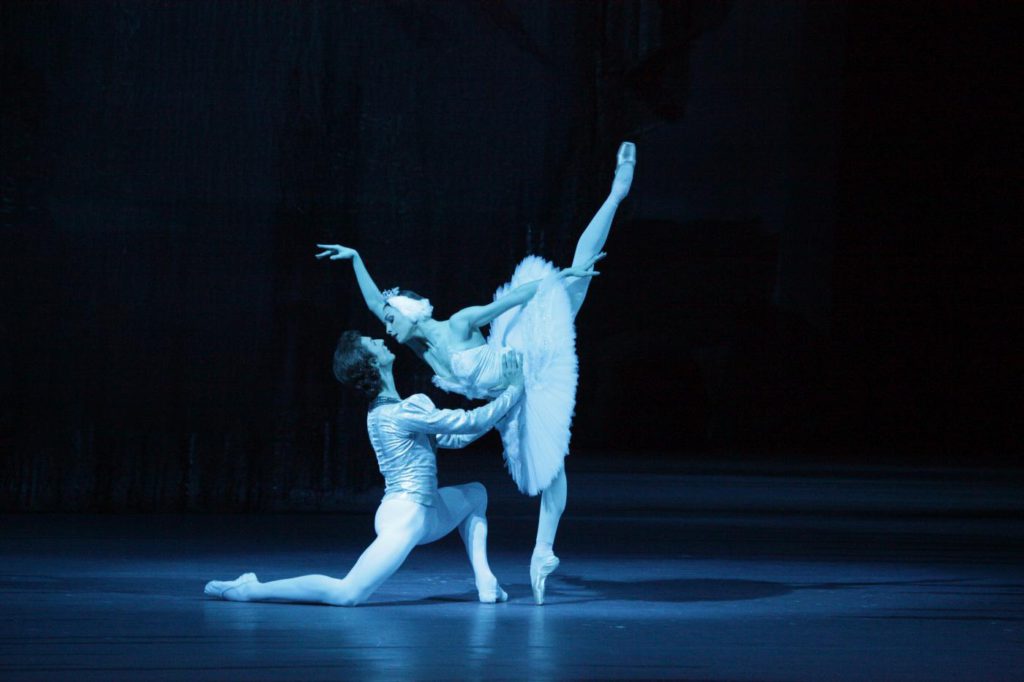 In mid-May Vienna State Ballet revives Rudolf Nureyev's "Swan Lake," the version he choreographed for the company in 1964. The new set and costumes are by Luisa Spinatelli. Four guest dancers will take the leading roles in the course of the run. The Bolshoi's Olga Smirnova and Semyon Chudin dance twice, on May 14th and 17th; on June 4th Marianela Nuñez and Vadim Muntagirov of The Royal Ballet guest in Vienna. The last performance on Monday, June 12th, will be streamed live on the internet.
While "Swan Lake" is Smirnova's debut in Vienna, Chudin returns for the third time to the Austrian capital. Two weeks before opening night I asked both about their roles and about Nureyev's production in particular. Smirnova, who at that time was in Moscow, answered in written form. Katerina Novikova, head of the Bolshoi's press office, kindly translated Smirnova's answers into English. Chudin, already rehearsing with the company in Vienna, talked with me via Skype.
Smirnova's and Chudin's answers are in italics. The photos show them in the Bolshoi production of "Swan Lake"; the swan maidens on the bottom photo are from Vienna's production.
Olga Smirnova
Which character do you feel more comfortable portraying, Odette or Odile? Do you think they represent two sides of the same woman?
I have danced the part of Odette / Odile already for several years. In the premiere I felt more at home as Odette, but with time the role of Odile has been capturing and taken hold of me more, forcing me to search for new colors in her character. Meanwhile I feel equally comfortable with both roles and am also interested in either part. I've found qualities of Odette, as well as of Odile, inside myself, and I get equal pleasure by portraying them on stage. For me Odette is an ambiguous character; she is vulnerable and scared, but at the same time very trusting. She is obedient to her tragic destiny. She is doomed to suffer, yet she wholeheartedly believes in the love of the prince and hopes for salvation.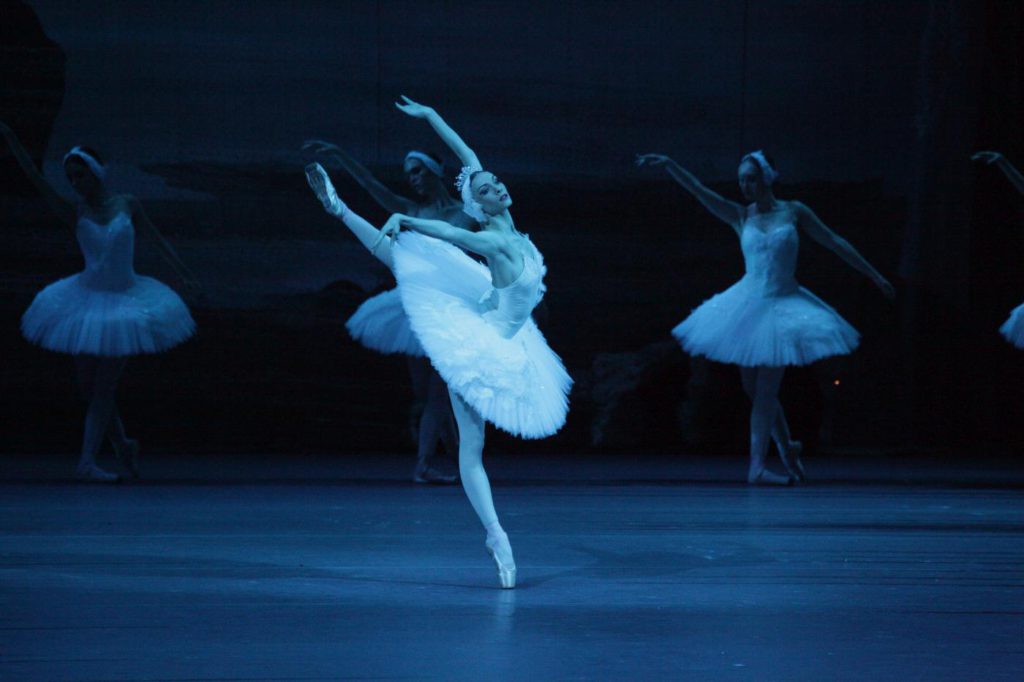 Odile is rather straightforward for me in a certain sense. I see her as a bright, surely attractive character, but behind that bright surface hides emptiness. To me she exists separately from Odette and her facial resemblance to her is not the pivotal point of the seduction scene at the ball. This moment rather is a test for Siegfried, which is given to him to check the power of his love and vow. And at the end, he does not pass this test. Siegfried wasn't able to stay firm in the face of temptation. Because of that that he forfeited his true love and exchanged something precious – the spiritual kinship with Odette – for a glamorous, but empty shell.
What backstage helps you to mentally transform from the White into the Black Swan and vice versa?
Proper makeup and costume certainly help to get into the character. When I see myself ready to go on stage my external appearance gives me the right impulse and helps me to feel Odette or Odile. The moment the music starts I fully penetrate into the character I'm about to depict onstage.
Often the measure of the quality of a performance is reduced to the amount of fouettes Odile reels off at the ball. But what are the technically really challenging moments?
My aim is to not subordinate the wholeness of the action to technique. Technique is a tool to tell the narration or to characterize the heroine. That's why technical complexity should not be viewed as a separate element which a ballerina has to fulfill. Instead it should be an integral part of the portrayal of her character, of her relationships with others. And that is the major difficulty.
Semyon Chudin
You danced in several companies before joining the Bolshoi in 2011 and you've also guested with a lot of different troupes. Now you'll be dancing with the Vienna State Ballet for the third time.
How is working with Manuel Legris and the Viennese dancers?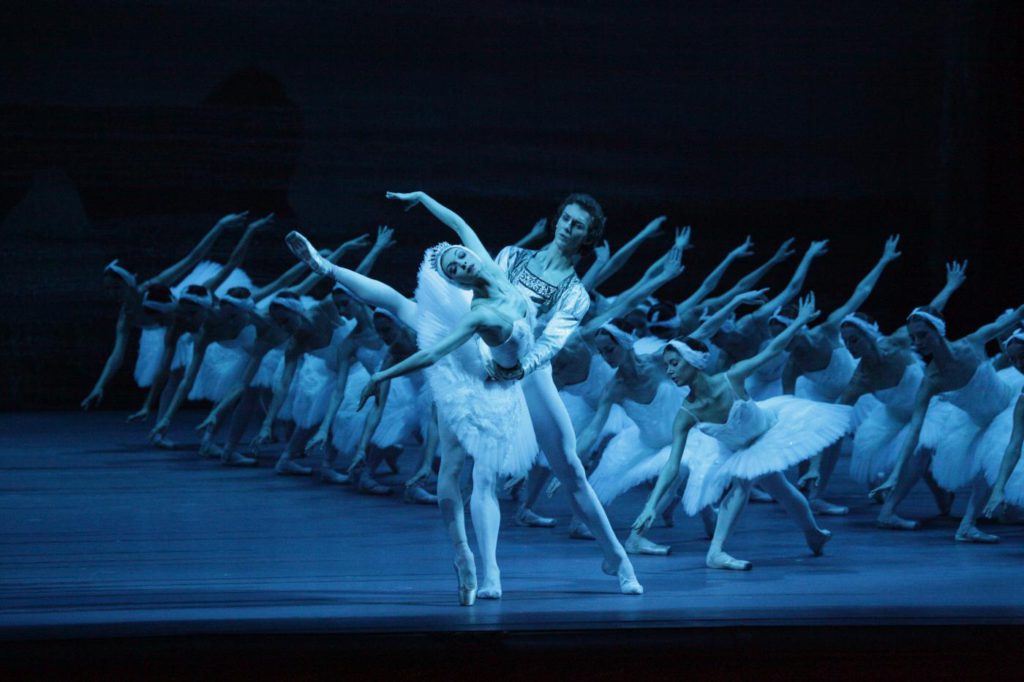 I'm happy that I can work on the role with Manuel. I grow by learning from him. He knows exactly what Nureyev wanted and that's how roles should be handed over – from one generation to the other. It's the same with every piece. If one wants to dance Spartacus, for example, one needs to work with someone who performed it: [Yuri] Vladimirov, [Mikhail] Lavronsky,[Vladimir] Vasiliev or [Irek] Mukhamedov.
The company has been growing with Manuel. He is smart; he has good dancers and the repertoire is nice too.
Olga and you are a regular stage couple with extraordinary stage chemistry. You presumably rehearsed your pas de deux umpteen times; nevertheless they look always fresh, as if born just this moment. How do you keep your stage partnership that vivid?
I don't know. It's true, that it looks fresh and we're often asked about it. Maybe it's because we try to find something new every time we go on stage. We rehearse a lot, but it might also happen that we start to quarrel in the studio.
You performed in several interpretations of "Swan Lake": Konstantin Sergeyev's, Vladimir Burmeister's, Oleg Vinogradov's and Heinz Spoerli's. At the Bolshoi you dance Yuri Grigorovich's adaption. Now, in Vienna, you're preparing for Nureyev's production. If you compare his piece with Grigorovich's, where are the differences in the choreography for Siegfried and in the psychology of his character?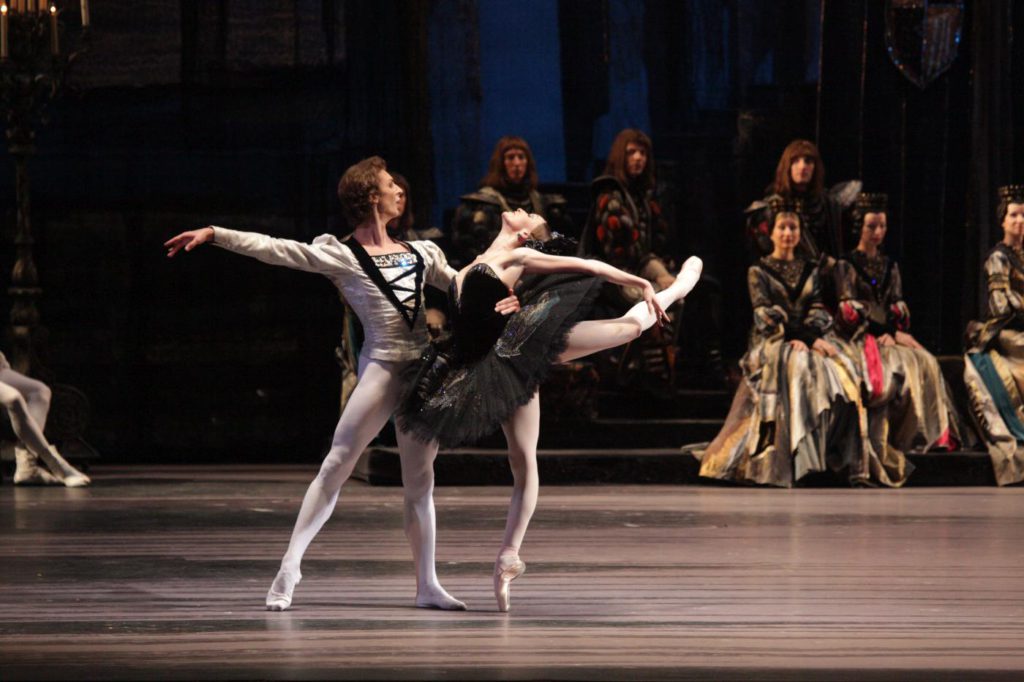 Nureyev's version is challenging, technically as well as psychologically. It has the imprint of his particular style. He danced Siegfried himself and he did it the way he wanted the Prince to be. I'm trying to get into the spirit of how Nureyev felt the role. Manuel explained the character to me and I find it very interesting. Nureyev's Siegfried is a bit different from Grigorovich's. In Grigorovich's interpretation, for example, the Evil Genius [the equivalent to von Rothbart] takes the Prince to the lake in the first act. Of course, Siegfried is musing over himself, but he doesn't know clearly what he wants. But Nureyev's Prince is already a grown up; he is a man. Taking the arbalest and going to the lake is his decision. Also, the way the Prince perceives Odile is different. In Gigorovich's version he is a bit afraid of her, but in Nureyev's he is immediately smitten with her.

Nureyev, moreover, added several monologues and a pas de cinq for Siegfried. I love the many little jumps I've to dance, and also the French footwork. French and Russian style differ, so everything is a bit new at the moment and I'm taking it in, step by step.
The Prince deems Odette the love of his life. How is it possible that he falls for Odile?
Of course the Prince loves Odette. He also pities her. But with the Black Swan it's the other story. She is like a woman in a night club catching and seducing him. He is totally blind in that situation. It is like in real life – sometimes men are totally blind.
Grigorovich's "Swan Lake" ends with Odile dying and the Prince being left behind. What kind of feelings do you have in the last scene, before the curtain goes down?
Emptiness … and total frustration. Maybe also some kind of desperation. Because the Prince suddenly understands what he lost. He had been attracted by Odile because of sexual desire, but with Odette he could have lived a deep, overarching love.
(The interviews have been edited for clarity.)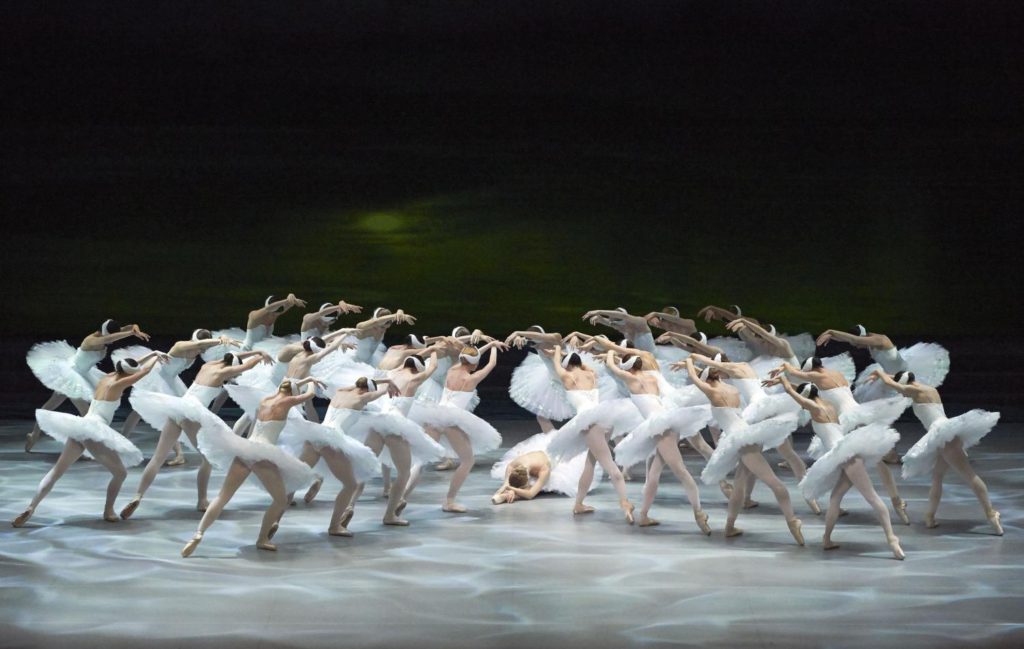 Links:
Website of Vienna State Ballet
Website of the Bolshoi Theatre
Photos:
 1.

Semyon Chudin (Prince Siegfried) and Olga Smirnova (Odette), "Swan Lake" by Yuri Grigorovich after Marius Petipa, Lev Ivanov and Alexander Gorsky, Bolshoi Ballet

©

Bolshoi Theatre / Damir Yusupov



 2.

Olga Smirnova (Odette) and ensemble, "Swan Lake" by Yuri Grigorovich after Marius Petipa, Lev Ivanov and Alexander Gorsky, Bolshoi Ballet

©

Bolshoi Theatre / Damir Yusupov

 3.

Olga Smirnova (Odette), Semyon Chudin (Prince Siegfried) and ensemble, "Swan Lake" by Yuri Grigorovich after Marius Petipa, Lev Ivanov and Alexander Gorsky, Bolshoi Ballet

©

Bolshoi Theatre / Damir Yusupov

 4.

Semyon Chudin (Prince Siegfried), Olga Smirnova (Odile) and ensemble, "Swan Lake" by Yuri Grigorovich after Marius Petipa, Lev Ivanov and Alexander Gorsky, Bolshoi Ballet

©

Bolshoi Theatre / Damir Yusupov

 5.

Ensemble, "Swan Lake" by Rudolf Nureyev after Marius Petipa and Lev Ivanov

©

Vienna State Ballet / Michael Pöhn



Editing:
 Julie Bradley