Bolshoi Ballet
Moscow, Russia
July 10, 2017
by Ilona Landgraf
Copyright © 2017 by Ilona Landgraf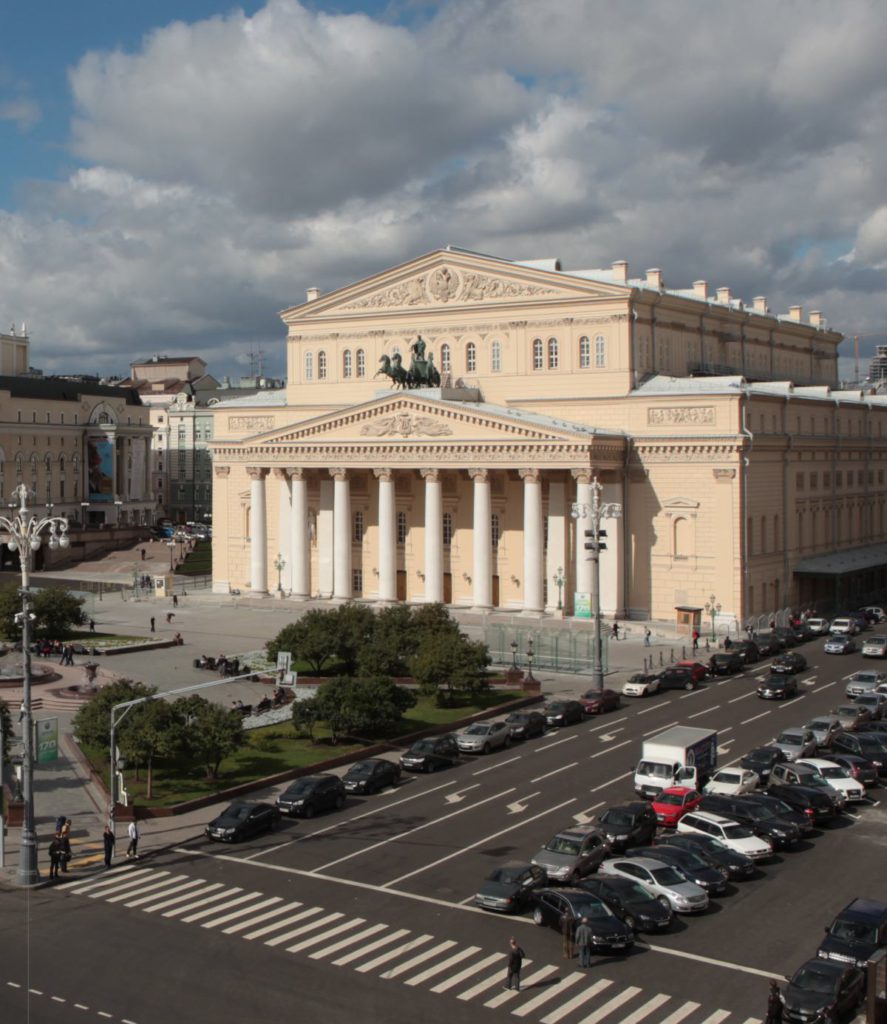 Saturday's news that the Bolshoi canceled "Nureyev" three days before the ballet's premiere on Tuesday, July 11th, and instead plans to perform its well-trodden "Don Quixote", came as a severe blow. The ballet traces the life of ballet legend Rudolf Nureyev, who had his early career with the Kirov Ballet (today's Maryinsky), before defecting from the Soviet Union during a tour to Paris in 1961. Nureyev became an acclaimed superstar in the West. He died in 1993, due to the consequences of AIDS.
The artistic team for "Nureyev" consists of choreographer Yuri Possokhov (a former Bolshoi dancer now resident at San Francisco Ballet), stage director Kirill Serebrennikov, composer Ilya Demutsky, music director Anton Grishanin and costume designer Elena Zaytseva. Serebrennikov is also in charge of the set design. I write in present tense as the premiere hasn't been entirely scrapped but was postponed to May 2018.
What caused the Bolshoi's unexpected decision? Over the weekend, several Internet reports stated that Serebrennikov was being accused of embezzling state arts funding. He is one of Russia's most innovative and successful stage directors and regarded an icon of Russian theater and film. "Hero of Our Time" (also with choreography by Possokhov) was Serebrennikov's most recent staging for the Bolshoi Ballet. According to an article in the German newspaper "Die Welt", Serebrennikov – who "hasn't made a secret out of his (homo)sexuality," – faced instances of repression previously, some based on absurd accusations. That the new allegations are the cause for calling off the premiere seems, however, unlikely. Does one wait until the eleventh hour to kill a scheduled premiere that was being prepared at full steam when one knows that trouble looms? Besides, it's safe to assume that Serebrennikov has an assistant who could have taken over as stage director.
Rumors that the reason for the cancellation was the ballet's depiction of public personalities who are still living seem irrelevant. Films and books about Nureyev have already mentioned these people.
Today, the Bolshoi's general director Vladimir Urin, gave an official explanation during a press conference. He stated that the ballet simply wasn't ready yet and will receive its premiere at a later date. Indeed, the company toured Japan from June 2 to 18, which may have made rehearsal time scarce. But has that ever been different? The Bolshoi isn't just any company. It is a top company and a huge one. The dancers give their all and for a premiere they would strive to make the impossible possible. New works created on this company are rare – opportunities to be treasured. Certainly, the dancers are not to blame. Possokhov, for his part, is by no means a choreographic greenhorn. This Russian has been making new pieces at San Francisco Ballet, where he is choreographer in residence, for a decade. He has also worked for other prestigious companies. Like his fellow artistic team members, he knows his business. So, why shouldn't the piece be ready?
According to the "Kommersant" newspaper's dance critic Tatiana Kuznetsova, "Nureyev" includes sequences with male dancers in dresses and also a pas de deux between two men. A leaked video of a rehearsal shows male dancers performing in high heels. According to other reports there are also "many images of a fully naked Nureyev, showing his genitals". Making a ballet about Nureyev and overlooking his homosexuality simply wouldn't work. Was "Everything Too Gay" as Manuel Brug wrote in "Die Welt"? Urin denied reports that the show was canceled "because of its frank portrayal of Nureyev's gay relationships". But do we believe him?
In December of last year the business newspaper "Vzglyad" published an article about an interview Prime Minister Dmitri Medvedev had with Russian television channels. It was translated by Ismene Brown. Medvedev said his colleague, Culture Minister Vladimir Medinsky, should be cautious in his statements. "Medinsky has in the past stated at length his belief that Western modernism is polluting Russian and world culture." Concerns are that artistic freedom might be threatened by censorship and that "establishment and church dogmatics overrule Russia's often boldly innovative arts producers". The report also mentions "conservative culture "activists" physically intervening to stop plays and productions that they don't like." This calls to mind that in 2015 a leading bishop of "the Orthodox Church went to court demanding the banning of a production of Wagner's [opera] "Tannhäuser" in Novosibirsk" that he "considered blasphemous." The legal case was lost, but in 2016 the same bishop had "The Nutcracker" ballet banned from Novosibirsk's opera house at Christmas because he deemed it an 'occult' production. Is it too much to suppose that the same powers, the same culture activists thwarted the premiere of "Nureyev"?
Brug concluded in "Die Welt" that what most surprised him, given Russia's homophobia, is that "Nureyev" made it to the general rehearsal at all.