"Manon"
Semperoper Ballet
Semperoper
Dresden, Germany
September 04, 2017
by Ilona Landgraf
Copyright © 2017 by Ilona Landgraf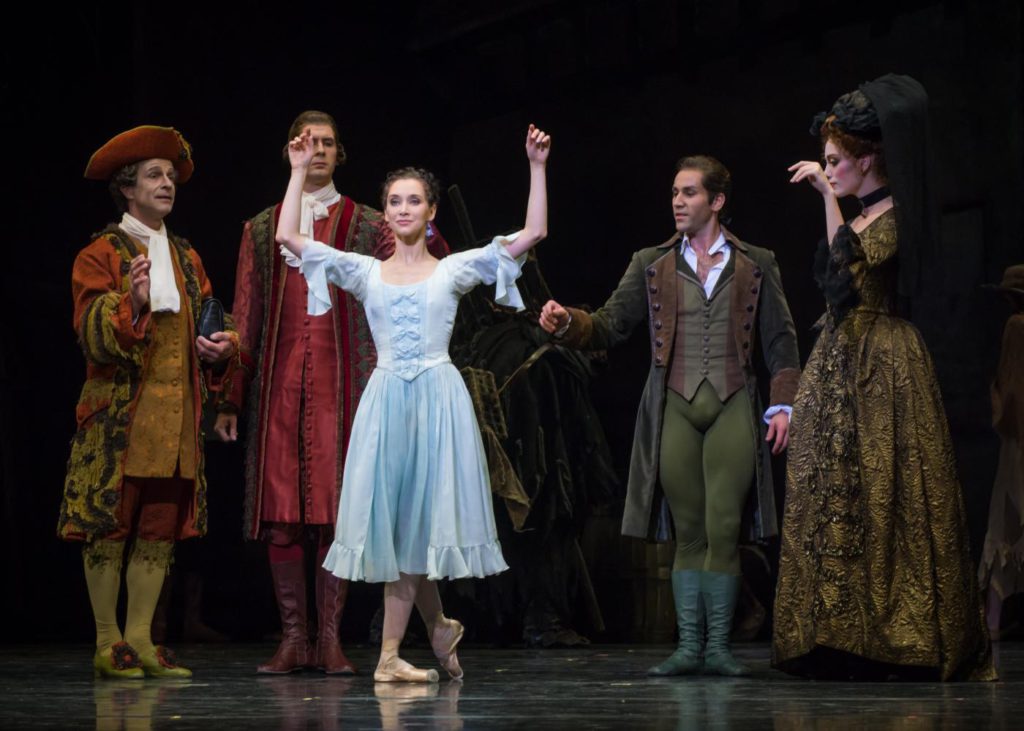 Semperoper Ballet opened the season with a final run of Kenneth MacMillan's "Manon." In most performances since the Dresden premiere in fall 2015 Melissa Hamilton danced the title role. Hamilton returned to her home company, the Royal Ballet London, in May this year. The gap she left was filled by two guest ballerinas familiar with the role – Anna Ol (Principal of Dutch National Ballet) and Dorothée Gilbert (Étoile of Paris Opera Ballet). Both dance twice. The Semperoper Ballet's Gina Scott is cast for the final two performances in mid-October. I saw the opening night with Ol alongside Julian Amir Lacey as Des Grieux.
As well as Massenet, Puccini and Hans Werner Henze's opera adaptions, MacMillan's 1974 ballet is based on Abbé Prévost's novel "L'Histoire du chevalier des Grieux et de Manon Lescaut." Prévost's text dates from 1731. It takes us to France and Louisiana in the early 18th century. At the heart of the story is the love affair between the dutiful student Des Grieux, offspring of a noble family and about to join the Order of Malta, and the young Manon Lescaut, destined to become a nun. They meet accidentally, fall in love, run away to Paris, where Manon detects her taste for luxury. Des Grieux, eager to satisfy her, starts to scam money by cheating at cards while Manon, tempted by the wealth of other admirers and influenced by her cunning brother, becomes the courtesan of the affluent Monsieur G.M. He parades her like a trophy. But Des Grieux wins back Manon's love.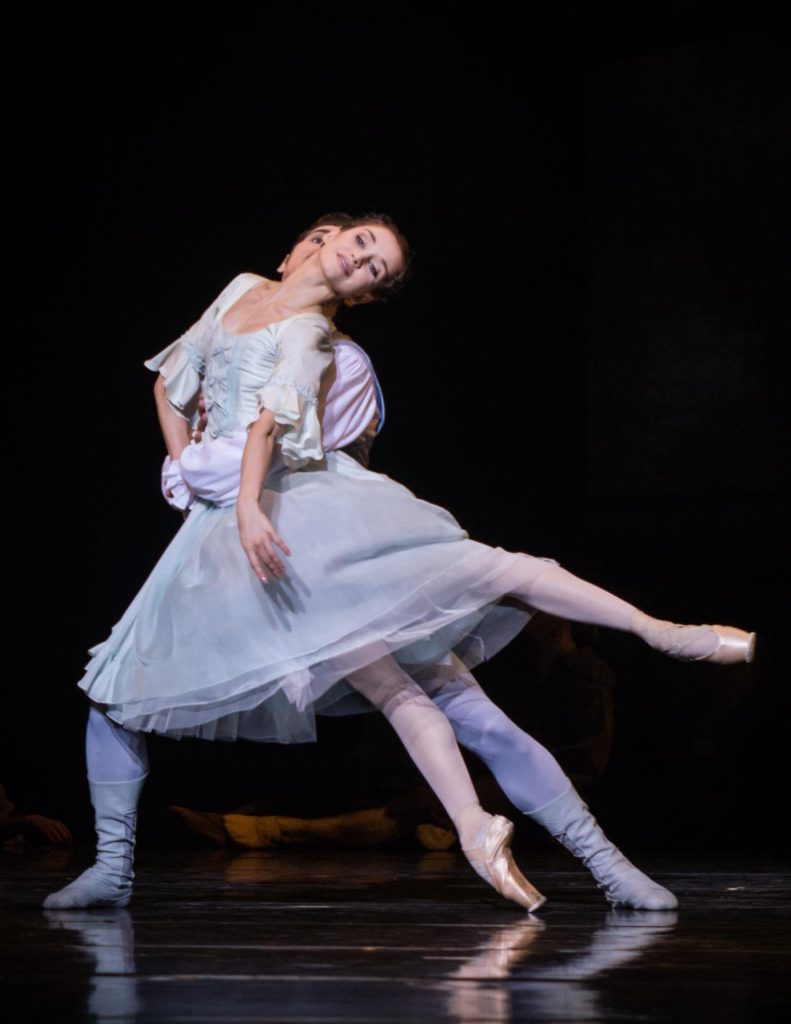 Monsieur G.M. restores his wounded vanity and reputation by deporting Manon as a prostitute to New Orleans and shooting her brother dead. The same upper class that elevated Manon, now kicks her in the mud. The last one to trample all over her is the straight, righteous and trim governor of New Orleans. Prostitutes are dregs for him and only good enough to be raped. Exactly this happens to Manon. Des Grieux who had accompanied her, stabs the governor, and the two lovers escape to the swamps of Louisiana. There Manon dies of exhaustion.
Apart from some cuts and sharpening, MacMillan kept the core storyline and the social environment it is embedded into: the flagrant discrepancy between the rich and the lowlife; wealth as the only means to escape the dirt; and hypocritical or non-existent ethics. Everyone around Manon and Des Grieux gambles for a little benefit, for a crumb or a fat slice of the big cake
Where lies the rotten spot that caused the disaster? Was it Manon's fault? Society's? Or was the overall situation as murky as Louisiana's swamps? And how much has basically changed during the 300 years since Prévost wrote his novel?
Ol's being a guest dancer added to the charm her Manon had right from the first moment on. She was a very pretty stranger arriving at an inn in Paris, the embodiment of lovely innocence. If she was flirtatious then merely playfully so and without any motives. Every aspect of her behavior seemed pure, tender and natural up to the moment Lescaut (Jón Vallejo), her brother,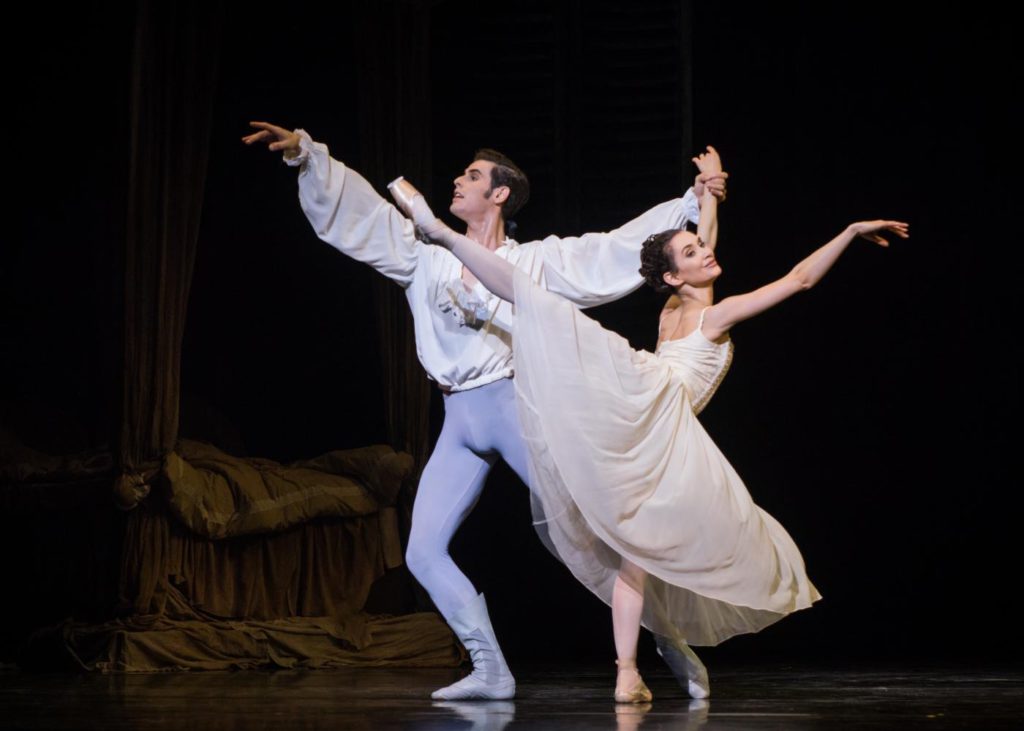 started to pimp her to Monsieur G.M. (Milán Madar). She understood the game quickly. In no time her asking glances and restraint gave way to complicity. Manon established herself in the world of the noble and rich as smoothly as if born in fur and brocade. Time stood still when she entered a room or danced. She was a monument of untouchable beauty, and not even being passed from one admirer to the other at a party in an upscale brothel harmed her dignity.
But why had she fallen in love and later returned to Des Grieux? Amir Lacey was focused on the steps in his first solo and later on partnering rather than radiating irresistible amorousness. Also at the party one didn't feel how much his Des Grieux wanted Manon – and only her. Yet from the moment on when Des Grieux saw a chance to win Manon back, Amir Lacey grew stronger and stronger. His disapproval of her infatuation with frippery was convincing, his fatal attack on the governor (Christian Bauch) forceful and his final pas de deux with Manon in the swamps was dense with emotions. The former Manon was gone and had left a shabby, stricken being, inevitably broken and grasping after life for the last time. The scene was deeply saddening.
As Lescaut, Vallejo was as adroit and spunky in his dancing as he was clever in scenting and wangling a profitable deal. His ability to feign was perfect, a few subtle glances were sufficient to guide Manon. Drunk as a skunk at the party in the brothel, Lescaut would have deserved to be put in his place, but his mistress (Courtney Richardson) grinned and bore it. His brutal execution made one almost sick.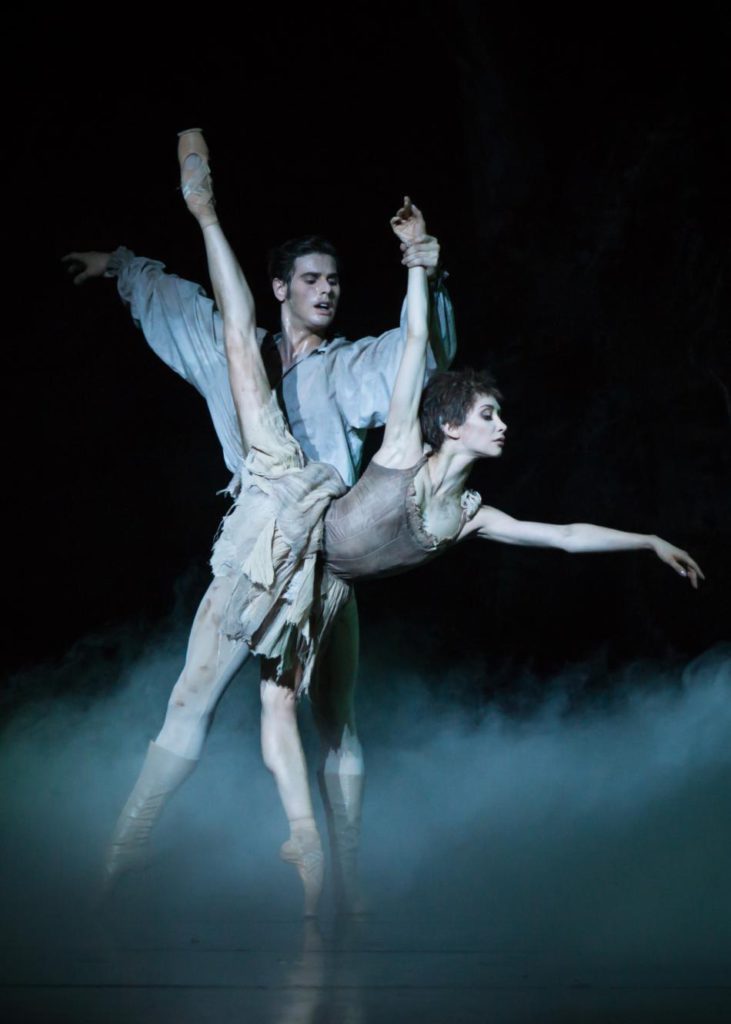 But Lescaut's mistress by no means put up with everything. Beneath the ringlets and the heavy gold jewelry she was a hard, acrimonious woman. Every smile, every advances was calculated and well-placed.
Madar portrayed Monsieur G.M. as a nasty, arrogant sourpuss. On the one hand he was an ailing aristocrat who tried to keep the pack of beggars at bay by wiggling his hanky. On the other hand he flaunted the omnipotent avenger. His interest in Manon ceased, once he possessed her. Instead, his covetous eye searched for other feminine charms.
Bauch's governor was thoroughly despicable – cold, crude and inhumane, in short a bastard. But according to his immaculate uniform he for sure officially had a clean record. Aidan Gibson as Madame, owner of the brothel "Hôtel particulier," admirably kept her composure given the special wishes of the gentlemen, but later at the party got carried away and almost fell down from the table she danced on. She offered the services of shrewd, experienced prostitutes as well as bold, curly-headed sluts all of whom were sexy. Houston Thomas led the group of beggars. His daring ran free in dancing, stealing and groping the women. His beggar pals were likewise on the ball. Houston seemed happy that after the summer-break he finally could perform again.
Among the further members of the milieu the corps depicted were patrons, guards, soldiers, townswomen, actresses and servants.
It is always a pleasure to hear the Sächsische Staatskapelle Dresden play, especially as the Semperoper has excellent acoustics. Under the baton of Martin Yates they gave a fine rendition of the music by Jules Massenet, a collage that Yates himself arranged and orchestrated in 2011.
"Manon" will be dropped from the repertoire, but British style will still have a foothold in Dresden. In March 2018 Frederick Ashton's "The Dream" will premiere in a double bill with "The Four Seasons," new choreography by David Dawson.
| | | |
| --- | --- | --- |
| Links: | | Website of Semperoper Ballet  |
| Photos: |  1. | Ralf Arndt (An Old Bon Vivant), Milán Madar (Monsieur G.M.), Anna Ol (Manon), Jón Vallejo (Lescaut) and Aidan Gibson (Madame), "Manon" by Kenneth MacMillan, Semperoper Ballet 2017 |
| |  2. | Anna Ol (Manon) and Julian Amir Lacey (Des Grieux), "Manon" by Kenneth MacMillan, Semperoper Ballet 2017 |
| |  3. | Julian Amir Lacey (Des Grieux) and Anna Ol (Manon), "Manon" by Kenneth MacMillan, Semperoper Ballet 2017 |
| |  4. | Anna Ol (Manon) and Julian Amir Lacey (Des Grieux), "Manon" by Kenneth MacMillan, Semperoper Ballet 2017 |
| | | all photos © Ian Whalen |
| Editing: | | Agnes Farkas |