"Side A: Split into One" ("Proof" / "Soon" / "Sisters")
Nederlands Dans Theater
Zuiderstrandtheater
The Hague, The Netherlands
September 22, 2017
by Ilona Landgraf
Copyright © 2017 by Ilona Landgraf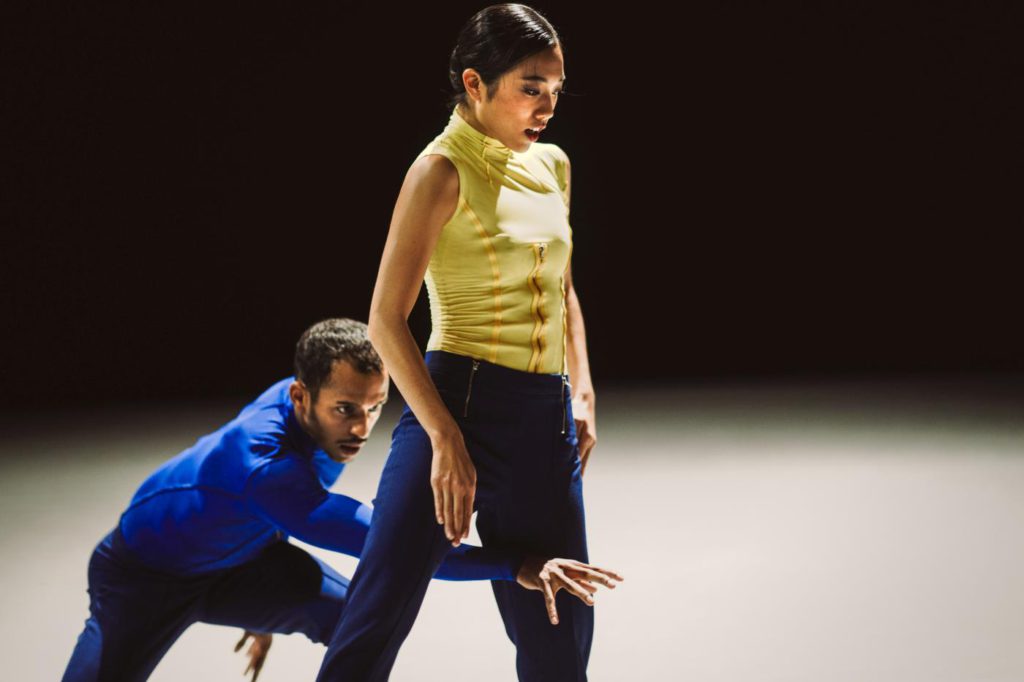 On the right side of the Zuiderstrandtheater berths a huge yellow ship, the way on the left side leads directly to the beach. The theater, a plain concrete building with much glass, opened in 2014 in The Hague's port area. Its neighborhood and the parking lot in front of the house don't please the eye, but the view out of the huge windows on the first floor does. Between the dunes one can see the sea gleaming in the setting sun.
Inside, the smell of deep-fried fish permeated the foyer. The reception celebrating Nederlands Dans Theater's first performance this season – a triple bill with entirely new works – was in full swing. The program consisted of pieces by Edward Clug, Medhi Walerski and the inseparable duo Sol León & Paul Lightfoot. Since 2002 León and Lightfoot have been the company's house choreographers. In 2011 Lightfoot also took over as artistic director succeeding Jim Vincent.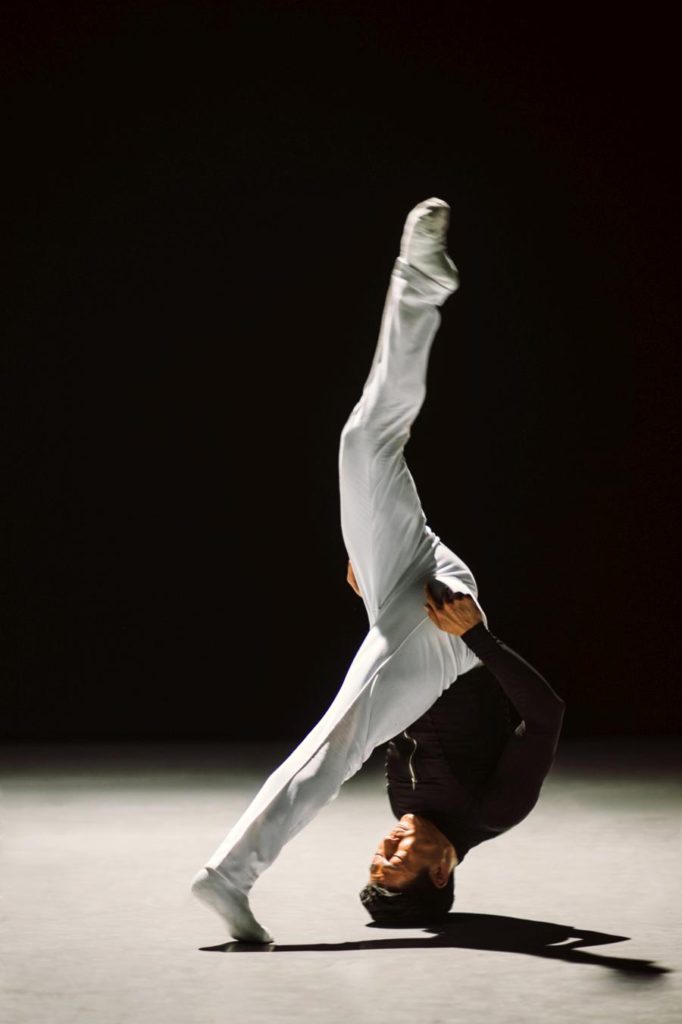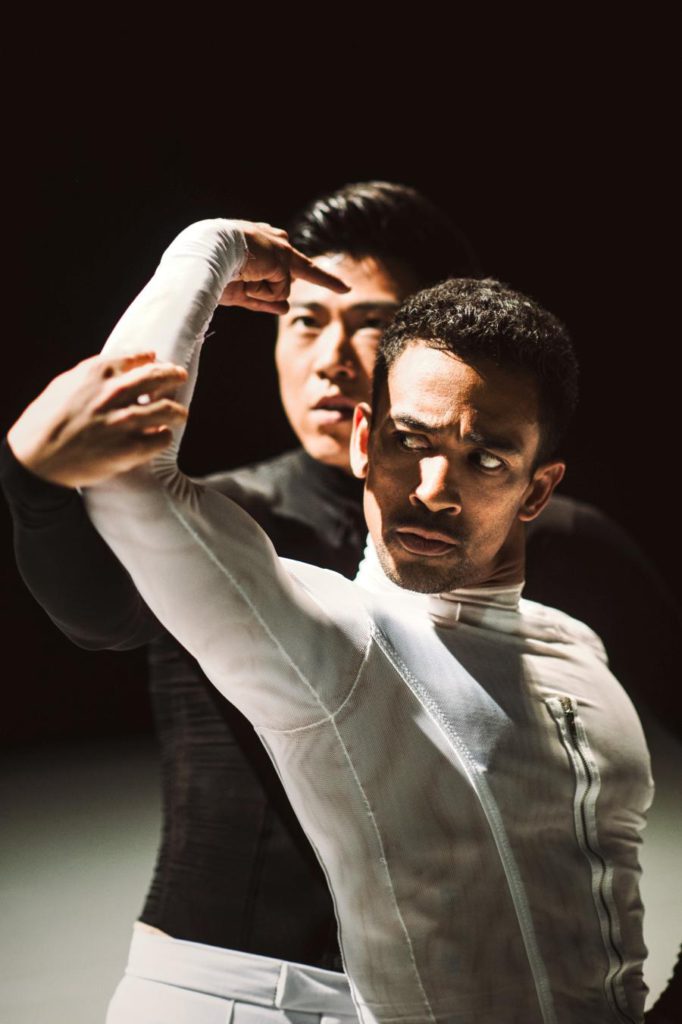 Clug, artistic director of the ballet company of the Maribor Slovene National Theatre, had already choreographed for Nederlands Dans Theater's junior troupe, NDT 2. "Proof" is his first work for the main company, NDT 1. It is an abstract piece for two female and five male dancers and, according to my counting, divided in four parts whose characters are mainly determined by the music – several songs by the English rock band Radiohead. Had they not been toned down by moderate sounds in between, its hammering, repetitive beats made me want to run a mile.
In the program leaflet Clug prefaced his short comment on "Proof" with a song text from Radiohead, "This dance […] It's like a weapon […] Of self-defense […] Against the present […] Present tense". The ways of self-defense included hectically flailing about, swaying the whole body as if it were a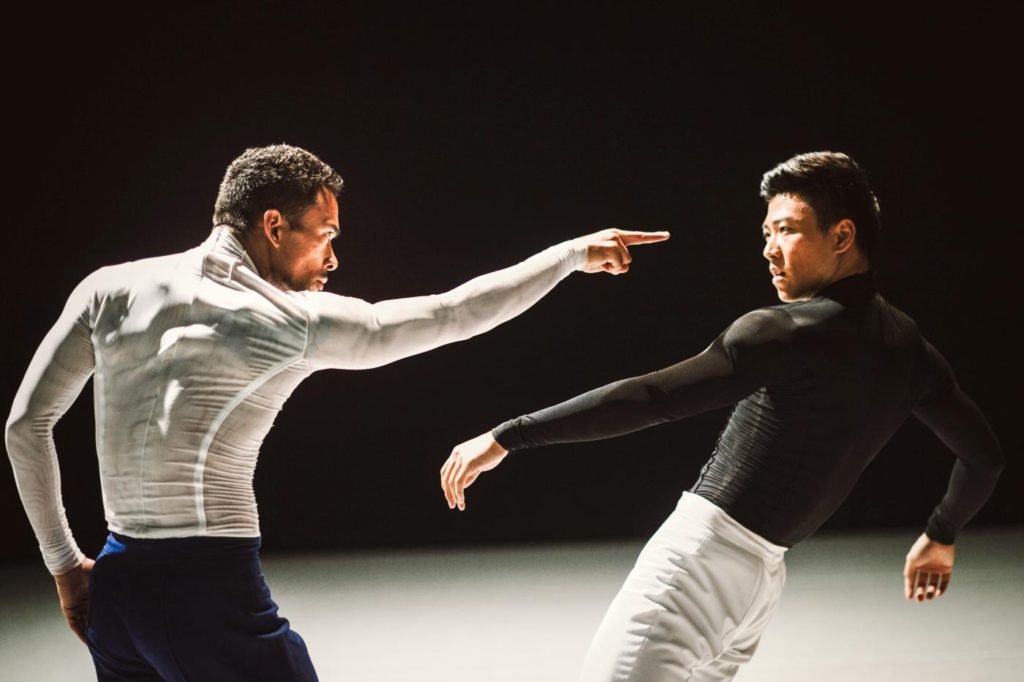 lamp post in heavy wind, freezing awkwardly in the middle of a somersault, and moving heads to the left and the right while walking like degenerated gnomes. Jon Bond hypnotized and stunned Jianhui Wang by pointing two fingers towards his eyes. Wang lay for some time motionless on the ground until Bond reawakened him and made him move according to his wishes. Several times, other dancers rested on the floor as well, while others were dancing. Movements were segmented and often initiated by impulses of varied intensity. Soft and fluent phrases alternated with jerky, convulsive ones. Some pas de deux looked as if one accompanied and guided the other, the latter being partly paralyzed or about to learn walking anew. In a solo Wang, too, seemed to relearn how to use his legs.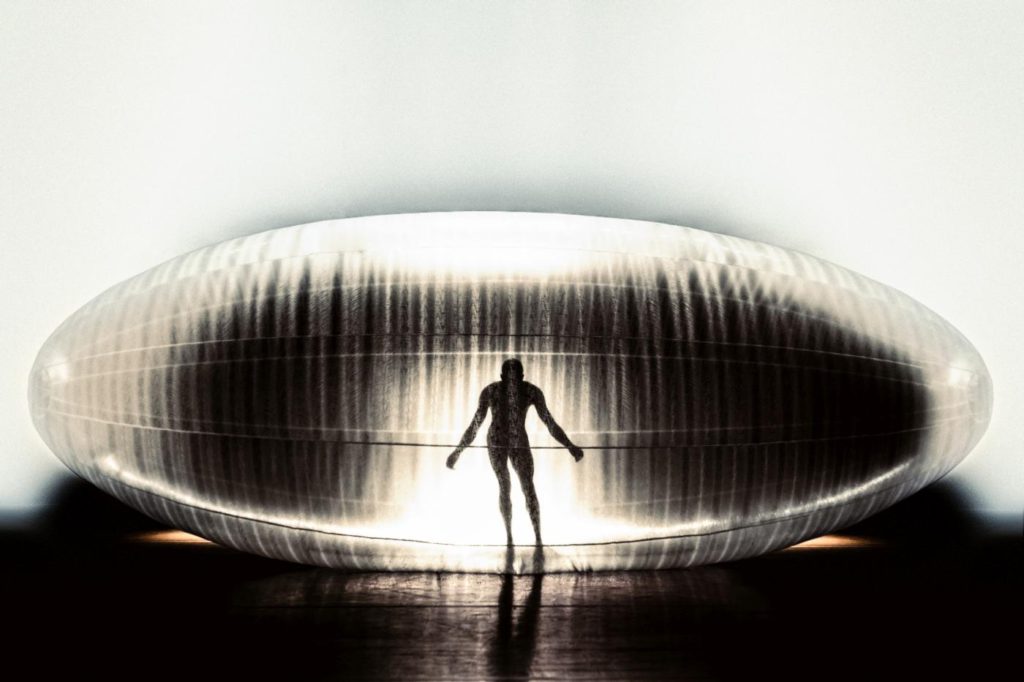 The dance's overall character was like one of those hip video clips that flicker on screens in trendy shops. It lacked progress and most of all it lacked soul. The main attraction of "Proof" was a milky white plastic jacket in the shape of a huge egg of a fly. Having hung across the stage for most of the time it was lowered to the floor in the last minutes and, curiously, enclosed Alexander Anderson.
The costumes, skintight pants and tops in blue, yellow, black and white, were by Leo Kulas. Marko Japelj's simple set consisted of a black backdrop and black side panels.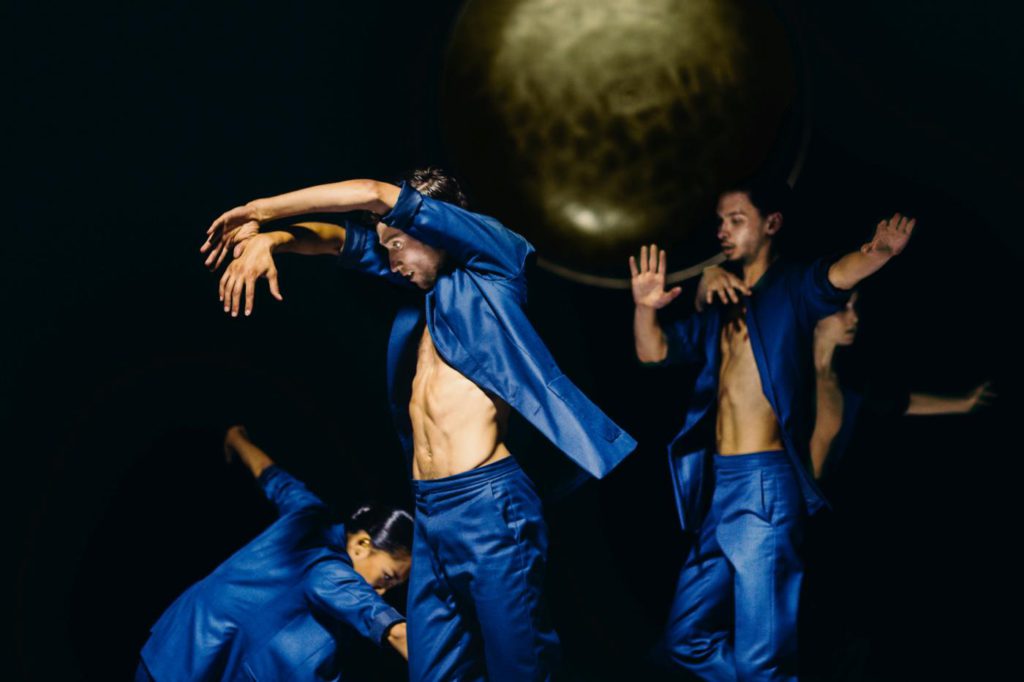 Walerski, a former dancer of both NDT 2 and NDT 1, has been choreographing since 2008. Similar to Clug with his mega-size egg also Walerski reverted to a piece of set design to give "Soon" an interesting look. Yet the steadily circling rod system with a spotlight on one end and a golden metal disk (the Moon's disc?) on the other wasn't that fascinating. Walerski's source of inspiration was music by Benjamin Clementine, an English composer and musician. He chose four of Clementine's songs and four dancers -Alice Godfrey, Madoka Kariya, Gregory Lau and Paxton Ricketts – to interpret them. All wore pants and open shirts in a blue fabric that had a synthetic sheen (costumes credited to Walerski). Walerski's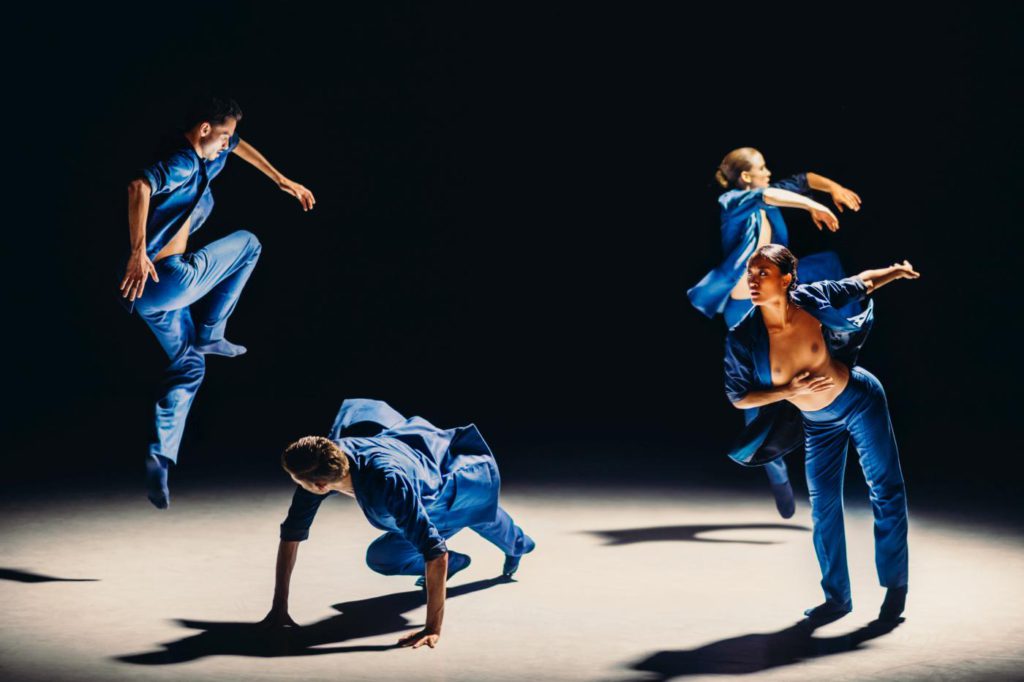 choreography was more fluent and had more warmth than Clug's. Interpersonal connections mattered more; here was a group with a sense of togetherness. The dancers gathered and circled their arms, stood at the corners of an imagined square, faced each other motionless or jumped gently from one foot onto the other. Several times they paused after a dance sequence or switched to casual walking.
But, maybe because Clementine's music meant so much to him, Walerski eschewed creating equally strong moves. The music played the main role onstage, and dance became secondary. The song line "I know this is tiring…" proved ironically right. Lau's final solo though, in which he tried several different sequences on a diagonal, was potent.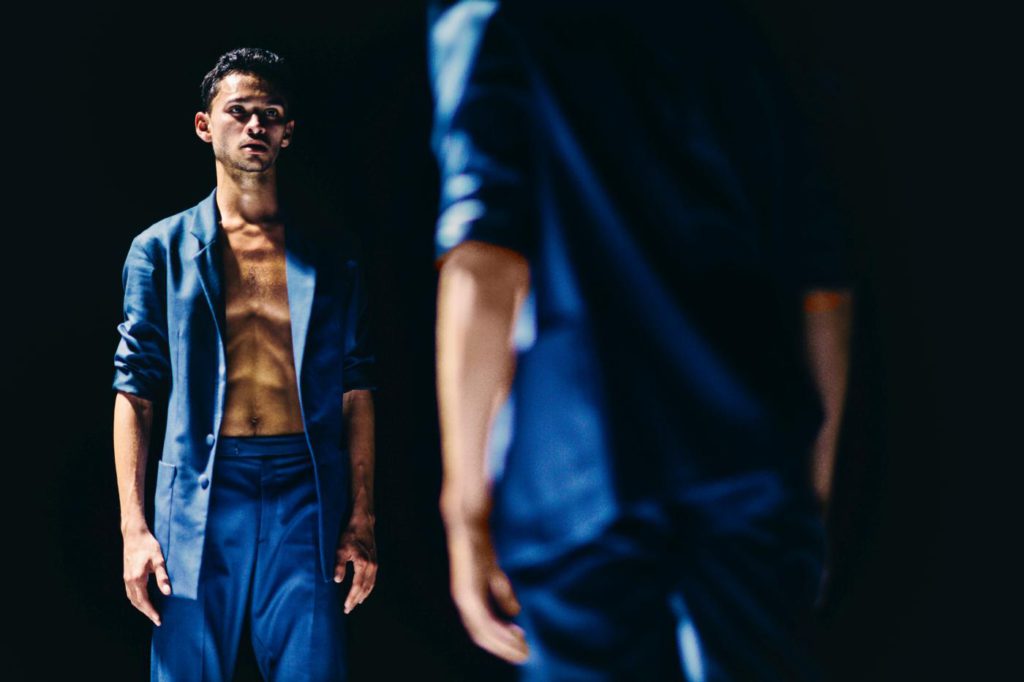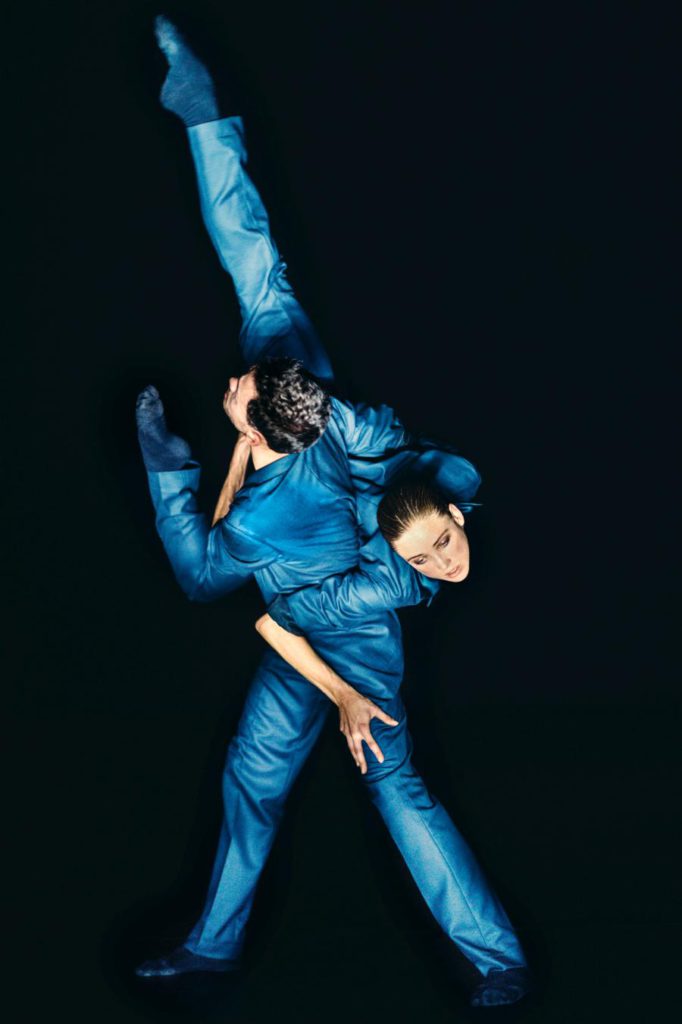 Each piece I've seen from León and Lightfoot was cryptic. "Sister" proved no exception. What the two choreographers revealed about the piece in the program leaflet wasn't enlightening either. They found it "difficult, in fact near impossible, to say something about a new ballet which hasn't been born yet" and drew inspiration "from the metaphor of connections and unconditional love between each other".
The hard facts were as follows: the cast included three women and three men. A small curved wall surrounded the back half of the stage like an arena. Dancers sat on it or hid behind it. A shiny black plastic sheet, halfway unrolled from its reel and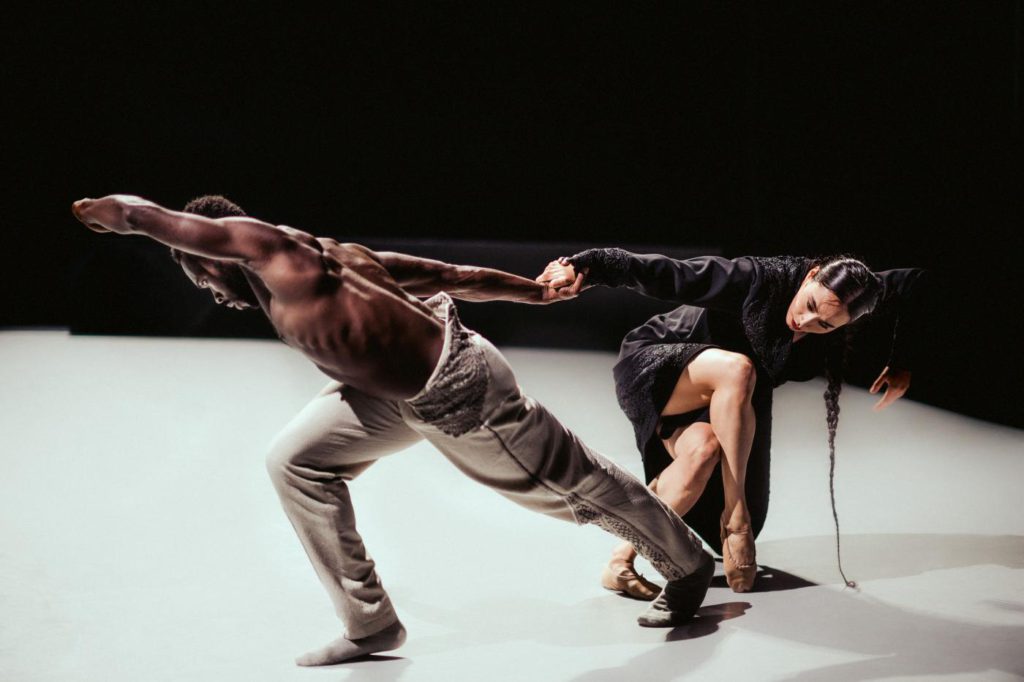 heavily rucked up, lay across the floor. At first, the reel leaned against Prince Credell who stood motionless. Later it was laid down, and Carolina Mancuso crawled beneath the sheet like a worm under a leaf. The backdrop and the side walls were black, their upper third subtly contrasted with gray panels. The music, assembled from five different composers or groups of composers, already began while the audience still flocked back to their seats after the break. Birds' twittering, the rattling of (maybe) cutlery, and shouts of children reminded one of a family idyll in the countryside on a Sunday afternoon. Later, a bass fiddle provided soulful, meditative sounds, whereas the noise of biting in an apple made one feel uncomfortable. Church bells rang, someone breathed shakily, and tender piano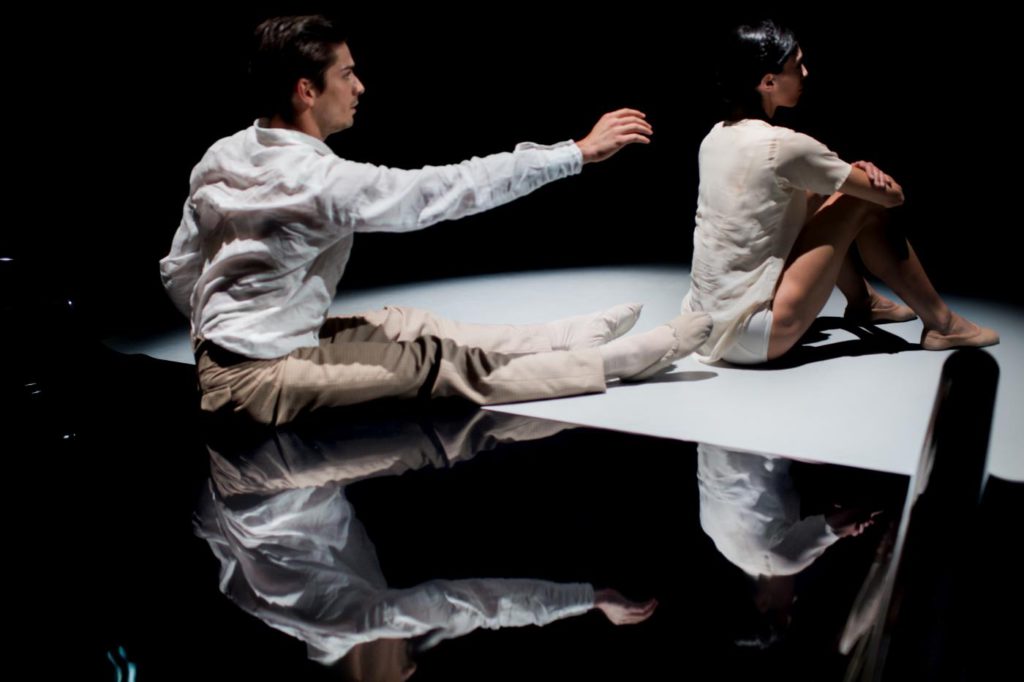 strumming replaced melancholic silence. At one point the music creaked like an old machine whose cog wheels slowly got under way. Also the relationships the figures onstage depicted didn't run smoothly.
Did we witness the murky sediments of a family life? An offshoot of Chekhov's "Three Sisters?" Mancuso, together with Aram Hasler and Juliette Brunner seemed to portray three sisters. Their hair, artfully braided, ended in pigtails as thin as a rat's tail or was draped around the neck like a noose. (León, too, had a loop of hair around her neck at the curtain call.) Brunner was one-armed, as her right arm was hidden beneath her black top. She contorted her face grotesquely and, full of anger and maybe disgust, opened and closed her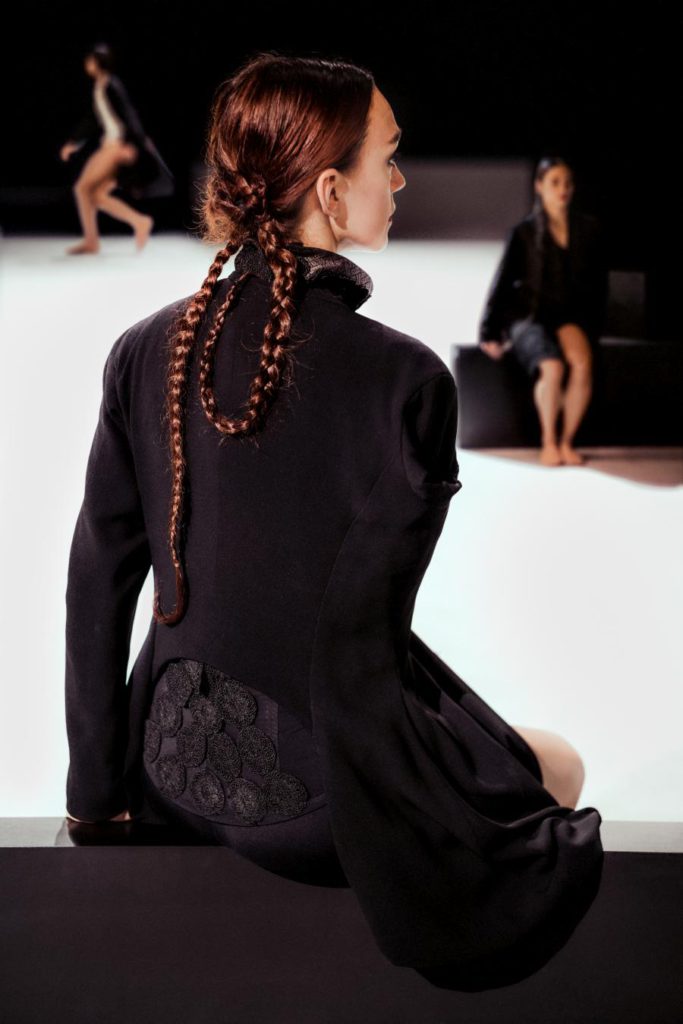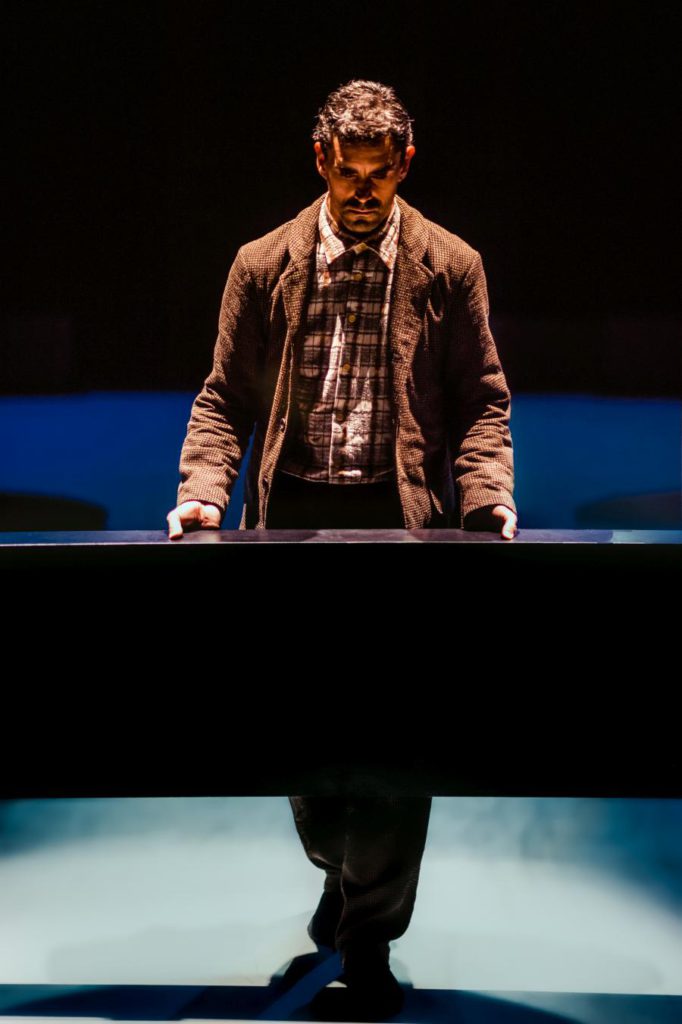 mouth as if all negative emotions had to be barfed out. Did Mancuso and Olivier Coeffard depict a couple that lost touch with each other? While Credell and Hasler, by comparison, had an inspiring, vivid romance? Whom did Jorge Nozal depict? Wearing a checkered shirt and a woolen blazer (costumes by León and Lightfoot) he stood motionless for a long time, staring into the void like a gardener in a state of shock after having recognized that a bomb just destroyed his greenhouse. At the end he and the three sisters stared at the audience, which presumably was left puzzled.
The Zuiderstrandtheater has around 1000 seats. Large parts of the audience rose to standing ovation after each piece.
"Side A: Split into One" will be followed by "Side B: Adrift," a triple bill with works by Gabriela Carrizo and Franck Chartier. It premieres in The Hague on October 5th.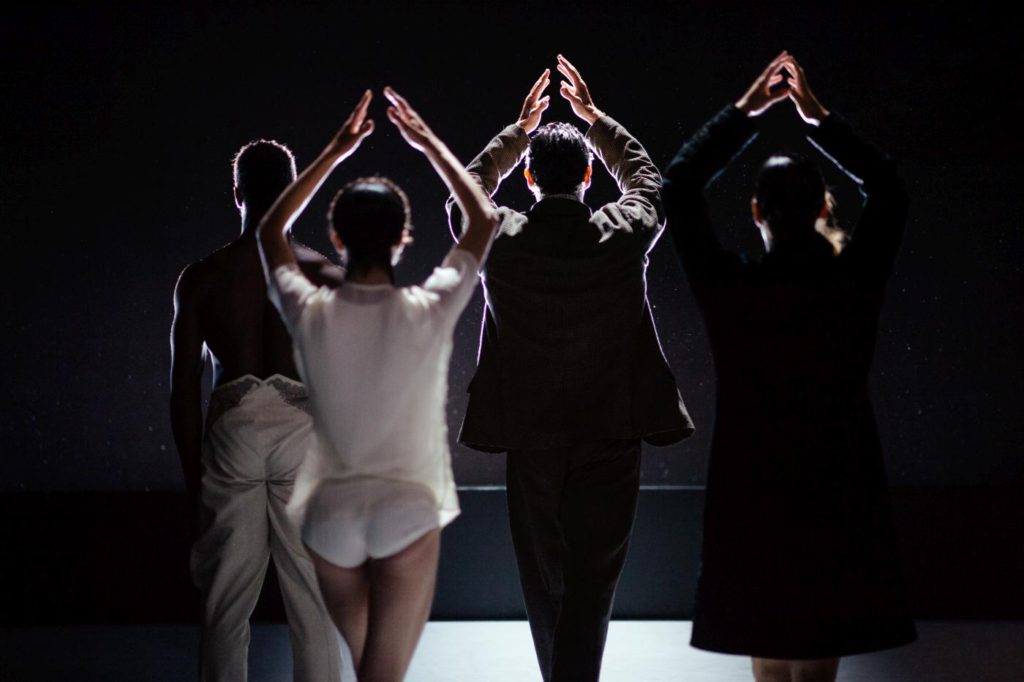 Links:
Website of Nederlands Dans Theater

Trailer "Side A: Split into

One

" (slow motion)

Trailer "Proof"

Trailer "Soon"

Trailer "Sisters"

Photos:

 

"Proof" (Edward Clug)

 1.

Alexander Anderson and Yukino Takaura, "Proof" by Edward Clug, Nederlands Dans Theater 2017

 2.

Jon Bond and Jianhui Wang, "Proof" by Edward Clug, Nederlands Dans Theater 2017

 3.

Jianhui Wang, "Proof" by Edward Clug, Nederlands Dans Theater 2017

 4.

Jon Bond and Jianhui Wang, "Proof" by Edward Clug, Nederlands Dans Theater 2017

 5.

Alexander Anderson, "Proof" by Edward Clug, Nederlands Dans Theater 2017

"Soon" (Medhi Walerski)

 6.

Madoka Kariya, Paxton Ricketts, Gregory Lau and Alice Godfrey, "Soon" by Medhi Walerski, Nederlands Dans Theater 2017

 7.

Madoka Kariya, Paxton Ricketts, Gregory Lau and Alice Godfrey, "Soon" by Medhi Walerski, Nederlands Dans Theater 2017

 8.

Gregory Lau, "Soon" by Medhi Walerski, Nederlands Dans Theater 2017

 9.

Gregory Lau and Alice Godfrey, "Soon" by Medhi Walerski, Nederlands Dans Theater 2017

"Sisters" (Sol León and Paul Lightfoot)

10.

Prince Credell and Aram Hasler, "Sisters" by Sol León and Paul Lightfoot, Nederlands Dans Theater 2017

11.

Olivier Coeffard and Carolina Mancuso, "Sisters" by Sol León and Paul Lightfoot, Nederlands Dans Theater 2017

12.

Jorge Nozal, "Sisters" by Sol León and Paul Lightfoot, Nederlands Dans Theater 2017

13.

Juliette Brunner and ensemble, "Sisters" by Sol León and Paul Lightfoot, Nederlands Dans Theater 2017

14.

Prince Credell, Carolina Mancuso, Jorge Nozal and Aram Hasler, "Sisters" by Sol León and Paul Lightfoot, Nederlands Dans Theater 2017

all photos © Rahi Rezvani

 Editing:
 Tiffany Lau