"Ode to the Master" ("On the Move" / "Symphonieën Der Nederlanden" / "Sarcasmen" / "5 Tango's")
Dutch National Ballet
Dutch National Opera & Ballet
Amsterdam, The Netherlands
September 17, 2017
by Ilona Landgraf
Copyright © 2017 by Ilona Landgraf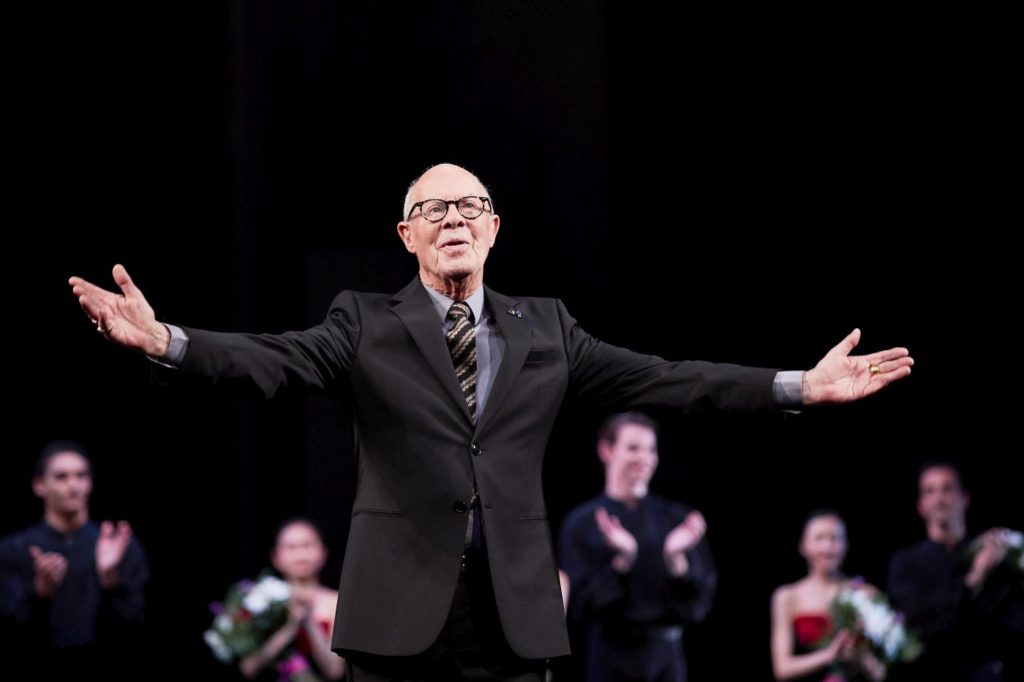 "Were you asked to choreograph about cheese?" the late Stuttgart dance critic Horst Koegler jokingly asked Hans van Manen in a 1982 interview when discussing Van Manen's first-ever choreography. This first piece premiered at the Netherlands Opera in Amsterdam in 1957, was "nationally tinged," but by no means about cheese, and has been performed more than 350 times. It was a thorough success. Sixty years later Hans van Manen is still choreographing and still successful. His works have won the acclaim of audiences all over the world.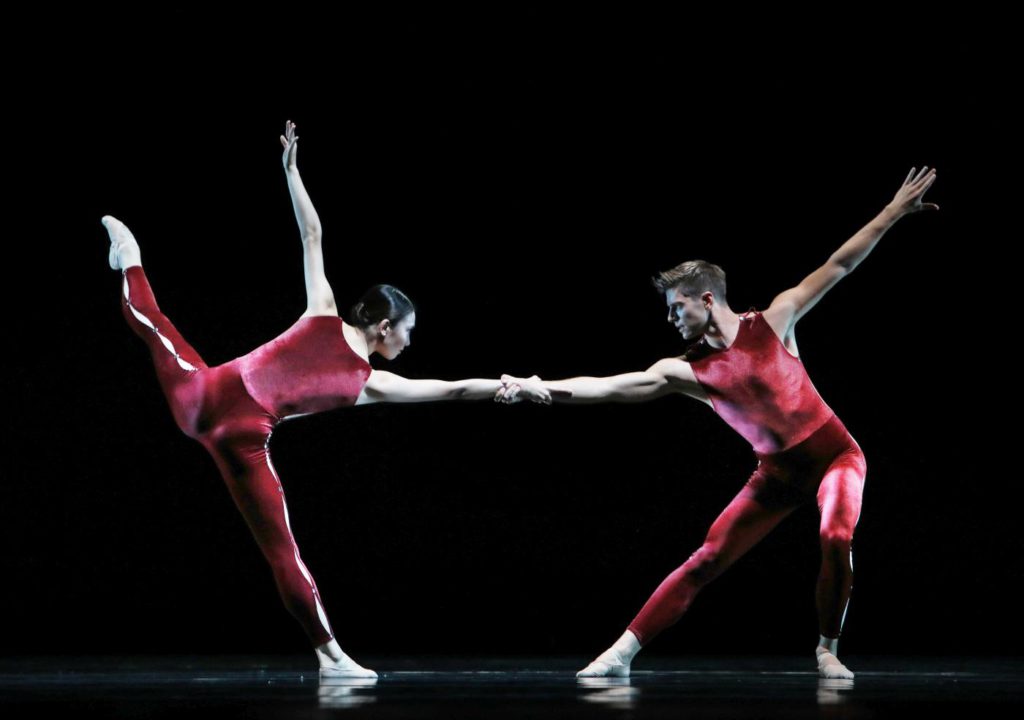 Just in July of this year – the month Hans van Manen celebrated his 85th birthday – the French Ministry of Culture awarded him the title Commandeur des Arts et Lettres during a guest appearance of Dutch National Ballet at the Montpellier Danse Festival. At home in Amsterdam the company opened the season with a tribute to its doyen of choreographers. "Ode to the Master," an all-Van Manen-program, premiered on September 15th. One of its five pieces, "Alltag," was choreographed for Ballett am Rhein in 2014, and was only presented at the premiere. Ballet am Rhein's artistic director Martin Schläpfer especially came to Amsterdam to perform it. I saw the other four pieces – "On the Move," "Symphonieën Der Nederlanden," "Sarcasmen," and "5 Tango's" – at the matinée two days later.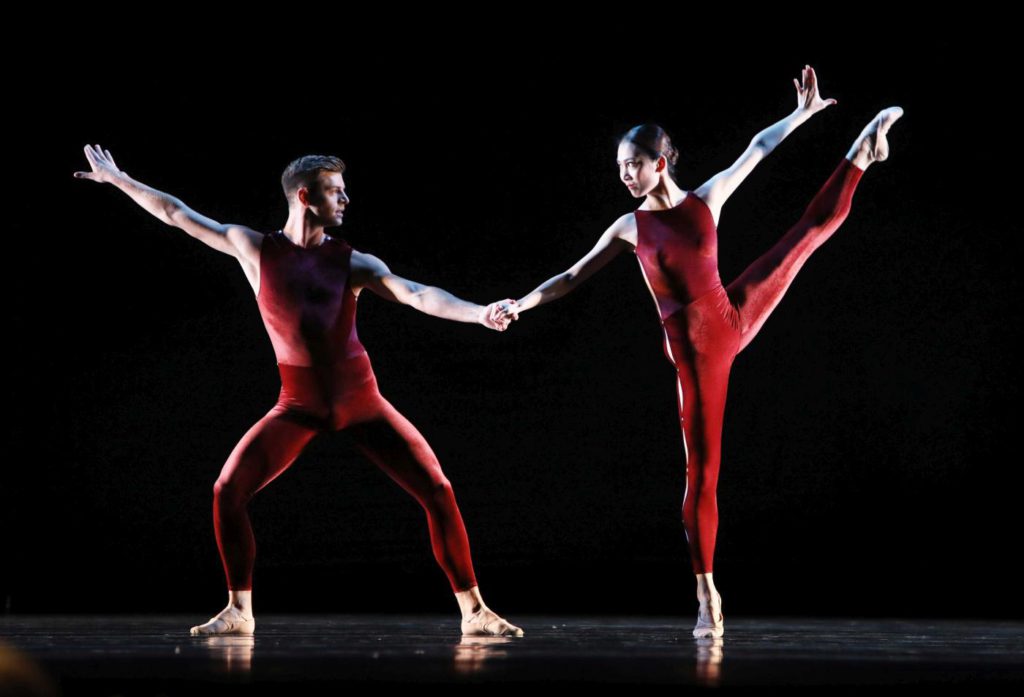 Most admirably, Van Manen's style has never diluted. His sense for exactly the right dose is infallible. His pieces are neither overdone nor lightweight and certainly none is too long. Van Manen is not a babbler. His choreographic language is clear, fresh, and substantial, sometimes humorous, and always thrilling. His ballets do not age.
"On the Move," the program opener, premiered in 1992 with Nederlands Dans Theater, when Van Manen was resident choreographer of the company. Dutch National Ballet danced it for the first time this September. (The photos of "On the Move" show a different cast.)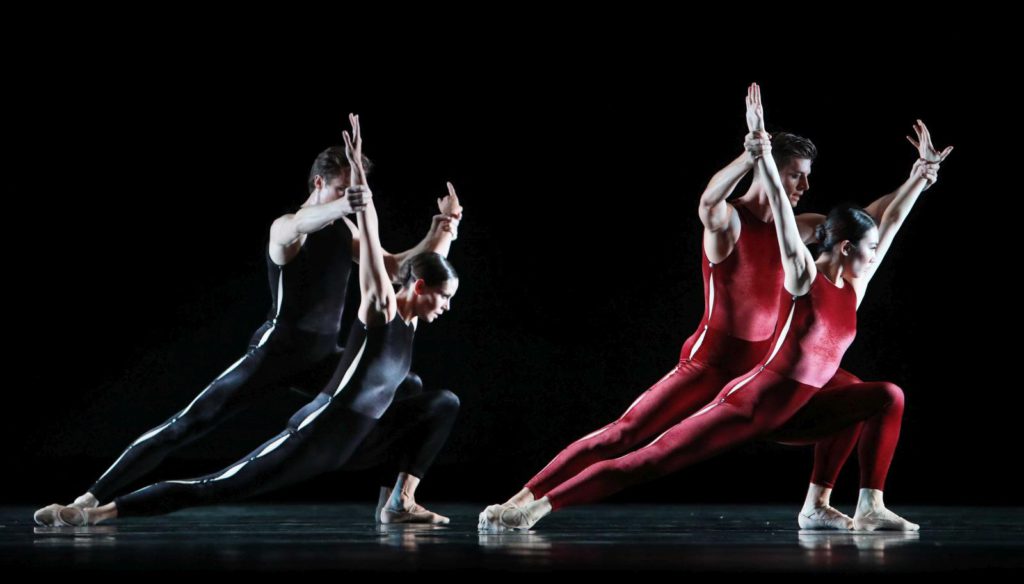 The stage, decorated with a black backdrop and black drapes at the wings, had velvety depth. The moment Suzanna Kaic and Remi Wörtmeyer entered, the space looked enormous. Both wore skintight unitards with side slits in a strawberry red fabric with a velvety shine (costumes credited to Keso Dekker). Kaic and Wörtmeyer, together with Sasha Mukhamedov and Marijn Rademaker – the latter in black unitards – were the leading couples. They were surrounded by five male / female pairs dressed in blue, green and gray. Kaic and Wörtmeyer's movements shifted between smooth and jagged. The group shooed both off stage, but moments later they made the group leave.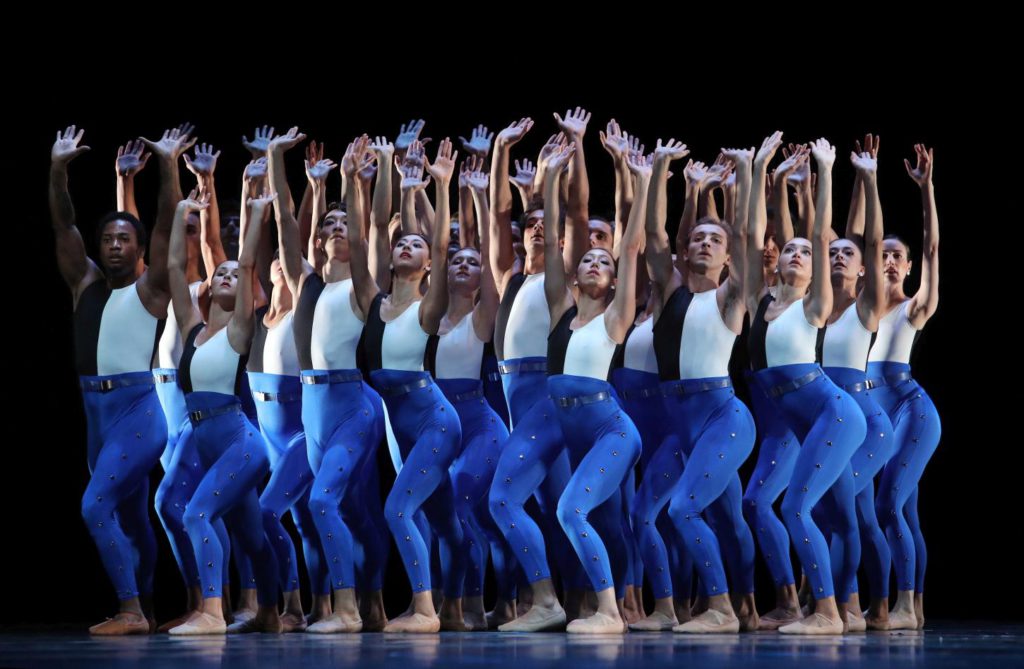 The relationship Mukhamedov and Rademaker portrayed was intimate and playful. When Mukhamedov's arms and legs reached out, as if in an attempt to explore the space, Rademaker was her safe support. One could talk about the stunning clarity of the group formations that made even simple walking look exciting or about the dancers' dynamic – the suspense they raised merely with their looks, but that wouldn't get one to the heart of the matter. Somehow, "On the Move" slipped away from the grip of the mind. It made one stop thinking and just watching. Was this because of the clever way Van Manen interpreted the music, Sergei Prokofiev's multi-faceted Violin Concerto No 1, opus 19? One couldn't imagine one step being altered; the choreography could not be any different than it was.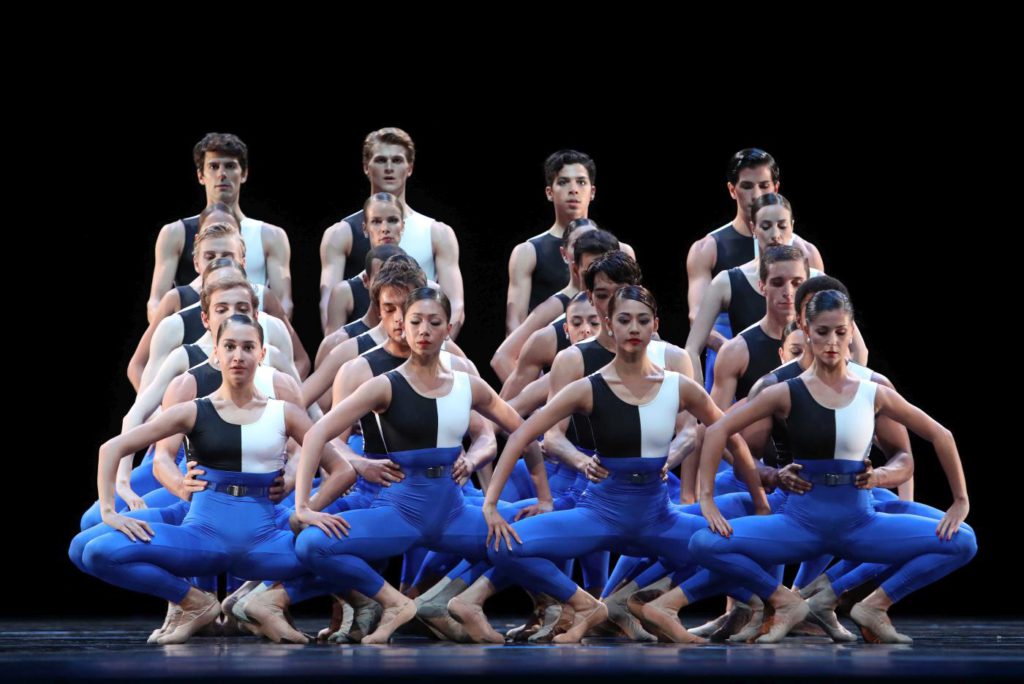 "Symphonieën Der Nederlanden" was choreographed on the occasion of Amsterdam being European Capital of Culture in 1987. It too has the dancers move in clear, orderly lines and rows, but compared to "On the Move" this ballet kept one entirely alert. Its music, by Dutch composer Louis Andriessen, gave the piece its title. Its lively march music has strong infusions of jazz rhythms. The cast of twenty-four dancers – twelve female, twelve male – marched like a guard, turned in unison, bended their torsos, stretched their arms up and posed with one leg placed in front. Their light blue pants with high waistlines, half black / half white tops, and some golden accessories and studs gave them the look of an honor guard (costumes again by Keso Dekker). Order was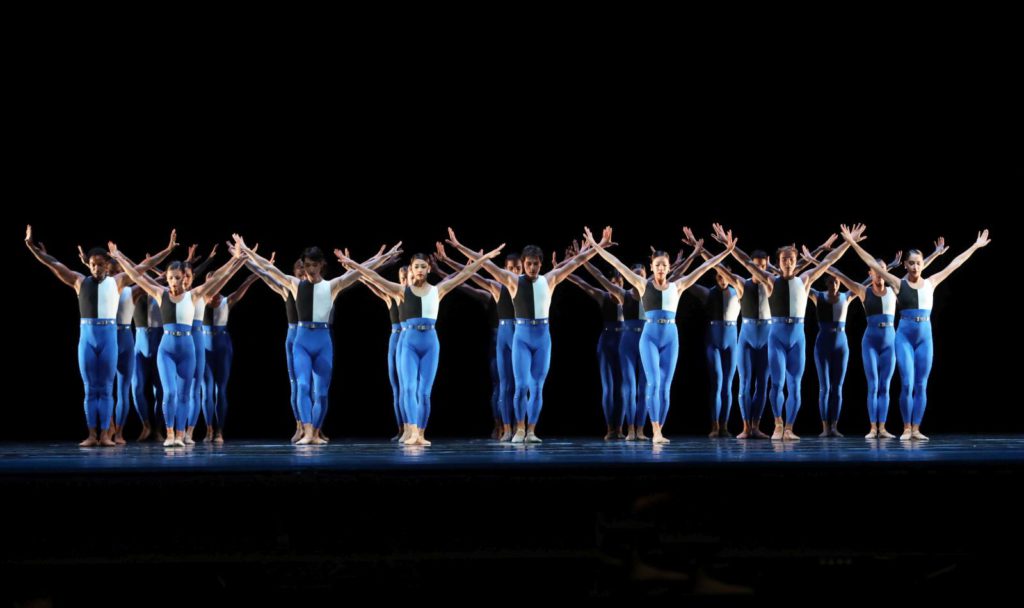 everywhere. Lines of dancers interlocked to a square, rows lowered or raised as if the group was being arranged for a photo. When the women stepped over the men who rolled across the floor, repeatedly pushing themselves into planks, I thought of the breaking waves of the surf that constantly surge toward the shore. At one point single dancers collapsed to the ground as if badly wounded, but swiftly stood up and reintegrated into the lines. Space-consuming gallops, interspersed with leaps, shaking shoulders and slaps on the thighs, concluded the upbeat parade.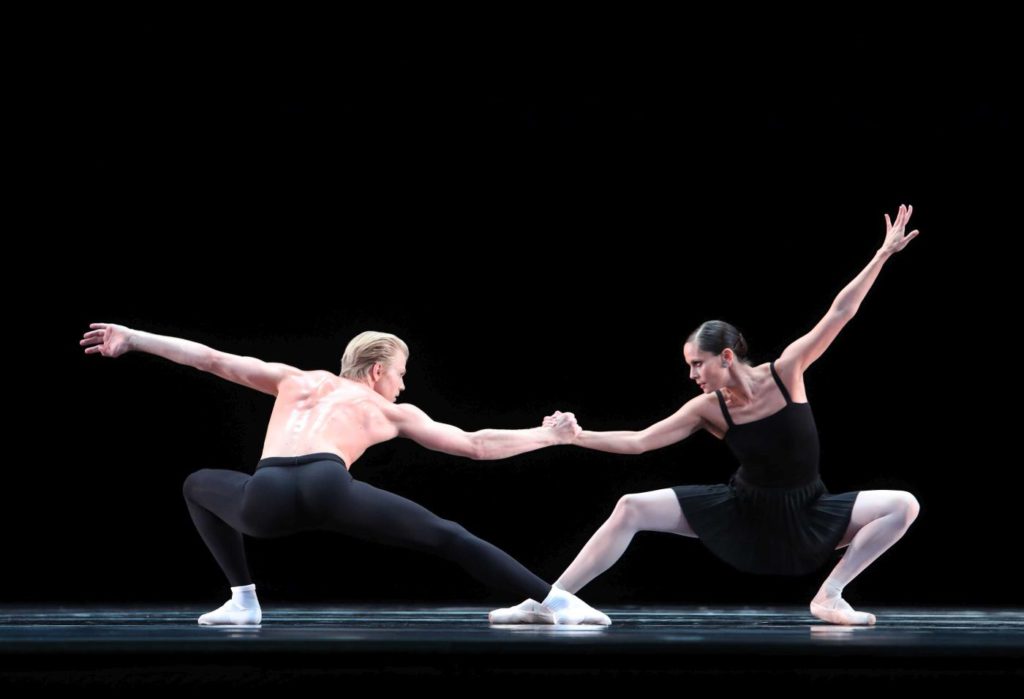 When I talked with Rademaker this June, he had just danced his comeback onstage with "Sarcasmen" after an almost two-year absence due to injury. He confessed to being "a bit on a high." I missed his performance in June, but was able to see it at the matinée. His partner was Igone de Jongh again. The music, Prokofiev's "Five Sarcasms, opus 17," was played live onstage by pianist Robert Greuter.
The pas de deux dates from 1981 and is about the power games in a couple's relationship. Who dominates, who wears the pants? Its title suggests "Sarcasmen" is solely about mutual mockery and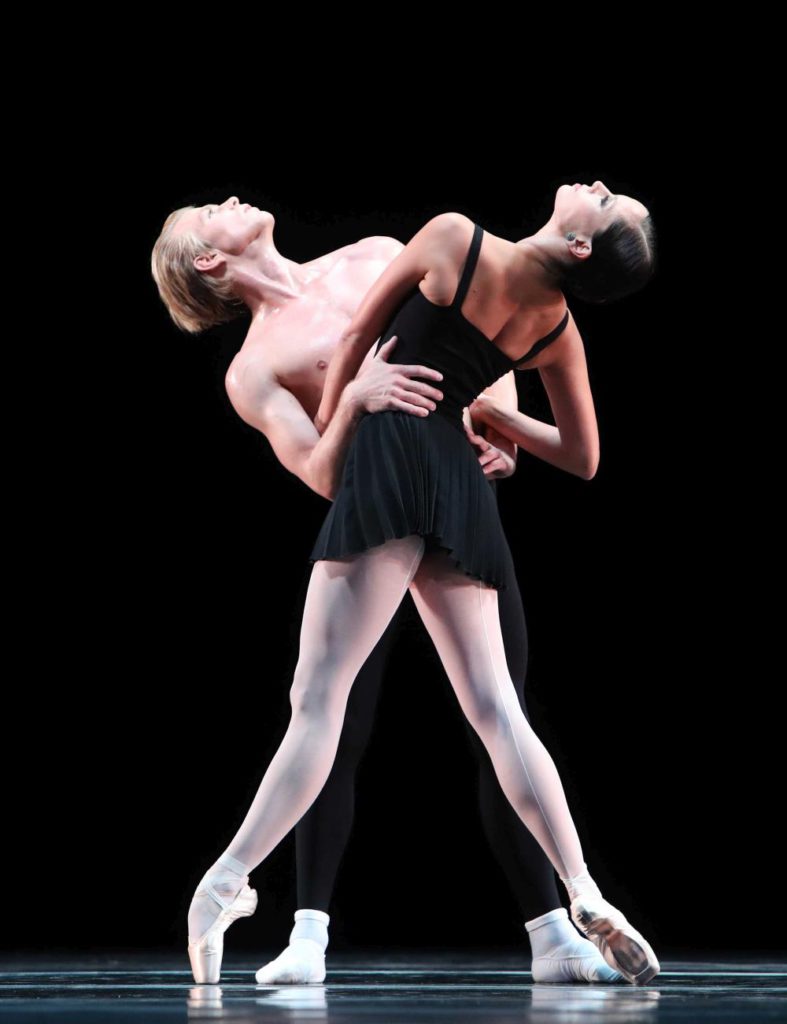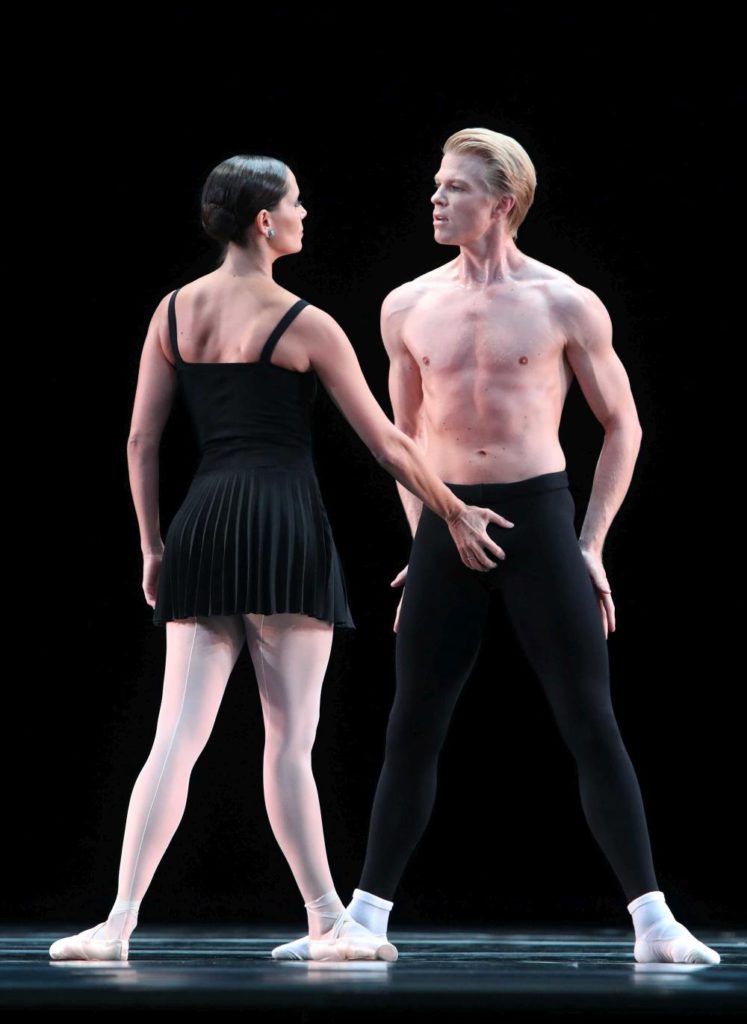 scorn, but in fact the couple loves each other. At first Rademaker tried everything to impress De Jongh. He was lyrical, masculine or resolute. He pretended to be uninterested in De Jongh, performed some light jumps right under her nose, but she didn't deign to even look at him. Instead, she threw blasé glances into the air and puffed up her cheeks in disapproval until deciding to dance a solo herself. And while, for her part, she pressed every button to draw Rademaker's attention – switching from playing tender to energetic to playful; mimicking a pose from the Dying Swan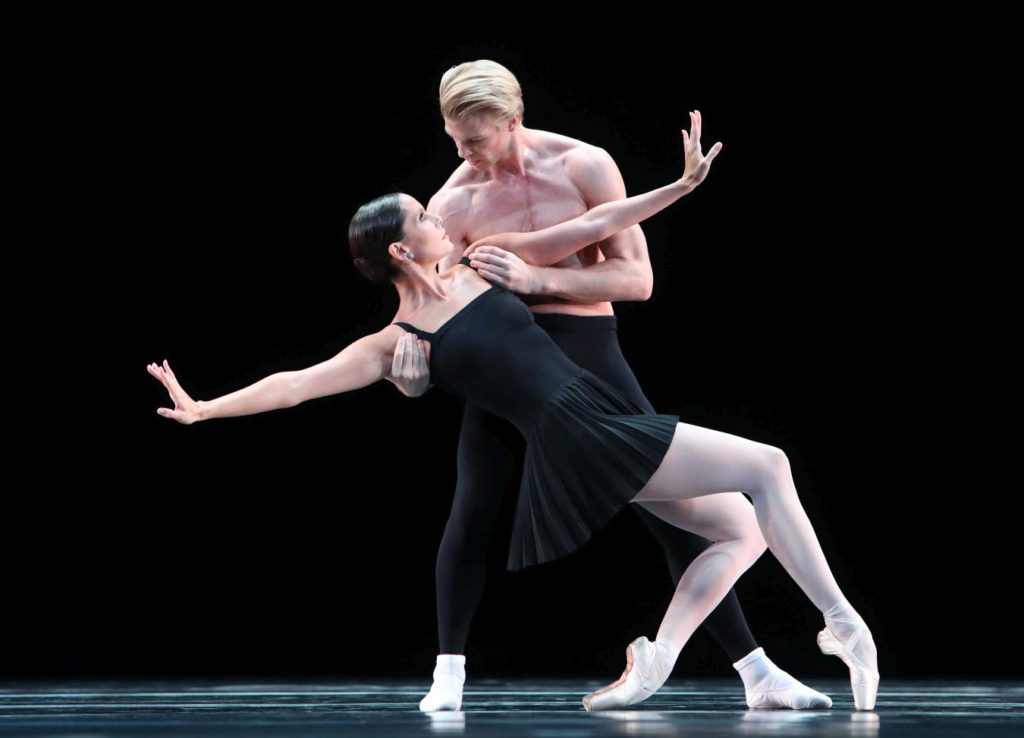 before spreading her legs apart suggestively while sitting on the floor – he leaned towards the piano without the faintest idea how to comprehend that woman.
Finally, both danced together, or rather, they wrestled for superiority while dancing. And although Rademaker approached De Jongh on his knees afterwards and kissed her hand, he swiftly ridiculed his behavior. De Jongh brought the game to a short stop by provocatively grabbing Rademaker in the crotch. After collecting himself he ventilated his indignation (Or excitement? Was he flattered?) in a brisk solo. Just when the couple entered harmonious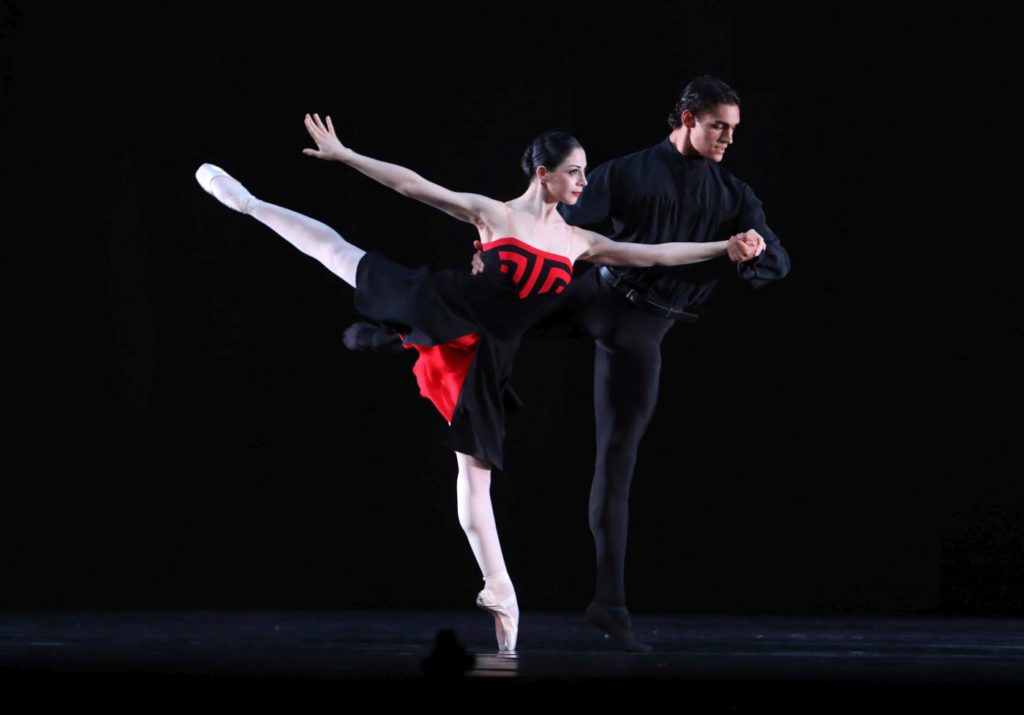 waters, Greuter stopped playing, but upon Rademaker's instant intervention, returned to his keys. At the end De Jongh and Rademaker sealed their peace with an embrace.
The dancers of "5 Tango's" were greeted with applause the moment the curtain went up. The five tangos, to which the piece is set, are by Astor Piazzolla. Each tango has a different mood. The cast of seven couples was led by Maia Makhateli and Daniel Camargo. Maria Chugai / James Stout and Emanouela Merdjanova / Jared Wright danced solo parts.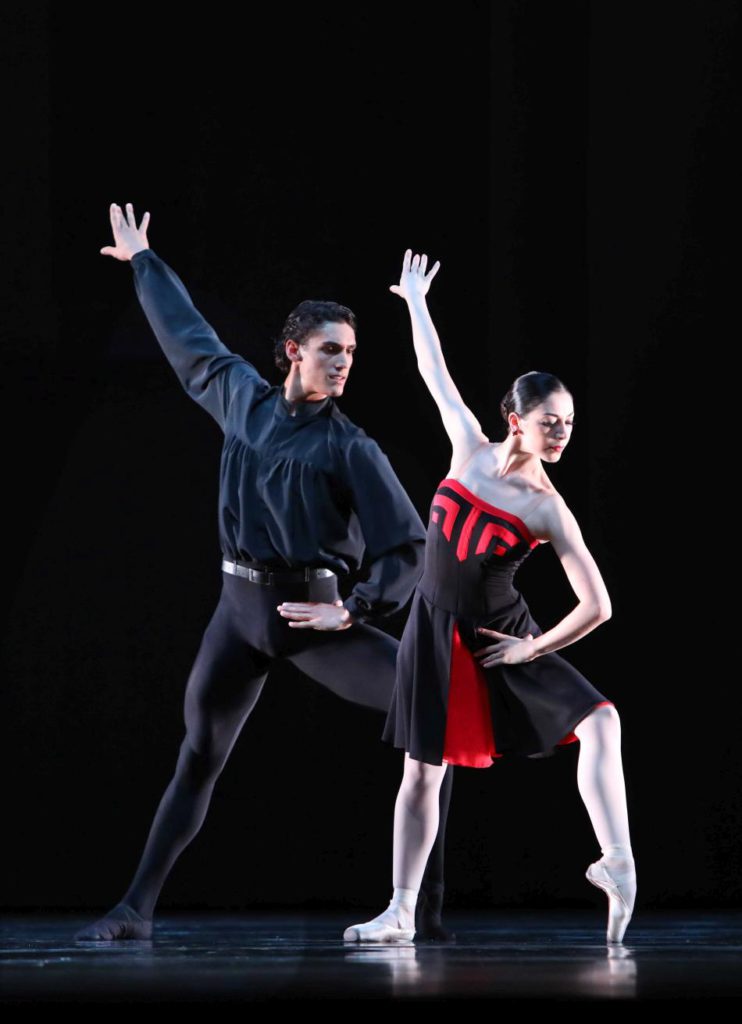 "5 Tango's" premiered forty years ago but it could have been created just recently. Van Manen's blend of classical ballet and sensual tango passion will never feel dated. Brazilian Camargo made his role a cool mix of macho and gentleman. He controlled his vigor like a sleek panther. After his solo to "Vayamos al diablo" he was called out to take an extra bow. Makhateli depicted a proud, but curbed diva. When kneeling motionless at the front stage, the white light in which she bathed made her look like the Madonna. Her dance with Camargo was like a chocolate whose spicy filling is hidden beneath a classic dark chocolate coating.
Matthew Rowe and Het Balletorkest provided fine musical accompaniment. Liza Ferschtman played the viola in "On the Move."
"Ode to the Master" is complemented by an exhibition of rehearsal videos, portraits of Van Manen, and photos of his pieces in the foyer of Dutch National Opera & Ballet. One 1960 photo shows him with Roland Petit and Cyd Charisse in the movie "Black Tights" in which Van Manen performed the role of the jealous man among others. In a 2005 photo, he and Queen Beatrix bend over a shared plate and pick slices of salmon. The exhibition will be running until September 30th.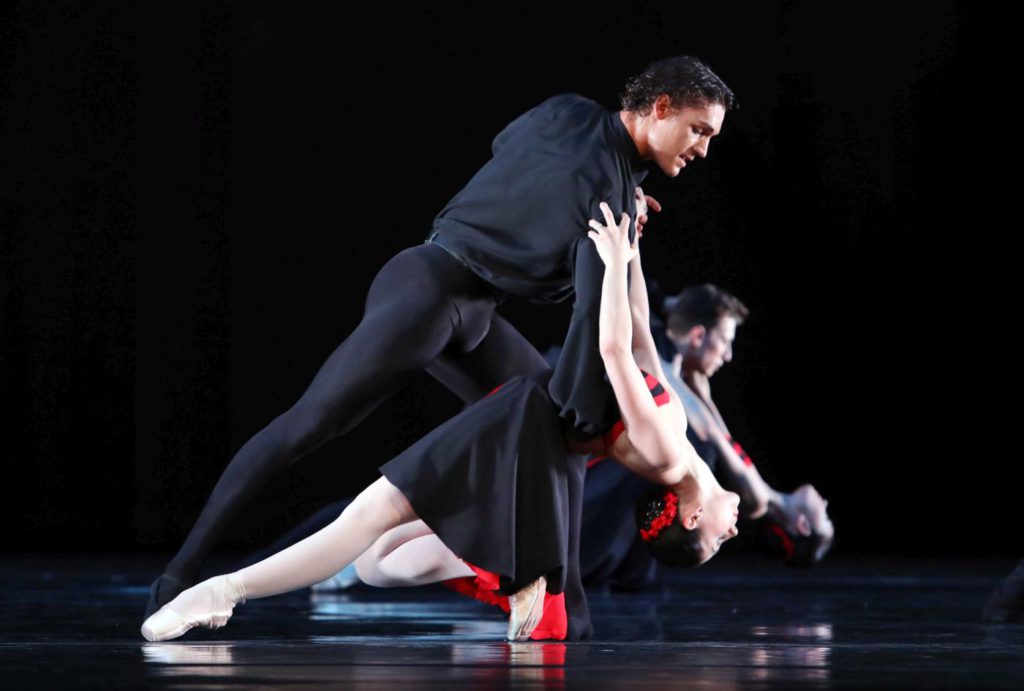 Links:
Website of Dutch National Ballet 

Trailer "Ode to the Master"

In the studio for an Ode to Hans van Manen, video

Dancers and ballet lovers honor Hans van Manen, video

Photos:

 1.

Hans van Manen at the curtain call after the premiere, Dutch National Ballet 2017

© Michael Graste

"On the Move"

(The photos of "On the Move" show a different cast.)

 2.
Qian Liu and Edo Wijnen

, "On the Move" by Hans van Manen, Dutch National Ballet 2017

 3.
Edo Wijnen and Qian Liu,

"On the Move" by Hans van Manen, Dutch National Ballet 2017

 4.
Artur Shesterikov, Igone de Jongh, Edo Wijnen and Qian Liu,

"On the Move" by Hans van Manen, Dutch National Ballet 2017

"

Symphonie

ën Der Nederlanden"

 5.

Ensemble, "Symphonieën Der Nederlanden" by Hans van Manen, Dutch National Ballet 2017

 6.

Ensemble, "Symphonieën Der Nederlanden" by Hans van Manen, Dutch National Ballet 2017

 7.

Ensemble, "Symphonieën Der Nederlanden" by Hans van Manen, Dutch National Ballet 2017

"Sarcasmen"

 8.

Marijn Rademaker and Igone de Jongh, "Sarcasmen" by Hans van Manen, Dutch National Ballet 2017

 9.

Igone de Jongh and Marijn Rademaker, "Sarcasmen" by Hans van Manen, Dutch National Ballet 2017

10.

Igone de Jongh and Marijn Rademaker, "Sarcasmen" by Hans van Manen, Dutch National Ballet 2017

11.

Igone de Jongh and Marijn Rademaker, "Sarcasmen" by Hans van Manen, Dutch National Ballet 2017

"5 Tango's"



12.

Maia Makhateli and Daniel Camargo, "5 Tango's" by Hans van Manen, Dutch National Ballet 2017

13.

Daniel Camargo and Maia Makhateli, "5 Tango's" by Hans van Manen, Dutch National Ballet 2017

14.

Daniel Camargo, Maia Makhateli and ensemble, "5 Tango's" by Hans van Manen, Dutch National Ballet 2017

photos 2-14 © Hans Gerritsen

 Editing:
Julie Bradley