"Ballet Talk" (with Jürgen Rose, Marcia Haydée and Reid Anderson)
Stuttgart Ballet
Stuttgart State Opera
Stuttgart, Germany
October 28, 2017
by Ilona Landgraf
Copyright © 2017 by Ilona Landgraf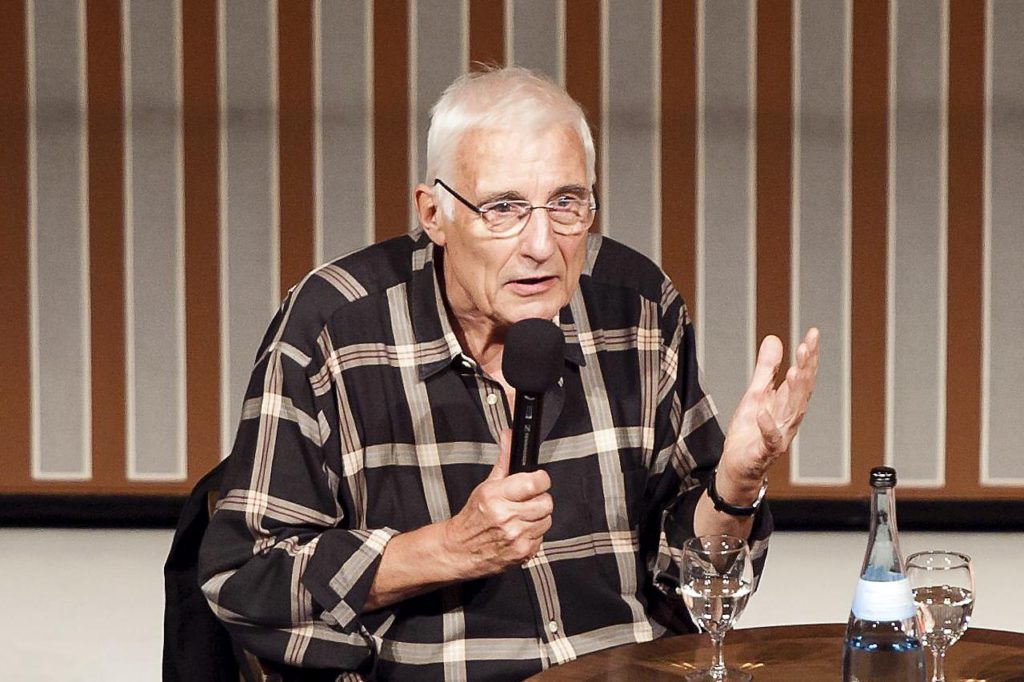 The jubilees pile up for Stuttgart Ballet this season. John Cranko, the company's founder, would have been ninety years this August. His "Onegin" – its second, revised version to be precise – received its first performance half a century ago on October 27, 1967. Its stage and set designer – the internationally renowned and much admired Jürgen Rose – just celebrated his 80th birthday this August. His career is closely connected with Cranko and Stuttgart Ballet. Moreover, this season is artistic director Reid Anderson's twenty-second and last one. In short, one special events follows the other.
Rose was the chief guest on last Saturday's round of talks on "Onegin". At the table were gathered Anderson and Marcia Haydée, who by the way had celebrated her 80th birthday this April and had recently come over from Santiago de Chile on one of her regular visits in Stuttgart. She performed Tatiana's Nurse in the evening performance of "Onegin" next to Jason Reilly as Onegin and Hyo-Jung Kang as Tatiana. Vivian Arnold, director of communications and dramaturgy, moderated the talk.
That the participants took their seats on the podium with some minutes delay was due to Rose who had examined the table with the props for the evening performance and couldn't abstain from rearranging the flowers, declaring, "They were awful yesterday!"* Rose, known for being intent on details – or rather pedantic up to the last tiny tuck – is blessed with unerring taste. "I've trusted Jürgen thoroughly", said Haydée. "He knew exactly what fits me and what I should be mindful of."*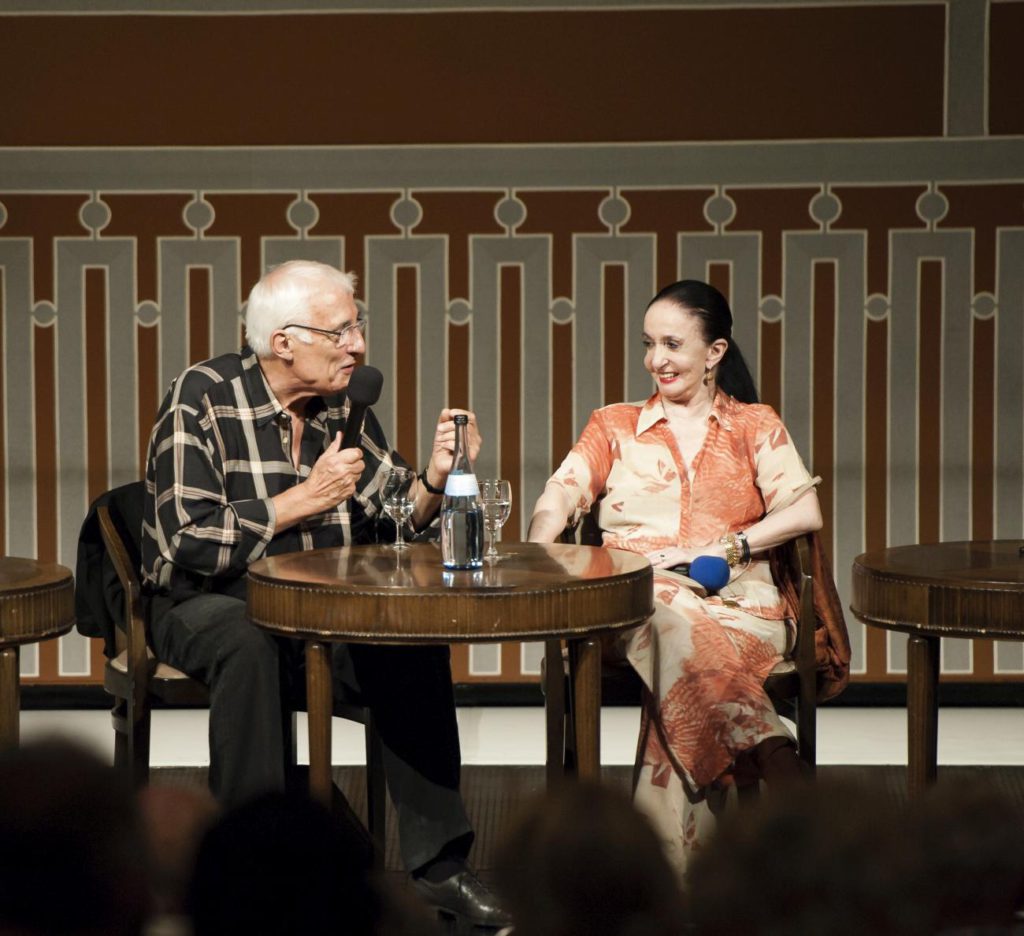 Rose is an effervescent narrator who easily gets carried away and rambles on. In no time he drew an ample arc from his childhood in Saxony-Anhalt (being the firstborn son of big farmer-family he was expected to take over the farm later, but preferred to play with his puppet theater and to devise stories in which the princess had to change costumes for every scene) to his first visits at the theater (Wagner's "Tannhäuser" in the opera house in Dessau at the age of seven or eight). He talked about his school years at the Odenwaldschule (formerly a flagship boarding school for progressive education that hit bad headlines in 1998) and his plans to become an actor. Instead, Kurt Hübner, intendant of the theater Ulm, engaged the young Rose as set and costume designer. That cast the die. Rose became one of two set and costume designers in Ulm. "Each of us had to deliver 12-14 decors per season and every two weeks on Fridays a new piece premiered. One learned to work. And I got a double fee, 700 German Marks, almost as much as a tenor!"*
On one of those Fridays – Rose was still painting the set for the final act of "The Merry Wives of Windsor" and the performance was already running upstairs – the canteen operator called him to the phone. August Everding from the Kammerspiele Munich was on the line, asking whether Rose was interested in designing costumes and sets for a Giraudoux-evening. Rehearsals would begin three days later, on Monday. Though initially completely bewildered, Rose indeed went to Munich. That turned out to be the beginning of a forty-year era at the Kammerspiele during which Rose designed 96 pieces in total.
Yet he worked for other houses as well and in 1961, while creating the designs for "As You Like It" for Stuttgart's old playhouse, fate again pointed him the way. Strolling through the theater canteen with a coffee, Rose accidentally ran into Cranko, who asked to see his drafts, instantaneously liked them and suggested they collaborate right away on the next ballet, "Coppélia". That didn't work out, but one year later, Rose designed the set and the costumes for Cranko's "Romeo and Juliet". "Swan Lake" followed in 1963, "Onegin" in 1965.
But "Onegin" had a difficult start Haydée remembered. Cranko had planned the ballet for Covent Garden with Rudolf Nureyev, Margot Fonteyn, Antoinette Sibley and Anthony Dowell in the leading roles, but London's board of directors objected to the idea that Tchaikovsky's opera music should be adapted for a ballet. Upon returning home to Stuttgart Cranko decided to mount the ballet on his Stuttgart troupe. Haydée would dance Tatiana and Ray Barra was cast as Onegin. "But we were different dancers!" Haydée explained. "Nureyev was on the peak of his career, he could dance everything, whereas Ray's dancing career was declining. Fonteyn was a grand ballerina, but her career was approaching the end, too, while mine was at the beginning. Fonteyn moreover hated lifts and Nureyev didn't like them either, but I was always up in the air and Ray lifted me as if I weighed nothing. So the whole concept had to be changed."*
But "Onegin" wasn't well received by the press. Two years later, Cranko staged its second version – the one that has lasted until today and entered the repertory of big companies all over the world. It has a reworked choreography and a slightly different decor. The interior design for the ball at Prince Gremin's palace in Act III, formerly blue and gold, became red and gold and Tatiana's dress was red instead of blue. Alfons Ostermeier, a theater painter of Munich's Kammerspiele, had painted the backdrops and they were so beautiful that the director of the Metropolitan Museum in New York by any means whatsoever wanted to buy one for the museum when he saw "Onegin" on the troupe's legendary tour to New York in 1969.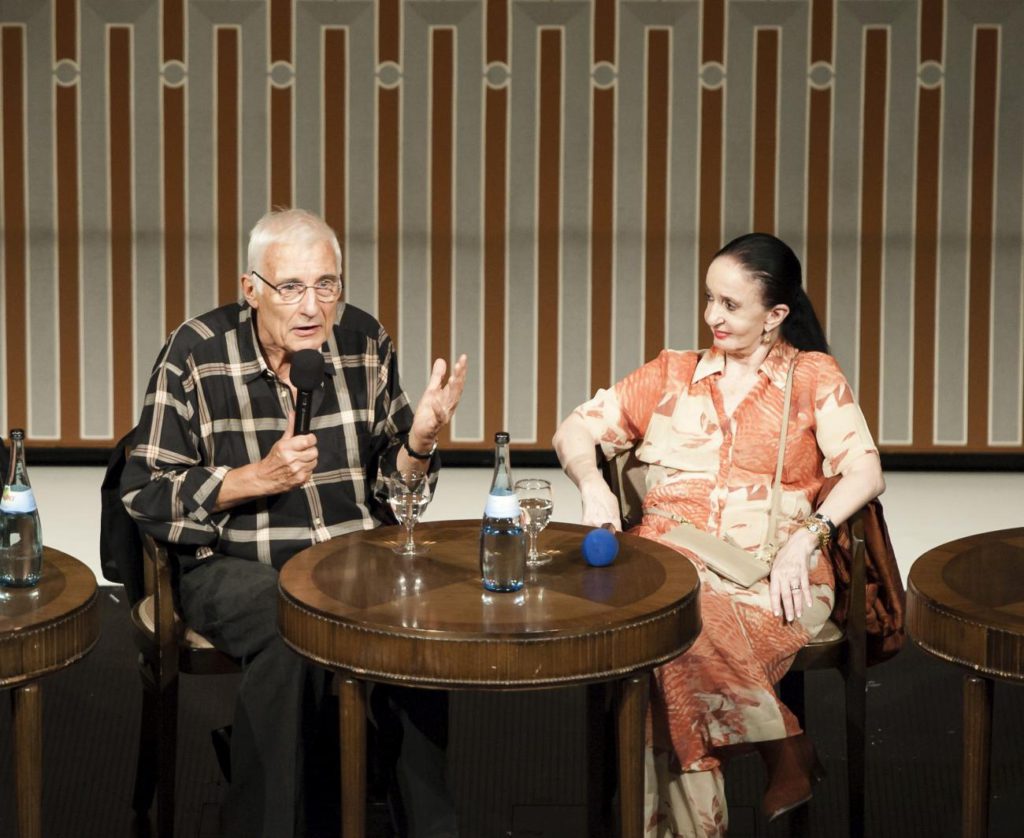 Cranko was a great pedagogue, remembered Rose. "He said only one or two sentences, very clear, such as: You have to work on your red! I want to have your brushstroke! Go to London, to the Victoria & Albert Museum! Read Pushkin! Look at Poiret's designs! He gave an impulse and then pushed you into the water. But he stayed at your side and watched your progress. When he noticed that one didn't take things seriously, John could be very hard. But he never demanded something that one wasn't able to accomplish. He encouraged people to tap their own creativity and he was so proud when one had succeeded."*
In the very early days of their collaboration, the young Rose told Cranko about the ballets he had seen so far: "In Munich all dancers had colorful tricots and ponchos in fall colors in the first scene. – John's eyes grew wider and wider. Then he said: What? That's impossible! Jürgen, once for all, colorful tricots in ballet are reserved for witches, gypsies and fairies. Everything else is classical! That hit me like a hammer. I had to forget everything I had seen. In Germany no one seemed to have a clue about ballet."*
Rose designed for all three forms of performing arts, drama, opera and dance, and except for two cases he was in charge of both stage design and costumes. "Two times I didn't do the set, but I always designed the costumes. Doing the costumes is much more work, but I was always more interested in the human being, so the costumes were very, very important for me. Maybe that's because I wanted to become an actor myself."* Haydée added, "Wearing Jürgen's costumes is matchless. I wore the brown one for the last scene of "Onegin" as long as possible. It was already darned, but I hated to get a new one. The old costume had the energy of the role – that helped me during the performance."*
One has to feel as comfortable in the costume as in everyday wear said Rose. Often, he has rummaged flea markets for secondhand clothes and accessories or he had new costumes washed till they looked worn. Cranko was like minded, Haydée remembered, "One of my costumes, the one for Katherina's last pas de deux in "Shrew", was never replaced by a new one. I wore the original until my last performance. John himself had smeared mustard on it in the canteen and had cut holes in it with the scissors. Do not wash it, he ordered and if it indeed had been washed, he got angry and summoned me to the canteen for re-applying some mustard."*
"Why this obsession with details, no one in the audience will spot anyway?"*, the young Anderson once asked Rose. Because the dancer sees them. That will make them feel differently and that in turn will be noticed by the audience. The skirt and the top of Tatiana's ball dress in Act III, for example, need to have an exactly identical shade of red. "That's what gives the dress its elegance. The moment the colors differ only slightly, the dress looks bourgeois, like Giselle's. That happens quickly, tiny nuances matter. The skirt has five layers of organza, the top is made of silk and one has to try back and forth to find the right tones of organza which in the end match the color of the silk. […] Organza was in vogue back then. One can't dye it, it would get sloppy, but fabric stores offered different colors by the pile. Today, one has to order by catalog from a handful international companies and try around with different layering. In Neumeier's "Lady of the Camellias", Marguerite's white dress for the scene on the countryside is made of delicate organza too. It's the most filigreed dress I ever designed and its upper layers might easily tear during the pas de deux. Each company that has the ballet in its repertoire stores rolls of these fabrics to repair the dress."*
Anderson has vivid memories of his first encounter with Rose's organza costumes. In 1969, aged twenty, Anderson was cast as Prince Gremin in "Onegin". Judith Reyn was his Tatiana. "Maybe a dress rehearsal would have been a good idea, but I saw Tatiana's lavish ball dress for the first time during the performance and had never rehearsed in my jacket either."* This uniform jacket was made of a thick, inflexible material with epaulettes and all the lifts pumped up the upper arm muscles, making the jacket even tighter. "During lifts the whole organza was in front of my face; I couldn't breath, I couldn't see. I couldn't even see where Judith was after I had put her down. To worsen things, my hand got tied up in the huge bow during a pirouette. I was in tears afterwards."*
The fabrics are also one reason why Rose has mixed feelings about upcoming revivals. "It's a tremendous burden. I'm eighty now. I always hoped to find an assistant, but haven't yet. All stages want their production to look exactly like the original one. "Lady of the Camellias" will be staged in Warsaw, for example, with a new copy of set and costumes, but it's so difficult to find the same materials! I might find one cloth in Hong Kong, the other in London, the third in Lyon, then something in Rome and I might find a few things in Augsburg as well."* He also noticed that producing the sets and the costumes for big narratives, like "Onegin", almost always overcharges today's theater workshops."Back then the workshops already ran at the limit of their capability. Ostermeier had to come from Munich to Stuttgart to paint the backdrops, because the painters there couldn't cope with the amount of work. But today, even the big houses actually lack the time, capacity, craftsmanship, material and budget for such productions."*
But basically, Rose isn't able to stop. The décor of Stuttgart's "Onegin" is worn, he lamented, and it would be so nice to restore a bit of the splendor – the chandeliers, the backdrops… – that the director of the Metropolitan Museum was rapt by. But – and that makes up for a lot – "the dancers – they are so fantastic here!"*
One of Haydée's slogans is "The best is yet to come"*, Arnold revealed in her closing remarks. "Yes", replied Rose. "Marcia says, in two years we're in Berlin and in three years somewhere else and when I tell her that we'll be eighty-five then, her usual reply is: Jürgen, you become leisurely!"*
Presumably, the near future won't be all too leisurely for Rose. Stuttgart Ballet revives Cranko's "Swan Lake" this December with designs and costumes by him.
More details about Rose's career can be read in his biography, a monumental page-turner by Sibylle Zehle, but alas – only available in German.
(*Translation from the German by the author.)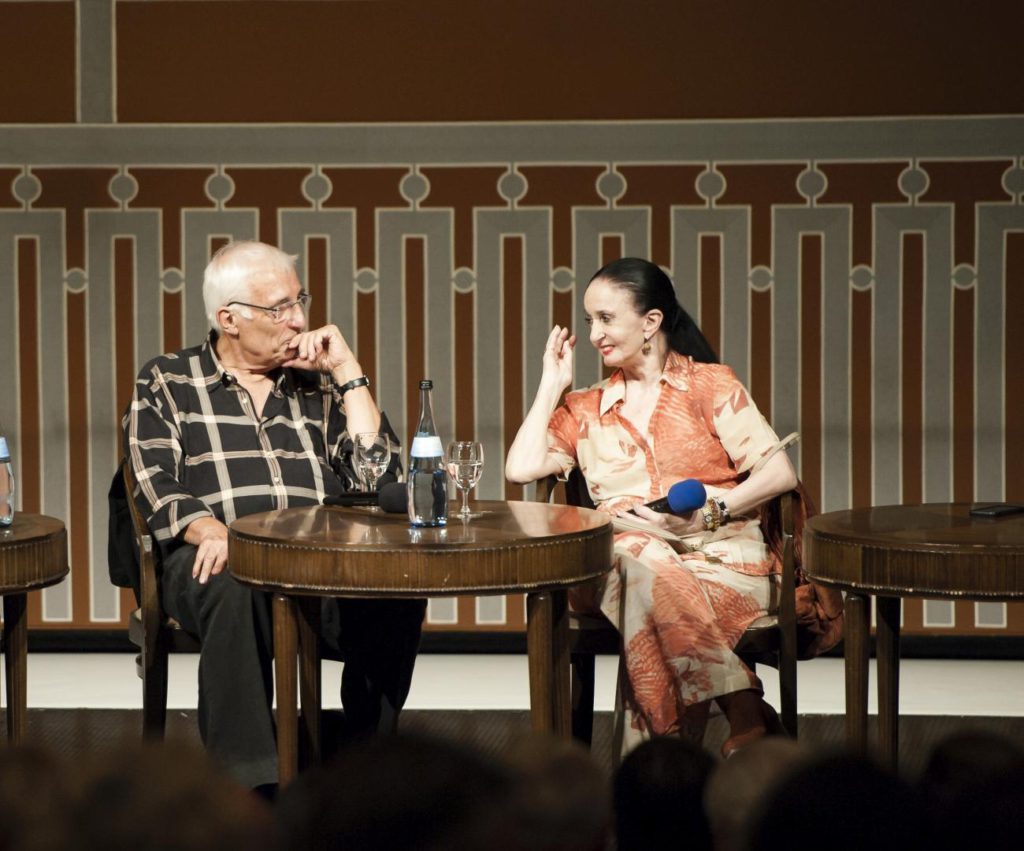 Links:
Website of Stuttgart Ballet
P

hotos:

 1.

Jürgen Rose, Stuttgart Ballet

 2.

Jürgen Rose and Marcia Haydée, Stuttgart Ballet 

 3.

Jürgen Rose and Marcia Haydée, Stuttgart Ballet

 4.

Jürgen Rose and Marcia Haydée, Stuttgart Ballet

all photos © Roman Novitzky
Editing:
Laurence Smelser