"Swan Lake"
Stuttgart Ballet
Stuttgart State Opera
Stuttgart, Germany
December 25, 2017
by Ilona Landgraf
Copyright © 2017 by Ilona Landgraf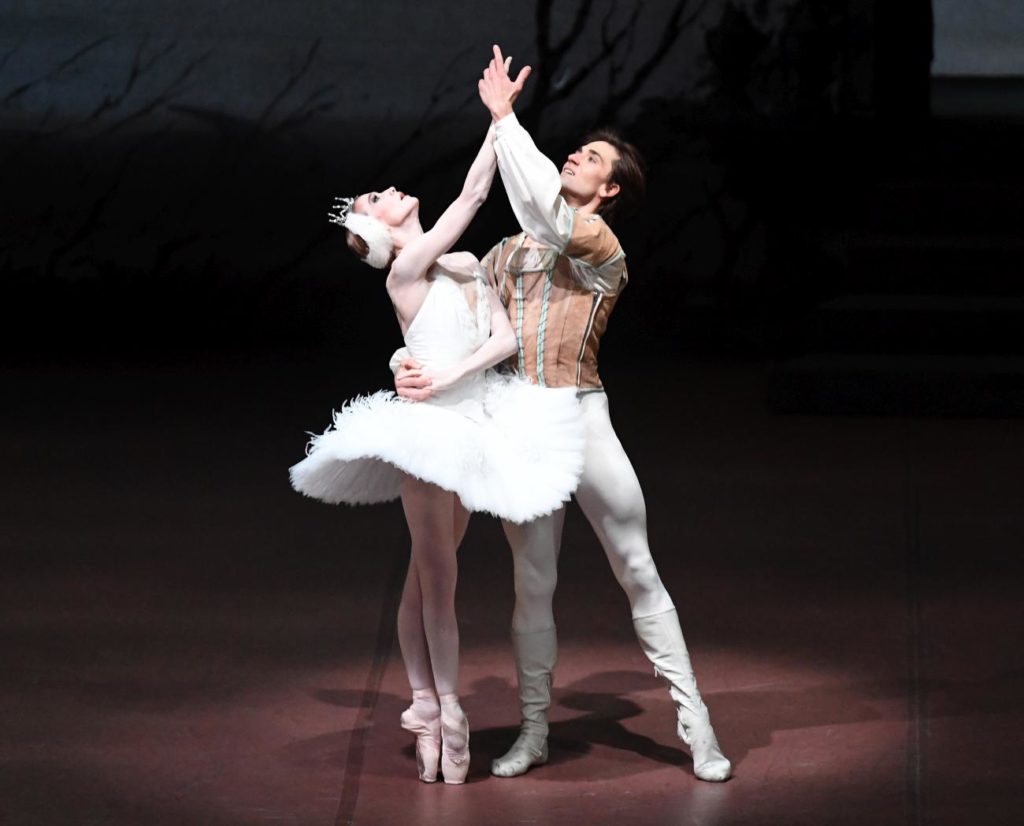 After a five-year absence from the stage Stuttgart Ballet revived John Cranko's "Swan Lake" this December. It premiered in Stuttgart in 1963 as Cranko's second evening-length piece after "Romeo and Juliet" in 1962. Cranko generally followed Marius Petipa and Lev Ivanov's traditional version, but shifted the focus towards the prince. While the third act's festivities celebrating the prince's coming of age (the introduction of the potential brides, the national dances, the Black Swan Pas de Deux and Rothbart's deceptive maneuver) remained largely untouched, Cranko replaced the waltz and the Pas de Trois at Siegfried's pre-birthday party in Act I with a Pas de Six. Of the various endings, Cranko chose to the one in which Siegfried drowns when the sea bursts its banks during a heavy thunderstorm, whereas Odette stays under Rothbart's curse.
In 1972 Jürgen Rose redesigned his initial set and the costumes. Since then, the place at the lakefront, where the prince parties with his friends, has been vaulted with a light canopy of leaves. At the other part of the lakefront, where Siegfried encounters Odette, the demonic Rothbart controls the swan maidens from a shadowy patio in the right upstage corner. Siegfried's birthday is officially celebrated in the castle's throne room from which a broad and steep staircase leads to a u-shaped gallery. Although this red-carpeted staircase looked impressive, it inverted social hierarchy. Since when do potential brides approach the royal family from above as if strutting on a catwalk?
Rose's designs for the court society have Renaissance style. Siegfried's friends and the commoners feasting with him either wore peasant or bourgeois costumes, and the women wore flowing, calf-length skirts. Rothbart appeared in the guise of a black knight complete with a huge feathery collar and fluttering cape at the ceremony. The tutus of the swans were simple, only Odile's black one sparkled subtly.
Yet apart from the costumes the performance on Christmas Day didn't sparkle. This was due to choreographic weaknesses on one hand, and to the cast's unsteady performance quality on the other. Actually, Cranko aspired to make dances arise naturally from the storyline, as he did in his other big narratives. He aimed to avoid successions of meaningless divertissements. Yet, despite the clumsiness of the vinous majordomo (Louis Stiens) who, masqueraded as a hunched crone, set up young women with men at the prince's party through palm reading, and despite the appearance of the callous Queen mother (Melinda Witham), the party of her son Siegfried (Friedemann Vogel) in Act I was exactly this – a succession of solos, pas de deux and group dances, performed to entertain not the revelers themselves, but us, the audience. Each number earned applause and almost all dancers took a bow. The remaining corps framed the dancers and watched them motionlessly throughout. Had they turned into pillars of salt? Why did Cranko create such a stilted atmosphere where just one year earlier in "Romeo and Juliet" he had filled Verona's market square to the brim with life?
The swans built a remarkable unity, formed beautiful geometrical patterns, lined in an imposing diagonal or whirled around like fluffy snowflakes, but even they sometimes merely strung sequences together like modules interrupted by applause instead of creating a melting flow.
The Queen mother and her entourage didn't enter Siegfried's secret party in one procession, but little by little, one page after the other, as if the action had to be stretched to fill the music. Why did a whole bunch of people with lanterns search the party site for Siegfried in the evening? They looked like a swarm of confused fireflies. A handful of seekers would have been more than enough for the small place.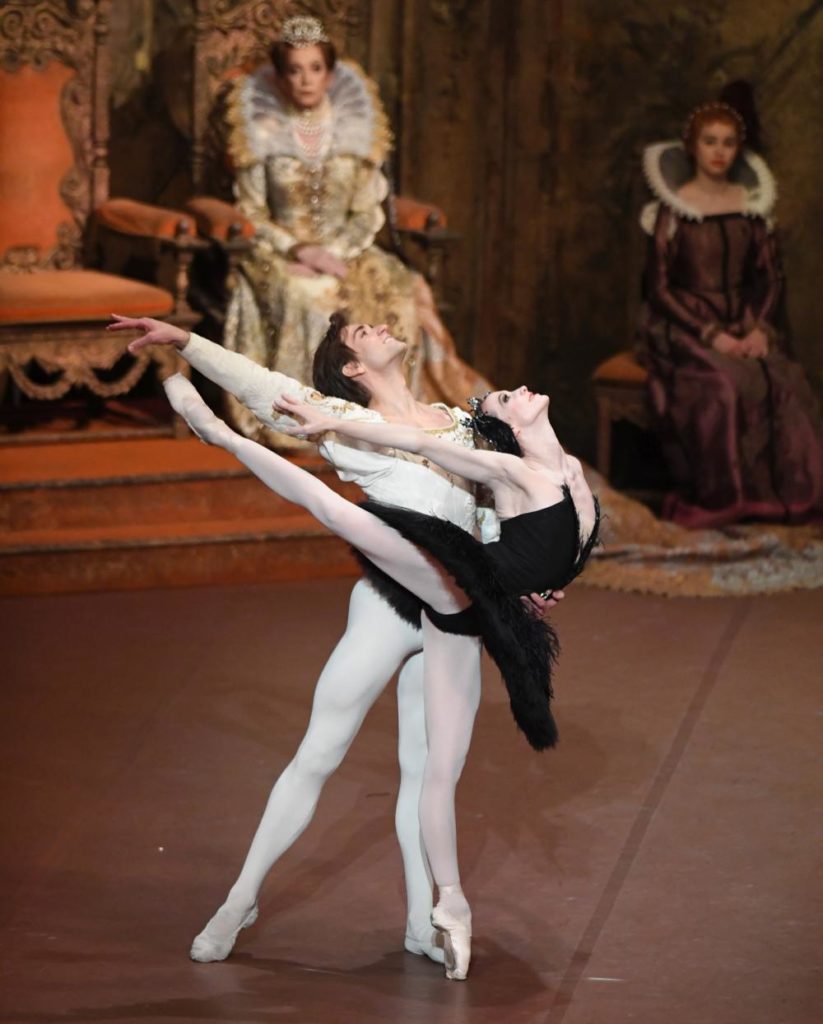 Act II began with repeated running on and off stage of either Siegfried or his companions. He was driven by melancholic yearning, but whether they wanted to find him or were in hunting mood wasn't clear. Once, both parties used the same side exit and one wondered why they didn't bump into each other in the wings. Dramatic tension hadn't been established up to that point, and when the hunters finally faced the cluster of swan maidens, the armed men's shillyshally approaches looked ridiculous. If Siegfried called such cowards his friends, what kind of guy was he then? The drowning scene in the final act dragged on too long. It's shorter and more intense in Rudolf Nureyev's version.
Cranko dropped the Odette's pantomime in Act II, with which she tells Siegfried about her fate. The image of Odette usually shown directly after the prince betrays her was eschewed too. Both aren't absolutely essential to understand the story, but they help.
Odette and Odile were danced by Alicia Amatriain. Amatriain's Odette conveyed three prevailing emotions: suffering, worry and hope. They prevented other strong emotions to surface. Worry cumulated on her forehead, while the hope of salvation made her trust Siegfried. Although Rothbart (Roman Novitzky) was so powerful that he directed her even from a distance, Odette seemed submissive rather than fearful. Having been betrayed by Siegfried, her inner strength faded inexorably. She hung weakly in his arms before Rothbart's spell re-transformed her into a swan.
Amatriain's Odile tried to be a femme fatale, but was a glamor girl whose art of seduction was easy to see through. In the Black Pas de Deux, when kneeling on the floor with one leg stretched, she bent her upper body so quickly and sharply forward as if she were a trap that snapped shut. Odile's Pas de Deux with Siegfried ended in a frivolous pose (a deep back bend in which she threw her head back to look at Siegfried, who was sitting on the floor behind her). Why did Siegfried fall for such cheap advances?
For tall Vogel the stage sometimes seemed too small to dance full out. His Siegfried was a brooding and basically downcast young man. Maybe this rubbed off on Vogel's dancing. Landings were unclean, turns slowed down rather than stopped neatly, and the solos lacked flow. Longstanding stage partners, Vogel and Amatriain had a fine rapport, but still, the vibes of Siegfried and Odette's tragic romance hardly radiated beyond the pit.
At the prince's birthday Jessica Fyfe was a lovely Princess of Russia, although she and her female companions wove their kerchiefs too intensely. As the escort of the Princess of Naples (Angelina Zuccarini), Adhonay Soares da Silva's turns in second were so breezing and jaunty that someone must have propelled him round with a crank from the trap room.
At the conductor's podium of the State Orchestra Stuttgart guested Matthew Rowe, musical director of Het Balletorkest Amsterdam. It wasn't due to him or the musicians that Tchaikovsky's music and the dance didn't fuse to form a bigger picture.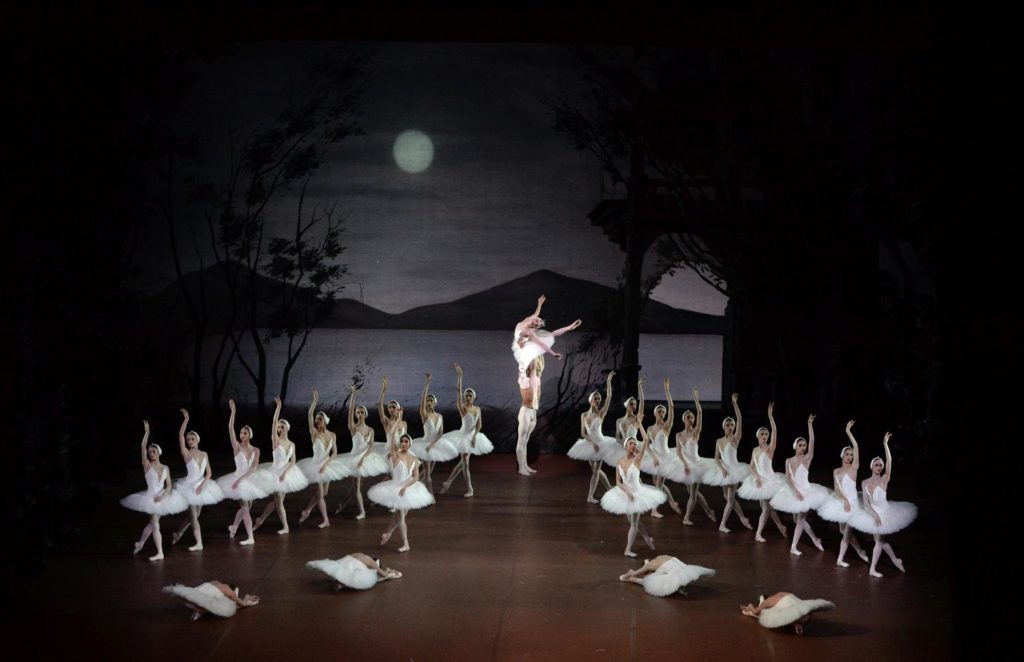 Links:
Website of Stuttgart Ballet

Photos:

 1.

Alicia Amatriain (Odette) and Friedemann Vogel (Prince Siegfried), "Swan Lake" by John Cranko, Stuttgart Ballet

2017

 2.

Alicia Amatriain (Odile), Friedemann Vogel (Prince Siegfried), Melinda Witham (Queen Mother) and ensemble, "Swan Lake" by John Cranko, Stuttgart Ballet

2017

 3.

Alicia Amatriain (Odette), Friedemann Vogel (Prince Siegfried) and ensemble, "Swan Lake" by John Cranko, Stuttgart Ballet

2017

all photos © Stuttgart Ballet
Editing:
Tiffany Lau