"The Sleeping Beauty"
Dutch National Ballet
Dutch National Opera & Ballet
Amsterdam, The Netherlands
December 17, 2017
by Ilona Landgraf
Copyright © 2017 by Ilona Landgraf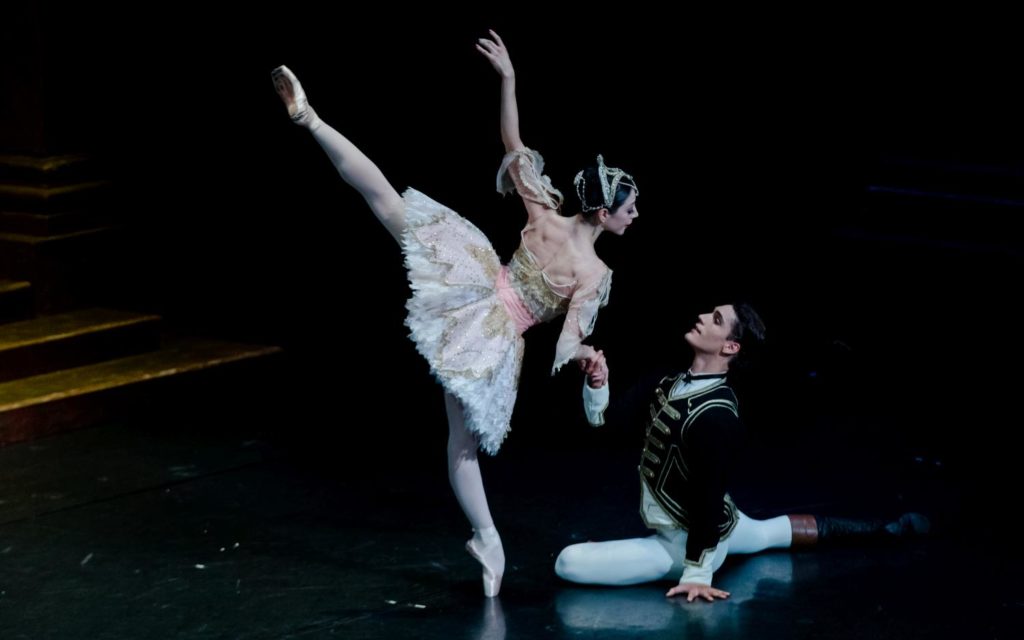 This Christmas Season Dutch National Ballet revived Peter Wright's version of Marius Petipa's "The Sleeping Beauty", presenting no less than seven different leading couples in seventeen performances. Actually, one should see each cast. Alas – I could only travel once to Amsterdam and saw the matinée on December 17th led by Maia Makhateli as Princess Aurora alongside Daniel Camargo's Prince Florimund.
Many young children attended the performance, all of them in festive clothing, and it was a pleasure to watch them hop around and imitate the dance steps during the breaks. One little girl in a golden skirt even turned cartwheels in the foyer.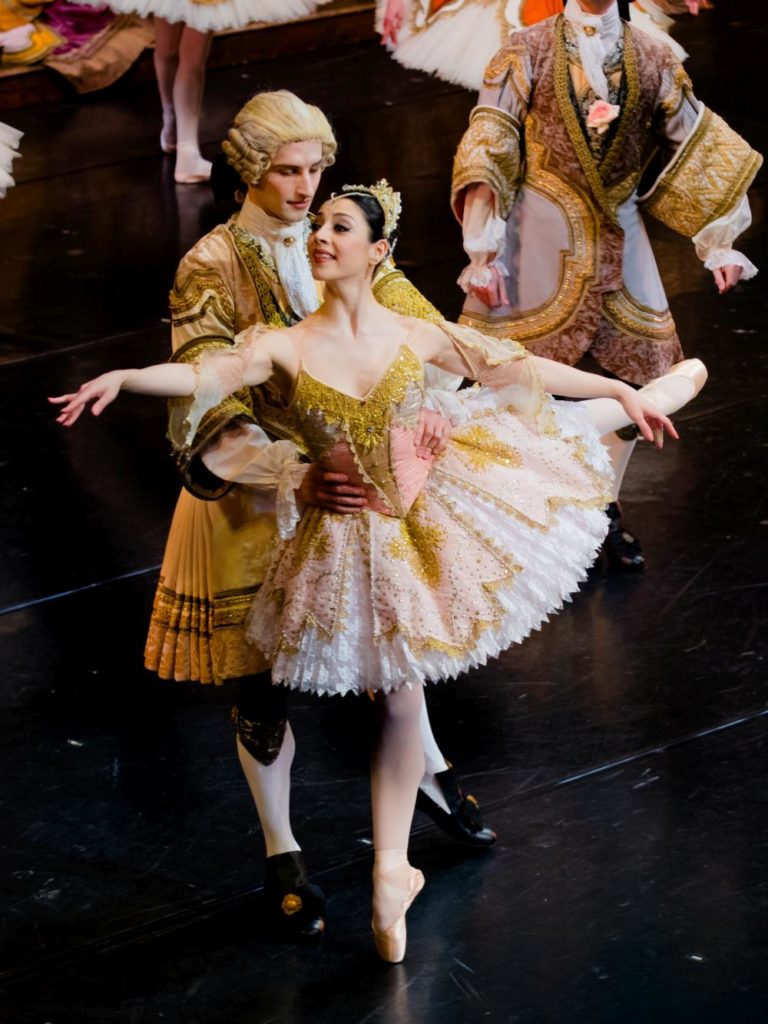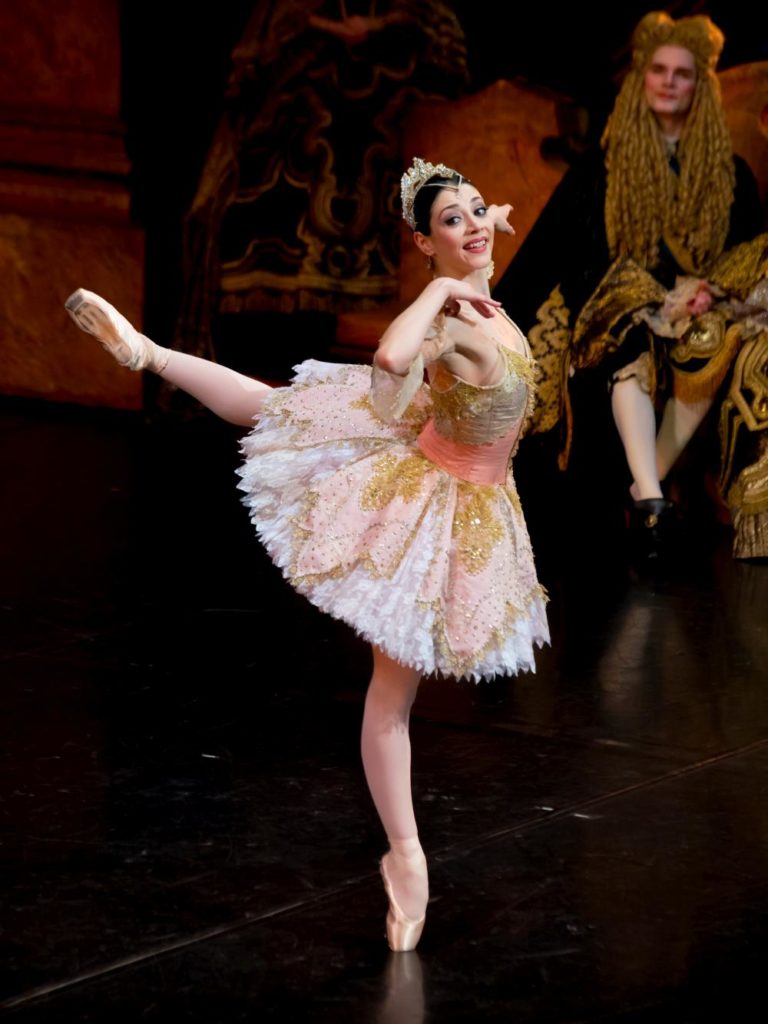 Tchaikovsky's score sounded flat at first, but Boris Gruzin and Het Balletorkest soon breathed vibrancy into it. Onstage, gold and sparkling gemstones were abundant in Philip Prowse's sets and, especially, in his costumes, making them luxuriate and glow in czarist splendor. The court society, meant to represent but not to dance, paraded around in lavishly draped silks and heavy brocades. The nymphs in the prince's vision scene wore light, wafting soft green dresses that enhanced their ethereal nature. The Lilac Fairy sparkled in a floating floor-length white dress with long shawls hanging down her arms. But she had an acting role. Her solo at the christening of Princess Aurora in the first act was given to an additional good fairy, the Fairy of Joy.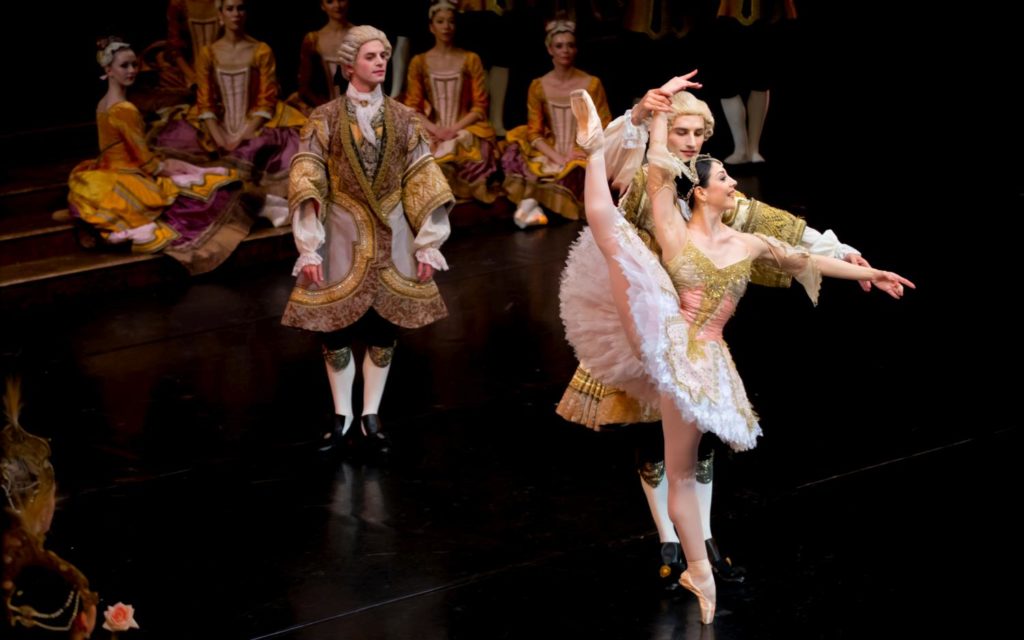 No tutu was without embroidery, no female head without a gorgeous headdress. The children carrying the fairies' presents for Aurora had floral wreaths in their hair. Lovely, too, were the fairy tale characters' costumes at the royal wedding in Act III. Only the light brown royal wigs looked like felted mats rather than honorable headdresses.
Aurora's christening took place in a grand hall surrounded by amphorae on top of square columns of different height. Light brown colors with hues of orange and gold radiated warmth. The princess's golden, shell-shaped crib stood in the center of the back stage. Sixteen years later at her birthday, when meeting the four princess who were asking for her hand in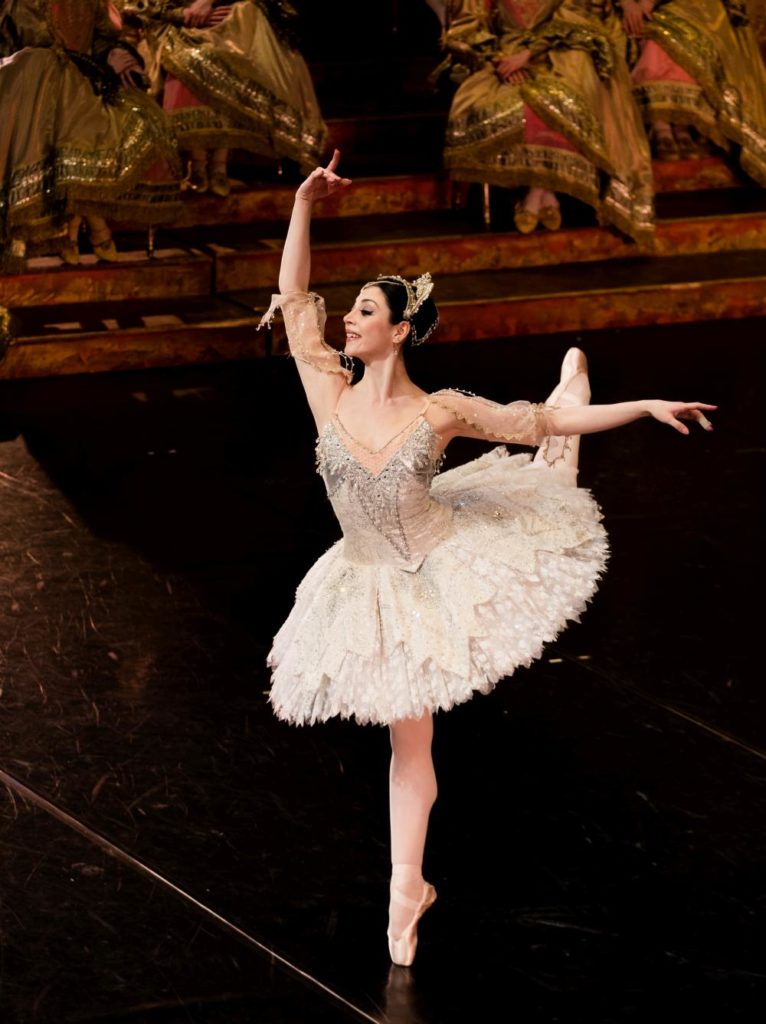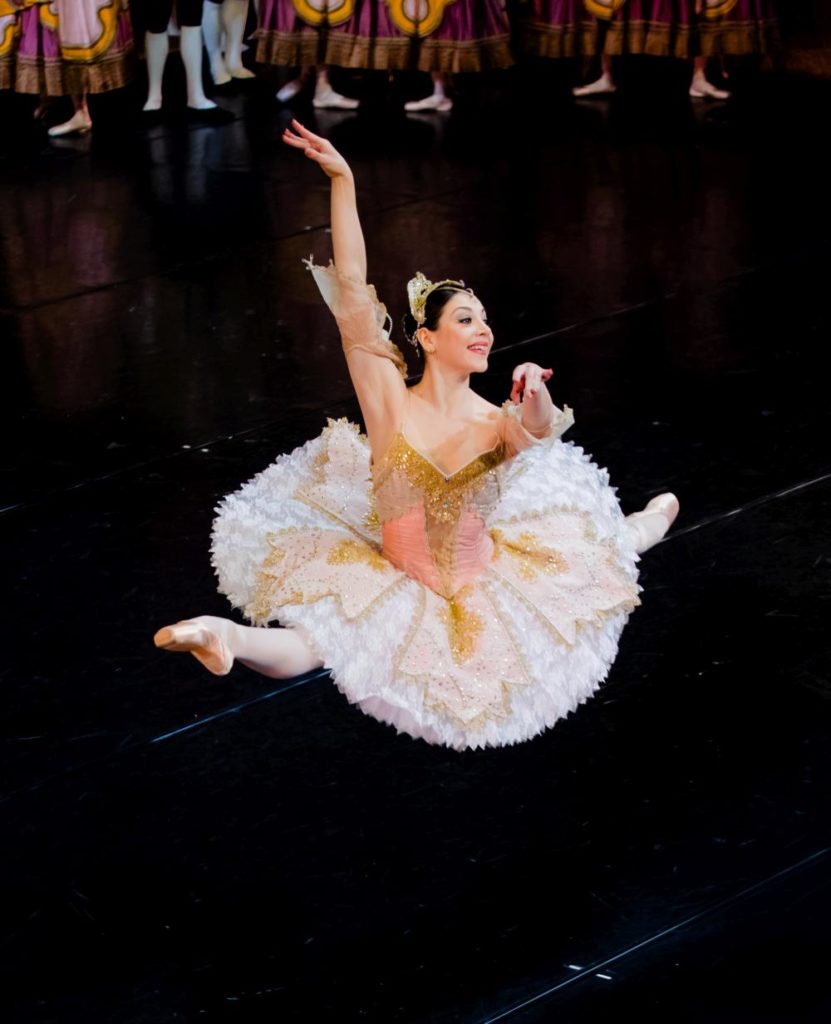 marriage, the hall looked largely the same. But why did Aurora make her first entrance from the left back corner, while everyone's eyes were directed towards the front left entrance from where her court ladies had come from and now stood in line awaiting her? Instead, she was shielded by a column before walking down a stairway, and then set off to dance. But maybe the little detour was necessary to fill the beats until her music began?
At the royal wedding in Act III a huge golden sculpture made up of two clouds surrounded by a corona of rays of light had replaced the crib. Long chandeliers majestically lit the festivities. A large mirror in the back reflected the divertissements of the wedding guests.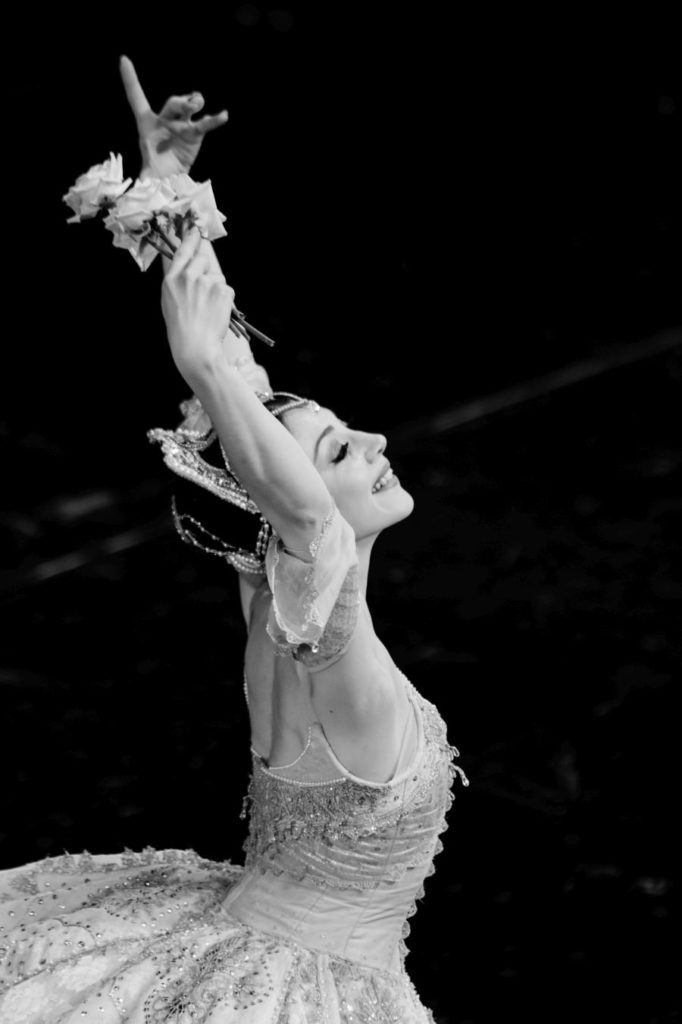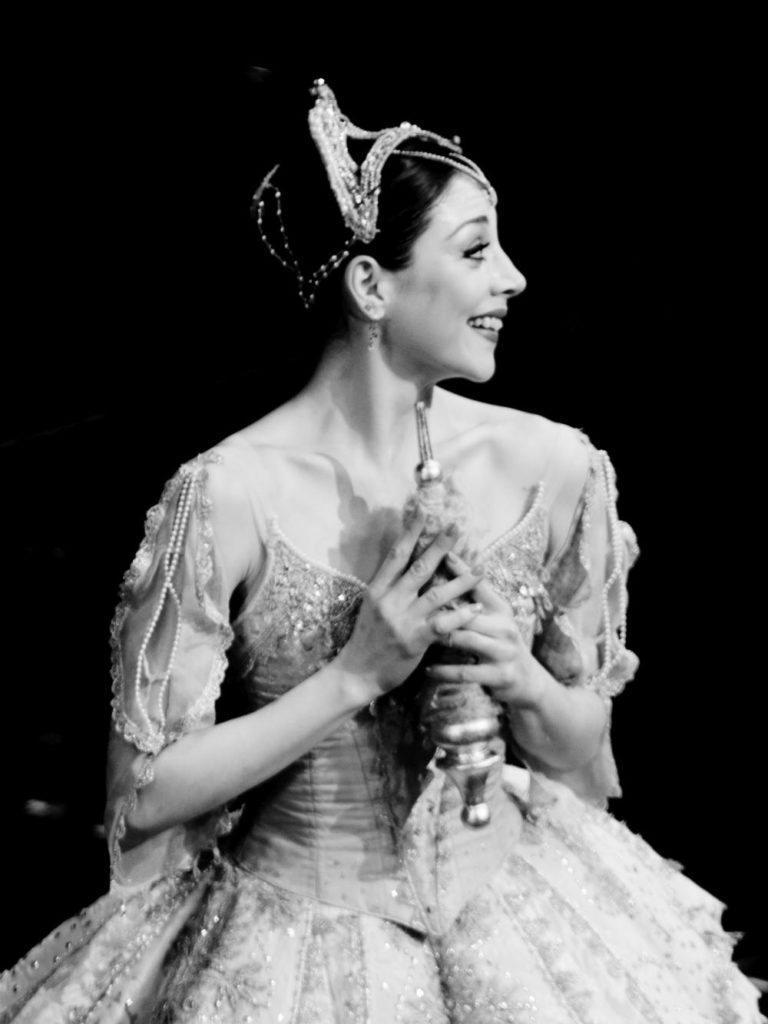 Wright didn't send the Prince on a visionary travel to find Aurora – no gondola with the Lilac Fairy at the bow and Florimund in the stern bridging the time with stilted gestures. Instead, the scrub forest, where the prince's hunting party had enjoyed themselves, rose bit by bit upon the fairy's order, allowing Florimund a short glimpse on the sleeping Aurora hidden behind.
King Florestan (Tycho Hupperets) and his Queen (Amanda Beck) suffused aristocratic etiquette with graciousness. That Catalabutte (Raimondo Fornoni), their master-of ceremonies, kept his post, could only be attributed to boundless benevolence. Always looking as if he had just bitten into a lemon and examining Aurora's potential bridegrooms (Semyon Velichko, Jared Wright, Roman Artyushkin and Edo Wijnen) with disparaging glances, Catalabutte in fact mainly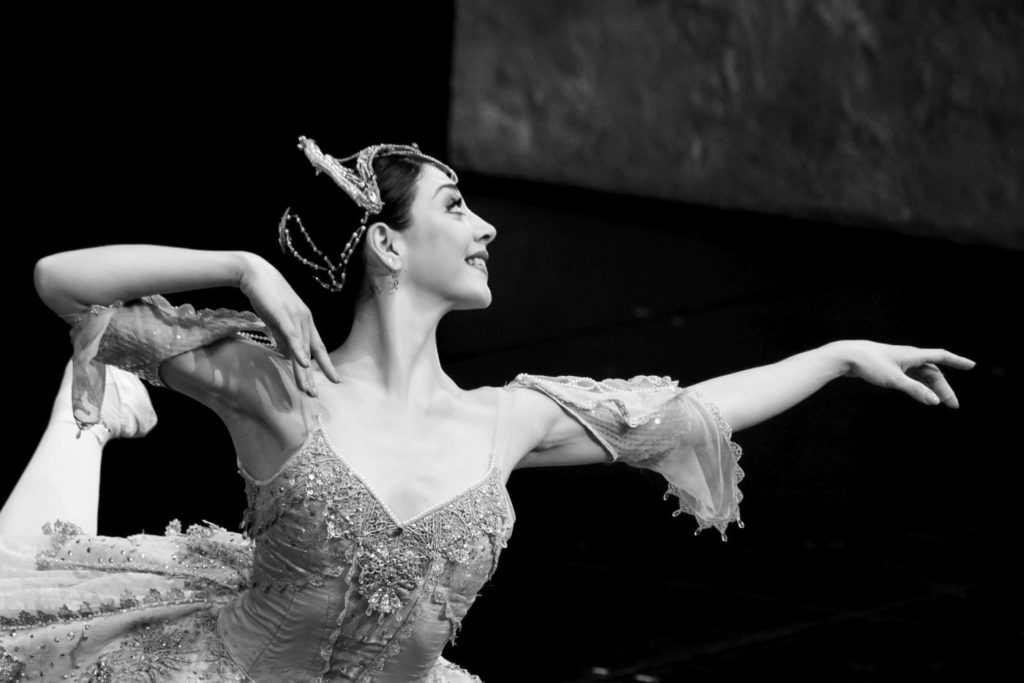 caused trouble. Only because of his negligence, Carabosse, who hadn't been invited to Aurora's christening, became furious and cursed the baby. And hadn't it been Catalabutte's duty to prevent Carabosse from smuggling the fateful spindle into Aurora's hands so that she wouldn't prick herself? Nevertheless, Catalabutte still reigned over the ceremonies at the wedding a century later as pompous as ever.
At the christening, Aurora's good fairy godmothers (there were seven instead of six as in other productions) bestowed blessings on her, something one could only wish for every child. Jessica Xuan's Fairy of Beauty melted precision with tenderness. Suzanna Kaic was an energetic, confident Fairy of Honor. Yuanyuan Zhang was radiant as the Fairy of Chastity, not at all a shrinking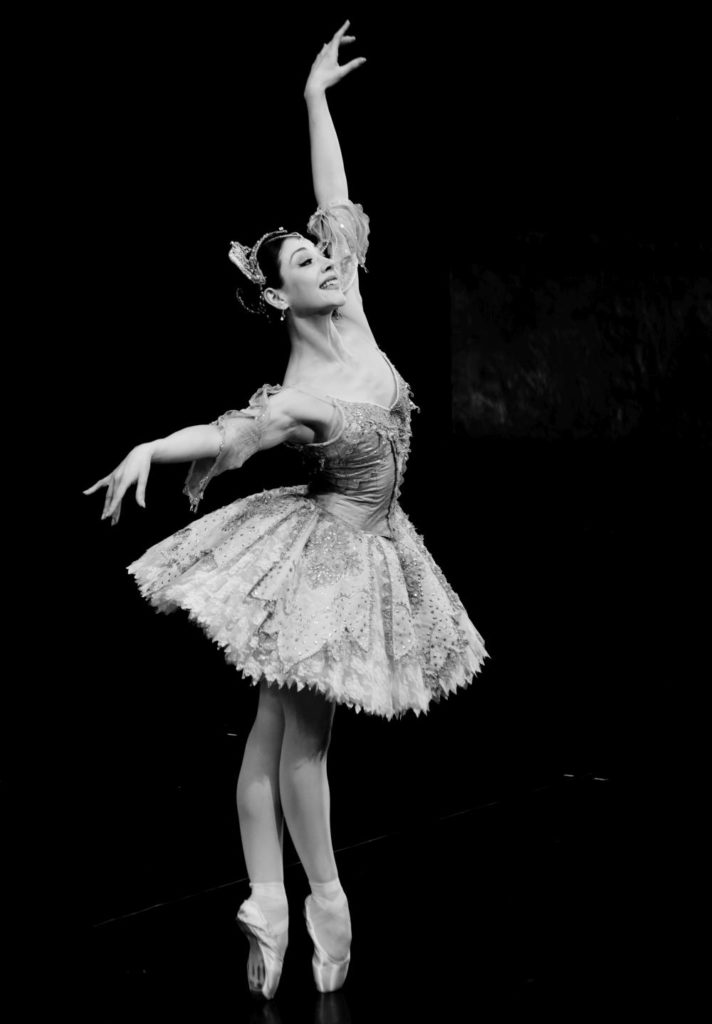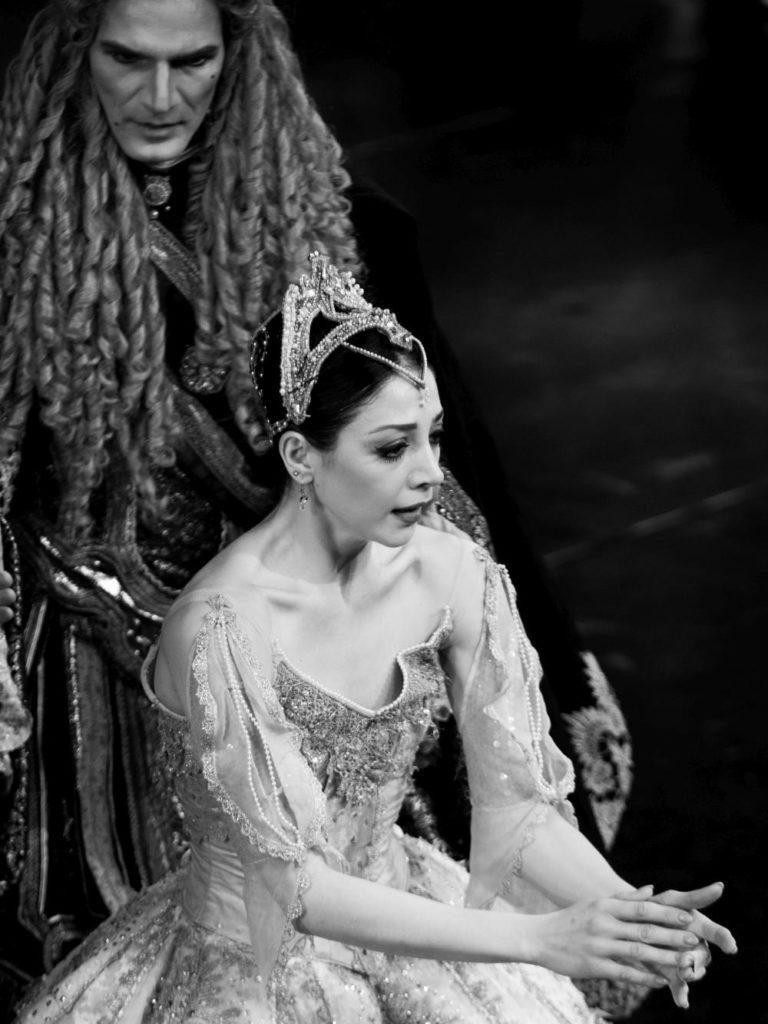 violet, as she spread infectious lightness and joy. Naira Agvanean's Fairy of Song was a feisty, infectious chatterbox, and Aya Okumura's Fairy of Temperament was so playful and light-hearted that under her guidance life could only be rich and tempting. Maria Chugai as the Fairy of Joy danced the solo originally belonging to the Lilac Fairy. Chugai lengthened her phrases as if she wanted to gift the little princess with longevity.
I admired the unswerving softness and calmness of the Lilac Fairy (Erica Horwood), her plain, but highly telling gestures and her clear miming. And although the appearance of Carabosse (Igone de Jongh), accompanied by thunderbolts and smoke and carried on a chariot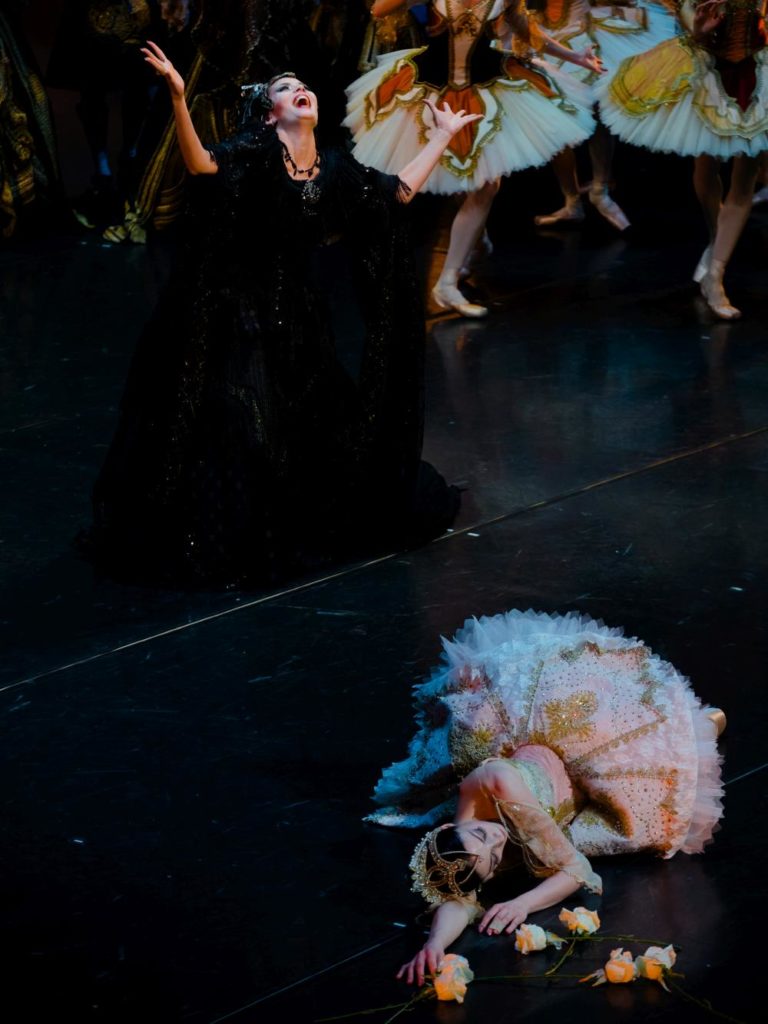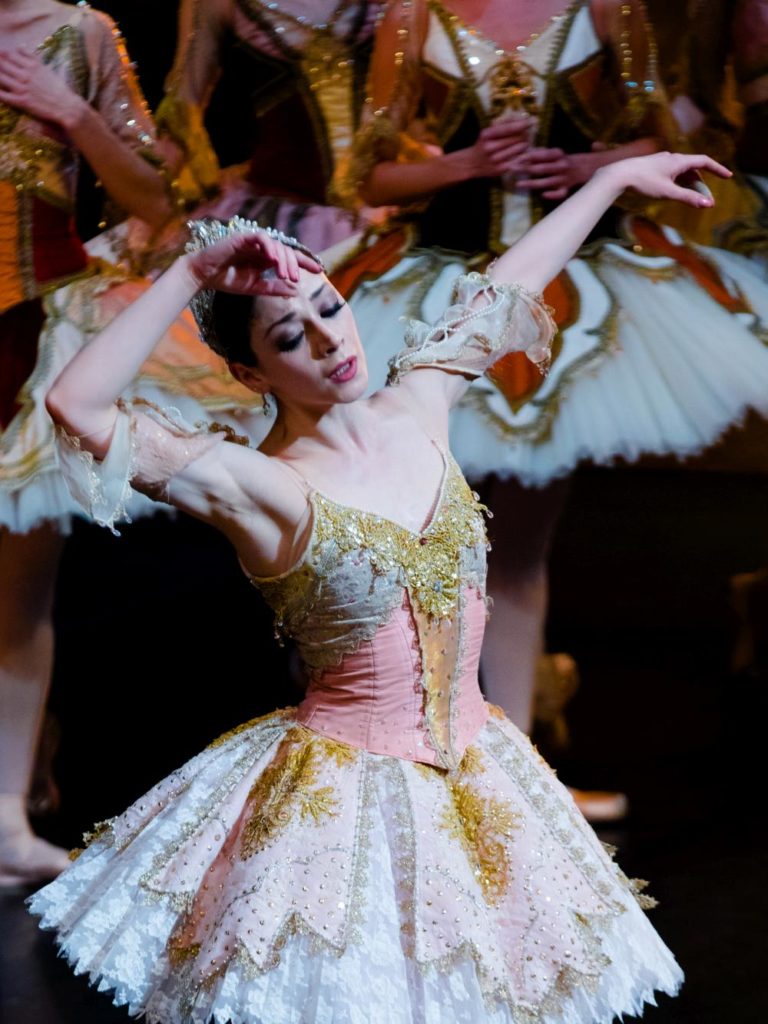 by her gnomish subjects, was scary, her spiteful laughter and fierce gesticulation soon turned out to be empty threats. One never doubted that good was stronger than evil, which was a good message for the children in the audience to take home.
Among the guests at the final wedding was Puss in Boots (Daniel Montero Real) who tried to get off with Clotilde Tran-Phat's prickly White Cat and who pranced in triumph after conquering her. Princess Florine (Suzanna Kaic), fleet of foot and light as a feather, made even her perfect balances seem effortless. Her Bluebird was Young Guy Choi, a fine jumper who had been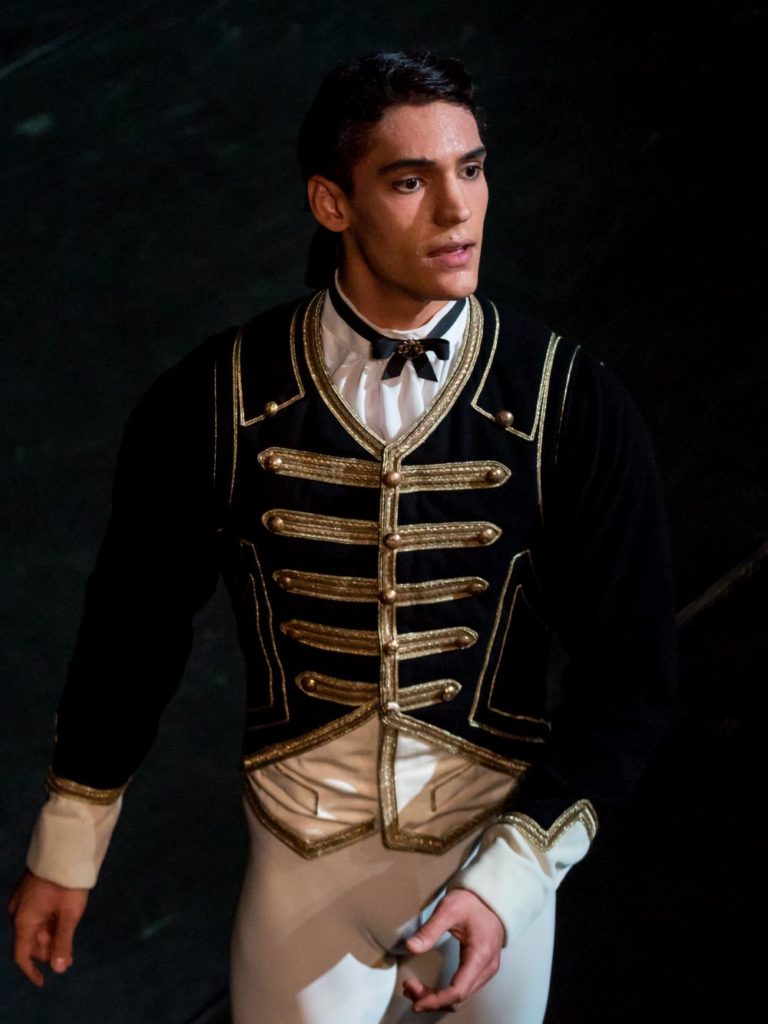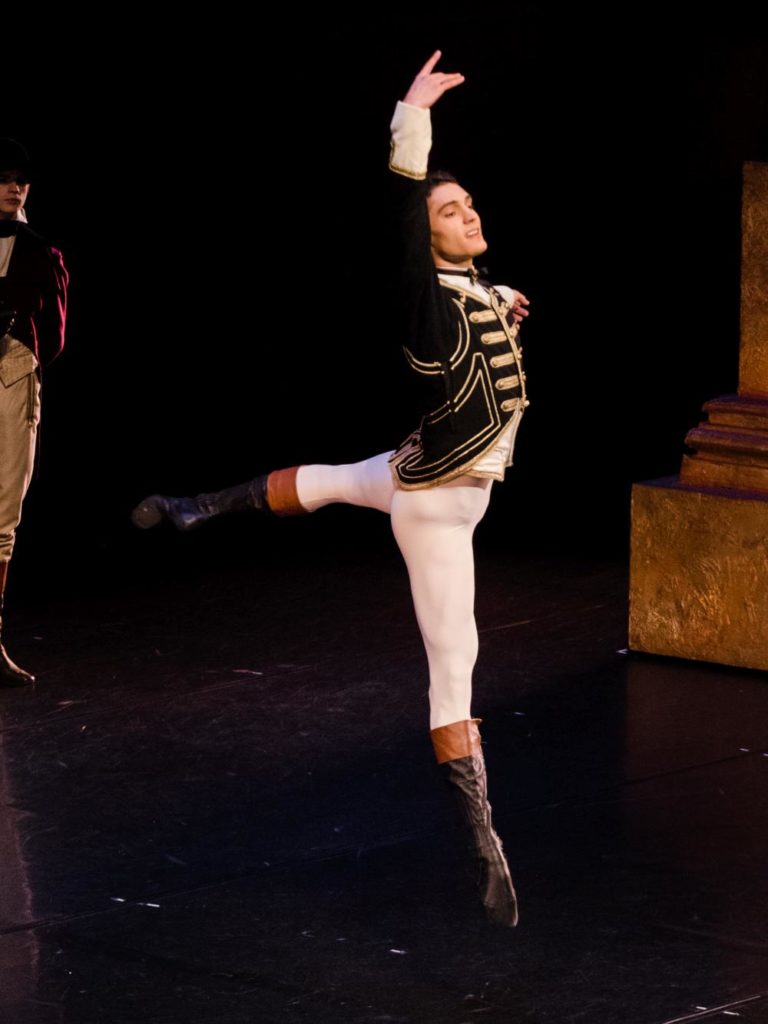 awarded with the Alexandra Radius Prize earlier this year. Little Red Riding Hood (Pascalle Paerel) didn't escape the Gray Wolf (Chanquito van Hoeve), but one wasn't sure whether she actually wanted to. In the Pas de Quatre that opened the divertissements Daniel Silva's jumps seemed to halt in mid-air. He danced together with Jessica Xuan, Yuanyuan Zhang and Sem Sjouke.
The corps performed like one breathing unity. They waltzed buoyantly through ornamental patterns and stayed harmoniously in sync. The men's tours en l'air looked especially impressive.
That leaves one to consider the leading couple, Makhateli and Camargo.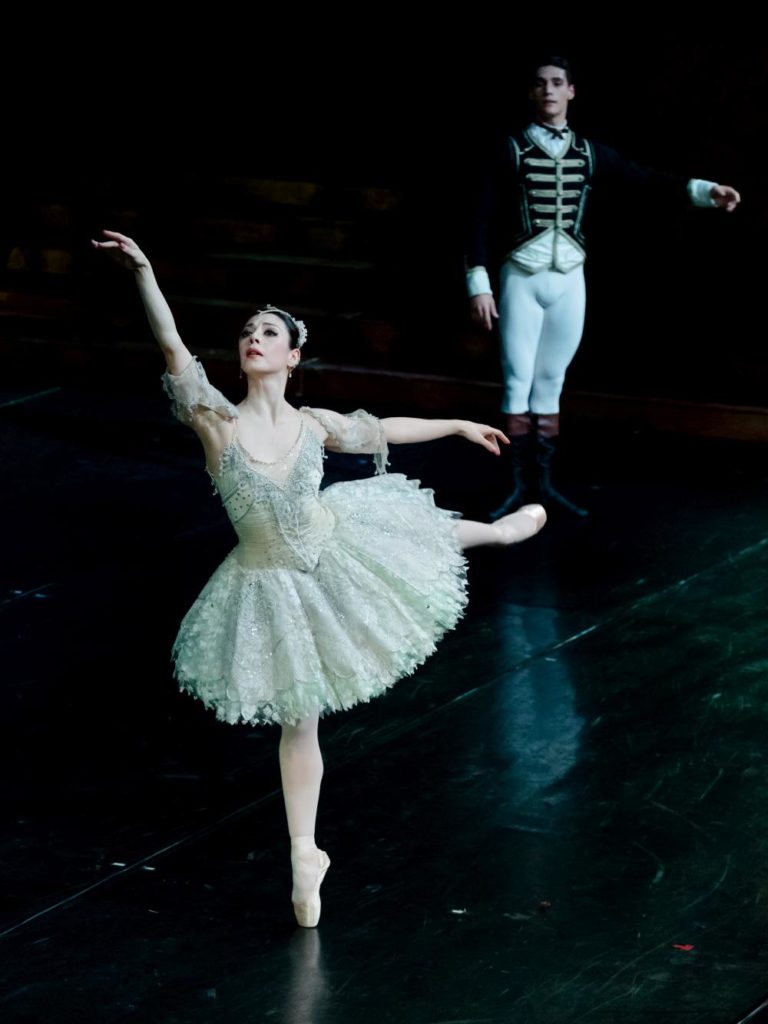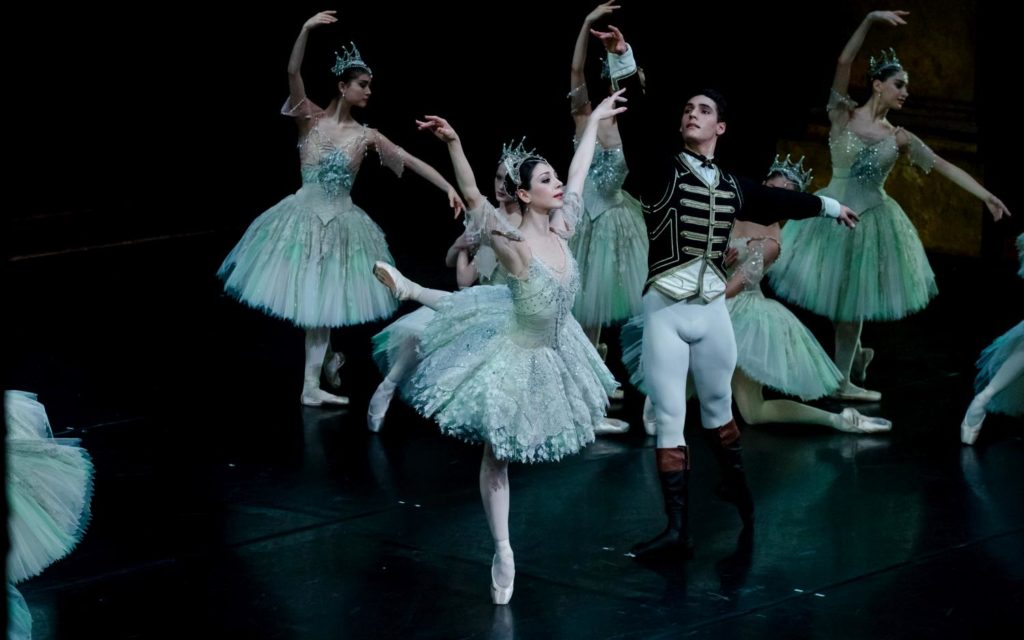 The charm of Makhateli's Aurora radiated across the stage. Timing, musicality, technique – Makhateli mastered everything. Her princess was graceful, but also playful and vigorous as young woman can be. She began each balance in the Rose Adagio with her eyes cast down. Feeling safe, she looked up to her cavalier with a sweet smile – and held her balance even longer. From the first moment on, Aurora was the epitome of beauty and perfection, and she needed only the right prince – Florimund – to make her beauty fully blossom. Camargo, a superb jumper, equipped with excellent technique, and blessed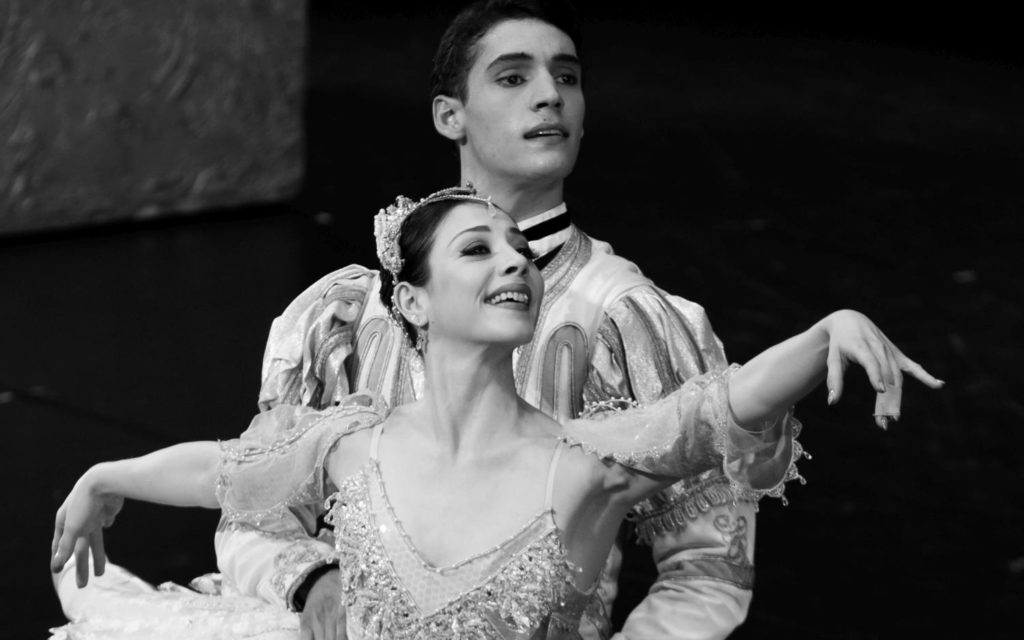 with ideal proportions, has one outstanding virtue – he is humble. Where others end a variation in a kneeling pose he simply stands straight, his arms slightly spread. Dancing together seemed to lend both Makhateli and Camargo wings. They resembled the ideal of rulers, compared to which today's heads of state look poor.
Interpretations of the fairy tale usually highlight two leitmotifs, good versus evil, and Aurora's maturing process, her awakening sexuality. Yet the central scene of Wright's production was connected to Florimund. It was his vision scene, the moment he discovered Aurora. Though he already knew that the smart blonde countess who tried to win him over during the hunting trip (Wendeline Wijkstra) wasn't the right woman for him, he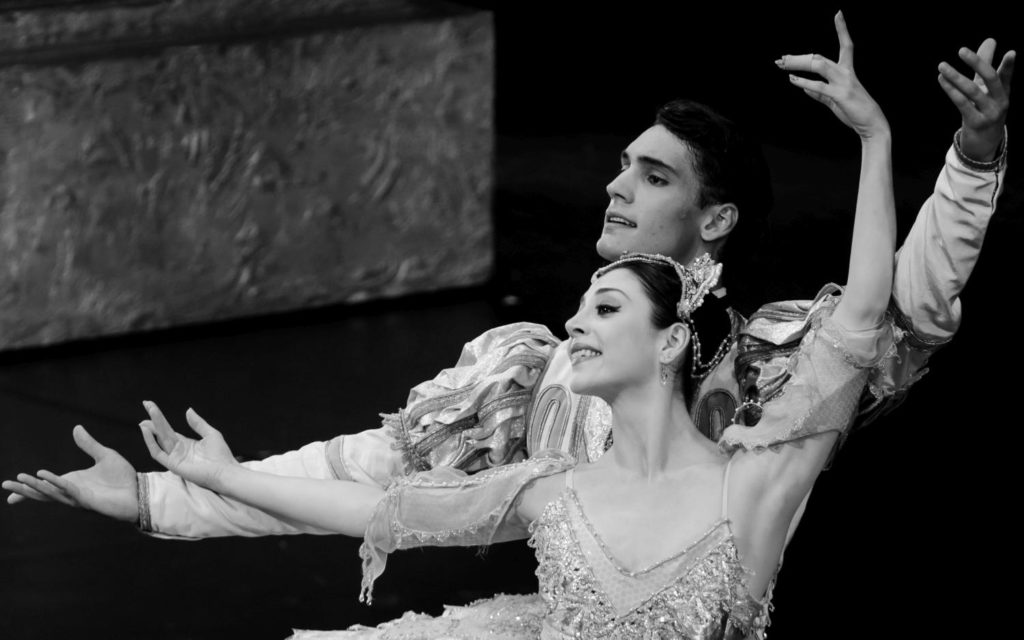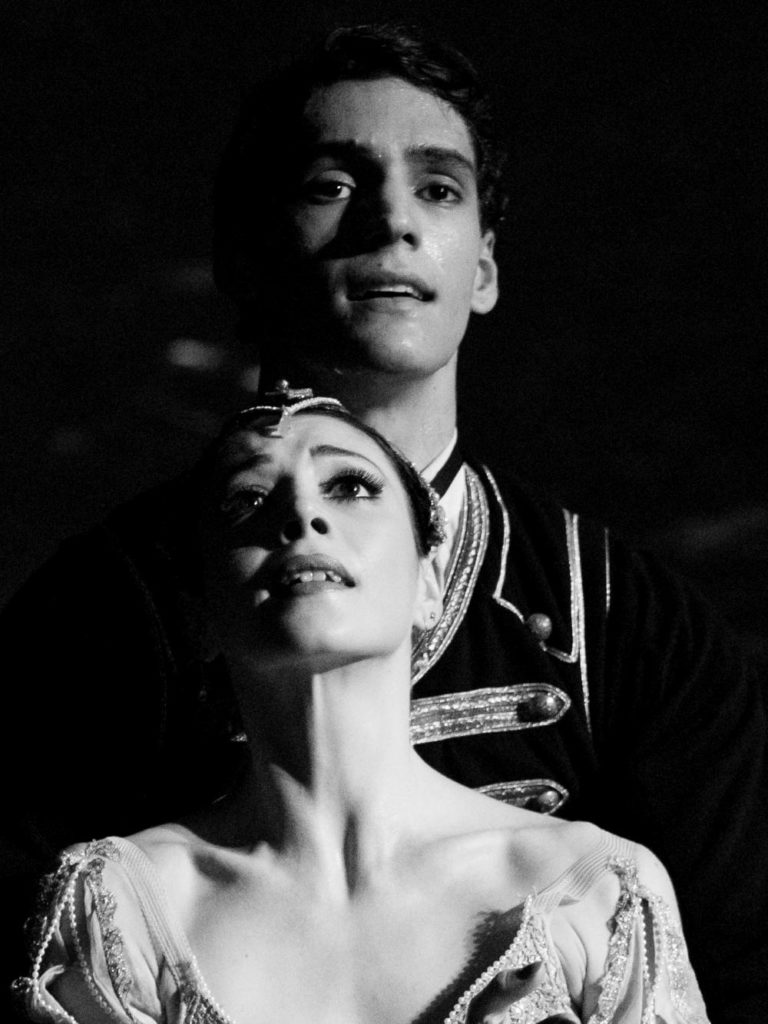 needed the Lilac Fairy's tender guidance to unveil for himself what would fulfill his soul. Perhaps Aurora wasn't even a real young woman, but symbolized the beauty Florimund found within himself.
In the Grimm Brothers' "Little Briar Rose" – the fairy tale scenario on which Petipa based his "Sleeping Beauty" – King and Queen had yearned for an offspring and the entire court rejoiced at Aurora's birth. Prowse positioned her crib center stage and now it is Christmas time. Didn't that also lend a biblical dimension to the production?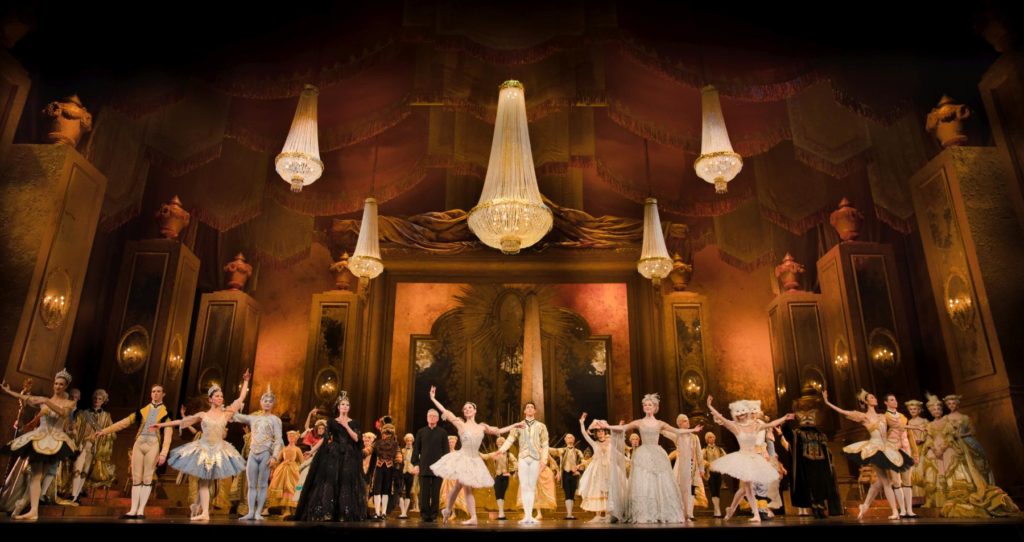 Links:
Website of Dutch National Ballet 

Trailer "Rehearsal / Principal Cast"

Photos:

 1.
 

Maia Makhateli (Princess Aurora) and Daniel Camargo (Prince Florimund), "The Sleeping Beauty" by Peter Wright after Marius Petipa,

Dutch National Ballet 2017

 2.

Maia Makhateli (Princess Aurora) and ensemble, "The Sleeping Beauty" by Peter Wright after Marius Petipa,

Dutch National Ballet 2017

 3.

Maia Makhateli (Princess Aurora) and ensemble, "The Sleeping Beauty" by Peter Wright after Marius Petipa,

Dutch National Ballet 2017

 4.

Maia Makhateli (Princess Aurora) and ensemble, "The Sleeping Beauty" by Peter Wright after Marius Petipa,

Dutch National Ballet 2017

 5.

Maia Makhateli (Princess Aurora), "The Sleeping Beauty" by Peter Wright after Marius Petipa,

Dutch National Ballet 2017

 6.

Maia Makhateli (Princess Aurora), "The Sleeping Beauty" by Peter Wright after Marius Petipa,

Dutch National Ballet 2017

 7.

Maia Makhateli (Princess Aurora), "The Sleeping Beauty" by Peter Wright after Marius Petipa,

Dutch National Ballet 2017

 8.

Maia Makhateli (Princess Aurora), "The Sleeping Beauty" by Peter Wright after Marius Petipa, Dutch National Ballet 2017

 9.

Maia Makhateli (Princess Aurora), "The Sleeping Beauty" by Peter Wright after Marius Petipa, Dutch National Ballet 2017

10.

Maia Makhateli (Princess Aurora), "The Sleeping Beauty" by Peter Wright after Marius Petipa, Dutch National Ballet 2017

11.

Maia Makhateli (Princess Aurora) and ensemble, "The Sleeping Beauty" by Peter Wright after Marius Petipa, Dutch National Ballet 2017

12.

Maia Makhateli (Princess Aurora) and ensemble, "The Sleeping Beauty" by Peter Wright after Marius Petipa, Dutch National Ballet 2017

13.

Maia Makhateli (Princess Aurora), Igone de Jongh (Carabosse) and ensemble, "The Sleeping Beauty" by Peter Wright after Marius Petipa, Dutch National Ballet 2017

14.

Daniel Camargo (Prince Florimund), "The Sleeping Beauty" by Peter Wright after Marius Petipa, Dutch National Ballet 2017

15.

Daniel Camargo (Prince Florimund), "The Sleeping Beauty" by Peter Wright after Marius Petipa, Dutch National Ballet 2017

16.

Maia Makhateli (Princess Aurora), Daniel Camargo (Prince Florimund) and ensemble, "The Sleeping Beauty" by Peter Wright after Marius Petipa, Dutch National Ballet 2017

17.

Maia Makhateli (Princess Aurora) and Daniel Camargo (Prince Florimund), "The Sleeping Beauty" by Peter Wright after Marius Petipa, Dutch National Ballet 2017

18.

Maia Makhateli (Princess Aurora) and Daniel Camargo (Prince Florimund), "The Sleeping Beauty" by Peter Wright after Marius Petipa, Dutch National Ballet 2017

19.

Maia Makhateli (Princess Aurora) and Daniel Camargo (Prince Florimund), "The Sleeping Beauty" by Peter Wright after Marius Petipa, Dutch National Ballet 2017

20.

Maia Makhateli (Princess Aurora) and Daniel Camargo (Prince Florimund), "The Sleeping Beauty" by Peter Wright after Marius Petipa, Dutch National Ballet 2017

21.
Suzanna Kaic (Princess Florine), Young Guy Choi (Bluebird), Igone de Jongh (Carabosse), Maia Makhateli (Princess Aurora), Daniel Camargo (Prince Florimund), Erica Horwood (Lilac Fairy), Clotilde Tran-Phat (White Cat), Daniel Montero Real (Puss in Boots) and ensemble, "The Sleeping Beauty" by Peter Wright after Marius Petipa, Dutch National Ballet 2017


all photos © Altin Kaftira

Editing:
 Laurence Smelser