"The Bright Stream"
Bolshoi Ballet
Bolshoi Theatre
Moscow, Russia
February 10 and 11, 2018
by Ilona Landgraf
Copyright © 2018 by Ilona Landgraf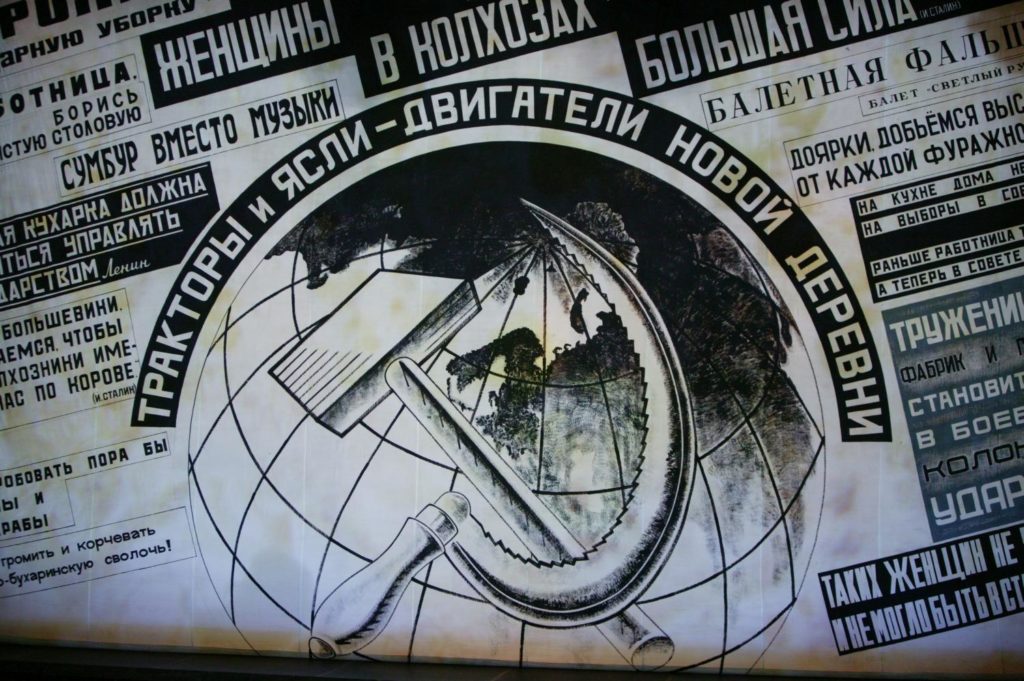 "The Bright Stream" was Shostakovich's third score for ballet. After his previous ballets, "The Golden Age" (1930) and "Bolt" (1931), were banned from the stage, Shostakovich attempted to create a new composition that would please everyone. Fyodor Lopukhov (1886 – 1973) was in charge of the choreography, the libretto was by Adrian Pyotrovsky and Lopukhov, and indeed, "The Bright Stream" was enthusiastically received at its premiere in Leningrad – today's St. Petersburg – in 1935.
Is it a propaganda piece or – given the irony Shostakovich so loved – does it mock propaganda? In any case, "The Bright Stream" is a romantic farce that unfolds on the North Caucasian collective farm called "The Bright Stream". Here, Stalin's agricultural policy blossoms. The harvest, proudly paraded through the streets, is superlative – and the subsequent harvest feast well deserved. Soon, though, the dancers and musicians that arrive from abroad to join the celebrations unveil that, among the farm folk, both crops and infidelity grow rampant.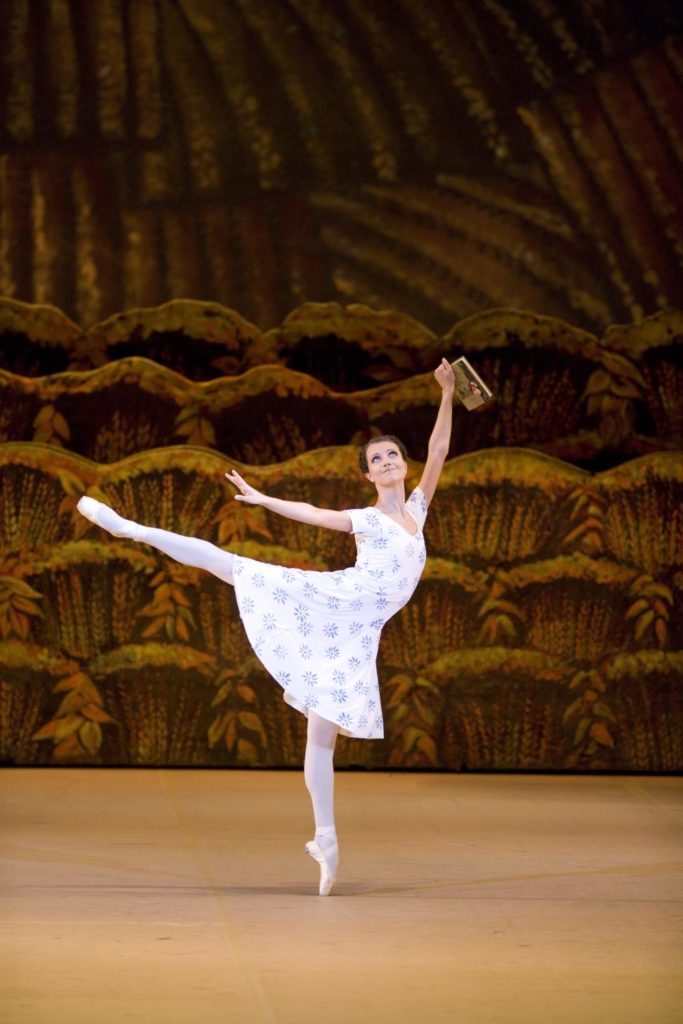 Pyotr, an agricultural student, is keen to flirt with the ballerina right from the artists' arrival. Zina, his young wife, vacillates between fits of hurt and anger. When it is revealed that the ballerina is an old friend and classmate of Zina's, they decide to teach Pyotr a lesson. The harvest feast becomes the stage for a confusing masquerade that incidentally brings others' hidden passions to light. The doddery dacha-dweller, for example, arranges a rendezvous with a sylph, unaware that the sylph is in fact a male dancer in drag. At the same time, the dweller's eccentric spouse falls for the ballerina, believing her to be an attractive lad. The accordion player tries to run off with Galya, a local school-girl, but she is saved by a tractor driver dressed as a shaggy, scary dog. That the dog also bicycles causes further confusion. In the end, all is well again. Even the nascent fight between Caucasian and Cossack workers smoothens over, leaving only happy, peaceful togetherness.
Following its success in Leningrad, "The Bright Stream" transferred onto Moscow's Bolshoi stage in the same year – but it didn't remain there long. After a damning review titled "Ballet Falsity" appeared in the Pravda in 1936, the piece disappeared completely from the ballet repertoire. Pravda declared the ballet to be formalistic, criticizing its lack of realism and folk elements and repeatedly claiming that the characters had been turned into dolls. Although it's highly unlikely that these were the real reasons for the bashing, Lopukhov's career never recovered from the blow.
It was not until 2003, when Alexei Ratmansky was commissioned to create his first piece for the Bolshoi Ballet, that "The Bright Stream" returned to the stage. Ratmansky retained the libretto, but referenced the ballet's history by adding a front curtain on which were printed the titles of the bad reviews the piece had received after the Pravda editorial. Eschewing musical repetition, he shortened the original three acts to two. Since notation from Lopukhov does not exist, the choreography is entirely Ratmansky's.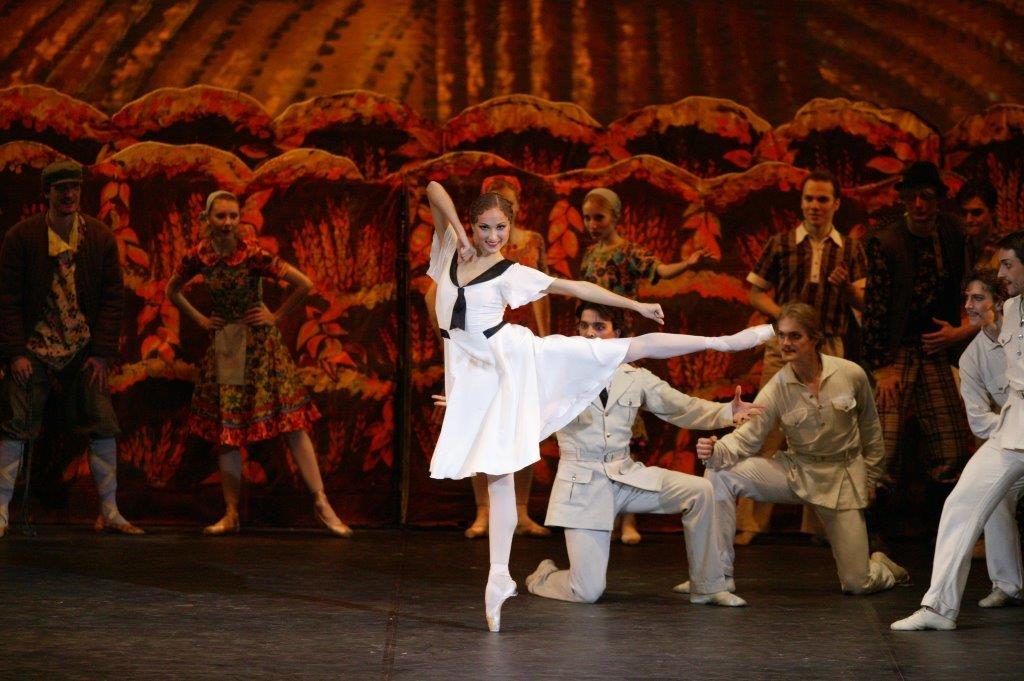 Boris Messerer's set looks as if he has poured the cornucopia of a rich harvest onstage. Bundles of golden sheaves of wheat are heaped onto the side wings, while tractors drive through harvested fields and a brigade of propeller planes flies across the backdrop. The made-up masquerade takes place in a clearing overlooked by two monumental female statues, one on each side. Statues mounted on pillars line the backside of the improvised stage in a meadow, where the harvest feast finally occurs. It is lit by a sun made of light diodes that sends beams of light towards the revelers. For the costumes, Messerer used all the colorful patterns that a farmhand might wear. The artists wear fashion of the 1930s (especially daring: the male dancer's red-striped socks to knickerbockers), while the farm folk have less chic, everyday clothes.
Ratmansky's choreography drew from a broad spectrum of styles to characterize the figures. The ballerina performs elegantly and gracefully; she knows how to toy with men and how to be theatrical when advantageous. The dacha-dweller's wife wants to look young and attractive. Her bottom is as prominent as her bust, to which she presses her husband's head as they dance. She stalks about in red pointe shoes, triumphantly waving her fan as she attempts to seduce like a tango-diva. Galya is an overexcited young woman, who pulls her skirt down time and again as if she feels that it is too short. The milkmaid admires the ballerina's and Zina's dancing skills, but knows that she is a capable country lass with a sunny disposition and not a woman of the world.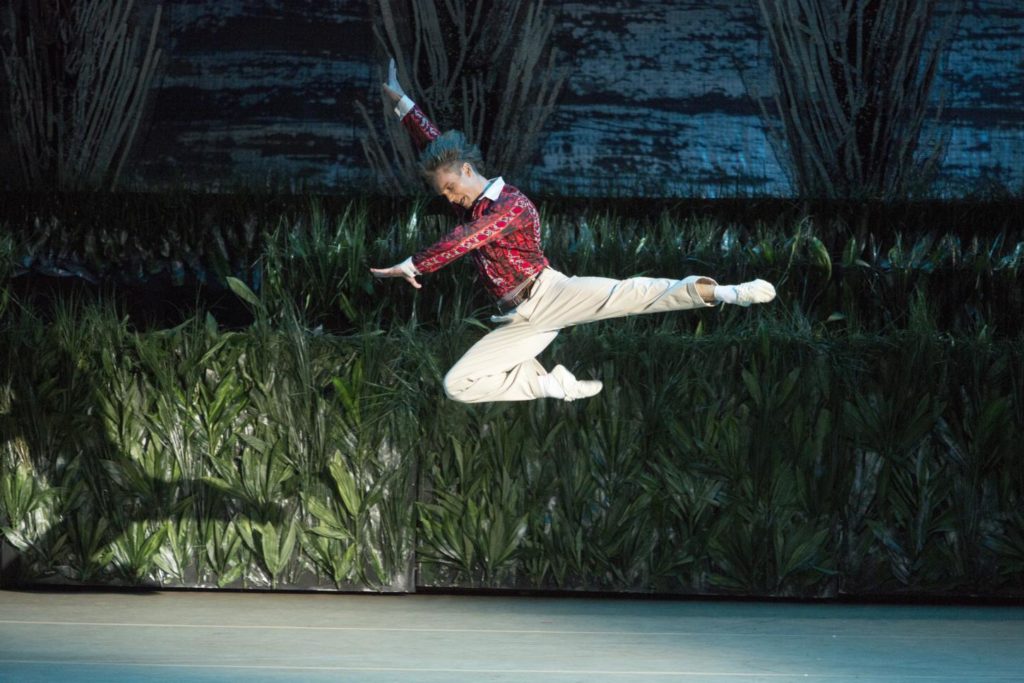 Some men soar and jump boastfully, others, more used to sitting on a tractor than taking to the floor, hop clumsily around. The accordion player plays macho; the tractor diver feels more comfortable when disguised as dog than when attempting to dance; the dacha dweller struggles to get his stiff bones moving, even though he tries hard, and Gavrilych, the chubby quality inspector who later appears as the Grim Reaper, wields the scythe threateningly during a macabre fake duel. But all the men have one thing in common: they are eager to show how terrific and compelling they are.
Folk dance elements abound, blending with classical movements; acting is key, mime conveys important information, and precision remains vital in all things. Short, turbulent scenes alternate with long ones and everyone has their chance to present themselves. Although some scenes last longer, their wittiness never fades.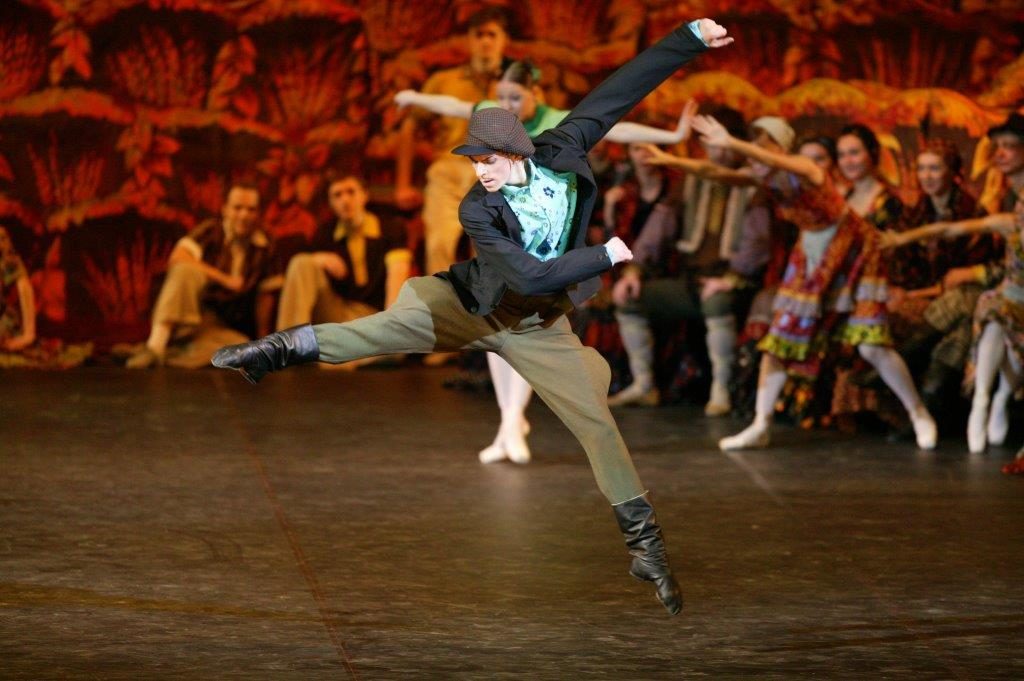 Since its premiere in 2003, "The Bright Stream" has received more than one-hundred performances. I saw two consecutive shows – numbers 117 and 118 – with different casts, in which each dancer colored their character differently.
On the first night, Anastasia Stashkevich's Zina was extrovert, feisty and kind-hearted. Semyon Chudin portrayed her Pyotr. As she witnessed his unashamed flirtations with the ballerina (Ekaterina Shipulina), she was hurt and, even more so, upset. Displaying her formidable ballet skills, Zina became so light and soft, so adept at balancing capriciousness with voluptuousness, that one could only marvel. Stashkevich performed exceptionally. Chudin, blessed with a natural elegance, portrayed Pyotr as a helter-skelter lovestruck poser. Pyotr seemed more a handsome student from university with a girl-friend – Zina – from an internship than a married man made for a future in agriculture. He puffed himself up like a peacock and had no clue what to make of the recurring opposition of the ballerina (who in fact was Zina in disguise). Pyotr's learning curve was steep, but his youthful charm made you forgive his every foolishness.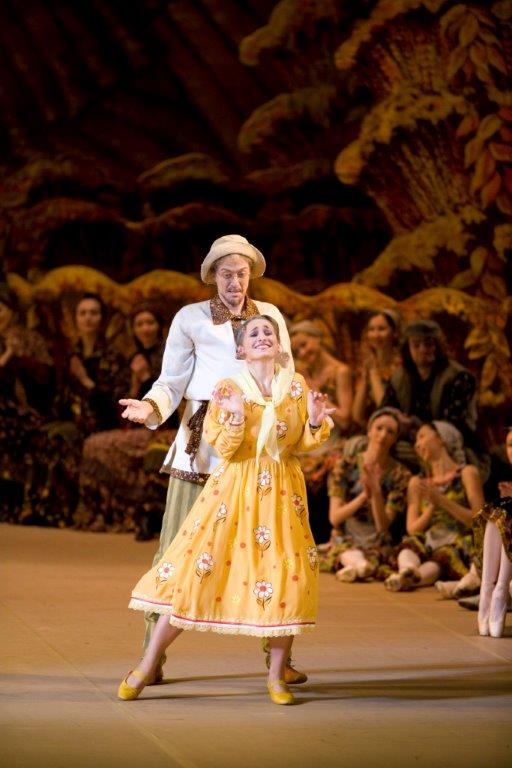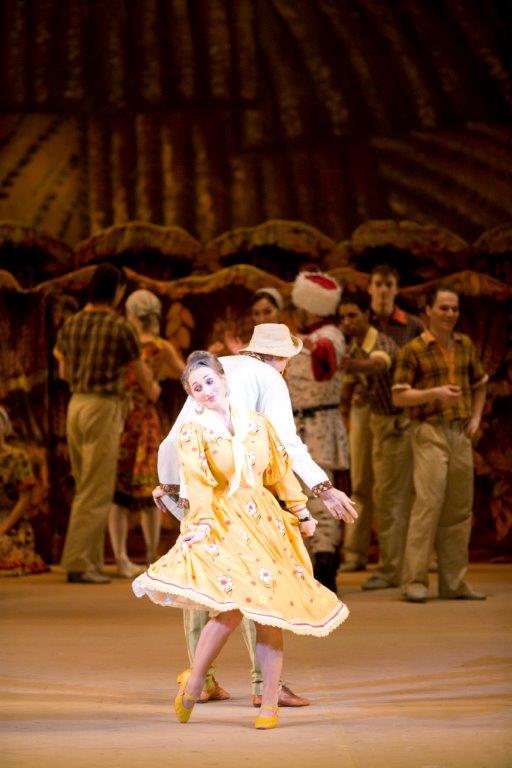 Shipulina's ballerina was an ethereal being with pale skin that could have emerged from a Parisian stage. Yet, dressed as a young man, she was thoroughly dashing. As the male dancer, Vladislav Kozlov had his funniest scenes when wearing the white sylph-tutu and the floral wreathlet. He has great talent for crossing his arms gently in front of his chest and looking towards the horizon. The scene in which his sylph reminded herself to maintain her graceful femininity while at once taking a generous swig from the dacha-dweller's hip-flask was priceless.
The accordion player (Vyacheslav Lopatin) was an Italian macho man, a womanizer of the likable sort. If you looked at his breeches, his flat cap, and his supple and powerful movements, you might have called him a horseman – but if so, his horse could only have been a thoroughbred. Anastasia Vinokur was a hilarious anxious-to-be-younger-than-she-is dacha-dweller. She attacked her lanky, narrow-chested husband (Alexey Loparevich) like a bull when she realized that he was cheating on her. You could only feel sorry for the bespectacled dodderer, whose vision was suddenly brightened at the sight of the sylph.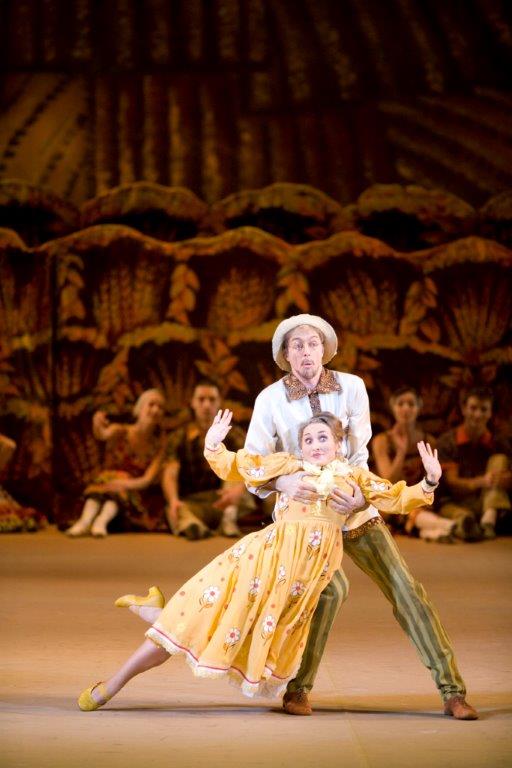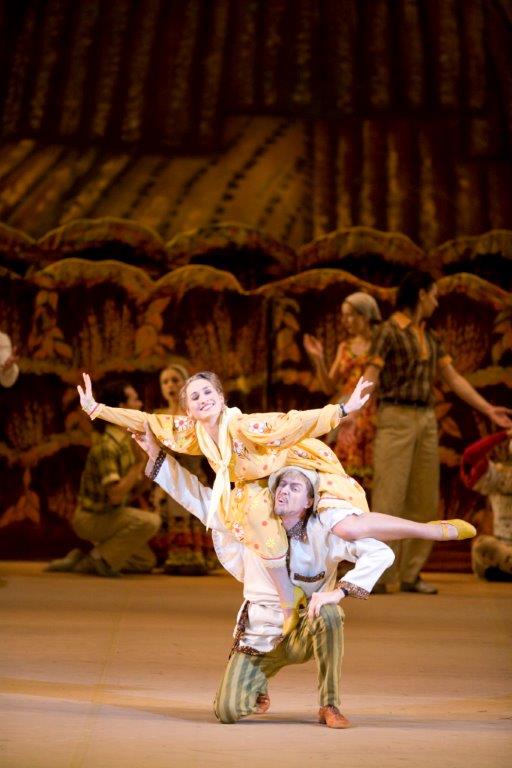 Maria Mishina was the chipper Galya; Egor Simachyov as Gavrilych held a pipe firmly in his mouth, and Tatiana Lazareva was the buxom milkmaid, whose pride about her achievements shone from all over her face. Andrey Bolotin portrayed the tractor driver in dog fur.
On the following evening, Nina Kaptsova danced Zina. Zina's prospects for a ballet career must have been excellent given the skillfulness with which she revived them. She seemed to be less angry about Pyotr than she was determined to teach him a lesson. Mikhail Lobukhin's Pyotr had a fine figure, suitable for farm work. He was not overly sophisticated, but sure of himself. The ballerina (Maria Alexandrova) was dauntless and world-wise, refined but grounded. In a man's clothing, she acted – and looked – snappy. However, Vladislav Lantratov took the cake as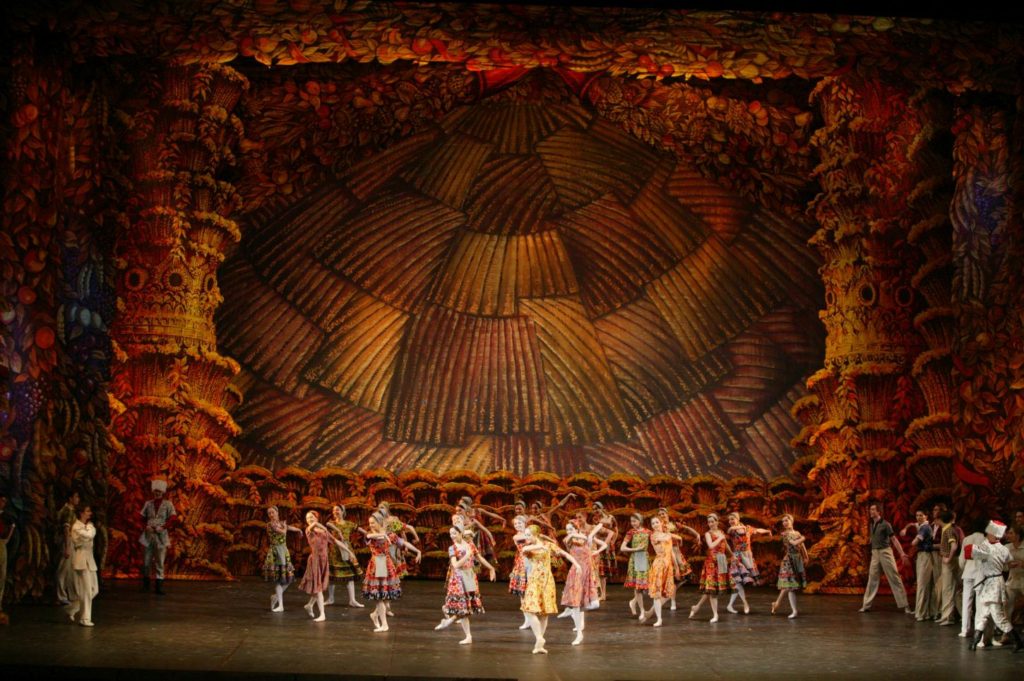 the male sylph. No matter what he was doing – be it dashing through the diagonals, blowing kisses, looking plaintively into the air, or demanding to be married by the dacha-dweller – he was side-splitting funny. Lantratov is amazingly talented on pointe, and if he tucks in the ribbons of his pointe shoes he could apply for "La Sylphide", which will be in the repertoire in March.
Denis Savin's accordion player was odd; slightly hunched and long-legged, he seemed incalculable and not at all trustworthy. Case in point: Yulia Skvortsova's Galya didn't trust him, and neither did the tractor driver in dog's costume (Vasily Zhidkov), barking to spur the accordion player to flee.
The dancers in other roles were: Nikita Elikarov (the old dacha-dweller), Anna Balukova (the dacha-dweller's wife), Sergey Minakov (Gavrilych), and Ekaterina Zavadina (milkmaid). On both evenings the group of highlanders was led by Alexander Vodopetov; Anton Savichev was the head of the fieldworkers from the Caucasus.
The corps danced with oomph, making their pleasure with the production palpable.
Shostakovich's score was played triumphantly in a rousing rendition by the Bolshoi Orchestra conducted by Pavel Klinichev (Feb. 10th) and Pavel Sorokin (Feb. 11th).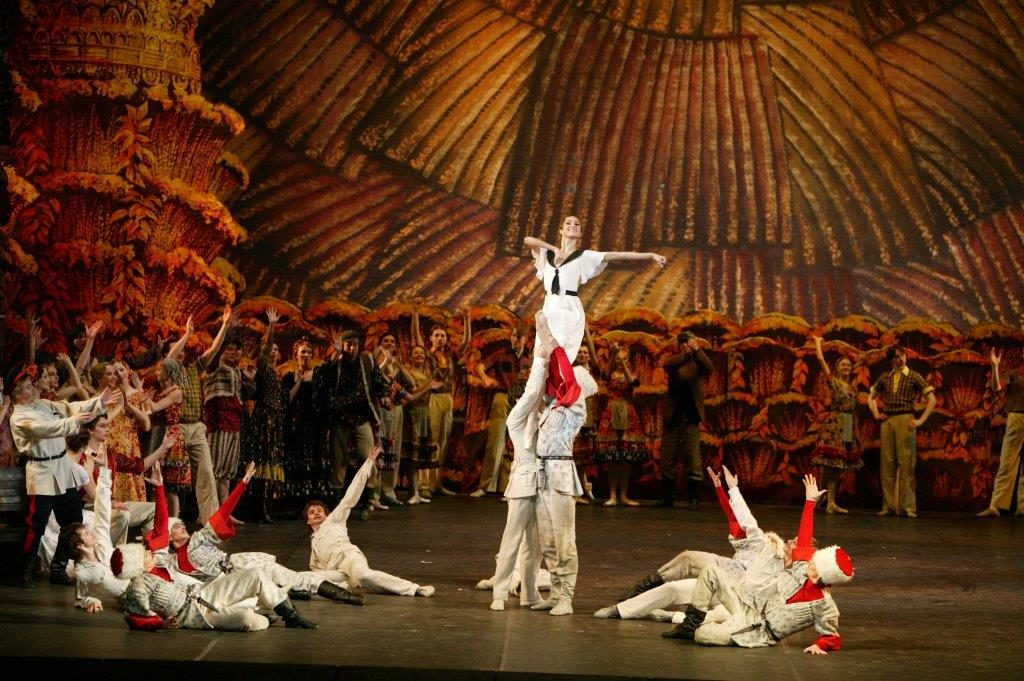 Links:

Website of the Bolshoi Theatre

Photos:

 1.

Front Curtain, "The Bright Stream" by Alexei Ratmansky, Bolshoi Ballet

© Bolshoi Theatre / Damir Yusupov

 2.

Nina Kaptsova (Zina), "The Bright Stream" by Alexei Ratmansky, Bolshoi Ballet © Bolshoi Theatre / Damir Yusupov

 3.

Ekaterina Shipulina (Ballerina) and ensemble, "The Bright Stream" by Alexei Ratmansky, Bolshoi Ballet © Bolshoi Theatre / Damir Yusupov

 4.

Mikhail Lobukhin (Pyotr), "The Bright Stream" by Alexei Ratmansky, Bolshoi Ballet © Bolshoi Theatre / Elena Fetisova

 5.

Denis Savin (Accordion Player) and ensemble, "The Bright Stream" by Alexei Ratmansky, Bolshoi Ballet © Bolshoi Theatre / Damir Yusupov

 6.

Anastasia Vinokur (Anxious-to-be-younger-than-she-is-dacha-dweller), Alexey Loparevich (Old Dacha-dweller) and ensemble, "The Bright Stream" by Alexei Ratmansky, Bolshoi Ballet © Bolshoi Theatre / Damir Yusupov

 7.

Anastasia Vinokur (Anxious-to-be-younger-than-she-is-dacha-dweller), Alexey Loparevich (Old Dacha-dweller) and ensemble, "The Bright Stream" by Alexei Ratmansky, Bolshoi Ballet © Bolshoi Theatre / Damir Yusupov

 8.

Anastasia Vinokur (Anxious-to-be-younger-than-she-is-dacha-dweller), Alexey Loparevich (Old Dacha-dweller) and ensemble, "The Bright Stream" by Alexei Ratmansky, Bolshoi Ballet © Bolshoi Theatre / Damir Yusupov

 9.

Anastasia Vinokur (Anxious-to-be-younger-than-she-is-dacha-dweller), Alexey Loparevich (Old Dacha-dweller) and ensemble, "The Bright Stream" by Alexei Ratmansky, Bolshoi Ballet © Bolshoi Theatre / Damir Yusupov

 10.

Ensemble, "The Bright Stream" by Alexei Ratmansky, Bolshoi Ballet © Bolshoi Theatre / Damir Yusupov

 11.

Ekaterina Shipulina (Ballerina) and ensemble, "The Bright Stream" by Alexei Ratmansky, Bolshoi Ballet © Bolshoi Theatre / Damir Yusupov

Editing:

Jake Stepansky