"Don Quixote"
Dutch National Ballet
Dutch National Opera & Ballet
Amsterdam, The Netherlands
February 13, 2018
by Ilona Landgraf
Copyright © 2018 by Ilona Landgraf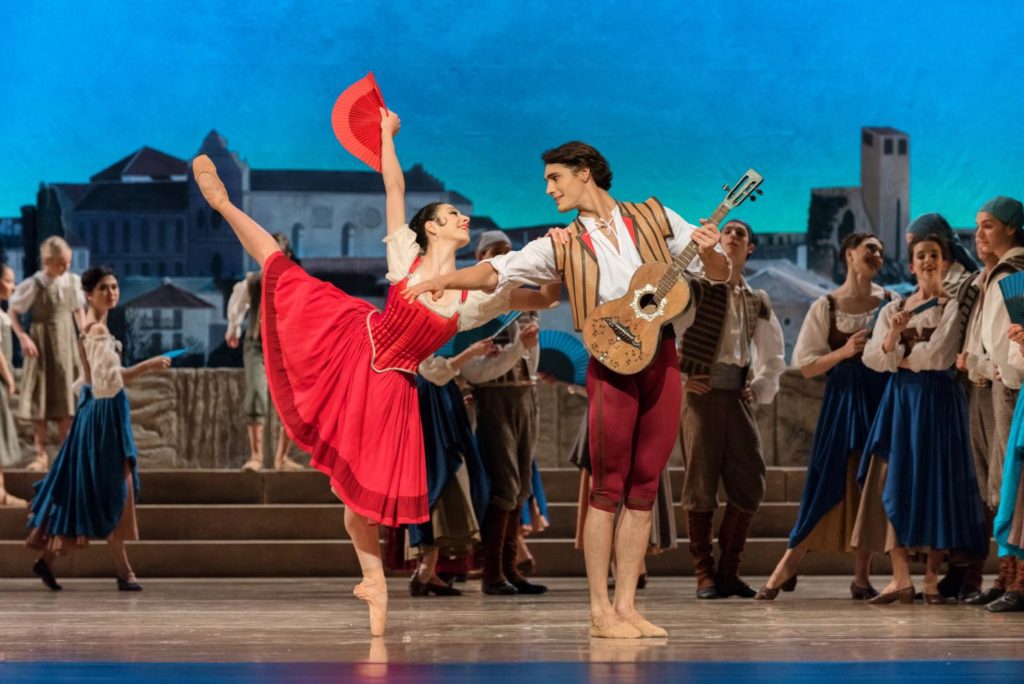 Last June, after the premiere of Alexei Ratmansky's "Shostakovich Trilogy" at Dutch National Ballet, principal dancer Jozef Varga told me how much he was looking forward to the revival of Ratmansky's "Don Quixote". Amsterdam's company holds six pieces by Ratmansky in its repertoire and quite likely it will soon have more. The dancers love to work with him. Ratmansky's "Don Quixote" premiered in 2010 and now, for the third revival, he came over from New York to direct the final rehearsals. Varga wasn't on stage on opening night, but will dance in later performances.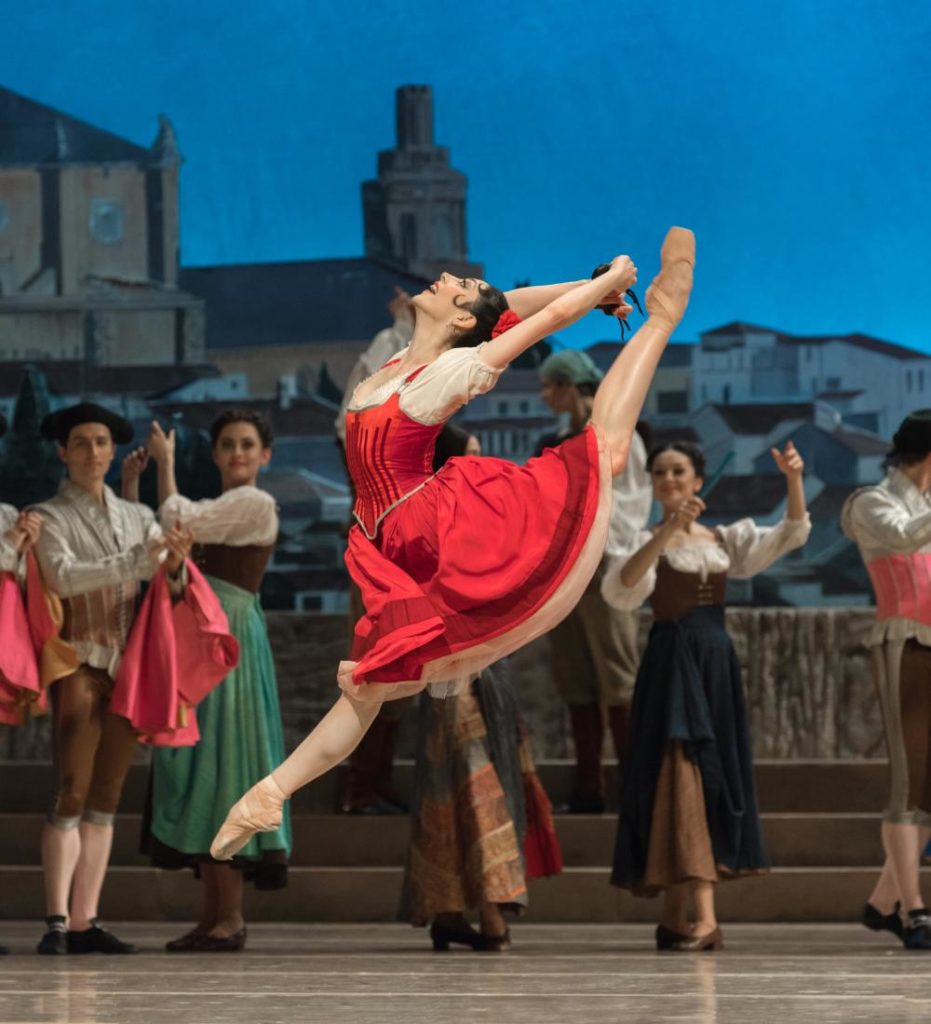 Ratmansky credits Marius Petipa and Alexander Gorski as the piece's main choreographers while restricting his own contribution to additional choreography and production. Petipa's choreography set to music by Ludwig Minkus dates from 1869. In 1900 Gorski modified Petipa's scenario, trimmed Minkus's score and supplemented it with music by Anton Simon. Allegedly, Petipa was indignant that his ballet had been touched. Additional music was added in subsequent years.
Since then, Petipa's original has served as the foundation for many adaptions and each is slightly different. What is characteristic of Ratmansky's?
It is: clear, conclusive storytelling; authentic and credible characters; a substantial amount of Spanish folk dance including castanets; the inclusion of children; plus a splendid set and tasteful costumes by Jérȏme Kaplan.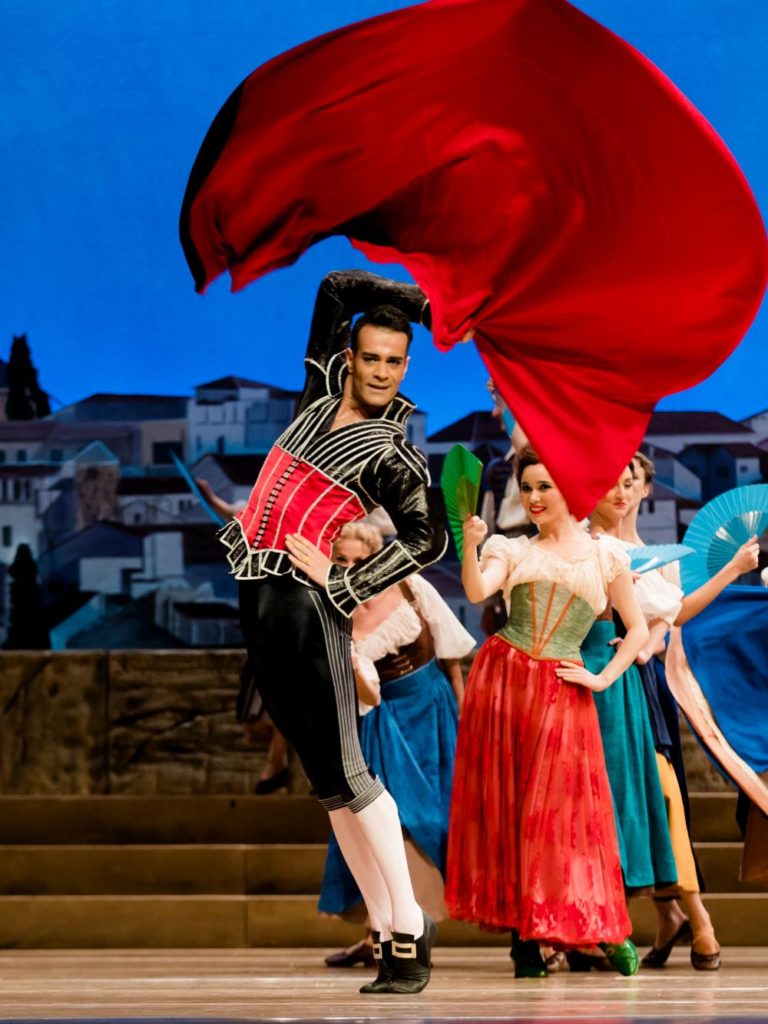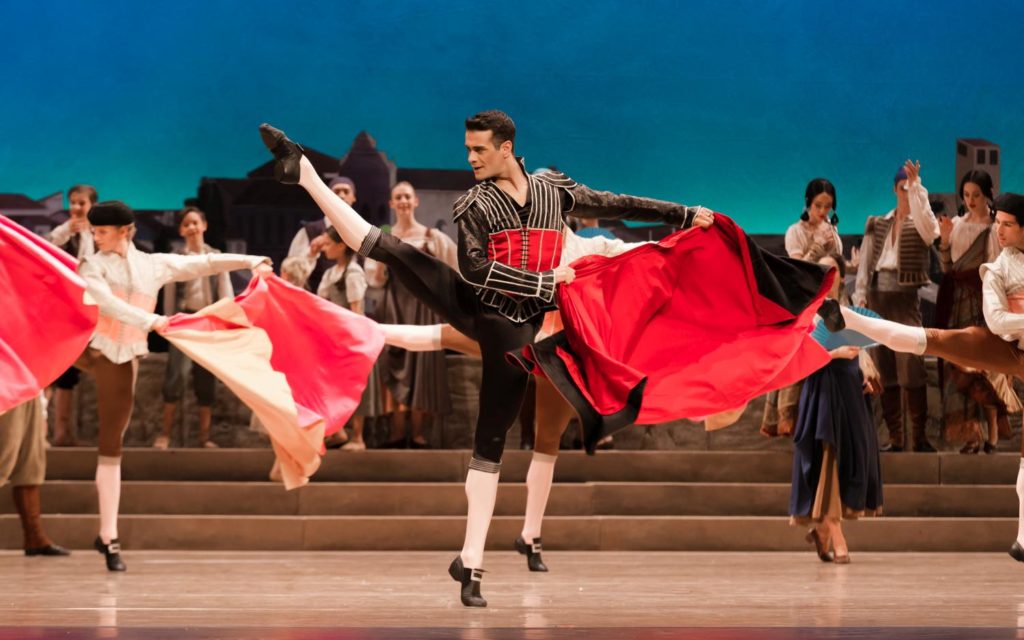 Let's begin with Kaplan. The study he designed for Don Quixote is spacious and – except for the book-laden work desk – tidy. The book shelves are movable and at one point slide through the room as if by magic. Kitri and Basilio flirt on a broad square in Barcelona with a grandiose view over the old town. The sky is as cloudless blue as the atmosphere is cheerful. The two lovers will later marry on the same square under a golden yellow sunset. The tavern, where Kitri and Basilio stop by while on the run from Kitri's father Lorenzo and Gamache, Lorenzo's desired son-in-law, is narrow and has steep stone stairs on either side. Through its Moorish archway one discerns the Spanish scenery behind.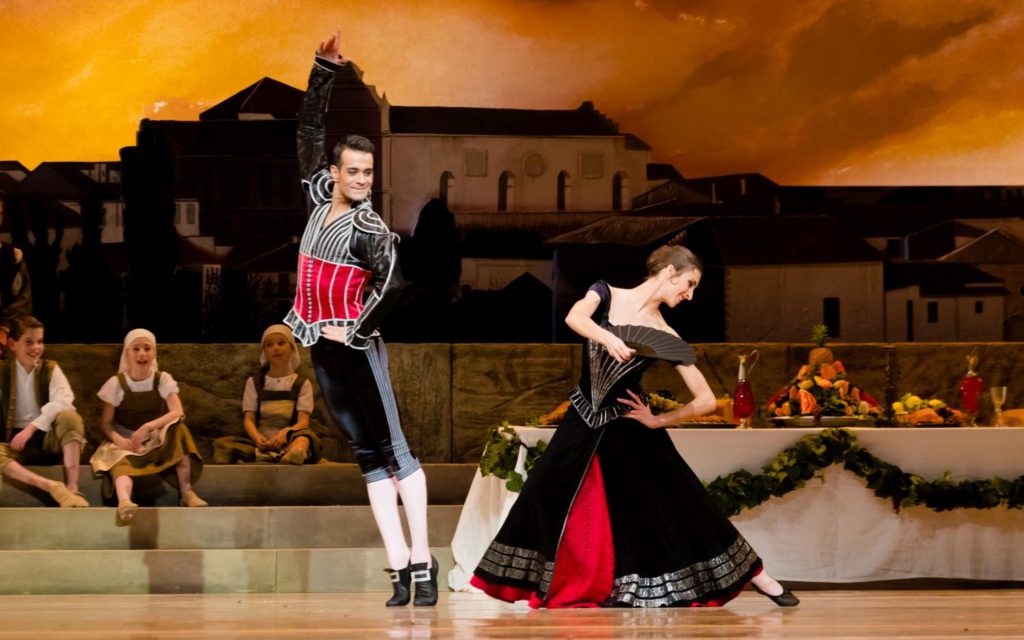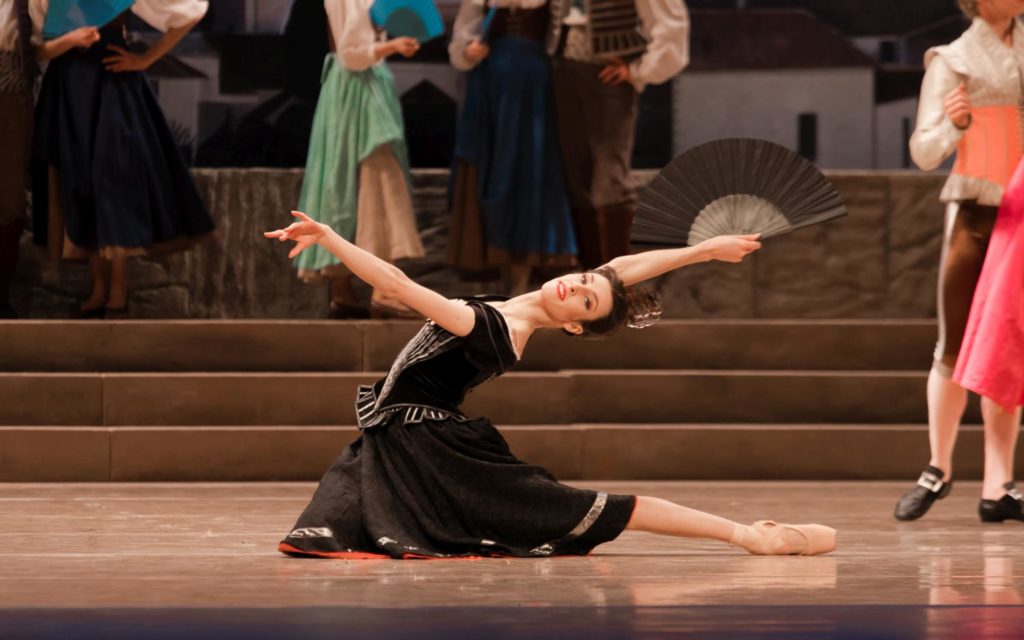 According to the synopsis, Don Quixote's fight with the windmills takes place on a plateau in the mountains, but it could also be a spot on a rocky coast, because the group of traveling artists, who were camping there, gathered round a ramshackle stage that resembled a stranded sailing boat. At this camp, Don Quixote will run up against the imagined windmills – five in total and all projected on the backdrop's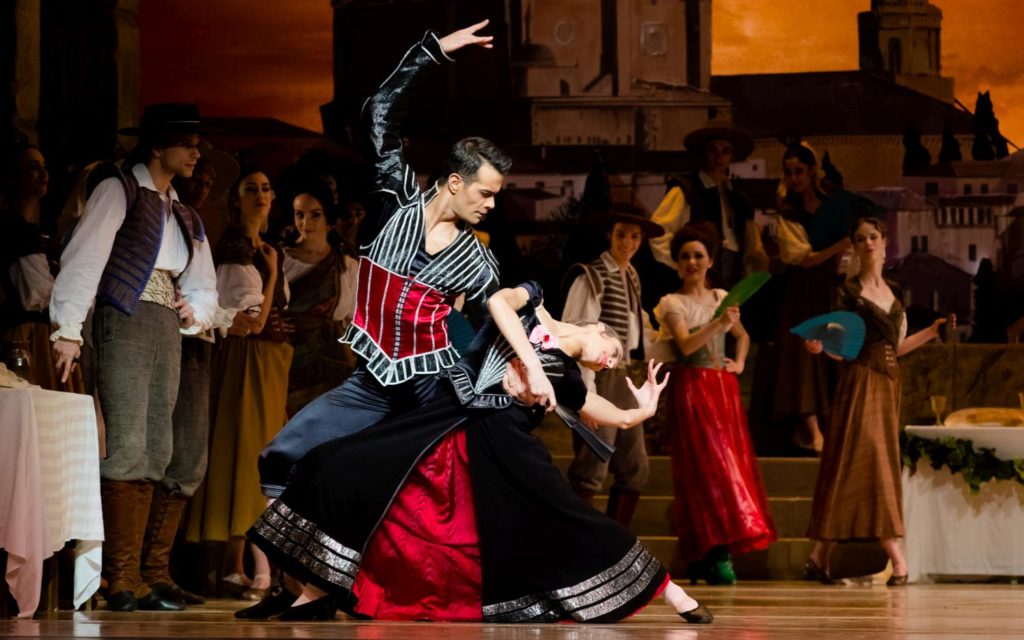 hill scenery. And from here, having collapsed to the ground, the Don's dreams will wander to the realm of the dryads – a glade made of myriads of green-golden cords hanging down from above. Flower buds and long, narrow leaves intertwined with the cords and flat, mossy stones on the ground served as seats for some dryads.
Kaplan used colors effectively. The base color of the town's folks garb was brown. Most of the women wore overskirts in different shades of turquoise; a few had yellow and red ones. When standing in a broad semi-circle on the square, the array of colors pleased the eye. Don Quixote's droppy-eared horse Rocinante and Sancho Panza's stubborn, restive donkey (and how both riders dealt with them) were ingenious.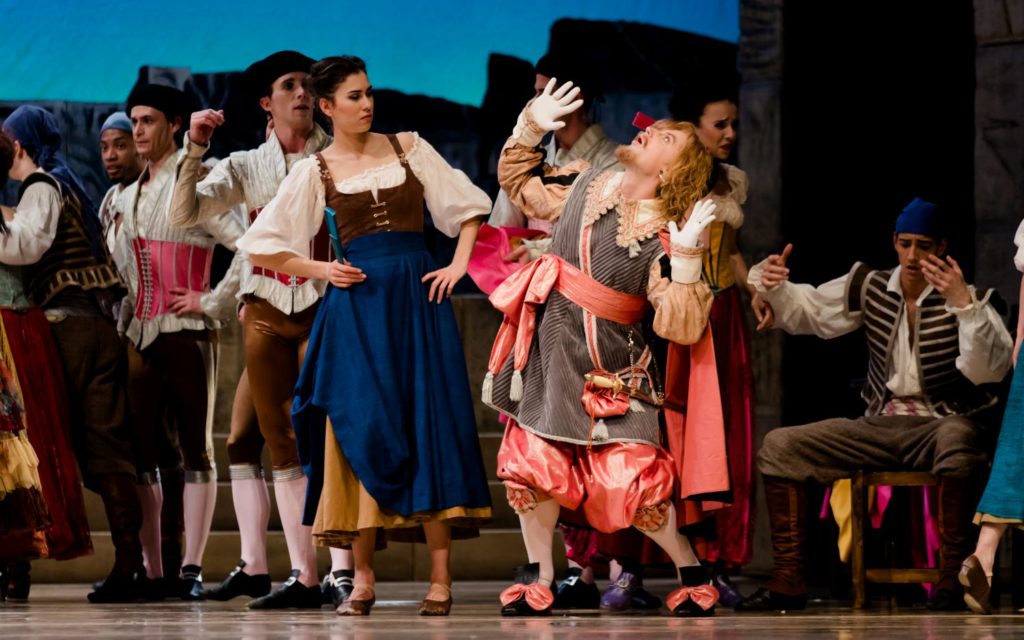 Kaplan's realistic set adds to the comprehensibility of the story. But what else is clearer in Ratmansky's storytelling compared to that of his colleagues?
Ratmansky shows the connections linking one action logically with the next. In Act II, for example, after Kitri has been discovered in the tavern by her father and taken home to finally marry Gamache, two small scenes give insight into her and Basilio's desperate mood and show Basilio hitting upon the idea of feigning a suicide. Besides, as both scenes are played at the forestage in front of the closed curtain, a smooth set change was possible in the background.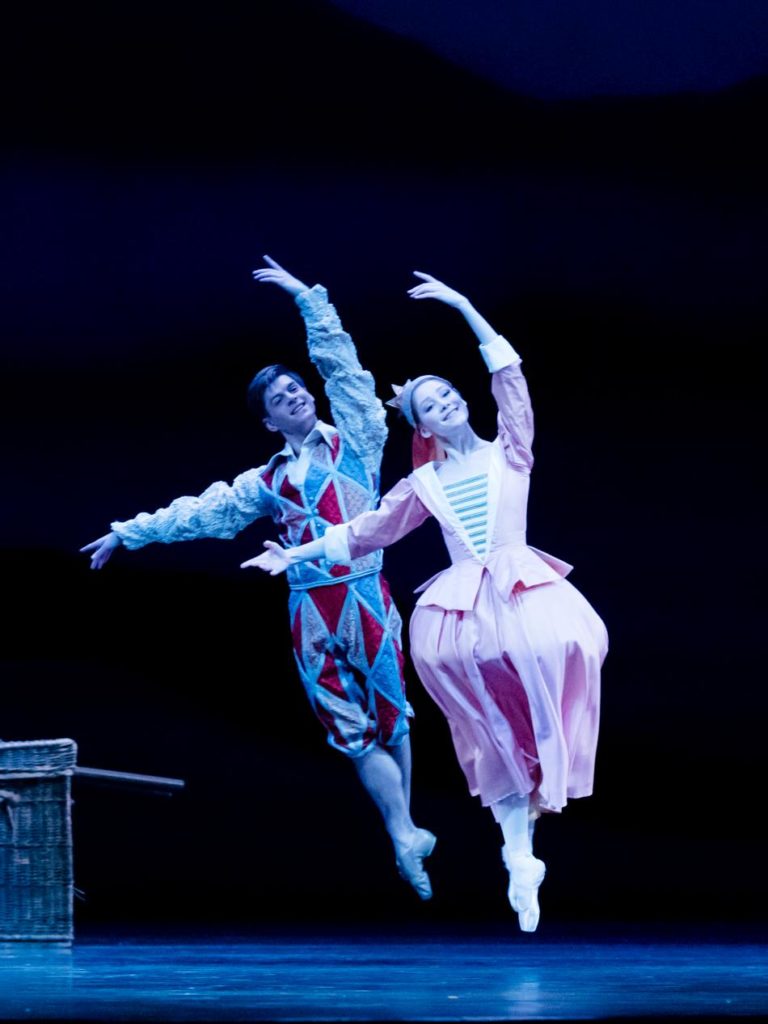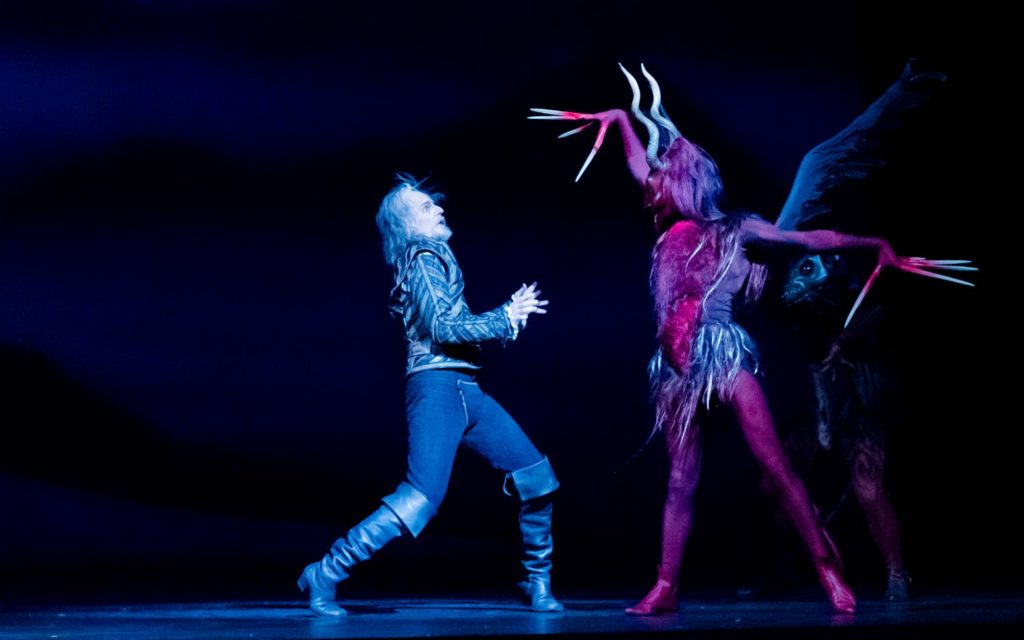 How often did one wonder whether Don Quixote's encounter with the dryads is real or a dream? Ratmansky clarifies matters. His chevalier not only has windmill hallucinations, but sees the face of his beloved Dulcinea in the moon. First smiling, her face soon expresses sorrow and when dark clouds cover her, the chevalier loses consciousness. His squire runs for help. While he is away, Don Quixote's dreams wander. But before they enter the soothing realm of the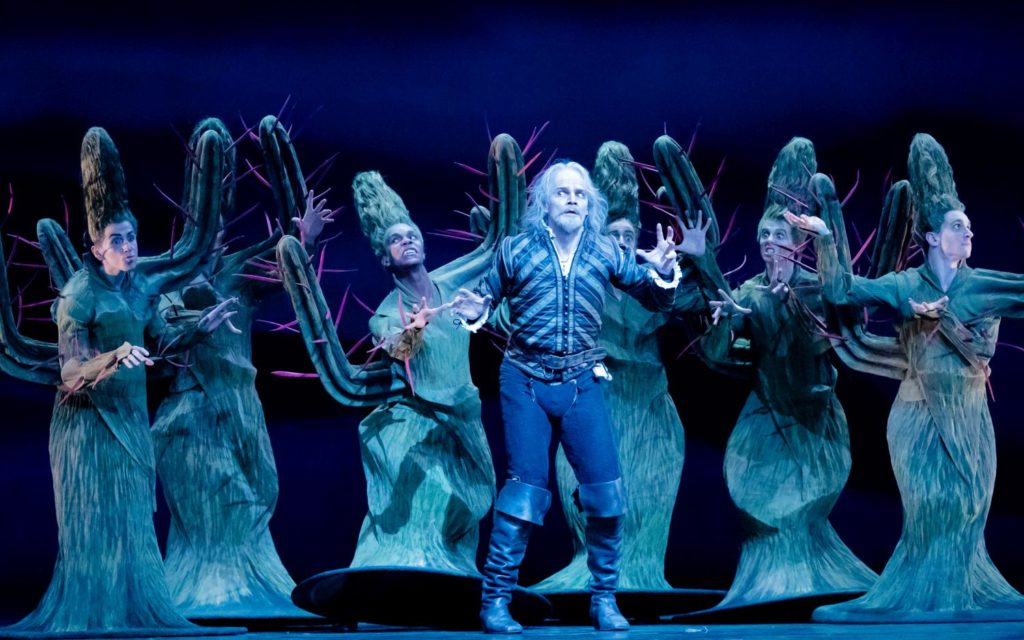 dryads, he is threatened by spiky cacti and bird-like monsters. The dream ends when Sancho Panza returns to revive his master with a slug from his hip flask. Don Quixote's housekeeper and servant, usually only part of the prologue, reappear on the scene and escort their goodman back home.
Ratmansky places Basilio's mock suicide – the climax of the story – on the square in front of Lorenzo's inn, where it happens at the very last minute before his Kitri was to marry Gamache. Having snatched Lorenzo's blessings to wed the ostensibly dead Basilio, the real wedding feast begins immediately afterwards. Other versions place the feigned self-stabbing in the tavern and change the set to the square for the wedding. That breaks the arc of suspense and reduces the final divertissements to an appendix.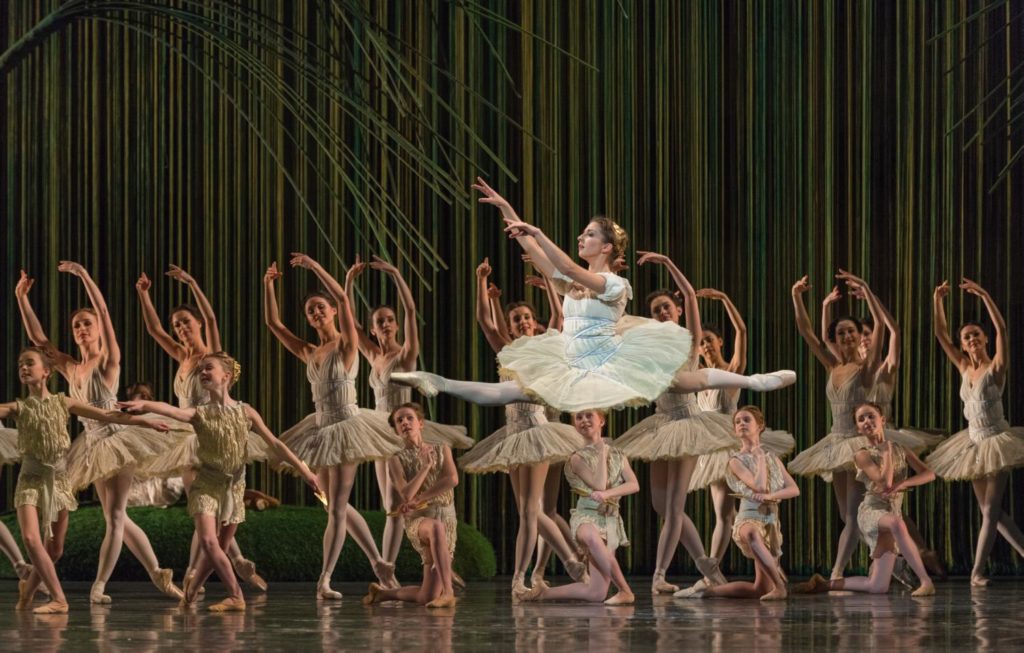 Why are Ratmansky's protagonists more credible than others?
He avoids over-exaggerated theatricality for the benefit of more natural acting. Of course, the figures have their oddities. Don Quixote has to be awkward and quixotic; Sancho Panza must have a continuously growling stomach, and Gamache can only be an effeminate fop. Yes, one chuckles about them, but with sympathy and warmth.
Moreover, the romance of Kitri and Basilio is stripped off of any artificial lets-act-like-teasing-lovers behavior one often finds in other productions. When Kitri flirts with Don Quixote and Basilio counters by making overtures to another pretty girl, the annoyed glances both Kitri and Basilio dart at each other arise from real jealousy. They are not kidding.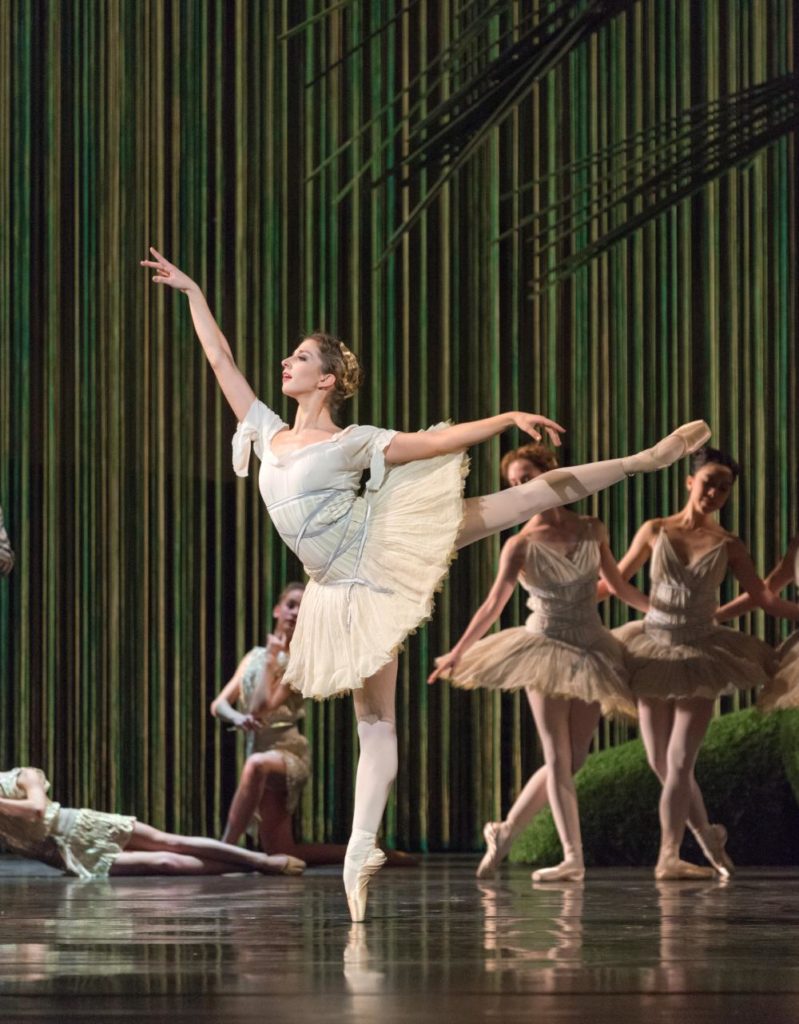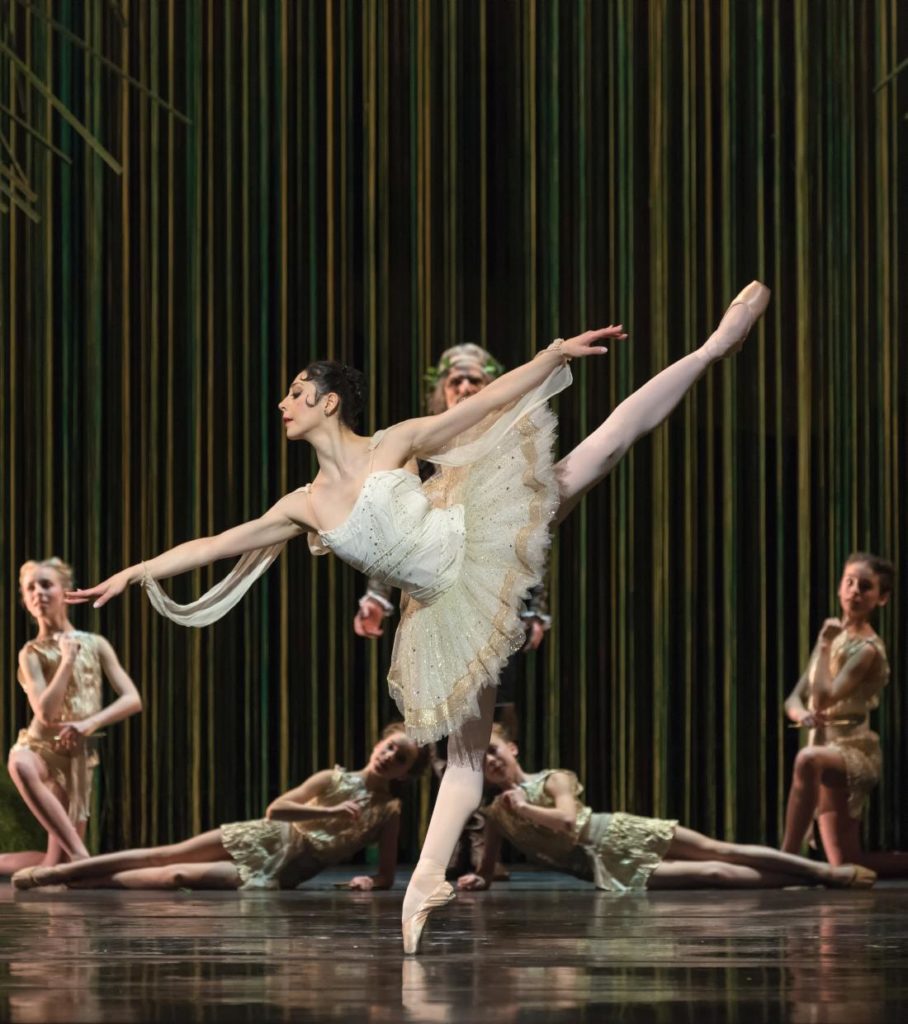 On opening night, some of the dancers gave strong performances, a few were exceptional. They propelled up the energy which occasionally sagged.
Maia Makhateli's Kitri was desperately in love with Daniel Camargo's Basilio. Reserved at first, she gained confidence the moment Basilio appeared. One felt how proud the town folk were about her castanet solo, about having such a talented beauty in their midst. Makhateli is an assured dancer; her acting is credible and engaging. She seemed uneasy when appearing among the dryads in the dream scene, but switched expertly from serene, long-held balances to a quicksilver manège of piqué turns.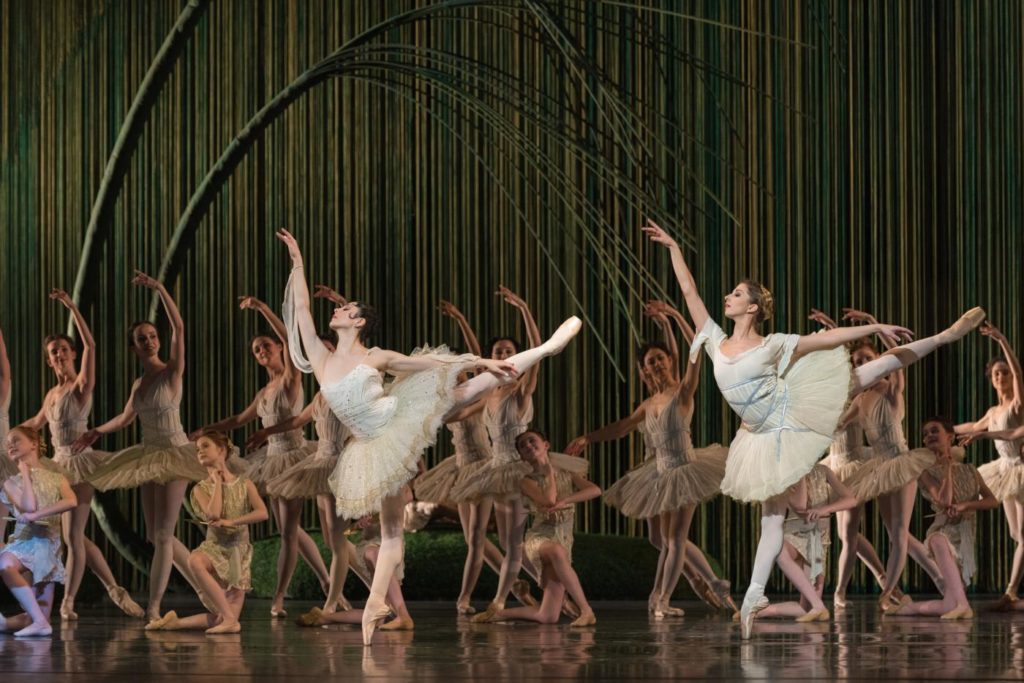 Camargo was the trump card of the performance. He is a superb dancer – reliable as partner and daredevil in solos. His presence filled the stage. For the last leap of a series of soaring jumps he often went one better. If the fire onstage had become a glow, Camargo rekindled it.
Nicolas Rapaic, a former dancer of Dutch National Ballet, played the titular character, an idealistic dreamer in stiff armor, who knew when to intervene firmly. Only because of Don Quixote's resolute grip Lorenzo was to see reason at the eleventh hour and bless the marriage of his daughter and Basilio. And given how gallantly the Don lay the laurel wreath at the feet of Dulcinea, which the Queen of the Dryads (Sasha Mukhamedov) had bestowed on him, and how he later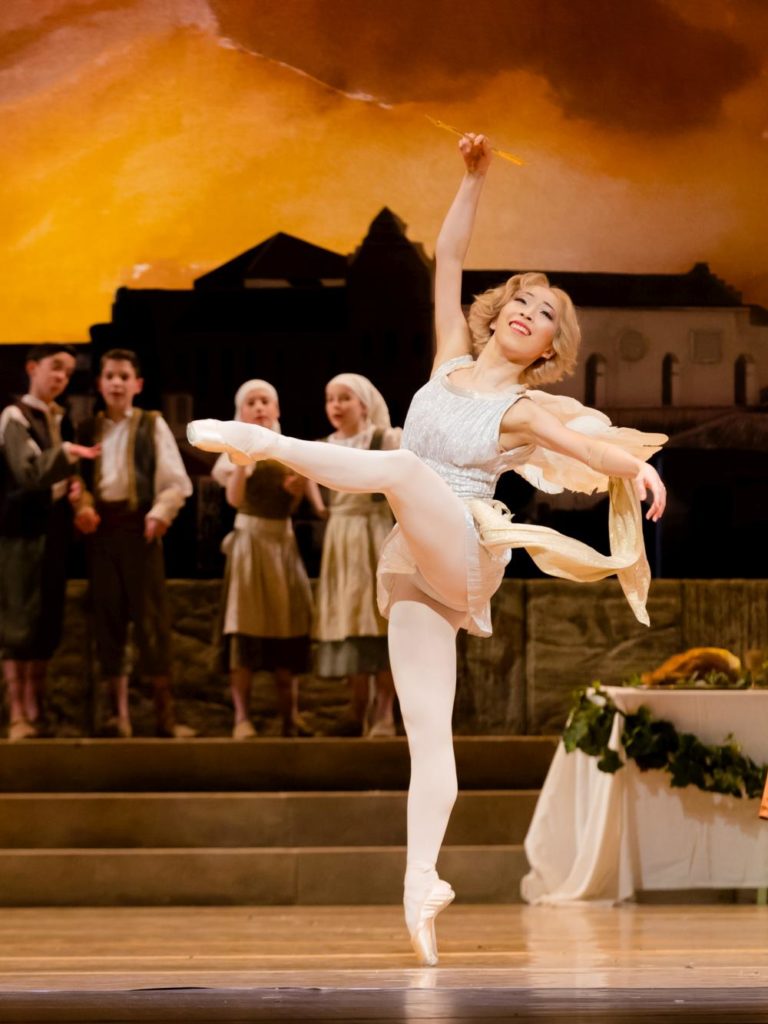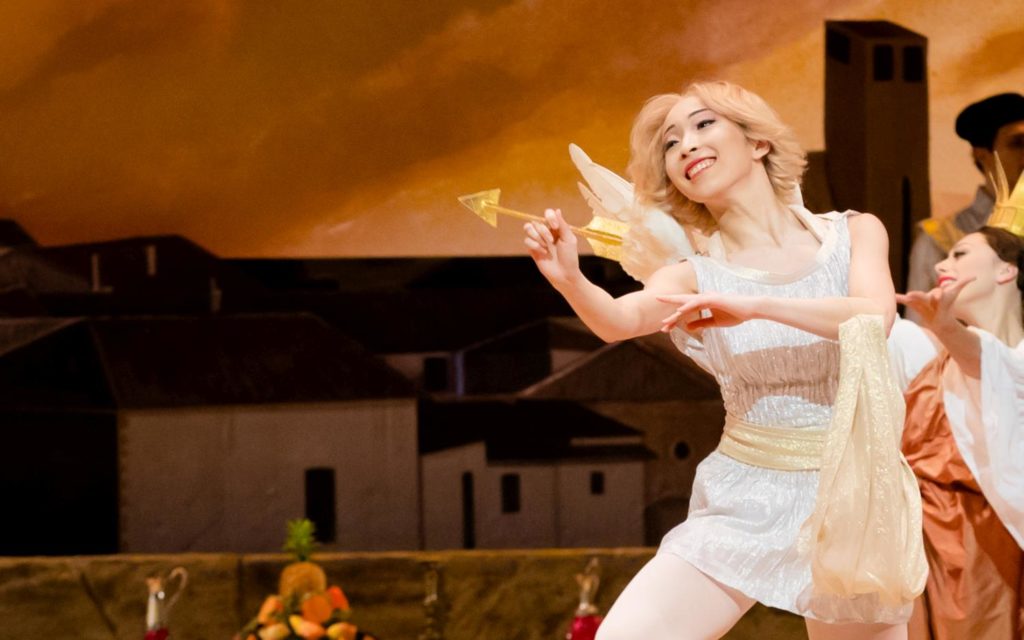 danced a pithy solo for Kitri at the wedding feast, his heart could be seen overflowing with romantic love.
The short Frans Schraven portrayed Sancho Panza. Schraven, born in 1959, is a multi-talent. He acts, dances, choreographs and sings. For "Don Quixote" he tapped into his acting and dancing skills and came up with a brilliant performance. I've never seen a more likeable, inventive, and animated squire. A good-hearted stalwart of his master, Sancho Panza quickly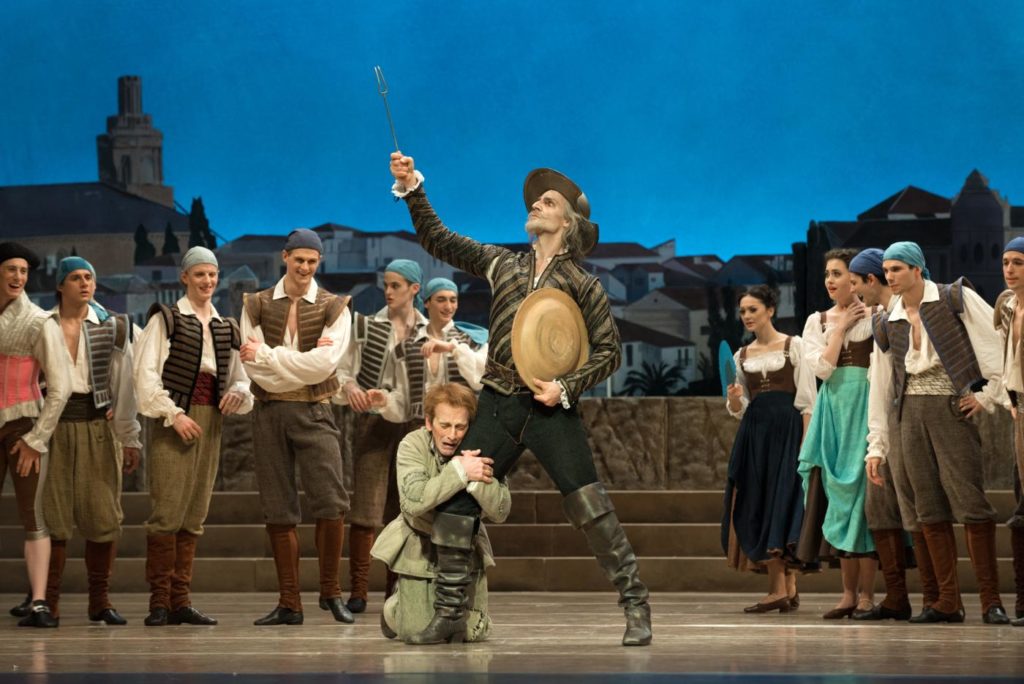 intervened if his Don was about to get in trouble. Both supported each other and – although Sancho Panza was prone to forays – kept each other on the path of chivalric virtue.
Wearing a sumptuous bright pink outfit, Anatole Babenko's Gamache looked as if he had fallen out of a chocolate box. One admired his pragmatism, as he suggested Kitri marry him, thinking her Basilio was unlikely to rise from the dead. Embarrassingly, poor Gamache tumbled out of his palanquin just when arriving at Lorenzo's inn to fix the wedding deal. As Lorenzo (Sébastien Galtier) pulled out at all stops to make the profitable marriage happen, his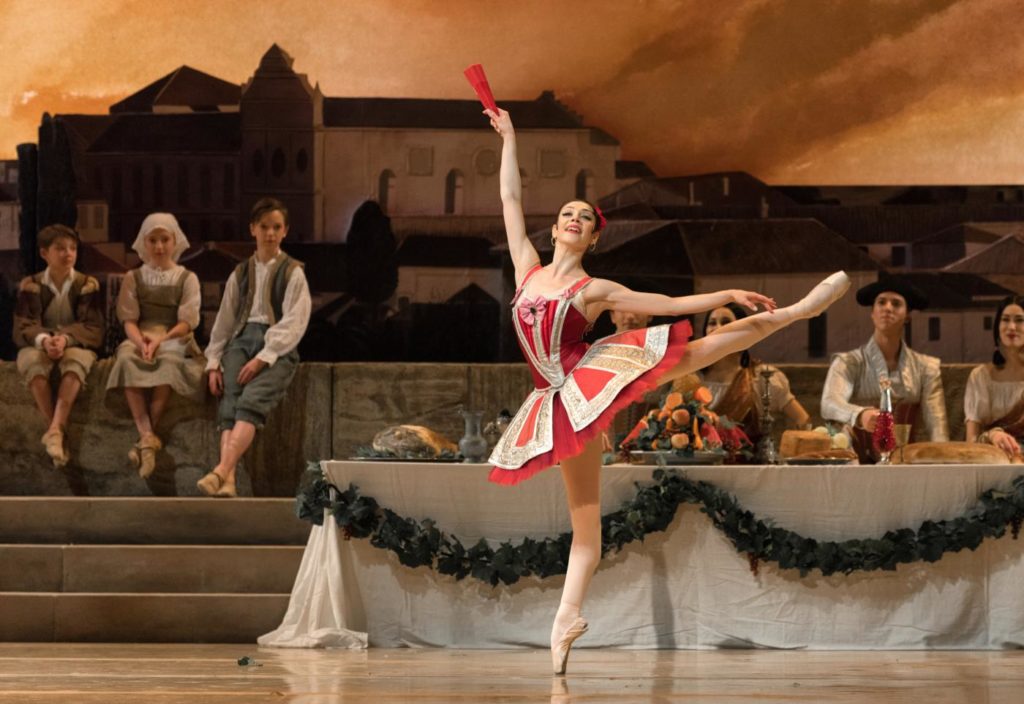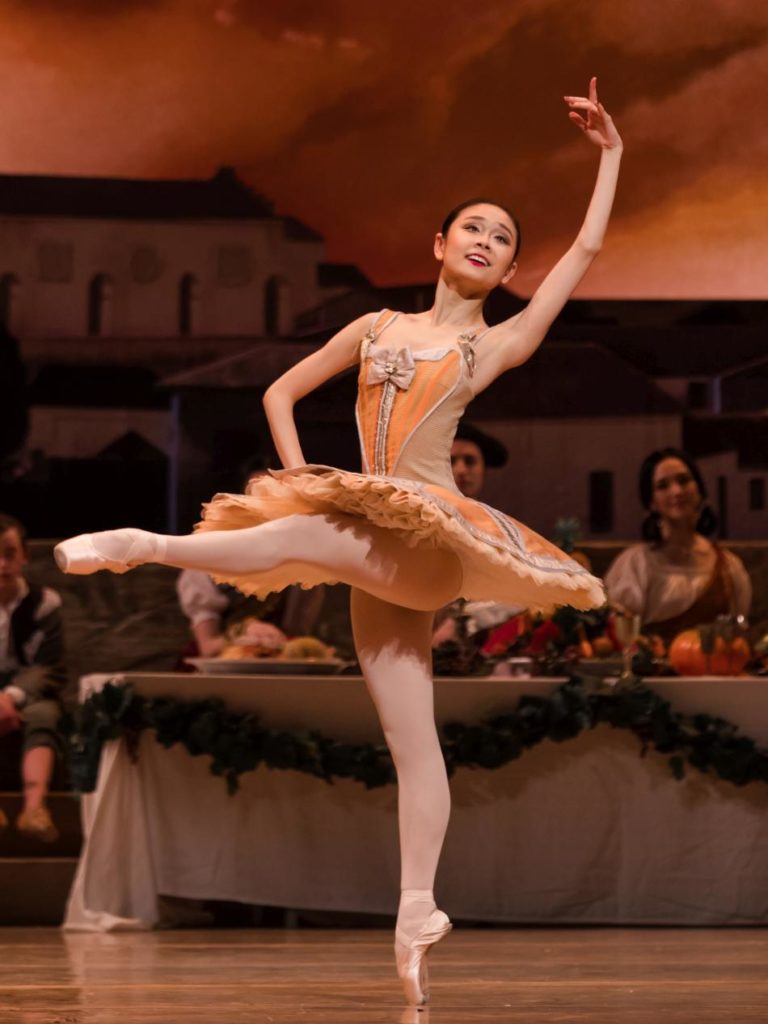 sudden shift of opinion at the end do make one wonder. All the time he had flatly rejected Basilio, but after having been fooled by the feigned suicide, he warmly pressed him to his breast.
Vito Mazzeo danced the toreador Espada; Floor Eimers was his Mercedes. Both struggled to make their performance snappy and passionate. The same applied to the group of matadors. Although they swirled their yellow-pink capes eagerly, no bull would have been impressed by them. The corps had more punch performing the sequidilla and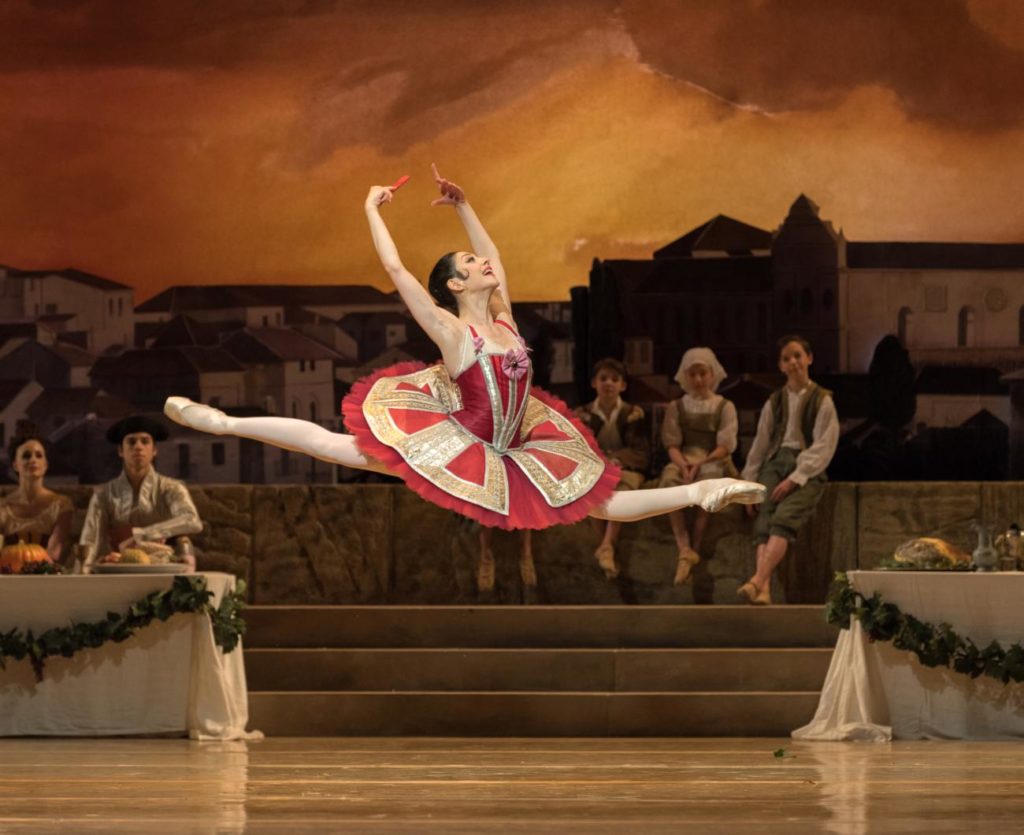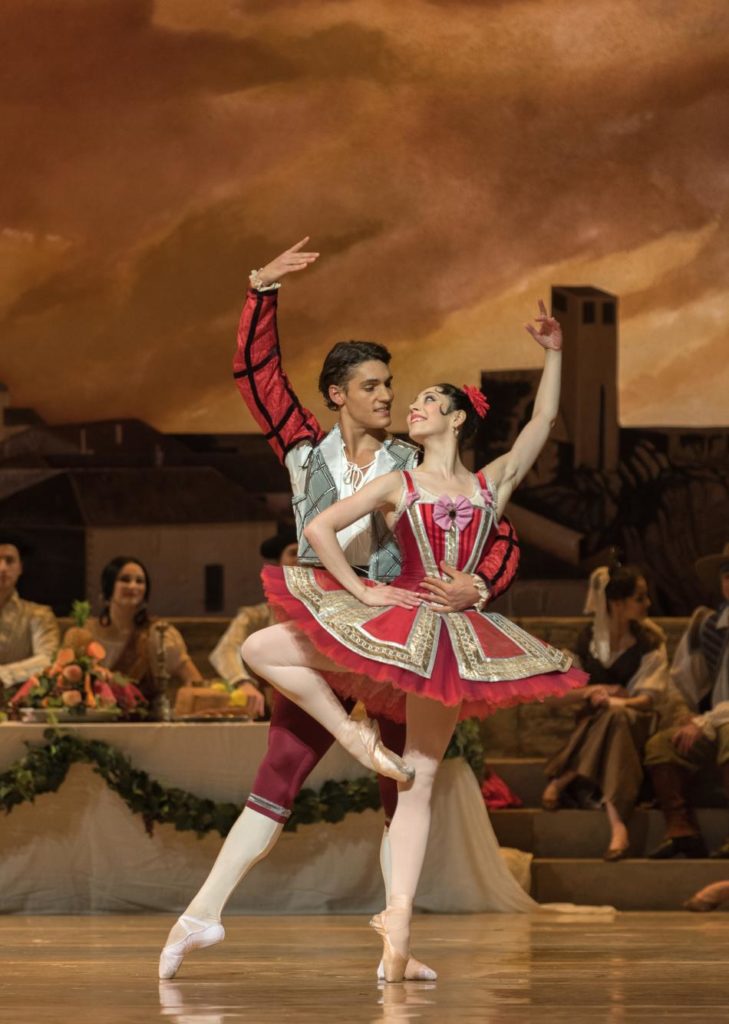 playing castanets. Juanita (Jessica Xuan) and Piccilia (Yuanyuan Zhang) danced nicely, but their personalities were colorless.
As the Queen of the Dryads, Mukhamedov was the inapproachable epitome of female composure. Petite Aya Okumura's blonde-curled Cupid scurried amidst the dryads on fleet feet. Eight children kept the little teaser's arrows on hand.
In the roles of the traveling actors were Wolfgang Tietze (King), Wendeline Wijkstra (Queen), Erica Horwood (Princess), Edo Wijnen (Harlequin), and Roman Artyushkin (Devil).
Marzio Conti, music director of Spain's Oviedo Philharmonic, elicited a spirited performance of Het Balletorkest. He kept the music perfectly in harmony with the dance.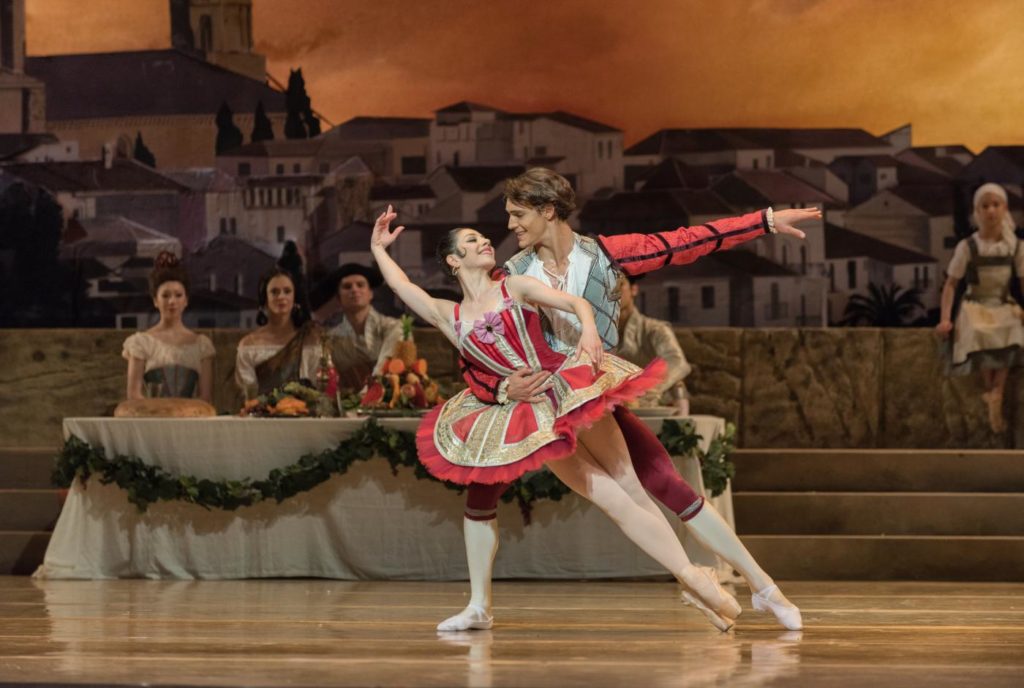 Links:
Website of Dutch National Ballet 

Trailer "Don Quixote" (rehearsal)

Photos:

 1.

Maia Makhateli (Kitri), Daniel Camargo (Basilio) and ensemble, "Don Quixote" by Marius Petipa, Alexander Gorski and Alexei Ratmansky,

Dutch National Ballet 2018

© Marc Haegeman

 2.

Maia Makhateli (Kitri) and ensemble, "Don Quixote" by Marius Petipa, Alexander Gorski and Alexei Ratmansky,

Dutch National Ballet 2018

© Marc Haegeman

 3.

Vito Mazzeo (Espada) and ensemble,

"Don Quixote" by Marius Petipa, Alexander Gorski and Alexei Ratmansky,

Dutch National Ballet 2018 © Altin Kaftira

 4.

Vito Mazzeo (Espada) and ensemble,

"Don Quixote" by Marius Petipa, Alexander Gorski and Alexei Ratmansky,

Dutch National Ballet 2018 © Altin Kaftira

 5.

Floor Eimers (Mercedes),

"Don Quixote" by Marius Petipa, Alexander Gorski and Alexei Ratmansky,

Dutch National Ballet 2018 © Altin Kaftira

 6.

Vito Mazzeo (Espada), Floor Eimers (Mercedes) and ensemble,

"Don Quixote" by Marius Petipa, Alexander Gorski and Alexei Ratmansky,

Dutch National Ballet 2018 © Altin Kaftira

 7.

Vito Mazzeo (Espada), Floor Eimers (Mercedes) and ensemble,

"Don Quixote" by Marius Petipa, Alexander Gorski and Alexei Ratmansky,

Dutch National Ballet 2018 © Altin Kaftira

 8.

Anatole Babenko (Gamache) and ensemble,

"Don Quixote" by Marius Petipa, Alexander Gorski and Alexei Ratmansky,

Dutch National Ballet 2018 © Altin Kaftira

 9.

Edo Wijnen (Harlequin) and Erica Horwood (Princess),

"Don Quixote" by Marius Petipa, Alexander Gorski and Alexei Ratmansky,

Dutch National Ballet 2018 © Altin Kaftira

10.

Nicolas Rapaic (Don Quixote) and ensemble,

"Don Quixote" by Marius Petipa, Alexander Gorski and Alexei Ratmansky,

Dutch National Ballet 2018 © Altin Kaftira

11.

Nicolas Rapaic (Don Quixote) and ensemble,

"Don Quixote" by Marius Petipa, Alexander Gorski and Alexei Ratmansky,

Dutch National Ballet 2018 © Altin Kaftira

12.

Sasha Mukhamedov (Queen of the Dryads) and ensemble,

"Don Quixote" by Marius Petipa, Alexander Gorski and Alexei Ratmansky,

Dutch National Ballet 2018 © Marc Haegeman

13.

Maia Makhateli (Dulcinea) and ensemble,

"Don Quixote" by Marius Petipa, Alexander Gorski and Alexei Ratmansky,

Dutch National Ballet 2018 © Marc Haegeman

14.

Sasha Mukhamedov (Queen of the Dryads) and ensemble,

"Don Quixote" by Marius Petipa, Alexander Gorski and Alexei Ratmansky,

Dutch National Ballet 2018 © Marc Haegeman

15.

Maia Makhateli (Dulcinea), Sasha Mukhamedov (Queen of the Dryads) and ensemble,

"Don Quixote" by Marius Petipa, Alexander Gorski and Alexei Ratmansky,

Dutch National Ballet 2018 © Marc Haegeman

16.

Aya Okumura (Cupid),

"Don Quixote" by Marius Petipa, Alexander Gorski and Alexei Ratmansky,

Dutch National Ballet 2018 © Altin Kaftira

17.

Aya Okumura (Cupid) and ensemble,

"Don Quixote" by Marius Petipa, Alexander Gorski and Alexei Ratmansky,

Dutch National Ballet 2018 © Altin Kaftira

18.

Frans Schraven (Sancho Panza), Nicolas Rapaic (Don Quixote) and ensemble,

"Don Quixote" by Marius Petipa, Alexander Gorski and Alexei Ratmansky,

Dutch National Ballet 2018 © Marc Haegeman

19.

Jessica Xuan (Juanita),

"Don Quixote" by Marius Petipa, Alexander Gorski and Alexei Ratmansky,

Dutch National Ballet 2018 © Altin Kaftira

20.

Maia Makhateli (Kitri) and ensemble,

"Don Quixote" by Marius Petipa, Alexander Gorski and Alexei Ratmansky,

Dutch National Ballet 2018 © Marc Haegeman

21.

Maia Makhateli (Kitri) and ensemble,

"Don Quixote" by Marius Petipa, Alexander Gorski and Alexei Ratmansky,

Dutch National Ballet 2018 © Marc Haegeman

22.

Daniel Camargo (Basilio), Maia Makhateli (Kitri) and ensemble,

"Don Quixote" by Marius Petipa, Alexander Gorski and Alexei Ratmansky,

Dutch National Ballet 2018 © Marc Haegeman

23.

Maia Makhateli (Kitri), Daniel Camargo (Basilio) and ensemble,

"Don Quixote" by Marius Petipa, Alexander Gorski and Alexei Ratmansky,

Dutch National Ballet 2018 © Marc Haegeman

Editing:

Laurence Smelser