"La Bayadère"
State Ballet Berlin
Staatsoper unter den Linden
Berlin, Germany
December 28, 2018
by Ilona Landgraf
Copyright © 2019 by Ilona Landgraf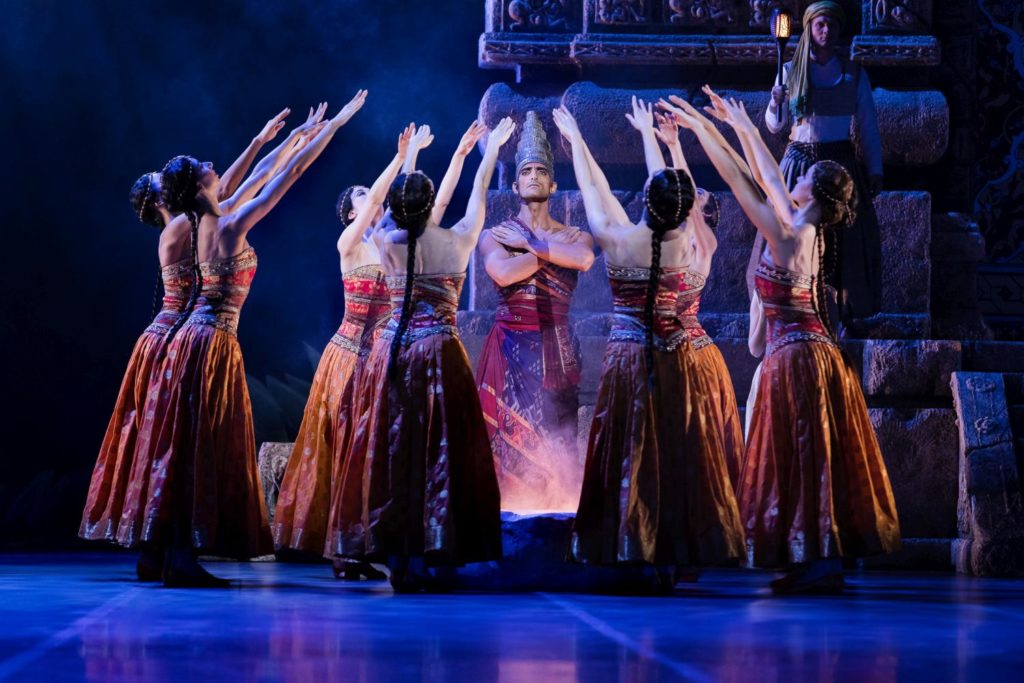 "My Bayadère?…I can't describe it. It's the same, but completely different. On one hand it's less; on the other, it has more details – but these are different details."
That's what Alexei Ratmansky said in an interview conducted by Margaret Willis for the January issue of Dancing Times about his recent reconstruction of Marius Petipa's "La Bayadère" for the State Ballet Berlin. If he can't describe it, then who?
Nevertheless, much has already been written about this "Bayadère": Marina Harss posted an extensive review on DanceTabs and Alastair Macaulay covered the piece for the New York Times. All that I can do is add my thoughts and observations.
Why is this "Bayadère" less? And isn't less more?
Ratmansky and his wife Tatiana revived the choreography from the original Stepanov notation taken in St. Petersburg. The documents, which are kept at Harvard University, were brought to the west by Nicholas Sergeyev as he left Russia in 1917. Although Ratmansky states in the program booklet that the notation of "La Bayadère" was the best he has worked on to date, it still has gaps and is sometimes vague. The role of the Bronze Idol, for example, which had no dancing part in the original,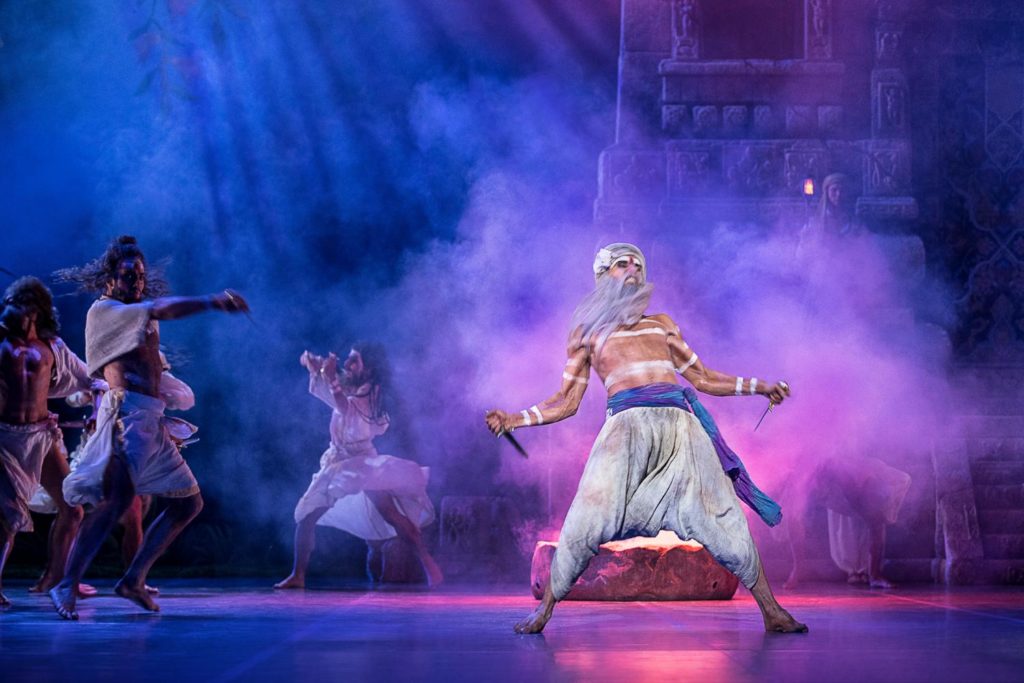 was dropped entirely in this reconstruction. The secret encounter between Nikia and Solor in front of the temple – usually performed as an artful pas de deux – now consists almost entirely of acting. It begins like the balcony scene in "Romeo and Juliet", with Solor spotting Nikia playing the flute in a well-lit temple window. She runs out to meet him and they kiss kiss – a scene that is much more believable than the stlted reunion-scenes in other productions. For the remainder of their rendezvous, the lovers walk arm-in-arm, reassuring each other of their love. Before parting, Solor vows to love Nikia eternally. Whether we believe him or whether we instead remember other heroes – the Albrechts and the Prince Siegfrieds, with their unreliable vows – is another story.
The Kingdom of Shades has been adjusted in several perspectives. Both Harss and Macaulay describe in detail how the Shades descend from the Himalayan mists, after which Nikia's shadow dances with a veil. This dance is no longer a pas de deux with Solor, but instead a solo. During the dance, the veil suddenly floats away into the sky. Nikia's mood seems to brighten, as if the veil symbolized a sad memory – a memory that she was now able to let go.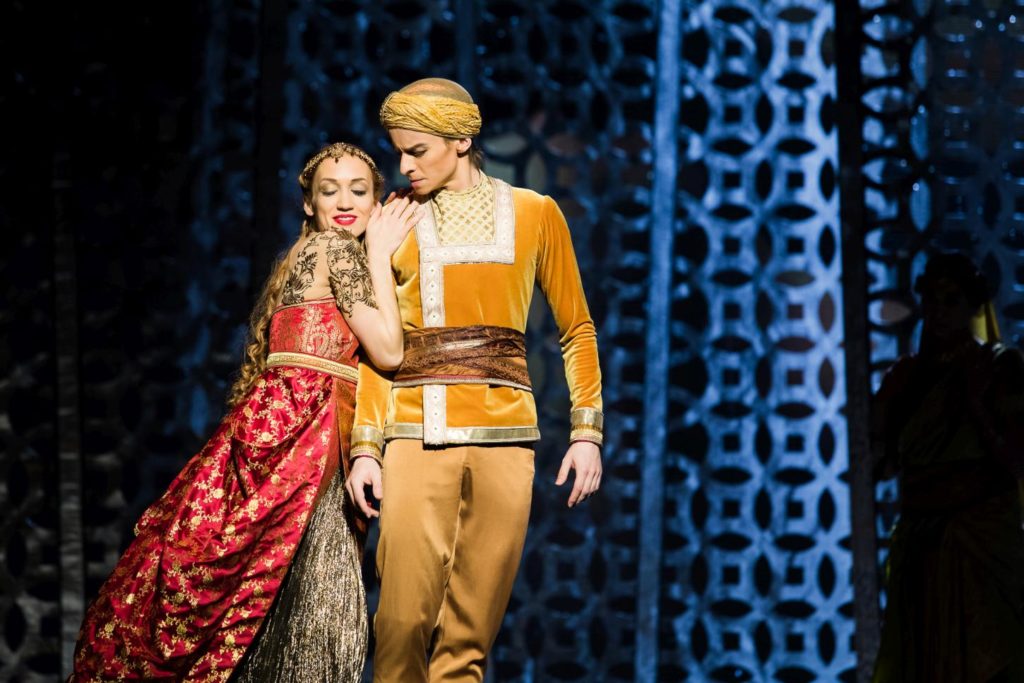 Ratmansky spoke of details, yet the story in this production isn't overcomplicated by odds and ends. Instead, these details add meaning and depth – for example, in the considerably extended mime scenes. Other moments provide a look into gender relations in India's aristocratic society. In the Rajah's palace, for example, the girls try to entertain him with a most enchanting group dance – but for most of the dance his back is turned as he plays chess and throws them uninterested, eyes-half-closed glances. It is very clear who holds the power and who does not. There are so many details that intensify the tragedy. Why else would a servant charm a black cobra with flute-playing in Solor's chamber just after Solor's beloved Nikia is killed by a serpent's bite? Or why would Gamzatti be presented with white lilies at her wedding ceremony? It's impossible to avoid thinking of funeral flowers and of poor Giselle's faith – and these details male all the difference.
Two comments on critique voiced by Harss and Macaulay:
At the end of the ballet, a sudden earthquake interrupts the wedding ceremony and causes the palace to collapse. Harss found this ending unconvincing and abrupt – but I would argue that not all disasters make a habit of announcing themselves.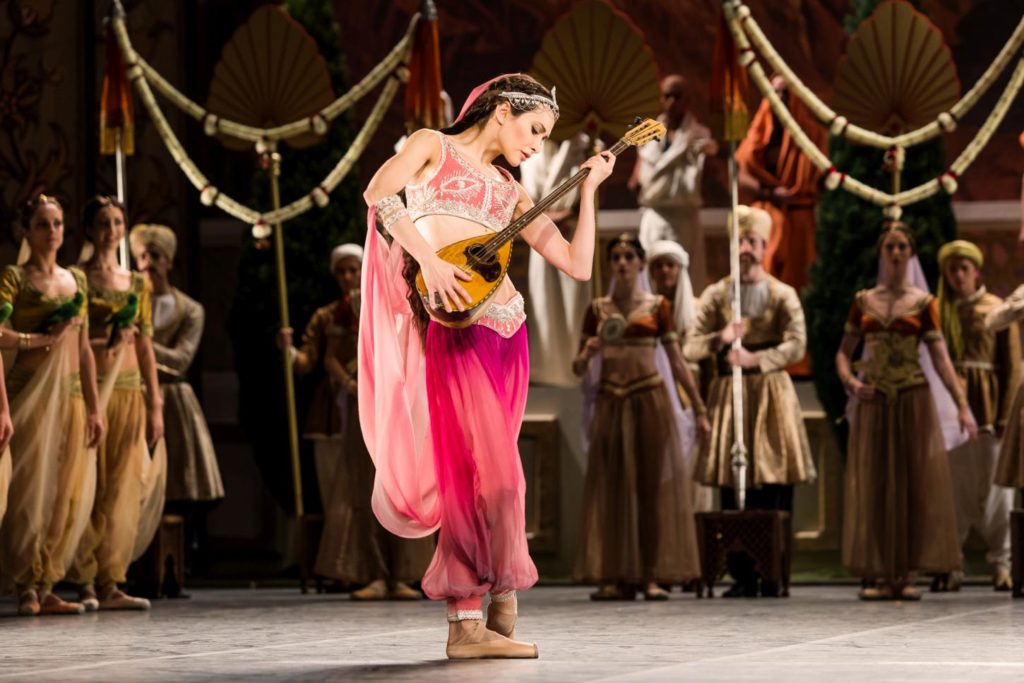 The tsunami wave that hit Indonesia this December and killed several hundred people came unexpectedly as well.
For Macaulay, "Bayadère" is generally problematic because of its cultural imperialism and the "coarse cartoon idea of Indian culture" it provides. Cultural imperialism implies that a culture, usually that of a politically powerful nation, is imposed upon a less powerful society. There's no hint of any cultural clash in "Bayadère" and I noticed no moments that ridiculed Indian culture.
What distinguishes this "Bayadère" from other versions is that the protagonists are more real, more credible, more human. What kind of people are they?
Nikia displays various contrasting traits. As a devadasi (a temple dancer ordained to a deity), she transfers divine energy in her dance. Anna Ol, a guest principal of the Dutch National Ballet, achieved exactly this with her interpretation. Ol is a beauty, whose every step is of unearthly ease and perfection. Her Nikia balanced two essences: the aloof spirit of a divine being and the fire of an earthly woman ready to wrangle with Gamzatti right up to attacking her with a dagger. Nikia obeys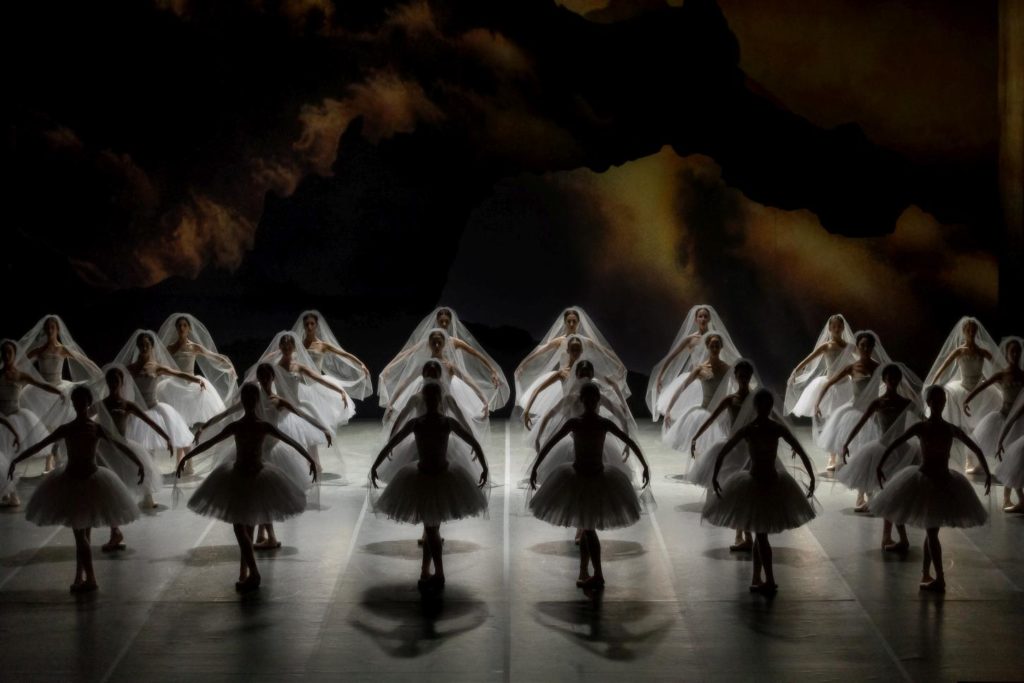 the High Brahmin, but still manages to follow her own sense of right and wrong – and how else could she have rejected the High Brahmin's insistent advances that firmly. Since she was obliged to dance at court celebrations Nikia couldn't avoid performing for the Rajah's family – and when she notices how Gamzatti ostentatiously holds Solor's hand, Nikia's dance is imbued with sadness. You wish that she would strike out again and shatters the lute into pieces, but love has softened her inner strength. Otherwise something as ordinary and cheap as a flower basked, allegedly a present from Solor, couldn't have cheered her up. A few minutes later, bitten by the snake and realizing the deceit, Nikia retrieves her strength, choosing death over an antidote from the High Brahmin (to whose advances she would inevitably have to comply afterwards).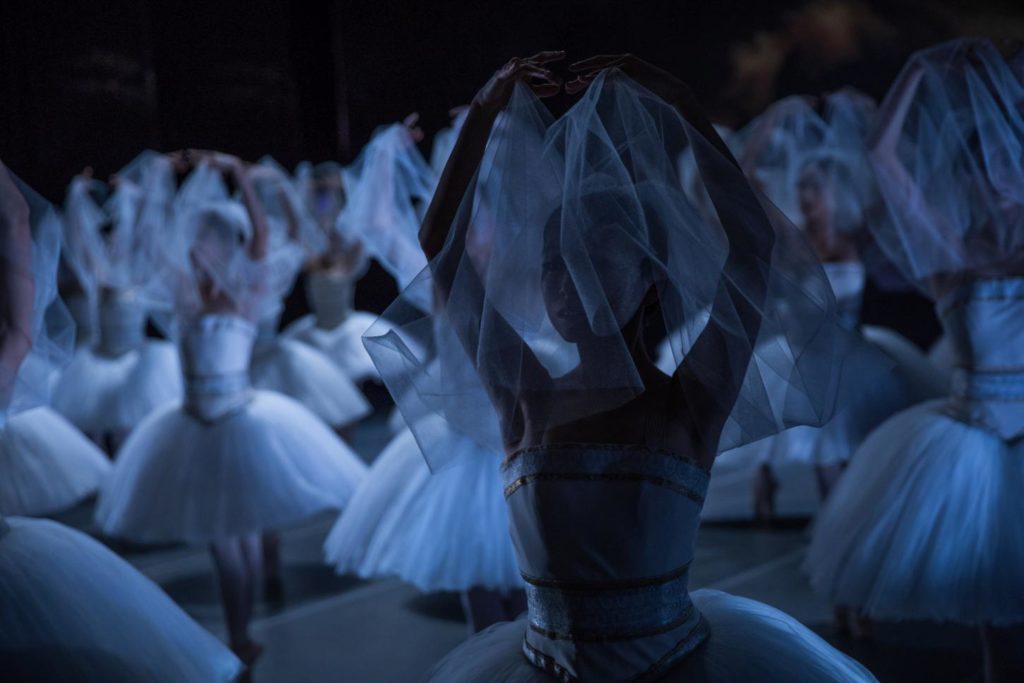 Where does her Shadow come from when it appears in Solor's dream and in the wedding ceremony? Is it just drawn from Solor's imagination and his pungent remorse? Or does Nikia's soul indeed interfere in worldly matters? If so, what kind of triumph does she gain by thwarting the imminent wedding and reclaiming Solor? Or is Nikia a tool of the gods as they use this opportunity to teach the mortals a lesson? Maybe that's the easiest explanation – pinning everything on the world of gods!
What was so attractive about Solor (Daniil Simkin)? To the Rajah, he was a proper son-in-law – rich, successful, a warrior who ought to be kept close to the dynasty. Nikia saw the affectionate lover in him. But was he a strong, mature man? No.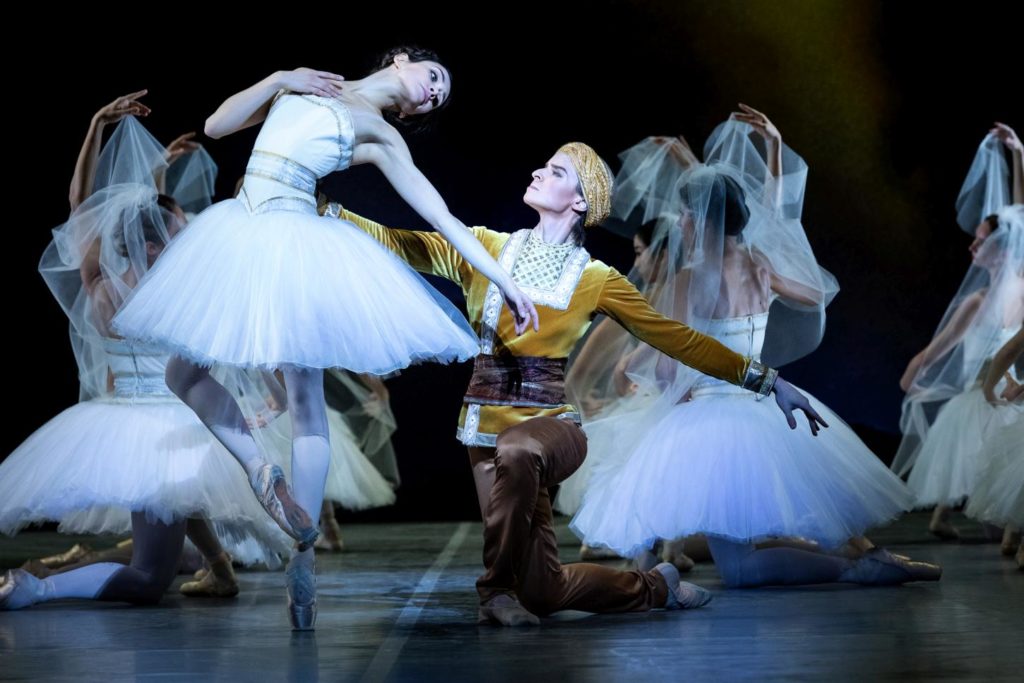 Watch his lofty gestures towards his warriors and the fakir. Watch how he grovels to the Rajah as he tries to evade the marriage with Gamzatti. Watch how he yields to the course of things – like a delinquent awaiting his sentence. He might make faces, but after taking a look at Gamzatti, he realizes that she isn't the worst match. Solor is tortured by his guilty conscience. He's sick about himself, but he surrenders. Later, he resorts to opium. Rather than fighting for himself and his girl, he simply slips into madness. Simkin delivered an excellent performance. His jumps and turns changed direction as precisely as would a magnetic needle. His masterly toying with the pace reminded me of a lithe tomcat – and except for one small gaffe, partnering went smoothly.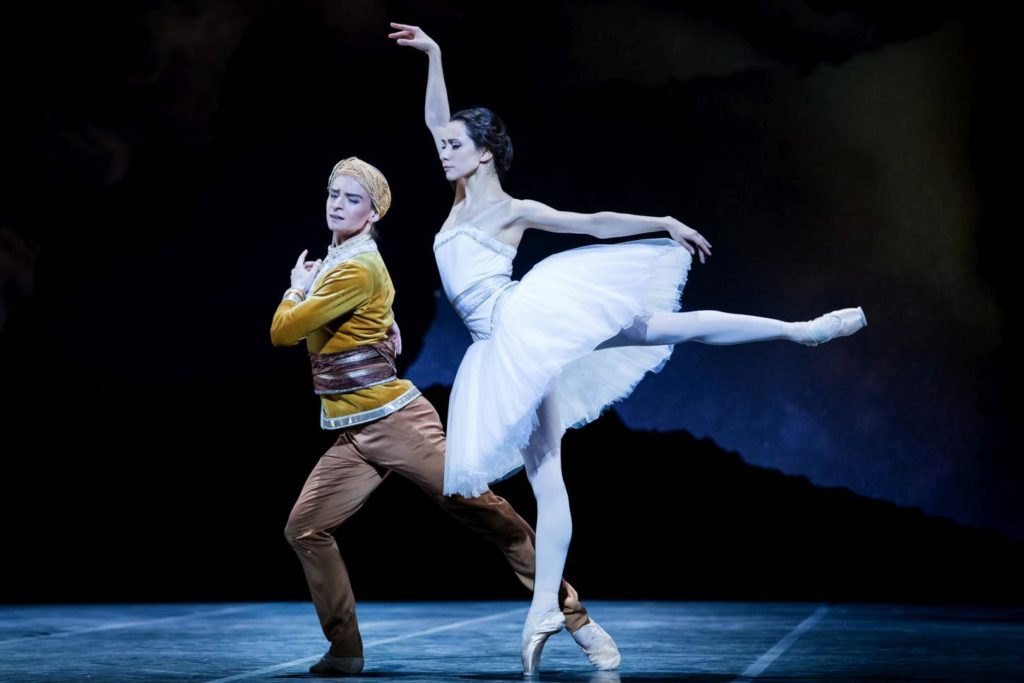 Gamzatti (Evelina Godunova) is pretty and her rank gives her power – but if you take away her opulent jewelry, she becomes a common woman hoping to find a husband. The more Solor rejects her, the more she throws herself at him. She lacks Nikia's natural charm and knows that Solor doesn't love her, giving her all the more reason to cry. Due to missing notation, Ratmansky gave Kitri's solo from the dream scene of "Don Quixote" to Gamzatti in the last act. Macaulay calls this a "jarring interpolation" in his New York Times review – and yet isn't Kitri the type of woman Gamzatti would love to be?
One might expect a Brahman to be a wise man and a representative of the highest sense of ethics. Although impressive in appearance, this High Brahman (Vahé Martirosyan) is neither of these. He's infatuated with Nikia and believes that the best way to win her over is by being pushy and rough. His pride, hurt by a failure to win her heart, stokes in him a desire for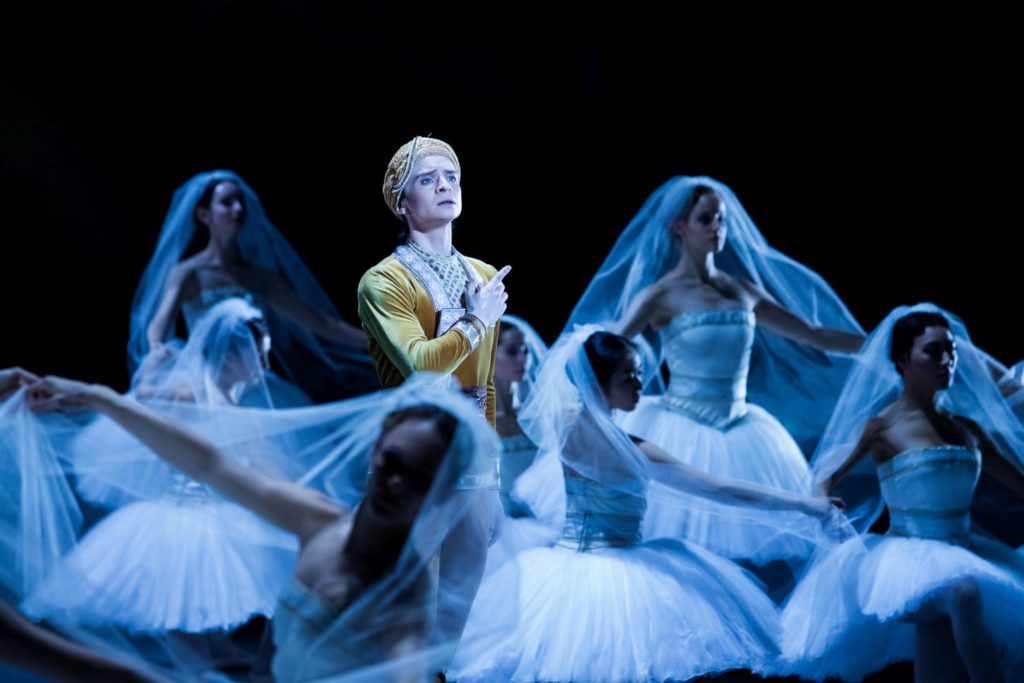 revenge that leads him to take less-than-clever actions. Why does he reveal Solor and Nikia's love affair to the Rajah? Had he kept silent, Solor would still have married Gamzatti and Nikia would have been spared.
Alexej Orlenco's Rajah believed himself the omnipotence incarnate. His will was law. Magdaveya, the head fakir (Ulian Topor), his beard hanging down like a shrubby lichen, jumped as agily as a weasel. Marina Böckmann danced Gamsatti's servant Aya; Nikolay Korypaev portrayed Solor's friend charmingly.
The corps de ballet and students of the State Ballet School Berlin relished in vivid divertissements based on Indian dance culture. Rehearsals were overseen by the Indian choreographer Rajika Pun. In the Kingdom of Shades, the ethereal slow-motion effect was slightly marred by the dancers' efforts to hold the balances. From time to time, the line of moving legs became uneven.
Set and costume designer Jérôme Kaplan took inspiration from original documents from the 1877 St. Petersburg production and from sketches of the Prince of Wales's visit to India from 1865-1867. Opinions are divided about the result, but I found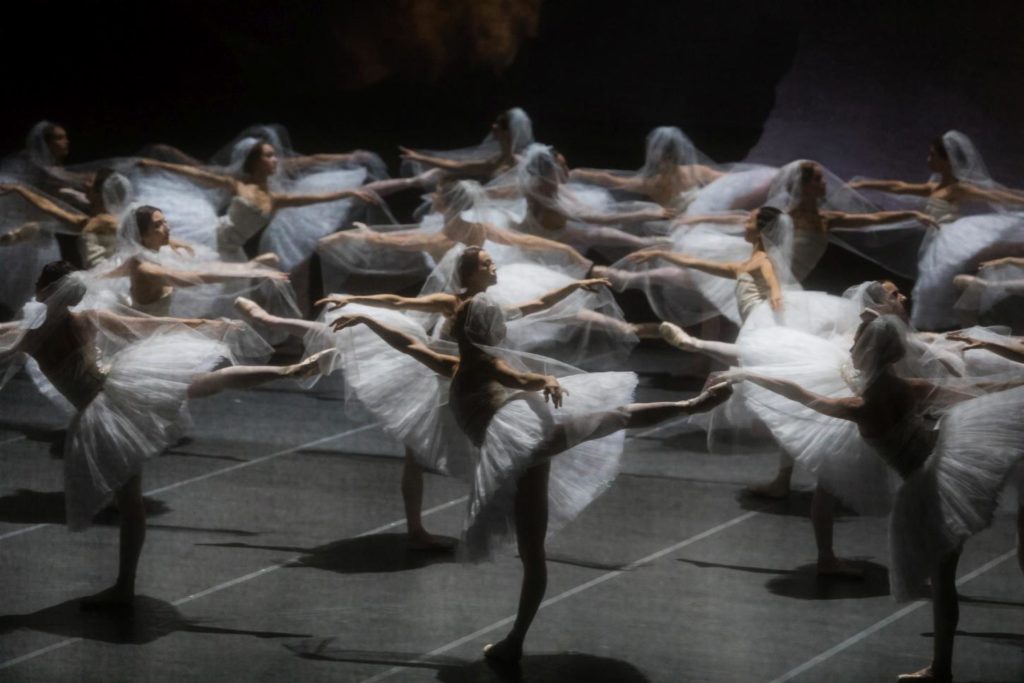 both the set and costumes to be gorgeous – and I bet the workshops would have loved to see their huge elephant pushed across the stage a second time.
Only the reconstruction of the music contained a drop of bitterness. "La Bayadère" has a score by Ludwig Minkus, which Ratmansky also aimed to use in its original form. He told Dancing Times in the interview mentioned above that, "everyone was generous to my request for material – all except the Maryinsky Archive, which is closed. Nothing can be seen; you can't check scores, can't research or receive any item. I guess they don't want anyone to use it. It's a tragedy, as there is so much to discover there."
Lars Payne and Gavin Sutherland, music director of English National Ballet, laboriously reconstructed and arranged the music from the source material provided by the other archives. It was played by the Staatskapelle Berlin under the baton of Victorien Vanoosten.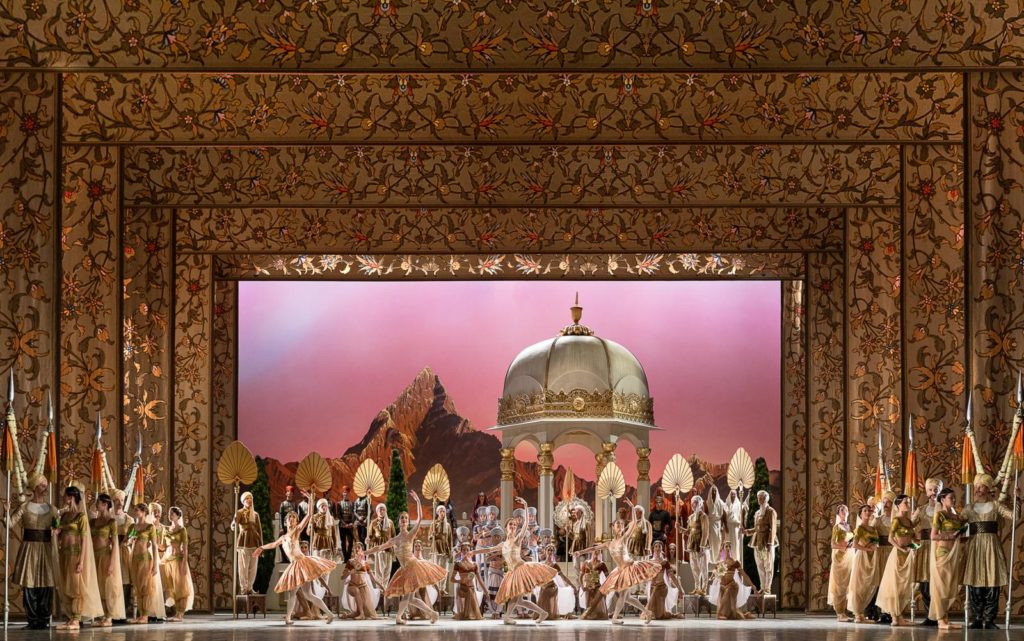 Links:

Website of the State Ballet Berlin

Photos:

(Some photos show a different cast from an earlier performance.)

1.

Vahé Martirosyan (The High Brahmin) and corps de ballet, "La Bayadère" by Marius Petipa reconstructed by Alexei Ratmansky, State Ballet Berlin

2018
2.

Vladislav Marinov (Magdaveya, the Head Fakir) and corps de ballet, "La Bayadère" by Marius Petipa reconstructed by Alexei Ratmansky, State Ballet Berlin 2018

3.

Ksenia Ovsyanick (Gamzatti) and Daniil Simkin (Solor), "La Bayadère" by Marius Petipa reconstructed by Alexei Ratmansky, State Ballet Berlin 2018

4.

Anna Ol (Nikia) and corps de ballet, "La Bayadère" by Marius Petipa reconstructed by Alexei Ratmansky, State Ballet Berlin 2018

5.

Corps de ballet, "La Bayadère" by Marius Petipa reconstructed by Alexei Ratmansky, State Ballet Berlin 2018

6.

Corps de ballet, "La Bayadère" by Marius Petipa reconstructed by Alexei Ratmansky, State Ballet Berlin 2018

7.

Anna Ol (Nikia), Daniil Simkin (Solor) and corps de ballet, "La Bayadère" by Marius Petipa reconstructed by Alexei Ratmansky, State Ballet Berlin 2018

8.

Daniil Simkin (Solor) and Anna Ol (Nikia), "La Bayadère" by Marius Petipa reconstructed by Alexei Ratmansky, State Ballet Berlin 2018

9.

Daniil Simkin (Solor) and corps de ballet, "La Bayadère" by Marius Petipa reconstructed by Alexei Ratmansky, State Ballet Berlin 2018

10.

Corps de ballet, "La Bayadère" by Marius Petipa reconstructed by Alexei Ratmansky, State Ballet Berlin 2018

11.

Ensemble, "La Bayadère" by Marius Petipa reconstructed by Alexei Ratmansky, State Ballet Berlin 2018

all photos © Yan Revazov

Editing:

Jake Stepansky