"Puppet" / " Dos Soles Solos"
Czech National Ballet
The National Theatre
Prague, Czech Republic
March 18 and 25, 2021 (online)
by Ilona Landgraf
Copyright © 2021 by Ilona Landgraf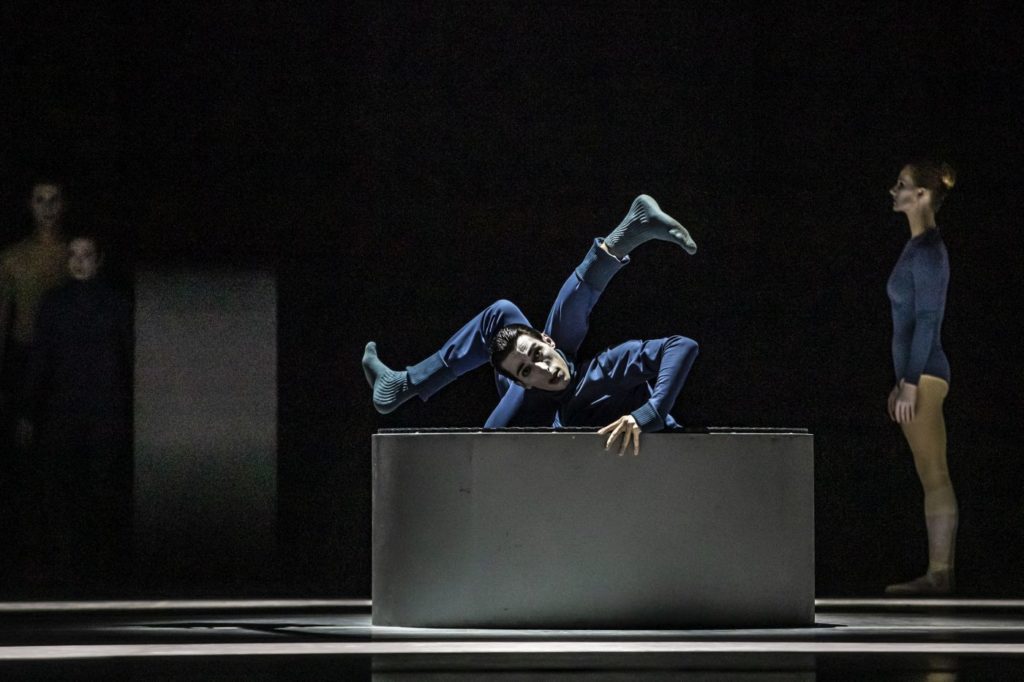 The Czechs' are clearly adept at making films – no matter the genre. Last December, the Czech National Ballet danced a heartwarming "The Nutcracker – A Christmas Carol", which was broadcast live on national television and on YouTube. This March, they premiered recordings of two short new pieces on their YouTube channel. The works – "Puppet" by Douglas Lee and "Dos Soles Solos" by Alejandro Cerrudo – are well worth watching. They are part of a triple bill (the third, yet-to-be released piece is by Cayetano Soto) that will be performed for an in-person audience whenever Czech theaters are allowed to re-open for the public. Martin Kubala, the filmmaker who oversaw the recording, expertly captured the production from interesting angles and distances.
In Lee's work (or, at least, in those pieces that I know), he has sought out the strange and ungraceful over the beautiful. "Puppet" is no exception. As before, he has the dancers – four women and six men – continuously alternate between fluid sequences and sharp, edgy stops. Disruptions recur. Wave-like undulations abruptly snap into weird contortions. Eyes gaze as if frozen. Often the partnering mirrors manipulation – the dancers take either dominant or inferior roles. The robot-like dancers appear to be based on Coppélia, with software that has been more extensively programmed. The simple, ice-blue costumes – tricots and cheesy white tights for the women, pants and shirts for the men – and the white-yellow-ish made-up faces add to the non-human-ness of their appearance. Costumes, lighting, and set design are all by Lee.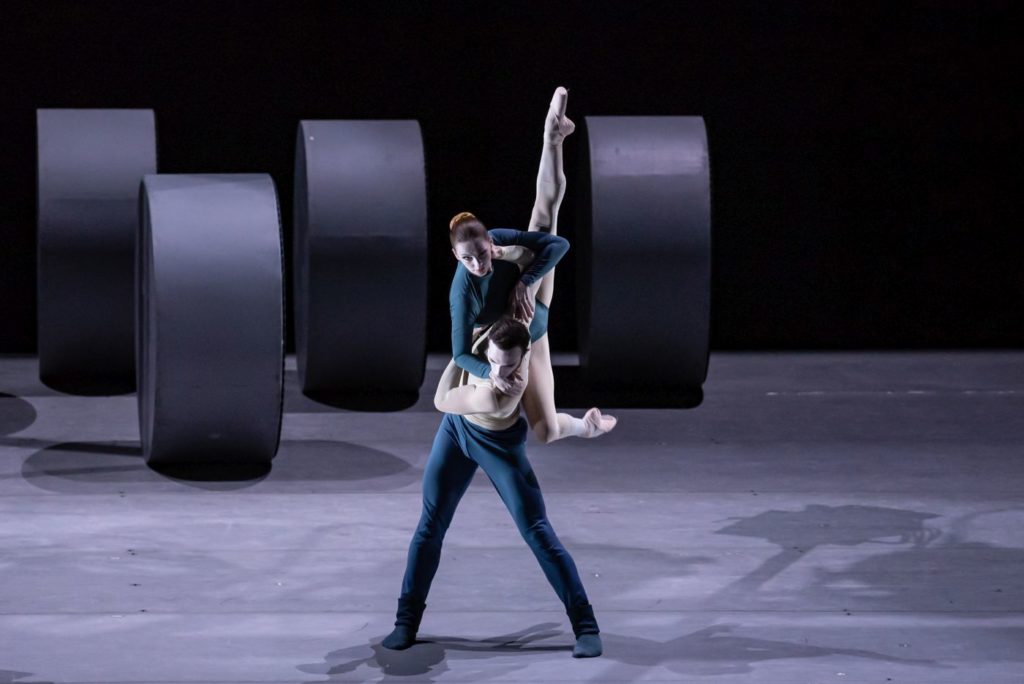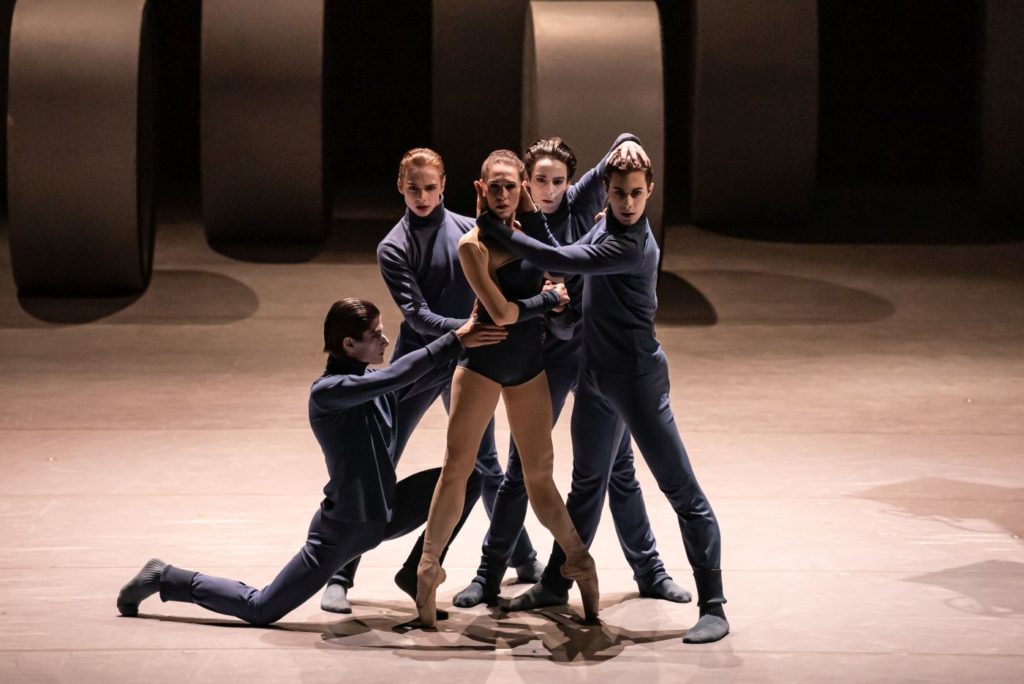 If you've seen enough of Lee's pieces to know his handwriting, you might not expect to be inspired by yet another. "Puppet", though, was different – saved as it was by a small, crucial detail: the title. Suddenly, with this shift in perspective, the outlandish movements make sense. We're watching an innocuous puppet play! – or at least that's what the simple, repetitive music-box-melody suggests at first (music by David Skidmore and Nicolas Sávva). Soon, though, the sound warps into an eerie haze. As the situation becomes dangerous, we're made to feel as though we're in a thriller – and this sense of unease, although it softened towards the end, lingers throughout.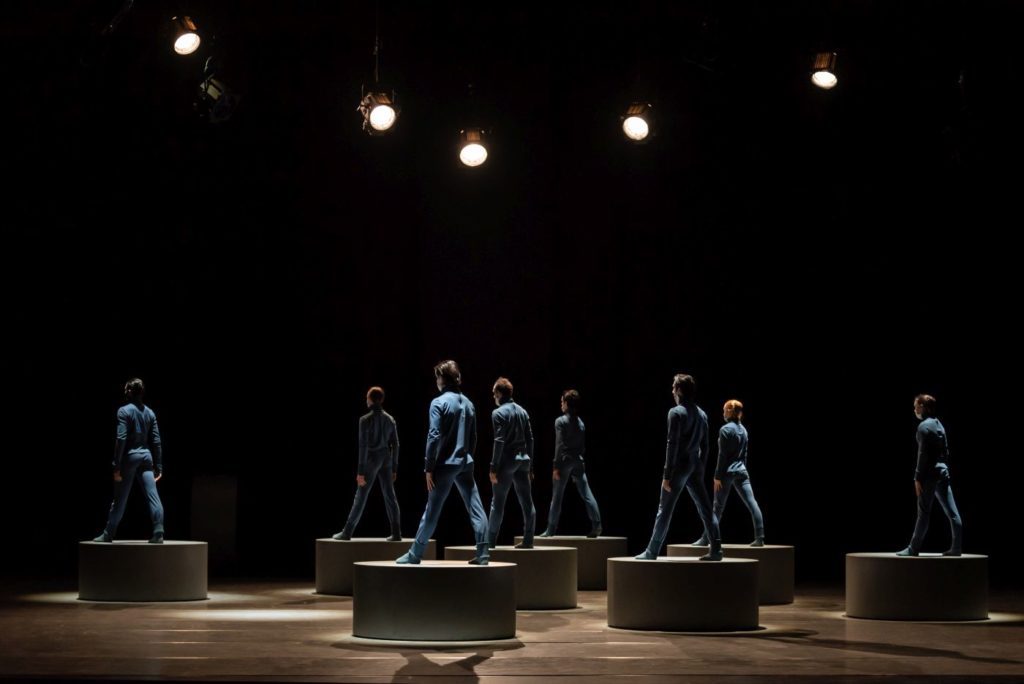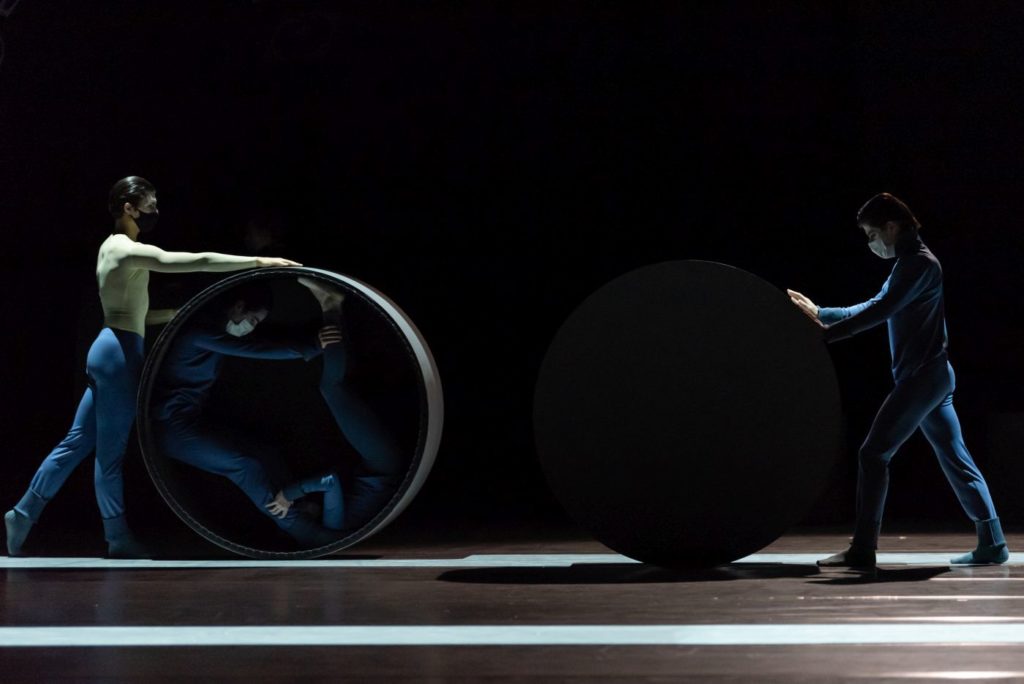 There's no consistent plot – only snippets of unrelated (and sometimes grotesquely comical) scenes. The music throbs with an air of foreboding danger that is supported by the dim lighting and occasional glaring spotlight. The only props are shoulder-high gray tubes, which are rolled across the stage or used as pedestals to sit or stand on. Dancers lounge in the tubes with their legs sticking out as if sitting in a bathtub, or they lie inside the tubes like in a gym wheel and get rolled across the stage, or they disappear miraculously behind another tube as it rolls past.
At the curtain call, the benign music box-melody returns. Perhaps this has simply been an odd, fantastical puppet play after all.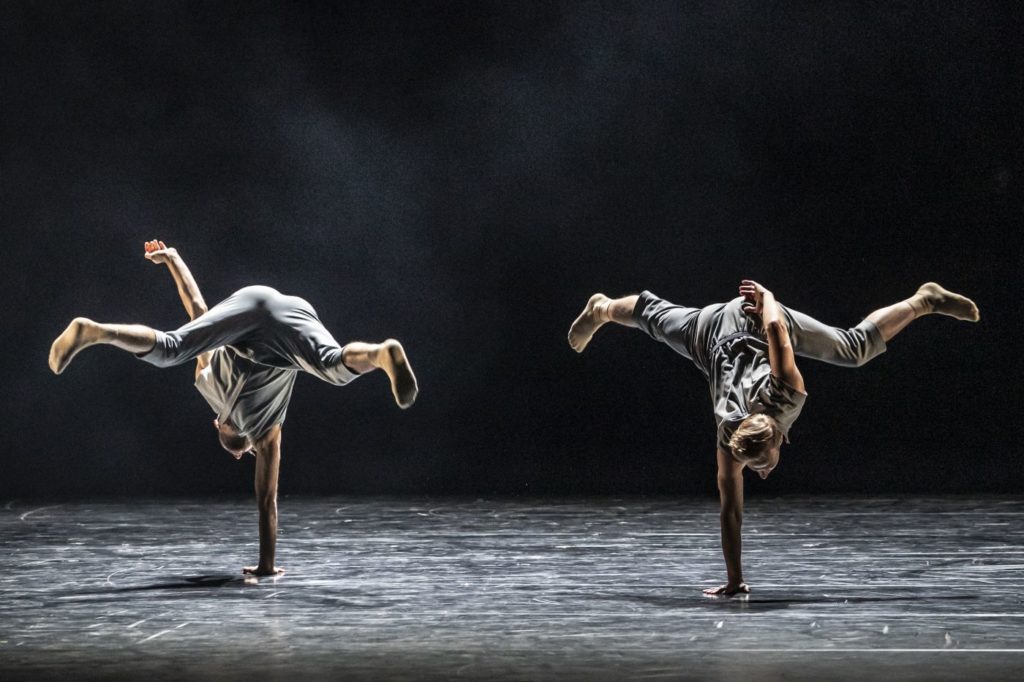 "Dos Soles Solos" – roughly translated as two single suns or two suns alone – is danced by three men and three women. The romantic relationship between one mixed couple becomes shrill and tense before concluding in a harmonious reconciliation – but the couple doesn't seem to symbolize the titular suns. In one quote about "Dos Soles Solos", Cerrudo emphasizes the broader topics at the heart of his piece: the joy of life, of new experiences, of changing horizons, and of a new and different sun for each day. Given the resourcefulness of his choreography, his life must have joy in abundance.
The rich variety of movements and the broad scope of the choreographic ideas continually surprise and delight. The dance is fresh, crisp, and vivid. It has a natural flow. Busy pas de deux alternate with moments of calm. Some sequences are danced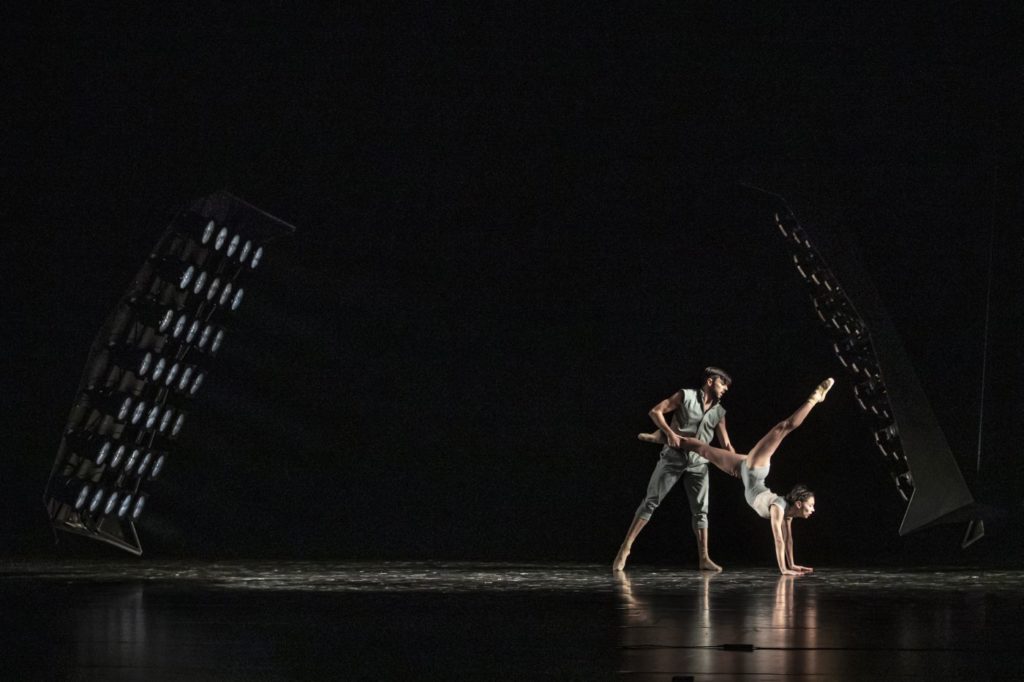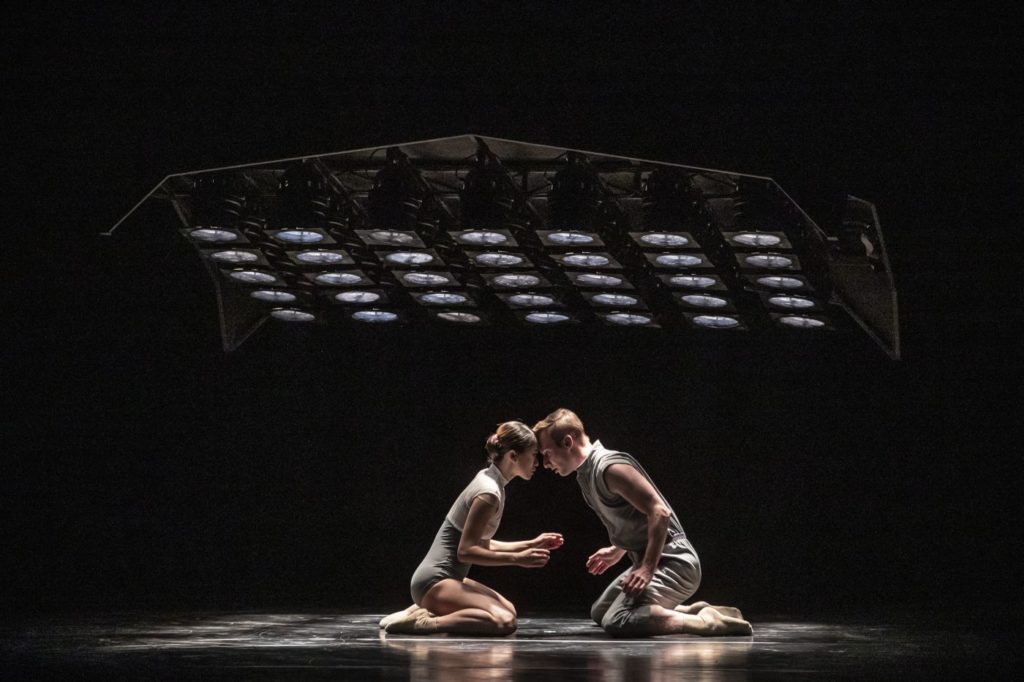 in sync; others are danced in mirror-image. Others still run through a line of dancers like falling dominoes. Cerrudo plays with tempo, responding and reacting to the serene string music by Caroline Shaw. In one scene, for example, a woman, lying on her back, wriggles herself underneath a man as he holds himself on all fours. He's visibly burdened. His head hangs down, one leg pointed awkwardly sideways. She moves slowly, note by note, passing so closely beneath his nose that he's pushed out of his deadlock by (presumably) the mere scent of her body. Impulses for action are often derived from the women in the piece, who generally seem equally strong or stronger than the men. There is no trace of gender stereotyping.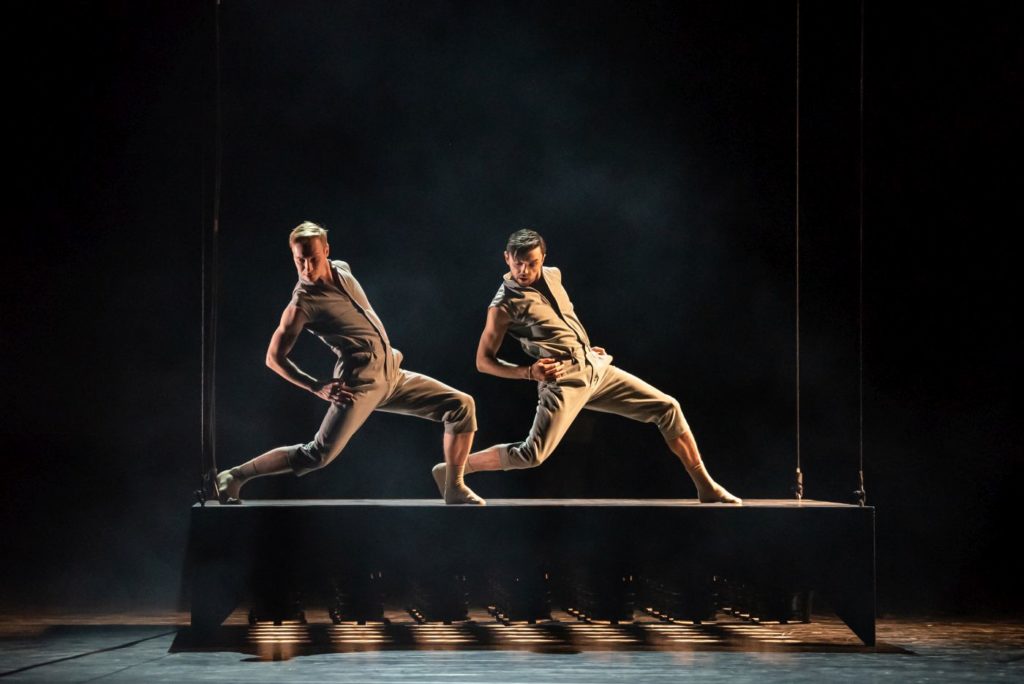 Karen Young's costumes are plain. Again the women wear tricots and the men pants and shirts – this time in light blue and white. The set design by Michael Korsch consists of a platform suspended on invisible cables. This platform carries a man down onto the stage and, when raised upwards, emits rocket-launch-esque smoke from spotlights underneath. Later, a similar platform equipped with spotlights like an illuminated UFO sinks threateningly down onto a quarreling couple, throwing them onto their backs like overturned beetles. These platforms come together at the end to build a comforting space for the couple in their moment of reconciliation. As in Lee's piece, the stage is dimly lit. In addition to the lighting grids attached to the platforms, lighting designer Daniel Tesař uses blurred spotlights.
As Cerrudo said, the joy of life comes from our encounters with new experiences. His dancers visibly enjoyed the performance. Watching them was a pleasure.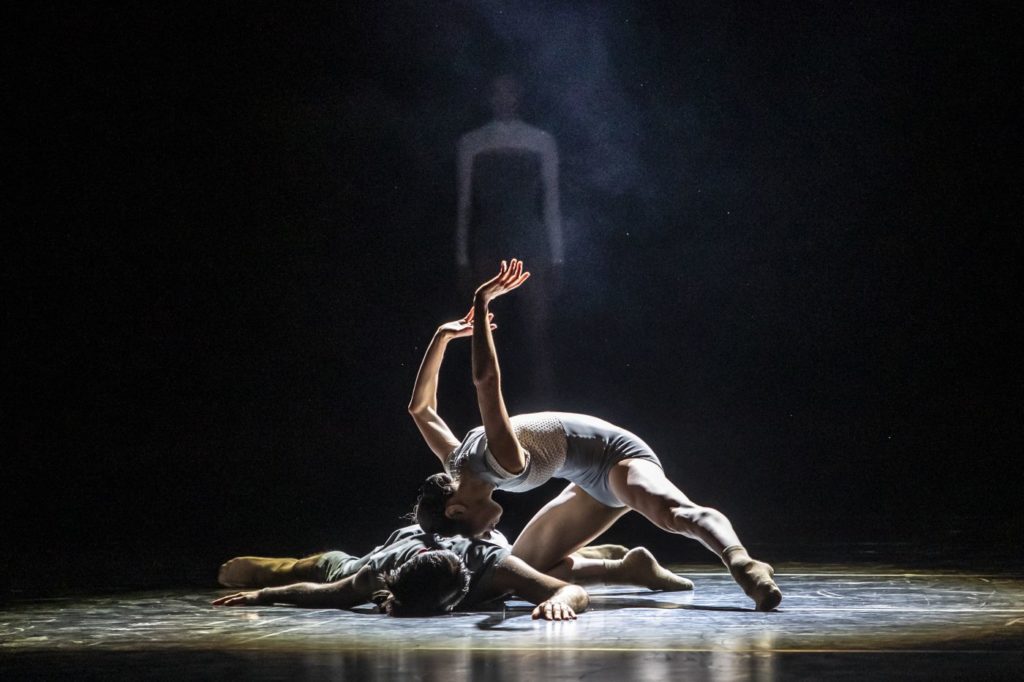 Links:
Website of the Czech National Ballet
YouTube channel of the Czech National Ballet
Trailer "Puppet"
Trailer "Dos Soles Solos"

Photos:

1.

Francesco Scarpato, "Puppet" by Douglas Lee, Czech National Ballet 2021

© Martin Divíšek

2.

Zuzana Časarová, Natatia Warzabluk, and Magdalena Matějková,

"Puppet" by Douglas Lee, Czech National Ballet 2021

© Martin Divíšek

3.

Zuzana Časarová and Giovanni Rotolo,

"Puppet" by Douglas Lee, Czech National Ballet 2021

© Serghie Gherciu

4.

Paul Irmatov, Basil Schwerzmann, Nikola Márová, Roger Cuadrado, and Danilo Lo Monaco,

"Puppet" by Douglas Lee, Czech National Ballet 2021

© Serghie Gherciu

5.

Danilo Lo Monaco and Paul Irmatov,

"Puppet" by Douglas Lee, Czech National Ballet 2021

© Serghie Gherciu

6.

Ensemble,

"Puppet" by Douglas Lee, Czech National Ballet 2021

© Serghie Gherciu

7.

Mathias Deneux and Jonáš Dolník, "Dos Soles Solos" by Alejandro Cerrudo,

Czech National Ballet 2021

© Martin Divíšek

8.

Ayaka Fujii and Jonáš Doník, "Dos Soles Solos" by Alejandro Cerrudo,

Czech National Ballet 2021

© Martin Divíšek

9.

Mathias Deneux and Morgane Lanoue, "Dos Soles Solos" by Alejandro Cerrudo,

Czech National Ballet 2021

© Martin Divíšek

10.

Jonáš Dolník and Mathias Deneux, "Dos Soles Solos" by Alejandro Cerrudo,

Czech National Ballet 2021

© Serghie Gherciu

11.

Mathias Denex and Morgane Lanoue, "Dos Soles Solos" by Alejandro Cerrudo,

Czech National Ballet 2021

© Martin Divíšek

Editing:
Jake Stepansky