"In and Out"
Junior Company of the Dutch National Ballet
Dutch National Opera & Ballet
Amsterdam, The Netherlands
March / April 2021 (online video)
by Ilona Landgraf
Copyright © 2021 by Ilona Landgraf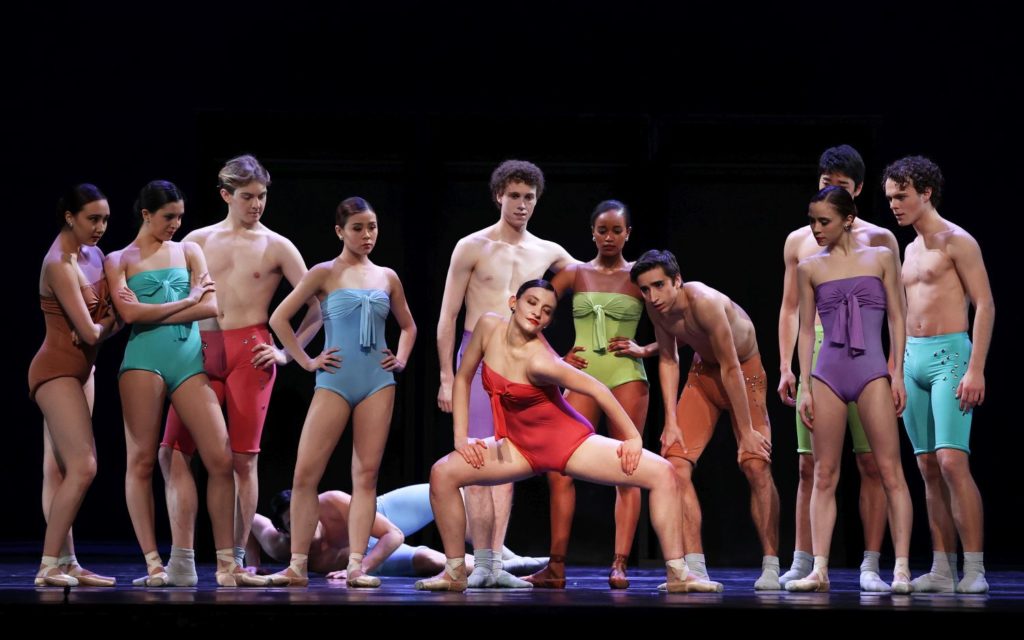 Although the Dutch National Ballet's Junior Company hoped to tour Hans van Manen's "In and Out" in spring 2020, their plan was shattered by the onset of the COVID-19 pandemic. Recently, though, the current members of the Junior Company revived the short ballet on the Dutch National Ballet & Opera's main-stage. The performance was recorded and can be viewed for free until April 25, 2021 on the company's website.
"In and Out", created in 1983, brings together six women and six men for a day at the beach (or so I thought – I believe that their colorful shorts and ruffled tricots were swimming outfits, but I'm not sure). The young, spiffily-dressed group (set and costume designer Keso Dekker has the men decked out in studded bathing trunks and the ladies wearing simple, classy ear studs) gathers outside three adjoining changing booths that look like open cabinets. They head over to one of the cabinets and pose for – for what, actually? A group photo? Featuring airy, slightly bored expressions and a scared-looking latecomer standing in the front row flanked by tall boys and blocking the view of everyone else? No – it seems there was no intention to take a group-selfie.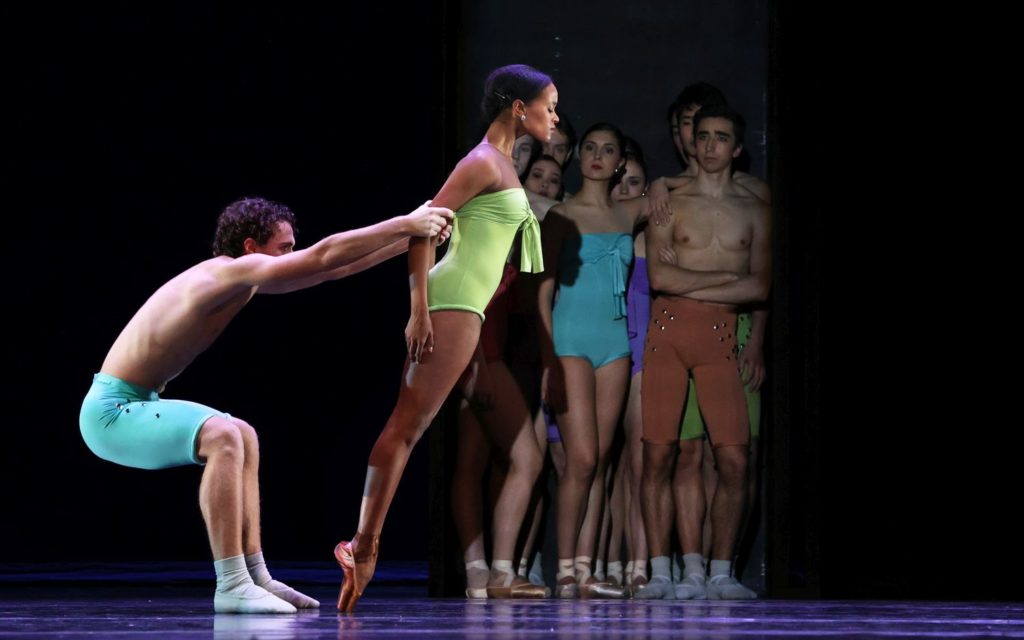 When Laurie Anderson sings her first line – "I wanted you" – one perky beauty (Sebia Plantefève-Castryck) cuts away from the overcrowded cabinet and struts around seductively. In no time, one lad (Isaac Mueller) is at her heels. Her sudden uninhibited devotion – including a moment of kneeling in front of his crotch – overwhelms him. Only when she collects herself and re-adopts the diva-role does he come to his senses and morph into a supportive partner. In fact, supportive is an understatement: he propels her every move while she either hangs or lies passively in his arms like a plank.
"In and Out" is about the tension between limited space and freedom. It is about finding a place inside the cabinets, which are too small and few (and hence coveted), or being outside (and consequently on display). Voyeurism is ever-present. Each dancer who steps out from the cabinets is meticulously observed by the others. What the heck is the couple up to behind (!) the cabinets? They'd danced together as if on cloud nine before absconding. If one could only see through the gaps between the cabinets!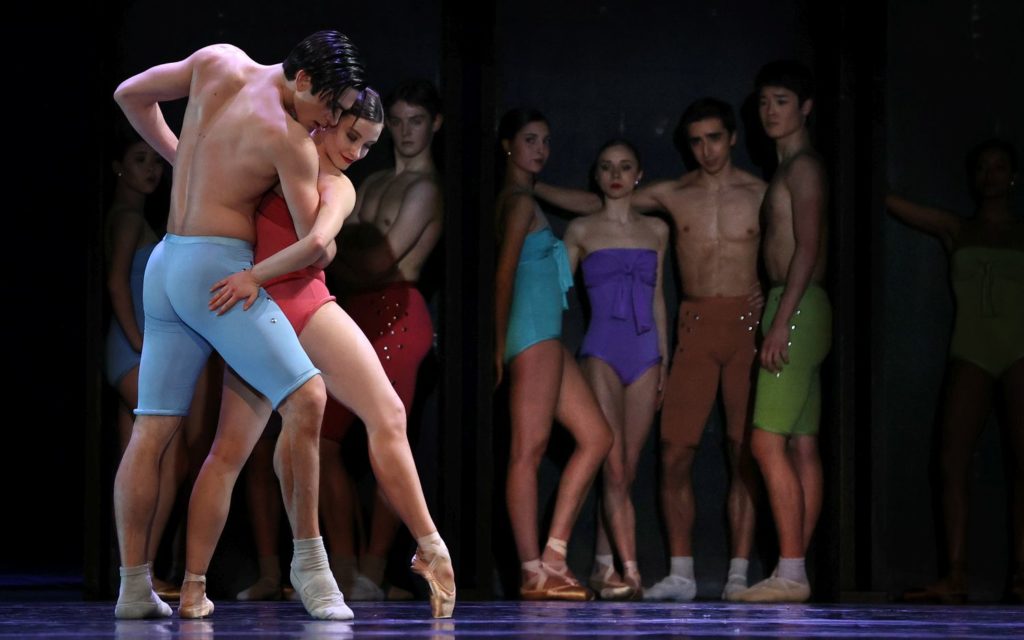 "In and Out" is also about the tension between being part of a group and being an outsider. It's about melting into the established patterns in the group dances (three groups consisting of two women and two men each) or daring to make a run for it, solo, as one gal (Emma Mardegan) does. Mardegan's salaciously sexy hip-swing causes immense excitement: she's mocked and aped, the subject of agitated chatter that remind me of a chicken yard full of cackling fowls. But – oh! – how the others did envy her because of her successful seduction of her lover (Giorgi Potskhishvili).
The crowd watches the scene keenly, keeping their eyes glued to another couple's hot flirtation as well. One wonders whether the observed appreciated the pleasure of having an audience – but that is a secondary question. Let's be clear: the core topic of "In and Out" is (sexual) intercourse with members of the opposite sex.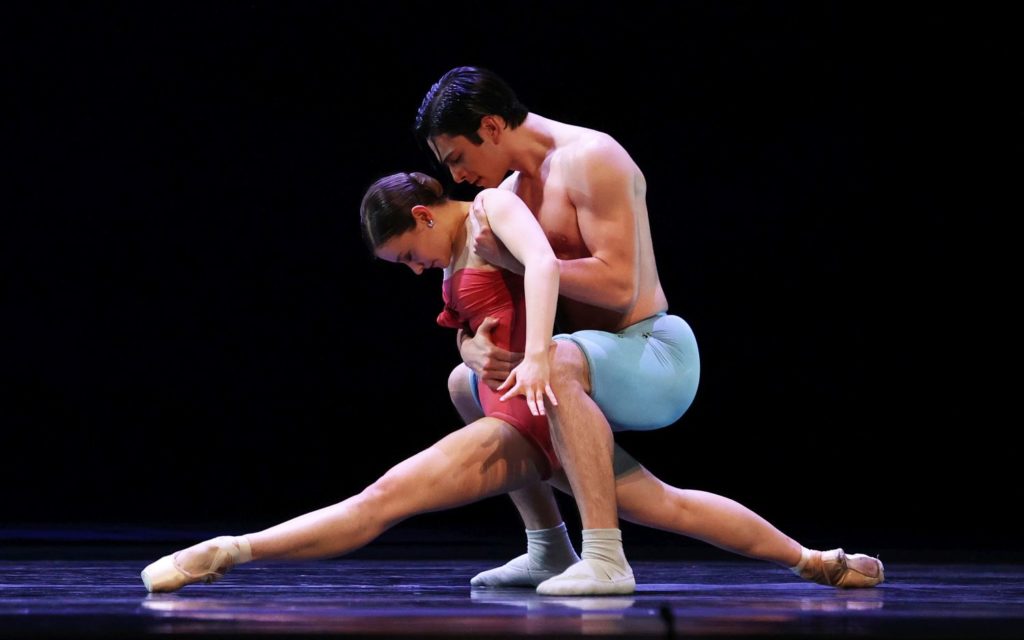 The young people in this piece are high on sexual hormones. They ooze desire. Pelvises are pressed towards each other; butts are stretched invitingly towards partners and their grabbing hands; hips gyrate sensually. The ladies know the game – how to vacillate between feigned weakness, affection, or sultry, powerful vamping. It works. The young men pull off performances as either strong, masculine protectors or devoted lovers – the outlines of the well-flourishing courtship in the first half.
In the second half, the eccentric Nina Hagen sets the tone. She sings about lonely walks along station platforms, express trains, cops, and unexplored character traits. The tide is turning. Those women who were only just flouncing across the stage like models on the catwalk are now now rudely pushed aside by their partners. The longer they have to endure male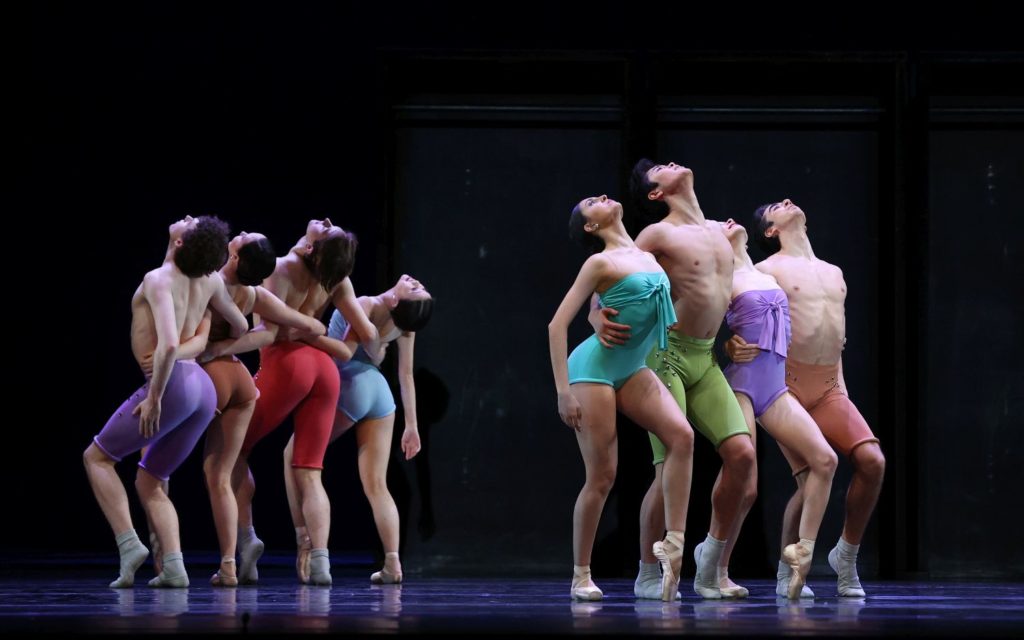 dominance from macho men occupying the space, the more intensely their fury boils. "Verknackste Seele" (strained soul) sings Hagen – and grim it is, these young folk's emotional state. They run to and fro mysteriously, plunging into pitch-black darkness, and re-appearing as red-yellow-greenish silhouettes (lighting by Jan Hofstra).
But – suddenly – Hagen's power fades and she begins to croak rather than sing. Together with her the women, who've finally re-taken their ground, channel their anger towards the men and punch their bare chests. The steel-muscled lads yield not a centimeter, instead laughing amused. A referee would call it a standoff.
The web of relationships that van Manen probes within only twenty-or-so minutes is staggering. Among the signature choreographic tools he uses are swaggering gaits, hands resting on upper thighs, and provocatively forward-bent legs with feet on-point – to name only a tiny fraction. The dancers glance intently at one another and, notably, towards the audience, driving home the key to the piece: that the real voyeurs are … us.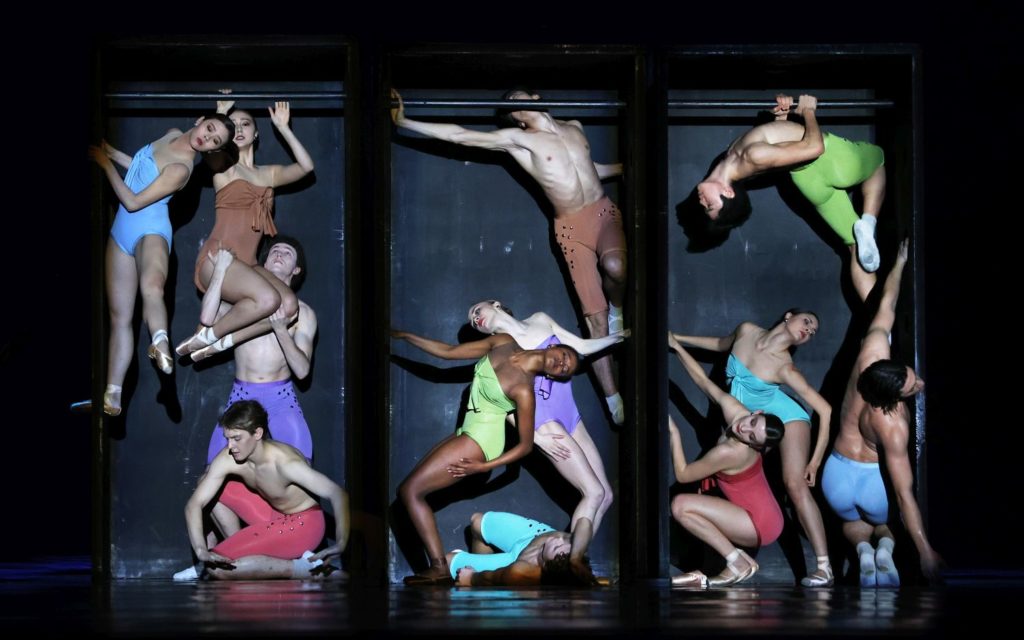 Links:
Website of Dutch National Ballet
Video "In and Out" (available until April 25, 2021

Photos:

1.

Emma Mardegan (center) and members of the Junior Company, "In and Out" by Hans van Manen, Junior Company of the

Dutch National Ballet 2021

2.

Isaac Mueller and Sebia Plantefève-Castryck,

"In and Out" by Hans van Manen, Junior Company of the

Dutch National Ballet 2021

3.

Giorgi Potskhishvili, Emma Mardegan and members of the Junior Company,

"In and Out" by Hans van Manen, Junior Company of the

Dutch National Ballet 2021

4.

Emma Mardegan and Giorgi Potskhishvili,

"In and Out" by Hans van Manen, Junior Company of the

Dutch National Ballet 2021

5.

Members of the Junior Company,

"In and Out" by Hans van Manen, Junior Company of the

Dutch National Ballet 2021

6.

Members of the Junior Company,

"In and Out" by Hans van Manen, Junior Company of the

Dutch National Ballet 2021

all photos

© Hans Gerritsen

Editing:
Jake Stepansky