"Spring Special"
Dutch National Ballet
Dutch National Opera & Ballet
Amsterdam, The Netherlands
April 05, 2021 (online)
by Ilona Landgraf
Copyright © 2021 by Ilona Landgraf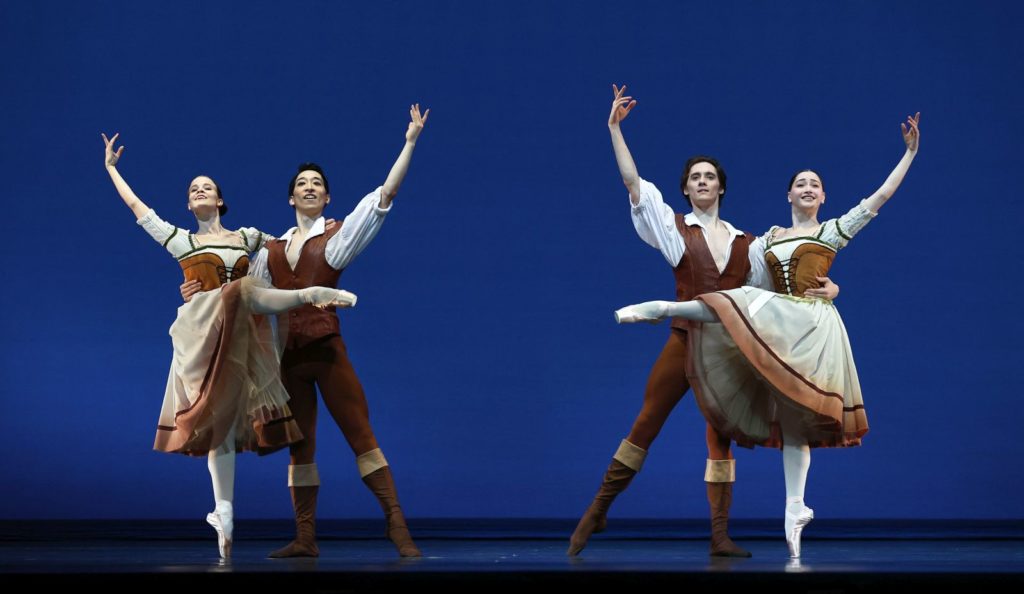 For most artists, the flow of opportunities for performance on home stages or abroad has either thinned to a trickle or dried up altogether since the onset of the pandemic. The Dutch National Ballet filled some of those gaps with a "Spring Special" -gala that featured a selection of ten short pieces in total – eight excerpts from the company's existing repertory, one new acquisition, and one world premiere. Each dancer was able to choose which piece to perform in (with appropriate attention to pandemic-related restrictions of group size). All of the principals, several soloists, and one member of the corps de ballet participated. The gala was streamed live on April 5th. A second broadcast is scheduled for April 10, 2021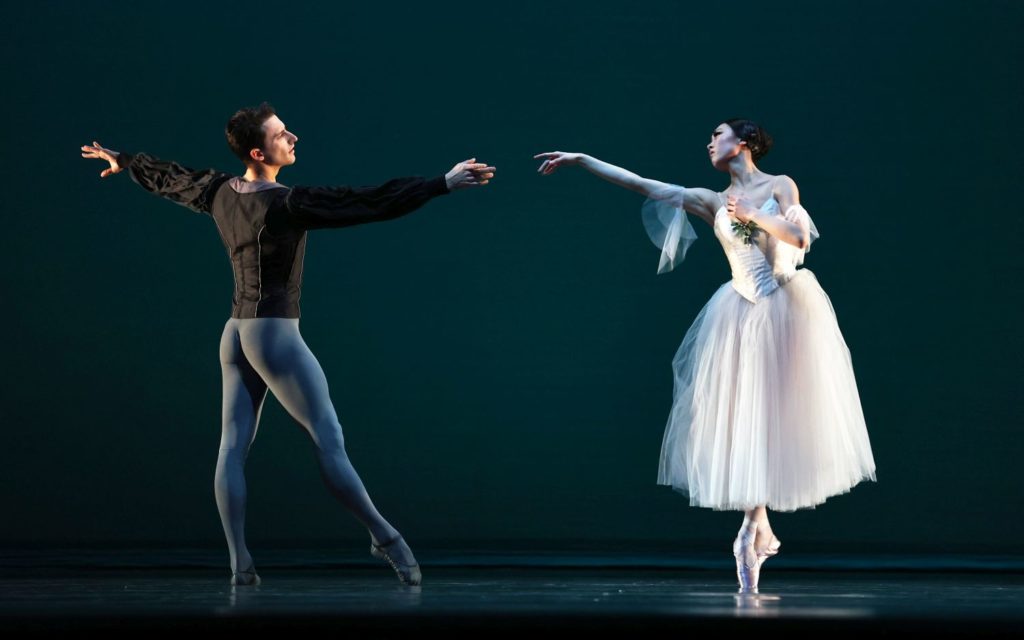 The opening piece – the peasants' Pas de Quatre from the 2009 adaption of "Giselle" by Rachel Beaujean and Ricardo Bustamante – sparkled buoyantly. The peasant couples – Salome Leverashvili & Jan Spunda and Nina Tonoli & Sho Yamada – were well matched. Spunda and Yamada, both attentive partners, delivered confident solos. Tonoli cheerfully stitched together her steps as if creating a fine piece of crochet work; Leverashvili, after adroitly finishing her solo, seemed to sigh with happy relief.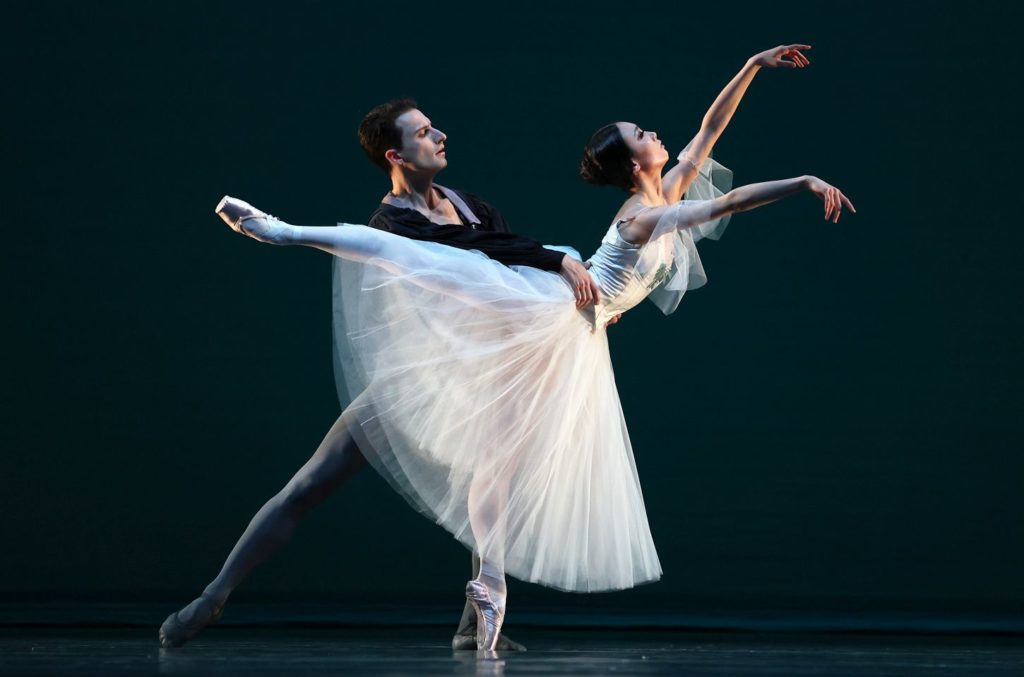 Later in the program, Qian Liu and Semyon Velichko danced another excerpt from "Giselle" – the Pas de Deux of the second act. Without the frame story and most of the scenery, it's hard to evoke an appropriate atmosphere – but it was astonishing to see the depths to which Liu plumbed Giselle's tragic love. Her Giselle was as light and ethereal as a spider's web. If the camera had zoomed in on her face, I wouldn't have been surprised to see tears flowing. Velichko's Albrecht, understandably, was made ashen by grief.
"Duet", a Pas de Deux created by Wayne Eagling for the company in 1995, was similarly packed with emotion. Isolde's love-death from "Tristan and Isolde" served as his source of inspiration; accordingly, the music is Richard Wagner's. Eagling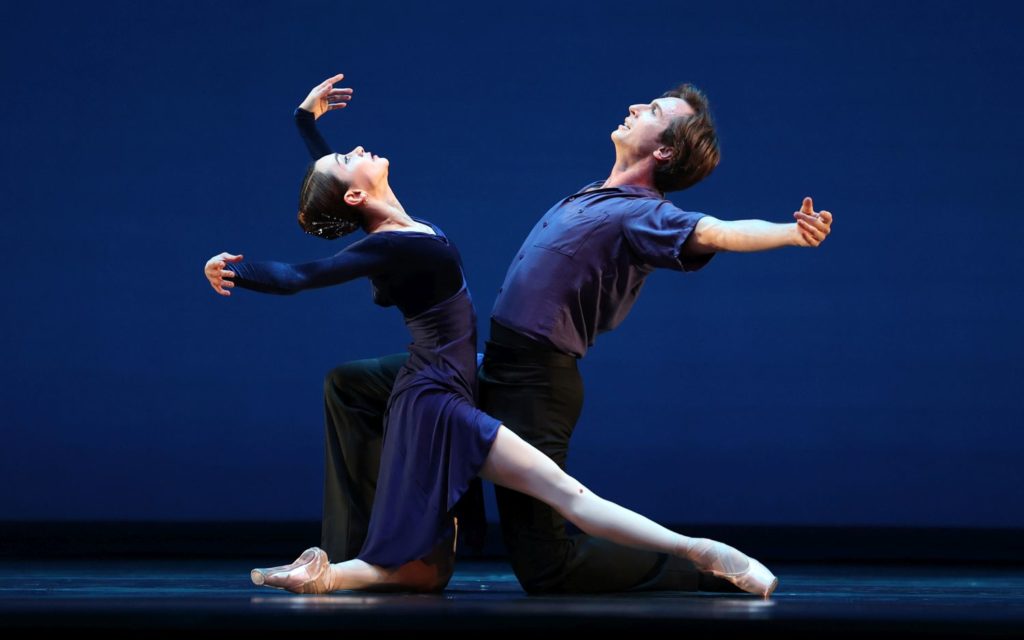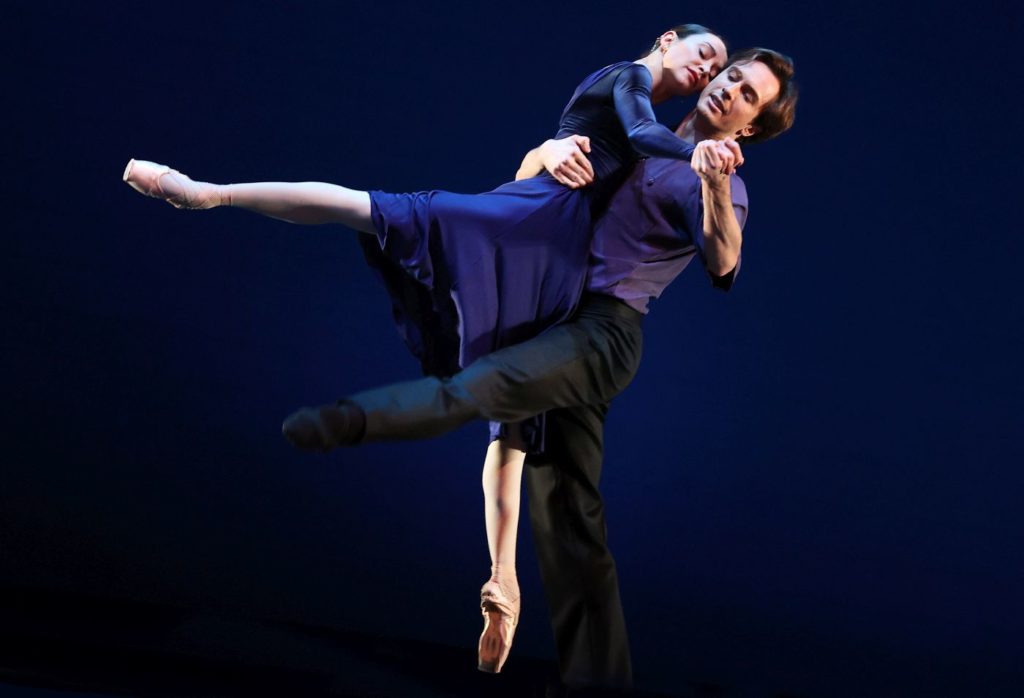 depicts an earthly relationship between lovers in an attempt to explore love as a cosmic principle. His choreography is as velvety as the dark blue night that surrounds the couple (Anna Ol and Artur Shesterikov). Ol melts in Shesterikov's arms, huddled up like a child, or lets loose, stretching her limbs wide as if flying. Each step is built from mutual trust. A beautiful piece of work!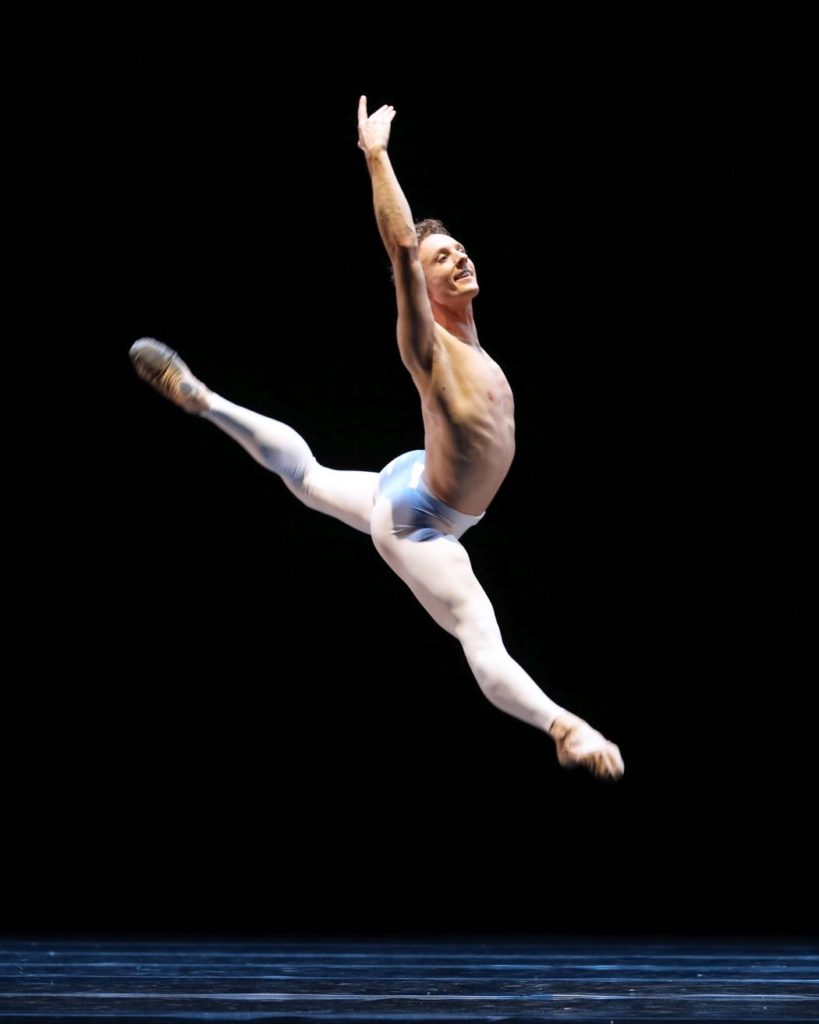 The same is true of the gavotte from "Classical Symphony", with choreography by Dutch National Ballet's artistic director Ted Brandsen to Prokofiev's "Romeo and Juliet"- music. The gavotte is less than one and a half minutes long – but that's sufficient for Remi Wörtmeyer to dazzle us with an eye-popping performance. Wörtmeyer teases and swaggers nonchalantly, radiating Mercution-like charm. It was particularly amazing to watch his legs vacillate between being incredibly long, rubber-like, or sharp-edged.
Brandsen's second contribution to the program was "Replay", a Pas de Deux originally created for Igone de Jongh and Vito Mazzeo in 2014 to piano music by Philip Glass. At the time, Mazzeo was a younger man performing with an older woman. This time around, his partner, Yuanyuan Zhang, was the younger one. Mazzeo depicted an initially protective man, who soon had to accept his partner's pursuit of independence. Arms stretched in embrace suddenly moved apart. Hands held just together snapped asunder like the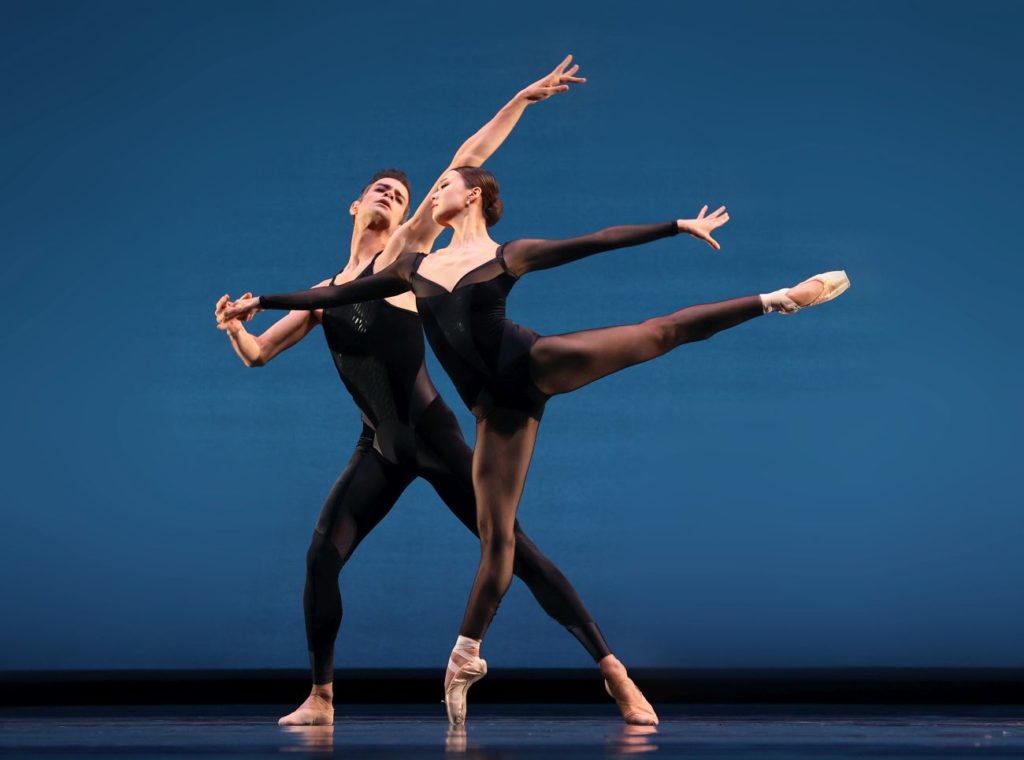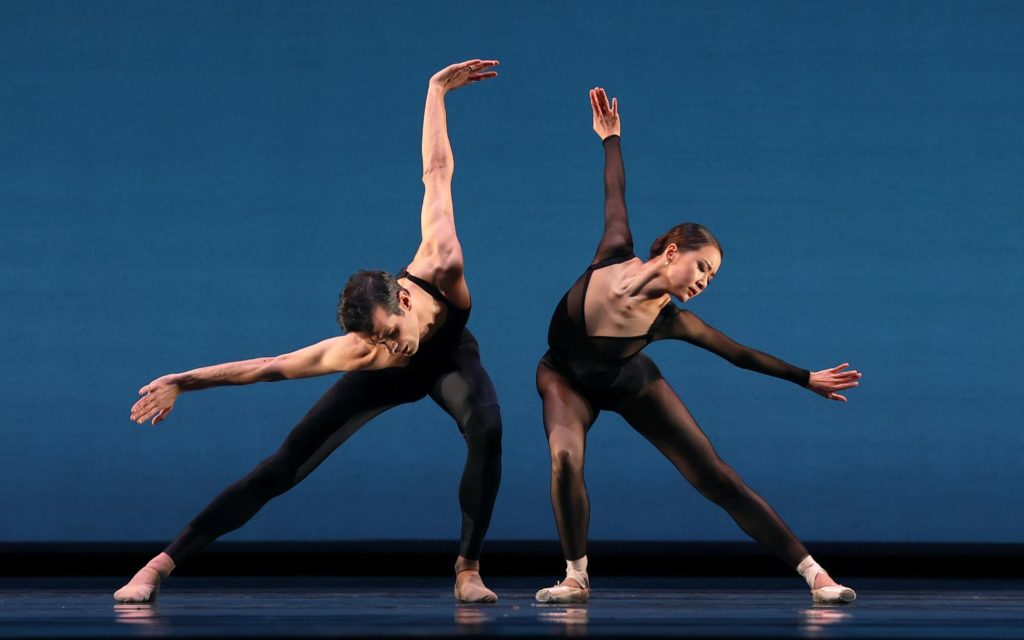 opening of a latch. Surprisingly, Mazzeo (quite tall) seemed more vulnerable than Zhang (quite small). The pair never separated from one another, only moving seamlessly between tight closeness and less tight closeness.
Glass's music was played live by Ryoko Kondo.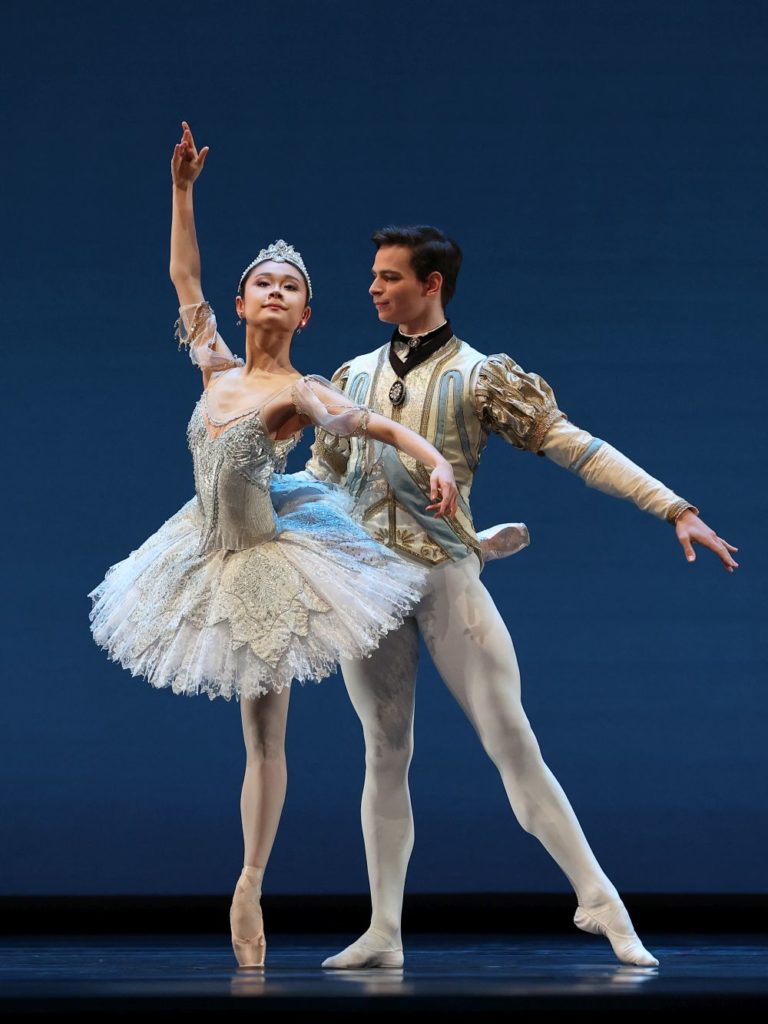 Jessica Xuan's first principal role with Dutch National Ballet was Princess Aurora in 2017; Jakob Feyferlik's last role before the first lockdown was Prince Florimund. It's no surprise, then, that the pair chose the Grand Pas de Deux of the Sleeping Beauty (a version by Peter Wright) to take up the thread again. The piece's regality which included boldly swift fish dives was an interesting contrast to the other pas de deux's deep emotion.
Wubkje Kuindersma created "Two and Only" in 2017 for Marijn Rademaker and Timothy van Poucke. After Rademaker left the company, Jozef Varga inherited the role. The piece is accompanied by guitar & piano music and a song by Michael Benjamin (who played live), but according to Kuindersma,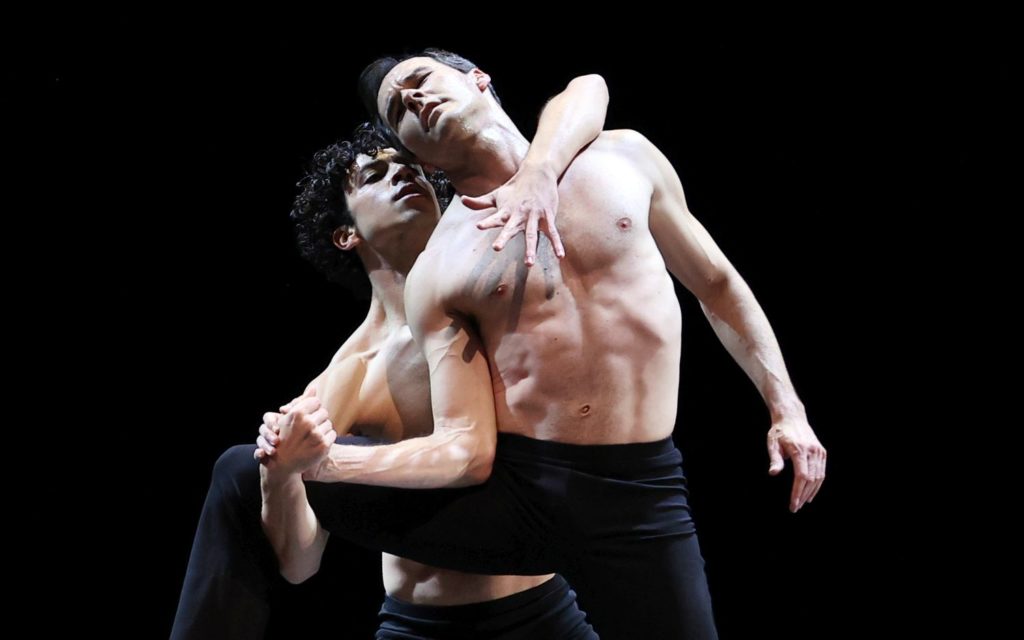 the song's lyrics (about painful yearning, true love, and the desire to forget) aren't to be taken literally. To me, it seemed as if an older men (Varga) wanted to re-invigorate his romantic relationship with a younger one (van Poucke). For a moment, he's successful; they roll on top of one other, thrust their arms upwards (as if pushing a murky memory towards heaven), and mirror each other's movements. Eventually, though, confrontational face-offs ensue until van Poucke, held by Varga in a trusting embrace, slips away, leaving Varga in a lonely void.
The sunny vibe returned with "Delibes Suite", a Pas de Deux by José Carlos Martínez to music composed by Delibes for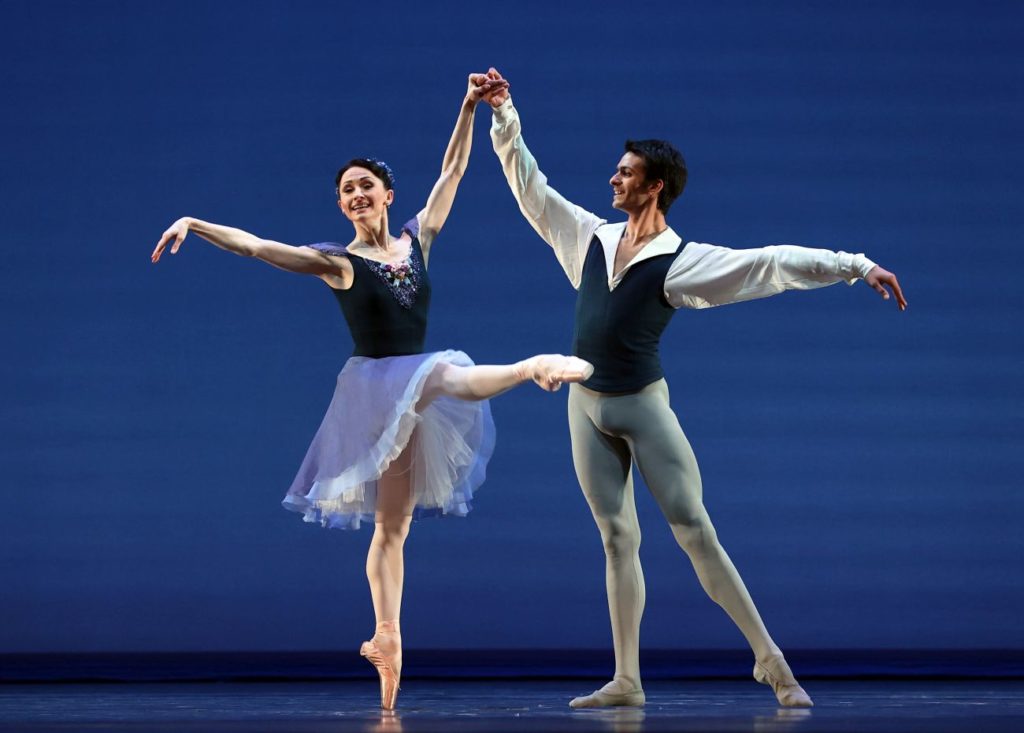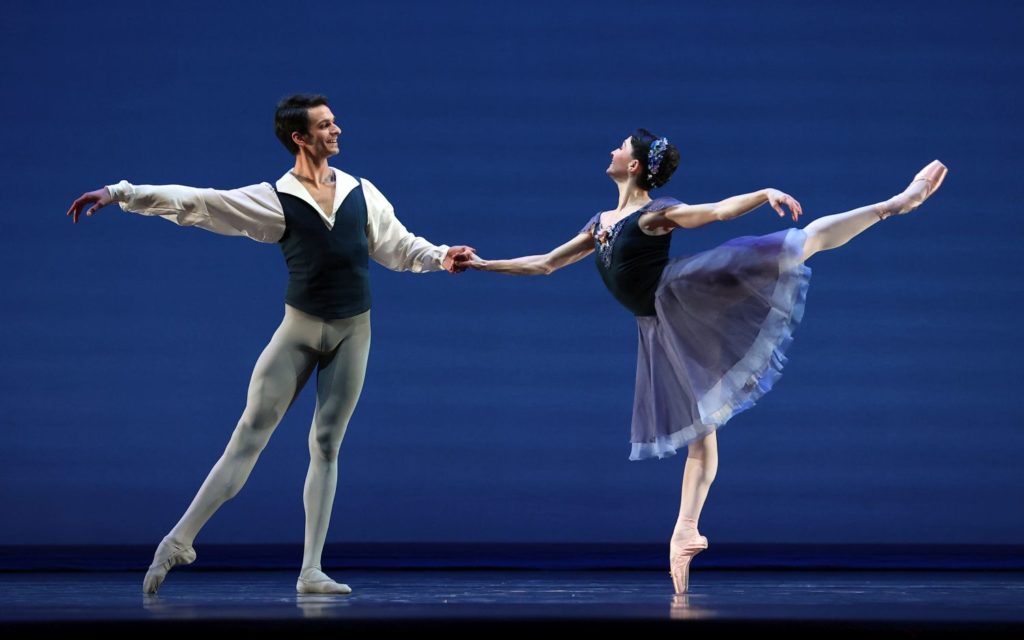 "Coppélia" and "La Source". The piece was a wonderful vehicle for Anna Tsygankova to show off her assured technique. She playfully – even mischievously – vacillated between gentle tenderness (think of butterflies fluttering on a sunny spring day) and verve. The long-limbed Constantine Allen has an elegant line and spacious jumps, but he underpowered the jeté en manege. With his physique he could dash through like an arrow.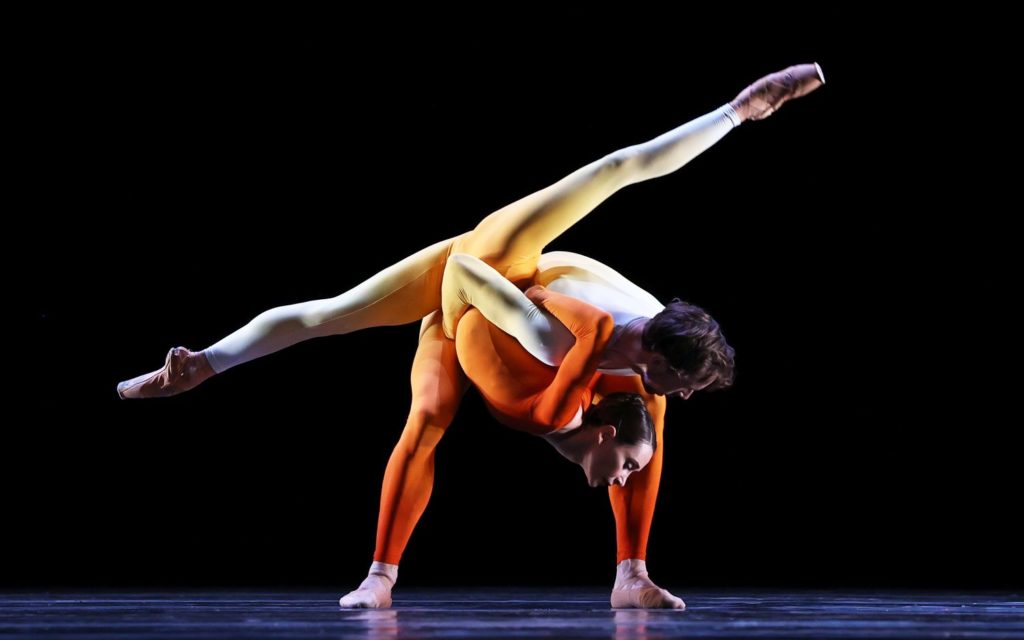 The new piece, "Alignment", was second to last in the program. The piece was choreographed over Zoom by Brazilian choreographer Juliano Nunes for Anna Ol and James Stout and was accompanied by edgy, strident string music by Ezio Bosso. Restlessness, desultoriness, and subtle anxiety permeate the atmosphere within its six-ish minutes. Lifts, leg splits, and embraces return again and again in Nunes's choreography. Sometimes Ol's legs quiver with fear. Stout bent her leg and arm upwards into a bud-like shape, carried her like a bundle behind his neck, or circled her like a carousel horse. Intermittently, the pair danced apart from one another;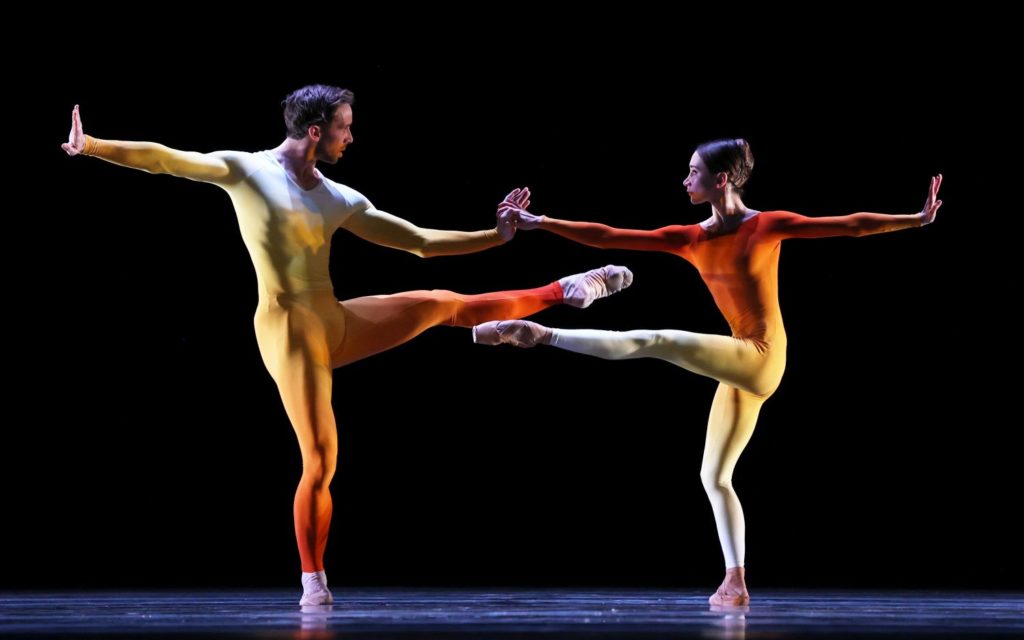 once, they fell to the ground as if exhausted. The costumes – full-body leotards by Oliver Haller with a yellow-red color gradient – lend the movements an intriguing visual aesthetic. Nunes didn't focus on depicting the emotional fabric of the relationship, leaving us in the dark about what keeps this couple together.
The gala concluded with a dashing rendition of a piece new to the repertory: Pyotr Gusev's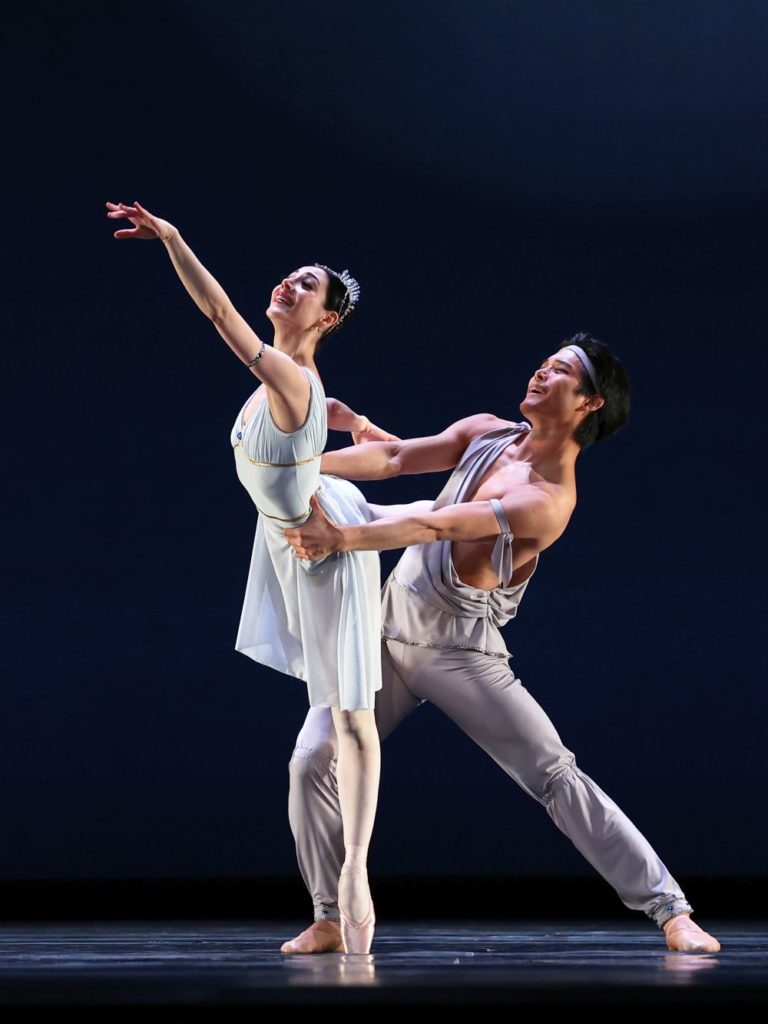 Talisman Pas de Deux. As Niriti, daughter of the Queen of Heavens, Maia Makhateli flirts with feminine reticence, hemming creamy, soft movements with crisp edges. Her arms and wrists are especially expressive. I was completely surprised by Young Gyu Choi's performance as Maharaja Noureddin – never before have I seen Gyu Choi give such a fiery performance, jumping forcefully and beaming with joy. Bravo!
Each piece except the first one was preceded by a short video made from snippets from the rehearsals and the dancers' comments on their choices. Applause came from the very few lucky ones who were allowed to attend the performance – among them staff, colleagues, and Hans van Manen.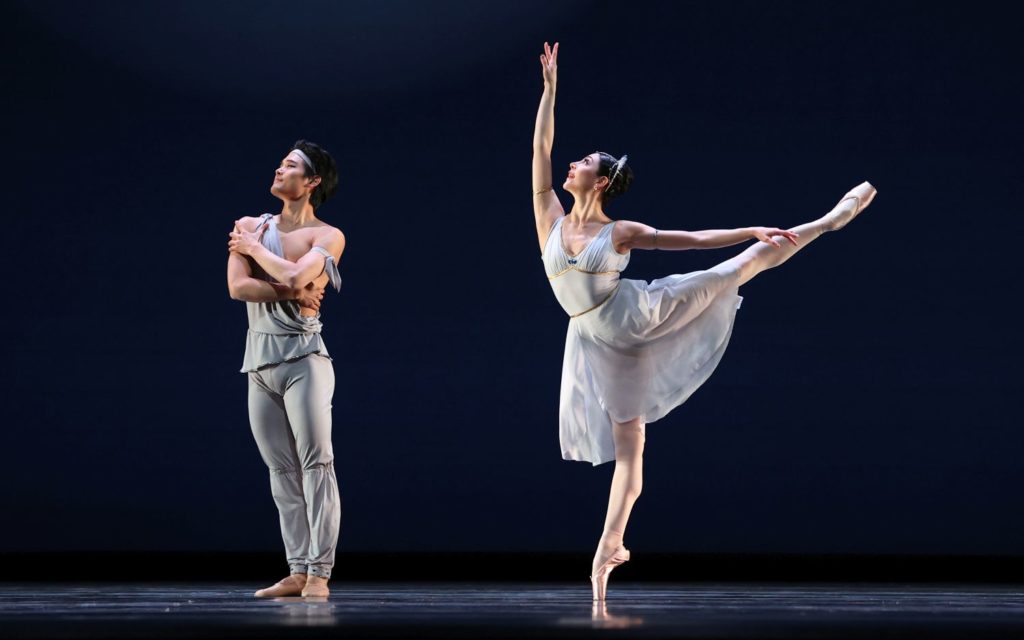 Links:
Website of Dutch National Ballet

Photos:

1.

Nina Tonoli, Sho Yamada, Jan Spunda, and Salome Leverashvili (Peasants), "Giselle" by Marius Petipa after

Jean Coralli and Jules Perrot, production and additional choreography by Rachel Beaujean and Ricardo Bustamante, Dutch National Ballet 2021
2.
Semyon Velichko (Count Albrecht) and Qian Liu (Giselle),

"Giselle" by Marius Petipa after

Jean Coralli and Jules Perrot, production and additional choreography by Rachel Beaujean and Ricardo Bustamante, Dutch National Ballet 2021
3.
Semyon Velichko (Count Albrecht) and Qian Liu (Giselle),

"Giselle" by Marius Petipa after

Jean Coralli and Jules Perrot, production and additional choreography by Rachel Beaujean and Ricardo Bustamante, Dutch National Ballet 2021
4.
Anna Ol and Artur Shesterikov, "Duet" by Wayne

Eagling, Dutch National Ballet 2021

5.
Anna Ol and Artur Shesterikov, "Duet" by Wayne

Eagling, Dutch National Ballet 2021

6.

Remi Wörtmeyer, "Classical Symphony" by Ted Brandsen, Dutch National Ballet 2021

7.

Vito Mazzeo and

Yuanyuan Zhang, "Replay" by Ted Brandsen,

Dutch National Ballet 2021

8.

Vito Mazzeo and

Yuanyuan Zhang, "Replay" by Ted Brandsen,

Dutch National Ballet 2021

9.

Jessica Xuan (Princess Aurora) and Jakob Feyferlik (Prince Florimund), "The Sleeping Beauty" by Marius Petipa, production and additional choreography by Sir Peter Wright, Dutch National Ballet 2021

10.

Timothy van Poucke and Jozef Varga, "Two and Only" by

Wubkje Kuindersma,

Dutch National Ballet 2021

11.

Anna Tsygankova and Constantine Allen, "Delibes Suite" by

José Carlos Martínez,

Dutch National Ballet 2021

12.

Constantine Allen and Anna Tsygankova, "Delibes Suite" by

José Carlos Martínez,

Dutch National Ballet 2021

13.

Anna Ol and James Stout, "Alignment" by Juliano Nunes, Dutch National Ballet 2021

14.

James Stout and

Anna

Ol, "Alignment" by Juliano Nunes, Dutch National Ballet 2021

15.

Maia Makhateli (Niriti) and Young Gyu Choi (Noureddin), "Talisman Pas de Deux" by Pyotr Gusev,

Dutch National Ballet 2021

16.

Young Gyu Choi (Noureddin) and

Maia Makhateli (Niriti), "Talisman Pas de Deux" by Pyotr Gusev,

Dutch Nationa

l Ballet 2021

all photos © Hans Gerritsen
Editing:
Jake Stepansky