"Exquisite Corpse Extra" (episode 1)
Ballet of the State Theater Nuremberg
State Theater
Nuremberg, Germany
April 10, 2021 (online)
by Ilona Landgraf
Copyright © 2021 by Ilona Landgraf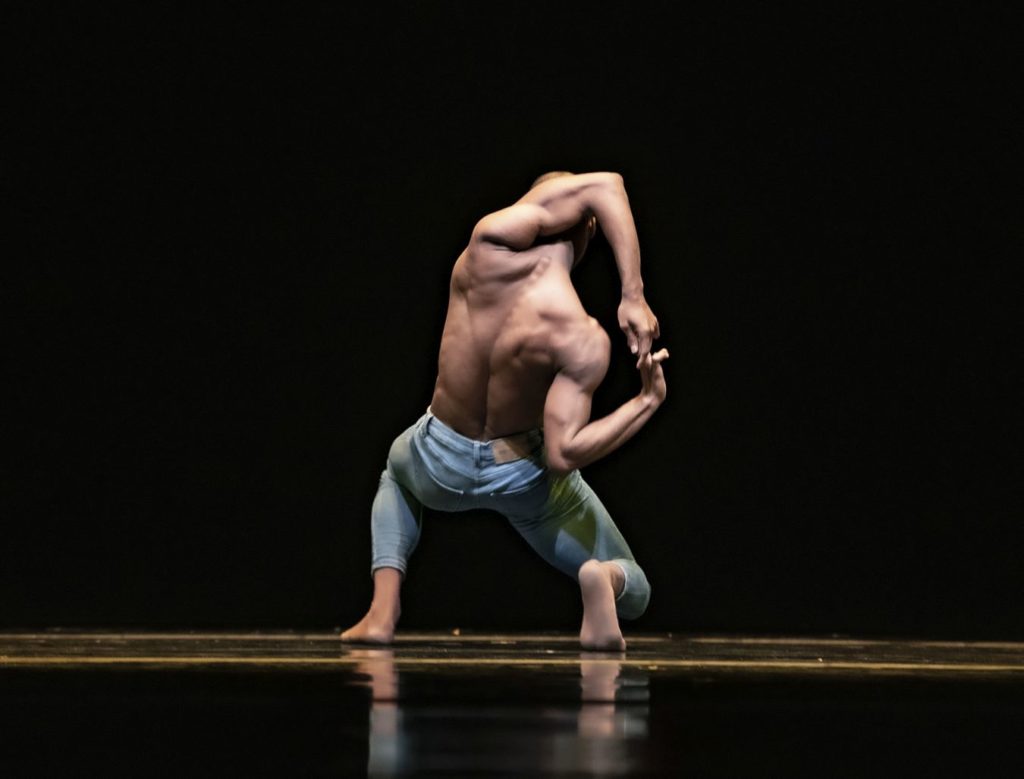 Thirteen of the State Theater Nuremberg's twenty-one dancers tried their hand at choreography this season, resulting in eleven new contemporary pieces split over three programs. The first of these programs premiered last Saturday; the remaining two will be broadcast online on upcoming weekends.
The first program (approximately 30 minutes) was assembled from three short pieces: a solo (choreographed and danced by Carlos Blanco) and two ensemble works (one by Edward Nunes and one by Andy Fernández). Each choreographer commented on their work in an accompanying video.
Blanco, thirty-one-year-old and Cuban, created a piece that attempts to demonstrate the difficulty of connecting with other people through spoken language when lacking in vocabulary. While building this solo, he experienced a similar challenge as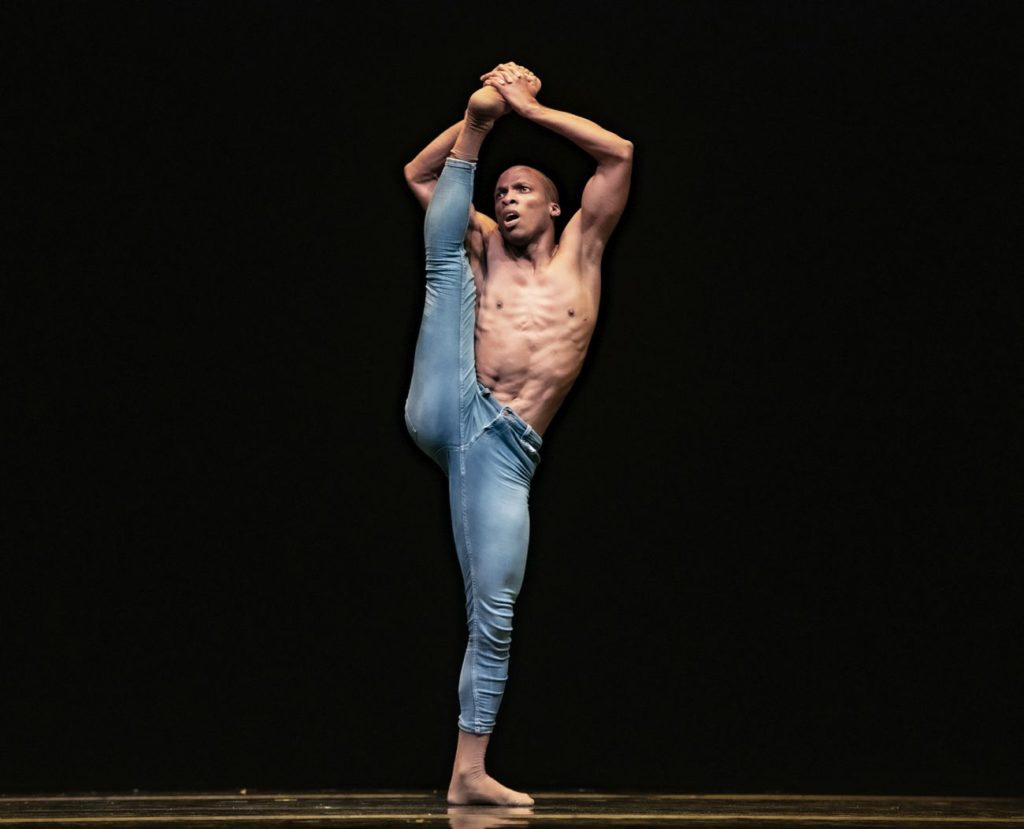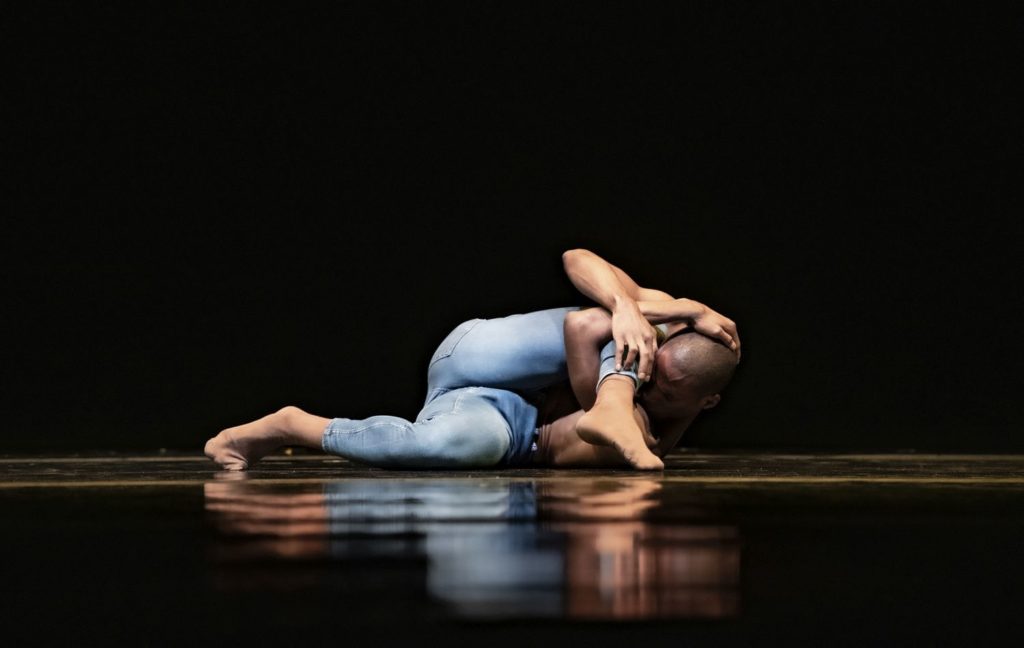 he sought to find a movement language of his own rather than copying that of Goyo Montero, Sidi Larbi Cherkaoui, or Pontus Lidberg. This blurred line between borrowed identity and true self is also mirrored in the choice of music – songs from the Norwegian singer Sidsel Endresen. Though at times her language sounds like Spanish, she sings in entirely different tongue.
"Me Inside Me" is an apt title for Blanco's solo, as for a large part of the time he has his arms and legs snarled into knots that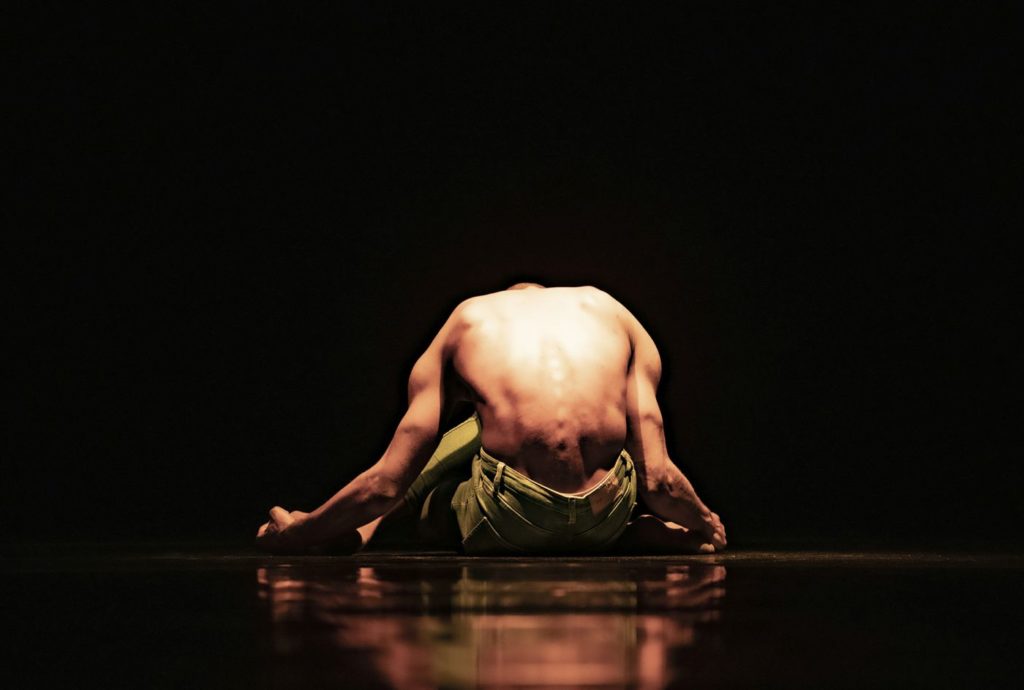 restrict his movement. At times it seems that his hands are chained to his ankles, forcing his legs to follow the movements of his arms. His arms bind next into a circle; his legs squirm through in an effort to stretch. Blanco peers out from between his contorted extremities, rolls across the floor, sits, and occasionally stands – yet at any one time, one of his limbs is locked. Only when the yellow lighting turns to a mysterious blue do his arms and legs regain their freedom, accompanied by mellow piano sounds by Trent Reznor & Atticus Ross. Suddenly, Blanco's movements consume the space; his legs stretch into a deep lunge, arms and legs paddling across the floor as if testing the range of their freedom – but this newly found liberty is still unfamiliar. Blanco crouches and, as if by habit, grabs his own ankle. He frees it from his grip, shakes his head in disbelief and, with reinforced resolve, reaches out.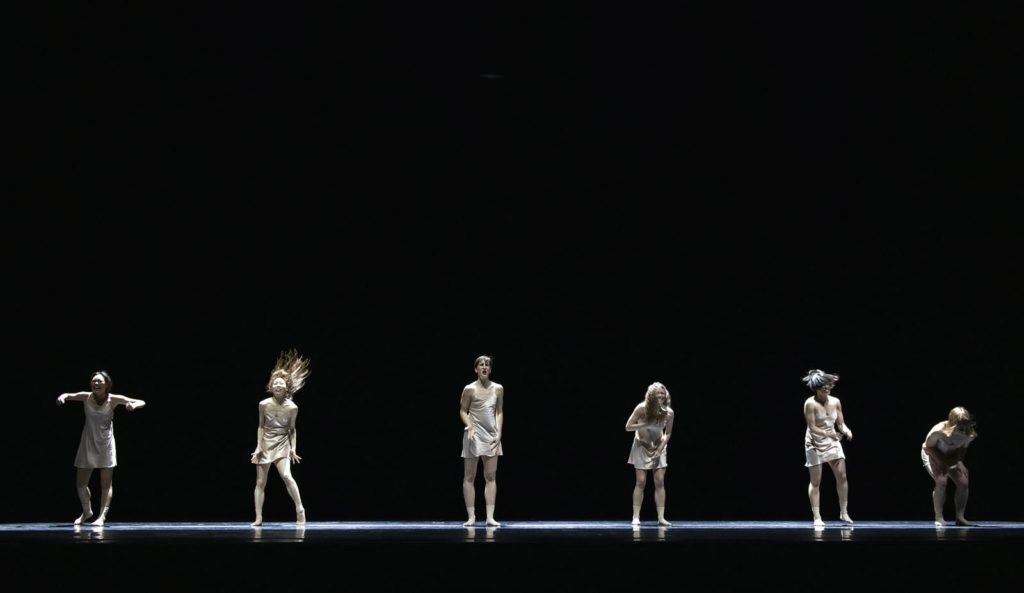 "Maria" by Nunes opens with six women in short pink negligées slowly walking out of distant darkness towards the front of the stage. All of them cast their gaze downwards, their hairs hanging down, their shoulders dropped. It's clear at first sight that they are battered. As they move, their upper bodies swing to the side, their arms thrusting abruptly towards the floor. As their heads jerk sideways, they exhale, their breath hissing. One woman moves on her own, speaking as if in a trance. As the others join her, their speech rhythm suggesting a prayer, another woman steps forward and beats herself as if tormented by demons. As the prayers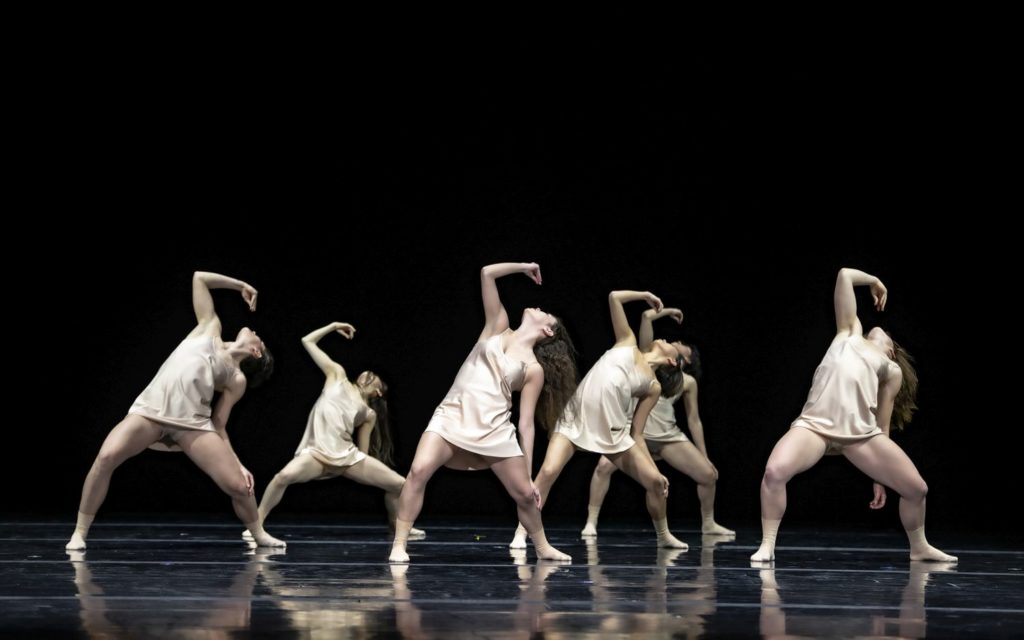 intensify, her self-harm grows more and more frantic. Nunes's women are agonized; they shiver, gesticulate desperately, one cries without restraint – yet they hold on, pulling themselves up by their own hair or pushing their prone bodies off the floor with the last of their strength.
"Maria" isn't the sort of piece that's easy to watch. It's a depiction of a harrowing condition that doesn't have an emergency exit. You might think: "just another gloomy piece" but listening to Nunes discussing his background will shift your perspective. Born into a humble family in Brazil, young Nunes had to work to support them from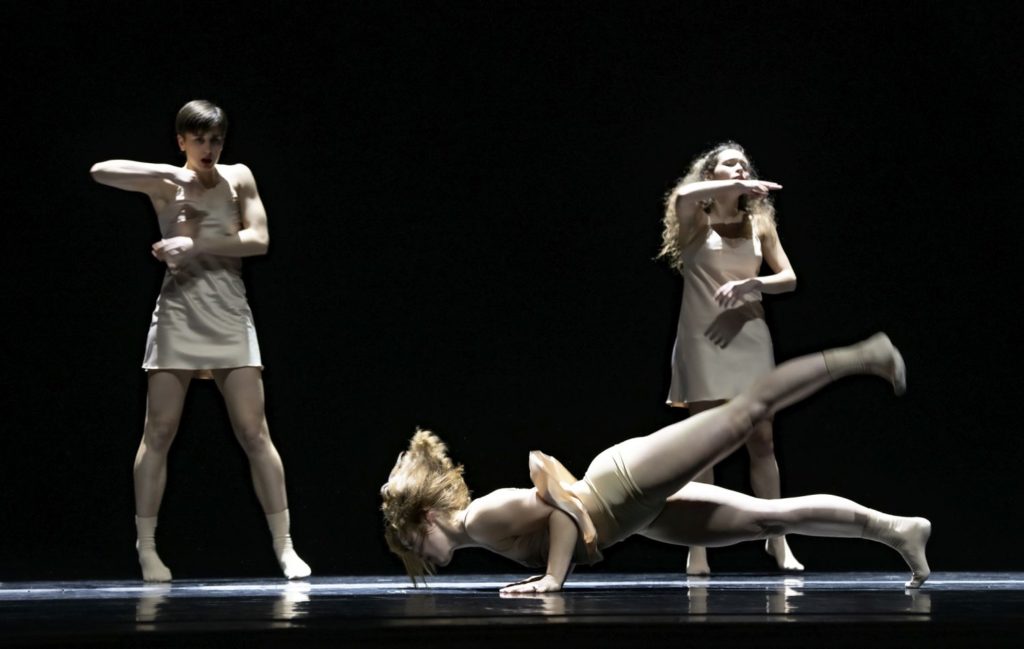 the age of ten. At fourteen he was admitted to the Bolshoi Theater School in Joinville/Brazil; he graduated four years later. "Maria," he reveals, is based on his mother, Maria Daniela Peremida, who was abused by her husband for fifteen years – but, through her own strength, "overcame everything." Having buried this experience for many years, twenty-four-year-old Nunes decided it was time to unearth his family's past; expressing himself through choreography was easier than talking. "Maria" is an amalgam of his experience and of personal experiences contributed by each of his six dancers.
"This is not an easy thing for me, but I thought like I had to – for me, the women, and for my mom," Nunes said.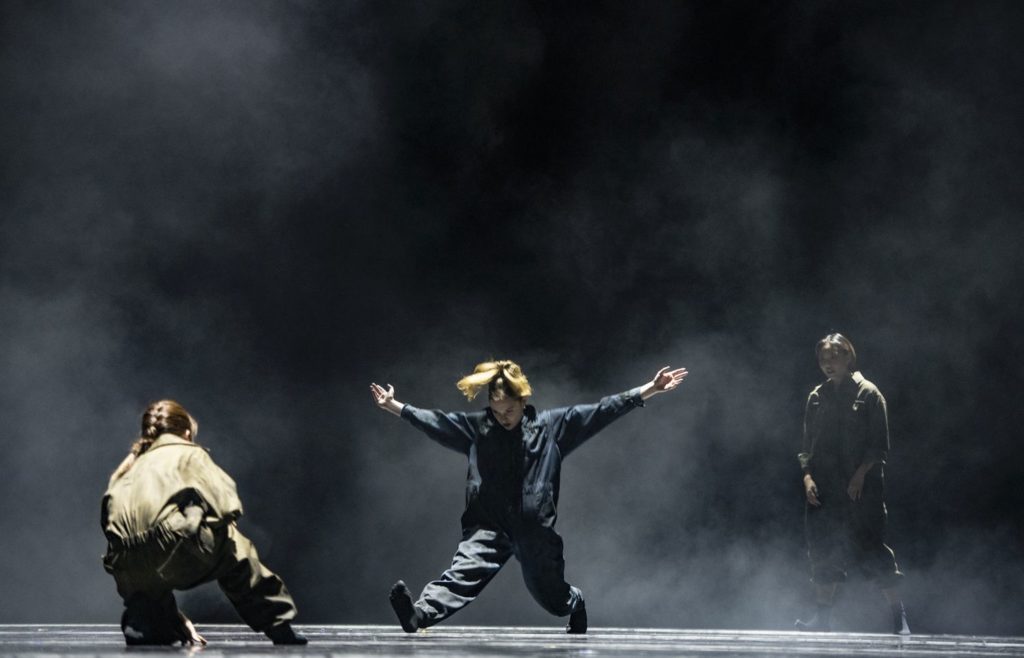 In his backup video, Fernández introduces himself as an American Latino from Boston who self-identifies as a Spirit Monkey – whatever that might be. He is the choreographer of the third piece – "Music for Spirit Monkeys" and hip-hop (in its various facets) is his métier. I'm not an expert in the hip-hop styles he mentions – popping, krumping, b-boying – but I agree that the movements he asked his dancers to imitate aren't the prettiest. In Fernández's opinion, the different rhythms that the dancers follow melt into a harmony when combined alongside Mason Johnston's commissioned score. It's not an uplifting kind of harmony, though. This group of four men and four women in gray and khaki overalls – what are they after? They cluster together under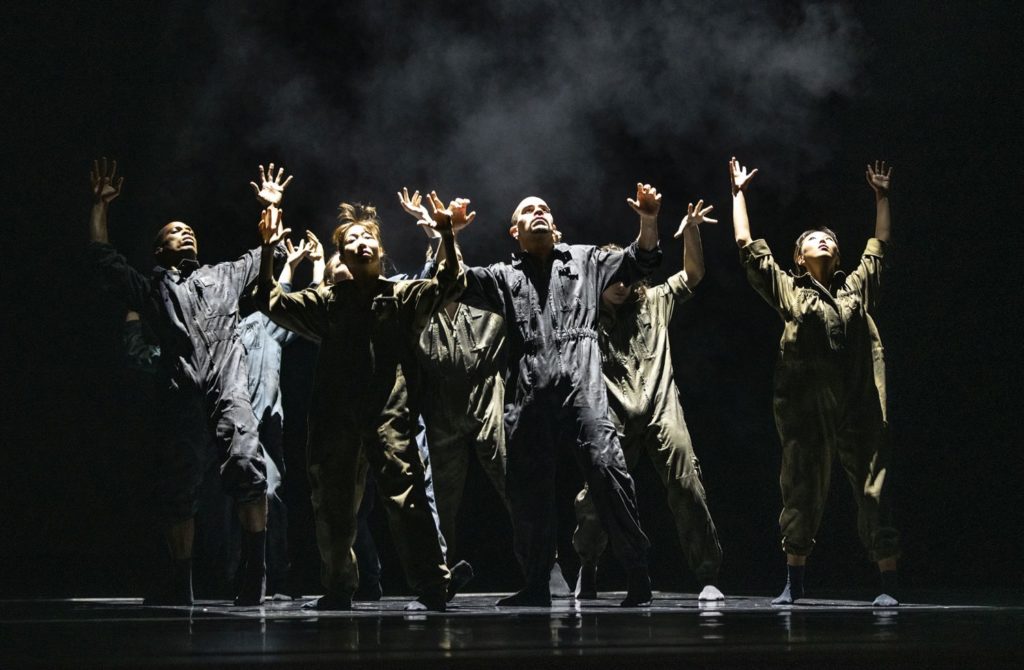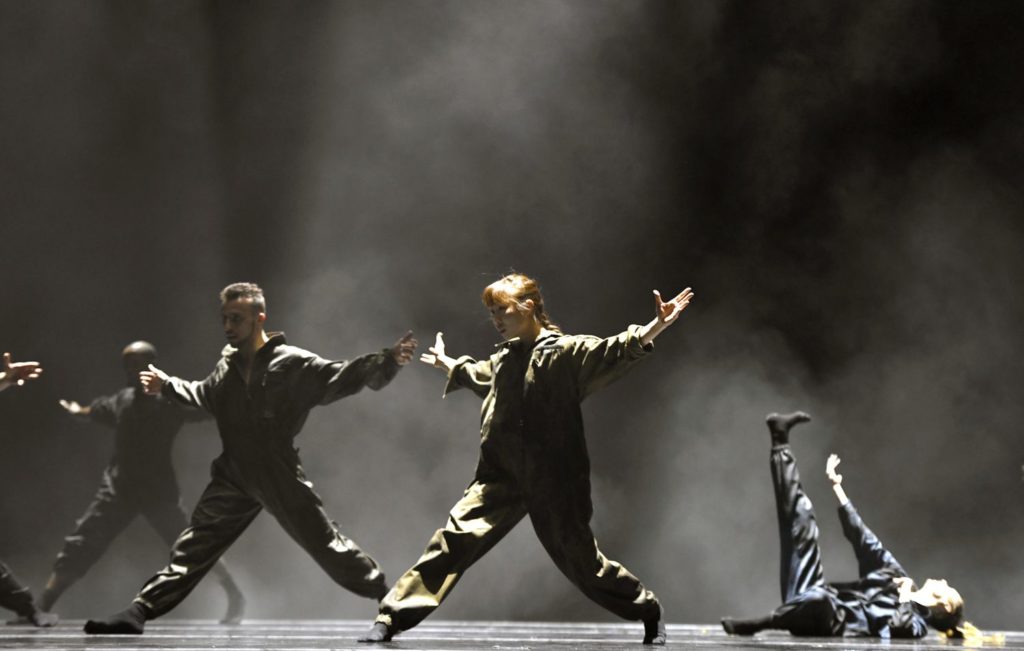 flickering strobe lights and throw up their arms. They stride in sync, run in circles, and tremble around a spot of light as if possessed by an alien force. Later, they begin to mimic animals (a running monkey, for example) and tribal dance.
The foggy brown-ish lighting turns dark and circles and rectangles of light appear again and again. Stepping into those shapes triggers an inexplicable transformation – a reprogramming through full-body electroshock, perhaps. In the final scene, one man lies on the floor in uncontrollable, excruciating convulsions. What does Fernández want his audience to gain from this?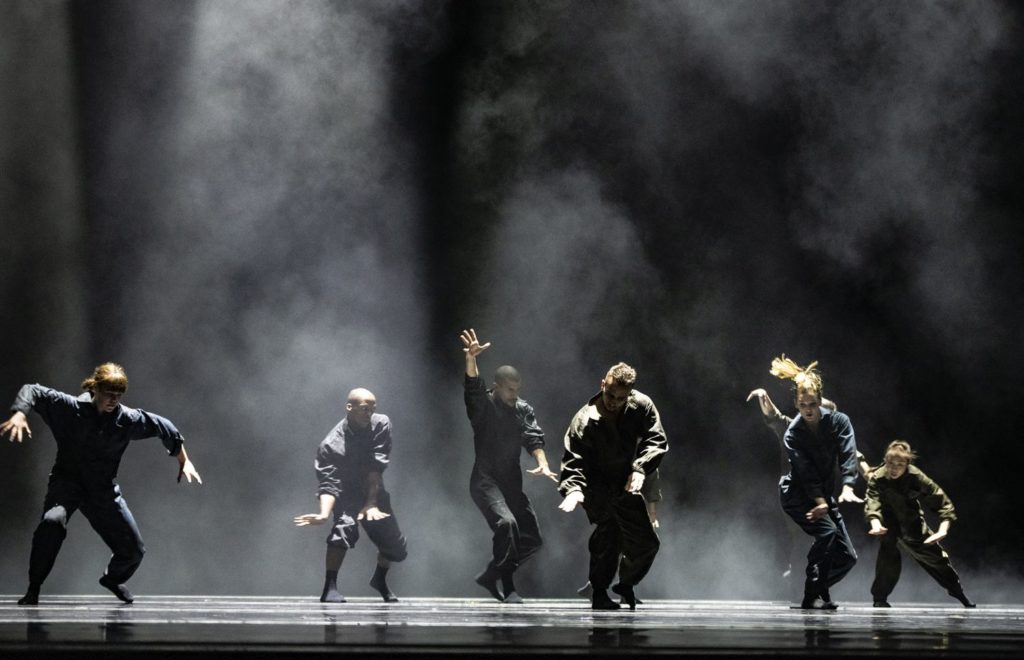 Links:
Website of the State Theater Nuremberg
"Exquisite Corpse Extra" episode 1 (video)
Meet the artist: Carlos Blanco (video)
Meet the artist: Edward Nunes (video)
Meet the artist: Andy Fernández (video)

Photos:

1.

Carlos Blanco, "Me Inside Me" by Carlos Blanco, Ballet of the State Theater Nuremberg 2021

2.

Carlos Blanco, "Me Inside Me" by Carlos Blanco, Ballet of the State Theater Nuremberg 2021

3.

Carlos Blanco, "Me Inside Me" by Carlos Blanco, Ballet of the State Theater Nuremberg 2021

4.

Carlos Blanco, "Me Inside Me" by Carlos Blanco, Ballet of the State Theater Nuremberg 2021

5.

Y

eonjae Jeong, Chisato Ide, Stella Tozzi, Ana Tavares, Karen Mesquita, and Kate Gee, "Maria" by Edward Nunes, Ballet of the State Theater Nuremberg 2021

6.

Yeonjae Jeong, Chisato Ide, Stella Tozzi, Ana Tavares, Karen Mesquita, and Kate Gee, "Maria" by Edward Nunes, Ballet of the State Theater Nuremberg 2021

7.

Stella Tozzi, Yeonjae Jeong, and Ana Tavares, "Maria" by Edward Nunes, Ballet of the State Theater Nuremberg 2021

8.

Chisato Ide, Sofie Vervaecke, and Yeonjae Jeong, "Music for Spirit Monkeys" by Andy Fernández, Ballet of the State Theater Nuremberg 2021

9.

Carlos Blanco, Lucas Axel, Chisato Ide, and Sofie Vervaecke, "Music for Spirit Monkeys" by Andy Fernández, Ballet of the State Theater Nuremberg 2021

10.

Kate Gee, Chisato Ide, Yeonjae Jeong, Sofie Vervaecke, Nicolás Alcázar, Lucas Axel, Carlos Blanco, and Edward Nunes, "Music for Spirit Monkeys" by Andy Fernández, Ballet of the State Theater Nuremberg 2021

11.

Kate Gee, Carlos Blanco, Lucas Axel, Edward Nunes, Sofie Vervaecke, and Chisato Ide, "Music for Spirit Monkeys" by Andy Fernández, Ballet of the State Theater Nuremberg 2021

all photos © Bettina Stöß

Editing:
Jake Stepansky