"Young Creatives" ("Memento" / "Rose" / "I Feel It Too")
Dutch National Ballet
Dutch National Opera & Ballet
Amsterdam, The Netherlands
May, 2021 (online)
by Ilona Landgraf
Copyright © 2021 by Ilona Landgraf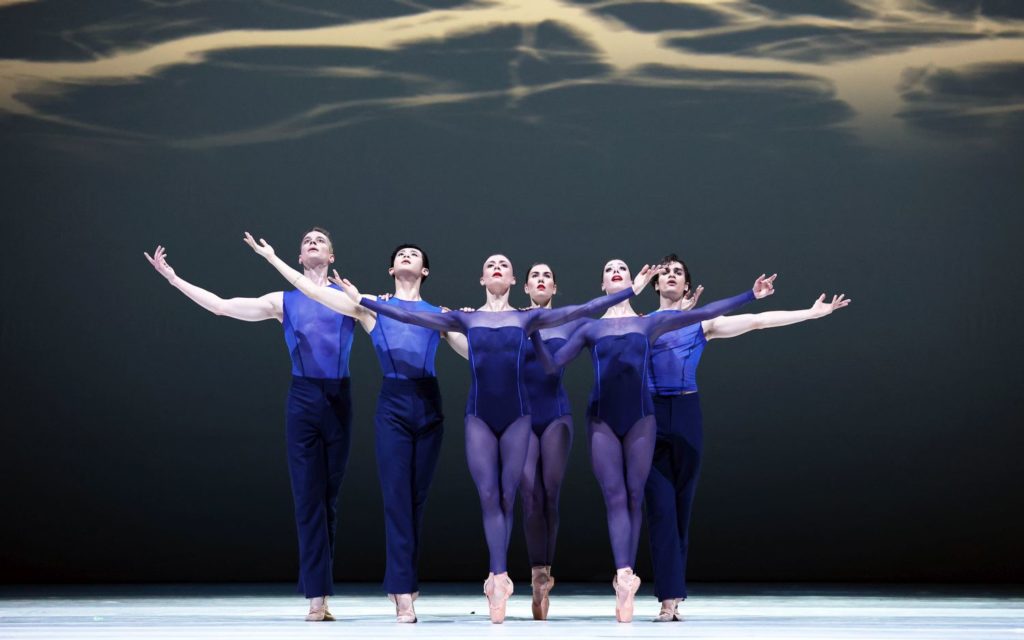 Following the online premiere of "Metamorphosis", the new ballet by Dutch National Ballet's associate artist David Dawson, the company released three additional videos at the end of May. Each features a ballet film by a young creative associate: "Memento" (concept and choreography by Wubkje Kuindersma), "Rose" (direction, concept, and choreography by Milena Sidorova), and "I Feel It Too" (creative direction and choreography by Sedrig Verwoert). All three films can be viewed for free on the company's YouTube channel until October 2021.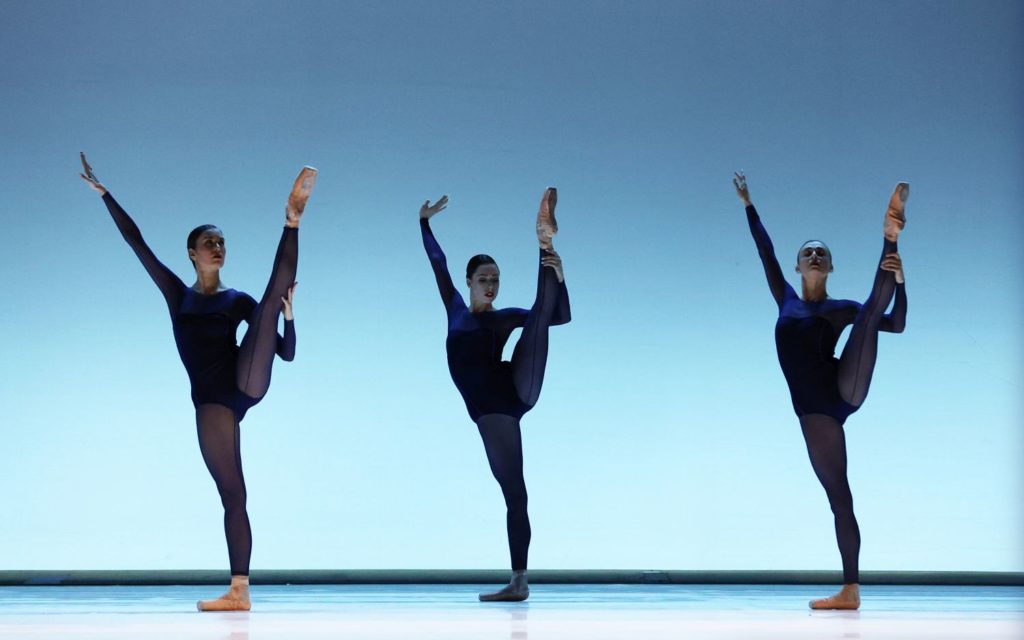 "Memento" by Wubkje Kuindersma is about mortality and the restrictions that the lockdown put on human beings' need for natural, free movement. "It's as if the earth has lost its natural flow," she explains. Three men and three women group and regroup in a blue-lit space, accompanied by the subdued melancholy of the third movement of Henryk Górecki's "Symphony of Sorrowful Songs". Their torsos undulate, wavelike; their arms stretch forward, palms pressed outwards; they look towards the sky as their chests arch back, a gesture of trustful (or hopeful) devotion. Their movements are flowing and spacious, imbued with subdued solemnity. Clever camera work by Mathieu Gremillet lends an interesting perspective to the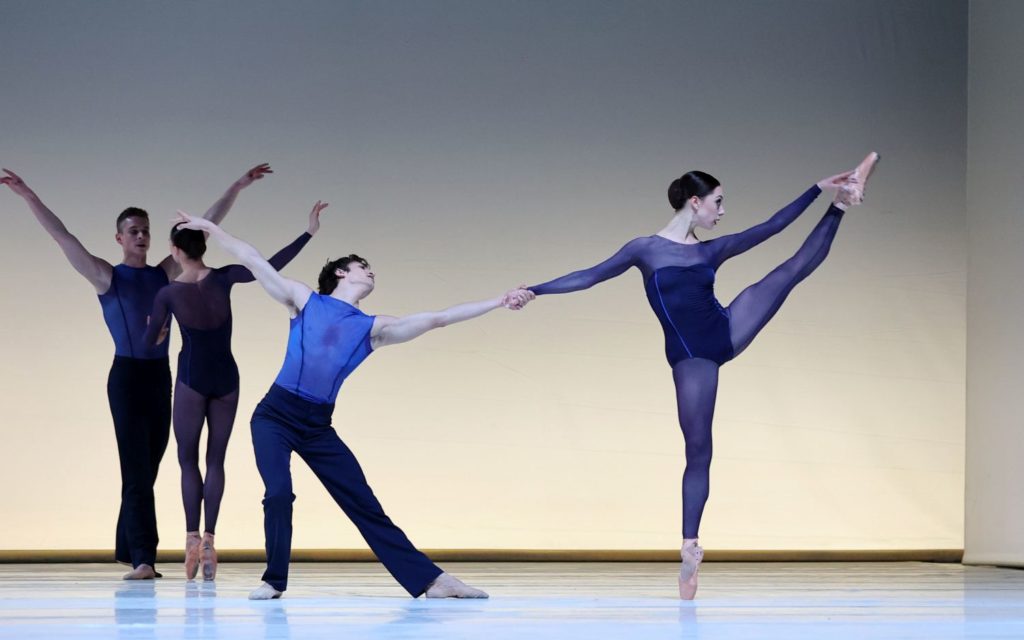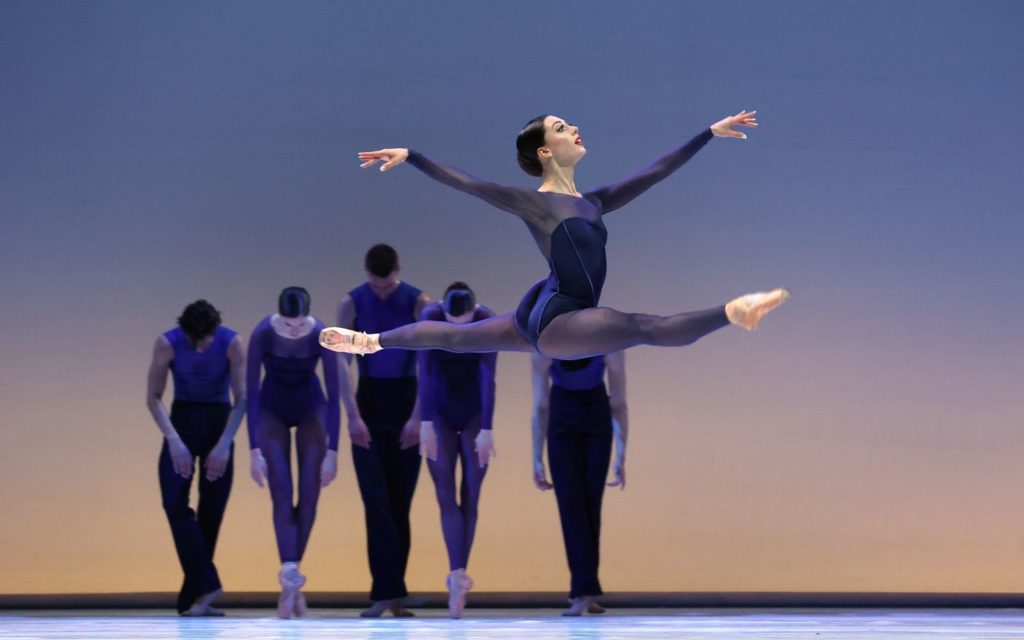 choreography's geometric patterns – a common diagonal formed by three dancers, triangles defined by three dancer-corners or by a group of dancers standing side by side. The women's velvety blue tricots and the men's gray-blue pants and shirts contrast effectively with the blue-ish backdrop. Where might this surreal space be located? Perhaps it's an antechamber to Hades – or to Heaven.
As the camera zooms in on one male couple (Manu Kumar and Dingkai Bai), we watch their intimate duet, which culminates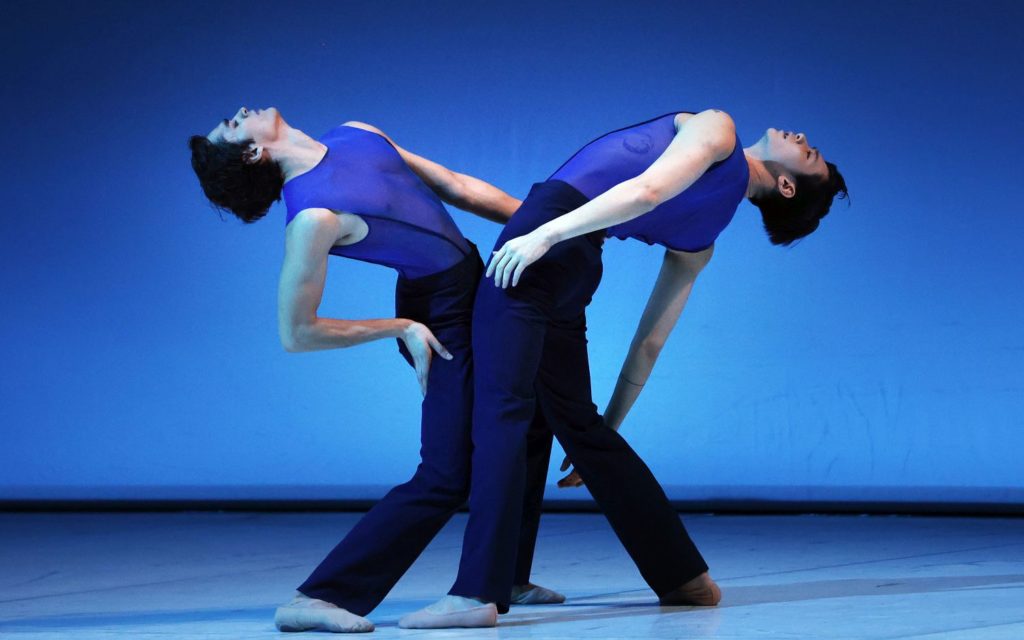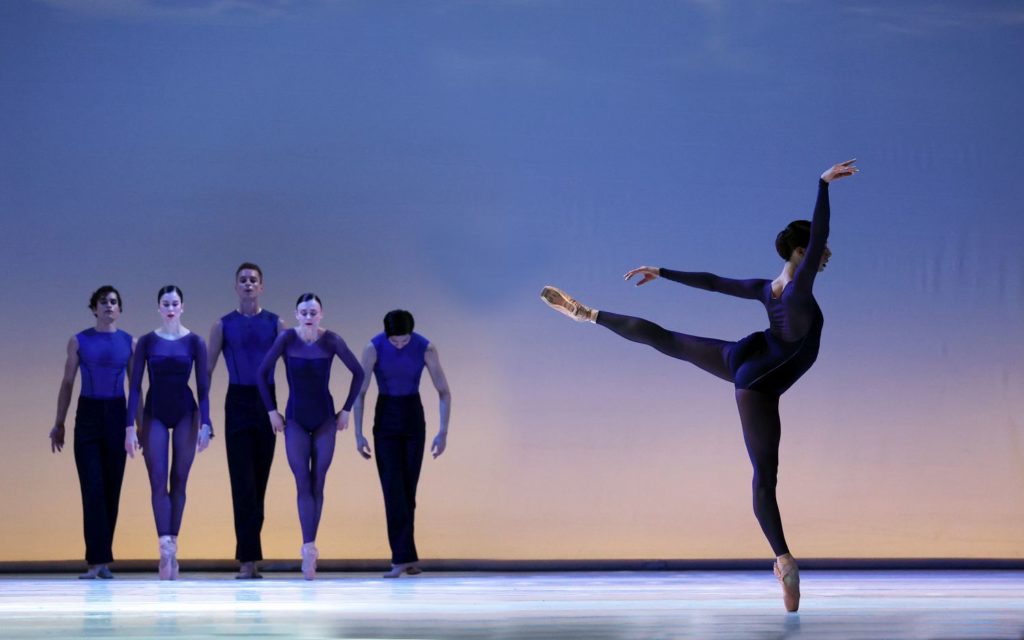 in backwards back-bending that creates an arch. They repeat some of these movements in a breezier second duet. In the final third of the roughly fifteen-minute-long piece, the lighting changes from blue to beige-white and gray. On the backdrop above the dancers' heads, a black-and-white-video of the surf at the waterfront is projected, as if it was a clouded sky.
In the closing credits, Kuindersma joins the dancers on stage, improvising cheerful free-style dancing to (certainly different) music that we can't hear. For the first time, they smile.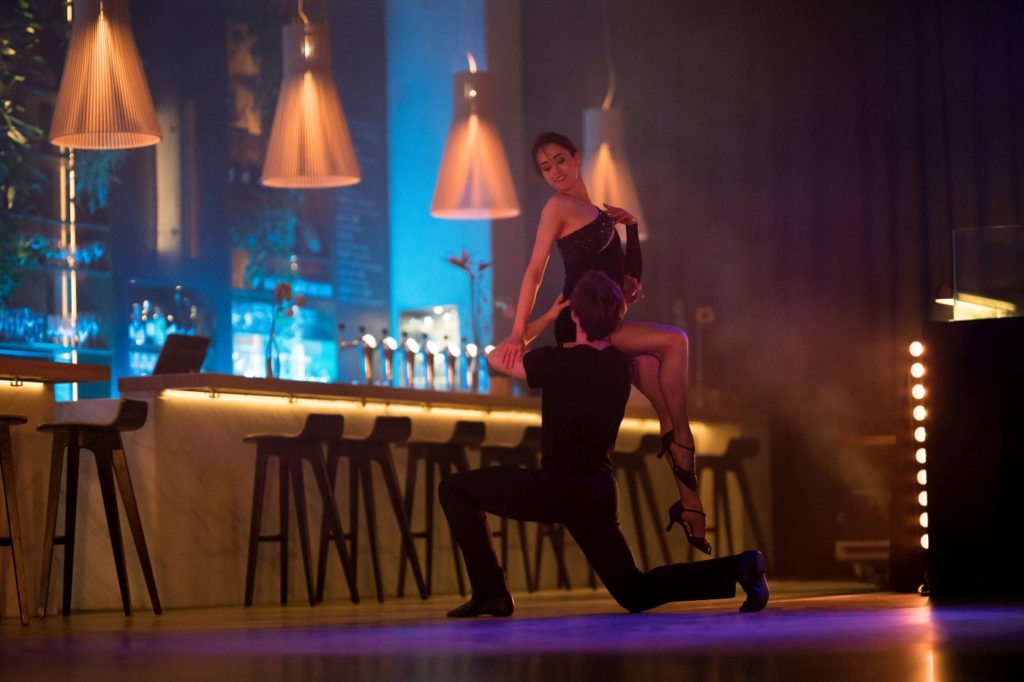 The second film – "Rose" by Milena Sidorova – is titled after its main female protagonist, the young Rose (Beatriz Kuperus). Rose is dolled up in an ultra-short little black dress, fishnets, high heels, jewelry, and red lips, sitting alone at the bar in a sparsely populated café and consuming lonely cocktails. Percussion hammers out of the loudspeakers (Brent Lewis, "Ode to Buckwheat"). Her sole audience is the blonde bartender (Rémy Catalan), whose eyes gaze over, face motionless, nodding repeatedly like a plush toy, presumably to express empathy.
While she's telling him about her ex-boyfriend, reality and narration merge. Her ex (Sander Baaij, wearing black pants and a glittery silver shirt as if about to compete at the Blackpool Festival) suddenly appears, dancing with her right in the middle of the café. Clearly, their romance has faded. They dance in a broken rhythm, responding to each other with abrupt movements, until their hands part – but there's already another guy waiting for Rose: the wannabe boyfriend (Alejandro Zwartendijk). He caresses her arm, his bent knees and pattering feet revealing his excitement – but he's not the right lover either, and Rose tries again and again to escape from his grip and shake off his hands. When he finally realizes her refusal, he doesn't dare to grasp her hand again.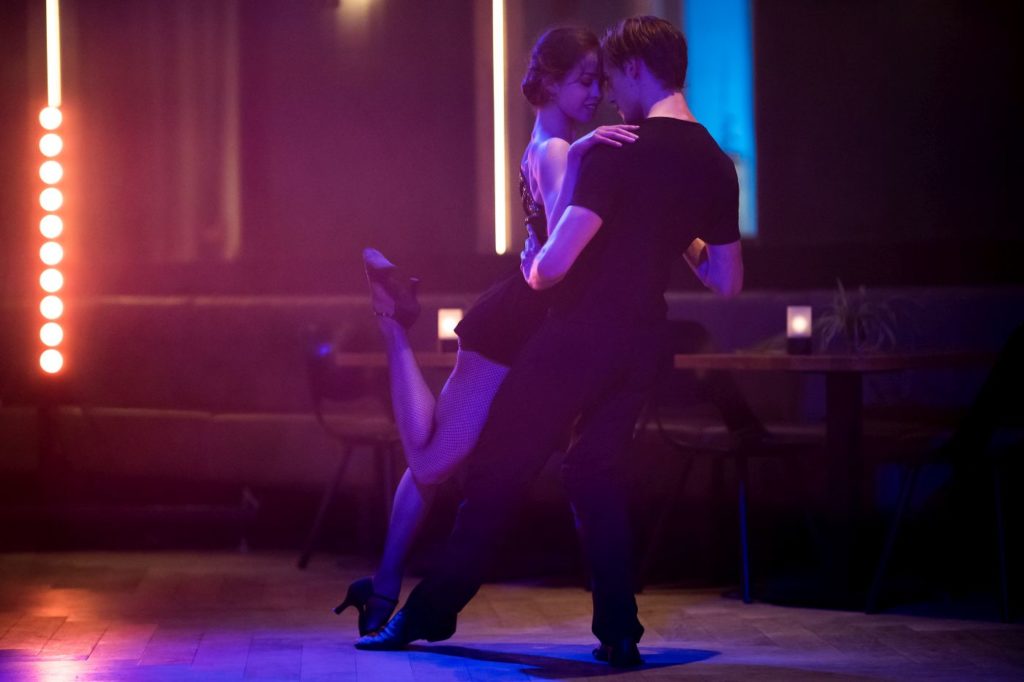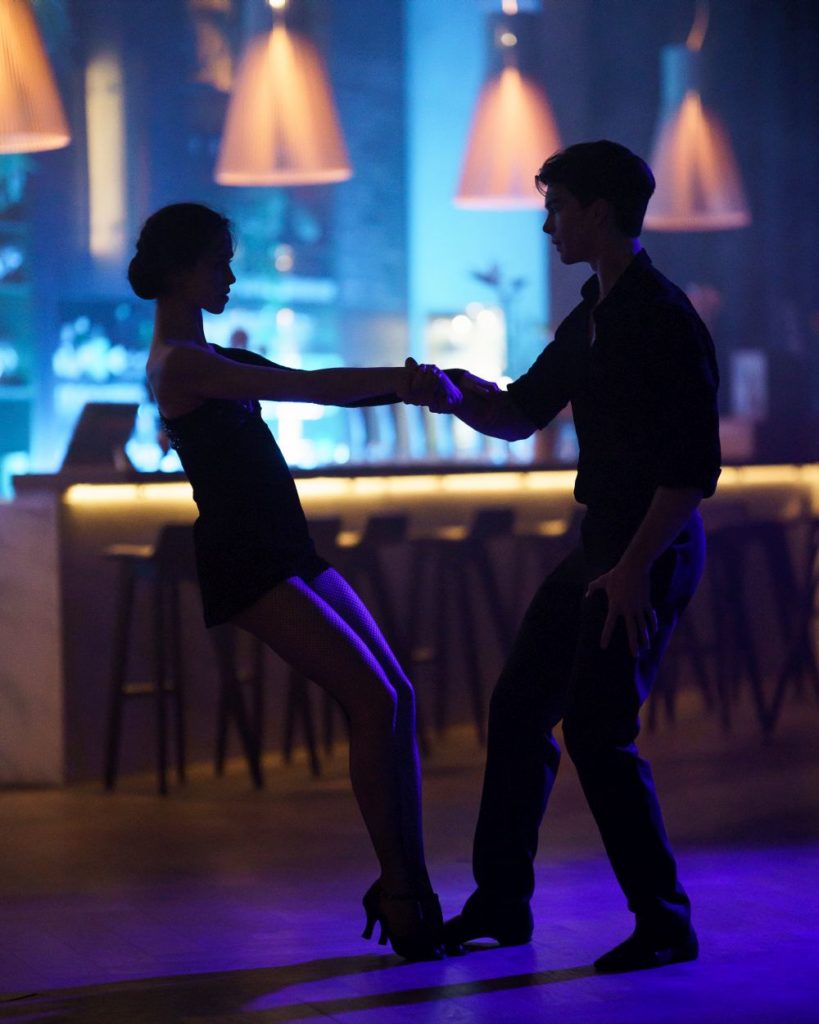 Meanwhile, the bartender, absorbed in his own thoughts about past love affairs, stops nodding. While Doris Day sings "Perhaps, Perhaps, Perhaps", we join him as he recalls three romances, performed as couple dances in a dimensionless white space. In the first, the young woman (Lore Zonderman) suddenly turns away from him, nearly causing him to fall flat on his face. The second woman (Yvonne Slingerland) has the most admirable legs, but walks off. The third (Nadine Drouin) evades his kisses and, presented with a red rose, sprinkles it with salt before taking a bite.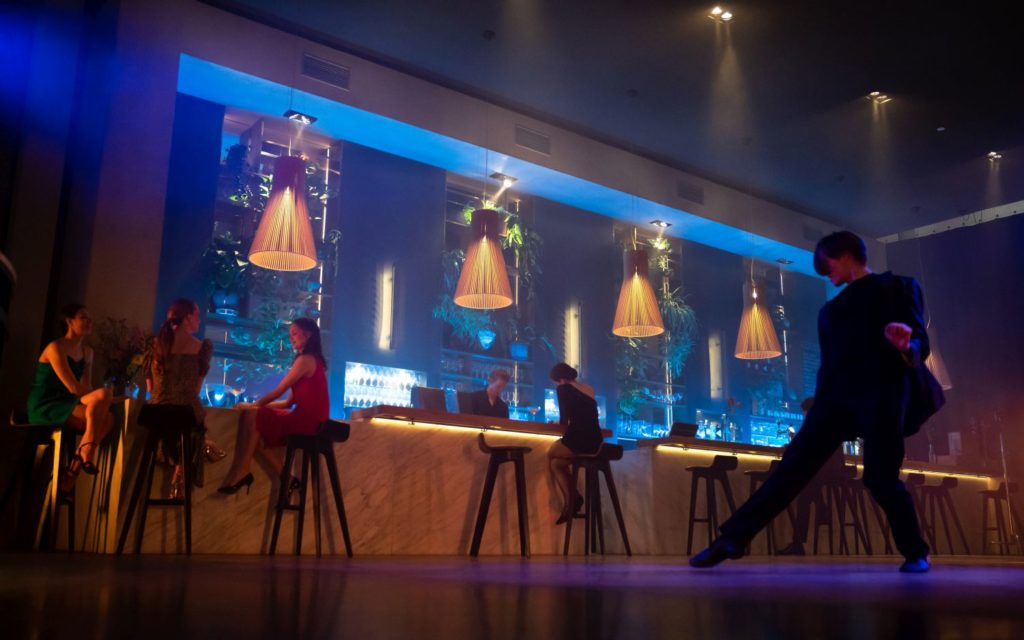 By this time, Rose has fallen asleep at the bar, dreaming of a man in a black suit (Bela Erlandson). He enters the bar and immediately shows off in a free-style solo (earning surreptitious glances from other female guests) before taking a seat right next to her. In no time, she has entered into a salacious dance with him. Only when the bartender serves another cocktail does she wake up, finding the bar-stool next to her empty. As she slowly lifts her gaze, the men from her dream sits down beside her and they begin an animated conversation.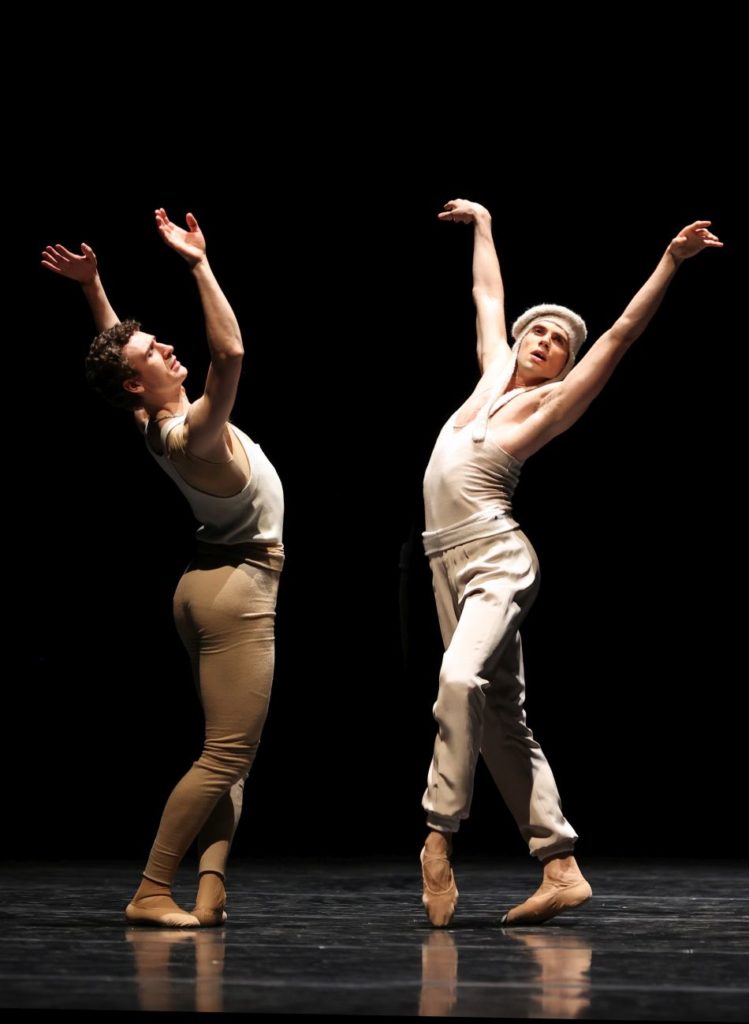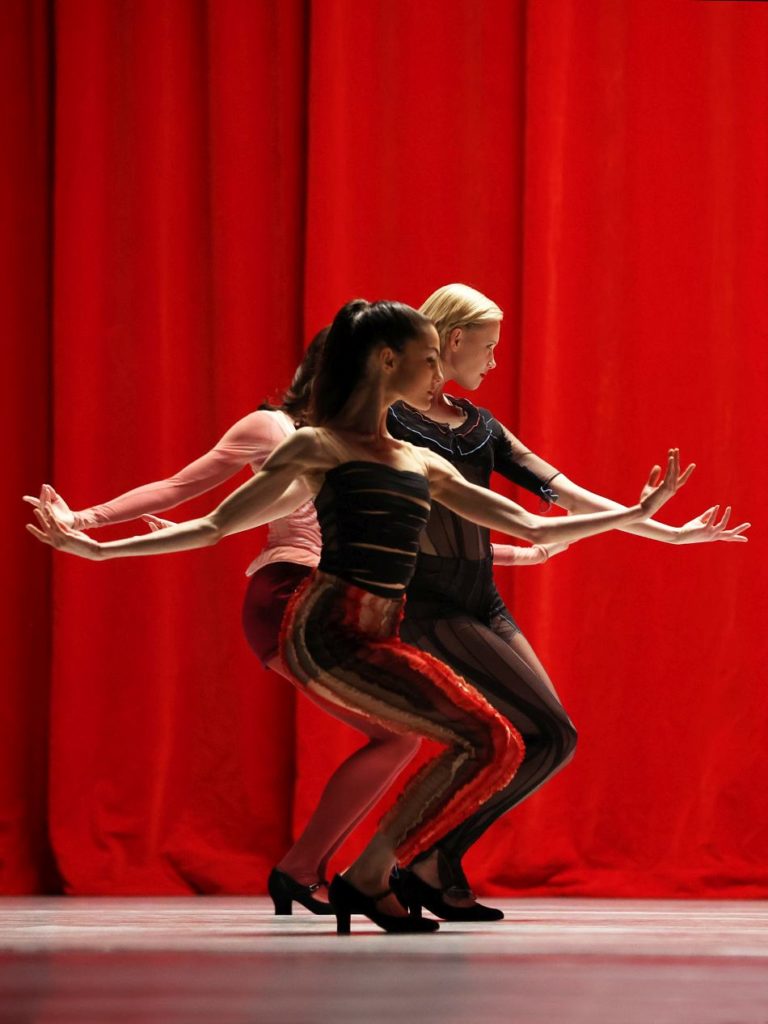 In Sedrig Verwoert's 30-minute "I Feel It Too", we follow thirteen dancers through the dimly lit backstage aisles of the theater, upstairs and downstairs, into the studio and onto the stage. Only once does a single onlooker sit in one of the theater's front rows – Verwoert, watching his dancers. They perform in a museum-like setting in front of a huge painting and on the Dutch National Opera's stage under the skeleton of a young elephant that hangs down from the ceiling. We even watch as two drenched male dancers in track pants encounter one another in the shower room, dancing a brief duet that vacillates between sensuality and virility. The same men later perform a duet in a concrete underground corridor, watched over by their colleagues. The scene has a vaguely ritual character.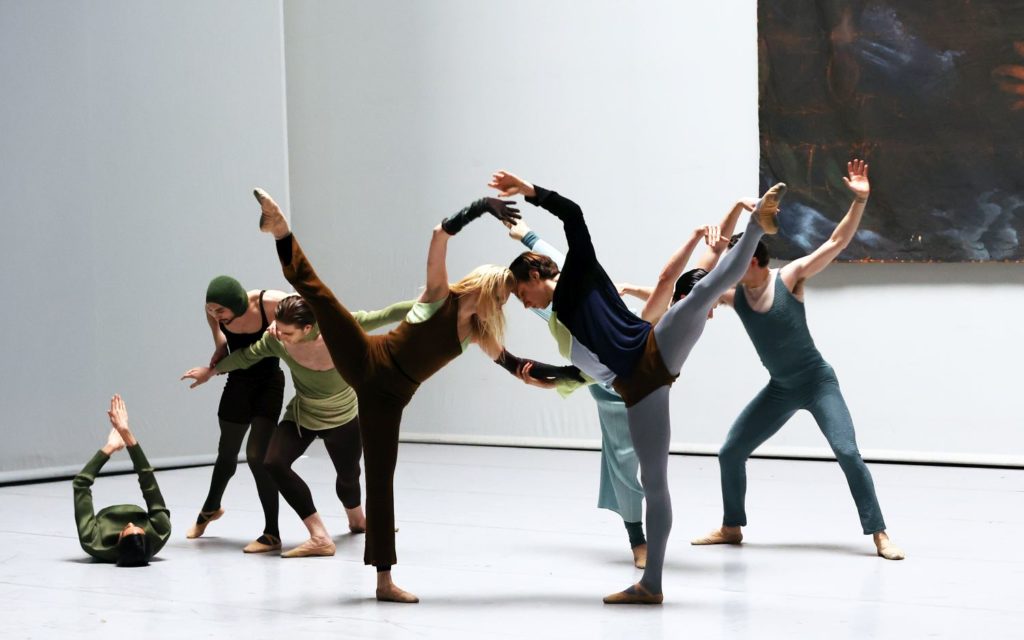 The costumes comprise an unconventional array of styles, fabrics, colors, and cuts. Long-sleeved gloves are worn by both sexes. Often, bare skin is revealed for reason of sex appeal; wool caps and knitted clothing are popular, too.
Text spoken by Roziena Salihu enhance the meaning of certain scenes. We hear her speak about what she's missed during the lockdown ("loving them", "hugging random people, the way we kissed them on the cheek the first moment we met", "us – and the way we used to be") and how difficult it has been for performers to deal with the restrictions ("I almost forgot what you look like. Our faces covered … Empty stages fill the pages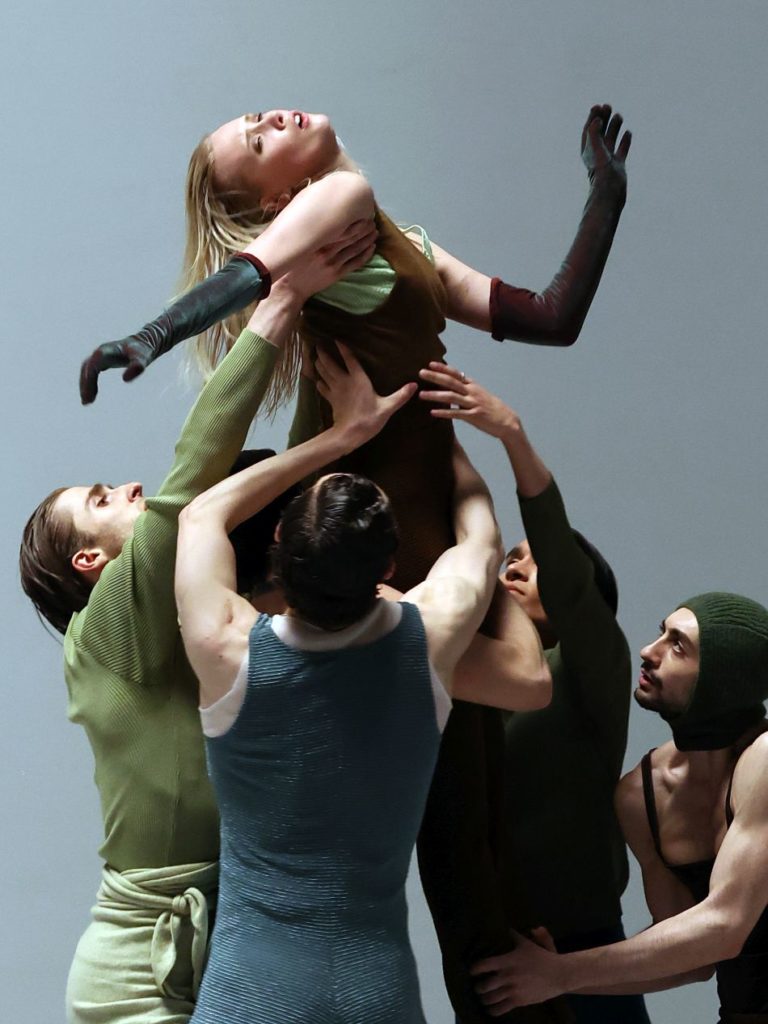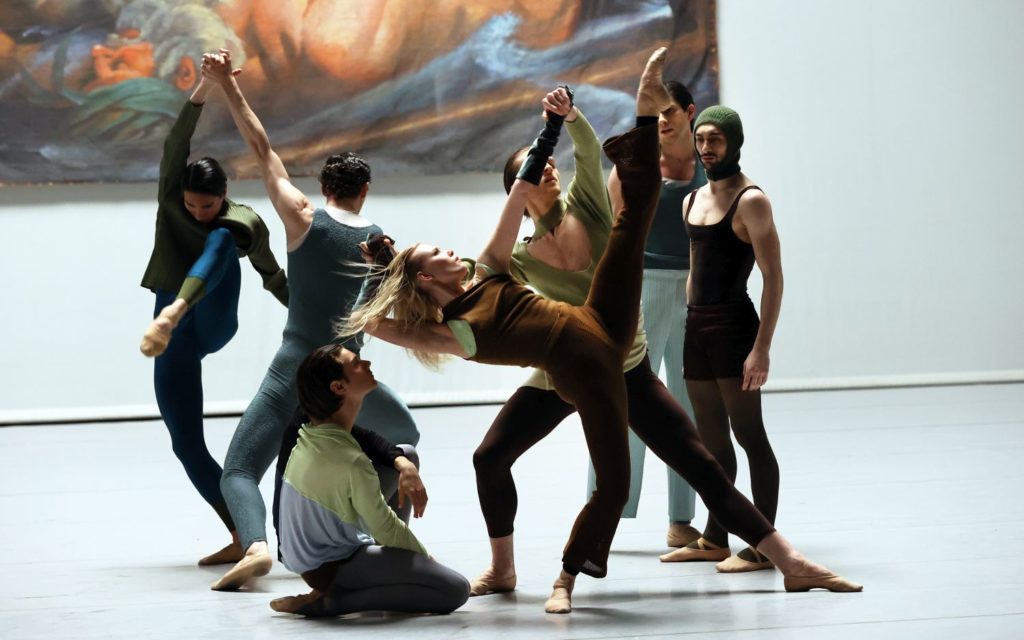 we pour our heart into.") On one occasion, she joins a group of female dancers in the studio; they lie in a circle around her while she speaks emphatically about female power and dignity ("See me for the woman I am." … "Read us through our scars that tell you not the pain that we felt, but the fact that we survived" …"You've been peeling our skins for too long.") However, the topics she addresses aren't supported by the choreography. The movements that Verwoert has created feel shallow and arbitrary rather than meaningful. He depicts models of femininity that are drawn from stereotypes – a provocative blonde coveted by their male followers; long curly hair worn open as a means to seduce; overly-tender movements that seem narcissistic – which contradict the issues that Salihu raises.
The music is a mishmash of saxophone, violin, techno percussion, screeching metal tones, Arabic song, panpipes, and a song in the style of Prince – all by Tim Wes.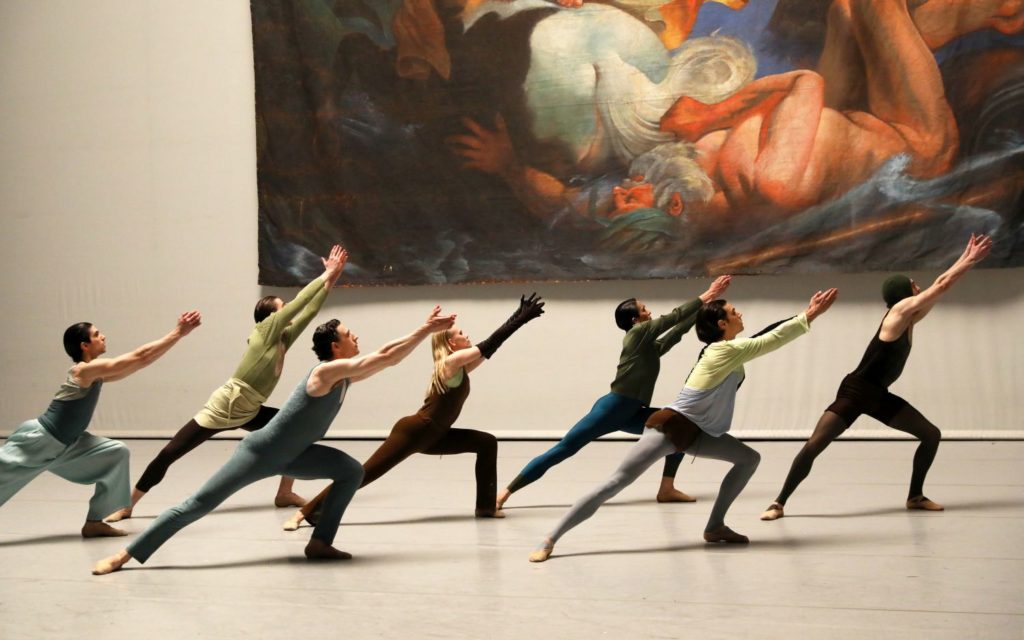 Links:
Website of Dutch National Ballet

"Memento" by

Wubkje Kuindersma (video)

"

Rose" by Milena Sidorova (video)

"I Feel It Too" by Sedrig Verwoert (video)

Meet Wubkje Kuindersma (video)

Meet Milena Sidorova (video)

Meet Sedrig Verwoert (video)
Photos:
1.

Bastian Stoop, Dingkai Bai, Sandra Quintyn, Laura Rosillo, Wendeline Wijkstra, and Manu Kumar

, "Memento" by Wubkje Kuindersma, Dutch National Ballet 2021 © Hans Gerritsen
2.

Laura Rosillo, Wendeline Wijkstra, and Sandra Quintyn

, "Memento" by

Wubkje Kuindersma,

Dutch National Ballet 2021

© Hans Gerritsen

3.

Bastian Stoop, Laura Rosillo, Manu Kumar, and Wendeline Wijkstra

, "Memento" by

Wubkje Kuindersma,

Dutch National Ballet 2021 © Hans Gerritsen

4.

Wendeline Wijkstra (front), Manu Kumar, Laura Rosillo, Bastian Stoop, Sandra Quintyn, and Dingkai Bai,

"Memento" by

Wubkje Kuindersma,

Dutch National Ballet 2021 © Hans Gerritsen

5.

Wendeline Wijkstra (front), Manu Kumar, Laura Rosillo, Bastian Stoop, Sandra Quintyn, and Dingkai Bai

, "Memento" by

Wubkje Kuindersma,

Dutch National Ballet 2021 © Hans Gerritsen

6.

Manu Kumar and Dingkai Bai, "Memento" by

Wubkje Kuindersma,

Dutch National Ballet 2021

© Hans Gerritsen

7.

Beatriz Kuperus (Rose) and Bela Erlandson (Guy entering the bar), "Rose" by

Milena Sidorova,

Dutch National Ballet 2021

© Michel Schnater

8.

Beatriz Kuperus (Rose) and Alejandro Zwartendijk (Wannabe Boyfriend), "Rose" by Milena Sidorova,

Dutch National Ballet 2021

© Michel Schnater

9.

Beatriz Kuperus (Rose) and Bela Erlandson (Guy entering the bar), "Rose" by Milena Sidorova,

Dutch National Ballet 2021

© Michel Schnater

10.

Bela Erlandson (Guy entering the bar),

Laura Rosillo Ramirez, Elisabeth Tonev, Dingkai Bai (three guests), Rémy Catalan (Bartender), and

Beatriz Kuperus (Rose), "Rose" by Milena Sidorova,

Dutch National Ballet 2021

© Michel Schnater

11.

Inés Marroquín, Kira Hilli, and Arianna Maldini, "I Feel It Too" by

Sedrig Verwoert,

Dutch National Ballet 2021

© Hans Gerritsen

12.

Pascal Johnson and Giovanni Princic, "I Feel It Too" by

Sedrig Verwoert,

Dutch National Ballet 2021

© Hans Gerritsen

13.

Rafael Valdez, Michele Esposito, Leo Hepler, Kira Hilli, Fabio Rinieri, Giovanni Princic, and Pascal Johnson, "I Feel It Too" by

Sedrig Verwoert,

Dutch National Ballet 2021

© Hans Gerritsen

14.

Rafael Valdez, Pascal Johnson, Fabio Rinieri, Kira Hilli, Leo Hepler, Giovanni Princic, and Michele Esposito, "I Feel It Too" by

Sedrig Verwoert,

Dutch National Ballet 2021

© Hans Gerritsen

15.

Leo Hepler, Kira Hilli, Pascal Johnson, Rafael Valdez, and Michele Esposito, "I Feel It Too" by

Sedrig Verwoert,

Dutch National Ballet 2021

© Hans Gerritsen

16.

Giovanni Princic, Leo Hepler, Pascal Johnson, Kira Hilli, Rafael Valdez, Fabio Rinieri, and Michele Esposito, "I Feel It Too" by

Sedrig Verwoert,

Dutch National Ballet 2021

© Hans Gerritsen

Editing:
Jake Stepansky