"Exquisite Corpse Extra" (episode 3)
Ballet of the State Theater Nuremberg
State Theater
Nuremberg, Germany
April 24, 2021 (online)
by Ilona Landgraf
Copyright © 2021 by Ilona Landgraf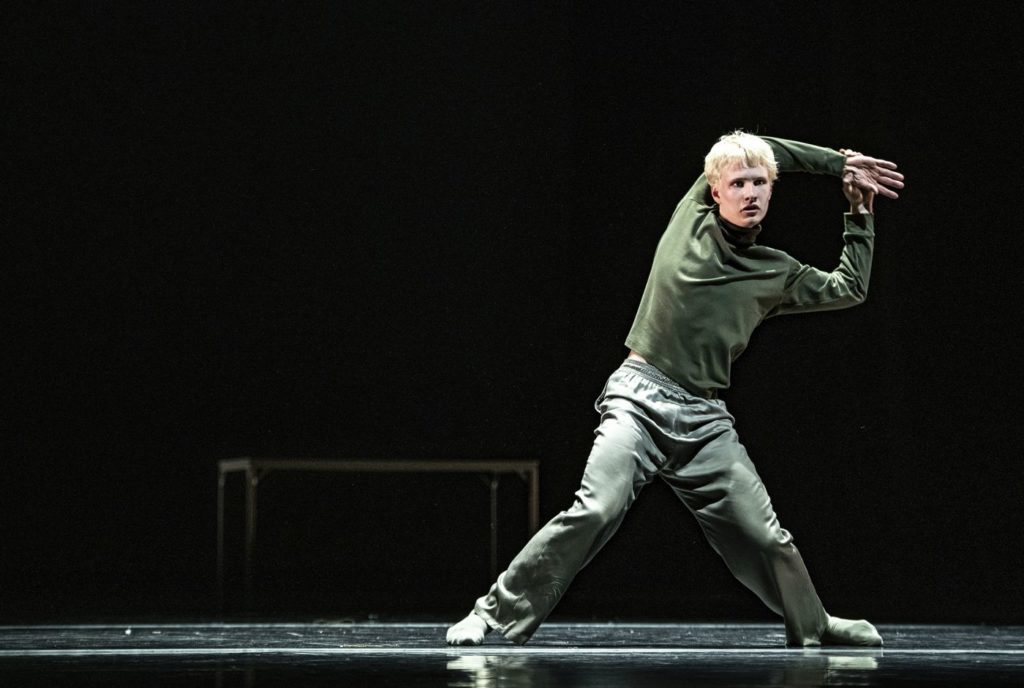 The final program of the three-part "Exquisite Corpse Extra" project by the Ballet of the State Theater Nuremberg was comprised of four short contemporary pieces by six young choreographers: Chisato Ide, Bo Jacobs, and Oscar Alonso (who created one piece each) and Michael García, Victor Ketelslegers, and Ana Tavares (who created a joint work). As with the previous presentations (episode 1, episode 2), the program lasted for around a half hour and was accompanied by videos in which the choreographers commented on their work.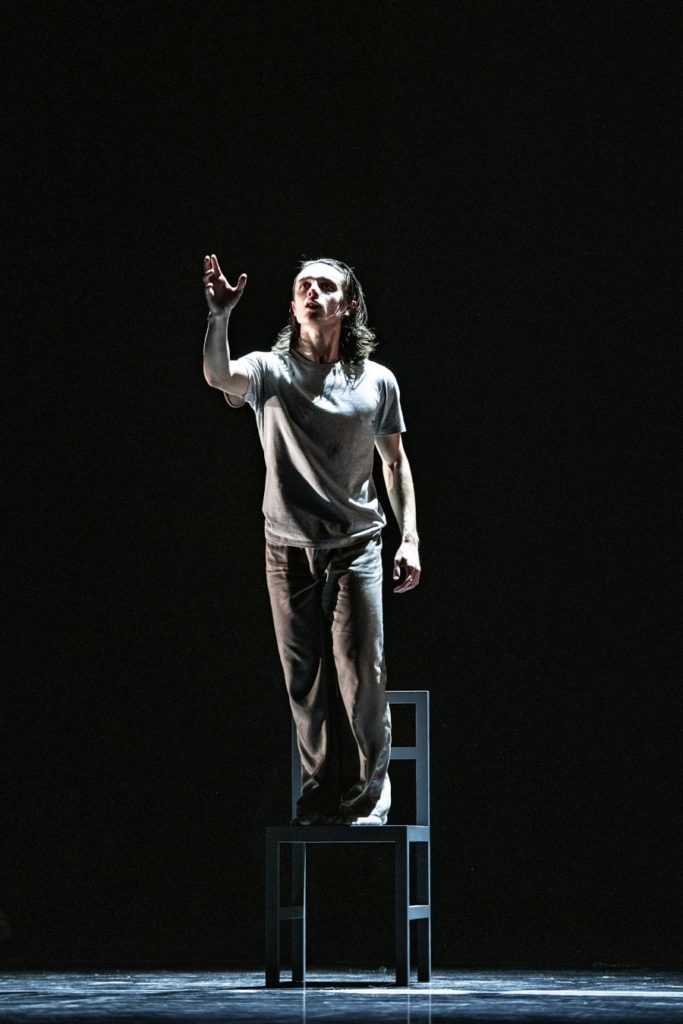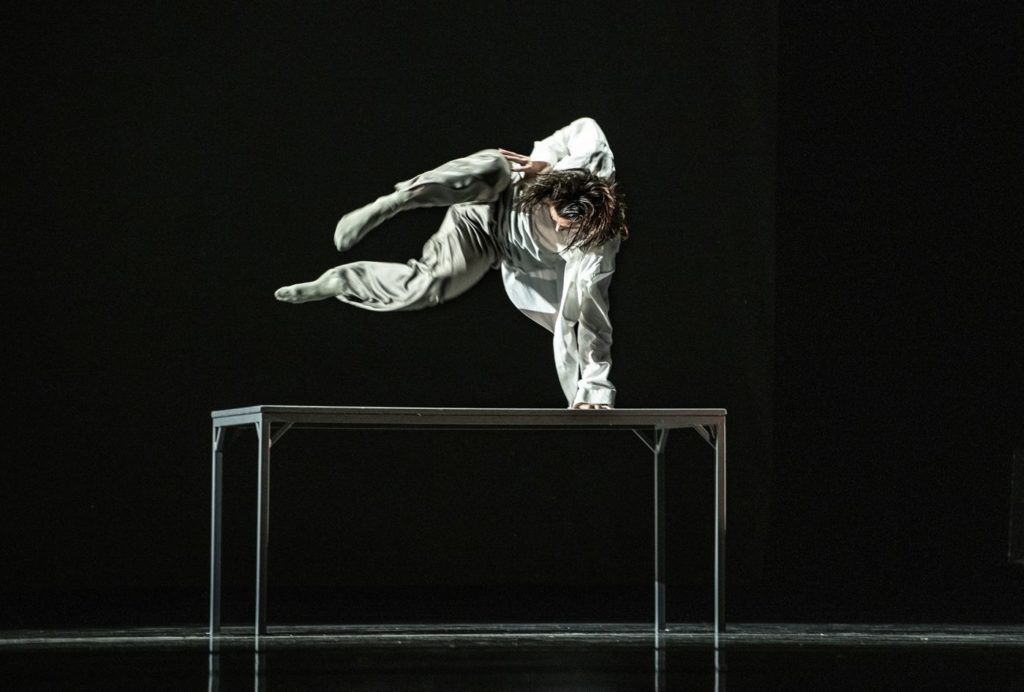 Japanese choreographer Chisato Ide received her training in Canada and danced there for six seasons – first with the Ballet BC in Vancouver, later with Les Grands Ballets Canadiens de Montréal – before joining Nuremberg's company. While working on "The Path", an ensemble piece for six dancers to music by Yann Tiersen and Ólafur Arnalds, she came across a quote by the British philosophical writer James Allen: You are today where your thoughts have brought you, and you will be tomorrow where your thoughts take you. "That's exactly what I want to express in my piece," reveals Ide.
In the opening scene, Karen Mesquita and Nicolás Alcázar mirror each other's movements, both directly or conversely. When she is sitting on a chair at the front left corner of the stage, he is standing behind a desk at the back right corner; both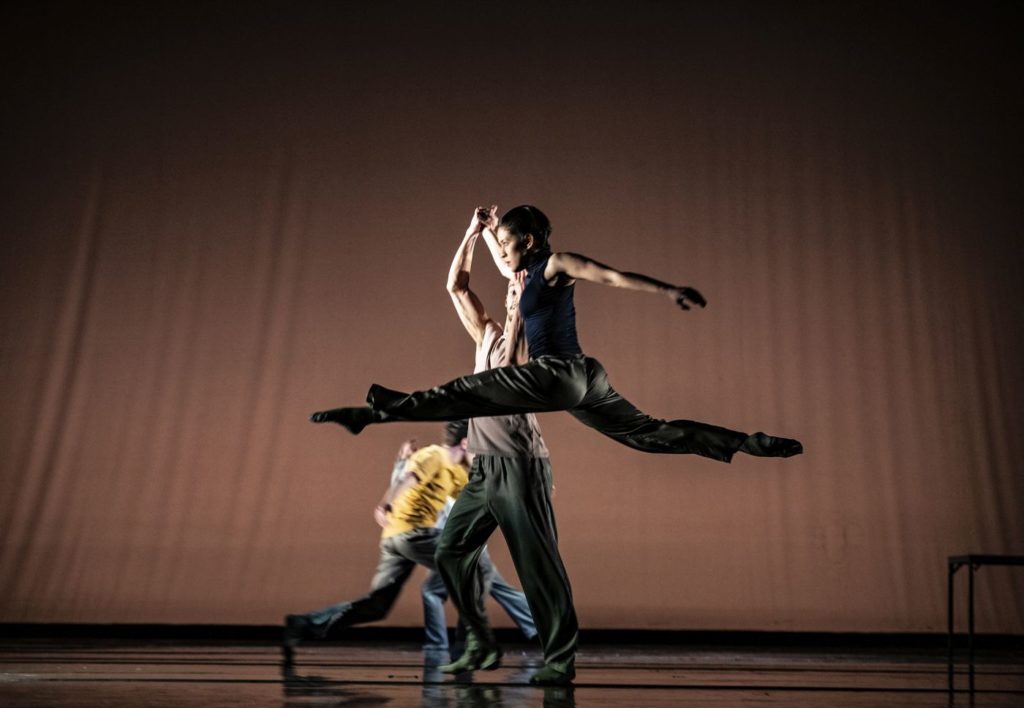 perform the same movements with their arms. The moment she stands up, he climbs onto the table; she steps onto the chair and he hops down. Four other dancers serve as connection between the two protagonists, copying parts of Mesquita's movements and passing them on to Alcázar. Michael García and Victor Ketelslegers also mirror each other's dance in an energetic duet. Later, the focus shifts to Alcázar, who forces his restive leg to step in the right direction, then sits stoop-shouldered on the table, downcast, before finally stepping onto the chair and reaching out hopefully for something we can't see.
Who triggers each movement? How are those movements transferred? How is one action connected to another? Such are the topics that Ide plays with. Her use of lighting and space is clever: solos, duets, and group dances are effortlessly intertwined, and her choreographic language is expressive.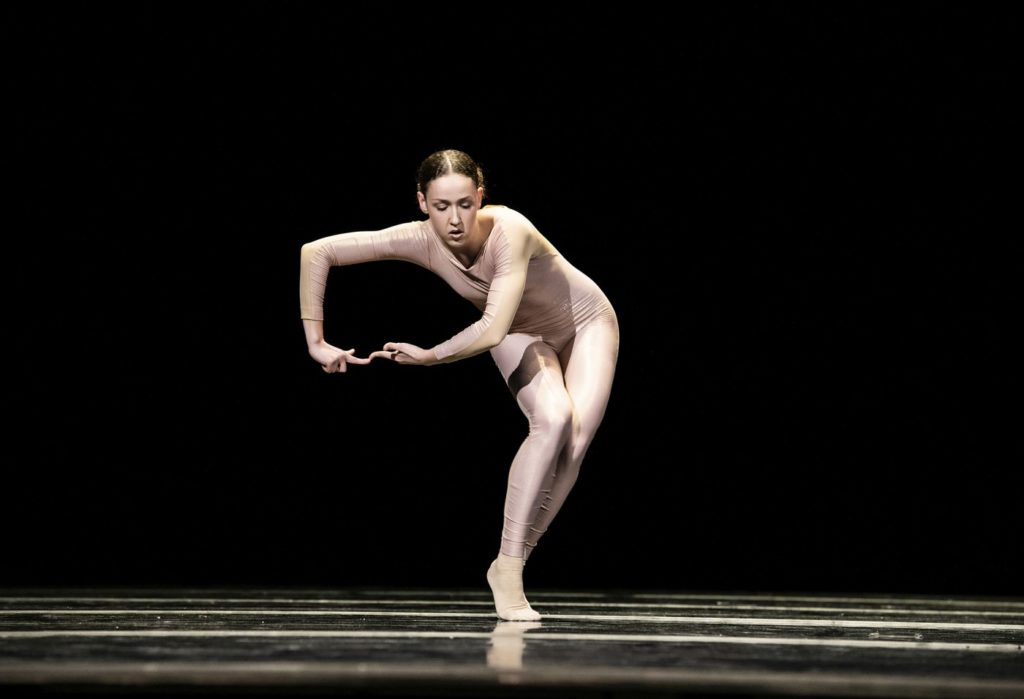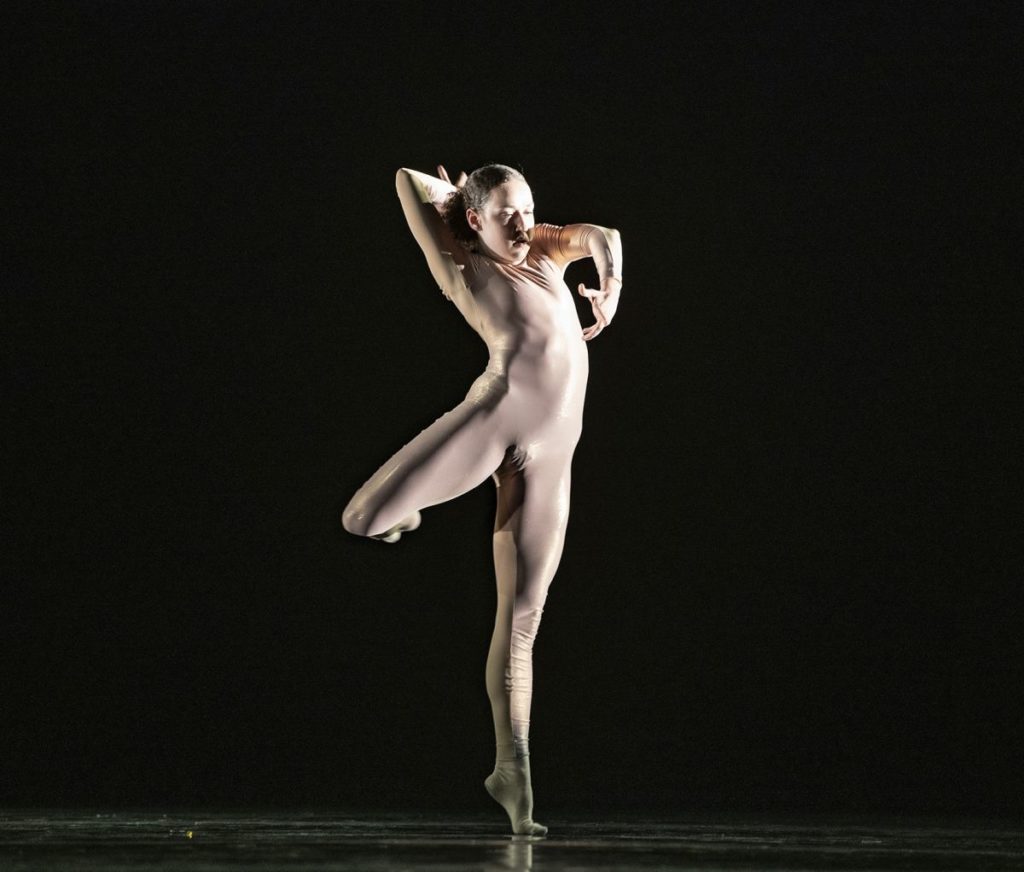 Though its title suggests otherwise, "Vicious" – a solo created and danced by the twenty-one-year-old Bo Jacobs – is rather amusing. Wearing a shiny-breasted, skin-colored, full-body tricot, Jacobs moves like a robot responding to (or evoking) alien sounds (music by Matmos). Her leg kicks forcefully towards the floor, generating metallic screeches. Her body parts twist tightly like rusty hinges. Every time she scrapes her lower leg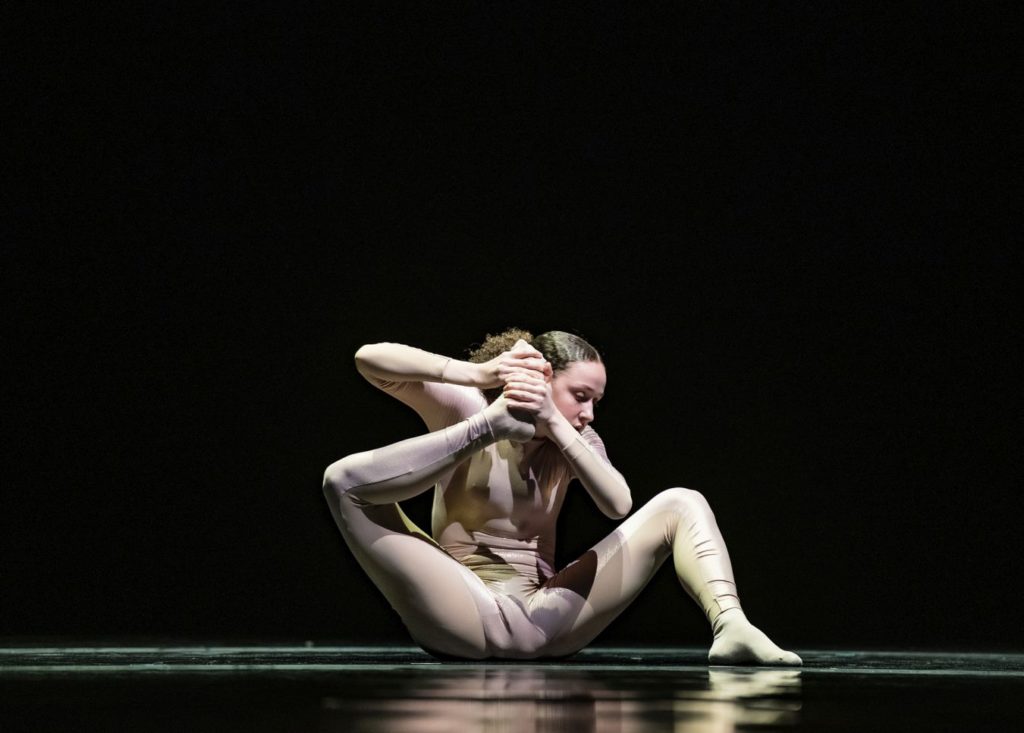 with the other foot, it sounds as though a creaky wooden door has been opened. Sitting on the floor with the sole of one foot pressed towards her ear, she eagerly listens to snippets of pop music, licking her lips with relish as a female voice talks of ice cream. Again and again, Jacobs rotates her body in new directions, exploring the black space surrounding her with gyrating hands and legs.
Humans' habits are repetitive, and we prefer the familiar and comfortable, Jacobs explains. "It's scary to go and look for new ways." She wanted to explore whether it was possible to let go of old habits and, even if scary, try something new.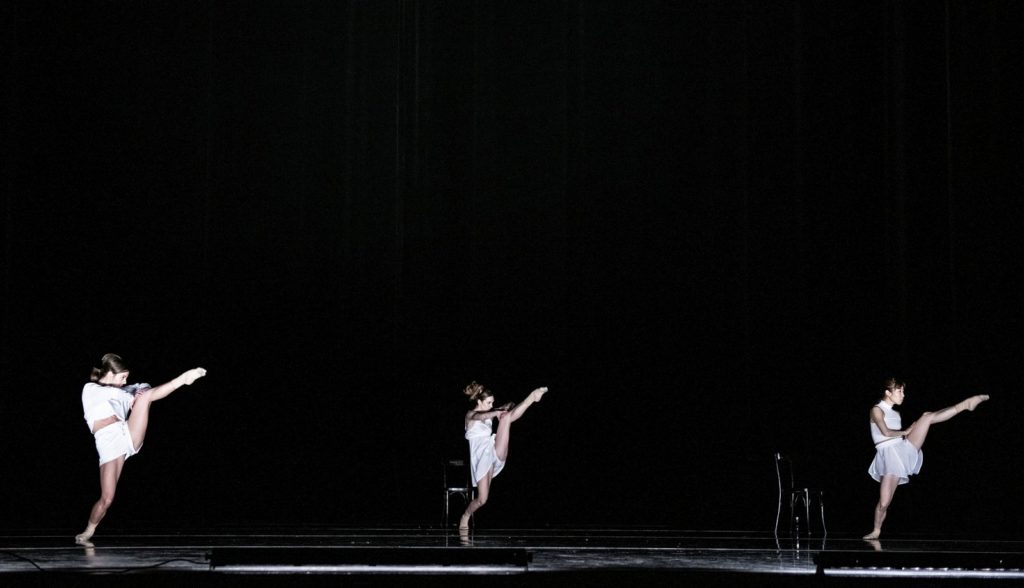 In "Day 100", Oscar Alonso placed three women (Olga García, Chisato Ide, and Sofie Vervaecke) in separate squares of light, each equipped with a chair. They wear white shorts and short, white tops. García reads a book, Vervaecke brandishes a wine glass, Ide smokes, and all of them dance independent solos – until their movements slowly start to influence each other. Eventually, as they pause momentarily, they recognize each other. The music (sind' by the female vocal quartet Faraualla) – up to that point polyphonic – turns monodic as the spotlight settles on only García's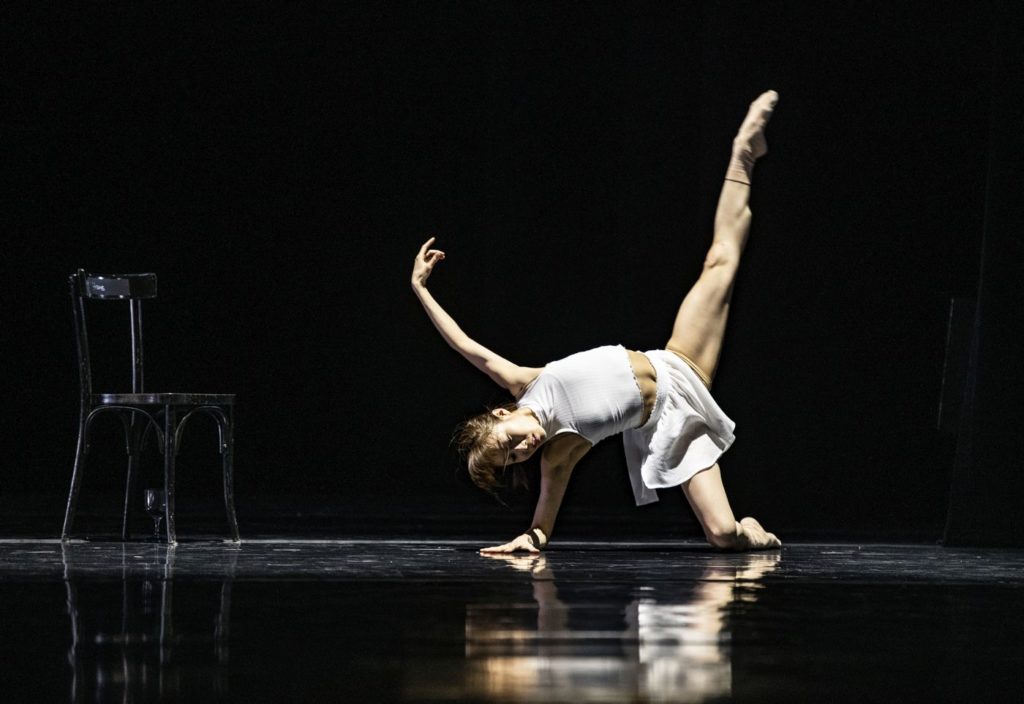 solo. As a second and third voice begin to sing, the other two women join in. Although the light has now spread across the stage, each woman stays where she started, dancing together with the others. In the final moment, the women, standing with their backs to the camera, face the theater's empty auditorium before turning around and walking backstage. Each has donned a face mask.
The idea for "Day 100" sprang from a story from the Spaniard Alonso's family. During the lockdown in Spain, his cousin's daughter sang a little nursery rhyme from her balcony. A neighbor answered and after one week nearly the entire neighborhood joined in. "We are social beings," Alonso said. "People need people." That's why he united them across distance.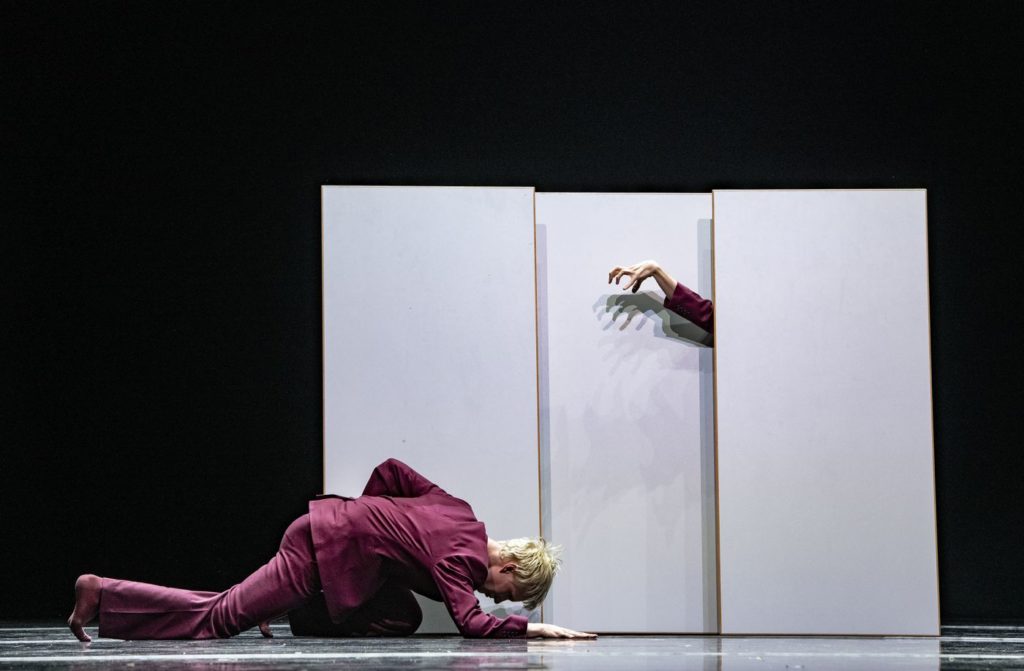 "You know, it's like…" by the choreographic trio Ana Tavares (from Portugal), Michael García (from Portland / Oregon), and Victor Ketelslegers (from Belgium) was the most entertaining piece of the "Exquisite Corpse Extra" collection. The basic focus of the piece was the inability to realize or fulfill something completely, explains García. Perhaps that's why the piece opens with a male voice speaking from the loudspeaker, saying: "It's just not there yet. I don't think it's enough. Every time, I try and put it together it just doesn't fully get there." Simultaneously, a rope lying on the stage is slowly pulled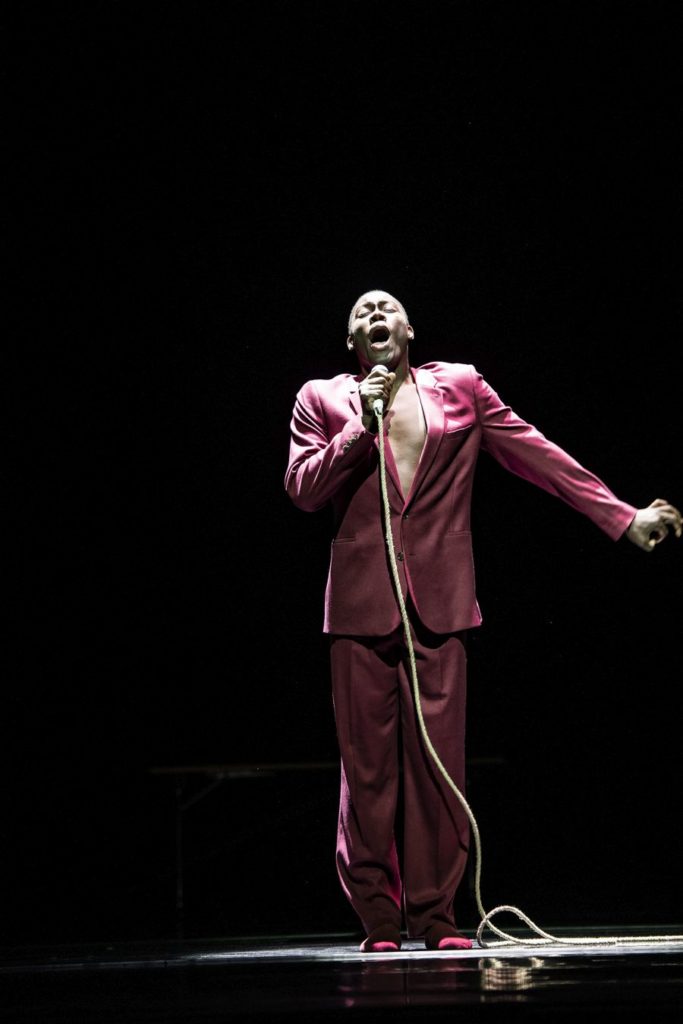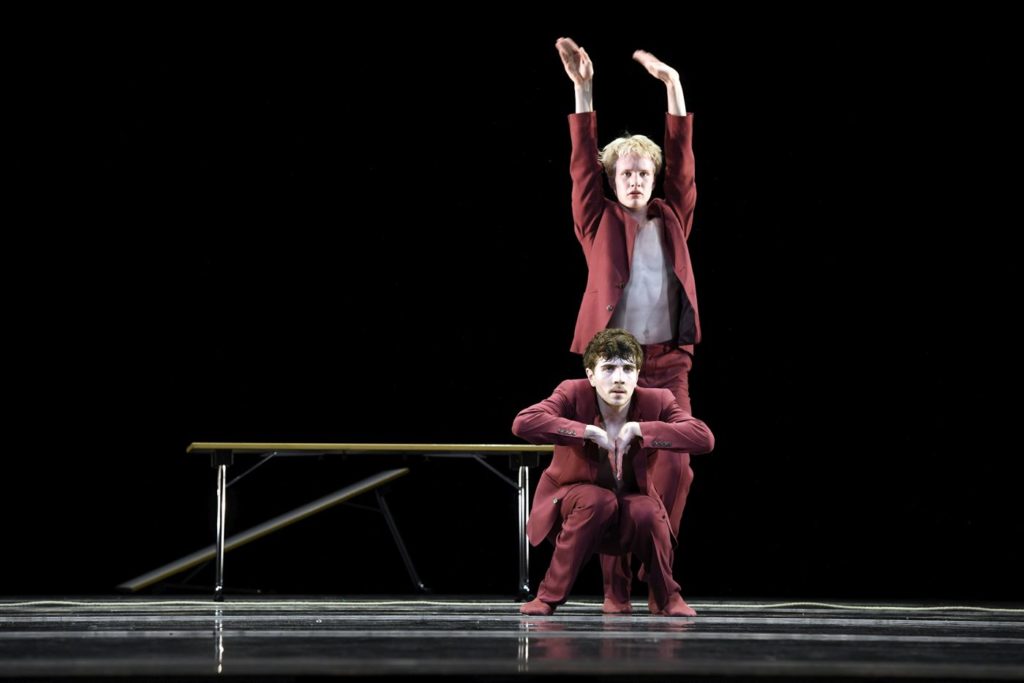 towards the wings by a pair of disembodied hands. We'll later learn that they belong to Gerson Sanca when he – wearing a brash pink suit – lip syncs to a recording of "Stand by Me" by Otis Redding. His dashing performance is – alas! – cut short as someone pulls him offstage by the rope, which this time serves as the cable connected to his mike.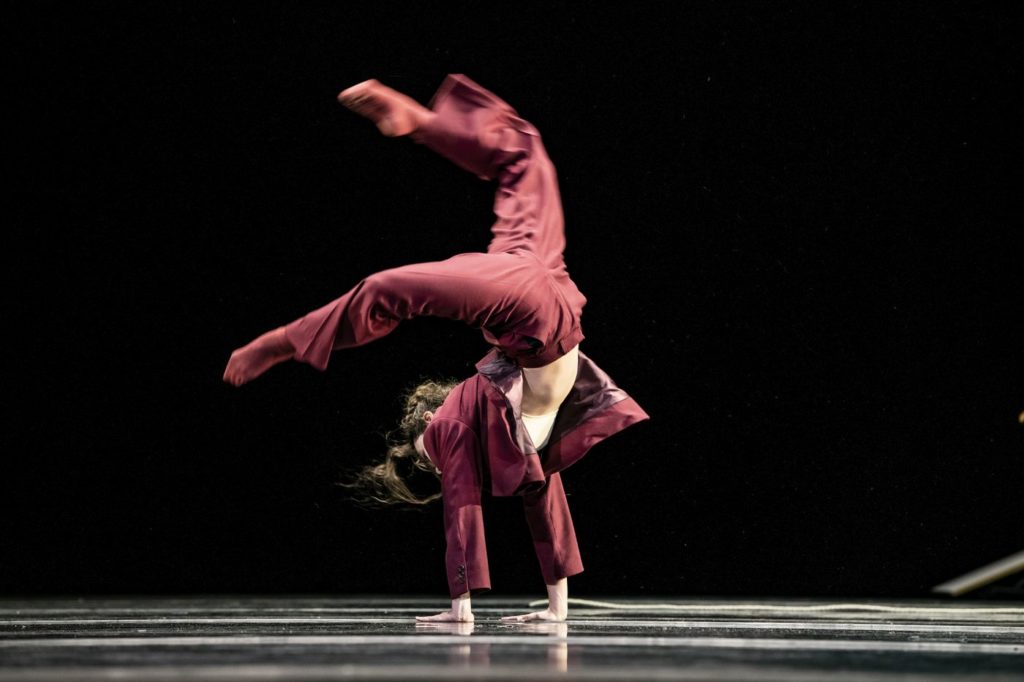 Sanca's co-dancers are the three choreographers (in similar outfits) who alternately pull the strings (that is: the rope) or get pulled. Using a wall of three upended tables either as a hideout or a puppet-theater-like stage, the three translate absurd dialogues (about something disgusting on the kitchen floor, forgotten birthday presents, and peeing your pants in the subway) into movement caricatures.
In the final moment, Sanca (alias Redding) re-appears, collects himself, gazes into the pitch-black auditorium, inhales deeply, opens his mouth, and – the light is switched off. Such a pity that we'll never know what he was about to sing!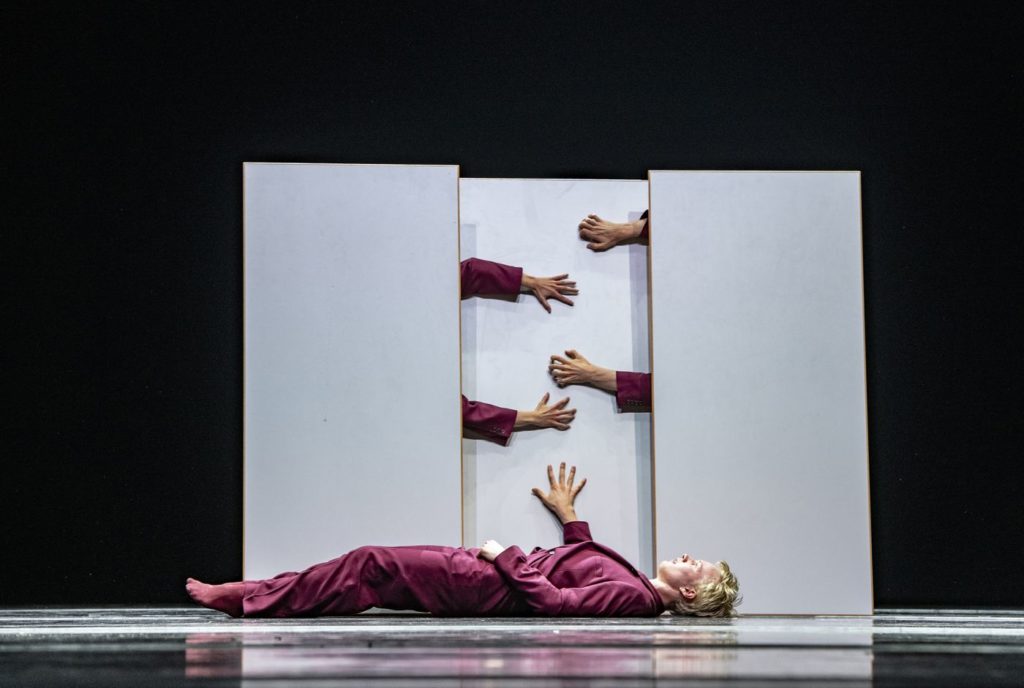 Links:
Website of the State Theater Nuremberg
"Exquisite Corpse Extra", episode 3 (video)
Meet the artist: Chisato Ide (video)
Meet the artist: Bo Jacobs (video)
Meet the artist: Oscar Alonso (video)
Meet the artists: Michael García / Victor Ketelslegers / Ana Tavares (video)

Photos:

1.

Victor Ketelslegers, "The Path" by Chisato Ide,

Ballet of the State Theater Nuremberg 2021

2.

Nicolás Alcázar,

"The Path" by Chisato Ide,

Ballet of the State Theater Nuremberg 2021

3.

Nicolás Alcázar,

"The Path" by Chisato Ide,

Ballet of the State Theater Nuremberg 2021

4.

Karen Mesquita and ensemble,

"The Path" by Chisato Ide,

Ballet of the State Theater Nuremberg 2021

5.

Bo Jacobs, "Vicious" by Bo Jacobs, Ballet of the State Theater Nuremberg 2021

6.

Bo Jacobs, "Vicious" by Bo Jacobs, Ballet of the State Theater Nuremberg 2021

7.

Bo Jacobs, "Vicious" by Bo Jacobs, Ballet of the State Theater Nuremberg 2021

8.

Olg

a García, Sofie Vervaecke, and Chisato Ide, "Day 100" by Oscar Alonso, Ballet of the State Theater Nuremberg 2021

9.

Chisato Ide, "Day 100" by Oscar Alonso, Ballet of the State Theater Nuremberg 2021

10.

Victor Ketelslegers, "You know, it's like…" by Michael García, Victor Ketelslegers, and Ana Tavares;

Ballet of the State Theater Nuremberg 2021

11.

Gerson Sanca,

"You know, it's like…" by Michael García, Victor Ketelslegers, and Ana Tavares;

Ballet of the State Theater Nuremberg 2021

12.

Victor Ketelslegers and Michael García, "You know, it's like…" by Michael García, Victor Ketelslegers, and Ana Tavares; Ballet of the State Theater Nuremberg 2021

13.

Ana Tavares, "You know, it's like…" by Michael García, Victor Ketelslegers, and Ana Tavares; Ballet of the State Theater Nuremberg 2021

14.

Victor Ketelslegers, "You know, it's like…" by Michael García, Victor Ketelslegers, and Ana Tavares; Ballet of the State Theater Nuremberg 2021

all photos © Bettina Stöß

Editing:
Jake Stepansky