"Come In" / "Inquieto"
Ballett am Rhein / São Paulo Dance Company
Düsseldorf, Germany / São Paulo, Brazil
June 11, 2021 (online)

by Ilona Landgraf
Copyright © 2021 by Ilona Landgraf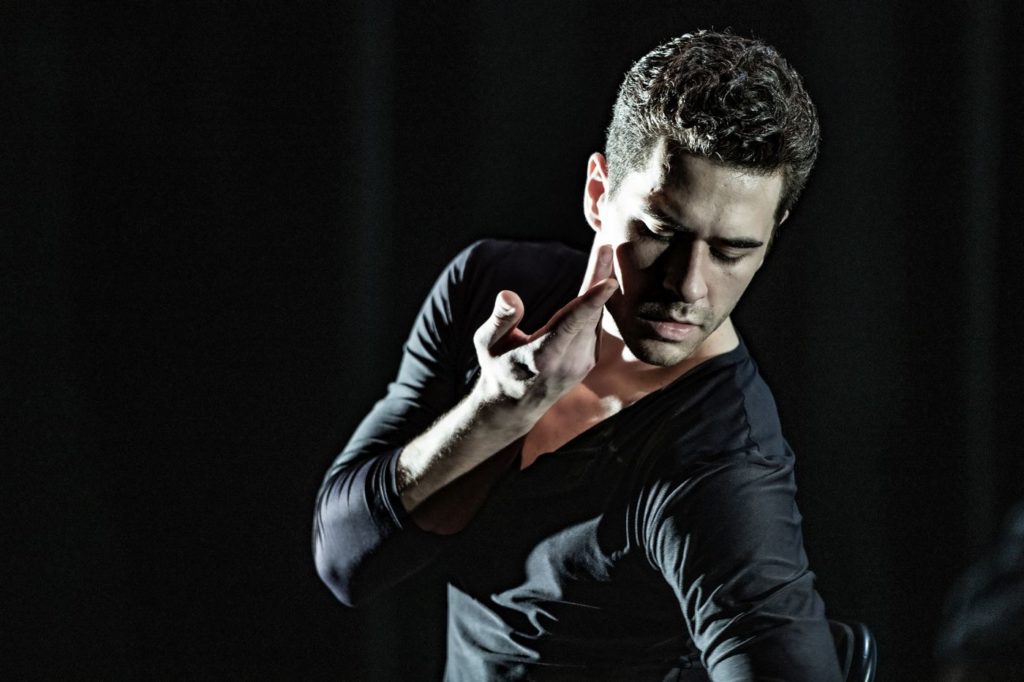 Demis Volpi, artistic director of the Ballett am Rhein, and Inês Bogéa, the same at the São Paulo Dance Company, have known each other for years. This June, their professional relationship yielded a joint video release that featured one ensemble piece by each company. The video was available on the Ballett am Rhein's YouTube channel from June 11-13 and can be re-watched there from June 18-20.
The Ballet am Rhein contributed a modified-for-2021 version of "Come In", a piece for twelve men choreographed in 2006 by Aszure Barton for Mikhail Baryshnikov and Hell's Kitchen Dance. COVID-19 restrictions necessitated adaptions to the original choreography, which was accompanied by serene string music flecked with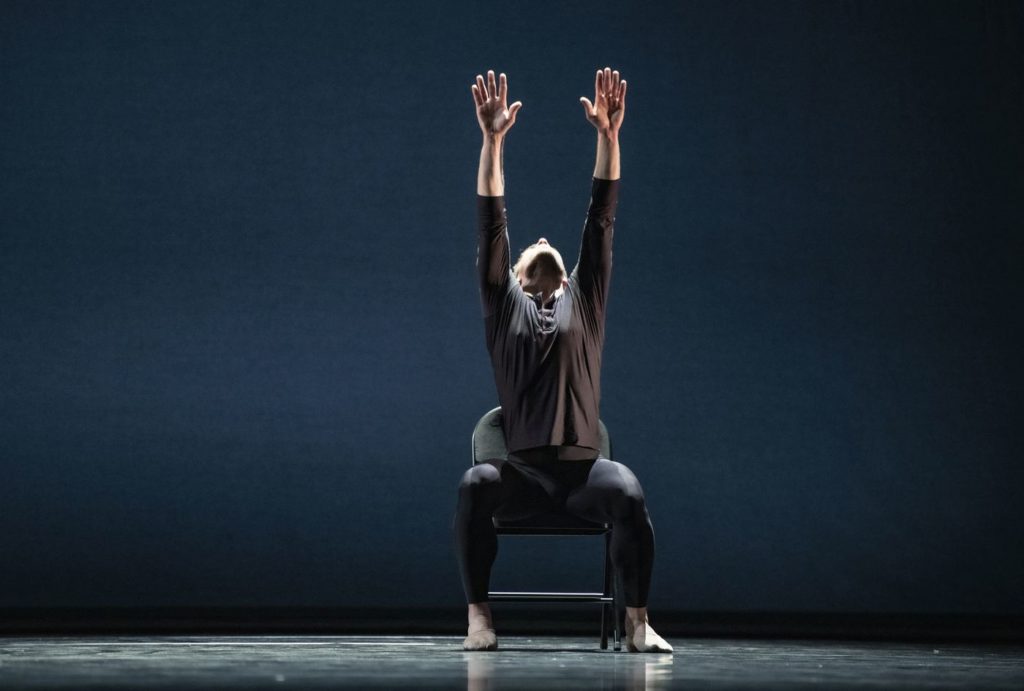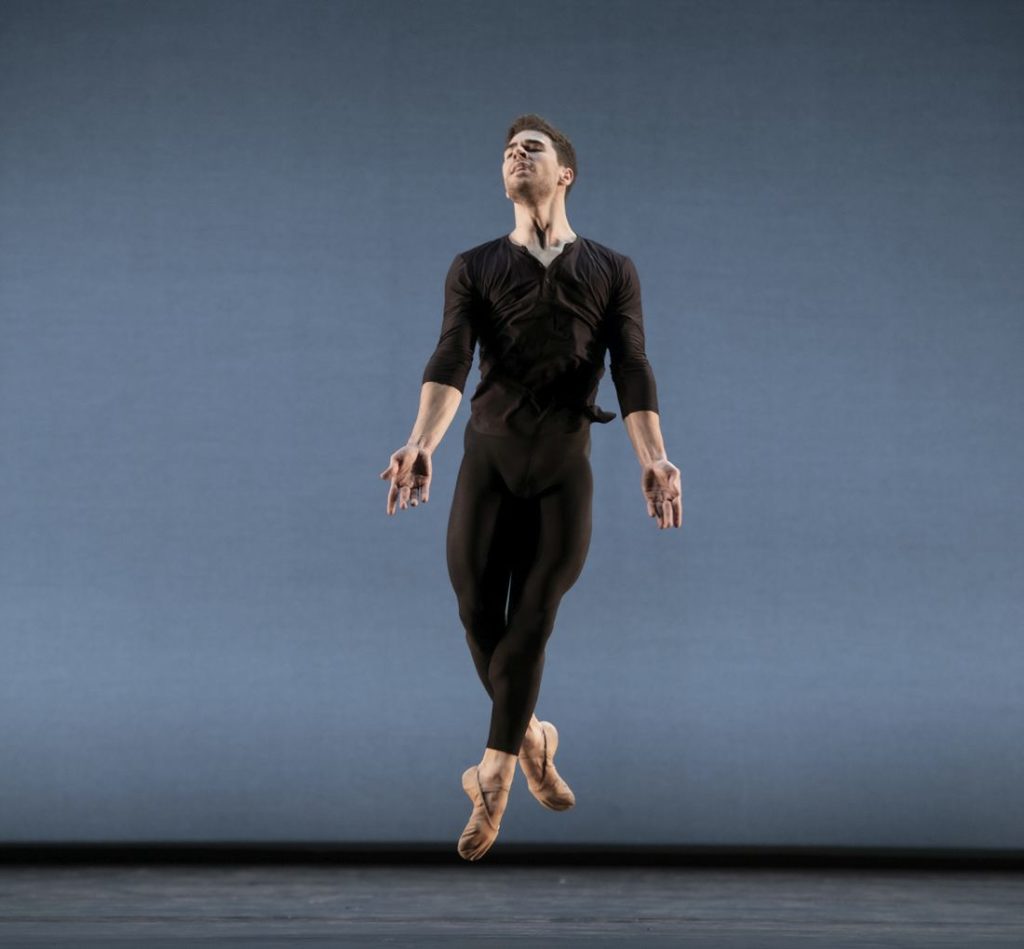 percussive sounds. The Düsseldorf Symphonic Orchestra played this score by the Russian Vladimir Martynov live, under the baton of Marie Jacquot. Though at times the melody felt repetitive, it remained interesting throughout.
With the first tinkling of the triangle, the camera pans to James Nix, standing motionless. As he begins to move, more and more dancers join, all wearing black pants and shirts (costumes by Aszure Barton). They weave together individual movements (faintly reminiscent of ballet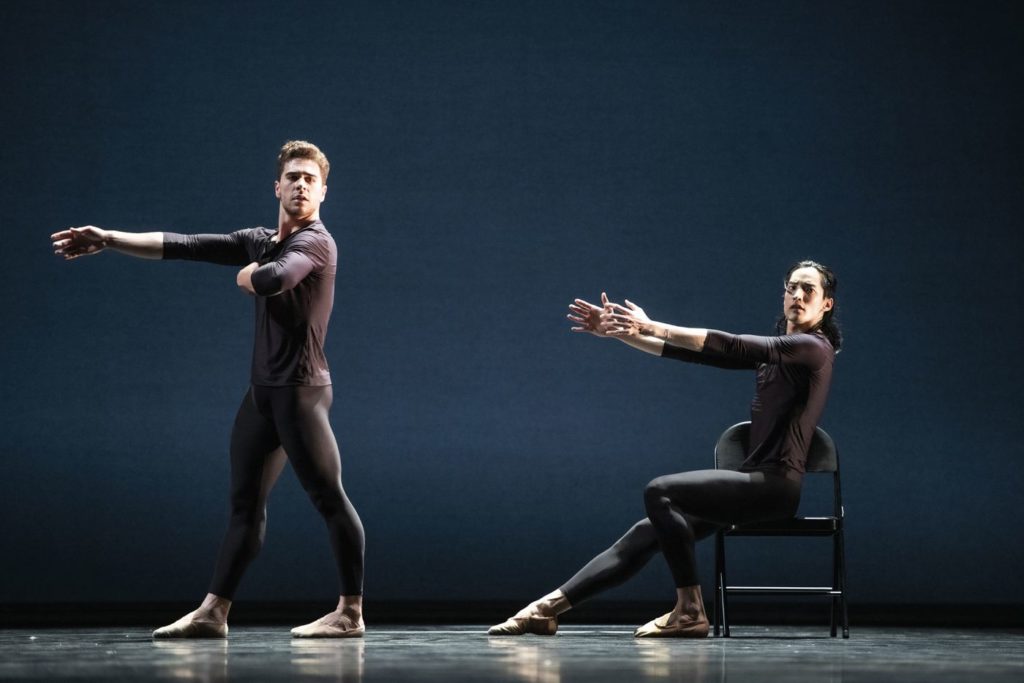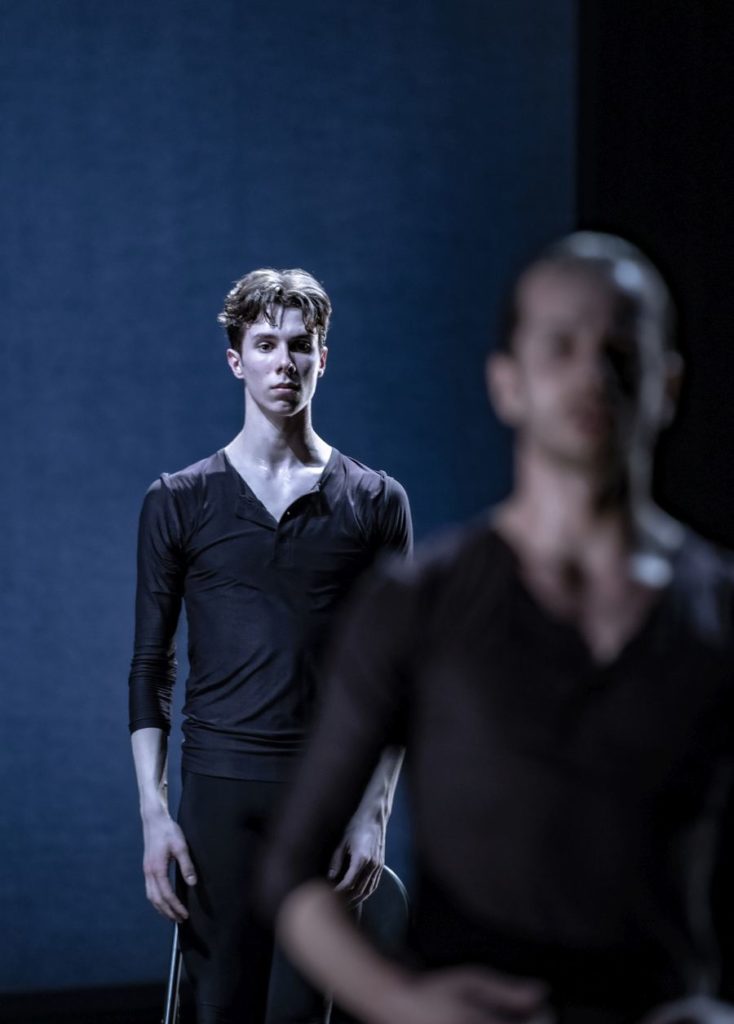 class exercises) into a smooth flow. The men stand in passé, doing pliés or developpés, walking in place, flexing and pointing their feet, and bending their torsos forward, bouncing slightly. As they raise to demi-pointe, their bodies seem to take a deep breath. They walk backwards, pausing and bouncing, their knees deeply bent. They complete port de bras-like movements by bringing together pointed index fingers. In another signature movement, an index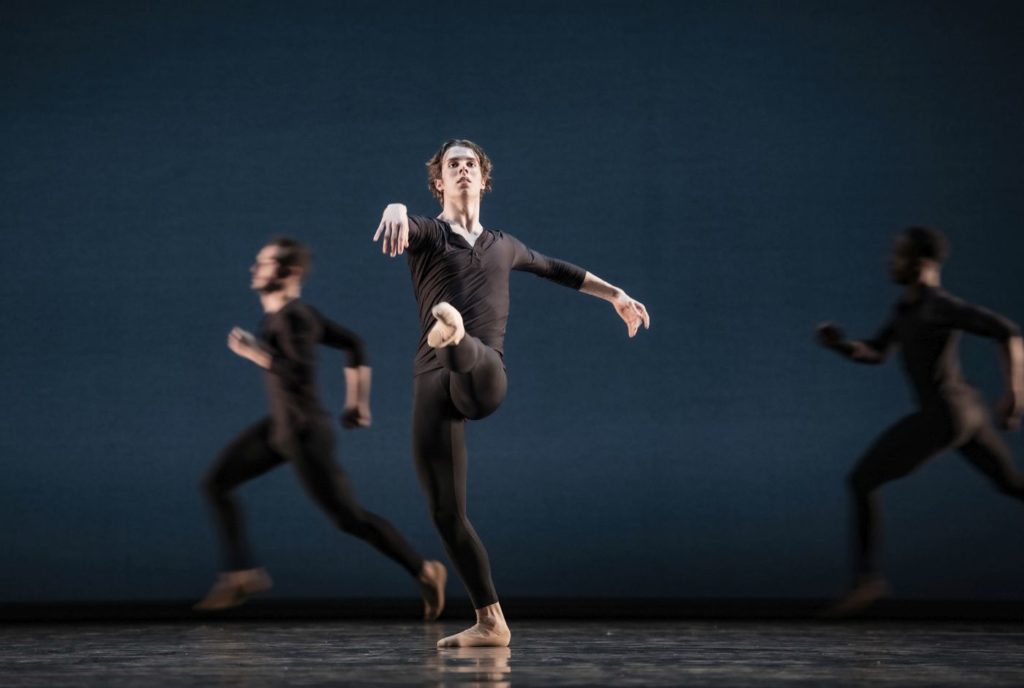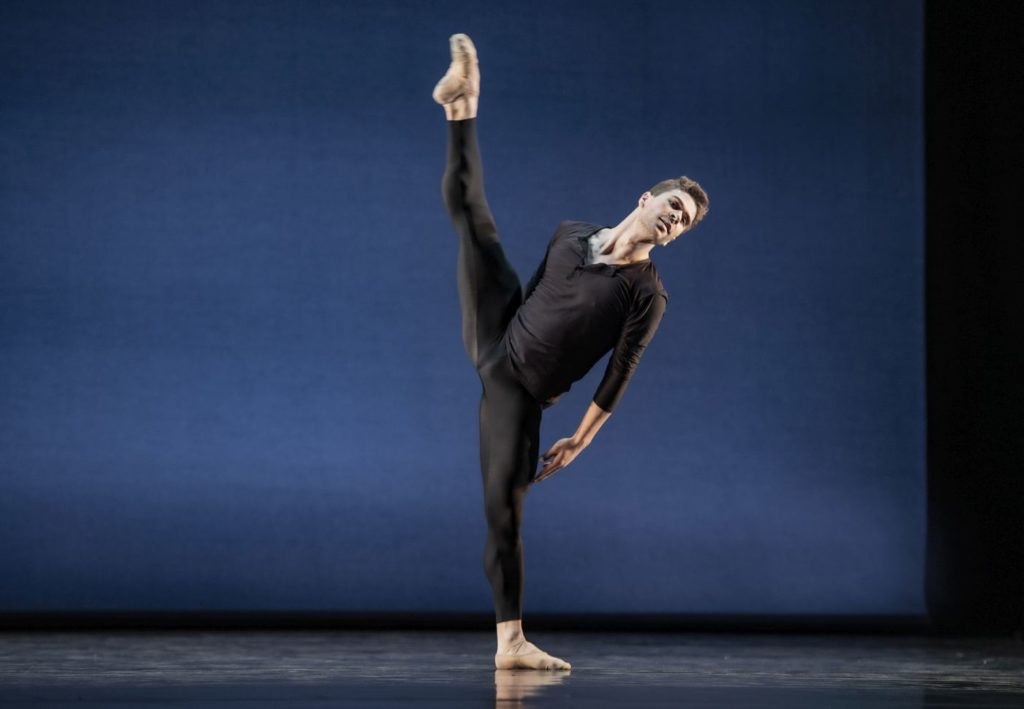 finger is briefly placed at the right and left cheek before touching the larynx by which the dancers seem to pull themselves up on demi pointe. Several times, the men tilt their bodies sideways like poplars gently bent by the wind. Jumps vary between playfully petite and grand. Occasionally, one dancer steps out of line. Later, the men carry chairs on stage and sit at a safe distance.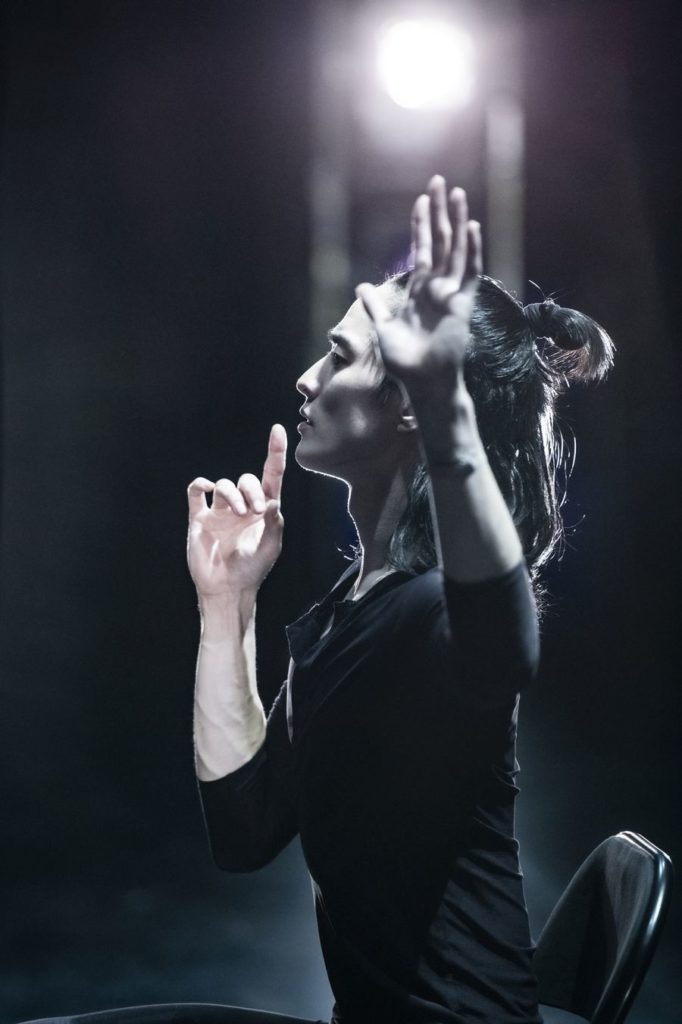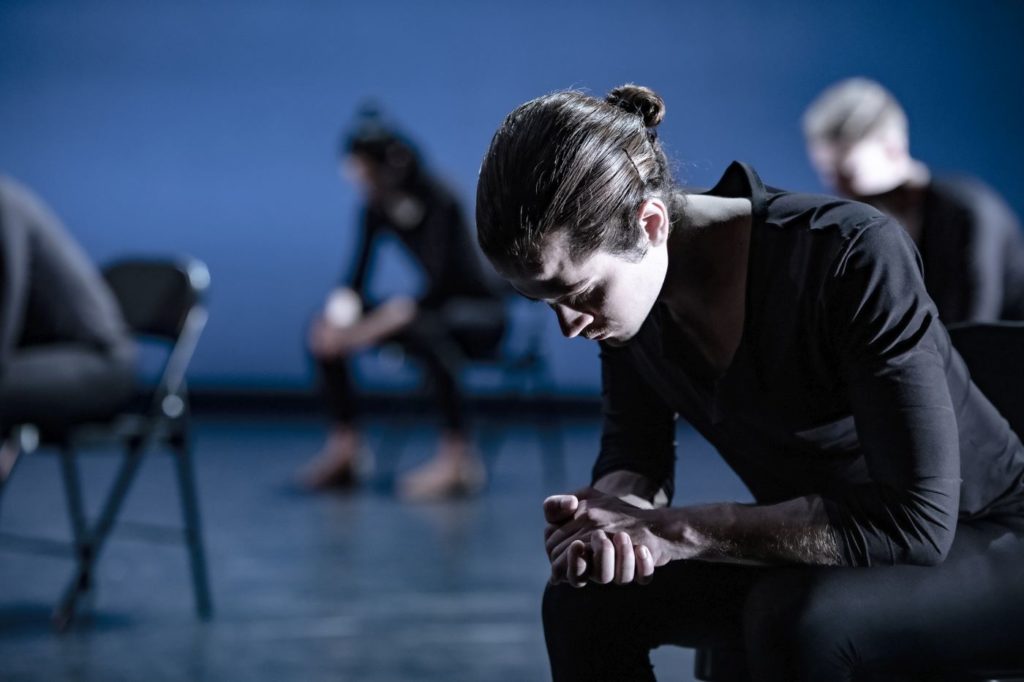 In a final solo, Gustavo Carvalho, doing a developpé, clonks his foot on the floor. His outstretched arm begins to shiver and his index finger moves through the air as if searching for something. He finally grabs it and releases it towards heaven.
Barton ably intertwines solos and duets with group sequences of all kinds. Even during energetic scenes the atmosphere remains calm and placidly joyful. The air was dense of mutual relatedness. I was glad to see the dancers enjoy the performance. Barton's style seems to be exactly the right one for them at this time.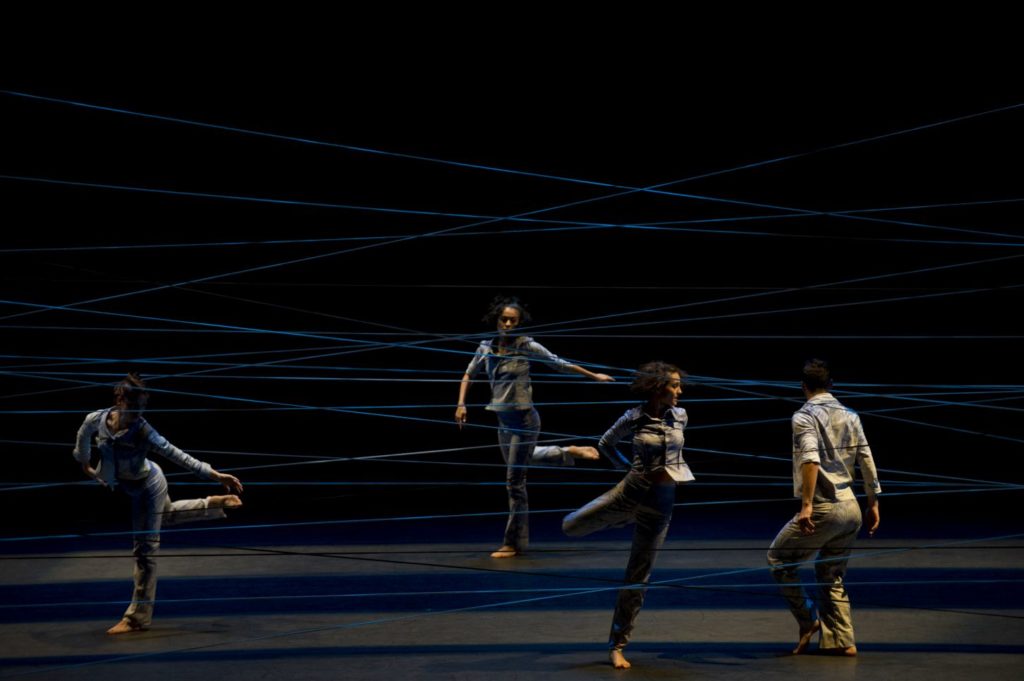 The São Paulo Dance Company was represented by "Inquieto", which was created by the Brazilian choreographer Henrique Rodovalho in 2011 – his first composition for the company. In 2020, Rodovalho was appointed the troupe's resident choreographer. Throughout the piece, thirteen dancers (seven women, six men) are alternately confined and connected by a network of white thread that is gradually drawn across the stage by Morgana Cappellari, stoically trudging along and pulling the thread behind her (stage design by Shell Jr). The thread separates the space into horizontal lanes that limit the direction of the dancers' movement.
In the opening scene, Cappellari stands between Nielson Souza and Rafael Gomes in a rectangle of light. Souza, for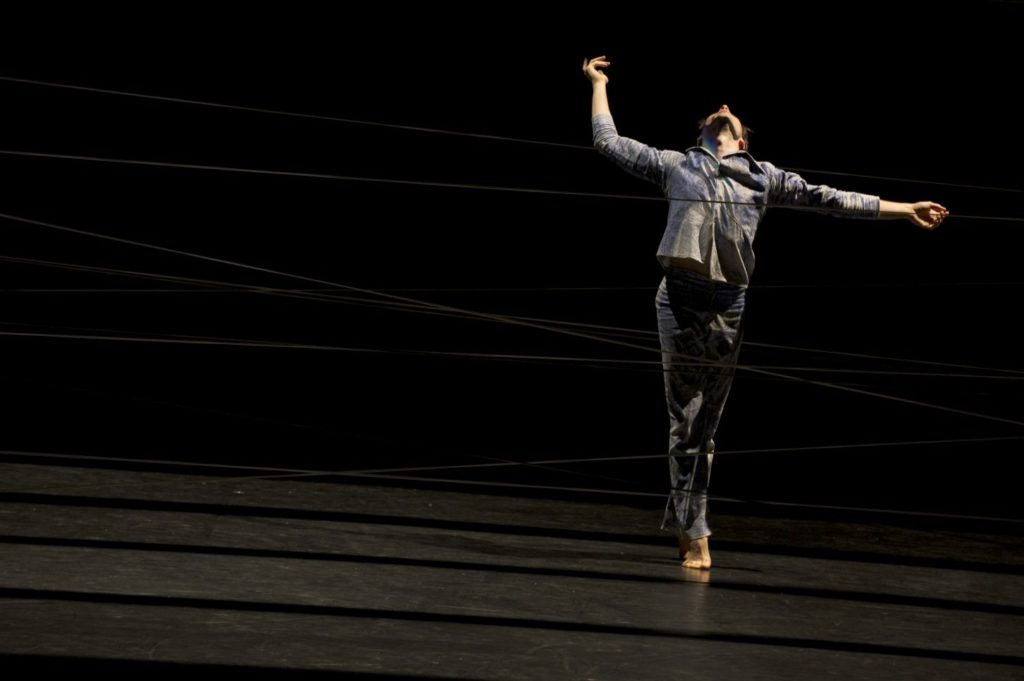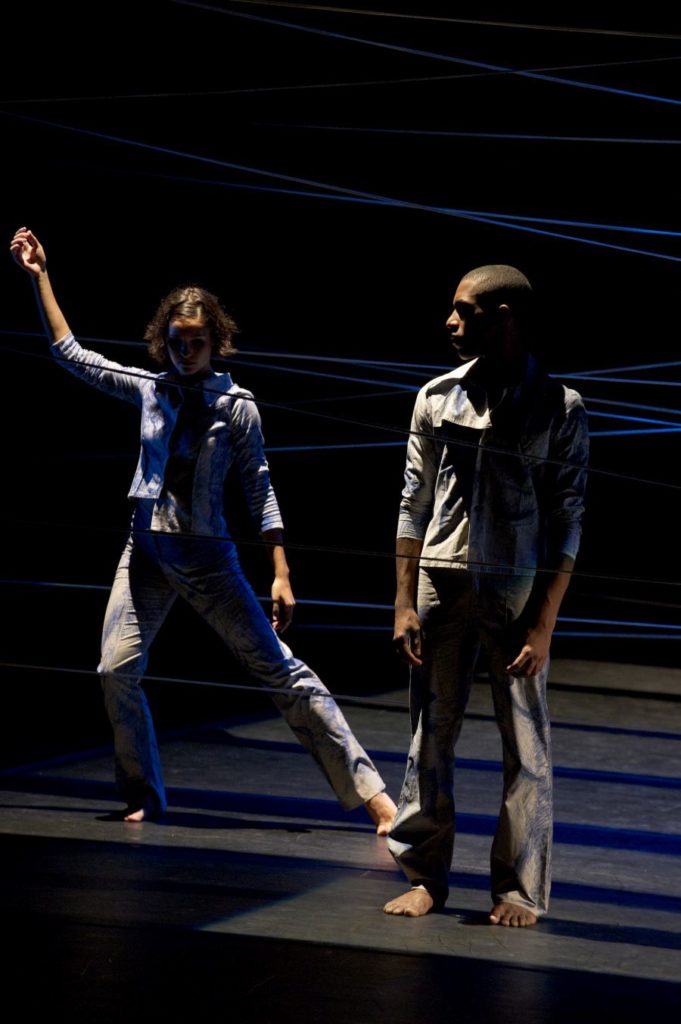 reasons unknown, begins to smile. He and Cappellari watch, vaguely amazed, as Gomes drops his left shoulder and torso forward again and again, as if a hinge inside him has collapsed. Slowly, as the music fades in, Gomes moves his legs by holding them stiffly and directing their movements with his hands. Electronic beats pierced by the high shrieks of – perhaps – an electric drill (soundtrack by André Abujamra) throb around them as more dancers join, all wearing stoned jeans and shirts designed by Cássio Brasil. Their busy movements are edgy and fragmented as well, but are executed by more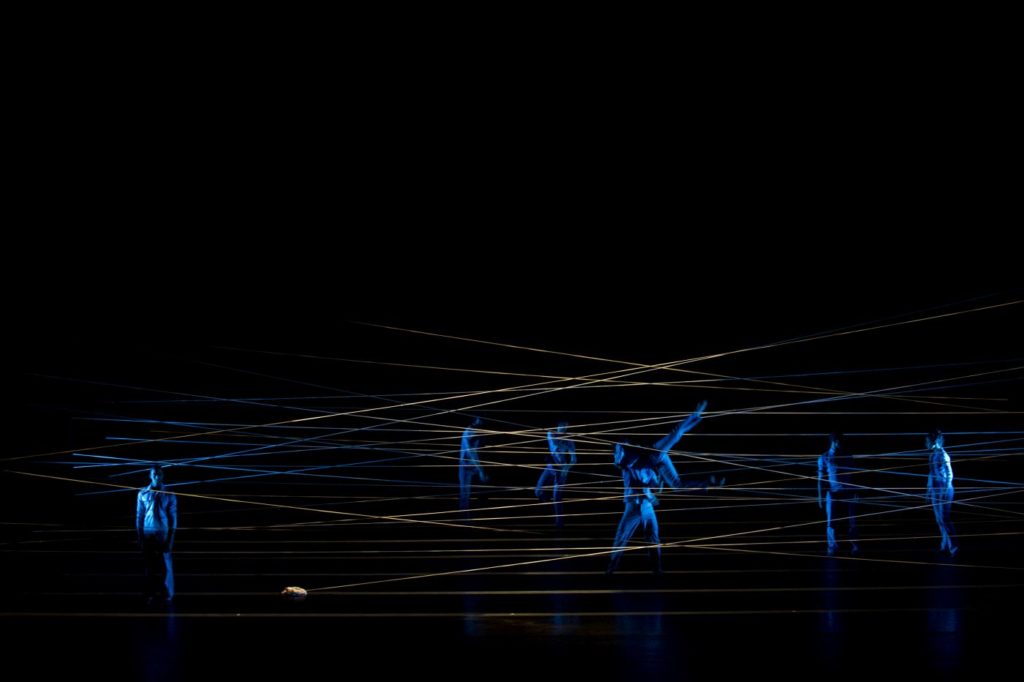 obedient limbs. Short sequences are typically interrupted by pauses, generating a stop-and-go rhythm. At various moments, pairs of dancers located in different lanes move together in sync.
As the pace of the music changes, the movements become more vigorous and restless. Arms are constantly outstretched, circled around the head or swooshed to the side. Several of the men crawl across the floor on their backs, then hold planks and lie on their sides before jumping to their feet. One man falls and stands again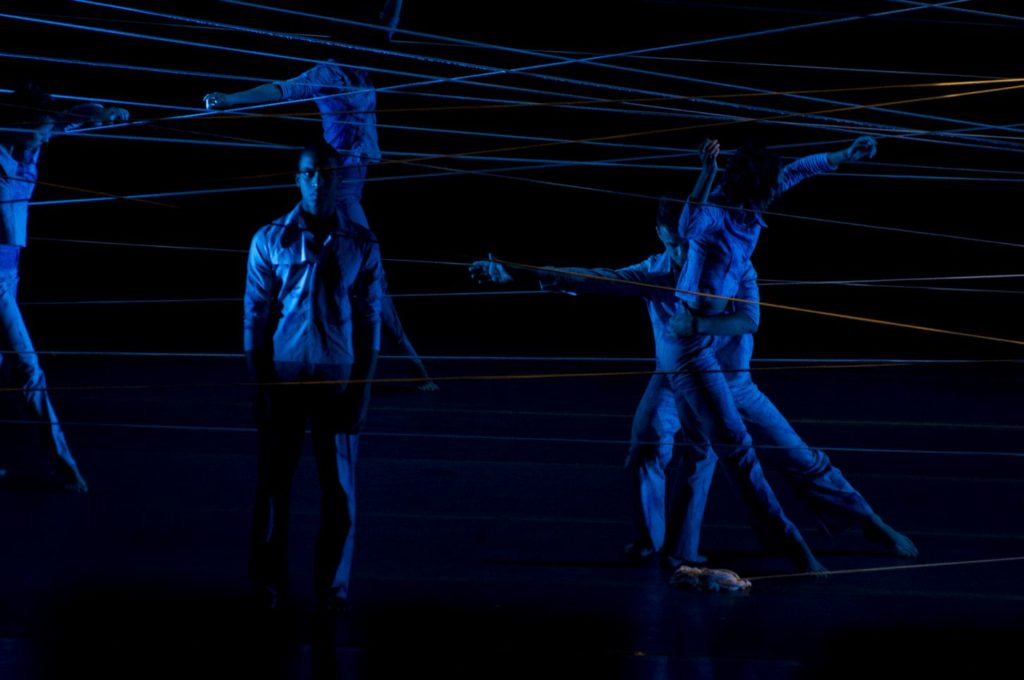 and again. Ana Paula Camargo and Acaoã de Castro make advances towards one another, but never coming closer than a foot apart. Later, a few of the men carry their partners back and forth between the left and right sides of the stage.
At times, the network of threads is made to seem invisible or blue. Later, when the light darkens completely, it gleams brightly white; shadows bounce off the threads to indicate where the dancers' bodies are in the space.
In the final moment, Cappellari, thread in hand, collides with Gomes. Instantly, the music stops. Cappellari re-takes her place next to Souza, who has not moved for the entire time – a monolith of detached tranquility. Instead of joining his colleagues for the curtain call, he simply smiles one last time.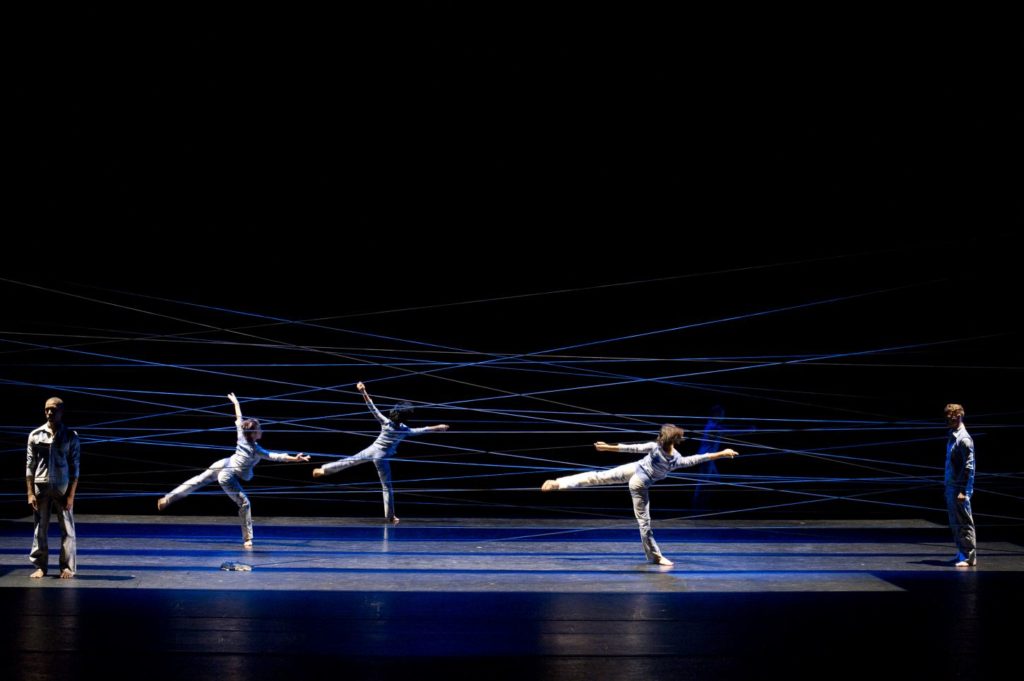 Links:
Website of the Ballett am Rhein

Website of the

São Paulo Dance Company

YouTube channel of the Ballett am Rhein

Photos:

1.

Gustavo Carvalho, "Come In" by Aszure Barton, Ballett am Rhein 2021

© Bettina Stöß

2.

Gustavo Carvalho, "Come In" by Aszure Barton, Ballett am Rhein 2021

© Bettina Stöß

3.

Gustavo Carvalho, "Come In" by Aszure Barton, Ballett am Rhein 2021

© Bettina Stöß

4.

Gustavo Carvalho and Dukin Seo,

"Come In" by Aszure Barton, Ballett am Rhein 2021

© Bettina Stöß

5.

Daniele Bonelli,

"Come In" by Aszure Barton, Ballett am Rhein 2021

© Bettina Stöß

6.

Gustavo Carvalho, "Come In" by Aszure Barton, Ballett am Rhein 2021 © Bettina Stöß

7.

Philip Handschin, Daniele Bonelli, and Rashaen Arts, "Come In" by Aszure Barton, Ballett am Rhein 2021 © Bettina Stöß

8.

Dukin Seo,

"Come In" by Aszure Barton, Ballett am Rhein 2021

© Bettina Stöß

9.

Pedro Maricato and artists of the Ballett am Rhein,

"Come In" by Aszure Barton, Ballett am Rhein 2021

© Bettina Stöß

10.

Artists of the São Paulo Dance Company, "Inquieto" by Henrique Rodovalho, São Paulo Dance Company 2013 © Wilian Aguiar

11.

Samuel Kavalerski, "Inquieto" by Henrique Rodovalho, São Paulo Dance Company 2013 © Wilian Aguiar

12.

Ana Paula Camargo and Nielson Souza, "Inquieto" by Henrique Rodovalho, São Paulo Dance Company 2013 © Wilian Aguiar

13.

Artists of the São Paulo Dance Company, "Inquieto" by Henrique Rodovalho, São Paulo Dance Company 2013 © Wilian Aguiar

14.

Artists of the São Paulo Dance Company, "Inquieto" by Henrique Rodovalho, São Paulo Dance Company 2013 © Wilian Aguiar

15.

Artists of the São Paulo Dance Company, "Inquieto" by Henrique Rodovalho, São Paulo Dance Company 2013 © Wilian Aguiar

Editing:
Jake Stepansky