"Beethoven" ("Prometheus" / "Grosse Fuge")
Dutch National Ballet
Dutch National Opera & Ballet
Amsterdam, The Netherlands
June 08, 2021 (live broadcast)
by Ilona Landgraf
Copyright © 2021 by Ilona Landgraf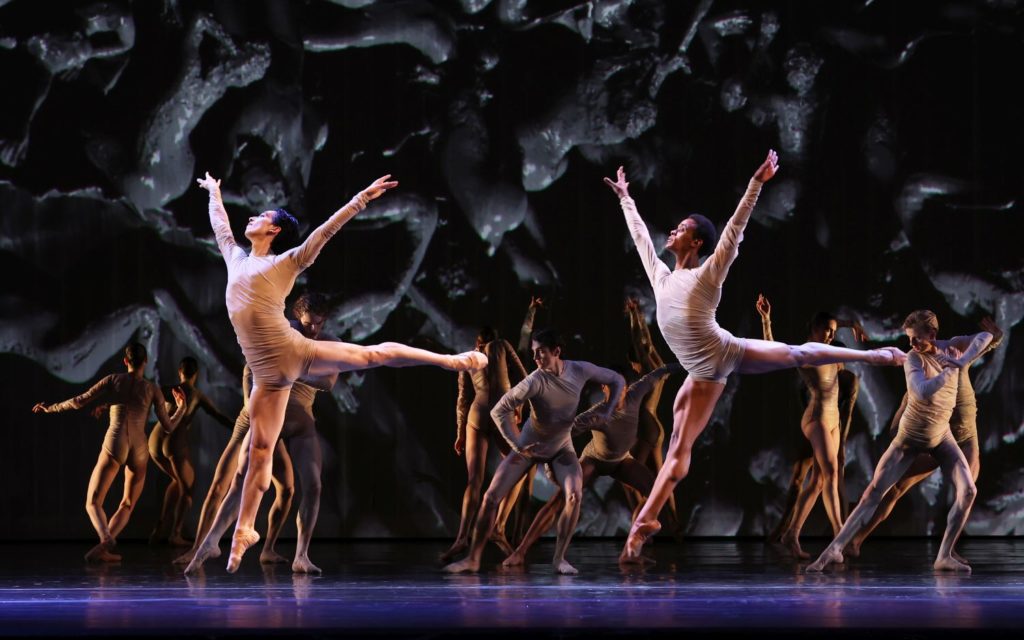 The Dutch National Ballet's celebration of Beethoven's 250th birthday was, in fact, supposed to premiere a year ago. "We're a little bit late," admitted Ted Brandsen, Dutch National Ballet's artistic director, for reasons dictated by COVID-19. The originally scheduled program would have included Toer van Schayk's "7th Symphony". The anniversary program that was ultimately shown on June 8th was an adaption of this program comprised of two pieces: "Prometheus" (a new creation by the choreographer-trio Wubkje Kuindersma, Ernst Meisner, and Remi Wörtmeyer) and Hans van Manen's "Grosse Fuge". The break was used for an excursion away from Beethoven to Milena Sidorova's recently released dance film "Rose".
"7th Symphony" will be shown in September.
Though the company welcomed an audience back in the house for the first time in eight months – and, moreover, presented a premiere – the live broadcast unfortunately was impacted by worldwide internet problems. The online audience will be offered a repetition of the broadcast at a later date.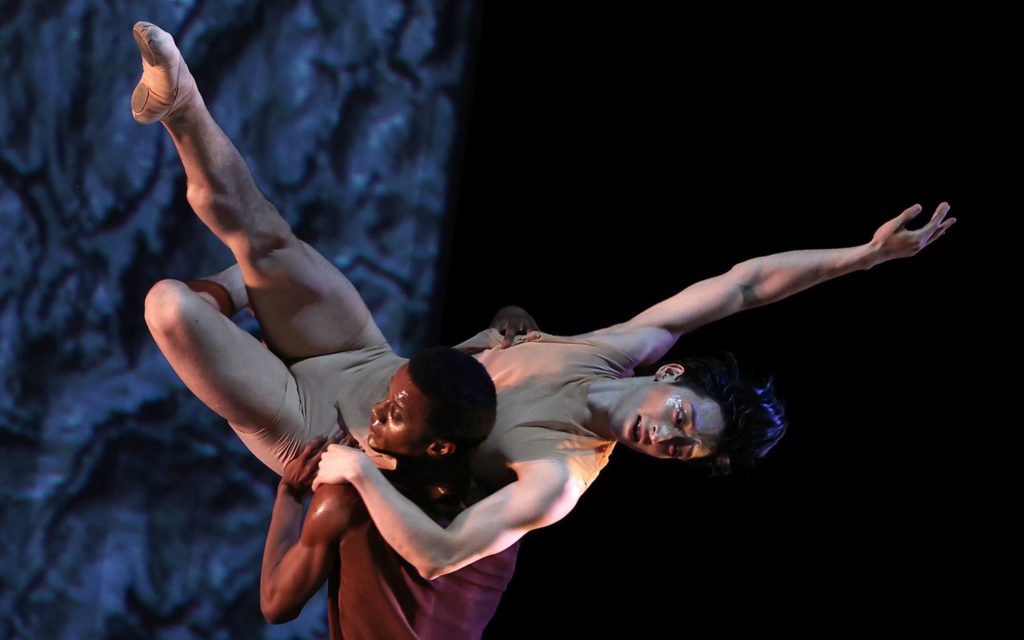 "The Creatures of Prometheus" – Beethoven's only composition for a full-length ballet – premiered in 1801 at the Burgtheater in Vienna with libretto and choreography (both since lost) for ballet d'action by Salvatore Viganò. According to the critics, who found plenty to carp about, the piece was heroic-allegoric and summoned up the residents of the entire Parnassus. Kuindersma, Meisner, and Wörtmeyer modestly chose only to employ Prometheus, the Titan god of fire in Greek mythology (Timothy van Poucke), his possible lover Promethea (Floor Eimers), and the human creatures that he'd built from clay. In the original myth, an eagle picks out Prometheus's liver each day to punish him for stealing fire from the gods and giving it to humankind. In this production, the eagle was replaced by a depiction of the stolen item itself – the fire.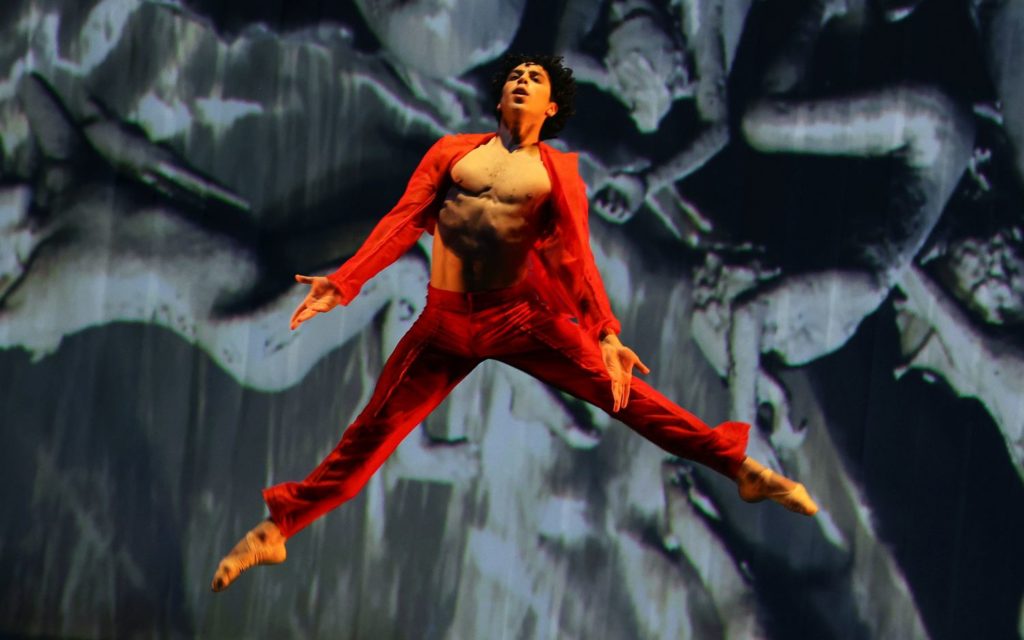 Kuindersma was in charge of the group scenes and the moments that dealt with the inner world of Prometheus; Wörtmeyer contributed the solos, pas de deux, and pas de trois that take place after Prometheus has given fire to the humans; and Meisner primarily choreographed for Prometheus's creations. These separate sequences merged smoothly, yielding a united piece that was rich in detail and resource, especially in the pas de deux.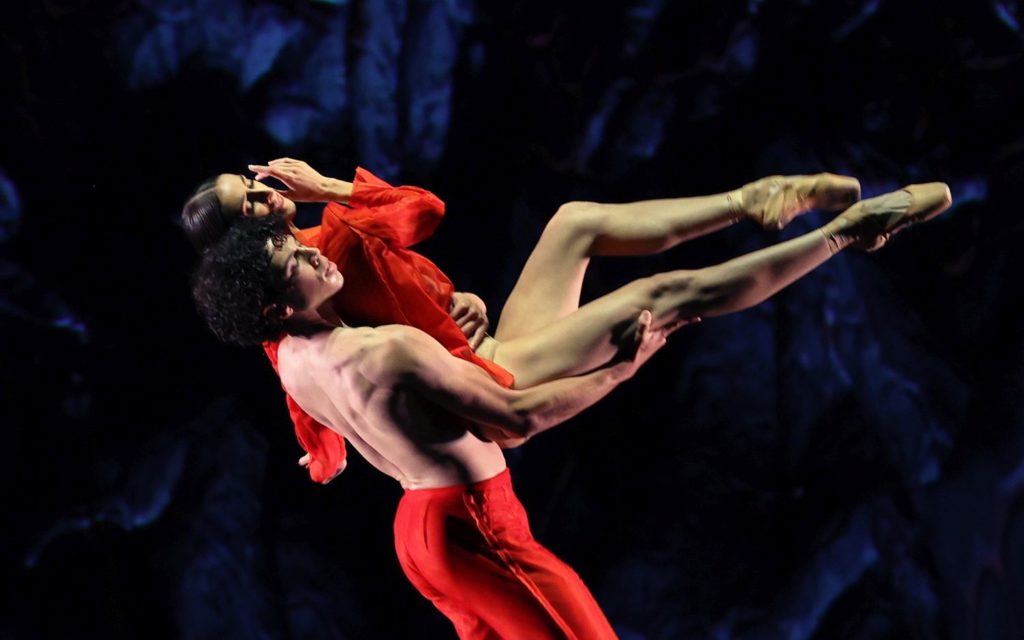 Alessandro Grisendi's cleverly versatile video projection turns the backdrop into a lead-black rock that, depending on the lighting, changes into a relief of unfinished human sculptures, out of which Prometheus's human-clay creations are born. At the moment Prometheus encounters Promethea, this backdrop is turned into a gem-like material dotted with red and yellow. A vertical crevice runs through the rock, filled with burning heat and, later, with water. The projection's white-blue-ish dots assemble to create a hall-like space, the grand façade of an ancient house, and a tapestry of abstract pictures reminiscent of the skin of a reptile or the images collected from a satellite. In the final moment, the backdrop morphs into a curtain of fire.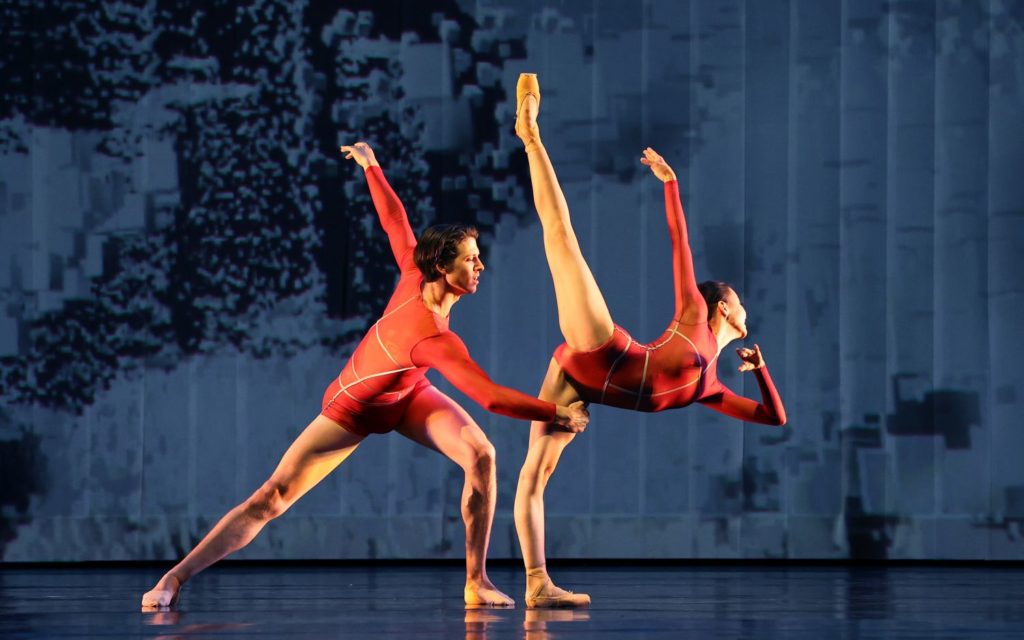 The creatures who initially emerge from the relief resemble naked humanoid earthlings, exploring their habitat with caution. Soon, though, they gain courage and move their limbs with snake-like softness. Prometheus is both the creatures' active creator and the subservient midwife of the ones eager to be born. First, he molds two young boys (Luc Smith and Raul van der Ent Braat), followed by two men (Daniel Silva and Sho Yamada), observing how they play, pose, explore their range of motion, recognize one other, and enjoy being alive. Their humanization evolves swiftly. Having swapped skin-colored tricots for red ones patterned with white squares (costumes by Tatyana van Walsum), they begin to do acrobatics, conquering the space with dauntless jumps and establishing an orderly, structured elegance. Traditional gender dynamics are broken down by the use of same-sex-pairings.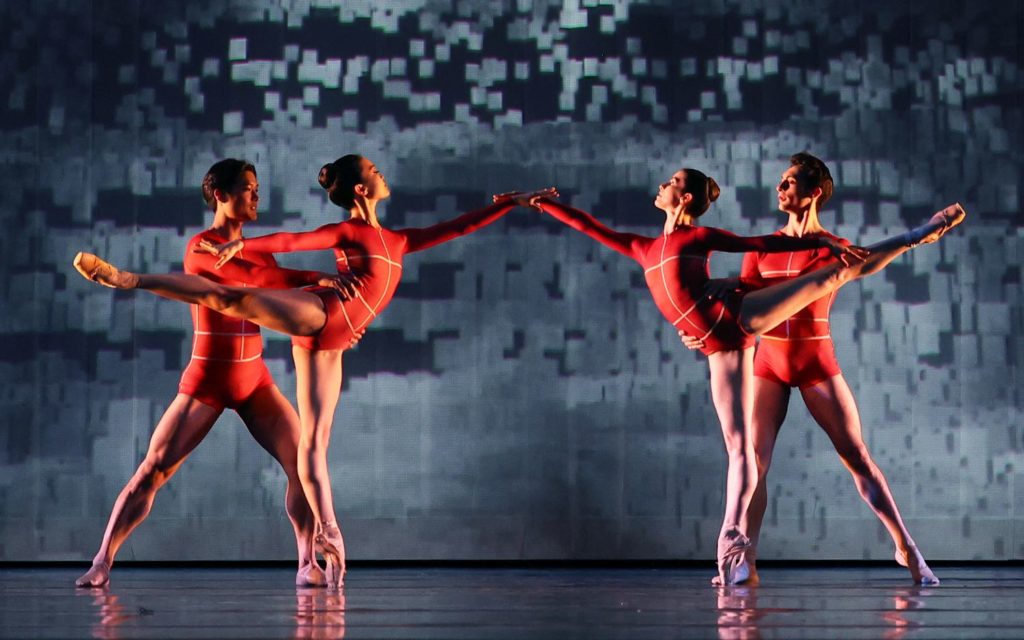 Wörtmeyer's pas de deux plumb the depths of several couples' relationships. In one, Erica Horwood and Vito Mazzeo slip out of the house-façade backdrop, performing choreography rich in jumping-jack jumps and humorous mischief. Connie Vowles provokes Michele Esposito by folding her leg around his crotch and sitting flirtatiously on his thigh. At one point, Esposito is firmly pushed back onto stage by Prometheus for a solo. Riho Sakamoto and Young Gyu Choi's harmonious romance has the sweetness and playfulness of newfound love, while the petite Yuanyuan Zhang and the towering Martin ten Kortenaar affectionately play pranks on one another.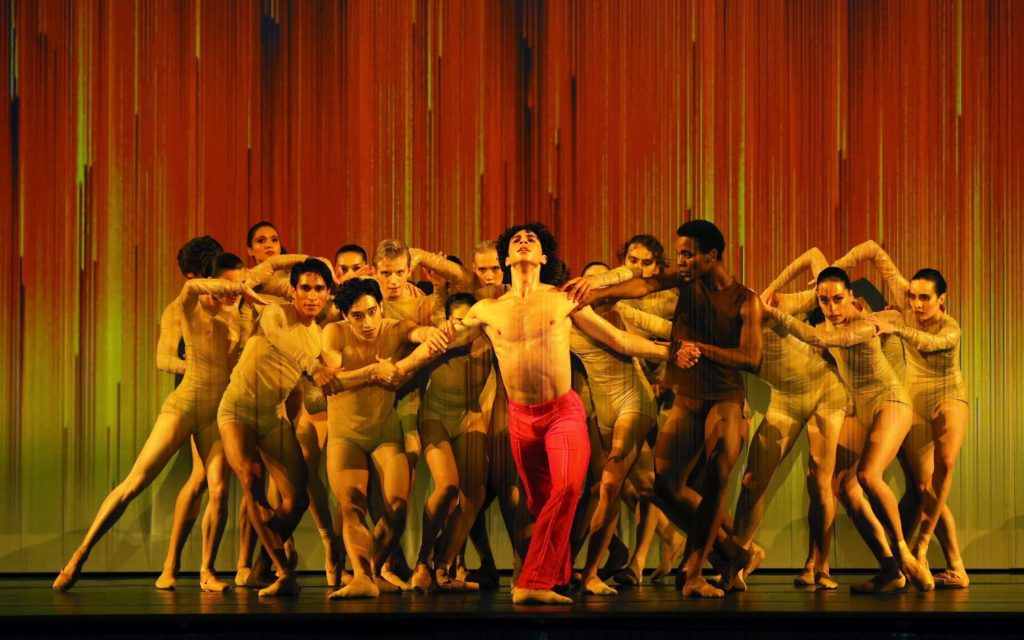 As the lights dim and the music signals disaster, the group's efficient structure has developed a momentum of its own. Their busy self-sufficiency contrasts with Yamada and Silva's slow, considered movements – and it may lose its balance at any moment. Even Prometheus's powerful jumps cannot prevent the human beings from being devoured by the fire raging behind them. Instead, they pull him back, holding him in the flames.
Van Poucke's Prometheus was determined, strong-willed, and forceful – but also one who looks at his creations with kind eyes. He accepted his eternal punishment without resistance. Eimers painted Promethea as strong and clear-eyed, standing on her own feet despite her readiness to devote herself to Prometheus.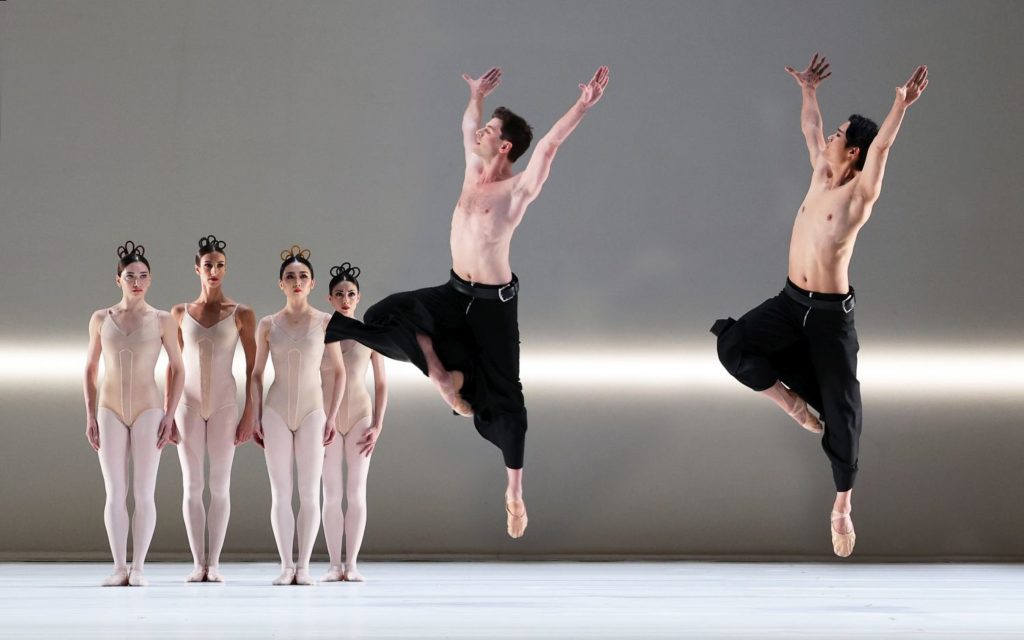 "My dance is always about sex," eighty-eight-year-old Hans van Manen recently revealed in a conversation about a just-released documentary. "Grosse Fuge", set to Beethoven's eponymous music, is no exception. The set by Jean Paul Vroom is austere – white side curtains and, at the back, a small band of neon light that slowly moves upwards – and the costumes by van Manen seem unspectacular. The four men – Semyon Velichko, Young Gyu Choi, James Stout, and Edo Wijnen – wear black floor-length skirts and black leather girdles. The four women – Maia Makhateli, Salome Leverashvili, Qian Liu, and Floor Eimers – wear white tights, white tricots, and hair accessories reminiscent of the Olympic rings. But – just wait until the men gather their skirts to reveal their unbelievably sexy knees; just wait until the girdles come into play.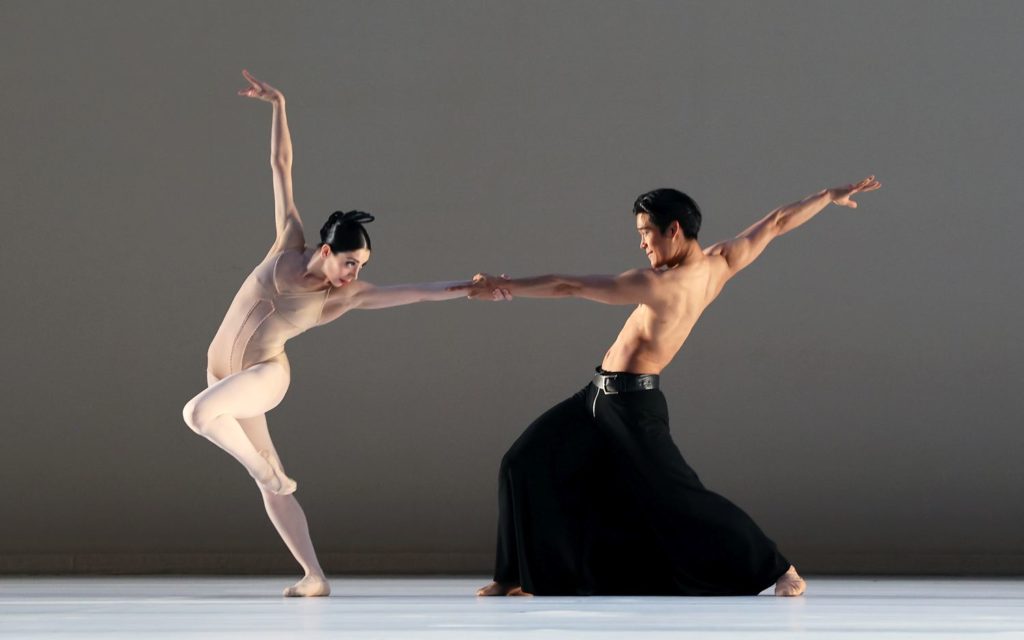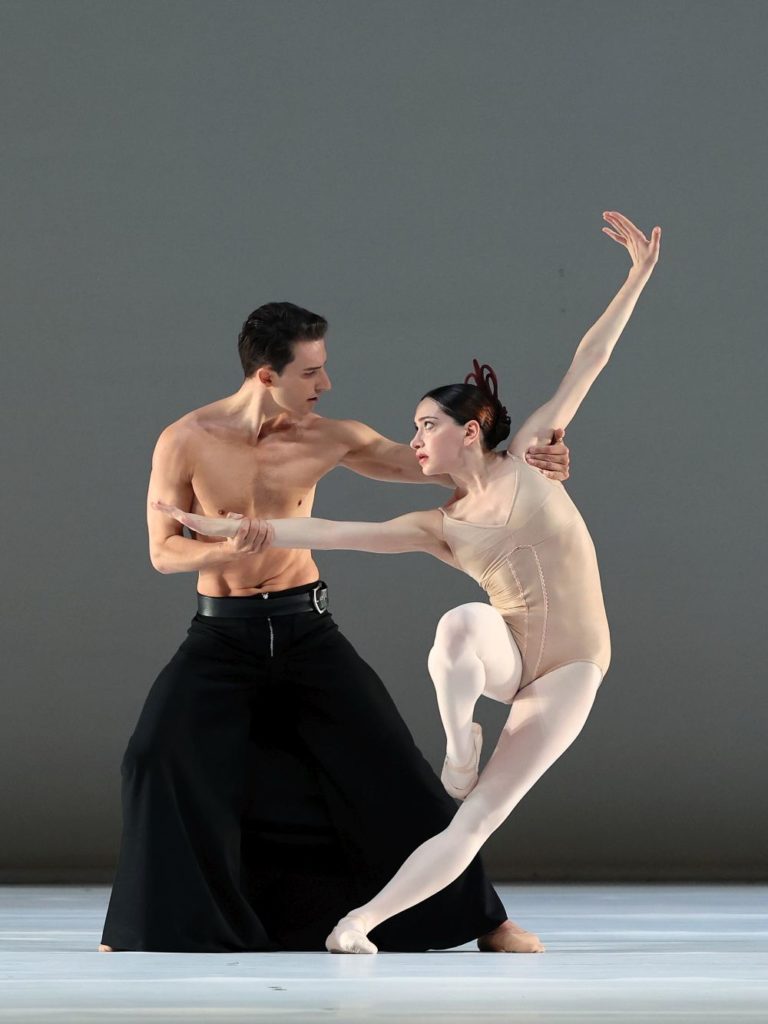 The men bob and weave in square patterns like boxers oozing virility, their hands clenched or held to their thighs, arms precisely cutting the air. The women stand in a square and watch them, unmoved. Soon, the roles switch, the men watching the women perform similar, softer movements. In fast-paced pas de deux, Gyu Choi beats a quick retreat into the wings to escape Makhateli's kicking legs and Wijnen raptly embraces Eimers's ankles – earning him two slaps. Velichko (who is in especially good shape) places Leverashvili on the floor three times, only to artfully lift her to her feet right away. Stout throws Liu in the air like a ball.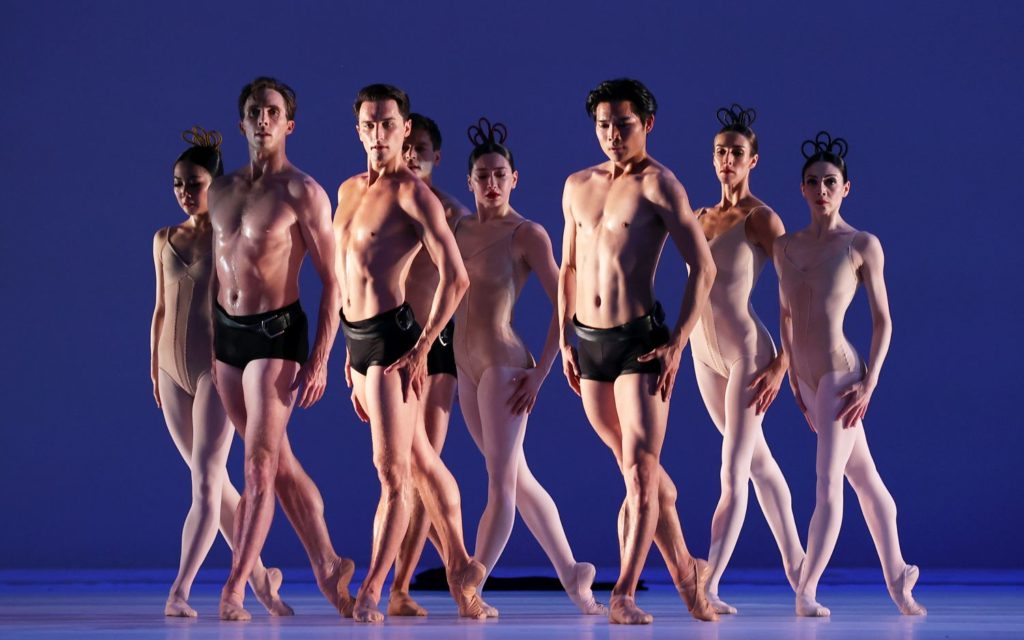 The energy in the room becomes sultry and sensual as the backdrop changes from white to brown and night blue. The men doff their skirts, exposing black shorts, and the women, lying on their backs on the floor, spread their legs. The women pull themselves up using the men's girdles, and later are pulled across the floor by the men. At one point, the women hold the men's heads right next to their crotch. As mutual preening yields to desire for intimacy, the atmosphere grows tranquil until all lie side by side on the floor, resting.
Van Manen has style and taste. He has a unique ability to dress salacious topics in decent guise. As with his other pieces, "Grosse Fuge" hasn't aged.
The Dutch Ballet Orchestra, conducted by Marcio Conti, gave a fine rendition of Beethoven's music.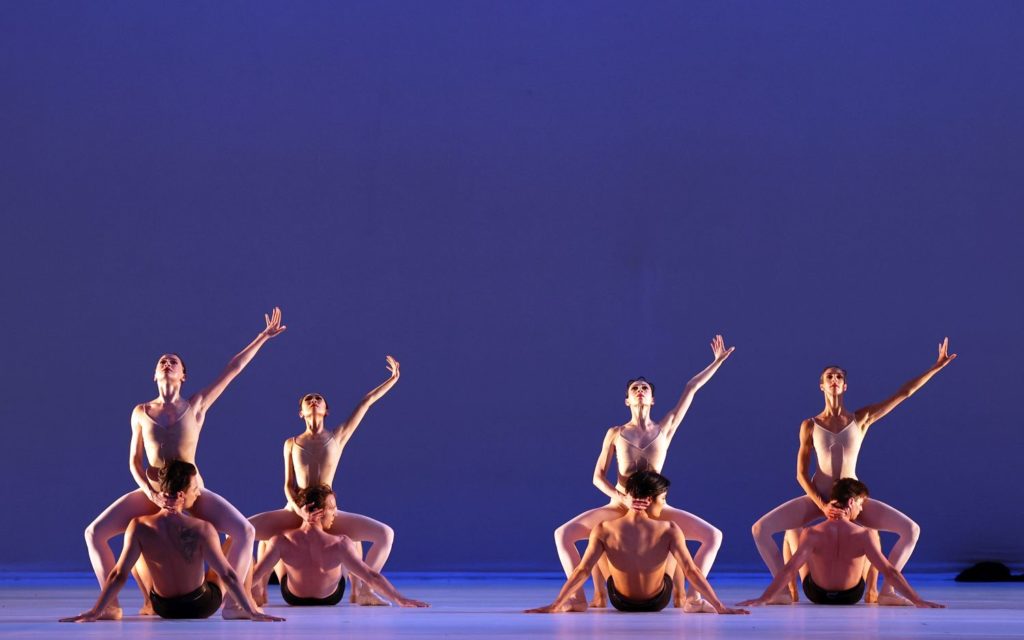 Links:
Website of Dutch National Ballet
"

Rose" by Milena Sidorova (video)

Photos
1.
Sho Yamada, Daniel Silva, and ensemble

, "Prometheus" by Wubkje Kuindersma, Ernst Meisner, and Remi Wörtmeyer,

Dutch National Ballet 2021
2.
Daniel Silva and Sho Yamada,

"Prometheus" by Wubkje Kuindersma, Ernst Meisner, and Remi Wörtmeyer,

Dutch National Ballet 2021
3.
Timothy van Poucke (Prometheus),

"Prometheus" by Wubkje Kuindersma, Ernst Meisner, and Remi Wörtmeyer,

Dutch National Ballet 2021
4.
Timothy van Poucke (Prometheus) and Floor Eimers (Promethea),

"Prometheus" by Wubkje Kuindersma, Ernst Meisner, and Remi Wörtmeyer,

Dutch National Ballet 2021
5.
Martin ten Kortenaar and YuanYuan Zhang,

"Prometheus" by Wubkje Kuindersma, Ernst Meisner, and Remi Wörtmeyer,

Dutch National Ballet 2021
6.
Young Gyu Choi, Riho Sakamoto, Connie Vowles, and Michele Esposito,

"Prometheus" by Wubkje Kuindersma, Ernst Meisner, and Remi Wörtmeyer,

Dutch National Ballet 2021
7.
Timothy van Poucke (Prometheus) and ensemble,

"Prometheus" by Wubkje Kuindersma, Ernst Meisner, and Remi Wörtmeyer,

Dutch National Ballet 2021
8.
Salome Leverashvili, Floor Eimers, Qian Liu, Maia Makhateli, Edo Wijnen, and Young Gyu Choi, "Grosse Fuge" by Hans van Manen, Dutch National Ballet 2021
9.
Maia Makhateli and Young Gyu Choi, "Grosse Fuge" by Hans van Manen, Dutch National Ballet 2021
10.
Semyon Velichko and Salome Leverashvili, "Grosse Fuge" by Hans van Manen, Dutch National Ballet 2021
11.
Salome Leverashvili, Qian Liu, Maia Makhateli, Floor Eimers, Semyon Velichko, James Stout, Young Gyu Choi, and Edo Wijnen, "Grosse Fuge" by Hans van Manen, Dutch National Ballet 2021
12.
Salome Leverashvili, Qian Liu, Maia Makhateli, Floor Eimers, Semyon Velichko, James Stout, Young Gyu Choi, and Edo Wijnen, "Grosse Fuge" by Hans van Manen, Dutch National Ballet 2021

all photos

© Hans Gerritsen

Editing:
Jake Stepansky