"Four Seasons" ("The Two Of Us" / "The Four Seasons")
Dutch National Ballet
Dutch National Opera & Ballet
Amsterdam, The Netherlands
June 15, 2021 (live broadcast)
by Ilona Landgraf
Copyright © 2021 by Ilona Landgraf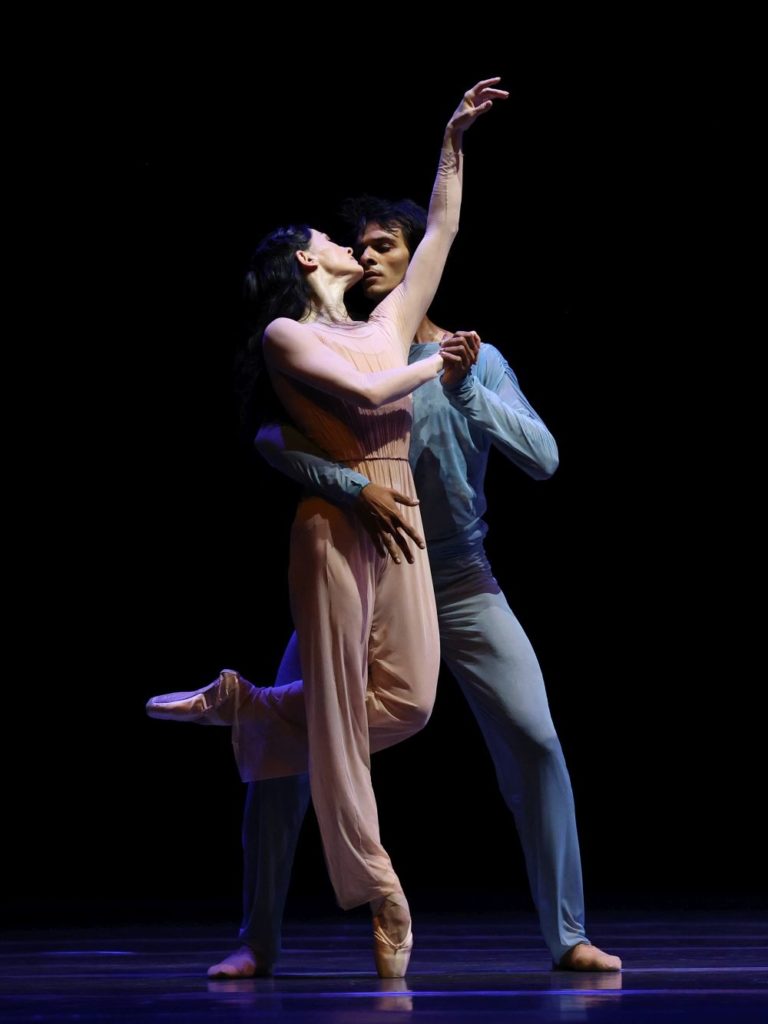 Just one week after the premiere of "Prometheus", the Dutch National Ballet premiered a second program as part of the annual Holland Festival: "Four Seasons" – a double bill comprised of Christopher Wheeldon's "The Two Of Us" and David Dawson's "The Four Seasons". Two dance films created by members of the company during last year's lockdown – "Oblivion" and "The Garden" – were shown during the break. The performance was attended by a live audience and, in addition, broadcast online.
"The Two Of Us" premiered at New York City Center's 2020 Fall for Dance festival and paired New York City Ballet's principal Sara Means and David Hallberg, close friends who'd never before had the chance to dance together. In Amsterdam, the duet was performed by Anna Tsygankova and Constantine Allen, depicting two tender souls unsure whether to stay together or to part.
As the curtain opens, Tsygankova is seated on the floor, her elbow resting pensively upon her knee. Allen kneels behind her, his hand touching her shoulder. He begins to walk away from her, and at that exact moment we hear the first sounds of a melancholic guitar strummed by Joni Mitchell. "I don't know where I stand," Mitchell sings, verbalizing Tsykankova's state of being. Left alone, she moves softly, cocooned in her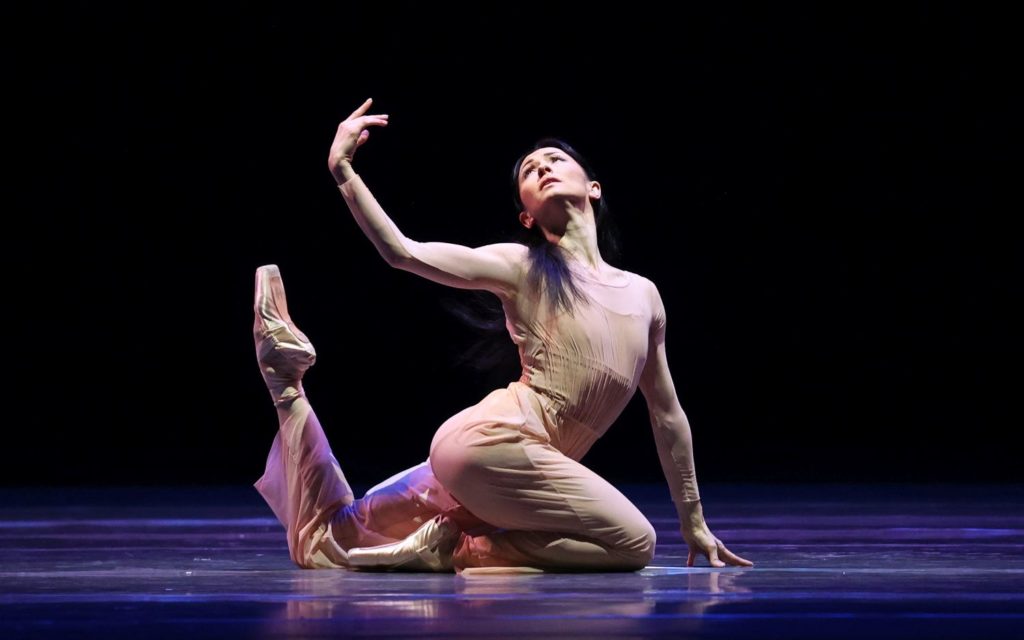 emotions. She's uncertain about the relationship – on the one hand, yearning for him; on the other, indecisive and unsure. Her movement wavers between introversion and extroversion. When she leaves, Allen re-enters for a sensitive solo that reveals how intensely he, too, is entangled in his emotions. Soon, Tsykankova re-joins him and they walk together, their arms intertwined. But this intimate togetherness is not meant to last. Allen ventures out for a solo and, as he raises into an arabesque, his gaze is attracted by something – perhaps freedom – and he runs off. Tsykankova, ditched once again, sets out for a frisky, flirtatious solo to a jovial song by Mitchell, as if she's about to conquer the clubs with her gal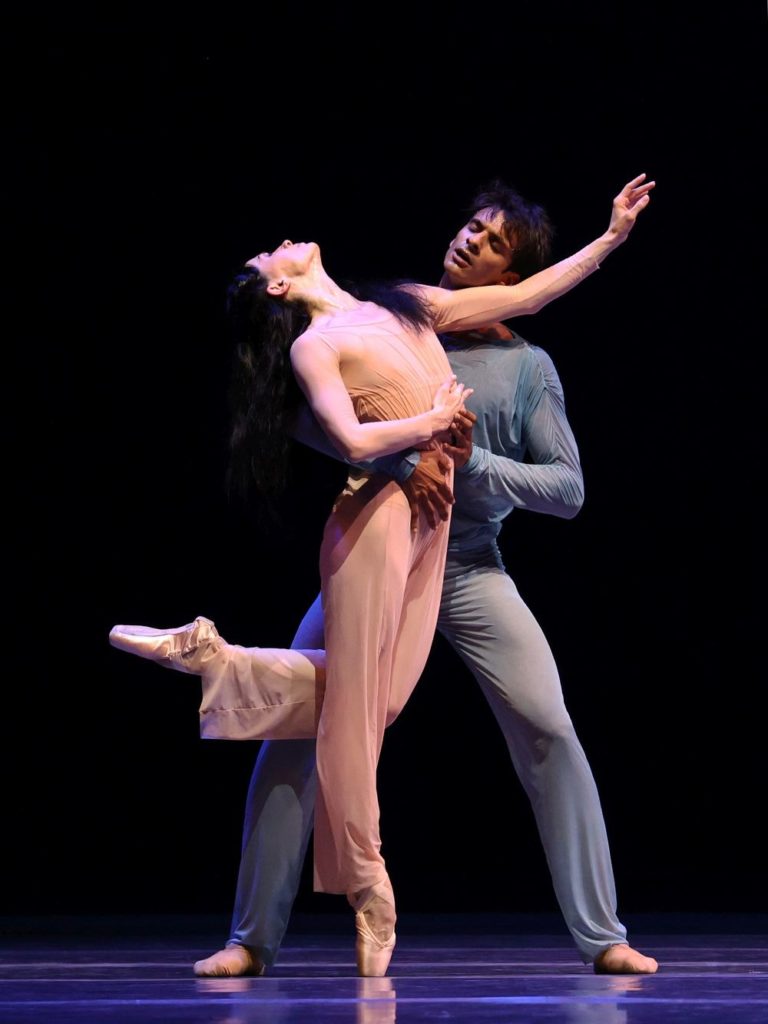 pals – but the mood turns serious when Allen returns. Standing at a distance and facing in opposite directions, the pair slowly walks backwards towards one another as if attracted by an invisible force.
Once reunited, their arms embrace harmoniously and their hands, if gliding apart, find each other reassuringly within seconds. Yet disagreement lurks beneath the surface – and as the lovers drift apart again, drawn towards something in the distance, Mitchell fittingly sings: "I really don't know life at all." The stage is almost dark as they look back at one another one last time.
Neither of the characters that Wheeldon depicts is ready to subordinate their sentimental self-centeredness to a stable relationship. The baby-colored costumes (by Harriet Jung and Reid Bartelme) – a pale pink pantsuit for Tsygankova and light blue pants and a shirt for Allen – may be a nod to their level of maturity.
Dawson's "The Four Seasons" – a ballet created for Semperoper Ballet in 2018 – should have received its Dutch premiere in March 2020, but the company had to go into lockdown one week before the scheduled opening. It's an ensemble piece led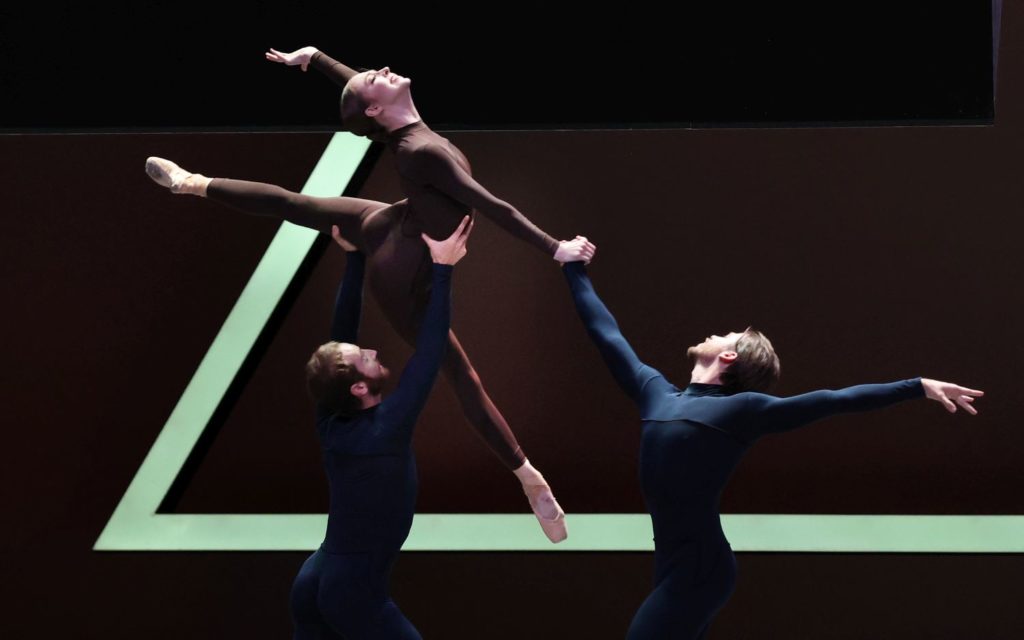 by three couples (Floor Eimers & Constantine Allen, Nina Tonoli & James Stout, Riho Sakamoto & Edo Wijnen) set to Max Richter's re-composition of Vivaldi's eponymous music.
Dawson typically assembles the same team of designers, which allows him to maintain his signature polished, chilly style. The color palette chosen by costume designer Yumiko Takeshima for the dancers' skintight, full-body leotards included black, dark blue, bottlegreen, velvet, ochroid, and burgundy. No consistent connection was apparent between the colors and the seasons.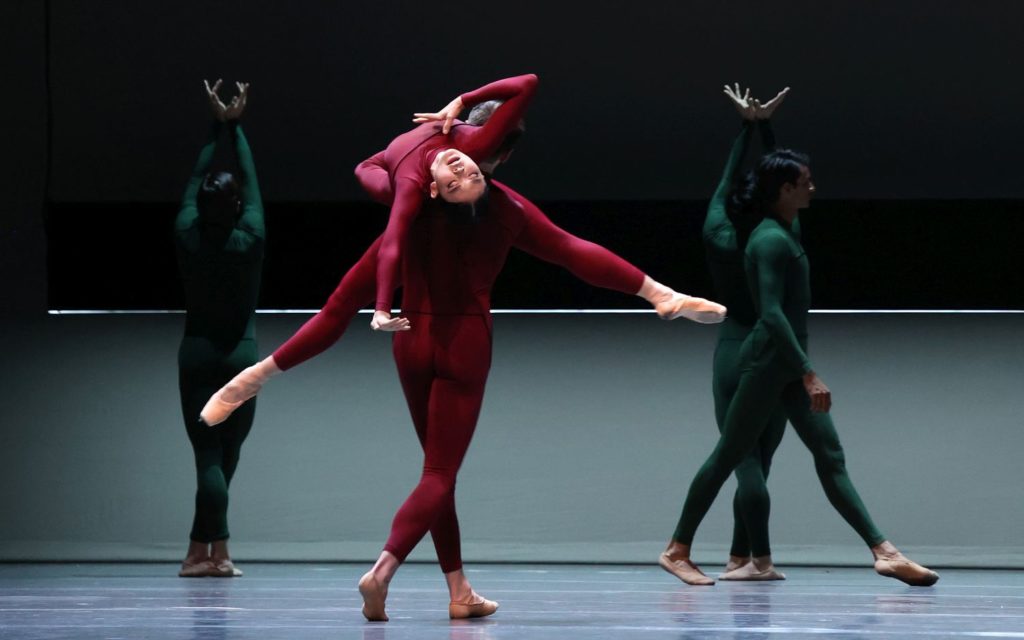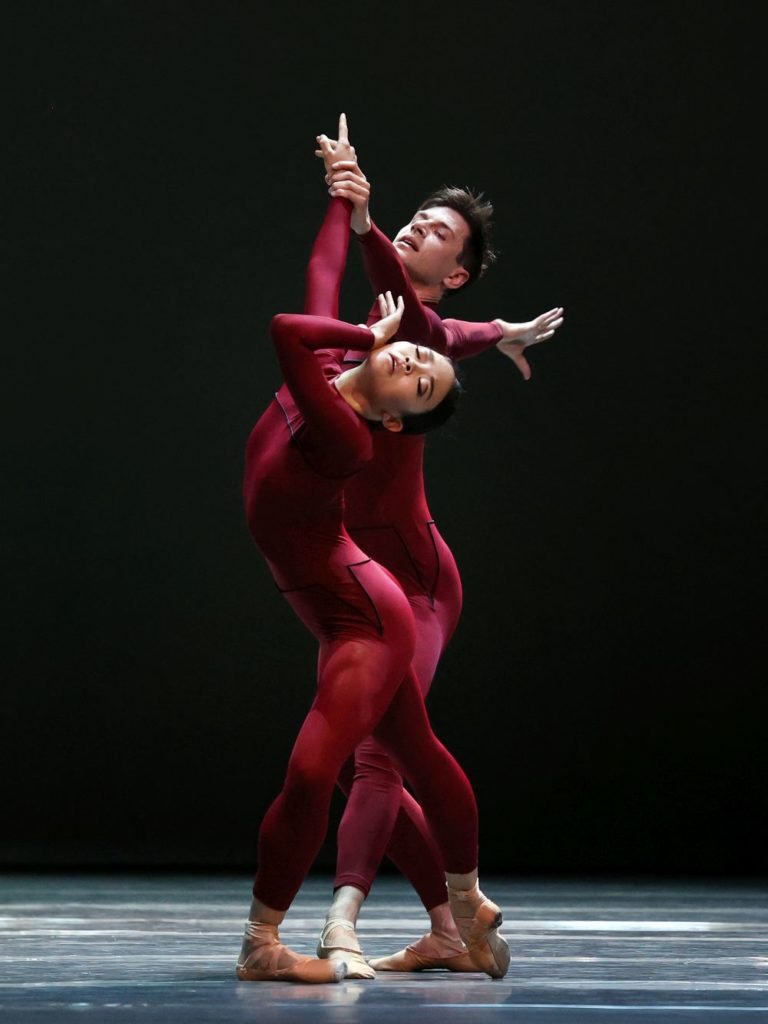 Eno Henze's set included a box-like stage and huge geometric frames – a triangle lit by green neon light, a square lit in red, a vertical band lit white, and a circle that turned yellow (perhaps a reference to the spring sun or to the cycle of the seasons) – that were tilted horizontally or vertically and lowered from or raised to the flies. At a certain point, the neon light was switched off, instantaneously clouding the mood. Bert Dalhuysen's expert lighting played with shifting shading, varying degrees of darkness, a green-lit floor (indicating spring), and the nuances of gray.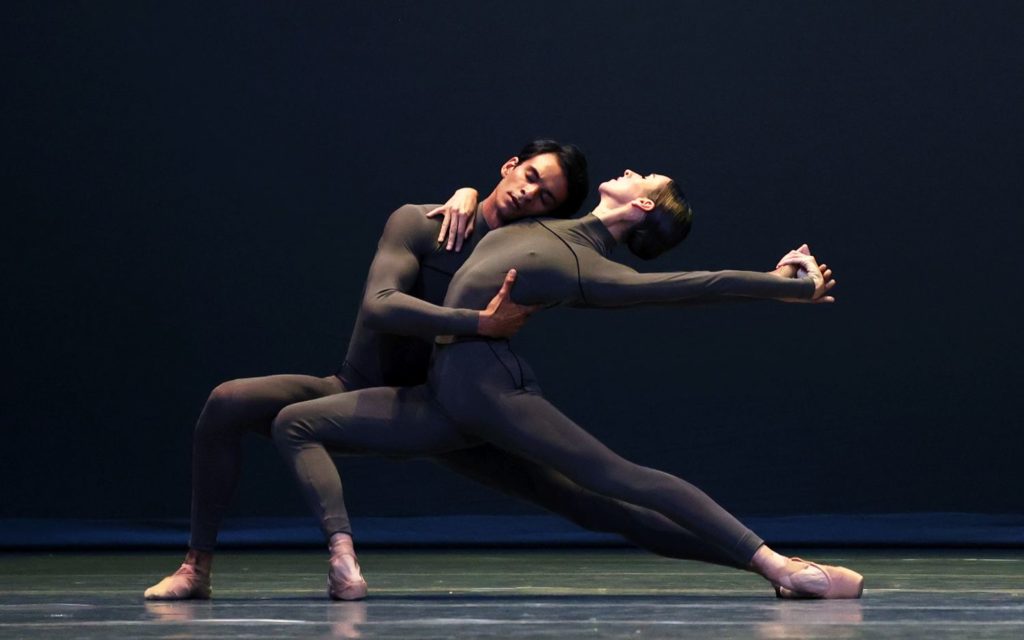 Dawson interwove solos and pas de deux with group sequences of different sizes, some bustling with activity and others quite serene. Sakamoto and Wijnen's playful pas de deux began with teasing and morphed into a sorrow. Later, Wijnen brilliantly nailed a lightning-fast solo. Tonoli and Stout depicted a relationship burdened by painful feelings. Eimers and Allen's calm pas de deux – partly swallowed by darkness – heralded the return of spring.
At times, several dancers stood motionless amidst a hustling-bustling group. Later, they lined up in a row at the rear, standing like human sculptures, their arms stretched to the sides or upwards, hands forming a chalice. Often the dancers would hold their fingers in front of their mouths, as if asking for discretion, or would face the audience with bent knees and stretch their arms forward as if requesting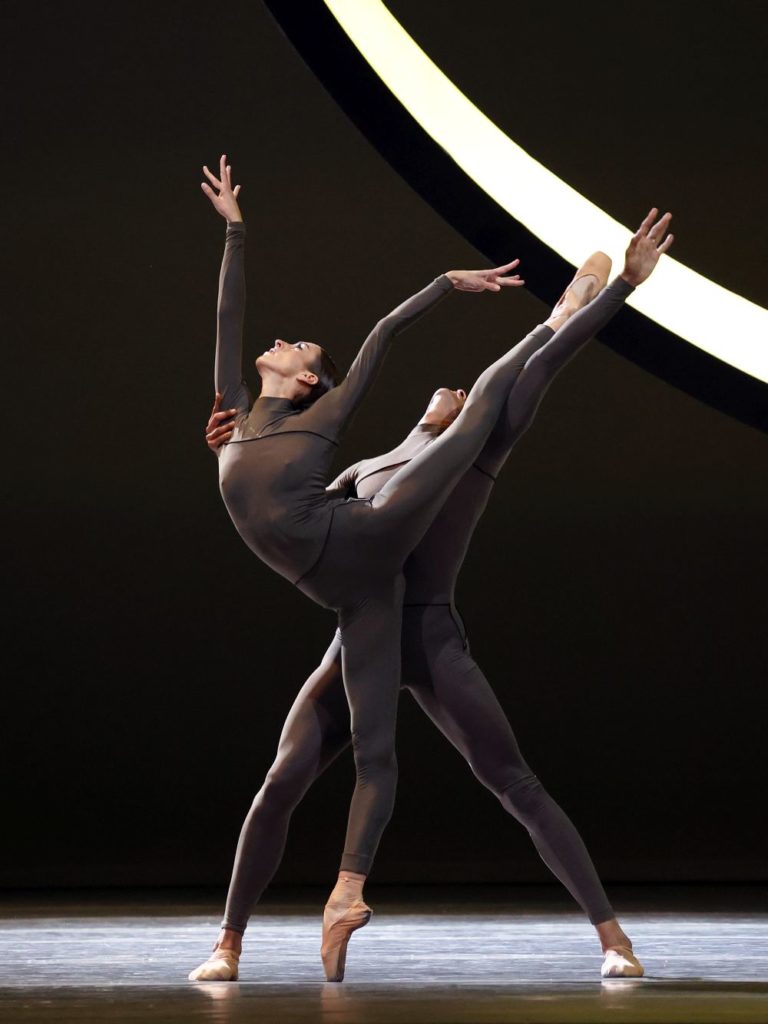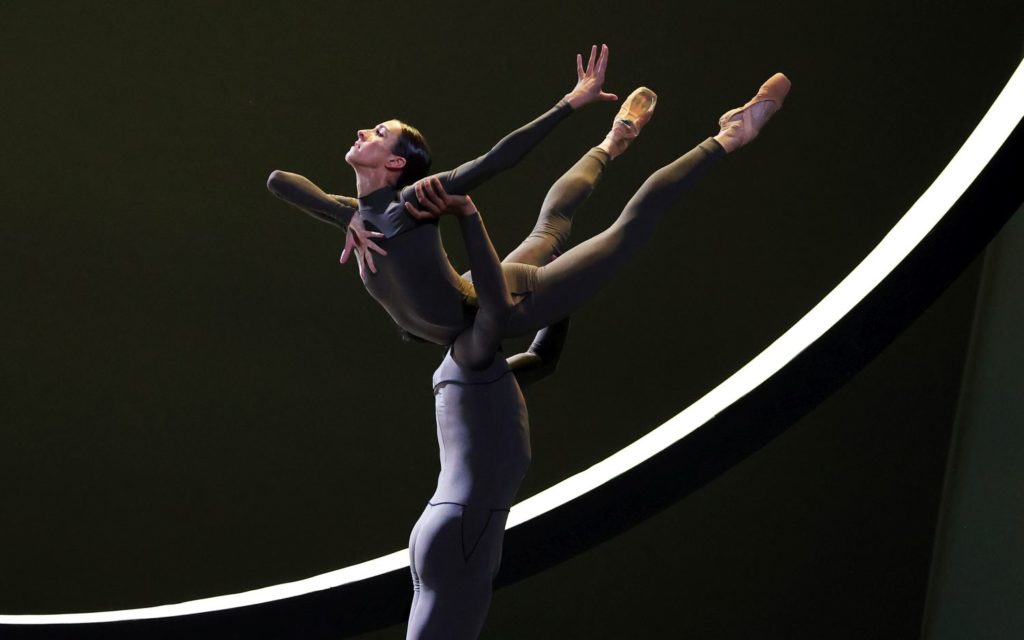 restraint. At one point, the women drew symbols in the air – spirals and, perhaps, hearts. Throughout the piece, the dancers moved effusively, army flying, chests eagerly splayed. They stretched their arms to the side or into a V-shape, vigorously circling them and embodying the movements of a swan. Bent wrists and spread fingers broke the line, creating the impression that these birds have defunct wings.
Dawson loves a sleek aesthetic, but stumbles when it comes time to back it with meaningful substance. He is at his most convincing when working on a definite story like "Tristan + Isolde". The more abstract his pieces, the more he gets lost in the superficies.
Richter's score was played by the Dutch Ballet Orchestra under the baton of Marzio Conti. Isabelle van Keulen played the solo violin.
"Oblivion" – a short black-and-white video choreographed by Jakob Feyferlik – features a romantic encounter between a man (Jakob Feyferlik) and a woman (Nina Tonoli) in a workshop-like hall. Filmmaker Altin Kaftira orbits the couple as Tonoli melts like wax in Feyferlik's hands. His body responds to her every move. The couple lays side by side and as Feyferlik stand up, he looks at the floor, which is … empty.
"The Garden" – produced and choreographed by Pascal Johnson and directed and filmed by Sem Sjouke – follows five dancers (Remi Catalan, Khayla Fitzpatrick, Martin ten Kortenaar, Daniel Montero Real, and Riho Sakamoto) to the Kröller-Müller Museum on Otterlo, located around 80 kilometers east of Amsterdam. There, they dance in the park on Jean Debuffet's huge terraced black-and-white sculpture "Le Jardin d'émail". The sequences that were filmed from an eagle's perspective were the most interesting.
Links:
Website of Dutch National Ballet

Behind the scenes: "The Four Seasons" by David Dawson (video)

"The Garden" (video)

"Oblivion" (video)

Photos
1.

Anna Tsygankova and Constantine Allen, "The Two Of Us" by Christopher Wheeldon,

Dutch National Ballet 2021
2.

Anna Tsygankova, "The Two Of Us" by Christopher Wheeldon,

Dutch National Ballet 2021
3.

Anna Tsygankova and Constantine Allen, "The Two Of Us" by Christopher Wheeldon,

Dutch National Ballet 2021
4.
Joseph Massarelli, Alexandria Marx, and Sem Sjouke, "The Four Seasons" by David Dawson, Dutch National Ballet 2021
5.
Riho Sakamoto, Edo Wijnen, and ensemble, "The Four Seasons" by David Dawson, Dutch National Ballet 2021
6.
Riho Sakamoto and Edo Wijnen, "The Four Seasons" by David Dawson, Dutch National Ballet 2021
7.
Constantine Allen and Floor Eimers, "The Four Seasons" by David Dawson, Dutch National Ballet 2021
8.
Constantine Allen and Floor Eimers, "The Four Seasons" by David Dawson, Dutch National Ballet 2021
9.
Constantine Allen and Floor Eimers, "The Four Seasons" by David Dawson, Dutch National Ballet 2021

all photos

© Hans Gerritsen

Editing:
Jake Stepansky