"Dance Gala Baden-Wuerttemberg"
Theater and Orchestra Heidelberg
Heidelberg, Germany
June 06, 2021 (online)
by Ilona Landgraf
Copyright © 2021 by Ilona Landgraf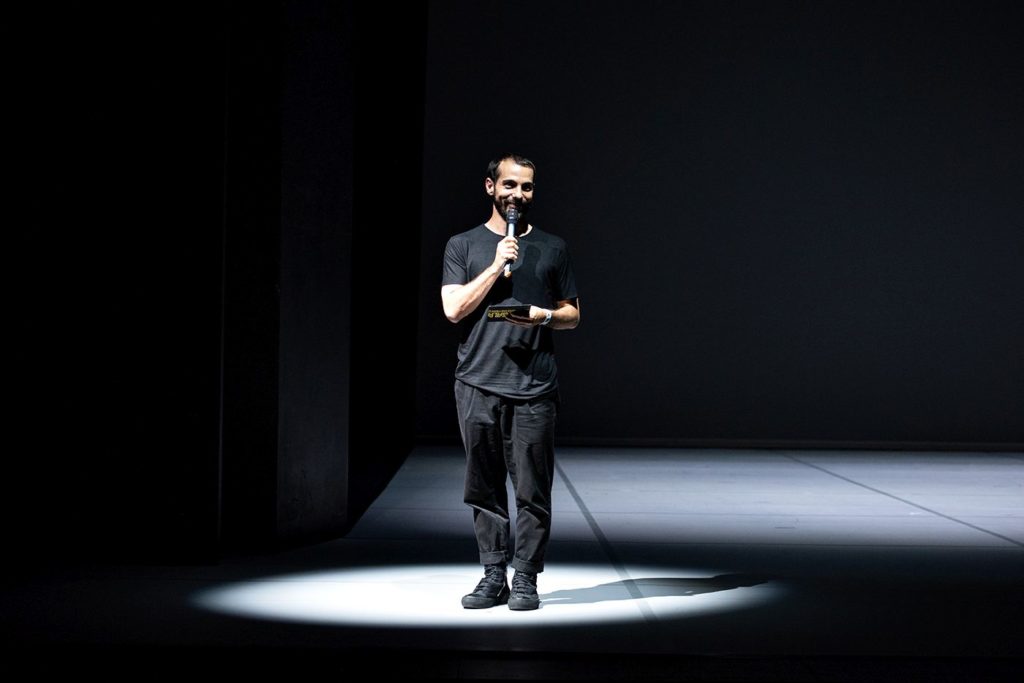 "Everybody Can Dance" was the motto of this year's Dance Biennial Heidelberg, the fourth since the event's inception. Pandemic-related restrictions pared down the three-day festival's schedule to a few online events, crowned by a dance gala on Sunday, June 6th. Nine of Baden-Wuerttemberg's dance companies were represented there, together contributing thirteen short pieces – nine digital and four danced live.
The Unterwegstheater Heidelberg, a small touring company whose work spans multiple genres opened the program with the video "Die nackte Wahrheit" ("The Naked Truth"). The film follows three performers (Sada Mamedova, Amancio Gonzales, and Luches Huddleston) through a sparsely furnished flat in an old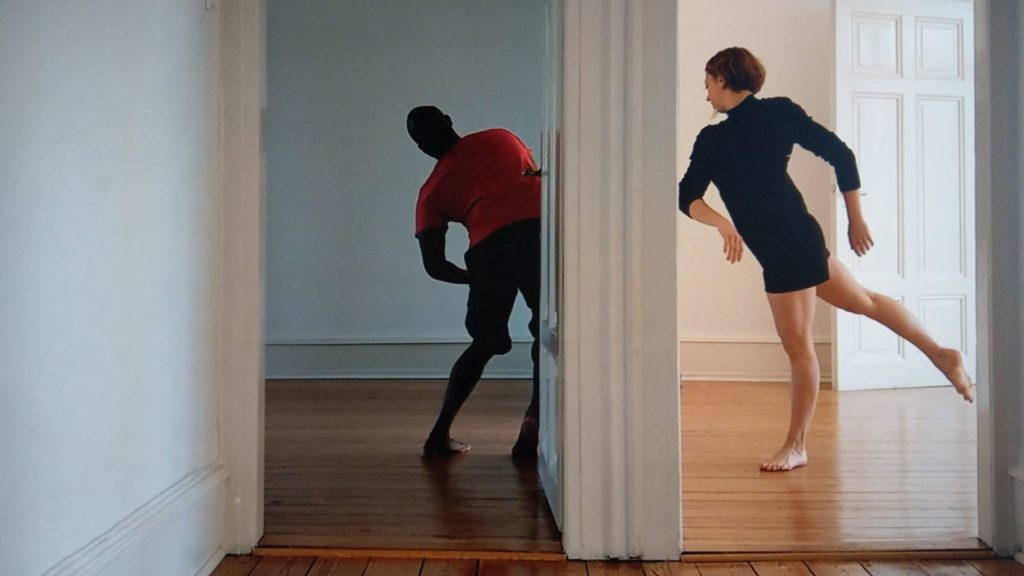 building in Heidelberg. Choreographer Jai Gonzales has the trio move their legs as if warming up, perform floor acrobatics, and walk in zig-zagging lines down the corridor. They're accompanied by music from Bach and Schubert. Mamedova opens one door over and over again without ever entering the room, hides behind another door, and wriggles and twists her body near the wall beneath an enormous modern painting. Gonzales rehearses hip gyrations in front of the mirror and shows off his fancy white sneakers. Each twist and contortion is well conceived and subject to self-observation. The video would have benefited greatly from courageous cuts.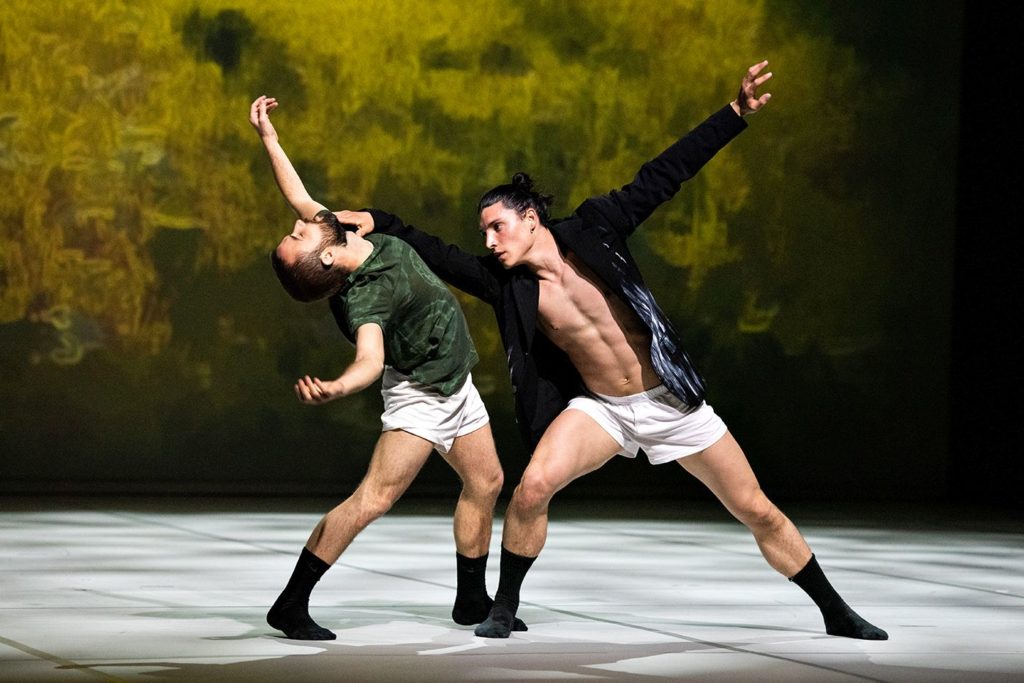 The National Theater Mannheim contributed two pieces: the duet "Green" of "Colors of Beauty" and "Crescendo", both danced live. In "Green", two men (Lorenzo Angelini and Alberto Terribile) in white underwear, black socks, a green shirt (Angelini), and black jacket (Terribile) dance in front of a black-and-white projection of a forest glade that gradually fills with color (choreography, video, and costumes by Stephan Thoss). As they crawl and scamper across the floor, and pull the green shirt over each others heads, repetitive rhythms replace the twittering of birds. The motivation for their duet is unclear – perhaps simply the joy of moving.
In "Crescendo", also choreographed by Thoss, six dancers (three men + three women in gray full-body leotards) stretch as if in a yoga class – arms twirling, bodies twisting, completing a series of unspecific movements for an unspecific reason. According to the short description in the program, the four rectangular green carpets on which they dance, symbolize "blown up nature". In the final scene, one woman covers herself with a carpet as if it was a bedspread and falls asleep as the others leave. The music is by Arvo Pärt.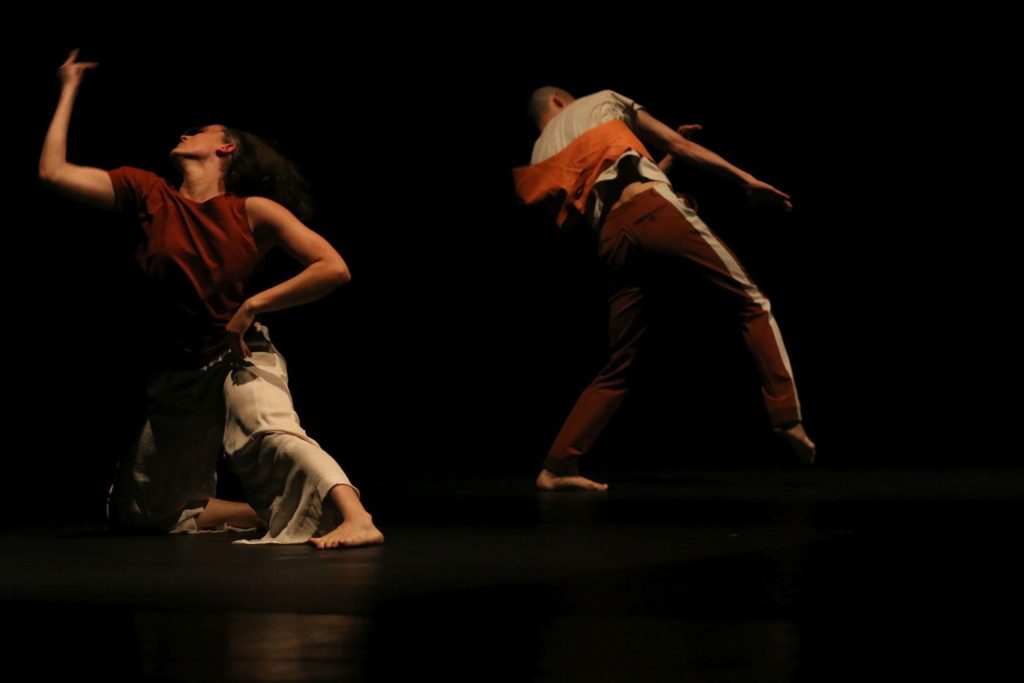 "45" by the Ballet Theater Pforzheim reflects on how bonds and connections between people are possible given that each one's feel-good-distance is 45 centimeters. The choreographer Damian Gmür places two groups of four dancers each onto a square space. The groups alternate, performing vigorous nondescript movements (sometimes in sync, sometimes solo) to monotonous electronica by Fabian Schulz. Dim lighting alternates with bursts of strobe light. At first, each dancer occupies one quarter of the square; later, the quarters merge. To the sound of torrential rain, one male/female couple starts to crawl across the floor, her caressing him. The connection to the concept of 45 centimeters wasn't obvious.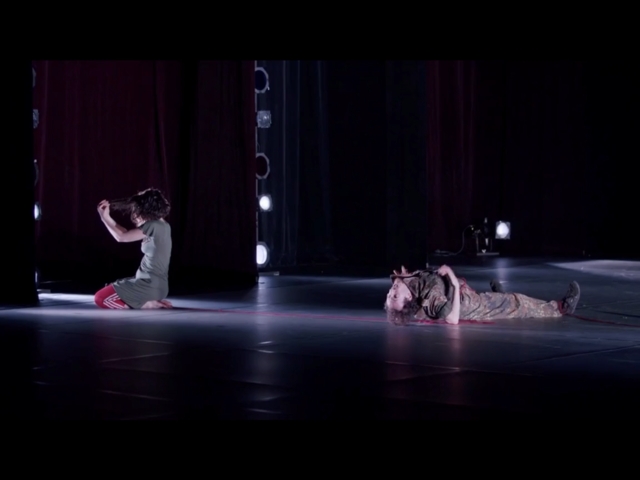 The Heidelberg-based Nostos Dance Theater presented "Little Sorrows", a piece for two dancers (Miriam Markl and Joseph Simon) that addresses the correlation between the human body and war. Accompanied by meditative music (by Ada Deane) and the sound of flowing water (by Julia Fonseca), Markl, barefooted and decked out in red Adidas sweatpants and a green shirt, writhes on the floor, stumbles sideways as if drunk, and falls on all fours (choreography by Christina Liakopoyloy). Her face is covered by unkempt curls that she pulls tight and straight again and again. A thread from a red ball of wool tied to one of her legs uncoils as she moves. Simon, wearing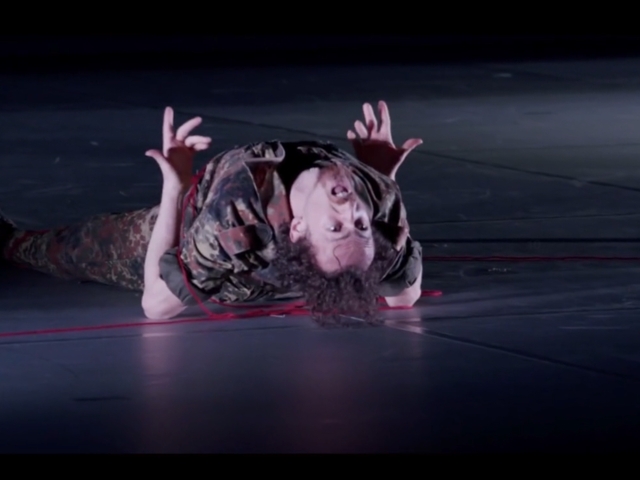 full-body camouflage overalls, scuttles along, his feet crossed-over, his head tilted, holding his arms close to his body, his hands stretching sideways. He suffers from tremor that intensifies into uncontrollable convulsions when he sinks, exhausted, into a crooked plastic chair. Later, he desperately crawls and rolls across the floor, holding his head as if wounded and entangling himself in the red thread. Markl crouches on the margin, disinterested facing away from him and contemplating her hands and her curls. The piece wasn't particularly pleasant to watch, but had substance.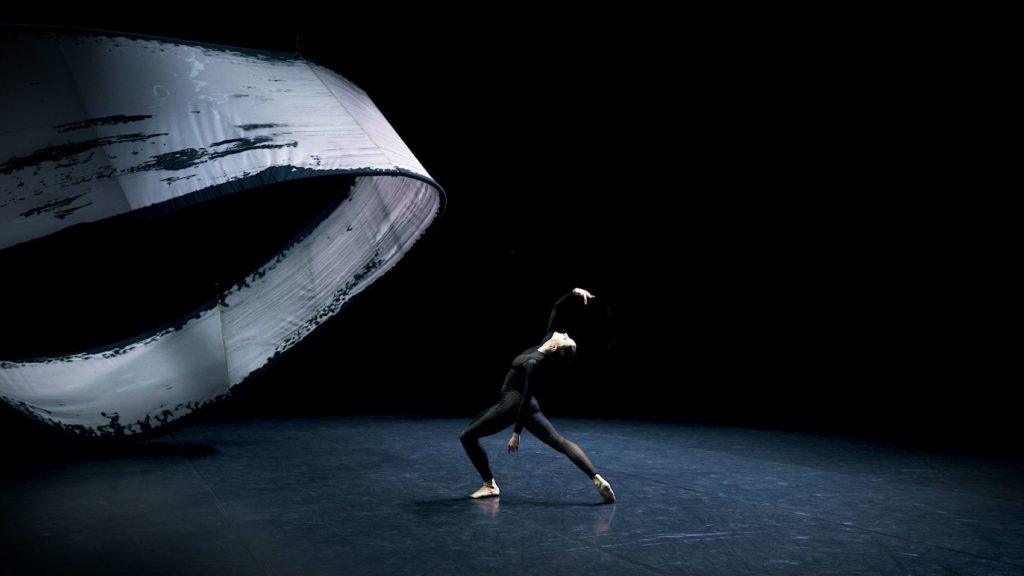 Likewise substantial were the two pieces choreographed by Bridget Breiner, artistic director and chief choreographer of the Baden State Ballet Karlsruhe: "The Present Now Will Later Be The Past" (a solo) and "Cut The World" (a duet).
In "The Present Now Will Later Be The Past", Carolin Steitz interprets Bob Dylan's "The Times They Are A'Changin" in a visually rich solo danced around a giant white ribbon tied off in a recumbent figure eight on the floor. This ribbon is raised above the heads of Alba Nadal and Baris Comak in "Cut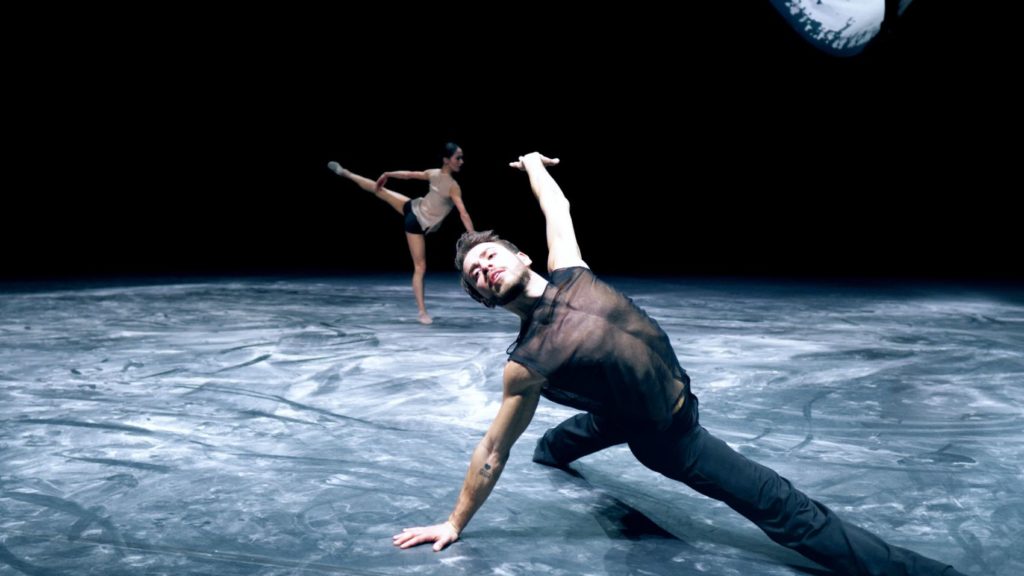 The World", titled after the accompanying song by Anthony and the Johnsons. Nadal and Comak dance meters apart, never touching, although their movements are somewhat connected at times. Their feet leave tracks in the white powder that is spread across the floor. After a series of fierce jumps by Comak and frantic turns by Nadal, both stop wearily. If their dance is to depict the state of their relationship, it must be in crisis.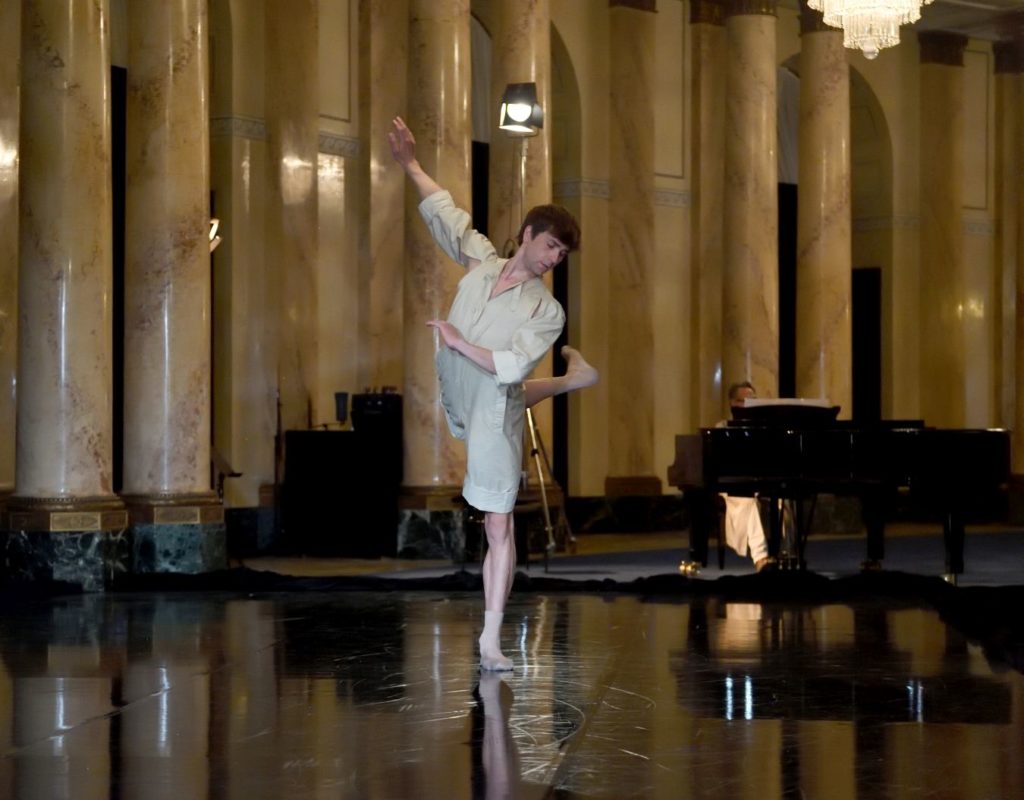 Stuttgart Ballet was represented by the solo "Metrof", choreographed by Shaked Heller to music by Chopin (played live by Paul Lewis) and danced by Friedemann Vogel in front of the marble columns of the Stuttgart Opera House's foyer. Vogel, flexing his feet and feeling out invisible borders, moves elegantly back and forth across the black dance floor as if searching for something. The lighting was – maybe deliberately – glaring.
The second Stuttgart company, Gauthier Dance from the Theaterhaus Stuttgart, selected three videos from its recent "Dying Swans Project" – a project comprised of sixteen short pieces (each created for one member of the company by another choreographer).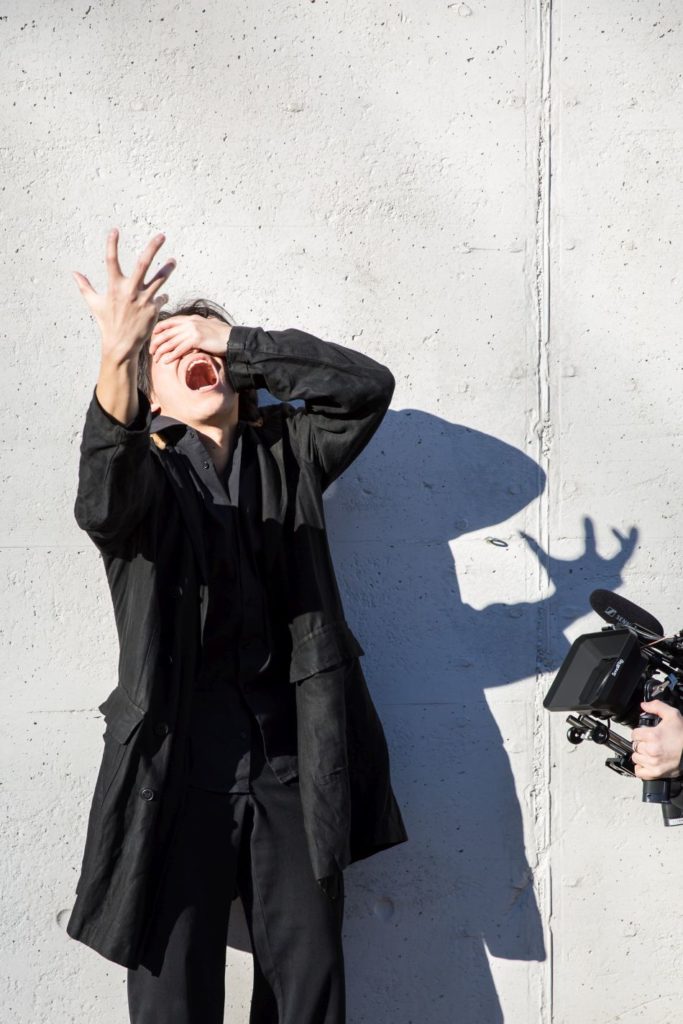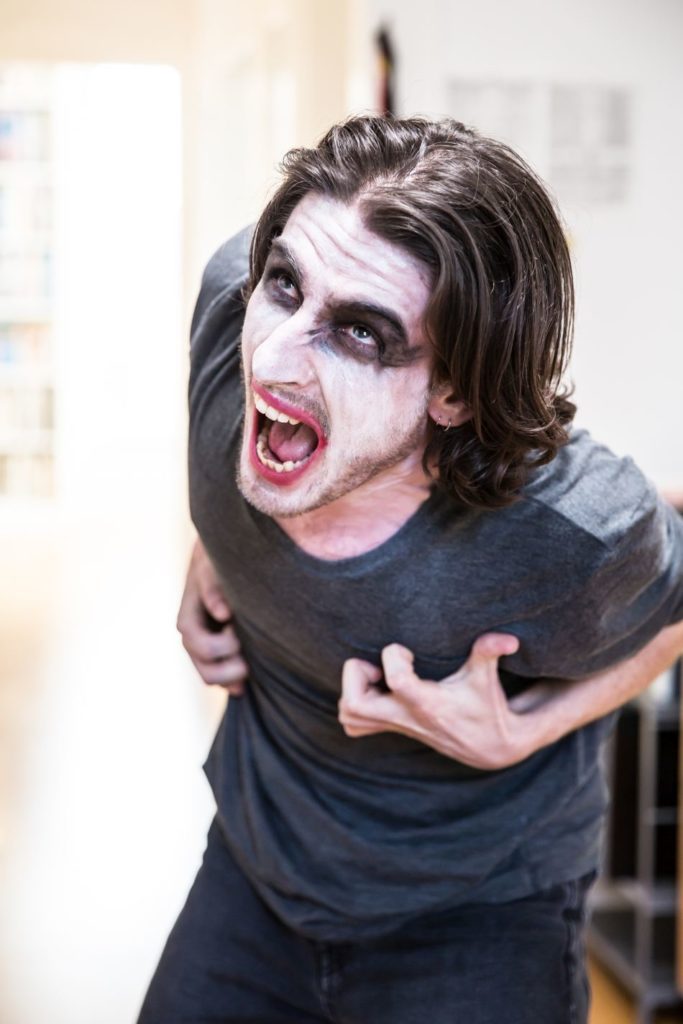 "Fallen Wings" by Dominique Dumais places dancer Shori Yamamoto in a concrete arena in the autumnal countryside. He screams silently, covering his head with his coat as he jumps. He grabs a handful of earth and lets it trickle down, almost like the flowing grace of tai chi. In the final scene, he walks up a hill towards the sinking sun.
In Kinsun Chan's "Silent Swan", Bruna Andrade walks and climbs on the seats of a long row of white chairs in a bright, white hall-like room. Her wide black pants and skimpy bra contrast effectively with the backdrop. She repositions the chairs and lies down on them, finally resting prone on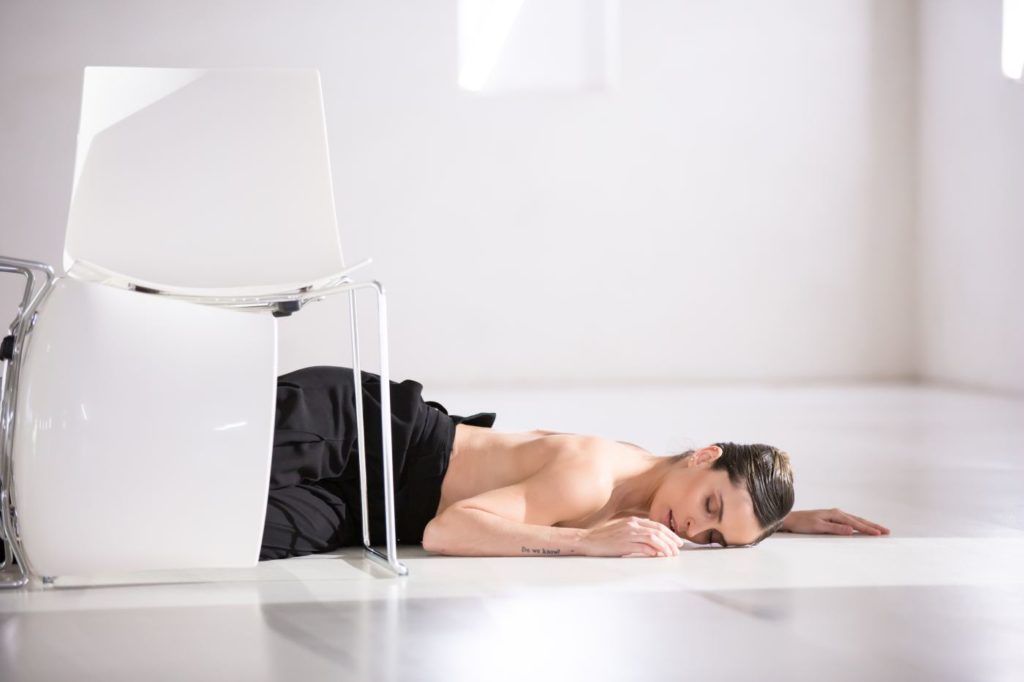 the floor as if dead.
"Covid Cage" by Eric Gauthier sends Andrew Cummings to an old shingled house to play a grimacing, grinning madman. Only when an older woman (presumably his mother) rings the doorbell does he behave normally. The camera briefly zooms in on a plaster on her upper arm, indicating that she has been vaccinated against Covid-19. Cummings, however, remains confined to his own four walls.
In Reiner Feistel's "The silence of the men / Klaus discovering the outside" ("Das Schweigen der Männer / Klaus geht raus"),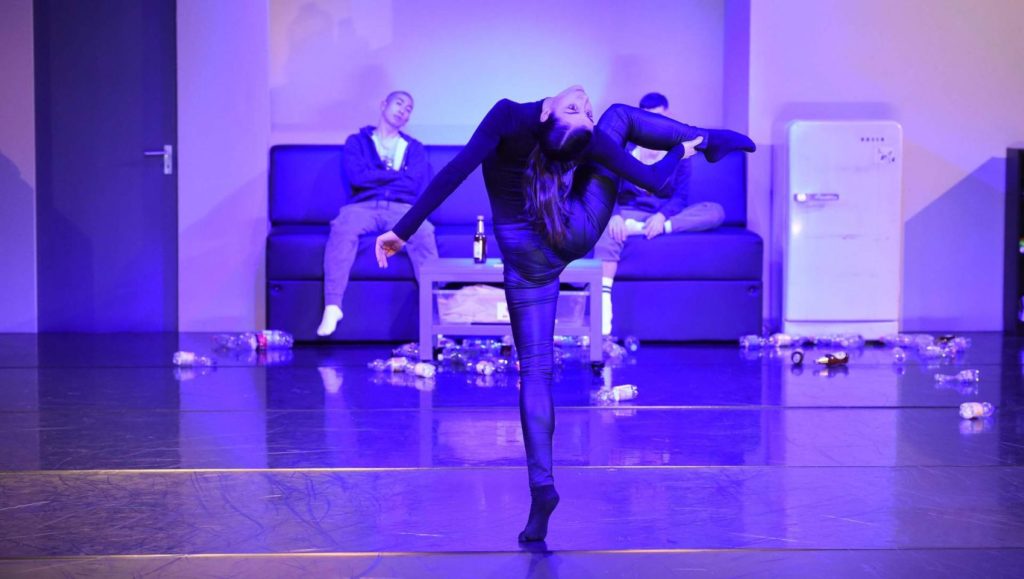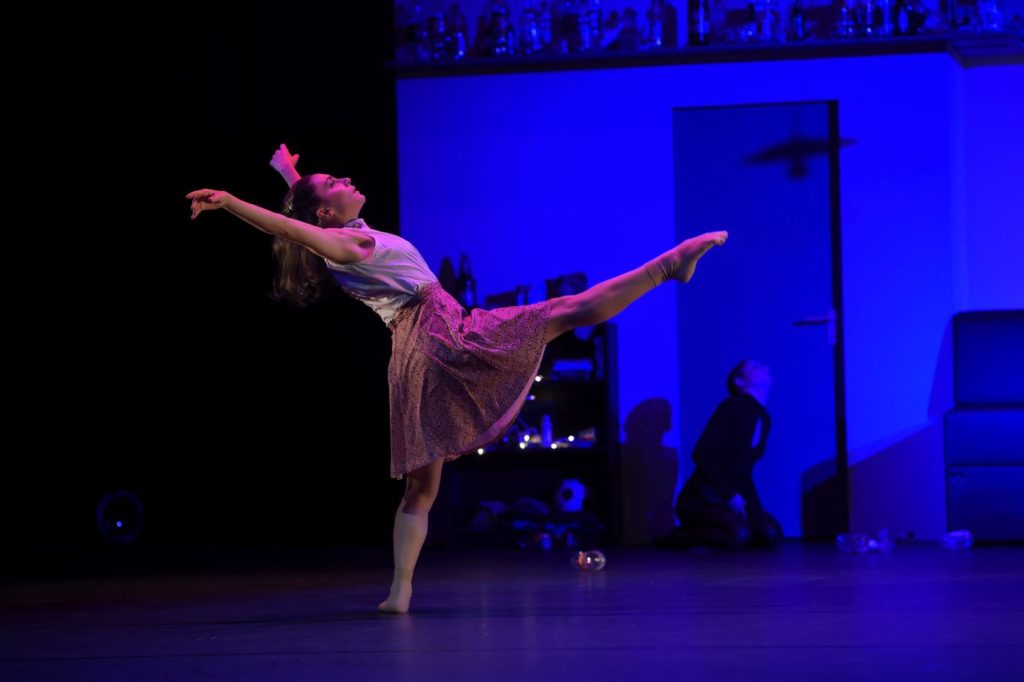 produced by the dance theater of the Theater Ulm, we watch as Klaus (Yoh Ebihara), a soda-loving couch potato in sweatpants, watches TV in his untidy bachelor pad. Klaus orders pizza from Amazon's verbose voice assistant Alexa (Nora Paneva in sexy leather pants) and quarrels with her over the TV remote. Television fuels his dreams with attractive women and spunky men, but he never opens the door of his flat to go out.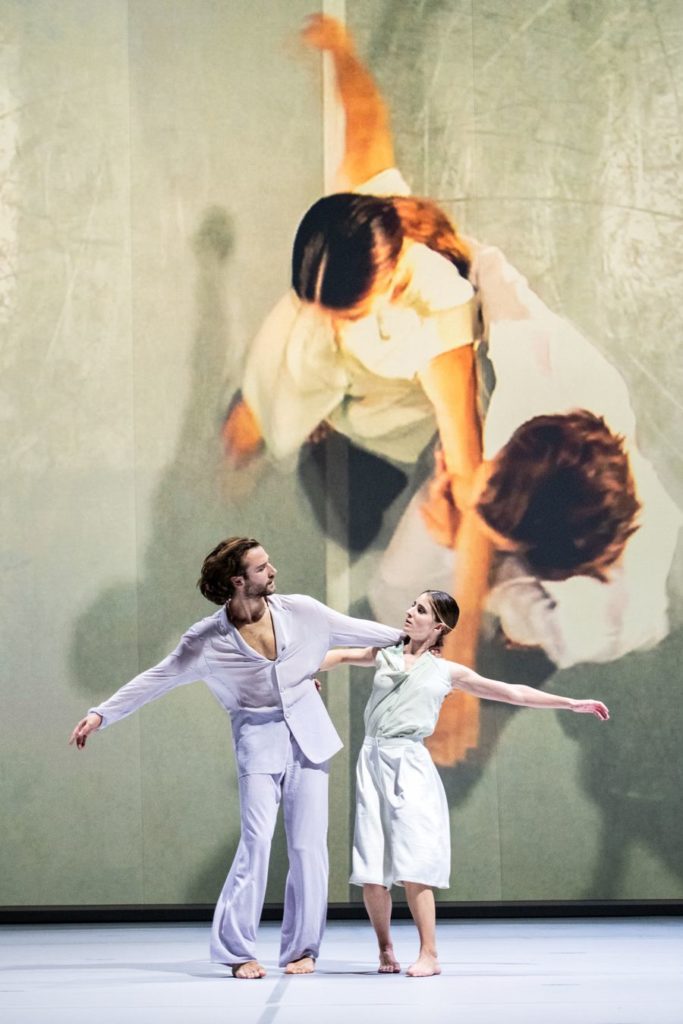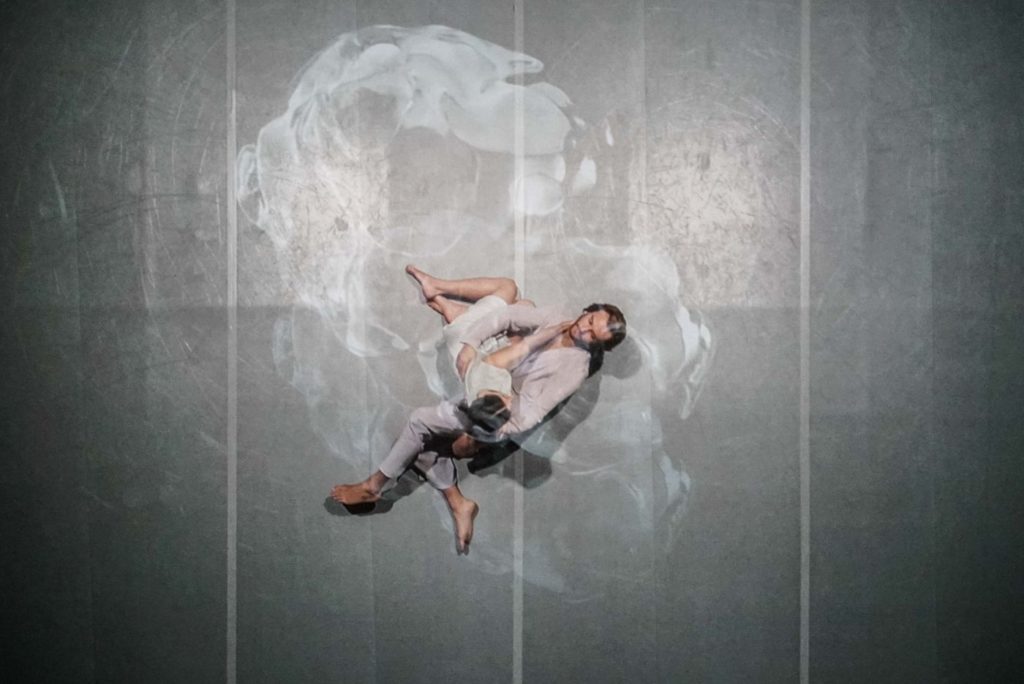 "Oscillation", created for the Dance Theater Heidelberg by its artistic director Iván Pérez (who is also the artistic director of the Dance Biennial Heidelberg), is the third in a trilogy about millennials. This final piece was danced live by three women and three men on a gray box-like stage to music by Ferran Cruixent. The dancers stand motionless, then begin to walk and run, always keeping spacious distance between themselves and the others. Their movements shift from slow to fast – first freezing, then moving in slow motion, then bursting fiercely into motion. Solos, danced in groups of three, seem to be free-style inventions, as the dancers frequently ran on and off of the stage. The video projection depicted on one photo wasn't part of the performance. "Oscillation" was uneventful and lengthy.
The host of the evening – Hendrik Richter – was the unfortunate victim of imperfect audio-visual synchronization and a cameraperson who pointed the lens at his crotch.
Links:
Website of the Dance Theater Heidelberg

Photos:

1.

Iván Pérez, artistic director of the Dance Biennial Heidelberg and the Dance Theater Heidelberg

© Susanne Reichardt

2.

Luches Huddleston and Sada Mamedova,

"The Naked Truth" by

Jai Gonzales, Unterwegstheater Heidelberg 2021

© Bernhard Fauser

3.

Lorenzo Angelini and Alberto Terribile, "Colors of Beauty" by Stephan Thoss, National Theater Mannheim 2021 © Susanne Reichardt

4.

Stella Covi and Hyeun-Woo Bae, "45" by Damian Gmür, Ballet Theater Pforzheim 2021 © Sabine Haymann

5.

Miriam Markl and Joseph Simon, "Little Sorrows" by Christina Liakopoyloy, Nostos Dance Theater 2021 © Christina Liakopoyloy

6.

Joseph Simon, "Little Sorrows" by Christina Liakopoyloy, Nostos Dance Theater 2021 © Christina Liakopoyloy

7.

Carolin Steitz, "The Present Now Will Later Be The Past" by Bridget Breiner, Baden State Ballet Karlsruhe 2021 © Baden State Ballet Karlsruhe

8.

Baris Comak and Alba Nadal, "Cut the World" by Bridget Breiner, Baden State Ballet Karlsruhe 2021 © Baden State Ballet Karlsruhe

9.

Friedemann Vogel, "Metrof" by Shaked Heller, Stuttgart Ballet 2021 © Bernhard Weis

10.

Andrew Cummings, "Covid Cage" by Eric Gauthier, Gauthier Dance Company 2021 © Jeanette Bak

11.

Shori Yamamoto, "Fallen Wings" by Dominique Dumais, Gauthier Dance Company 2021 © Jeanette Bak

12.

Bruna Andrade, "Silent Swan" by Kinsun Chan, Gauthier Dance Company 2021 © Jeanette Bak

13.

Artist of the Theater Ulm,

"

The silence of the men / Klaus discovering the outside" by Reiner Feistel, Theater Ulm 2021

© Martin Kaufhold

14.

Nora Paneva (Alexa), Yoh Ebihara (Klaus) and artist of the Theater Ulm,

"

The silence of the men / Klaus discovering the outside" by Reiner Feistel, Theater Ulm 2021

© Martin Kaufhold

15.

Arno Brys und Andrea Mueals Blanco, "Oscillation" by

Iván Pérez, Dance Theater Heidelberg 2021 © Susanne Reichardt

16.

Andrea Muelas Blanco and artist of the Dance Theater Heidelberg, "Oscillation" by Iván Pérez, Dance Theater Heidelberg 2021 © Alwin Poiana

Editing:
Jake Stepansky