"Dancers of Tomorrow"
Dutch National Ballet Academy
Dutch National Opera & Ballet
Amsterdam, The Netherlands
July 10/11, 2021 (video)
by Ilona Landgraf
Copyright © 2021 by Ilona Landgraf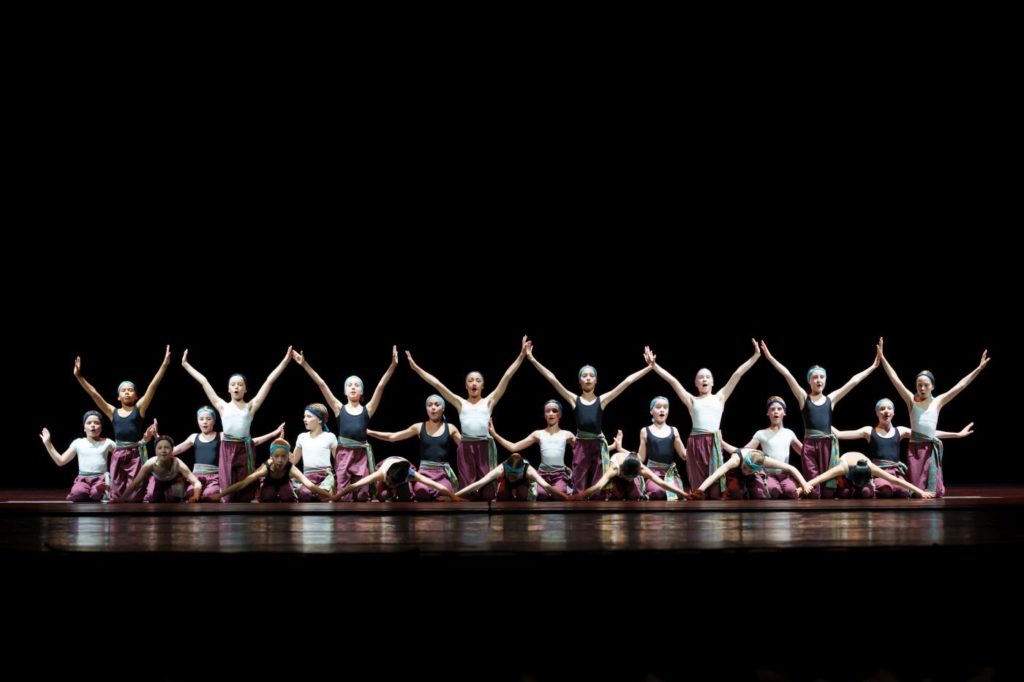 End-of-year performances are a highlight for the students of any ballet school. Last weekend, the Dutch National Ballet Academy performed "Dancers of Tomorrow" on the main stage of the Dutch National Opera & Ballet for an empty auditorium due, sadly, to ongoing COVID-19-restrictions. The silver lining: a video of the performance, augmented by footage from backstage, was streamed online for two days, allowing a much larger audience to see the work. I wonder: could we include online streams and video broadcasts as a standard addendum to live performances in the future?
"Dancers of Tomorrow" was assembled from ten pieces geared to the students' age groups and adapted or created especially for the occasion. All students participated.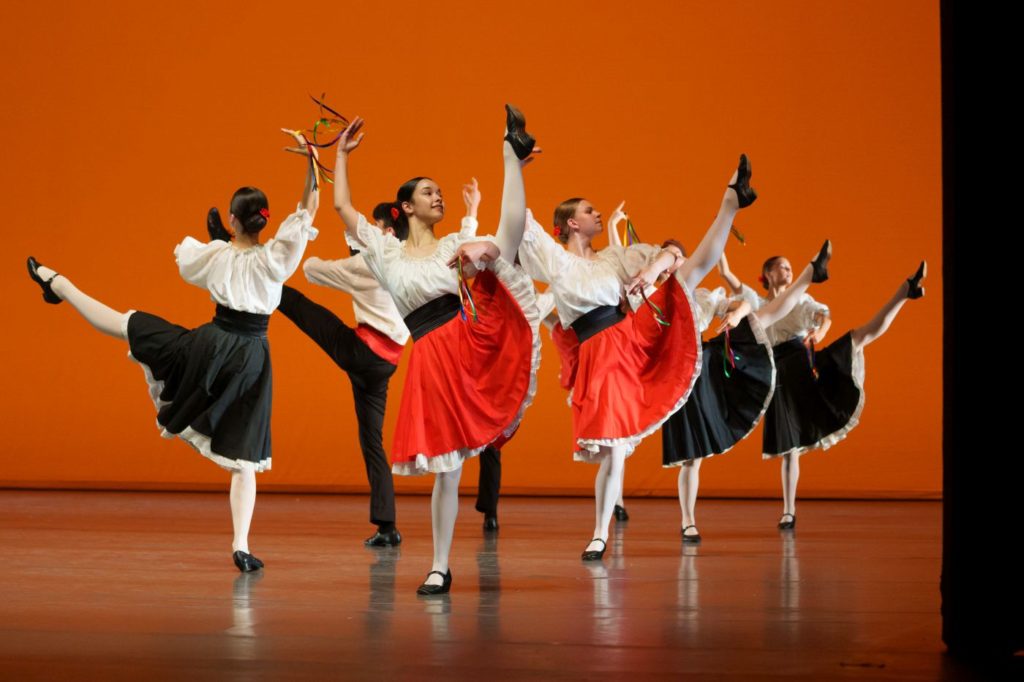 The younger students from classes 1 thru 4 opened the program with "10 Years Tailor-Made", a work featuring multi-style choreography by Iva Lešić, the teacher for world dance and creative dance. The piece included an Indonesian sitting dance for the youngest (requiring a comprehensive group dynamic and the courage to sing), a fast-paced Serbian folk dance, a Turkish group dance revolving around two enamored puppets, and a buoyant, free-spirited Hungarian dance.
Students from classes 5 – 7 shone in "Jota", a snappy character-partner dance with Spanish influence by Grigori Tchitcherine, the teacher for classical ballet and character dance. The only thing missing was the applause that this rousing performance absolutely deserved.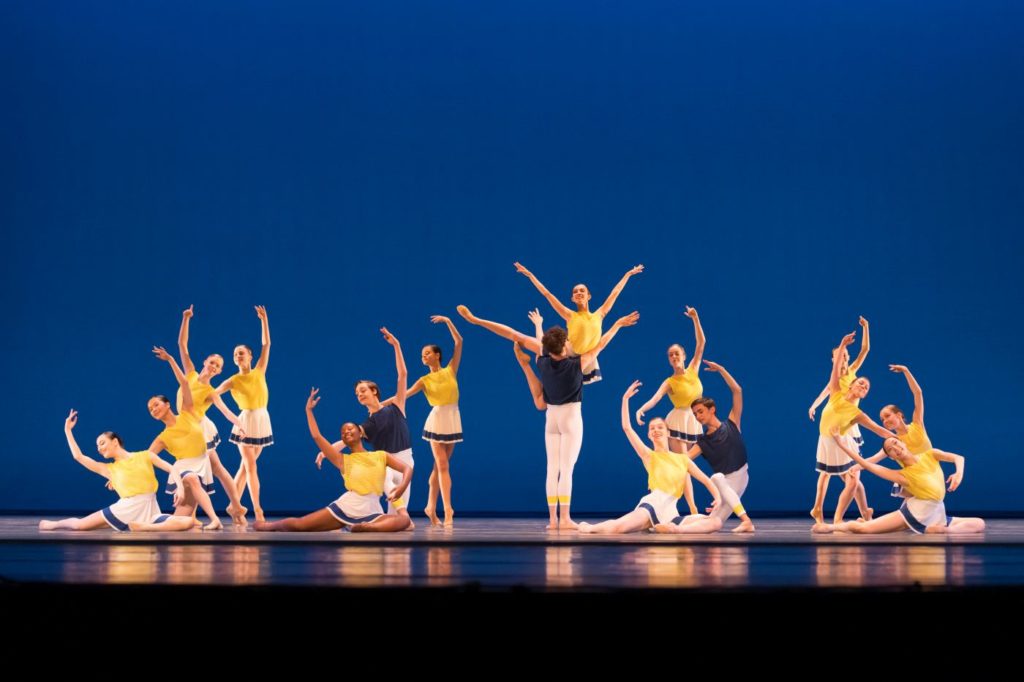 Remi Wörtmeyer, principal dancer and choreographer of the Dutch National Ballet, created "New Beginning" for the students of class 7. Its inventive choreography, set to Camille Saint-Saëns's "Le Carnaval des Animaux", combines lightness with brisk-ness. The white, blue, and yellow costumes contrast strongly with the blue backdrop, emphasizing the clearness of lines and the synchronicity of movements. Carolina Ribaldone and Vincent Fell, the central couple, worked together smoothly; Fell later showcased his suppleness and precision in a solo.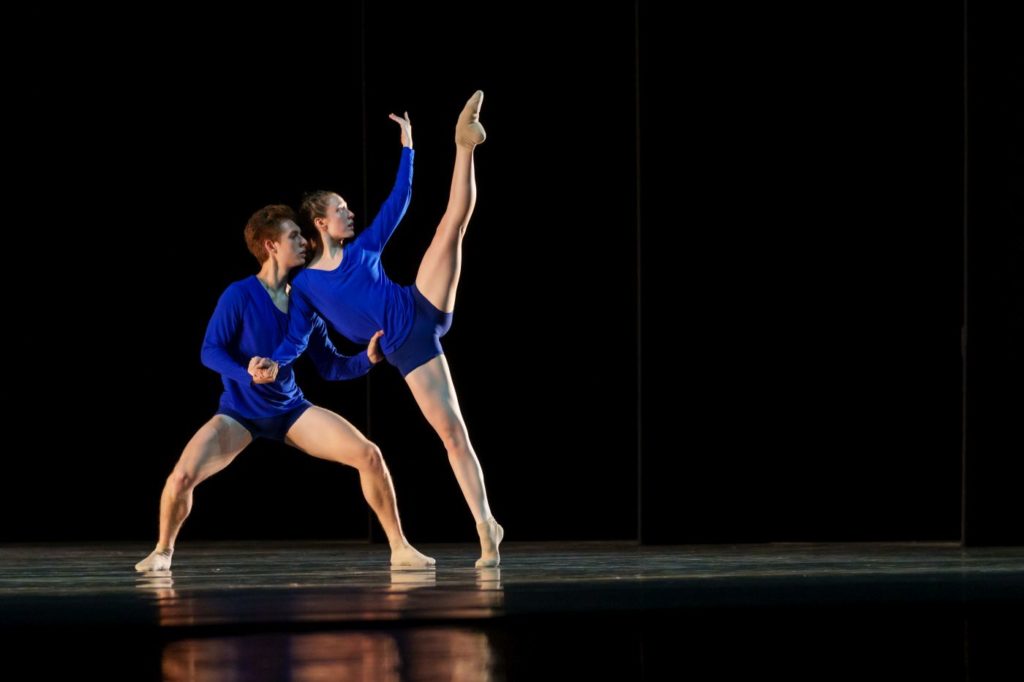 The higher-level professional students performed several works. "Once Remembered And Then Lost" was created by Amy Raymoud (a former soloist of the Dutch National Ballet and Ballet Frankfurt) and the dancers. Five young women and men in blue shorts and shirts walk together, clustered in a blob or stretched out in a line, occasionally breaking free to perform on their own. Their movements fluctuate between fluidity and edgy abruptness; expressive solos and duets intertwine with group sequences, performed in unison or individually. They are accompanied by string music and electronica from Zoë Keating.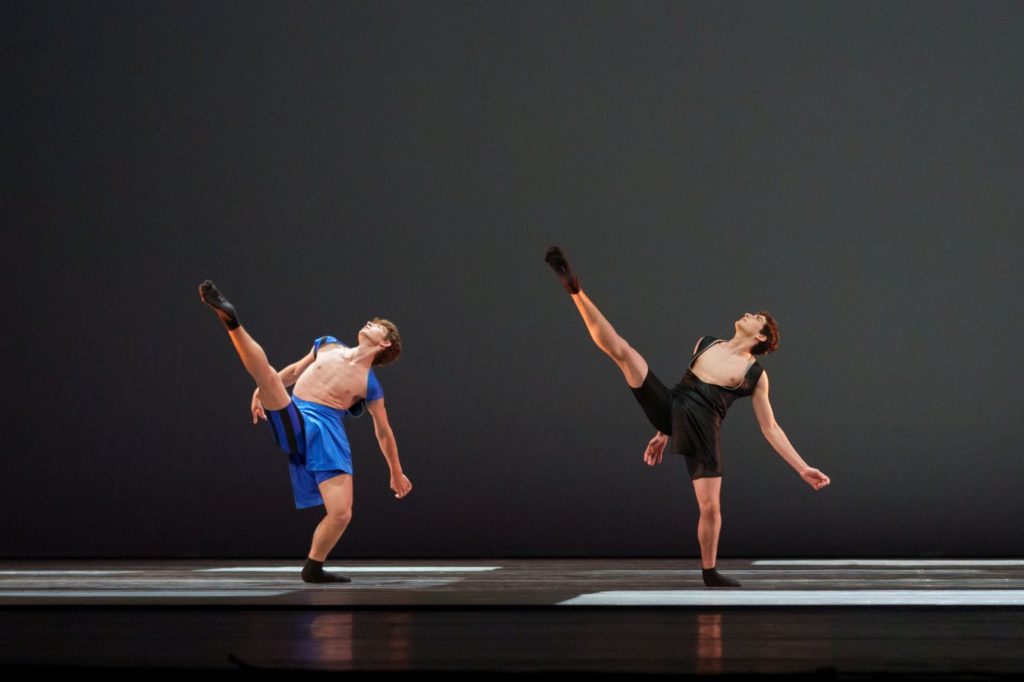 In the fragment presented from "If We Could Only Even If We Could", a piece by choreographer duo Andrea Leine and Harijono Roebana, twenty dancers in casual outfits perform to a percussion-rich soundscape by Han Otten and Wiebe de Boer that includes distorted country music. Their repetitive movements vacillate between jerky and smooth, between slow and lightning-quick, never revealing their intention. Lighting design by Bas de Bruijn does little to hide the fact that the choreography appears to be arbitrary. It's the kind of modern ballet that sinks into oblivion the moment one leaves the theater.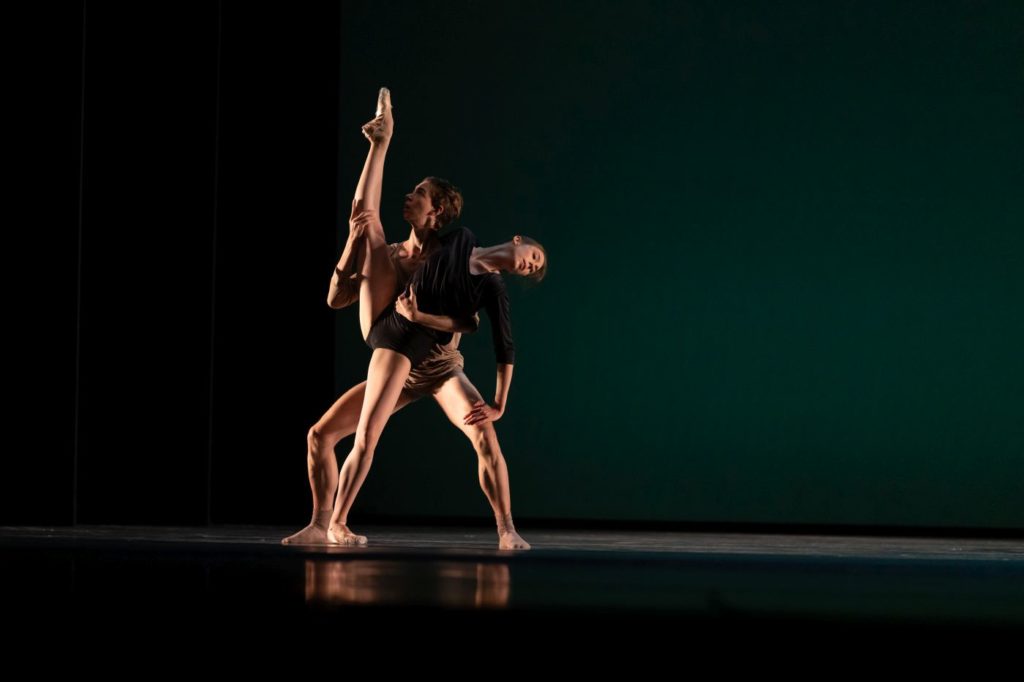 The five dancers in Juanjo Arqués's "Wanderer" reminded me of a scouting party searching for something unknown to us. At times, the dancers prevent one another from storming ahead or support one who leans too far forward or help another to surmount an invisible obstacle. All five dance energetically and expressively: Konosuke Takeoka in his solo; Grace Humphris & Alberto Ortega de Pablos, and Nicola Jones & Guilherme Vicente in their pas de deux. A strong cast!
Sepp Grotenhuis accompanied live, performing serene piano music by David Lang.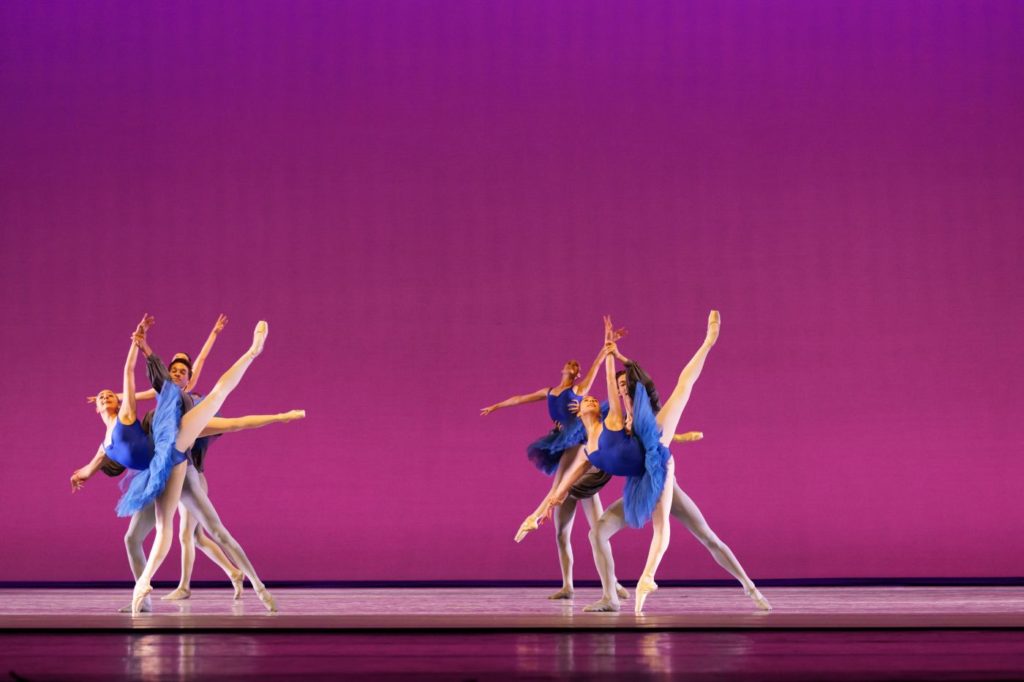 Ernst Meisner, the artistic director of the Academy, challenged his students with an effervescent "Poulenc Suite" that required fine pointe work, plenty of partnering, and clean synchronicity. Jumps – among them a series of tour en l'airs – were abundant. His cast rose to the occasion, delivering a fine classical performance.
Three dancers showcased their talent in solos. In "Conceal", a contemporary piece by Zoë Greten set to music by Régis Gobe, Nicola Jones contrasted smooth, soft movements with sharp, segmented ones, repeatedly covering her mouth as if to prevent herself from speaking out.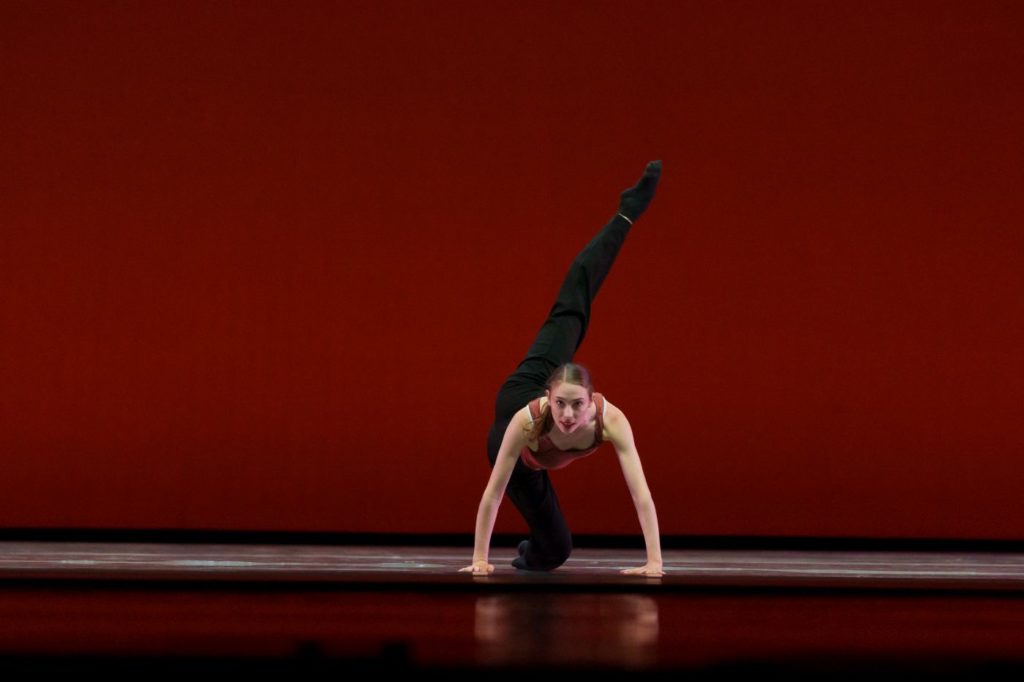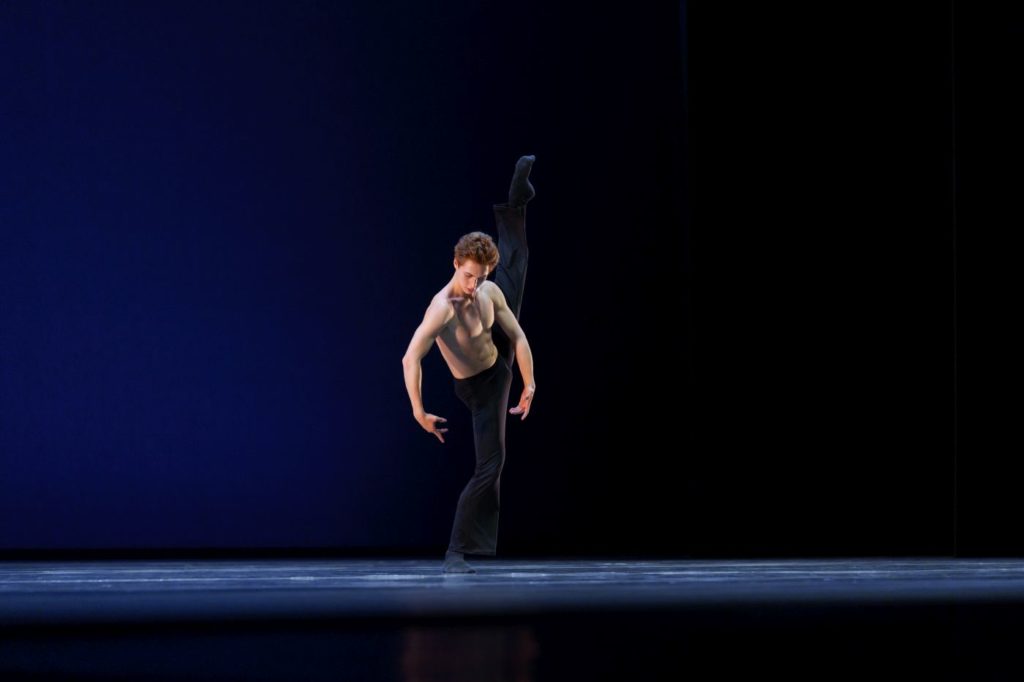 "Nothing Matters When We're Dancing" by Wisse Scheele made me think of ballets by Marco Goecke, though dancer Arthur Erlanson neither shivered nor trembled, instead responding with soft sensuality to a corny song for guitar by The Magnetic Fields.
I especially liked Christian Mathot in "Perihelion" because of his panache; he radiated motivation and joy. Choreographer Calista Shepheard chose Fabien Tell's song "Something just like this" as accompaniment.
Finding joy in dancing, in being on stage, is key to a fulfilling career. The Academy's dancers had plenty of joy.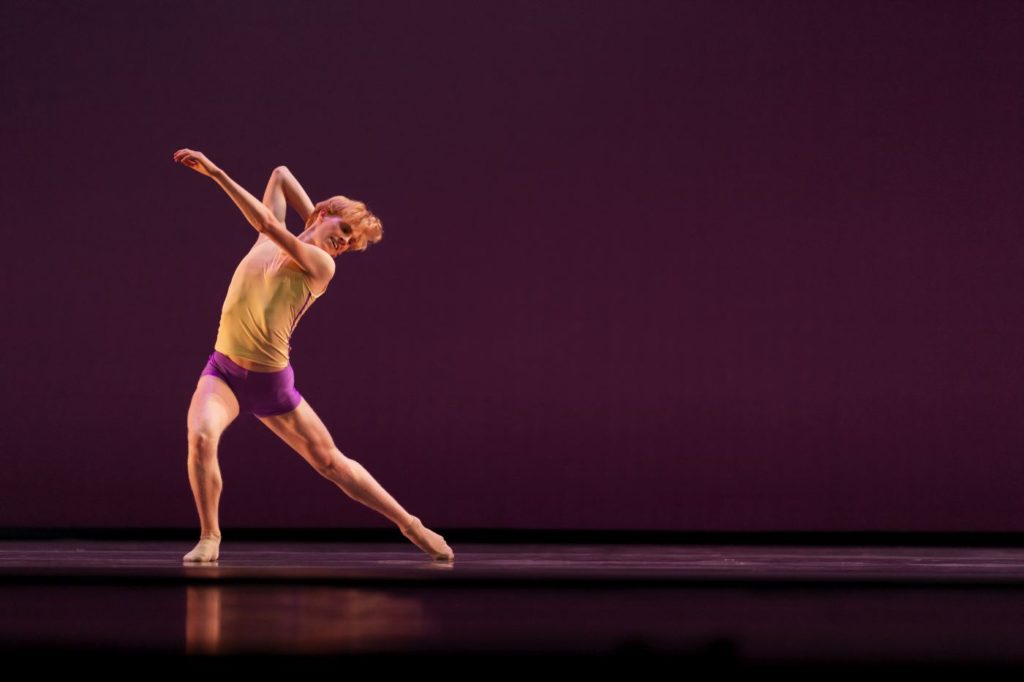 Links:
Website of the Dutch National Ballet Academy
Photos
1.

Students of the Dutch National Ballet Academy, "10 Years Tailor-Made"

by Iva Lešić, Dutch National Ballet Academy

2021

2.

Students of the Dutch National Ballet Academy, "Jota" by Grigori Tchitcherine

, Dutch National Ballet Academy

2021

3.

Students of the Dutch National Ballet Academy, "New Beginning"

by Remi Wörtmeyer, Dutch National Ballet Academy

2021

4.

Students of the Dutch National Ballet Academy, "Once Remembered And Then Lost"

by Amy Raymoud, Dutch National Ballet Academy

2021

5.

Students of the Dutch National Ballet Academy, "If We Could Only Even If We Could"

by Andrea Leine and Harijono Roebana, Dutch National Ballet Academy

2021

6.

Students of the Dutch National Ballet Academy, "Wanderer"

by Juanjo Arqués, Dutch National Ballet Academy

2021

7.

Students of the Dutch National Ballet Academy, "Poulenc Suite"

by Ernst Meisner, Dutch National Ballet Academy

2021

8.

Arthur Erlanson in "Nothing Matters When We're Dancing" by Wisse Scheele, Dutch National Ballet Academy 2021



9.

Nicola Jones in "Conceal" by Zoë Greten, Dutch National Ballet Academy 2021

10.

Christian Mathot in "Perhelion" by Calista Shepheard, Dutch National Ballet Academy 2021

all photos © Sjoerd Derine

Editing:
Jake Stepansky