"Blitirí"
Ballet of the State Theater Nuremberg
State Theater
Nuremberg, Germany
July 25, 2021 (online)
by Ilona Landgraf
Copyright © 2021 by Ilona Landgraf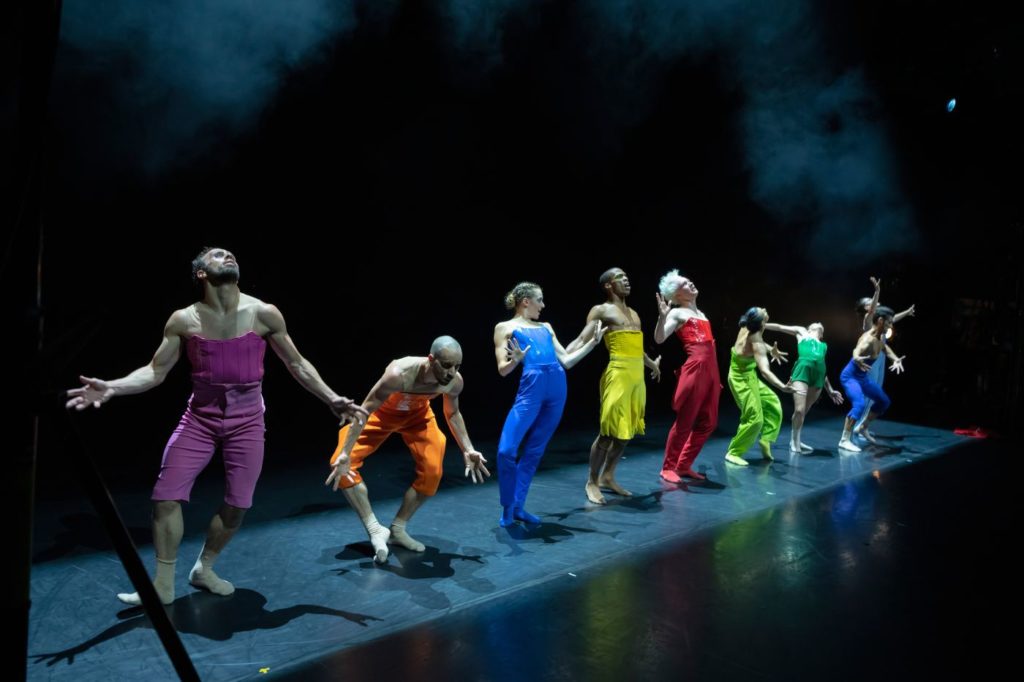 "Blitirí is a term used in medieval time for something that has no meaning," explains Goyo Montero, choreographer and artistic director of the State Theater Nuremberg's ballet ensemble. He compares the word to jovial "blabla". Indeed, his new choreography for "Blitirí" revolves around joy – at least, almost entirely.
Though originally planned as a solely digital project, the 25-minute piece premiered on July 10th to a live audience at Nuremberg's State Theater as part of the triple bill "Goecke / Godani / Montero". A few weeks later, Stefan Kleeberger and Montero realized the initial plan by releasing a filmed version that is available on the company's YouTube channel.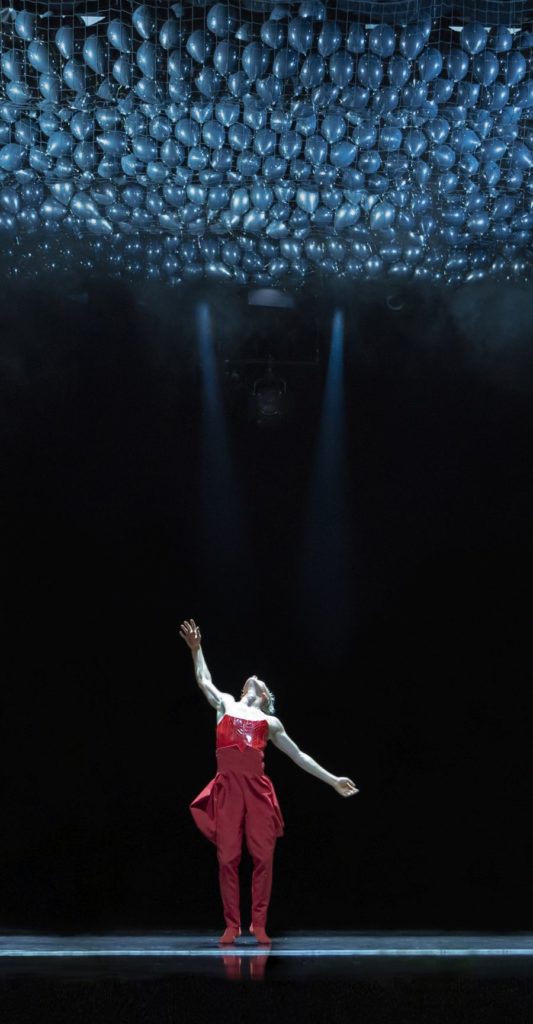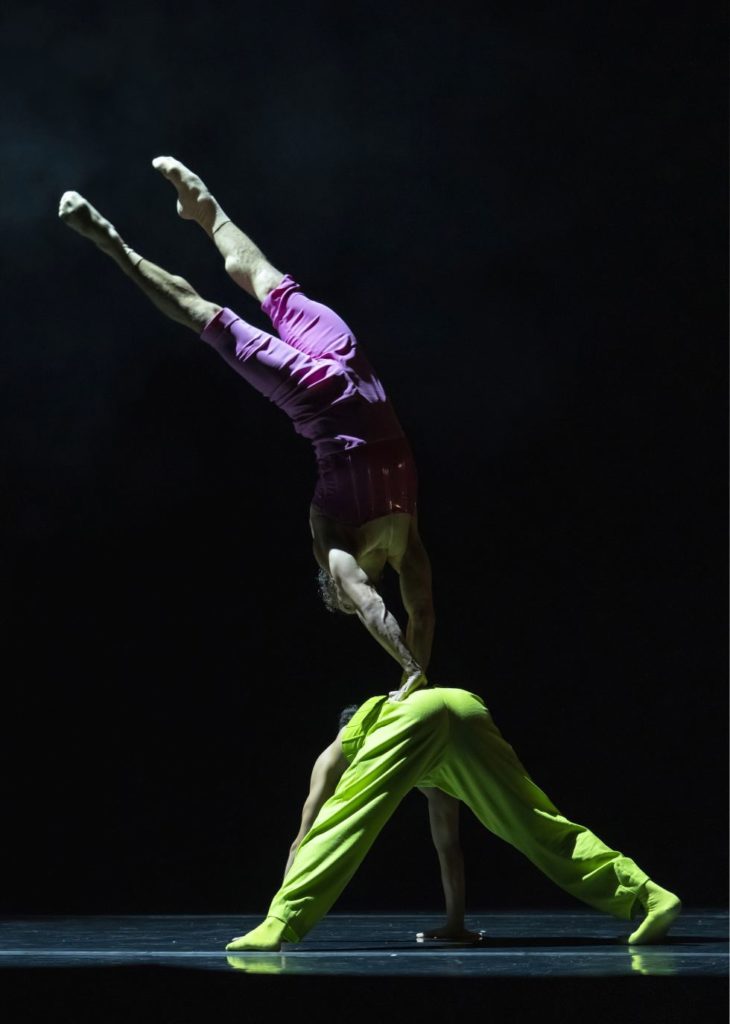 At the start of the film, three women and six men move together across a dim stage accompanied by a light-as-air soundscape of hissing and rattling (created by Owen Belton). They fall, fidget, crawl across the floor and drag one another with clasped hands. Flashes of yellow spotlight illuminate their shiny latex-like outfits – pants, dresses, tops with and without straps – colored in bright orange, lemon yellow, strawberry red, green, blue, and pink. Suddenly, the light is switched on and the dancers line up with their backs turned towards the auditorium. From the first bar of Mozart's humorous piano variation "unser dummer pöbel meint", the fun begins. Each note of Mozart's simple melody is matched by a single slapstick movement – port de bras, plié or relevé – as if the line of dancers represents a musical scale. Soon, the group moves in unison, weaving together fast-paced solos and break-dance airflares with swift, witty group sequences. They scuttle across the stage, falling like dominoes, pretending foolishness and perplexity. Various duets unfold under a sky of small light dots that is reminiscent of far-away stars. A close-up reveals each one's colorful eye makeup as they crouch on the floor as if meditating.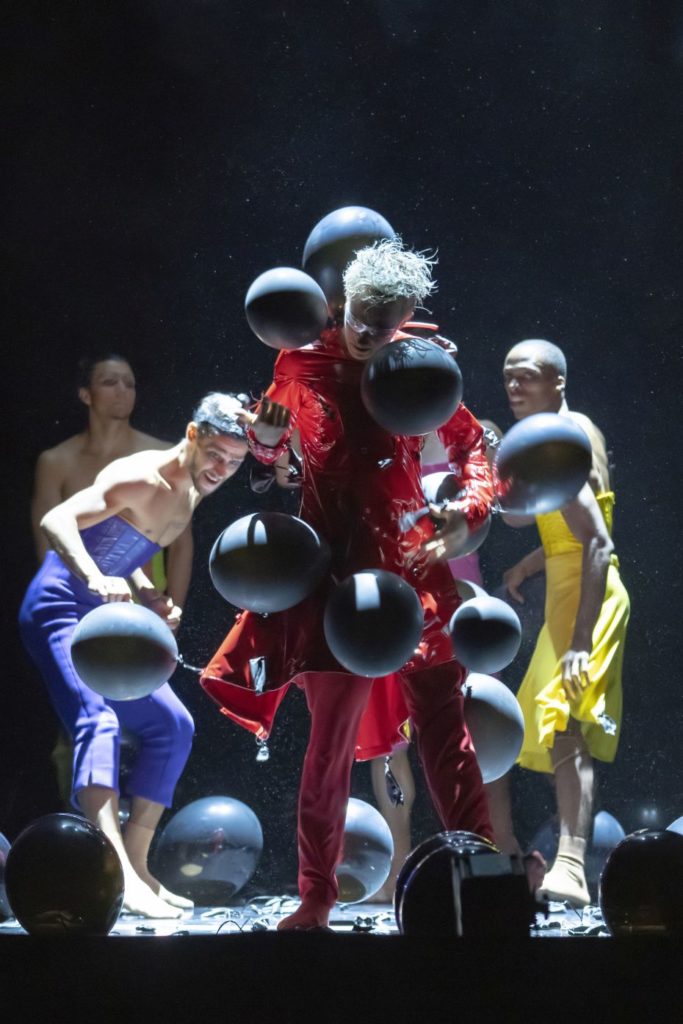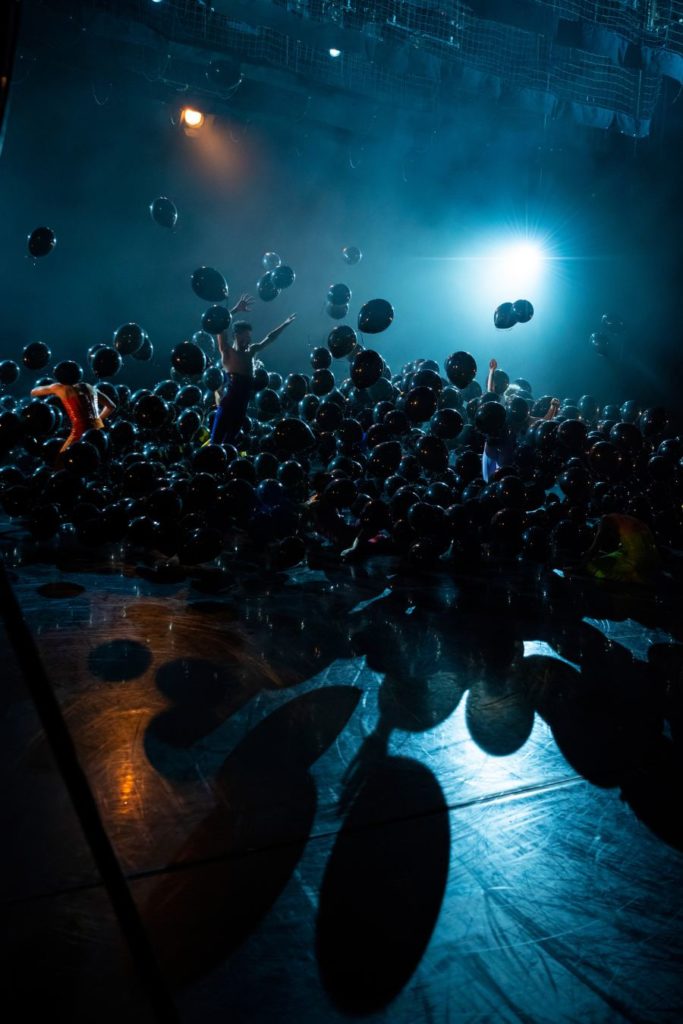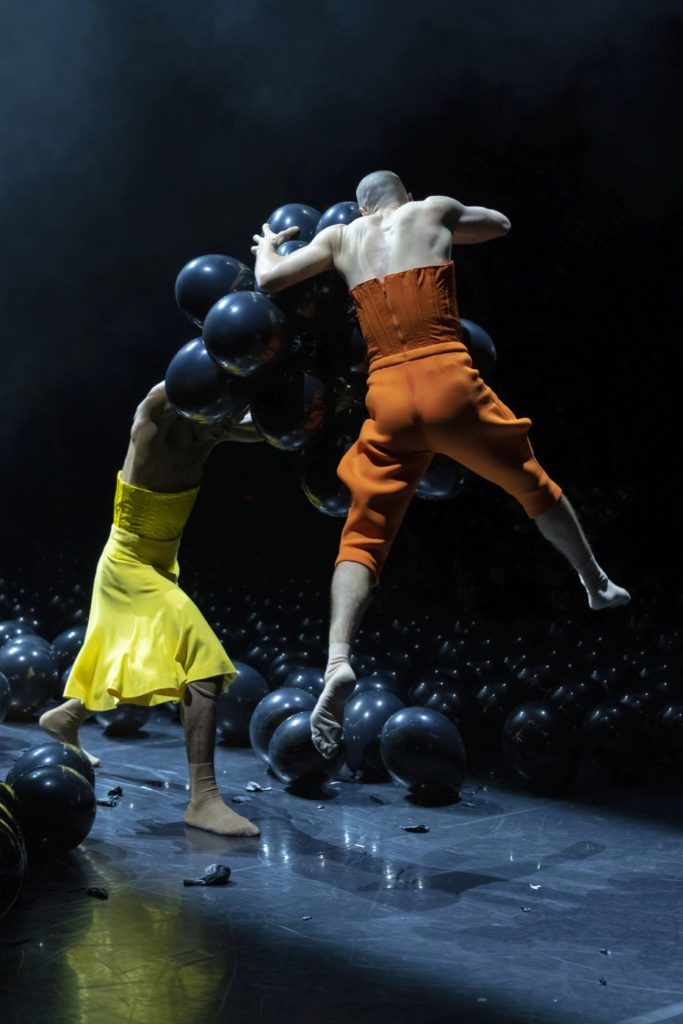 The group comes together, huddled and falling asleep – but, only moments later, buzzing sounds (mosquitoes?) wake up Andy Fernández, who totters center stage. As he begins to scuttle once again, he is quickly joined by the others. The group runs in a circle, swinging their arms and cheering, until they reach the curtain call and receive thunderous applause. Since the auditorium is empty, the dancers glance around, confused.
As the stage darkens once more, they stand motionless, listening expectantly to a noise that seems to come from far away spheres. Pricks of light from a UFO-like object gleam yellow-green-ish above their heads. Bobby McFerrin's soft voice interpreting "Blackbird" by The Beatles turns the air calm. To each beat, the dancers hop, turn, roll their shoulders, move their head in wave-like motion, or merely stretch up their arms – unspectacular movements when taken by themselves, but hilarious when combined with McFerrin's crooning!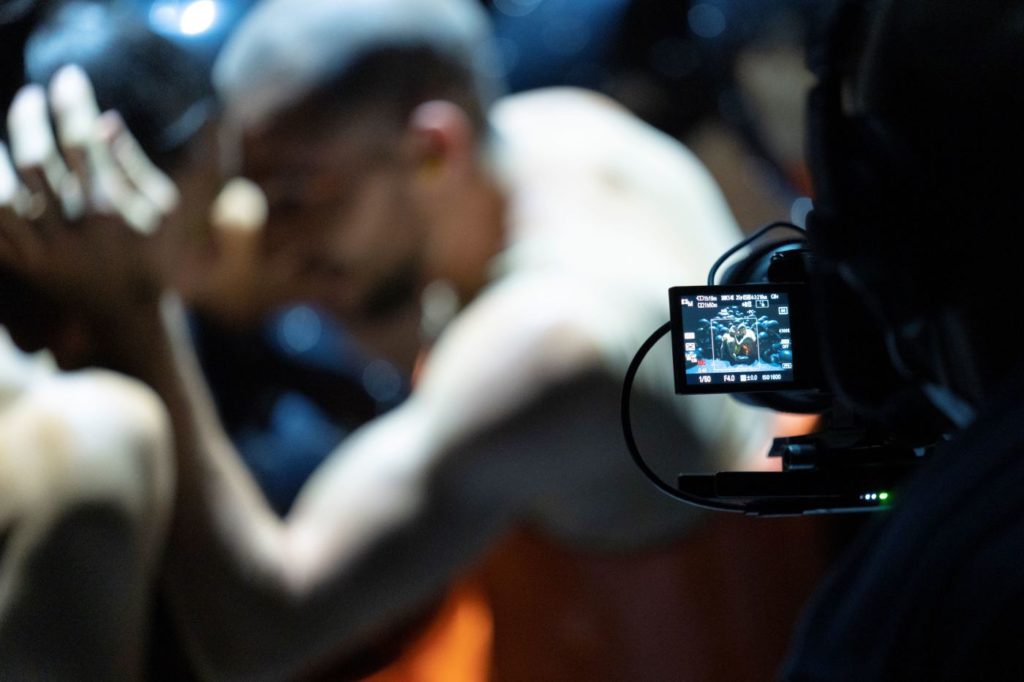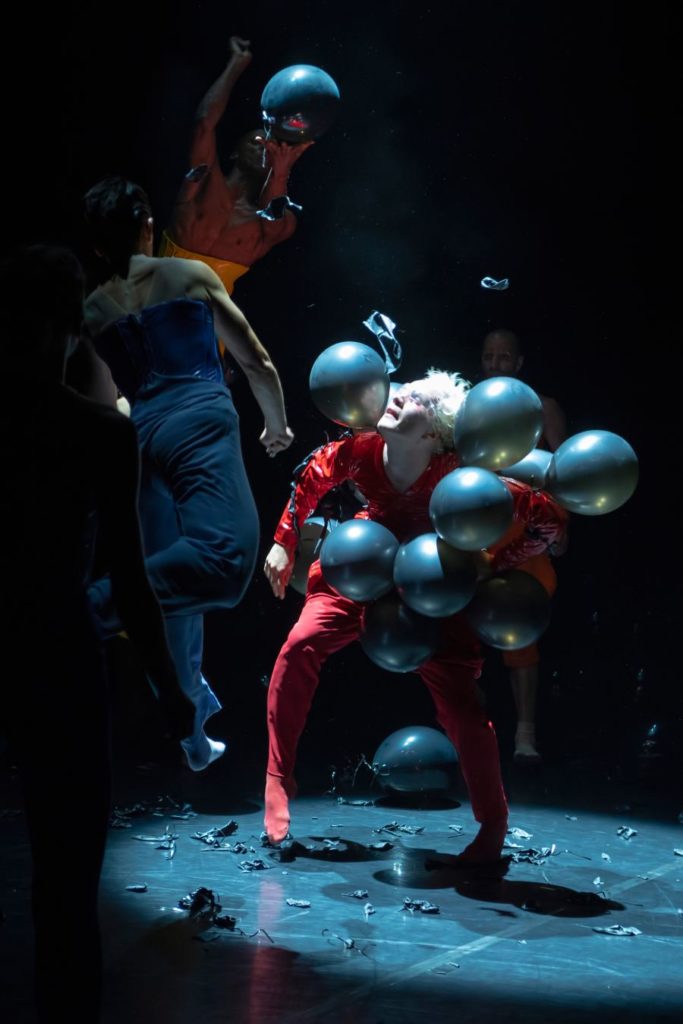 The mood darkens when the lighting turns purple-blue and dark balloons rain down from above, carpeting the floor. The bursting of the first balloon launches PJ Harvey's punk rock love-hate ballad "Rid of Me". Though initially calm, the song's volume soon reaches an aggressive level. As the singing turns into shouting, the balloon playground becomes a battle-ground. Over and over, Ana Tavares and Edward Nunes run towards one another, but buffer-like balloons prevent their embrace. Oscar Alonso pummels a bundle of balloons like a punching bag; Fernández is swallowed by a threatening wave of wagging balloons. Juliano Toscano and Nunes, dancing in a close embrace, caress one another and the balloon squeezed between their faces. Their caresses turn to wrestling for the balloon – until Nunes pops it deliberately. Stella Tozzi whacks Nunes with a balloon and Carlos Blanco is blown away by a storm of balloons. Victor Ketelslegers, covered in balloons, flails wildly while the others prick one balloon after another, creating a final volley of sound.
In describing "Blitirí", Montero moreover said this: "I also wanted to show what is happening behind the smile." Though gaily colorful on the surface, this amusing dalliance might in fact hide ugly depths.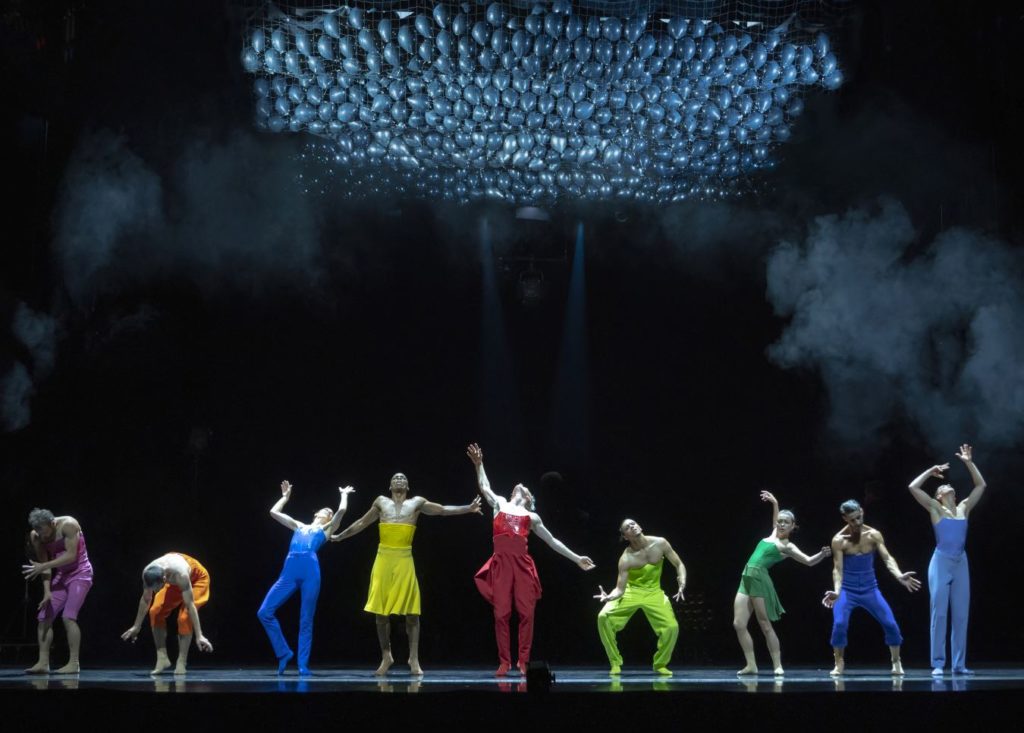 Links:
Website of the State Theater Nuremberg
"Blitirí" (video)
Meet the Artist: Goyo Montero (video)

Photos:

1.

Edward Nunes, Oscar Alonso, Sofie Vervaecke, Carlos Blanco, Victor Ketelslegers, Andy Fernández, Ana Tavares, Juliano Toscano, and Stella Tozzi, "Blitirí" by Goyo Montero, Ballet of the State Theater Nuremberg 2021

2.

Edward Nunes and Andy Fernández,

"Blitirí" by Goyo Montero,

Ballet of the State Theater Nuremberg 2021

3.

Victor Ketelslegers,

"Blitirí" by Goyo Montero,

Ballet of the State Theater Nuremberg 2021

4.

Juliano Toscano, Victor Ketelslegers, Carlos Blanco, and Andy Fernández (background), "Blitirí" by Goyo Montero, Ballet of the State Theater Nuremberg 2021

5.

Ensemble,

"Blitirí" by Goyo Montero,

Ballet of the State Theater Nuremberg 2021

6.

Carlos Blanco and Oscar Alonso, "Blitirí" by Goyo Montero, Ballet of the State Theater Nuremberg 2021

7.

Victor Ketelslegers, Stella Tozzi, and Carlos Blanco,

"Blitirí" by Goyo Montero,

Ballet of the State Theater Nuremberg 2021

8.

Oscar Alonso,

"Blitirí" by Goyo Montero,

Ballet of the State Theater Nuremberg 2021

9.

Edward Nunes, Oscar Alonso, Sofie Vervaecke, Carlos Blanco, Victor Ketelslegers, Andy Fernández, Ana Tavares, Juliano Toscano, and Stella Tozzi, "Blitirí" by Goyo Montero,

Ballet of the State Theater Nuremberg 2021

all photos © Jesús Vallinas

Editing:
Jake Stepansky