"Tänze Bilder Sinfonien" ("Symphony in Three Movements" / "Pictures at an Exhibition" / "Sinfonie Nr. 15")
Vienna State Ballet
Vienna State Opera
Vienna, Austria
September 21, 2021 (live stream)
by Ilona Landgraf
Copyright © 2021 by Ilona Landgraf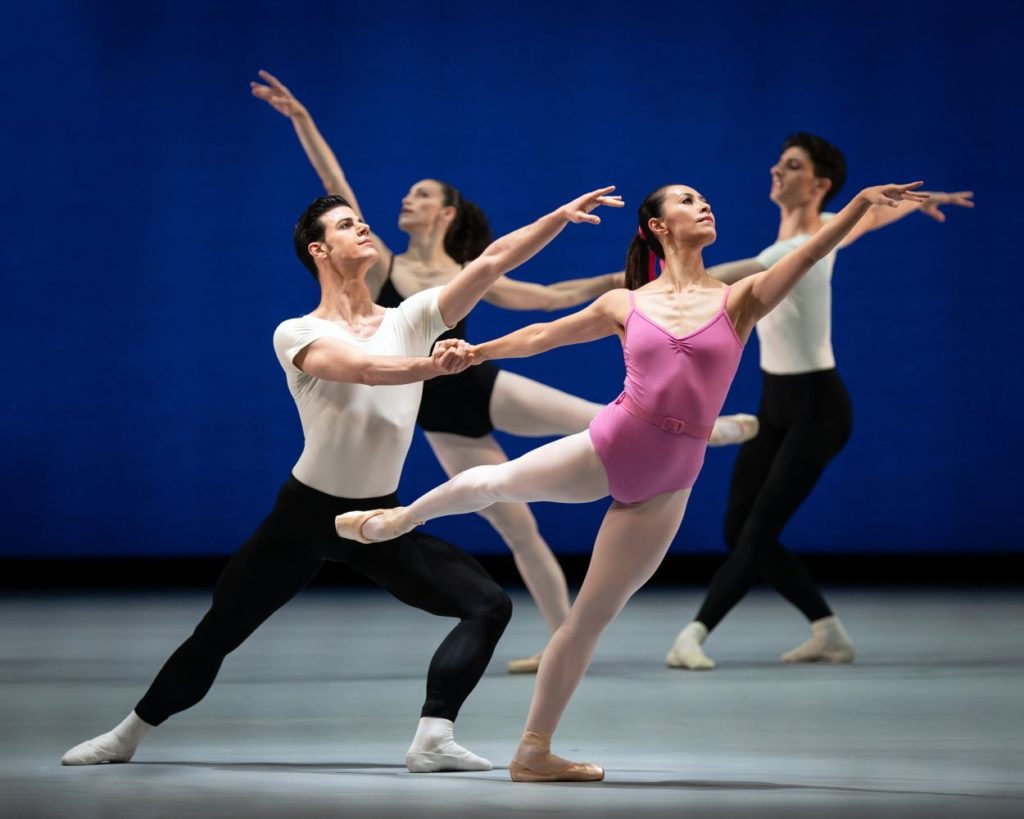 The Vienna State Ballet opened their season with a revival of "Tänze Bilder Sinfonien", a triple bill that premiered in June. It is comprised of two ballets originally created for the New York City Ballet: Balanchine's "Symphony in Three Movements" from 1972 and Ratmansky's "Pictures at an Exhibition" from 2014. The third choreography – "Sinfonie Nr. 15" – was a new piece by Martin Schläpfer (formerly the artistic director and choreographer of the Ballet am Rhein; currently in the same positions at the State Ballet Vienna). I viewed the live-stream of the performance on September 21, 2021.
"Symphony in Three Movements", set to Stravinsky's eponymous composition, is Balanchine's tribute to the composer following the latter's death in 1971. It looks like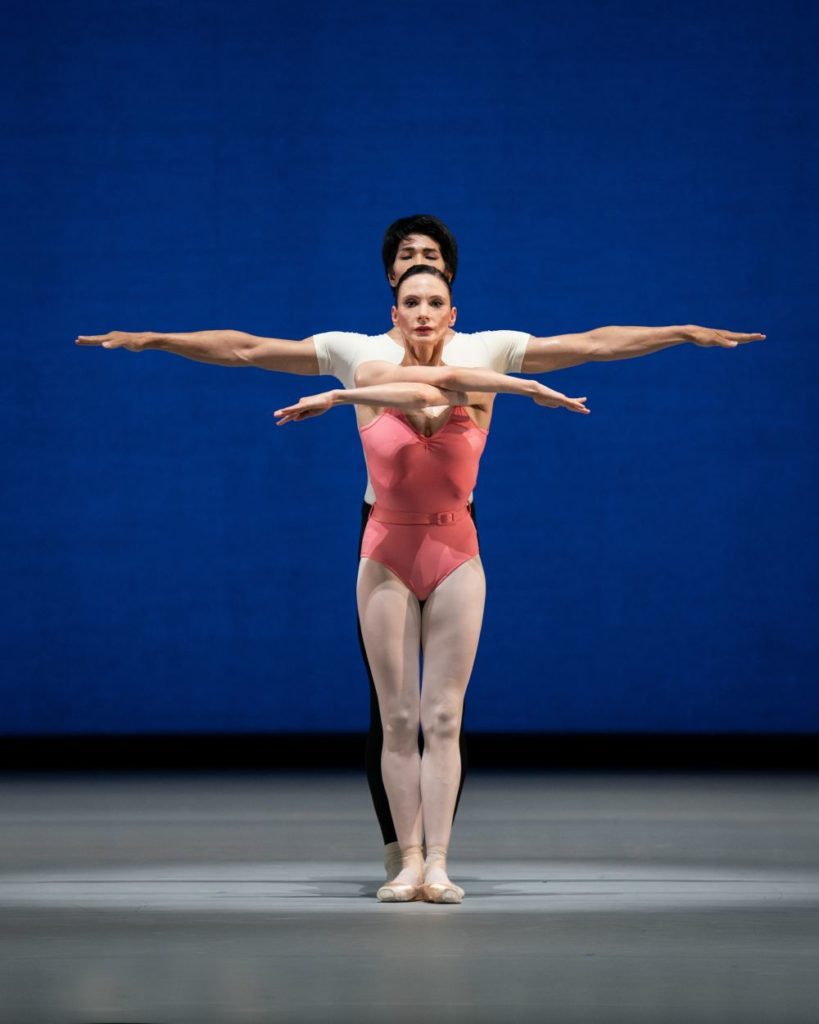 a typical Balanchine: a large female corps of sixteen pony-tailed women (all wearing white tricots and white tights) frames five couples (the women wearing black tricots) performing in front of a bright blue backdrop. Three pairs of principals build the core – the ballerinas sporting tricots in different shades of pink, the men uniformly clad in black pants and white shirts.
The athletic and spirited choreography includes plenty of dressage-horse-like trotting, brisk walking, jaunty jumping, and chorus-line stepping in place. Vigorous arm movements, often done in sync, create an impression of hyped-up breeziness. In the second movement's pas de deux, Liudmila Konovalova and Masayu Kimoto contrast velvety floating arms with angular elbows and hinge-like wrist flips. It was fascinating to see how elegantly they intertwined their arms with breaststroke-like movements without getting in each other's way.
Although Stravinsky's music (which was assembled from material initially written for aborted film projects) is said to be a direct response to WWII, there are no obvious references to the war in Balanchine's choreography except for the final tableau. Balanchine lines up the men at the front stage, where they lunge deeply as if preparing to run. Meanwhile, the women stand or kneel behind them, their arms stretched upwards or sideways like frozen semaphores.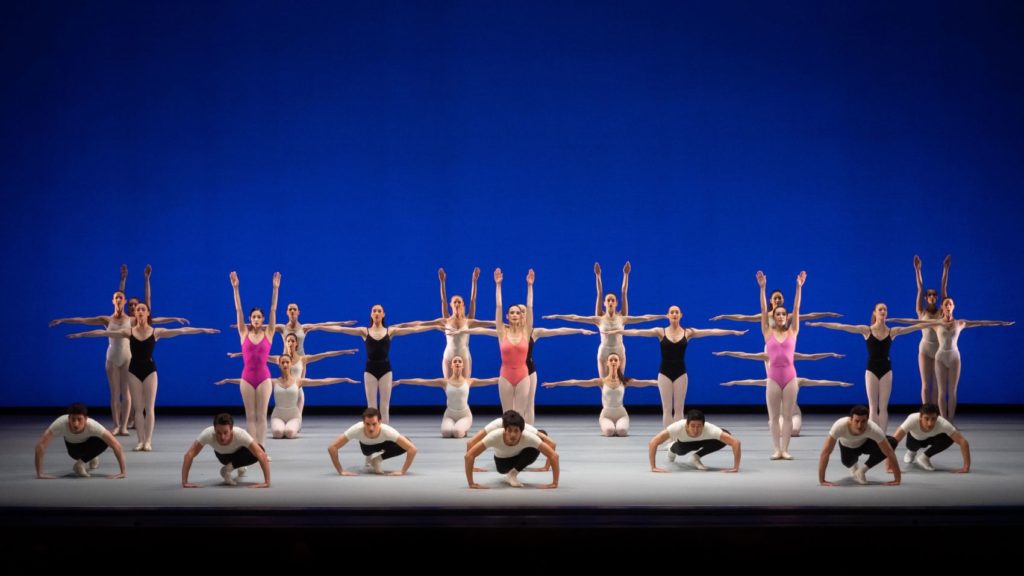 The website of New York City Ballet describes "Symphony in Three Movements" as majestic. That might refer to the distinct symmetry of some of the corps' arrangements, but it certainly doesn't apply to the entire ballet. Unlike other Balanchine works, this one looked and felt outdated.
"Pictures at an Exhibition" takes its title from the accompanying music, a suite of ten pieces connected by varied promenades composed by Modest Mussorgsky for solo piano in 1874. He took his inspiration from visiting a memorial exhibition of work by his friend Viktor Hartmann, the Russian artist, architect, and designer.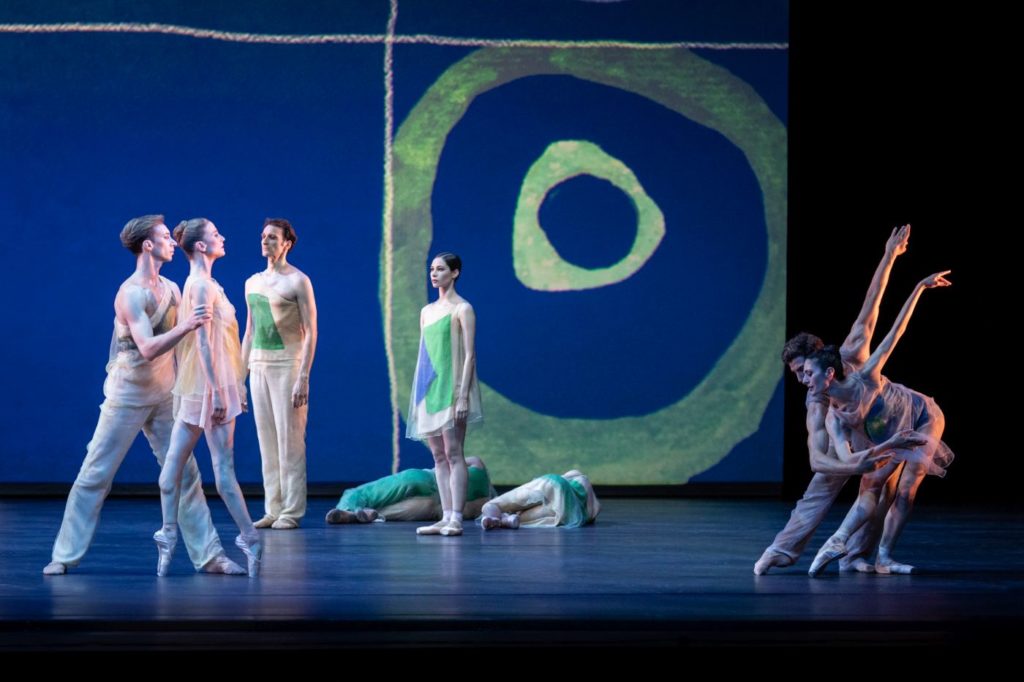 Ratmansky chose not to include artworks by Hartman in the ballet, but instead selected a color study by Vassily Kandinsky (squares with concentric circles from 1913) to serve as the backdrop for the five male/female couples. For their costumes – short dresses, pants, and shirts – Adeline André drew from Kandinsky's colors and geometric patterns. A top layer of transparent cloth subtly blurs the silhouettes.
Projection designer Wendall K. Harrington re-arranges and re-sizes the painting's squares and circles in response to the character of each musical piece. He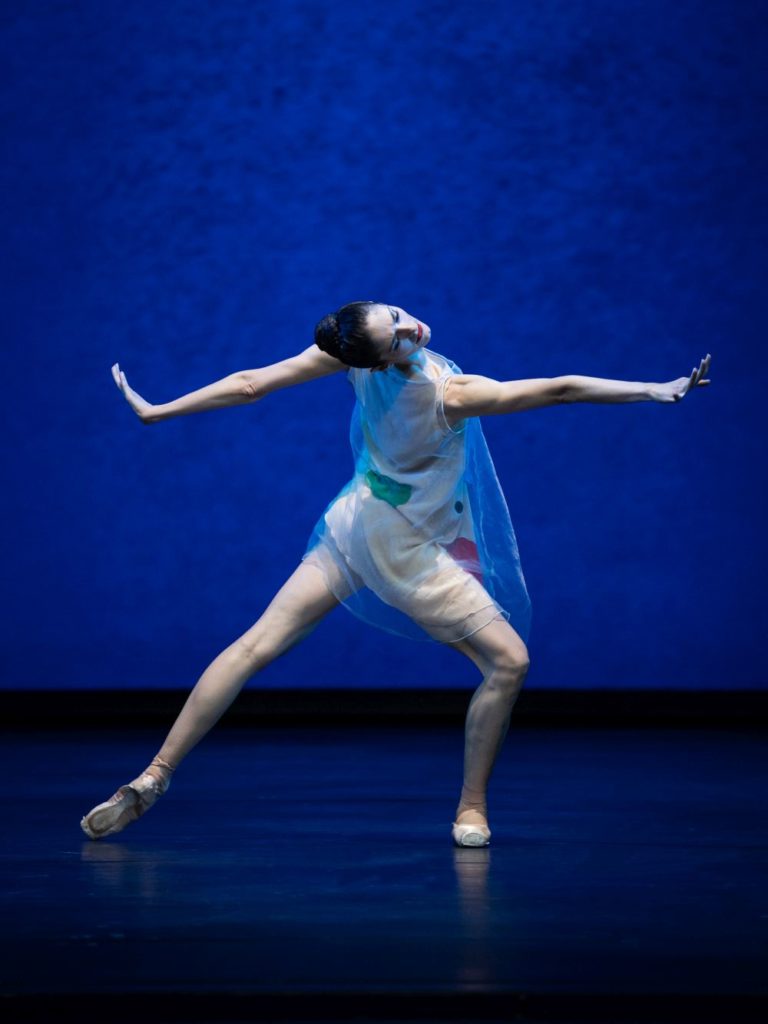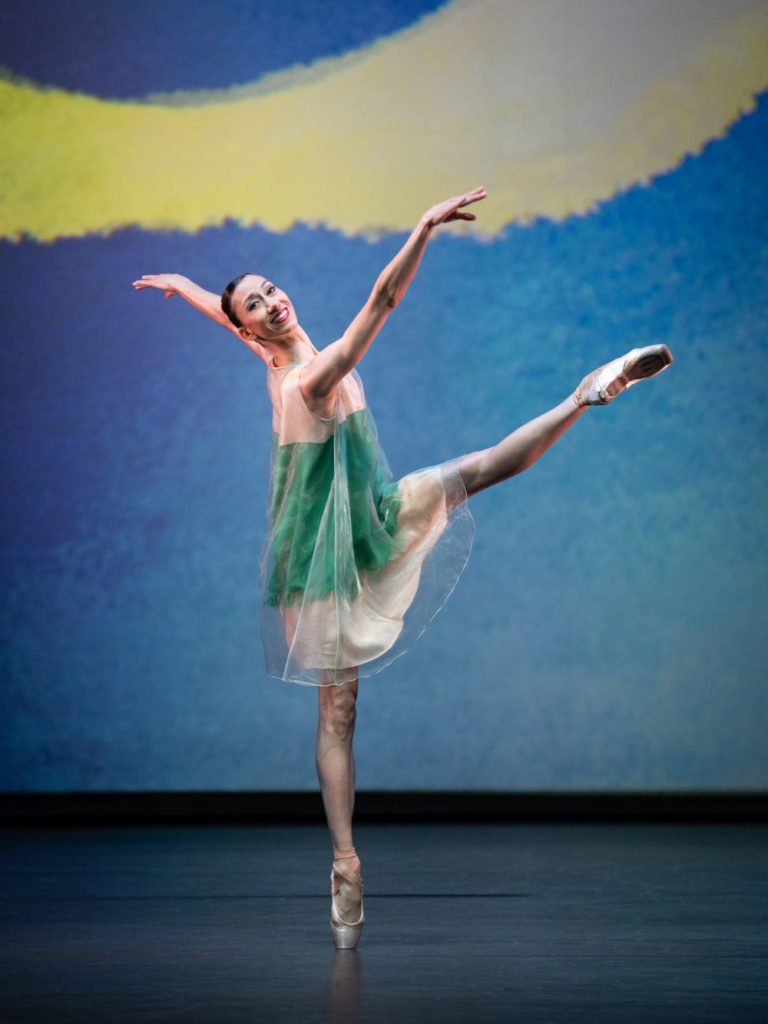 supplements the painting with white chalk lines and alters its ground color from green to red and blue. During the promenade that precedes Ionna Avraam's jauntily teasing solo, for example, the circles faintly resemble the silhouette of a pig's head; in the last piece (called "The Bogatyr Gates" – referring to Hartmann's design for the city gates at Kiev), single squares and circles fly over cupola-shaped roofs before morphing into star-like dots on a dark blue sky.
In "The Hut on Fowl's Legs", Francesco Costa fiercely flails about, a male Baba Yaga shaking his furious fists before taking one of three woman (Ketevan Papava) as his captive. Papava also danced the part of "Gnome", bending her long legs crookedly and scurrying about – her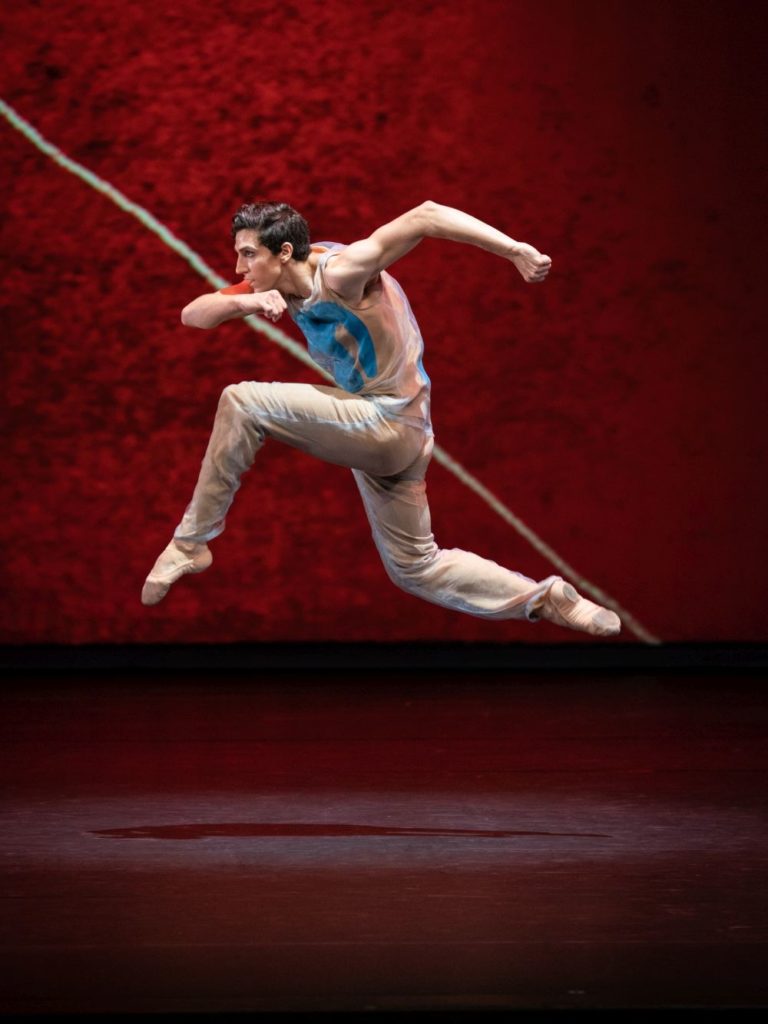 body driven by a mix of strain, nagging ire, and will to fight. In "The Old Castle", the former grandeur of aristocracy seems to have faded as Claudine Schoch and Marcos Menha ooze through the melancholy of bygone times – despite their pas de deux's soaring lifts. The joyful "Market" pas de deux (danced by Ionna Avraam and Arne Vandervelde) was followed by the icy atmosphere of "Catacombs", in which loss and grief were met with consolation – though one man was coldly excluded from the group for no obvious reason.
"Samuel" Goldenberg and "Schmuÿle" (the title refers to two separate pictures by Hartmann of male Polish Jews – one rich, one poor) was danced by Aleksandra Liashenko and Roman Lazik. The pair scans the floor with anxiously fluttering hands, moving cautiously, starting from sleep again and again. Liashenko cuts the air with her razor-sharp splits, saving herself in the end with a plucky jump onto Lazik's back.
Let's not speculate about the roles of the four women in "Cattle", who mistrustfully peek out from beneath their port de bras, ducking their heads and trudging offstage hand in hand, their torsos bent wearily down.
In the final scene, Kandinsky's painting is restored, having been freed from a grayish layer of dirt and able now to shine in vibrant colors. All five couples return and, as the women are lifted, stretching their arms upwards, they seem finally and fully clear-eyed.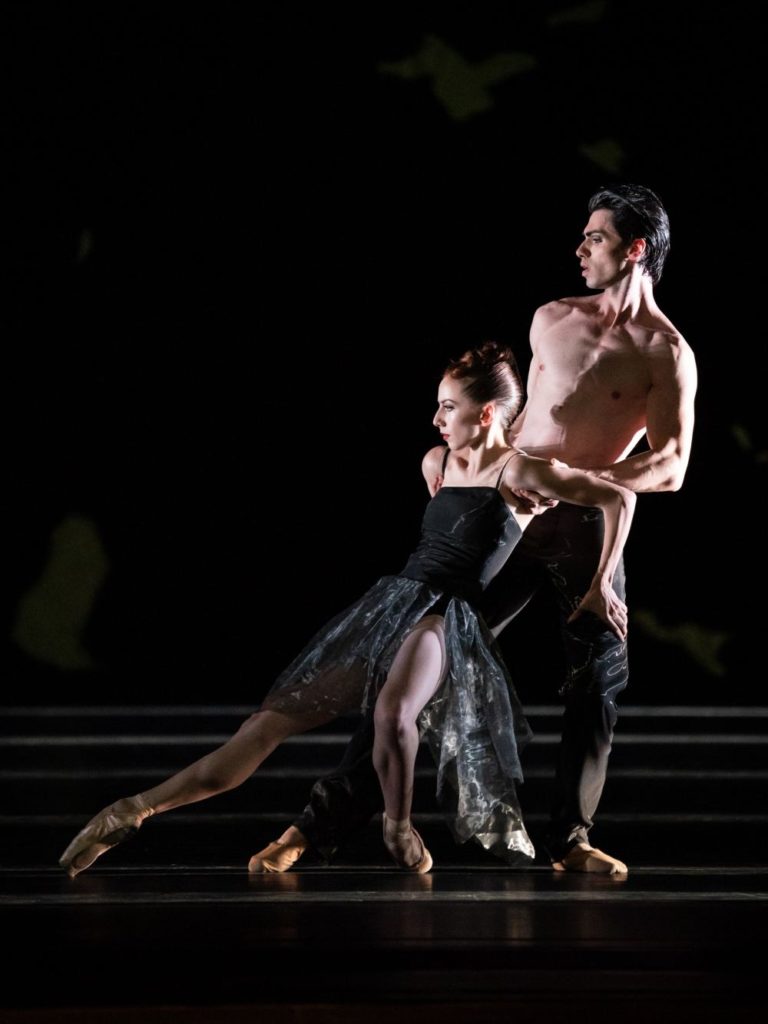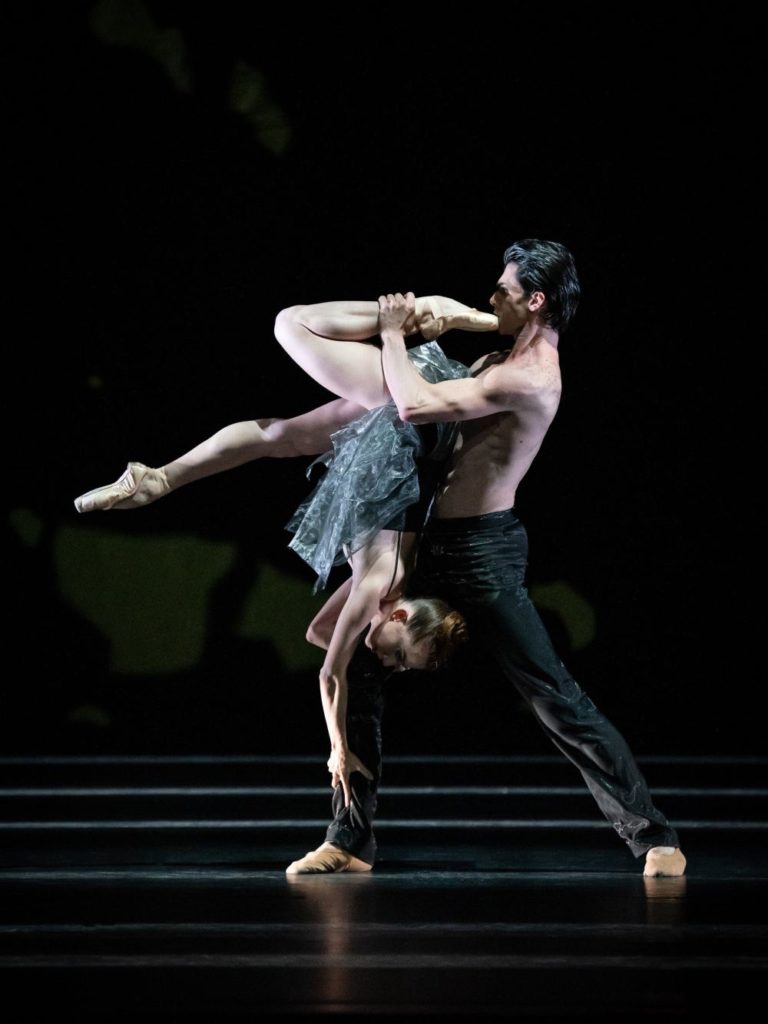 "Sinfonie Nr. 15" is Schläpfer's second ballet to Shostakovich's music, using the composer's final work – the fifty-minute Symphony No. 15, which was penned in 1971 while the composer received medical treatment. Vasily Petrenko described it in BBC Music Magazine as a macabre toy shop dreamed up in hospital. The music is known for its quotation of works by Rossini, Wagner, Glinka – and Shostakovich himself.
For his interpretation Schläpfer employed fifty-three dancers – the men bare-chested and wearing shiny black pants; the women in pointe-shoes and decked out in similarly shiny black tops and silvery-gray skirts that looked to be made from plastic rags. The backdrop resembled a magnified camouflage pattern, with thin white horizontal lines segmenting the floor like a tartan track (set and costumes by Thomas Ziegler).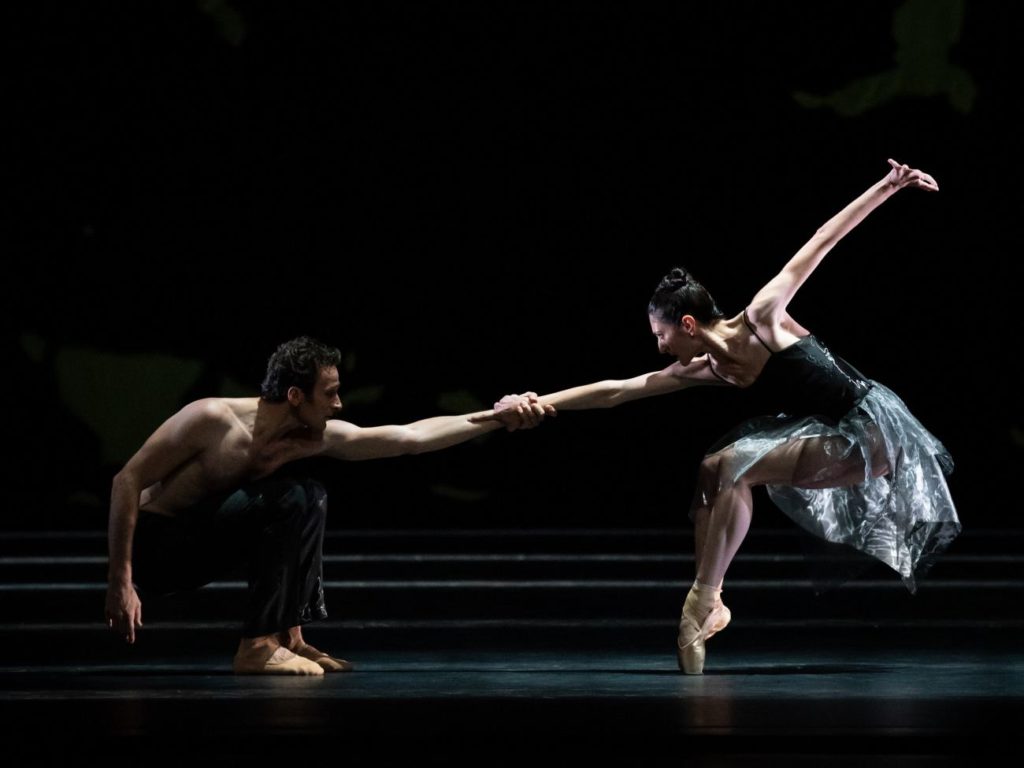 Schläpfer opens the piece with a male duet, and proceeds to assemble solos, pas de deux, and group sequences of various sizes. Groups of dancers shuffle across the stage with mincing steps. Women hang limply in their partners' arms, strut like stiff wooden dolls, swagger like masculine athletes, and freeze like beetles in states of shock, knees bent. They vacillate erratically between being aggressive vamps and weak creatures in need of protection. Occasionally, Schläpfer borrowed: the prancing steps, V-shaped arms, and hands held on thighs are Hans van Manen's signature, but unlike Van Manen's, Schläpfer's men often seem impotent and subordinate. Women grope and drag them by their nipples, pull them up by their hair, and thrust their pointe shoes right into their faces. One ballerina stands on pointe on a man's chest as he lays out flat, another one crouches on a man's belly after spreading his legs. I wondered: how might the male audience be appreciating this?
Schläpfer abandoned elegance and strayed away from moments of beauty. He repeatedly broke the flow of the dance and ended with a patchwork of haphazard snippets that felt lengthy to watch. It may not have been Schläpfer's best idea to show his work alongside that of an artist of the caliber of Ratmansky, who taps deeper and richer resources.
The orchestra of the Vienna State Opera was conducted by Robert Reimer. Alina Bercu accompanied "Pictures at an Exhibition".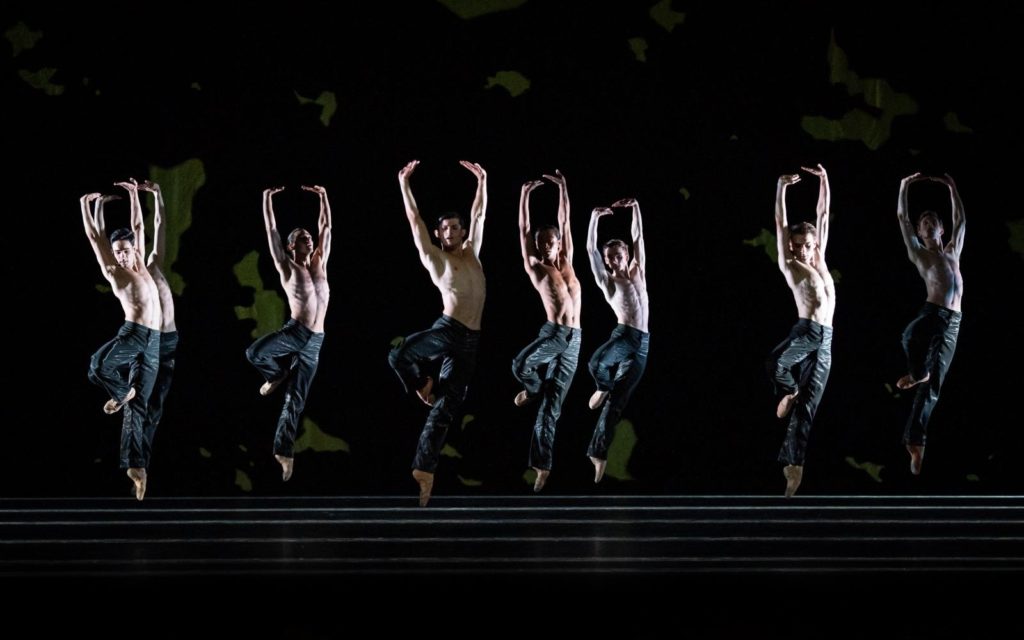 Links:
Website of the Vienna State Ballet
Trailer "Tänze Bilder Sinfonien"
Alexei Ratmansky on "Pictures at an Exhibition" (video)

Photos:

1.

Kiyoka Hashimoto, Davide Dato, Alice Firenze, and Duccio Tariello, "Symphony in Three Movements" by George Balanchine © The George Balanchine Trust, Vienna State Ballet 2021

2.

Liudmila Konovalova and Masayu Kimoto, "Symphony in Three Movements" by George Balanchine © The George Balanchine Trust, Vienna State Ballet 2021

3.

Ensemble, "Symphony in Three Movements" by George Balanchine © The George Balanchine Trust, Vienna State Ballet 2021

4.

Ensemble, "Pictures at an Exhibition" by Alexei Ratmansky, Vienna State Ballet 2021

5.

Ketevan Papava, "Pictures at an Exhibition" by Alexei Ratmansky, Vienna State Ballet 2021

6.

Ioanna Avraam, "Pictures at an Exhibition" by Alexei Ratmansky,

Vienna State Ballet

2021

7.

Francesco Costa, "Pictures at an Exhibition" by Alexei Ratmansky,

Vienna State Ballet

2021

8.

Fiona McGee and Calogero Failla, "Sinfonie Nr. 15" by Martin Schläpfer, Vienna State Ballet 2021

9.

Fiona McGee and Calogero Failla, "Sinfonie Nr. 15" by Martin Schläpfer, Vienna State Ballet 2021

10.

Roman Lazik and Ketevan Papava, "Sinfonie Nr. 15" by Martin Schläpfer, Vienna State Ballet 2021

11.

Ensemble, "Sinfonie Nr. 15" by Martin Schläpfer, Vienna State Ballet 2021

all photos © Vienna State Ballet / Ashley Taylor

Editing:
Jake Stepansky