"TOER" ("Lucifer Studies" / "7th Symphony")
Dutch National Ballet
Dutch National Opera & Ballet
Amsterdam, The Netherlands
September 25, 2021 (live stream)
by Ilona Landgraf
Copyright © 2021 by Ilona Landgraf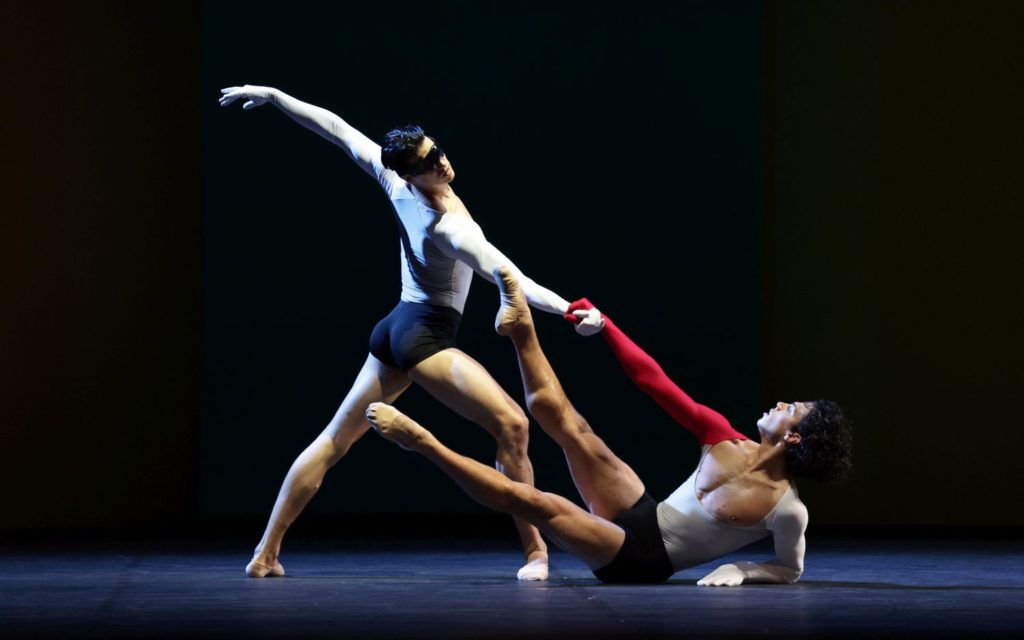 "Unparalleled."
That's how Ted Brandsen, artistic director of the Dutch National Ballet, described Toer van Schayk – Holland's renowned multi-disciplinary artist. van Schayk, who celebrated his eighty-fifth birthday earlier this month, has excelled across a broad spectrum: as a dancer, choreographer, set and costume designer, painter, and sculptor. His knowledge of the history of the arts combined with his wholehearted dedication to his craft and persistent motivation to create make him one-of-a-kind in the field. Though he has been a pillar of the Dutch National Ballet since its founding, his pieces have rarely been scheduled in recent years – and so it was most welcome that this year's 60th anniversary season opened with the double bill "TOER". It consisted of van Schayk's much-acclaimed "7th Symphony" (1986) and a new ballet titled "Lucifer Studies". I watched the live-stream on September 25th; it will be repeated on October 6th, 2021.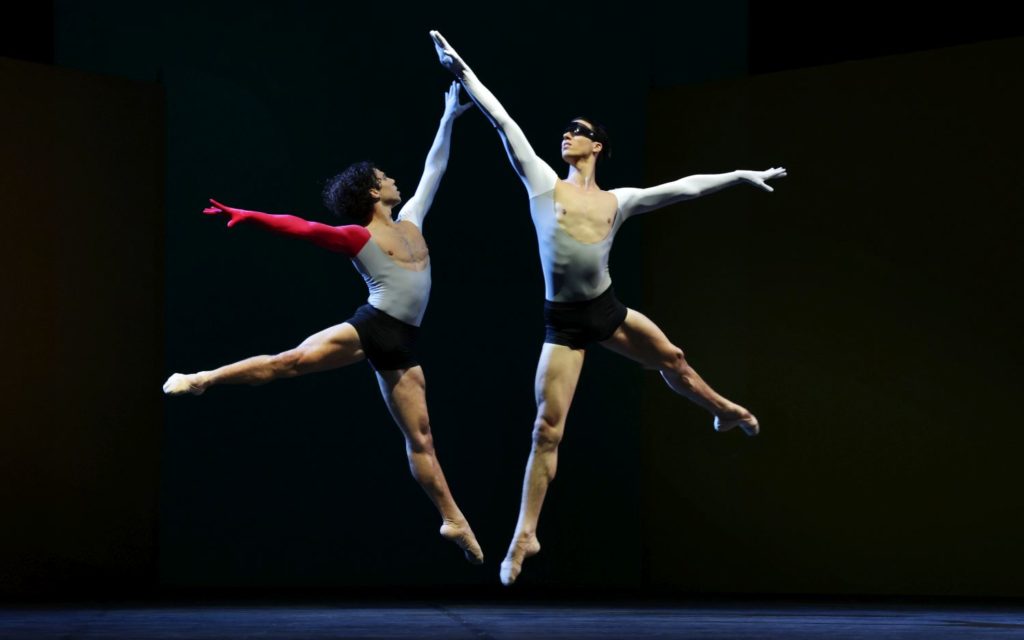 van Schayk's initial plan for the new piece was to create a full-evening ballet based on a play – "Lucifer" – by the Dutch poet, writer, and playwright Joost van den Vondel. In the original five-act play (penned in 1654), the proud and ambitious archangel Lucifer rebels against God out of blind self-love and jealousy, but is soon defeated by the archangel Michael. As revenge, Lucifer causes Adam and all of his descendants to fall while he and his co-rebels are eternally condemned and plunged into hell. Unfortunately, the project was shattered and shuttered by COVID-19 after three years of preparatory work. In its place, van Schayk created an abridged sketch form titled "Lucifer Studies" composed of – as he describes in the program booklet – "several loosely ordered, almost abstract dance scenes" comparable to "the pages in a sketchbook."
Searching for music, van Schayk chose "Echo's", a roughly half- hour orchestral piece by the Dutch composer Joep Franssens whose ominous sounds would suit a Stanley Kubrick thriller.
Vondel's play is all-male and so is van Schayk's choreography. Seven men in black shorts, white, low-cut shirts, and gloves (the left sleeve and glove are white, the right brightly colored) dance in an arena-like space (set and costumes by Toer van Schayk). The space is defined by circular lighting and walls whose colors change constantly from red to blue to blackberry-colored, orange, yellow, turquoise, and dark purple (lighting by Wijnand van der Horst).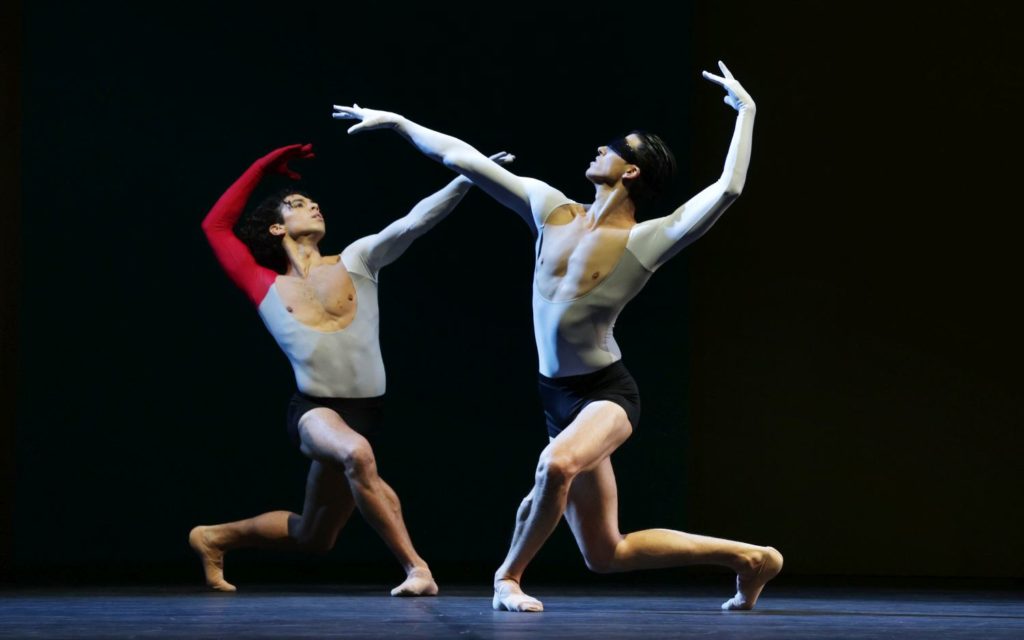 Joseph Massarelli's precise, big-cat-like attitudes and stretched out arms occupy the space as he is lit by a spotlight in the opening scene. Whom does he depict? His yellow sleeve hints at the archangel Jophiel, but we don't get to know. Massarelli is joined by four other men (representatives of the angelic hosts?), distinguishable by the colors of their sleeves and gloves (blue, purple, and different shades of green). As if moving together through celestial army drills, the men jump in lines and scurry like boxers, bending their lower arms protectively in front of their faces. Their chests arch upwards as they come down onto their heels from demi-pointe. Athletically plunging into deep curtseys, they bow their heads respectfully.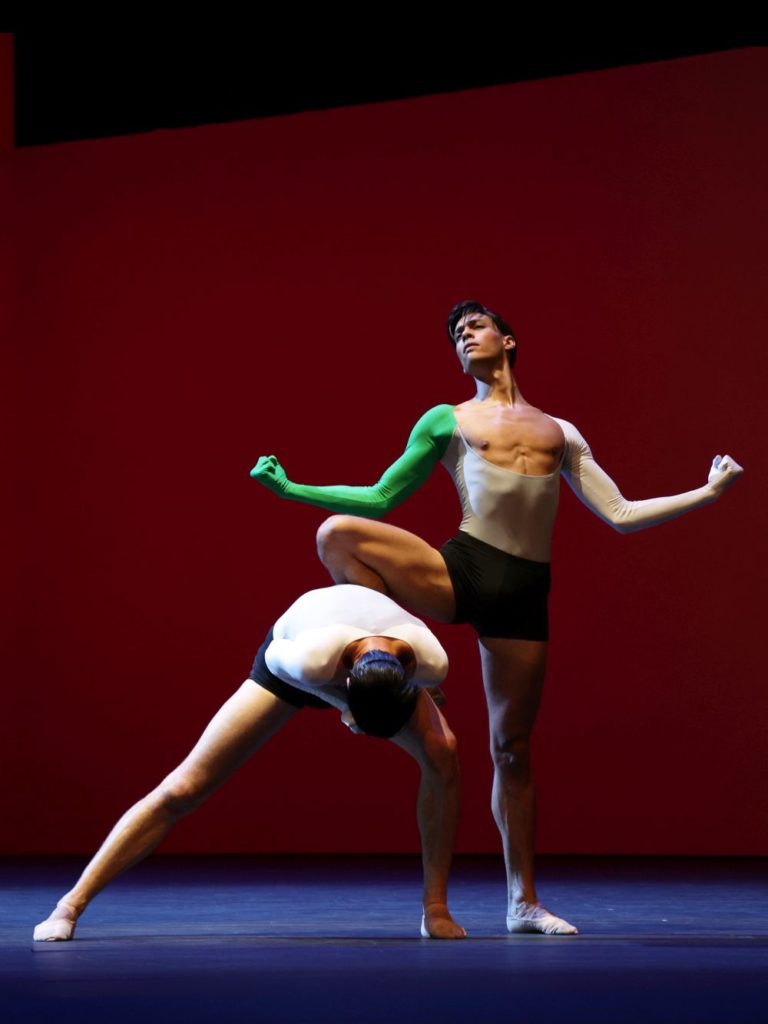 The red-sleeved Timothy van Poucke must be Lucifer. He tests his strength against the white-sleeved Martin ten Kortenaar (God?), whose eyes are hidden behind black strip-shaped sunglasses. His relationship with van Poucke is an ambiguous mélange of power play and affinity. They circle one another like boxers in the ring, thrusting their elbows towards their hips, fists clenched, as if to re-assure themselves of their virility. Again and again, ten Kortenaar coaxes van Poucke towards compliance, but van Poucke stubbornly remains until the pair walks off together, their heads leaning onto each other's chests.
Soon afterwards, ten Kortenaar breathes life into the green-sleeved Nathan Brhane (Adam?). We'd seen him before, projected in a black-and-white video, naked except for a stylized fig leaf. ten Kortenaar takes control of Brhane's body and movement, subordinating him, and – standing in for Eve – forces himself onto him in an erotic encounter.
The lighting turns cold blue when van Poucke joins them and – like Brhane – lets himself fall into ten Kortenaar's arms, expecting to be caught. But ten Kortenaar doesn't lift a finger and van Poucke falls – not from heaven, but merely onto the floor. He steams and revolts – but in vain. Unanimously opposed by the other angels, van Poucke's Lucifer becomes a pariah. His hell is a narrow spotlight – he's confined, eyes searching, leg morphing into a cloven hoof. Squatting and glancing deviously, he tries to grab something from the darkness. ten Kortenaar observes him from behind, but ultimately covers his eyes.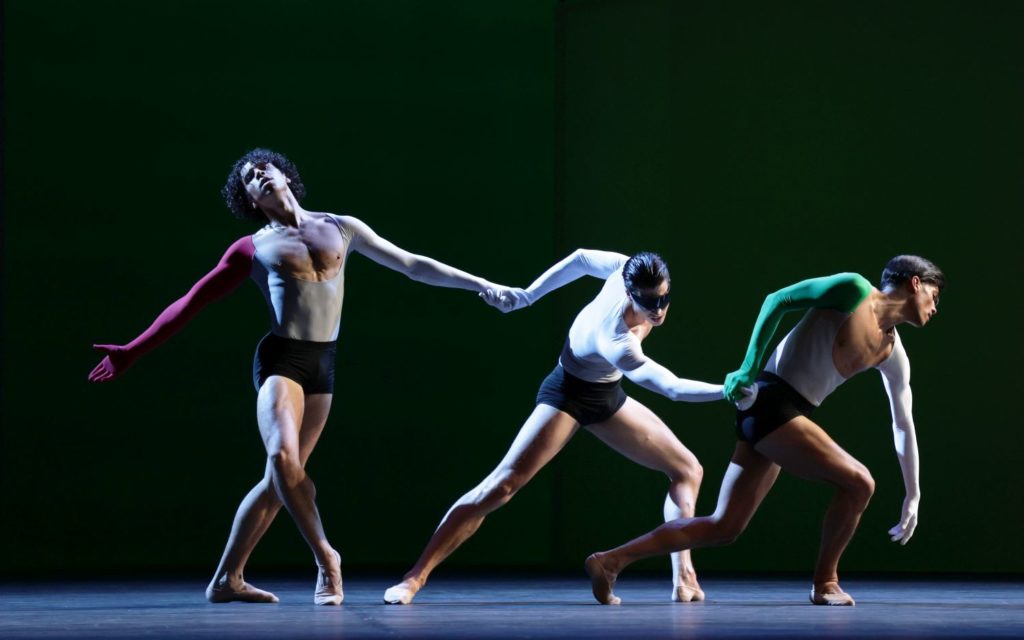 van Schayk's choreographic style is described by many as distinctly plastic; he uses the dancers as moving sculptures. When I asked about this in a 2017 interview, he disagreed, telling me that he was primarily interested in the dancers' personalities and that making them move the way they do came totally naturally for him. That said, it's true, even if van Schayk isn't aware of it: his choreographies have a striking plasticity, which in the case of "Lucifer Studies" is even more enhanced by the eye-catching colored sleeves. Composer Micha Hamel, one of many who offered thoughts on van Schayk in a video shown during the break, fittingly characterized van Schayk's work as such: "I don't think Toer's work is about dance. It's about what it means to be human and to have an expressive body. To him, giving shape to those bodies is like giving shape to a scenography. It's a primeval moment of creation that stays in your mind's eye."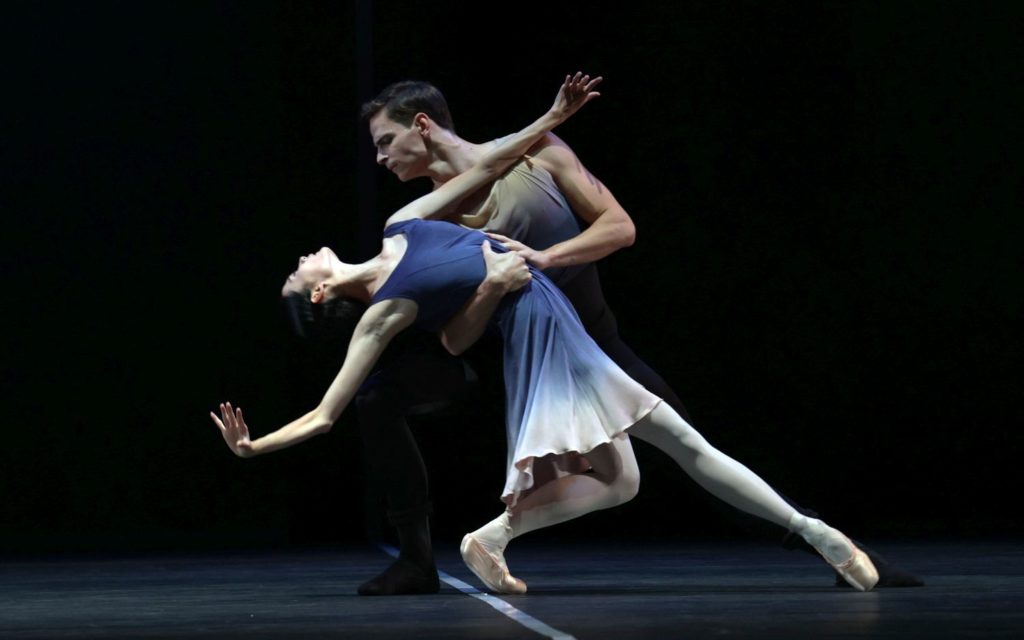 The same applies to van Schayk's award-winning "7th Symphony", set to Beethoven's eponymous music, which has been celebrated as "apotheosis of dance". Its cheerful, buoyant vibes are infectious!
The duet between the impish Salome Leverashvili and the serene Floor Eimers seems to awaken the music of the 1st movement, which soon soars to triumphant heights. The music beckons forth a flood of solos, pas de deux, and group sequences whose freshness and ingenuity delight. Two groups of five male/female couples (the women wearing simple dresses with a blue-white color gradient, the men wearing short tops featuring the same printing and black pants) skim the stage with outstretched arms as if embracing life, smiling and brimming with vivacity.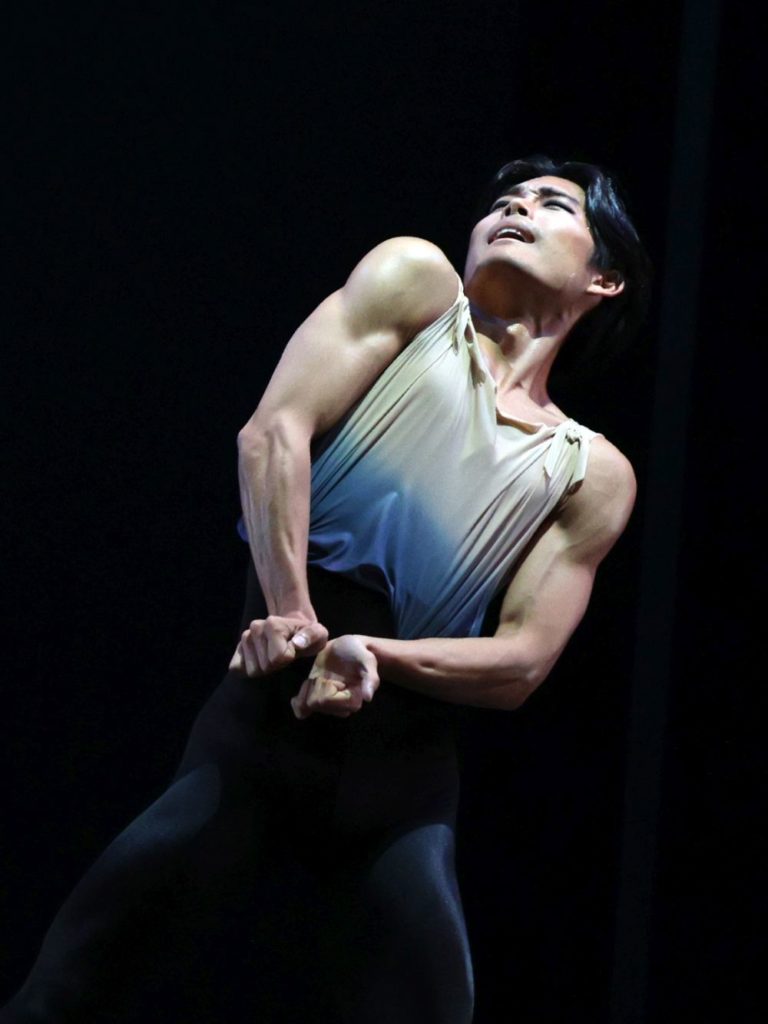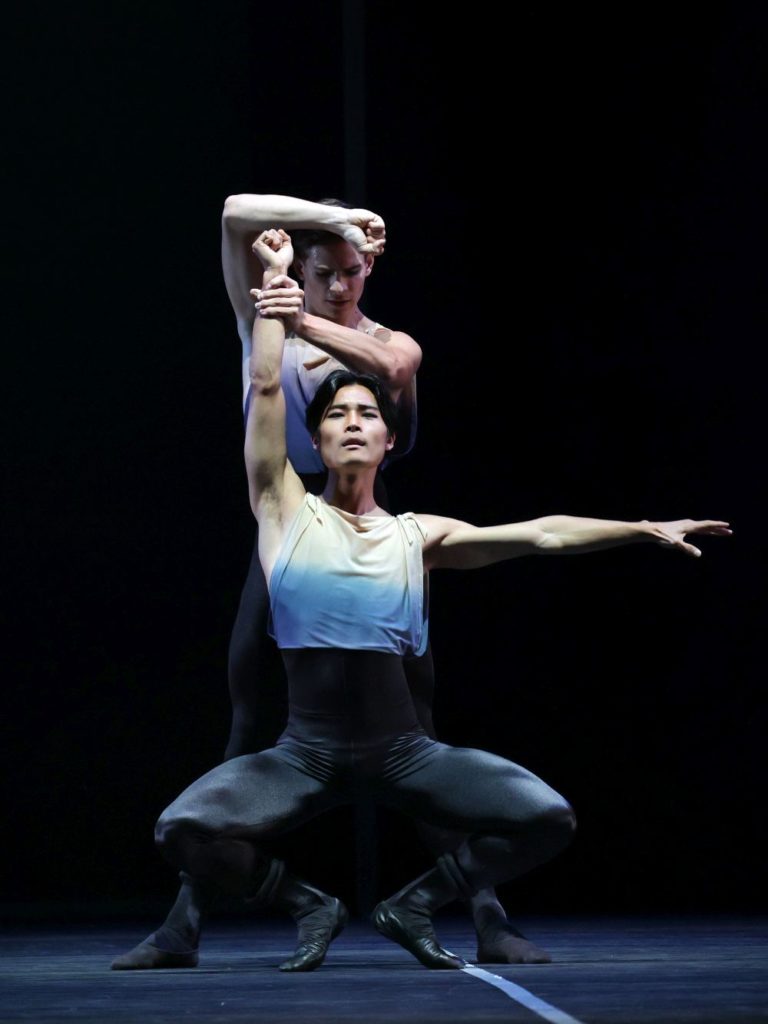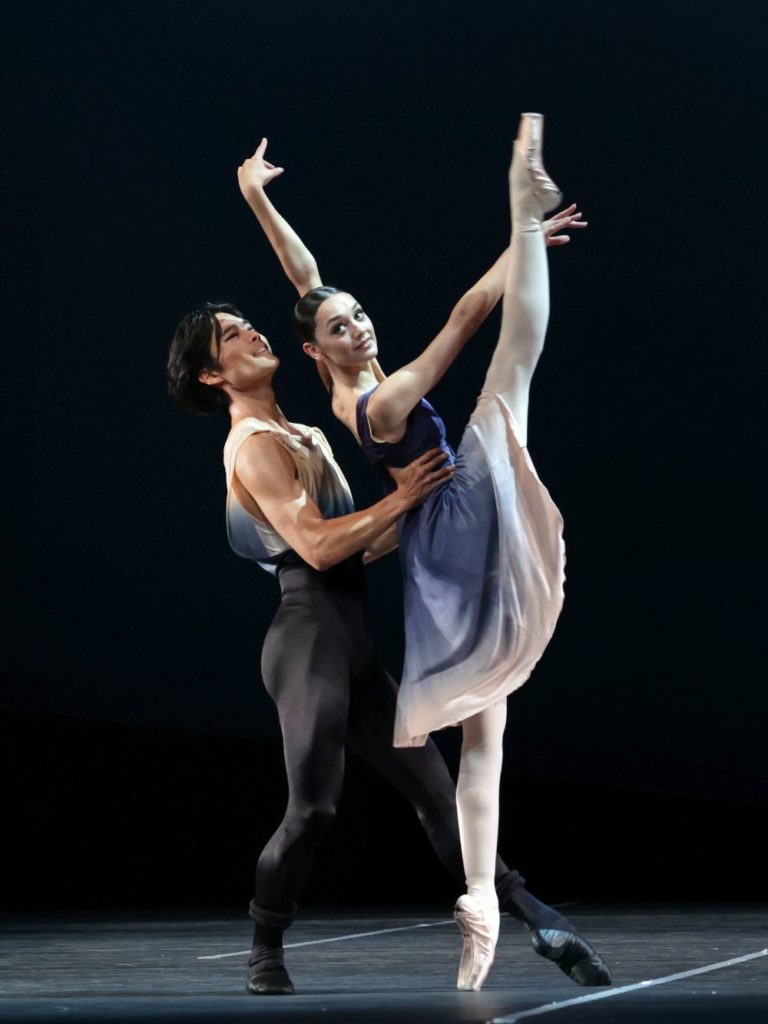 In the somber 2th movement, Young Gyu Choi becomes a fifth wheel when his friend, Jakob Feyferlik, becomes attracted to Jingjing Mao. Though the group retains its good humor briefly, the energy sours when Gyu Choi is ditched by a woman; he remains behind, kneeling and brooding. Gyu Choi received extra applause for his strong performance.
In the 3rd movement, the women stand in line, watching the men as they parade onstage and show off their masculinity. You might think that this was a serious traditional kermess procession, but that perception was shattered when the women, finding themselves alone, started to dance happily.
The 4th movement returns to the snappy energy of the 1st movement – and even exceeds it.
In contrast with the dance's uplifting atmosphere, the set is austere and darkly colored. van Schayk designed a dark turquoise backdrop with three vertical black stripes, black and turquoise side drapes, and four white stripes of different length on the ground – one of which continues up the back wall. A small silver rod, hung from the ceiling, arches across the stage. Are the bleak colors a reference to the dark, war-stricken times in which Beethoven composed this symphony? Is the soft, promising light that brightens a part of the stage during the 4th movement the light at the end of the tunnel?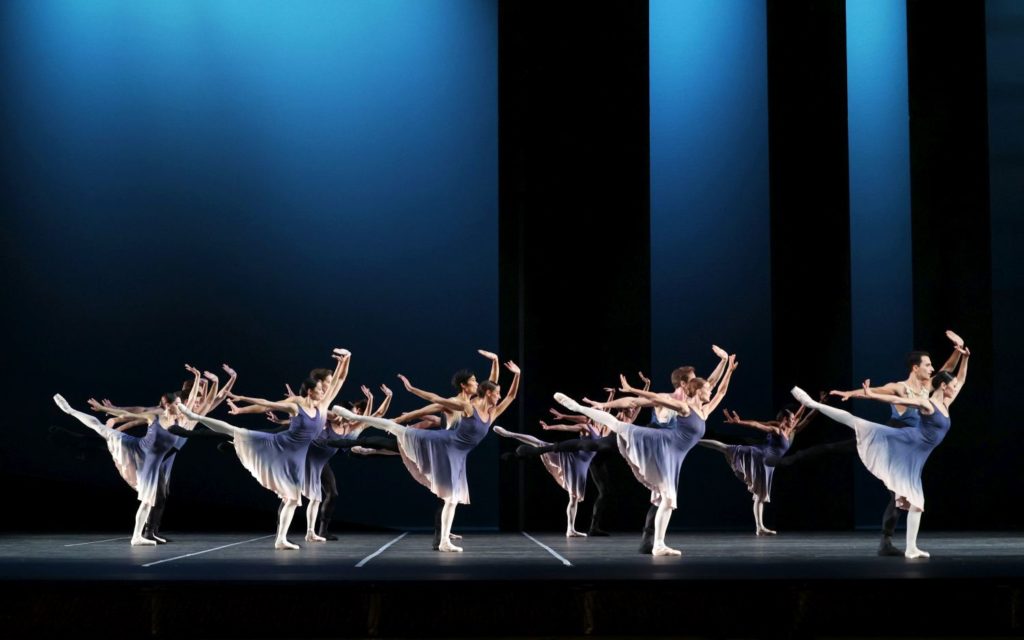 Links:
Website of Dutch National Ballet

Trailer "TOER"

"7

th

Symphony" (performance clip)

The multi-talented artist Toer van Schayk (video)

Photos
1.

Martin ten Kortenaar and Timothy van Poucke, "Lucifer Studies" by Toer van Schayk, Dutch National Ballet 2021

2.

Timothy van Poucke and Martin ten Kortenaar, "Lucifer Studies" by Toer van Schayk,

Dutch National Ballet 2021
3.

Timothy van Poucke and Martin ten Kortenaar, "Lucifer Studies" by Toer van Schayk,

Dutch National Ballet 2021
4.
Martin ten Kortenaar and Nathan Brhane,

"Lucifer Studies" by Toer van Schayk,

Dutch National Ballet 2021
5.

Timothy van Poucke, Martin ten Kortenaar, and Nathan Brhane, "Lucifer Studies" by Toer van Schayk,

Dutch National Ballet 2021
6.
Jingjing Mao and Jakob Feyferlik, "7th Symphony" by

Toer van Schayk,

Dutch National Ballet 2021
7.
Young Gyu Choi, "7th Symphony" by

Toer van Schayk,

Dutch National Ballet 2021
8.
Young Gyu Choi and Jakob Feyferlik, "7th Symphony" by

Toer van Schayk,

Dutch National Ballet 2021
9.
Young Gyu Choi and Nancy Burer, "7th Symphony" by

Toer van Schayk,

Dutch National Ballet 2021
10.
Ensemble, "7th Symphony" by

Toer van Schayk,

Dutch National Ballet 2021

all photos

© Hans Gerritsen

Editing:
Jake Stepansky