"Giselle" (Act II), "Agora"
São Paulo Dance Company
Teatro Sérgio Cardoso
São Paulo, Brazil
October 02 and 03, 2021 (live streams)
by Ilona Landgraf
Copyright © 2021 by Ilona Landgraf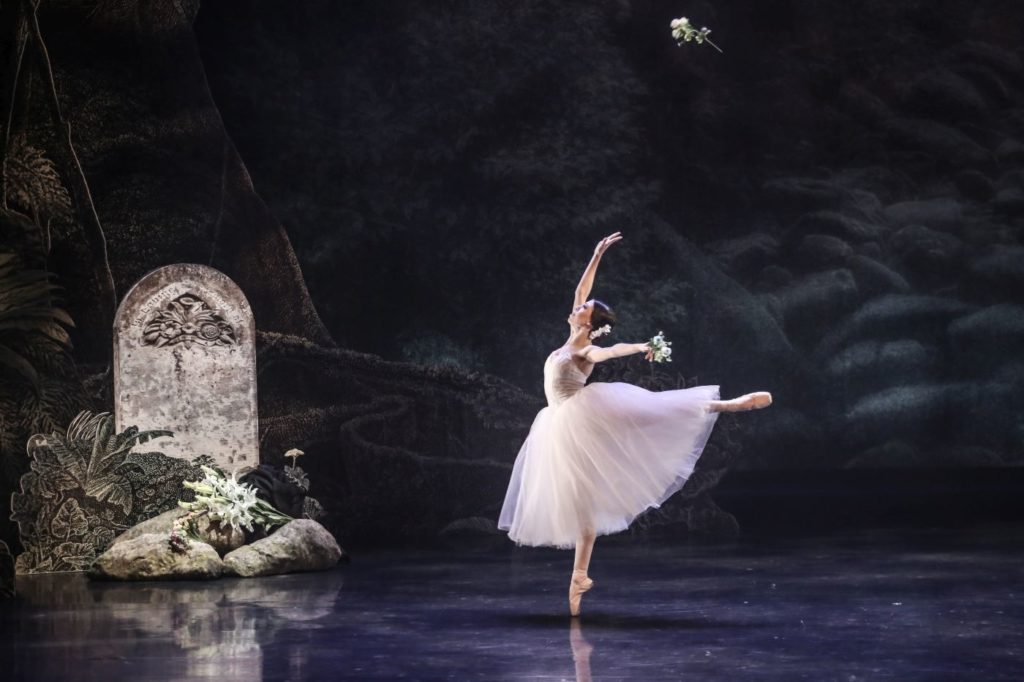 Before resuming their international tours, the São Paulo Dance Company opened the season at home in the Teatro Sérgio Cardoso with a refreshingly bold double bill that contrasted the second act of "Giselle" – an foundational piece from the romantic era – with "Agora", a punchy 2019 creation by the São Paulo-based choreographer Cassi Abranches. I viewed two performances with different casts that were streamed live on October 2nd and 3rd, 2021.
"Giselle" (Act II) is a new addition to the company's repertoire, adapted by in-house ballet teacher Lars van Cauwenbergh – a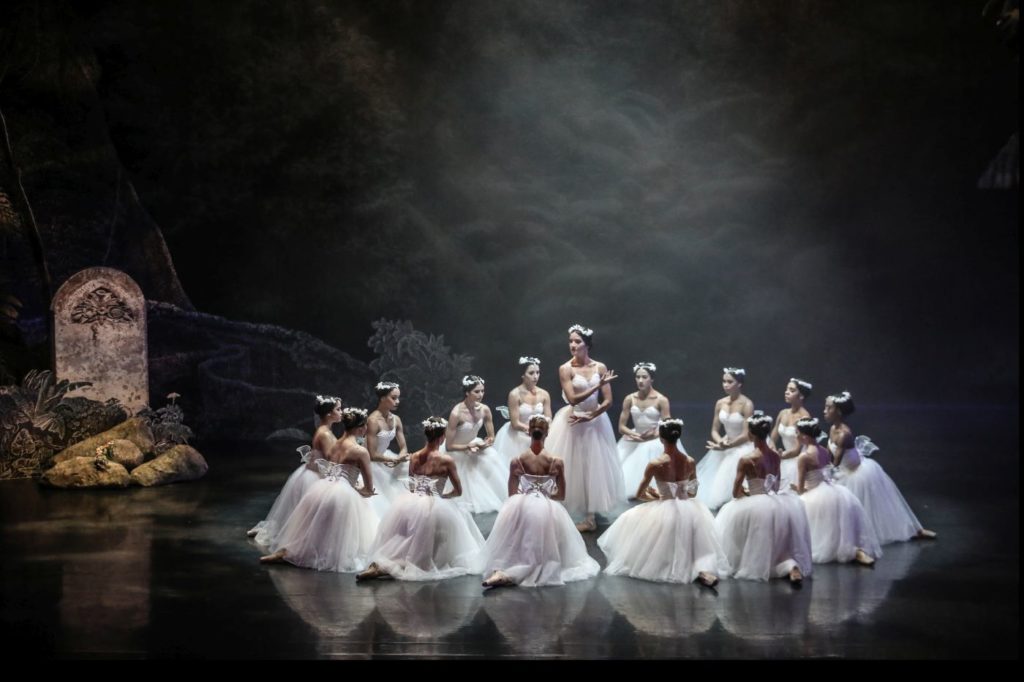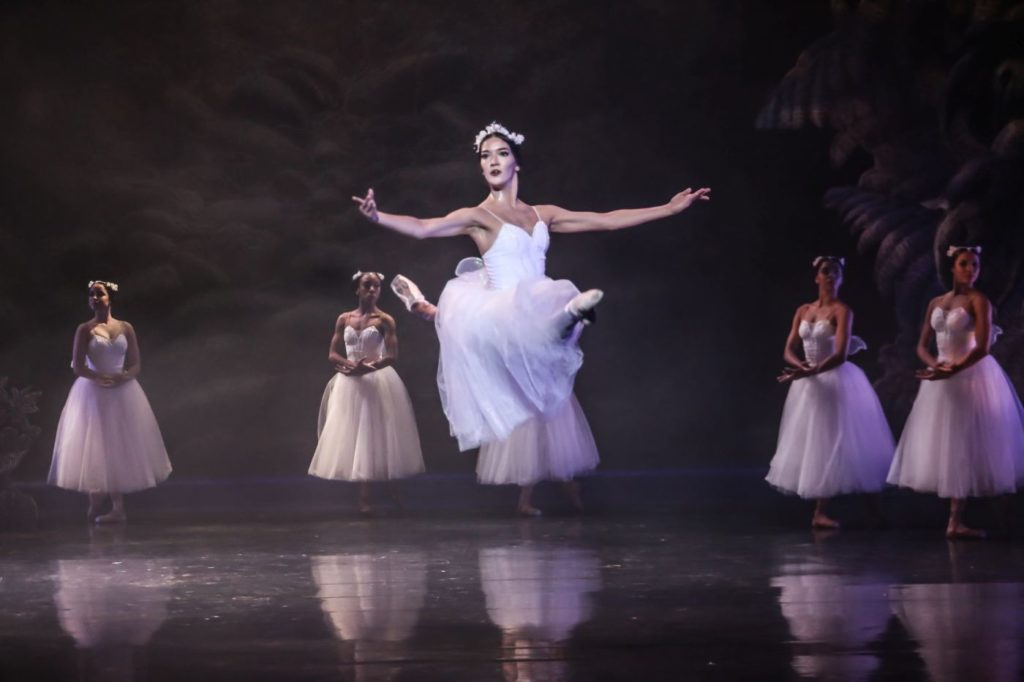 former dancer at the Royal Ballet of Flanders and the English National Ballet. van Cauwenbergh based his work on the original choreography by Jean Coralli and Jules Perrot, retaining Adolphe Adam's music as well as the traditional setting and decór (one difference: the forest surrounding Giselle's grave is a tropical one often overtaken by wafting mist). A red drape curtain frames the proscenium, reminding us that what we watch is fiction (set design by Vera Hamburger, costumes by Marilda Fontes). Wagner Freire's lighting occasionally looks unsubtle on camera.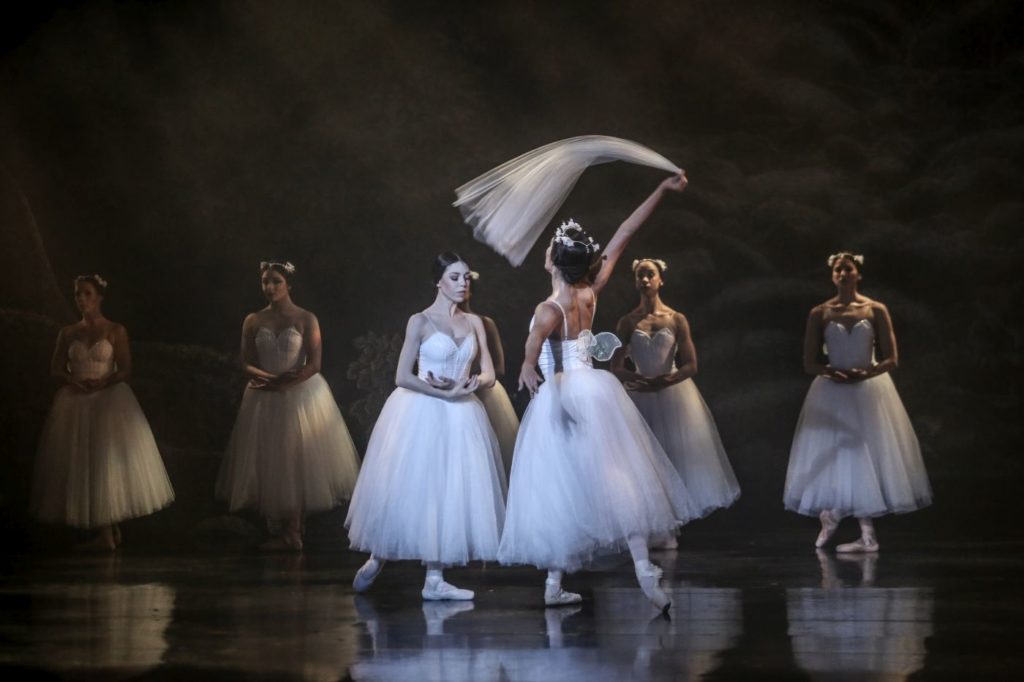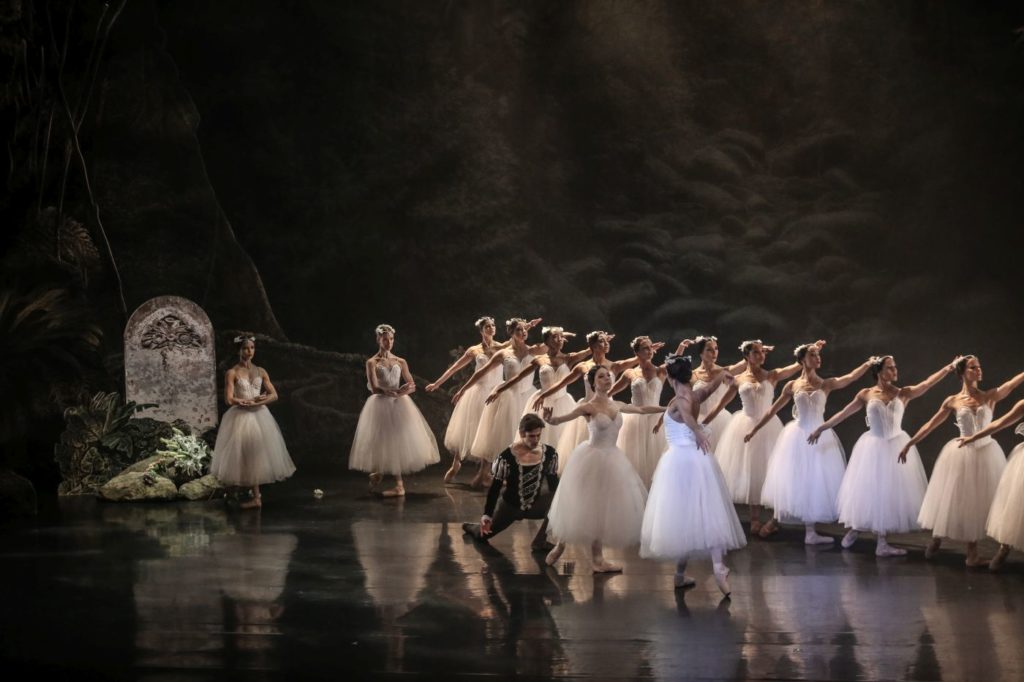 Among the small changes made by van Cauwenburgh, I noticed the – hopefully – merciful fate of Hilarion, whom the Wilis sling towards the forest behind Giselle's tombstone rather than drowning him in a lake. The storyline seemed clearer than usual and, especially in terms of the leading couple, Giselle and Duke Albrecht, a touch more emotional.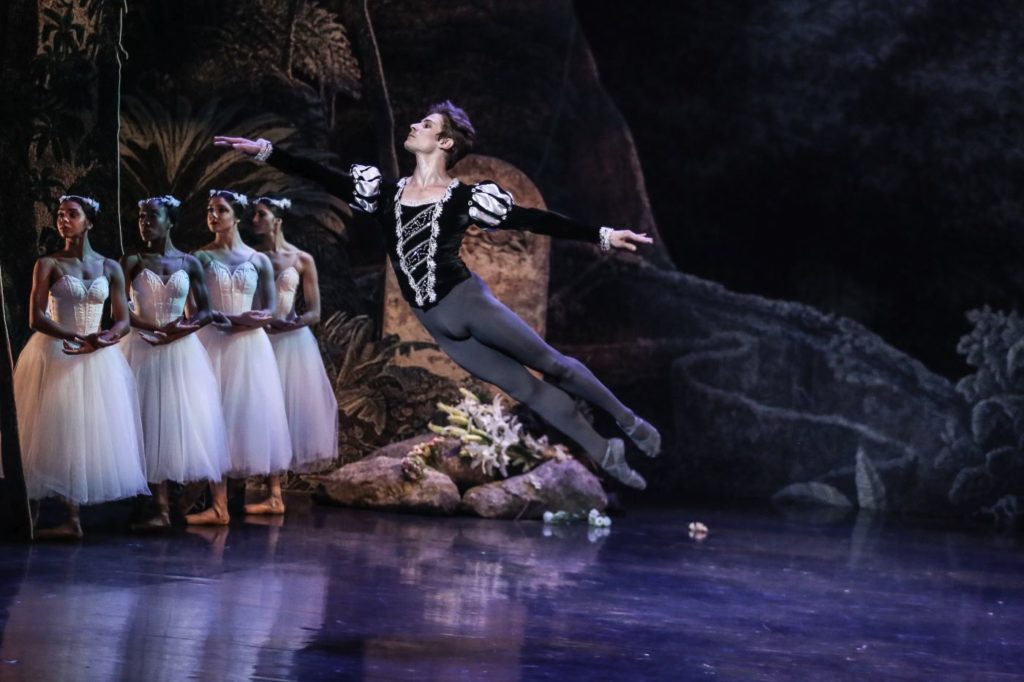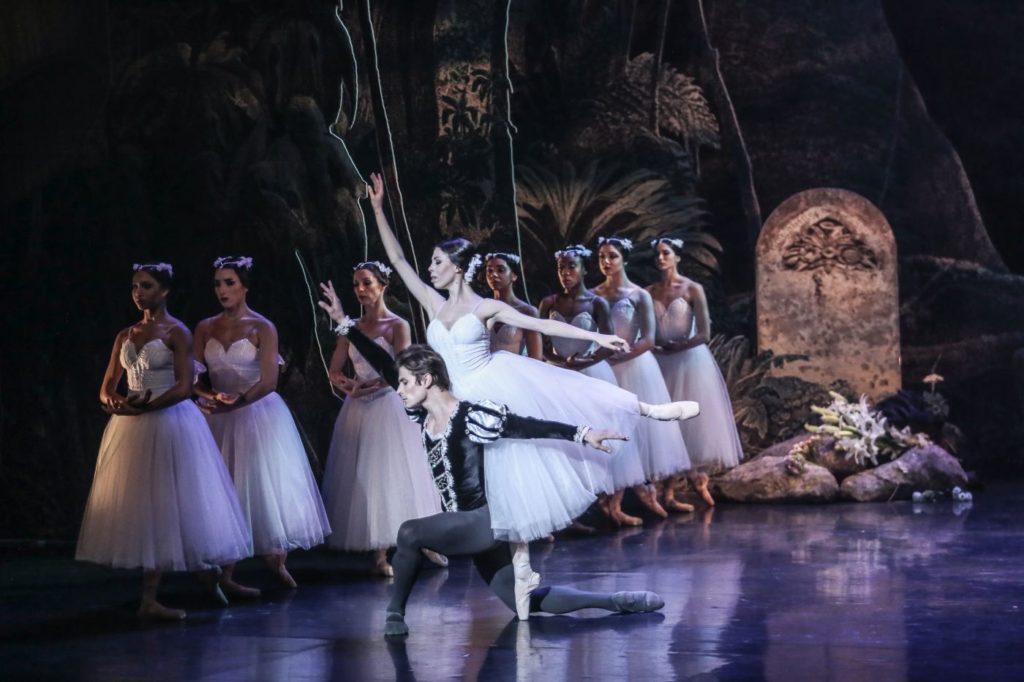 Carolina Pegurelli's Giselle, which I saw on October 2nd, combines softness with inner strength. She wafts through the air like fine muslin. Determined to save Albrecht from the vengeful Wilis, she humbly but persistently pledges their queen Myrtha (Beatriz Paulino) for pity. For Vinícius Vieira's Albrecht the loss of Giselle seems to have revealed the depth of his love to her.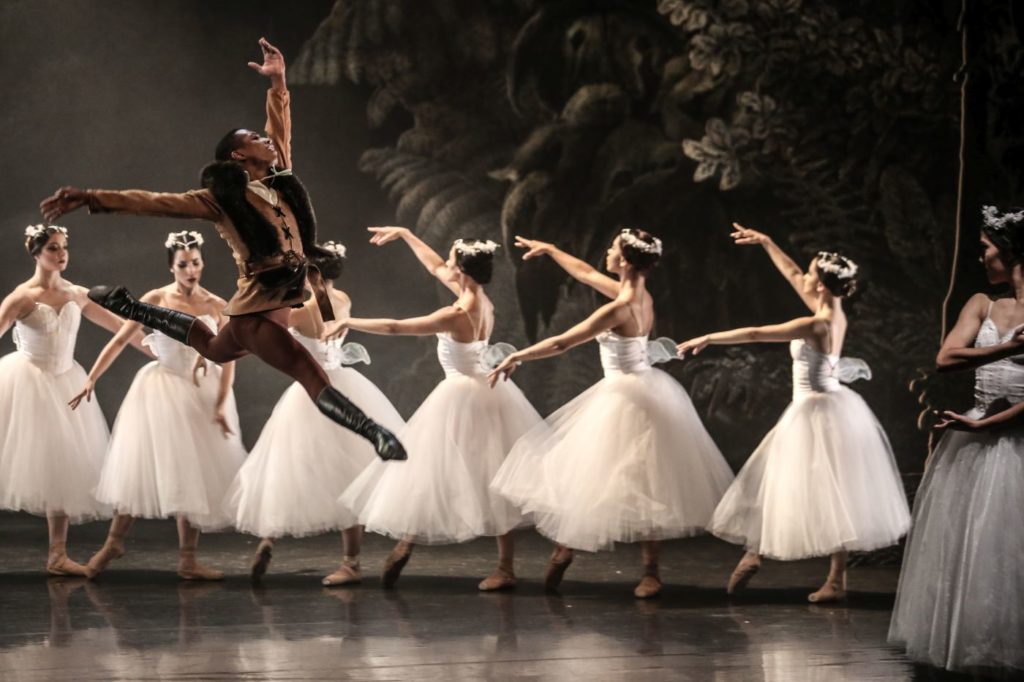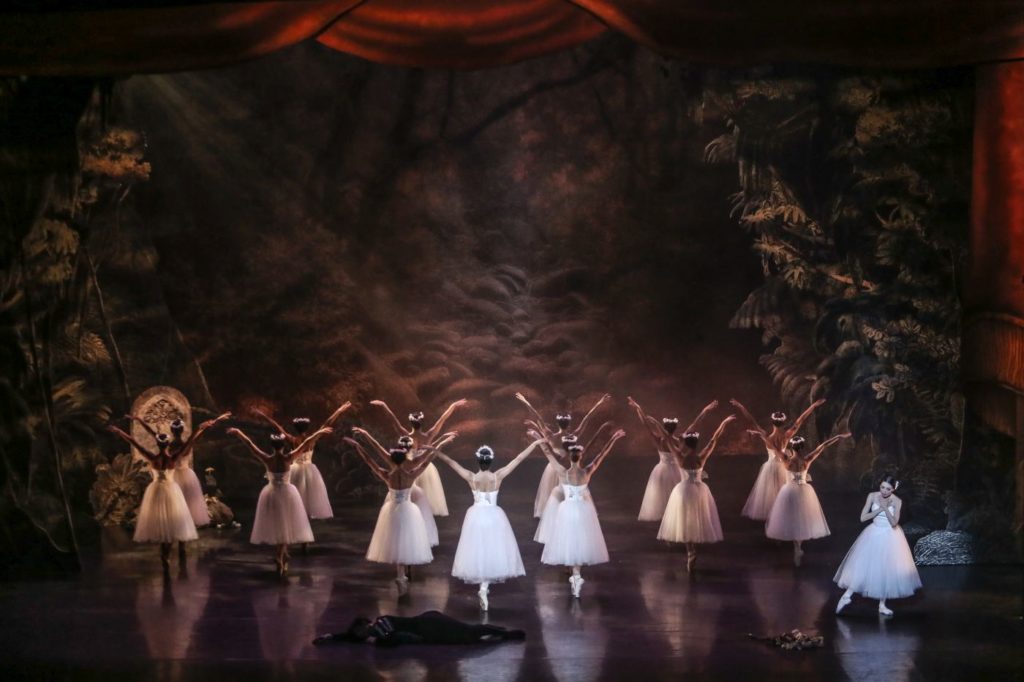 Grief stricken, he doesn't hold back in showing his tender, caring affection. Paulino's Myrtha is commanding up to her fingertips – a fascinatingly powerful queen! But don't be misled by how supple and springily lightweight she moves! Implacability is written all over her face.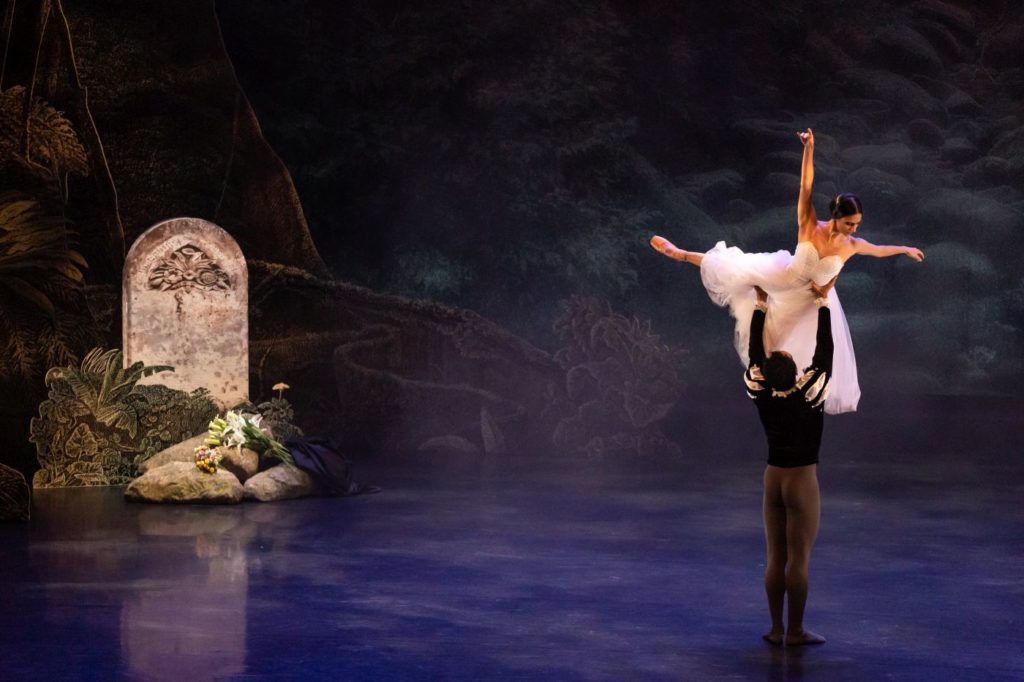 Thamiris Prata's Giselle, seen on October 3rd, pours her heart into rescuing Albrecht (Geivison Moreira), pleading Myrtha (Luciana Davi) docilely for lenity. Giselle's neat bouncy jumps and assured balances express her soul's refinement. Lifted high above Albrecht's head she seems as light as a feather. The way Moreira's Albrecht approaches Giselle's grave made me think of a statue of Dante. Albrecht's reassurance after finding Giselle's flowers stirs compassion. Hope and a faint smile flicker across his face as he faces the audience in the final scene. His assured jumps when forced to dance are monitored by no one except for two of the Wilis – Moyna (Luiza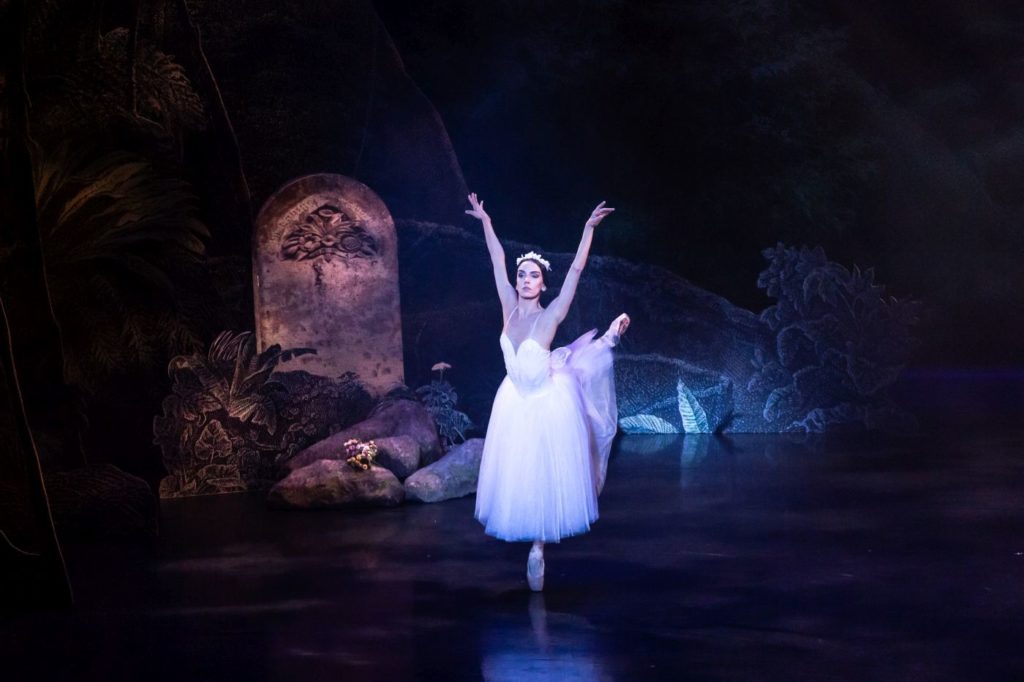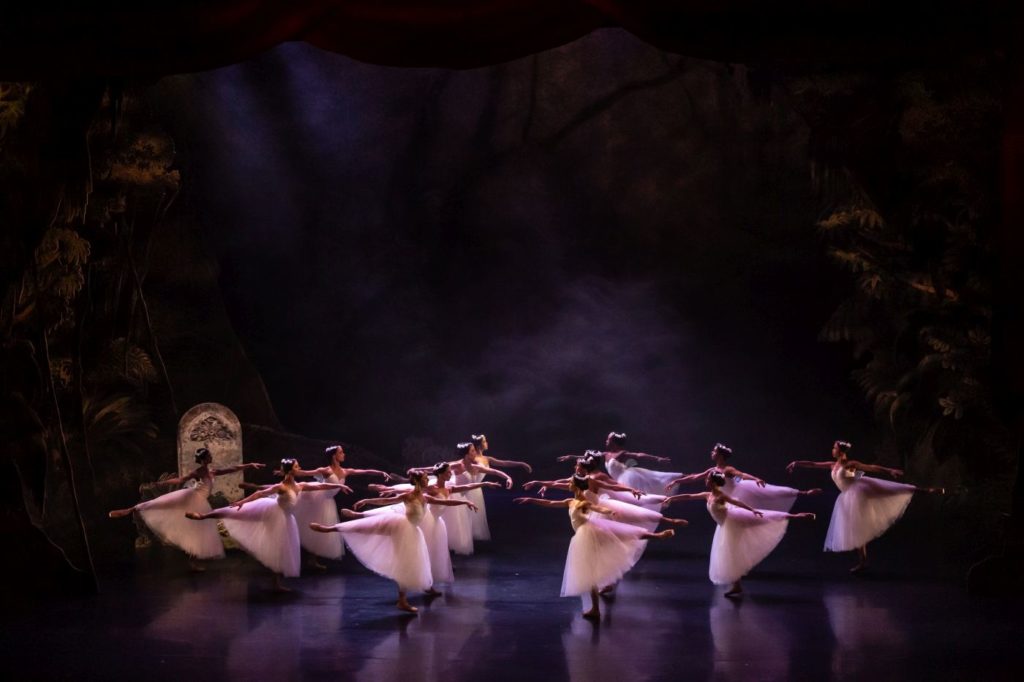 Yuk) and Zulma (Ana Roberta Teixeira). How Myrtha senses when to turn round to Albrecht and re-enforce her order to continue can only be explained by her supernatural abilities. Davi's Myrtha was so cold and rigid, that I was happy to see her shed the role and smile at the curtain call, revealing a glimpse of her true personality.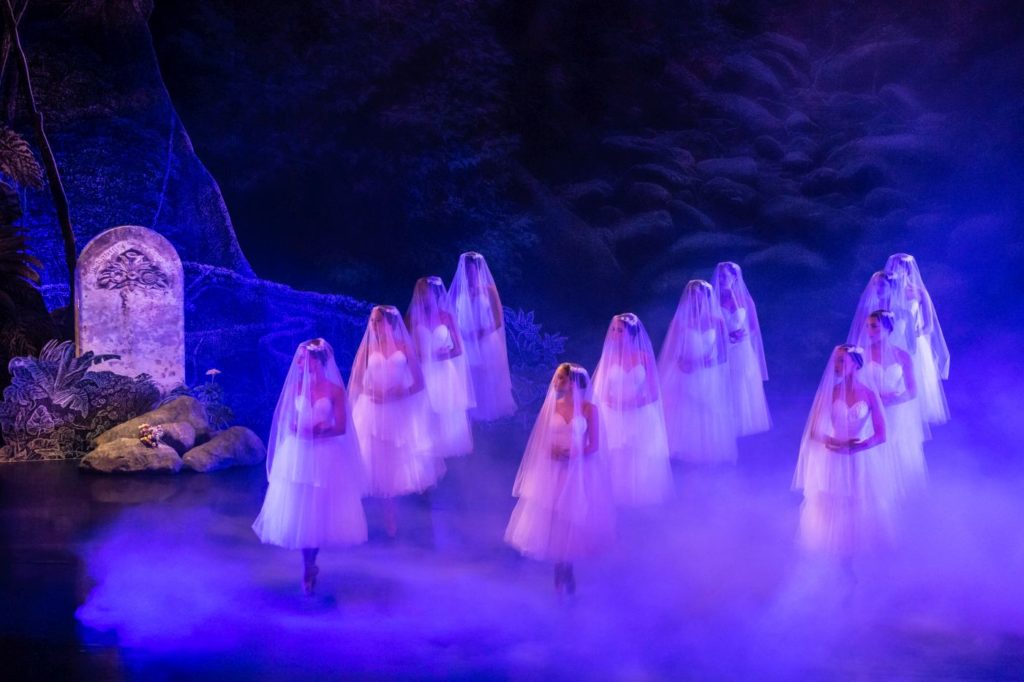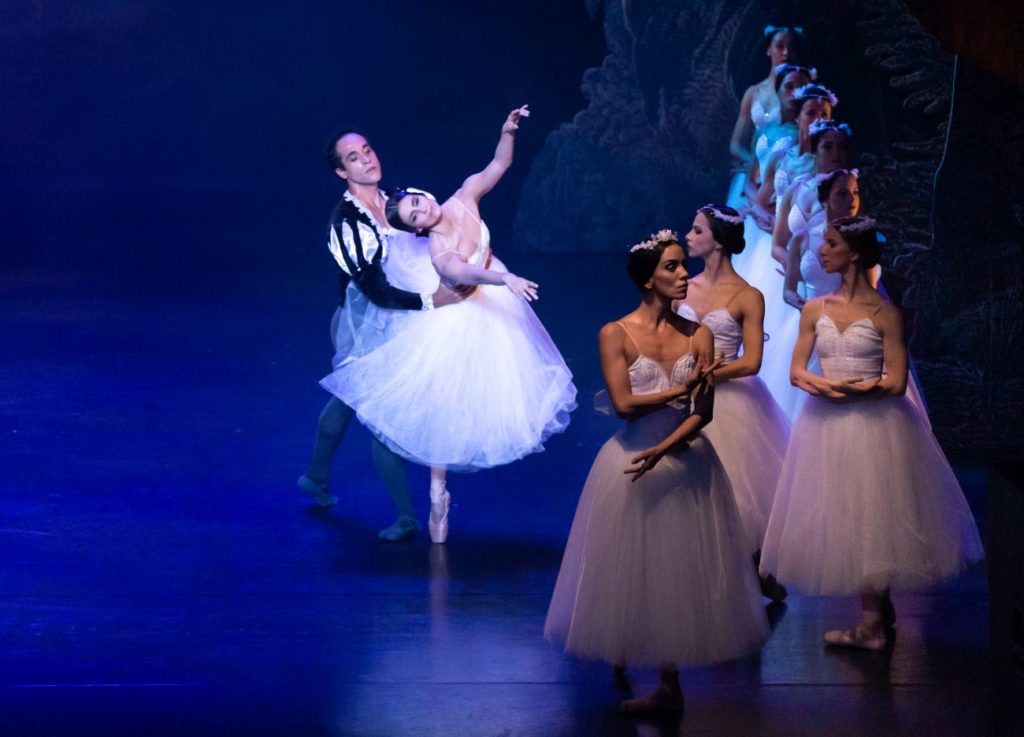 In both performances, Hilarion was portrayed as a ballsy guy with a big heart (Hiago de Castro danced the role on October 2nd; Diego de Paula on October 3rd). It was hard to watch these seasoned men on their knees, begging for their life. Yuk and Teixeira danced Moyna and Zulma at both events, their brief solos illuminating the circumstances of their deaths. Zulma committed suicide by throwing herself from a cliff – hence a solo solo that features dramatic jumping. Moyna was trapped in the circular motion of a river current and drowned – leading her to perform beautifully curved reversees.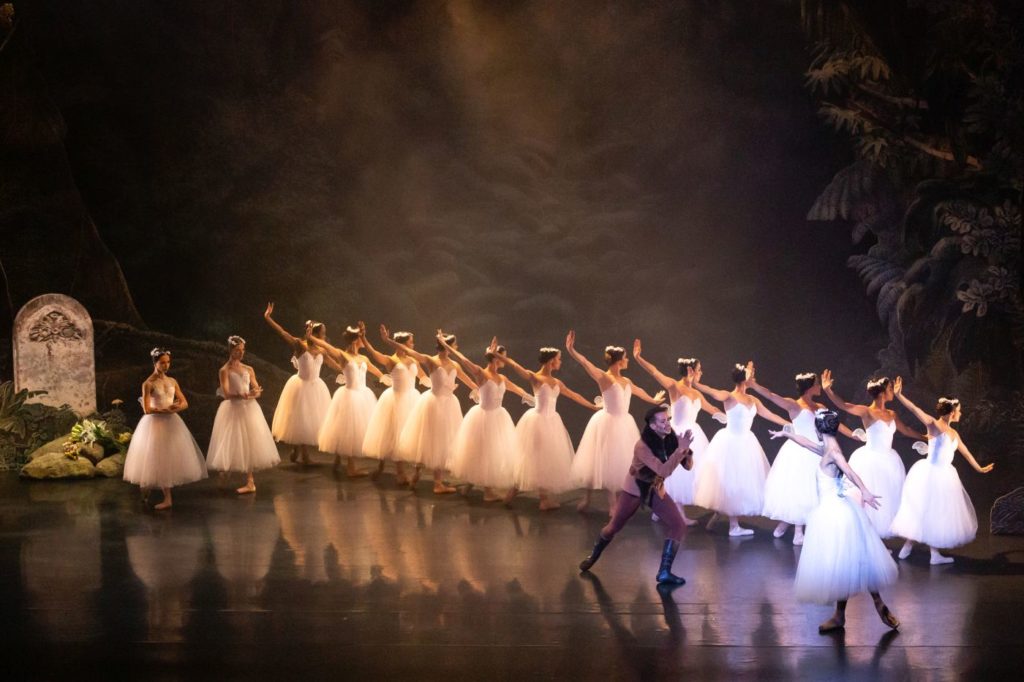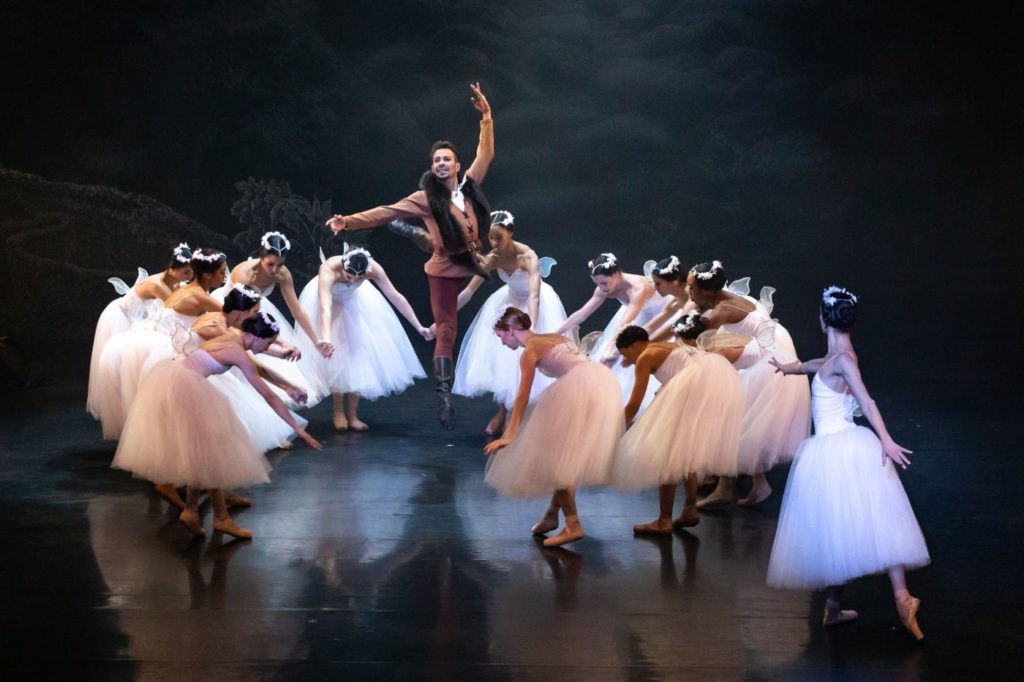 The twelve other Wilis that submissively follow Myrtha seem at first glance to be pristine beauties, but in fact make up a ruthless, vengeful brigade, their feet pounding the floor ceaselessly as they chase after their men. In the instant that they are able to separate Albrecht from Giselle's protection, they circle and trap him swiftly, bending their upper bodies like hunters on the prowl.
For now, the company has no plans to stage a complete "Giselle" – but given their mastery of the challenging Act II, it may be worth it to rethink this decision.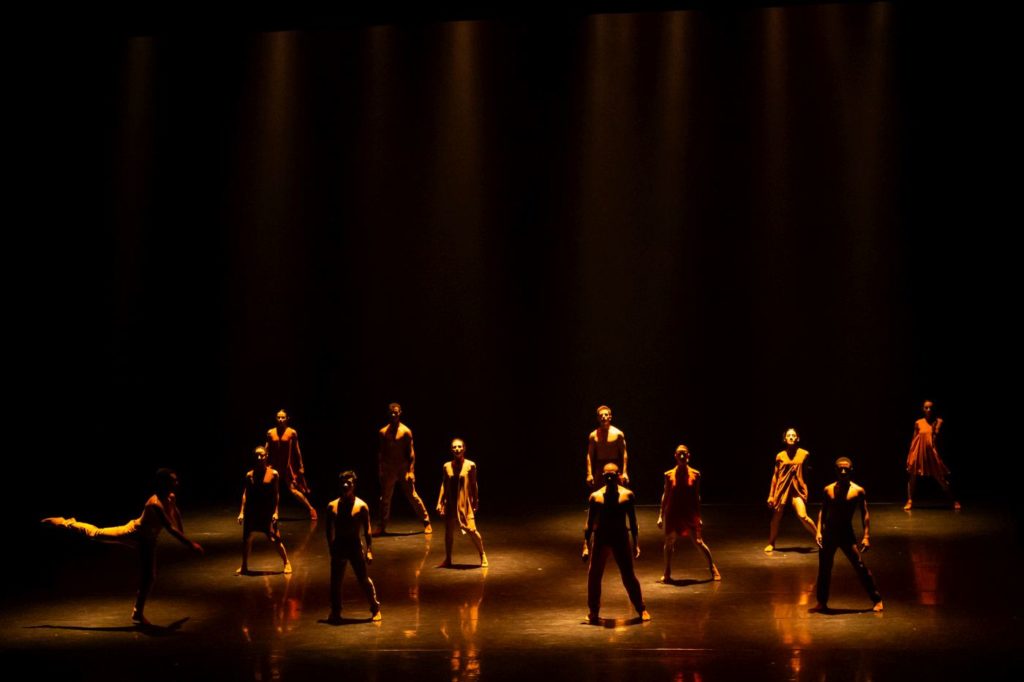 "Giselle" was immediately followed by the twenty-minute-long "Agora" (meaning "now"). It opens with pairs of gleaming red pinpricks of light appearing on the pitch-black stage. Were they animals' eyes? As the spots grow, it becomes clear that they are the reflections of red lighting on the dancers' bodies. A metronome-like beat accompanies them, its tick-tock steadily accelerating (soundtrack by Sebastian Piracés). After a short blackout, off-white spotlights define spaces for each of the twelve dancers. They nervously shift their weight from one leg to the other, jogging in place before scattering across the stage, breaking out for solos, and joining one another for duets or group sequences.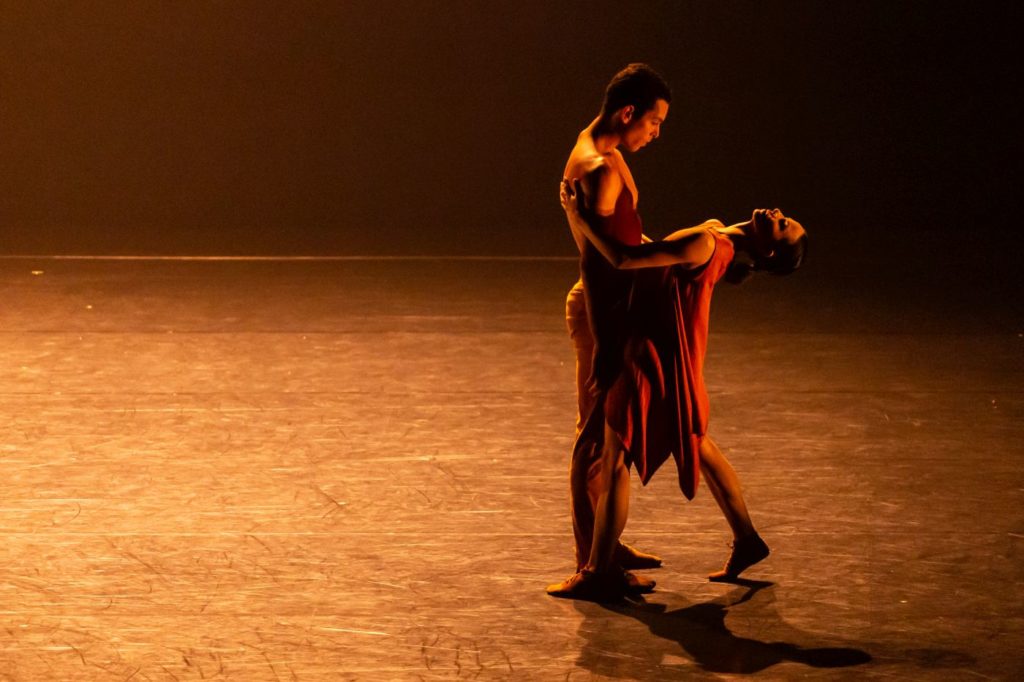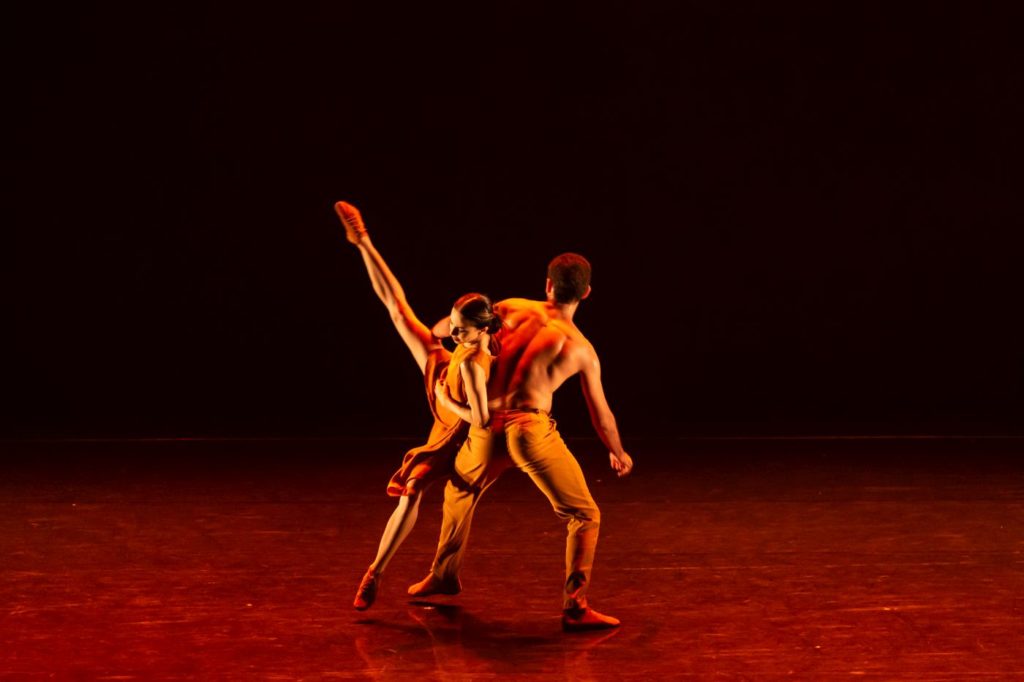 Abranches's choreography interlaces swiftly moving groups with slowly moving ones. Some dancers walk, and others run forward or backwards and on or off stage. With regularity, women jump boldly into men's arms, or switch roles, taking the lead. The energy of their movement flows naturally through their bodies, originating – for example – in the pelvis and running like a wave through the torso until petering out in a shake of the head. Again and again, the dancers thrust one hip as they step forward, reminding me of a young John Travolta playing the sexy macho man in tight hipster jeans. These twelve dancers, though,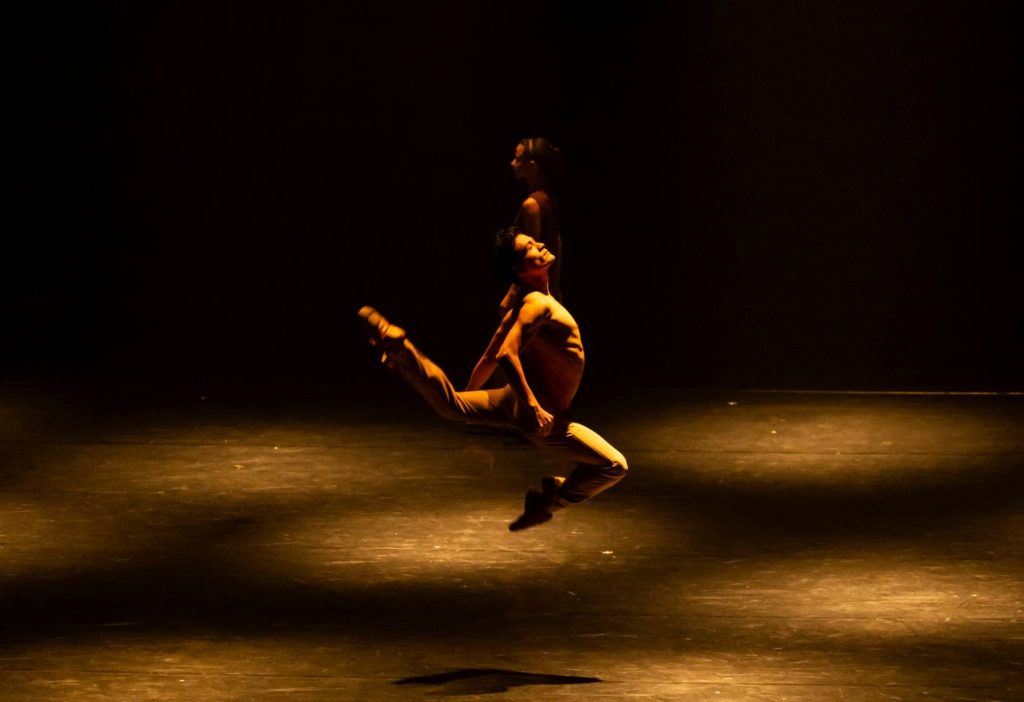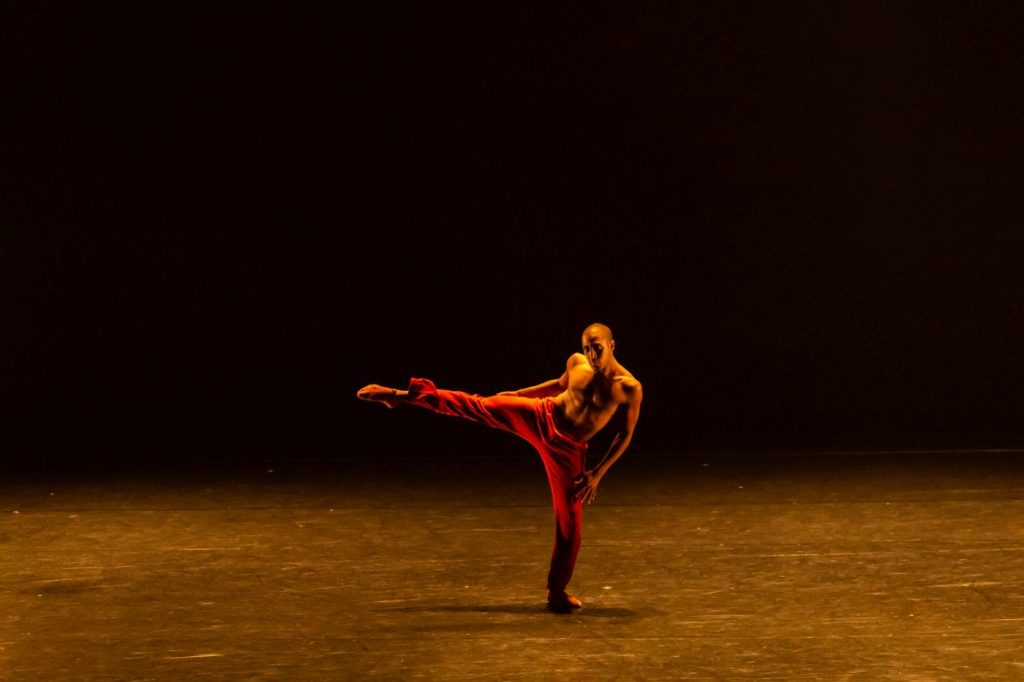 aren't wearing jeans, but instead wear earth-colored costumes – pants for the men and simple dresses for the women – designed by Janaína Castro. At times, the red lighting – sometimes dim and diffuse, sometimes rich and orangy – creates a nightclub-like atmosphere (lighting by Gabriel Pederneiras).
To the sound of an untuned piano, clittering crickets, and croaking frogs, a man and a woman meet for an erotic late-night pas de deux. Another woman, slowly circling around them, soon separates the couple, filling up the arena-like space with her solo. Later, vigorous percussion and howling squeaks drive the dancers into a quicker pace. In the final moments of the beating metronome, they return to their solitary spotlights, which switch off one after another.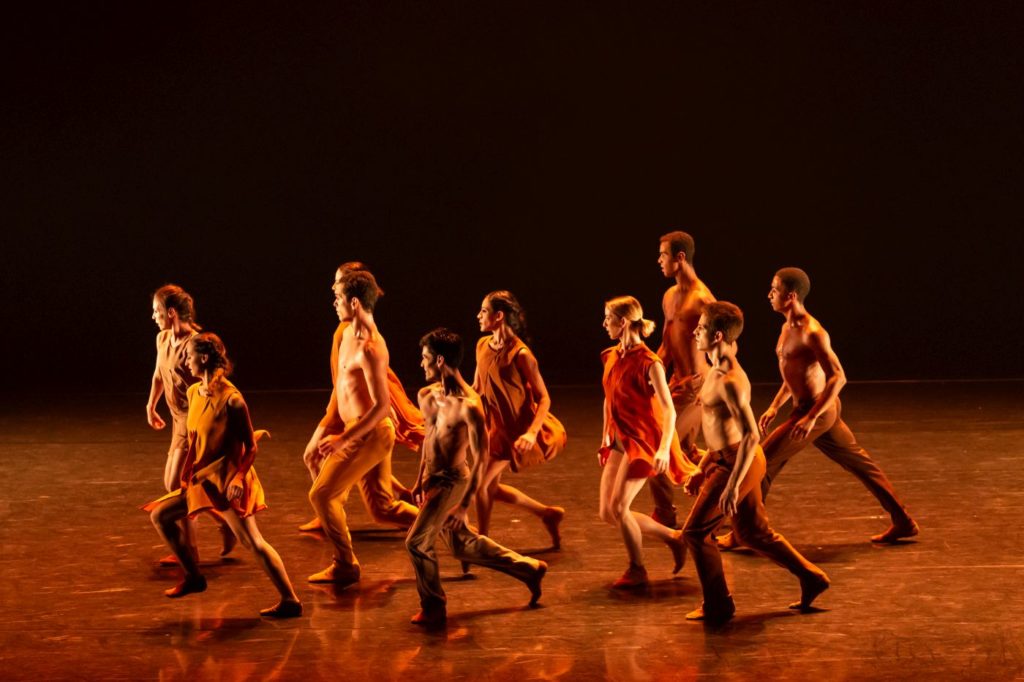 Links:

Website of the

São Paulo Dance Company

Photos:

"Giselle", October 2nd, 2021

1.

Carolina Pegurelli (Giselle), "Giselle" by Lars van Cauwenbergh after Jean Coralli and Jules Perrot

,

São Paulo Dance Company 2021 © Charles Lima

2.

Beatriz Paulino (Myrtha) and ensemble, "Giselle" by Lars van Cauwenbergh after Jean Coralli and Jules Perrot

,

São Paulo Dance Company 2021 © Charles Lima

3.

Beatriz Paulino (Myrtha) and ensemble, "Giselle" by Lars van Cauwenbergh after Jean Coralli and Jules Perrot

,

São Paulo Dance Company 2021 © Charles Lima

4.

Carolina Pegurelli (Giselle), Beatriz Paulino (Myrtha), and ensemble, "Giselle" by Lars van Cauwenbergh after Jean Coralli and Jules Perrot

,

São Paulo Dance Company 2021 © Charles Lima

5.

Vinícius Vieira (Duke Albrecht),

Carolina Pegurelli (Giselle), Beatriz Paulino (Myrtha), and ensemble, "Giselle" by Lars van Cauwenbergh after Jean Coralli and Jules Perrot

,

São Paulo Dance Company 2021 © Charles Lima

6.

Vinícius Vieira (Duke Albrecht),

Carolina Pegurelli (Giselle), and ensemble, "Giselle" by Lars van Cauwenbergh after Jean Coralli and Jules Perrot

,

São Paulo Dance Company 2021 © Charles Lima

7.

Vinícius Vieira (Duke Albrecht)

and ensemble, "Giselle" by Lars van Cauwenbergh after Jean Coralli and Jules Perrot

,

São Paulo Dance Company 2021 © Charles Lima

8.

Hiago de Castro (Hilarion) and ensemble, "Giselle" by Lars van Cauwenbergh after Jean Coralli and Jules Perrot

,

São Paulo Dance Company 2021 © Charles Lima

9.

Carolina Pegurelli (Giselle) and ensemble, "Giselle" by Lars van Cauwenbergh after Jean Coralli and Jules Perrot

,

São Paulo Dance Company 2021 © Charles Lima

"Giselle", October 3rd, 2021

10.

Thamiris Prata (Giselle) and Geivison Moreira (Duke Albrecht), "Giselle" by Lars van Cauwenbergh after Jean Coralli and Jules Perrot, São Paulo Dance Company 2021 © Fernanda Kirmayr

11.

Luciana Davi (Myrtha), "Giselle" by Lars van Cauwenbergh after Jean Coralli and Jules Perrot, São Paulo Dance Company 2021 © Fernanda Kirmayr

12.

Ensemble, "Giselle" by Lars van Cauwenbergh after Jean Coralli and Jules Perrot, São Paulo Dance Company 2021 © Fernanda Kirmayr

13.

Thamiris Prata (Giselle), Geivison Moreira (Duke Albrecht), Luciana Davi (Myrtha), and ensemble, "Giselle" by Lars van Cauwenbergh after Jean Coralli and Jules Perrot, São Paulo Dance Company 2021 © Fernanda Kirmayr

14.

Ensemble, "Giselle" by Lars van Cauwenbergh after Jean Coralli and Jules Perrot, São Paulo Dance Company 2021 © Fernanda Kirmayr

15.
Diego de Paula (Hilarion), Luciana Davi (Myrtha), and ensemble, "Giselle" by Lars van Cauwenbergh after Jean Coralli and Jules Perrot, São Paulo Dance Company 2021 © Fernanda Kirmayr

16.

Diego de Paula (Hilarion), Luciana Davi (Myrtha), and ensemble, "Giselle" by Lars van Cauwenbergh after Jean Coralli and Jules Perrot, São Paulo Dance Company 2021 © Fernanda Kirmayr

"Agora"

17.

Ensemble, "Agora" by Cassi Abranches, São Paulo Dance Company 2021 © Fernanda Kirmayr

18.

Luiza Yuk and Luan Barcelos, "Agora" by Cassi Abranches, São Paulo Dance Company 2021 © Fernanda Kirmayr

19.

Luiza Yuk and Luan Barcelos, "Agora" by Cassi Abranches, São Paulo Dance Company 2021 © Fernanda Kirmayr

20.

Nielson Souza, "Agora" by Cassi Abranches, São Paulo Dance Company 2021 © Fernanda Kirmayr

21.

Yoshi Suzuki, "Agora" by Cassi Abranches, São Paulo Dance Company 2021 © Fernanda Kirmayr

22.

Ensemble, "Agora" by Cassi Abranches, São Paulo Dance Company 2021 © Fernanda Kirmayr

Editing:
Jake Stepansky