"Im Siebten Himmel" ("In Seventh Heaven"): "Marsch, Walzer, Polka" / "Fly Paper Bird" / "Symphony in C")
Vienna State Ballet
Vienna State Opera
Vienna, Austria
November 14, 2021 (live stream)
by Ilona Landgraf
Copyright © 2021 by Ilona Landgraf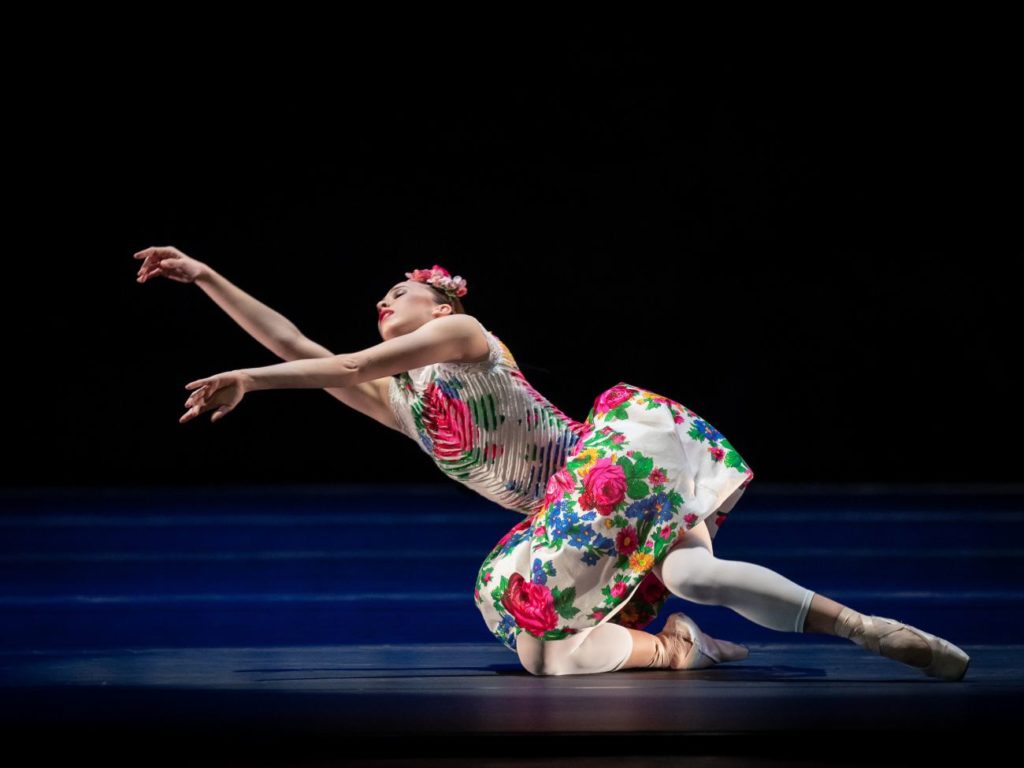 "Im Siebten Himmel" ("In Seventh Heaven"), the Vienna State Ballet's second new triple bill this season, follows the formula of the previous one: one piece by Balanchine + one by Martin Schläpfer (the company's artistic director) + one by a contemporary choreographer. Last time, this third choreographer was Ratmansky; this time, it's Marco Goecke.
For the music, Schläpfer's "Marsch, Walzer, Polka" – created for the Ballett Mainz in 2006 – was a fitting choice. What could be more engaging for the Viennese audience than popular melodies by Johann Strauss I and his two sons, Josef and Johann? Schläpfer uses "The Blue Danube", "Annen- Polka", "Sphärenklänge", and "Radetzky March" – and, to expand the existing choreography, draws in the "New Pizzicato-Polka" as well. The costumes – extravagant versions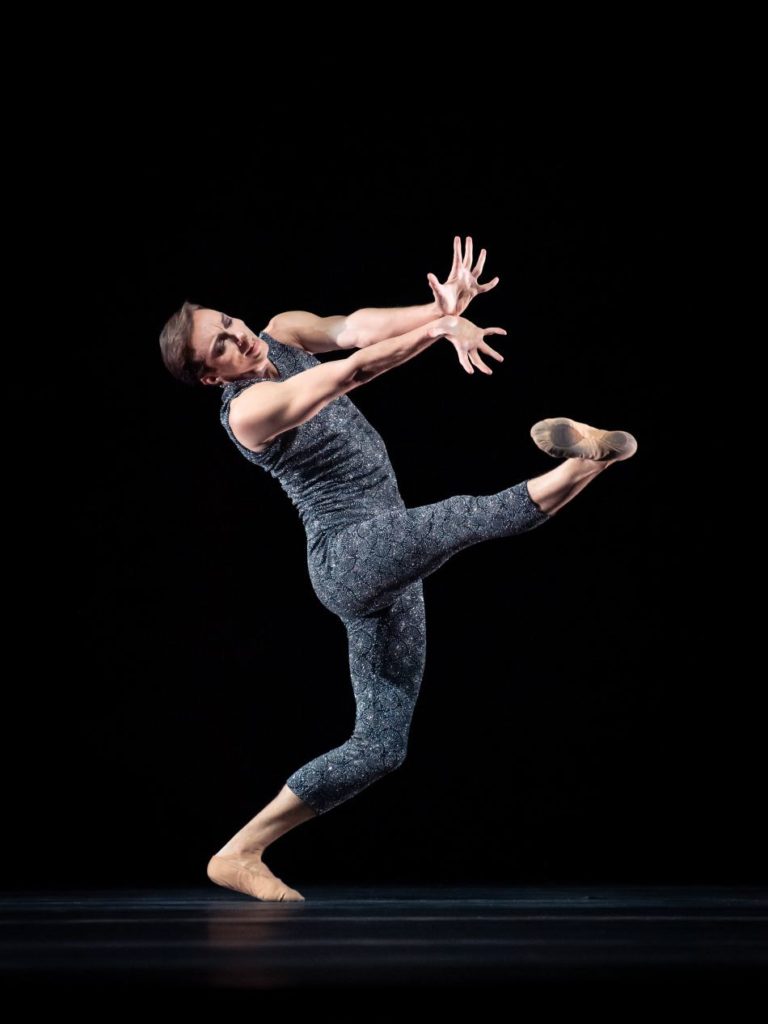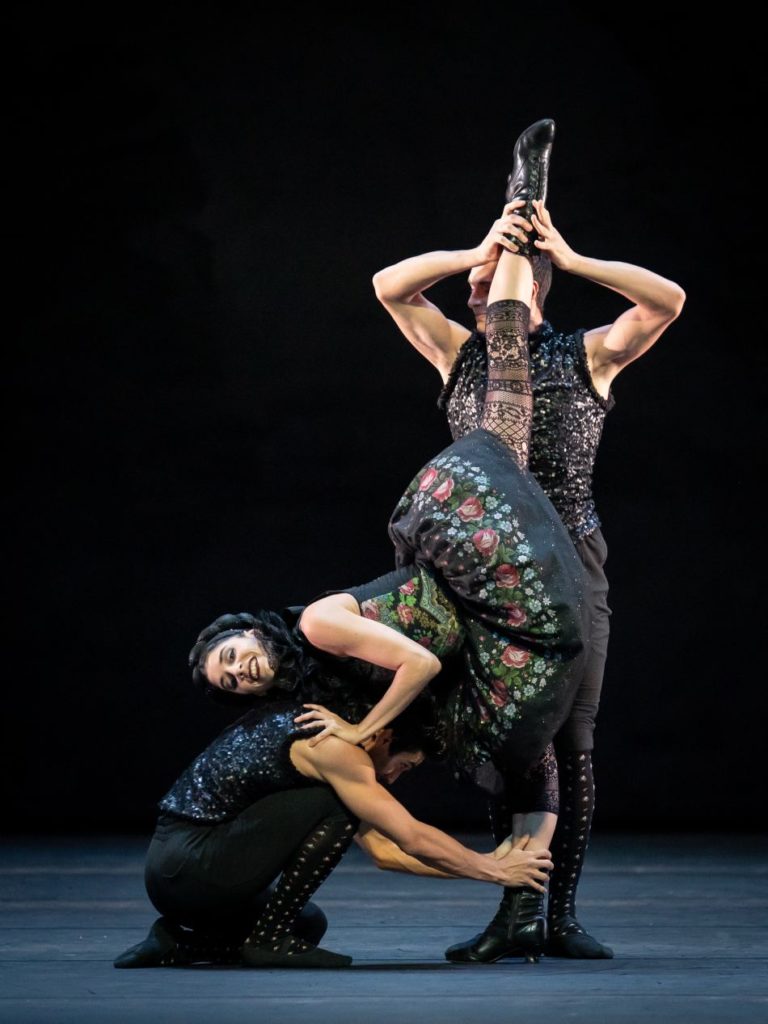 of traditional Alpine fashion pieces, lace dresses, and skintight, glittery outfits designed by the Viennese couturier Susanne Bisovsky – were new as well. The brocade, tulle, feathers, sexy lace stockings, bold patterns, and Black Forest headdresses added a great deal to Schläpfer's parodistic assault on dance culture.
Ketevan Papava's solo on a blue-lit floor (the Danube river?) looked like an alpine maid's failed attempt to dance like an elegant lady. Sveva Gargiulo, sporting a puffy skirt with bright floral print, lies prone, swaying her arms and legs up and down like an angry, petulant child. Lourenço Ferreira tries to comfort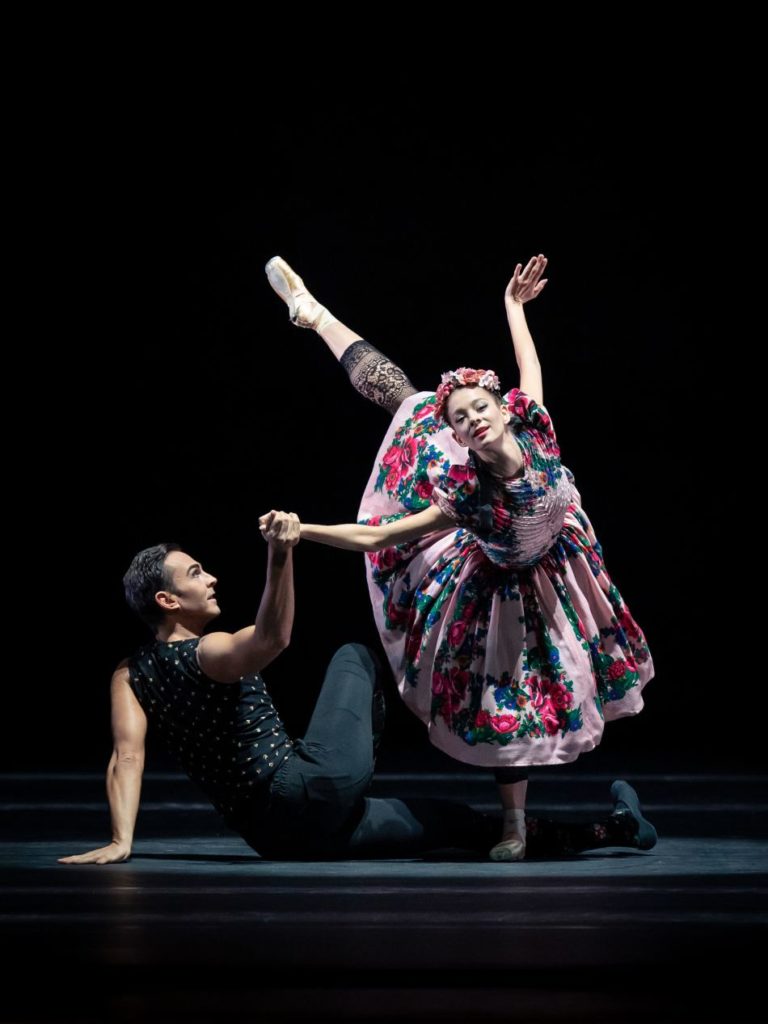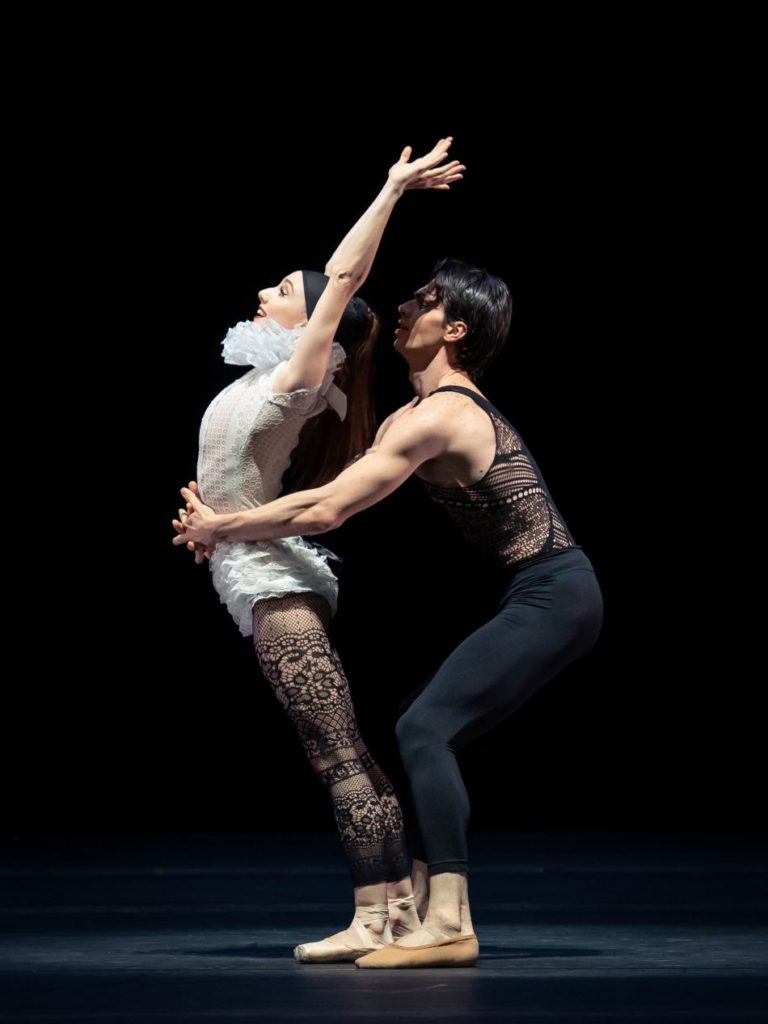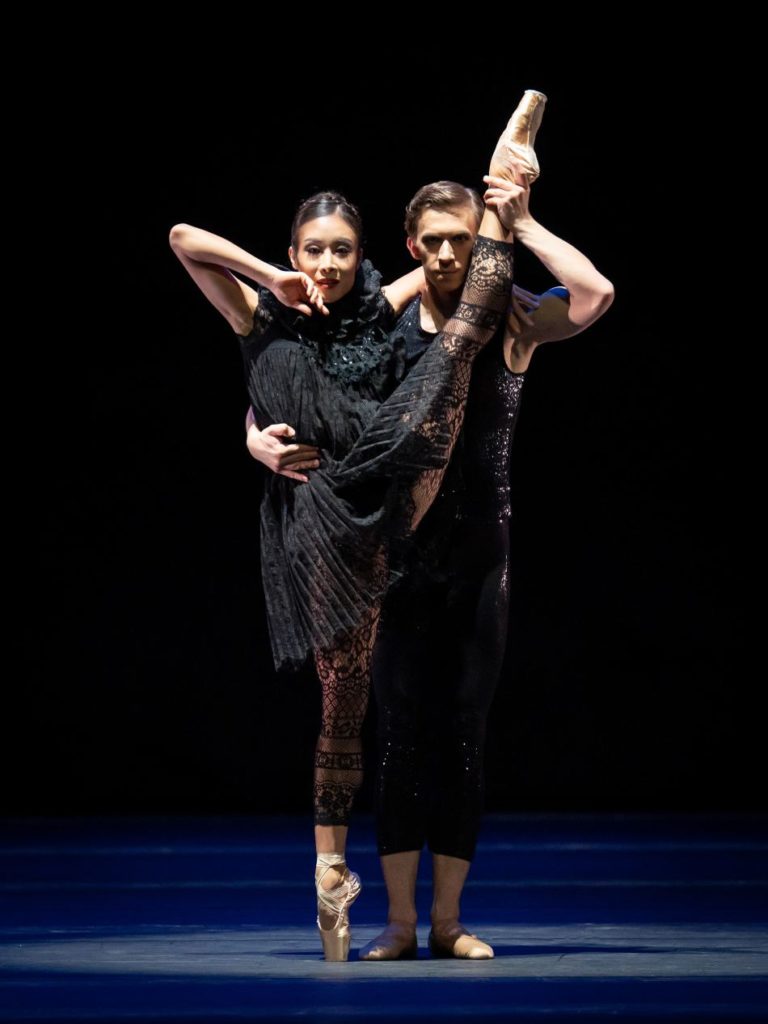 her, but in vain. He wears sleek, shiny black pants and moves so stiffly that it's as if he was made by Dr. Coppélius. Gargiulo wails, is later dragged across the floor like a bag of flour and and finally stays down, lying flat as a pancake. Over and over, women turn in place like the musical clocks offered in souvenir shops. At times, they are acrobatically manipulated like puppets. At others, they squat down, legs apart, and stick their bottoms out. Men give one another piggyback rides and stand hip to bottom, jerking and bending their torsos suggestively at one another.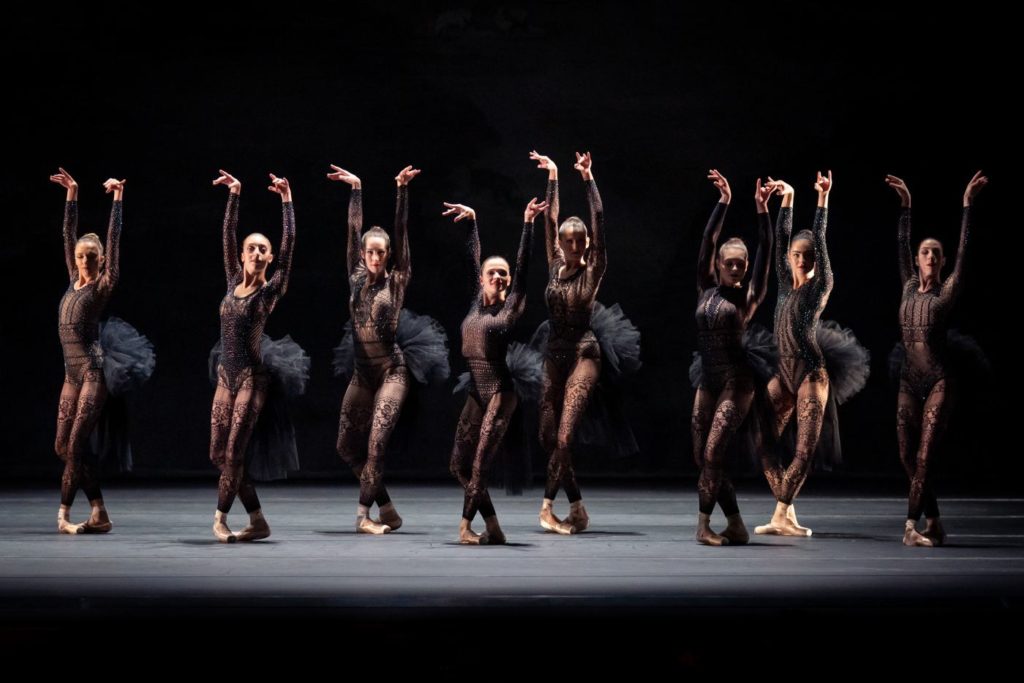 One group lets their fingers dance on the floor before grinning towards the audience. Two dancers embrace one another, while others gaze towards heaven or dance alone, their arms holding non-existent partners. A group of ballerinas in black lace tricots featuring black feather plumes strides stiff-leggedly, tapping their pointe shoes against the floor as if pounding on a table. Other shoe-noises evoke a Schuhplattler dance.
In the final Radetzky March, Jackson Carroll – wearing an all-black outfit that includes fur boots, a feather collar, and aiguilettes – satirizes a neurotic member of the military, bowing hyper-frantically,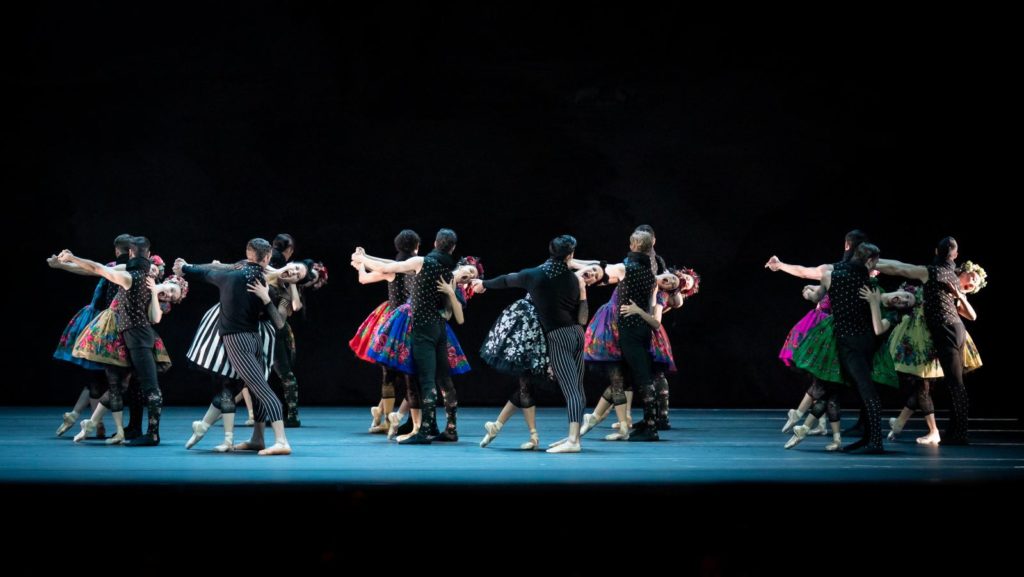 saluting in a staccato fashion, and shaking the hands of an imaginary on-stage audience. He stares furiously into the abyss, shouting inaudibly, his mouth wide open, gesticulating wildly until he trembles and runs in a circle. Even as the music ends, he continues his routine like a wound-up automaton.
Schläpfer's humor isn't quite mine and I found his choreography to be startlingly unimaginative and shallow. In the most swooshing of musical passages, his dancers move at glacial pace, or even stand motionless. More often than not, his dancers look clumsy and ungainly. Is this the direction that he wishes the company to take?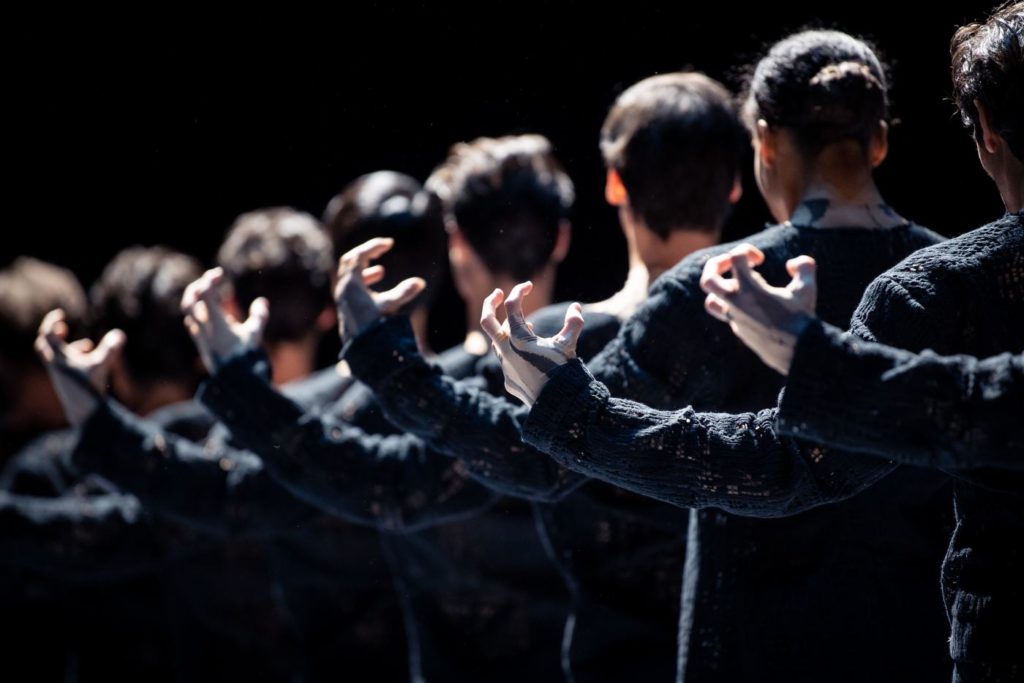 If you commission a piece by Goecke, you know what style and look you'll get. His new "Fly Paper Bird" is no exception. Mist wafts across a modestly lit arena at the center of a dark stage. The costumes are predominantly black. Goecke's dancers – three women and eight men – perform quick, ultra-precise movements, their limbs cutting sharply through the air. Joints jerk mechanically as the dancers move from one edgy position to another. Arms and hands flutter nervously or tremble out of sheer tension; fingers distort into frozen claws as if paralyzed. Small scuttling steps alternate with grand swooshing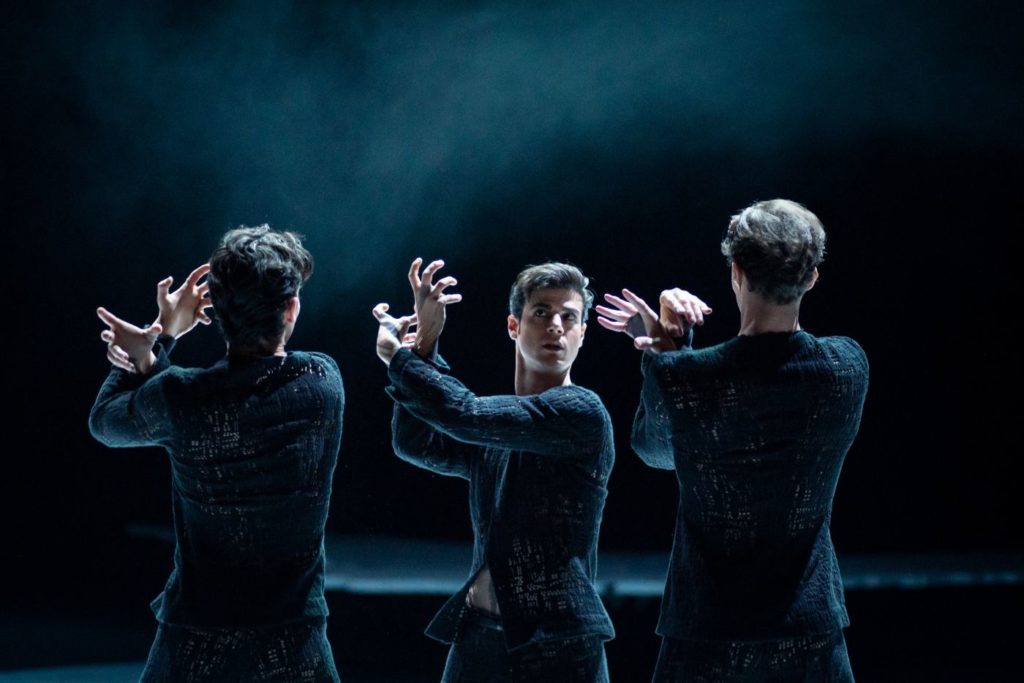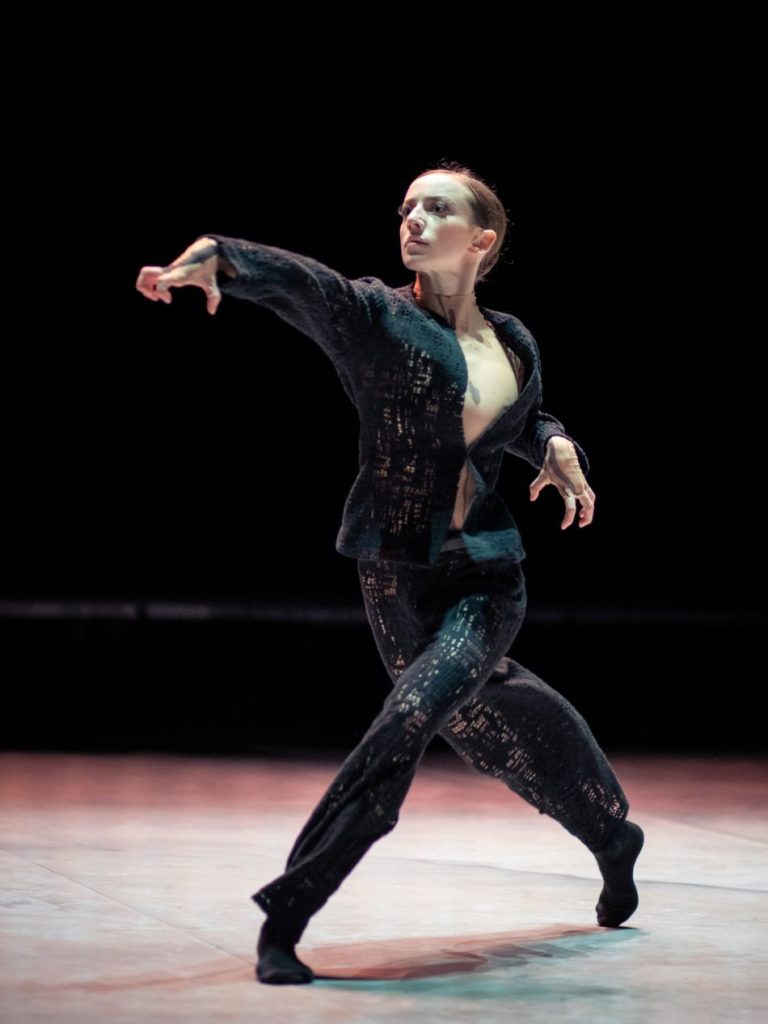 ones. Watching a piece by Goecke usually makes me think of dancing robots, but that's actually not a fair evaluation – robots are emotionless, whereas Goecke's dancers seem to be exhausting all of their willpower and muscular strength to tamp down their feelings. Their energy is consistently high-voltage – and they over-contort every tiny move.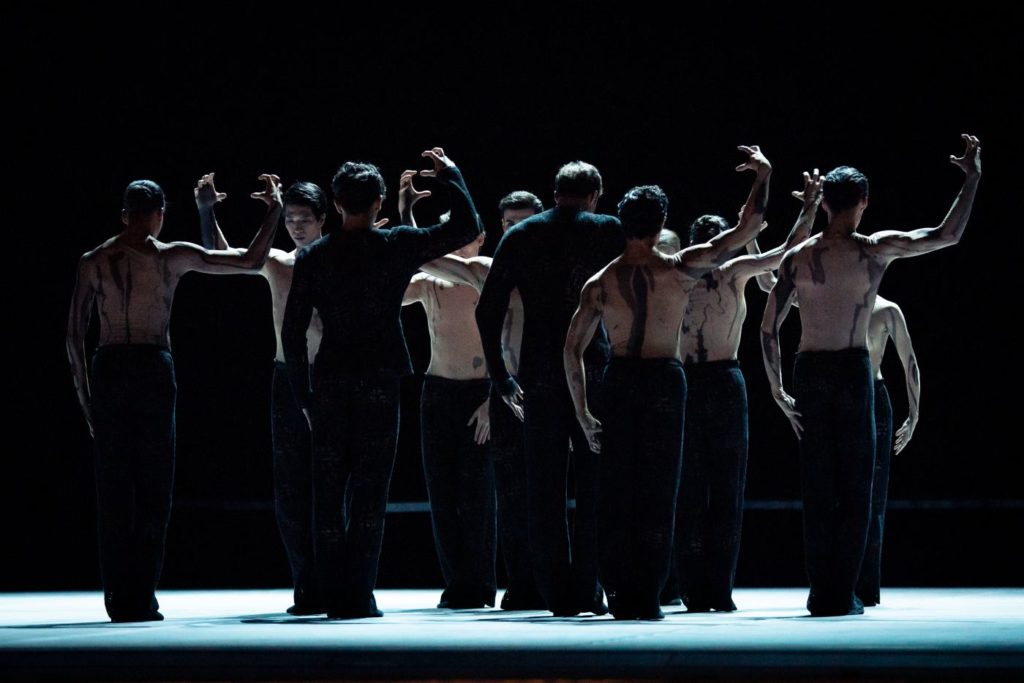 The music chosen by Goecke – two movements of Gustav Mahler' Symphony No. 5: "Stürmisch bewegt" and "Adagietto" – is in bizarre contrast to the choreography. Even though hope looms faintly on the horizon – a promising hint of dawn light, a huge white (paper?) pigeon flying into the distance – his dancers find neither peace nor freedom, let alone experiencing a Mahler-ian apotheosis. Instead, they laugh hysterically when all but one man magically disappear into a crevice that suddenly opens out in the rear (the entrance to Dante's hell?). Soon afterwards, they hurry one-by-one to the front of the stage, facing the audience and gaping like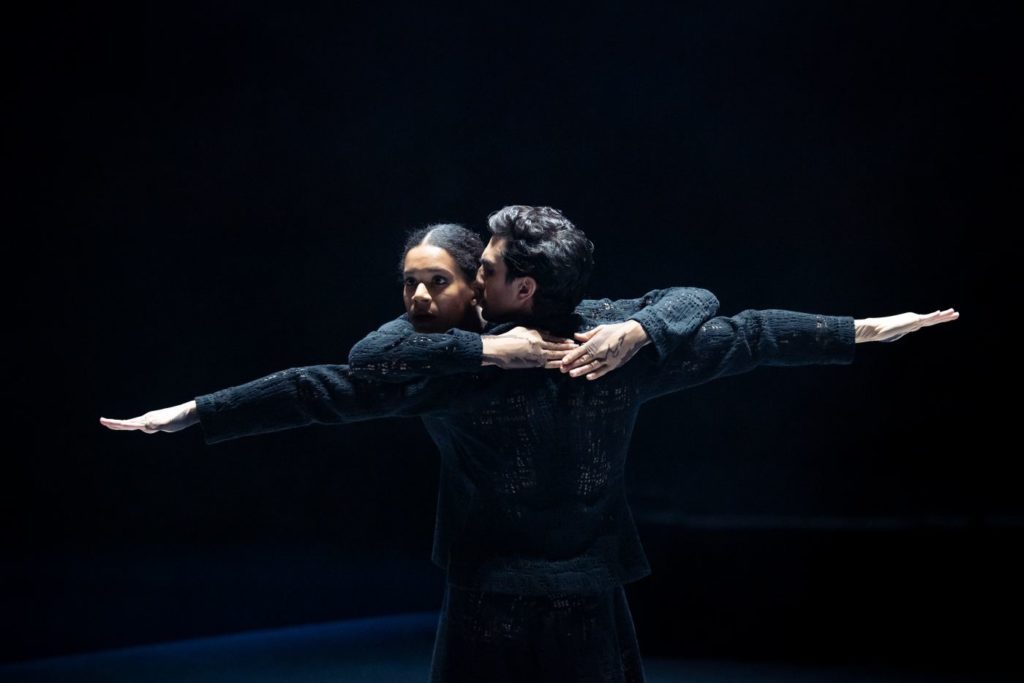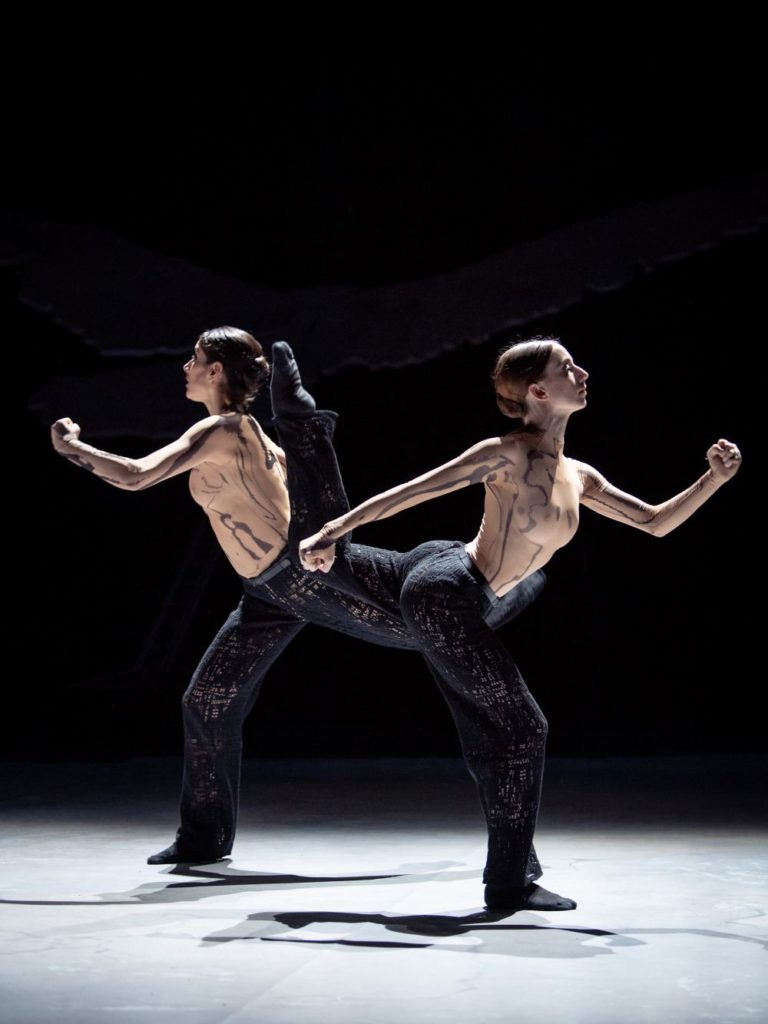 desperately hungry birds. Their outstretched arms resemble faltering sails; their bodies shake from convulsions. Even though Rebecca Horner's hissing voice re-assures Daniel Vizcayo that Whatever happens: you know your time, my bird. You fly through the mist to me (lines taken from Ingeborg Bachmann's poem "Mein Vogel") – none of them will ever spread their wings and escape their depressing existence.
The company performed excellently, paying great attention to detail.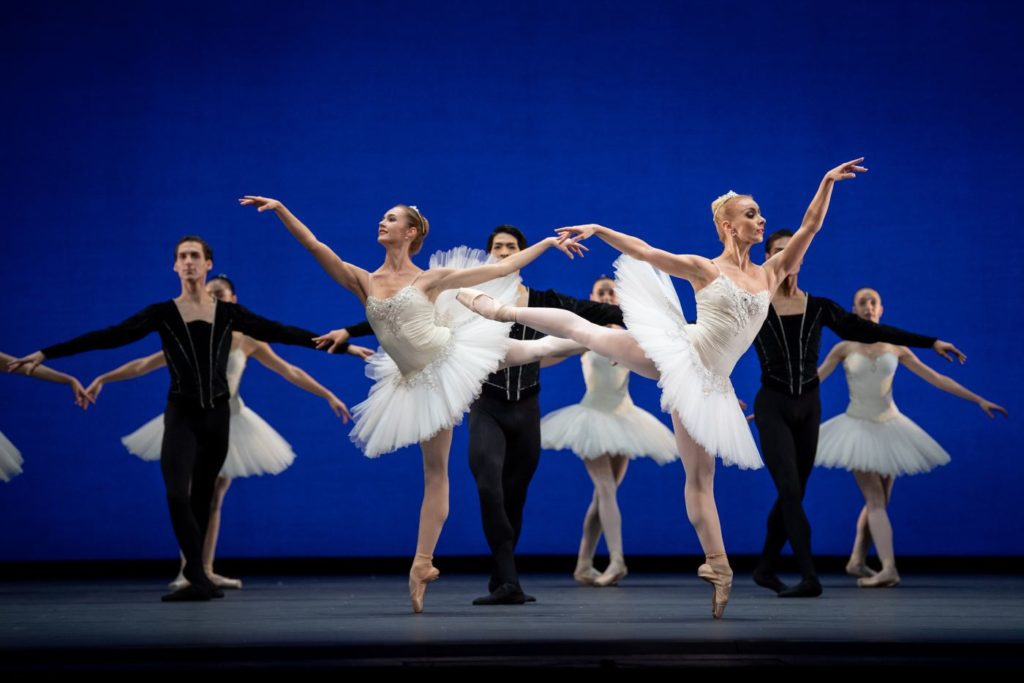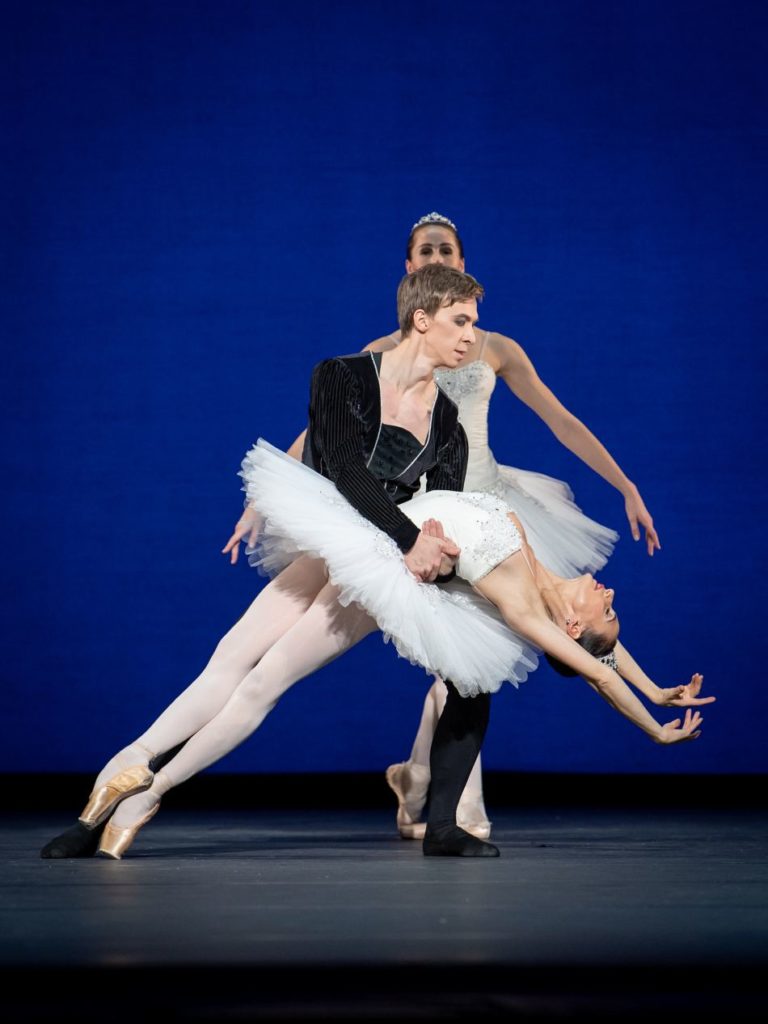 Watching the first movement of "Symphony in C", I wondered whether Schläpfer's style still lurked in the dancers' bones. The leading couple, Hyo-Jung Kang and Masayu Kimoto, delivered solid performances, as did the male soloists. However, the female corps tossed aside their elegance and met the choreography's challenges with sporty vigor, kicking their legs, hectically switching arm positions, and slumping onto their knees when kneeling. Although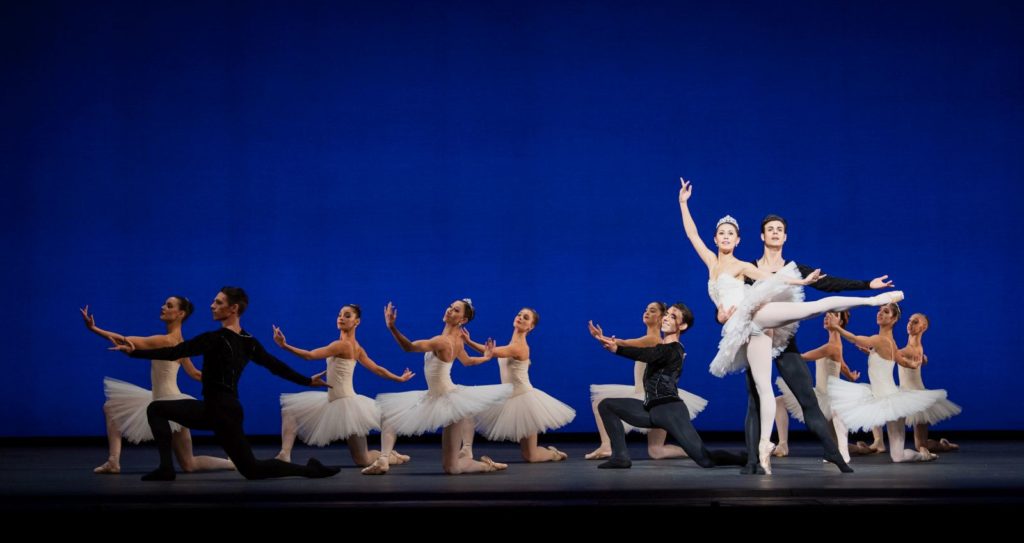 their performances improved in the following sequences, it would haven been nice for the group to be more in line and in sync. Clean, precise technique and stalwart stamina are key to making this ballet sparkle.
Of the leading couples, Liudmila Konovalova and Alexey Popov display smooth elegance, having mastered the adagio's nose-to-knee penchè and performing it with steely calm. Kiyoka Hashimoto and Davide Dato inject effervescent pizzazz into the third movement, followed by the fleet-footed Sonia Dvořák and Roman Lazik.
The orchestra of the Vienna State Opera, with Patrick Lange at the conductor's desk, played with aplomb.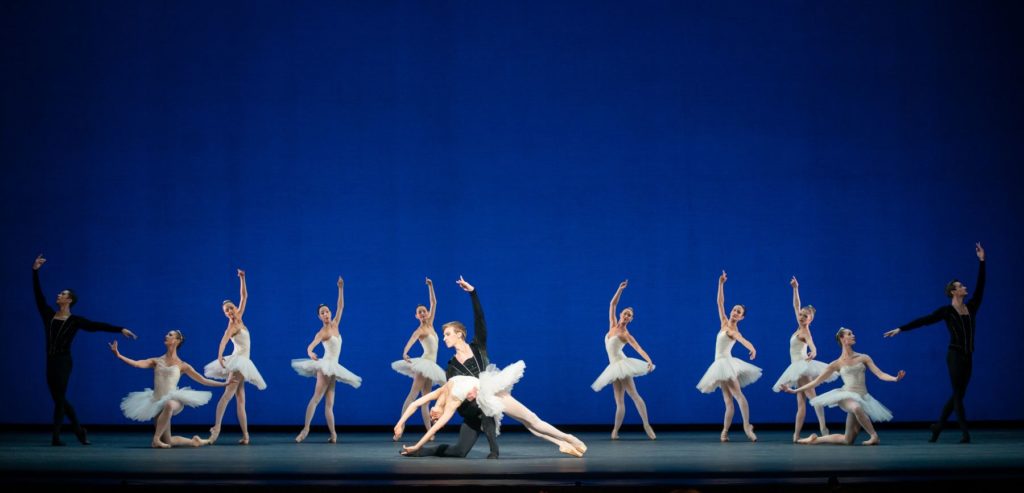 Links:
Website of the Vienna State Ballet
Interview with Martin Schläpfer (video)
Rehearsal of "Fly Paper Bird" (video)

Photos:

1.

Sveva Gargiulo, "Marsch, Walzer, Polka" by Martin Schläpfer,

Vienna State Ballet

2021

 

2.

Daniel Vizcayo, Adi Hanan, and Gaspare Li Mandri, "Marsch, Walzer, Polka" by Martin Schläpfer, Vienna State Ballet 2021

 

3.

Marcos Menha, "Marsch, Walzer, Polka" by Martin Schläpfer, Vienna State Ballet 2021

 

4.

Igor Milos and Eszter Ledán, "Marsch, Walzer, Polka" by Martin Schläpfer, Vienna State Ballet 2021

 

5.

Fiona McGee and Calogero Failla, "Marsch, Walzer, Polka" by Martin Schläpfer, Vienna State Ballet 2021

 

6.

Hyo-Jung Kang and Alexey Popov, "Marsch, Walzer, Polka" by Martin Schläpfer, Vienna State Ballet 2021

 

7.

Ensemble, "Marsch, Walzer, Polka" by Martin Schläpfer, Vienna State Ballet 2021

 

8.

Ensemble, "Marsch, Walzer, Polka" by Martin Schläpfer, Vienna State Ballet 2021

9.

Ensemble, "Fly Paper Bird" by Marco Goecke, Vienna State Ballet 2021

10.

Duccio Tariello, Davide Dato, and Marcos Menha, "Fly Paper Bird" by Marco Goecke, Vienna State Ballet 2021

11.

Fiona McGee, "Fly Paper Bird" by Marco Goecke, Vienna State Ballet 2021

12.

Ensemble, "Fly Paper Bird" by Marco Goecke, Vienna State Ballet 2021

13.

Rebecca Horner and Daniel Vizcayo, "Fly Paper Bird" by Marco Goecke, Vienna State Ballet 2021

14.

Adi Hanan and Fiona McGee, "Fly Paper Bird" by Marco Goecke, Vienna State Ballet 2021

15.

Liudmila Konovalova, Alexey Popov, and Alexandra Inculet, "Symphony in C" by George Balanchine © The George Balanchine Trust, Vienna State Ballet 2021

16.

Elena Bottaro, Aleksandra Liashenko, and ensemble, "Symphony in C" by George Balanchine © The George Balanchine Trust, Vienna State Ballet 2021

17.

Kiyoka Hashimoto, Davide Dato, and ensemble, "Symphony in C" by George Balanchine © The George Balanchine Trust, Vienna State Ballet 2021

18.

Liudmila Konovalova, Alexey Popov, and ensemble, "Symphony in C" by George Balanchine © The George Balanchine Trust, Vienna State Ballet 2021

all photos © Vienna State Ballet / Ashley Taylor

Editing:
Jake Stepansky