"The Dante Project"
The Royal Ballet
Royal Opera House
London, Great Britain
December 20, 2021 (online broadcast)
by Ilona Landgraf
Copyright © 2021 by Ilona Landgraf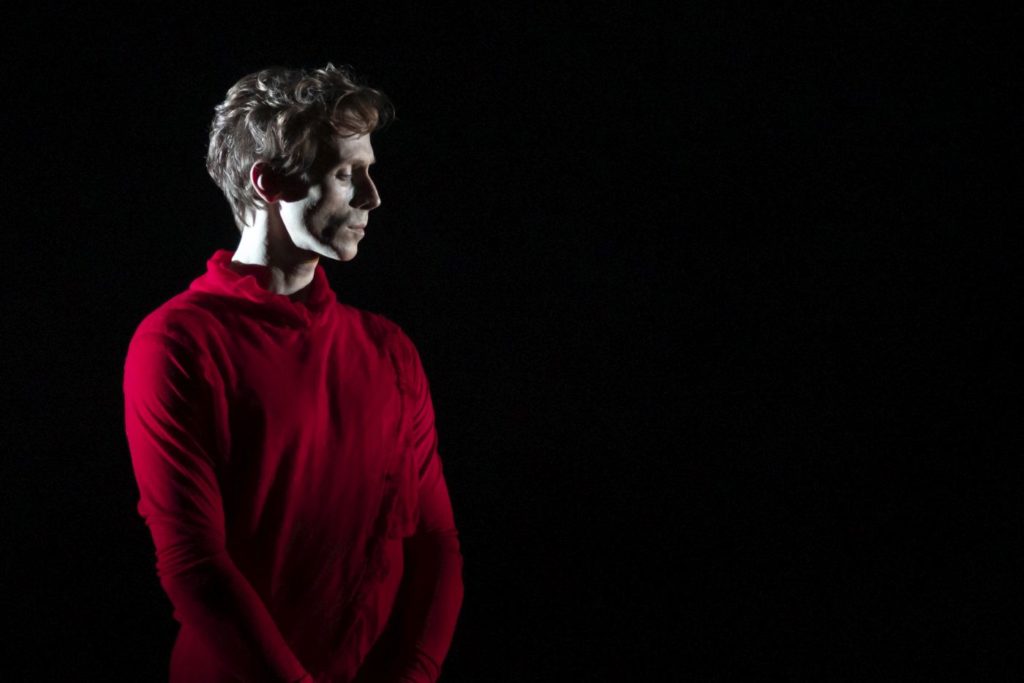 Over two years after the Royal Ballet danced the first act of Wayne McGregor's "The Dante Project" at its premiere in Los Angeles, the piece was finally completed this season and presented in London at its full-evening length. The ballet is based on two works by Dante Alighieri: his epic "Divine Comedy" (1320) – whose three-part structure the ballet adopts – and "La Vita Nuova" (1294), an early work that deals with Dante's lifelong platonic love for Beatrice di Folco Portinari. The score was commissioned by composer Thomas Adès, a longtime collaborator of McGregor's.
How would Dante's pilgrimage from hell to heaven be brought to the dance floor? What would color Edward Watson's performance in the role of Dante after two years of waiting for this farewell performance? As if to build anticipation, the eagerly awaited online broadcast, originally scheduled for early November, was postponed to December 20th. It'll be available as video-on-demand until January 19th, 2022.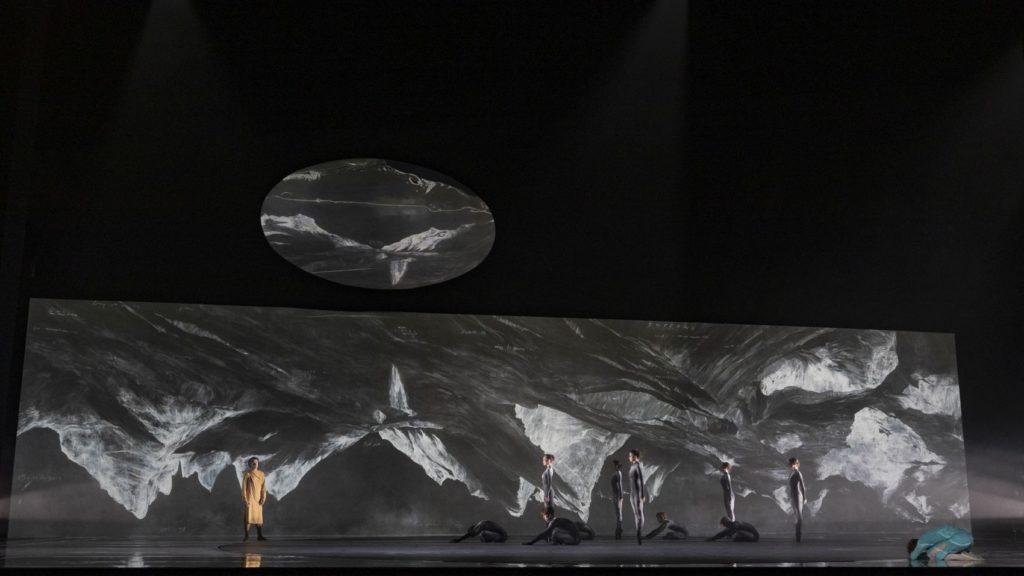 There's no question that Dante was … resourceful, to say the least, as he went about inventing his varied tortures. Across nine circles of hell, the sinners are exposed to fiery rain, terrible storms, putrid slush, foul waters, flaming tombs, rivers of boiling blood, freezing, a ceaseless whipping, 180°-head-twists, dismemberment, leaden weights, hungry predators, and an eternity spent between the grinding jaws of Satan (to name only a few). McGregor's first act – "Inferno: Pilgrim" – materializes zero of them. In fact, his hell doesn't appear all that threatening. Visual artist Tacita Dean chose grays (some shimmery, graphite-like, some dark) as the dominant color for the costume designs (skintight full-body leotards, their patchy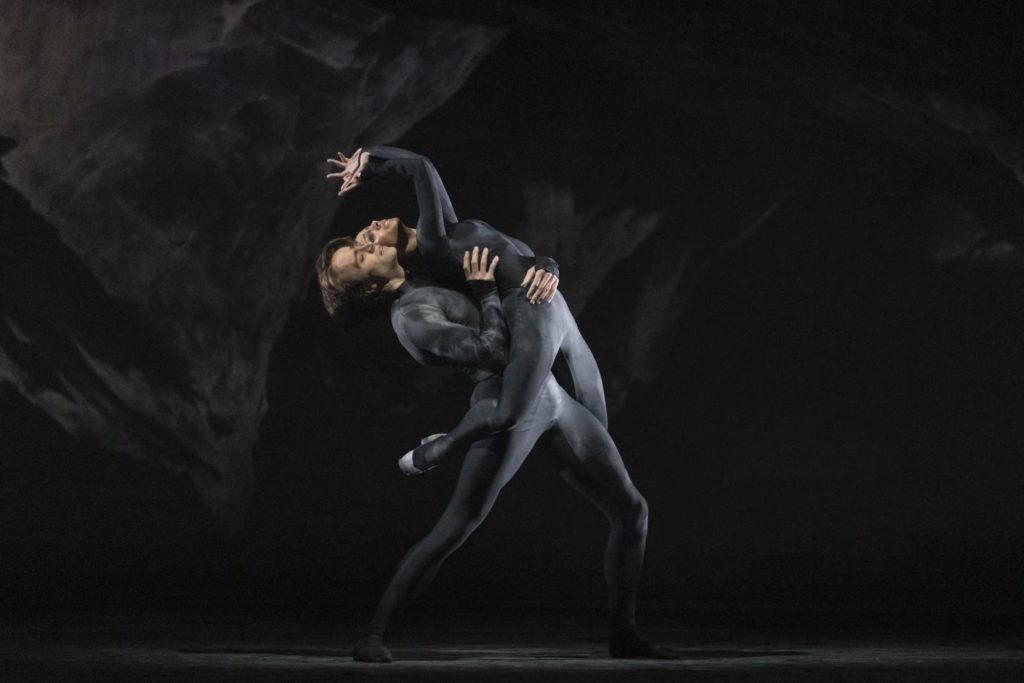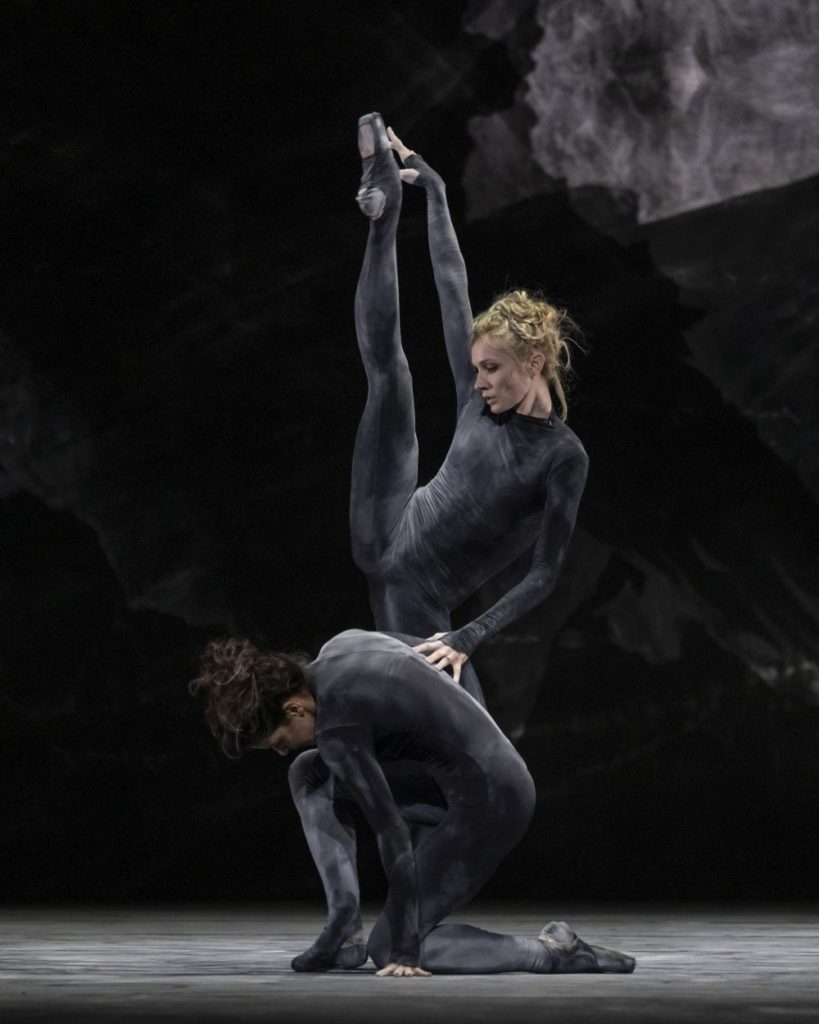 patterns signaling the stains of misdoing) and backdrop (a forest, the rock-girded river Acheron, and a grotto-like space). Darkness pushes down from above to confine us in the space; fog and dim lighting by Lucy Carter and Simon Bennison limit our sight. For the music of hell, Adès took inspiration from Franz Liszt.
Gently guided by Virgil (Gary Avis), Dante (Edward Watson) enters Hades with the help of the resolute, no-kid-gloves ferryman, Charon (Marcelino Sambé, sporting an unkempt, felted mane). Among the many sinners encountered by Dante in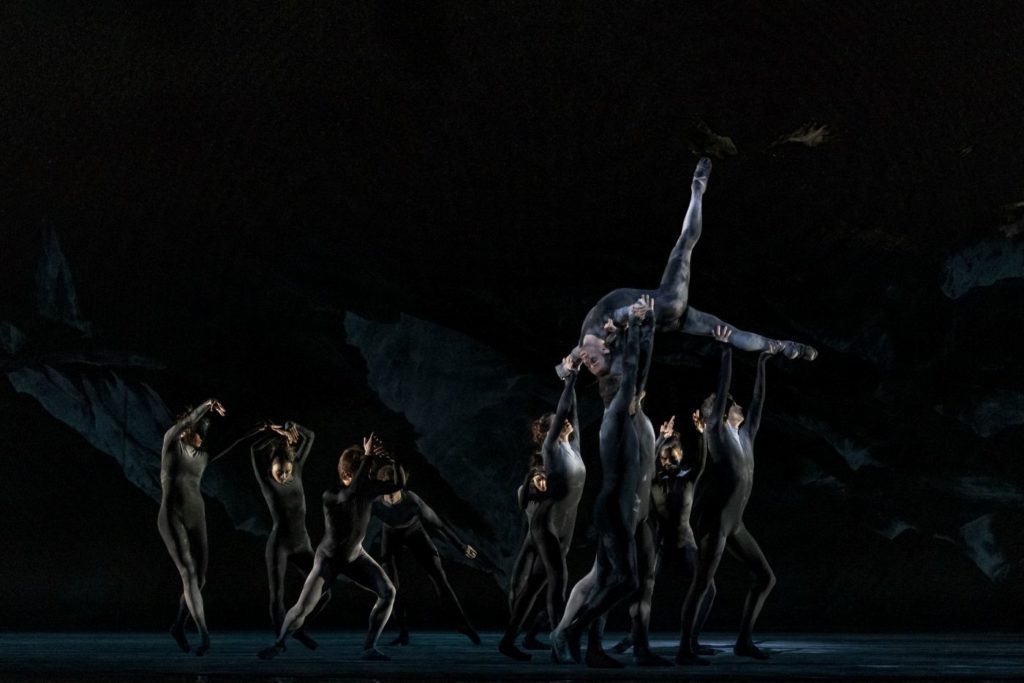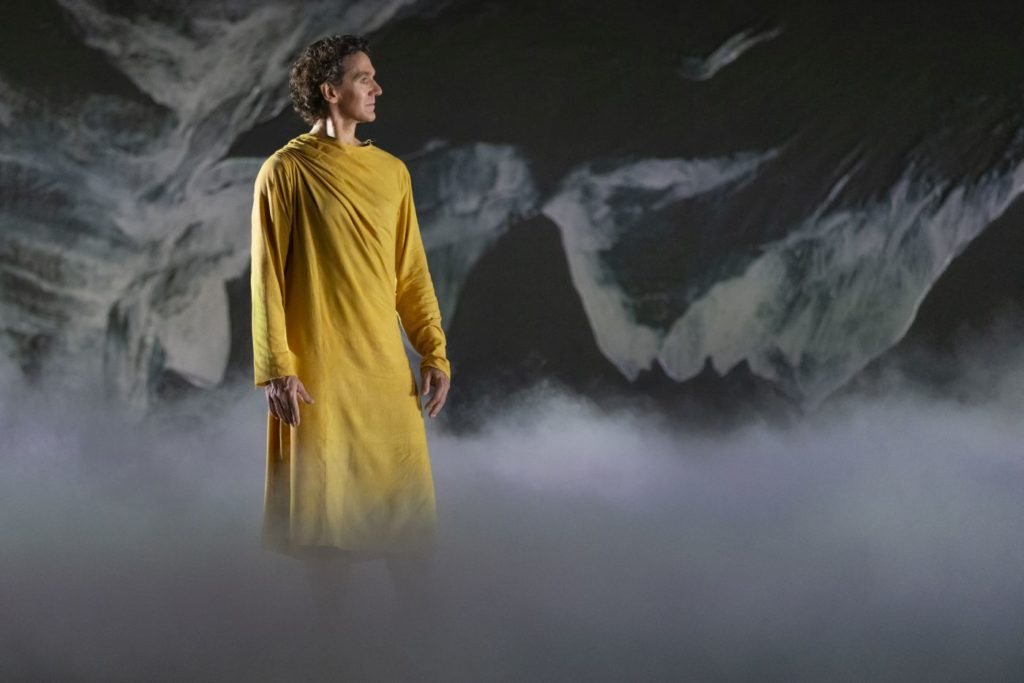 succession (one depicted by Yasmine Naghdi) are the egoists, the poets-in-limbo, the weighed down couples moving through the stations of the cross, and the infidel Francesca da Rimini (Francesca Hayward), whose intense relationship with Paolo Malatesta (Matthew Ball) hovers between love and manipulation. Ulysses (Calvin Richardson), undulating his body like a limber snake, is being punished for creating the Trojan Horse. He wriggles in the dust on the floor, showing no obvious signs of remorse. There are four wrathful women whose punishment is that they must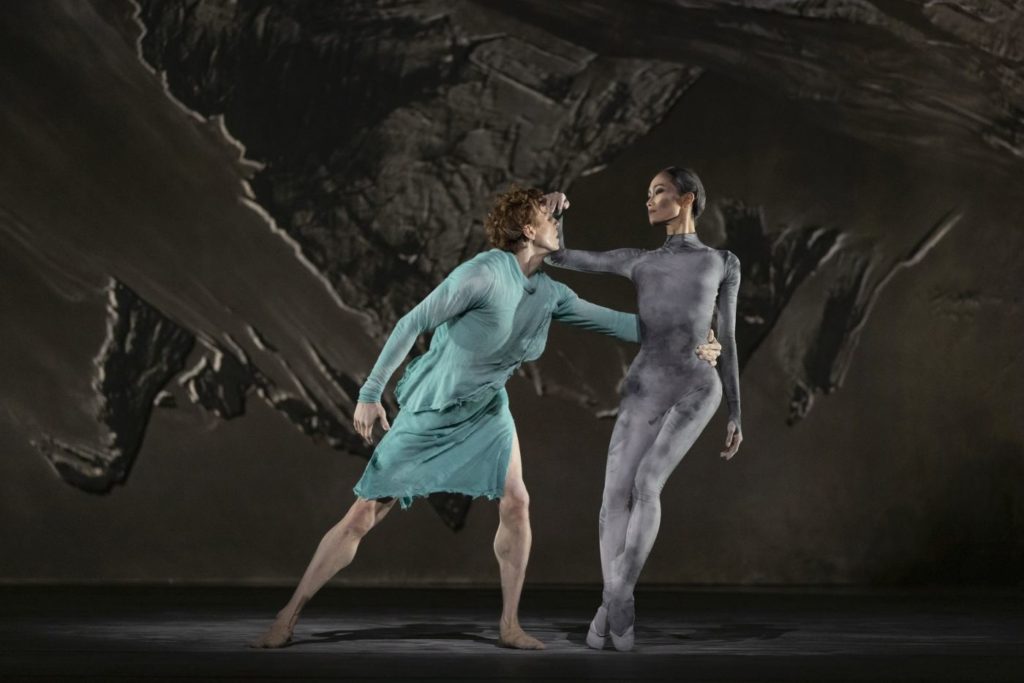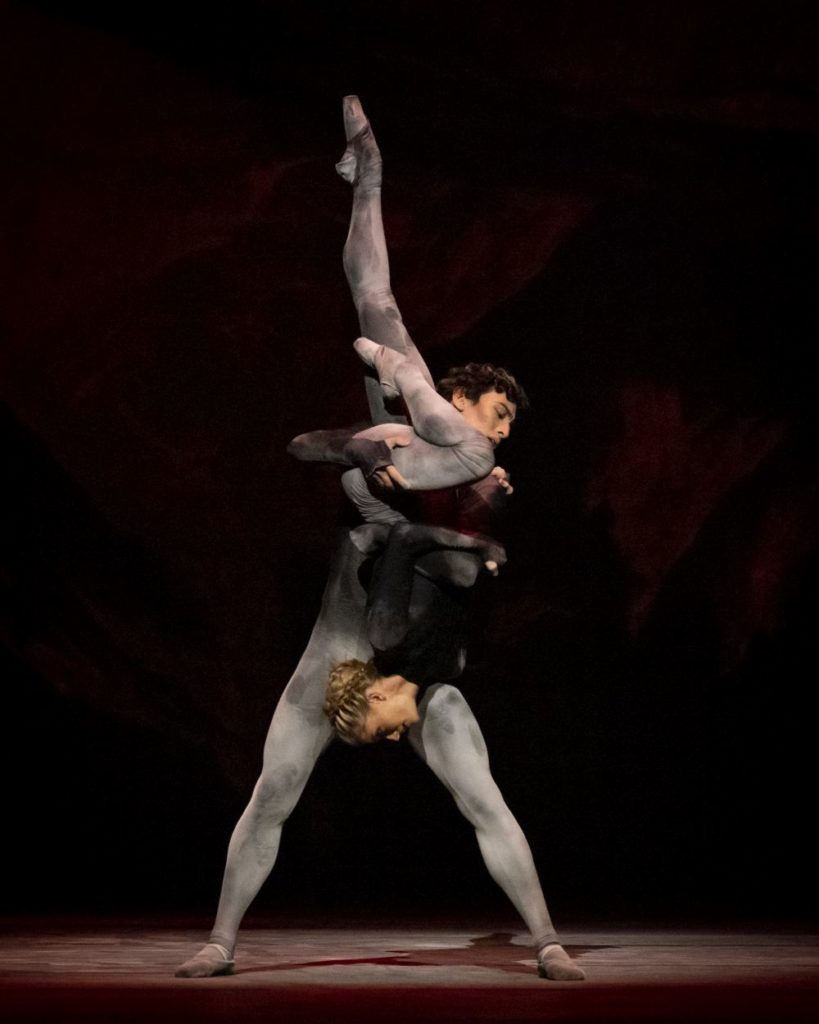 continue their lifetime of nastiness and in-group harassment in the afterlife. One group of dancers stands tall, hardly moving, their arms folded closely in front of the chests, hands twitching hectically – these are the victims of suicide, and have been transformed into thorny trees and fed upon by Harpies (the latter is omitted by McGregor). The forlorn Dido (Anna Rose O'Sullivan) joins them by slitting her wrists and stabbing herself when Aeneas (Luca Acri) leaves her. James Hay as an arrogant, lascivious pope throws seductive glances at Dante, who carries Hay in his arms before finding his strength and moral clarity and aggressively repelling him. The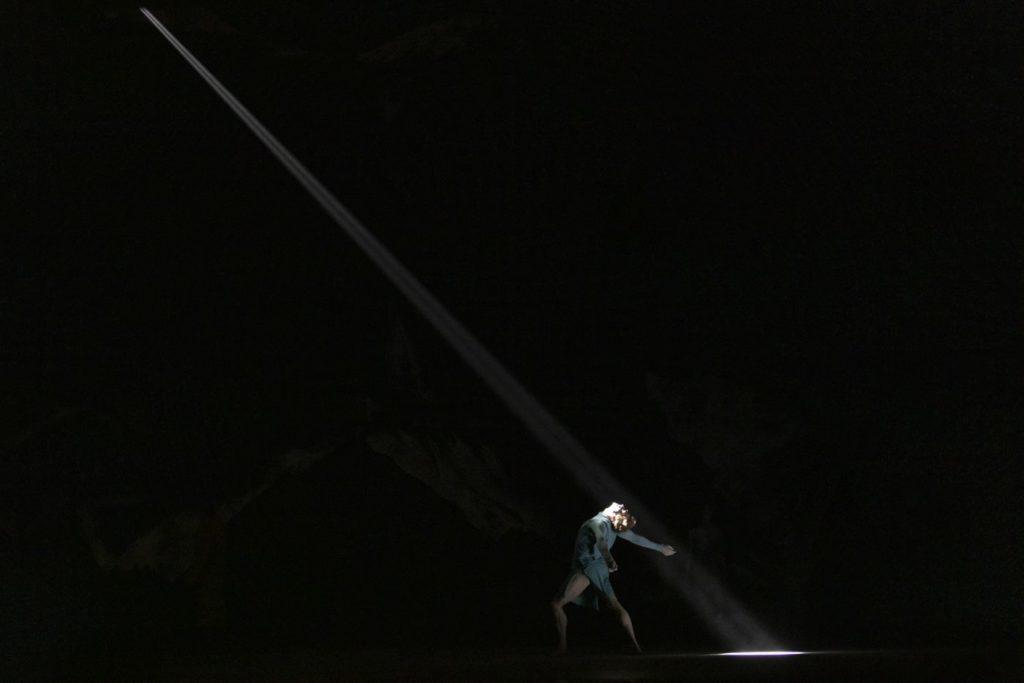 androgynous Satan of Fumi Kaneko poses another erotic trial; she clings to Dante like an odious magnet. I found it incomprehensible that two soothsayers (Joseph Sissens and Paul Kay) would perform an amusing slapstick-duet to cabaret-like musical accompaniment and that a group of thieves would jump and turn happily to snappy music amidst the thickening fog. I hadn't expected hell to be so fun. Fortunately, Dante's spontaneous reactions to each scene guided our interpretation. As he watched from the sidelines, we saw him collapse and crawl to the wretched souls on all fours, head bowed. He held his aching heart, pleading for mercy from above – but in vain. Only when a blazing ray of light cut through the pitch-black darkness did Dante find a sliver of hope.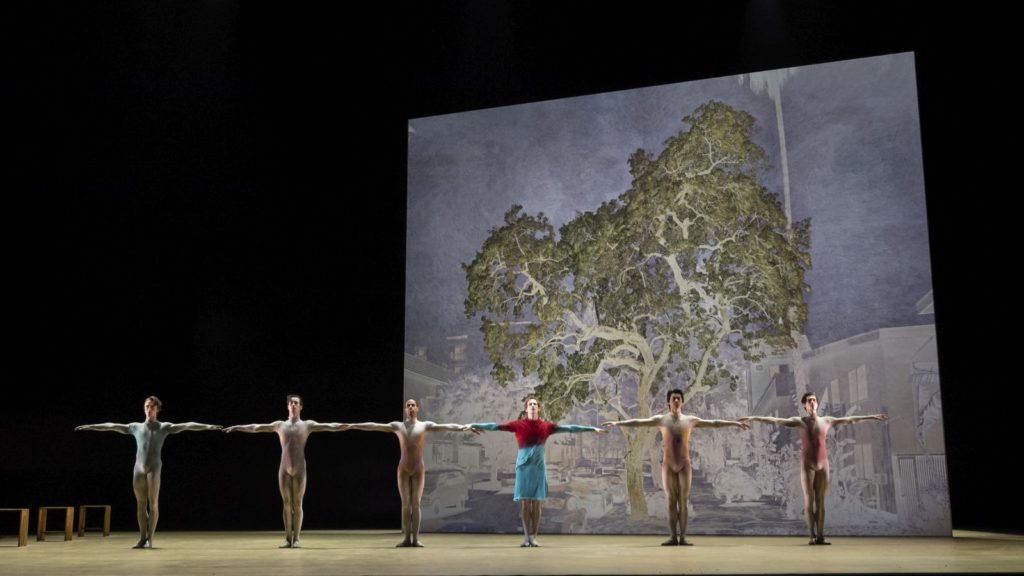 Act II – "Purgatorio: Love" – shimmers with serene, monastery-like energy. The lighting alternates between gentle and overcast. Here, the penitents work off their misdeeds (symbolized by the transformation of the colorful stains on their skin-colored leotards into clouds of fine dust) by patiently repeating ritualistic movements. This work is accompanied by unvarying Jewish hymns and looks exhausting. As the group sits down to rest, Dante remembers his love for Beatrice – how it blossomed in young age and deepened, but was never realized before her premature death. On the backdrop, an enormous green-leafed tree slowly turns autumnal as his memory wanders from their playful childhood catch-me games (young Beatrice: Rose Milner; young Dante: Lewis Chan) to the luscious joie de vivre of their adolescent dances. Though the adolescent Dante (Marco Masciari) is in high spirits, adolescent Beatrice (Francesca Hayward) suddenly wants to explore her own path and gives him the cold shoulder. This painful memory singes Dante's aged body like fire. His soul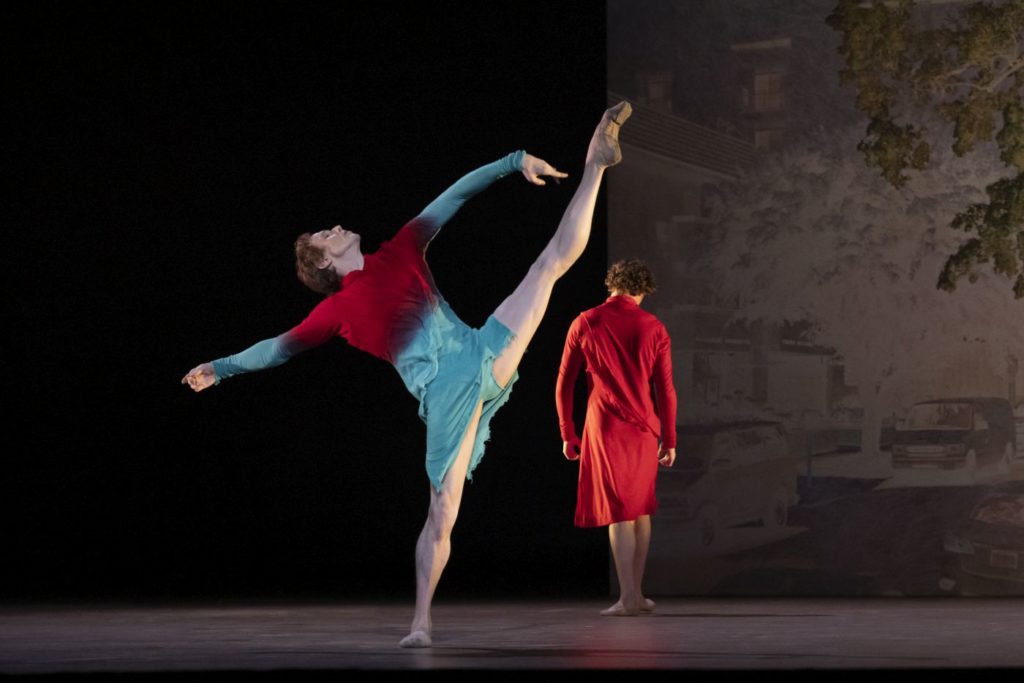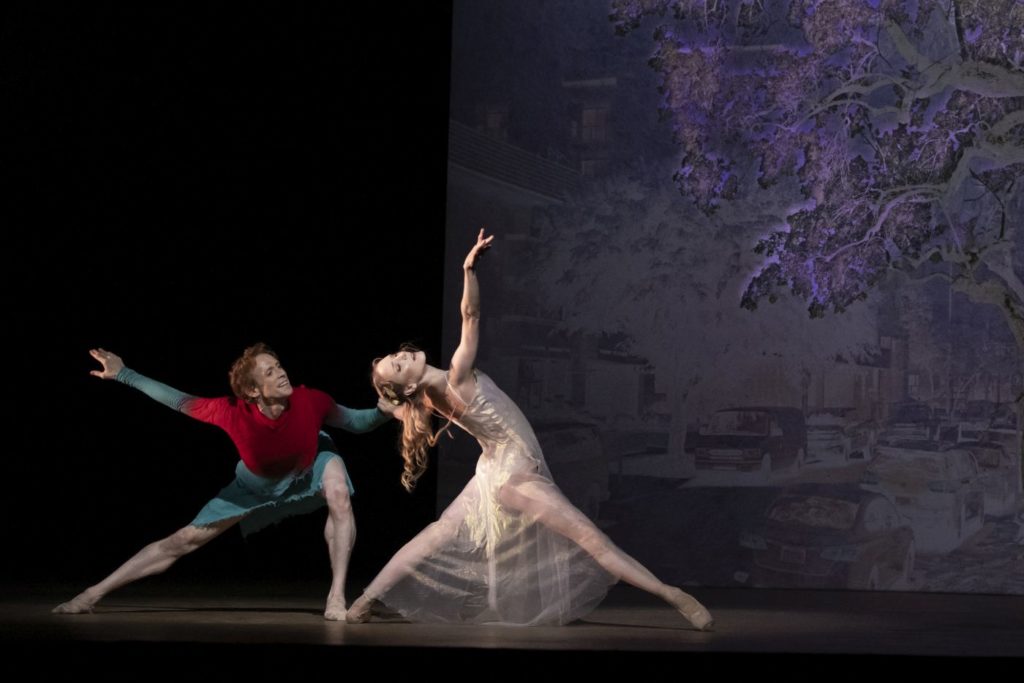 seems stained, too, or what else would the turquoise on his once-bright-red childhood robe represent?
When a trumpet sounds, Virgil re-appears, invigorates Dante's confidence with his trust and serenity. The treetop shimmers purplish-blue as Dante imagines a reunion with an adult Beatrice (Sarah Lamb) in a higher realm.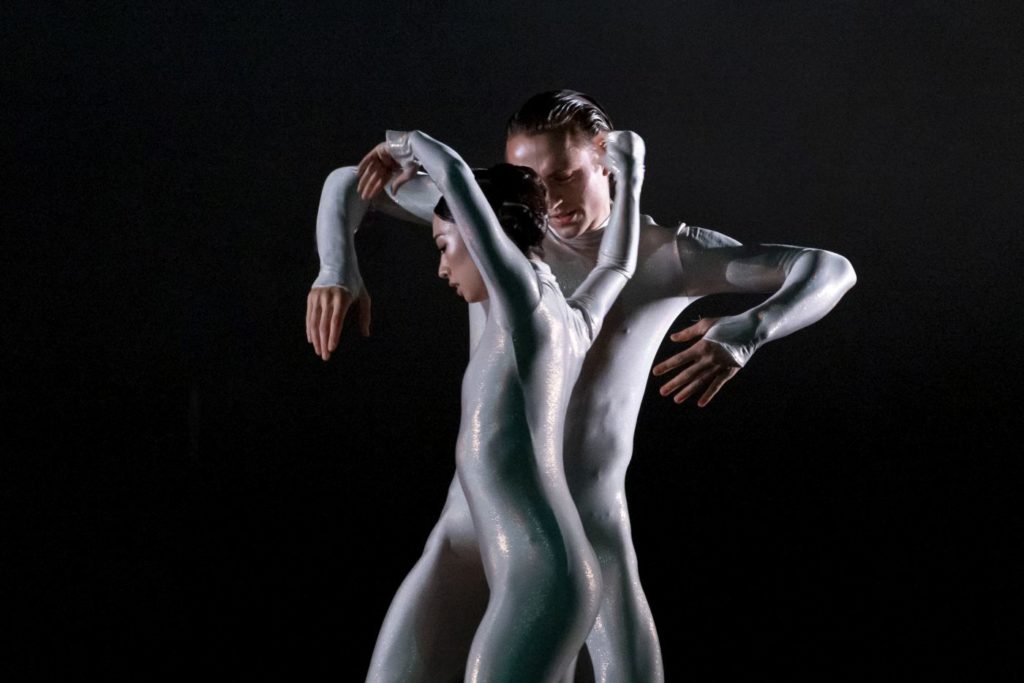 This reunion happens in Act III – "Paradiso: Poema Sacro". To create heaven, Dean filled an amorphous space with white fog that at times is neatly structured by geometric lighting of varying intensities. Throughout, the color of the fog changes, as does its density. The celestial bodies populating this paradise wear white shiny latex leotards, at one point fluorescing pinkish-purple to great effect. On a video screen above their heads, differently-colored circles spin, creating a vortex. Later, the images are reminiscent of planets and galaxies. In these perfectly-styled surroundings, the dancers seem secondary. In fact, one wonders what their purpose is other than aesthetics.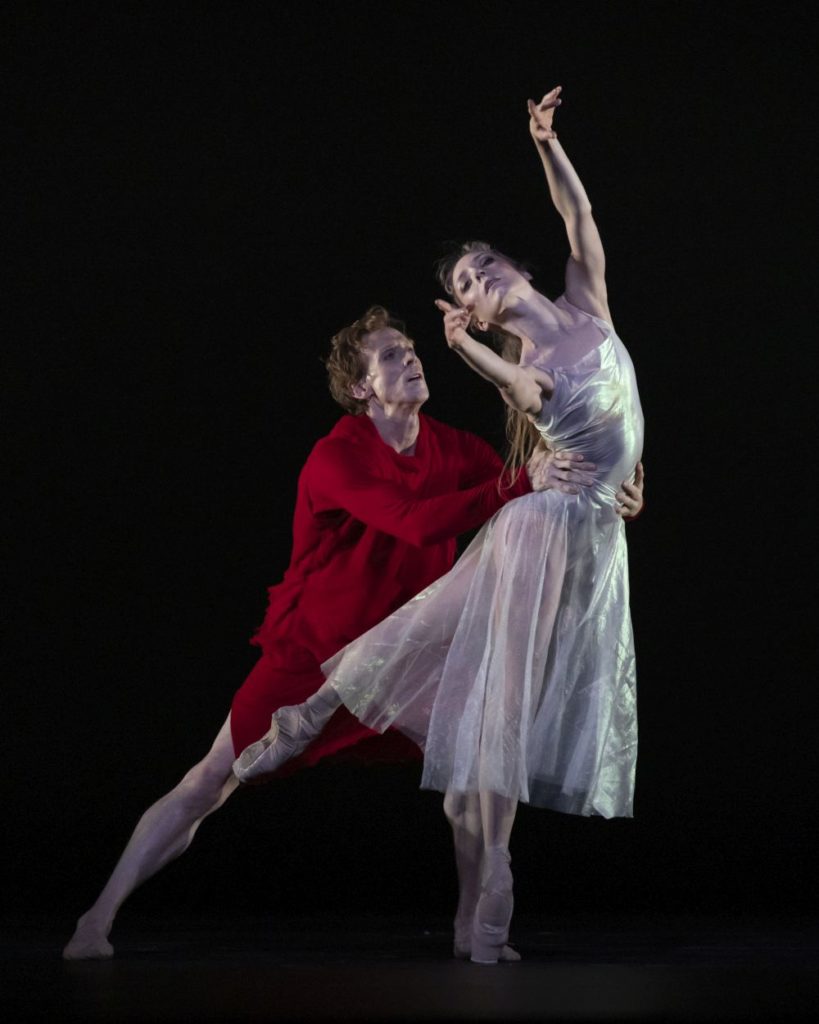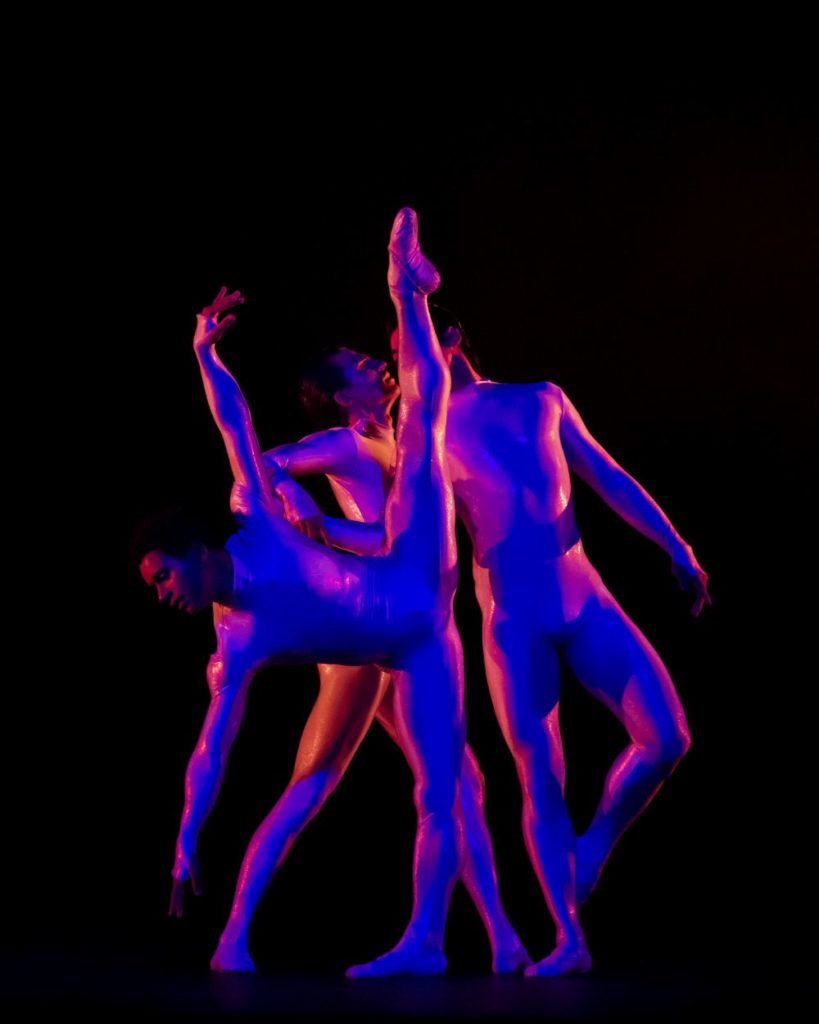 Dante, wearing an unstained, bright red robe, stands out. His figure cuts through the fog like a flaming red sunset. After dancing two preliminary duets with celestial bodies, he is finally joined by Beatrice. This climatic moment is accompanied by an angelic choir that replaces the often-jarring violin sounds that we've been hearing frequently. Perhaps it is to highlight Dante's advanced age or the humbleness of his soul that McGregor has cut down Dante's dance part to supporting Beatrice. I feel that a solo would have been welcome, especially in this farewell from a stellar dancer like Watson.
In the final enlightenment, Dante, alone again, walks towards the audience. Suddenly, he dissolves into a searingly bright spotlight. I was glad to see that his hunched shoulders and sunken chest were gone the moment he reappeared for the curtain call. I was also glad to see him smile.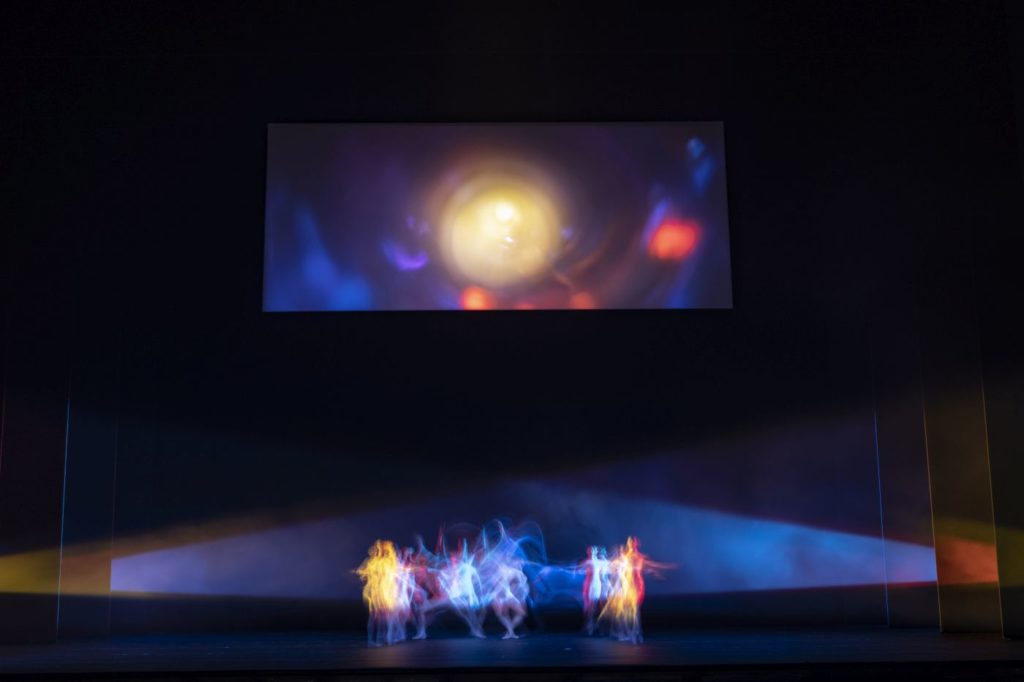 | | | |
| --- | --- | --- |
| Links: | | Website of the Royal Ballet |
| | | "Inferno: Pilgrim" (video clip) |
| | | "The Dante Project" – rehearsal and interviews (video) |
| Photos: | 1. | Edward Watson (Dante), "The Dante Project" by Wayne McGregor, The Royal Ballet 2021 |
|   | 2. | Gary Avis (Virgil) and ensemble, "The Dante Project" by Wayne McGregor, The Royal Ballet 2021 |
|   | 3. | Francesca Hayward and Matthew Ball (Francesca and Paolo), "The Dante Project" by Wayne McGregor, The Royal Ballet 2021 |
|   | 4. | Mayara Magri and Melissa Hamilton (The Wrathful), "The Dante Project" by Wayne McGregor, The Royal Ballet 2021 |
|   | 5. | Gary Avis (Virgil), "The Dante Project" by Wayne McGregor, The Royal Ballet 2021 |
|   | 6. | Ensemble, "The Dante Project" by Wayne McGregor, The Royal Ballet 2021 |
|   | 7. | Edward Watson (Dante) and Fumi Kaneko (Satan), "The Dante Project" by Wayne McGregor, The Royal Ballet 2021 |
| | 8. | Anna Rose O'Sullivan and Luca Acri (Dido and Aeneas), "The Dante Project" by Wayne McGregor, The Royal Ballet 2021 |
| | 9. | Edward Watson (Dante), "The Dante Project" by Wayne McGregor, The Royal Ballet 2021 |
| | 10. | Edward Watson (Dante) and ensemble, "The Dante Project" by Wayne McGregor, The Royal Ballet 2021 |
| | 11. | Edward Watson (Dante) and Sarah Lamb (Beatrice), "The Dante Project" by Wayne McGregor, The Royal Ballet 2021 |
| | 12. | Edward Watson (Dante) and Marco Masciari (adolescent Dante), "The Dante Project" by Wayne McGregor, The Royal Ballet 2021 |
| | 13. | Akane Takada and Matthew Ball (Celestial Bodies), "The Dante Project" by Wayne McGregor, The Royal Ballet 2021 |
| | 14. | Marcelino Sambé, Leo Dixon, and Ryoichi Hirano (Celestial Bodies), "The Dante Project" by Wayne McGregor, The Royal Ballet 2021 |
| | 15. | Edward Watson (Dante) and Sarah Lamb (Beatrice), "The Dante Project" by Wayne McGregor, The Royal Ballet 2021 |
| | 16. | Ensemble, "The Dante Project" by Wayne McGregor, The Royal Ballet 2021 |
| | | all photos © Andrej Uspenski |
| Editing: | | Jake Stepansky |