"The Nutcracker and The Mouse King"
Dutch National Ballet
Dutch National Opera & Ballet
Amsterdam, The Netherlands
December 18, 2021 (livestream)
by Ilona Landgraf
Copyright © 2021 by Ilona Landgraf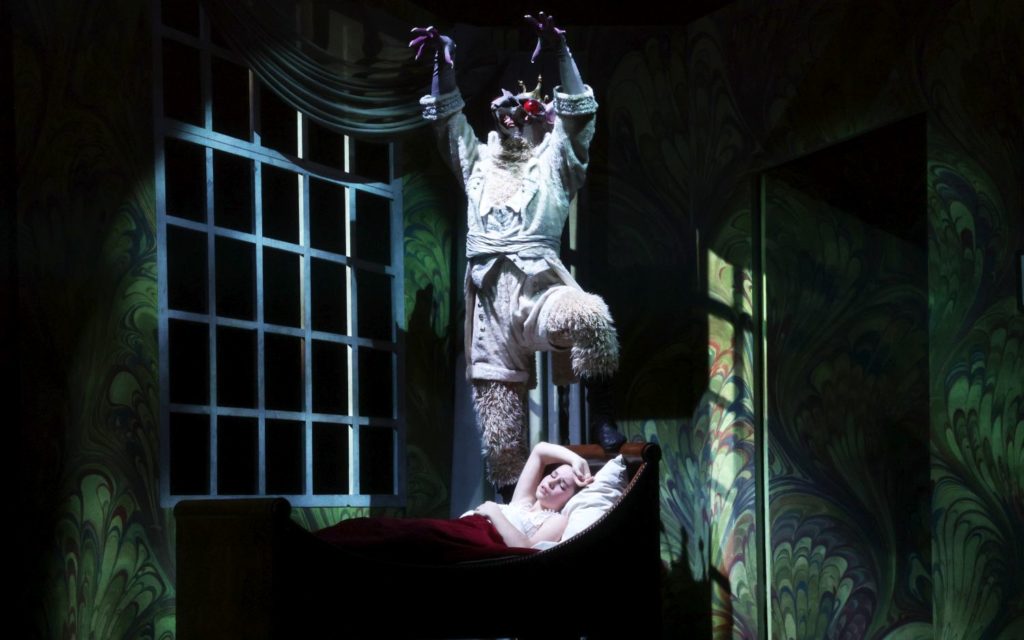 As yet another round of COVID-19-related restrictions began to choke social life in the Netherlands, the Dutch National Ballet reacted swiftly by adding two livestreams of their Nutcracker production to their pre-Christmas schedule. I viewed the first one on December 18th; the second will take place on Christmas Eve at 2:00 PM. Both performances will subsequently be available as videos-on-demand until January 9th, 2022.
Every rendition of the Nutcracker has its own personal flair, and Amsterdam's – co-choreographed by Toer van Schayk and Wayne Eagling in 1996 – is decisively Dutch. Unlike others, it is not set on Christmas Eve, but instead takes place on St. Nicholas' Day in 1810. For the design and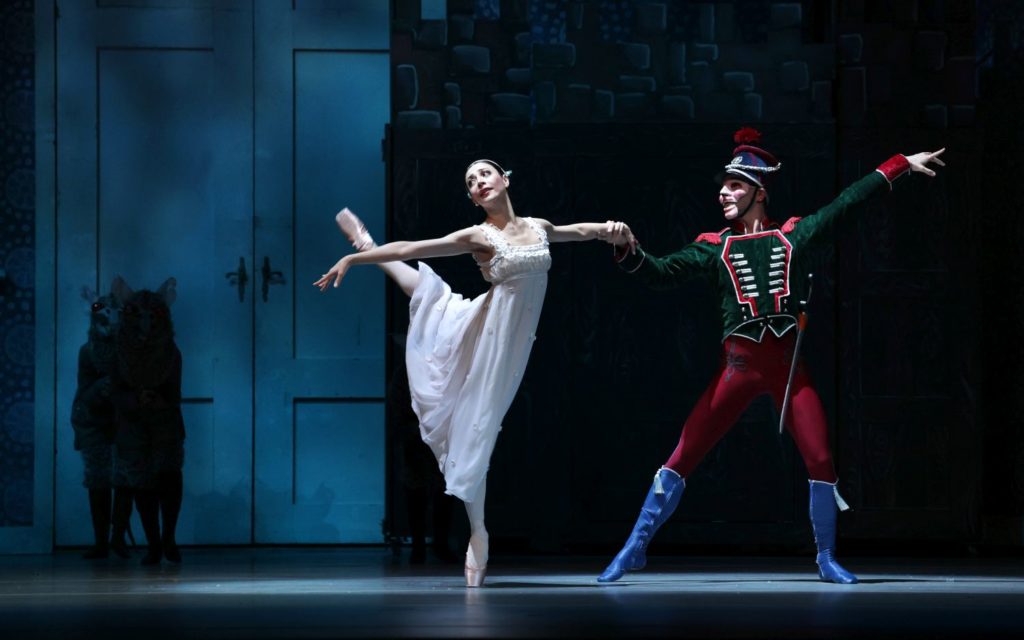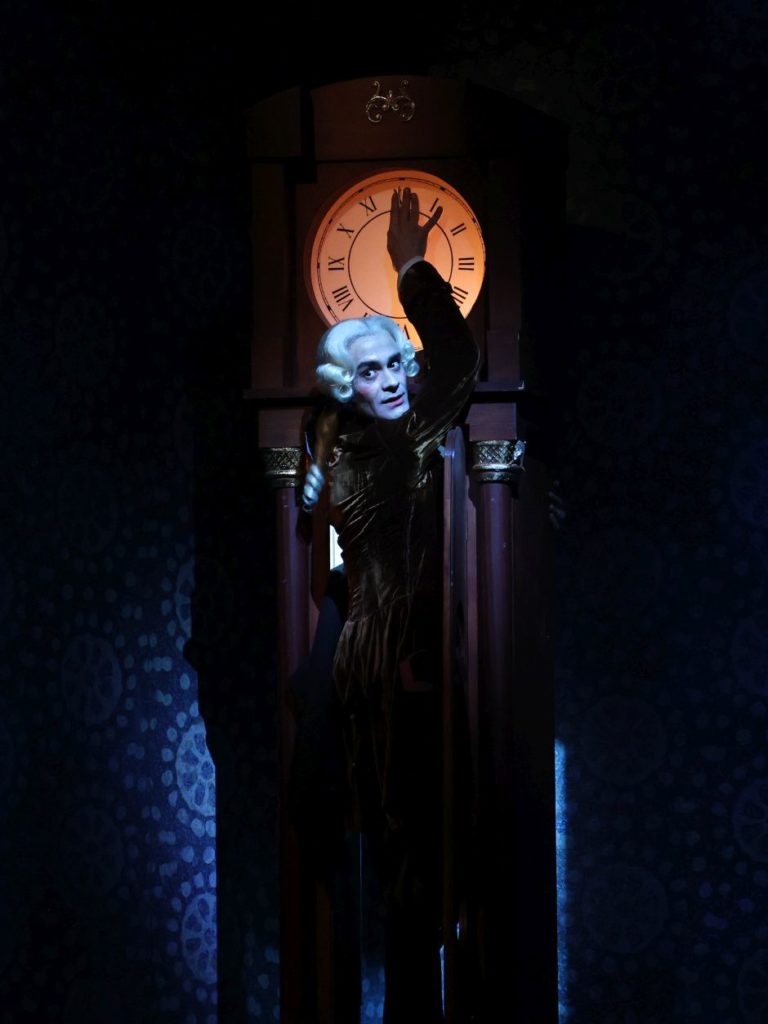 the costumes, Toer van Schayk takes inspiration from an earlier period – the Golden Age (ca.1588 – 1672) during which Dutch art was among the most acclaimed in Europe.
Cleverly-assembled scenic changes take us from the bathroom of the Staalboom family – the nanny (Jane Lord) has her hands full caring for youngsters Clara (Febe Potvin) and her naughty brother Fritz (Jitse Meijer) – to the frozen gracht (and skating rink) in front of the Staalboom's Amsterdam mansion. In the family's tasteful parlor, buoyant dancing by partygoers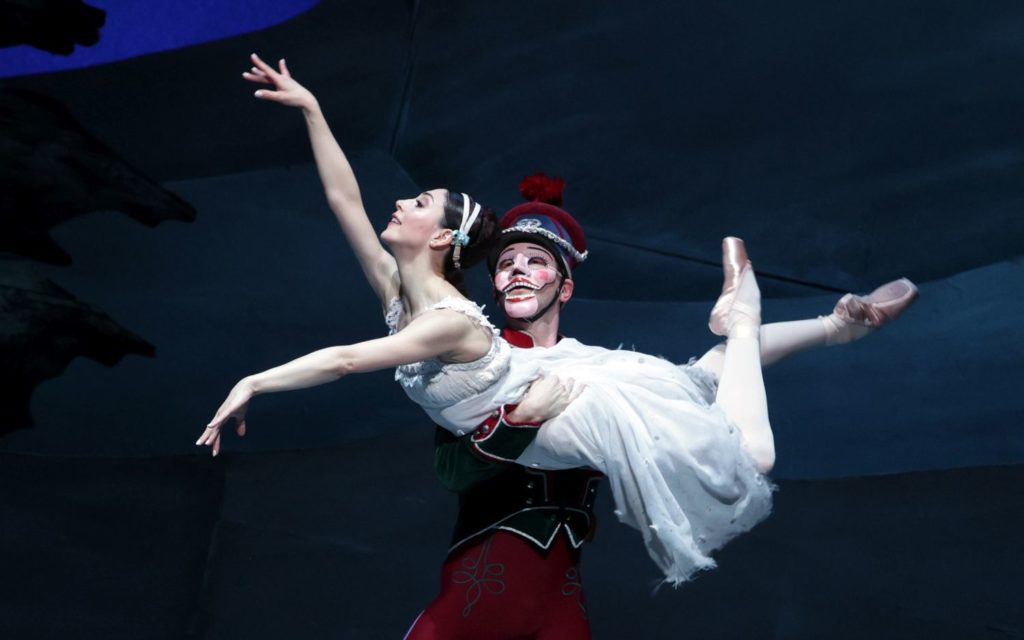 young and old lifts the mood. We watch as Clara is put to bed, where she quickly slips into a dream – one in which she is suddenly grown-up and under attack by a horde of mice (Maia Makhateli as the adult Clara was in stellar shape). Luckily, her dearly-beloved Nicholas-present – a robot-like nutcracker, recently repaired after being broken by Fritz – becomes a man of flesh and blood (Edo Wijnen) and rushes to her defense. When the red-eyed Mouse King (James Stout) breaks through the lattice windows, the chest of drawers grows into a fortress, solidly holding back the attacks of the mice-army even as they use a piano as a battering ram. Toy soldiers (another child's Nicholas-present) come alive and are dispatched into combat – but despite fighting fiercely – are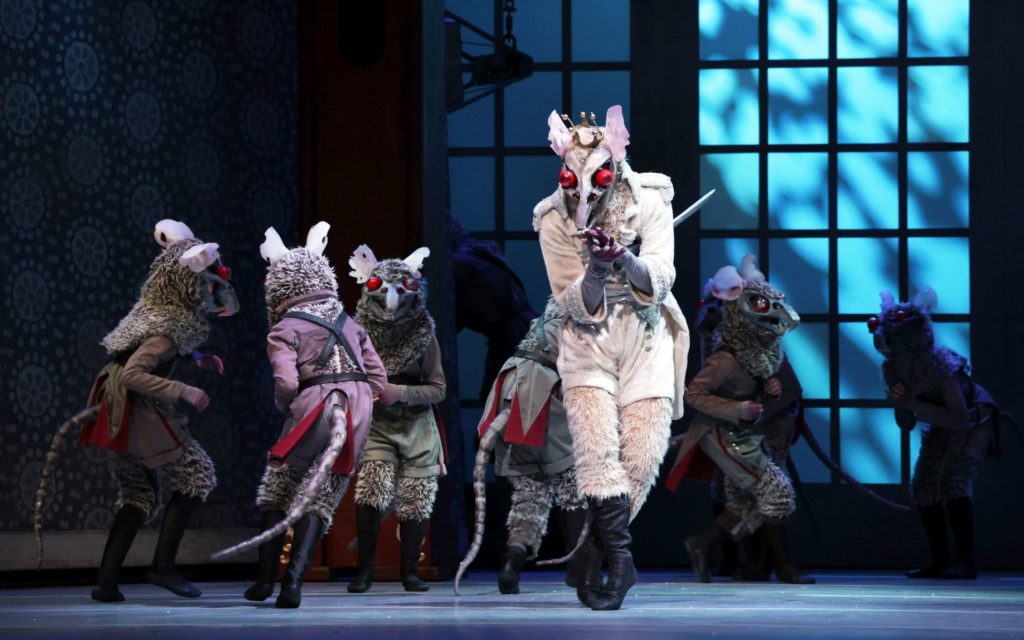 taken captive. The Mouse King scurries off, victorious for the moment. While the parlor transforms into a winter wonderland, the Nutcracker, now badly injured, recuperates thanks to Clara's loving care. Yet the peaceful atmosphere is distraction – and whilst the snowflakes waltz happily, the wicked mice launch another assault. Fortunately, the Nutcracker routs them out.
Clara's uncle, the charmingly weird Drosselmeyer (superbly portrayed by Vito Mazzeo), acts as the protective mastermind behind Clara's dream journey. We've already seen his fancy for all sorts of magic tricks – including manipulation of time – which make him the star of the Nicholas party. Now, he leads Clara and the Nutcracker through a huge porthole (lens?) into a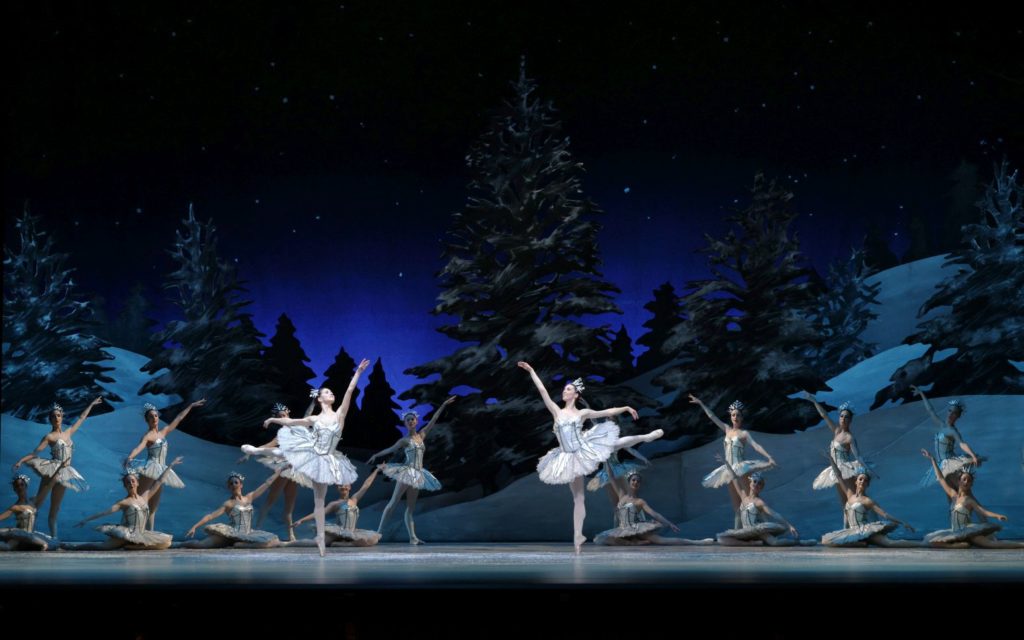 mechanical engine room (the inside of a laterna magica – one of his favorite tools?). Clara is courteously welcomed by four male assistants (slightly reminiscent of the four suitors in Sleeping Beauty) – but even here, the Mouse King and his furry entourage dare an attack! Thankfully, a cat peers threateningly through the porthole, stretching its claws. Freshly encouraged, the Nutcracker deals the Mouse King a final blow before transforming into a handsome Prince (Jakob Feyferlik) who bears a striking resemblance to Drosselmeyer's nephew.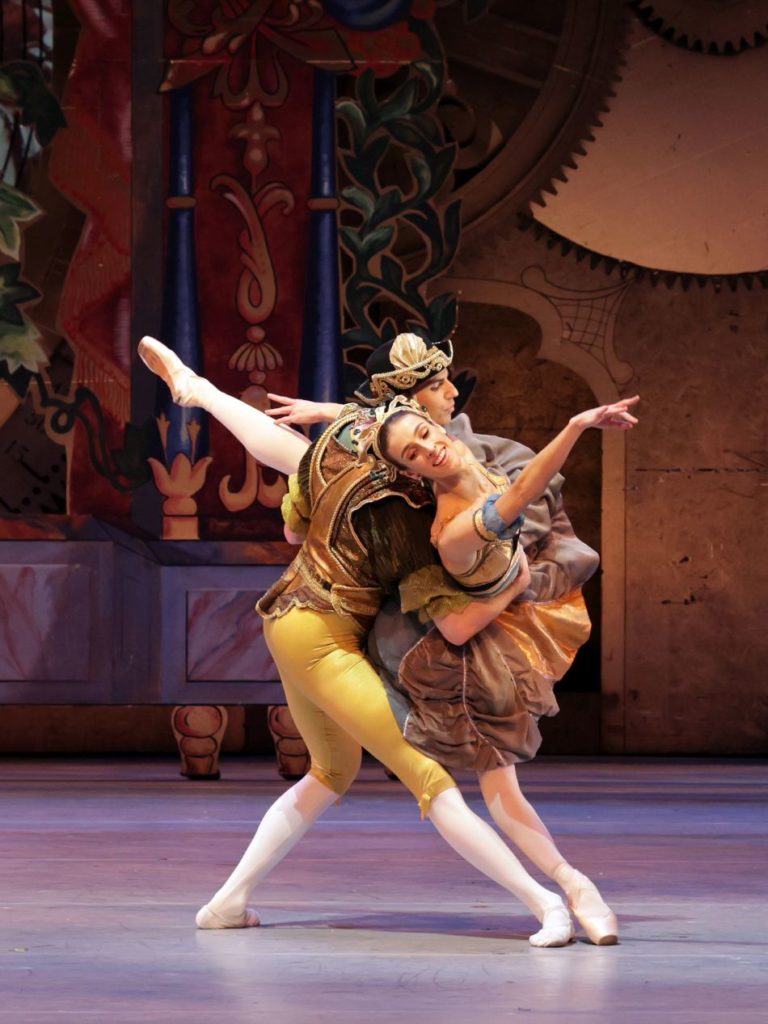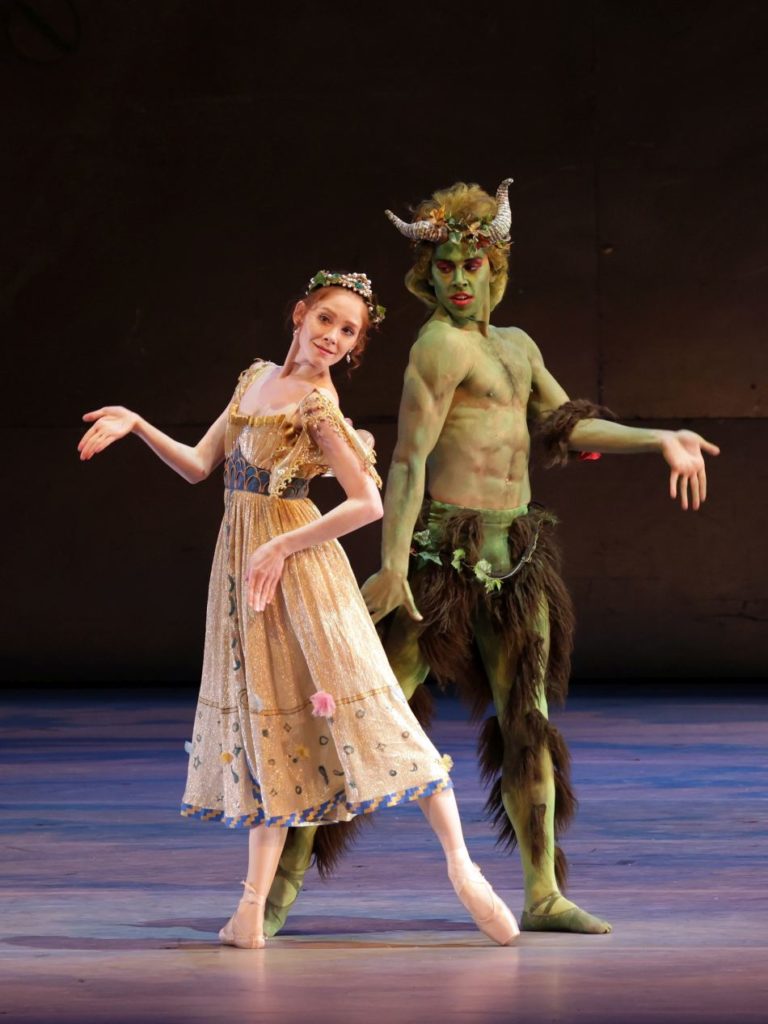 In a moment of magic, the porthole conjures up a kaleidoscope of foreign dances: a snappy Spanish Jota in front of Quixote-esque windmills; an Arabian dance by the four women trapped in a whip-wielding macho potentate's (Nathan Brhane) harem (one of his enchained captives looks suspiciously like Clara's brother Fritz); a Chinese dance by four machete bearers led by a woman circling a red twirling stick (Kira Hilli); a Russian dance in gorgeous traditional garb performed by father and mother Staalboom (Saskia Krol and Nicolas Rapaic) and the nanny in front of an onion-domed Orthodox cathedral; and a Greek dance to flute music, in which a clumsy poet (Giovanni Princic) and Don Juan (Rémy Catalan) compete for the favor of a young beauty – who in reality is Clara's older, chichi-loving sister Louise (Erica Horwood). Naturally, a Faun (Timothy van Poucke) is in on things too.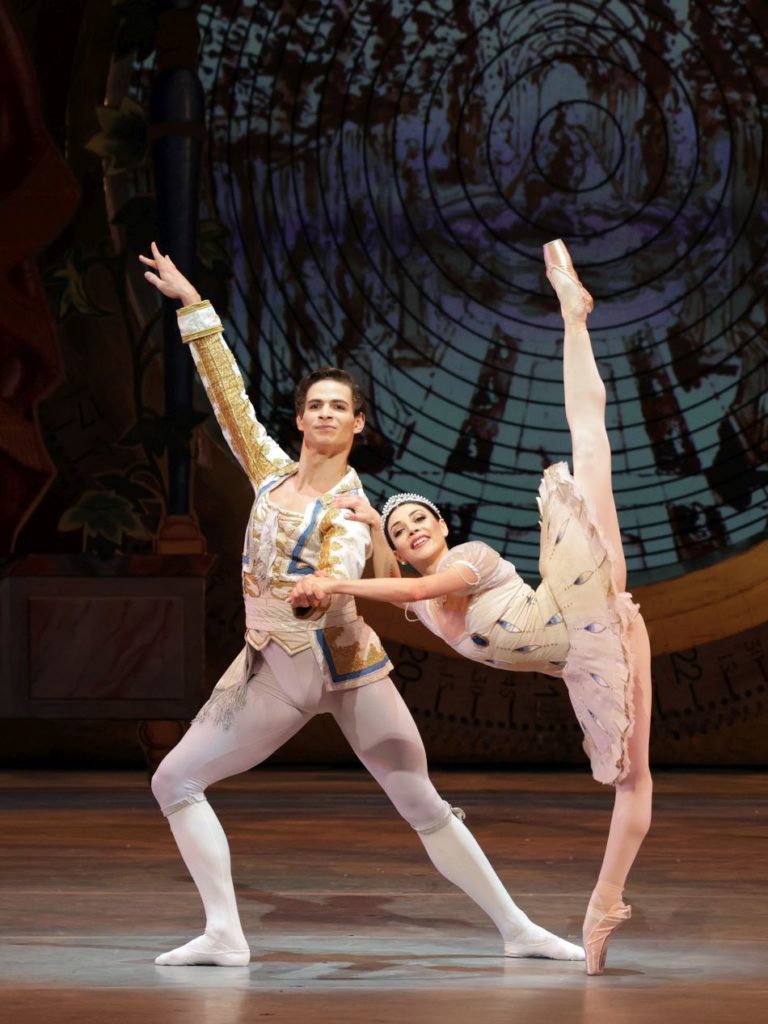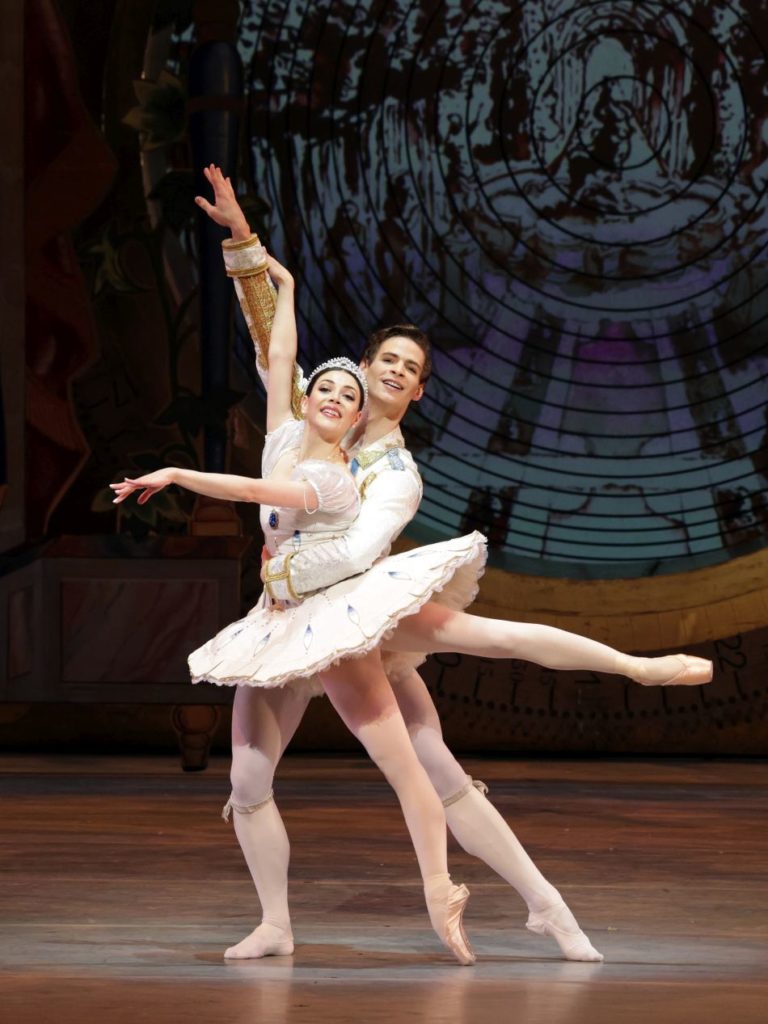 Van Schayk and Eagling replace the Sugar Plum Fairy and her sweets-land for a Sleeping Beauty-like fairy garden, in which a large corps of dancers in floral costumes arranges and re-arranges itself in eye-catching patterns. Here, Clara is presented with her first tutu and dances a picture-book-esque Grand Pas de Deux with the Prince.
Upon awakening, young Clara reconciles with Fritz and both wave Drosselmeyer and his nephew good-bye.
Van Schayk and Eagling paid great attention to detail, penned a thoroughly comprehensible – and complex! – storyline, and created resourceful choreography. You can feel how much blood, sweat, and tears went into every minute of this production. I was especially happy to see many children onstage.
The Dutch Ballet Orchestra played Tchaikovsky's score under the baton of Fayçal Karoui, who shimmered with positive vibes.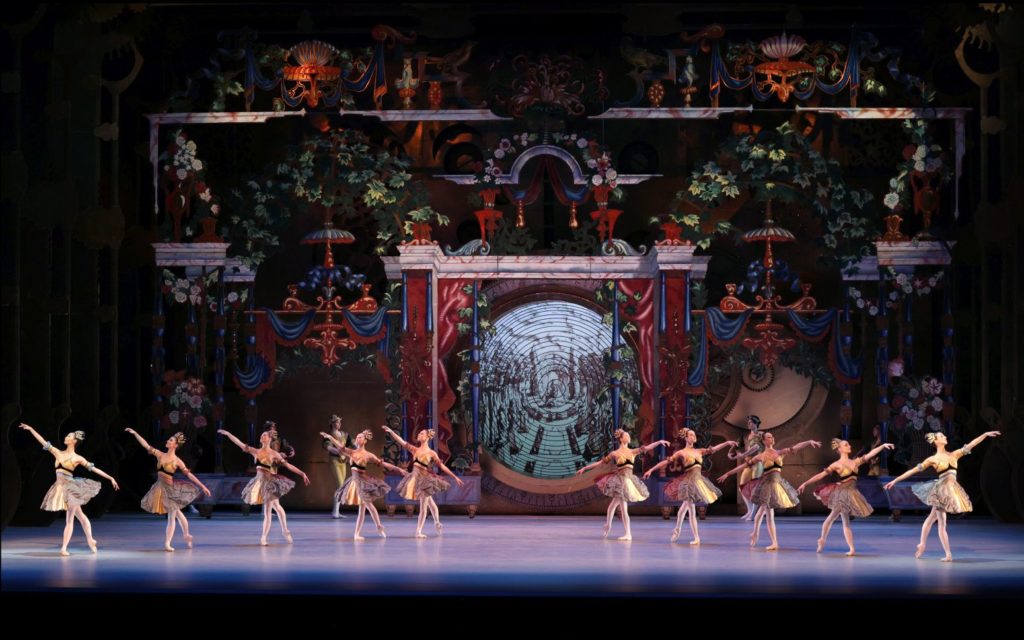 Links:
Website of Dutch National Ballet

Trailer "The Nutcracker and The Mouse King"

Photos:
1.

Febe Potvin (Young Clara) and James Stout (Mouse King), "The Nutcracker and The Mouse King" by Toer van Schayk and Wayne Eagling, Dutch National Ballet 2021

2.

Vito Mazzeo (Drosselmeyer), "The Nutcracker and The Mouse King" by Toer van Schayk and Wayne Eagling, Dutch National Ballet 2021

3.

Maia Makhateli (Clara Staalboom) and Edo Wijnen (Nutcracker), "The Nutcracker and The Mouse King" by Toer van Schayk and Wayne Eagling, Dutch National Ballet 2021

4.

Maia Makhateli (Clara Staalboom) and Edo Wijnen (Nutcracker), "The Nutcracker and The Mouse King" by Toer van Schayk and Wayne Eagling, Dutch National Ballet 2021

5.

James Stout (Mouse King) and ensemble, "The Nutcracker and The Mouse King" by Toer van Schayk and Wayne Eagling, Dutch National Ballet 2021

6.
Naira Agvanean, Connie Vowles, and ensemble (Snowflakes),

"The Nutcracker and The Mouse King" by Toer van Schayk and Wayne Eagling,

Dutch National Ballet 2021
7.
Erica Horwood (Louise) and Timothy van Poucke (Faun),

"The Nutcracker and The Mouse King" by Toer van Schayk and Wayne Eagling,

Dutch National Ballet 2021
8.
Floor Eimers and Jared Wright (Flower Waltz),

"The Nutcracker and The Mouse King" by Toer van Schayk and Wayne Eagling,

Dutch National Ballet 2021
9.
Jakob Feyferlik (Prince) and Maia Makhateli (Clara Staalboom),

"The Nutcracker and The Mouse King" by Toer van Schayk and Wayne Eagling,

Dutch National Ballet 2021
10.
Maia Makhateli (Clara Staalboom) and Jakob Feyferlik (Prince),

"The Nutcracker and The Mouse King" by Toer van Schayk and Wayne Eagling,

Dutch National Ballet 2021
11.
Ensemble (Flower Waltz),

"The Nutcracker and The Mouse King" by Toer van Schayk and Wayne Eagling,

Dutch National Ballet 2021

all photos

© Hans Gerritsen

Editing:
Jake Stepansky