"Liebeslieder" ("Other Dances" / "Concerto" / "Liebeslieder Walzer")
Vienna State Ballet
Vienna State Opera
Vienna, Austria
January 14, 2022 (livestream)
by Ilona Landgraf
Copyright © 2022 by Ilona Landgraf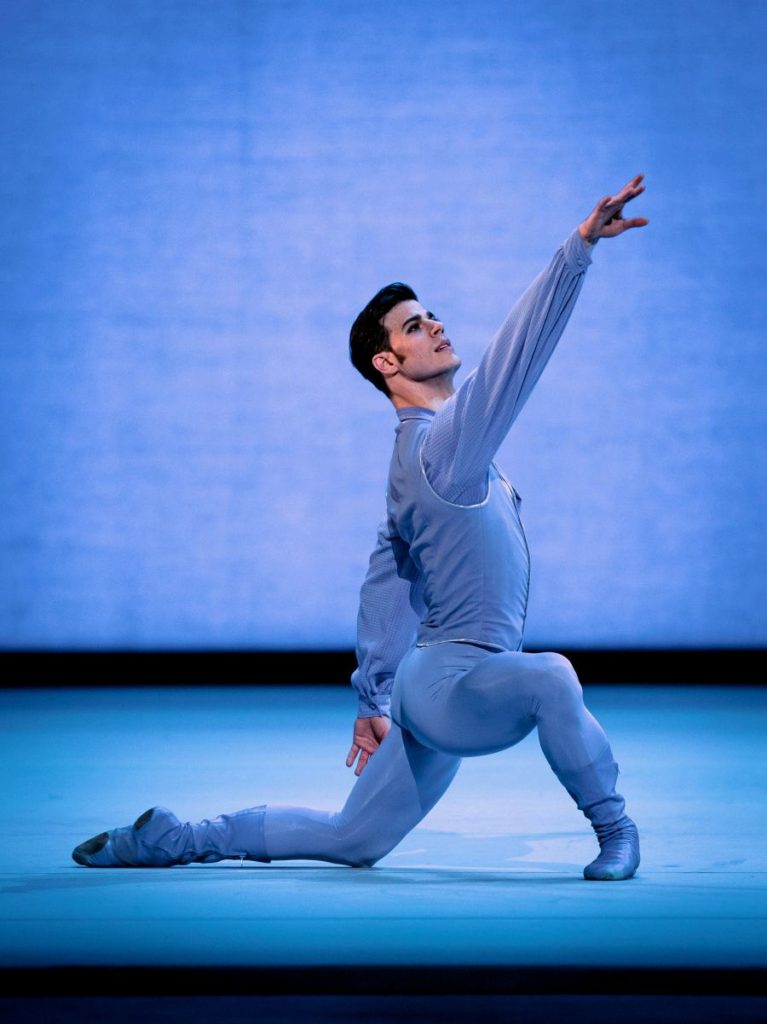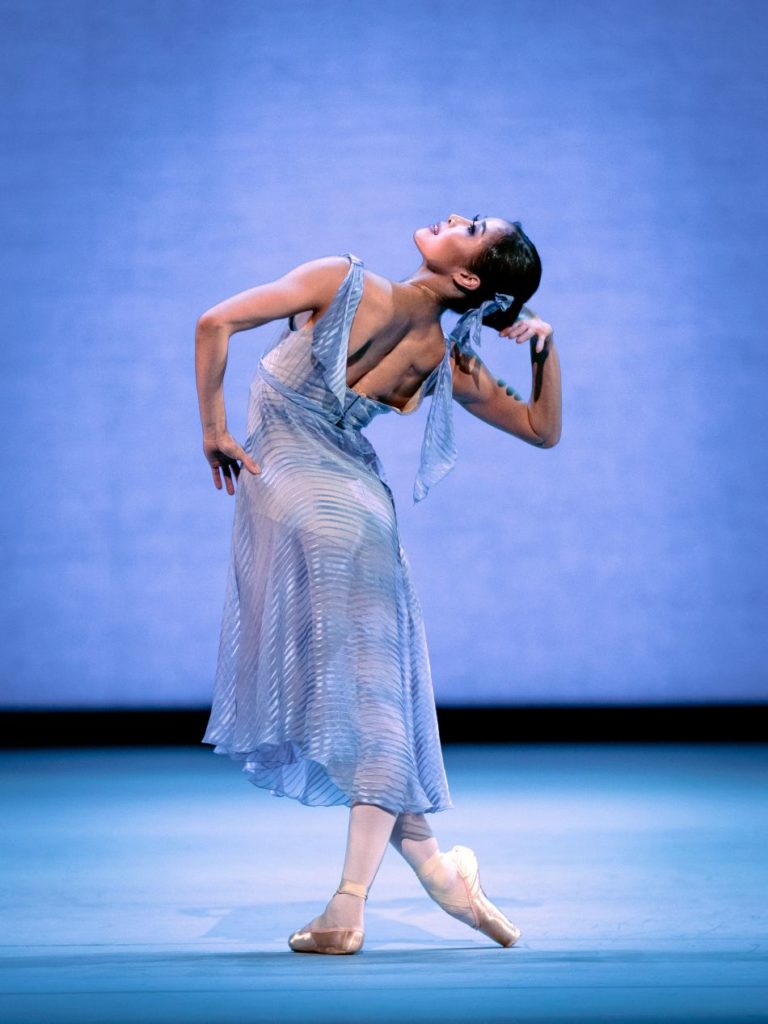 The Vienna State Ballet's new triple bill is an all-American one, combining works from staple choreographers (Robbins and Balanchine) with a short piece by Lucinda Childs, whose name is less familiar in Europe.
Robbins's "Other Dances", a pas de deux set to one waltz and four mazurkas by Chopin, was tailor-made for Natalia Makarova and Mikhail Baryshnikov in 1976. In Vienna, Hyo-Jung Kang and Davide Dato brought folksy playfulness to their roles as the carefree, happy-go-lucky couple. Their encounter is as lighthearted and upbeat as the light blue backdrop and the sheer blue fabric of Kang's dress suggest (costumes by Santo Loquasto). After swaggering about with macho energy in a solo, Dato attends to Kang's every step with buttery care.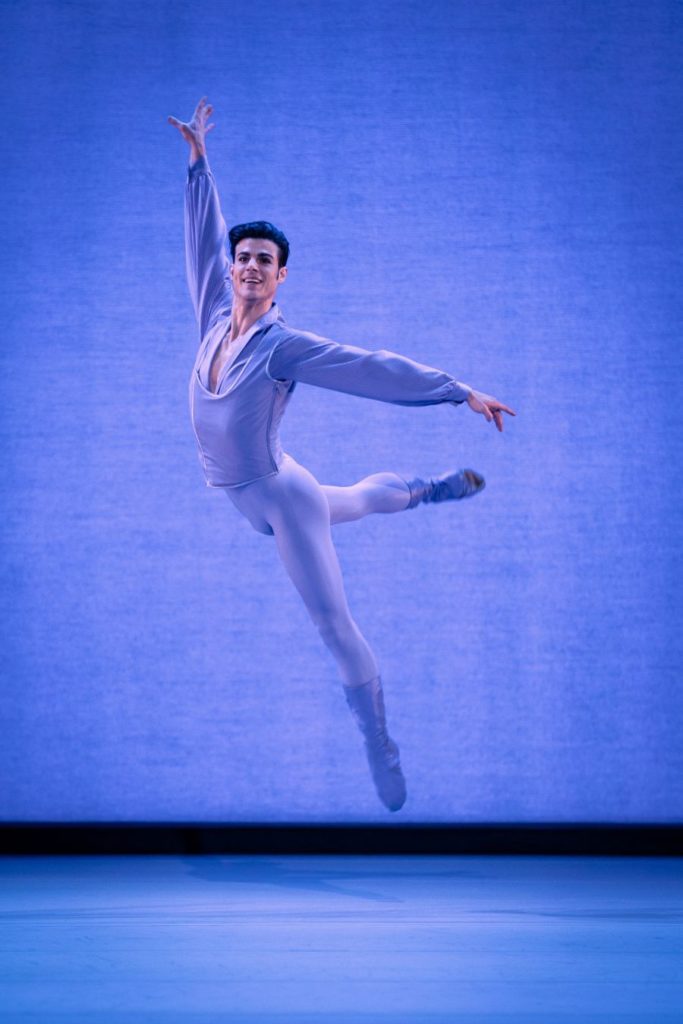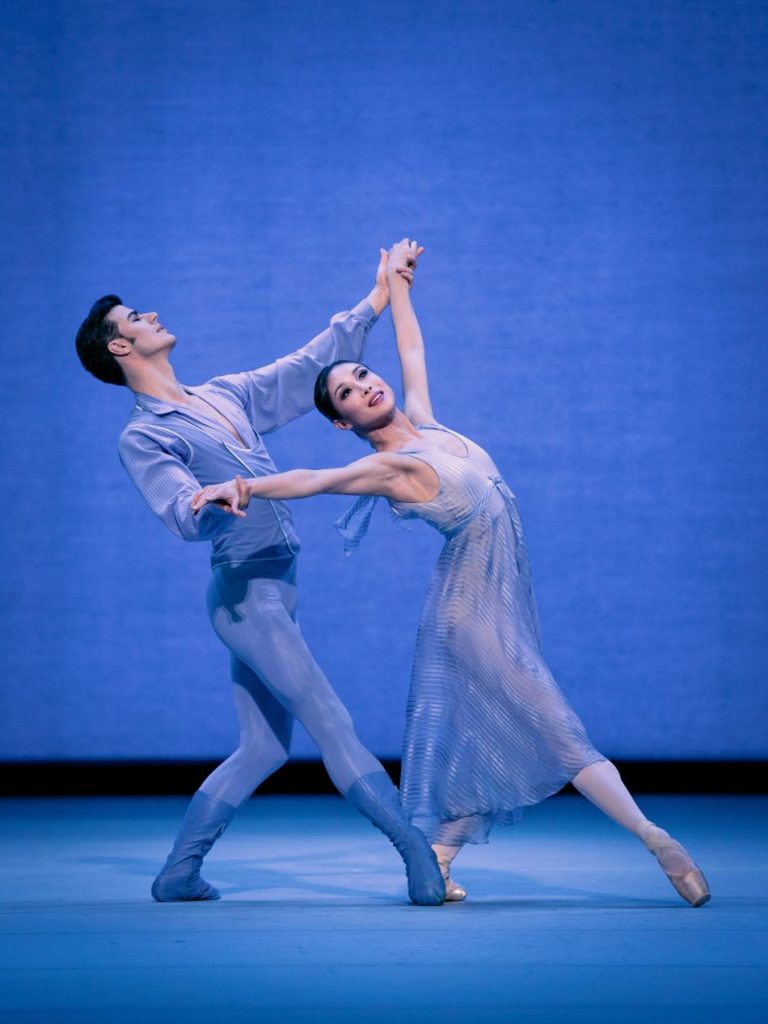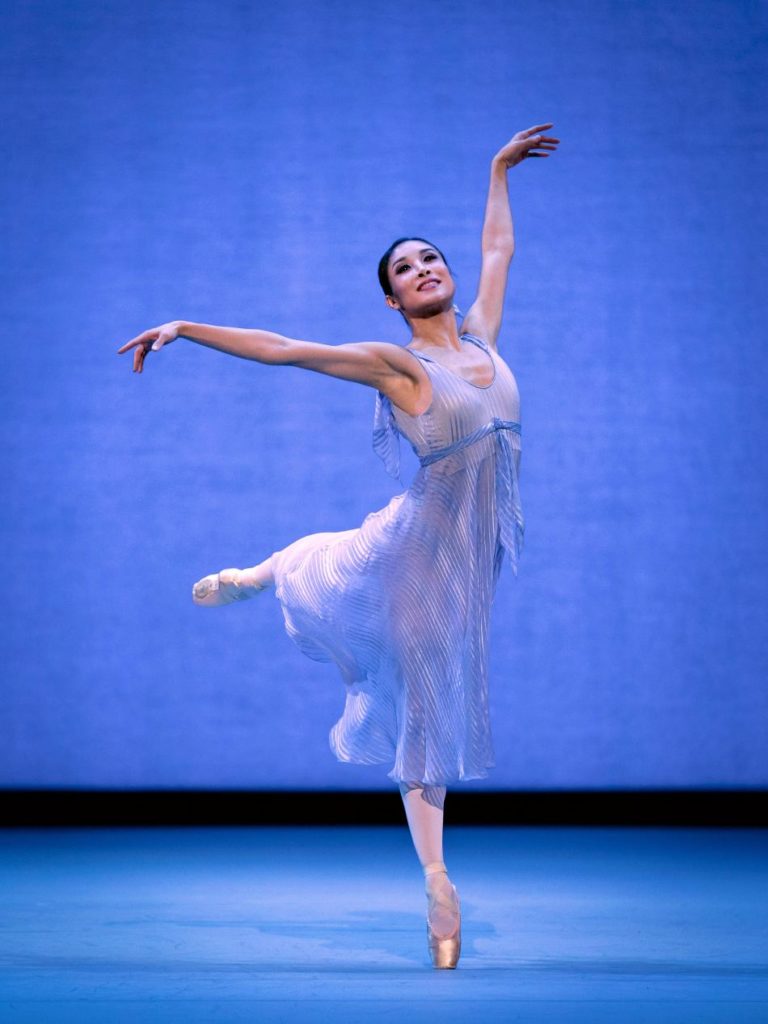 Ingénue-like at first, Kang cuts a mature profile in her second solo, flirtatiously swinging her hips and slapping the floor with one hand. But this romance has little tethering to reality. It's overly sweet – in fact, artificially saccharine – muffling credible emotions with layers of softness that remind one of fluffy cotton candy.
Kang and Dato perfectly soaked each movement in creamy tenderness, as if inside a frothy bubble. At the piano, the seasoned Igor Zapravdin accompanied the amorous dalliance with aplomb, serving periodically as a reassuring point of reference for the lovers.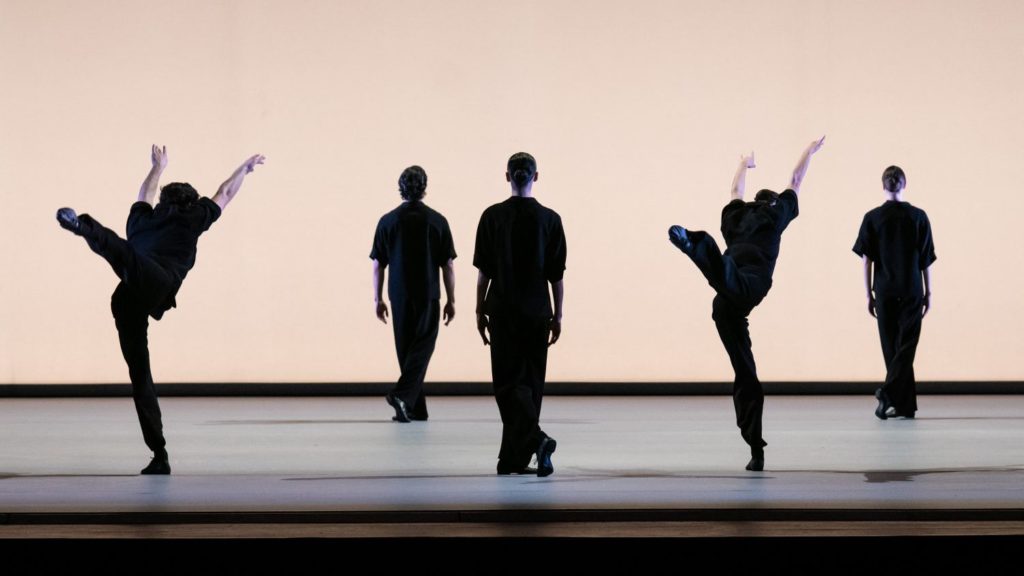 In "Concerto" (1993), Childs places seven dancers – four women and three men – in black pants and black blouses (costumes by Anne Masset) – in front of a monochromatic backdrop whose pallid colors change several times (as do those of the floor). Harpsichord and string chords by Henryk Mikołaj Górecki – pushy, repetitive and sometimes tedious – set the rhythm for recurrent series of hops, jumps, turns, and arm movements. On multiple occasions, the dancers stand with their backs towards the audience and suddenly turn around, lifting their right arms into fifth position. While the pace of the sequences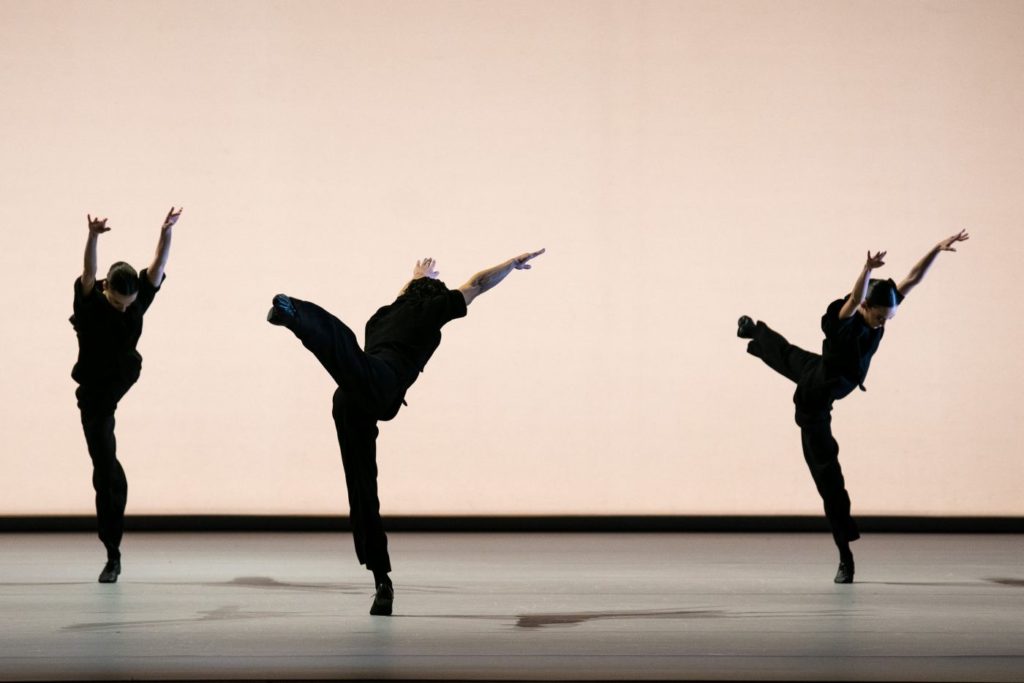 differs and the arrangement of the movements varies slightly, the style remains the same. Childs might be a famous representative of postmodernism, but "Concerto" – though lasting less than ten minutes – was unimaginative and trivial.
In his 1960 opus "Liebeslieder Walzer", Balanchine luxuriated in waltzes – thirty-three in total, all by Brahms, accompanied by the poems of Friedrich Daumer and Goethe as chosen by the composer. In this staging, the onstage musicians – four vocalists and a piano duet – are performing at an upper-class soiree in a multi-style parlor (the interior dates between Louis Seize and Biedermeier,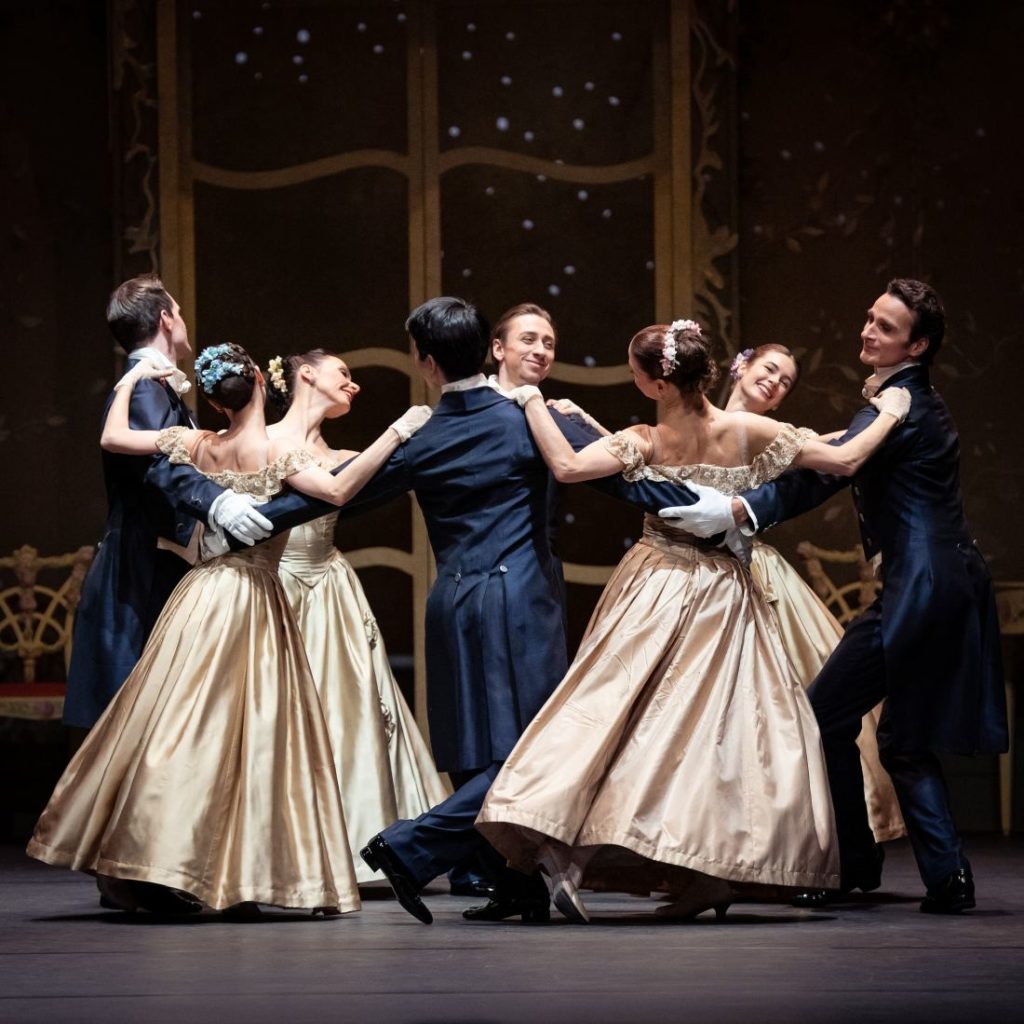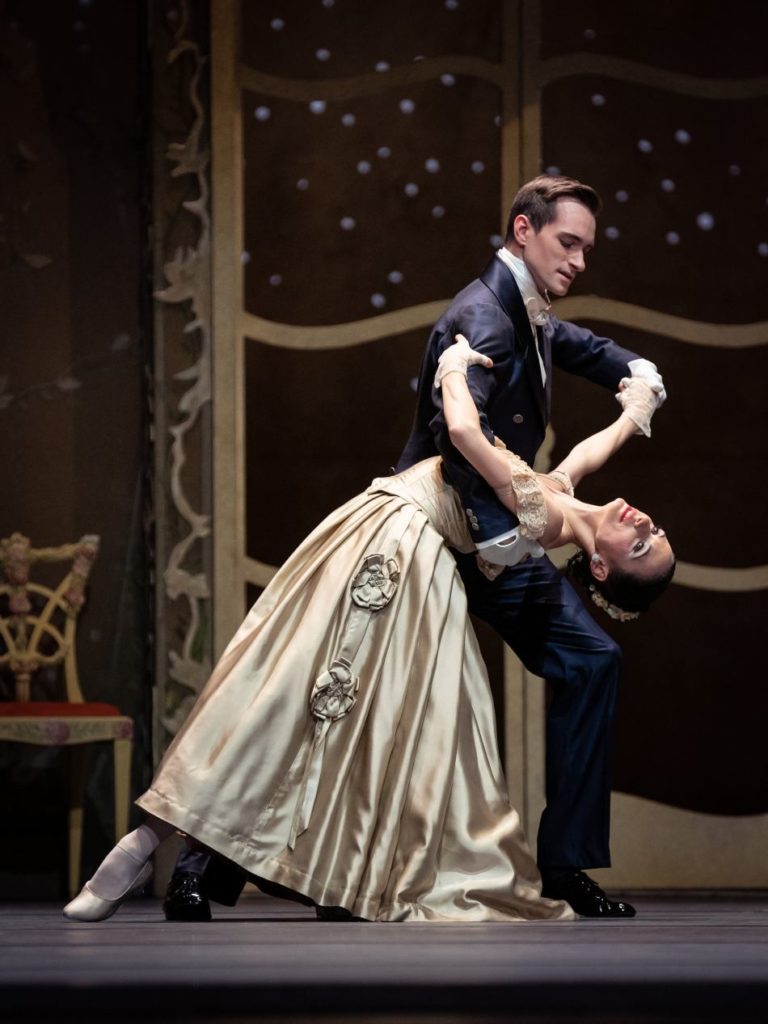 while Baroque patio glass doors lead out into a starlit night). Four male/female couples in elegant evening wear (luxurious silk taffeta dresses and tail-coats) share the parquet. Though traditional social and gender etiquette are carefully observed, cracks run through the sophisticated facade. One couple (Maria Yakovleva and Masayu Kimoto) is tempestuously enamored (as Daumer puts it: the cottage has caught fire), but Yakovleva, restraining herself, only flings her arms passionately around Kimoto's neck rather than giving him the one hundred thousand kisses Daumer imagined.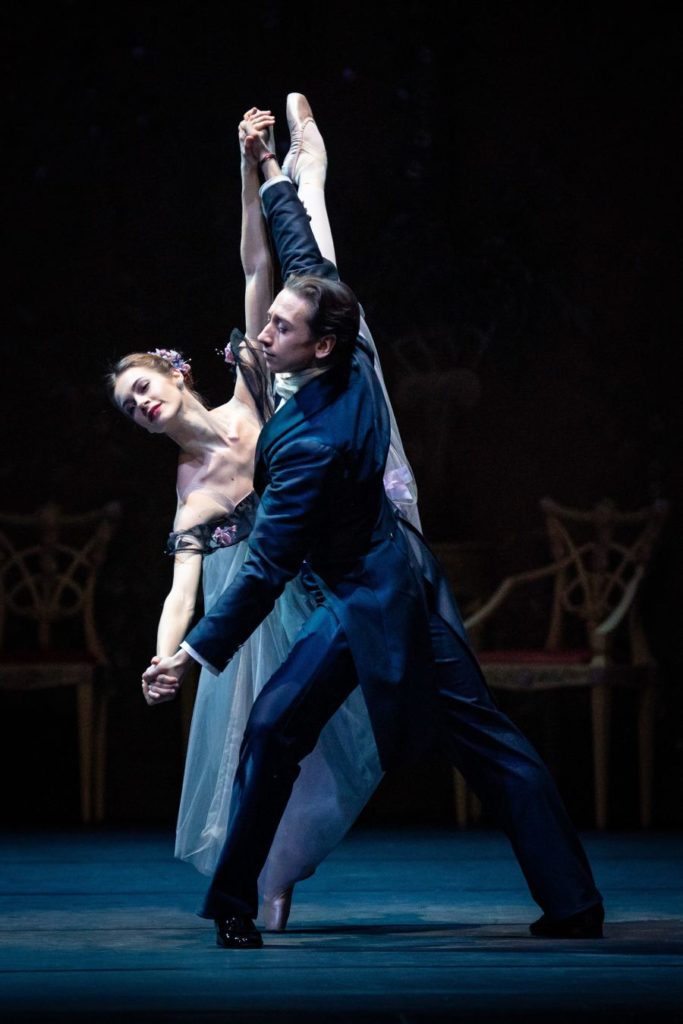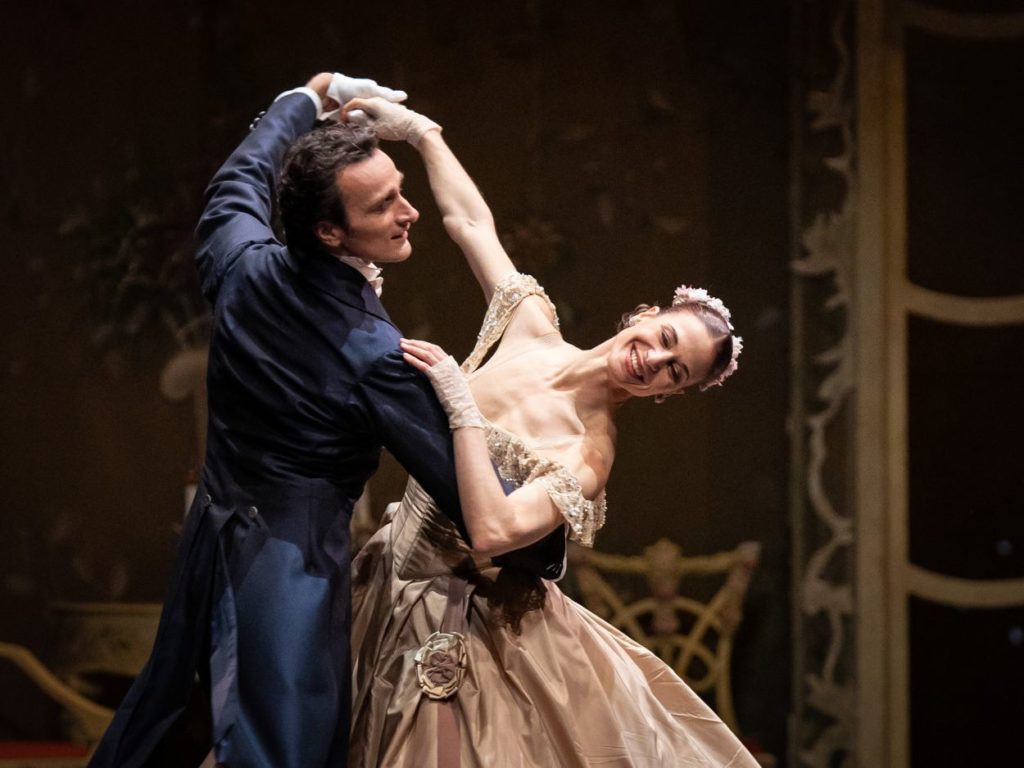 Another couple (Claudine Schoch and Roman Lazik) lacks juvenile lightheartedness, presumably because Schoch wonders (together with Daumer) whether a young girl can bear the thought of a whole lifetime devoid of bliss without yielding to tender affection. Though Lazik nearly melts her reserve with his wooing, she finally runs off. However much your heart might burn, subdue your desire – that's what concerns the third, more seasoned couple (Liudmila Konovalova and Zsolt Török). Konovalova, able to suffuse even the sparsest movements with the depth of her emotions, vacillates between flaring joie de vivre and sumptuous melancholy. Török, a courteous gentleman from tip to toe,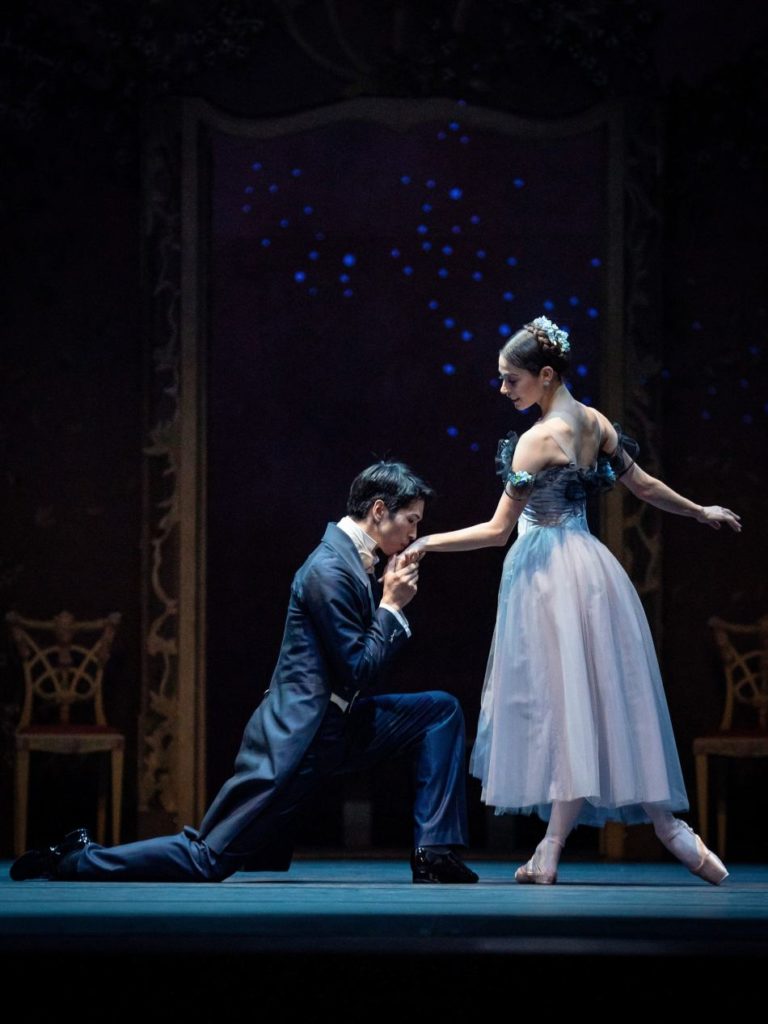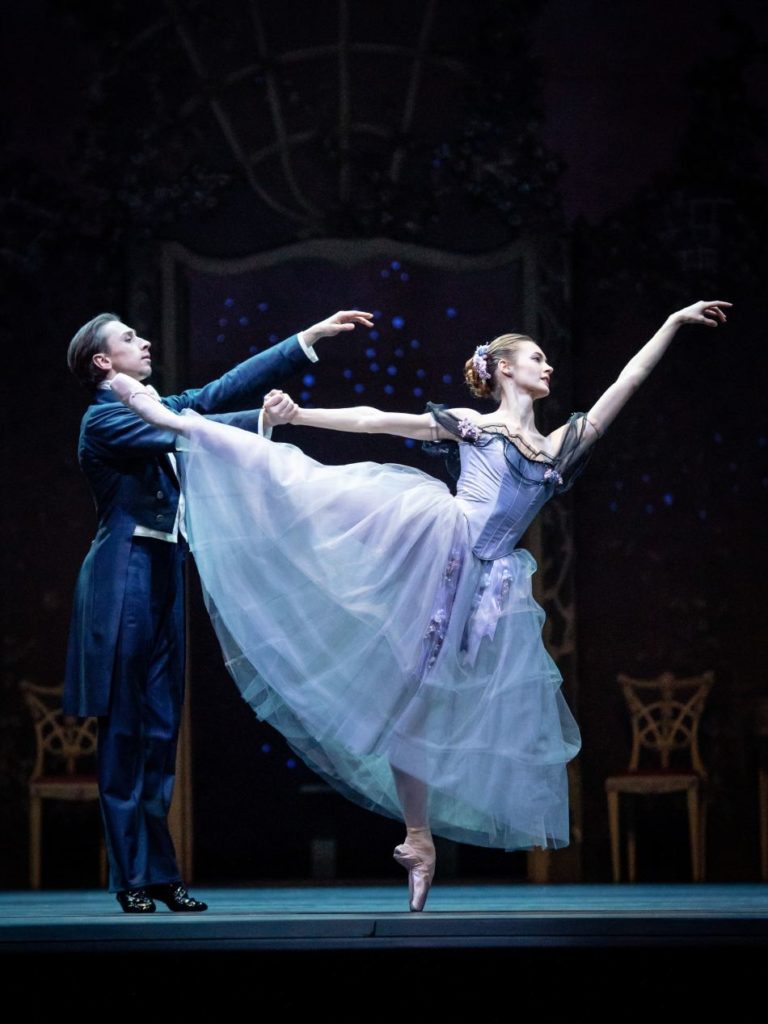 accompanies her affectionately. Couple number four (Elena Bottaro and Denys Cherevychko) has a boisterous relationship. Bottaro's skirt hardly stops billowing as they swirl and twirl around.
With the exception of one man, who shows slightly too much attention towards another woman, all of the couples stay faithfully together. After a short breather outdoors (perhaps a stroll in the park?), they return one after another. The taffeta gowns and the men's white gloves are gone, and the women – this time wearing tulle dresses – have switched their character shoes for pointe. As if having shed the facade, true selves come to the surface. To Brahms's final songs, each dancer re-dons their festive outfit and listens from the edges of the parlor to Goethe's Enough, now, ye Muses!
When assembling the program for this season, artistic director Martin Schläpfer couldn't have known how the social and political situation in Austria might take a drastic turn. For weeks, masses of demonstrators have crowded the streets to oppose COVID-19 restrictions and an imminent vaccination mandate. It was jarring to see such an extraordinary discrepancy between our reality and the world-enraptured, self-absorbed society depicted by Robbins and Balanchine. It felt like Versailles shortly before the revolution – an absurd experience!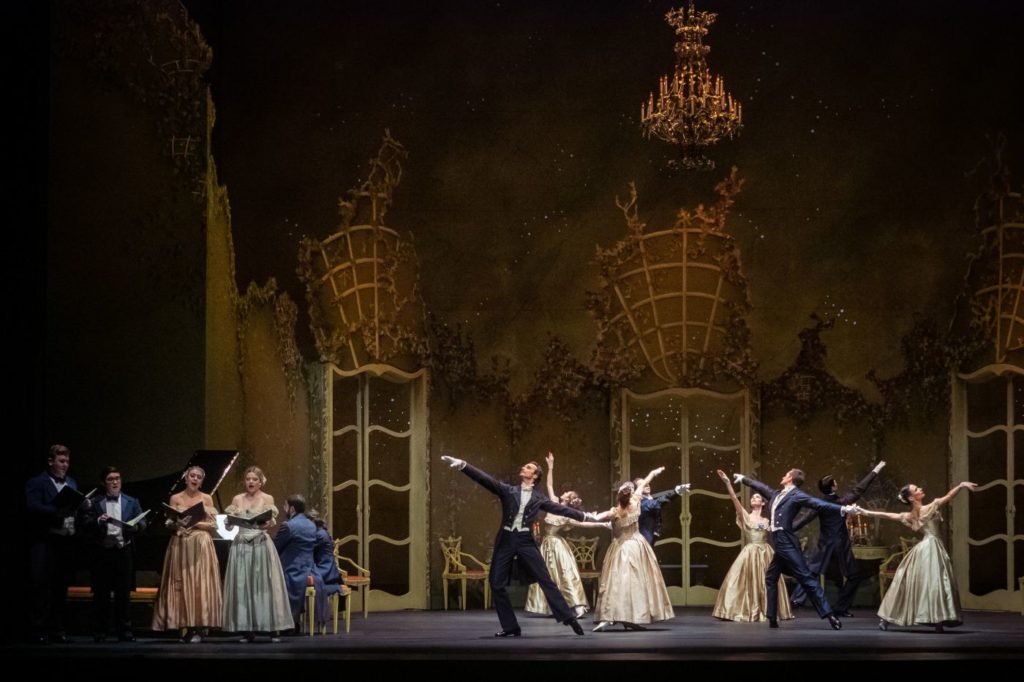 Links:
Website of the Vienna State Ballet
Interview with Maria Calegari and Bart Cook, repetiteurs of "Liebeslieder Walzer" (video)
Rehearsal of "Concerto" (video)

Photos:

1.

Davide Dato, "Other Dances" by Jerome Robbins

© The Robbins Right Trust,

Vienna State Ballet

2022

 

2.

Hyo-Jung Kang, "Other Dances" by Jerome Robbins

© The Robbins Right Trust,

Vienna State Ballet

2022

 

3.

Hyo-Jung Kang, "Other Dances" by Jerome Robbins

© The Robbins Right Trust,

Vienna State Ballet

2022

 

4.

Davide Dato and Hyo-Jung Kang, "Other Dances" by Jerome Robbins

© The Robbins Right Trust,

Vienna State Ballet

2022

 

5.

Davide Dato, "Other Dances" by Jerome Robbins

© The Robbins Right Trust,

Vienna State Ballet

2022

 

6.

Ensemble, "Concerto" by Lucinda Childs, Vienna State Ballet 2022

 

7.

Laura Cislaghi, Daniel Vizcayo, and Natalya Butchko, "Concerto" by Lucinda Childs, Vienna State Ballet 2022

 

8.

Ensemble, "Liebeslieder Walzer" by George Balanchine

© The George Balanchine Trust, Vienna State Ballet 2022

9.

Liudmila Konovalova and Zsolt Török,

"Liebeslieder Walzer" by George Balanchine

© The George Balanchine Trust, Vienna State Ballet 2022

10.

Roman Lazik and Claudine Schoch,

"Liebeslieder Walzer" by George Balanchine

© The George Balanchine Trust, Vienna State Ballet 2022

11.

Elena Bottaro and Denys Cherevychko,

"Liebeslieder Walzer" by George Balanchine

© The George Balanchine Trust, Vienna State Ballet 2022

12.

Masayu Kimoto and Maria Yakovleva,

"Liebeslieder Walzer" by George Balanchine

© The George Balanchine Trust, Vienna State Ballet 2022

13.

Denys Cherevychko and Elena Bottaro,

"Liebeslieder Walzer" by George Balanchine

© The George Balanchine Trust, Vienna State Ballet 2022

14.

Ensemble,

"Liebeslieder Walzer" by George Balanchine

© The George Balanchine Trust, Vienna State Ballet 2022

all photos © Vienna State Ballet / Ashley Taylor

Editing:
Jake Stepansky