"Einmalig"
("Bliss" / "Falling Angels" / "Solo" / Excerpts from "Romeo and Juliet", "Die Schöpfung", and "Mayerling" )
Stuttgart Ballet
Stuttgart State Opera
Stuttgart, Germany
March 04, 2022
by Ilona Landgraf
Copyright © 2022 by Ilona Landgraf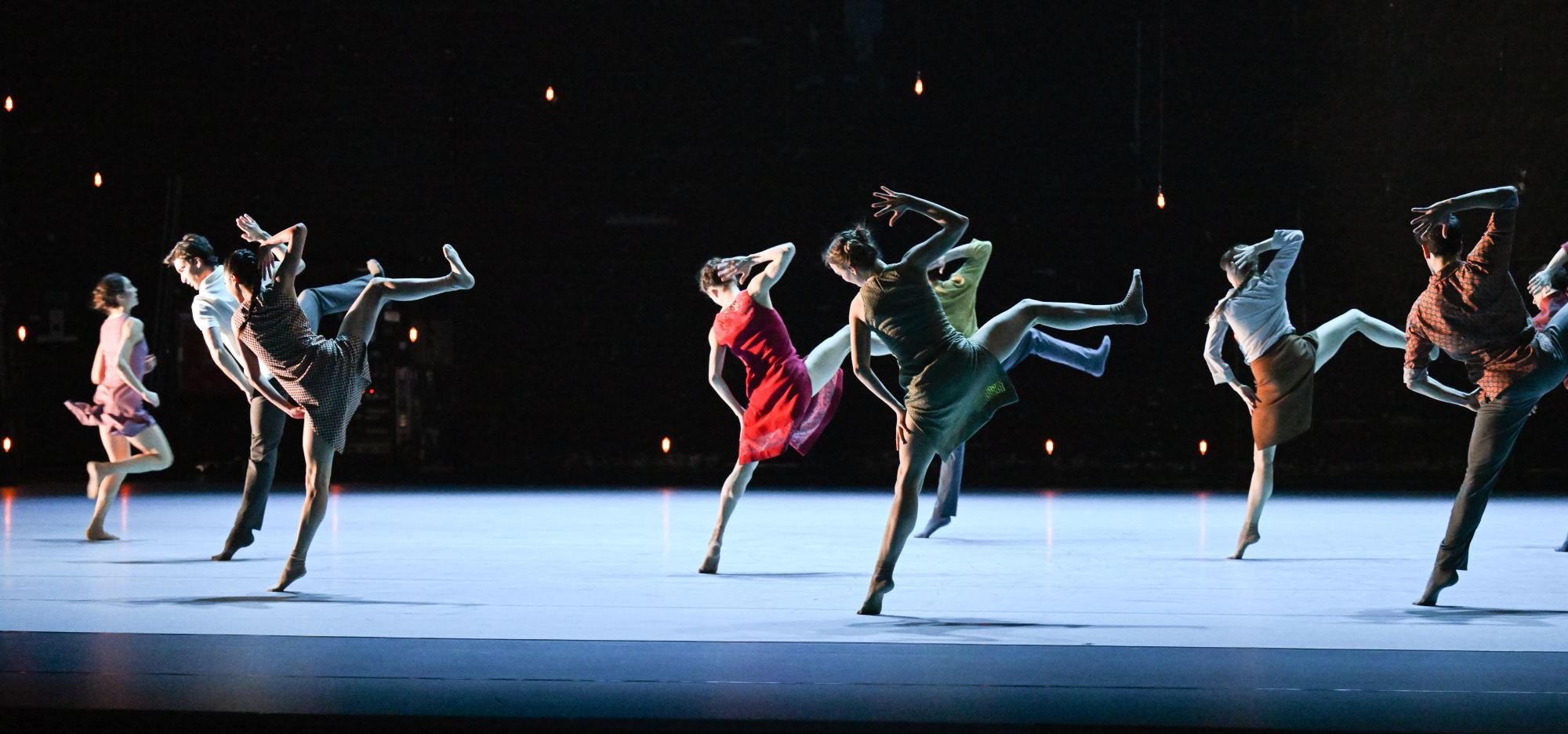 Although the Stuttgart Ballet's new all-Johan Inger triple bill was thwarted by a number of COVID-19 infections in the company, artistic director Tamas Detrich did not give in. Rather than canceling the scheduled March 4th performance, he assembled a substitute program literally overnight. From the original schedule, only Inger's "Bliss" (2016) remained (2002's "Out of Breath" and the recently premiered "Aurora's Nap" were eliminated). A courageous dive into the company's vast repertoire – short pieces by Jiří Kylián and Hans van Manen, and three excerpts from evening-length pieces – filled out the bill.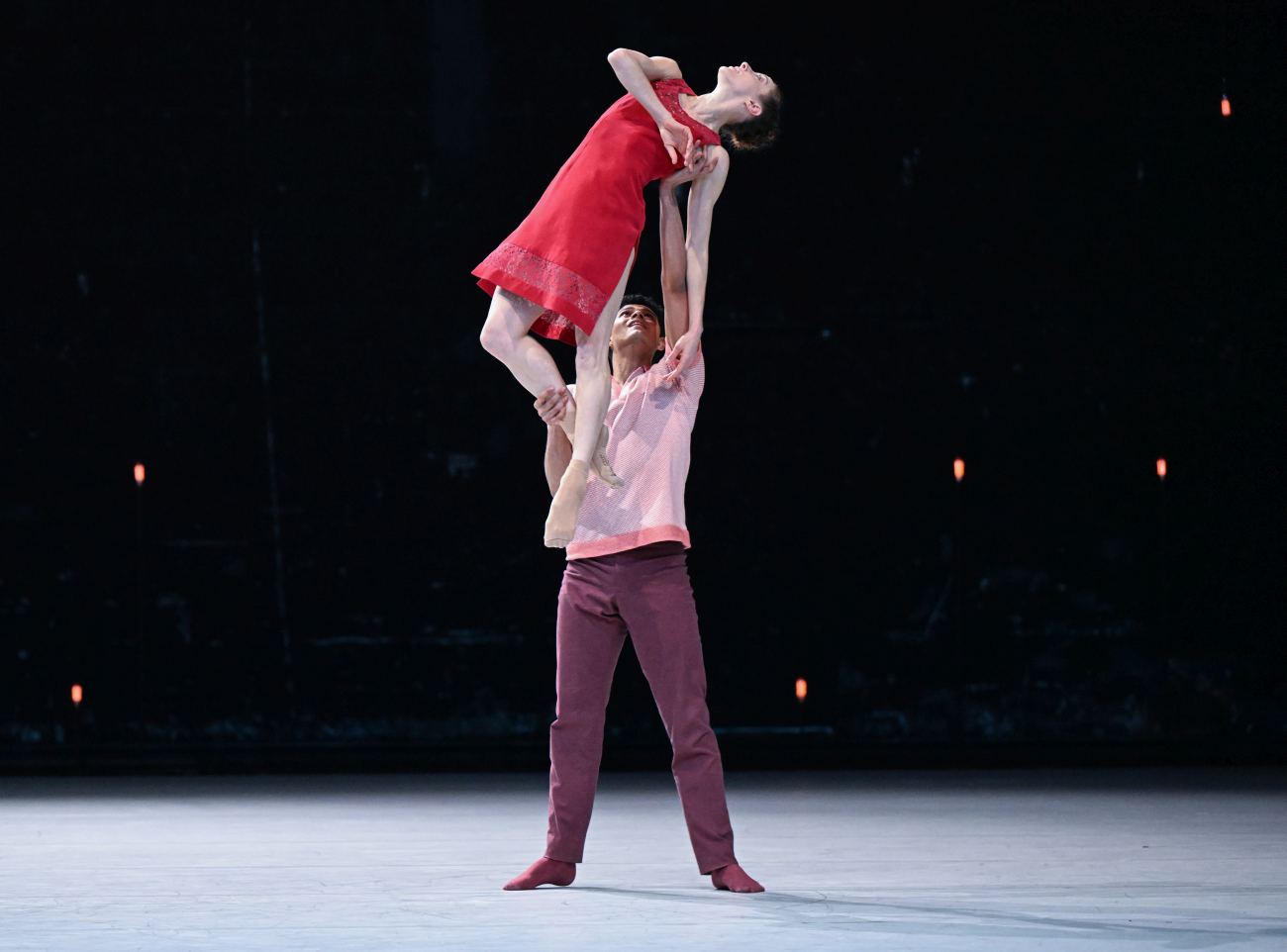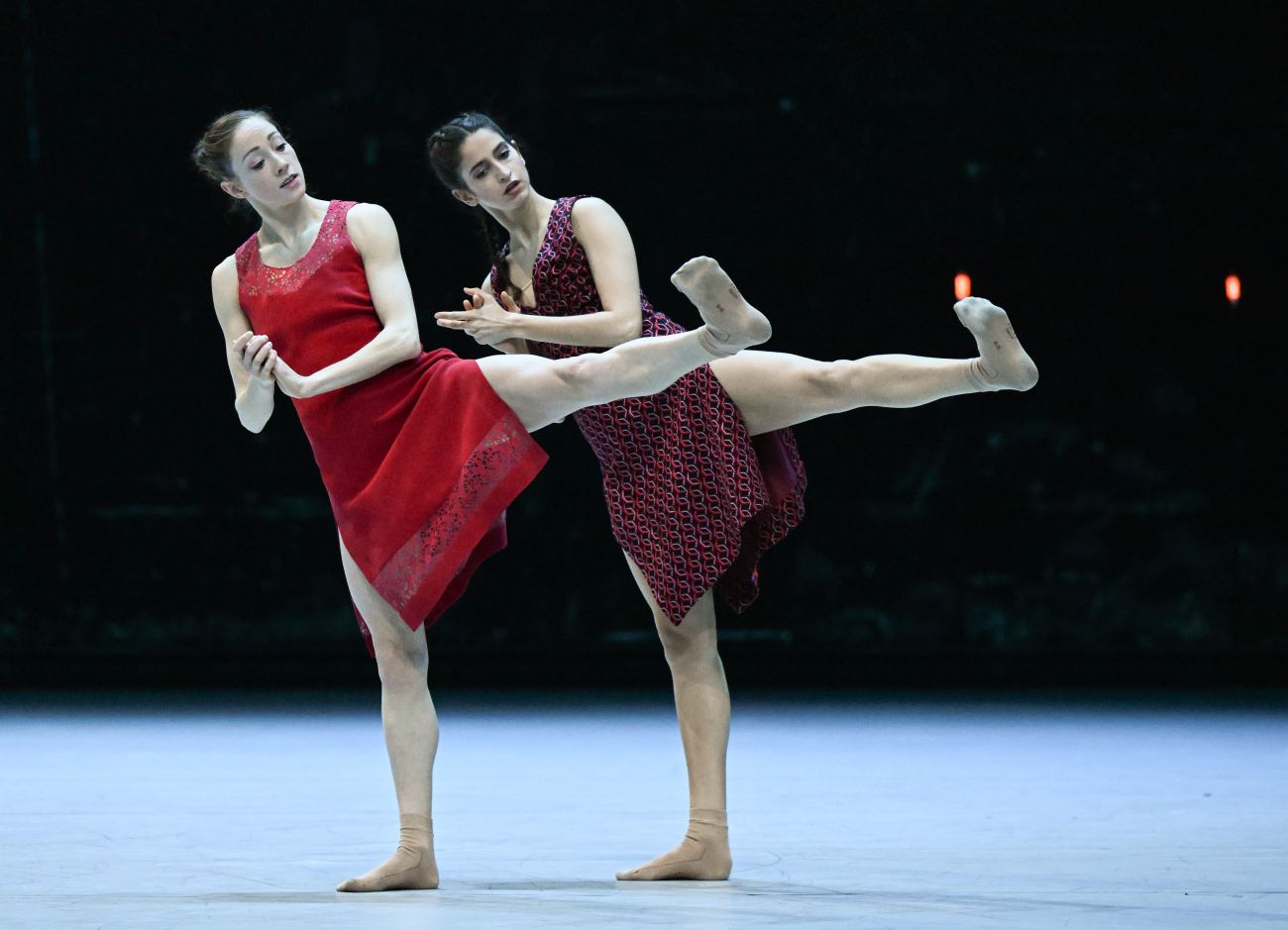 A star-like lamp and scattered pricks of light decorate the otherwise bare stage of "Bliss". Its fourteen dancers (seven women and seven men) seem to improvise alongside the off-the-cuff stylings of pianist Keith Jarrett in the accompanying (pre-recorded) "The Köln Concert". Their casual costumes (Inger and Francesca Messori designed pants and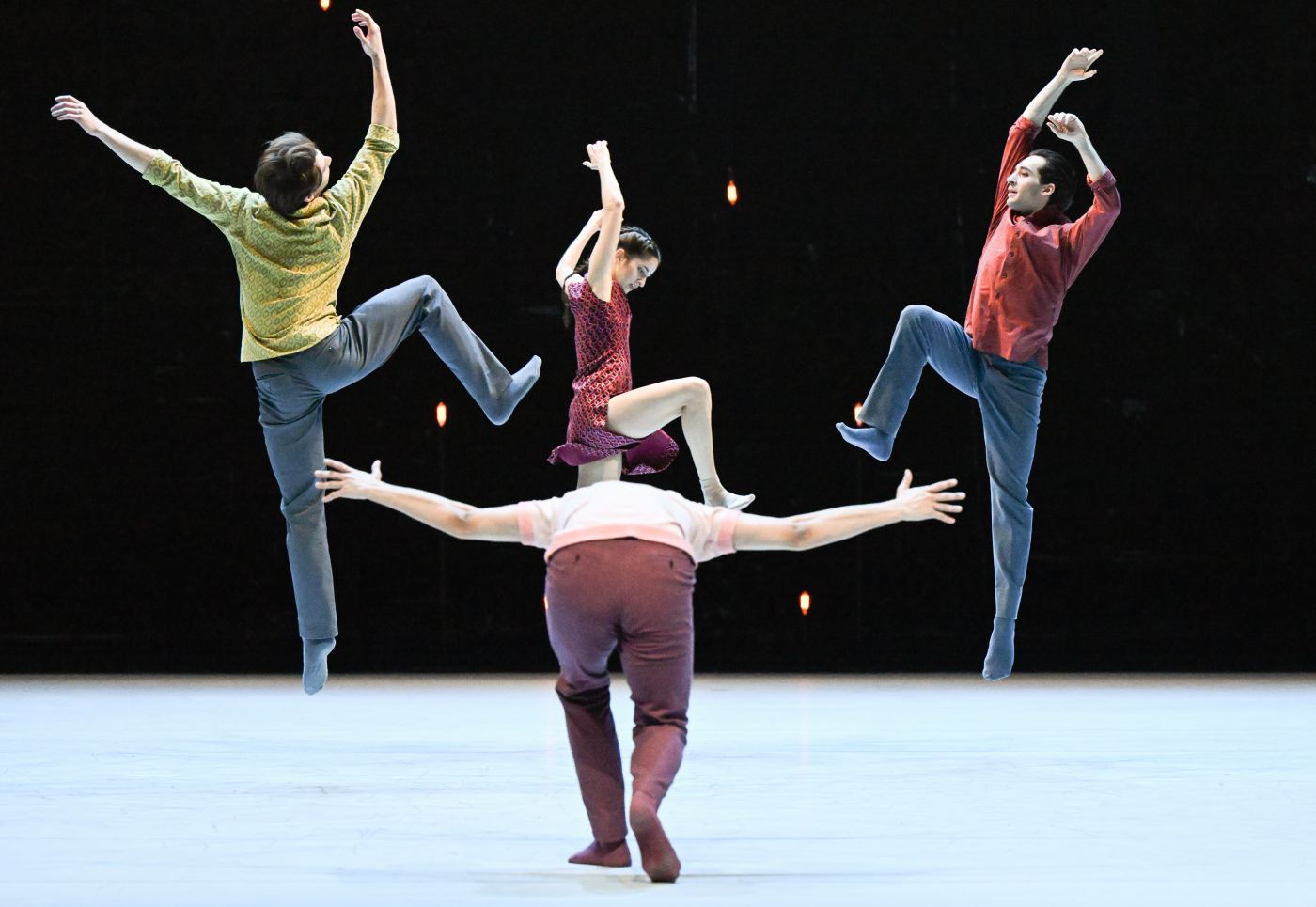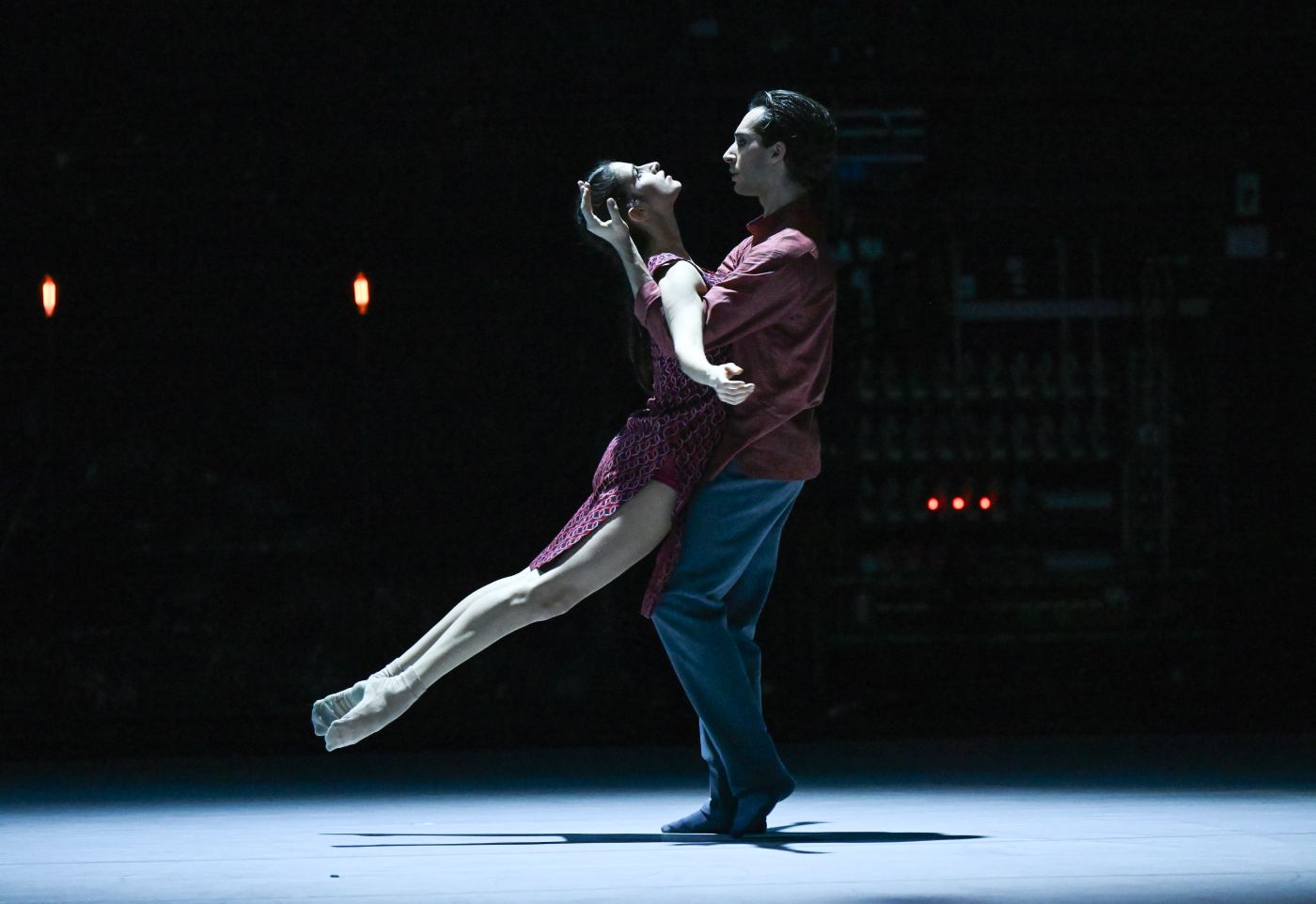 colorful shirts for the men and short, patterned dresses and skirts for the women) evoke the purposeless of youth. The dancers watch one another as they swing their arms, snap their fingers, clap their hands, and stride around with exaggerated steps. Two young men tease (or challenge?) one another, while a third's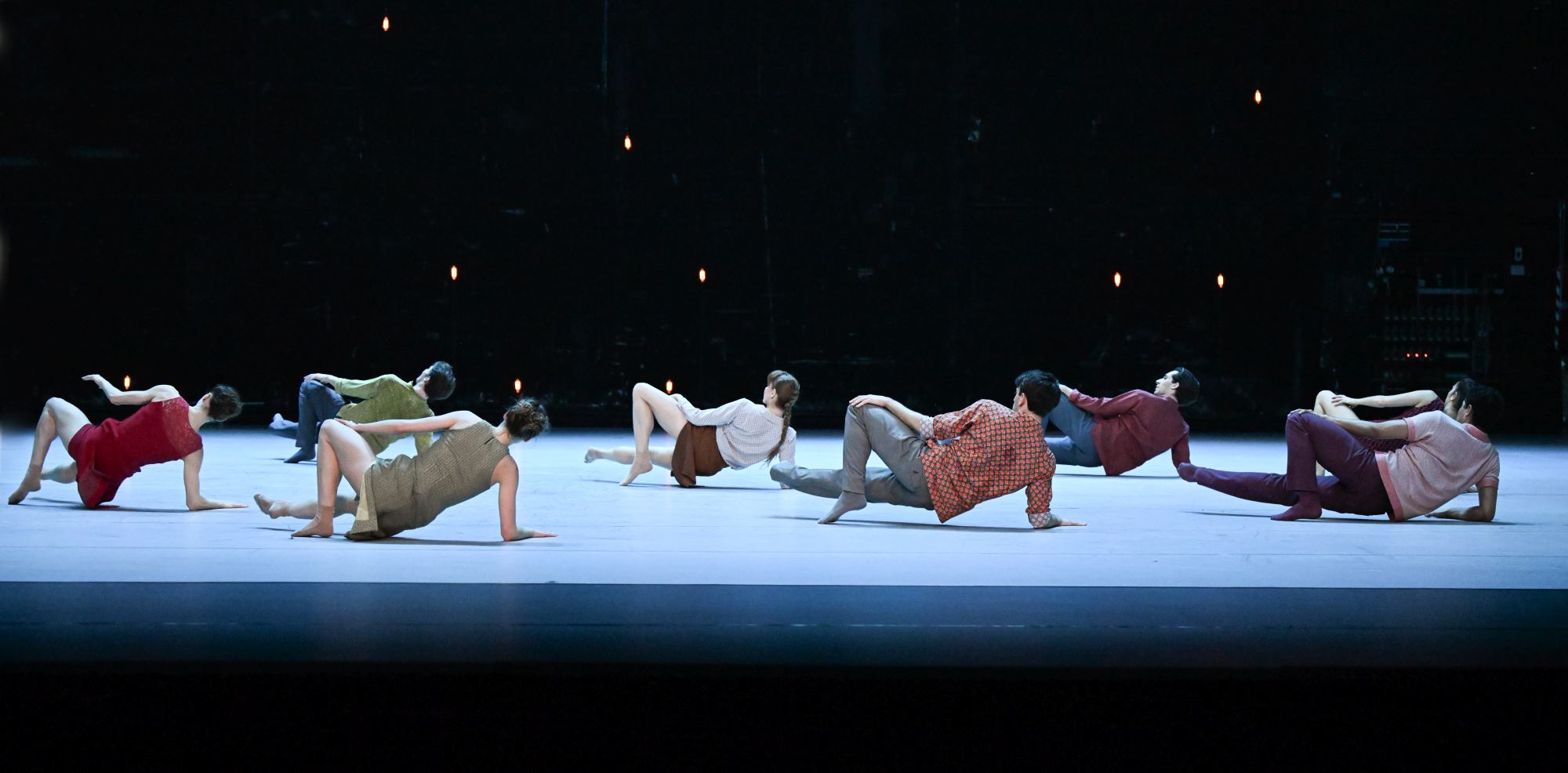 interest in a woman fades quickly. Another woman's gyrating pelvis has magnetic allure to one man, but not to the guy she tries to attract by writhing suggestively on the floor. Self-fashioning is rampant and mutual appeal fluctuates. Surprisingly, not even the ease and verve of Jarrett's final vamp could rip the group from its oblivion as they swing their pelvises, run in circles, cycle through elusive arm movements, and kick their relentless legs.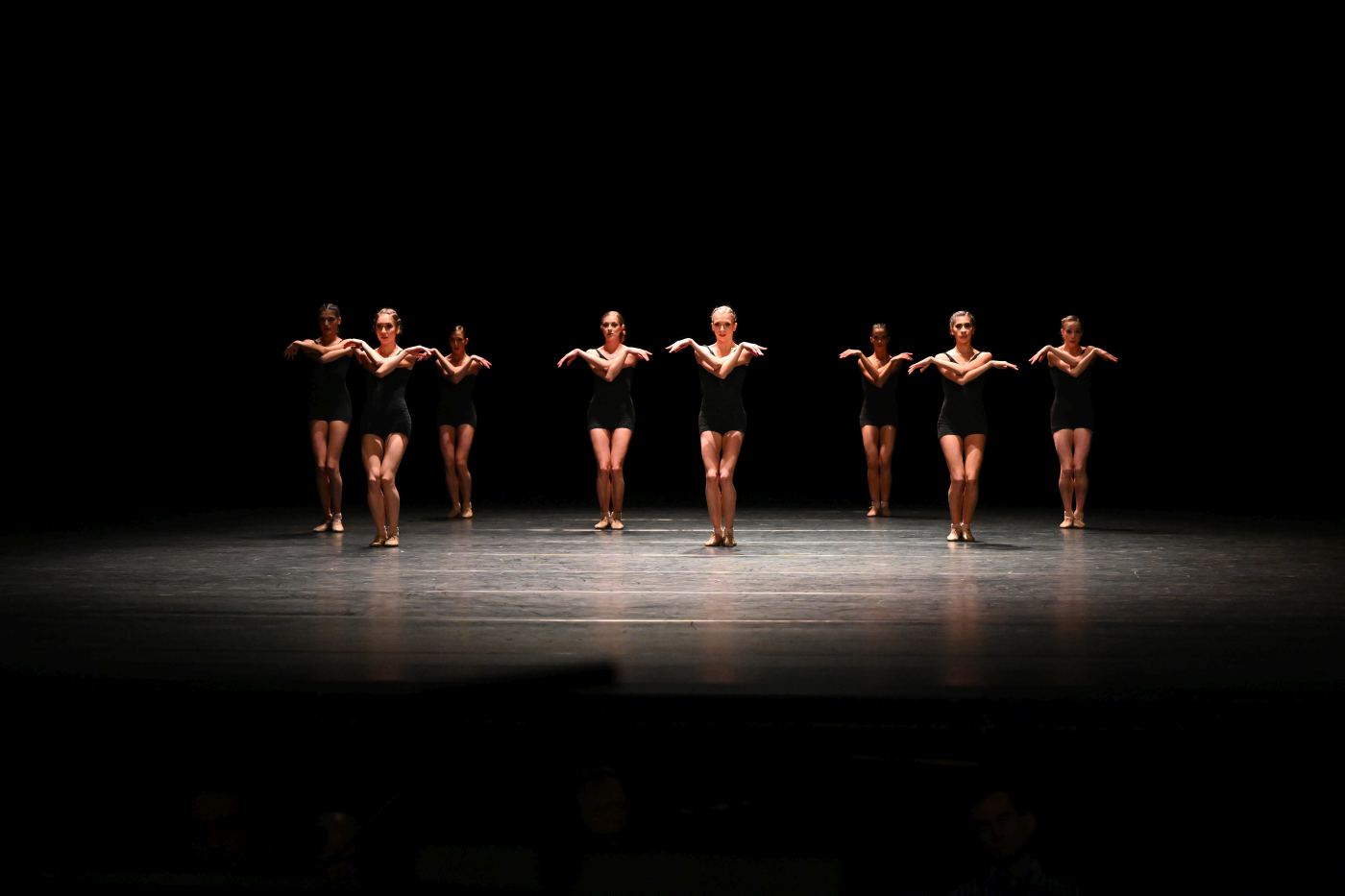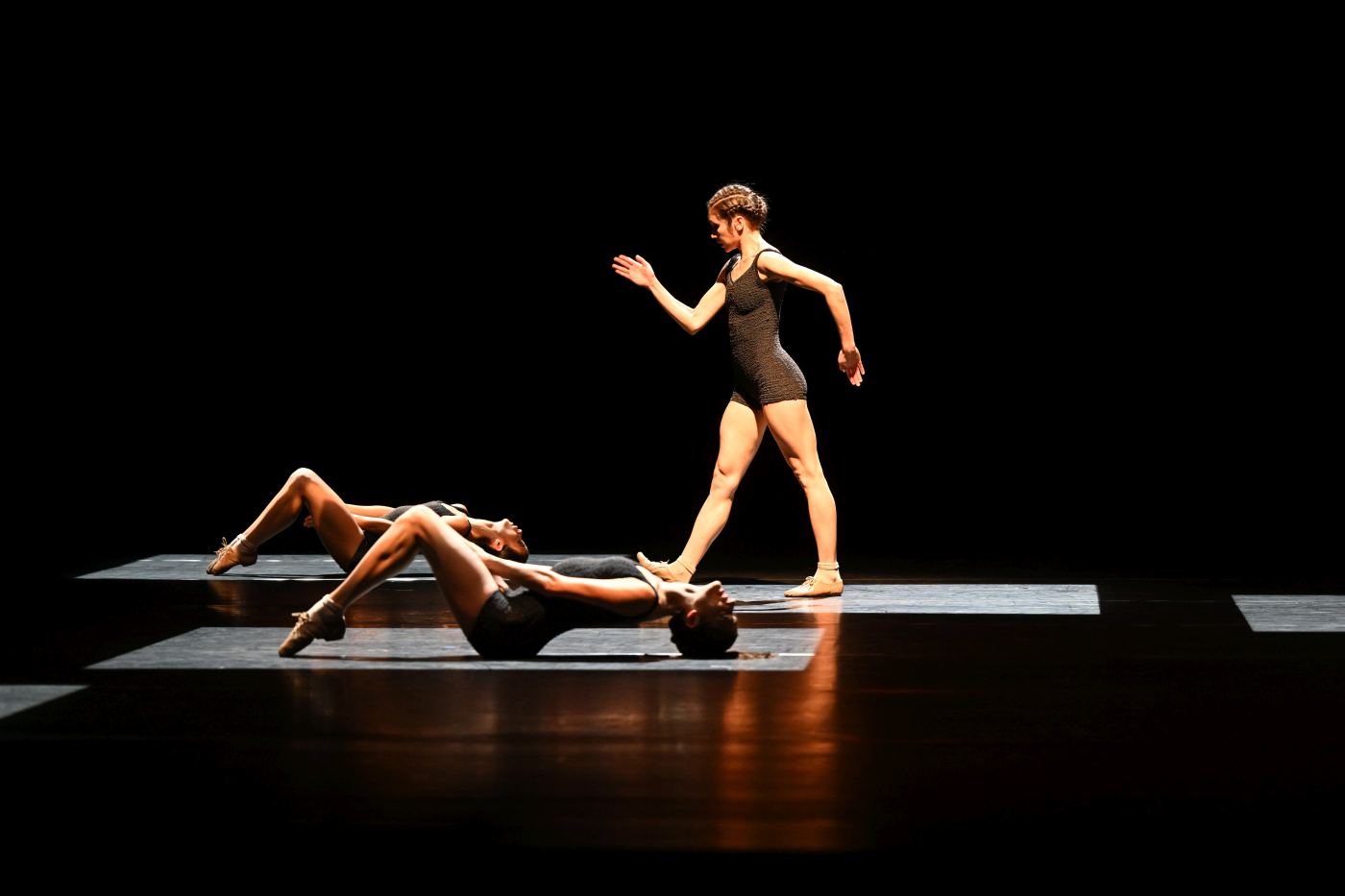 In Kylián's "Falling Angels", eight women in black biketards cautiously feel their way onto the stage. Driven by the pressing rhythm of Steve Reich's "Drumming" (played live by four percussionists), they stomp, squat, kneel, and crawl on their stomachs, tediously, like reptiles with early limbs. They use their hands to beat their foreheads and cover their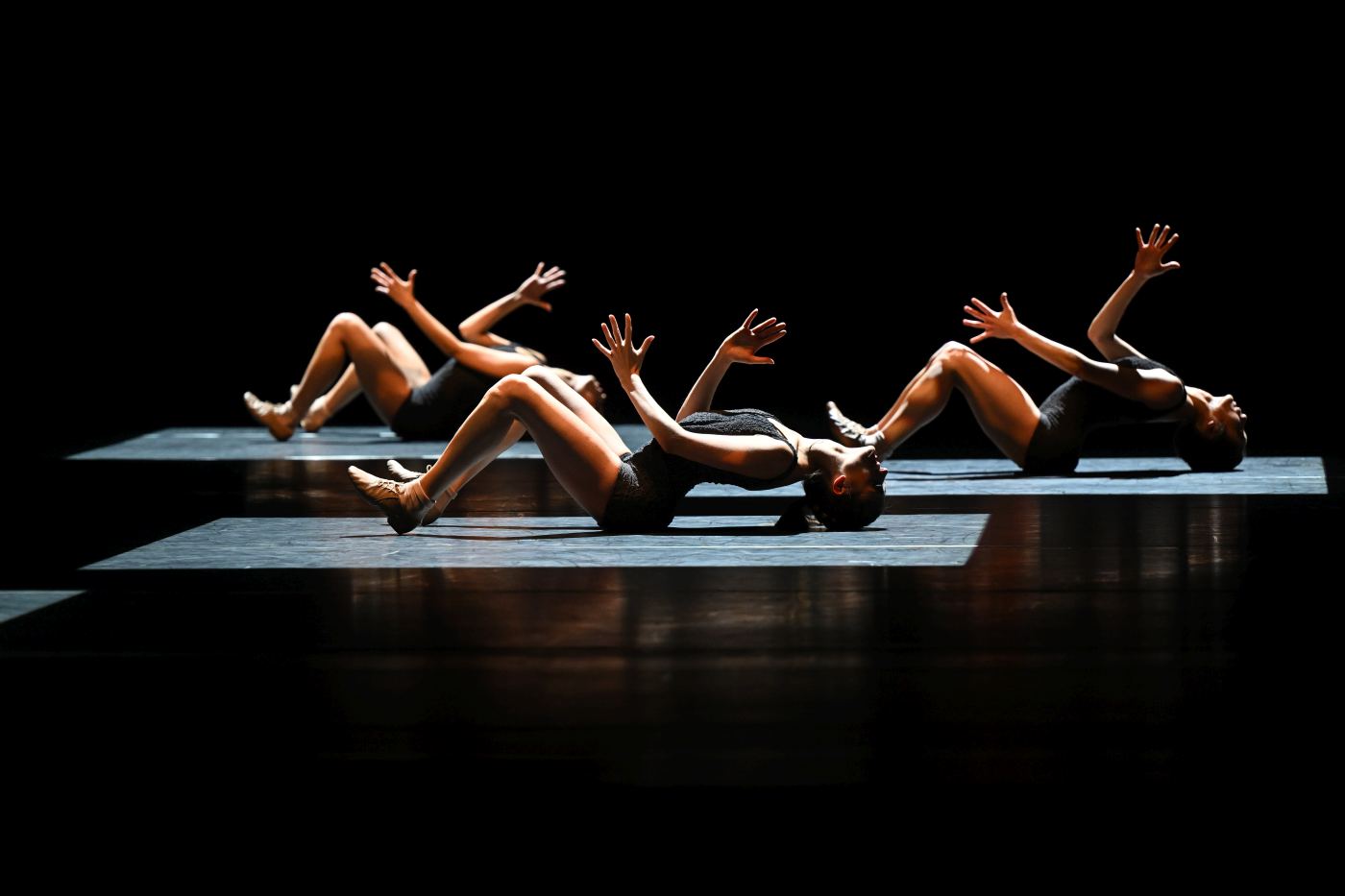 ears and mouths, their eyes lowered despondently downwards. Occasionally, one steps out and undulates her body as if in a frenzy, or indecisively treads back and forth as if stripped from the freedom to move. Despite the vigor of their movements, their pushing palms, their beating elbows – these angels can't rise to brighter heights. Though warm rays of light suggest a cozy sunset, these women find themselves trapped in rectangular cells of cold light, frozen finally like dead beetles lying on their backs.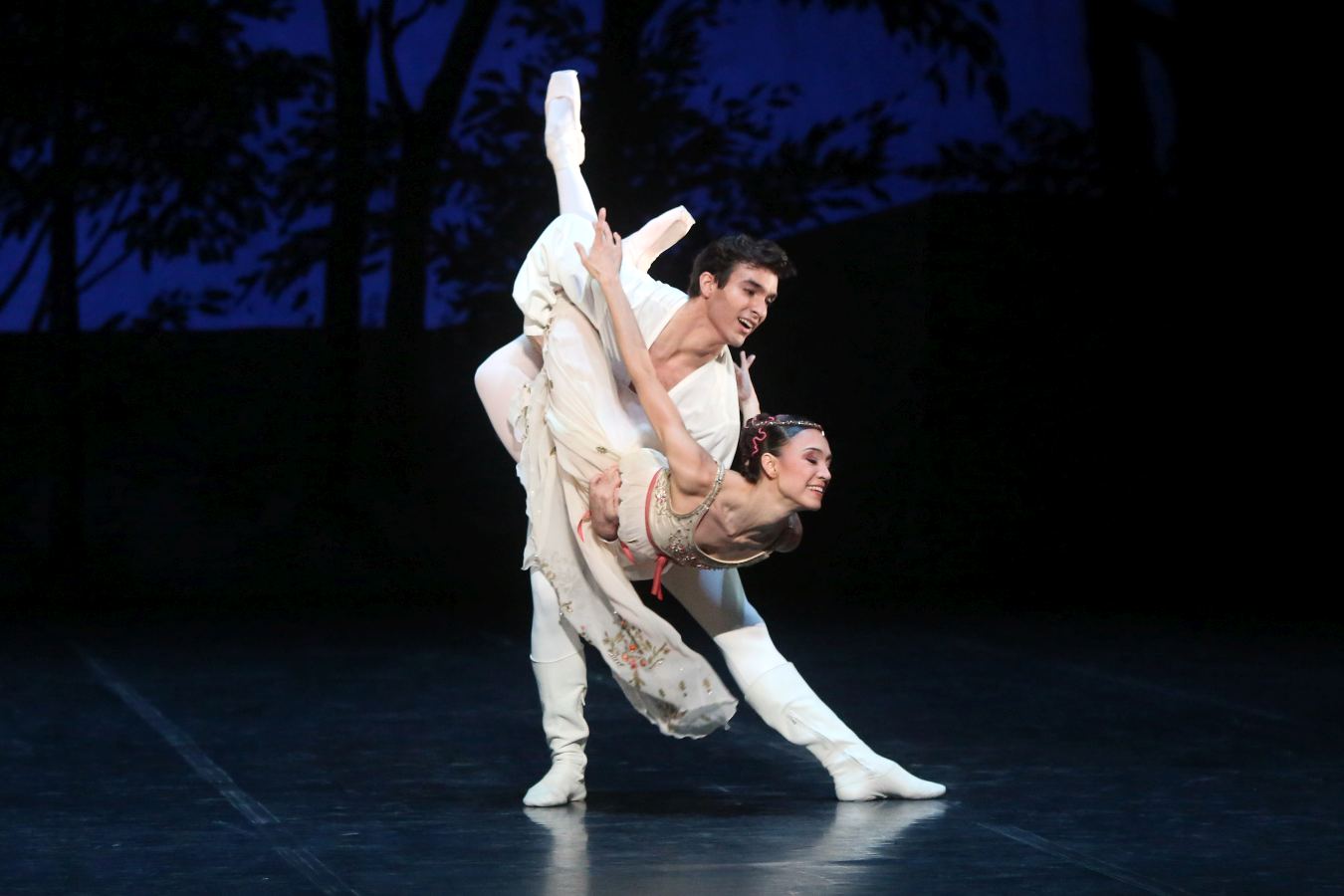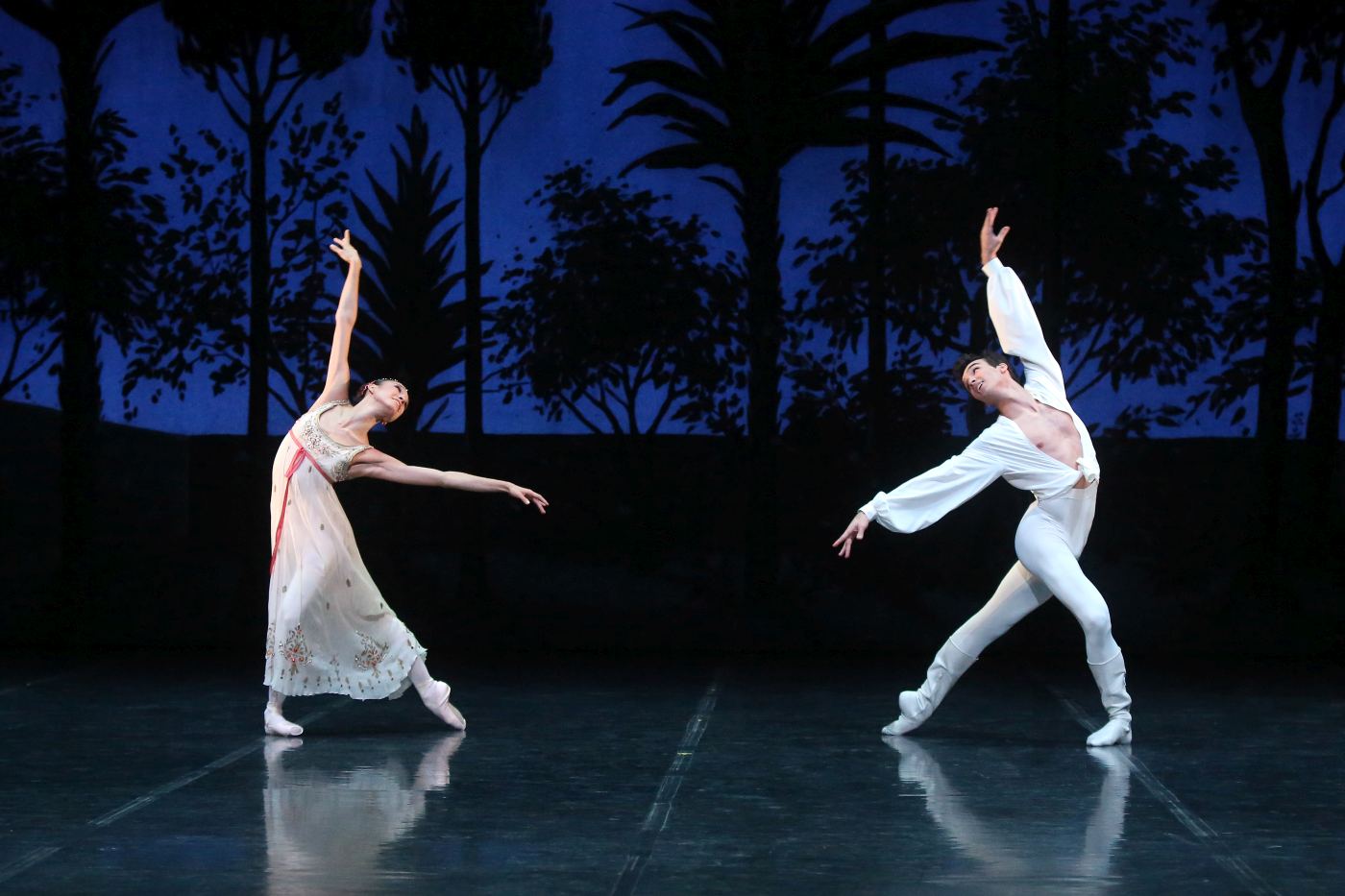 Although Cranko's "Romeo and Juliet" had not been revived for two and a half years, and although they were only given an ultra-short rehearsal period, Rocio Aleman and Martí Fernández Paixà ventured to perform the balcony pas de deux. Lacking a set (except for a pale moon) the lovers' encounter was understandably more contemplative than romantic.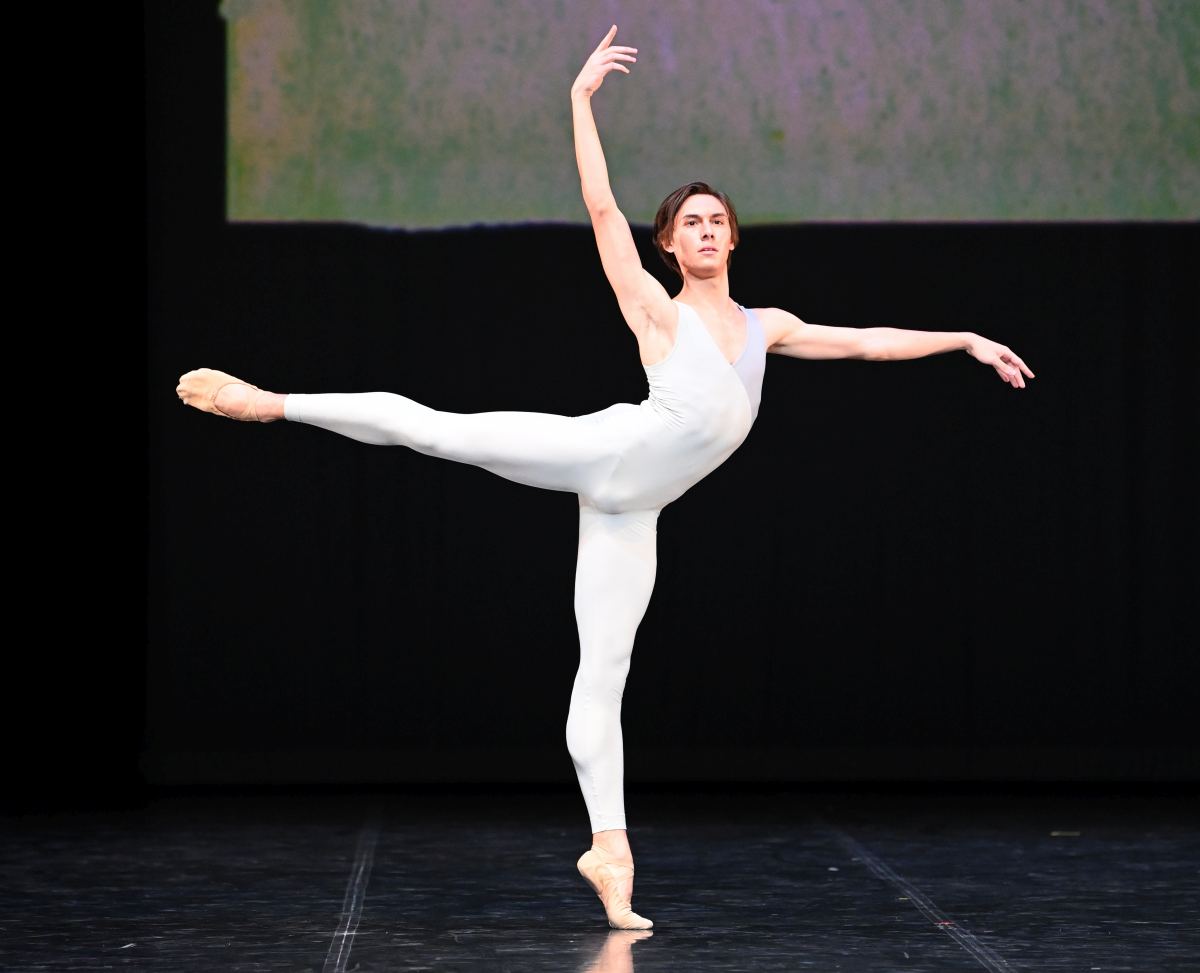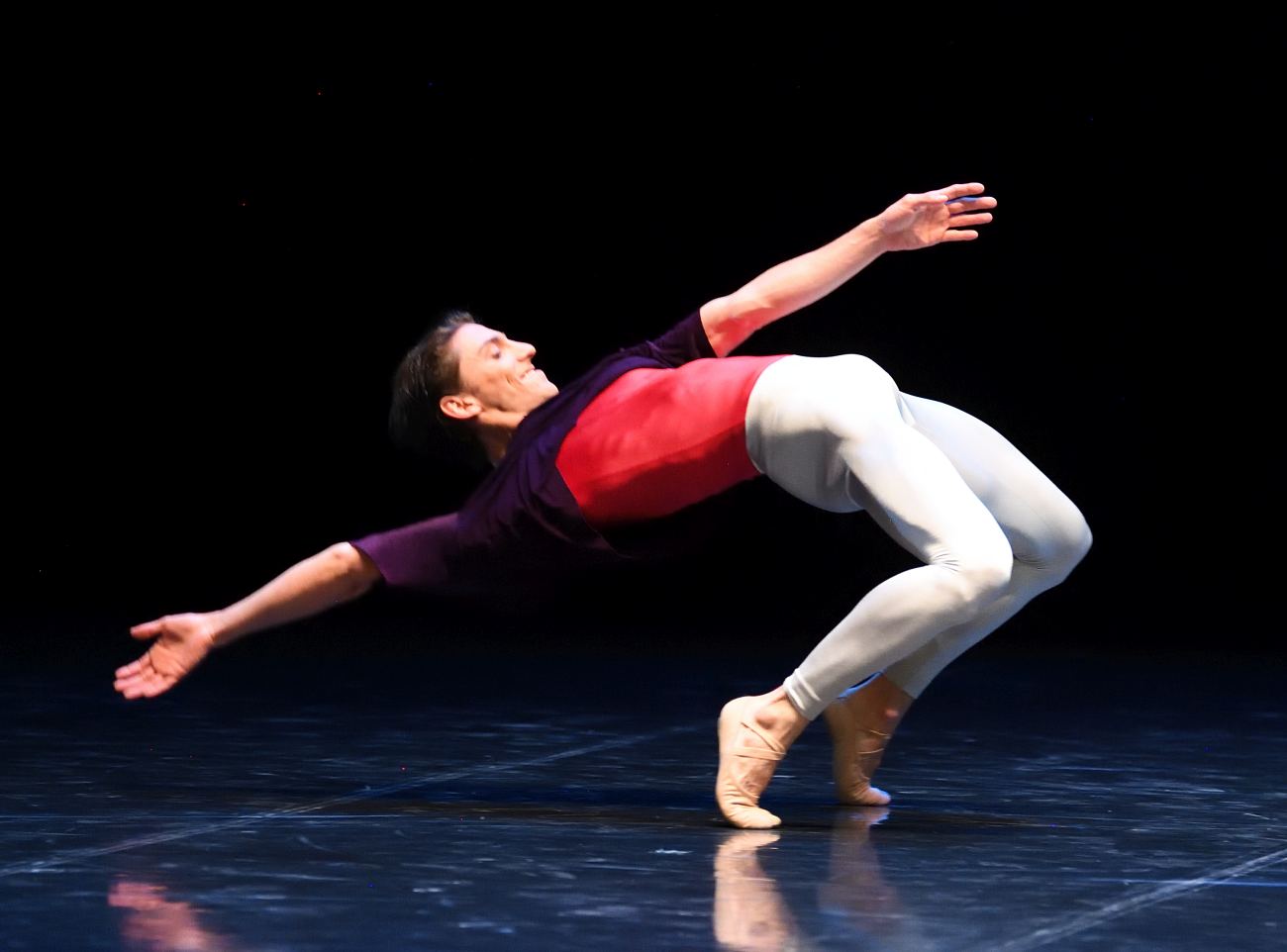 Kudos! – to Henrik Erikson, Alessandro Giaquinto, and Matteo Miccini, who swaggered through a snappy rendition of Hans van Manen's fast-paced "Solo". How refreshing to see their brio and their ebullient spirits!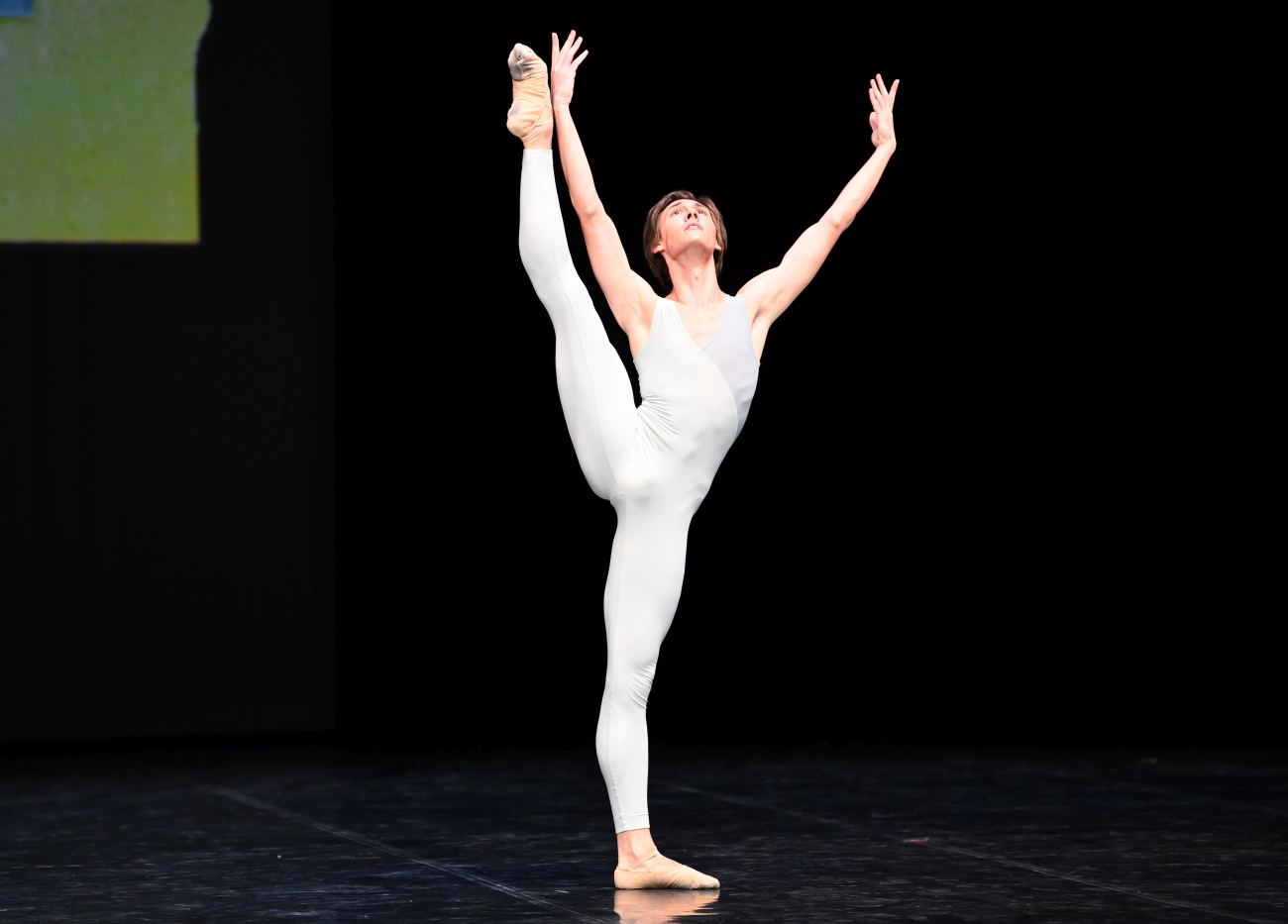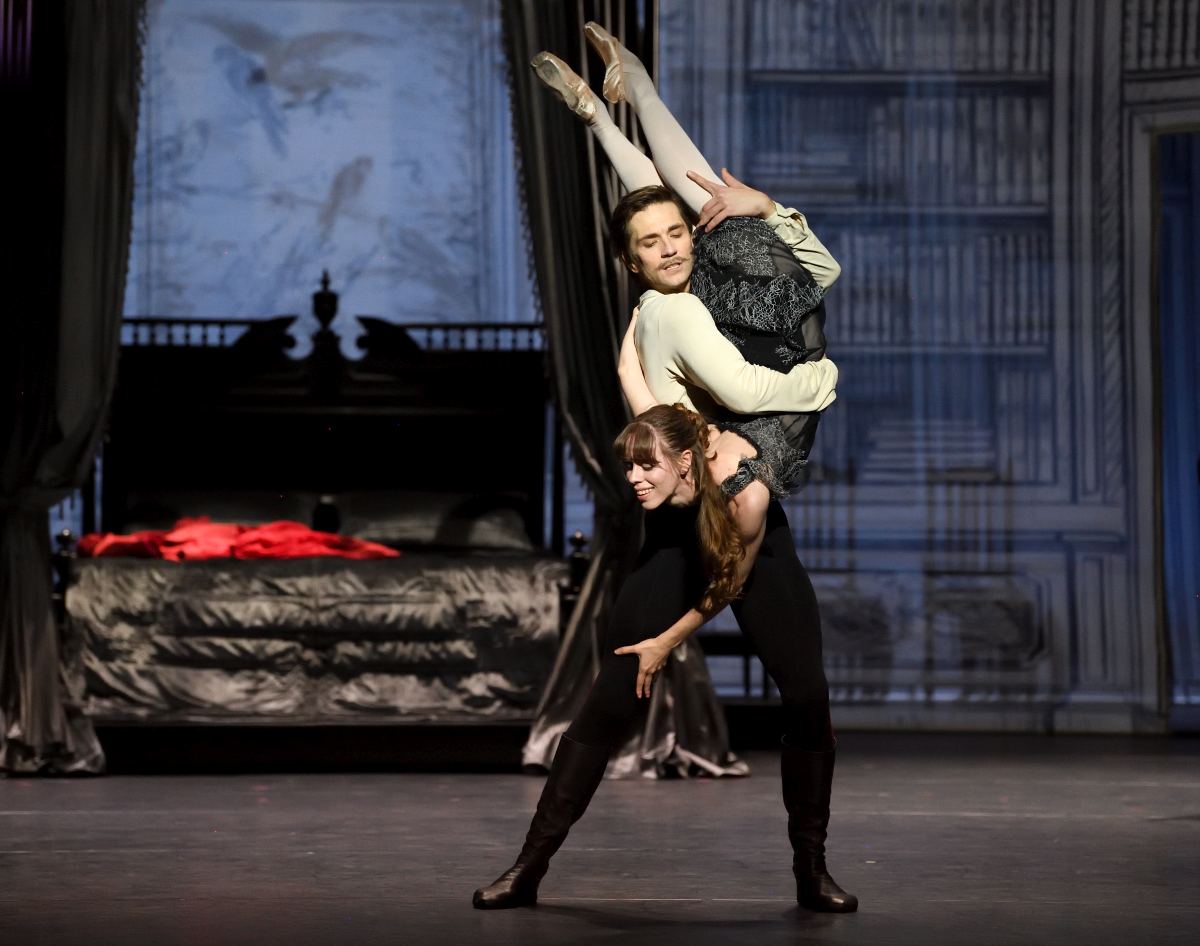 The highlight of the evening was a solo from Gabriel Figueredo who, after finishing his education at the John Cranko School, joined the company in 2019. This season, the Brazilian was promoted to demi-soloist. Figueredo danced a brief excerpt from Uwe Scholz's "Die Schöpfung" ("The Creation") that fit him like a glove. What an elegant line! What suppleness! What a remarkably strong energy – and modest conduct!
The bedroom pas de deux of MacMillan's "Mayerling" was accompanied by pieces of the new set and costumes designed for Stuttgart's production by Jürgen Rose. Rudolf's apartment was shaped by an ornamented back panel and a secretary piled with all sorts of stuffed birds. Given the short preparation time, Elisa Badenes and Friedemann Vogel couldn't fully plumb the depths of their characters; nevertheless, the teaser that closed this evening was acclaimed.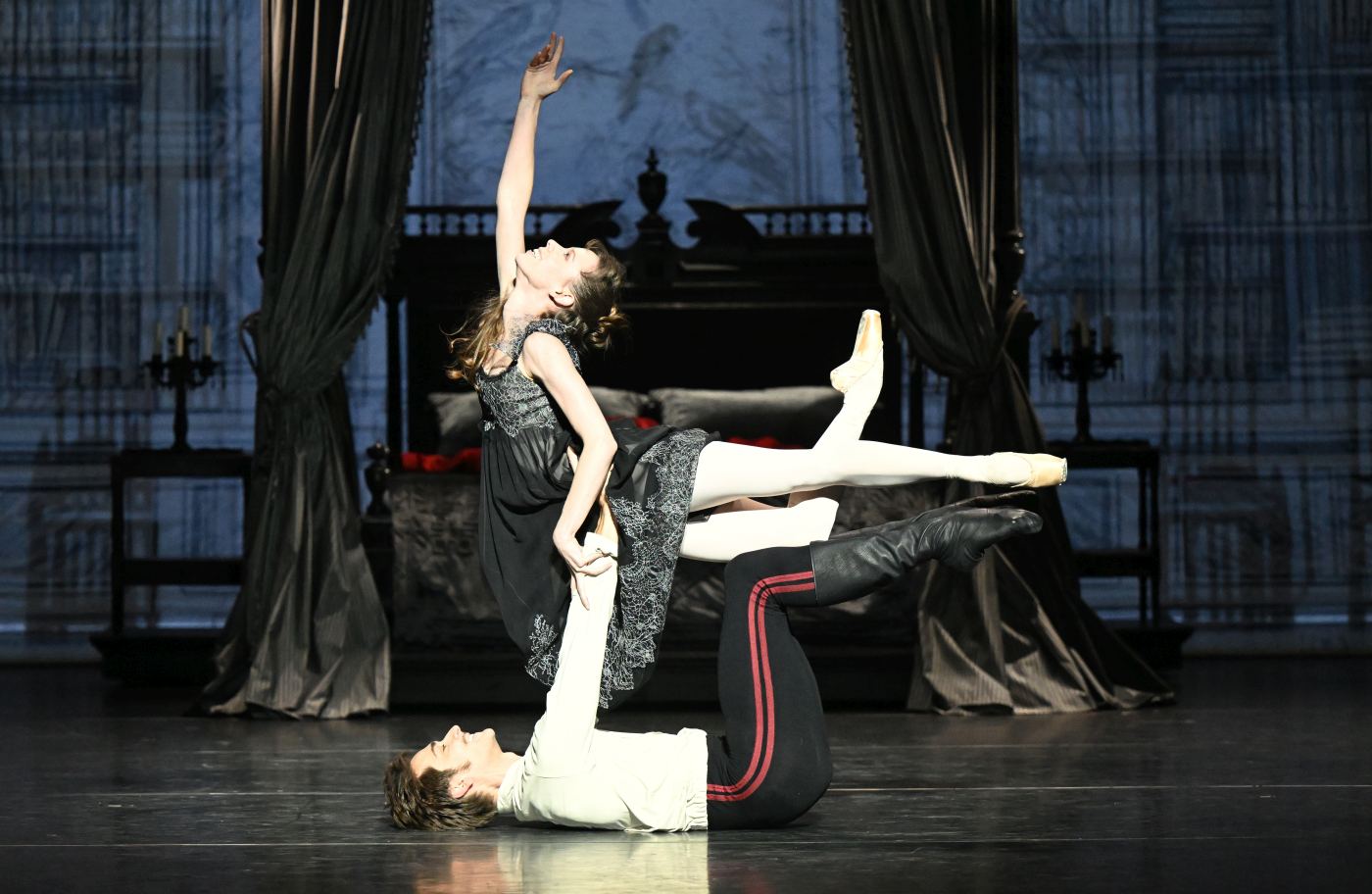 | | | |
| --- | --- | --- |
| Links: | | Website of the Stuttgart Ballet |
| | | Rehearsal of "Bliss" (video) |
| Photos: | | (The photos were taken at earlier performances.) |
| | 1. | Ensemble, "Bliss" by Johan Inger, Stuttgart Ballet 2022 |
|   | 2. | Angelina Zuccarini and Vittoria Girelli, "Bliss" by Johan Inger, Stuttgart Ballet 2022 |
|   | 3. | Angelina Zuccarini and Noan Alves, "Bliss" by Johan Inger, Stuttgart Ballet 2022 |
|   | 4. | Timoor Afshar, Matteo Miccini, Vittoria Girelli, and Alessandro Giaquinto, "Bliss" by Johan Inger, Stuttgart Ballet 2022 |
|   | 5. | Vittoria Girelli and Alessandro Giaquinto, "Bliss" by Johan Inger, Stuttgart Ballet 2022 |
|   | 6. | Ensemble, "Bliss" by Johan Inger, Stuttgart Ballet 2022 |
|   | 7. | Ensemble, "Falling Angels" by Jiří Kylián, Stuttgart Ballet 2021 |
|   | 8. | Paula Rezende and ensemble, "Falling Angels" by Jiří Kylián, Stuttgart Ballet 2021 |
| | 9. | Ensemble, "Falling Angels" by Jiří Kylián, Stuttgart Ballet 2021 |
| | 10. | Rocio Aleman (Juliet) and Martí Fernández Paixà (Romeo), "Rome and Juliet" by John Cranko, Stuttgart Ballet 2018 |
| | 11. | Rocio Aleman (Juliet) and Martí Fernández Paixà (Romeo), "Rome and Juliet" by John Cranko, Stuttgart Ballet 2018 |
| | 12. | Matteo Miccini, "Solo" by Hans van Manen, Stuttgart Ballet 2020 |
| | 13. | Gabriel Figueredo, "Die Schöpfung" by Uwe Scholz, Stuttgart Ballet 2021 |
| | 14. | Gabriel Figueredo, "Die Schöpfung" by Uwe Scholz, Stuttgart Ballet 2021 |
| | 15. | Elisa Badenes (Mary Vetsera) and Friedemann Vogel (Crown Prince Rudolf), "Mayerling by Kenneth MacMillan, Stuttgart Ballet 2019 |
| | 16. | Elisa Badenes (Mary Vetsera) and Friedemann Vogel (Crown Prince Rudolf), "Mayerling" by Kenneth MacMillan, Stuttgart Ballet 2021 |
| | | all photos © Stuttgart Ballet |
| Editing: | | Jake Stepansky |