"Mayerling"
Ballet of the Hungarian State Opera
Hungarian State Opera
Budapest, Hungary
March 19, 2022
by Ilona Landgraf
Copyright © 2022 by Ilona Landgraf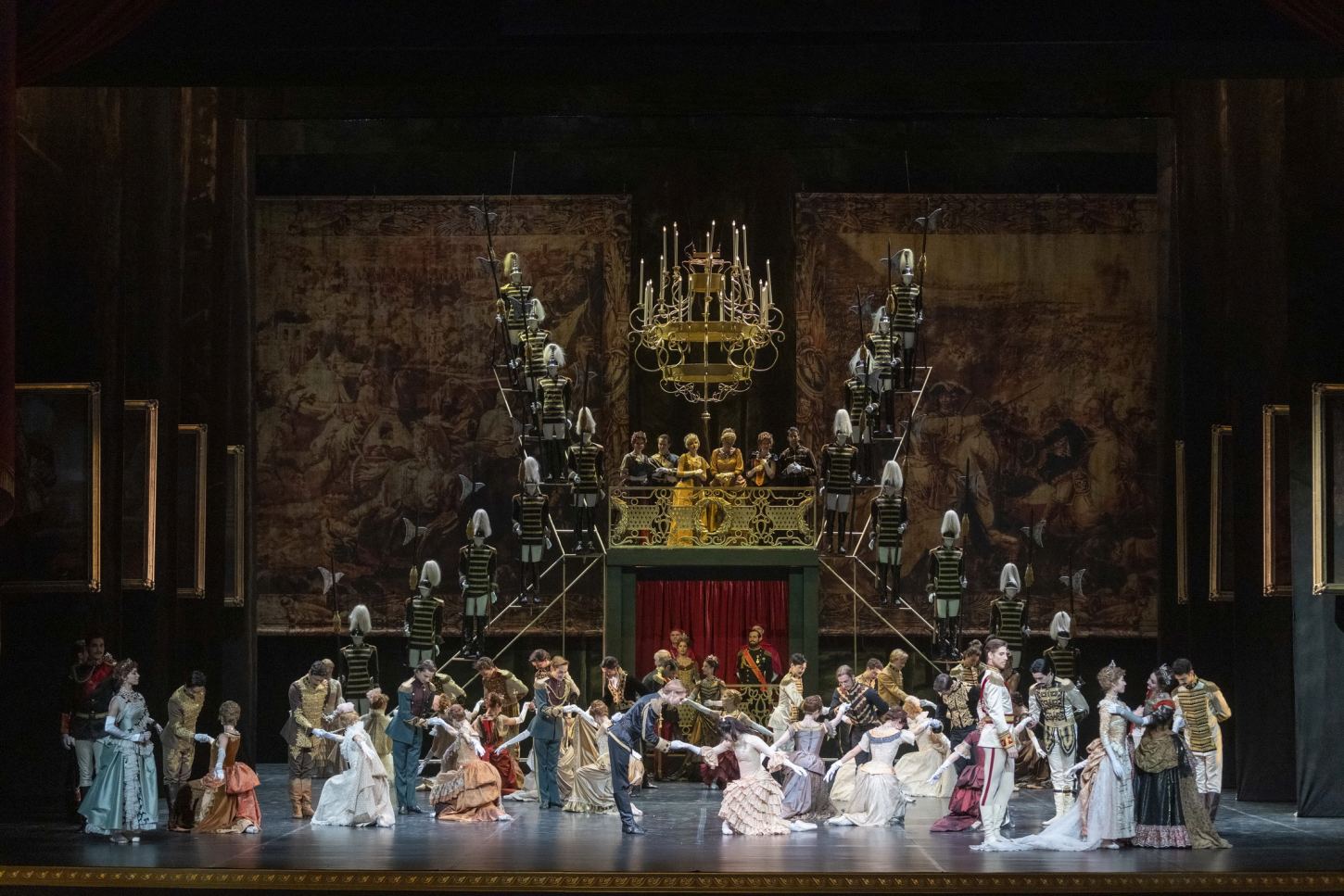 Eighteen years after its Hungarian premiere, Kenneth MacMillan's "Mayerling" returned to the stage of Budapest's newly renovated State Opera this March. According to a local dance critic, audience members cried while watching the 2004 performance, as the tragic 1889 death of Crown Prince Rudolf (heir to the throne of Austria-Hungary) is a chapter of Hungarian history that stirs up many emotions. Though he led a life of debauchery and primarily performed insignificant tasks in his role, the liberal-leaning Crown Prince was popular among the people. They pinned great hope on him, ignorant as they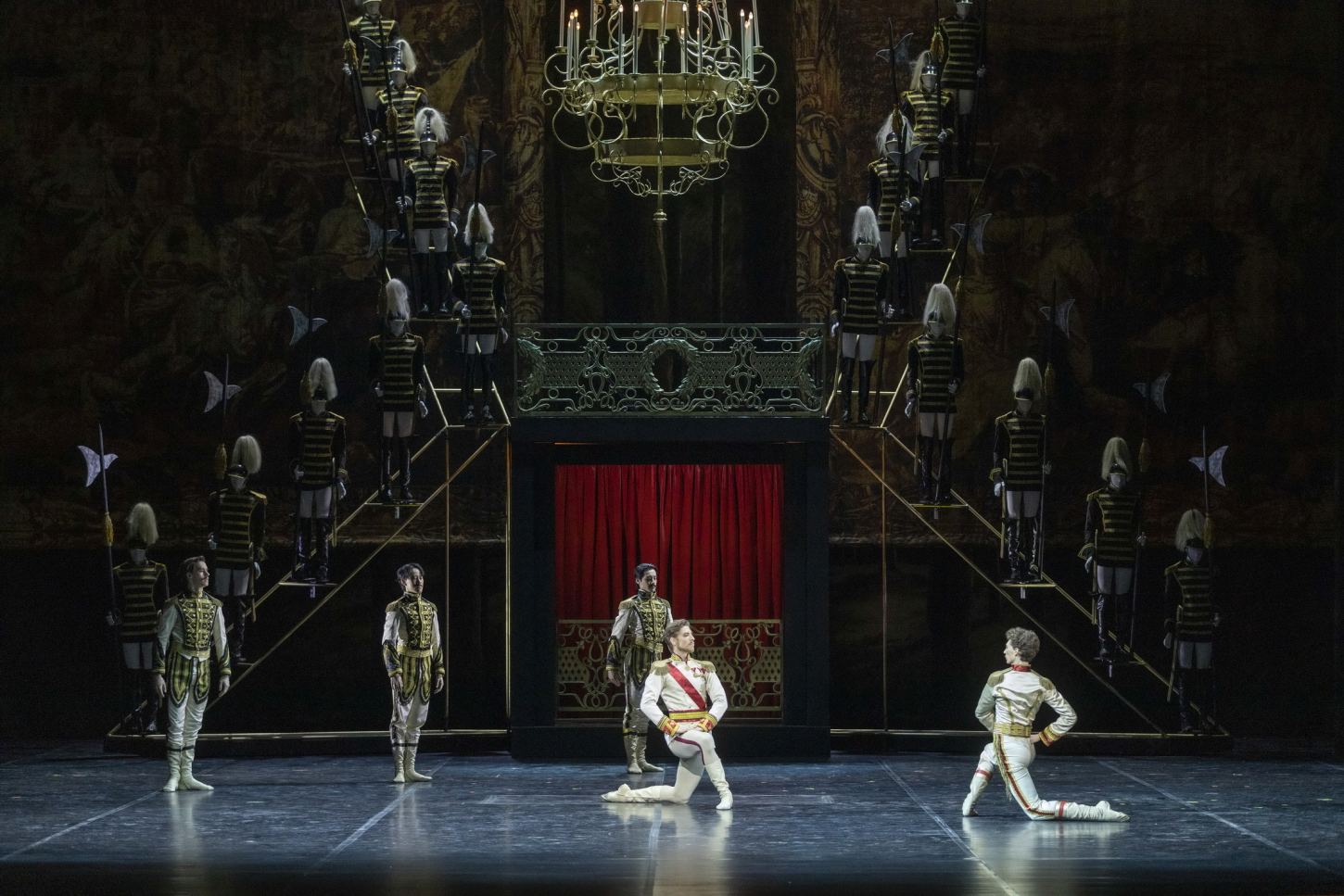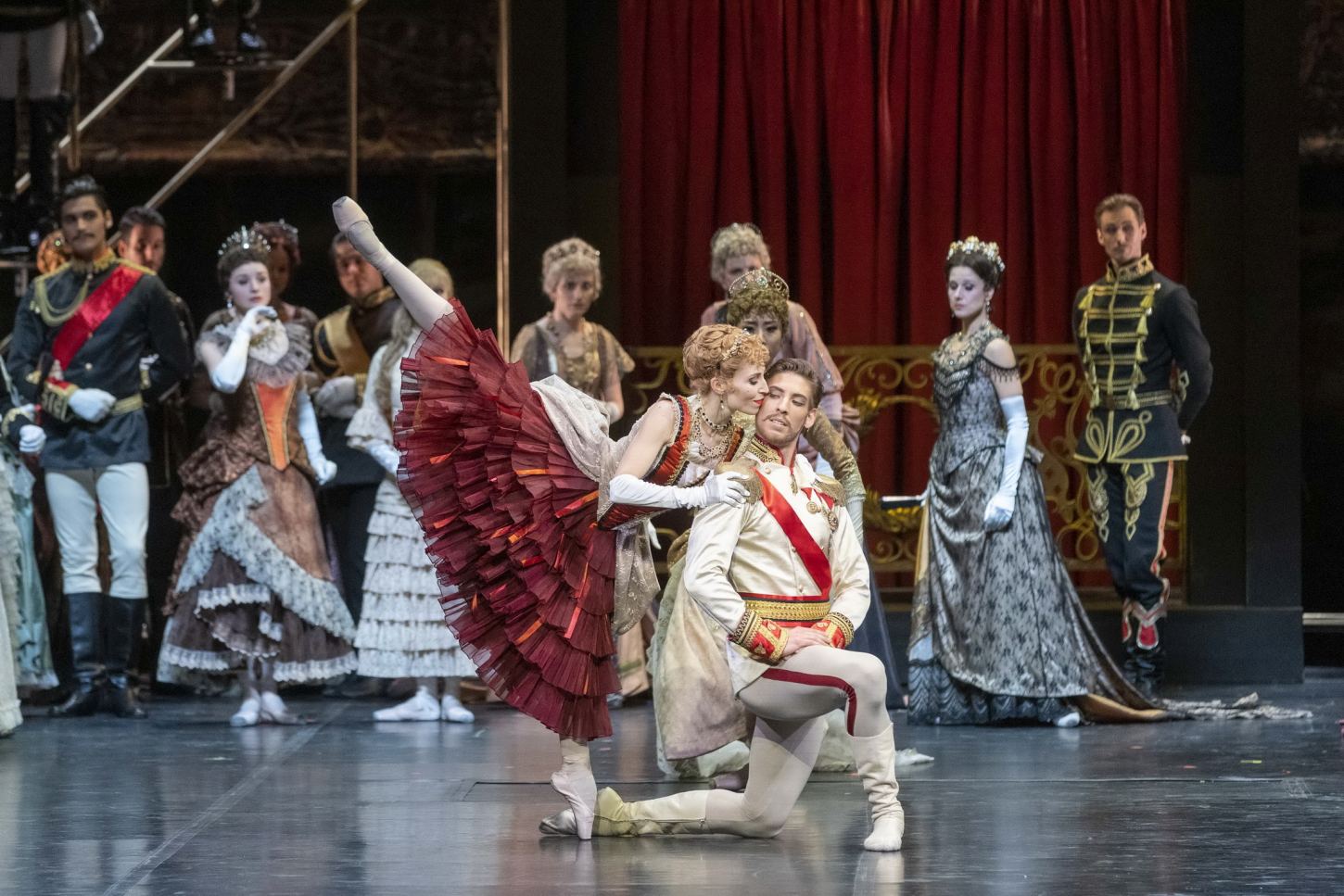 were of his mental and physical decline. After Rudolf's joint suicide with his mistress Baroness Mary Vetsera at the hunting lodge Mayerling, the house of Habsburg made every effort to hush up the circumstances of their deaths to avoid a scandal.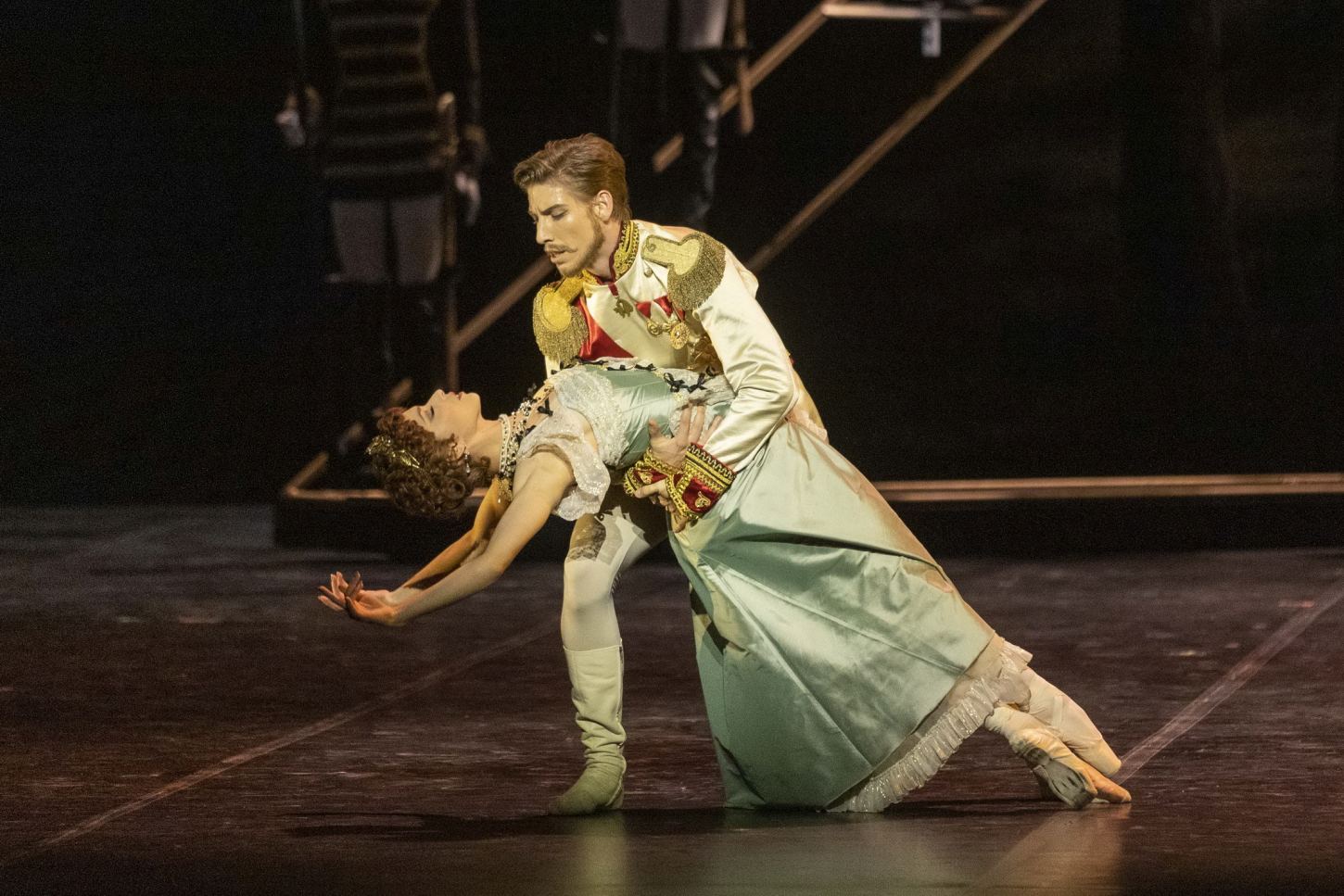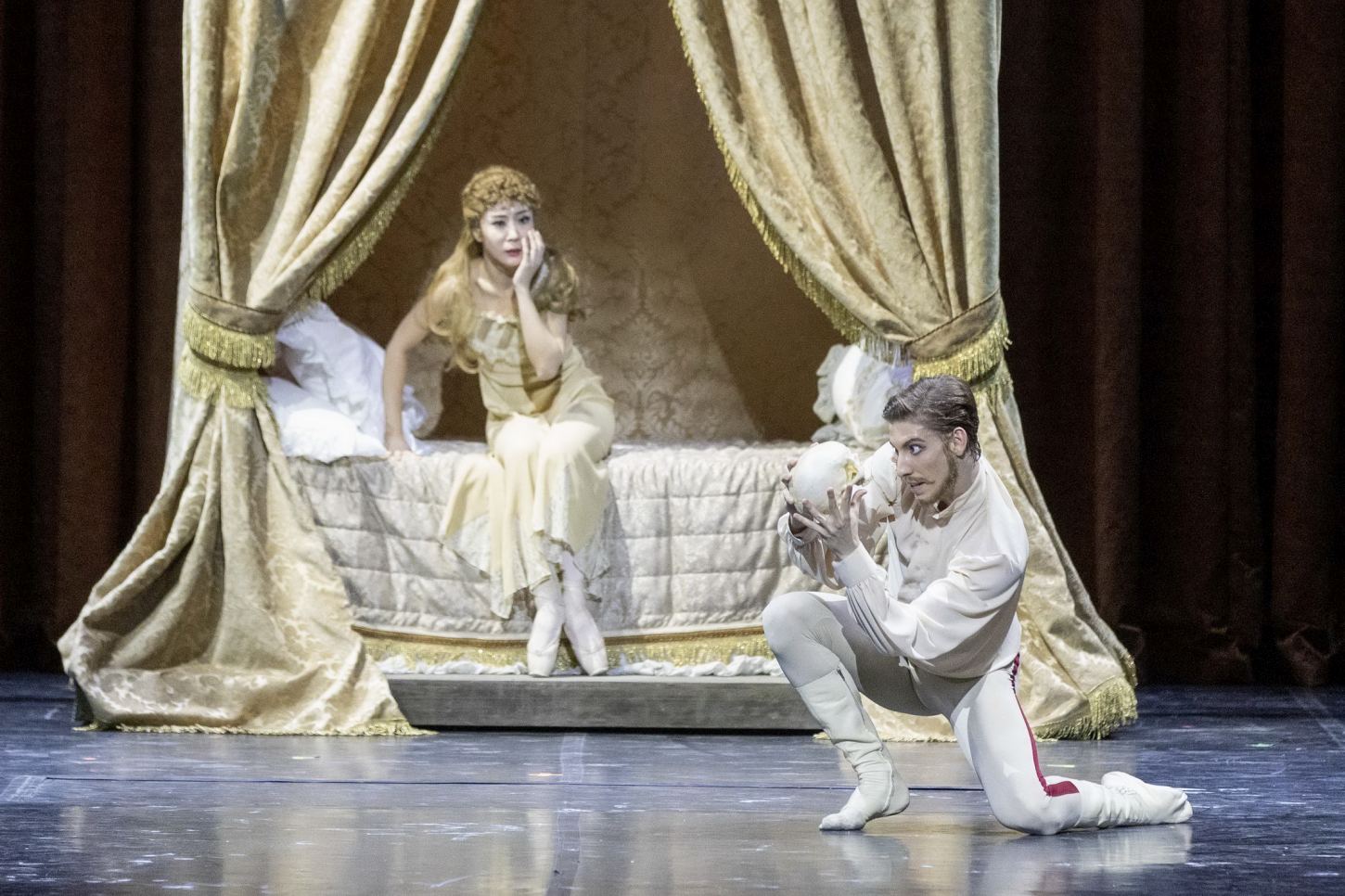 Watching "Mayerling" in the same theater that Rudolf himself visited some years prior to his suicide was a markedly special experience – as if a window to the past had been opened. Suddenly, Mary's secret nighttime burial felt especially barren. In the moments after Rudolf (Gergő Ármin Balázsi) inexplicably shoots a courtier at the hunting party, the silence in the auditorium was so piercing that for several seconds I was unsure whether the shot has been real. Balázsi's Rudolf joined his own wedding party tentatively, as if needing to find himself first. I wondered: does this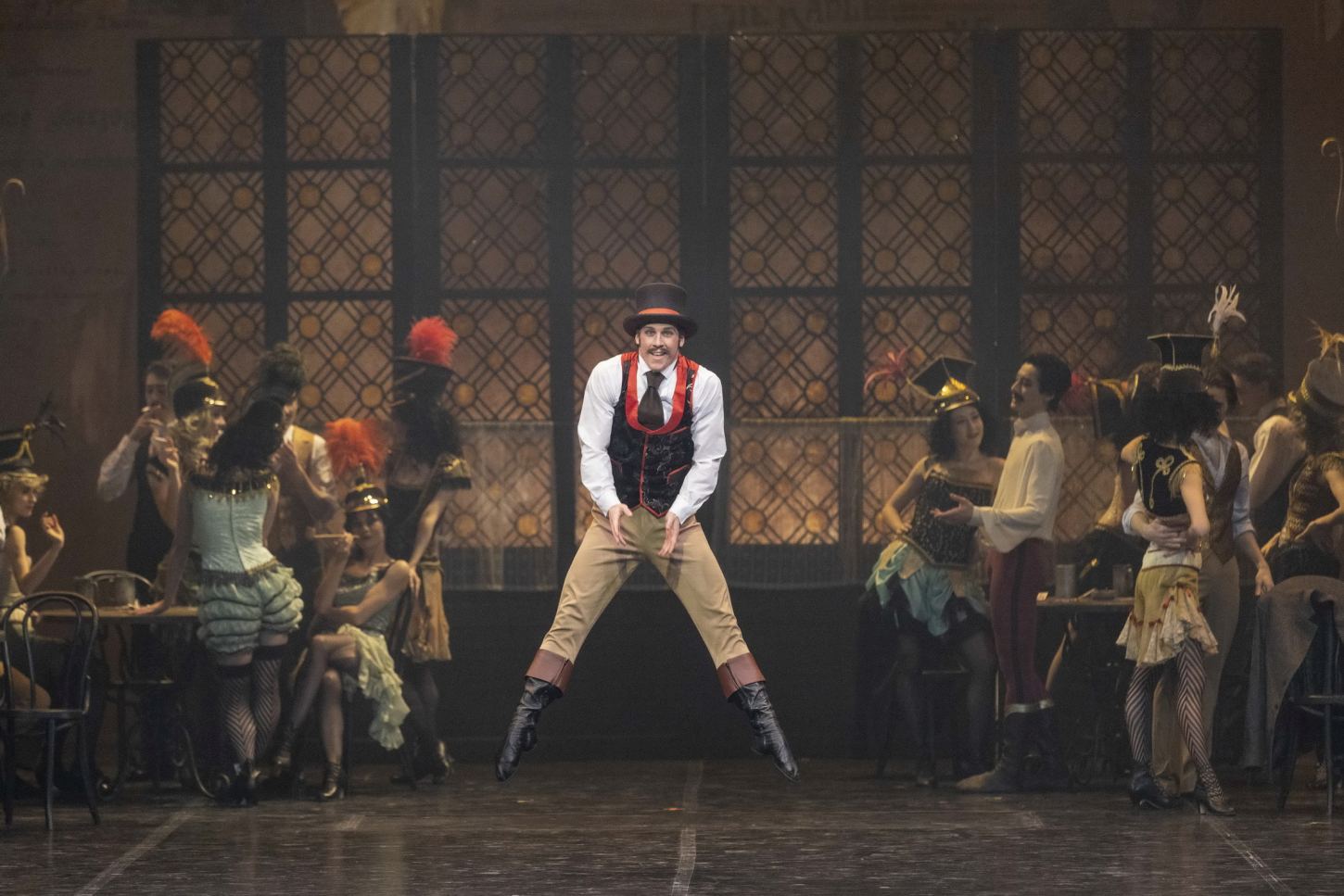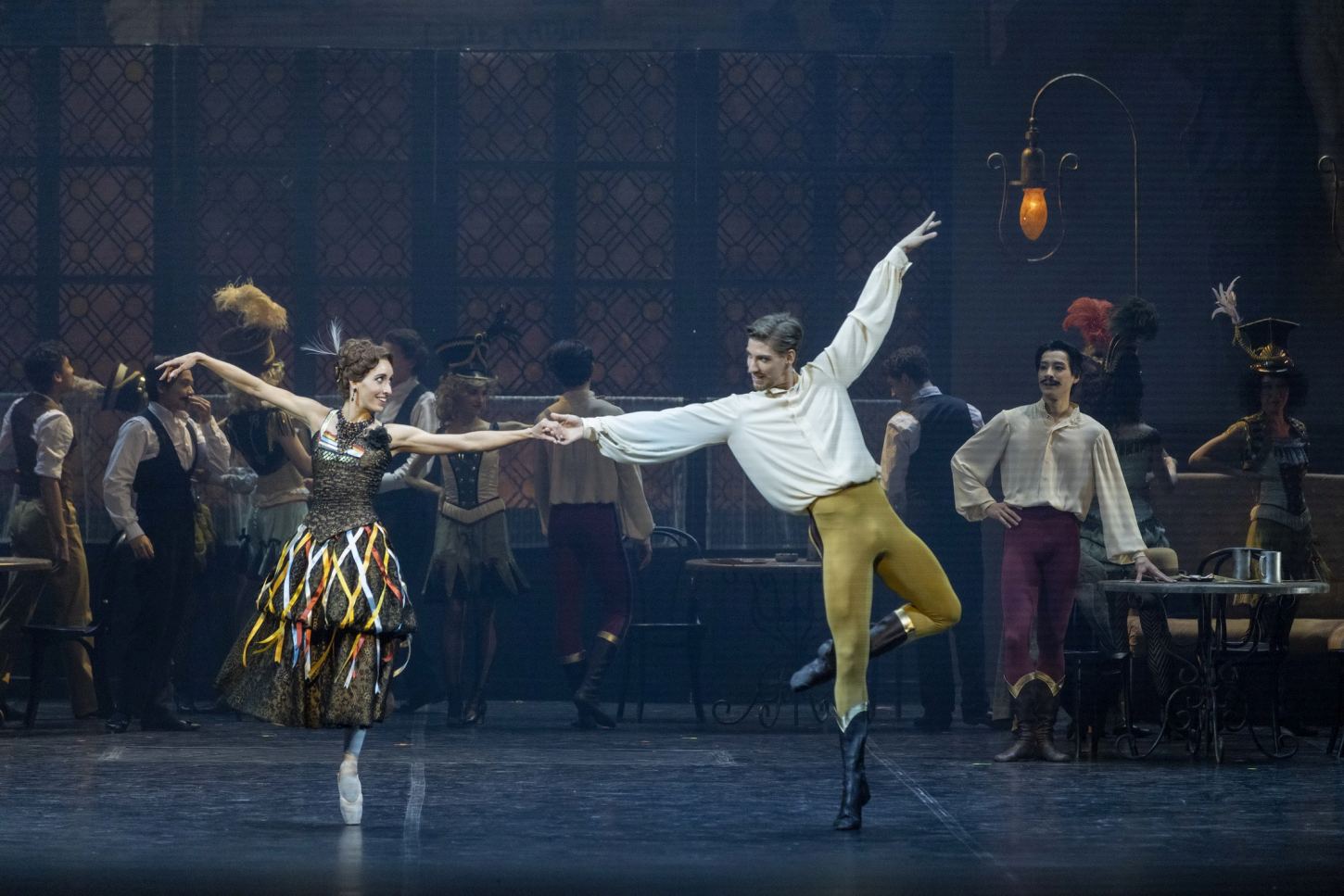 soft and slightly insecure young man have the chutzpah to betray Princess Stephanie (Yourim Lee) – his spouse-to-be – by openly flirting with Princess Louise (Barbara Kerényi)? Despite treating Stephanie rudely, he was not brutal enough to make intelligible her wedding-night horror (a very strong scene by Lee). Balázsi was utterly credible, though, as an emotionally dependent, over-the-edge drug addict in whose eyes madness and desperation merge. The power of his performance also intensified when together with Mary, danced by Lili Felméry – Balázsi's real life partner. Though young, Felméry's Mary had a deeper grasp on life than Rudolf. She knew what she wanted and followed her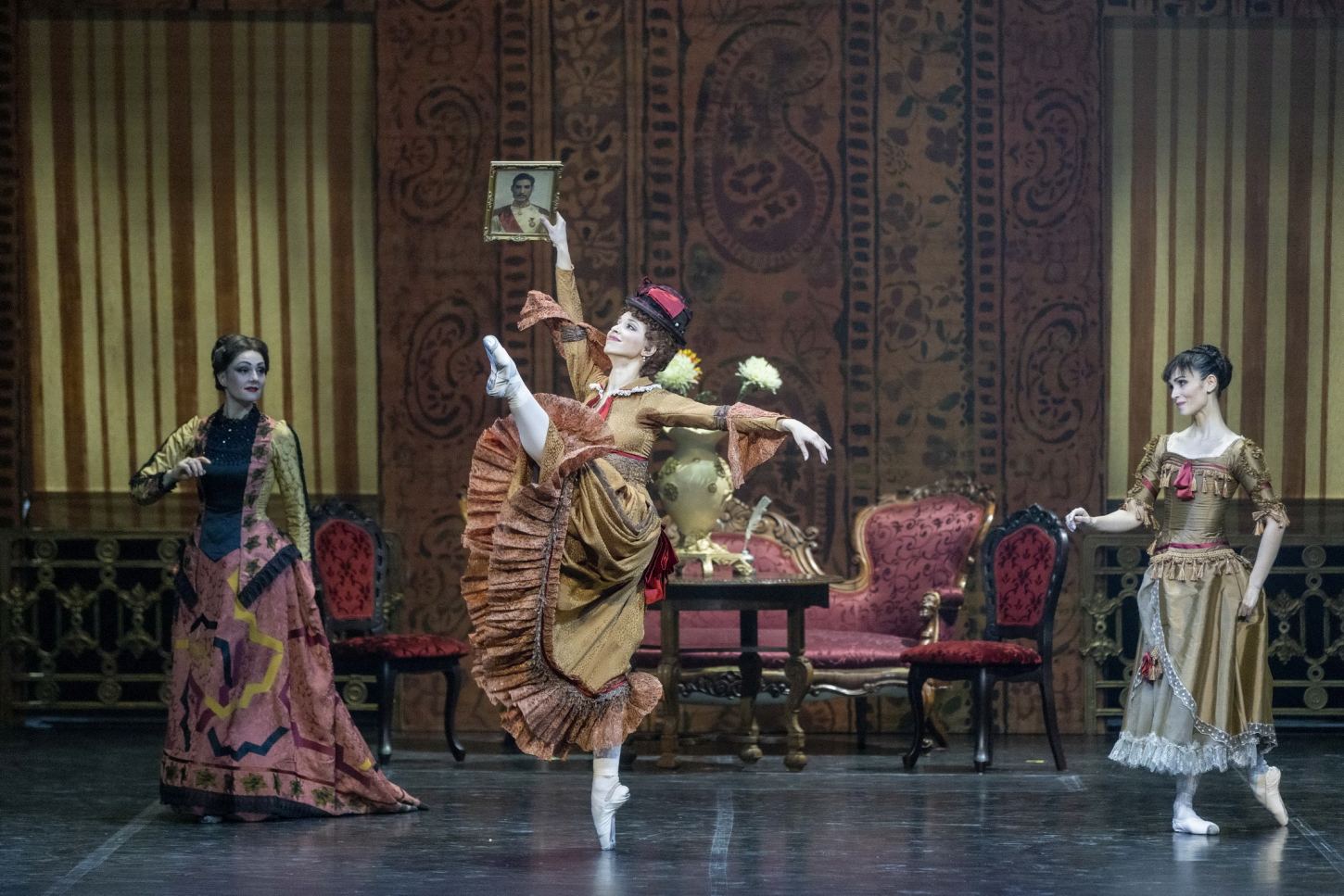 instincts with fullest confidence. They were so intensely connected that their decision to commit suicide seemed to arise consensually in the same instant.
What prompted Countess Larisch (Claudia García Carriera), Rudolf's scorned lover, to behave beneath dignity in order to regain his attention and install Mary as his new mistress? Was that her understanding of love?
There was no doubt, though, about the devotion and loyalty of Bratfisch (András Rónai, a fine dancer and actor), Rudolf's private cab-driver. His face was crudely distorted by grief when he realized that he could not prevent Rudolf from disaster.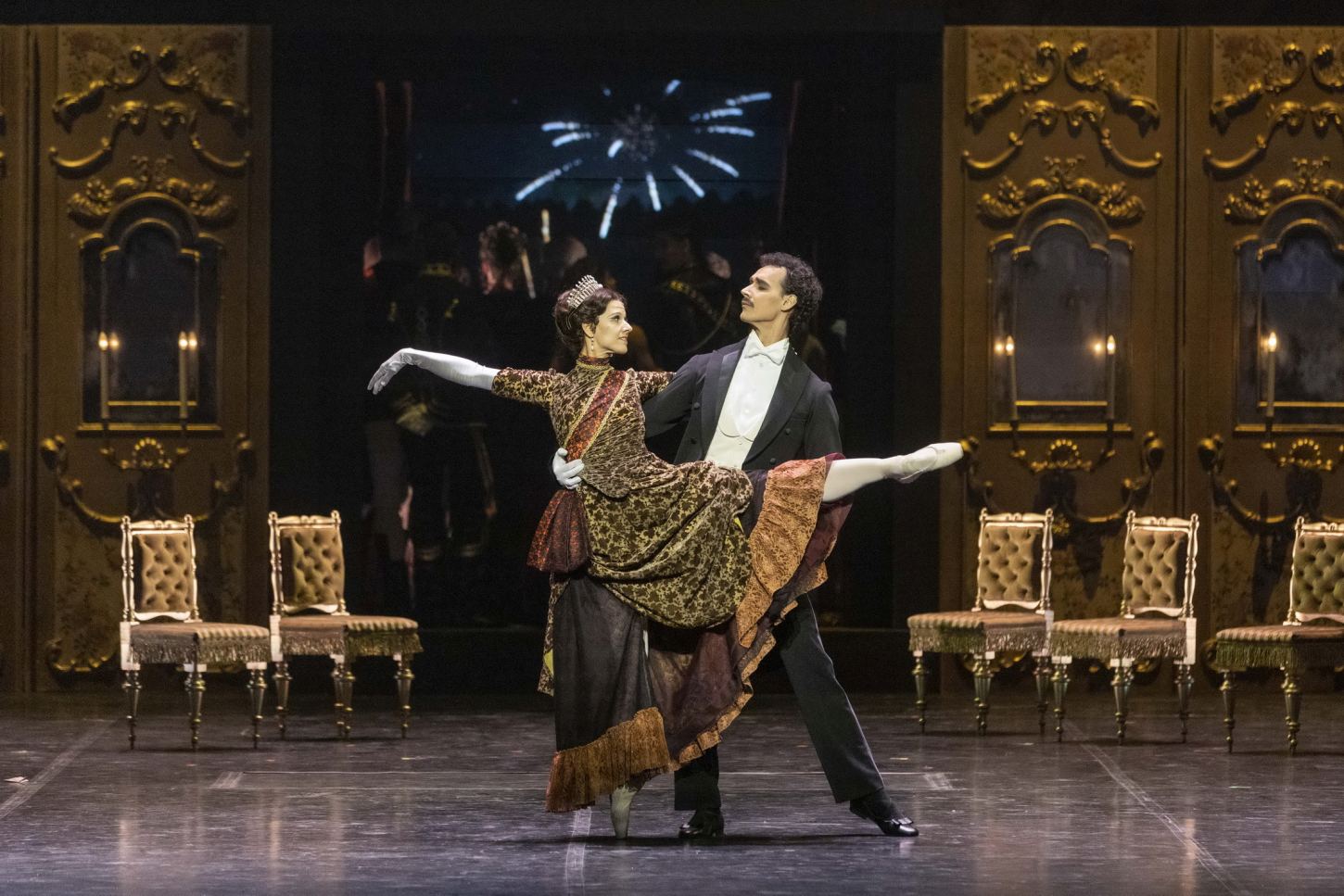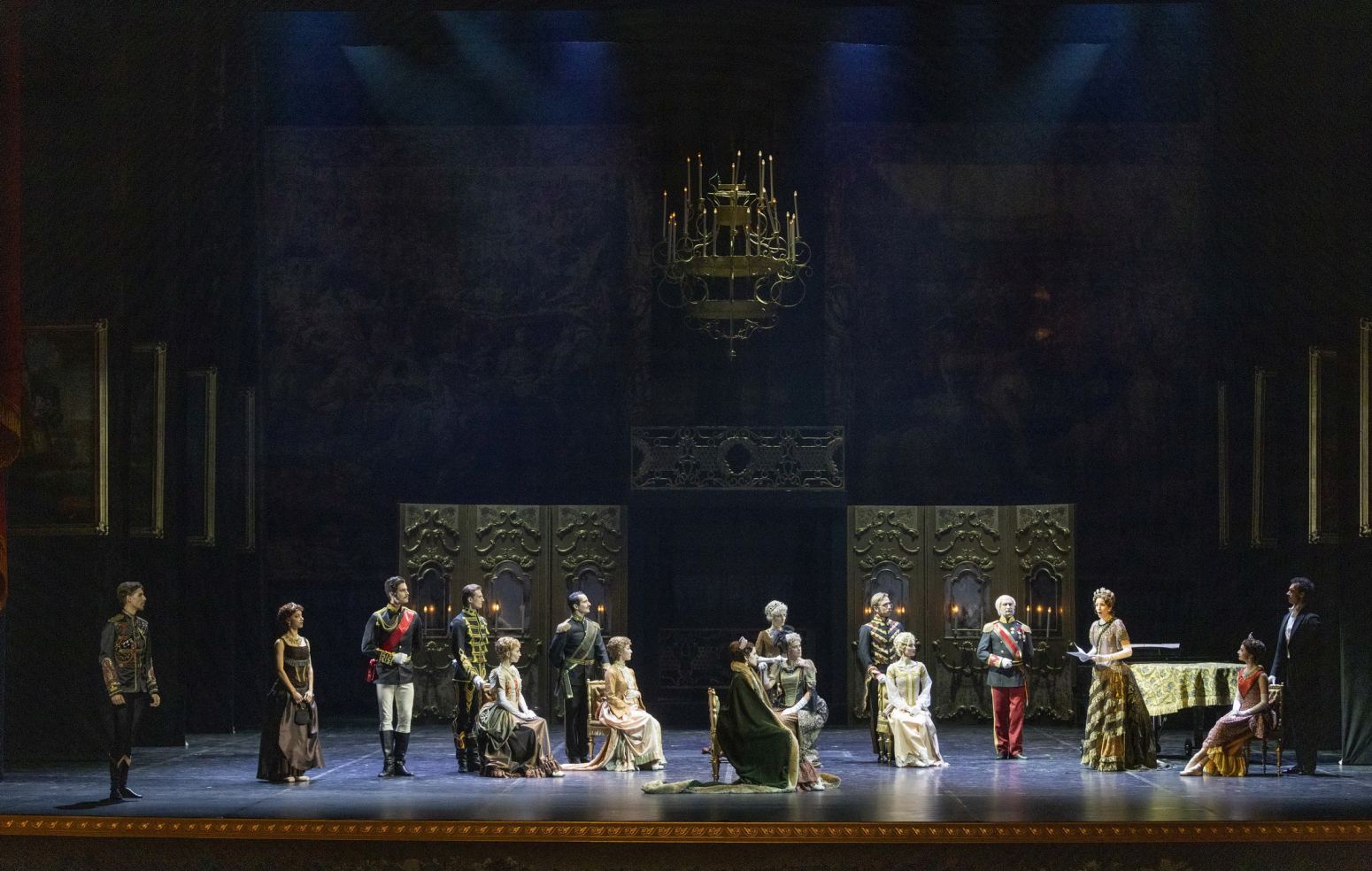 I'm not sure whether MacMillan's portrayal of Queen Elisabeth (Sisi) corresponded with reality, but Zsófia Gyarmati skillfully wavered between cold and unapproachable as mother to Rudolf, power-conscious as Empress, and passionate as lover to the elegant Colonel Bay Middleton (Iurii Kekalo) (and not with the Emperor Franz Joseph, portrayed by Alekszandr Komarov).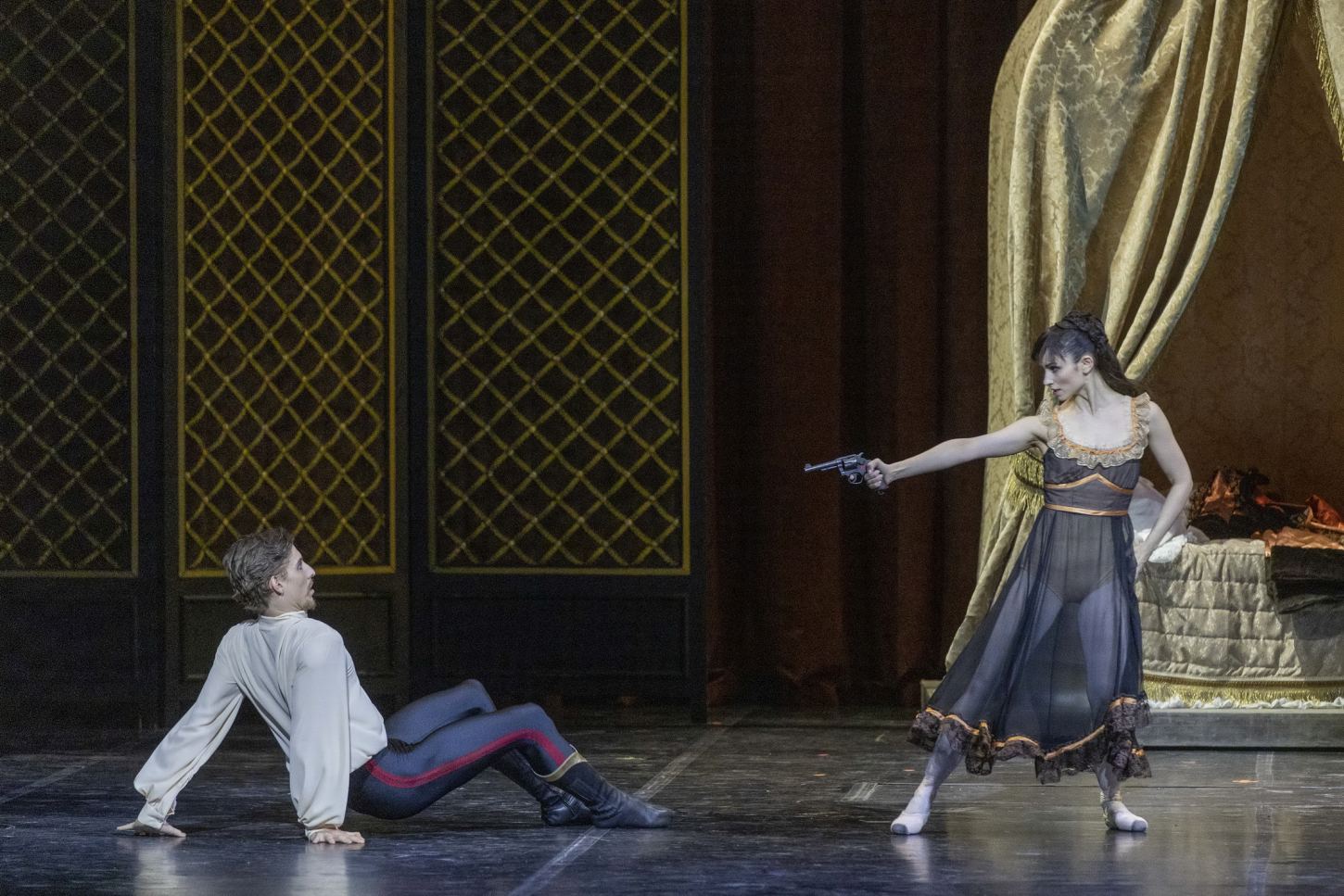 Although the story is historically their own, the company seemed reluctant at times to seize ownership of its telling. As an example, Léo Lecarpentier, Louis Scrivener, Takaaki Okajima, and Junnosuke Nakamura played the four Hungarian officers pleading the separatist cause to Rudolf. It felt as though the quartet partially compromised the force behind their scheming because of their intense focus on executing the choreography. They seemed much more in their element in a brazen pas de cinq at a notorious tavern with the upper-class prostitute Mizzi Kaspar (Jessica Carulla Leon, aptly salacious), another of Rudolf's mistresses – though a disloyal one. The women who comprised her staff attracted clients merely by being languorously provocative rather than keenly sexual.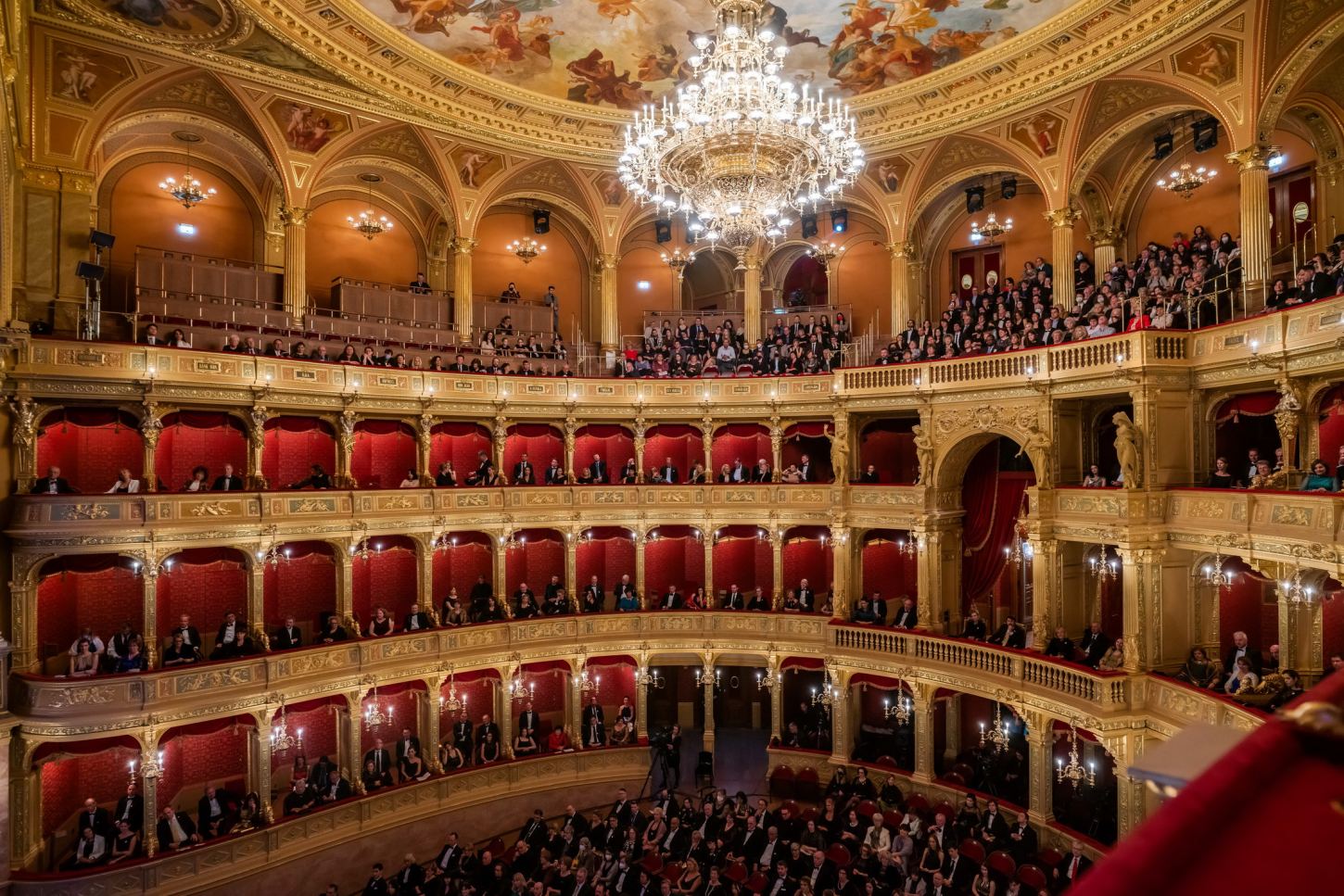 The dancers were accompanied by the Hungarian State Opera Orchestra under the baton of Paul Marsovszky, performing a score compiled by John Lanchbery from the music of Liszt.
Unlike other companies, the Hungarians decided to keep Nicholas Georgiadis's original costume and set designs, which harmoniously jive with the opera's neo-Renaissance style. I don't know how the building looked before its nearly five season-long overhaul, but the result is beautiful. The warm, welcoming energy of the house greets visitors from the start. Currently, guided tours are available; if you've not yet had a chance to book a ticket, do so. You'll enjoy every minute.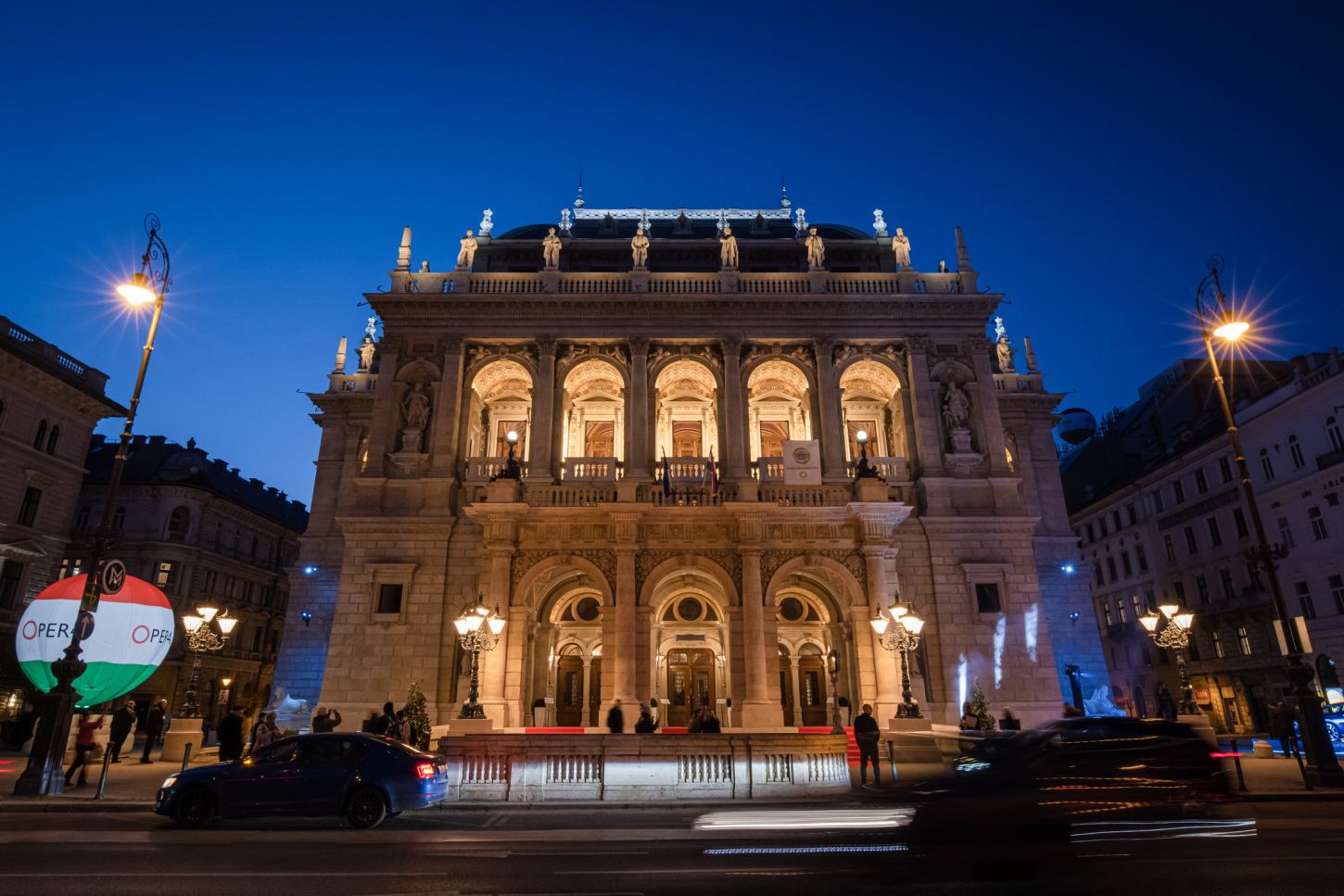 Links:
Website of the Hungarian State Opera
Rehearsal of "Mayerling" (video)
Dress Rehearsal of "Mayerling" (video)
Trailer "Mayerling"

Photos:

1.

Ensemble, "Mayerling" by Kenneth MacMillan, Ballet of the Hungarian State Opera 2022 © Péter Rákossy / Hungarian State Opera

 

2.

Barbara Kerényi (

Princess Louise), Gergő Ármin Balázsi (Crown Prince Rudolf), and ensemble, "Mayerling" by Kenneth MacMillan, Ballet of the Hungarian State Opera 2022 © Péter Rákossy / Hungarian State Opera

 

3.

Gergő Ármin Balázsi (Crown Prince Rudolf); Léo Lecarpentier, Louis Scrivener, Takaaki Okajima, and Junnosuke Nakamura (Hungarian Officers), "Mayerling" by Kenneth MacMillan, Ballet of the Hungarian State Opera 2022 © Péter Rákossy / Hungarian State Opera

 

4.

Claudia García Carriera (Countess Larisch) and

Gergő Ármin Balázsi (Crown Prince Rudolf), "Mayerling" by Kenneth MacMillan, Ballet of the Hungarian State Opera 2022 © Péter Rákossy / Hungarian State Opera

 

5.

Yourim Lee

(Princess Stephanie) and Gergő Ármin Balázsi (Crown Prince Rudolf), "Mayerling" by Kenneth MacMillan, Ballet of the Hungarian State Opera 2022 © Péter Rákossy / Hungarian State Opera

 

6.
Jessica Carulla Leon (Mizzi Kaspar), Gergő Ármin Balázsi (Crown Prince Rudolf), and ensemble, "Mayerling" by Kenneth MacMillan, Ballet of the Hungarian State Opera 2022 © Péter Rákossy / Hungarian State Opera


 

7.

András Rónai (Bratfisch) and ensemble,

"Mayerling" by Kenneth MacMillan, Ballet of the Hungarian State Opera 2022 © Péter Rákossy / Hungarian State Opera




 

8.

Sára Weisz (Baroness Vetsera), Claudia García Carriera (Countess Larisch), and Lili Felméry (Mary Vetsera),

"Mayerling" by Kenneth MacMillan, Ballet of the Hungarian State Opera 2022 © Péter Rákossy / Hungarian State Opera

9.

Ensemble,

"Mayerling" by Kenneth MacMillan, Ballet of the Hungarian State Opera 2022 © Péter Rákossy / Hungarian State Opera

10.

Zsófia Gyarmati (Empress Elisabeth) and Iurii Kekalo (Colonel Bay Middleton),

"Mayerling" by Kenneth MacMillan, Ballet of the Hungarian State Opera 2022 © Péter Rákossy / Hungarian State Opera

11.

Gergő Ármin Balázsi (Crown Prince Rudolf) and

Lili Felméry (Mary Vetsera),

"Mayerling" by Kenneth MacMillan, Ballet of the Hungarian State Opera 2022 © Péter Rákossy / Hungarian State Opera

12.

The Hungarian State Opera

© Attila Nagy

13.

The Hungarian State Opera

© Attila Nagy

Editing:
Jake Stepansky