Nederlands Dans Theater
Forum Ludwigsburg
Ludwigsburg, Germany
March 26, 2022
by Ilona Landgraf
Copyright © 2022 by Ilona Landgraf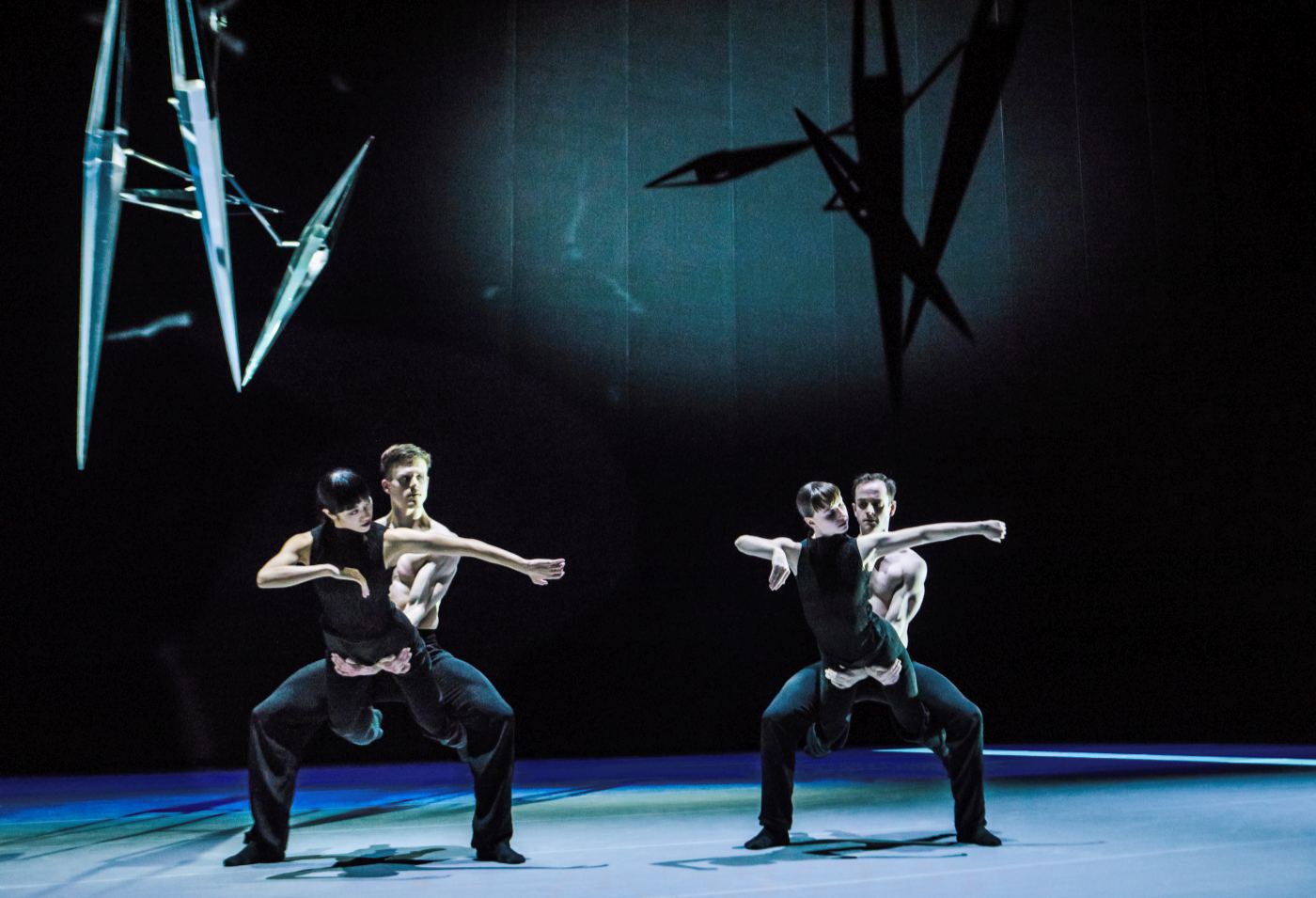 Last weekend, the Nederlands Dans Theater (NDT I) toured Ludwigsburg near Stuttgart, performing a triple bill they'd recently premiered at the Holland Dance Festival: "Toss of a Dice" by Jiři Kylián (2005); a new piece by Spain's Marina Mascarell ("How to cope with a sunset when the horizon has been dismantled"); and "I love you, ghosts" – newly created by the company's associate choreographer Marco Goecke.
The poem "Un coup de dés jamais n'abolira le hasard" ("A Throw of the Dice will Never Abolish Chance" penned by Stéphane Mallarmé in 1897) was the springboard for "Toss of a Dice". Blank space separates out seemingly unrelated words and ideas; it can be read from any direction. We hear Aurélie Cyla recite the poem slowly – calming, whispering. An electronic soundscape generated by Dirk Haubrich from the sounds of a single drop of water fills moments of silence with snapping, rattling, and reverberations. These rhythms accent the movement of eleven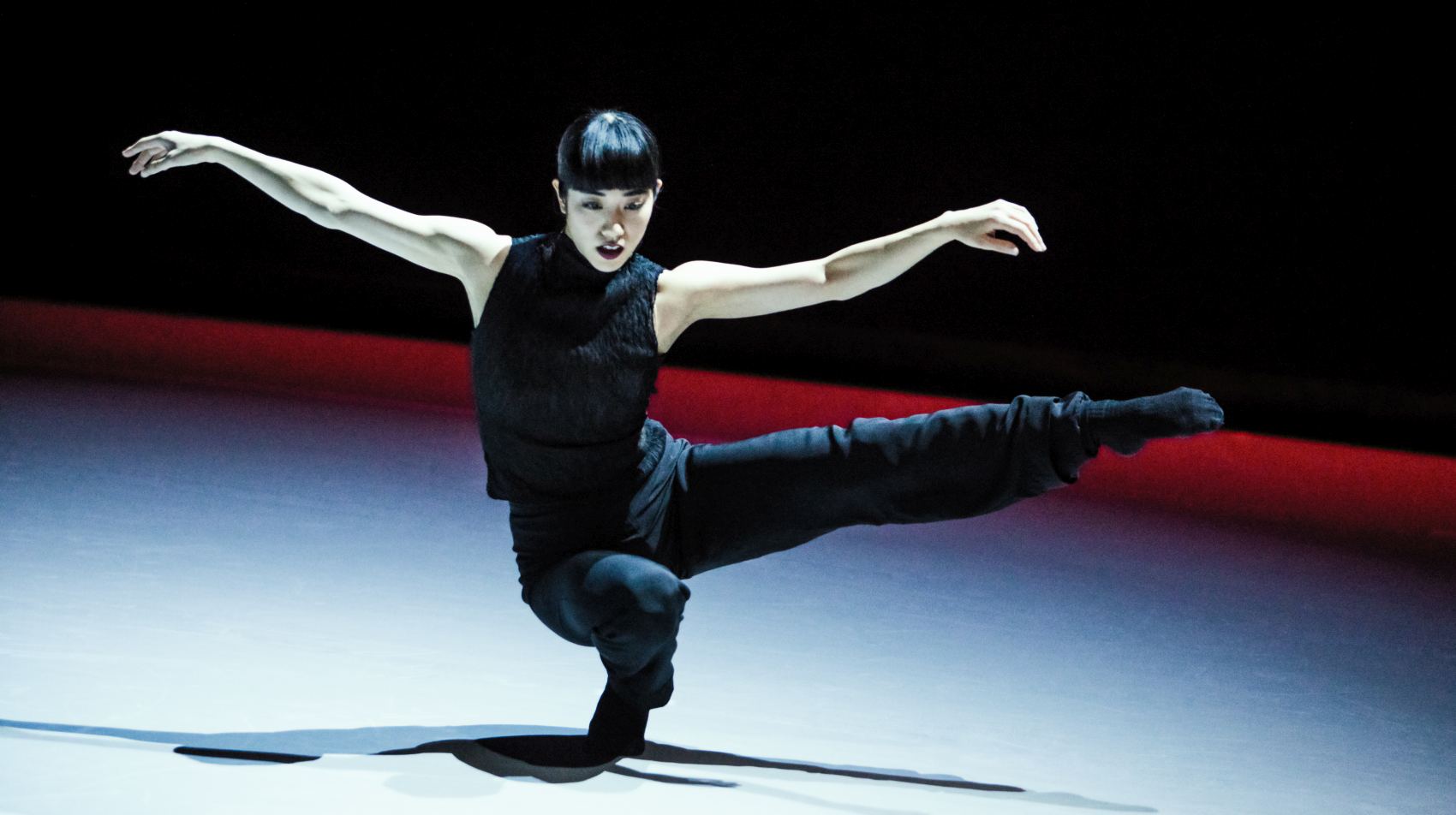 dancers (six women and five men). All wear black pants; the men are bare-chested and the women wear black shirts (costume designs by Joke Visser). They form a line, moving their limbs and torsos in sync, before dispersing in smaller groups. Two men waiting in the rear suddenly run towards the front of the stage to partner their women. Kylián contrasts abrupt acceleration with slowness; hypnotic freezing alternates with hectic stop-and-go. I thought of cosmonauts moving aimlessly through space.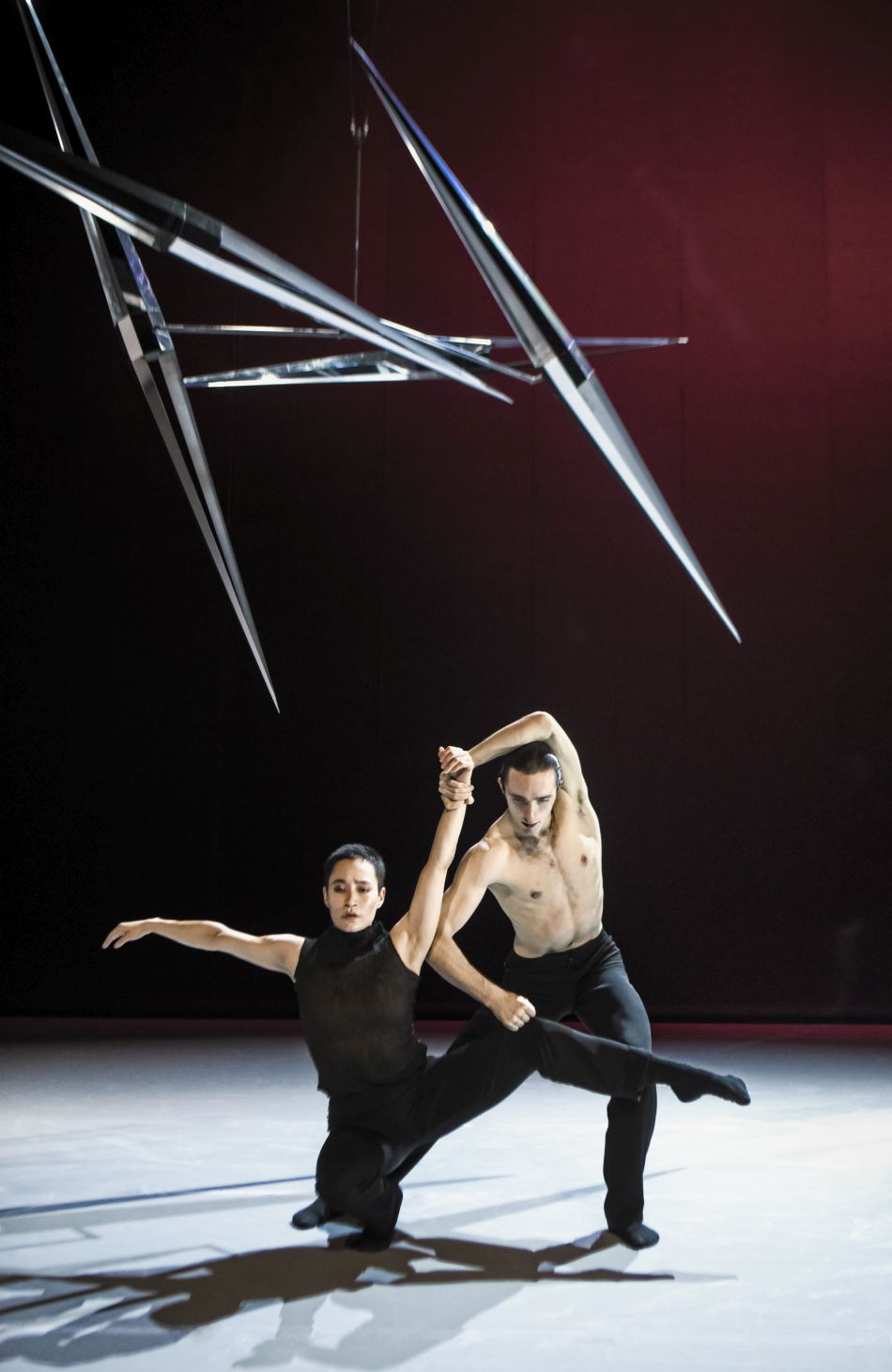 The huge flying object hanging above their heads (created by Susumu Shingu) might be an oversized drone; its sword-like metal wings gleam in the light. Constantly rotating and repositioning itself, the structure casts large and ominous shadows upon the backdrop. In a final moment of attack, it descends threateningly towards one dancer. But neither this visual distraction nor the colorful waves of light that flicker across the backdrop can gloss over the fact that Kylián's choreography lacks potency.
Even weaker was "How to cope with a sunset when the horizon has been dismantled", which features eight dancers in casual spring-fashion costumes moving between white, rock-like polyhedras that are scattered across the stage (costumes: Nina Botkay, set design: Ludmila Rodrigues). The dancers lounge, hop from one to another, carry and push them, perform amateur front hand-springs, or leisurely rest at their bases. Silently watched by the others, dancers take turns in solos that reminded me of improvisations on the topic "explore movement in the space". They balance on one leg, stretch their bottoms upwards while on all fours or, sitting on the floor, propel themselves backwards with their feet. According to the program, Mascarell's goal was to cause a clash between the dancers' bodies and the four pieces of music: the prelude from Richard Wagner's "Das Rheingold", John Cage's "Eight Whiskus", a composition by György Ligeti for wind instruments, and two classical pieces by Jean Sibelius. Apart from the Sibelius, which prompted a bit of momentum, one could not grasp even a whiff of such a thrilling clash. Instead, unimaginative slow-motion movements filled the stage with tedium, especially during the long silences between the musical pieces. I wouldn't have been surprised if the dancers had fallen asleep onstage.
Atmospheric green light and five orange spotlights that evoke an oven's warning lamp give the sunset mentioned in the piece's title an unhealthy glow.
The program states that Mascarell's work centers the fight against prejudice and misogyny, the commitment to women's rights and to the LGBT community, and to movement that questions our white Western society. Brandishing these pithy slogans does little to conceal this piece's utter vapidity.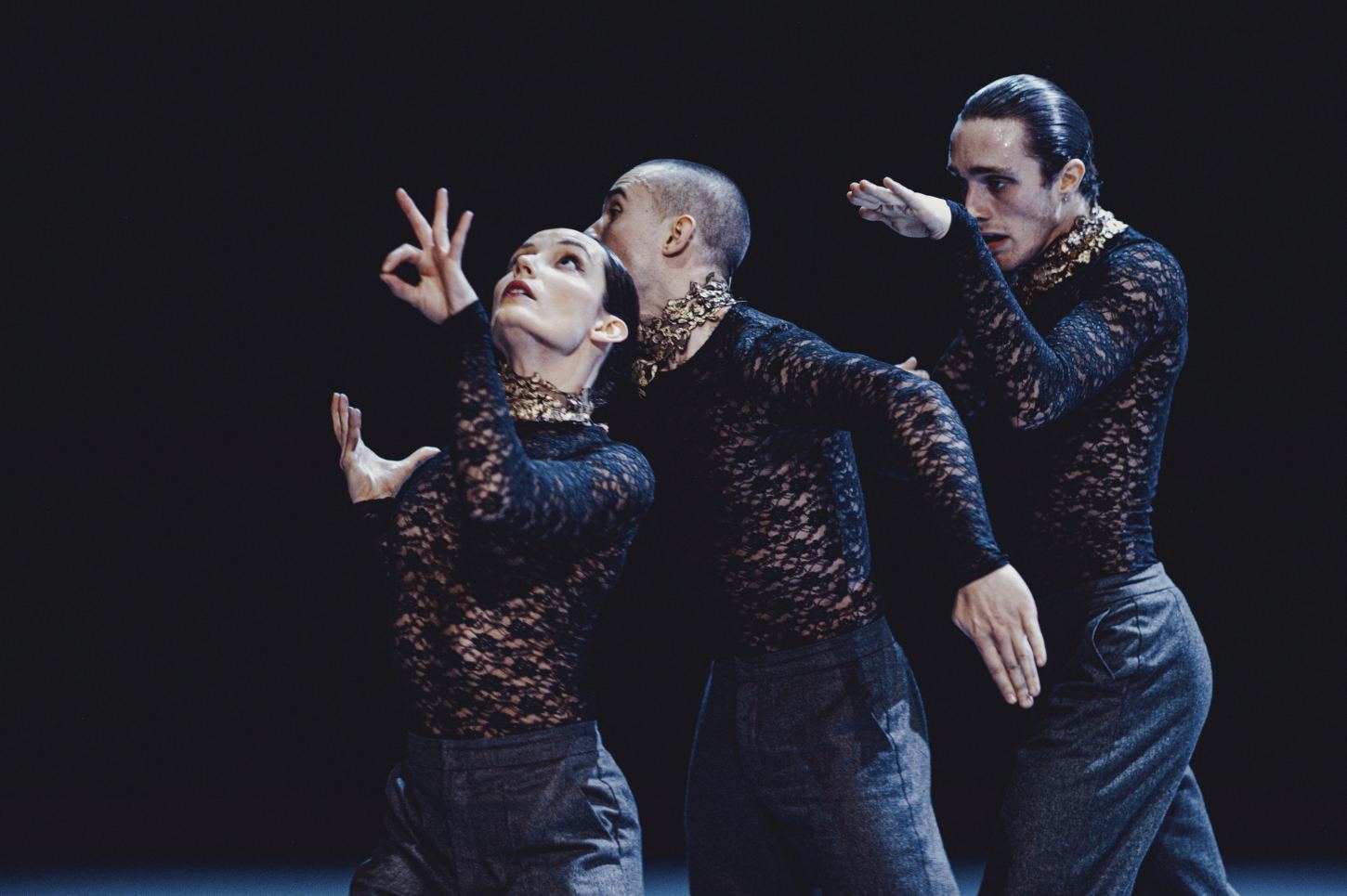 Whether one likes Goecke's jerky, ultra-tense style or not, there's no denying that his high-voltage work keeps an onlooker's attention. Goecke has no need for flying objects or masses of polyhedrons; his dancers are eye-catching enough in their own right. Five women and two men in Goecke-typical black outfits are (or meet) the ghosts of the Lucent Danstheater's prior rehearsal grounds (where NDT resided before moving into a new home in Den Haag) – or, at least, that's what Goecke reveals about his inspiration for "I love you, ghosts".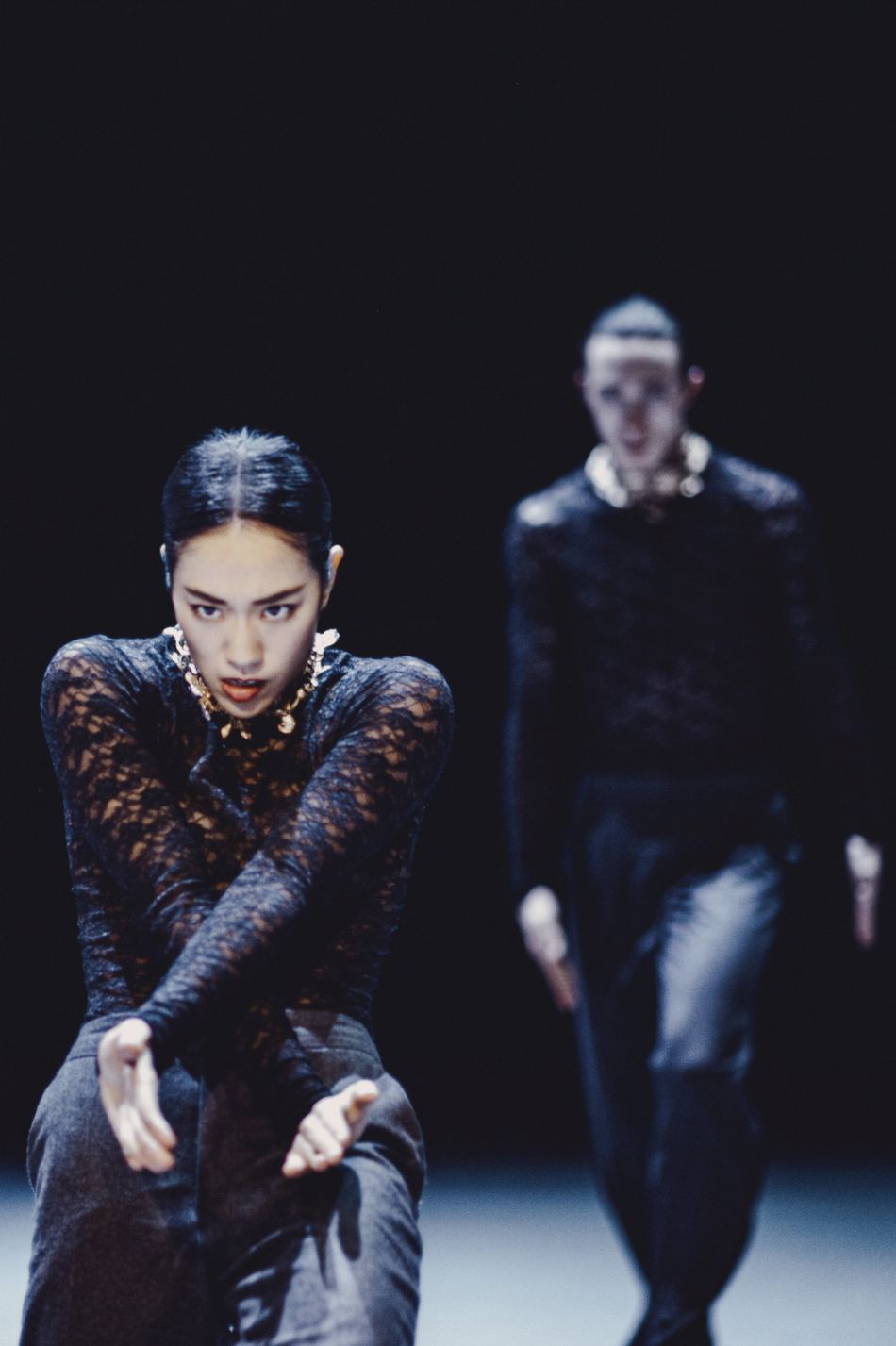 I'm not enough of an expert on Goecke to discern the quotes said to be taken from former choreographies, but I interpreted the trembling limbs, scuttling feet, awkwardly-kinked wrists, and gout-ridden fingers of "I love you, ghosts" as evidence of human decay. "Oh Danny Boy," sings Harry Belafonte, "the summer's gone and all the roses falling" – and though the pre-recorded Belafonte recalls mellow memories, reality is painfully brittle. The dancers are unsure what to do with their hands, rubbing them together and then frantically rubbing their thighs and grasping their buttocks, as if to reassure themselves of their own bootylicious-ness. Attempts at intimacy fail in all instances but one – and that couple's close embrace is so unexpected that the other dancers stand motionless, perhaps frozen in surprise.
Goecke's cuttingly precise and lightning movements look elegant, but any visual pleasure is mercilessly shattered by repeated bouts of intense, prolonged gagging that sounds as if the dancers are regurgitating something deeply sickening from their guts. Their words, uttered hysterically, are interrupted by seizing coughs and sudden stammering. As if traumatized, they seem to have lost their ability to speak. Sometimes they open their mouths and let out a soundless scream that resonates against the portentous string music (taken from Mieczyslaw Weinberg and Einojuhani Rautavaara).
Unfortunately, Goecke's piece fits out time all too well.