"Without Limits"
Ballet of the Hungarian State Opera
Eiffel Art Studios
Budapest, Hungary
April 23, 2022 (matinee)
by Ilona Landgraf
Copyright © 2022 by Ilona Landgraf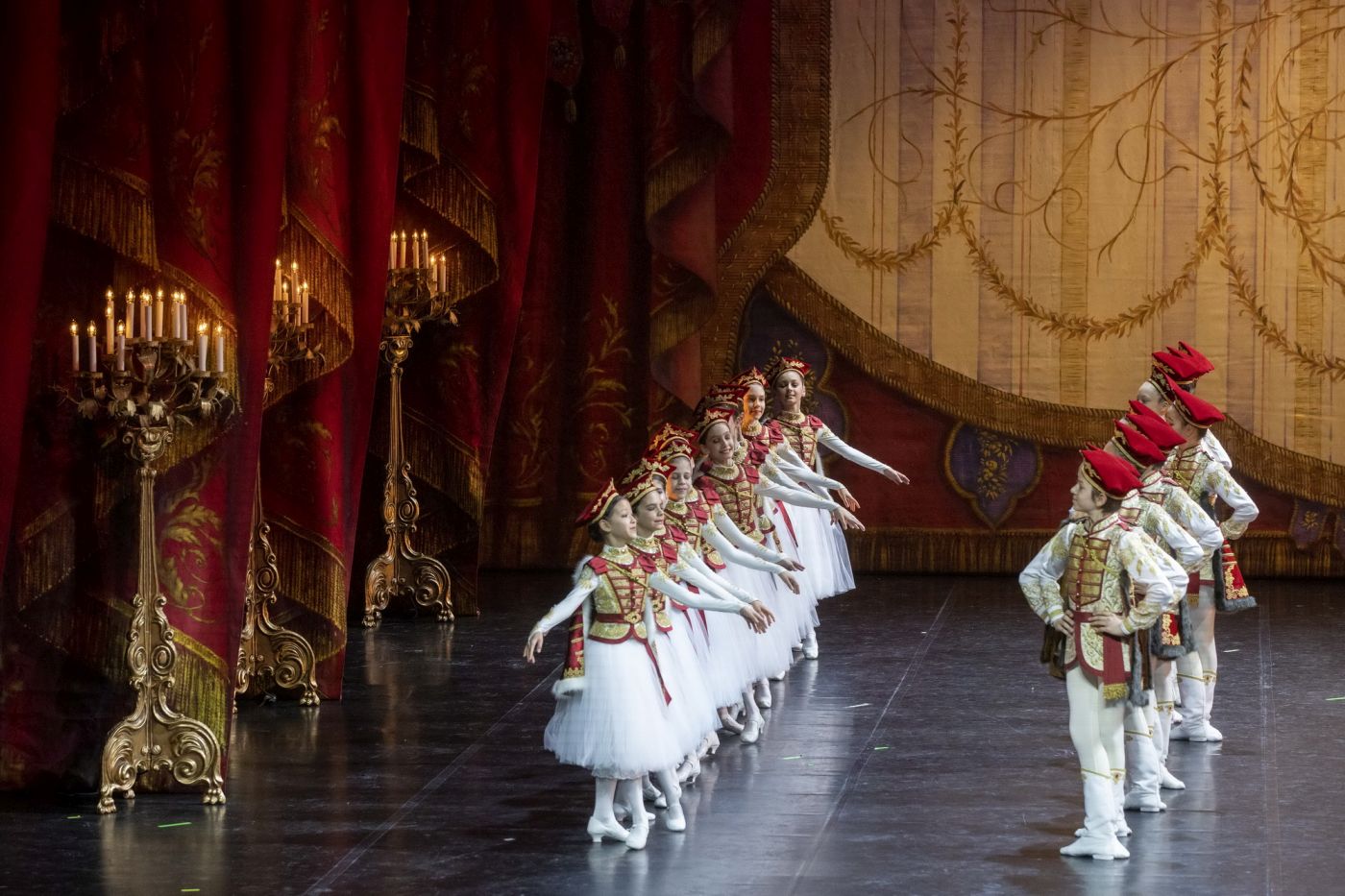 The new triple bill from the Hungarian State Opera's ballet company, aptly titled "Without Limits", certainly offers a whopping amount of dance. Harald Lander's "Études" (1948), a one-act homage to the formal classical technique, contrasts with William Forsythe's sprightly "The Vertiginous Thrill of Exactitude" (1996). A new version of another purely classical ballet – Marius Petipa's Paquita Grand Pas ("Paquita Suite") – opened the program. "Without Limits" was shown at the Eiffel Art Studios, a former railway maintenance and engineering complex transformed in 2020 into the Hungarian Opera's second stage in Budapest. The capacious, light-filled venue houses a modern 500-seat stage, rehearsal and storage space, production workshops, and an exhibition area. The toot-toot of the historic locomotive located in the foyer calls the audience back after breaks.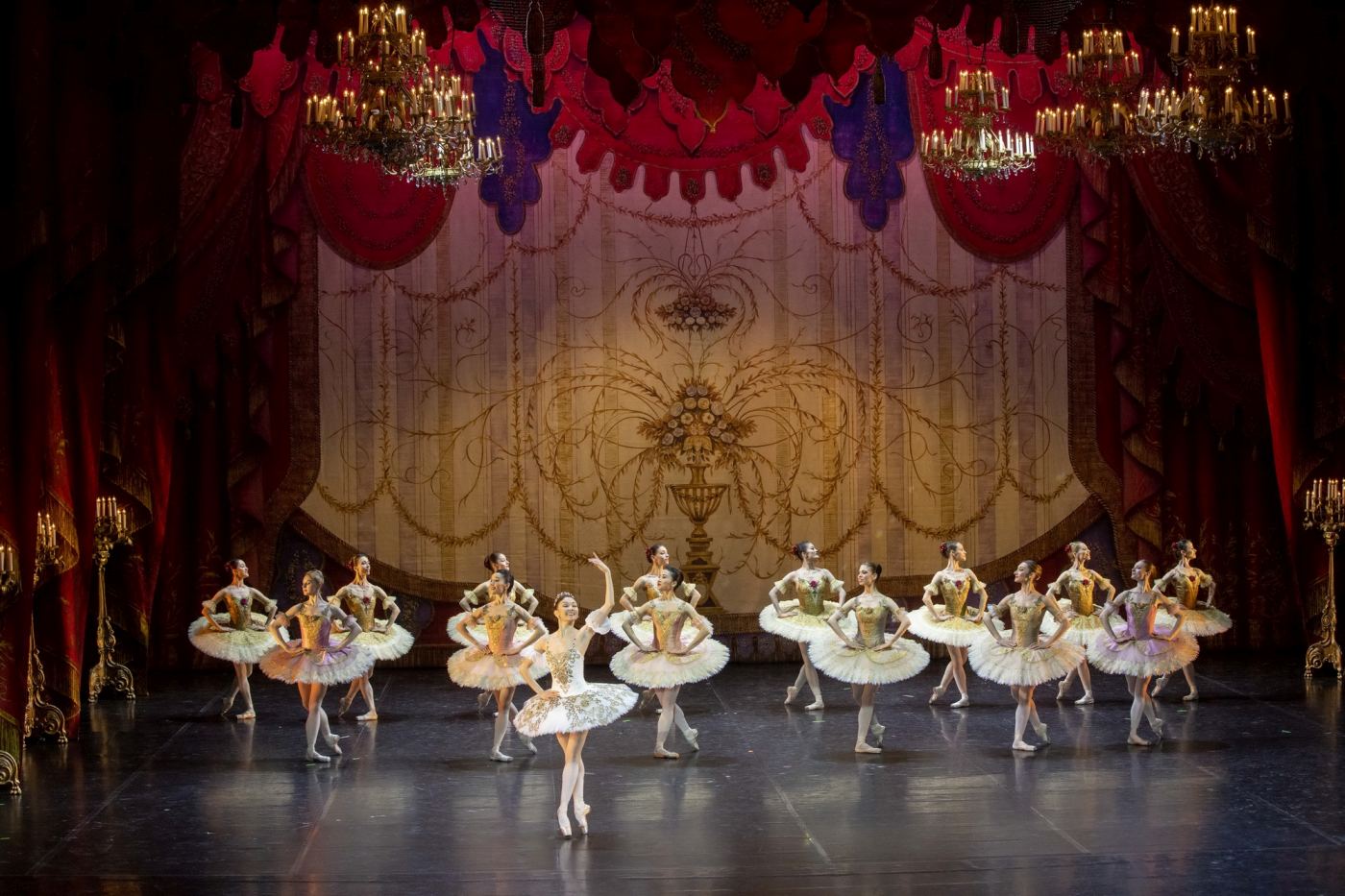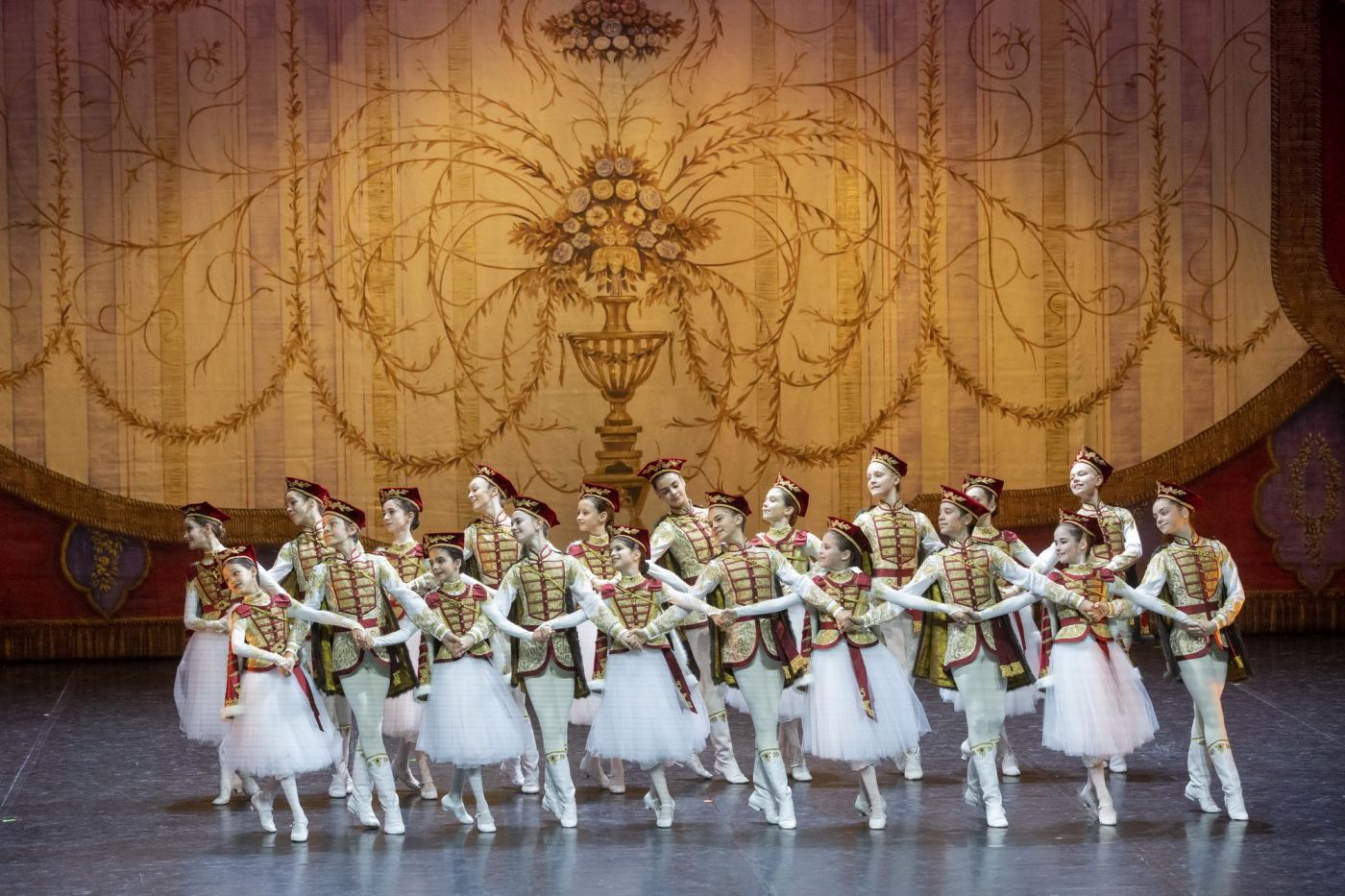 Of the many different versions of variations included in "Paquita Suite", the creative team – led by artistic director Tamás Solymosi and supported by Albert Mirzoyan (choreographer and ballet master) and Irina Prokofieva (ballet master) – chose those most suitable for their dancers. I'm not familiar with the nuanced differences that set apart the various versions, but found the overall result (apart from a few too-ambitious jumps in the leading ballerina's first solo and a handful of hurried mincing steps in the Pas de Trois) successful.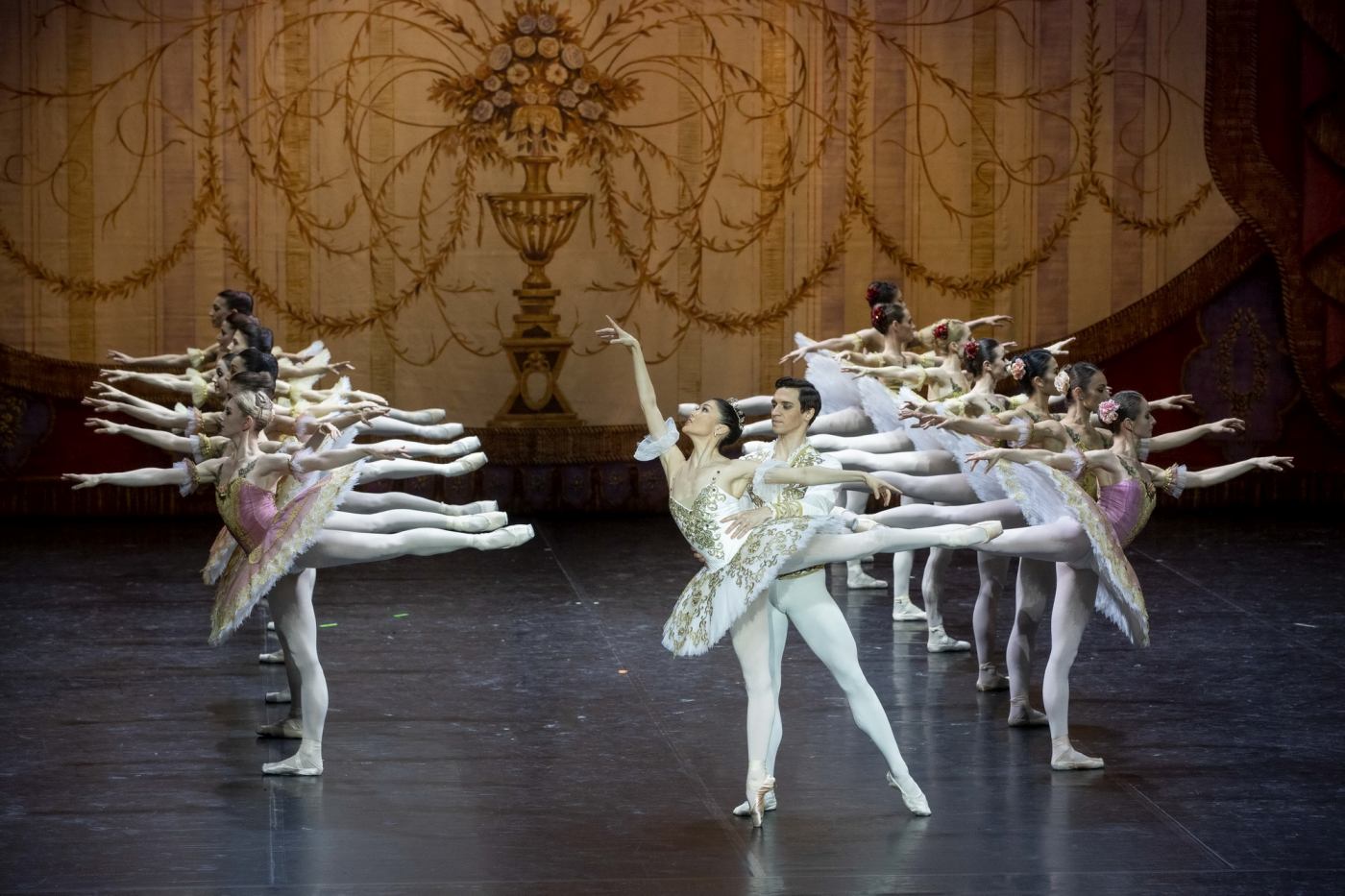 Aliya Tanykpayeva, the leading ballerina, masterfully balanced grandeur with pizzazz while maintaining a noble composure. She celebrated her adagio as if presenting little precious objects, but only moments later geared into a series of plucky fouettes. Dmitry Timofeev, a strong jumper, proved himself a consummate gentleman as he partnered her. His masculine self-assurance seemed to radiate calm and confidence. At the moment that he entered the stage, the lines of the corps sharpened into perfection.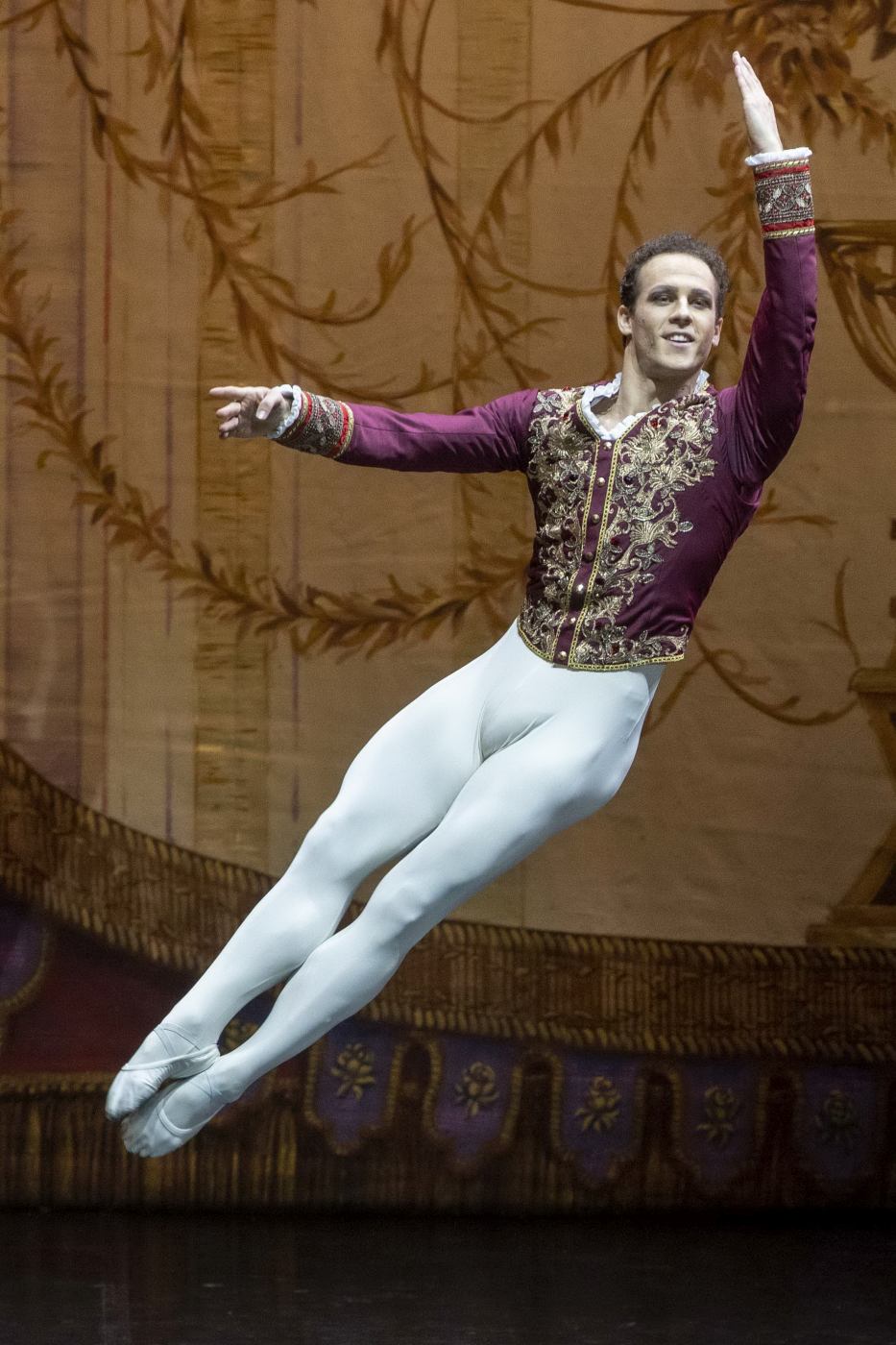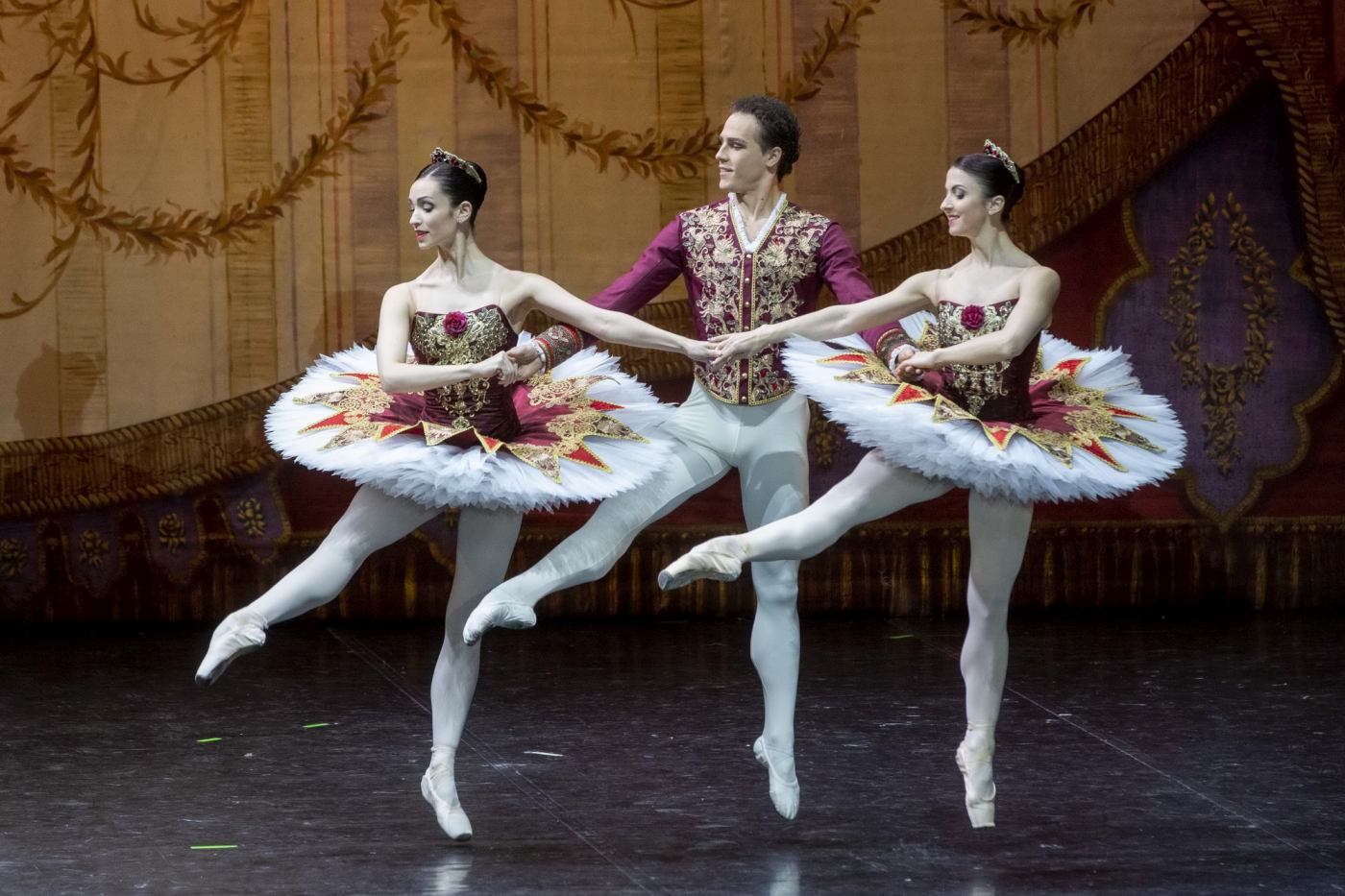 In the Pas de Trois, Lili Felméry danced effortlessly, balancing with ease, while Cristina Balaban sailed through her solo with tidy grand jetés. I was especially impressed by the pinpoint accuracy with which András Rónai landed his no-less-striking jumps.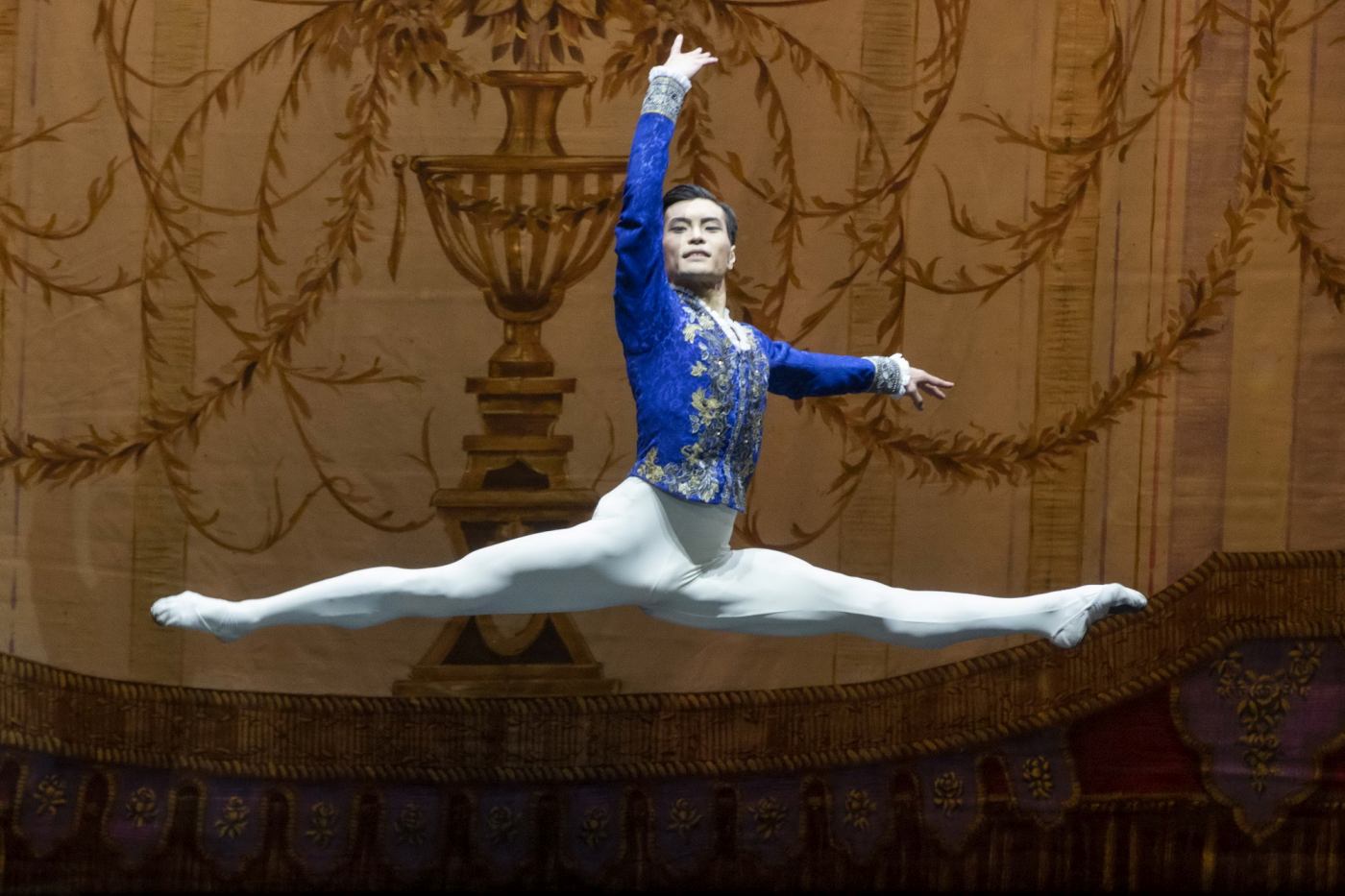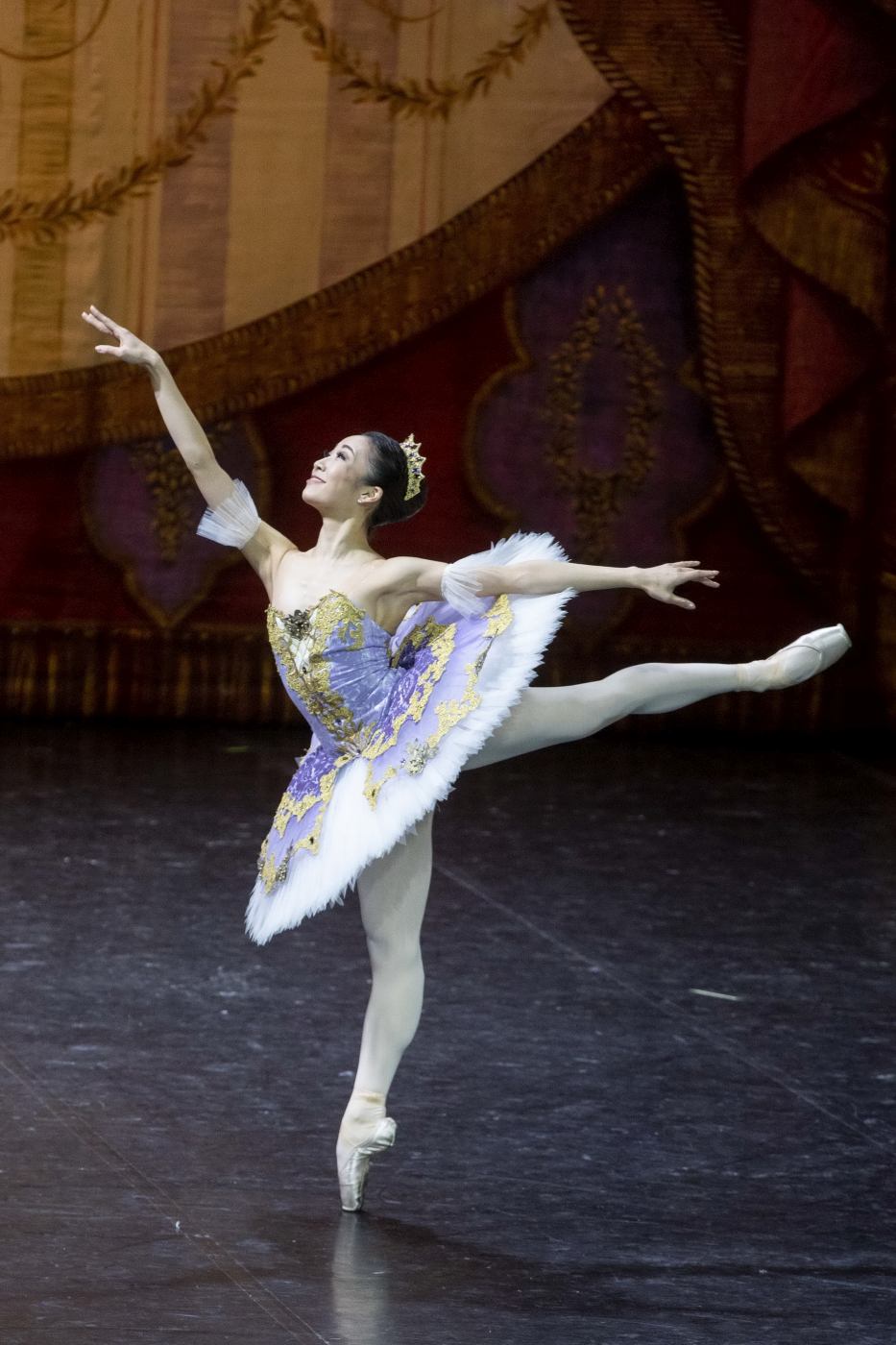 Diana Kosyreva delivered a poised Spanish variation. Alberto Ortega de Pablos flew fleet-footedly through the Auber Grand Pas. Miyu Takamori was a jaunty Armida. Ryosuke Morimoto tackled the Talisman solo with brio and Claudia García Carriera delivered a crisp Trilby variation. A mazurka and polonaise, danced by students from the National Ballet Institute, opened the "Paquita Suite", their elaborate outfits recalling the chic of a 19th century (mixed-gender) upper-class cadet school.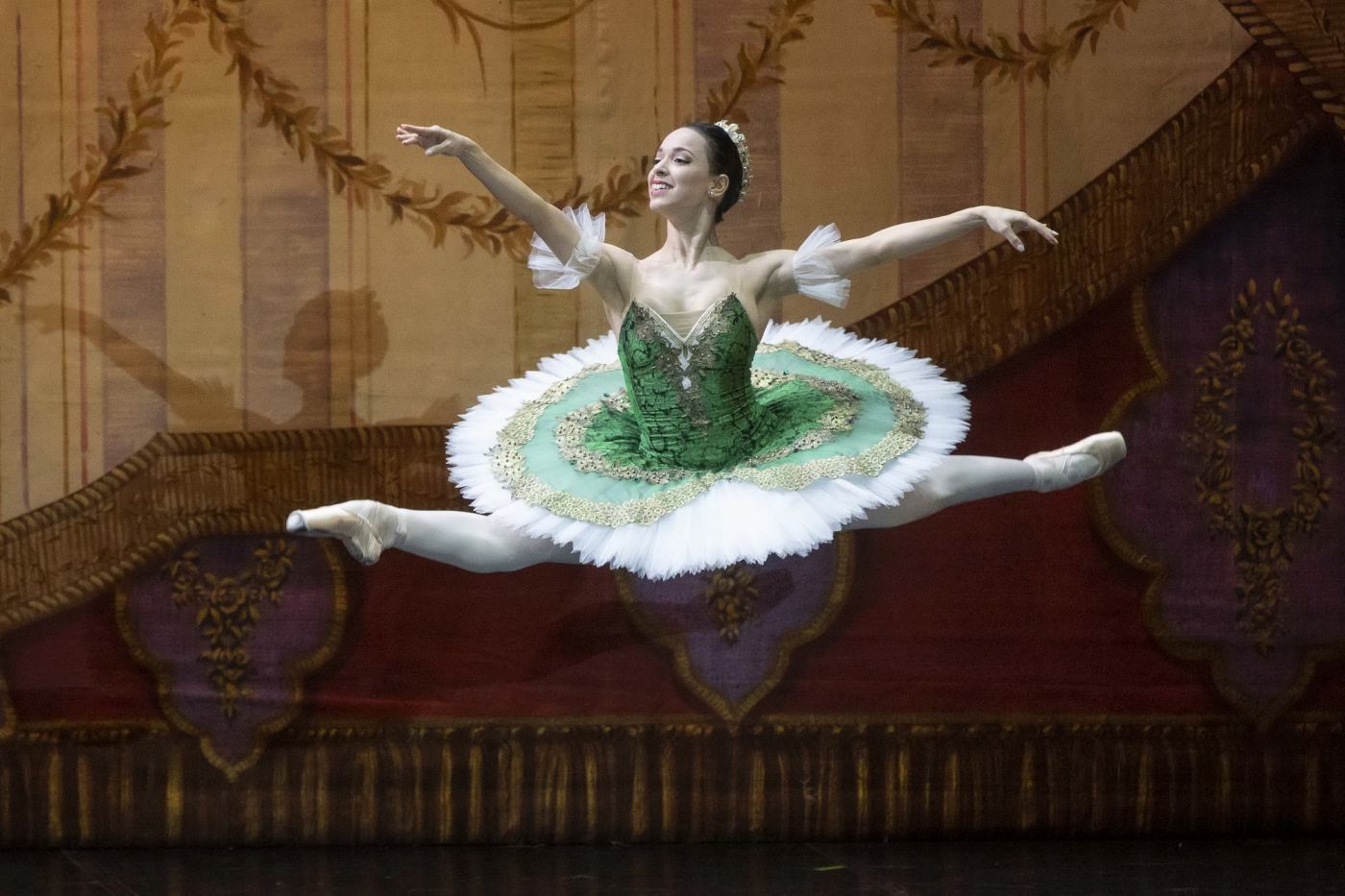 Nóra Rományi's costume designs were distinguished by their taste and elegance – above all: the tutus. Set designer Oleg Molchanov's sumptuous red draperies, together with chandeliers and huge candelabra, beautifully furnished the stage.
My only frustration was with the recorded music, a melange of compositions by Drigo, Delibes, Pugni, and others – at times amplified to shriekingly-loud volume.
Only a few bars into Schubert's final movement of "Symphony No. 9 (which accompanied "The Vertiginous Thrill of Exactitude"), its five dancers (three women + two men) seemed to sigh with relief about being able to swap Petipa's classical rigor for Forsythe's neo-classical style. The short piece is speedy and technically demanding, though, contrasting classical order with a pert assault on the rules of classical dance. Breaking the rules – perhaps that was what the dancers relished most. Lea Földi, Inès Furuhashi-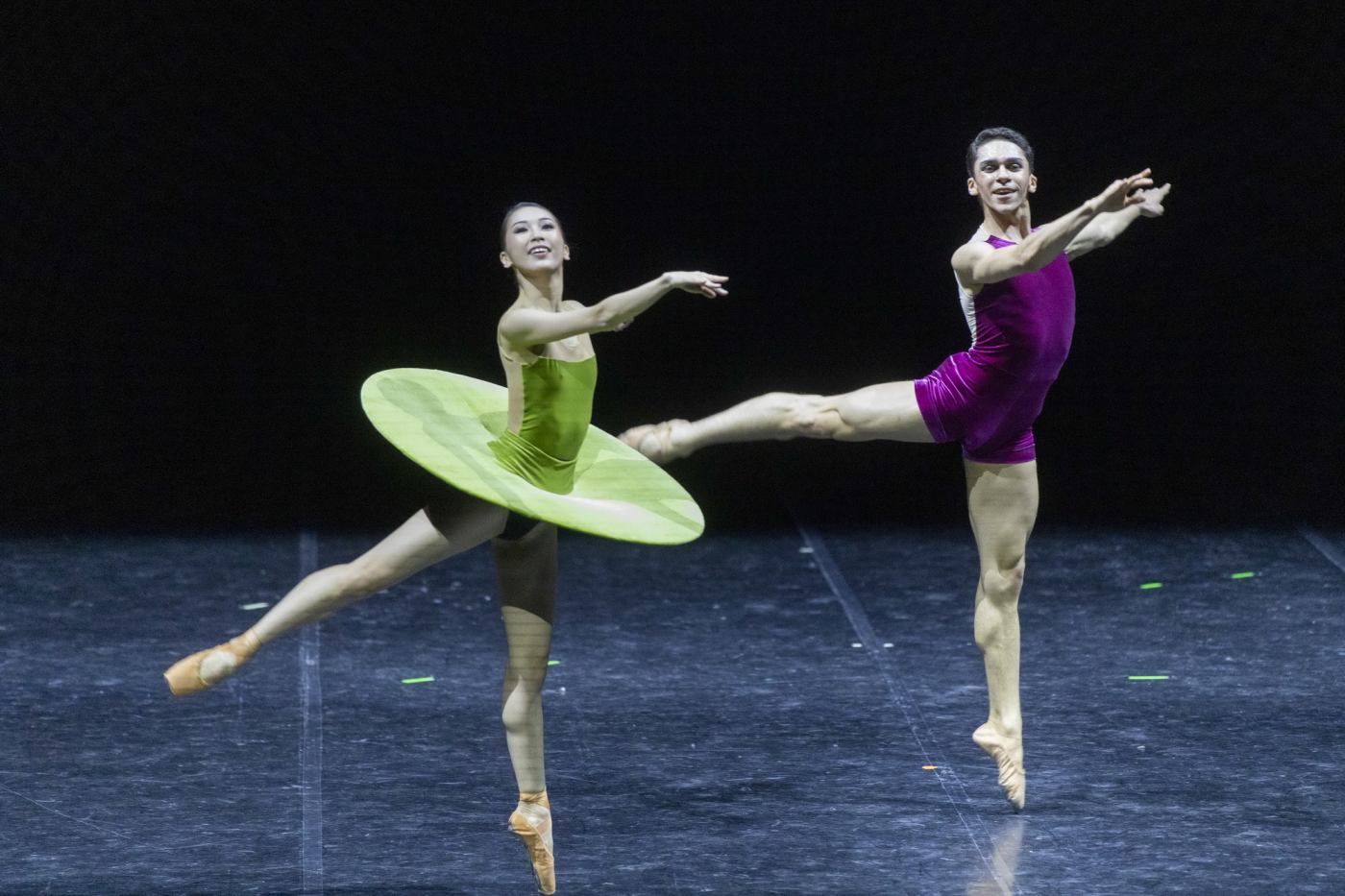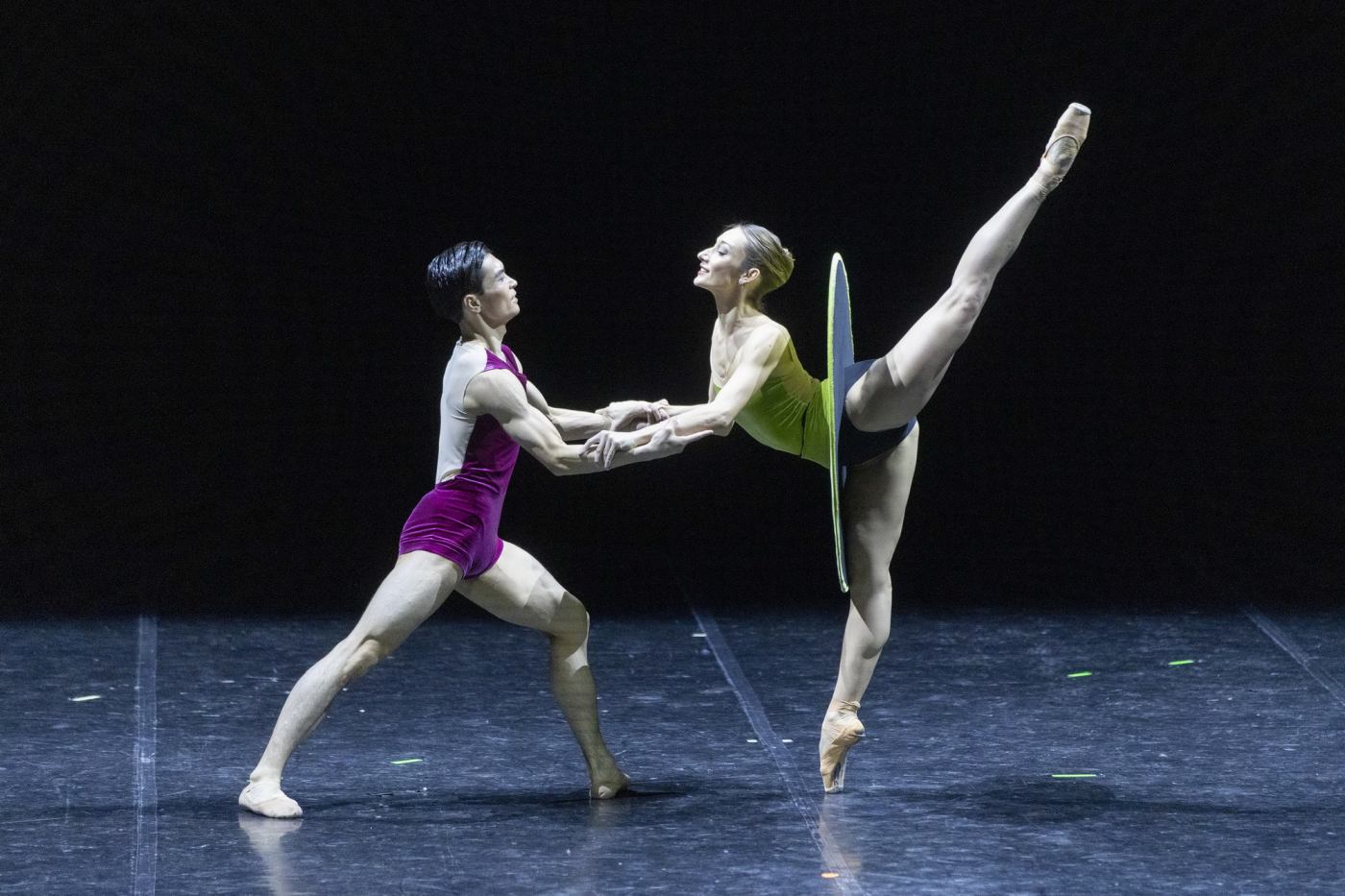 Huber, and Yuki Wakabayashi flitted between feline-like suppleness and snappy verve, at times undulating their arms as if to conjure something from beyond their lime-colored disc-shaped tutus (costumes by Stephen Galloway). The punchy performances of Ryosuke Morimoto and Yago Guerra, both wearing bright pink shorts and tops, were seasoned with a just-right pinch of cheekiness. The group gained momentum especially towards the end, propelling the piece towards rousing intensity.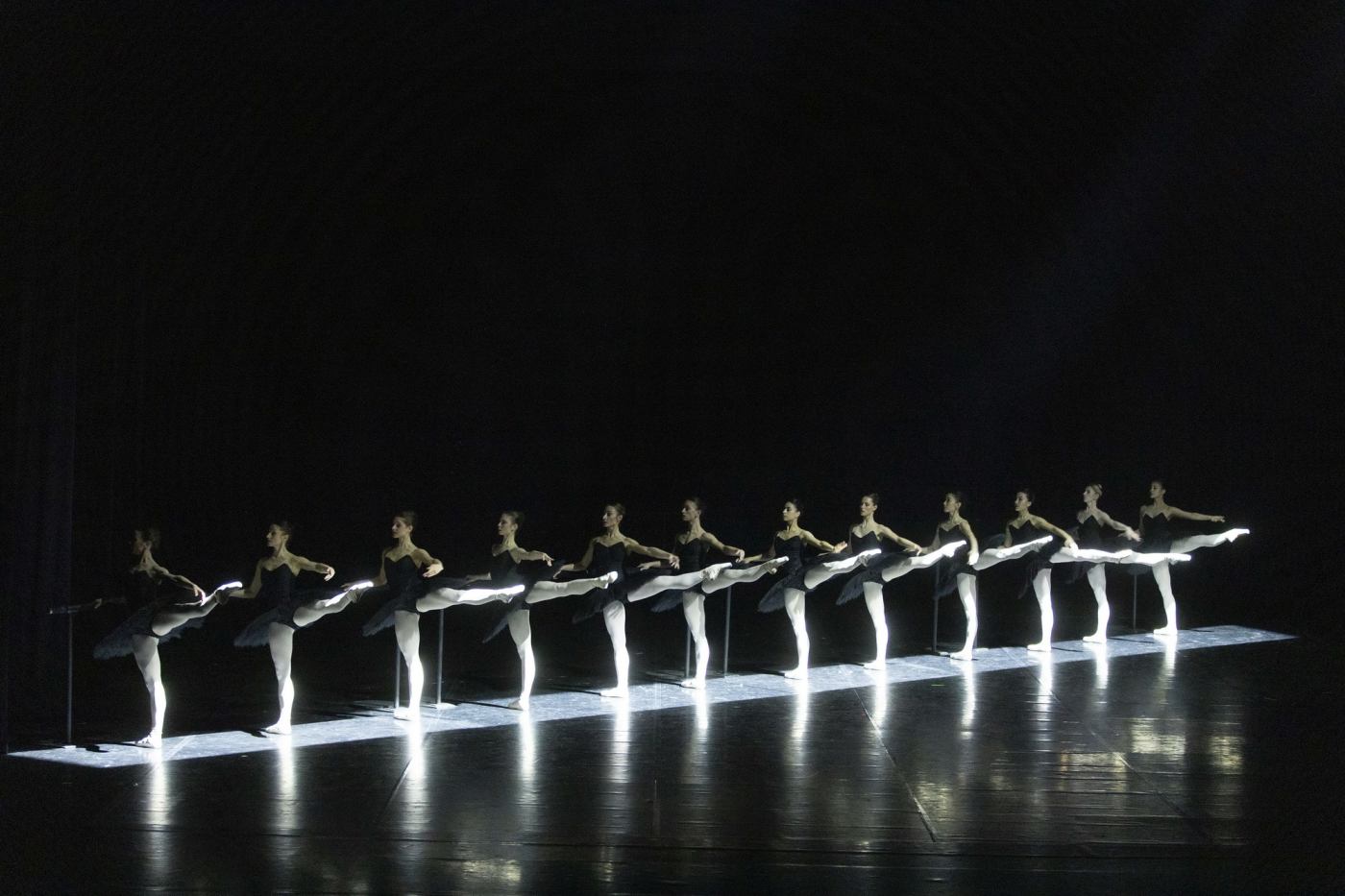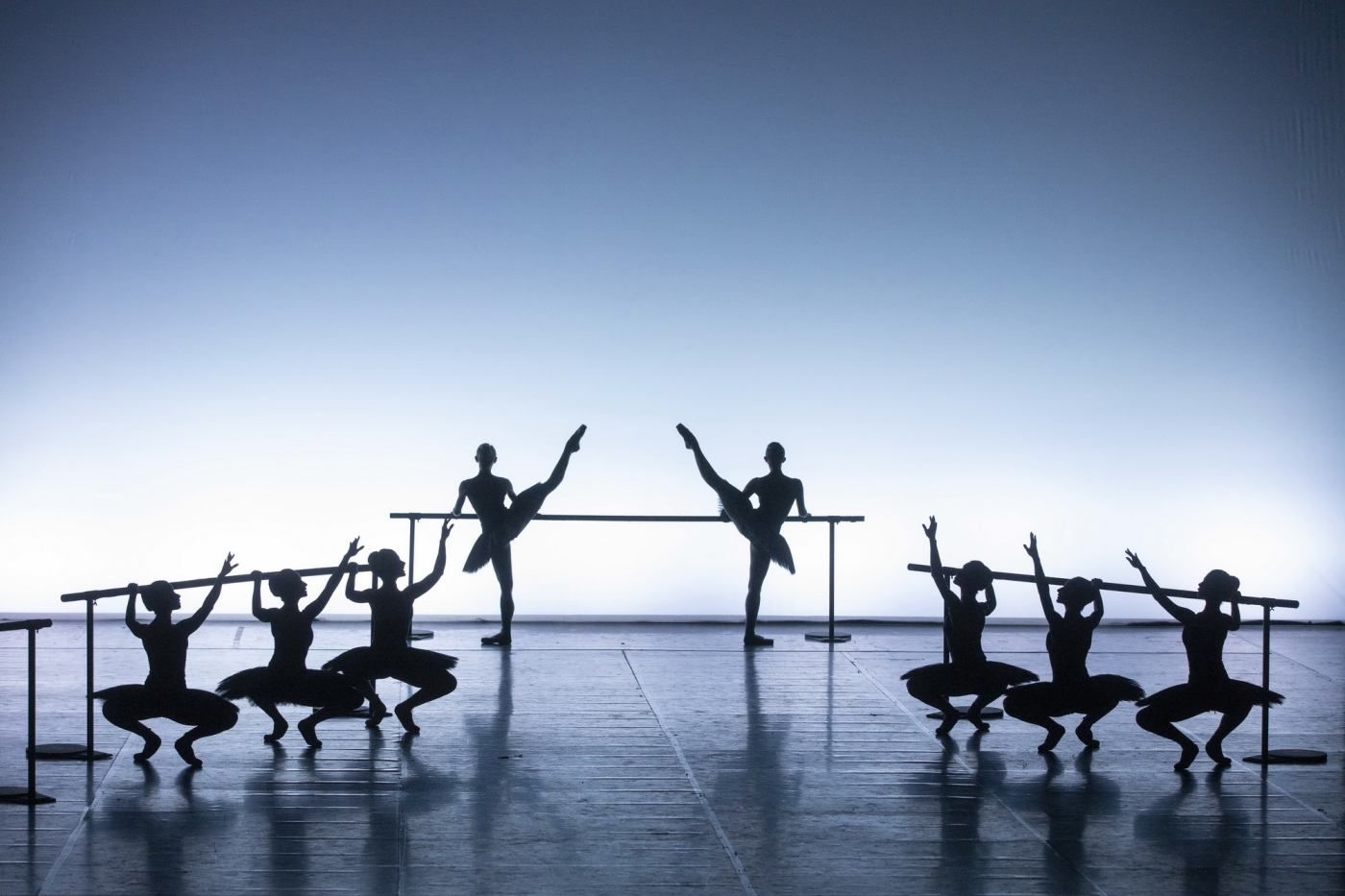 For novices in ballet, "Études" provides an ideal guide to classical dance. Within forty minutes it introduces viewers to routine exercises at the barre, advanced center stage combinations of steps and jumps, and the romanticism of sylphids. The highlight is a classical pas de trois featuring a mature ballerina and two cavaliers – in this performance danced by Yourim Lee, András Rónai, and Vince Topolánszky.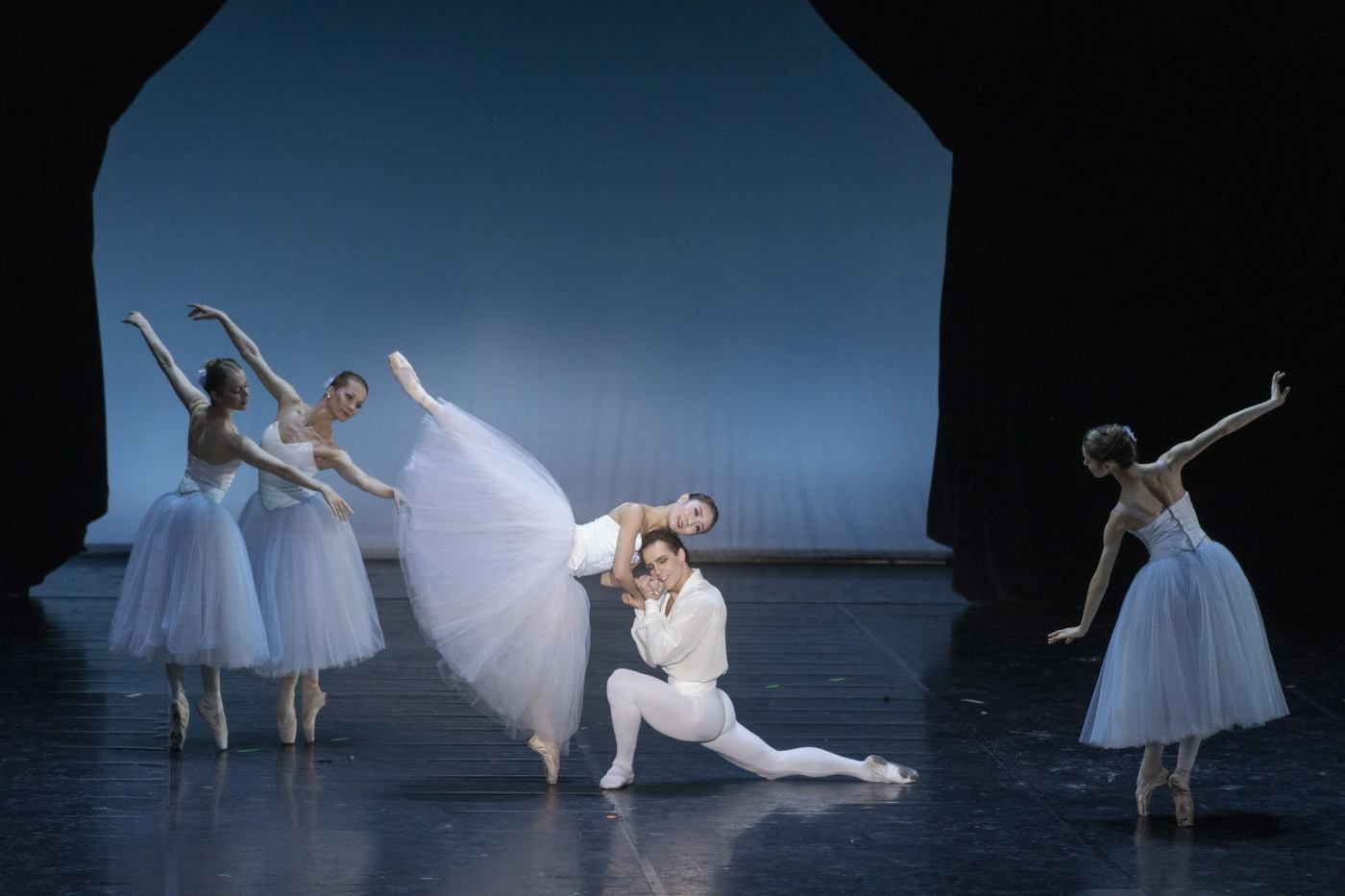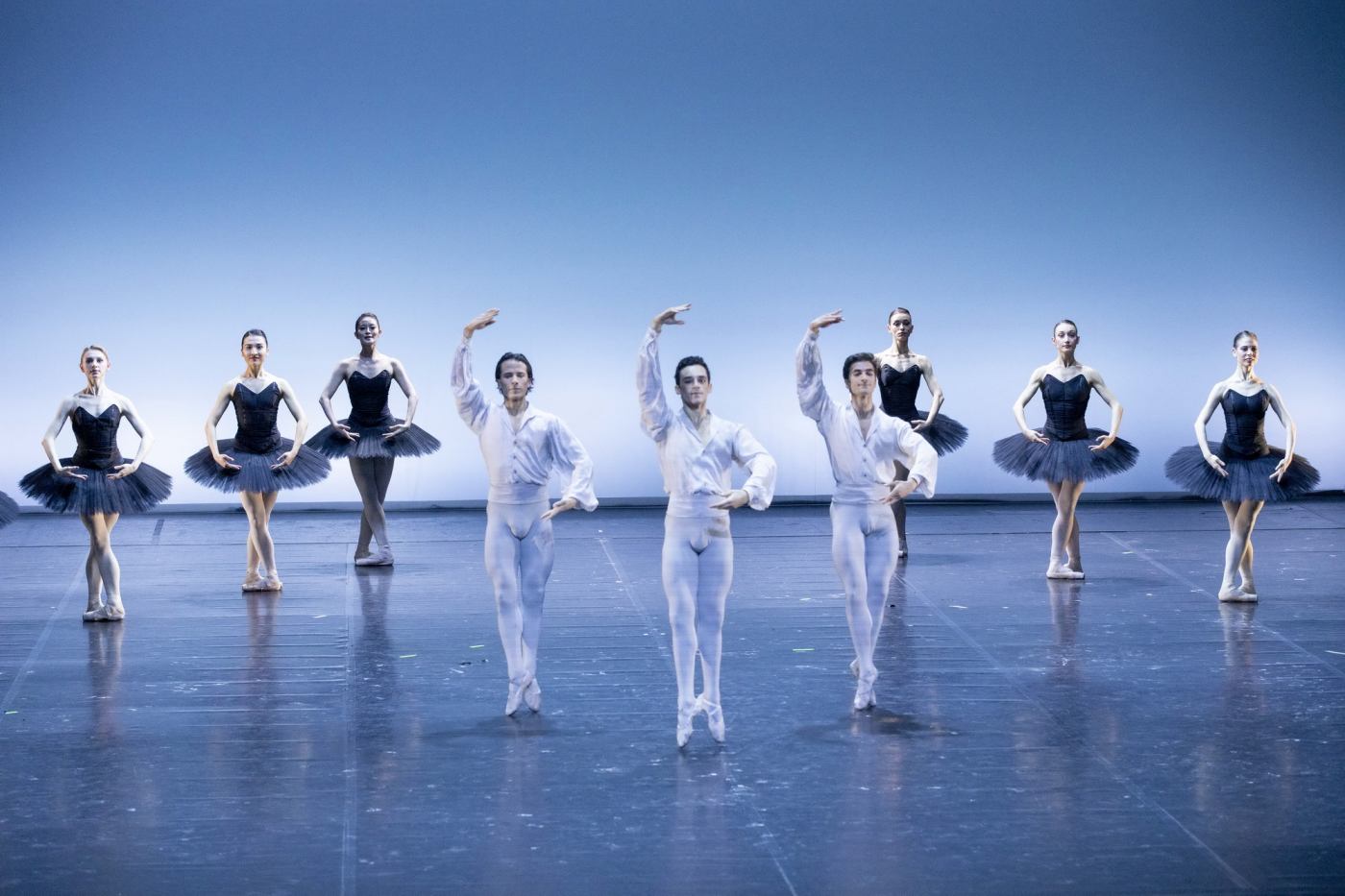 Clever lighting guides the eye to dozens of limbs crisply moving in unison or marks out the diagonals for dancers' vigorous jumps. The piece is a tribute to the beauty and perfection of ballet. It's also merciless, exposing each tiny mistake, imprecision, or asynchronicity. I've seen top-tier dancers lose their nerve during "Études" – and so I anticipated a so-so rendition. However, the Budapest company disabused me of this notion, presenting a surprisingly strong and all-together performance. Kudos!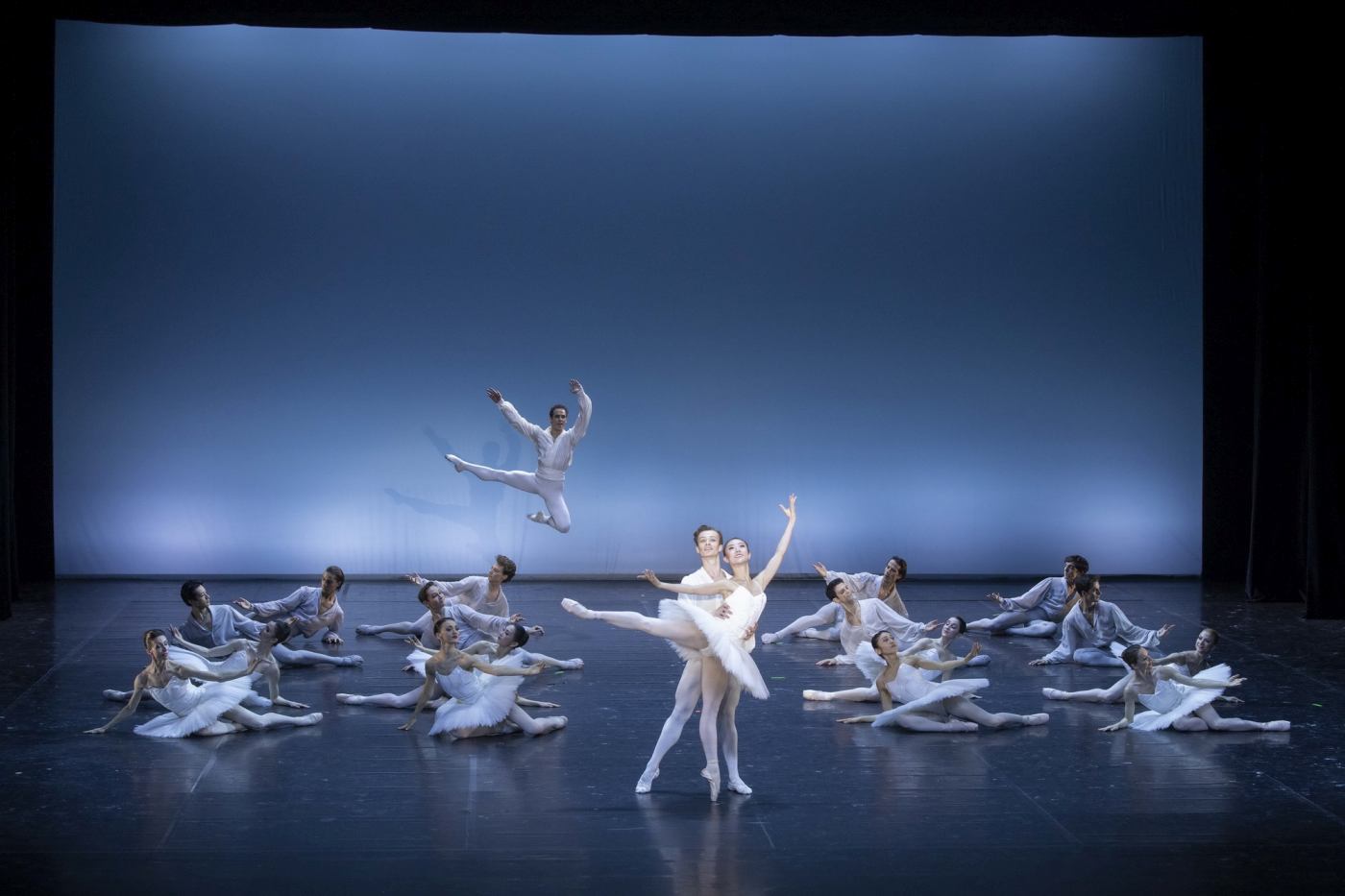 Links:
Website of the Hungarian State Opera
Trailer "Without Limits"

Photos:

1.

Students from the Hungarian National Ballet Institute,

"

Paquita Suite"

by Tamás Solymosi,

Albert Mirzoyan, and Irina Prokofieva

after Marius Petipa;

Ballet of the Hungarian State Opera 2022

2.

Students from the Hungarian National Ballet Institute,

"

Paquita Suite"

by Tamás Solymosi,

Albert Mirzoyan, and Irina Prokofieva

after Marius Petipa;

Ballet of the Hungarian State Opera 2022

3.

Aliya Tanykpayeva

and ensemble, "

Paquita Suite"

by Tamás Solymosi,

Albert Mirzoyan, and Irina Prokofieva

after Marius Petipa;

Ballet of the Hungarian State Opera 2022

4.

Aliya Tanykpayeva, Dmitry Timofeev, and ensemble, "

Paquita Suite"

by Tamás Solymosi,

Albert Mirzoyan, and Irina Prokofieva

after Marius Petipa;

Ballet of the Hungarian State Opera 2022

5.

Lili Felméry, András Rónai, and Cristina Balaban, "

Paquita Suite"

by Tamás Solymosi,

Albert Mirzoyan, and Irina Prokofieva

after Marius Petipa;

Ballet of the Hungarian State Opera 2022

6.

András Rónai, "

Paquita Suite"

by Tamás Solymosi,

Albert Mirzoyan, and Irina Prokofieva

after Marius Petipa;

Ballet of the Hungarian State Opera 2022

7.

Lili Felméry, "

Paquita Suite"

by Tamás Solymosi,

Albert Mirzoyan, and Irina Prokofieva

after Marius Petipa;

Ballet of the Hungarian State Opera 2022

8.

Ryosuke Morimoto,

"

Paquita Suite"

by Tamás Solymosi,

Albert Mirzoyan, and Irina Prokofieva

after Marius Petipa;

Ballet of the Hungarian State Opera 2022

9.

Miyu Takamori,

"

Paquita Suite"

by Tamás Solymosi,

Albert Mirzoyan, and Irina Prokofieva

after Marius Petipa;

Ballet of the Hungarian State Opera 2022

10.

Claudia García Carriera,

"

Paquita Suite"

by Tamás Solymosi,

Albert Mirzoyan, and Irina Prokofieva

after Marius Petipa;

Ballet of the Hungarian State Opera 2022

11.

Yago Guerra

and Yuki Wakabayashi, "The Vertiginous Thrill of Exactitude" by William Forsythe;

Ballet of the Hungarian State Opera 2022



12.

Ryosuke Morimoto and Lea Földi, "The Vertiginous Thrill of Exactitude" by William Forsythe;

Ballet of the Hungarian State Opera 2022

13.

Ensemble, "Études" by Harald Lander,

Ballet of the Hungarian State Opera 2022

14.

Ensemble, "Études" by Harald Lander,

Ballet of the Hungarian State Opera 2022

15.

Yourim Lee, András Rónai, and ensemble, "Études" by Harald Lander,

Ballet of the Hungarian State Opera 2022

16.

Ensemble,

"Études" by Harald Lander,

Ballet of the Hungarian State Opera 2022

17.

Vince Topolánszky, Yourim Lee, András Rónai, and ensemble, "Études" by Harald Lander, Ballet of the Hungarian State Opera 2022

all photos © Péter Rákossy / Hungarian State Opera

Editing:
Jake Stepansky