"6th Iván Nagy International Ballet Gala"
Ballet of the Hungarian State Opera
Hungarian State Opera
Budapest, Hungary
April 23, 2022
by Ilona Landgraf
Copyright © 2022 by Ilona Landgraf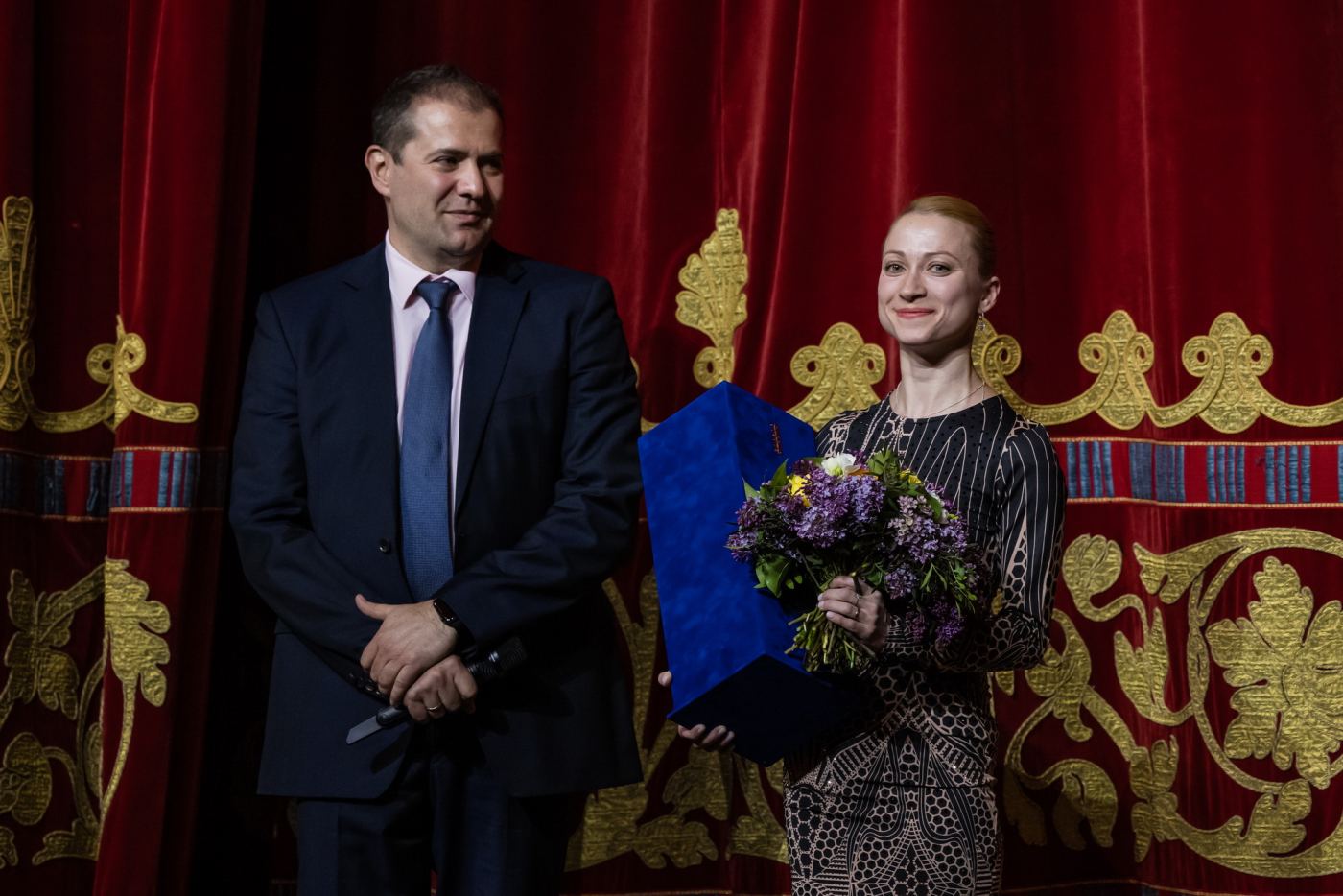 Iván Nagy (1943 – 2014), a ballet dancer born and trained in Hungary, rose to stardom as a principal for the American Ballet Theatre in the 1970s. He later embarked on a second career as an artistic director – first at the Ballet de Santiago, and subsequently at the Cincinnati/New Orleans Ballet and the English National Ballet. In his final years, he returned to his homeland to support the ballet of the Hungarian State Opera as an artistic advisor. Since 2015, the company has paid tribute to him at a yearly international gala, which was canceled due to the pandemic in 2020 and 2021.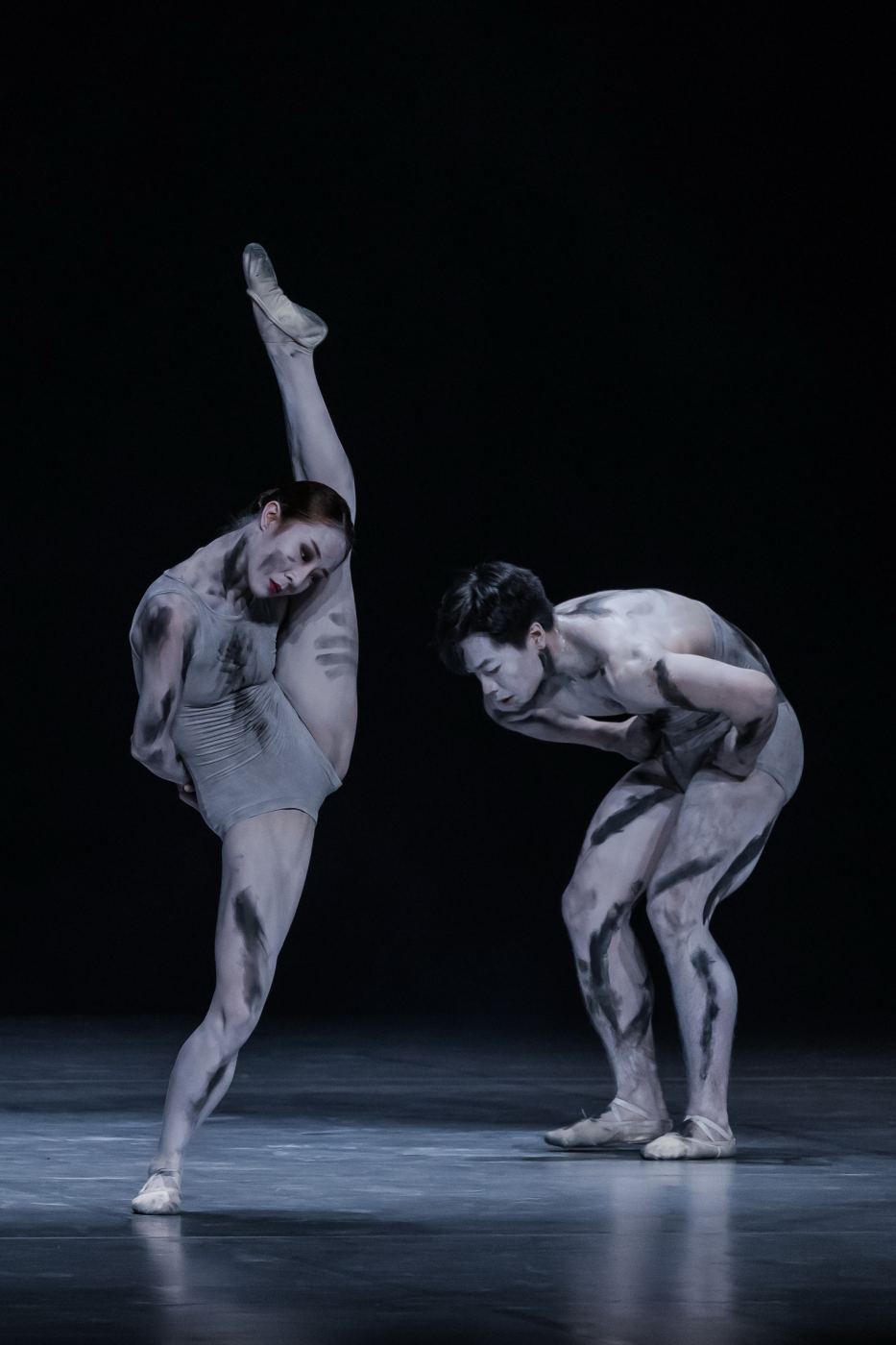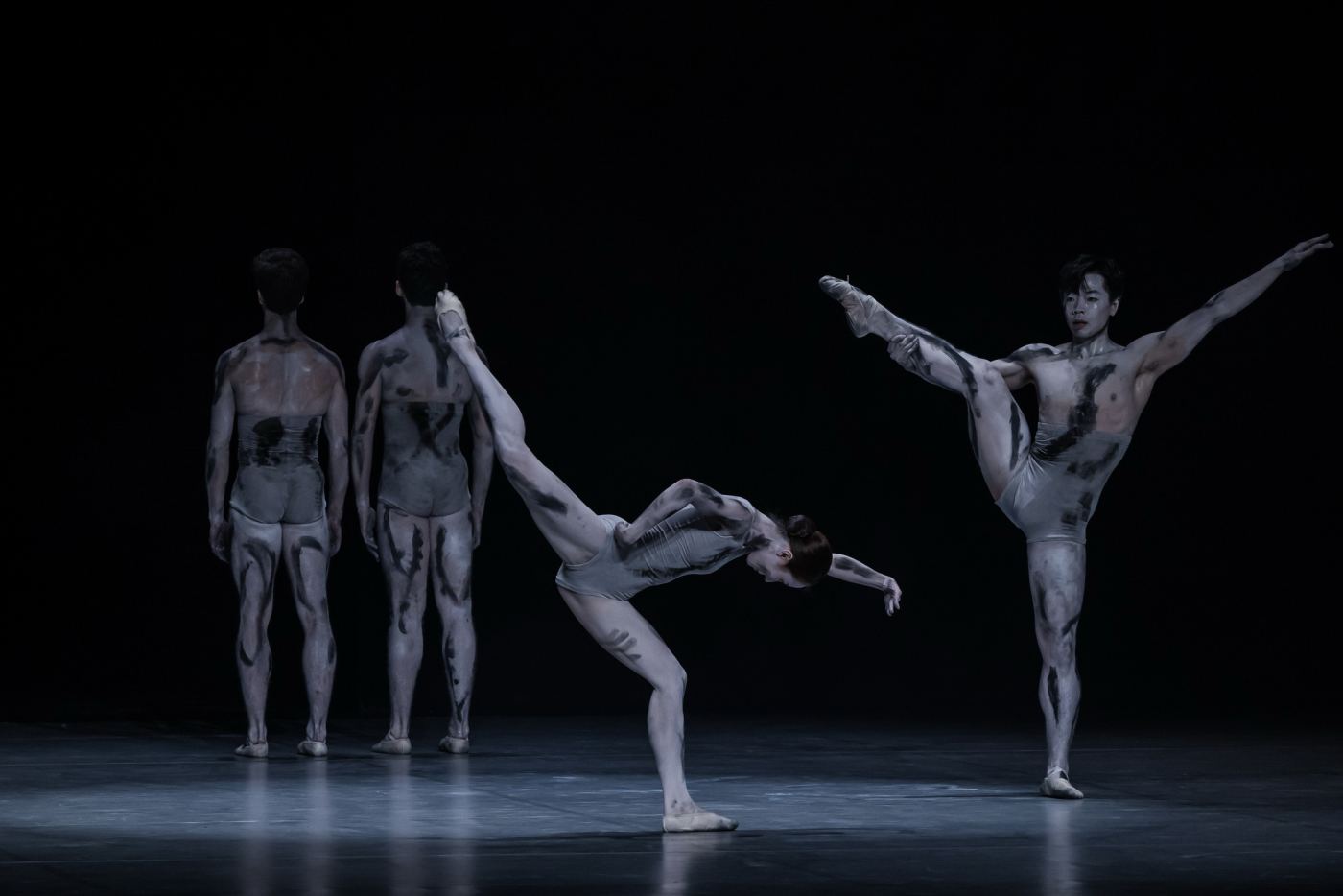 This year, the Gala returned. The program was comprised of two contributions by the ballet company of Národni Divadlo Brno, Czech Republic – "Rossini" and an excerpt of "Black and White" – bookended by two pieces from the Budapest troupe: "Sad Case" and "Paquita Suite" (the latter having been part of Saturday's matinee bill). In addition, the annual Solymosi Award was presented to Olga Chernakova for outstanding achievement as dancer and ballet master during the previous Nutcracker series (she has been one of the company's ballet masters since 2019). Melitta Gyüdi moderated the program.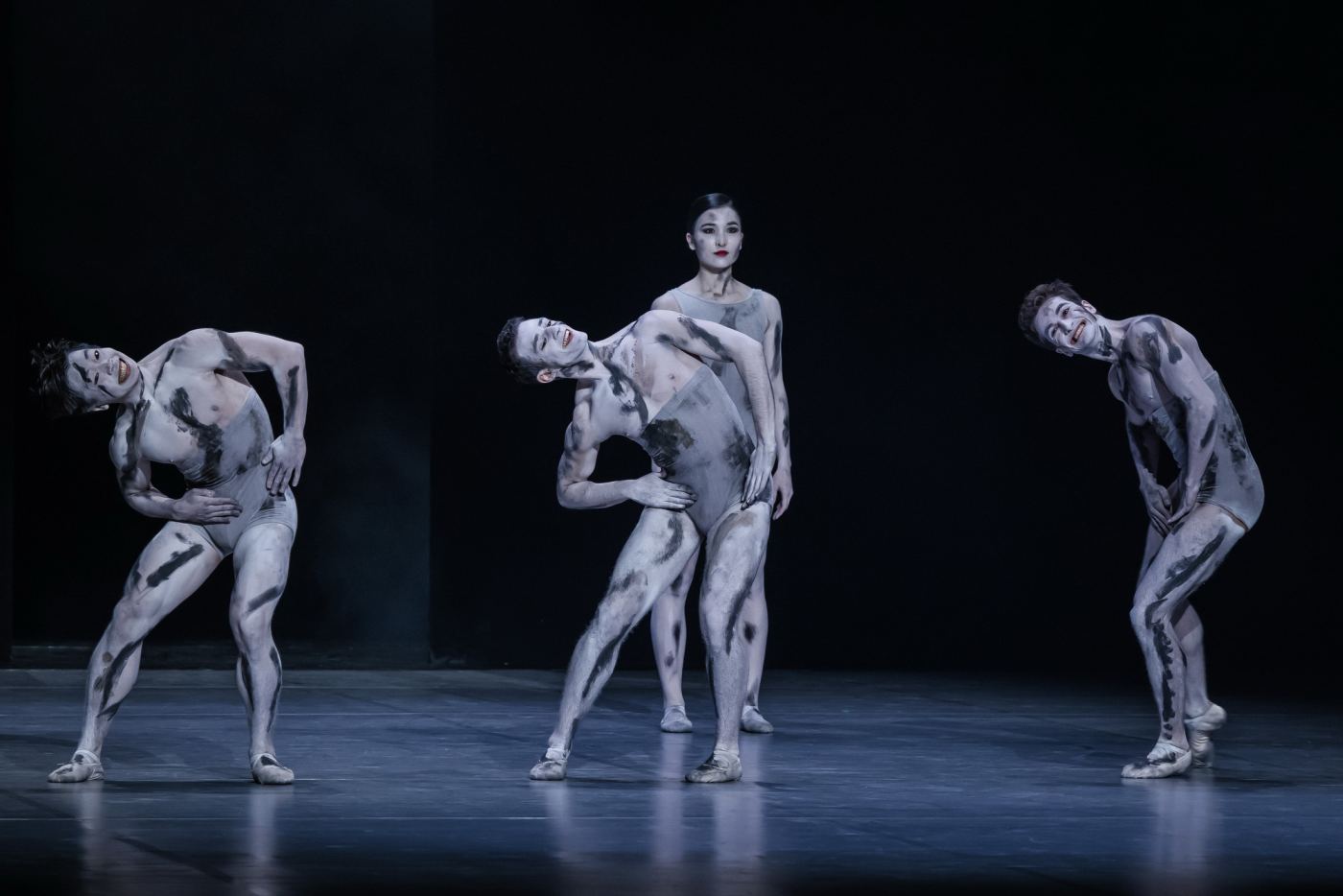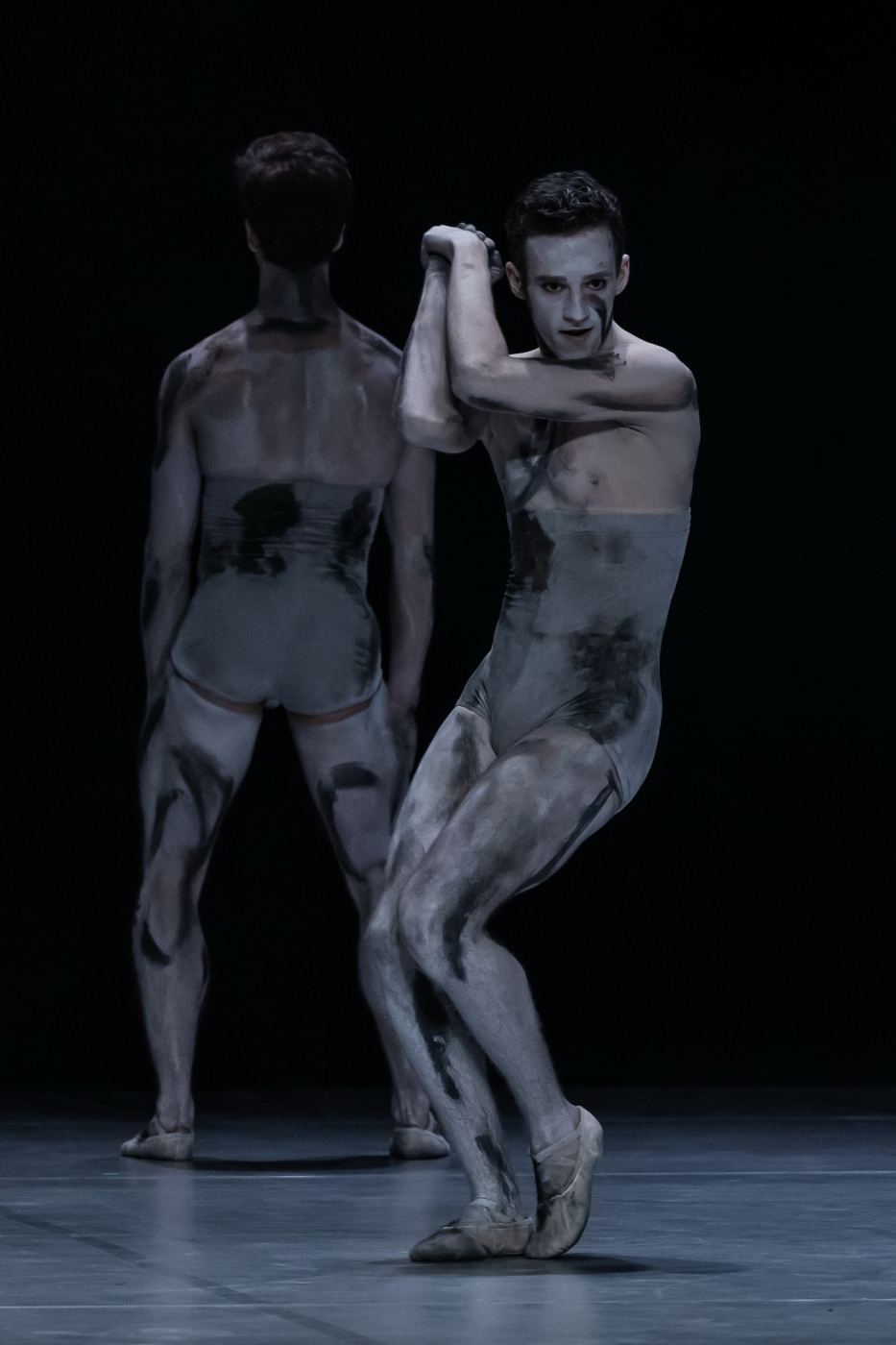 "Sad Case" is the title of the piece by choreographer-duo (and formerly real-life couple) Sol León and Paul Lightfoot, whose work shaped the artistic development of Nederlands Dans Theater until 2020. It was created in 1998 during León's pregnancy with their child, a time when – according to Lightfoot – "the hormones were jumping and emotions were high. It is these hormones of laughter, madness, and the trepidation of the unknown ahead that are the umbilical chord of this work." To start, the music – a compilation of Mexican mambo music – isn't sad, but is instead cheesy, languorous, chipper and, at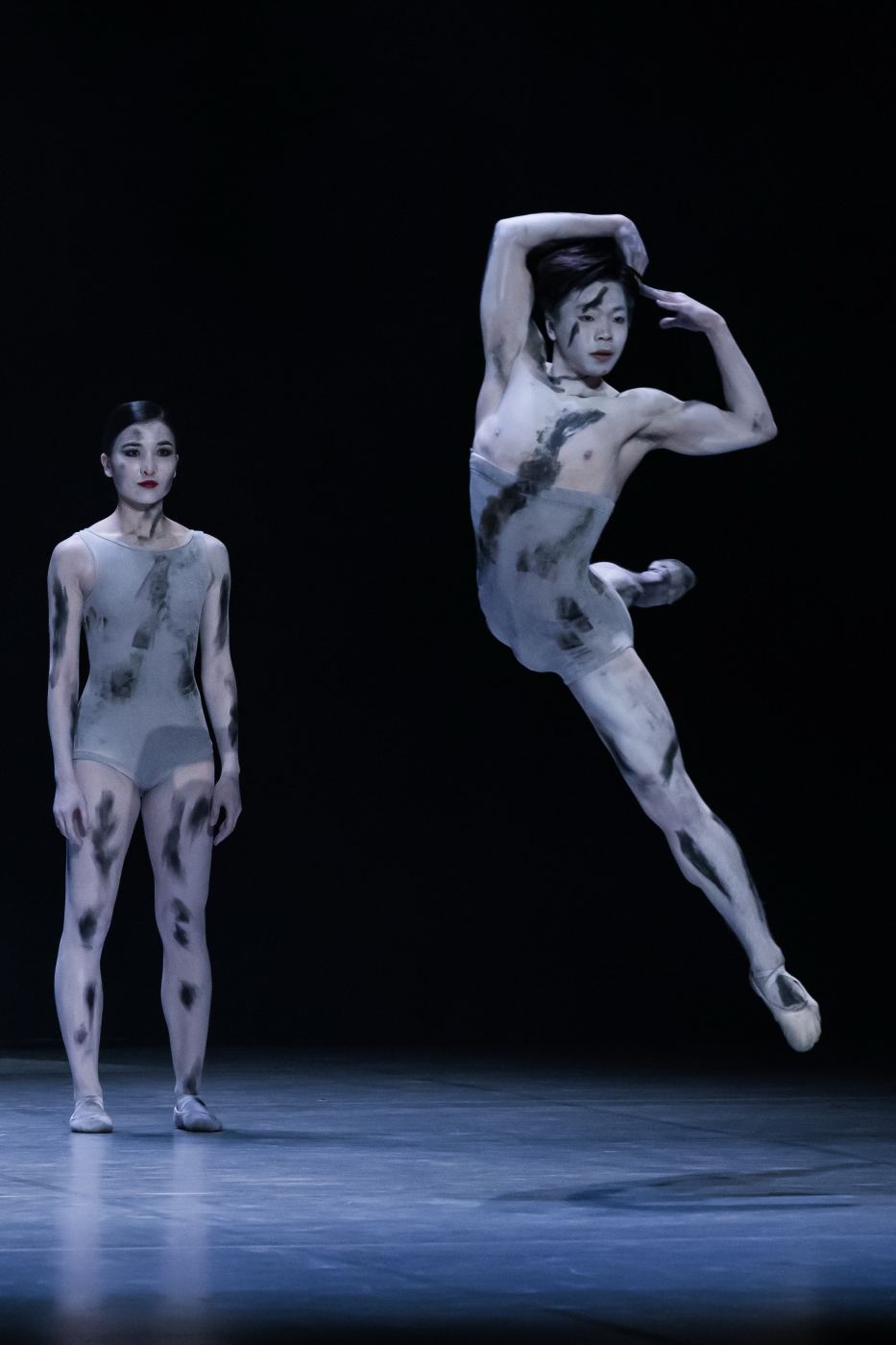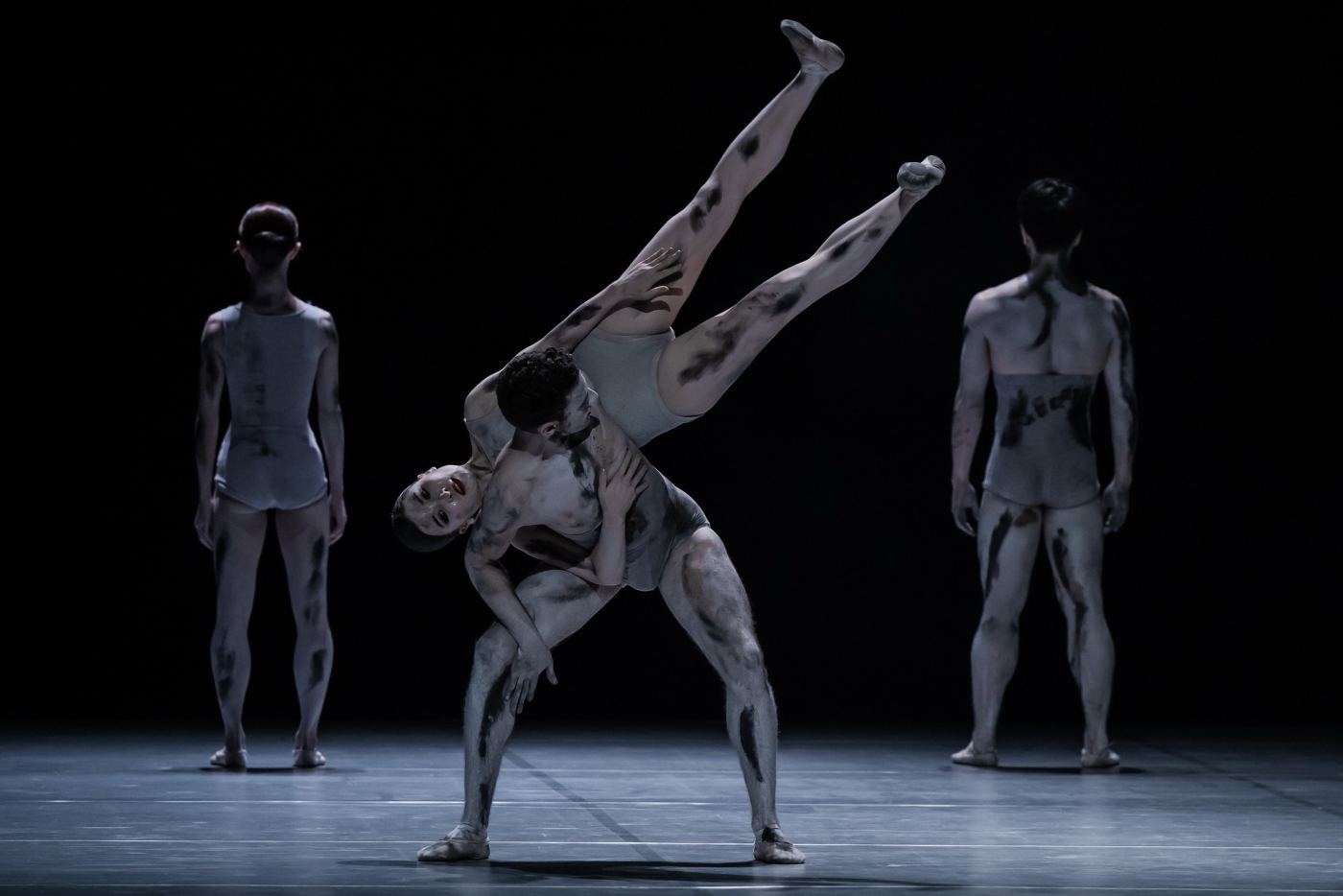 times, percussion-driven – including the cackling of chickens. The piece's five dancers (two women and three men) wear gray-ish tricots, their faces and bodies covered in white grease dotted with black smudges, looking more dirty than sad. I failed to see how these outfits connected to pregnancy. The black, fog-filled set (like the costumes designed by León and Lightfoot) is indeed gloomy, but brightened by the occasional ray of light.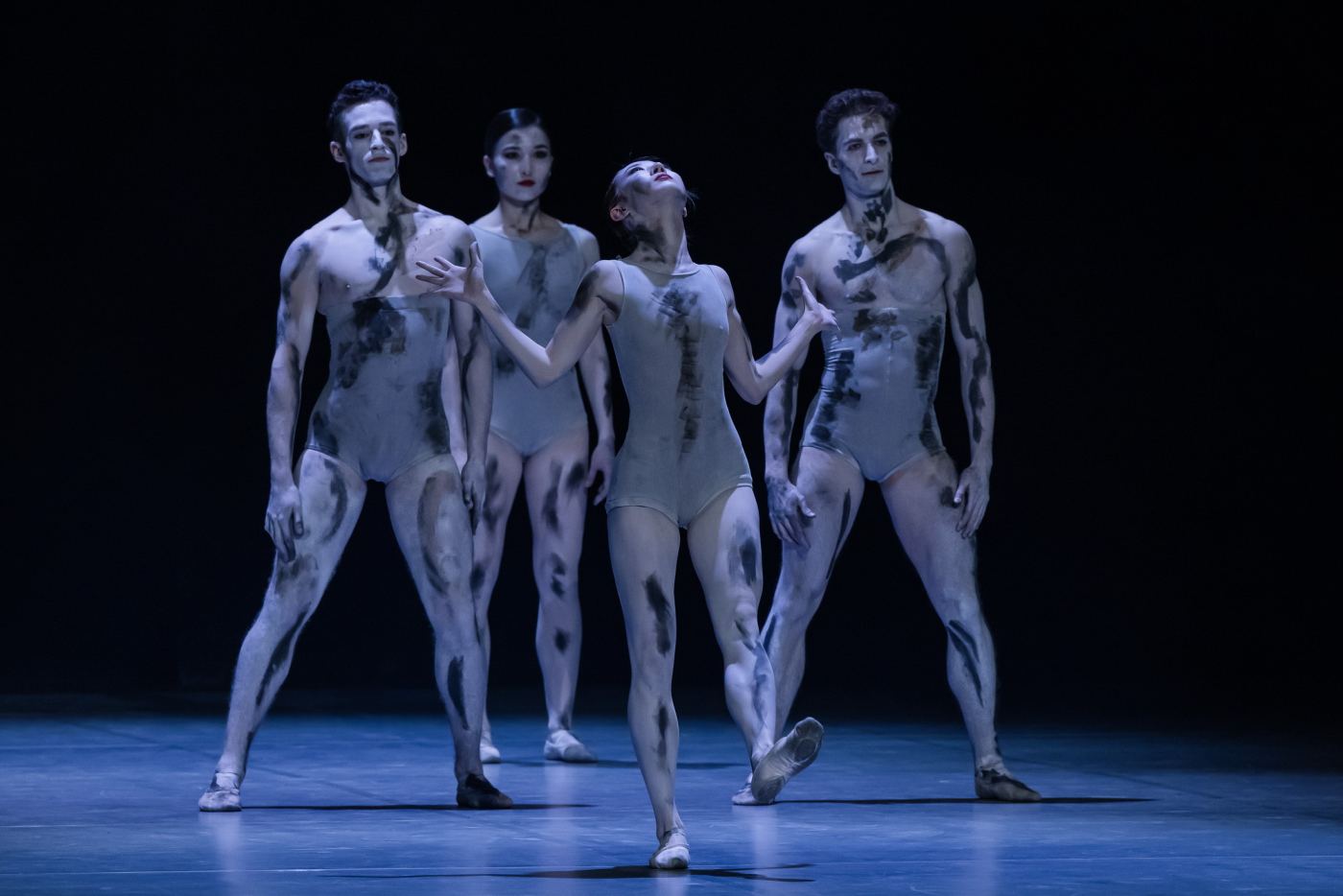 The dancers behave weirdly, as is typical of a León/Lightfoot choreography: they walk knock-kneed, gape their jaws, thrust their pelvises suggestively forward, and squat, arms hanging down, their heads turning like primates watching tennis. Snake-like undulations intertwine with clown-esque poses that reminded me of shallow imitations of "Petrushka". While some thrust their bottoms from side to side, others wriggle their torsos as if spin-cycling in a washing machine. In one sequence reminiscent of a tribal dance, body parts snap into ungainly positions. The piece ends with one woman lying on her back, legs bent, locked in an orgiastic birth-giving scream.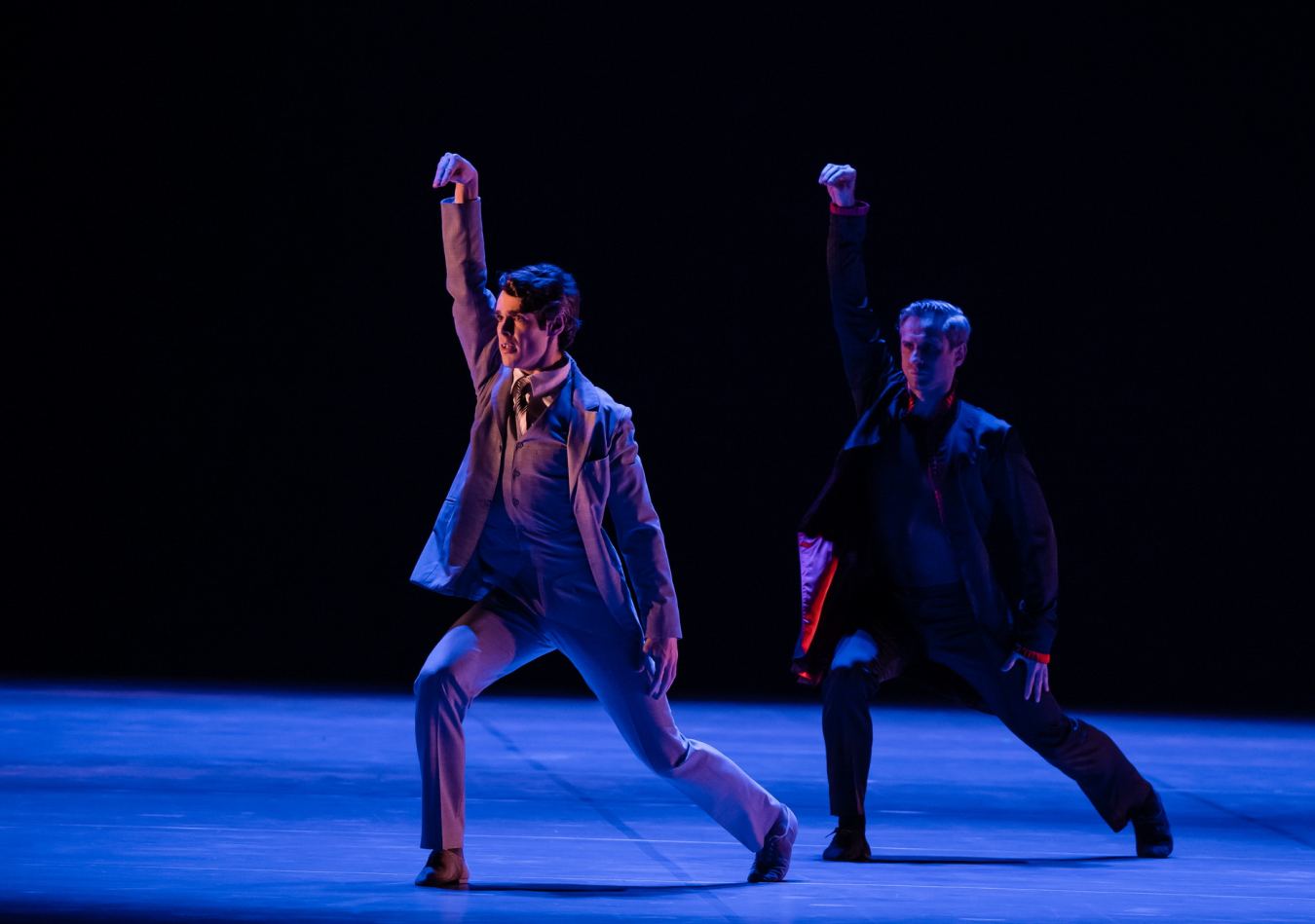 The dancers from Brno presented a pas de trois from "Black and White" – a modern take on "Swan Lake" choreographed by their artistic director Mário Radačovský. In creating this adaption, Radačovský kept Tchaikovsky's music, but re-dedicated the musical pieces to other characters. He focused on Prince Siegfried (the character is suffering from cancer, but that's not evident in the excerpt) and the common black-and-white pattern of thinking. We watch Siegfried (Arthur Abram) encounter the Black Swan (here named "Black" and performed by Klaudia Radačovská) and Rothbart (Martin Svobodník); the latter observes the pair and briefs Black how to act. At first, Siegfried appears to succumb to Rothbart when they lock horns like wrestlers. Eventually, though, the Prince rises from the ground and is approached by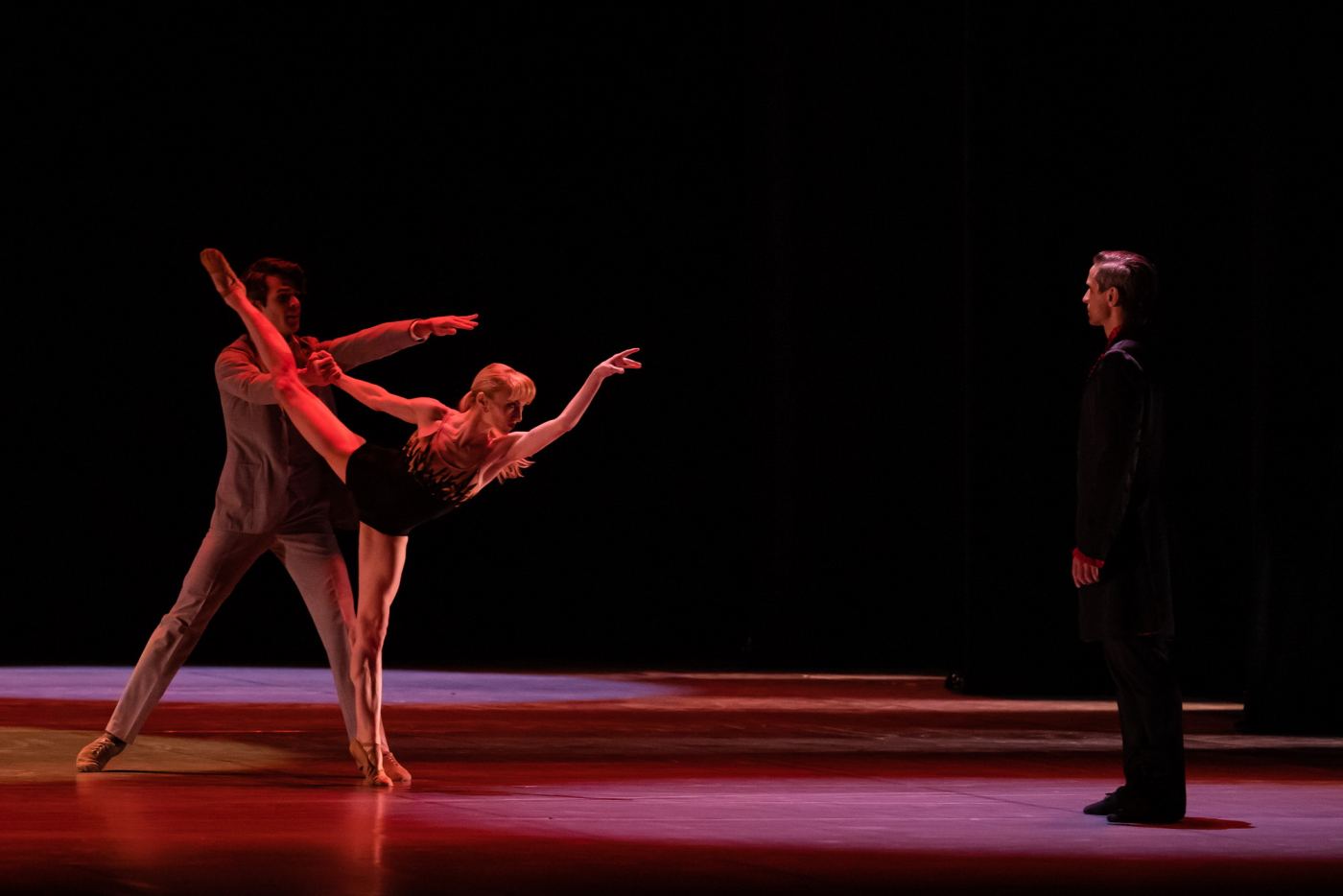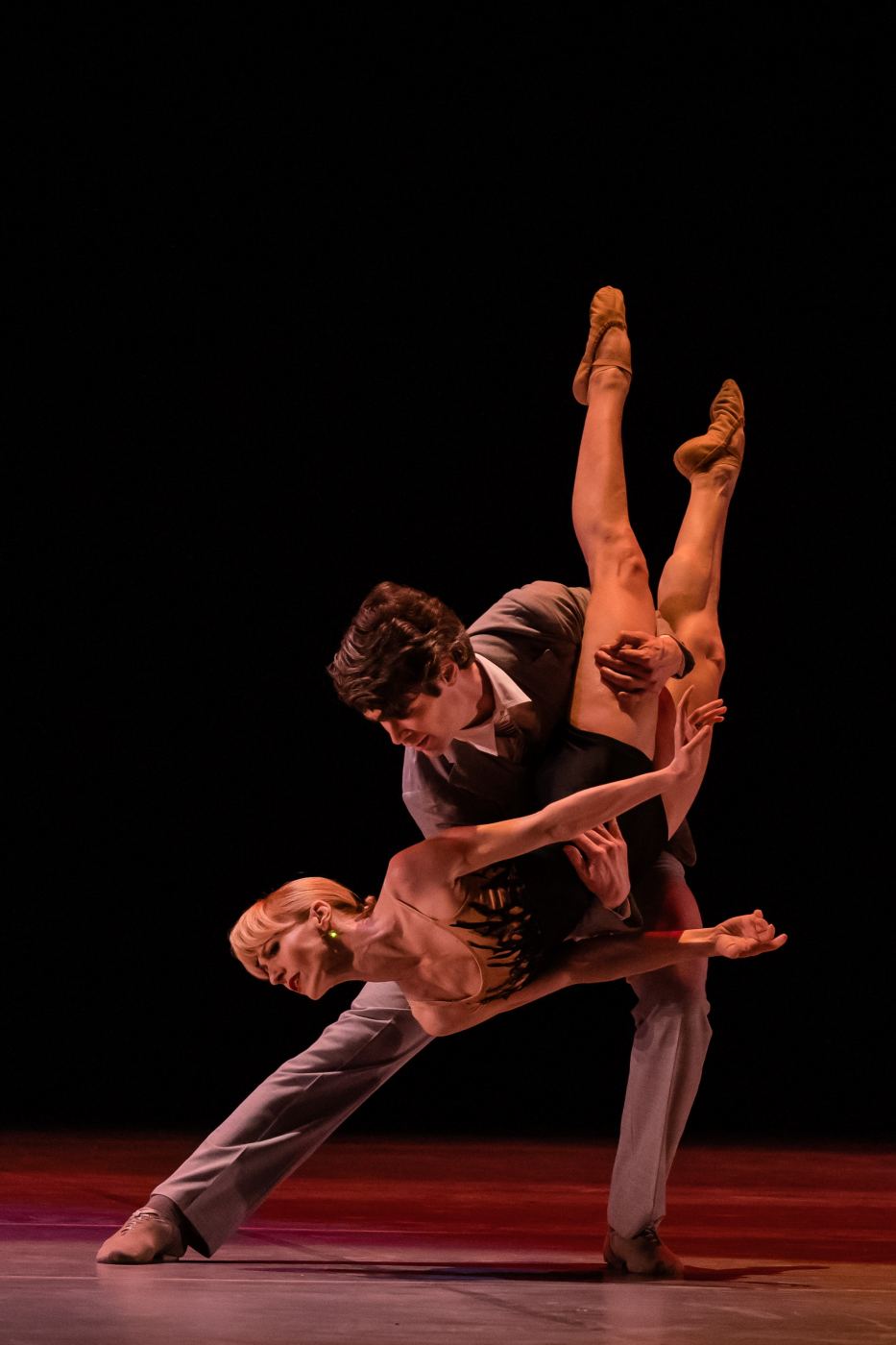 Black for a pas de deux. Though he makes her fly high, she runs back to Rothbart – and seeing them embrace upsets Siegfried tremendously. He doesn't look at her when she tries to seduce him again, although his hand reaches out in vain the moment she struts off on Rothbart's arm.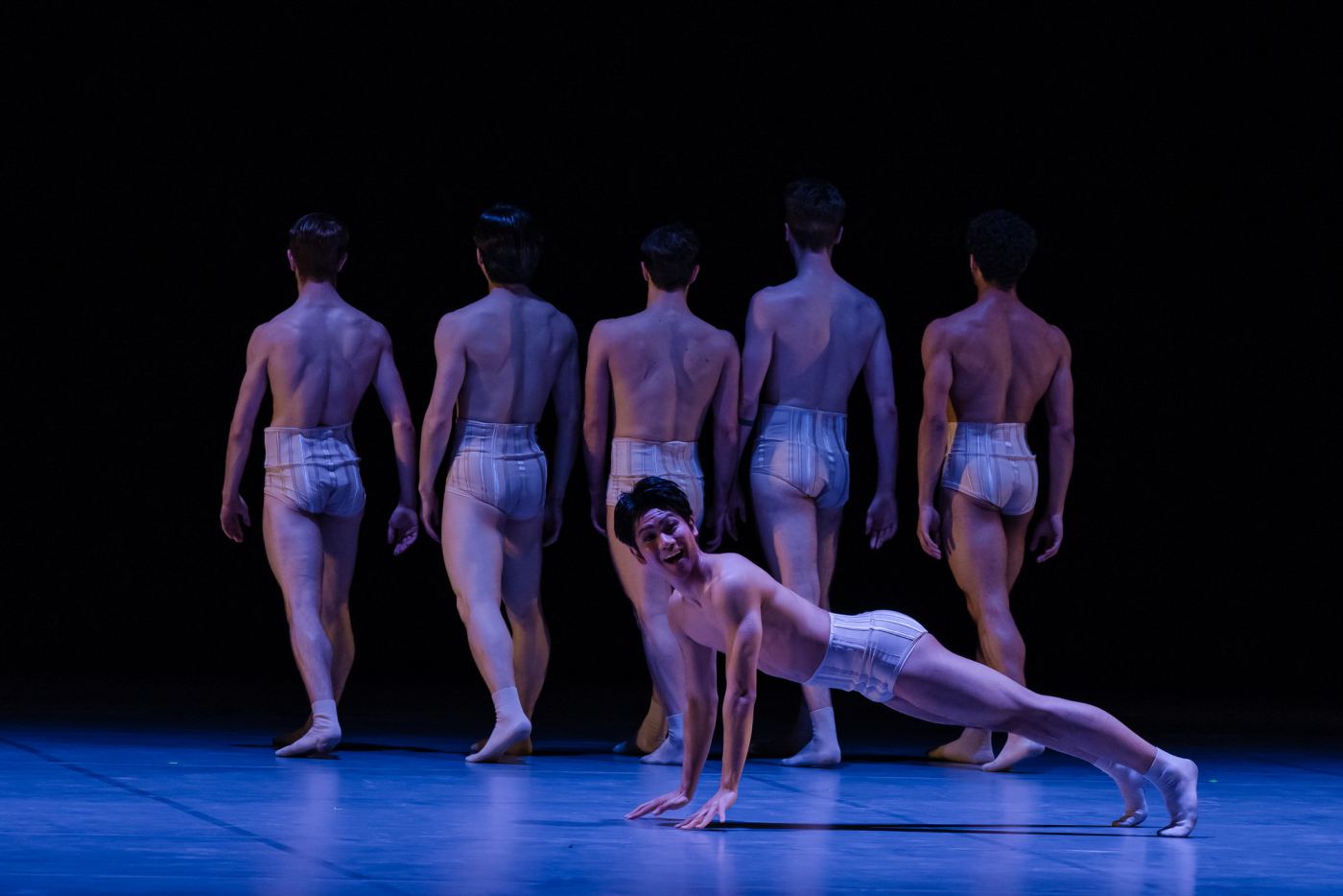 "Rossini", the second ballet brought by the Brno company to Budapest, is actually an excerpt from the evening-length "Michelangelo", which Radačovský created for the Serbian National Ballet in 2021. The six dancers – all male, as Michelangelo idealized the male form – depict sculptures or his inspirations. Classical string music by Rossini sets the rhythm for their athletic pranks. They do somersaults, cartwheels, and push-ups, wriggling on the floor like grounded mermaids, soaring into high jumps like boastful track stars. Like wannabe Wilis, they hop in arabesque or, sitting on the floor, bounce up and down on their bottoms while watching each other's solos. Cream-white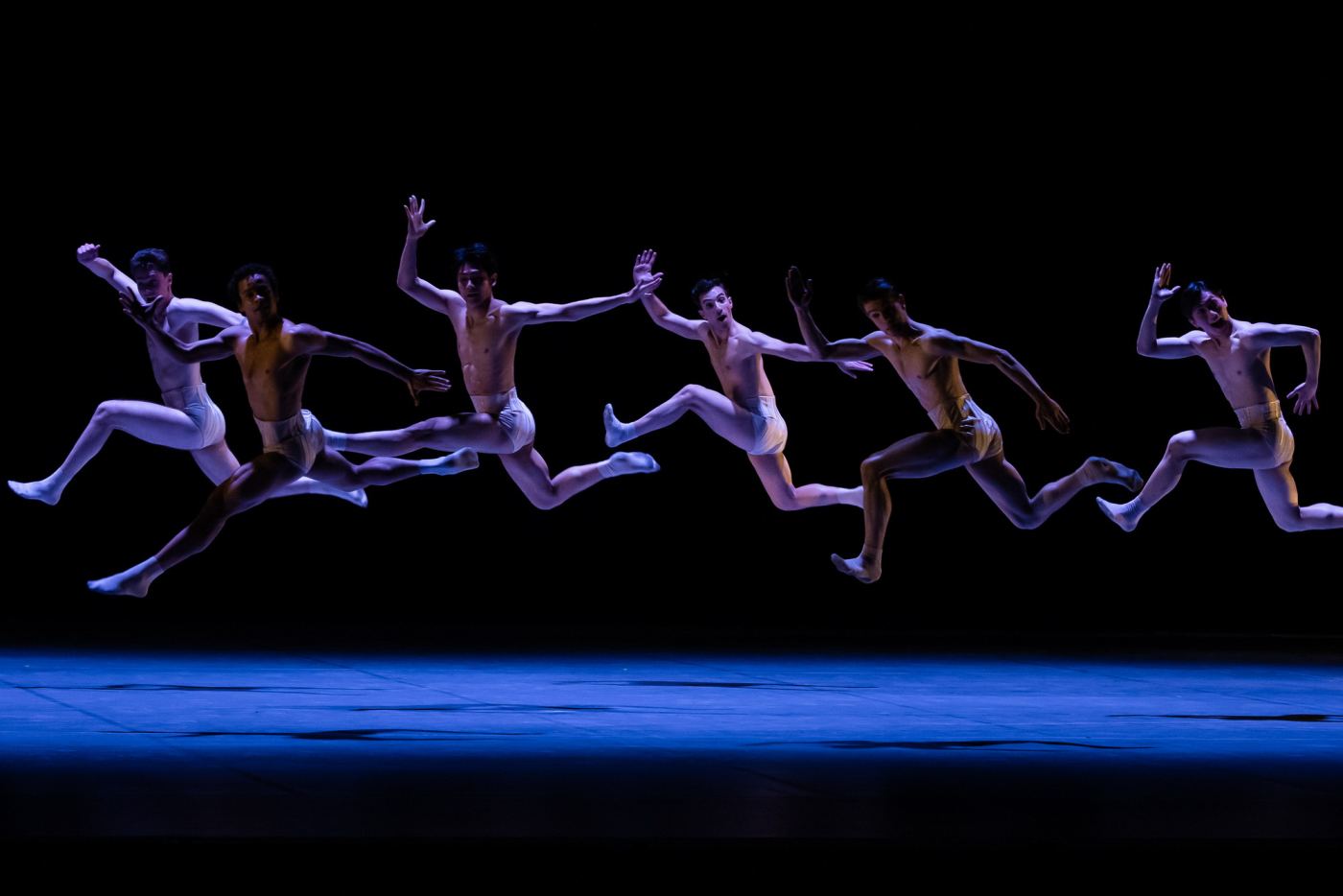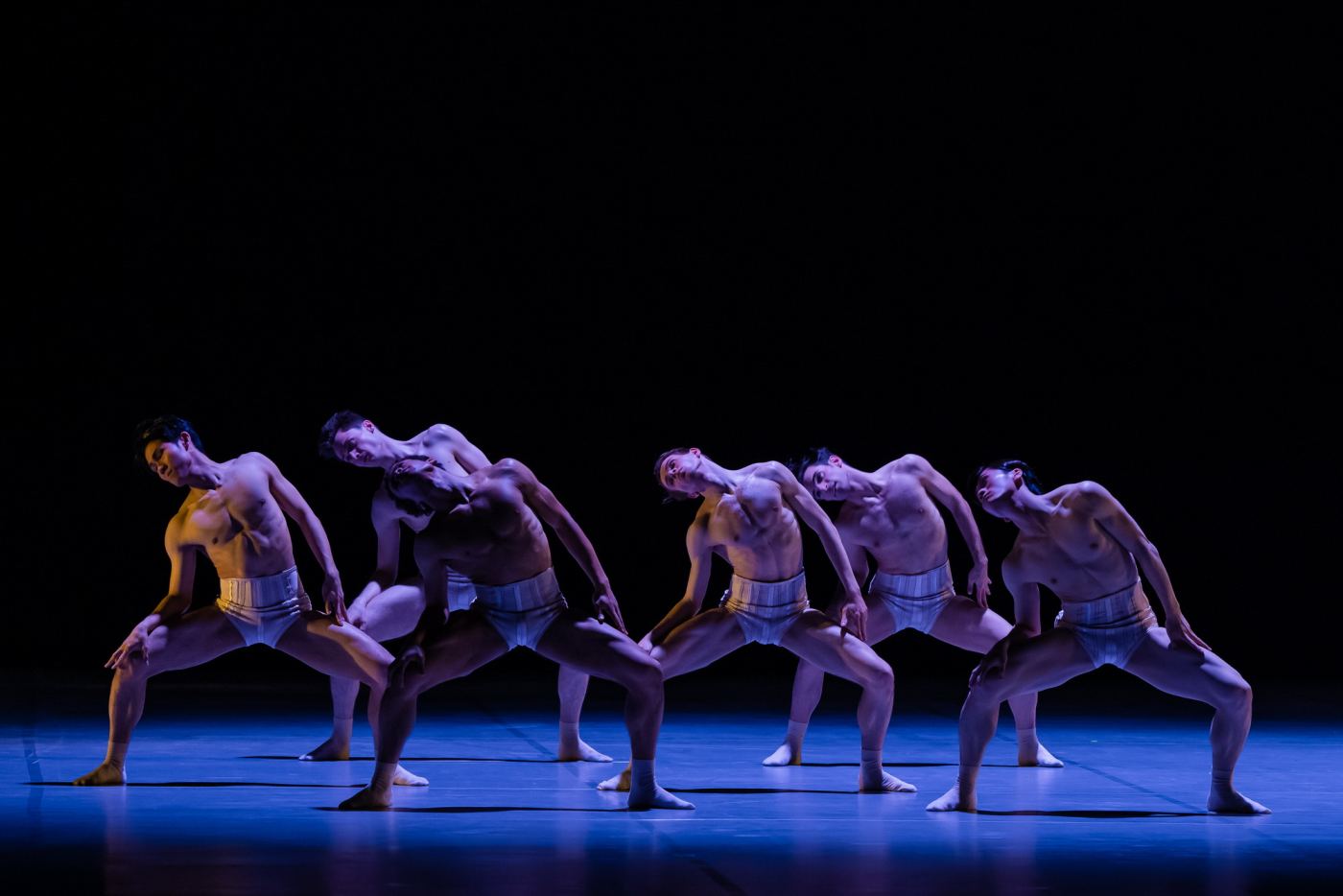 trunks expose plenty of skin and muscles. In the end, they freeze in their initial poses as if posing for a sculptor.
The performance was witty, smart, and amusing – "Rossini" whetted my appetite for the entire "Michelangelo".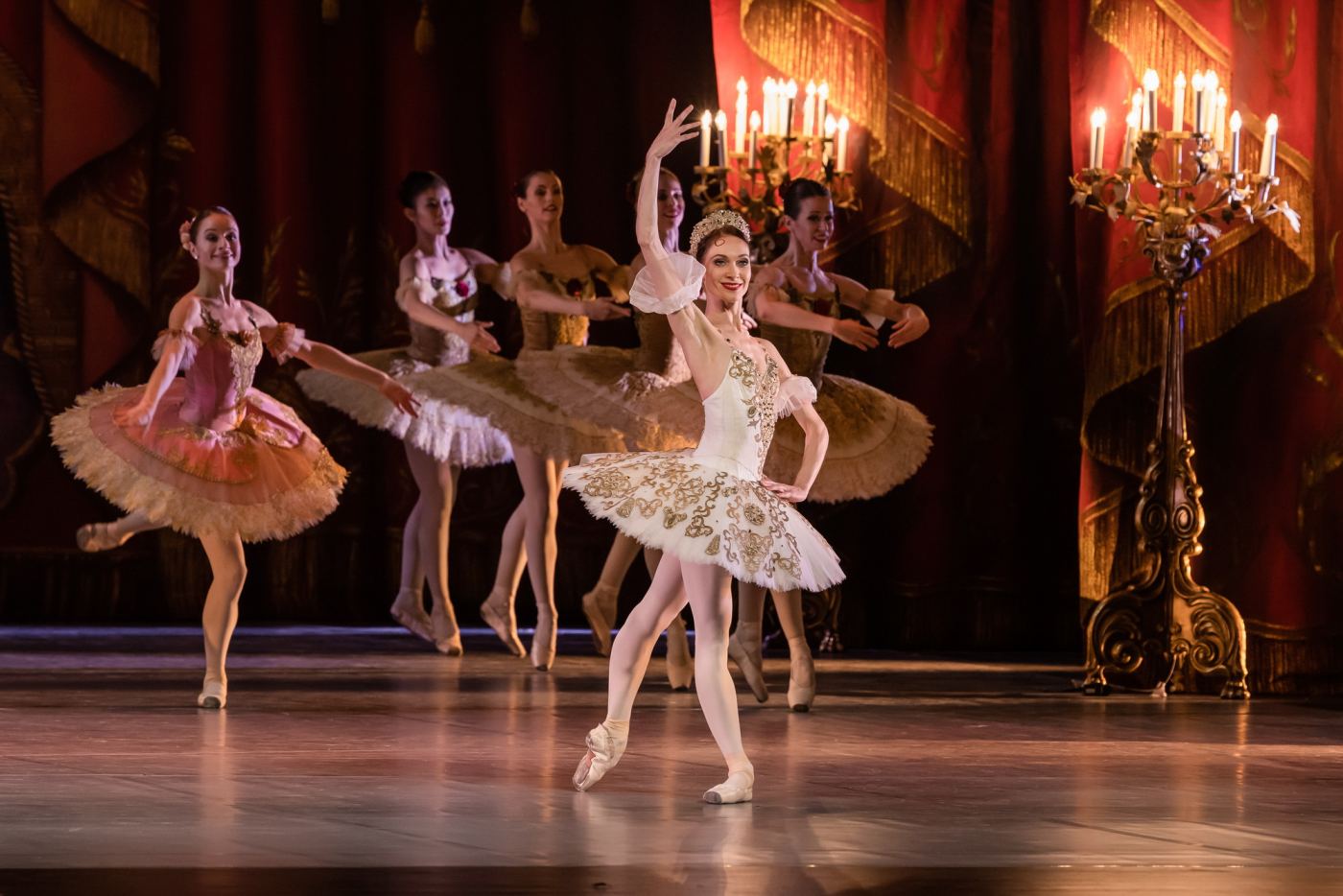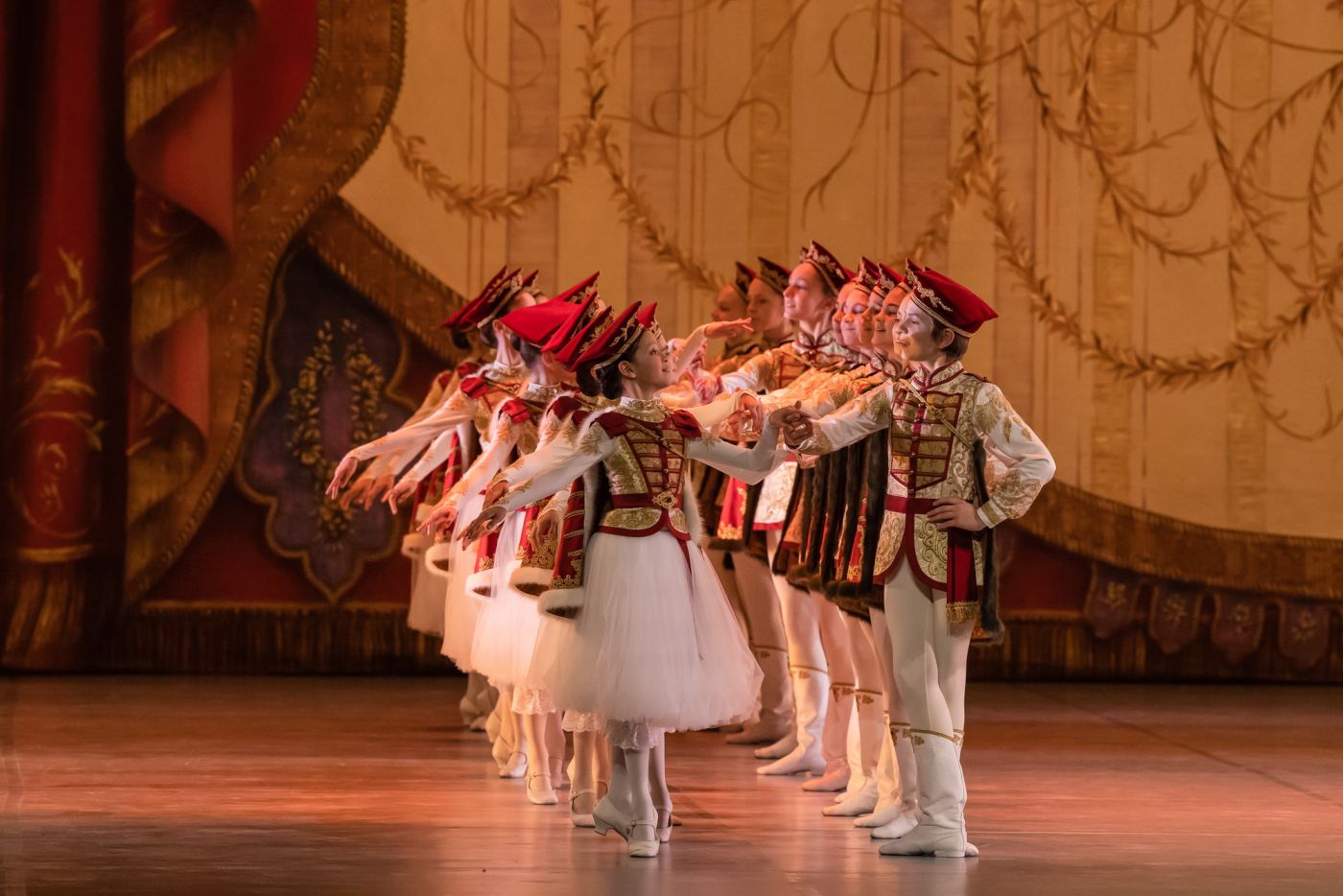 Petipa's revival of "Paquita" in 1881 occurred at the same time that the Budapest Opera House was being built – and perhaps that's why "Paquita Suite" came into its own much more so at the Opera than at the modern stage of the Eiffel Arts Center. As an additional bonus, it was accompanied not by recorded music (a compilation of works by Minkus, Delibes, Drigo, and others), but by the Hungarian State Opera Orchestra – from which László Kovács's baton elicited a luscious and vibrant live rendering.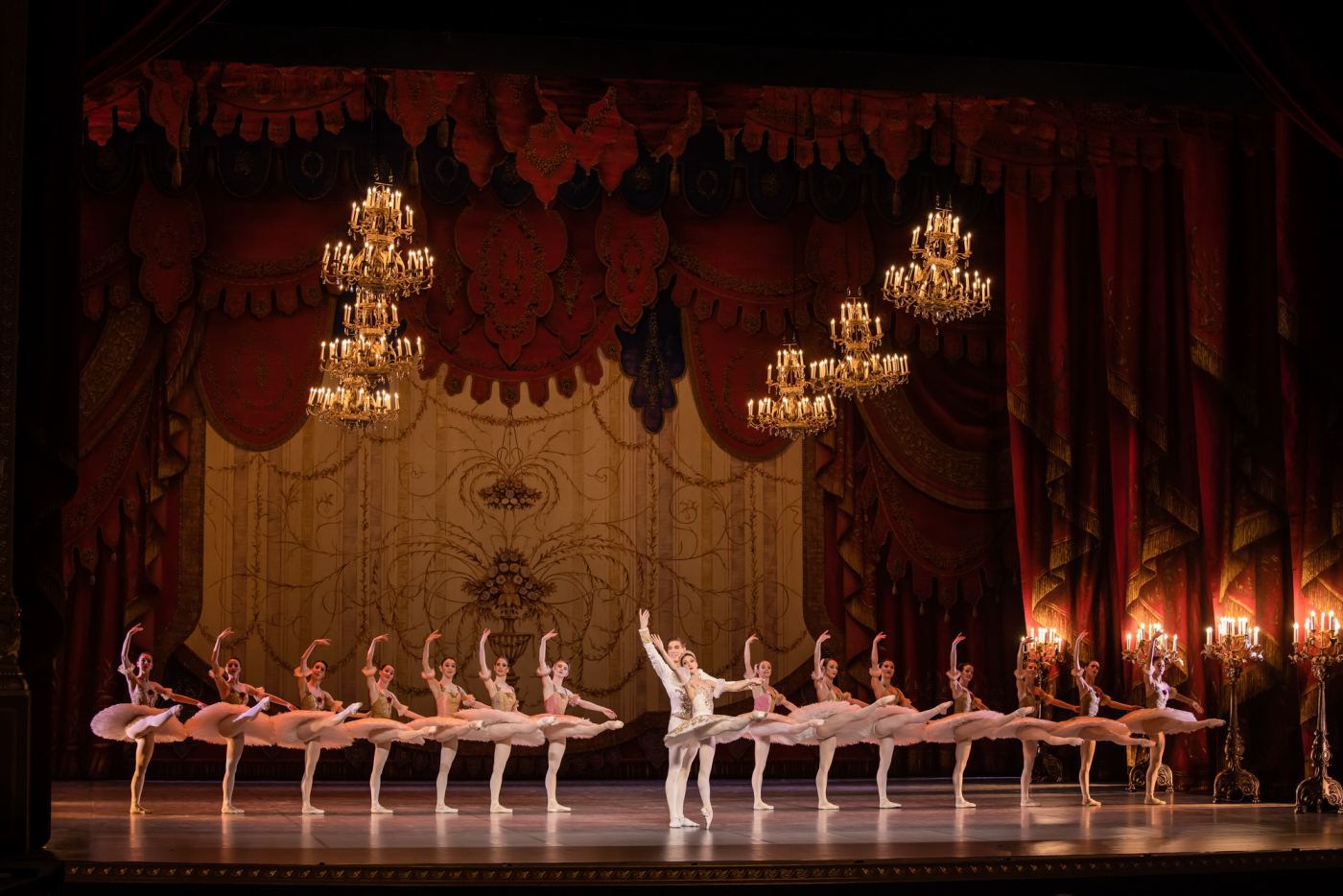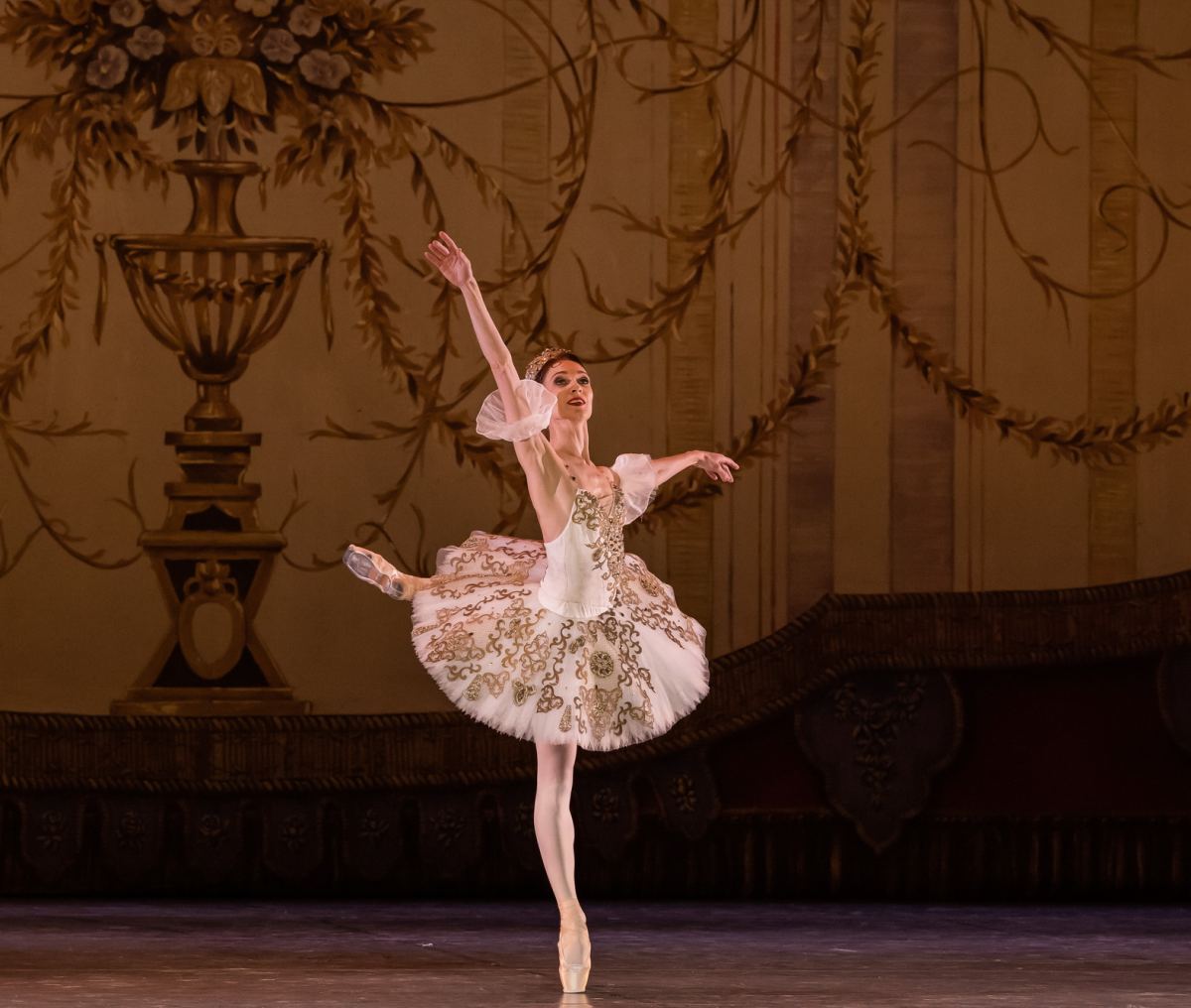 The initial rigor displayed by leading ballerina Tatiana Melnik melted into gentle dignity from the moment that Gergő Ármin Balázsi, her cavalier, entered the stage. His courtesy and attention elevated Melnik into an object of reverence. For the tall Balázsi, lifting his partner was child's play. His turns were neat and he played skillfully with the tempo. I wondered why he did not make use of his long legs when jumping – for with his physique, he could have darted through the manege of jetés!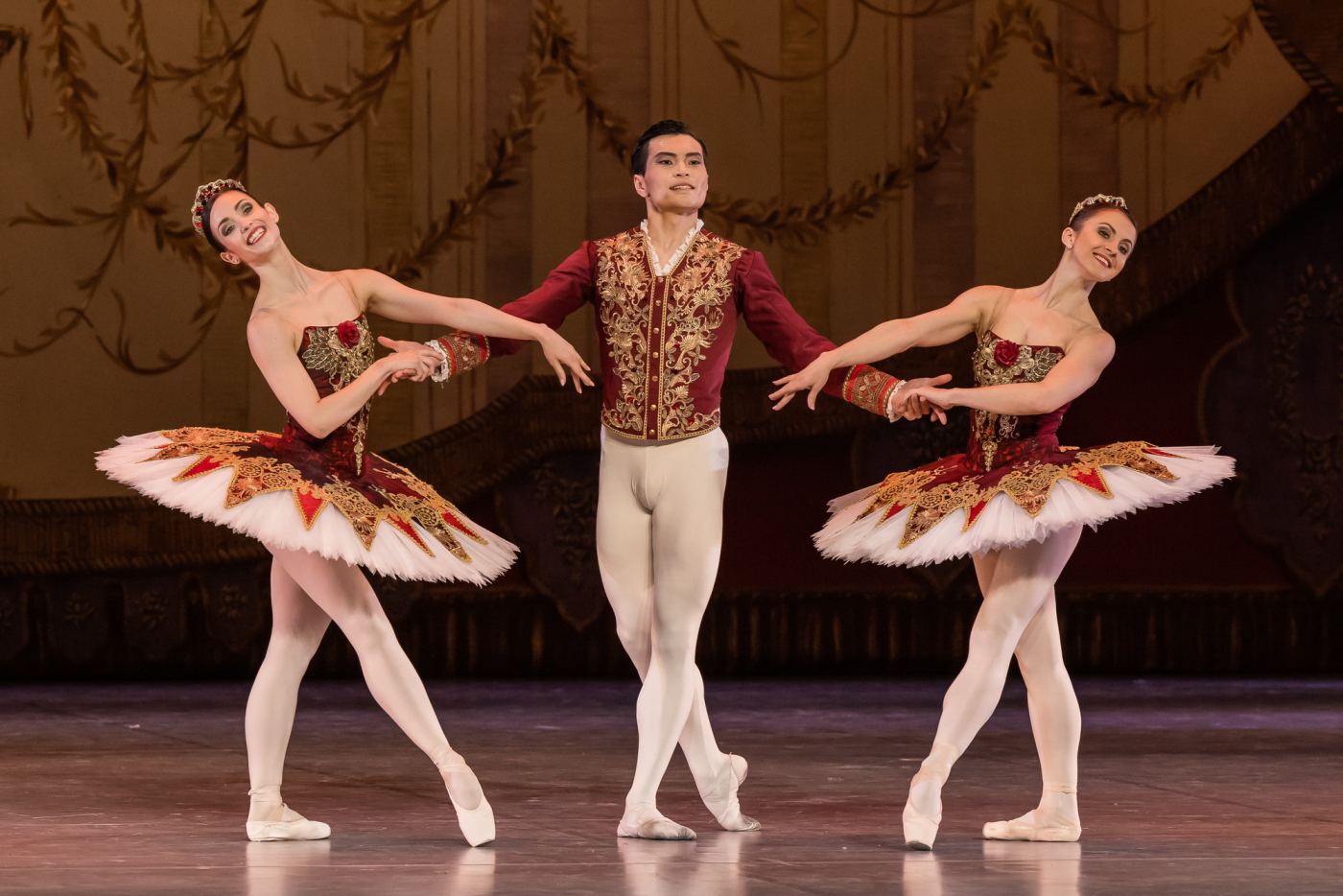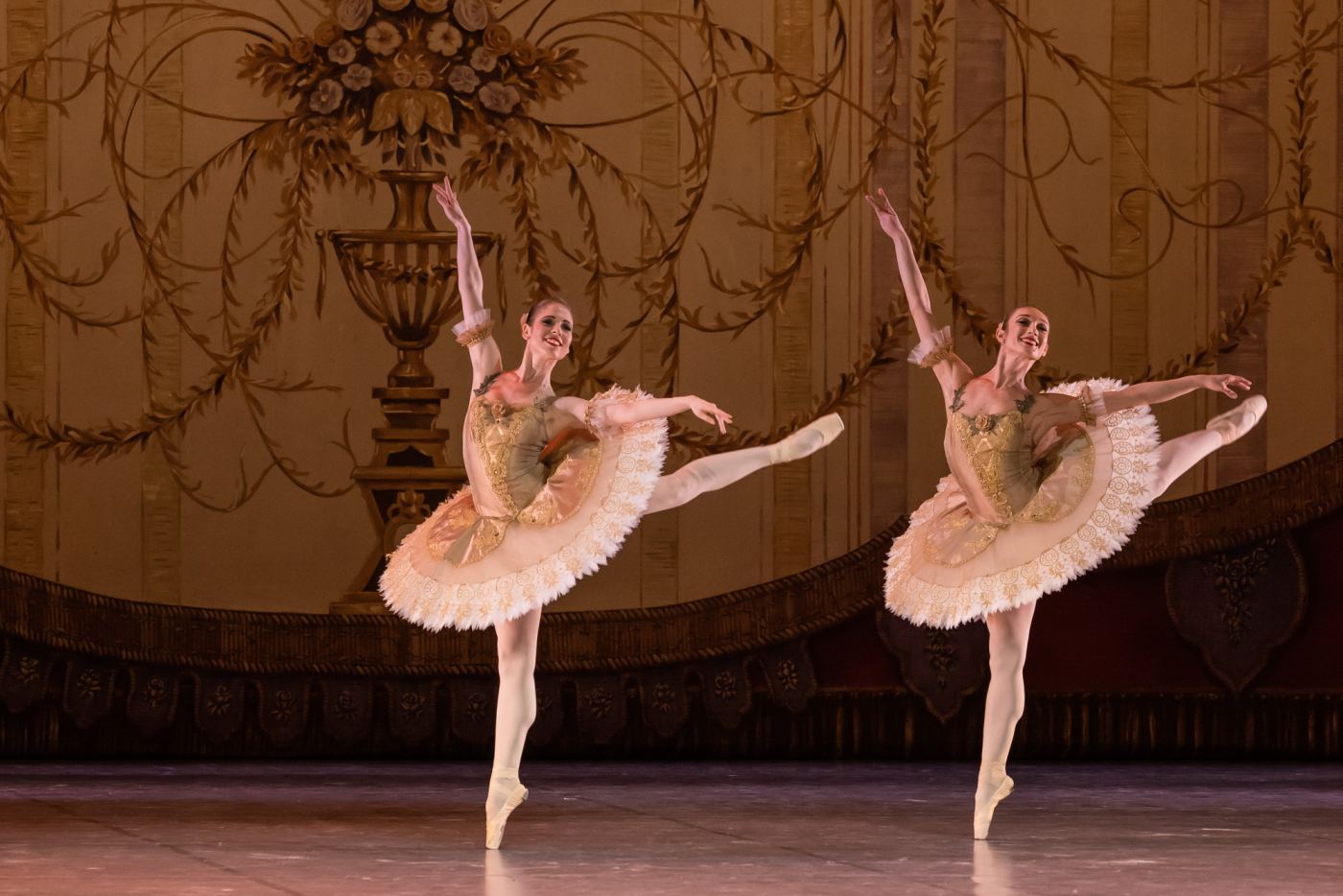 In the Pas de Trois, Ryosuke Morimoto partnered with Cristina Balaban and Lili Felméry, who'd both danced the same part in the matinee. Though overly taut at the beginning, Morimoto finished his solo perfectly. Diana Kosyreva's Spanish variation was immaculate;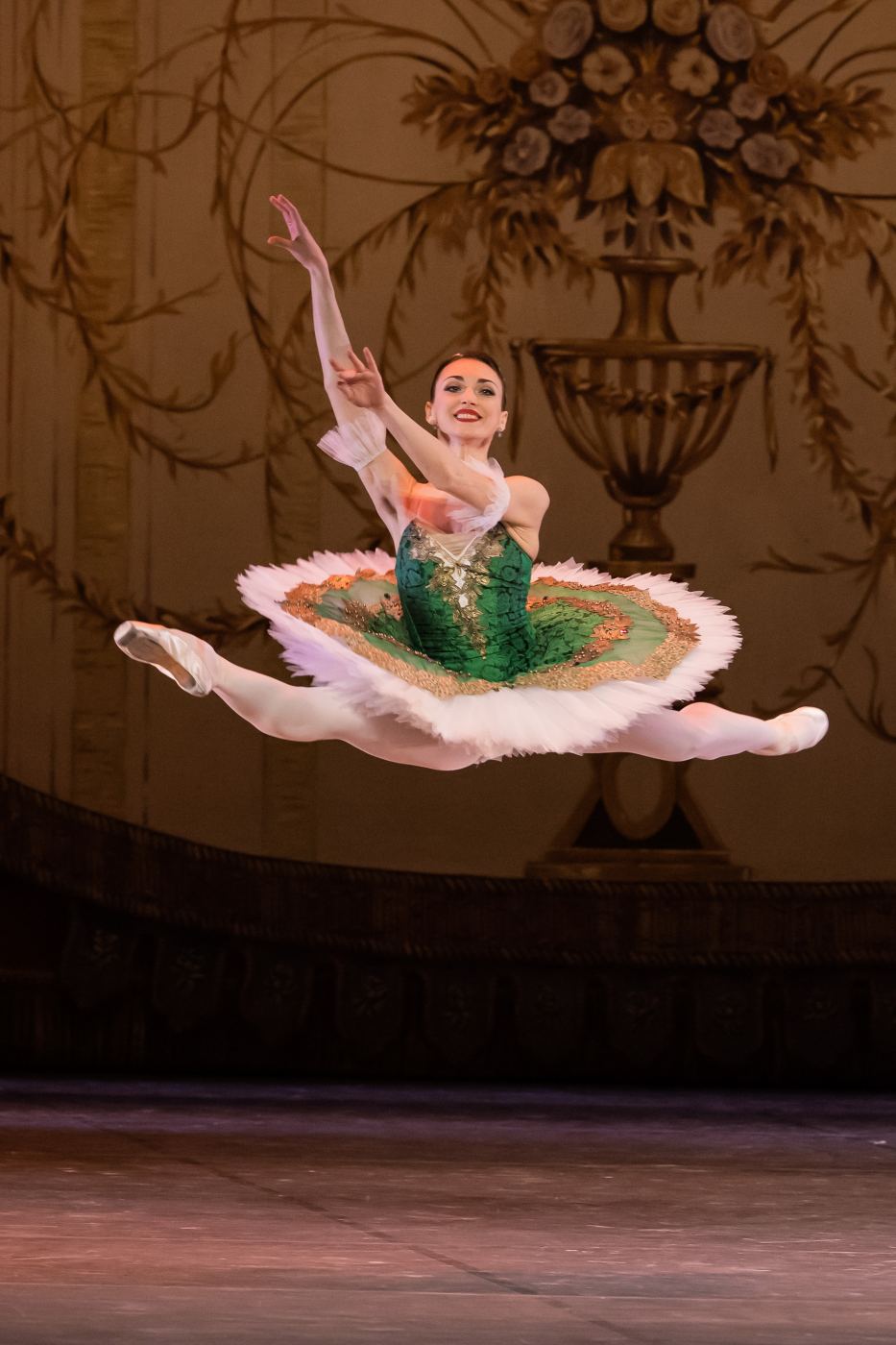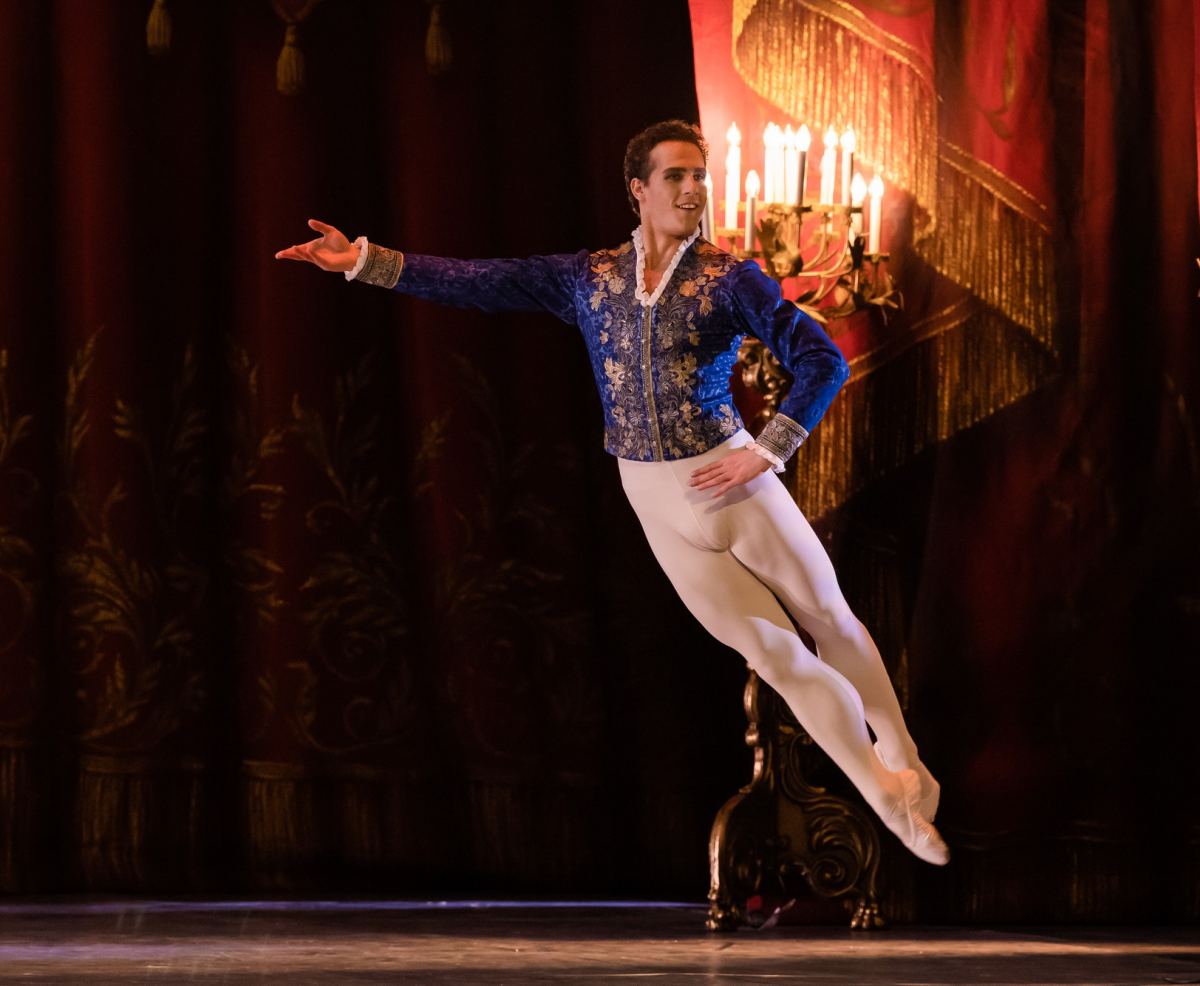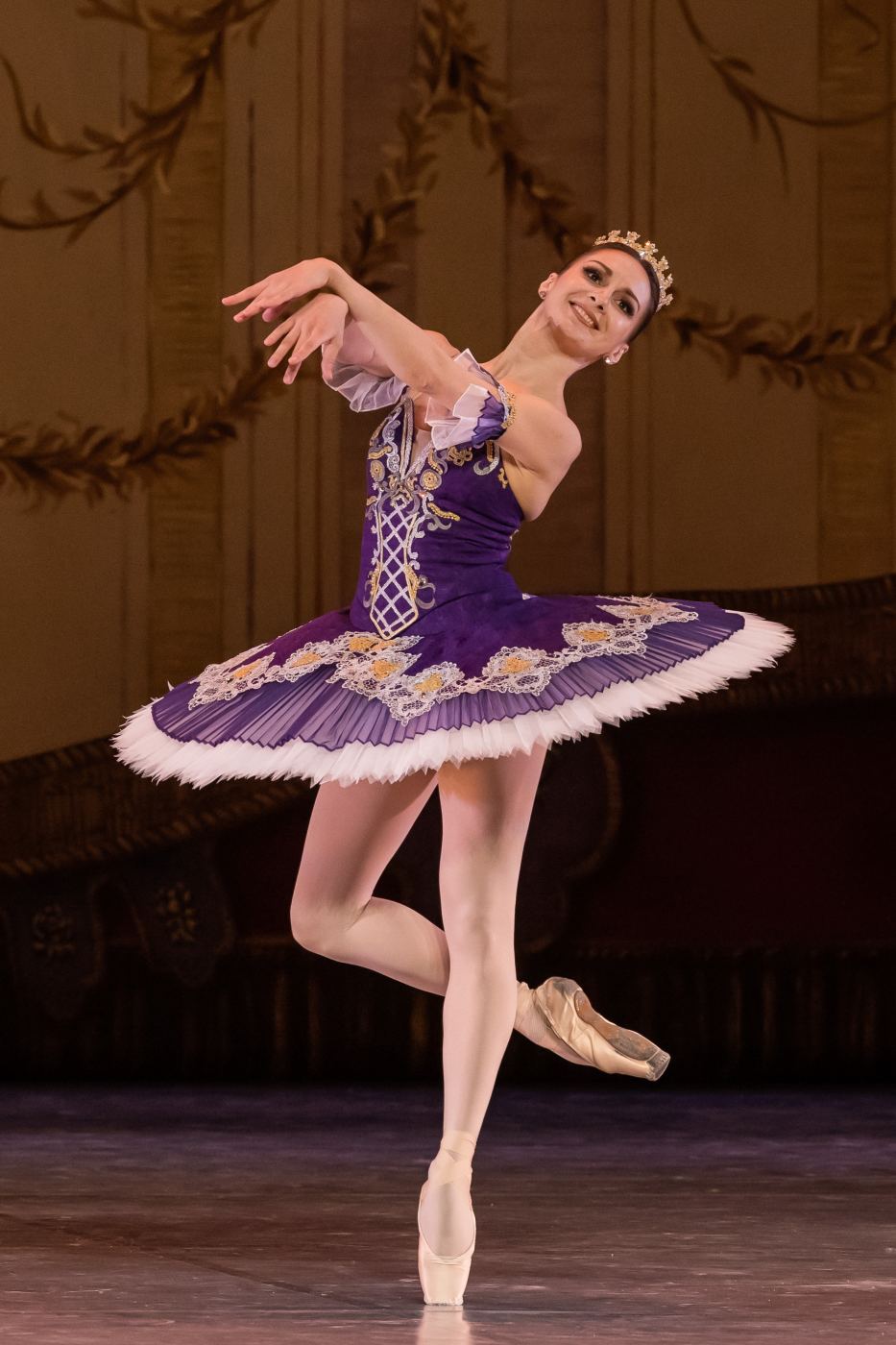 Junnosuke Nakamura peppered his Auber variation with potent turns and powerful jumps, and Matilde Barbaglia was a playful, delicate Armida. András Rónai, who had danced the Pas de Trois at the matinee, hurtled through the Talisman solo. In her green tutu, Elena Sharipova delivered a spick-and-span Trilby variation.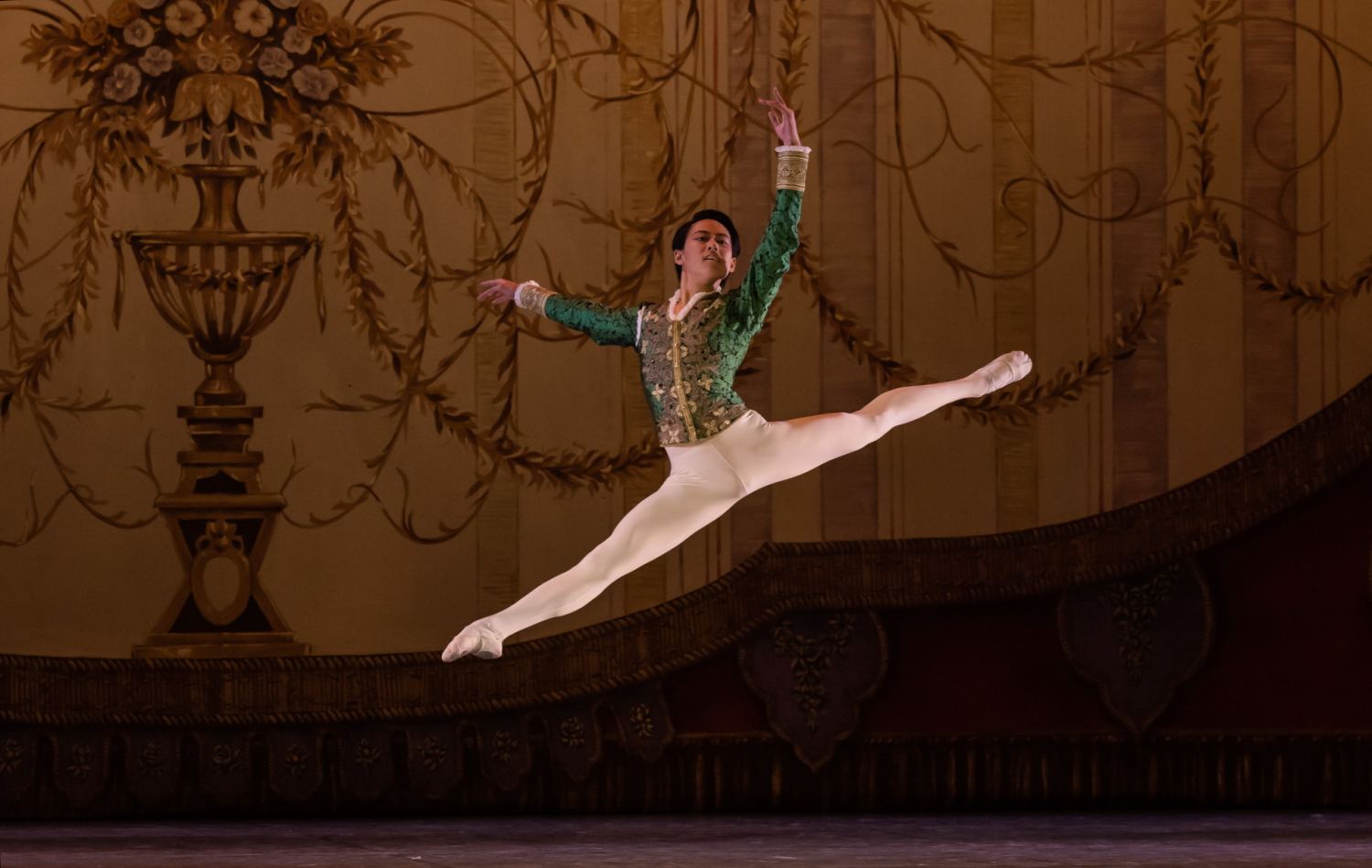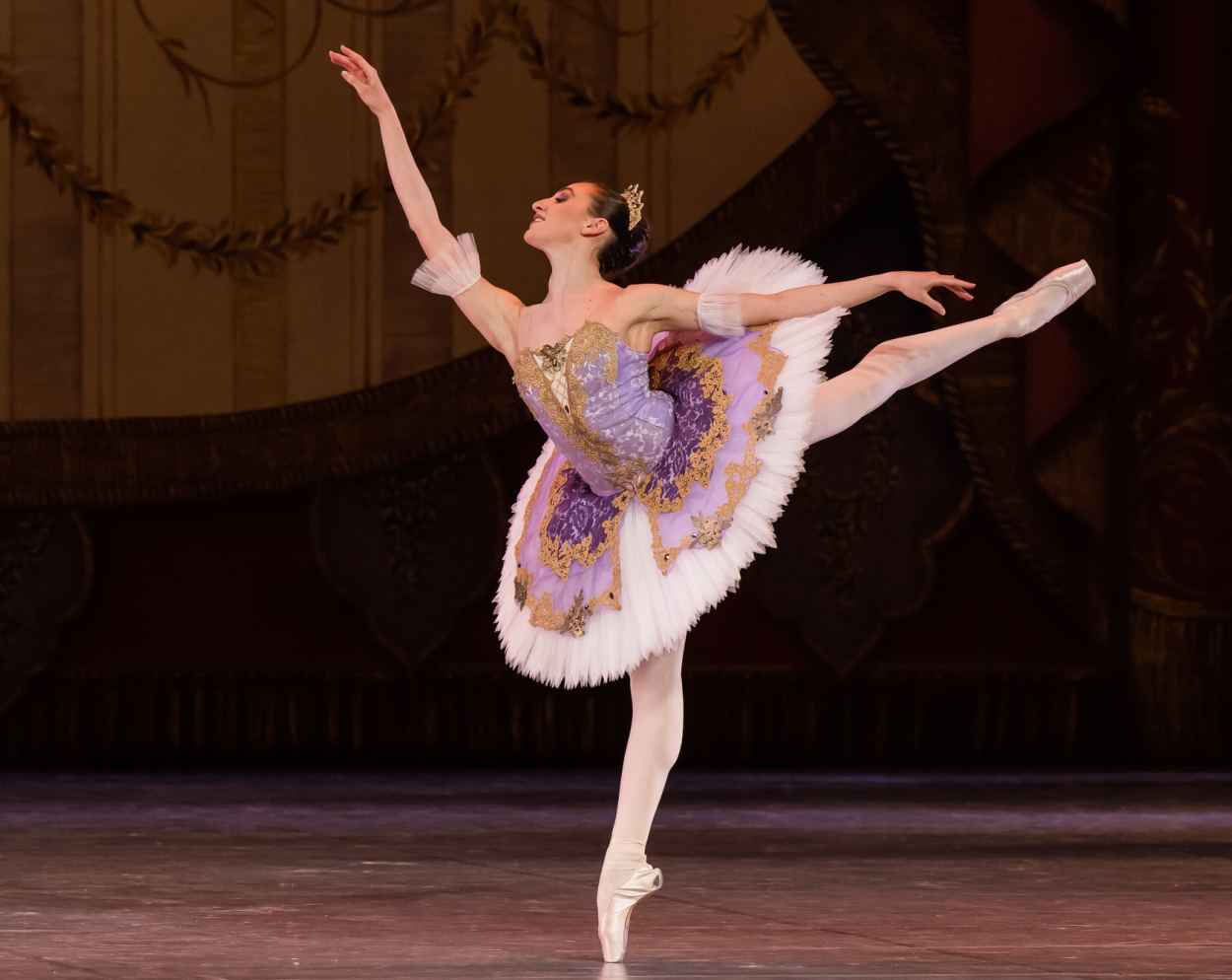 The entry of the students from the Hungarian National Ballet Institute was greeted with spontaneous applause.
One of the most memorable moment: a huge photo of Iván Nagy hung above the dancers' heads during curtain call, spreading warmth and radiant energy to artists and audience alike.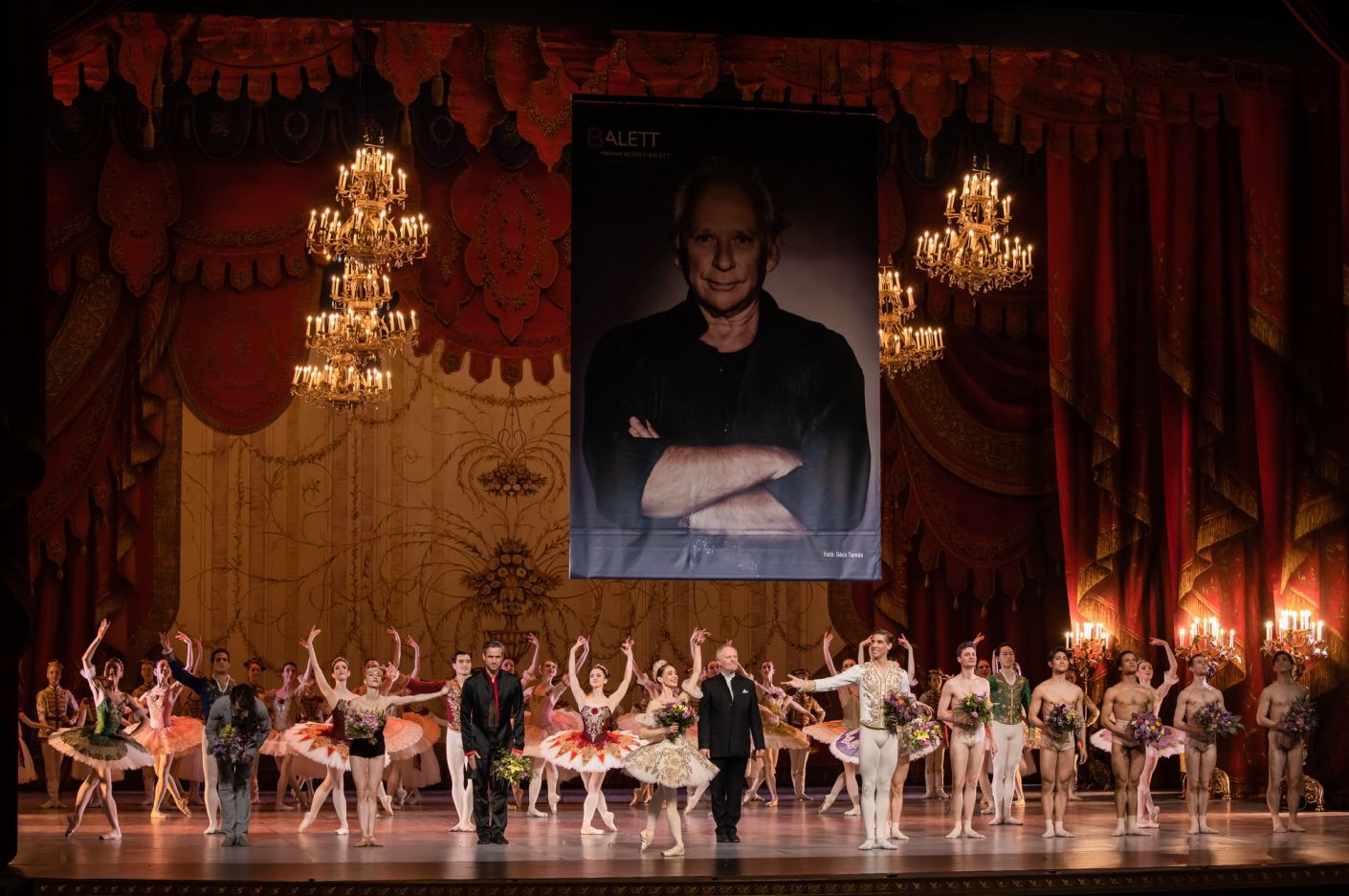 Links:
Website of the Hungarian State Opera
Website of Národni Divadlo Brno

Photos:

1.

Tamás Solymosi

and

Olga Chernakova,

Ballet of the Hungarian State Opera 2022

2.

Yourim Lee, Motomi Kiyota, and ensemble, "Sad Case" by Sol León and Paul Lightfoot, Ballet of the Hungarian State Opera 2022

3.
Yourim Lee and Motomi Kiyota, "Sad Case" by Sol León and Paul Lightfoot, Ballet of the Hungarian State Opera 2022

4.

Motomi Kiyota,

Sardella Francesco, Inès Furuhashi-Huber, and Valerio Palumbo,

"Sad Case" by Sol León and Paul Lightfoot, Ballet of the Hungarian State Opera 2022

5.

Valerio Palumbo

and

Sardella Francesco,

"Sad Case" by Sol León and Paul Lightfoot, Ballet of the Hungarian State Opera 2022

6.

Valerio Palumbo, Inès Furuhashi-Huber, and

ensemble

,

"Sad Case" by Sol León and Paul Lightfoot, Ballet of the Hungarian State Opera 2022

7.

Inès Furuhashi-Huber

and Motomi Kiyota, "Sad Case" by Sol León and Paul Lightfoot, Ballet of the Hungarian State Opera 2022

8.

Valerio Palumbo, Inès Furuhashi-Huber,

Yourim Lee, and

Sardella Francesco,

"Sad Case" by Sol León and Paul Lightfoot, Ballet of the Hungarian State Opera 2022

9.

Arthur Abram (Prince Siegfried) and Martin Svobodník (Rothbart), "Black and White" (Pas de Trois) by Mário Radačovský,

N

árodni Divadlo Brno

2022

10.

Arthur Abram (Prince Siegfried), Klaudia Radačovská

(Black),

and Martin Svobodník (Rothbart), "Black and White" (Pas de Trois) by Mário Radačovský,

N

árodni Divadlo Brno

2022

11.

Arthur Abram (Prince Siegfried)

and

Klaudia Radačovská

(Black),

"Black and White" (Pas de Trois) by Mário Radačovský,

N

árodni Divadlo Brno

2022

12.

Ryunosuke Ishikawa and ensemble, "Rossini" (from "Michelangelo") by

Mário Radačovský,

N

árodni Divadlo Brno

2022

13.

Joao Gomes, Ryunosuke Ishikawa, Manuele Bonuonello, Shoma Ogasawara, Solomon Osazuva, and Stefano Sacco, "Rossini" (from "Michelangelo") by

Mário Radačovský,

N

árodni Divadlo Brno

2022

14.

Joao Gomes, Ryunosuke Ishikawa, Manuele Bonuonello, Shoma Ogasawara, Solomon Osazuva, and Stefano Sacco, "Rossini" (from "Michelangelo") by

Mário Radačovský,

N

árodni Divadlo Brno

2022

15.

Students from the Hungarian National Ballet Institute,

"

Paquita Suite"

by Tamás Solymosi,

Albert Mirzoyan, and Irina Prokofieva

after Marius Petipa;

Ballet of the Hungarian State Opera 2022

16.

Tatiana Melnik and ensemble,

"

Paquita Suite"

by Tamás Solymosi,

Albert Mirzoyan, and Irina Prokofieva

after Marius Petipa;

Ballet of the Hungarian State Opera 2022

17.

Tatiana Melnik, Gergő Ármin Balázsi, and ensemble, "Paquita Suite" by Tamás Solymosi, Albert Mirzoyan, and Irina Prokofieva after Marius Petipa; Ballet of the Hungarian State Opera 2022

18.

Tatiana Melnik, "Paquita Suite" by Tamás Solymosi, Albert Mirzoyan, and Irina Prokofieva after Marius Petipa; Ballet of the Hungarian State Opera 2022

19.

Adrienn Horányi and Lea Földi, "Paquita Suite" by Tamás Solymosi, Albert Mirzoyan, and Irina Prokofieva after Marius Petipa; Ballet of the Hungarian State Opera 2022

20.
Lili Felméry, Ryosuke Morimoto, and Cristina Balaban, "Paquita Suite" by Tamás Solymosi, Albert Mirzoyan, and Irina Prokofieva after Marius Petipa; Ballet of the Hungarian State Opera 2022

21.

Elena Sharipova, "Paquita Suite" by Tamás Solymosi, Albert Mirzoyan, and Irina Prokofieva after Marius Petipa; Ballet of the Hungarian State Opera 2022

22.

András Rónai, "Paquita Suite" by Tamás Solymosi, Albert Mirzoyan, and Irina Prokofieva after Marius Petipa; Ballet of the Hungarian State Opera 2022

23.

Diana Kosyreva, "Paquita Suite" by Tamás Solymosi, Albert Mirzoyan, and Irina Prokofieva after Marius Petipa; Ballet of the Hungarian State Opera 2022

24.

Matilde Barbaglia, "Paquita Suite" by Tamás Solymosi, Albert Mirzoyan, and Irina Prokofieva after Marius Petipa; Ballet of the Hungarian State Opera 2022

25.

Junnosuke Nakamura, "Paquita Suite" by Tamás Solymosi, Albert Mirzoyan, and Irina Prokofieva after Marius Petipa; Ballet of the Hungarian State Opera 2022

26.

Ensemble of the Hungarian State Opera and guests from Národni Divadlo Brno, 6th Iván Nagy Gala, Hungarian State Opera 2022

all photos © Attila Nagy / Hungarian State Opera

Editing:
Jake Stepansky