"The Seven Sins"
Gauthier Dance
Theaterhaus Stuttgart
Stuttgart, Germany
May 08, 2022
by Ilona Landgraf
Copyright © 2022 by Ilona Landgraf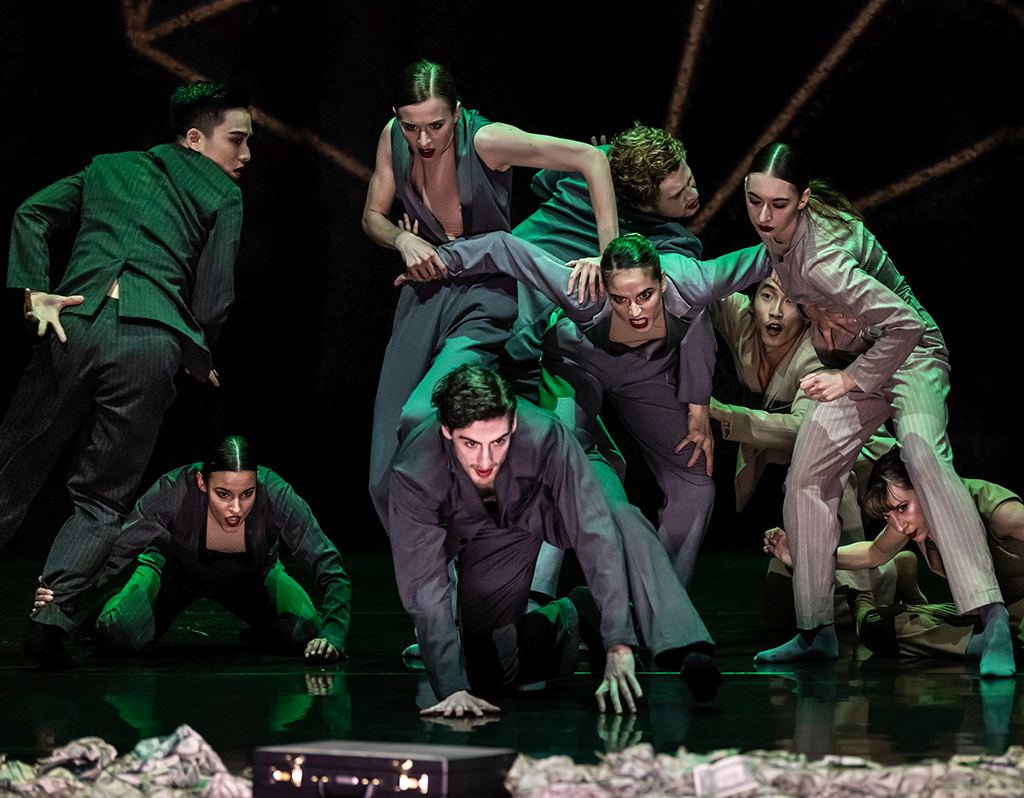 Those who aren't well-versed in the dos and don'ts of Christianity might find a visit to the Theaterhaus Stuttgart to be worthwhile. Their recent premiere – "The Seven Sins" – translates each of the capital vices into a short piece of dance by a different choreographer.
Sidi Larbi Cherkaoui's "Corrupt" deals with the first capital sin: greed. Accompanied by an extensive pre-recorded lecture on the nature of greed, nine dancers squirm and writhe, sabotage and manipulate. We hear about the Buddhist way of freeing ourselves from greed; about greed's connection to hate and ignorance; about the upsides and downsides of wanting something; and about the impact of money. At times, their arms stretch outwards, as if attempting to escape the self-made prison. Cash is their sacred cow; bundles of crumpled notes bulge from the pockets of their dark suits, decorating their arms like bracelets and being exchanged by the handful.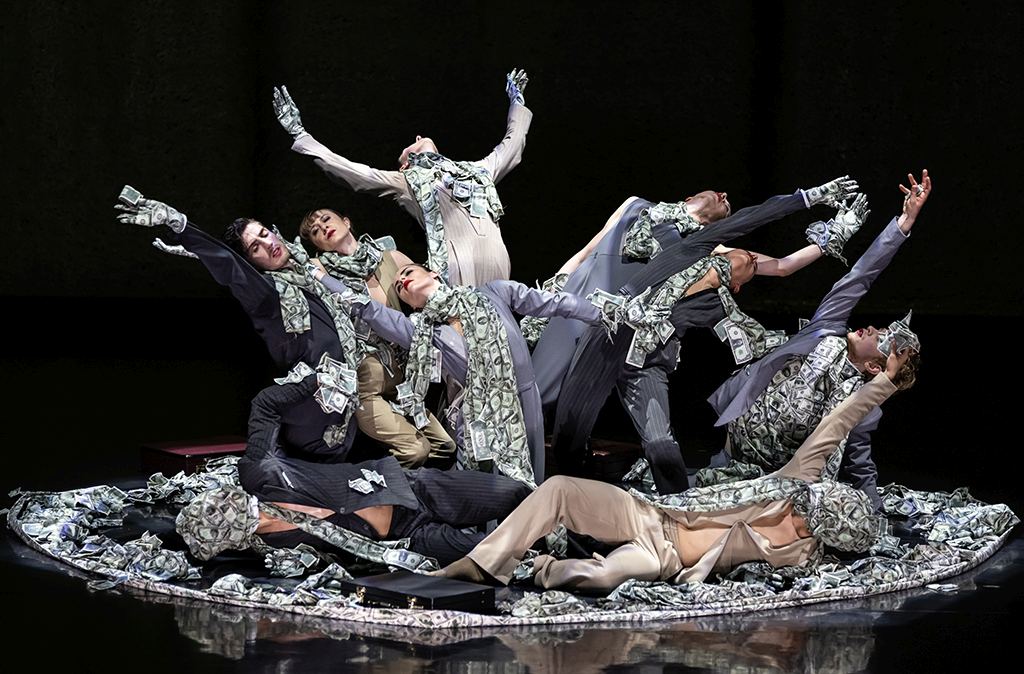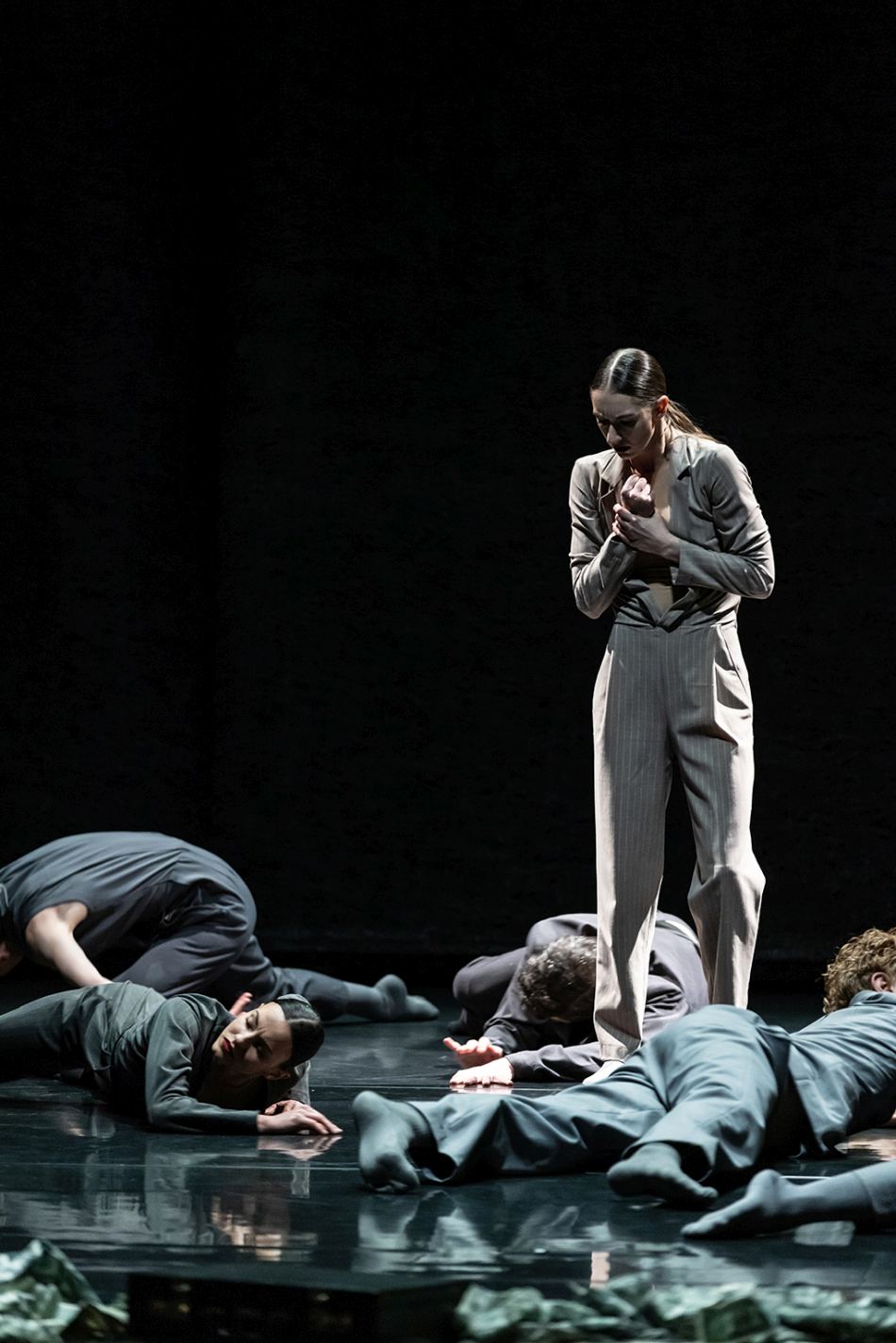 We hear the non-stop rattling of coins as they drop into invisible slot machines. As the music changes to sedate violin, the dancers line up at the front of the stage in – might it be a purification ritual? But no: these money-grubbers are dead and lost. Their heads are covered under eyeless full-face masks made from dollar bills; they've stripped themselves of their humanity. But punishment follows swiftly: the whole heap of money – together with the sinners themselves – ultimately goes up in smoke.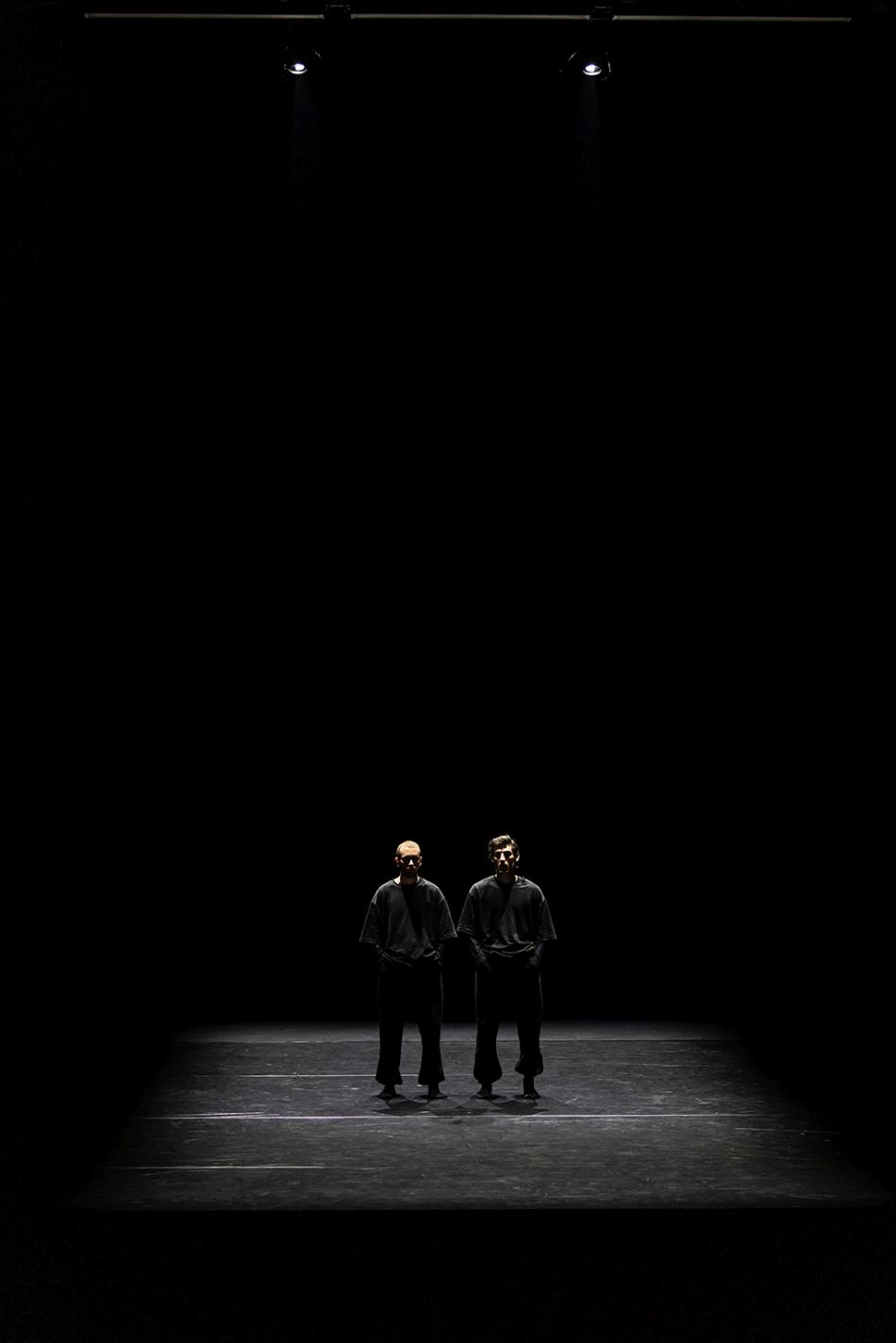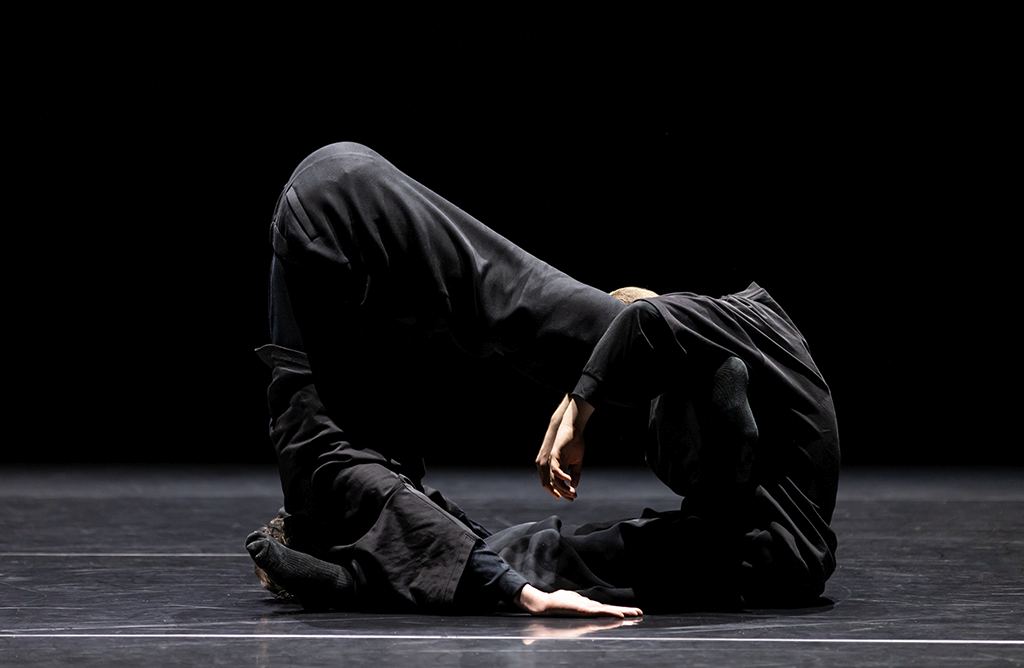 Andrew Cummings and Mark Sampson depict the two sleepyheads in Aszure Barton's "human undoing" who have fallen victim to sloth. Signs of the most pure lack of motivation adorn their faces. Standing motionless, their hands flutter idly in the pockets of their baggy gray sweatpants. Slapping their thighs and torsos (perhaps an attempt to knock their muscles awake) is ultimately in vain. Each step seems one too many. The two men crawl across the floor at snail's pace, their legs dragging behind, before slumping to the ground,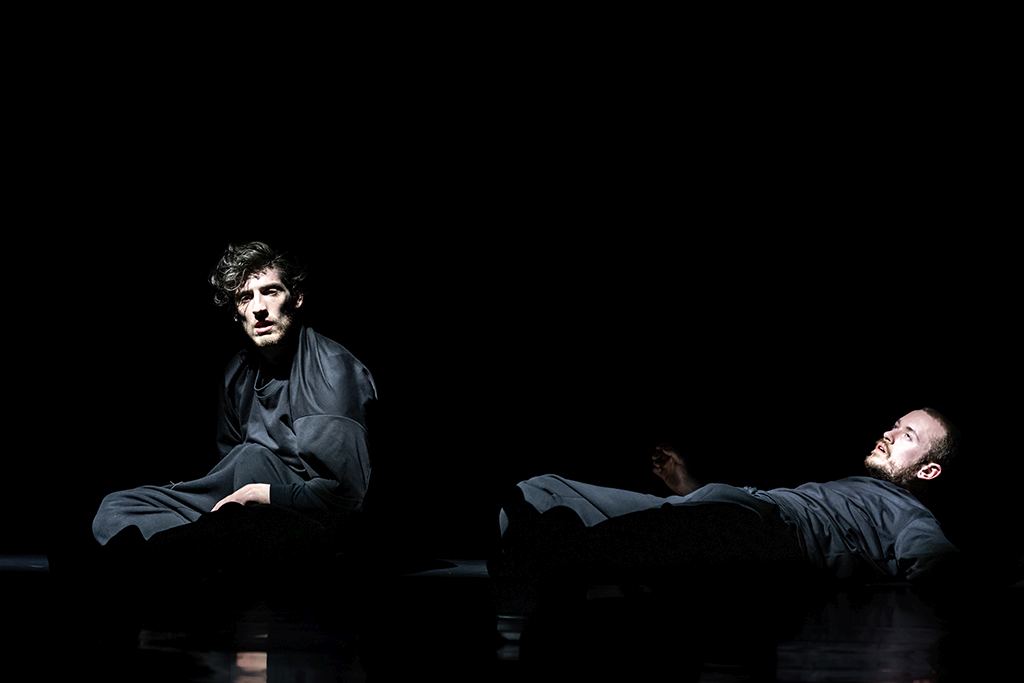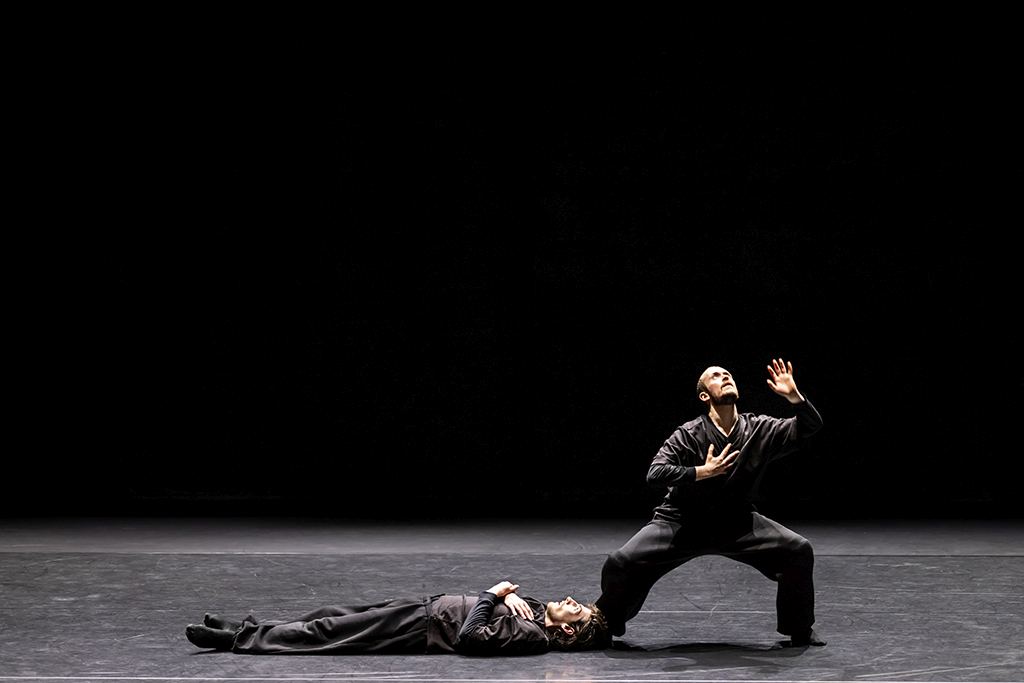 heads bent tortoise-like towards their chests. The slow tinkling of a piano becomes a brain-splitting, hammering nuisance the moment its rhythm intensifies. A few casual movements soon end in a prostrated collapse. As the rectangular spotlight that defines the pair's range of movement shrinks, Sampson lies on his back, his empty eyes gazing to nowhere. Cummings sits on the floor, his hand again fluttering in his pocket – or elsewhere.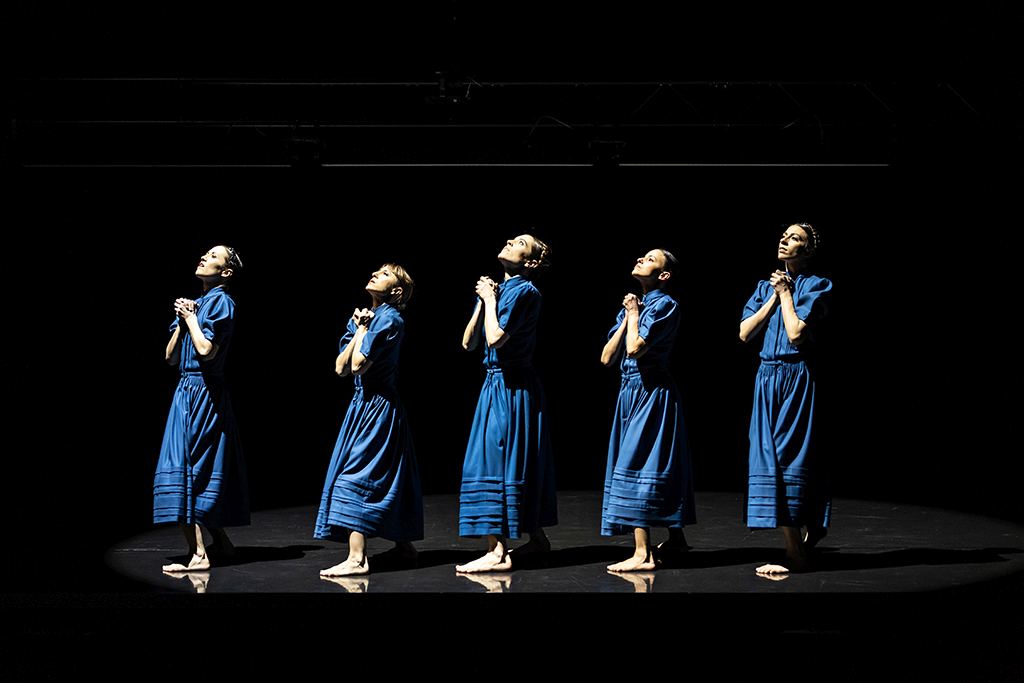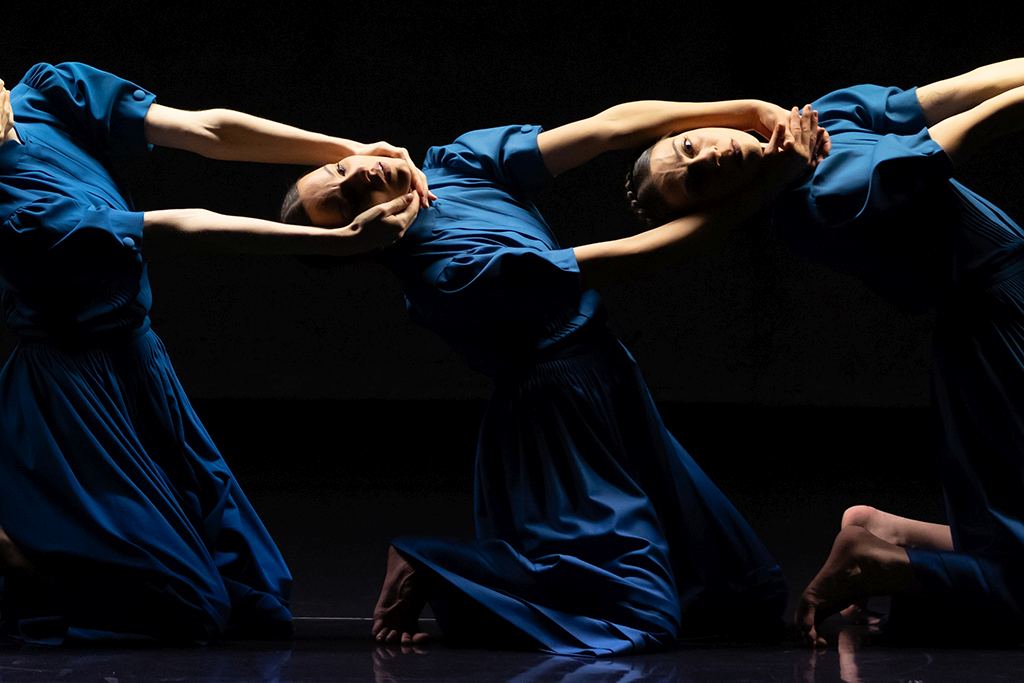 In Marcos Morau's "HERMANA", jingle bells jingle while a procession of five women slowly moves through the auditorium onto the stage. Given their blue, conservative dresses and their murmured prayers, I didn't guess at first that the sin this group represents is pride. But their demure facade quickly cracks. Their prayers turn into hissed curses; harsh changes of lighting and abrupt re-positioning reveals hidden tensions. Staying together in a line at all times, the women kneel or sit on the floor, rocking their legs from left to right. There is great aggression in their deep plies and their outstretched arms; I was unsure whether they were demanding something or simply praying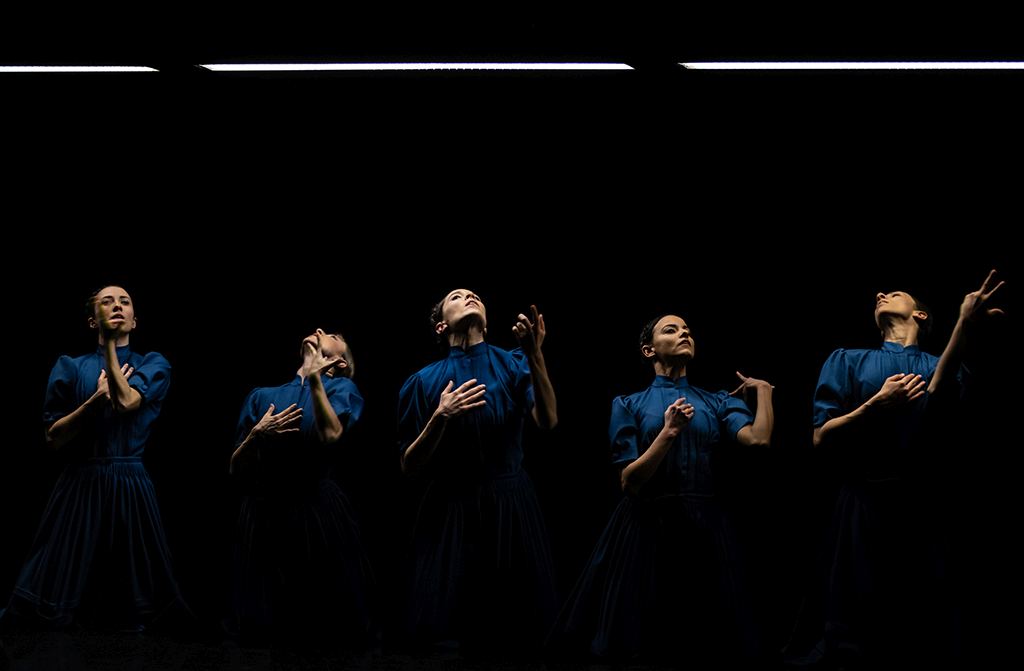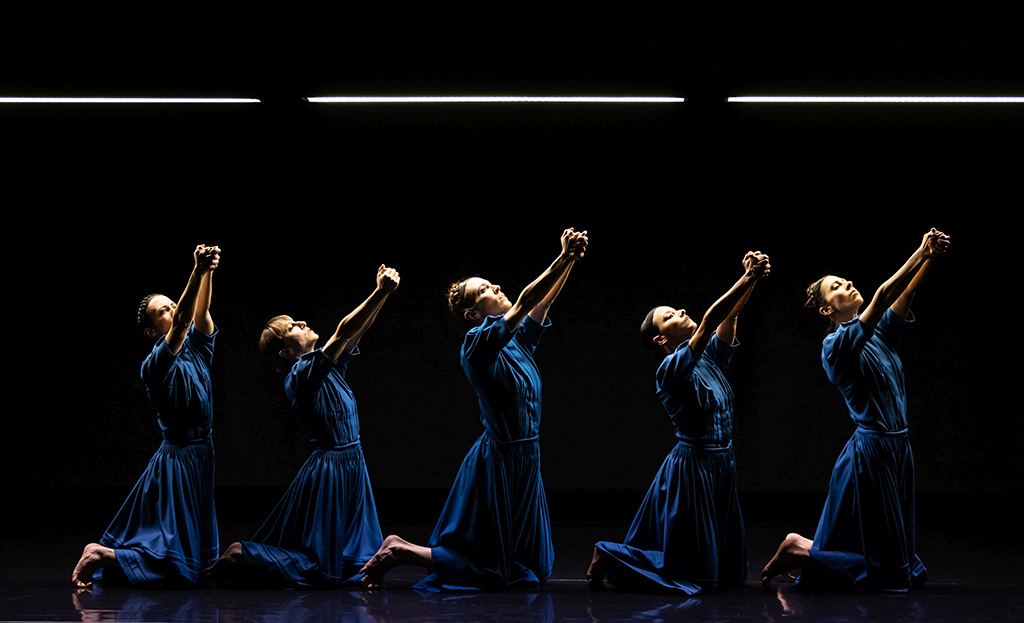 for it. They shake their heads, clench their furiously trembling fists, and crank their fingers into harpy-like claws. They showcase their naked legs – and it is provocative and aggressive at once. Shortly afterwards, they sit on the floor, legs spread, underwear fully visible, holding one finger to their mouths as if glued to their skin. The humming jingle, the braided rings of hair, the pseudo-chastity, the odd exhibitionism – what a weird assemblage!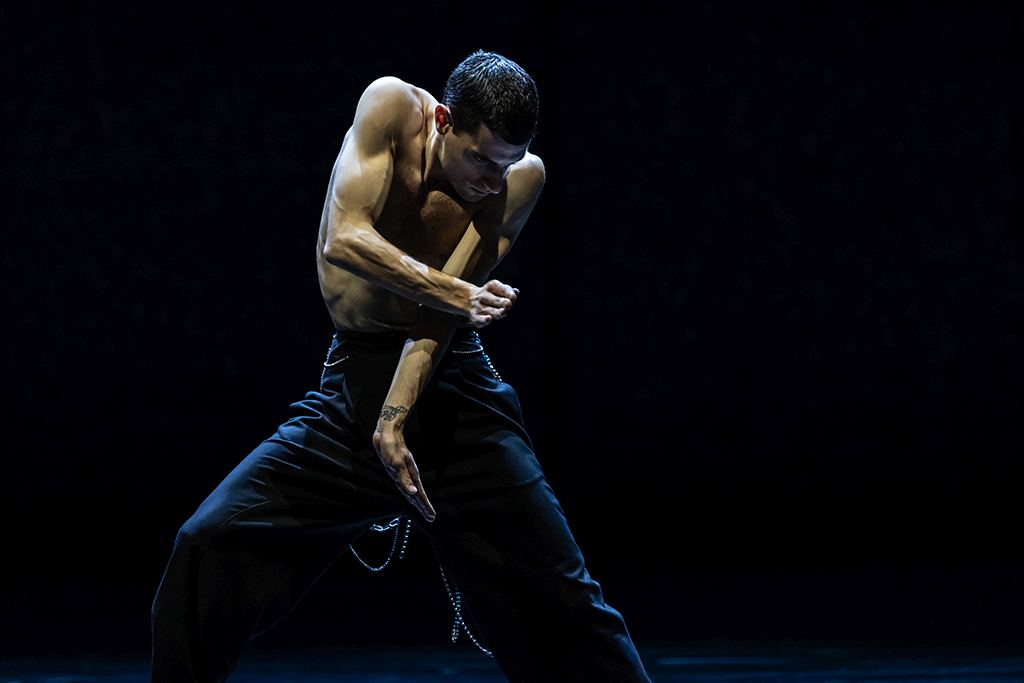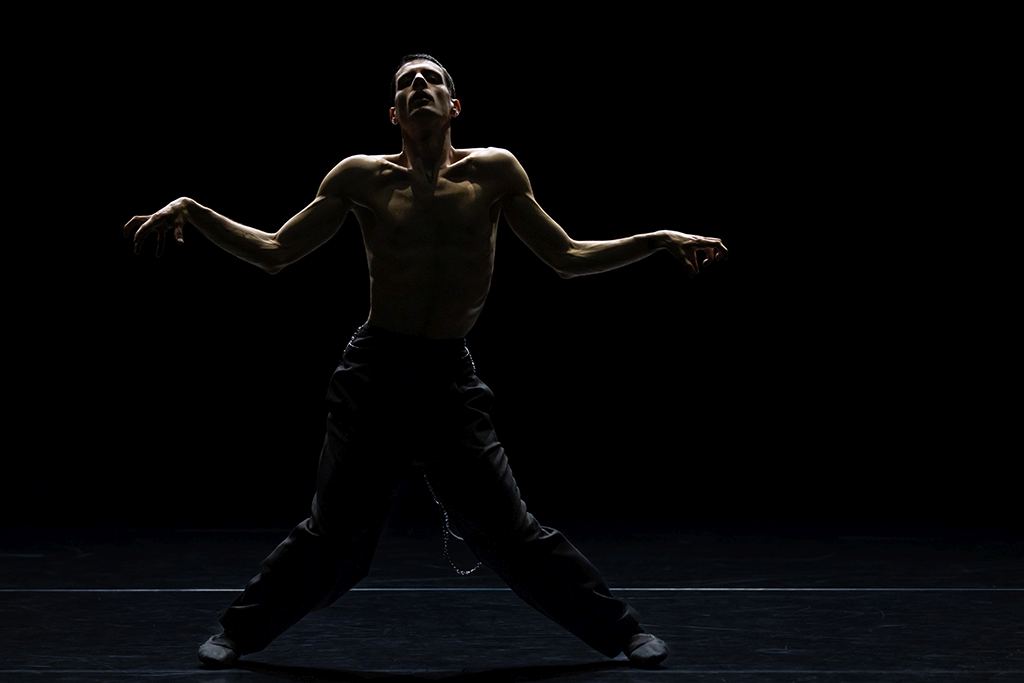 As Lucca Pannacci enters the semi-dark stage of "Yesterday's Scars", it seems for a split second as if he is sporting a small pot-belly – after all, his solo's theme is gluttony. However, it's clear from choreographer Marco Goecke's choice of music – The Velvet Underground's "Heroin" – that the focus of this piece's overindulgence is not food, but drugs.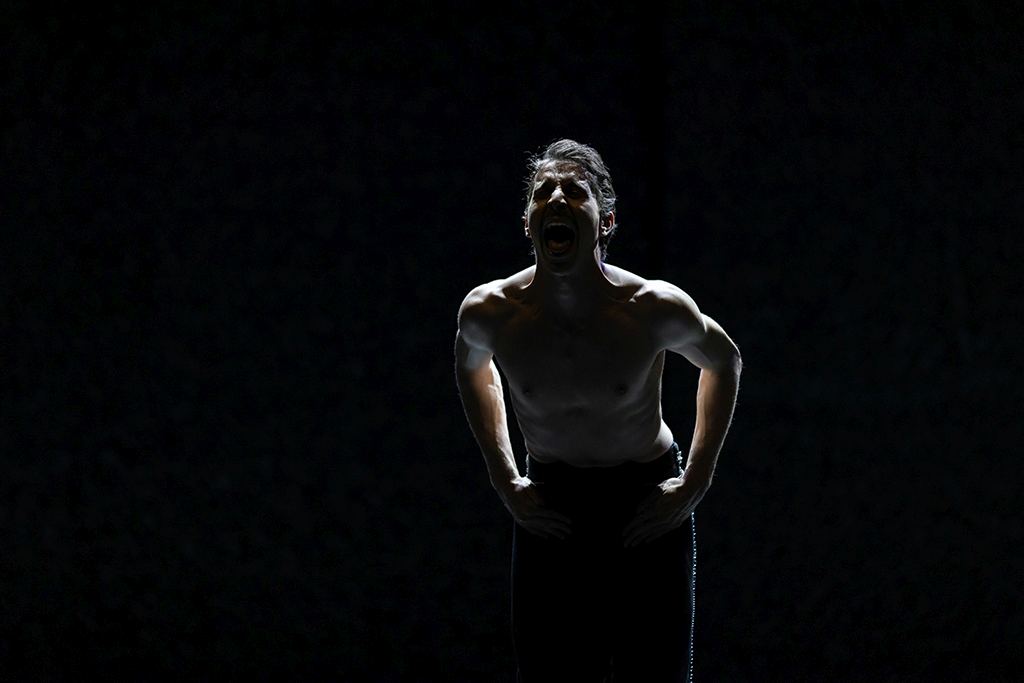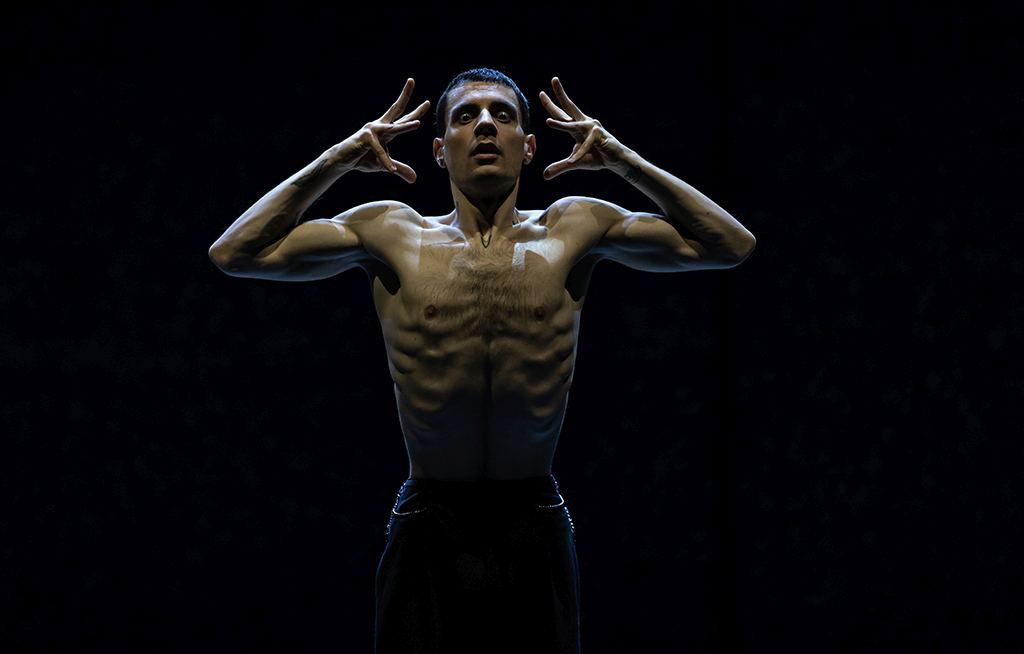 Pannacci, wearing black pants hussied up with silver chains dangling around his bottom, strikes narcissistically at his naked biceps and lean ribs. His hands circle around his torso at a dizzying speed, but this obsessive self-caressing seems exhausting rather than enriching. Though his arms and pelvis try to wrench his body forward, he's as clueless as the drug addict in "Heroin". Panting heavily, Pannacci turns his back to us and adopts a swanky pose. No one should peek behind his veneer.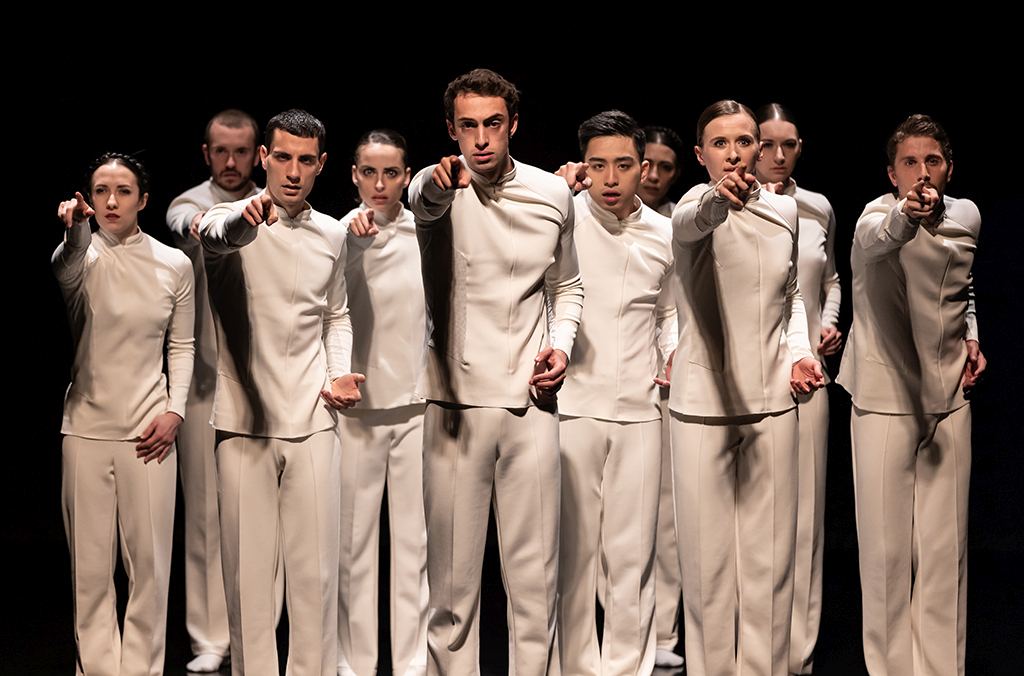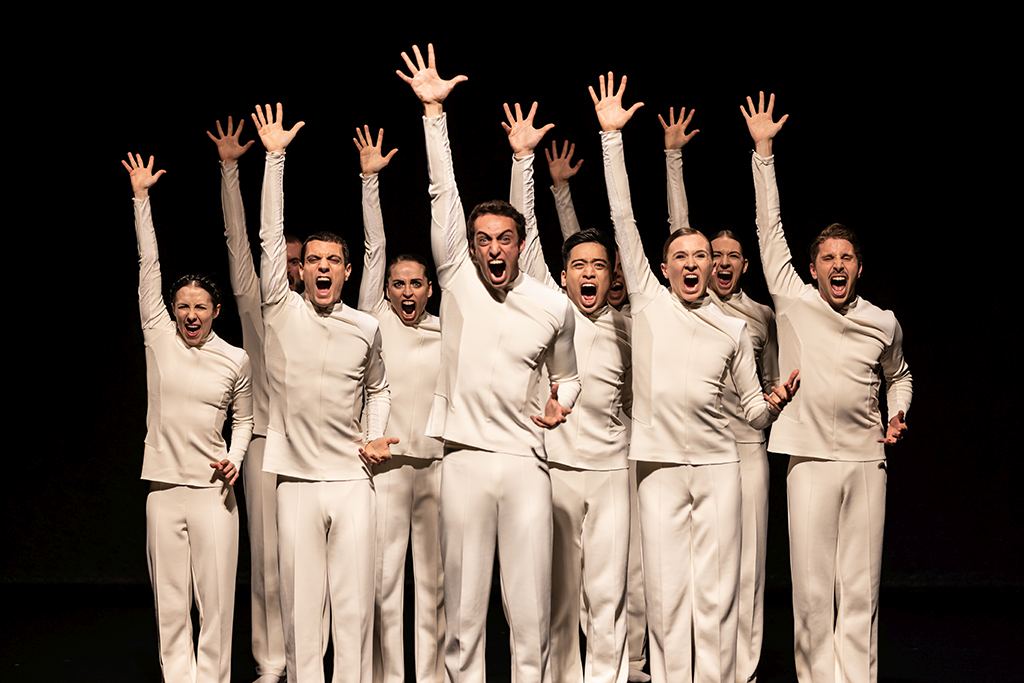 Hofesh Shechter, the company's second artist-in-residence alongside Goecke, created "LUXURY GUILT", a group piece about lust. Ten dancers stand center stage, moving their arms at a glacial, hypnotic pace. Forefingers point towards the audience, hands cover crotches, arms stretch upwards, and jaws open into a silent scream. Where is the lust? Does it loom beneath the prudish white pants and white long-sleeved tops? Though the intensity of the humming electronic music swells and ebbs, the dancers' movements remain tiresomely static. Only during one short percussion stint, which rolls in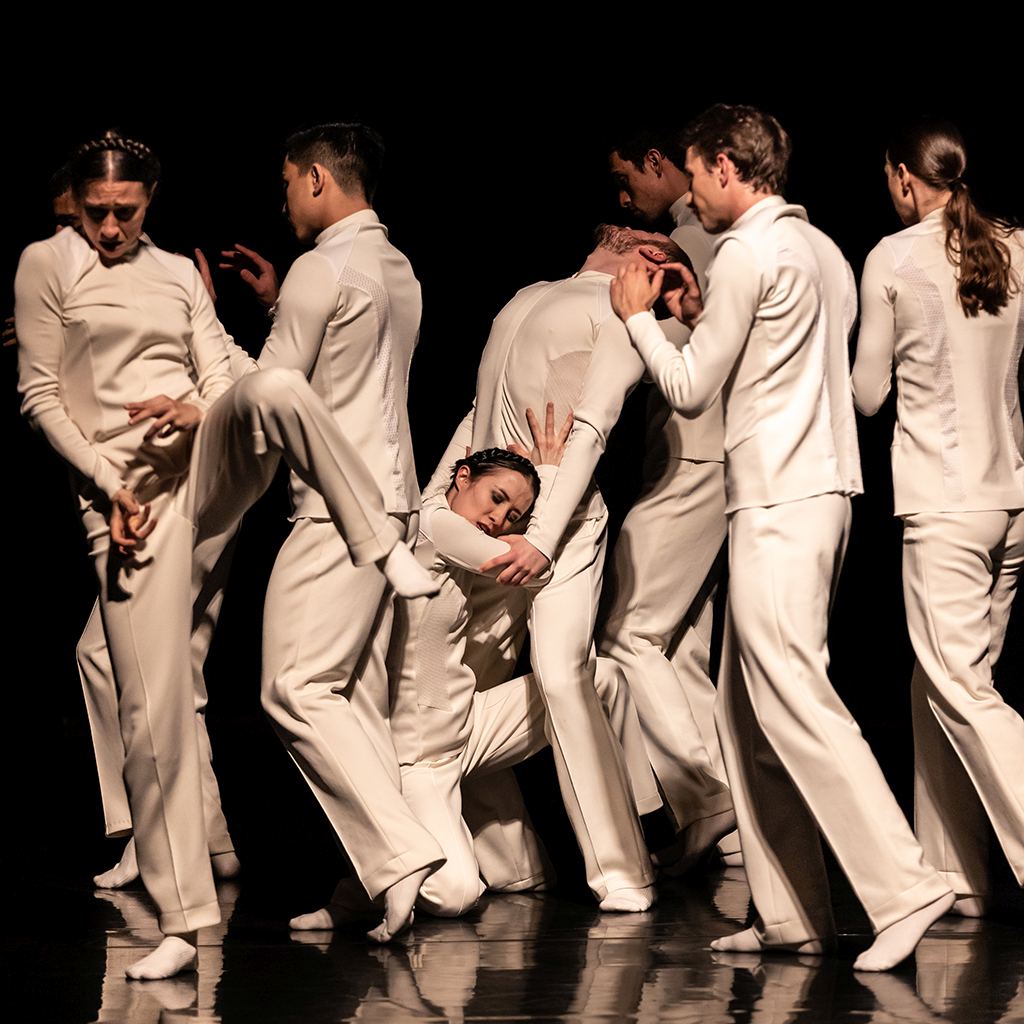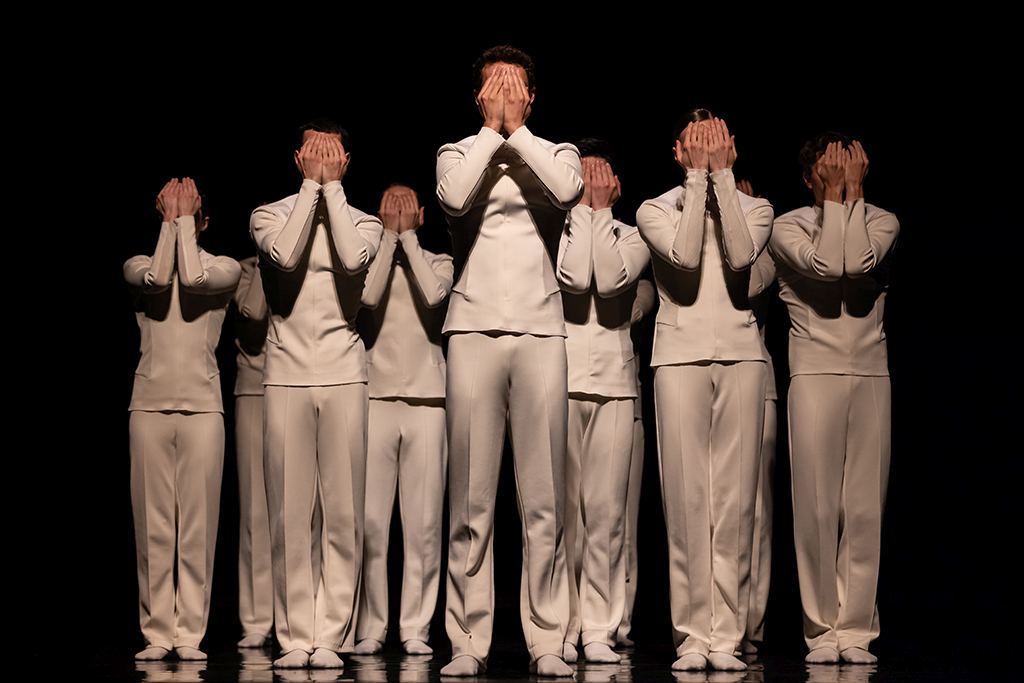 like a thunderstorm, do they become more vivid. Lust breaks free when a couple, hidden between the rows of bodies, engages in varied acts of sexual congress. Another woman screams, eaten up by desire for something she can't have. Near the climax, the women lie on their backs, spreading their legs and lifting their pelvises eagerly towards the men who crawl slowly towards them on all fours. A sudden flash of light prevents us from witnessing more.
Wrath, the second to last sin, was tackled by Sasha Waltz in "IRA". She positions Mark Sampson and Shori Yamamoto (at other performances two women) in dark suits on opposite sides of the stage. Sampson grumbles, first, but suddenly begins to scream and charge at Yamamoto, who stands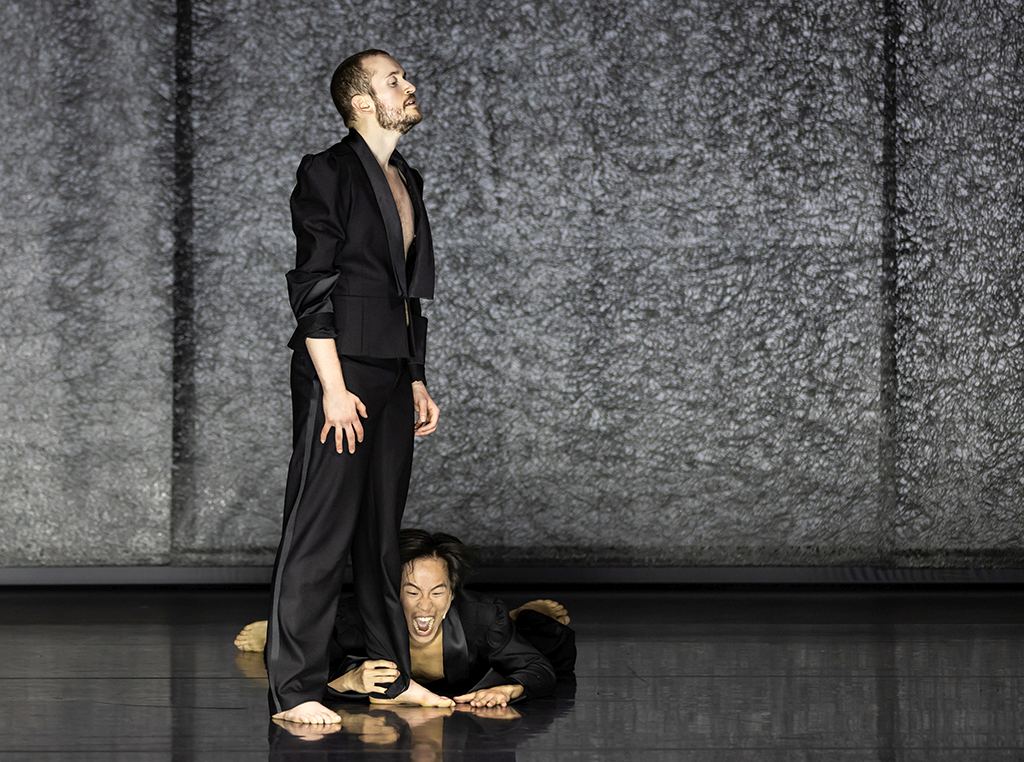 stoop-shouldered. This repeats again and again … and again only ever interrupted by Sampson's fist punching the air or his foot stomping the ground. In a brief moment of direct contact, Sampson hangs upside-down in Yamamoto's arms, his fists drumming against his opponent's back; next, he perches on Yamamoto's shoulder, screaming continuously. Electronic noise-making blares intensely from two loudspeakers.
At Waltz's direction, the dancers subsequently change roles. Now, Yamamoto screams bloody murder and runs towards Sampson, his head bent like a battering ram. The silvery backdrop and floor turn red as they wrestle. Blinding (and annoying) strobe lighting makes it nearly impossible to discern the climax of the clash (if Waltz has even choreographed one). As they swing the speakers like Olympic hammers, their fury finally cools. I was surprised to be presented with such an utterly unimaginative piece by a choreographer originally assigned to lead the State Ballet Berlin.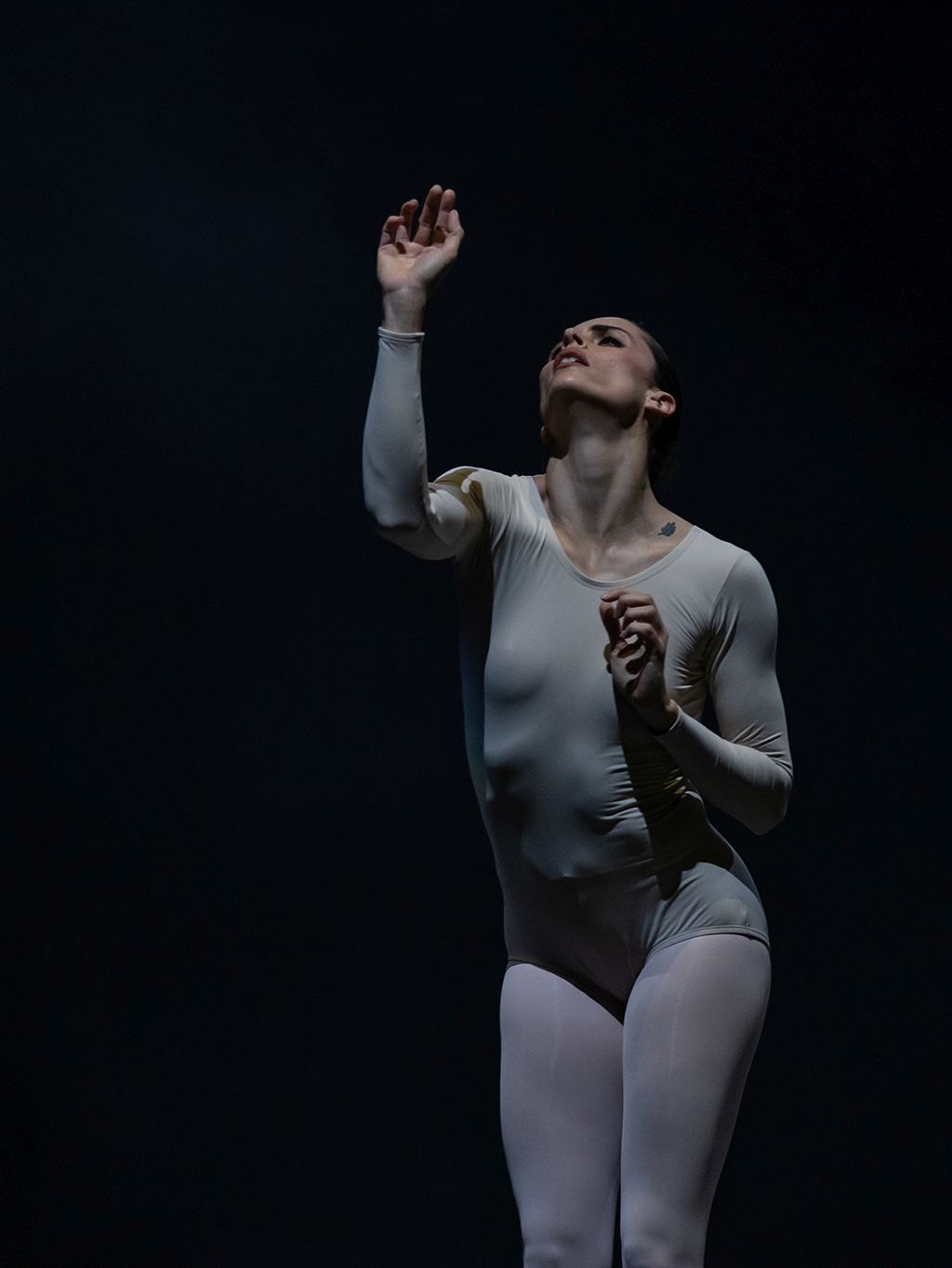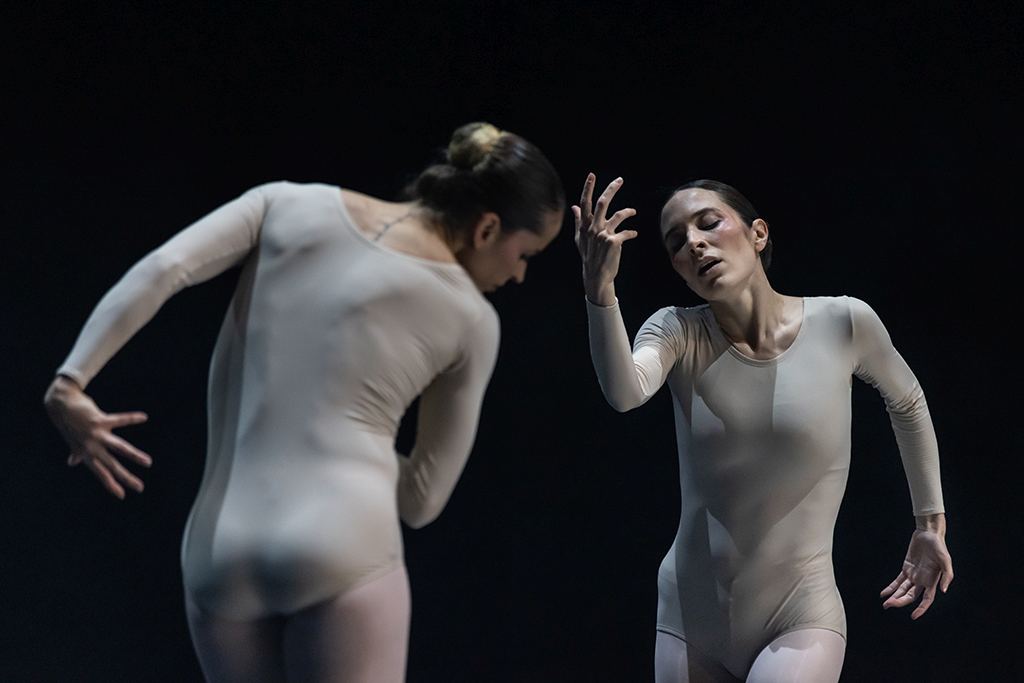 Artistic director Eric Gauthier closed the program with "Point", Sharon Eyal's piece about envy, because of its soothing classical score. Fittingly, the three ballerinas (Bruna Andrade, Nora Brown, and Izabela Szylinska), wearing white tricots and tights, pitter-patter relentlessly on demi-point. At various moments, one ballerina stands apart from the others; the others run in circles, face one another (motionless until snapping their hands forward), avoiding eye contact or, squatting in a very deep plie, engage in a tug-of-war. Their gazes gleam with distrust. Apart from that, little happens, other than that the music eventually turns into a repetitive electronic wash.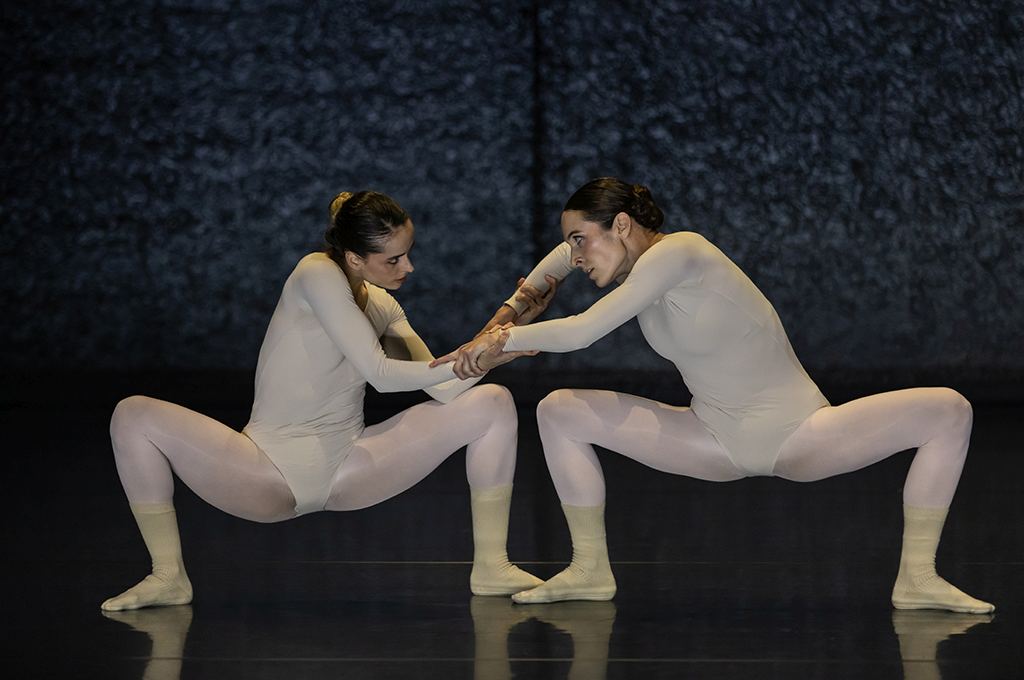 Links:
Website of Gauthier Dance

Photos:

1.

Ensemble, "Corrupt" by

Sidi Larbi Cherkaoui,

Gauthier Dance

2022

2.

Ensemble, "Corrupt" by

Sidi Larbi Cherkaoui,

Gauthier Dance

2022

3.

Ensemble, "Corrupt" by

Sidi Larbi Cherkaoui,

Gauthier Dance

2022

4.

Mark Sampson and Andrew Cummings, "human undoing" by Aszure Barton, Gauthier Dance 2022

5.
Andrew Cummings and Mark Sampson, "human undoing" by Aszure Barton, Gauthier Dance 2022
6.
Andrew Cummings and Mark Sampson, "human undoing" by Aszure Barton, Gauthier Dance 2022
7.
Andrew Cummings and Mark Sampson, "human undoing" by Aszure Barton, Gauthier Dance 2022
8.
Sidney Elizabeth Turtschi, Garazi Perez Oloriz, Nora Brown, Barbara Melo Freire, Louiza Avraam

, "HERMANA" by Marcos Morau, Gauthier Dance 2022

9.
Sidney Elizabeth Turtschi, Garazi Perez Oloriz, Nora Brown, Barbara Melo Freire, Louiza Avraam

, "HERMANA" by Marcos Morau, Gauthier Dance 2022

10.
Sidney Elizabeth Turtschi, Garazi Perez Oloriz, Nora Brown, Barbara Melo Freire, Louiza Avraam

, "HERMANA" by Marcos Morau, Gauthier Dance 2022

11.
Sidney Elizabeth Turtschi, Garazi Perez Oloriz, Nora Brown, Barbara Melo Freire, Louiza Avraam

, "HERMANA" by Marcos Morau, Gauthier Dance 2022

12.
Lucca Pannacci, "Yesterday's Scars" by Marco Goecke, Gauthier Dance 2022
13.
Lucca Pannacci, "Yesterday's Scars" by Marco Goecke, Gauthier Dance 2022
14.
Lucca Pannacci, "Yesterday's Scars" by Marco Goecke, Gauthier Dance 2022
15.
Lucca Pannacci, "Yesterday's Scars" by Marco Goecke, Gauthier Dance 2022
16.
Ensemble, "LUXURY GUILT" by Hofesh Shechter, Gauthier Dance 2022
17.

Ensemble, "LUXURY GUILT" by Hofesh Shechter, Gauthier Dance 2022

18.

Ensemble, "LUXURY GUILT" by Hofesh Shechter, Gauthier Dance 2022

19.

Ensemble, "LUXURY GUILT" by Hofesh Shechter, Gauthier Dance 2022

20.

Mark Sampson and Shori Yamamoto; "IRA" by Sasha Waltz, Gauthier Dance 2022

21.

Bruna Andrade and Nora Brown, "Point" by Sharon Eyal, Gauthier Dance 2022

22.

Bruna Andrade, "Point" by Sharon Eyal, Gauthier Dance 2022

23.

Bruna Andrade and Nora Brown, "Point" by Sharon Eyal, Gauthier Dance 2022

all photos © Jeanette Bak

Editing:
Jake Stepansky