"CREATIONS VII-IX" ("Self-deceit" / "Reflection/s" / "Ifima")
Stuttgart Ballet
Play House of the State Theater Stuttgart
Stuttgart, Germany
May 29, 2022
by Ilona Landgraf
Copyright © 2022 by Ilona Landgraf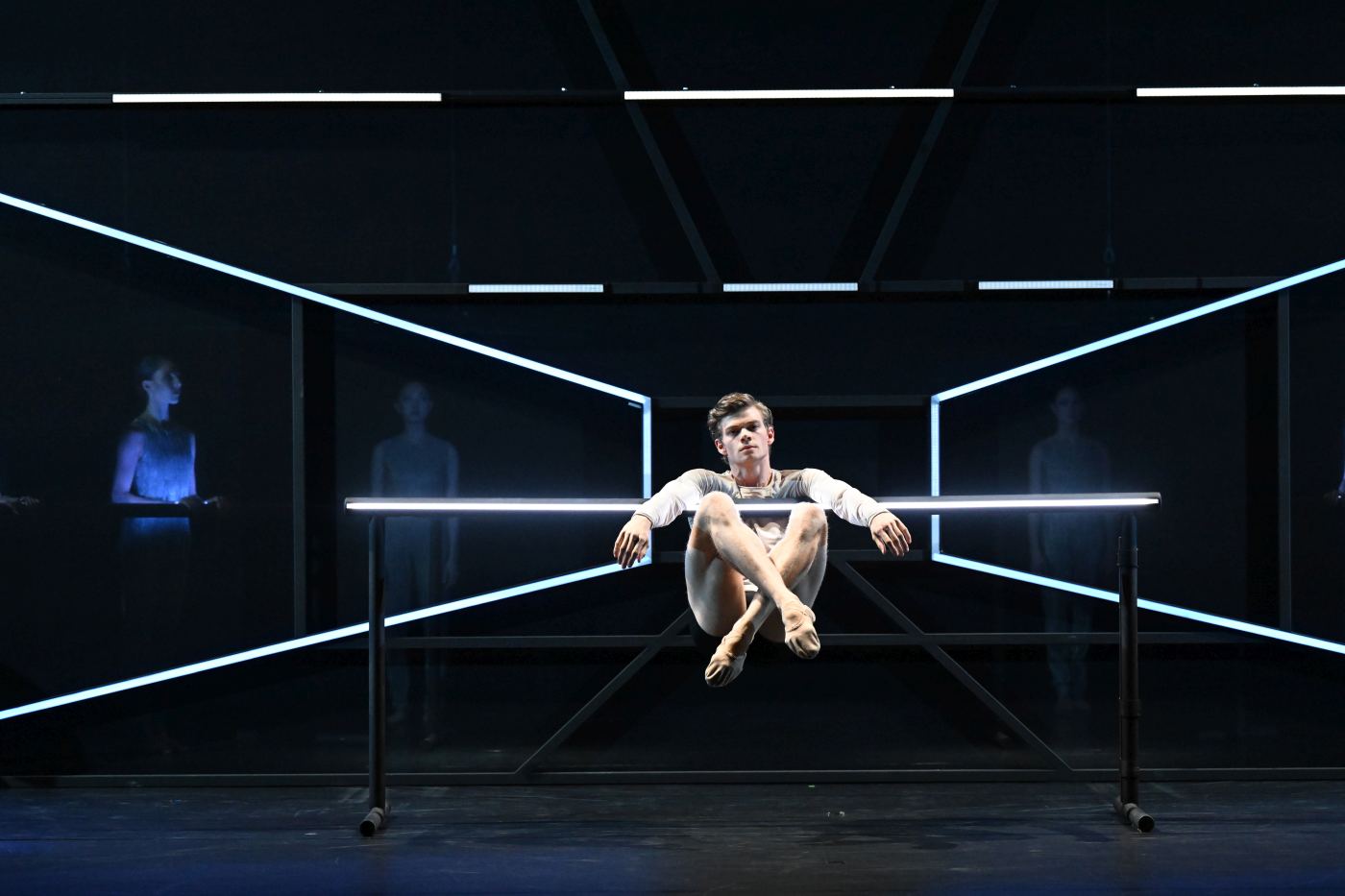 Stuttgart Ballet's recent premiere – "CREATIONS VII-IX" – continues the CREATION series launched in 2019. I was waylaid by several highway traffic jams on my way to the theater and arrived five minutes late, missing the triple bill's first piece: Vittoria Girelli's "Self-deceit". As such, I can only comment on Roman Novitzky's "Reflection/s" and "Ifima" by the choreographer duo Louis Stiens and Shaked Heller.
"Reflection/s" marks Novitzky's retirement from an almost two-decade-long career as a dancer. Born in Slovakia, he danced with their National Ballet before joining the Stuttgart Ballet in 2009. Six years later, he was promoted to principal and made his first steps as a choreographer. On top of dancing and choreographing, Novitzky also became one of Stuttgart Ballet's photographers. He was always busy and – if I interpreted his program-note interview correctly – rarely relaxed. Novitzky describes himself as the opposite of an attention grabber: "never super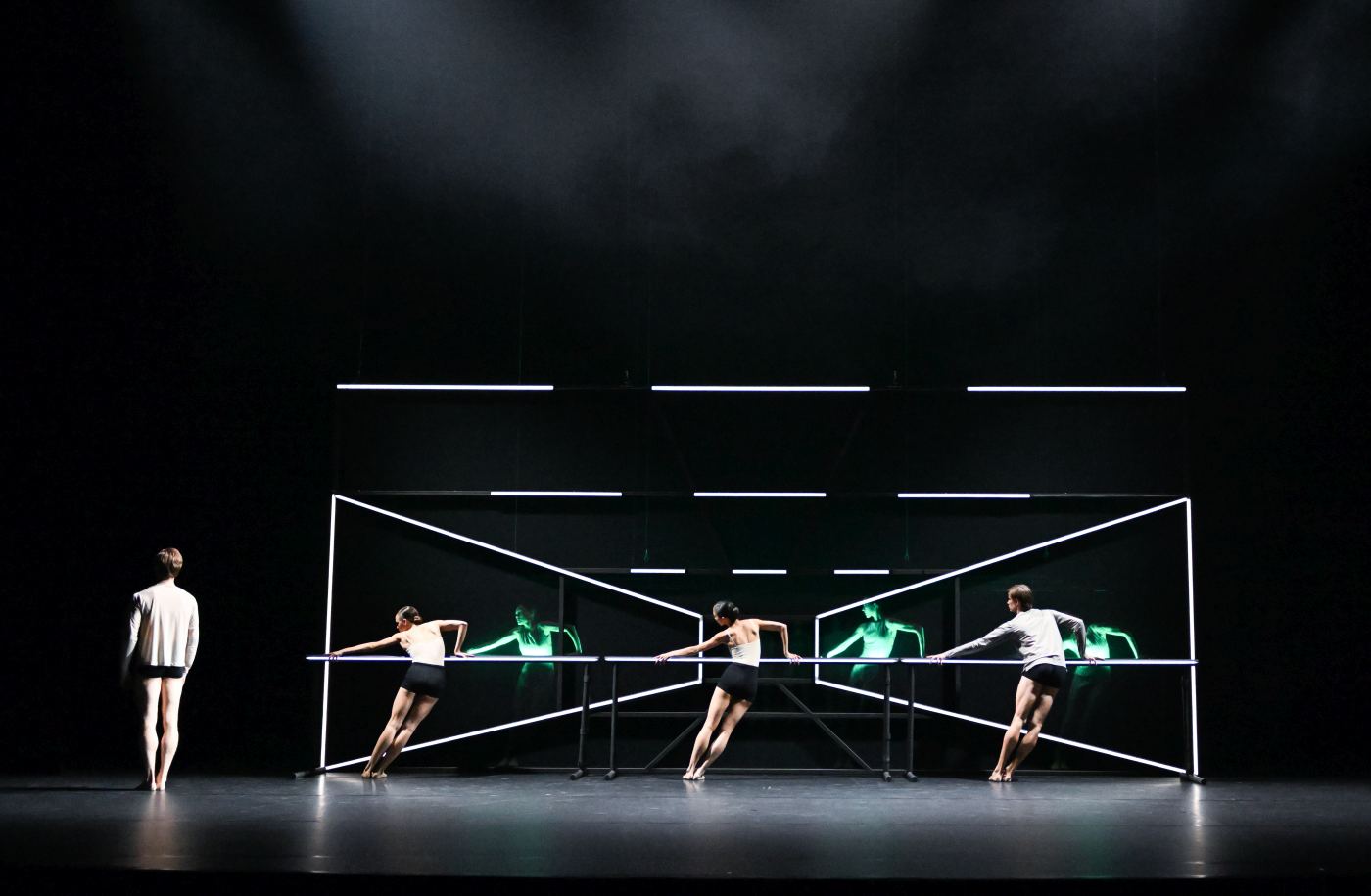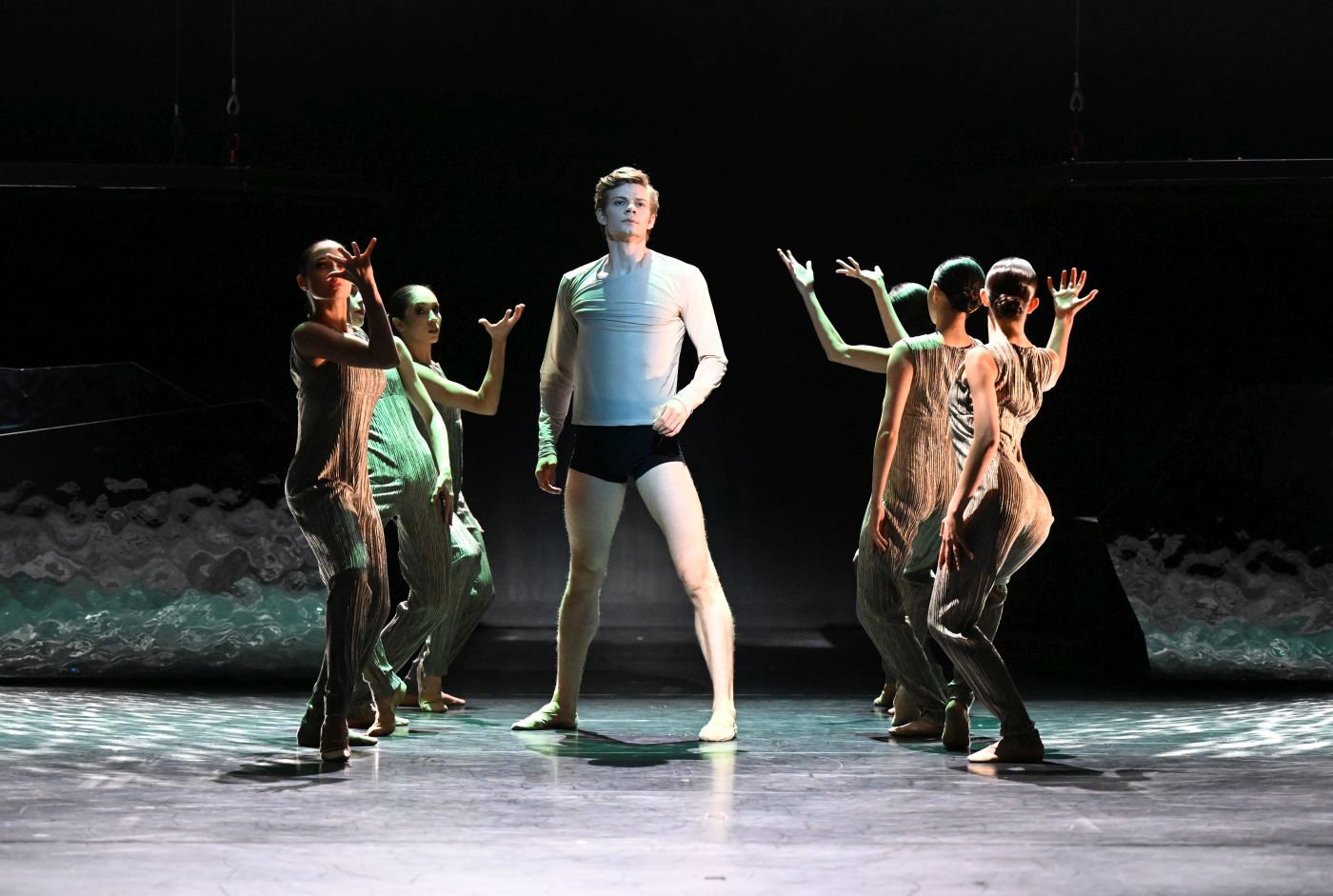 talented," "extremely nervous before performances," and "always having to fight." He will be Stuttgart Ballet's artist in residence from next season onwards; "Reflection/s" is his retrospective.
While audience members are still returning to their seats after the break, the curtain rises to reveal Henrik Erikson as Novitzky's alter ego, lying on his back next to a metal rod construction made from movable barres. Perhaps the creaking, whirring electronics (part of a commissioned composition by Magnus Mehl and Philip Kannicht) represent the grinding of Erikson's train(s) of thought? Is what we're about to see real or imagined?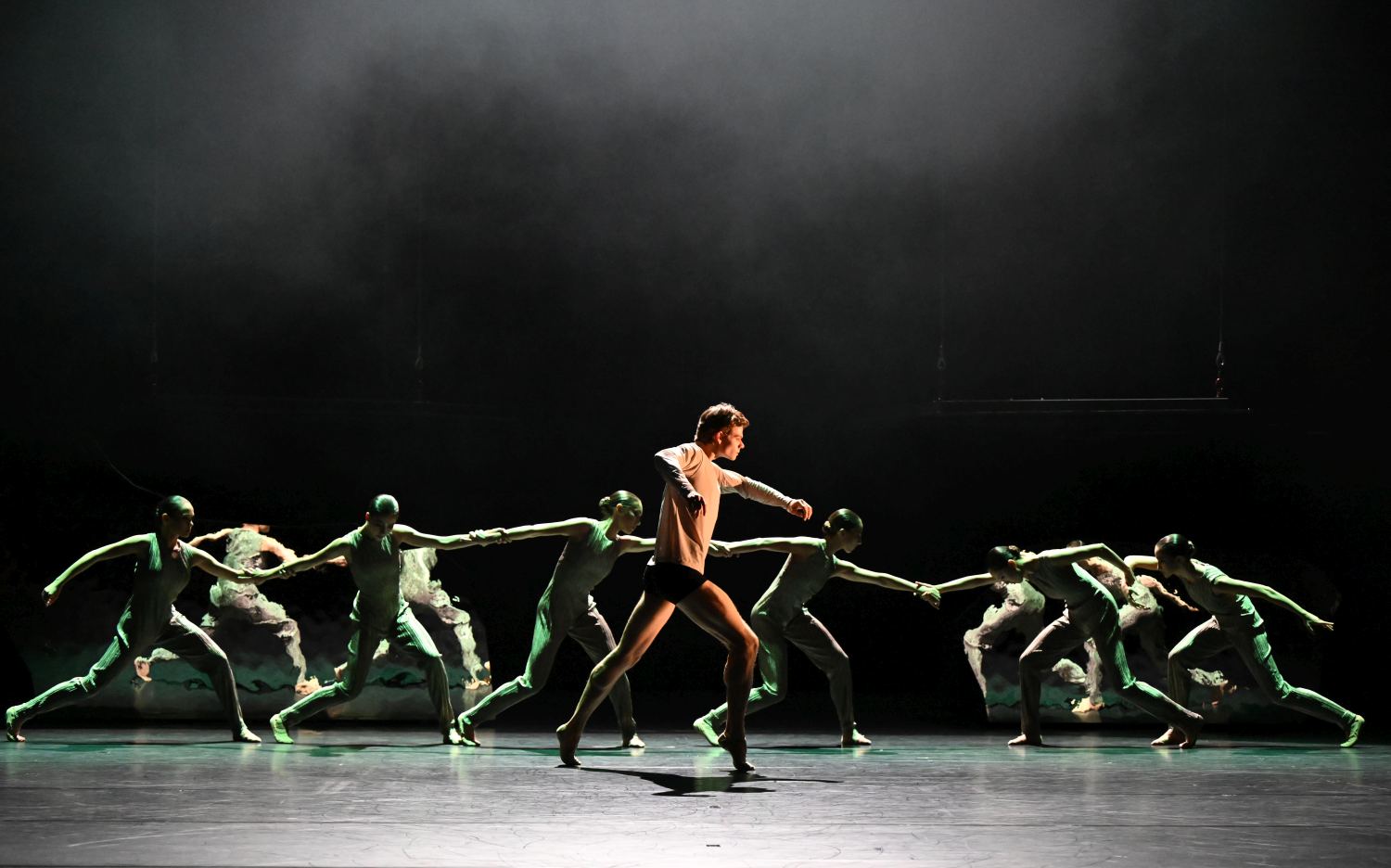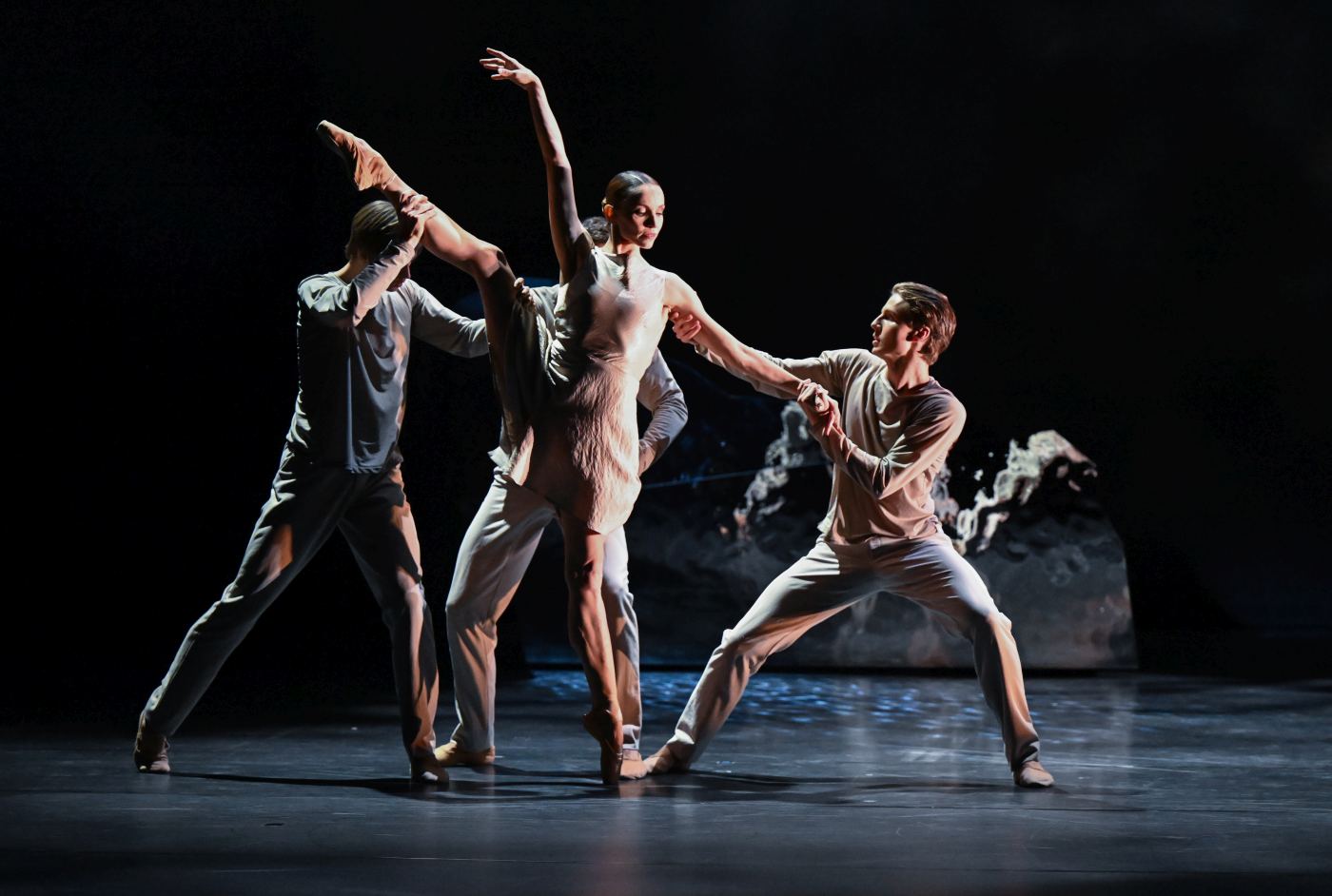 Soon, other dancers join Erikson for an oddly fractured morning ballet class. Every exercise is abruptly derailed: hands suddenly clutch desperately to the barres (which glow in green, white, or blue light), bodies hang down heavily from the barre, knees turn awkwardly inward, and torsos undulate as if bone-free. Again and again, the flowing movements collapse like tumbling cardboard boxes. The mirror provides further deception; dancers lit in fluorescent green act as twisted mirror images for their counterparts.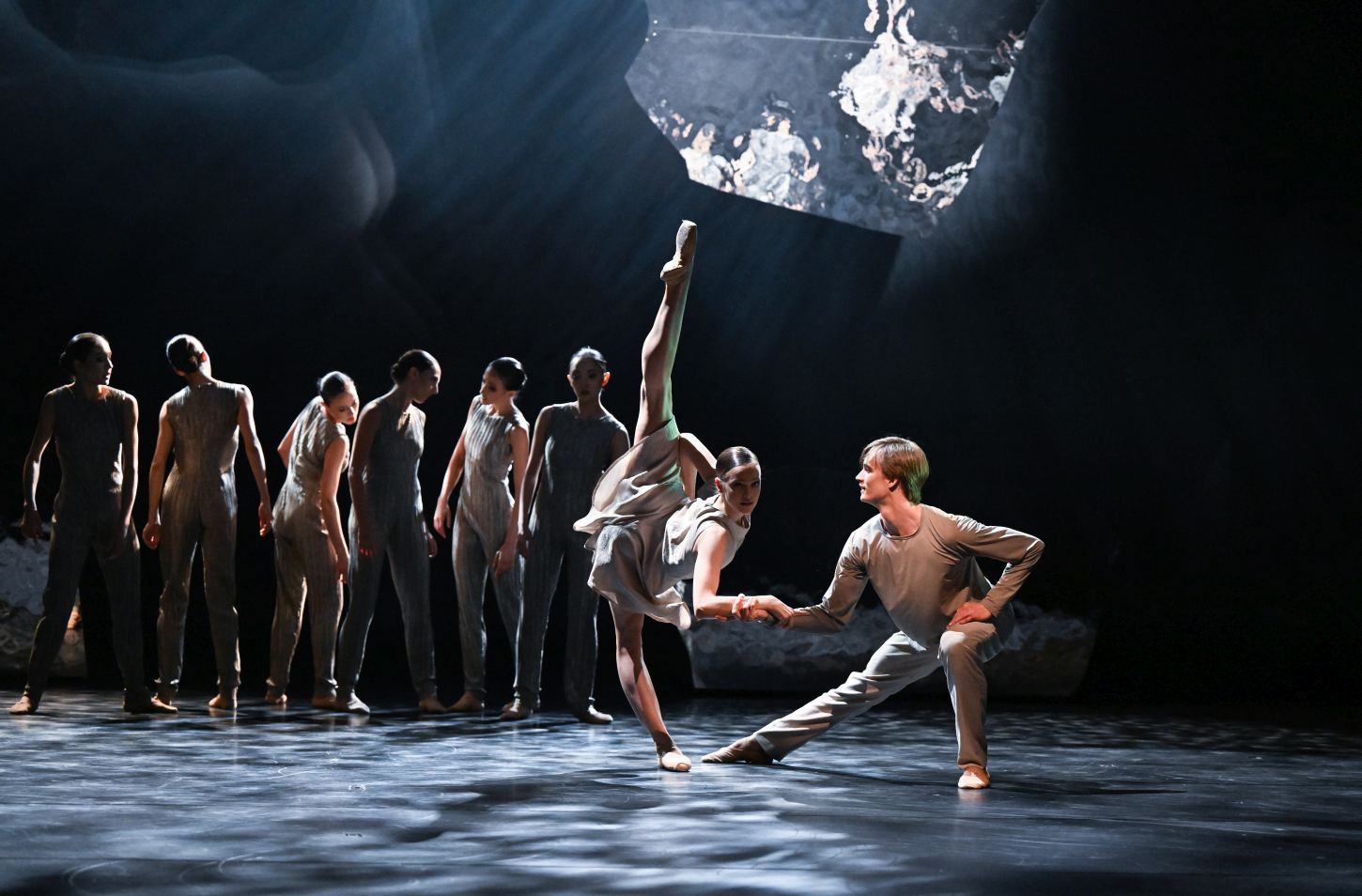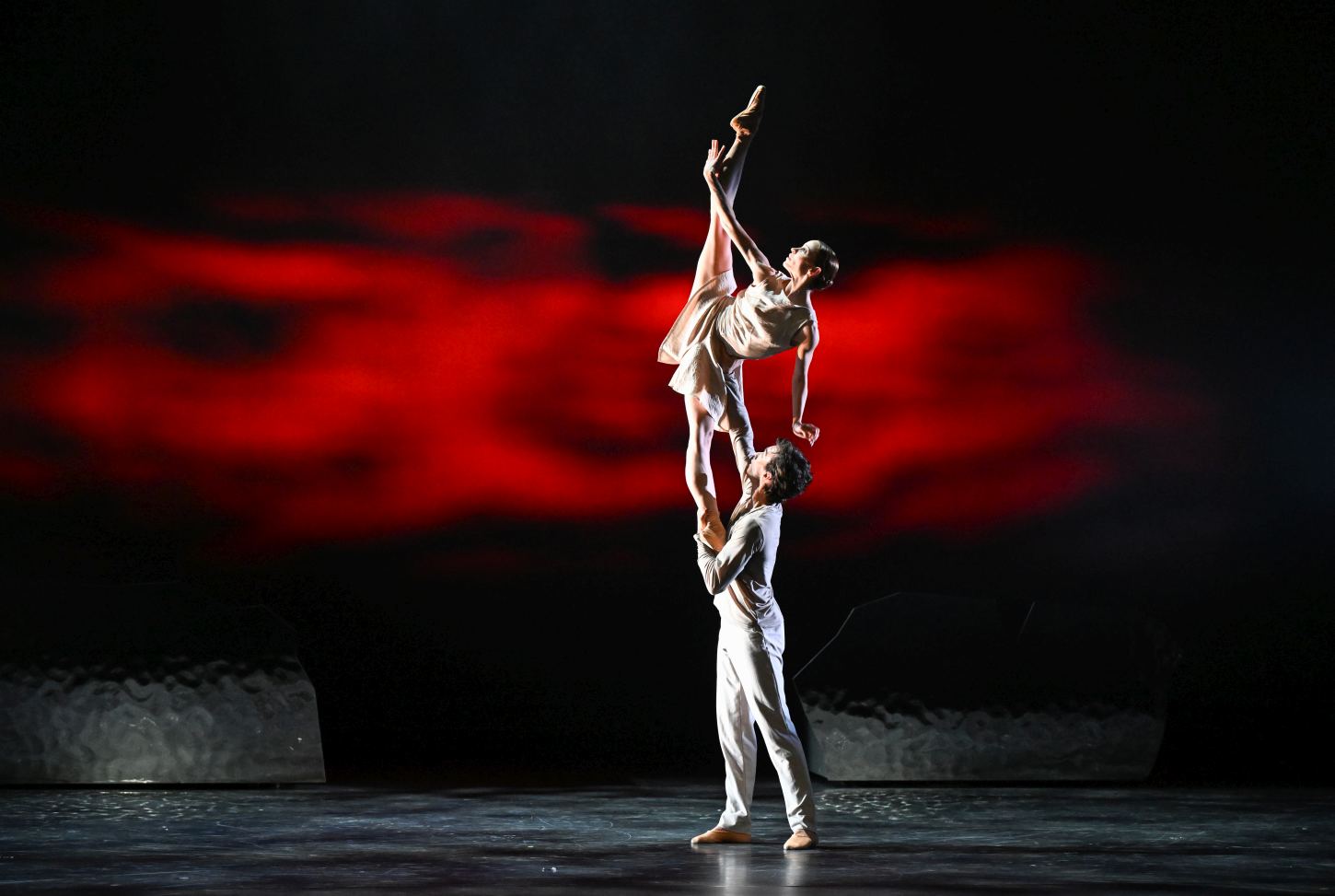 When the barres are replaced by fractions of wavy mirrors, the center-stage sequences quickly transition into a succession of incoherent solos, pas de deux, and group dances that are neither unique in style nor in content. With the exception of a single romantic pas de deux (the red backdrop is an unmissable clue), the piece is dominated by indecisive back-and-forth and increasingly bland group sequences. It doesn't help that the sound (complemented by piano and saxophone) reaches strident volumes, and that two additional mirrors are lowered from above, reflecting light that blinds the audience. Such effects hardly conceal the weak substance of the material.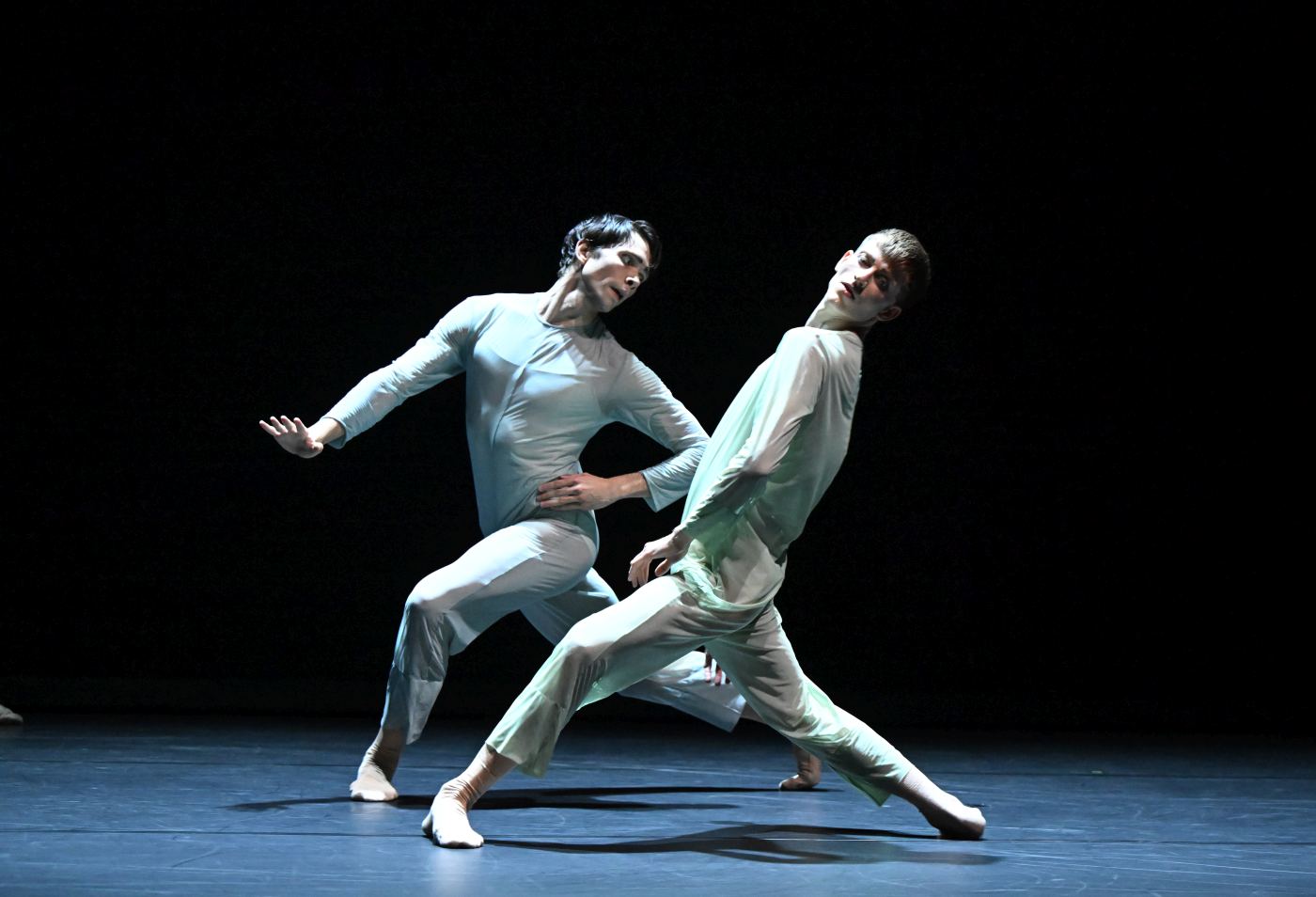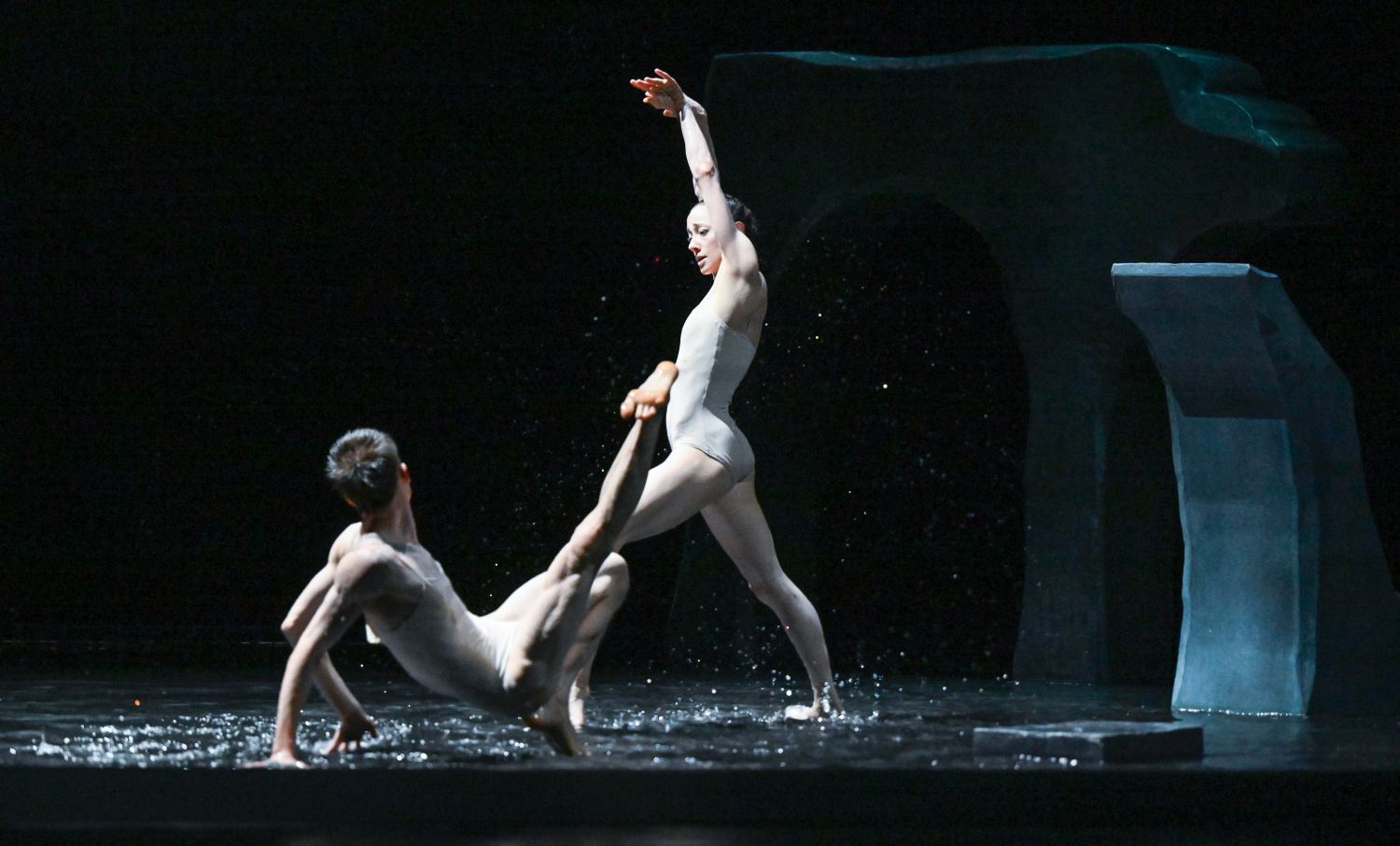 Until this fall, Stiens and Heller will dance and choreograph for Stuttgart. As freelancers-to-be, they joined forces for the first time in creating "Ifima". A holiday in Greece inspired them to set this new piece amidst the wreckage of a sunken town (represented by gray ruins that look like rock but are made from lightweight plastic). Noisy burbles evoking underground sewerage accompany Stiens, Heller, and Angelina Zuccarini as they writhe and roll across the stage – sometimes stiffly, sometimes bending like rubber.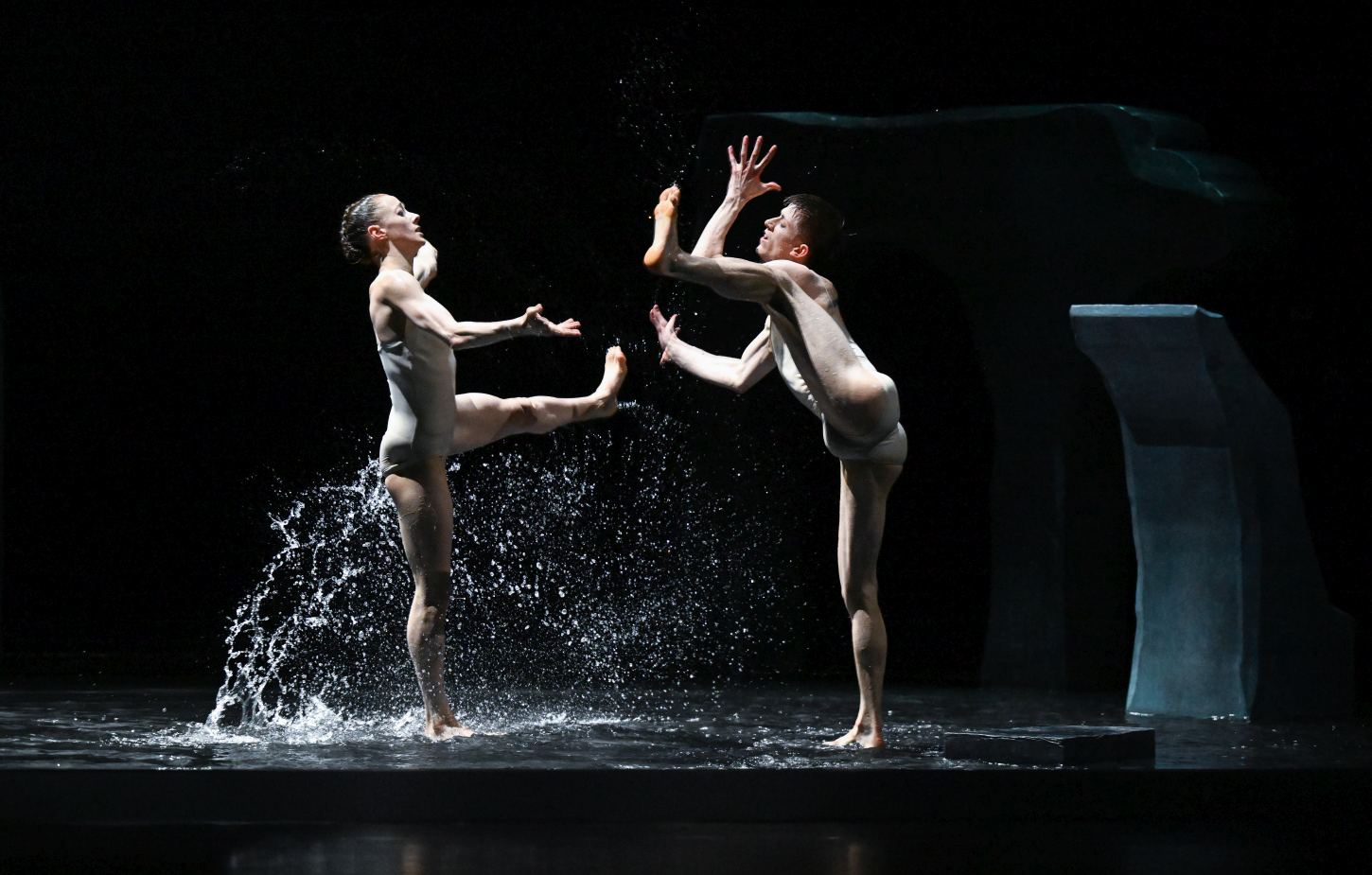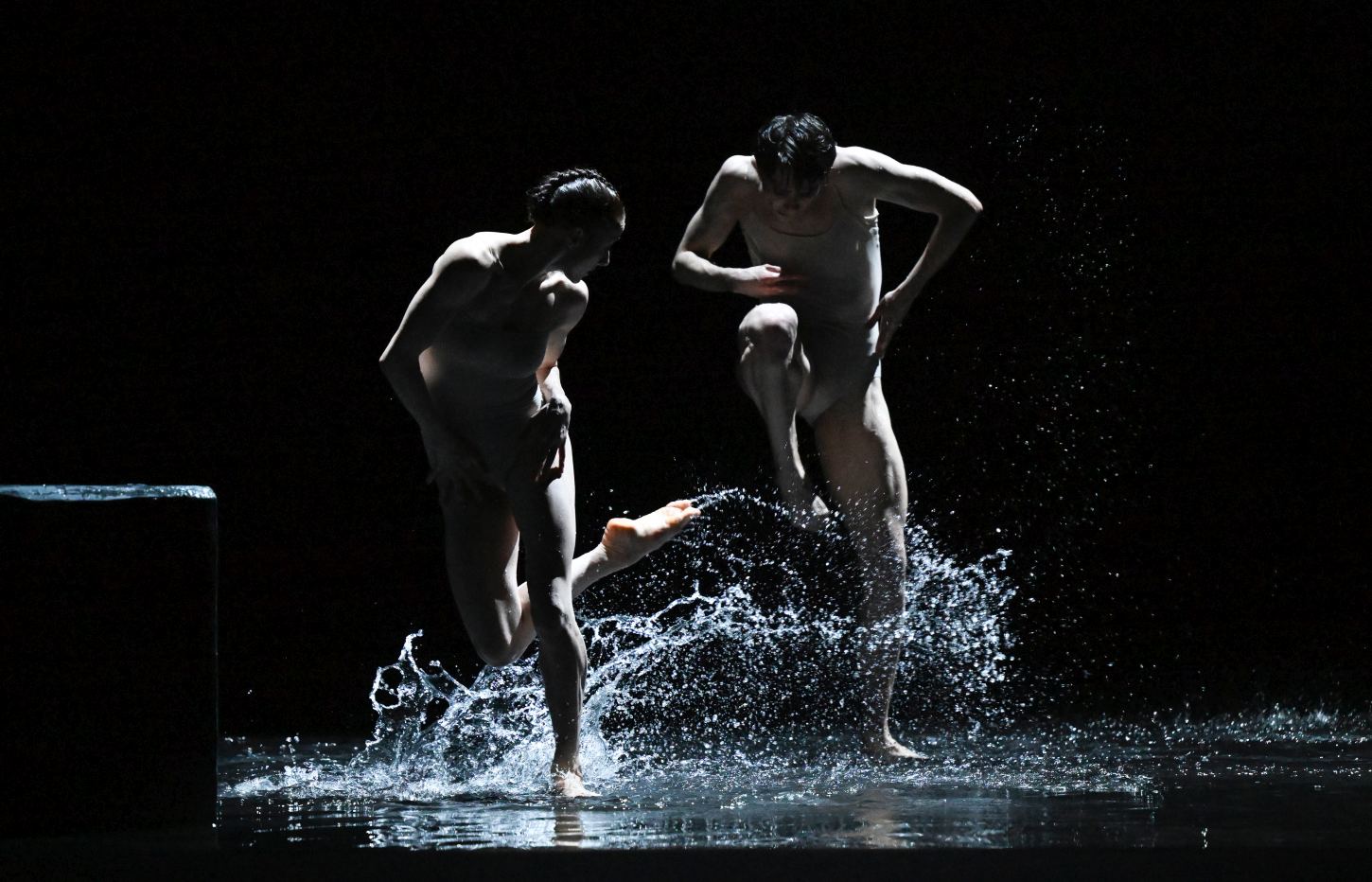 Their deep lunges, turns, and contortions seem purposeless. A threatening rumble (from an underground monster?) thrusts the trio into a standing position. They pause apprehensively … but nothing happens. Trickling, tinkling piano triggers additional random activities: walking in circles, hunkering down, rolling over one another as if glued together, pulling themselves across the floor on their stomachs. As Anni Nöps's strange audio landscape (which includes sounds made from ice, compositions by Katharina Klement and Rupert Huber, and two piano concertos by Mozart) plays in the background, the ancient ruins finally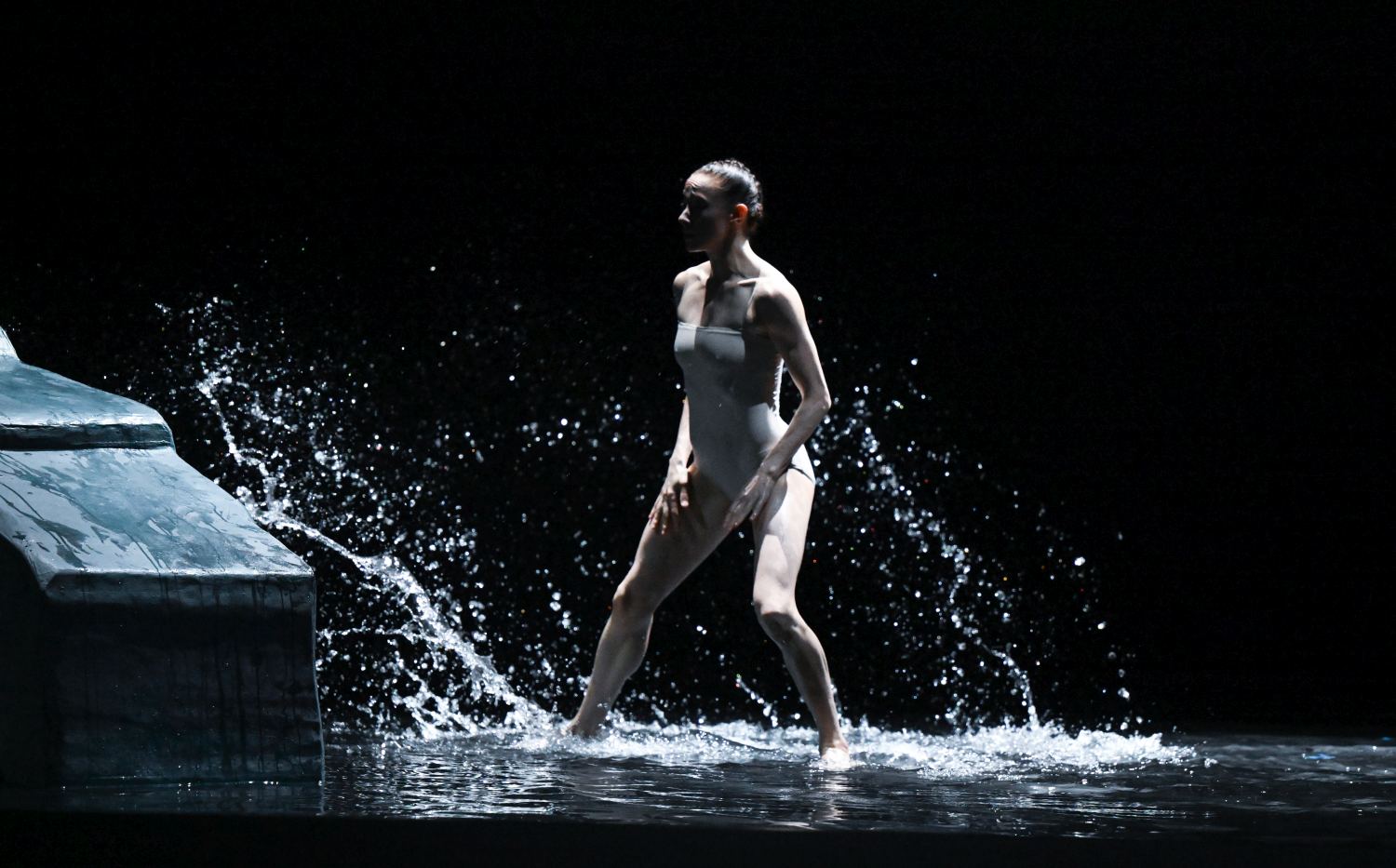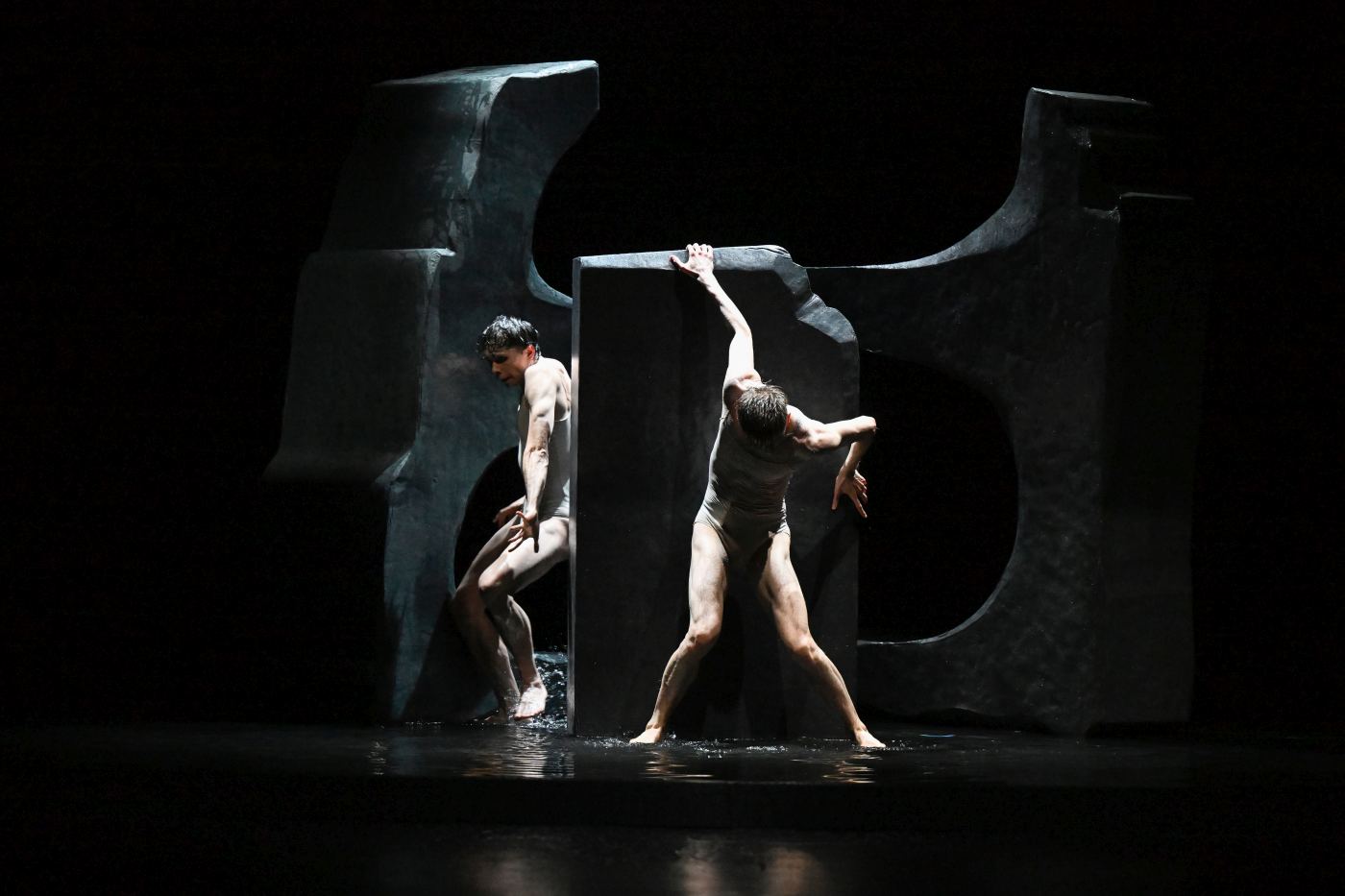 emerge from the dark. They surround a puddle large enough to swash and wallow in. An onstage body of water, however, is a delicate choice. If you can't surpass what Pina Bausch did in "Vollmond", you're better off abstaining from flooding the stage. Unfortunately, Stiens and Heller are blatantly short of ingenuity. They crawl under the rock arches, playing hide and seek, tipping them over and solemnly restoring them at snail's pace, slouching and sunbathing. At several moments, the piece seemed to come to its eagerly awaited end – but no: the trio dragged on.
I'm always astonished that Stuttgart's faithful audience frenetically applauds its ballet no matter how mediocre the program. This time was no different. "Reflection/s" and "Ifima" were celebrated as if candidates for the next major prize in dance.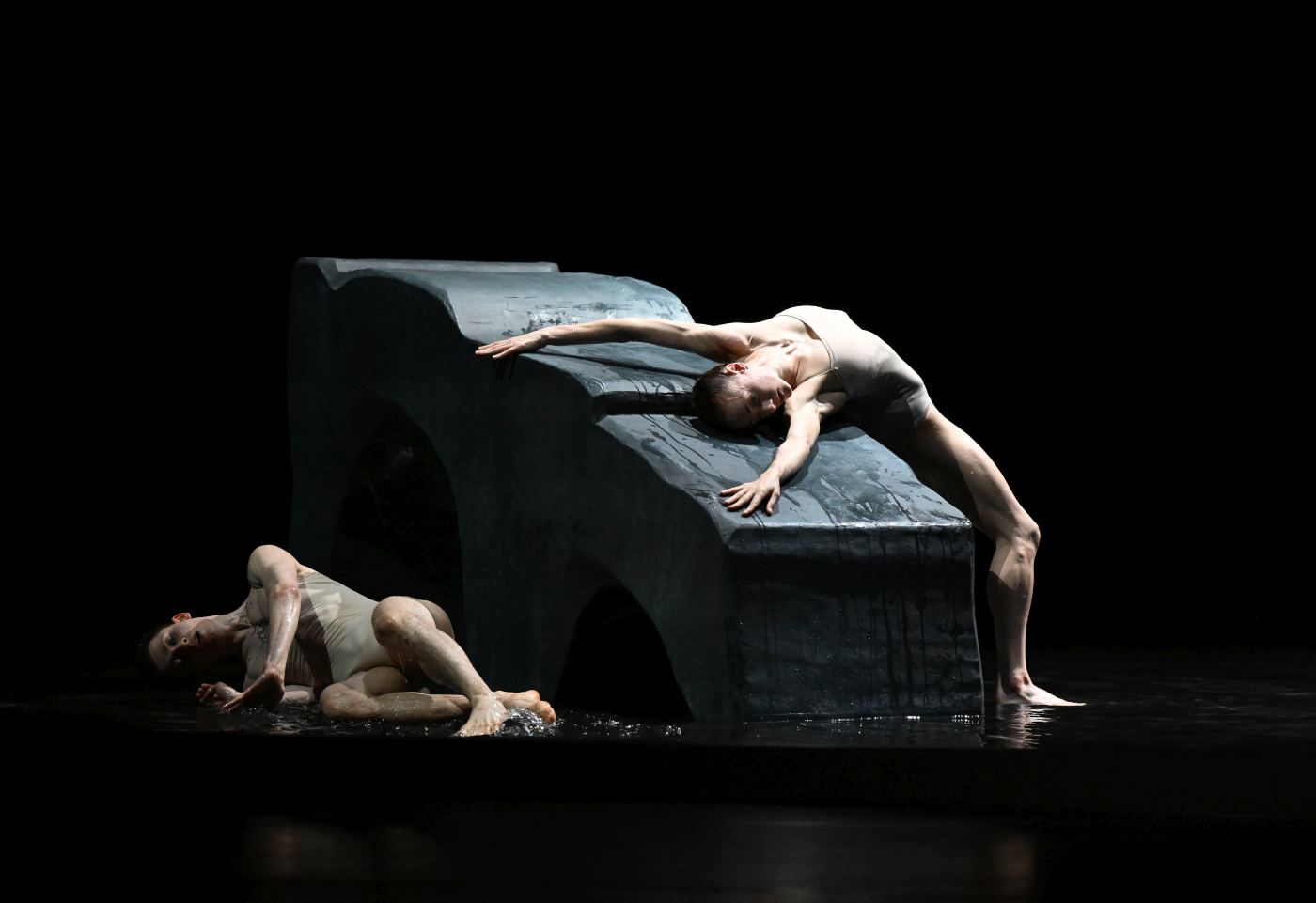 Links:

Website of the Stuttgart Ballet

Photos:

1.

Henrik Erikson

, "

Reflection/s" by Roman Novitzky,

Stuttgart Ballet 2022

2.

Henrik Erikson

and ensemble

, "

Reflection/s" by Roman Novitzky,

Stuttgart Ballet 2022

3.

Henrik Erikson and ensemble, "Reflection/s" by Roman Novitzky, Stuttgart Ballet 2022

4.

Henrik Erikson and ensemble, "Reflection/s" by Roman Novitzky, Stuttgart Ballet 2022

5.

Miriam Kacerova and ensemble,

"Reflection/s" by Roman Novitzky, Stuttgart Ballet 2022

6.

Miriam Kacerova and Martí Fernández Paixà,

"Reflection/s" by Roman Novitzky, Stuttgart Ballet 2022



7.

Mackenzie Brown, Christopher Kunzelmann, and ensemble,

"Reflection/s" by Roman Novitzky, Stuttgart Ballet 2022

8.
Louis Stiens and Shaked Heller, "Ifima" by Louis Stiens and Shaked Heller, Stuttgart Ballet 2022

9.

Shaked Heller and Angelina Zuccarini, "Ifima" by Louis Stiens and Shaked Heller, Stuttgart Ballet 2022

10.

Louis Stiens and Angelina Zuccarini, "Ifima" by Louis Stiens and Shaked Heller, Stuttgart Ballet 2022

11.

Angelina Zuccarini and Shaked Heller, "Ifima" by Louis Stiens and Shaked Heller, Stuttgart Ballet 2022

12.

Angelina Zuccarini, "Ifima" by Louis Stiens and Shaked Heller, Stuttgart Ballet 2022

13.

Louis Stiens and Angelina Zuccarini, "Ifima" by Louis Stiens and Shaked Heller, Stuttgart Ballet 2022

14.

Shaked Heller and Angelina Zuccarini, "Ifima" by Louis Stiens and Shaked Heller, Stuttgart Ballet 2022

all photos © Stuttgart Ballet
Editing:
Jake Stepansky