"LAB-WORKS 2022" ("Children of the Night" / "Oh Captain" / "This Too Shall Pass" / "Die Nacht")
State Ballet Berlin
Komische Oper
Berlin, Germany
June 09, 2022
by Ilona Landgraf
Copyright © 2022 by Ilona Landgraf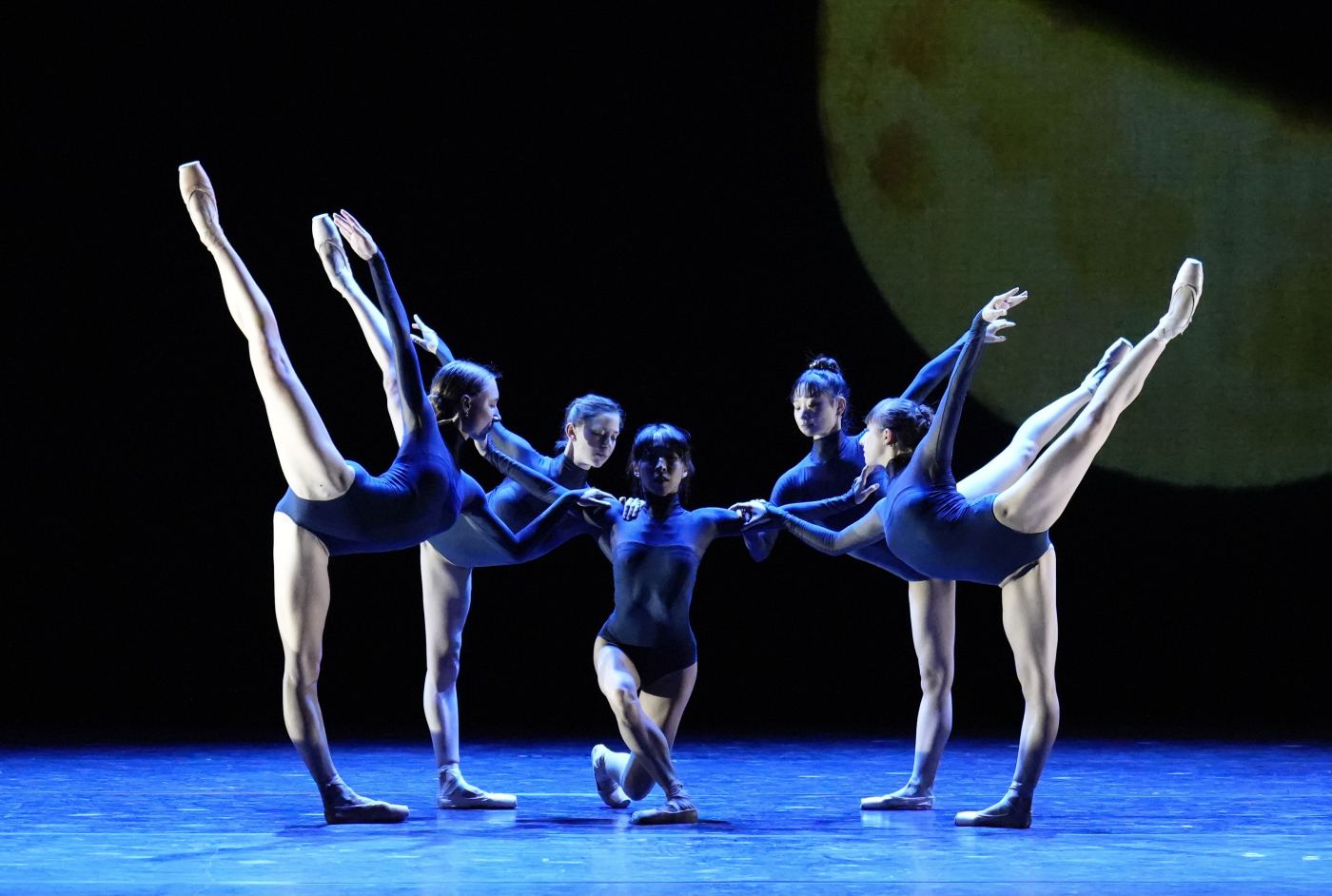 For many young dancers, it can be incredibly difficult to join a company right after ballet school. There have been many efforts to smooth this transition (for example, years ago the Dutch National Ballet, Bavarian State Ballet, and Hamburg Ballet established junior troupes) – including last fall's launch by the State Ballet Berlin of the ten-month ENHANCE Mentorship Program for graduates of the State Ballet School Berlin. The program provides individualized mentoring by dancers from different ranks of the ensemble (Soraya Bruno, Anneli Chasemore, Arshak Ghalumyan, Mehmet Yumak, Aurora Dickie, and others) and culminates in a final performance called "LAB_WORKS". This series was introduced in 2019 to showcase choreographies created during the lockdown. This June, the company presented "LAB_WORKS 2022" – comprised of four new ballets by aspiring choreographers from within the company. Eleven program fellows and various members of the main company danced the four works.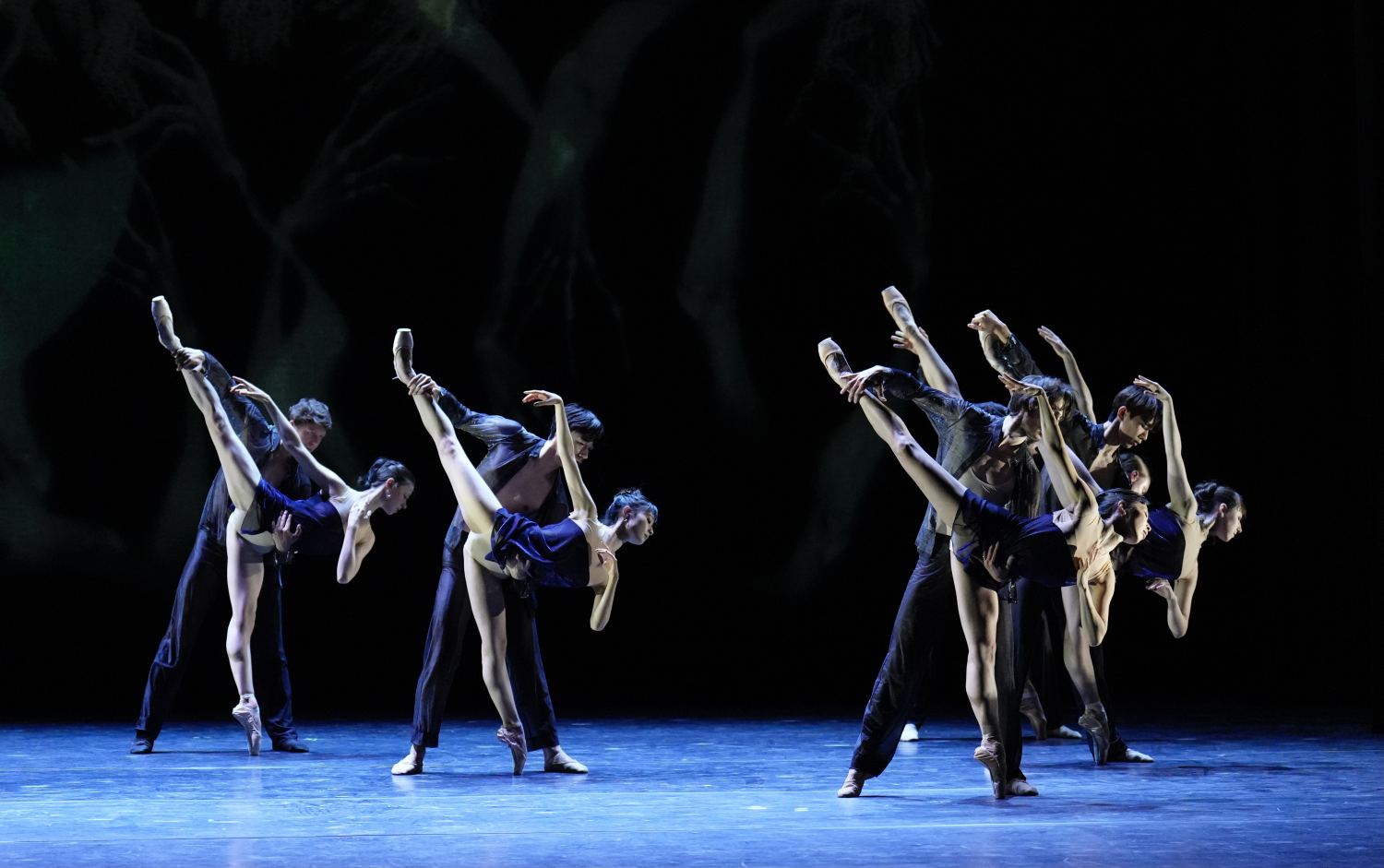 "Children of the Night" by Alexander Abdukarimov follows Amelia and Michael (Aya Okumura and Dinu Tamazlacaru) on their bumpy journey to a harmonious romance. They are accompanied by nine "children" – five female, four male – and music by Vivaldi and Max Richter. It's nighttime, as indicated by cosmic fog, gleaming stars, and a constantly-changing video animation of a waxing / waning moon. The animation's coral polyp-like hands morph into a tangled-up (underwater?) world and character figures in white that separate or – like the leading couple in the final – build a unity. Group scenes for mixed couples or women-only alternate with solos and duets of the (sometimes discordant) lovers. An all-male group of buddies supports the abandoned (and, therefore, raging) Michael.
The gender roles in the piece embrace traditional cliches. Abdurikamov puts the women on pointe and includes many pas de deux teeming with lifts. He contrasts dynamic sequences with calm ones, counters soft movements with sharp, and creates atmospheres that range from high-flying to melancholic. His material has potential, but would be improved by a few amendments: the furious Michael and his pals need to be more driven in order to match the fiery mood of the music; and the choreography for the group of women is overpowered by the video animation, rendering them insignificant. The occasional moments in which the group's synchronicity and fluidity faltered were quite likely the result of insufficient rehearsal time.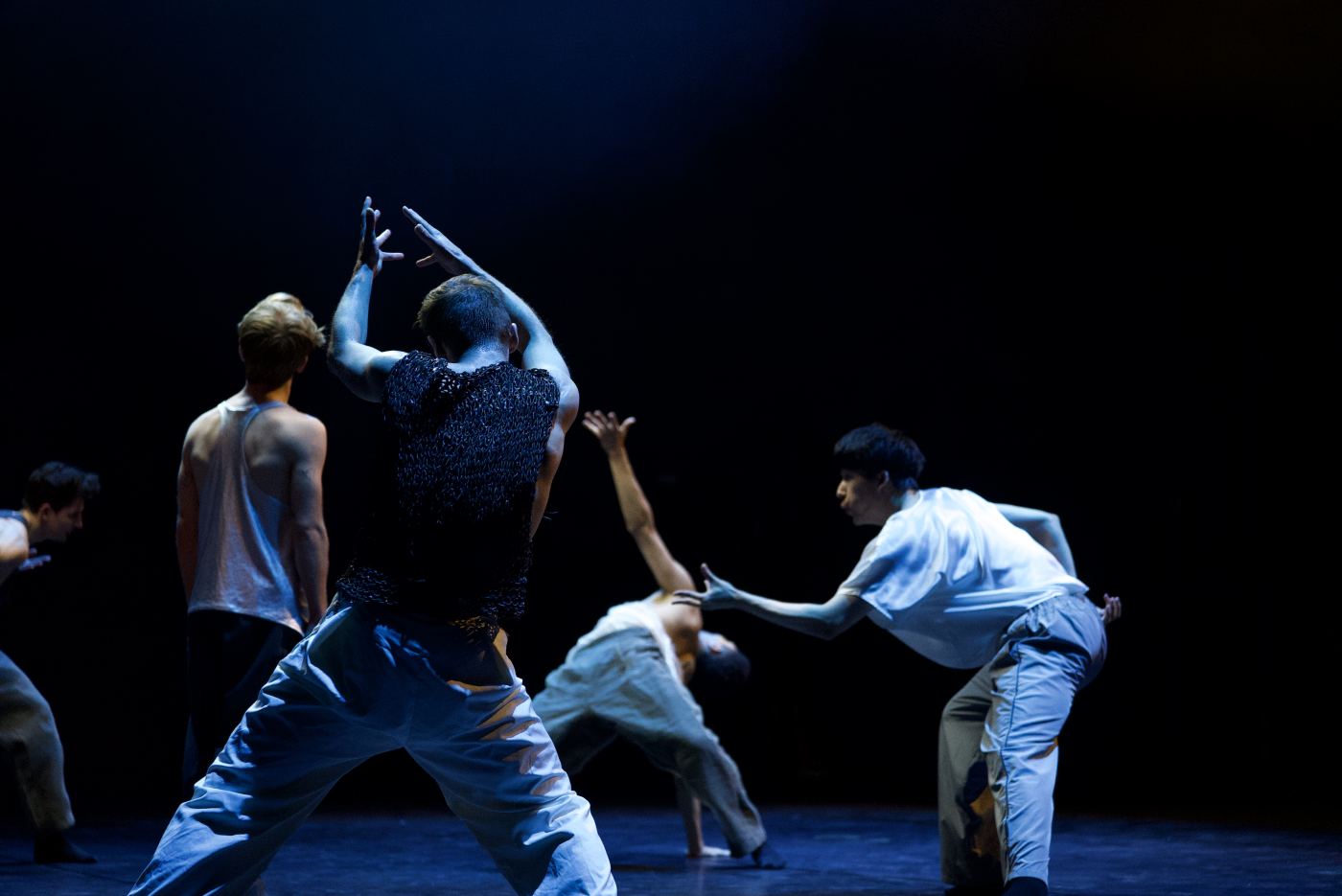 "Oh Captain is a physical elegy for the lost future, still existing in the past, but held tight in the present. In this moment, the three tenses are cemented as one, freely coexisting off the linear track (…)," explains choreographer Johnny McMillan in the program. I couldn't follow his inscrutable line of thinking, but instead can only share some facts:
"Oh Captain" employs only men – ten in total. Nine of them huddle closely together on the orchestra pit, which slowly lifts them to stage level – all motionless except for Ross Martinson, who spins circles with his torso as if caught in trance. What is hidden in their midst? Why do they stare off into the distance? We don't get a chance to learn. They slowly, slowly stir from their spot, arms tied together, torsos undulating. Sometimes a head sticks out from the hunched backs. Two men embrace; one man holds another's face between his hands, gazing at him closely. Cosmin Nicolae's electronics crackle threateningly as Martinson steps tardily away from the group, only to return to kiss another man at length, their lips the sole connection between their gently undulating bodies.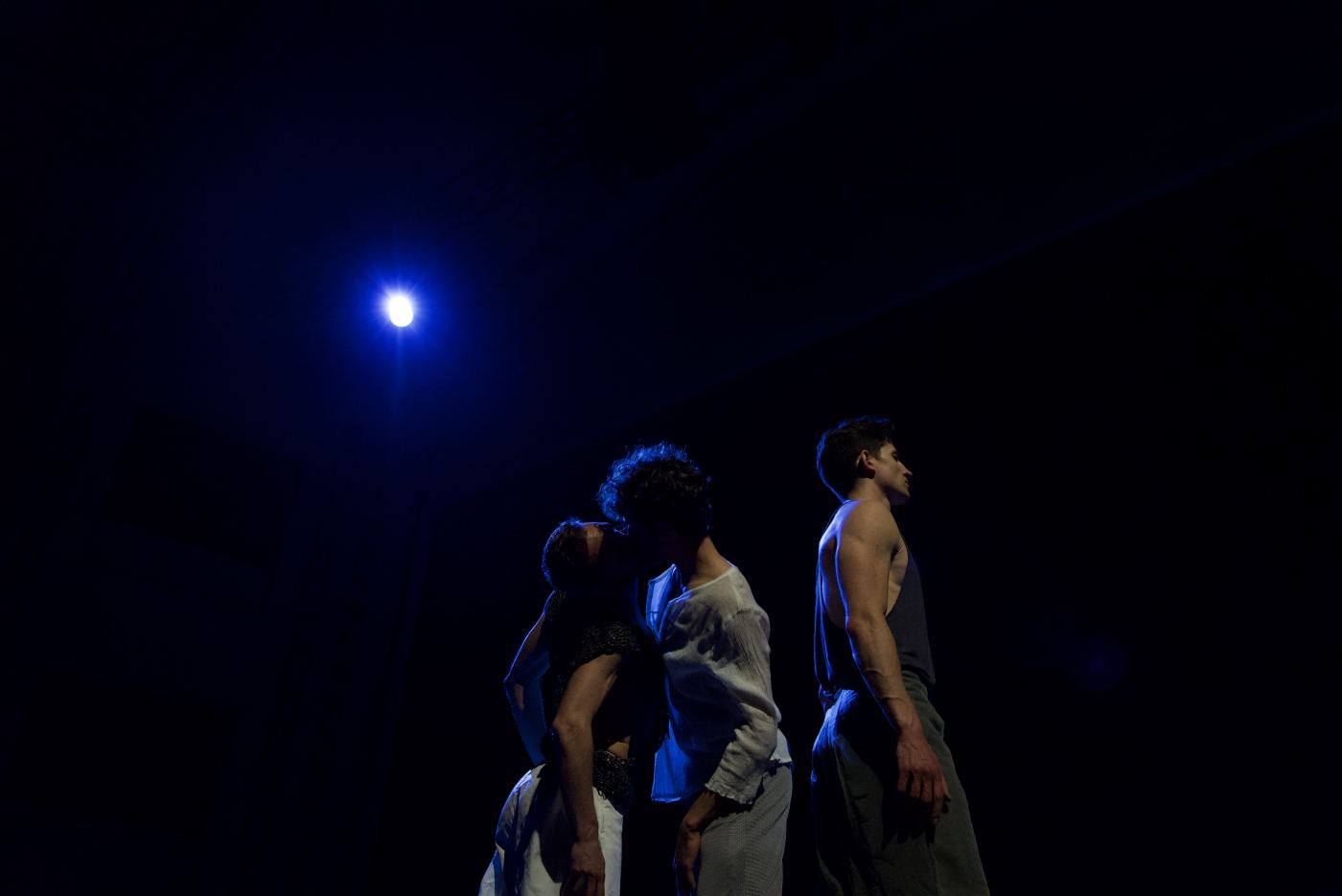 The rising curtain reveals another man – McMillan – standing motionless center stage. His eyes are glued to a rectangular block of stone (or concrete) hanging above his head, spreading a faint light. Martinson approaches him haphazardly, wavering between jerky, wobbly, and sharp movements. As the music ramps up into punchy noise, the group is thrust into gear. Over and over, shoulders are locked in position, bottoms stuck out and hands striking sensually along their owner's bodies. One couple holds hands; another man is nudged back and forth between two others, suggesting an intimate encounter. The piece has already begun to feel overlong when the men start to run in circles, stopping occasionally for a fleeting embrace before moving closer to the stuck-in-place McMillan. The men continue their repetitive routine until suddenly freezing, arms splayed sideways, eyes fixed on the rectangular block as if it were a source of divine enlightenment. This prompts McMillan to come to life. He fidgets, waves, and jumps about, his body shaken by jerky convulsions as if discharging energy that has been suppressed for far too long.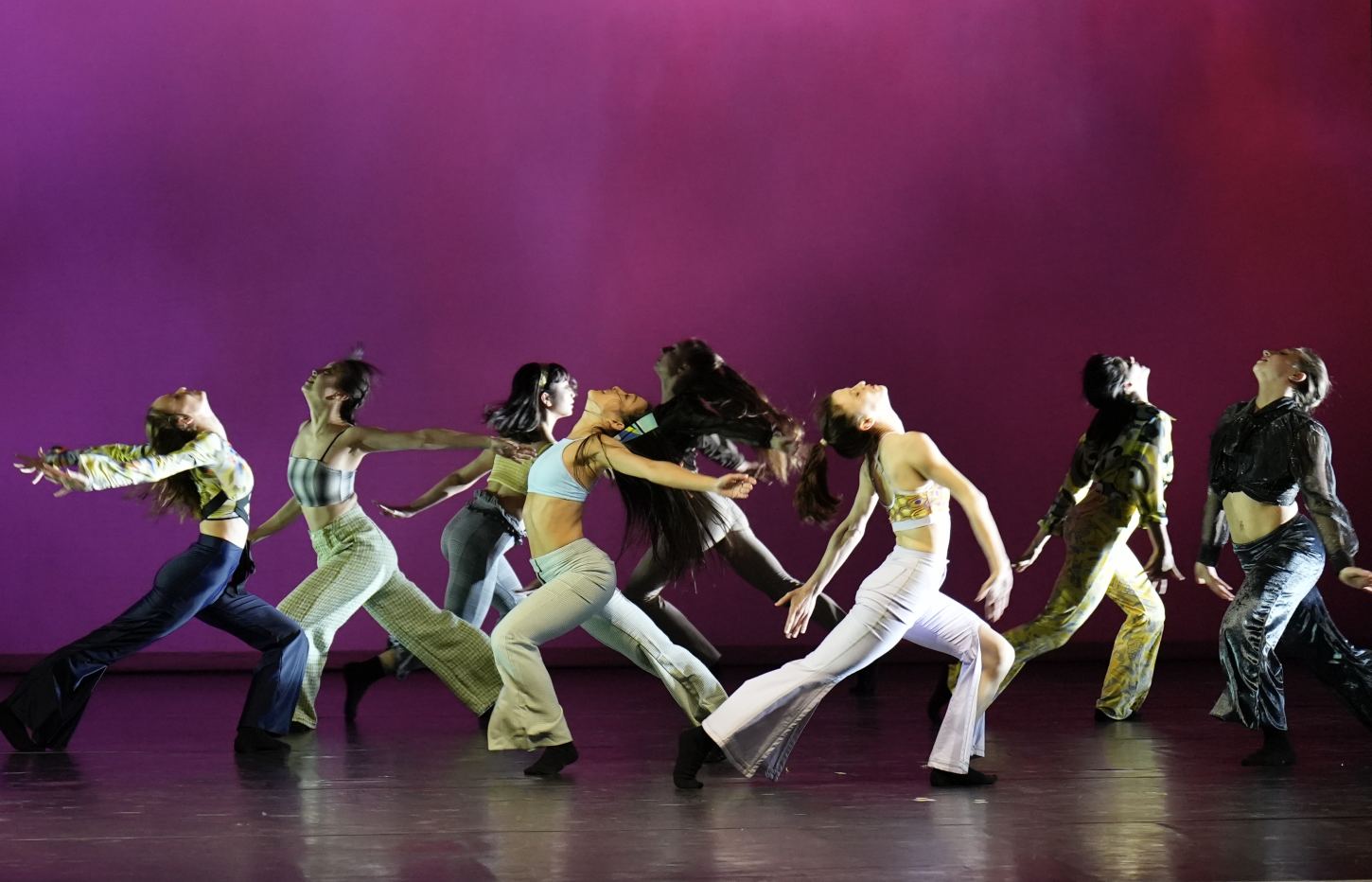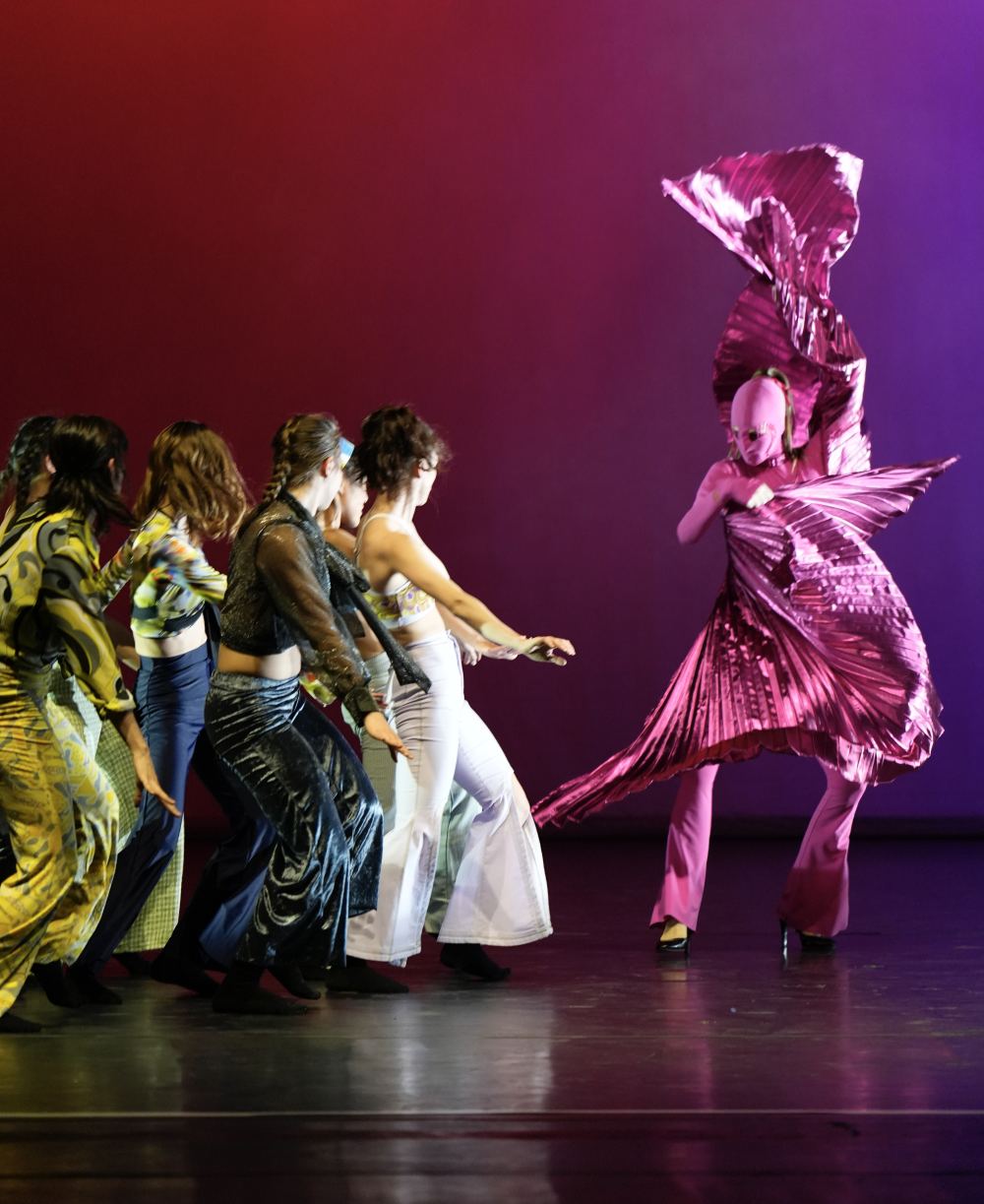 Eight women in pastel-colored flared pants and bras strut onstage in Vivian Assal Koohnavard's "This Too Shall Pass". They gyrate their hips and pose as if on a catwalk, accompanied by zippy pop rhythms and an array of candy-colored lighting. The happy-go-lucky 60s vibes cool slightly as a voiceover of Koohnavard begins to lecture about female peculiarities: gender roles, religious doctrines, and reproductive organs. Her most important statements are emphasized by the blonde-ponytailed beauty (Pauline Voisard) who has occupied center stage, diva-like, adorned in full pink (face mask included).
The group resumes their chorus-line show but – despite their vigorous endeavoring – the momentum has faded. They are accompanied by Kourosh Yaghmaei's Iranian pop, adding a socio-critical dimension that seems in line with Koohnavard's intentions. (She chose the "Women's Anthem for Equality" – written by women's activists in Iran before 1979 – to describe her piece in the program.)
In any case, the blonde clarifies her position on gender roles by commanding a (male) stagehand onto the stage to take away her cape and stilettos. A surreal red backdrop sets the scene for the finale – a corny pop performance in which the ladies cover their faces with black-and-glitter masks. As they run from left to right, the music slowly dies out. "This Too Shall Pass" – it did, even though the final moments were weak.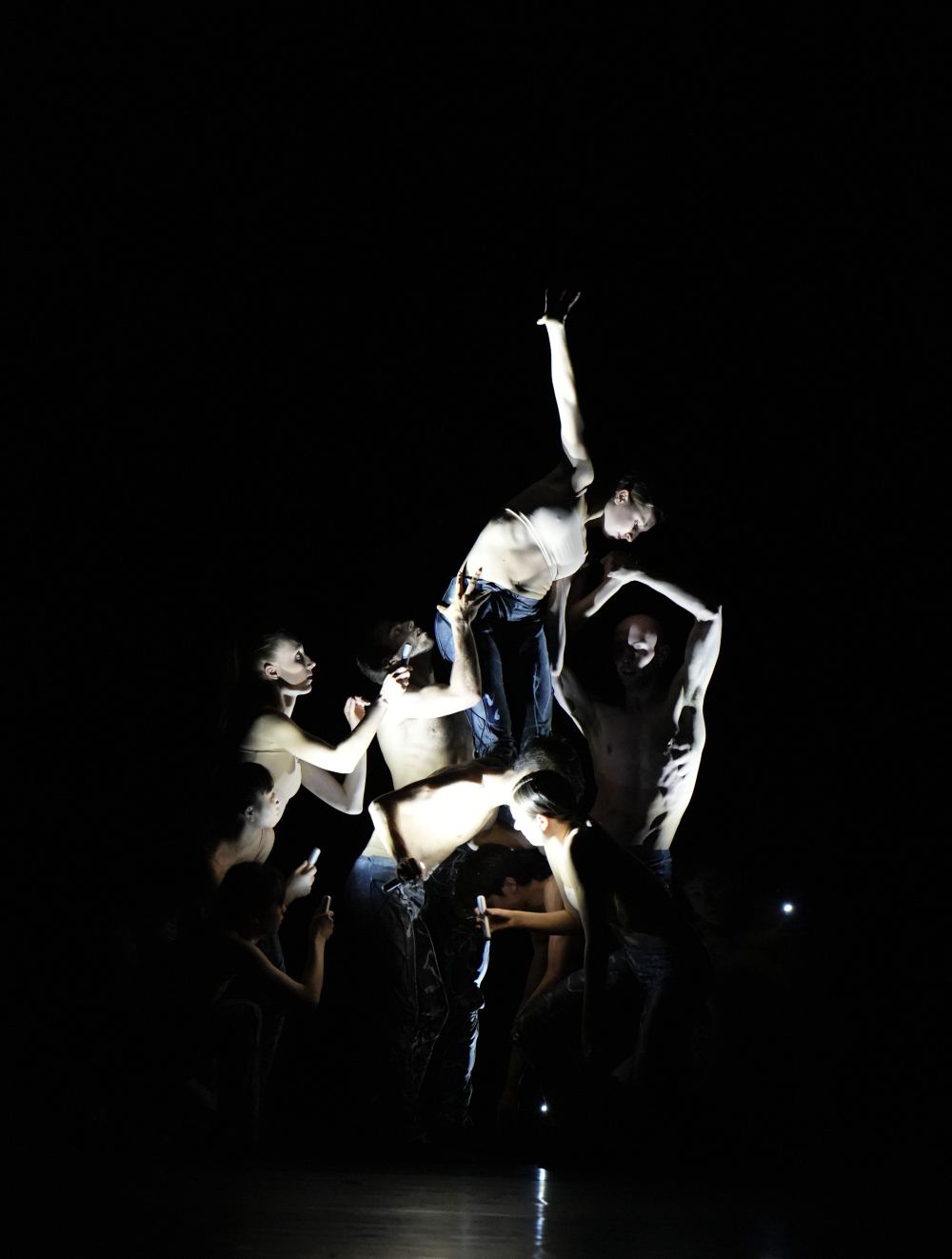 Only a few minutes into "Die Nacht" ("The Night"), it's clear that this is the strongest piece of the evening – though who's to say whether this is because Arshak Ghalumyan is the most experienced of the choreographers – or merely the most talented. "Die Nacht" was inspired by Georg Kolbe's eponymous sculpture of a man hiding his face behind his elbows. This exact pose is held by the scattered group of dancers in the opening scene. While the music (from Ezio Bosso, Dawn of Midi, and Ludovico Einaudi) was repetitive at times, the choreography isn't. The dancers engage in a flurry of solos and group sequences, smoothly merging funky hip-hop floor steps with ballet, yielding a fascinatingly rich texture. Nine square mirrors hang from above, reflecting their movements from many different perspectives. In the second section, glaring flashlights appear one after another like giant fireflies in a pitch-black night. The lights sway gently as the dancers light their heads and torsos – and, eventually, a pas de deux. The piece could have ended with the darkening of the flashlights, but Ghalumyan chose to bring all eleven dancers back on stage for a bustling finale before they resumed their initial Kolbe-pose.
In a video filmed by Olaf Kollmannsperger and Filipa Cavaco and shown between the third and fourth piece, the participants of the ENHANCE program shared their impressions of the project. Their responses were unanimously positive, but I found it interesting that some fellows talked about which muscles to use for turning out a leg, or how to do an arabesque, or how to breathe. This is basic knowledge that should have been taught at school.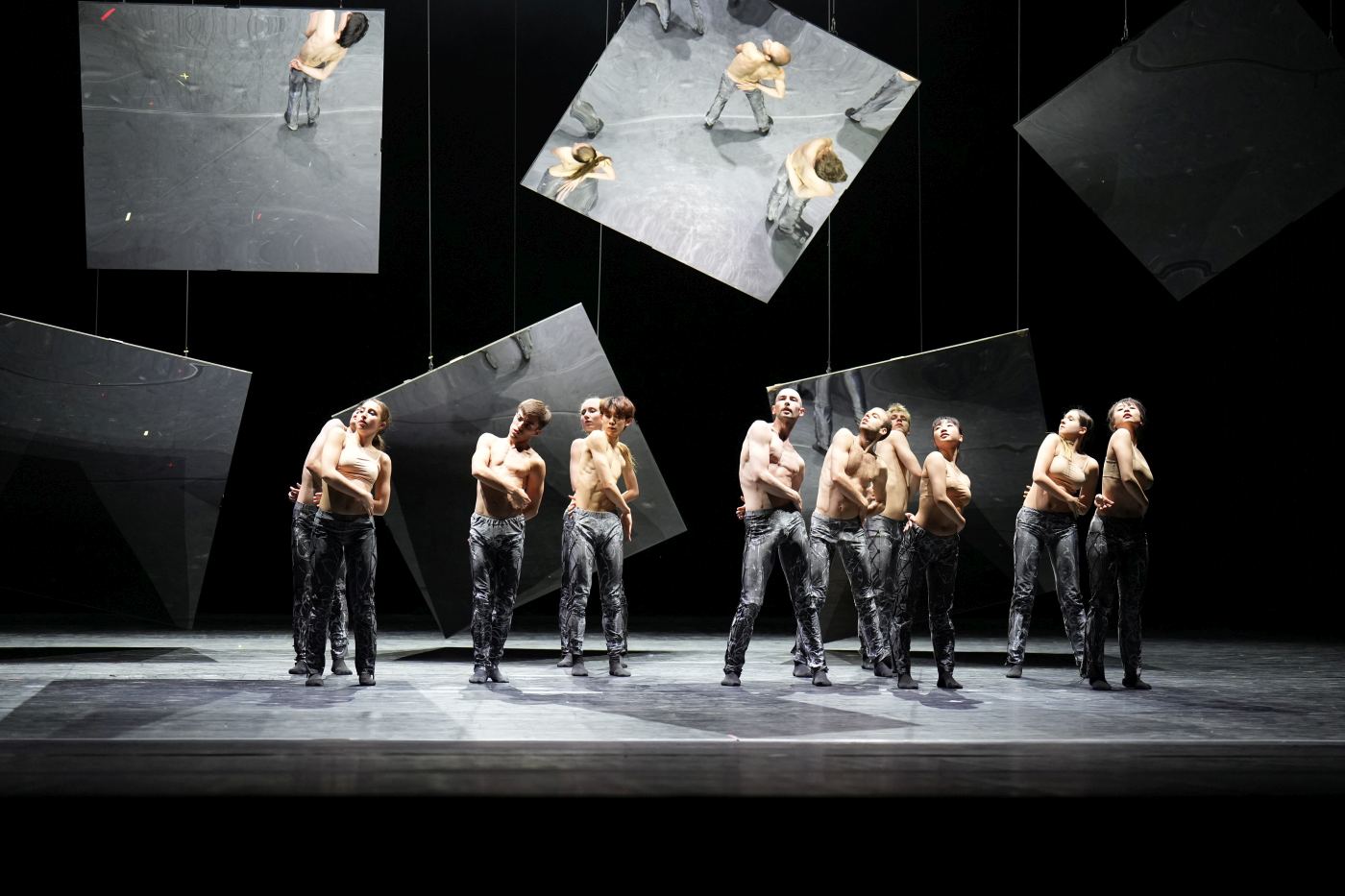 Links:

Website of the S

tate Ballet Berlin

Trailer "LAB_WORKS 2022"

Photos:

1.

Ensemble, "Children of the Night" by Alexander Abdukarimov, State Ballet Berlin

2022

2.

Ensemble, "Children of the Night" by Alexander Abdukarimov, State Ballet Berlin

2022

3.

Ross Martinson and ensemble, "Oh Captain" by Johnny McMillan, State Ballet Berlin 2022

4.

Ross Martinson, Alexandre Cagnat, and Timothy Dutson, "Oh Captain" by Johnny McMillan, State Ballet Berlin 2022

5.

Ensemble, "This Too Shall Pass" by Vivian Assal Koohnavard, State Ballet Berlin 2022

6.

Pauline Voisard and ensemble, "This Too Shall Pass" by Vivian Assal Koohnavard, State Ballet Berlin 2022

7.

Ensemble, "Die Nacht" by Arshak Ghalumyan, State Ballet Berlin 2022

8.

Ensemble, "Die Nacht" by Arshak Ghalumyan, State Ballet Berlin 2022

all photos © Olaf Kollmannsperger
Editing:
Jake Stepansky