"The Sleeping Beauty"
State Ballet Berlin
Deutsche Oper
Berlin, Germany
June 24, 2022
by Ilona Landgraf
Copyright © 2022 by Ilona Landgraf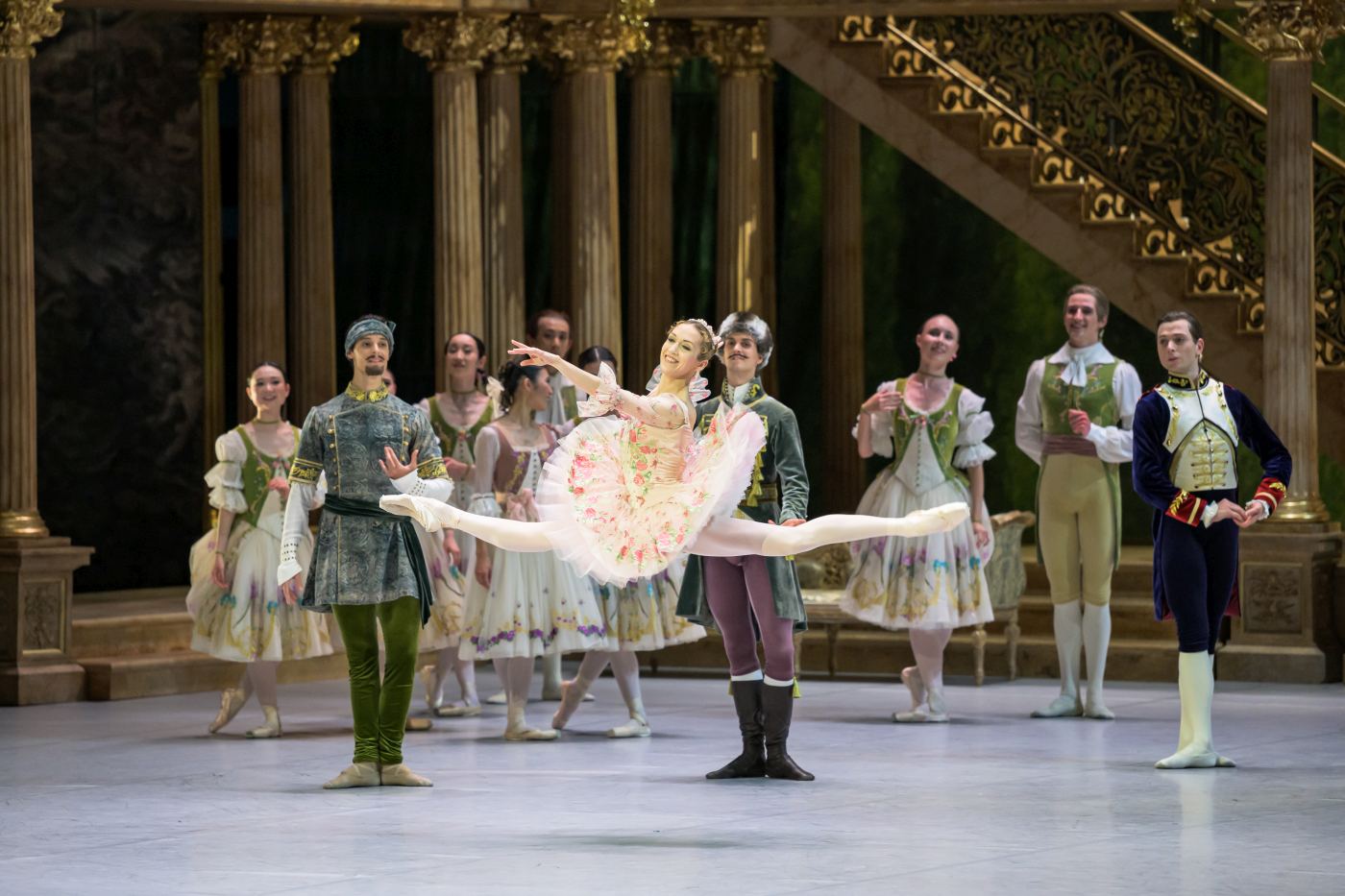 This May, the State Ballet Berlin premiered Marcia Haydée's version of "The Sleeping Beauty" after twice postponing the 2020 production – first due to a lack of preparation, and later due to the pandemic. At the time of the piece's creation in 1987, Haydée had just taken over the reins of Stuttgart Ballet as its artistic director. "The Sleeping Beauty" was her choreographic debut and – aided by Jürgen Rose's (aesthetically and financially) overwhelming set and costumes – was a grandiose success.
Since then, several other companies have tackled Haydée's interpretation (currently: the Czech National Ballet and Les Grand Ballets Canadiens Montréal), but usually opt to use a more reasonably priced designer. So did the State Ballet Berlin when commissioning set and costumes from Jordi Roig. With a few exceptions – the less than upscale outfits worn by the four princes; the King and Queen's more stiff-than-sumptuous velvet robes; the graying (dust-covered?) antique pink fabrics – the costumes offered what one might expect from a traditional "Sleeping Beauty". I liked Roig's decision to place the baroque royal palace on the border of a park, but felt that – for whatever reason – the scenic design looked more like a scrappy theater set than a fairy tale kingdom.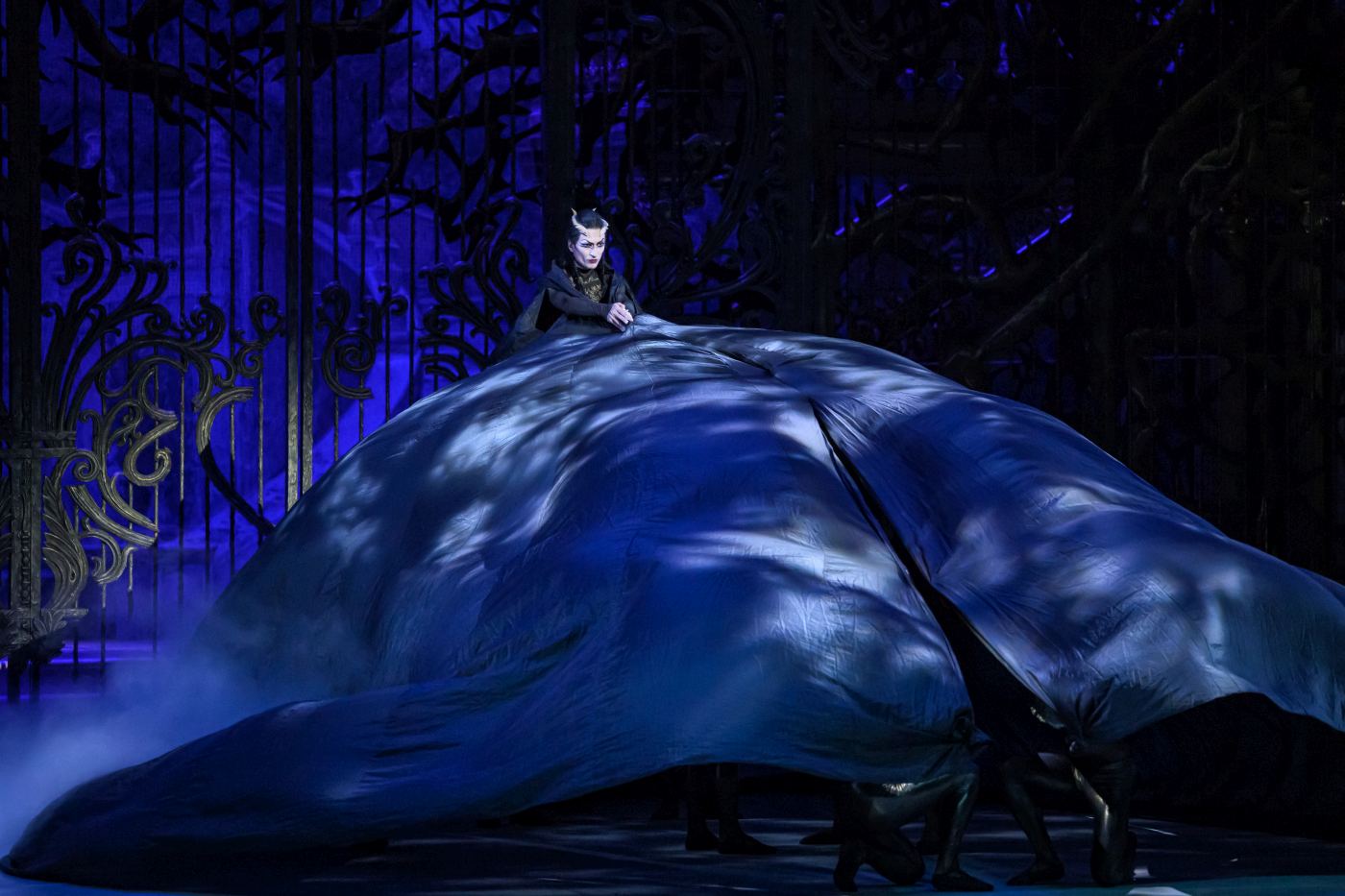 While Petipa's ballets have been impervious to the march of time, Haydée's changes to his choreography have not. One of her main inventions – presenting the wicked fairy Carabosse as fascinatingly androgynous – is less impactful given the shift in visibility of the LGBTQ+ community over time. Moreover, Haydée's confrontation between Prince Desiré and Carabosse in an extended good-versus-evil fight seems more a lame sham than climactic vision scene. Nevertheless, the well-prepared Dinu Tamazlacaru did his best to bring Carabosse's malicious power into the theater, furiously dashing through the royal party, his wide Kabuki-pants billowing. Elisa Carrillo Cabrera's Lilac Fairy was undaunted in her defiance of his attack. She brought a deep generosity and placidity to her efforts to guide the royal junior couple. Her companions included Luciana Voltolini as a cautious Fairy of Beauty, Eloise Sacilotto as a beaming Fairy of Wisdom, and Aya Okumura as a snappy Fairy of Force. Thwarted by lethargic musical accompaniment, Alizée Sicre's Fairy of Grace could only measuredly share her gift. Marina Kanno twisted her torso excitedly to and fro as an all-aflutter Fairy of Eloquence.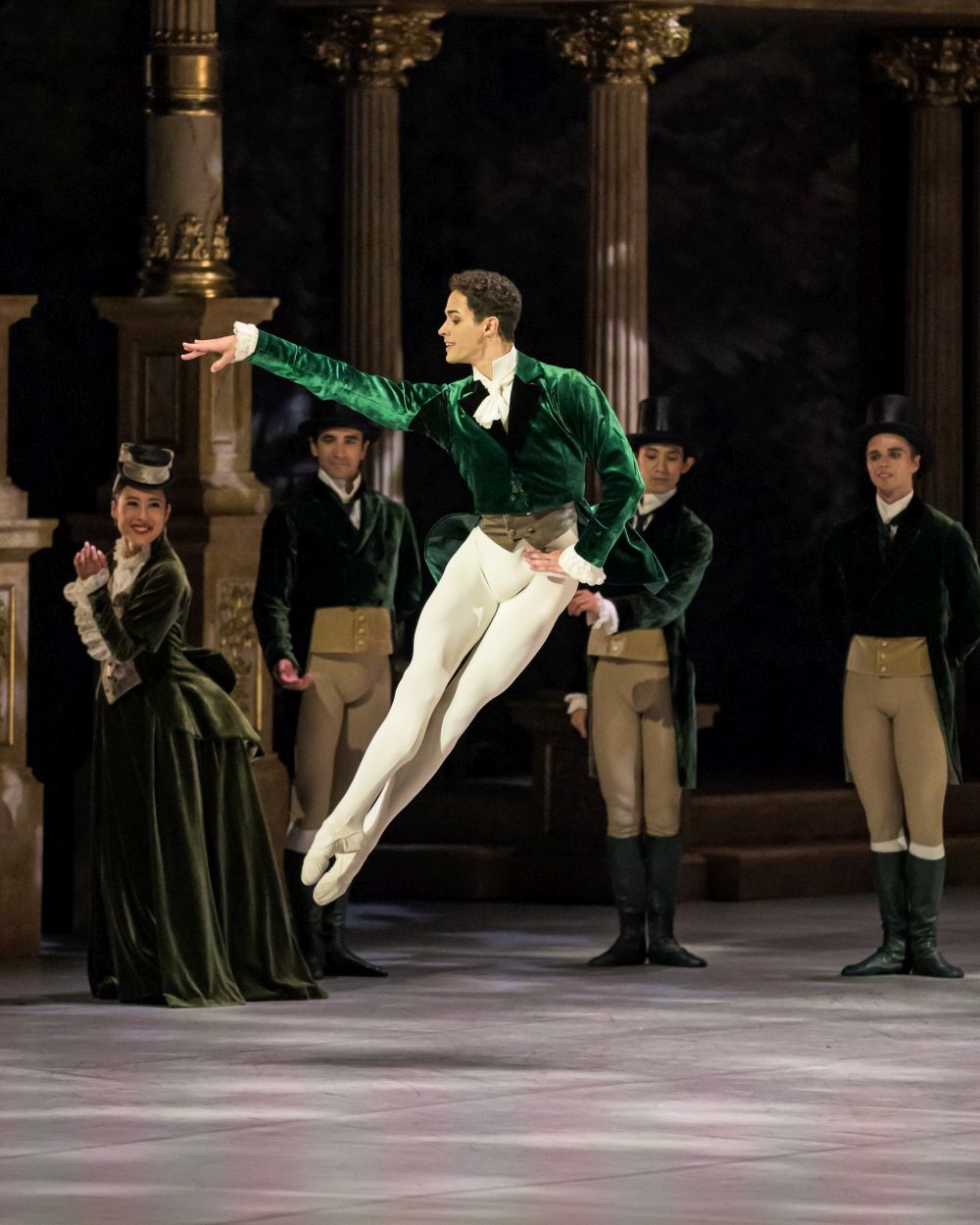 Ksenia Ovsyanick's Aurora remained composed and rather ordinary until the moment that Prince Désiré (David Motta Soares) kissed her awake. His aura not only transformed her into a charismatic beauty, but also lifted the entire energy of the performance. Motta Soares, till this spring a leading soloist with the Bolshoi Ballet, honed his skills with the late Vladimir Nikonov, Ruslan Skvortsov, and Vitaly Breysenko. His technical prowess alone distinguished him from the rest of the cast. Most importantly, though, Motta Soares seemed to be the only performer who knew that dance has a soul and who was able to project that soul to the audience. None of Aurora's other suitors (Alexandre Cagnat, Cameron Hunter, Marco Arena, and Konstantin Lorenz) were on par with him in the slightest. The Bluebird (Alexander Bird) missed out on his chance to shine at the wedding festivities, delivering a dreadful performance instead. Jun Ishii's Ali Baba had dazzling tricks in store, but whether he can dance …well, that deserves closer examination. I liked best Alexander Abdukarimov's brazen Puss in Boots; he eventually conquered Cécilie Kaltenbach's coquettish White Cat. Other wedding guests included Red Riding Hood (Alizée Sicre) and the wolf (Oleksandr Shpak), Snow White (Pauline Voisard) and the seven dwarfs (students of the State Ballet School Berlin), Princess Florine (Yuria Isaka), and Ali Baba's four gems (Weronika Frodyma, Luciana Voltolini, Aya Okumura, and Julia Golitsina), whose tutus sparkled more than their dancing.
The Orchestra of the Deutsche Oper Berlin, playing under the baton of Robert Reimer, gave Tchaikovsky's score a surprisingly uninspired rendition, marred by humdrum pacing, a lack of flow, and a jarring triangle.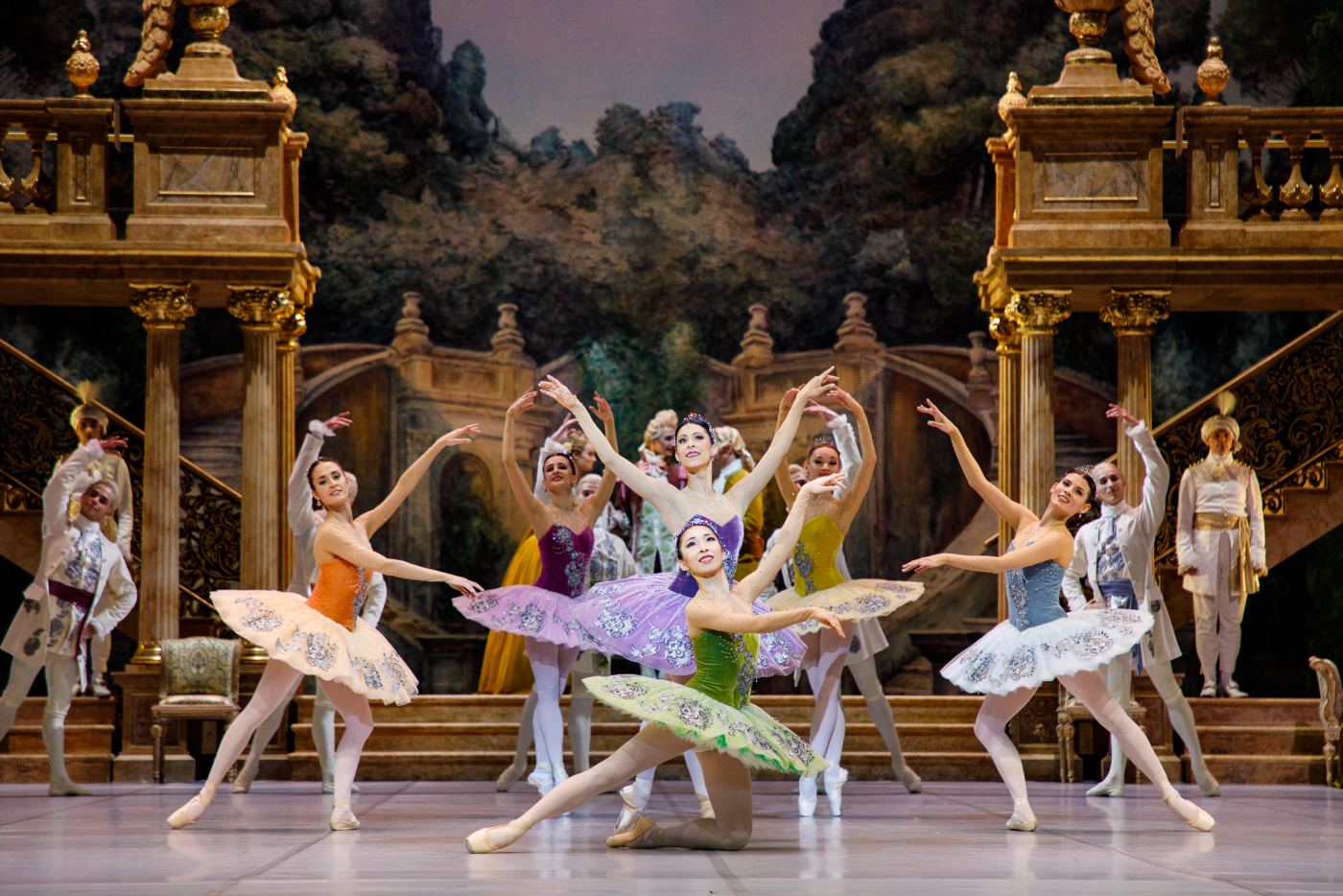 Links:

Website of the S

tate Ballet Berlin

Trailer "The Sleeping Beauty"

Rehearsal "The Sleeping Beauy" (video)

Photos:

Photo 4 shows a partially different cast from an earlier performance.

 

1.

Ksenia Ovsyanick (Princess Aurora) and ensemble, "The Sleeping Beauty" by Marcia Haydée after Marius Petipa, State Ballet Berlin 2022

2.

Dinu Tamazlacaru

(Carabosse), "The Sleeping Beauty" by Marci

a

Haydée after Marius Petipa

, State Ballet Berlin

2022

3.

David Motta Soares (Prince Désiré),

"The Sleeping Beauty" by Marci

a

Haydée after Marius Petipa

, State Ballet Berlin

2022

4.

Aya Okumura (Fairy of Force), Alizée Sicre (Fairy of Grace), Elisa Carrillo Cabrera (Lilac Fairy), Luciana Voltolini (Fairy of Beauty), Evelina Godunova (Fairy of Wisdom), Iana Balova (Fairy of Eloquence), and ensemble,

"The Sleeping Beauty" by Marci

a

Haydée after Marius Petipa

, State Ballet Berlin

2022

all photos © Yan Revazov

Editing:
Jake Stepansky