"Harlequinade"
The Australian Ballet
Arts Center Melbourne / State Theatre
Melbourne, Australia
June 24, 2022 (livestream)
by Ilona Landgraf
Copyright © 2022 by Ilona Landgraf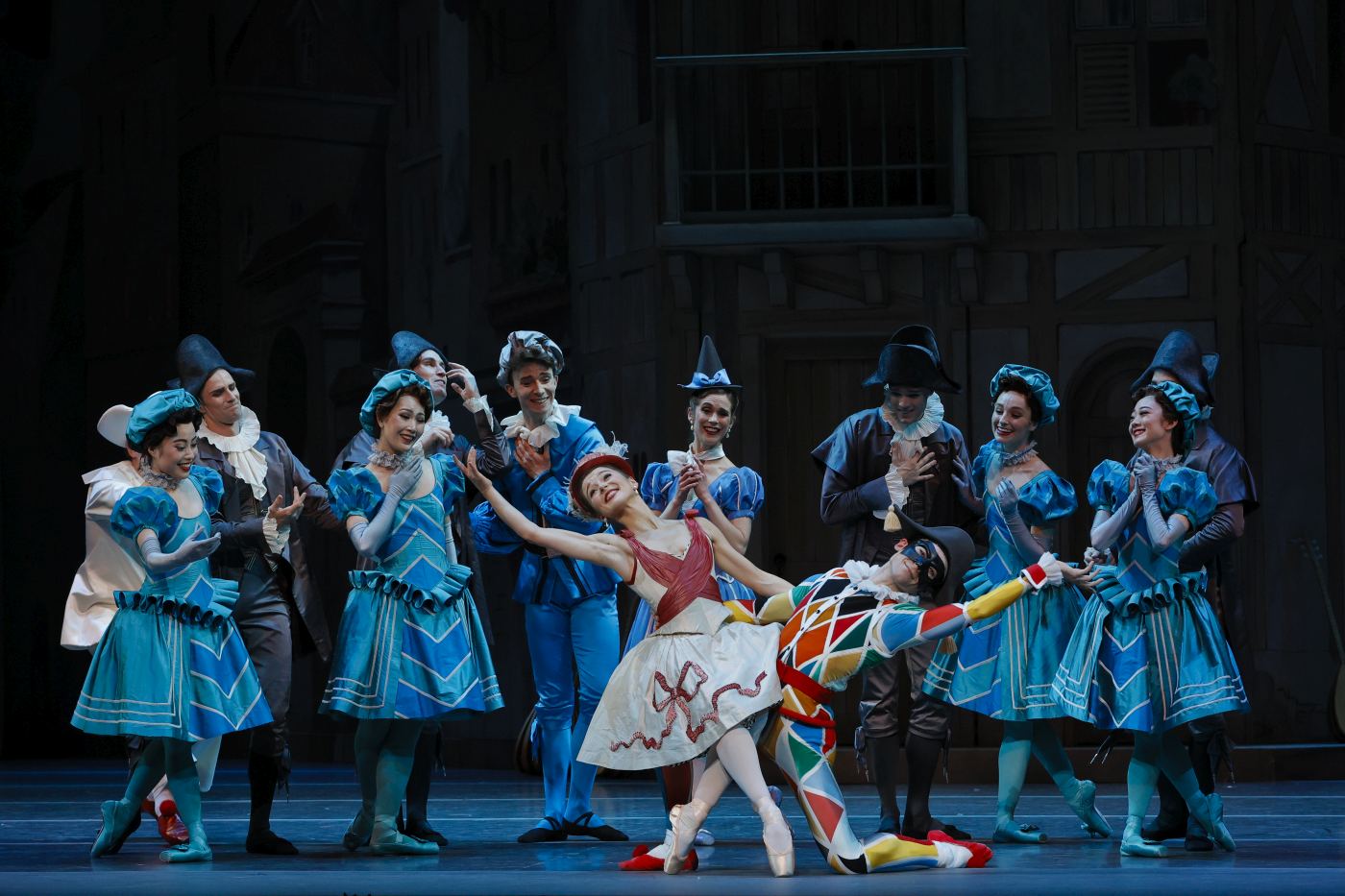 "The cherry on a sundae" – that's what the Australian Ballet's artistic director David Hallberg called "Harlequinade", the latest (and this season's last) addition to the company's repertoire. "Harlequinade" – a popular Petipa-ballet in imperial Russia – premiered in 1900 in St. Petersburg, and was last performed in its original form at the end of the 1920s. Working from the notations and numerous other documents archived in the Nikolai Sergeyev collection at Harvard University, Alexei Ratmansky and his wife Tatiana reconstructed the choreography just as he has done with previous Petipa classics. American Ballet Theatre (ABT) and the Australian Ballet collaborated on the revival. Four years after its premiere at Costa Mesa, California, the two-act commedia dell'arte romp finally hit Melbourne's stage. I saw the livestream presented on June 24th by Catherine Murphy and Hallberg.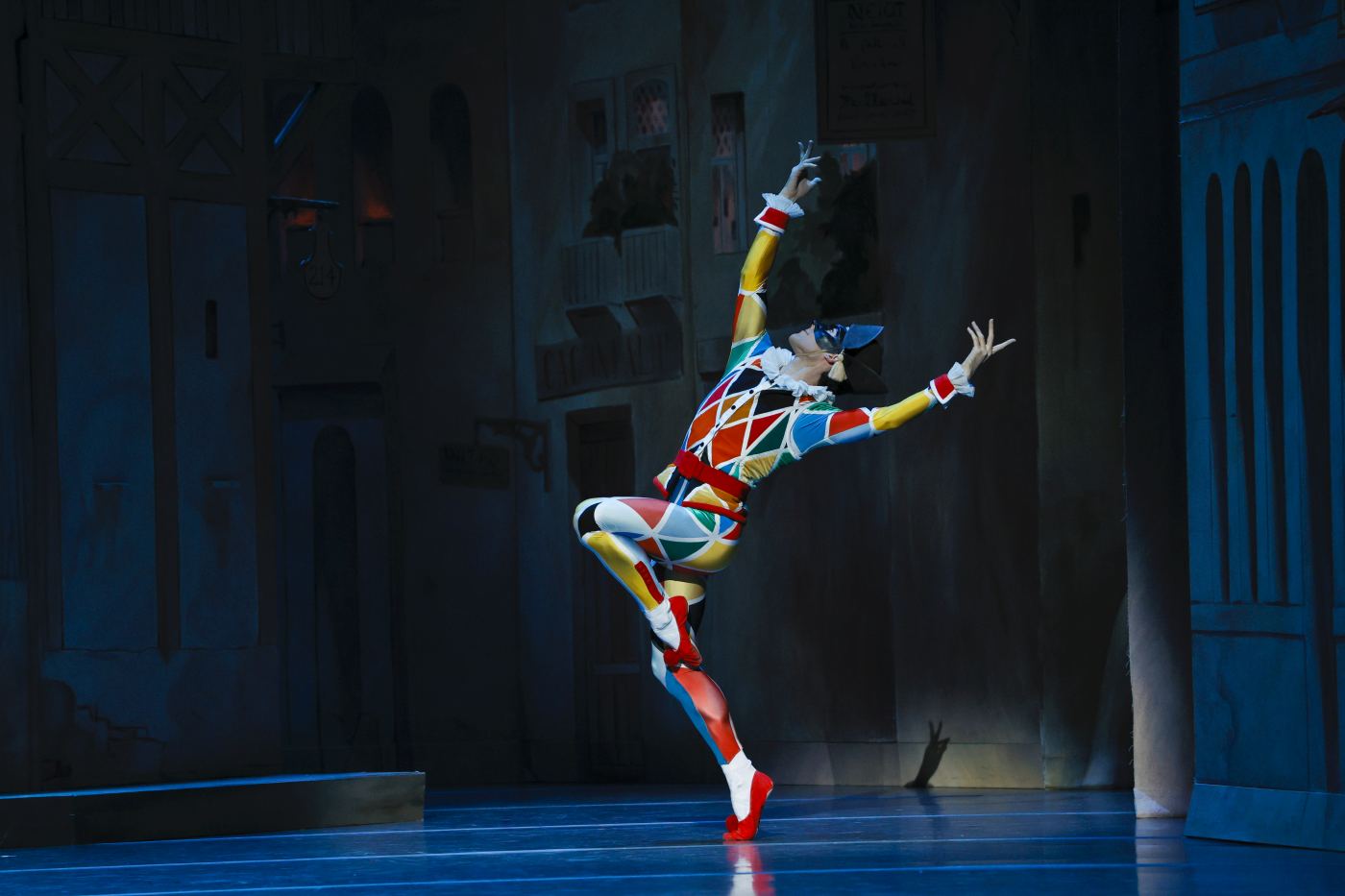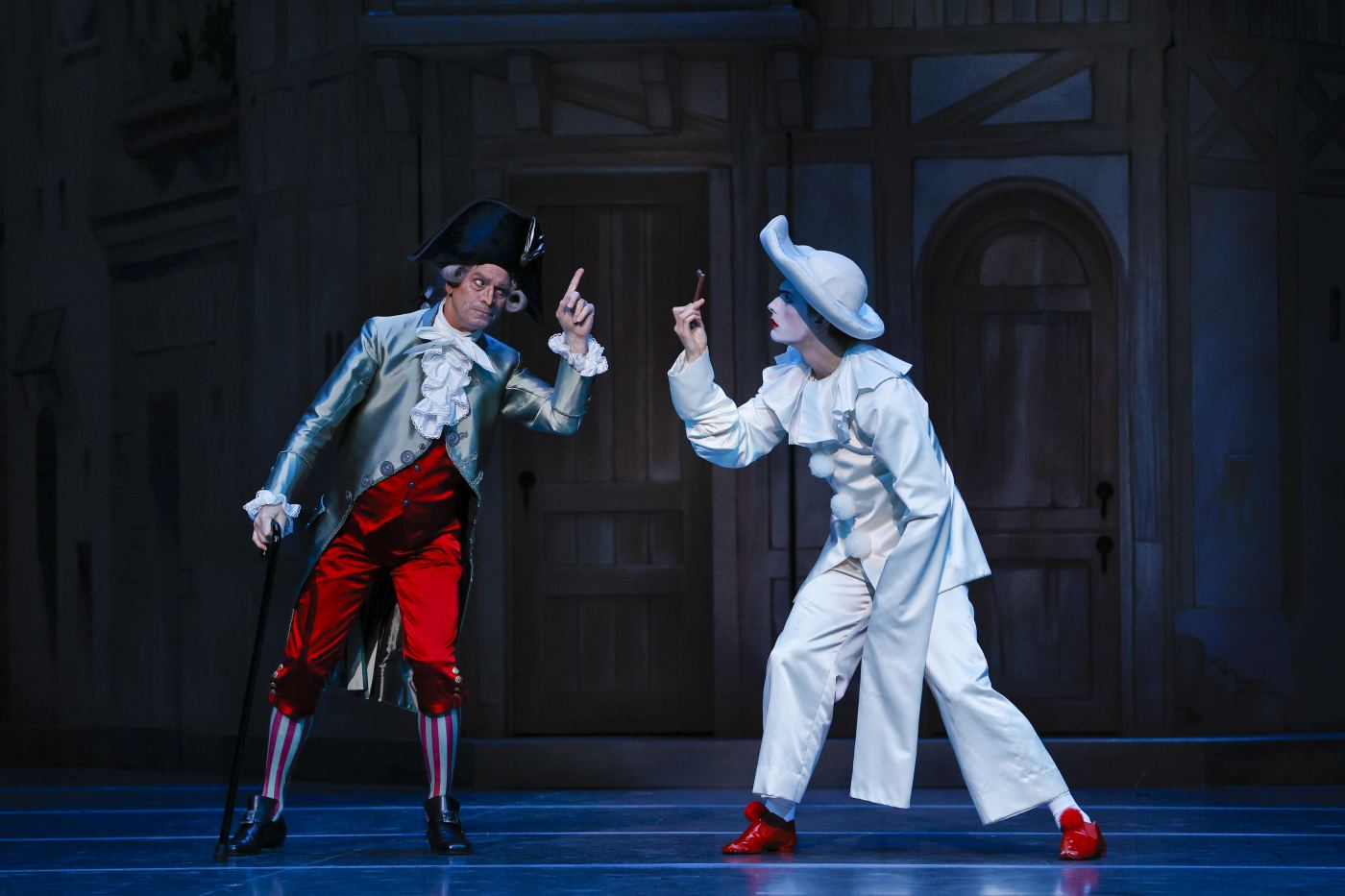 "Harlequinade" follows two lovers – the lighthearted, funny Columbine and the witty, penniless Harlequin – as they hurtle towards coupledom. Columbine's father Cassandre hopes that Léandre, an older, rich buffoon, will ultimately become his son-in-law and he zealously attempts to keep Columbine and Harlequin apart. Fortunately, neither his ineffective servant Pierrot nor his pack of henchmen can keep Harlequin away. Despite being pushed off a balcony and brutally quartered by the henchmen, Harlequin – protected from on high by the Good Fairy – miraculously rises from the dead and is endowed with a magic slapstick. The slapstick wards off his attackers, summons allies, lowers the balcony of Columbine's locked chamber to the ground (allowing her a comfortable escape), and conjures up showers of wealth that – eventually – turn Cassandre's opinion in his favor. After giving Léandre the boot, he readily joins Columbine and Harlequin's joyful wedding festivities.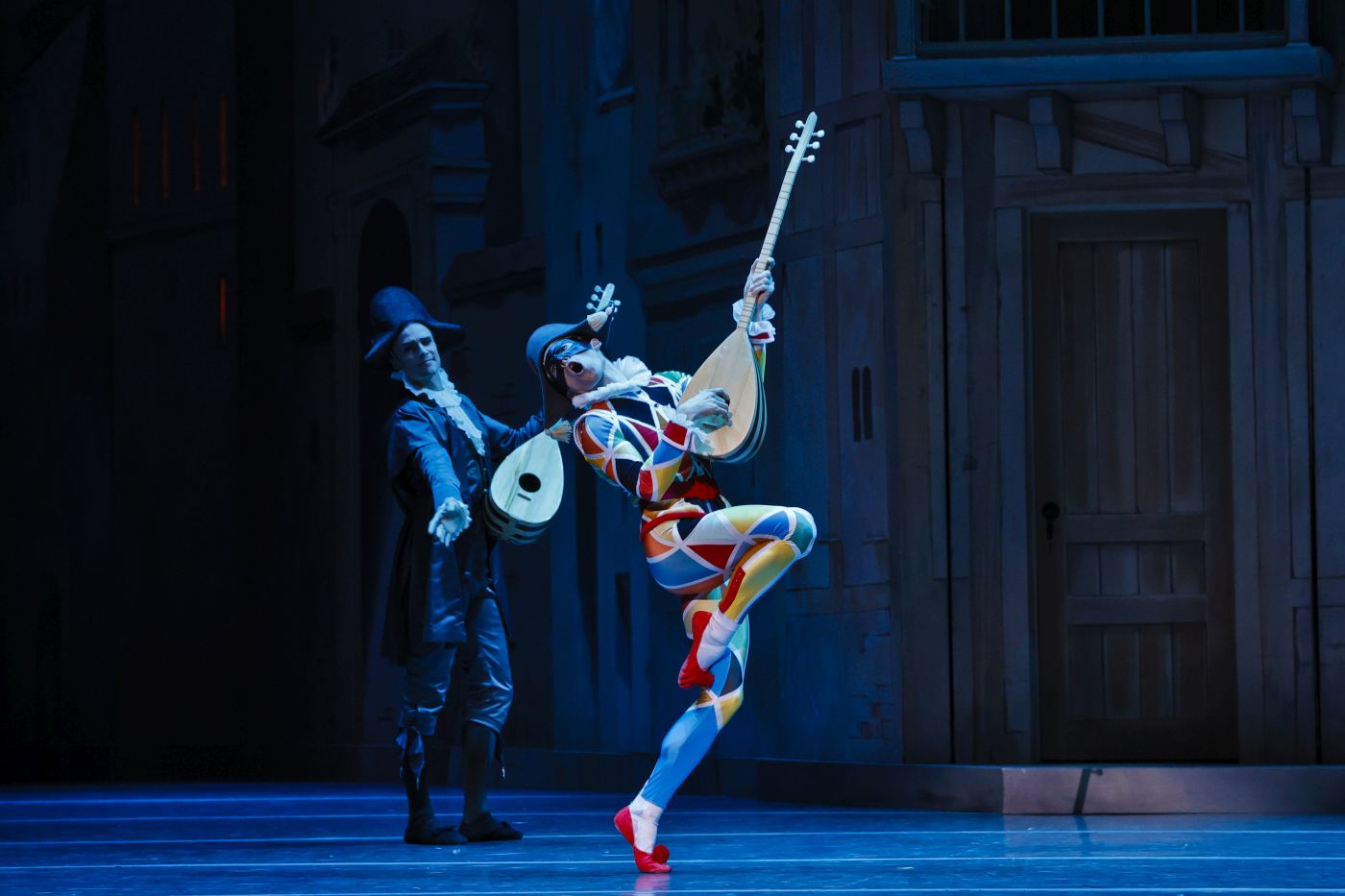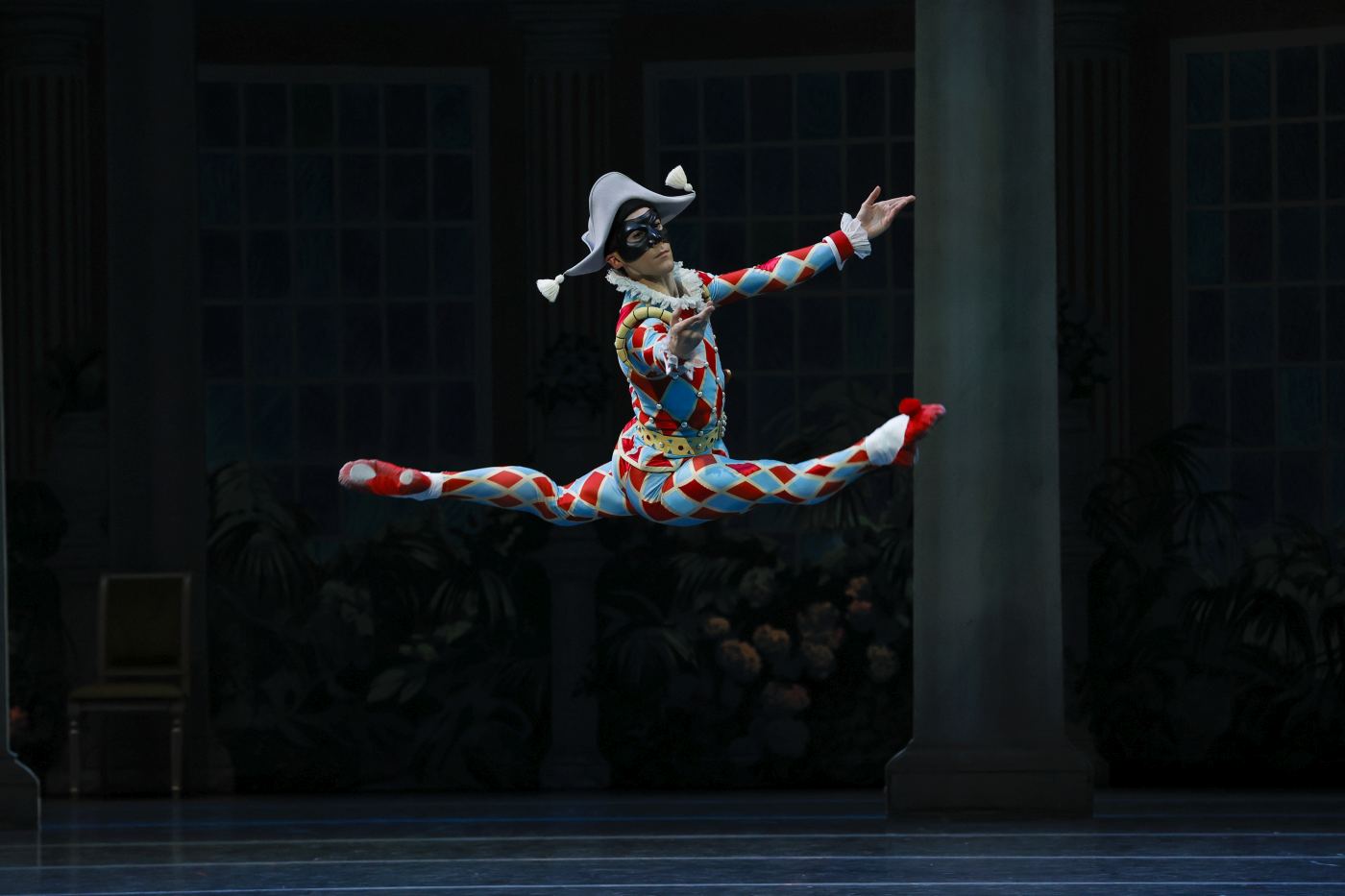 Set and costume designer Robert Perdziola replicated the original designs by Orest Allegri (décor) and Ivan Vsevolozhsky / Evgenii Ponomarev (costumes) as closely as possible. Cassandre's half-timbered house is one of several that surround the picturesque early-17th-century town square into which the Good Fairy enters via a secret revolving door inside a stone monument. The wedding party is held at a grand colonnaded hall. Much love and attention to detail has clearly gone into the costumes, whose vivid colors, bold patterns, and distinct silhouettes resplendently evoke the Italian carnival tradition. Not a single character went without a headdress or a wig.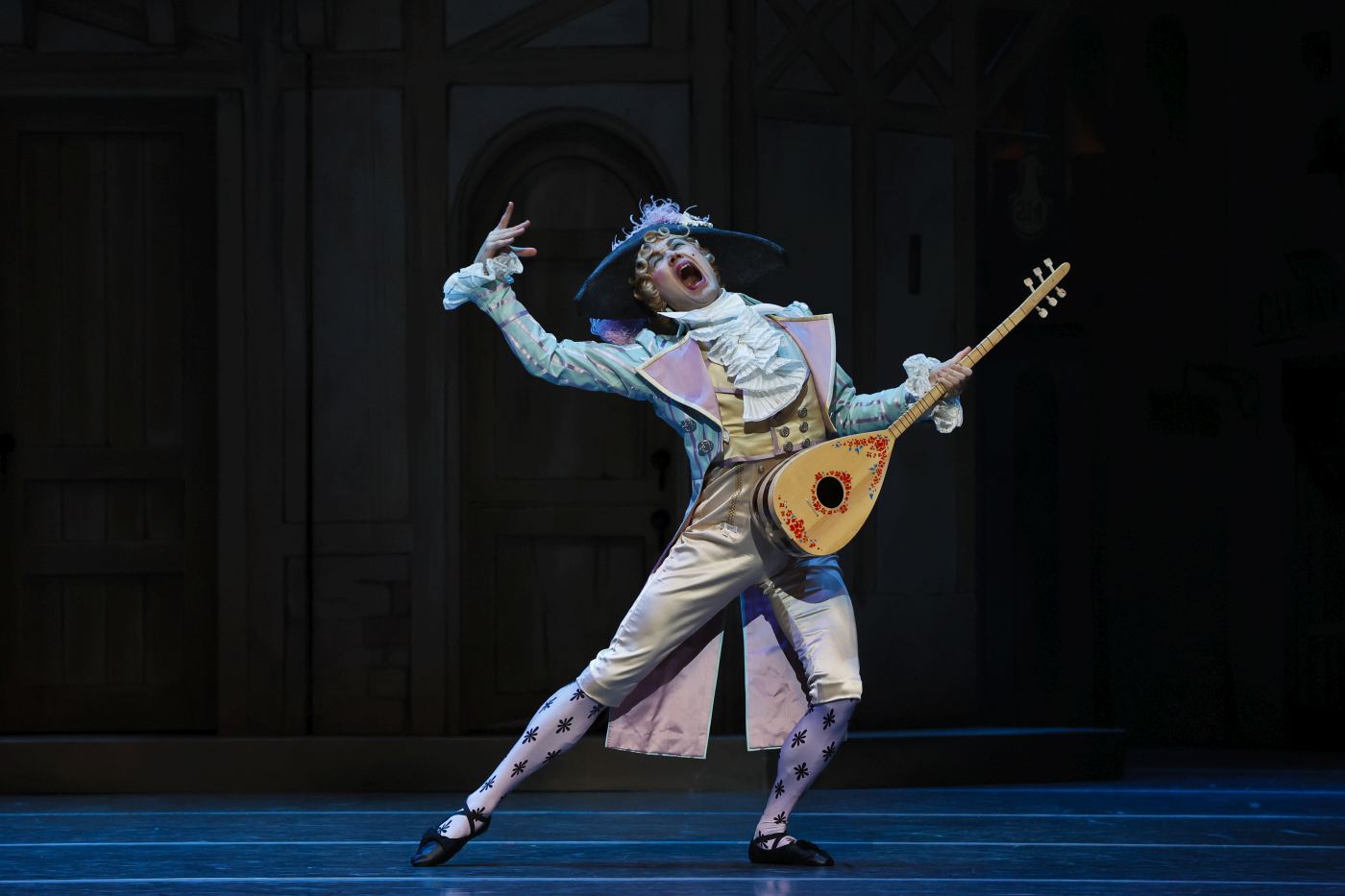 I was amazed how smoothly the company was able to swap the contemporary movements of Lightfoot, León, Pite, and Goecke (performed in the extensive run of "Kunstkamer" that closed a couple of days ago) for Petipa's traditional and profoundly challenging classical style (ample mime scenes included). In fact, the dancers seemed to take to the comedy like ducks to water.
Hallberg describes "Harlequinade" as a "sugar rush," and heartwarmingly sweet these characters are indeed. Benedicte Bemet's Columbine alternated between fizzing jollity and serene calm, spreading irresistible charm. It was no surprise when her admirers lined up to pluck at their mandolins beneath her balcony. Brett Chynoweth's Harlequin bounced and capered across the stage, his mischievous antics immediately winning over the audience's sympathy. Pierette (Sharni Spencer) – Pierrot's wife and a loyal ally of Columbine – was conspicuously close to Jarryd Madden's mandolin player, missing no chance to outwit her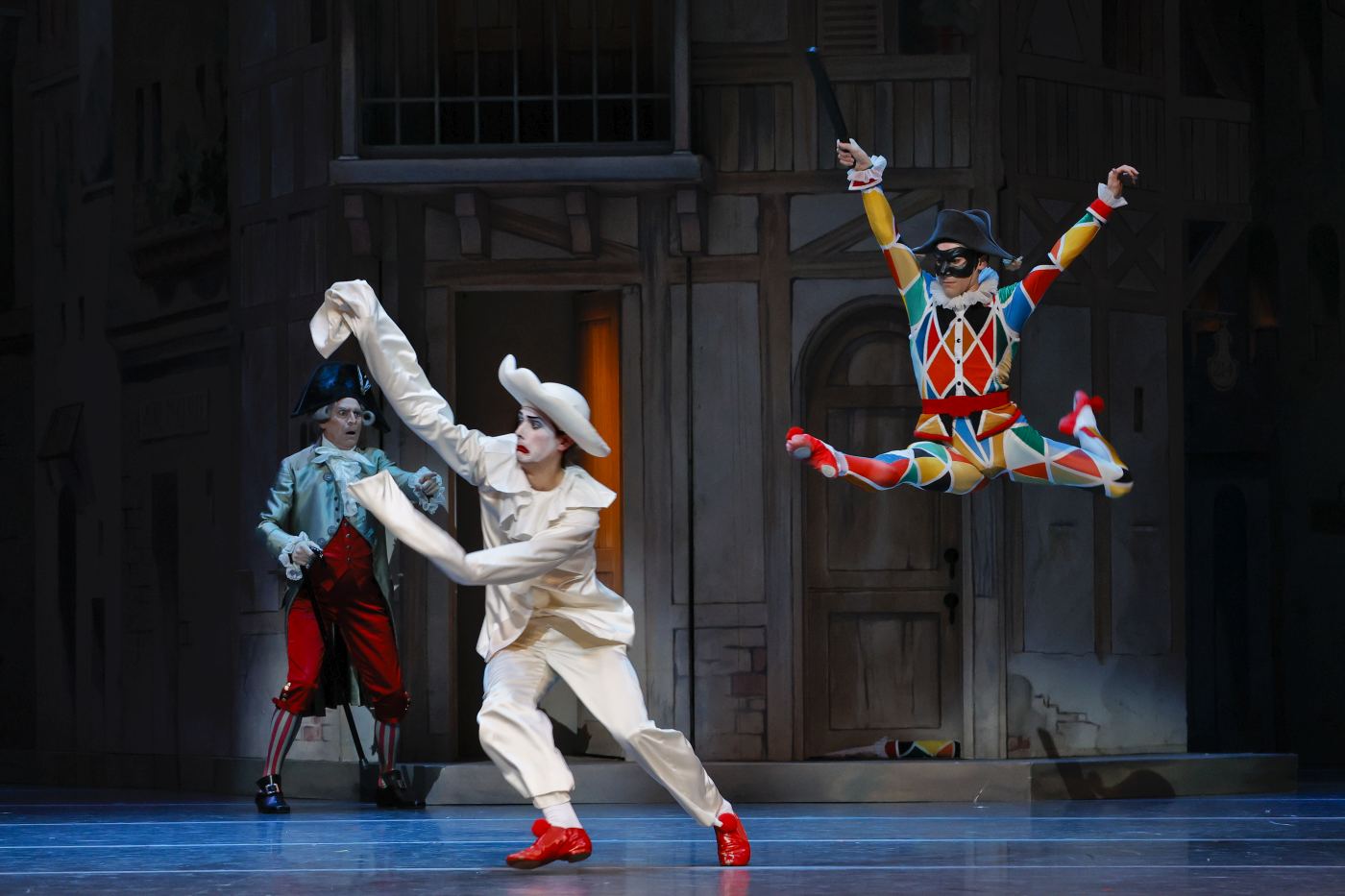 husband. Only in the very last second (during the curtain calls) did she reconcile with him.
Hallberg himself performed the role of Pierrot when he was still a dancer at ABT. In Melbourne, Callum Linnane portrayed the ill-fated servant, stoop-shouldered and hapless, his overlong sleeves dangling so haphazardly that I couldn't help but feel sorry for him.
Compliments to Steven Heathcote, whose Cassandre condensed his paternal hardship in crystal clear mime. He is a splendid actor! I split my sides laughing at the failed serenade of Timothy Coleman's courting Léandre, whose ineptitude was also mocked by his two lackeys (Daniel Bryne and George-Murray Nightingale). A grand dame with an even grander heart, Ingrid Gow's Good Fairy directed the lovers in the right direction. I was especially happy to see more than thirty children onstage, assembled from ballet schools across Victoria. Their confidence and joy were a pleasure to watch.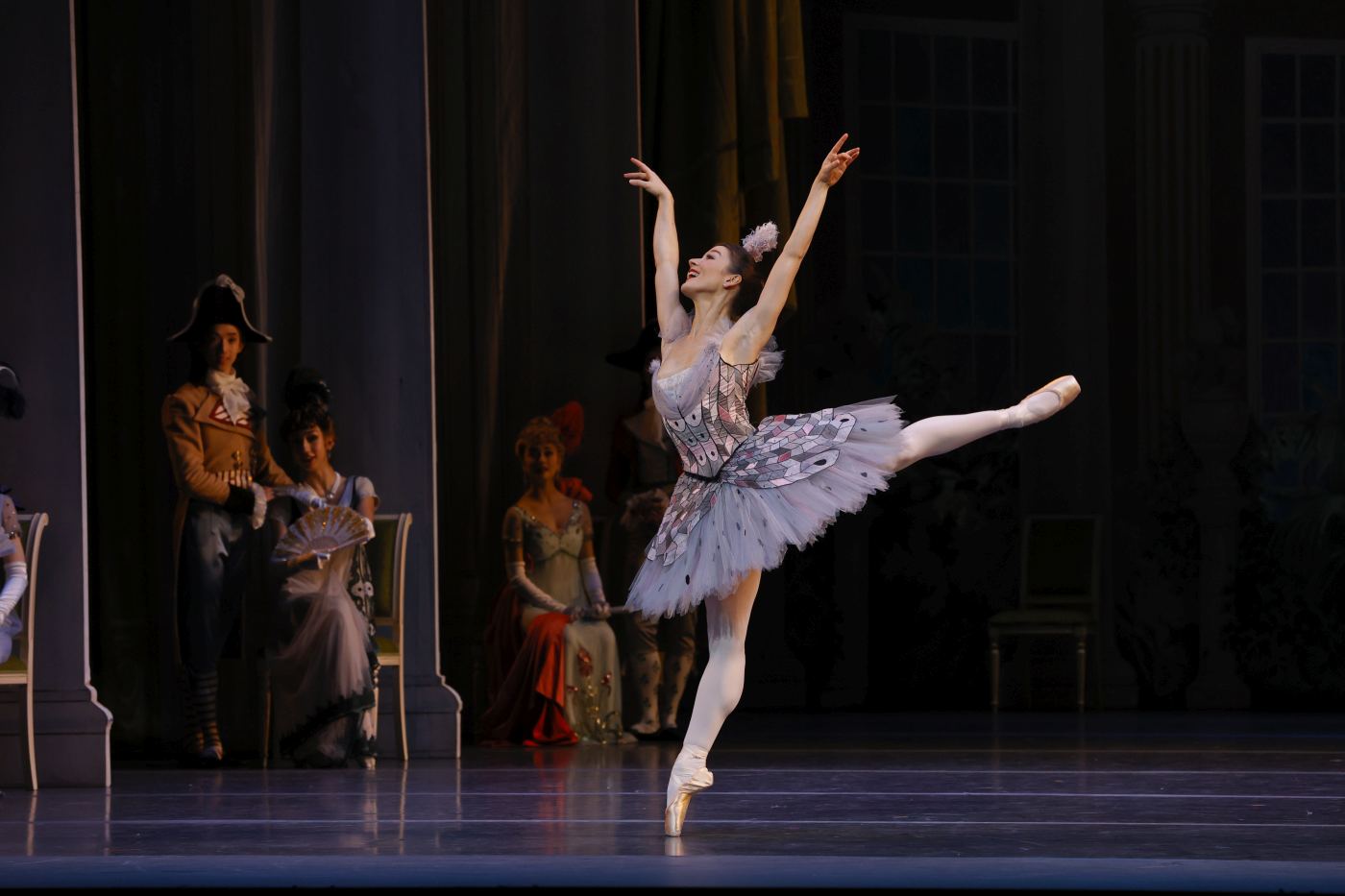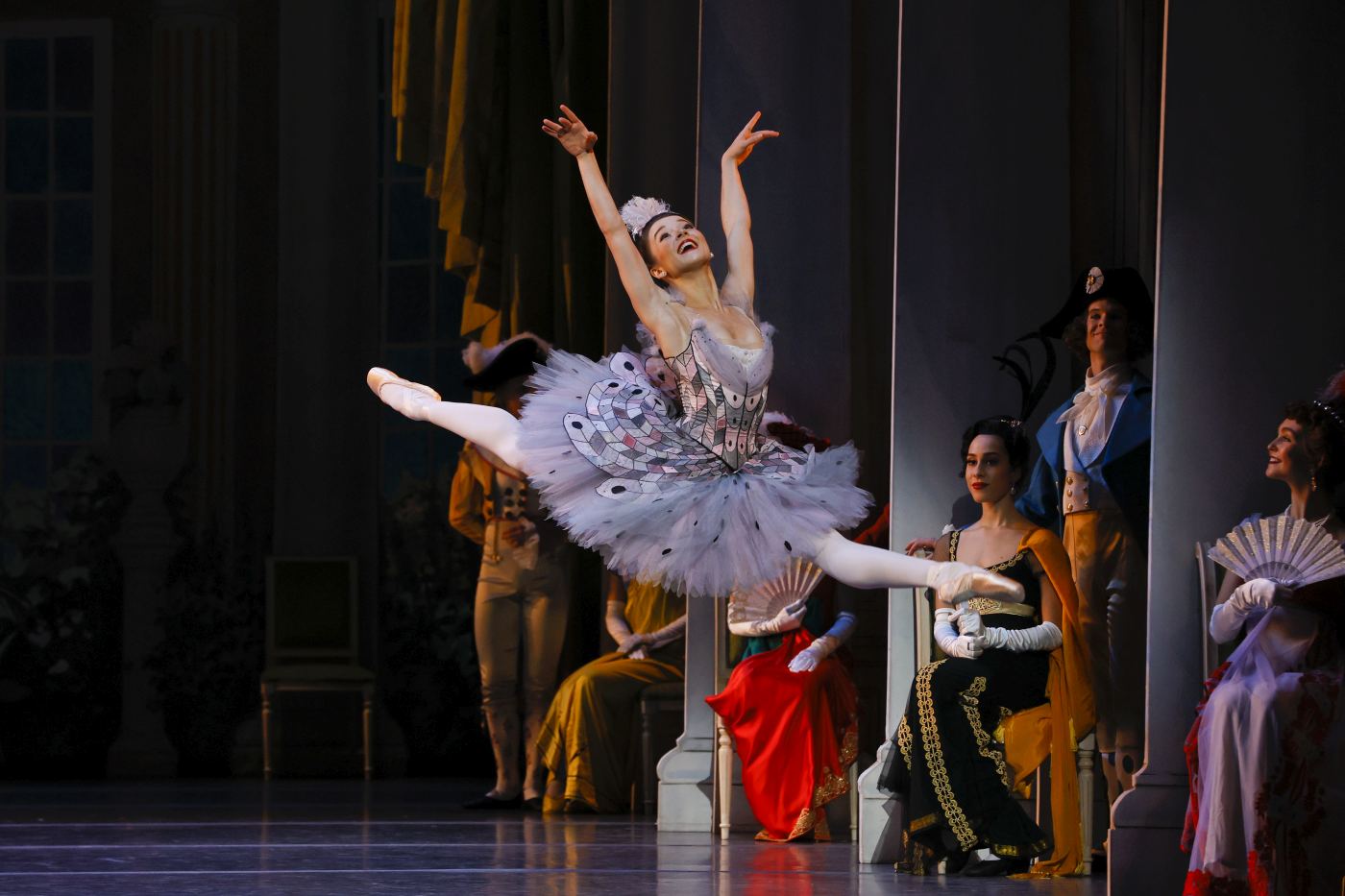 Nicolette Fraillon and the Orchestra Victoria accompanied the dancers with a fine rendition of Riccardo Drigo's score.
"Harlequinade" is yet another example of the invaluable service that Ratmansky has provided to the art of ballet. What I don't understand, though, is why he recently chose to mingle art and politics, fueling the development of a cultural gulf that benefits no one. Instead of dividing the ballet family, he is in a position to guide it toward unity.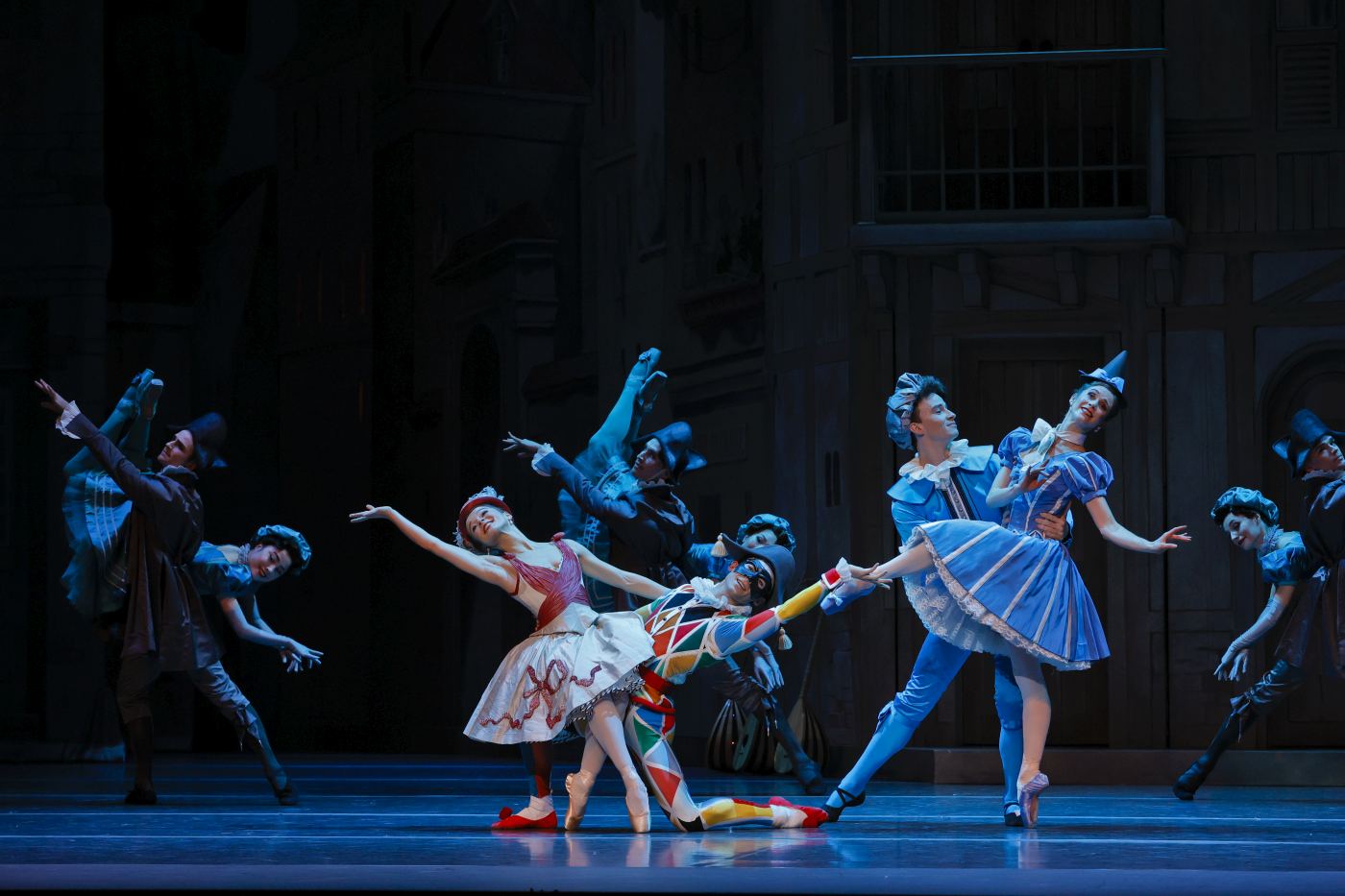 Links:
Website of the Australian Ballet
Trailer "Harlequinade"
David Hallberg in conversation with Alexei Ratmansky (video)
Rehearsal of "Harlequinade" (video)
"Harlequinade" – the costumes (video)
"Harlequinade" – the characters (video)

Photos:

1.

Benedicte Bemet (Columbine), Brett

Chynoweth

(Harlequin), and ensemble

, "

Harlequinade" by Marius Petipa, additional choreography by Alexei Ratmansky; The Australian Ballet 2022

2.

Steven Heathcote (Cassandre) and Callum Linnane (Pierrot),

"

Harlequinade" by Marius Petipa, additional choreography by Alexei Ratmansky; The Australian Ballet 2022

3.

Brett Chynoweth (Harlequin),

"

Harlequinade" by Marius Petipa, additional choreography by Alexei Ratmansky; The Australian Ballet 2022

4.

Brett Chynoweth (Harlequin) and ensemble,

"

Harlequinade" by Marius Petipa, additional choreography by Alexei Ratmansky; The Australian Ballet 2022

5.

Brett Chynoweth (Harlequin),

"

Harlequinade" by Marius Petipa, additional choreography by Alexei Ratmansky; The Australian Ballet 2022

6.

Timothy Coleman (Léandre),

"

Harlequinade" by Marius Petipa, additional choreography by Alexei Ratmansky; The Australian Ballet 2022

7.

Steven Heathcote (Cassandre), Callum Linnane (Pierrot), and Brett Chynoweth (Harlequin),

"

Harlequinade" by Marius Petipa, additional choreography by Alexei Ratmansky; The Australian Ballet 2022

8.

Benedicte Bemet (Columbine) and ensemble

, "

Harlequinade" by Marius Petipa, additional choreography by Alexei Ratmansky; The Australian Ballet 2022

9.

Benedicte Bemet (Columbine) and ensemble

, "

Harlequinade" by Marius Petipa, additional choreography by Alexei Ratmansky; The Australian Ballet 2022

10.

Benedicte Bemet (Columbine), Brett Chynoweth (Harlequin), Jarryd Madden (Pierrette's Partner), Sharni Spencer (Pierrette), and ensemble

, "

Harlequinade" by Marius Petipa, additional choreography by Alexei Ratmansky; The Australian Ballet 2022

all photos

© Jeff Busby

Editing:
Jake Stepansky