"Soirée 3 Choréographes" ("Claude Pascal" / "Casi Casa" / "Back on Track 61")
Les Ballets de Monte Carlo
Salle des Princes, Grimaldi Forum
Monte Carlo, Monaco
July 16, 2022
by Ilona Landgraf
Copyright © 2022 by Ilona Landgraf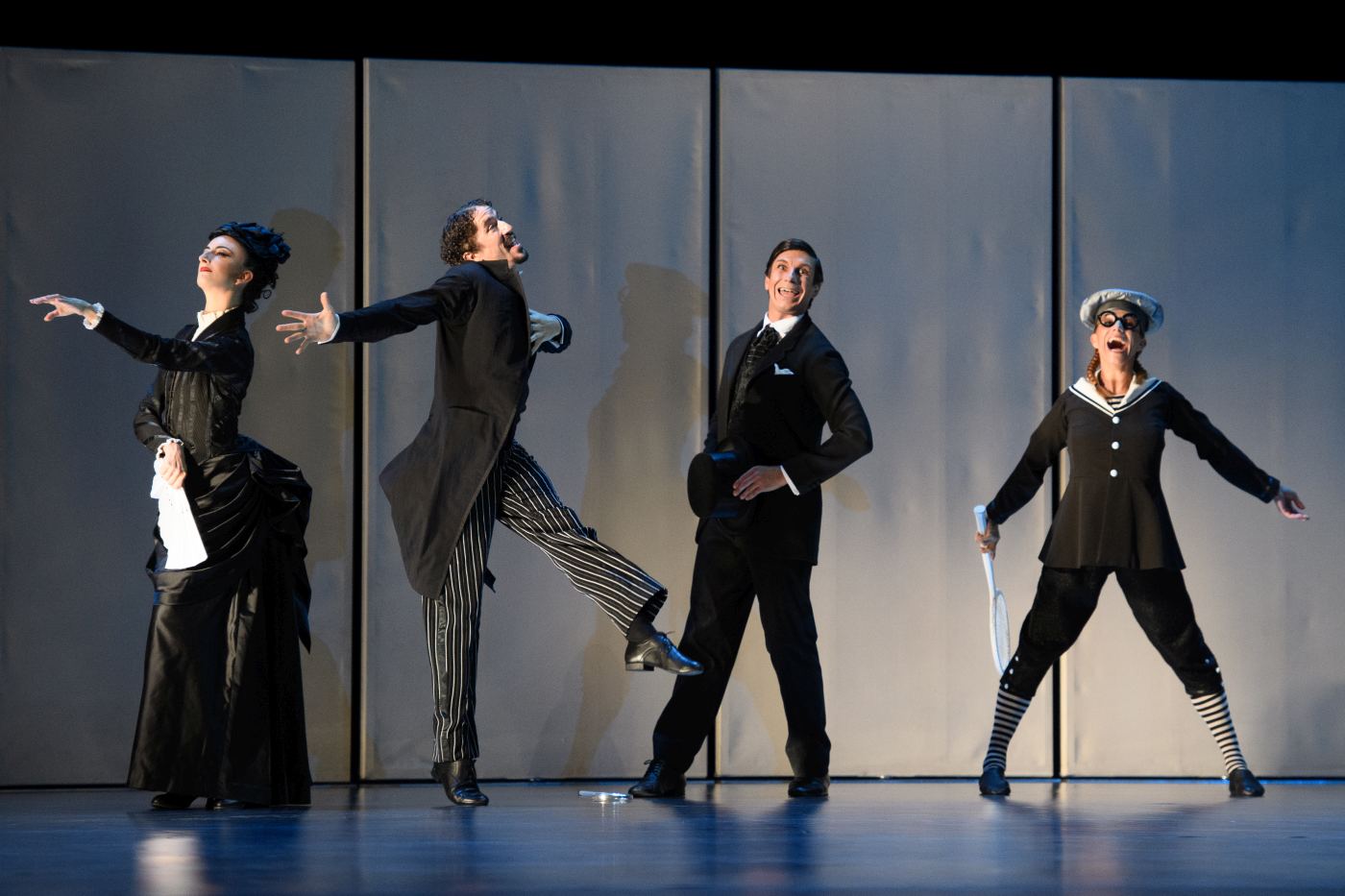 Les Ballet de Monte Carlo's recent triple bill combines a new piece by the company's artistic director Jean-Christophe Maillot ("Back on Track 61") with Jiří Kylián's "Claude Pascal" (2002) and Mats Ek's "Casi Casa" (2009).
"Claude Pascal" is a misleading title, as no one in Kylián's black-and-white-hued piece is so named. There's Marie-Claire (Lou Beyne), a grand dame with a Russian accent and a fan collection; the childish Marie-Claude (Gaëlle Riou), who plays rock n' roll on her tennis racket; Jean-Pascale (Artjom Maksakov), wielding a walking cane and talking about hair loss and grief-stuffed pants (…); and the athletically-inclined Pierre-Marie (Adam Reist), who recites an excerpt from Bram Stoker's "Dracula" on the life expectancies of turtles, elephants, parrots, frogs, and fakirs. All four are time travelers from 1890(ish) – they move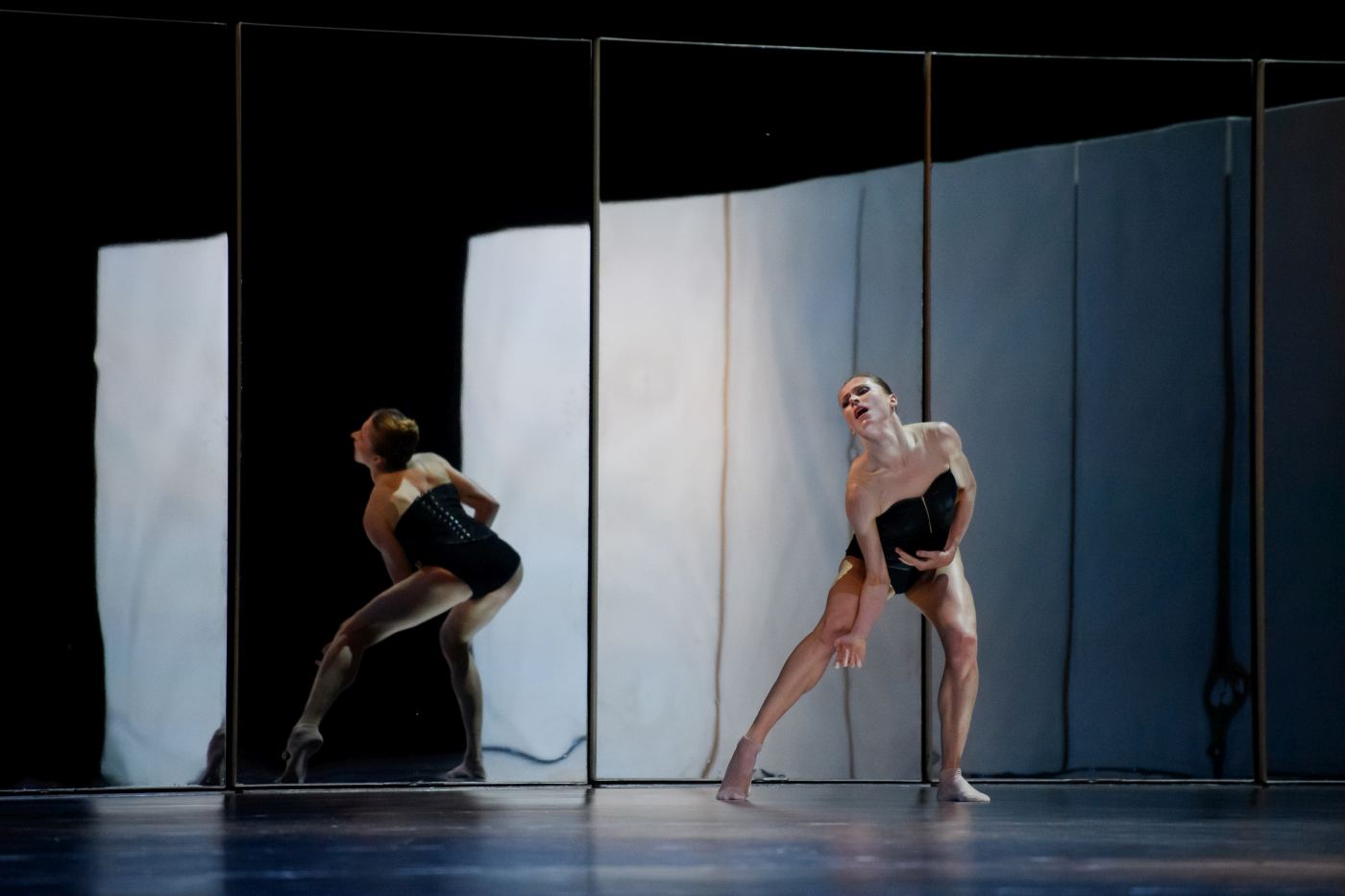 very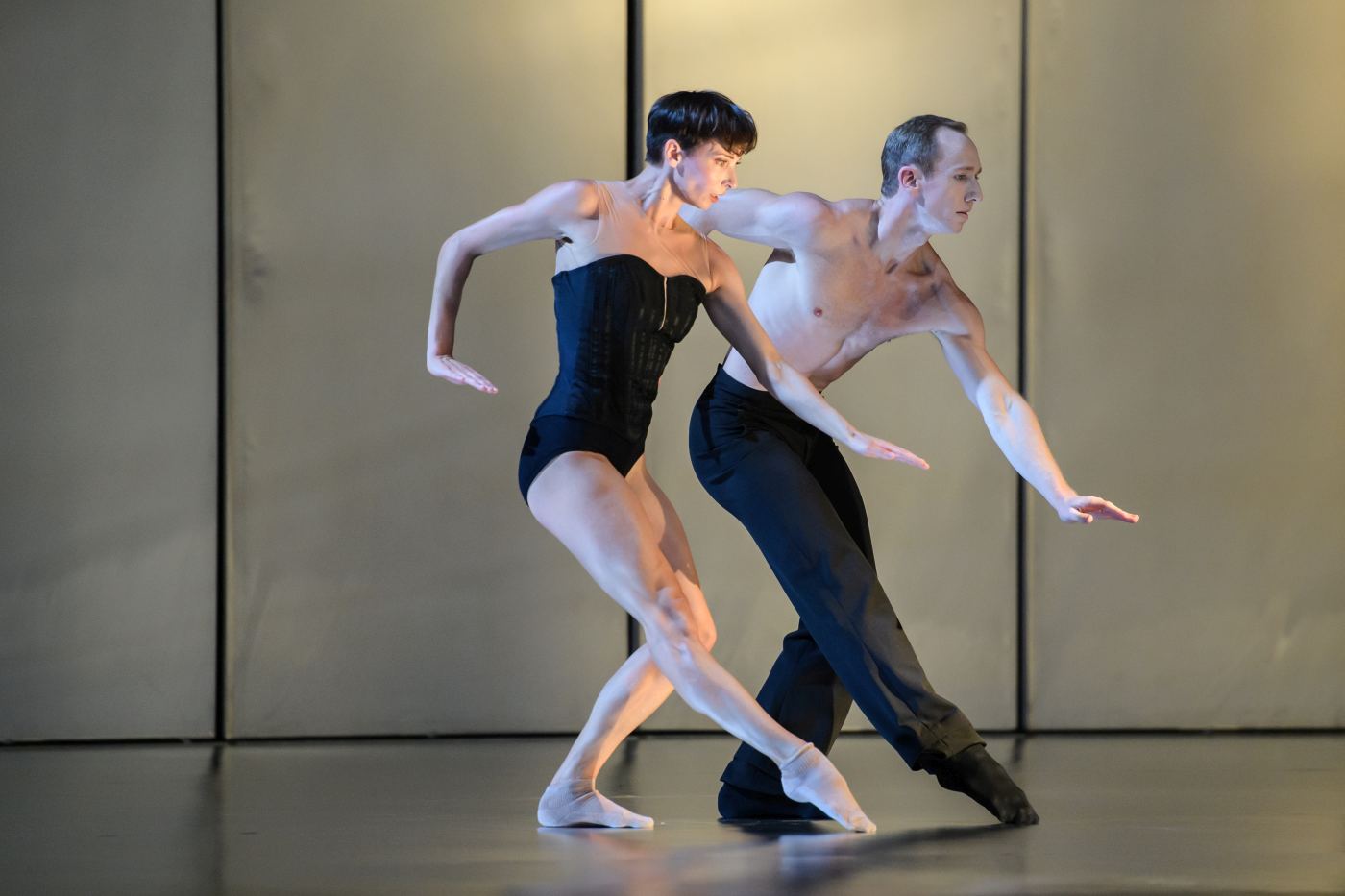 minimally, freezing in random poses and – rather than speaking themselves – lip-sync to texts assembled by Kylián. Together, their eccentric monologues amount to absurdly comical claptrap. Again and again, the four return to the onstage here-and-now through sets of revolving doors (some squeak as if ancient) within a wall of panels. The panels – white on one side, mirrored on the other – reflect the time.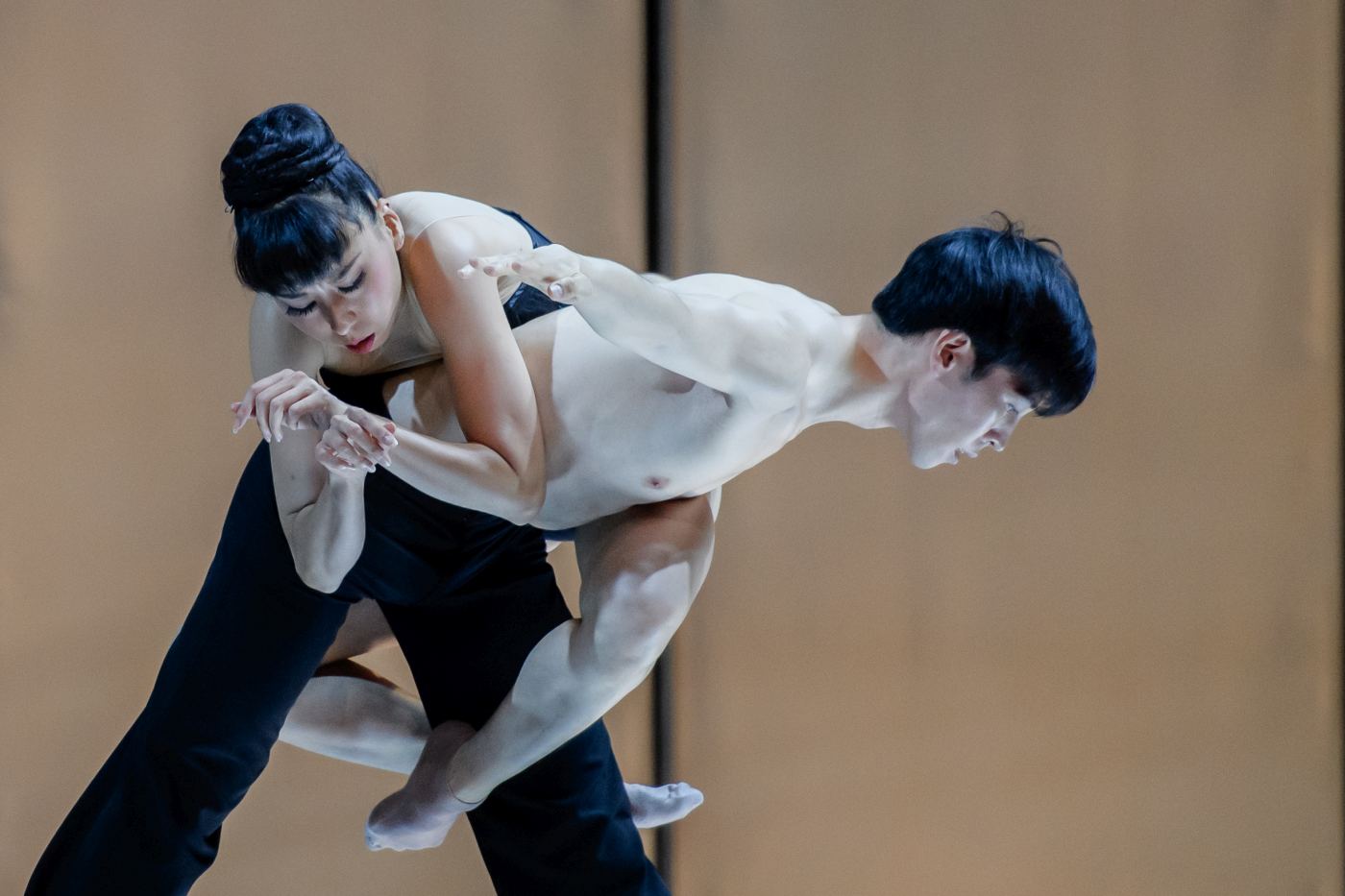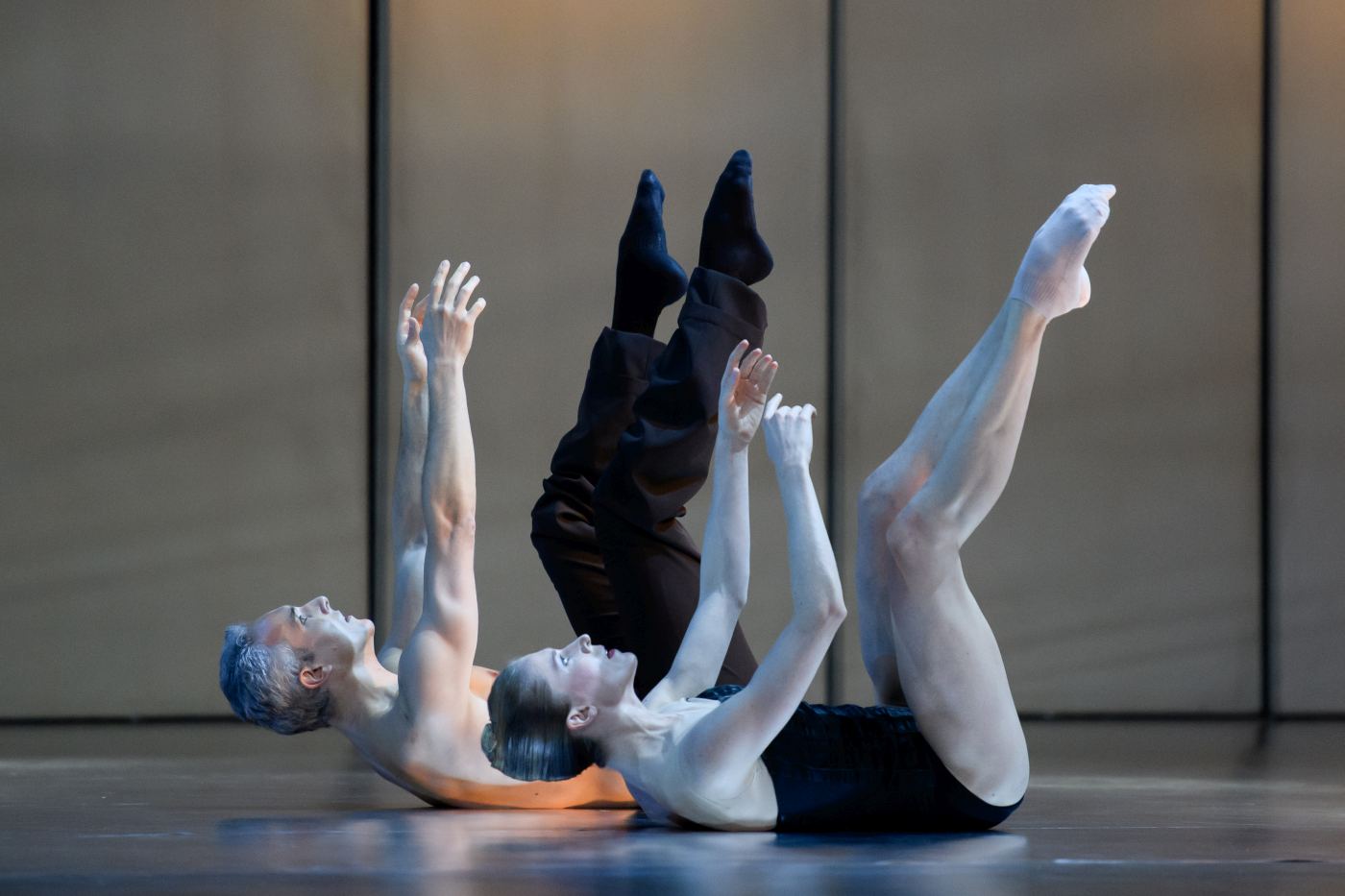 In between their appearances, three separate male / female couples move through the present time. Anna Blackwell and Christian Tworzyanski writhe like tentacles, feet tentatively feeling the way forward, running or shivering. Their legs knot together or cut whizzingly through the air or slide smoothly across the floor. The second couple (Mimoza Koike and Jaeyong An) alternates between hectic busyness and sudden pause. Koike folds into the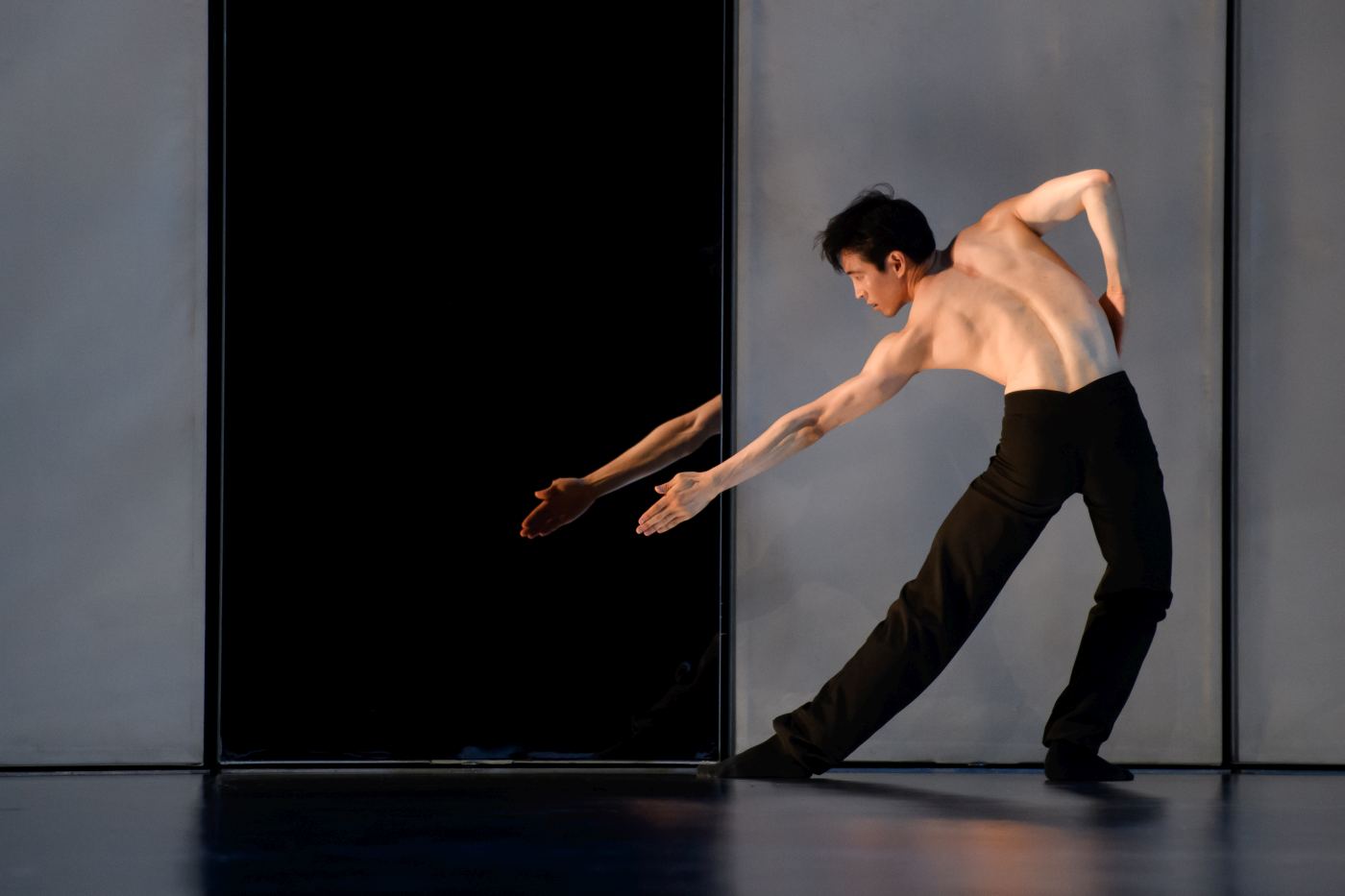 fetal position in An's arms, hanging prone over his back and pressing her head against his chest. The final pas de deux, performed by Marianna Barabas and Matej Urban, was the most fragmented and uneventful, as if time replaced their agility with stiffness.
Dirk Haubrich's music included clanking, jingling, and the unpleasant sound of shattering glass. At a few moments, birds chirped, joints creaked like rusty hinges, and the taffeta of the historic costumes rustled softly.
"Claude Pascal" would have greatly benefited from the omission of the banal lectures, and from a reduction in the amount of chatter (which undermined the comedy).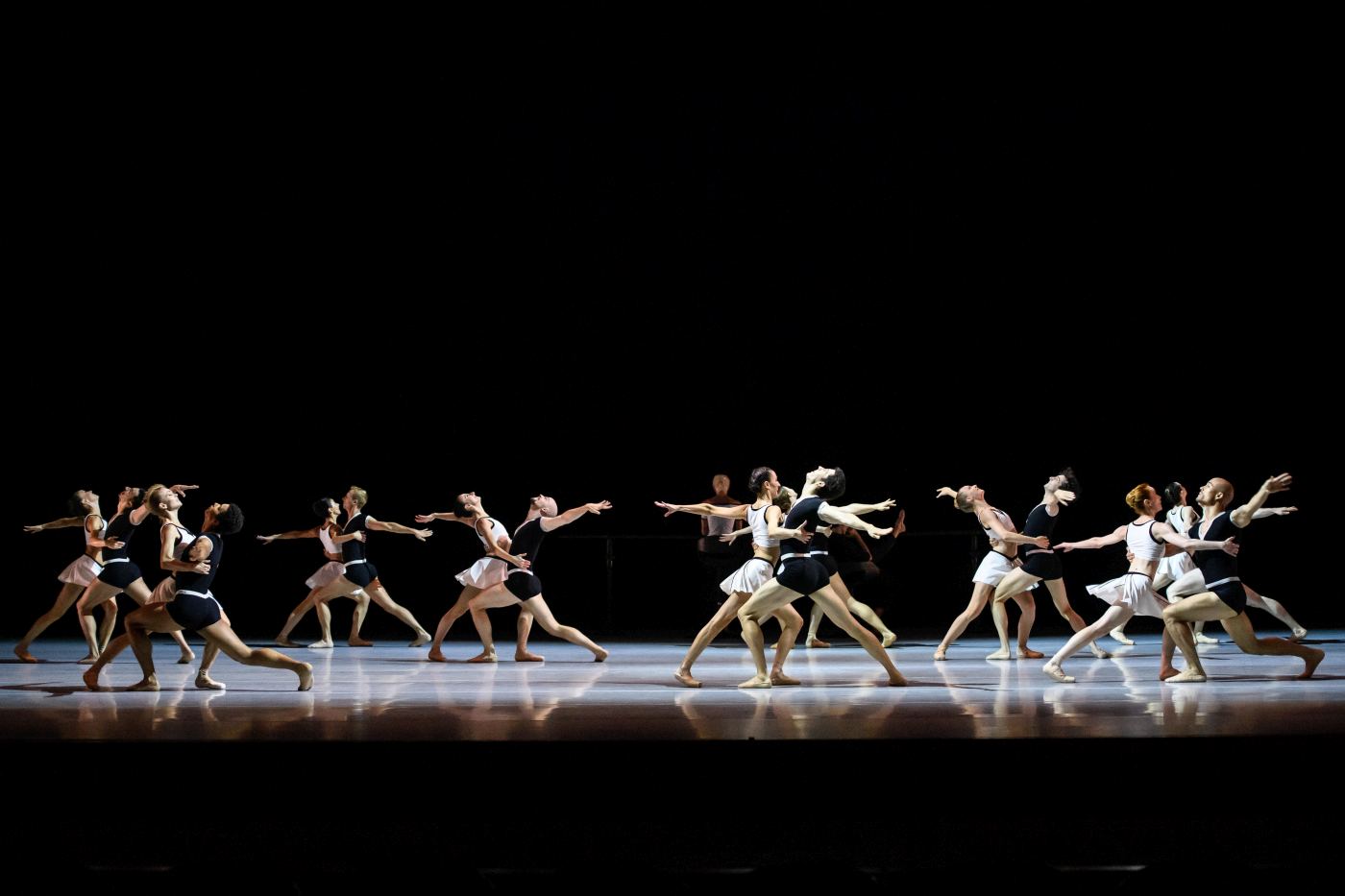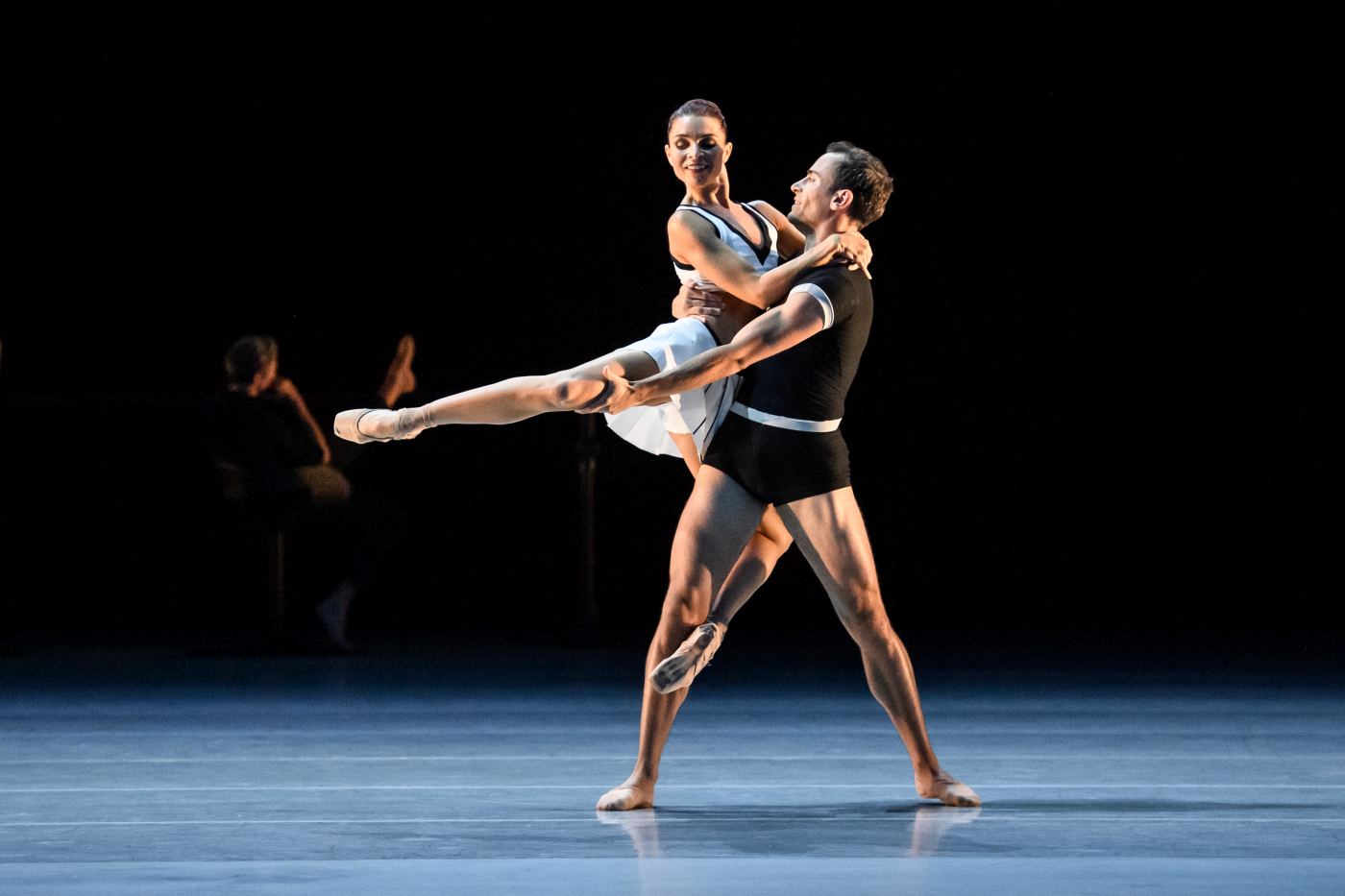 Maillot celebrated his sixty-first birthday two months before the premiere of "Back on Track 61" last October. Does the title suggest a journey off-track and subsequent return? We don't find out. In any case, the passing of time seems to worry him, and he felt the moment had come to tackle Ravel's "Concerto in G" – a composition that his father had introduced him to when he was still a child. For "Back on Track 61", Maillot uses an interpretation by Martha Argerich.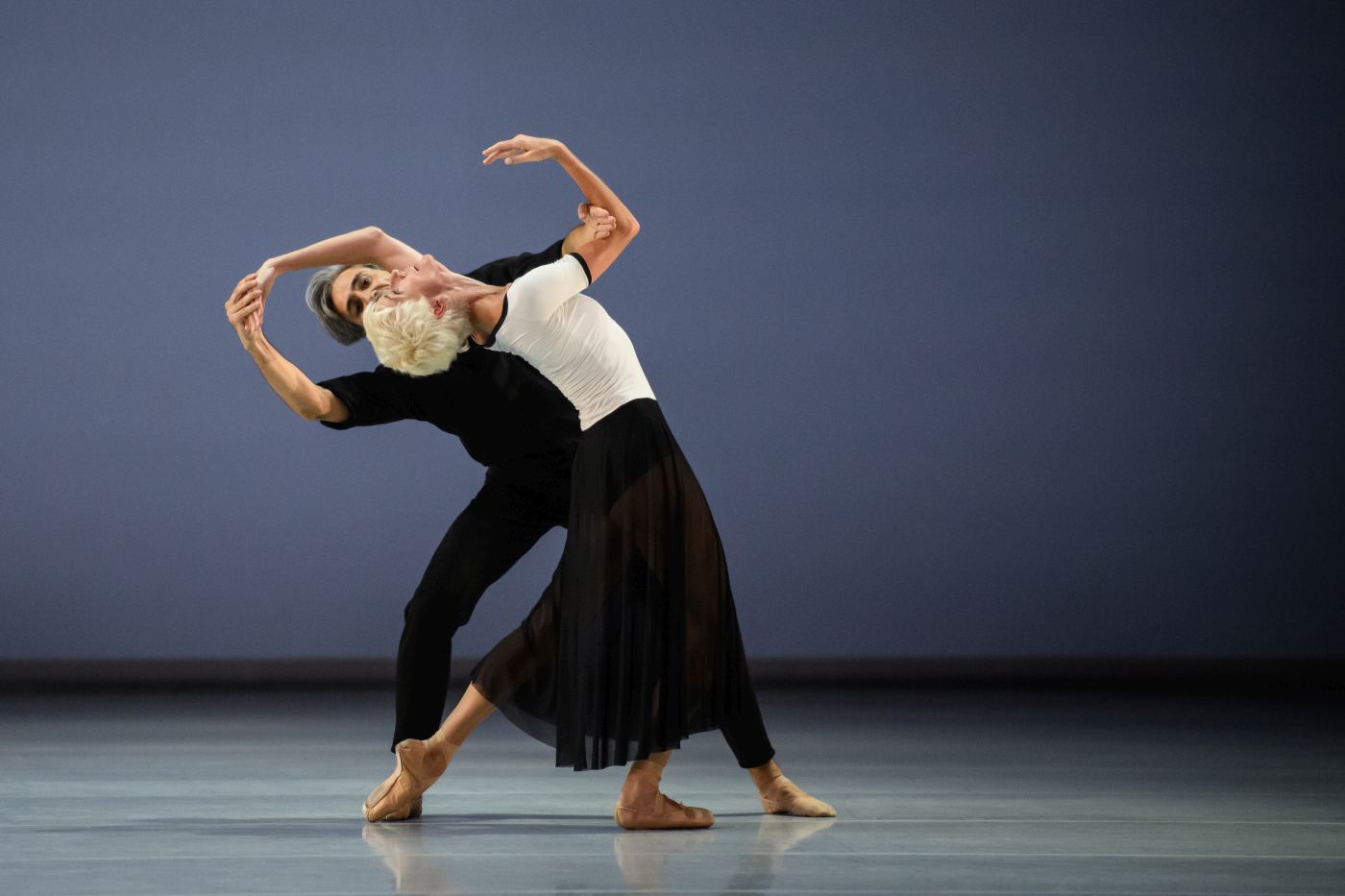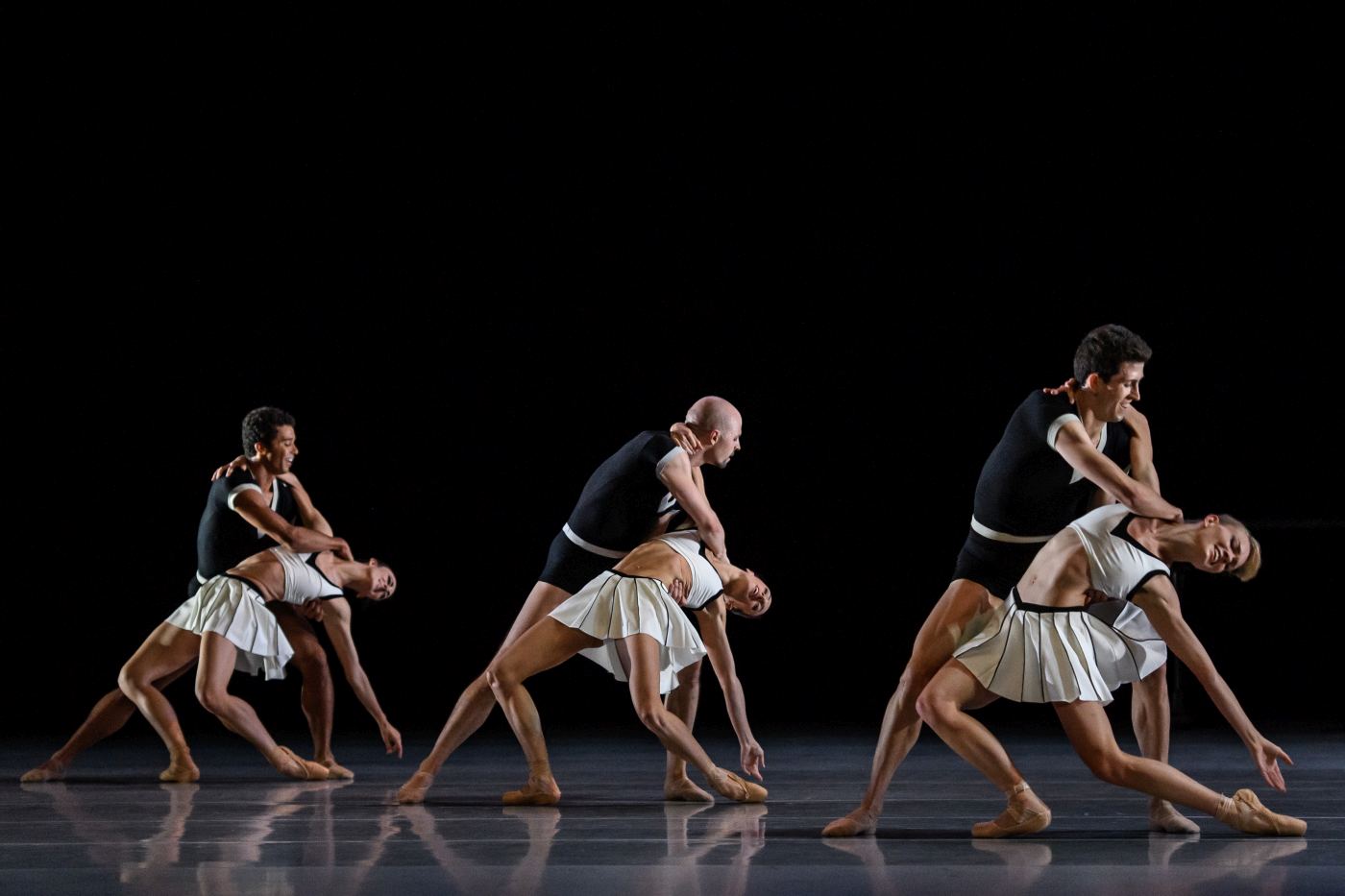 As with Kylián's piece, Maillot uses a black-and-white palate. Jean-Michel Lainé's costumes – black-rimmed white skirts and bustiers for the ten women and white-rimmed trunks and shirts for the ten men – could pass as fashionable beach-wear. The choreography is reminiscent of Jerome Robbins's 1975 "In G Major" (and is set to the same music). The exception is the adagio, which Maillot dedicated to two former dancers of the company, Bernice Coppieters and Asier Uriagereka, who return to the stage for the occasion. Sitting on stools in the rear, Coppieters shows us her back and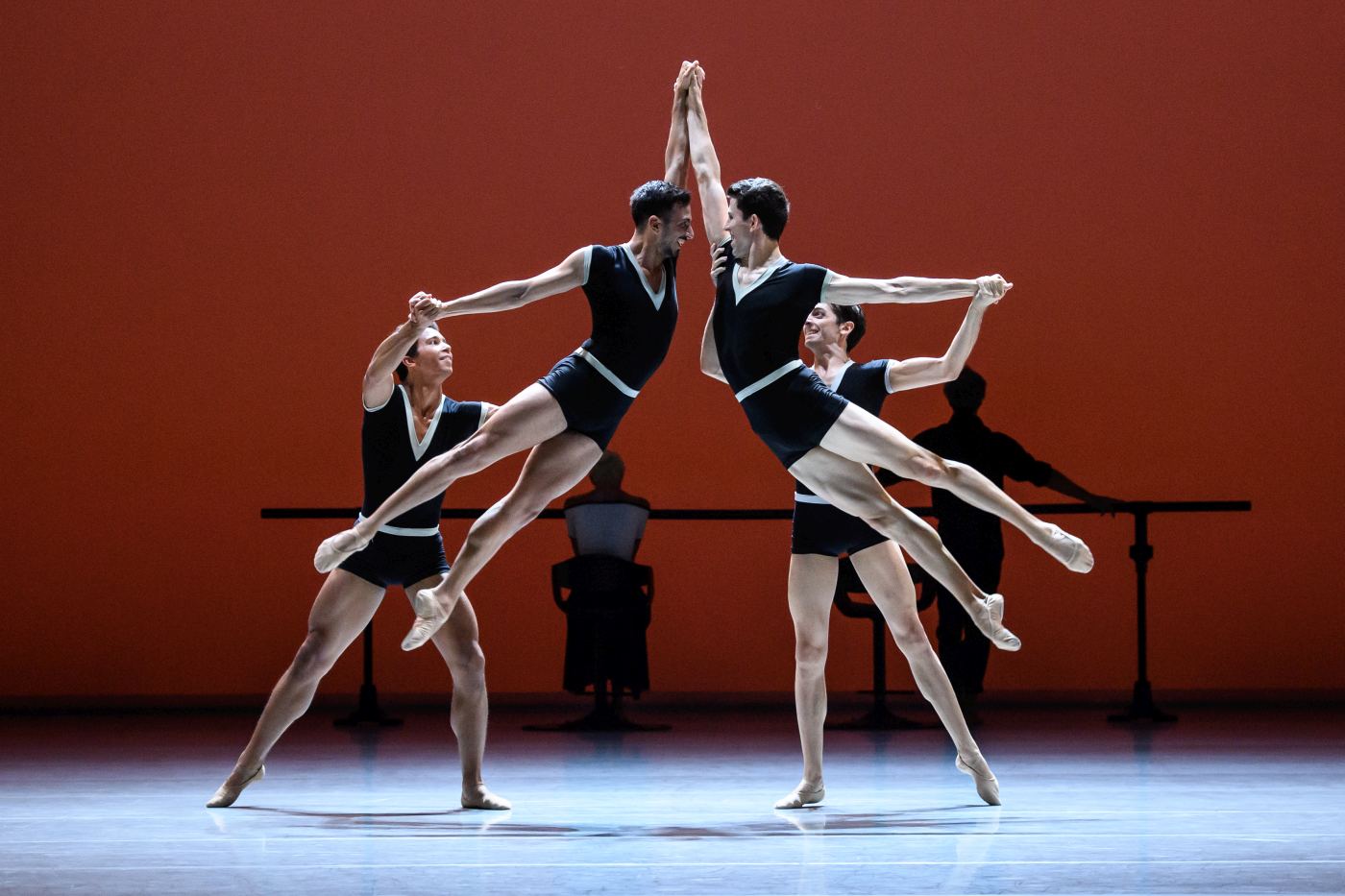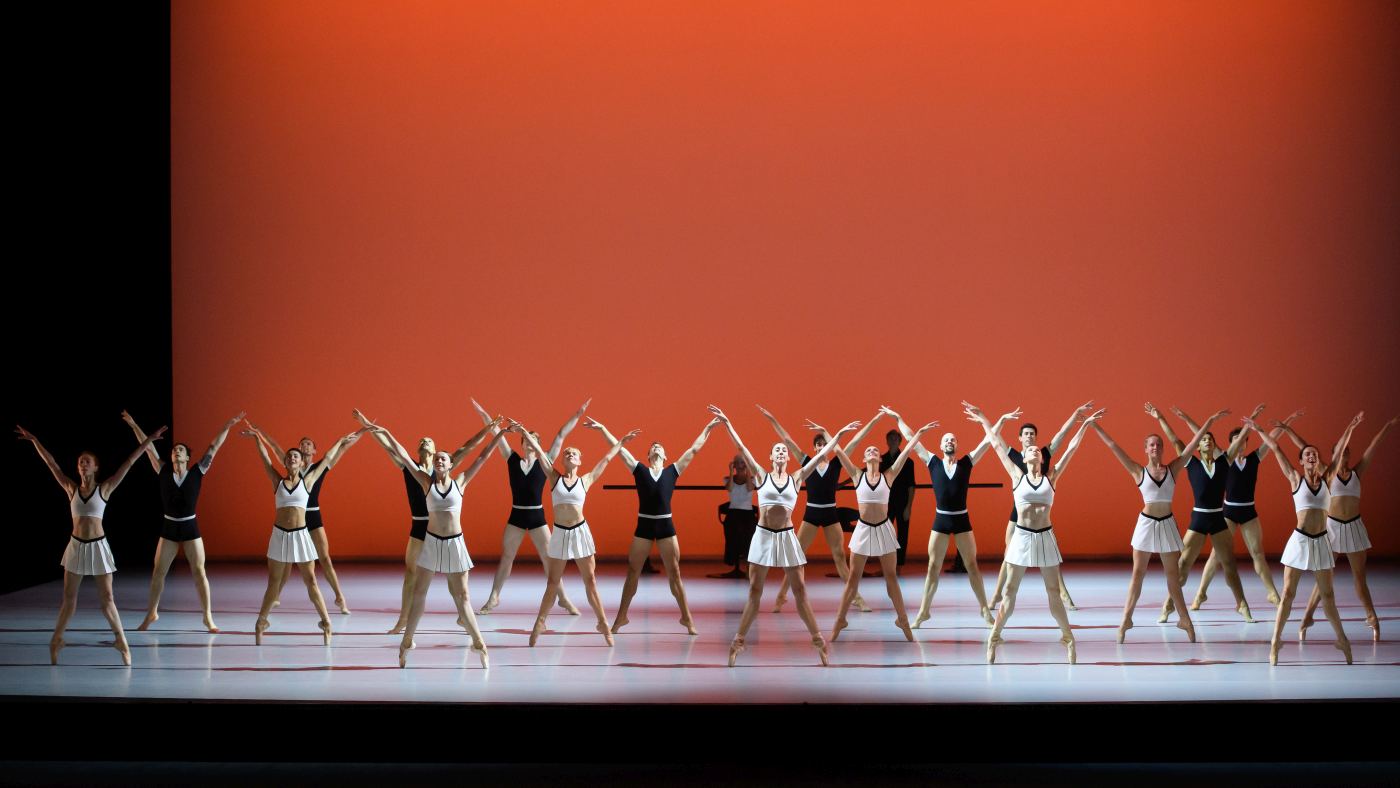 Uriagereka, slouching relaxedly, places one foot on a barre (or on the railing of a ship, or a seaside promenade?). Tentatively at first, they enter into a pas de deux that seems to recall the joy and lightness of former performances (the spirit of Ashton's "Voices of Spring" came to mind), but that ultimately feels mature and less than exciting. As the sun sets in a bright orange, the pair returns hand-in-hand to their stools, putting their feet up – but not for long. When the ten couples take to the stage for a breezy finale, Coppieters and Uriagereka smile and happily join into the mix.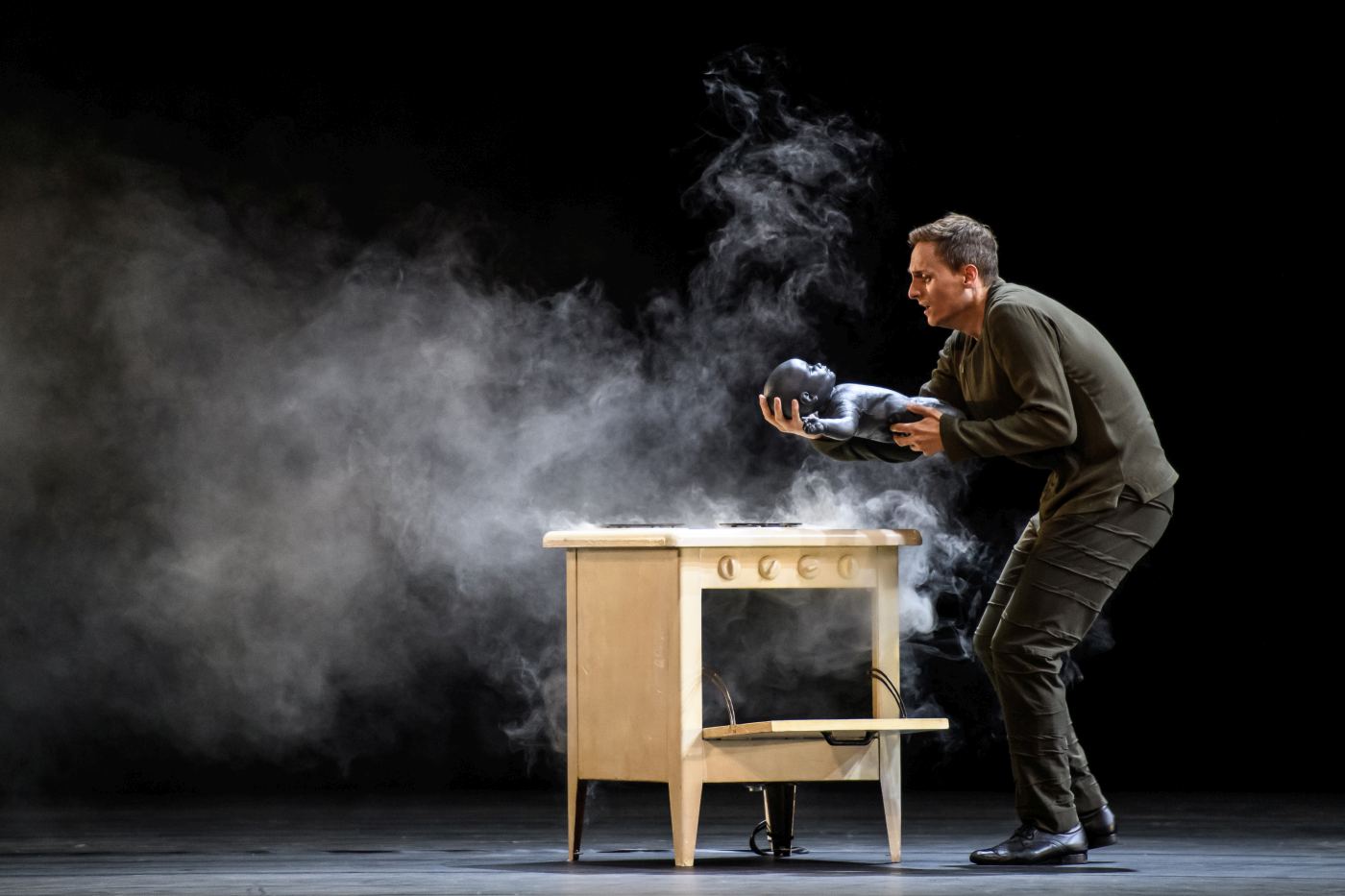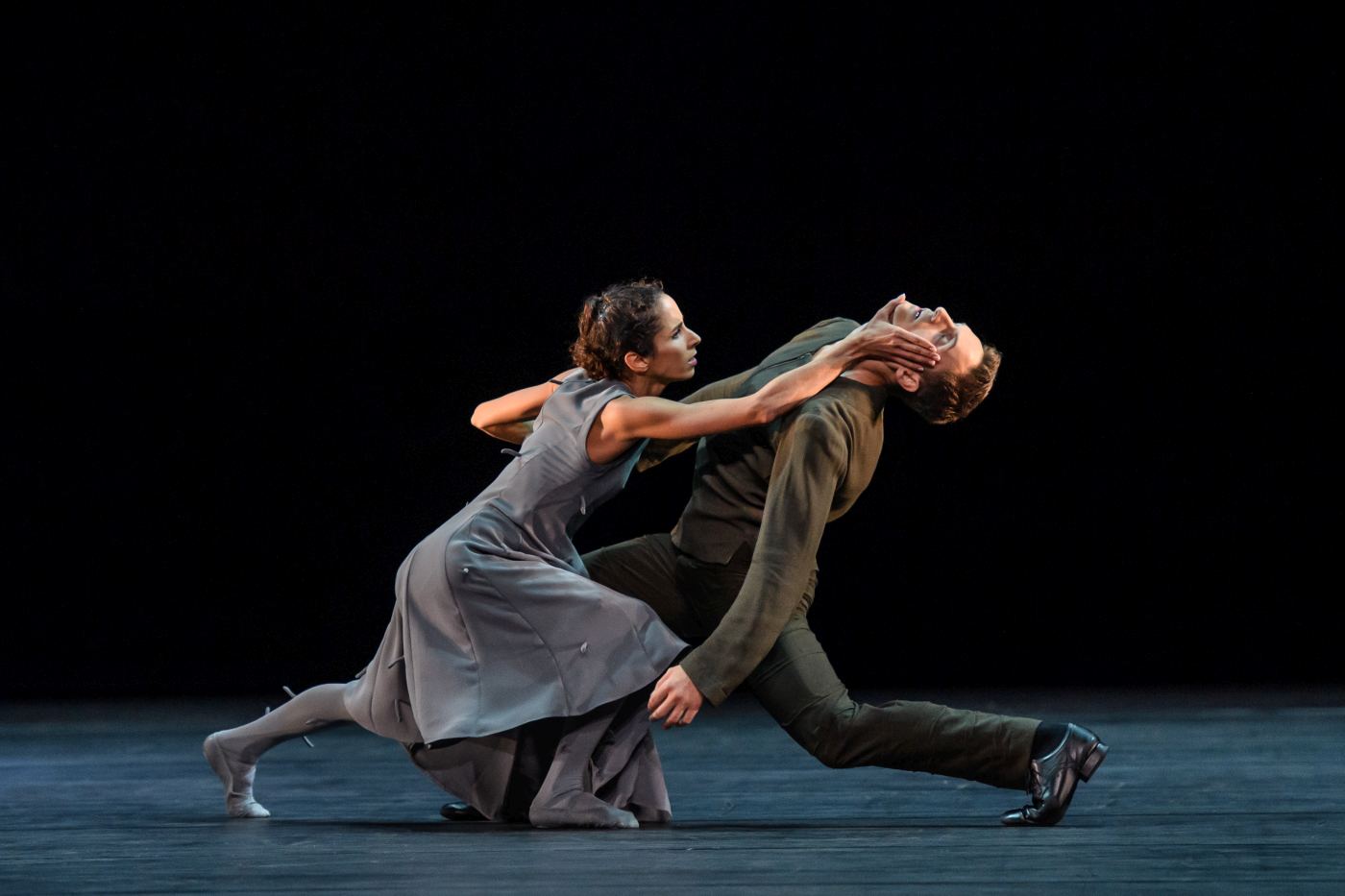 While Kylián's and Maillot's ballets lacked bite, the middle piece – Ek's "Casi Casa" – offered substance. It draws on two of his former choreographies: "Apartment" (2000) and "Fluke" (2002). George Oliveira, giving his farewell performance after eighteen years with the company, is a TV-glued couch potato – one of the casi casa, the (often weird) events at home. He slides out of his curvy white plush lounger (stylish Swedish design by Peder Freiij) like a greasy pancake; his legs might as well be those of a crab, a rubber dummy, or a parrot. The set is furnished with, among other things, a white door (which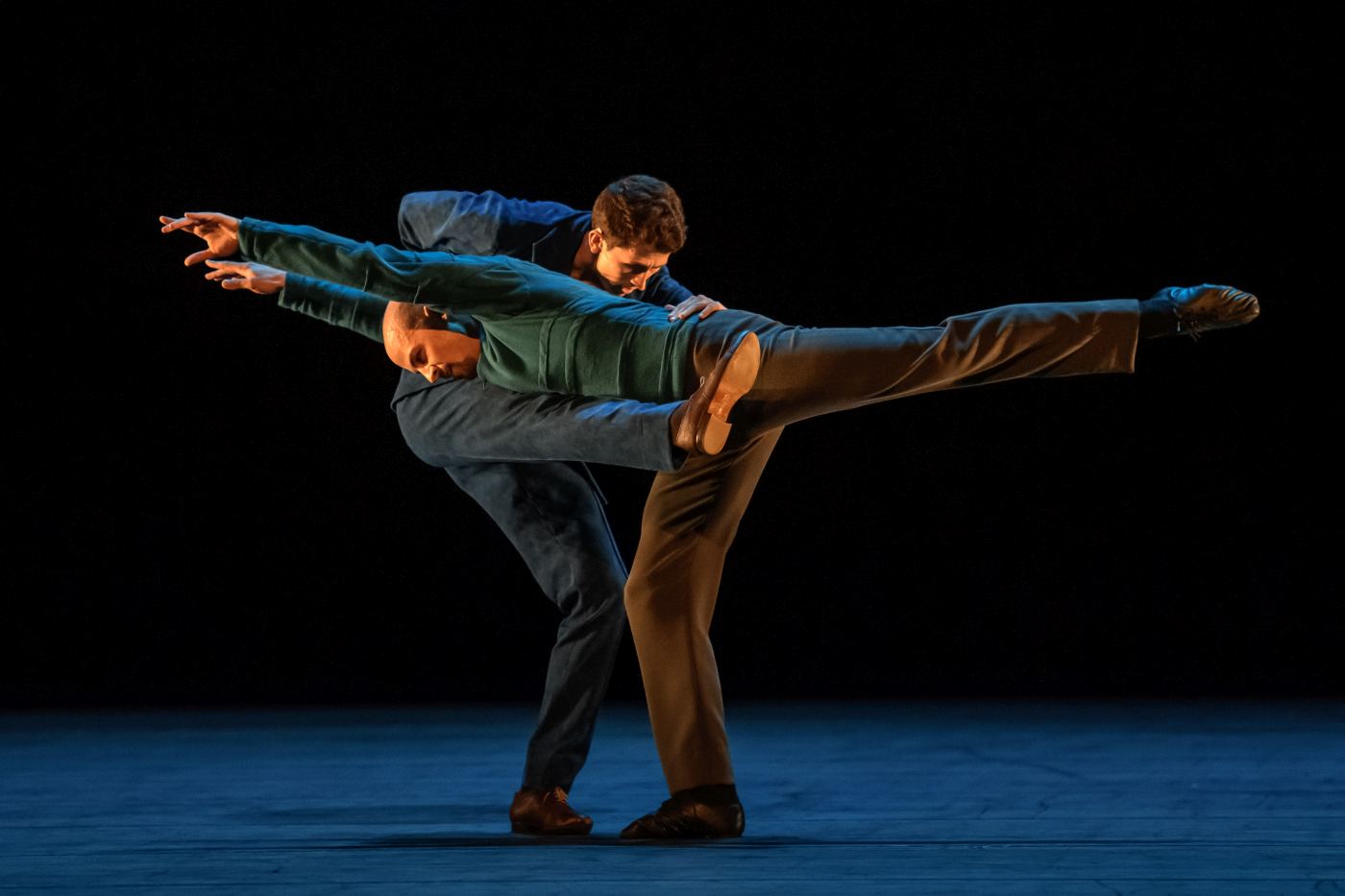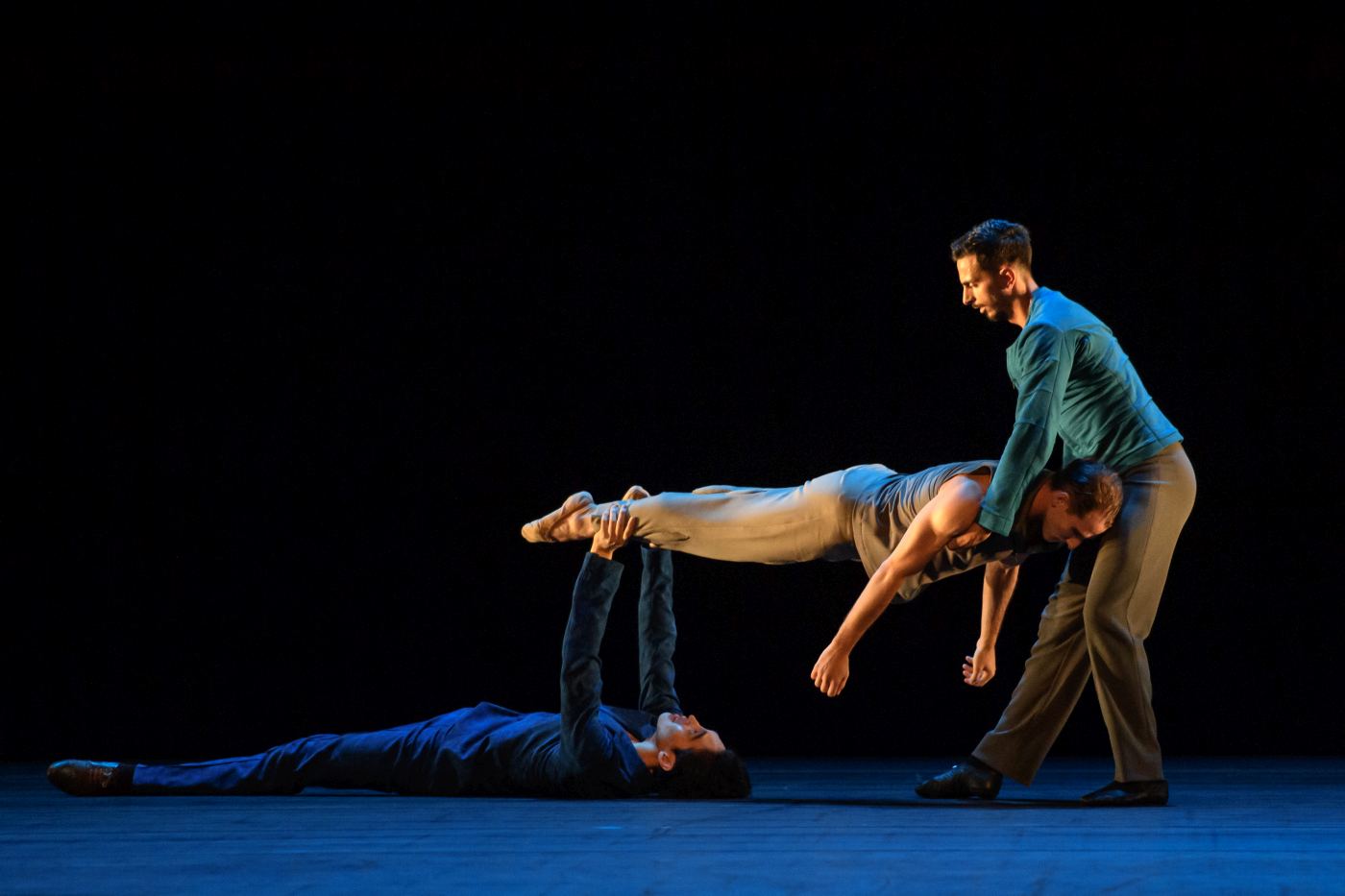 Anissa Bruley hammers after her lover slams it shut), a spherical white lamp far too small for the room, and a white oven that begins conspicuously to smolder. It contains the piece's macabre jump scare effect: a roasted baby. The suddenly unhinged domestic interior was a warning that its parents' relationship was troubled, but did anyone anticipate homicide? An armada of vacuum cleaners later appear, their female handlers more eager to cut a mean rug than to vacuum. Two lazy fellows hunker on the floor before crawling out on all fours. Three others enjoy horsing around until one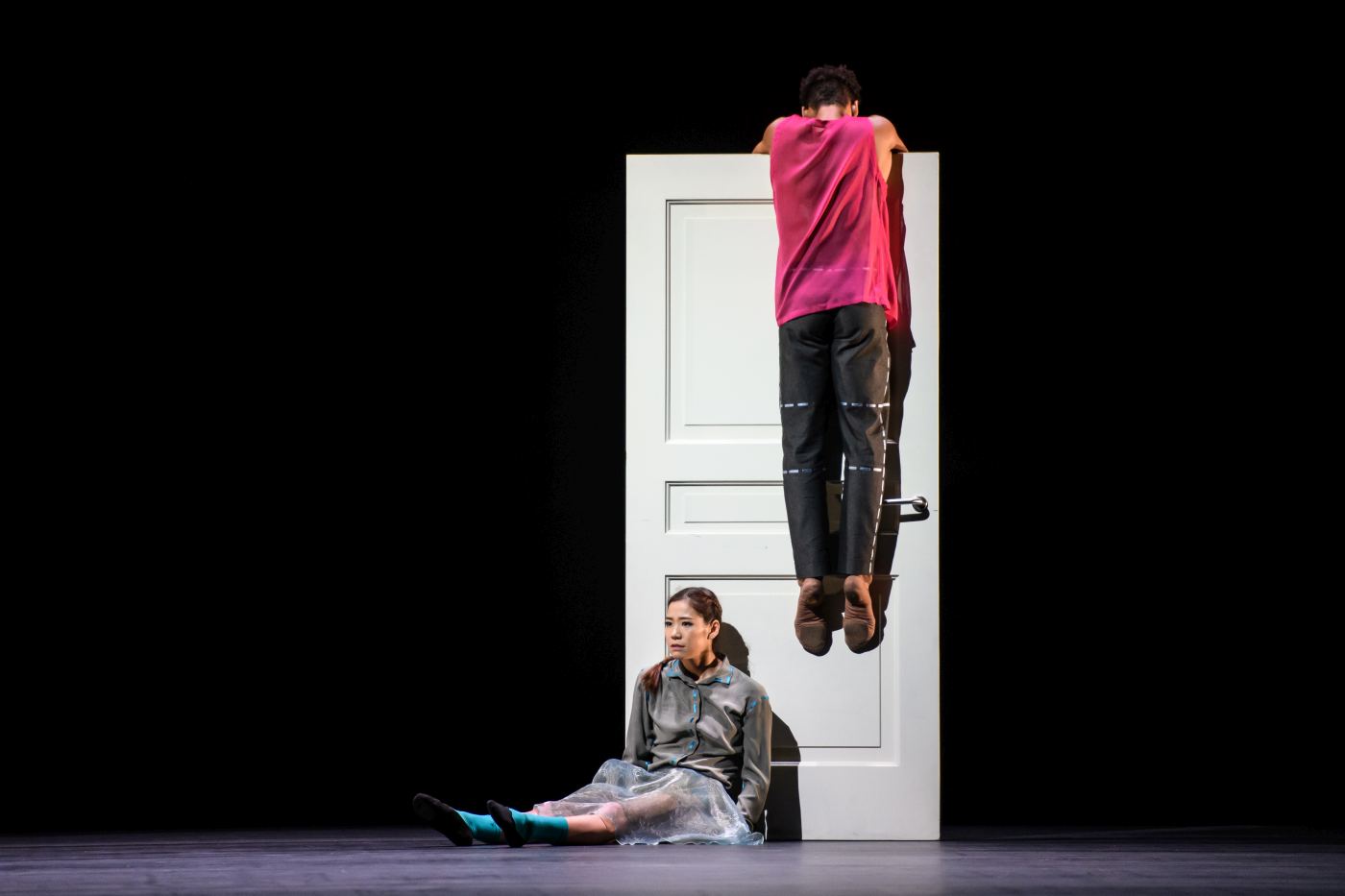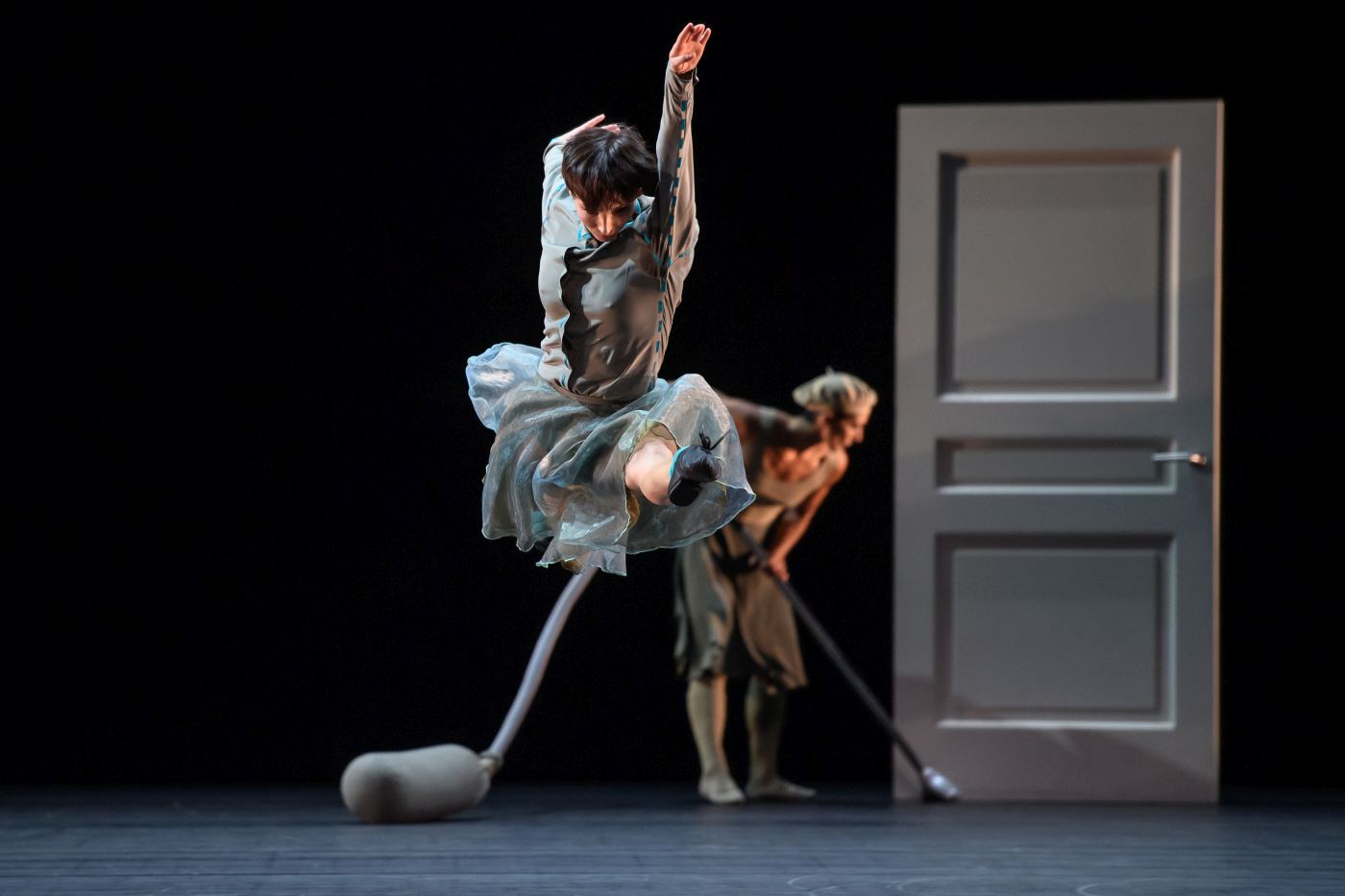 becomes the third wheel to a blossoming romance. In a lengthy scene accompanied by a hammering noise (music by Fleshquartet) lines of caution tape flutter gently, spanning from left to right (perhaps the scene is under construction?).
Oliveira was seen off with hearty applause from audience and company alike, even while many of the plush red seats remained empty. I don't know whether the modest percentage of tickets sold was an exception or whether it confirmed the decline in attendance that I've recently observed in Germany.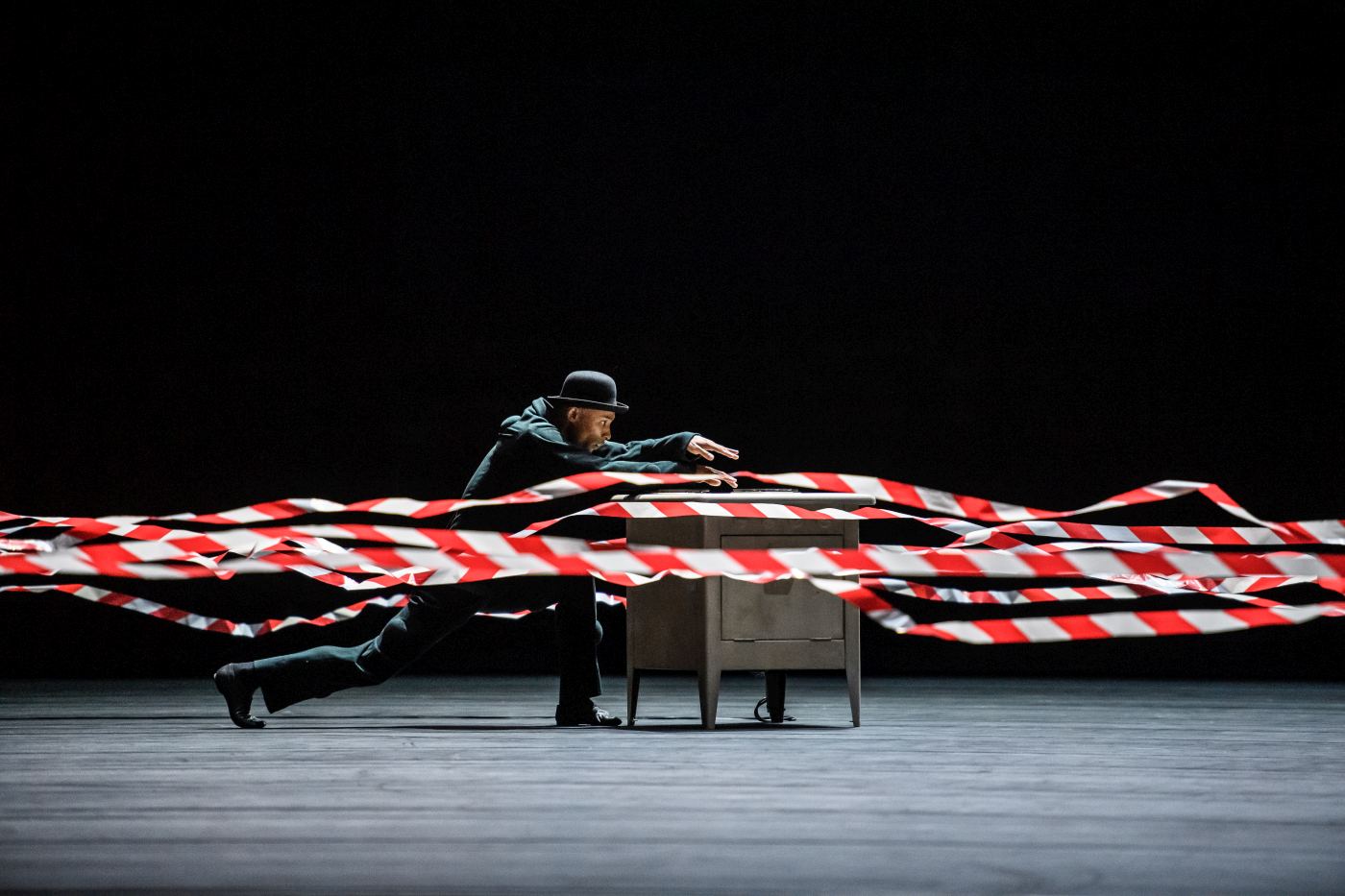 Links:
Website of Les Ballets de Monte Carlo
Trailer "Claude Pascal"
Rehearsal of "Casi Casa" (video)
Trailer "Back on Track 61"

Photos:

The p

hoto

s

show a

partially

different cast from an earlier performance.

 

1.

Lou Beyne (Marie-Claire), Adam Reist (Pierre-Marie), Artjom Maksakov (Jean-Pascale), and

Gaëlle Riou (Marie-Claude), "Claude Pascal" by Jiří Kylián,

Les Ballets de Monte Carlo

2022

2.

Anna Blackwell and Christian Tworzyanski,

"Claude Pascal" by Jiří Kylián,

Les Ballets de Monte Carlo

2022

3.

Marianna Barabas,

"Claude Pascal" by Jiří Kylián,

Les Ballets de Monte Carlo

2022

4.

Mimoza Koike and Jeayong An,

"Claude Pascal" by Jiří Kylián,

Les Ballets de Monte Carlo

2022

5.

Marianna Barabas and Matej Urban,

"Claude Pascal" by Jiří Kylián,

Les Ballets de Monte Carlo

2022

6.

Jaeyong An,

"Claude Pascal" by Jiří Kylián,

Les Ballets de Monte Carlo

2022

7.

Ensemble, "Back on Track 61" by Jean-Christophe Maillot,

Les Ballets de Monte Carlo

2022

8.

Jérôme Tisserand and Ekaterina Petina, "Back on Track 61" by Jean-Christophe Maillot,

Les Ballets de Monte Carlo

2022

9.

Ensemble, "Back on Track 61" by Jean-Christophe Maillot,

Les Ballets de Monte Carlo 2022

10.

Bernice Coppieters and Asier Uriagereka, "Back on Track 61" by Jean-Christophe Maillot,

Les Ballets de Monte Carlo 2022

11.

Ensemble, "Back on Track 61" by Jean-Christophe Maillot,

Les Ballets de Monte Carlo 2022



12.

Ensemble, "Back on Track 61" by Jean-Christophe Maillot,

Les Ballets de Monte Carlo 2022

13.

Anissa Bruley and Benjamin Stone, "Casi Casa" by Mats Ek,

Les Ballets de Monte Carlo 2022

14.

Benjamin Stone, "Casi Casa" by Mats Ek,

Les Ballets de Monte Carlo 2022

15.

Lennart Radke and Jaat Benoot, "Casi Casa" by Mats Ek, Les Ballets de Monte Carlo 2022

16.

Jaeyong An, Daniele Delvecchio, and Alessio Scognamiglio, "Casi Casa" by Mats Ek, Les Ballets de Monte Carlo 2022



17.

Anna Blackwell and ensemble, "Casi Casa" by Mats Ek, Les Ballets de Monte Carlo 2022

18.

Kaori Tajima and Alexis Oliveira, "Casi Casa" by Mats Ek, Les Ballets de Monte Carlo 2022

19.

George Oliveira, "Casi Casa" by Mats Ek, Les Ballets de Monte Carlo 2022

all photos © Alice Blangero

Editing:
Jake Stepansky